Korio for legit donuts and sandwiches
Update: The menu at Korio has changed.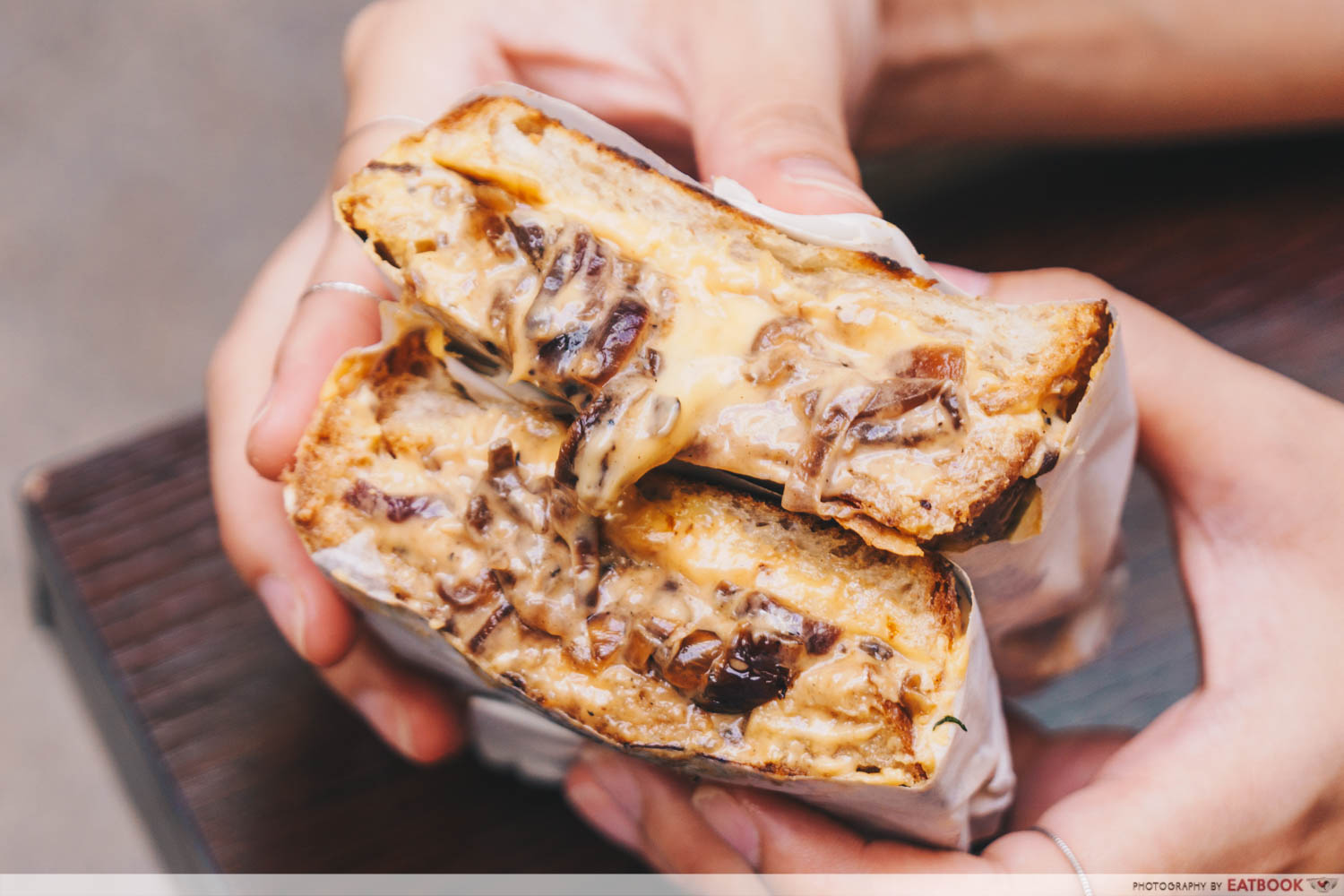 I'm blessed with friends who constantly lookout for new food spots for me to feature at Eatbook. Korio at Far East Square along Telok Ayer is another recommendation by a friend who works at the CBD. Walking past this hole-in-the-wall eatery one day, her attention was drawn to the trays of colourful donuts. Other than pretty donuts, you can also expect hearty grilled cheese sandwiches with sick cheese-pulls and well-seasoned meats. 
Food at Korio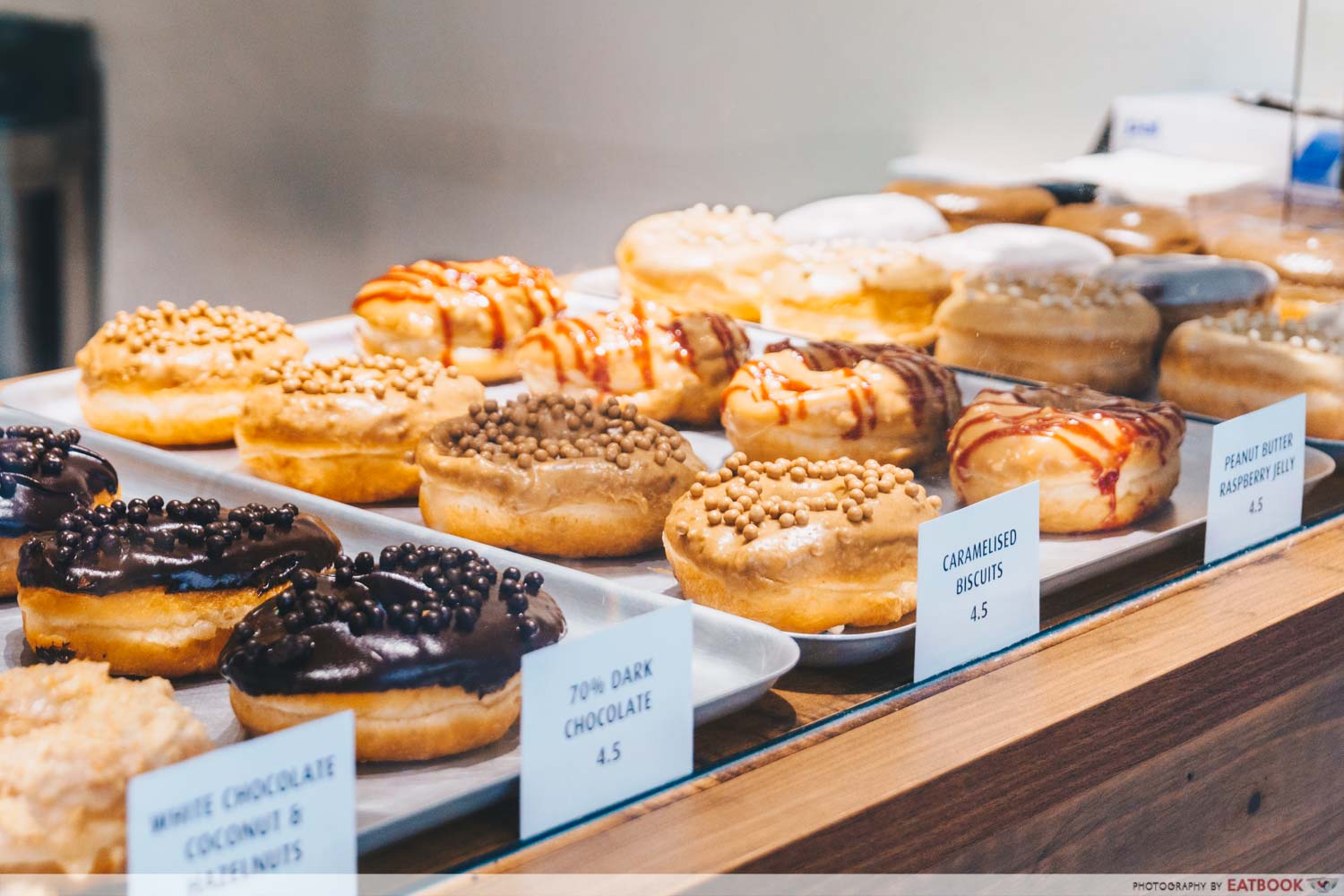 Opened just one week ago, there was little but enough pictures on their Instagram page to lure us down. We were even more impressed when we visited the humble kiosk. 
Korio is owned by Myron, who's just 26, and his wife Shaz, who's 25. Myron did his diploma in culinary at Temasek Polytechnic and got inspired by the best donuts he had during an eight-month stint at a pizzeria named Speedy Romeo in Brooklyn.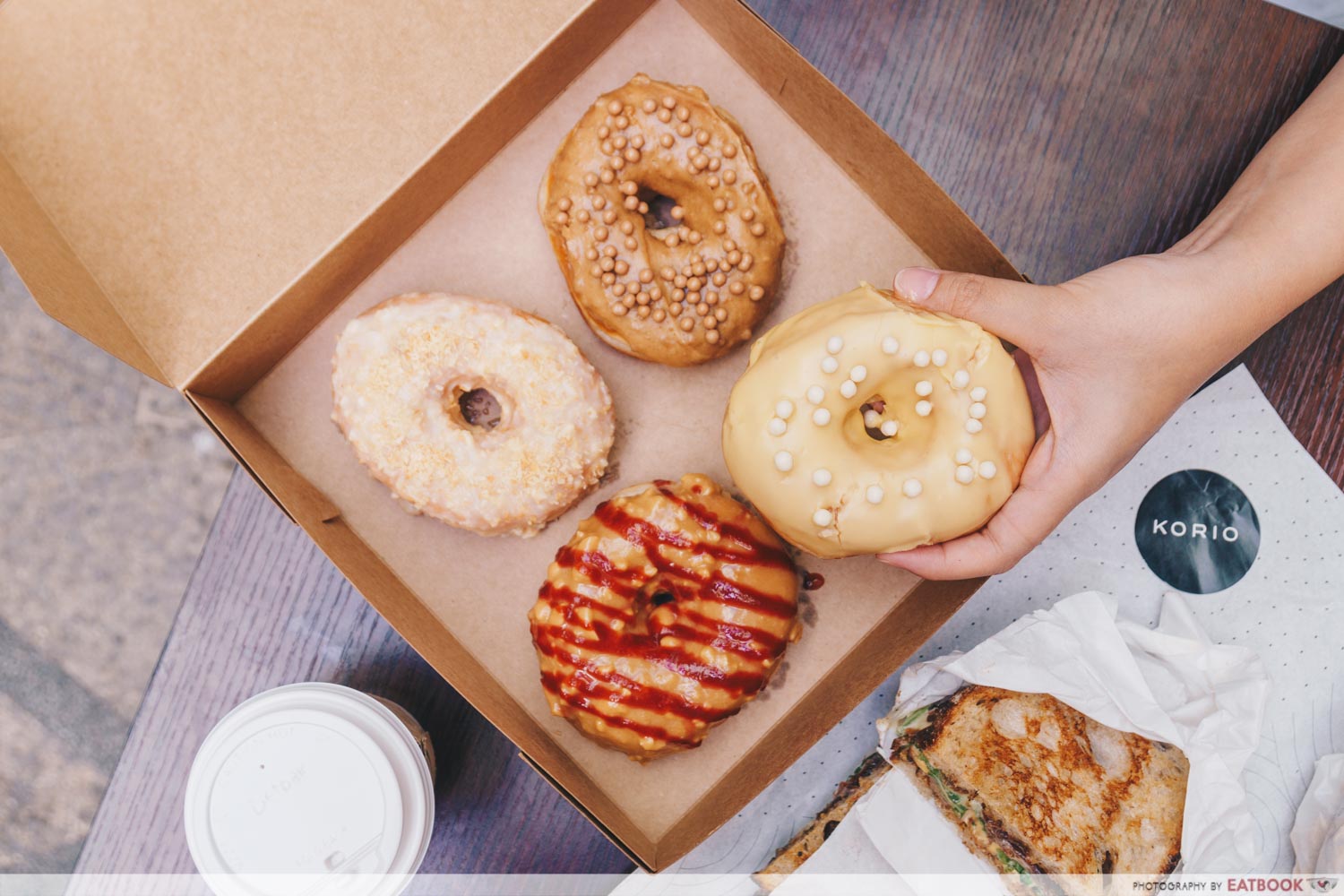 There are a number of flavours to choose from, namely Caramelised Biscuits ($5), Peanut Butter Raspberry Jelly ($5), Passion Fruit White Chocolate ($5), White Chocolate, Coconut & Hazelnuts ($5), 70% Dark Chocolate ($5), and Original ($4.50).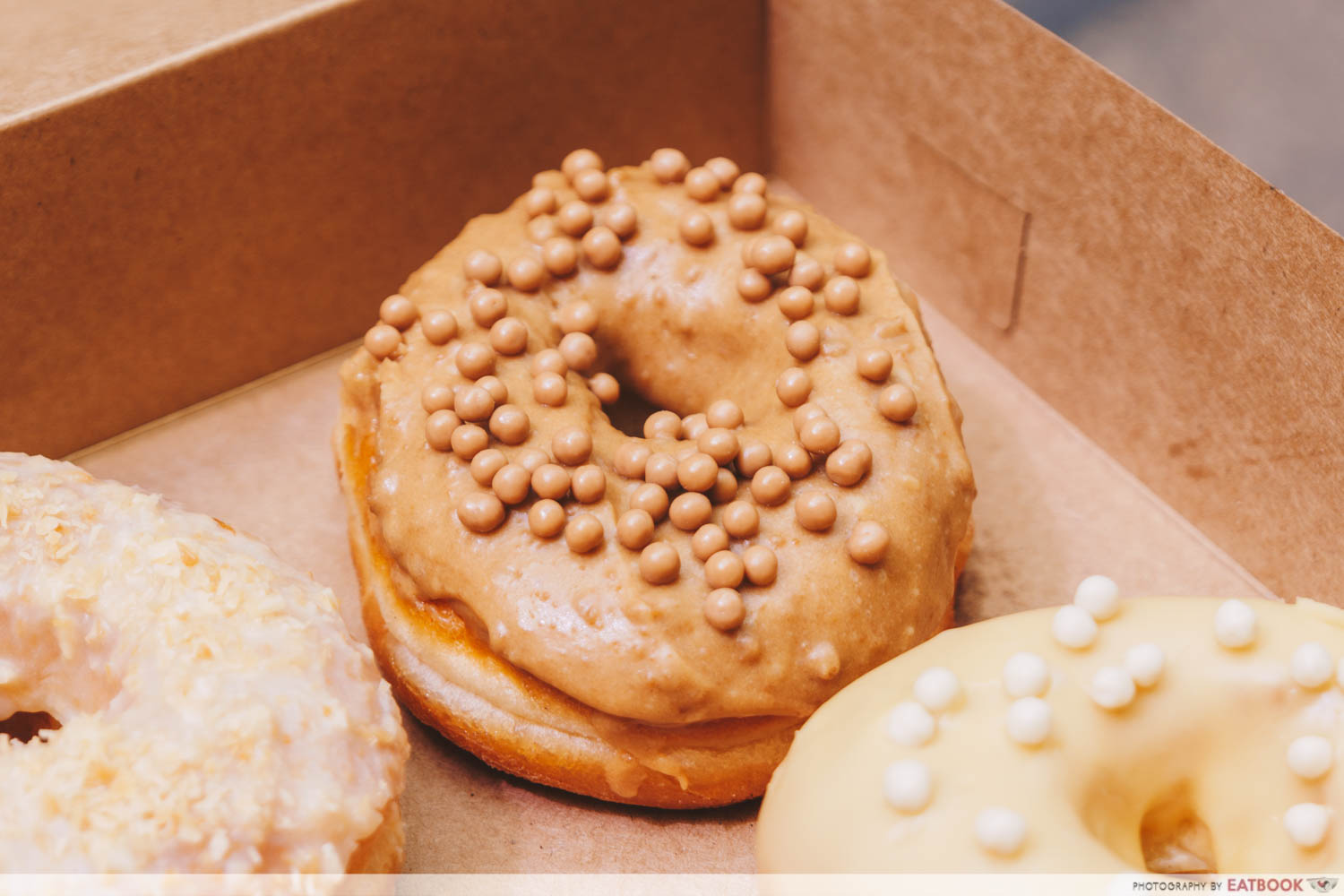 Korio's Caramelised Biscuits Donut is a personal favourite. The cookie butter glaze is rich, creamy, and laden with bits of Lotus biscuits for a more granular texture. Crispy caramel-flavoured rice pearls were also added atop for a much-appreciated change of texture. These orbs were also slightly salty, elevating each bite in terms of flavour. 
Just like cakes, I was looking for that nice ratio of sugary glaze to sponge, and Korio hit it right at the sweet spot. The hand-dipped coats of glaze were generously padded on, giving enough flavour to go around. 
The brioche recipe, which uses more eggs and much more butter, might have played a part, as the donut rings are soft and less dense as compared to the ones at Kripsy Kreme or Dunkin' Donuts. Tasting great even on its own, these fluffy and buttery cinnamon-based brioche donuts are made from scratch at 6am every day.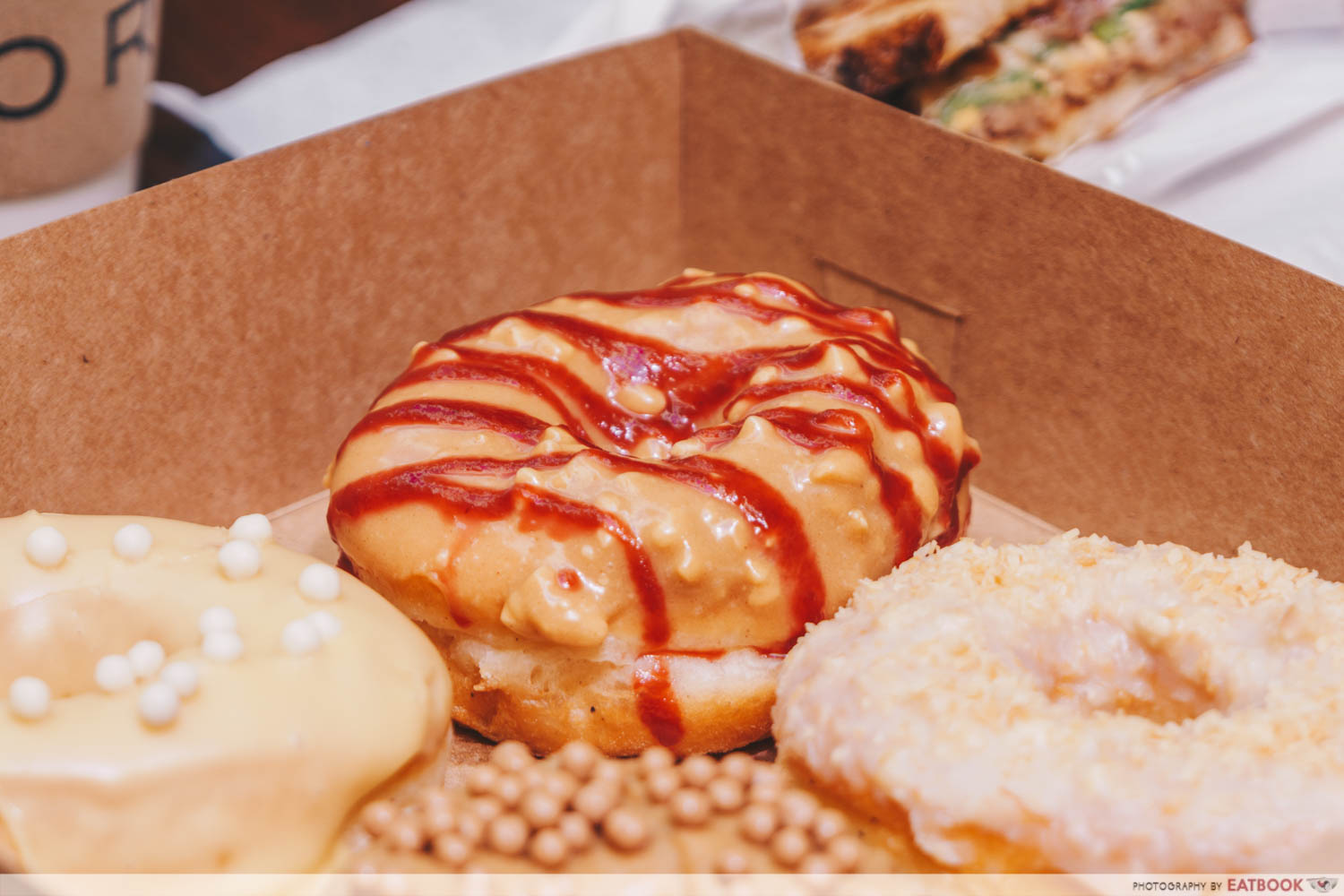 The Peanut Butter Raspberry Jelly is worth the hefty $4.50 price tag as well. The glaze had more crunch thanks to chopped peanuts in the mix. Laced with a tart house-made raspberry drizzle, the sweetness from the peanut butter goop is toned down a notch. 
Those who love their desserts on the sour side can also try the Passion Fruit White Chocolate, which has an extra touch of acidity, just like the actual fruit.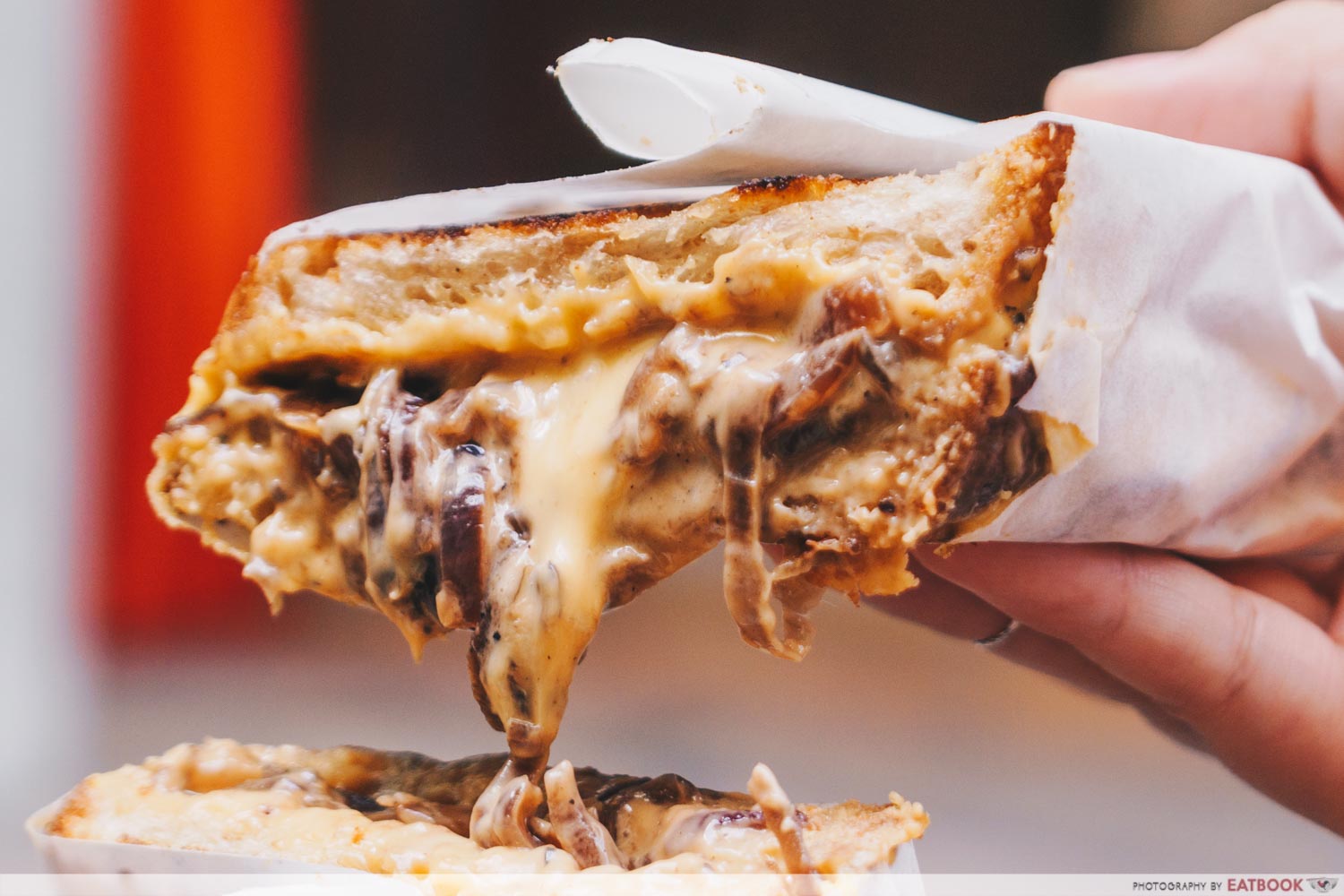 On to the savoury items on the menu. A must-get is their Grilled Cheese ($13). Unlike most of the sandwiches, this grilled cheese sandwich is available every day—and that's good news! 
With a lower melting point, the American cheese was the culprit behind the cheese-pull while the cheddar gave an extra tinge of saltiness. The caramelised onion contributed an added wealth of flavours as well, making this rank high on my list of favourite cheese toasts.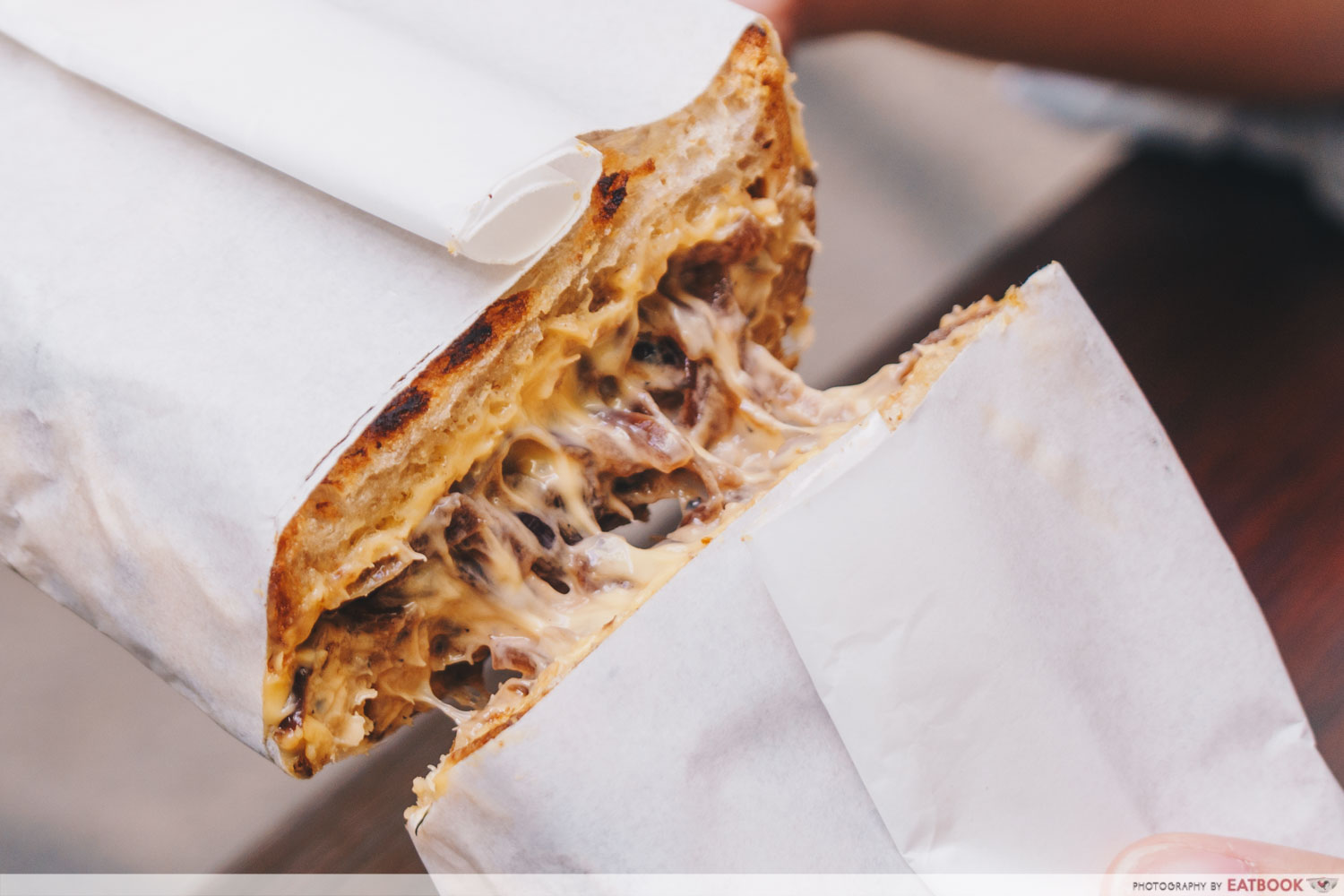 Thin slices of whole wheat sourdough are used to hold the mix of cheddar, American cheese, and caramelised onions together. Though the amount of ingredients looked overwhelming as compared to the sourdough, it didn't throw the sandwich off-kilter for me.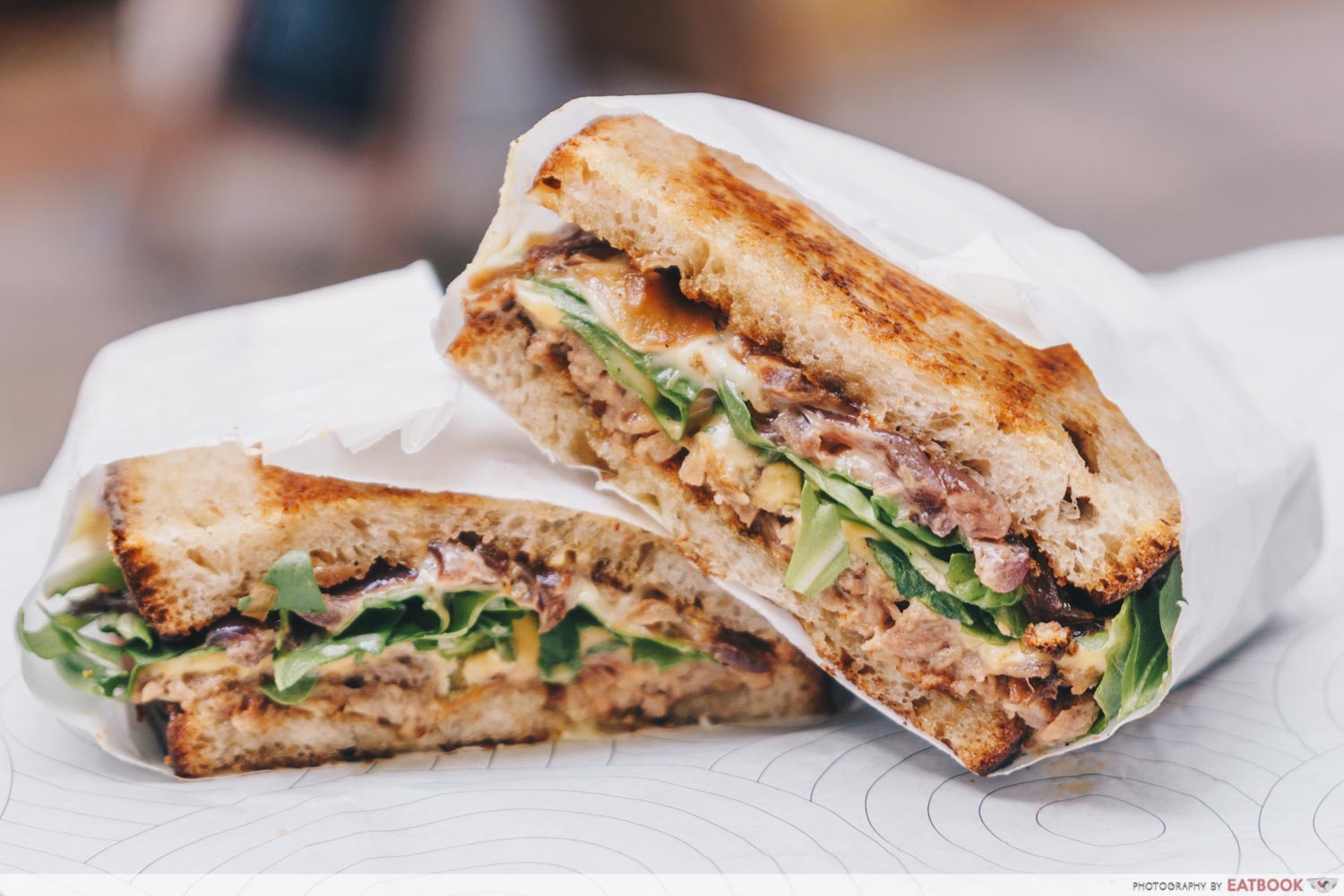 The other "Sammy" a.k.a. sandwich we tried was their Braised Brisket ($14). Korio switches things up by offering different sammies on different days. Though we had our eyes on their Peking Duck Sammy ($14), we were one day too late. It was only available on Wednesdays.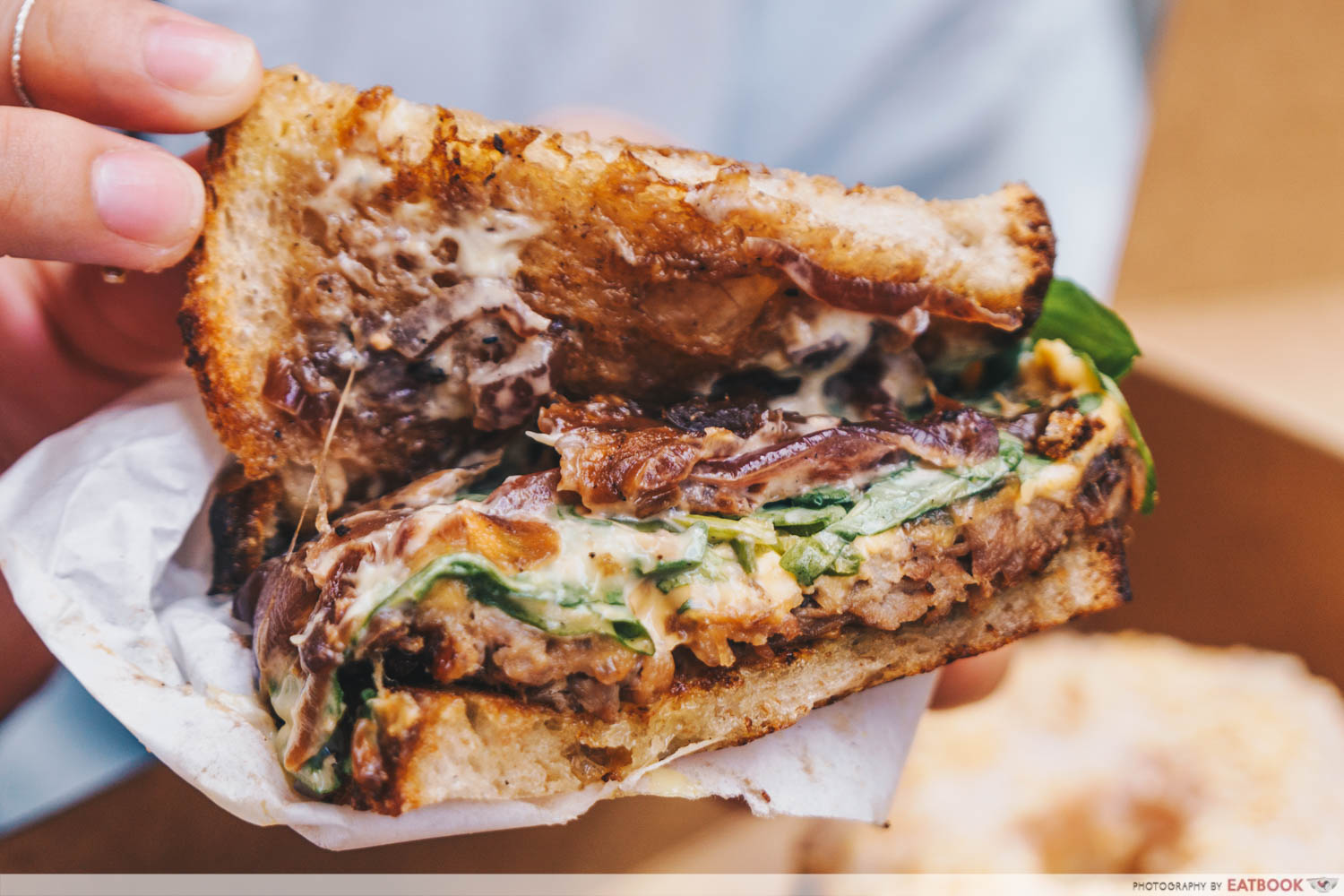 The Braised Brisket featured the same foolproof combo of cheese and caramelised onions, saucy pulled beef, and a layer of arugula, which spiked the sandwich with a wonderful dimension of nuttiness. The beef was adequately tender, though I was initially expecting a tough time with it like I usually do. 
Ambience at Korio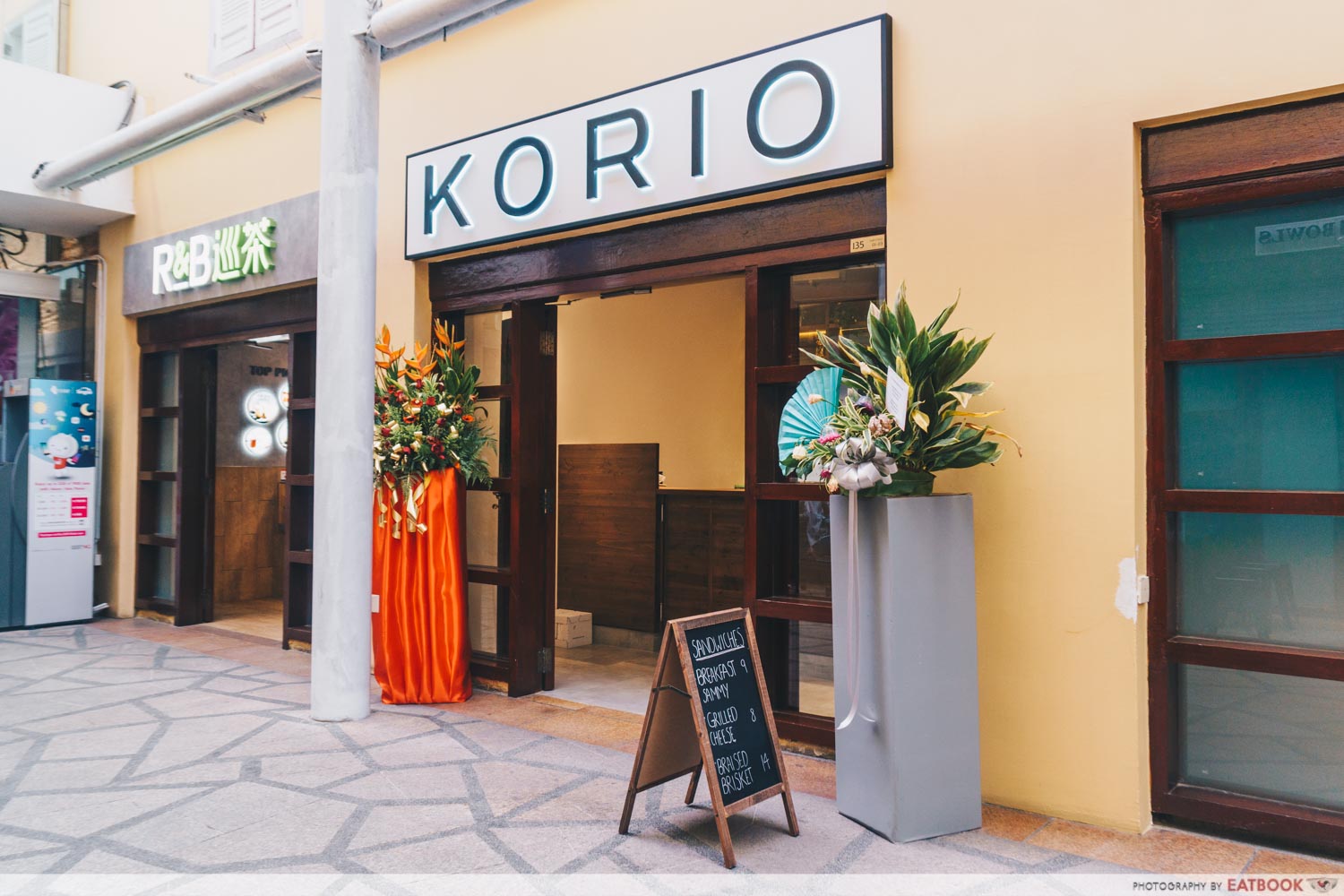 Don't expect a nice ambience as Korio is just a takeaway kiosk. However with tables and chairs peppered right opposite its shopfront and along the corners, it is easy to score a seat before the lunch crowd streams into Far East Square at 12pm. Each donut and sammie will also be well wrapped up for busy bees to make a quick grab and go. 
The verdict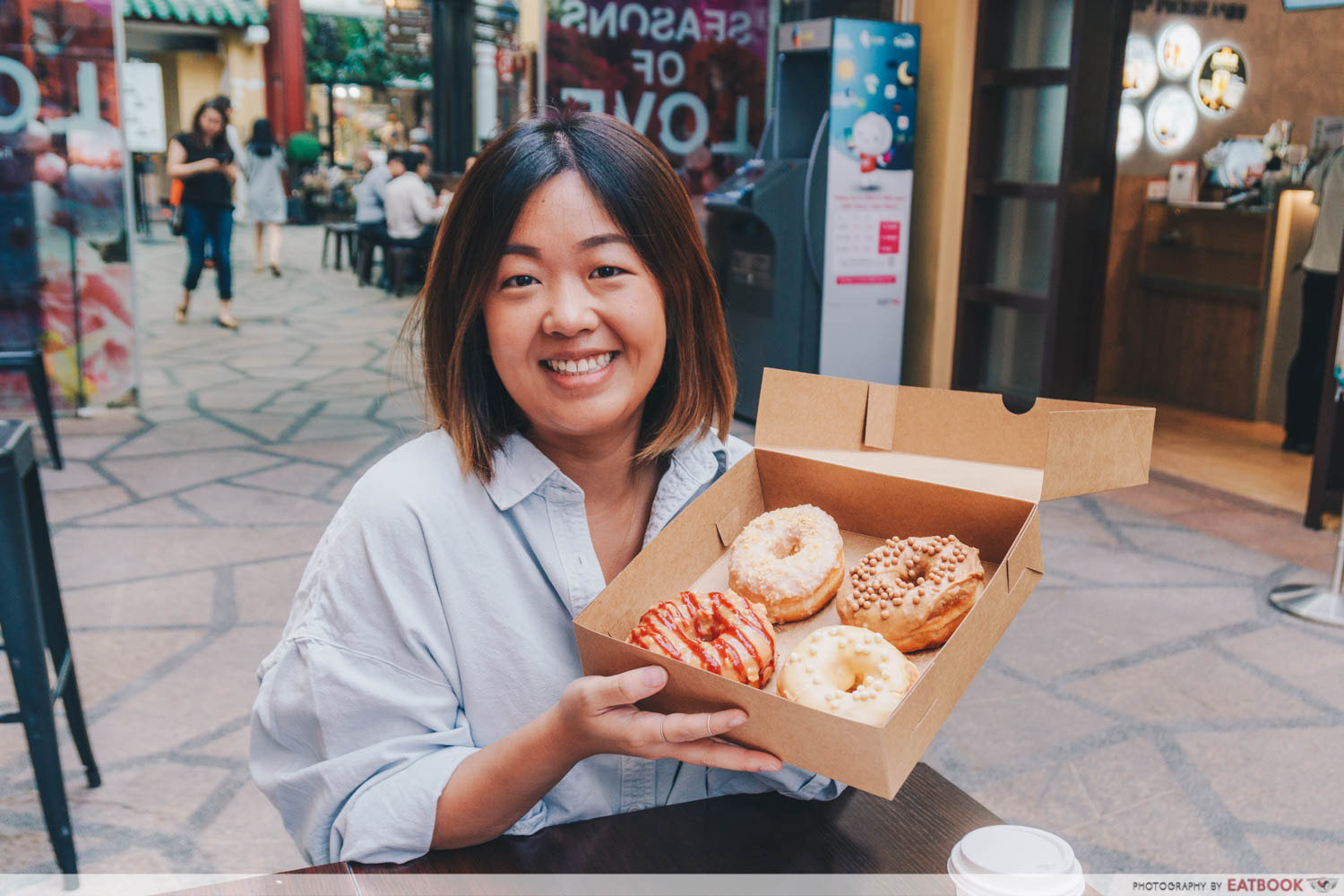 The service here has been attentive and the menu has definitely charmed us. Korio is a nice example of independent cafes I'd love to see more of in Singapore. While the kiosk warrants a return visit for me, the only thing I wish is an extension of its operating hours, so that I can slowly roll out of bed on Saturdays and still be in time for some warm donuts. 
If you're looking for more good grab-and-go food, check out Eatbook's Top 50 2019 for the best food kiosks in Singapore!
Address: 135 Amoy Street, #01-03, Far East Square, Singapore 049964
Opening hours: Tue-Fri 9am to 2pm, Sat 9am to 1:30pm
Tel: 9771 6491
Website
Korio is not a halal-certified eatery.
Photos taken by Lim An.
This is an independent review by Eatbook.sg.
Korio
Summary
Pros
– Fresh concept
– Interesting donut flavours
– Well-seasoned sandwiches
Cons
– Slightly pricey
– Short opening hours
Recommended dishes: Caramelised Biscuits ($4.50), Grilled Cheese ($8)
Opening hours: Tue-Fri 9am to 2pm, Sat 9am to 1:30pm
Address: 135 Amoy Street, #01-03, Far East Square, Singapore 049964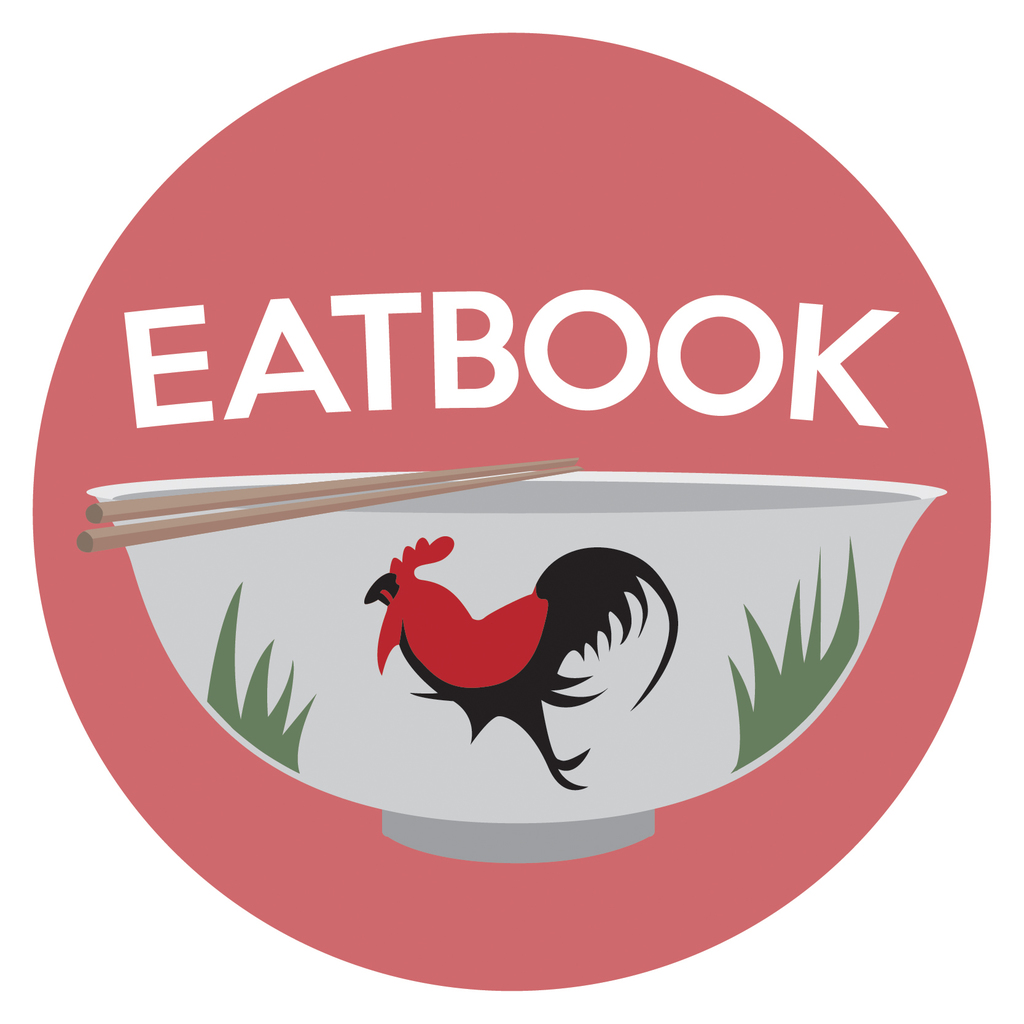 Drop us your email so you won't miss the latest news.