---
Best kiosks in Singapore of 2019 
---
With rental costs reaching an all-time high, more F&B owners are turning to smaller spaces to dish out tasty nosh. Coupled with our strong dabao culture, kiosks are becoming increasingly popular amongst those who want to eat on-the-go, or don't mind sacrificing ambience for speed.
These five best food kiosks in Singapore prove that you can get delicious food—including wagyu sandwiches and Korean flatbread—from that unsuspecting corner shop at your favourite mall.
---
1. What's Pide
---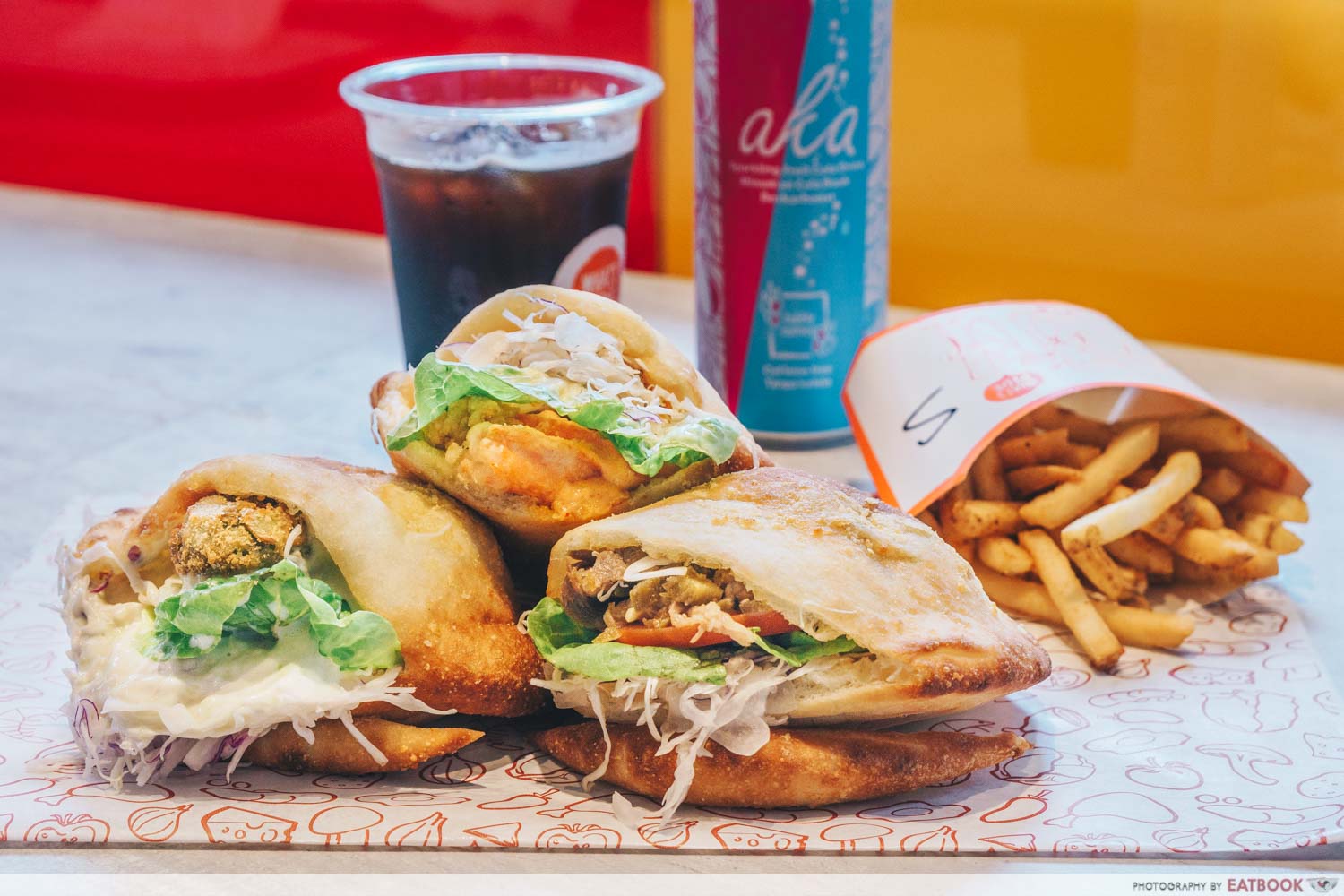 Hailing from South Korea, What's Pide is a new joint at China Square Central which dishes out Korean flatbread stuffed with the likes of bulgogi beef, edamame balls, and soft-shell prawns. Unlike their Mediterranean counterparts, the pide here are smaller and spongier. 
This makes the bread great for soaking up the potent flavours of the fillings. Although most of the items are delicious in their own right, the tender Mrs. Park ($9) is the safest option for first-time diners. The bun is packed with marinated bulgogi beef and caramelised onions for a strong punch of savoury and sweet flavours.
Read our full review of What's Pide!
What's Pide Review: Unique Korean Sandwiches With Bulgogi Beef And Wasabi Mushroom From Seoul
Address: 22 Cross Street, #01-63, China Square Central, Singapore 048421
Opening hours: Mon-Fri 8am to 9pm
Website
What's Pide is not a halal-certified eatery.
---
2. Gyu & Tori
---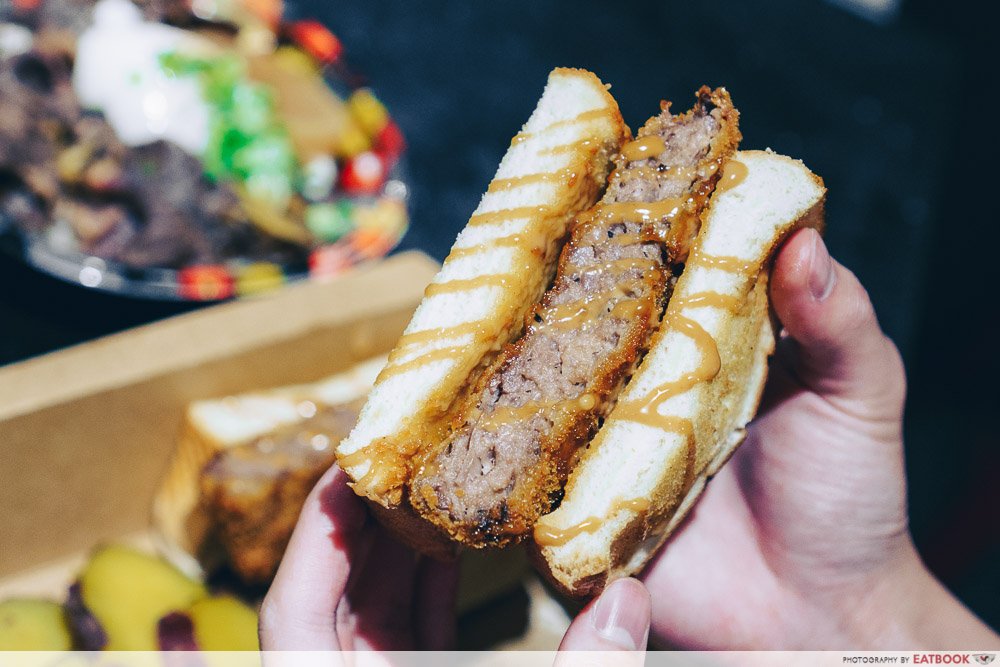 Whoever said you need to pay exorbitant prices to enjoy wagyu beef hasn't visited Gyu & Tori. Located at Paragon, the kiosk sells a slew of wagyu dishes with their Original Wagyu Patty ($9.90) being one of the more popular items. A slab of panko-coated wagyu patty is plopped between two equally thick slices of buttered toast, and finished with tonkatsu sauce. The result is a robust and fatty sandwich that sends waves of umami in each bite. Each order also comes with one side which includes aglio olio, mac & cheese, and soba.
Read our full review of Gyu & Tori!
Gyu & Tori Review: Wagyu Katsu Sandwich, Burger And Donburi All Under $10 At Paragon
Address: 290 Orchard Road, #B1-K26, Paragon Shopping Mall, Singapore 238859
Opening hours: Daily 11:30am to 9:30pm
Tel: 9722 7545
Website
Gyu & Tori is not a halal-certified eatery.
---
3. Papa Ayam
---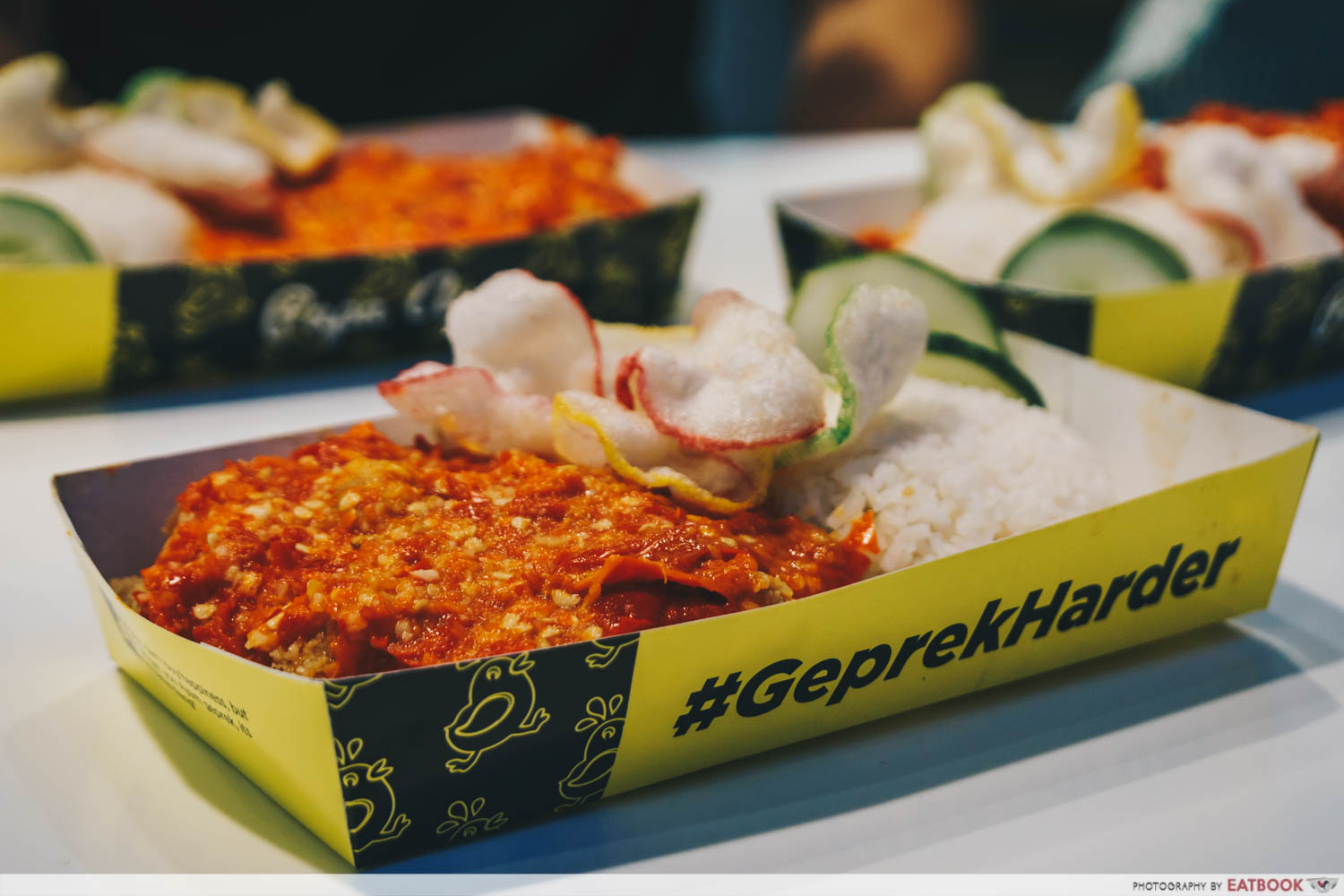 Fans of all things spicy should head down to Papa Ayam and give your taste buds a workout with their fiery ayam geprek. The Ayam Geprek Original ($6.80) features fragrant rice topped with keropok, and chicken cutlets drenched in chilli padi sambal that's made a la minute. The dish's spice level can be adjusted from Level 1 to Level 15, though we wouldn't recommend going past Level 8 lest the chilli overpowers the juicy chicken.
True aficionados of spiciness will wanna take on the WTF Challenge ($13.70) where the sambal is dialled all the way up to a tongue-obliterating Level 27. Just finish it within five minutes and the meal will be free!
Read our full review of Papa Ayam!
Papa Ayam Review: Finish This Level 27 Sambal Fried Chicken Rice And Get It For Free At Somerset
Address: 313 Orchard Road, #B3-49, 313@Somerset, Singapore 238895
Opening hours: Daily 11am to 9:30pm
Tel: 8698 3921
Website
Papa Ayam is a Muslim-owned eatery.
---
4. Banh You, Banh Mi
---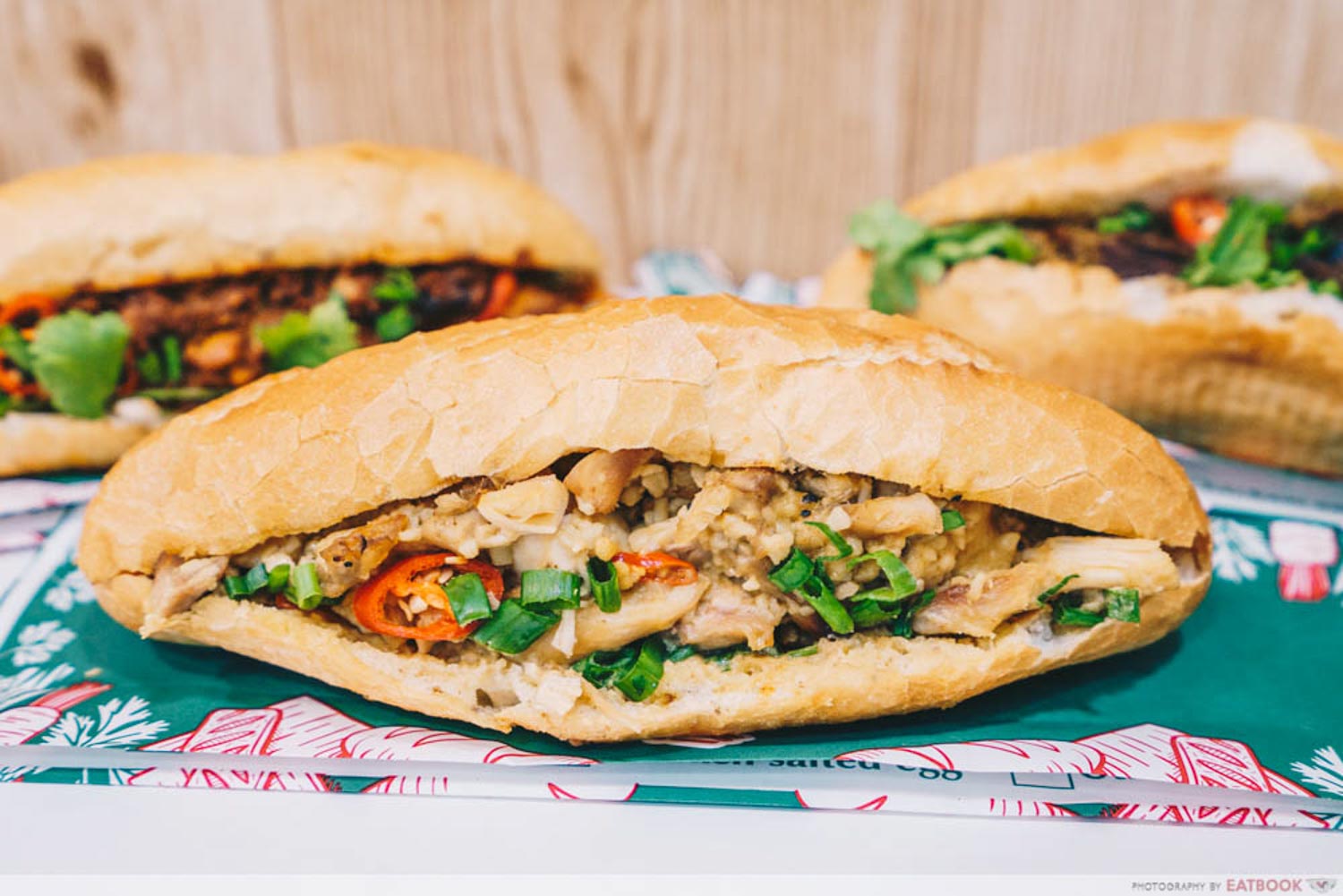 Operated by Singaporean-Vietnamese couple, Banh You, Banh Mi is one of the very few Muslim-owned banh mi places in Singapore. Made with fluffy baguettes sourced from a Vietnamese baker, the banh mi here are stuffed with an assortment of locally inspired fillings such as Rendang Beef ($7.50), Butter Chicken ($7.50), and Salted Egg Chicken ($7.50).
The rendang banh mi was our favourite with its soft and juicy meat, laced with curry spices that result in redolent flavours.
Read our full review of Banh You, Banh Mi!
Banh You, Banh Mi Review: Halal Vietnamese Sandwiches With Rendang Filling At Suntec
Address: 3 Temasek Boulevard, #B1-144, North Wing, Suntec City, Singapore 038983
Opening hours: Daily 10am to 9pm
Tel: 9089 4655
Website
Banh You, Banh Mi is a Muslim-owned eatery.
---
5. The Flameshack
---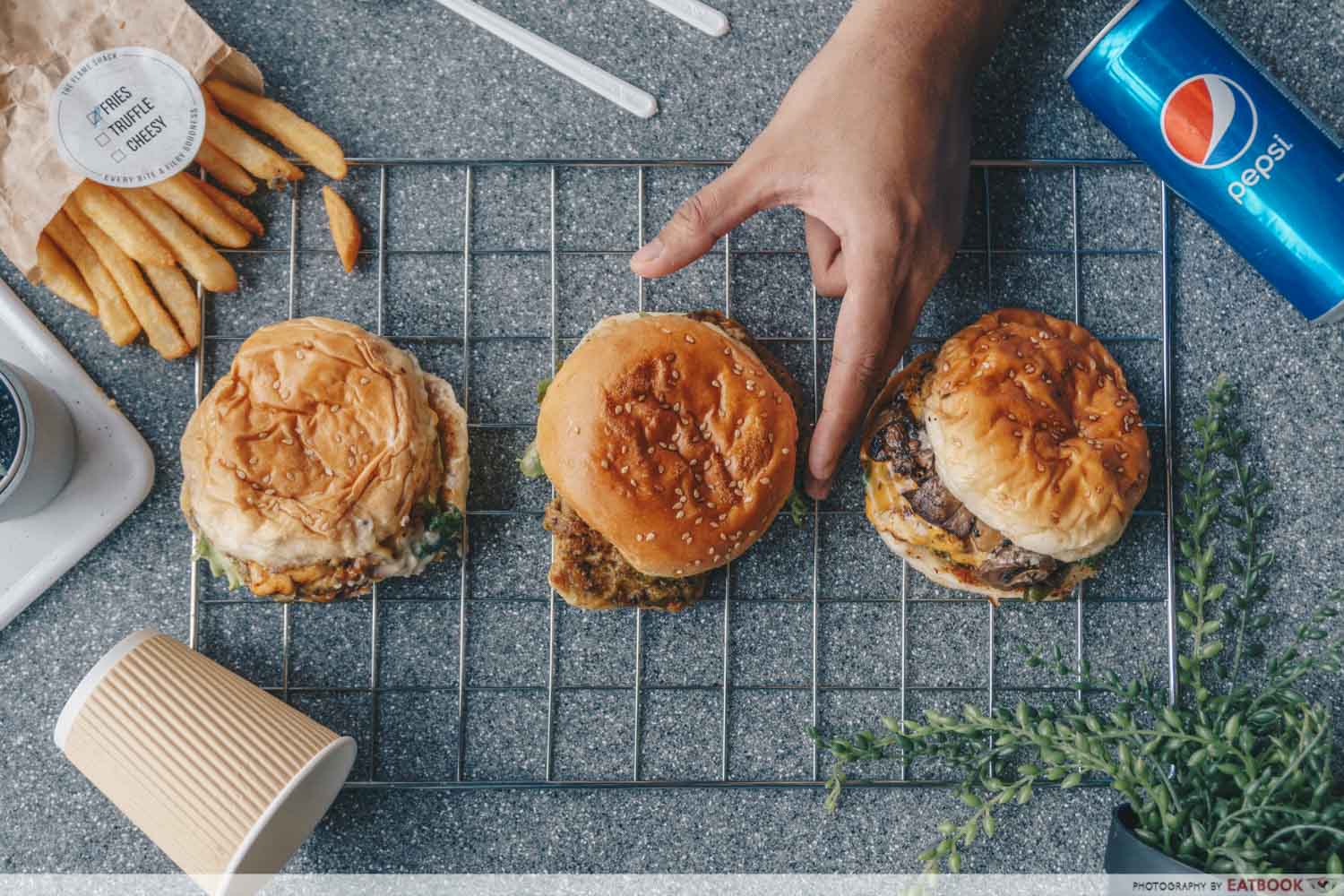 The Flameshack is one of the 20 stalls found at dining space, Tampines Food Co.Here, you can order a slew of unique burgers such as XO duck, green curry chicken, and truffle beef.
Unwrap the packaging off the Beef Cheese Quartet ($8.19) and you'll find a burger that's oozing a sea of four types of melted cheese: mozzarella, parmesan, blue cheese, and smoked cheddar. As a result, the burger has a strong flavour that's marked with sour and creamy notes.
Read our full review of The Flameshack!
The Flameshack Review: Truffle Burgers At A Hidden Atas Food Court In Tampines
Address: 10 Tampines North Drive 4, #01-05, Tampines Food Co, Singapore 528553
Opening hours: Daily 10am to 10pm
Website
The Flameshack is a Muslim-owned eatery.
---
Grab-and-go at these best food kiosks in Singapore selling tasty food 
---
The next time you need a quick meal that doesn't forgo taste, hit up these best food kiosks in Singapore and munch on unique burgers, wagyu sandwiches and more. You'll find them more than enough to fuel you for the rest of the day.
For heartier meals with larger groups of people, check out our full list of Eatbook Top 50 Awards 2019 winners. 
50 Best Food Places In Singapore For All Budgets – Eatbook Top 50 Awards 2019