Banh mi with a local twist at Banh You, Banh Mi!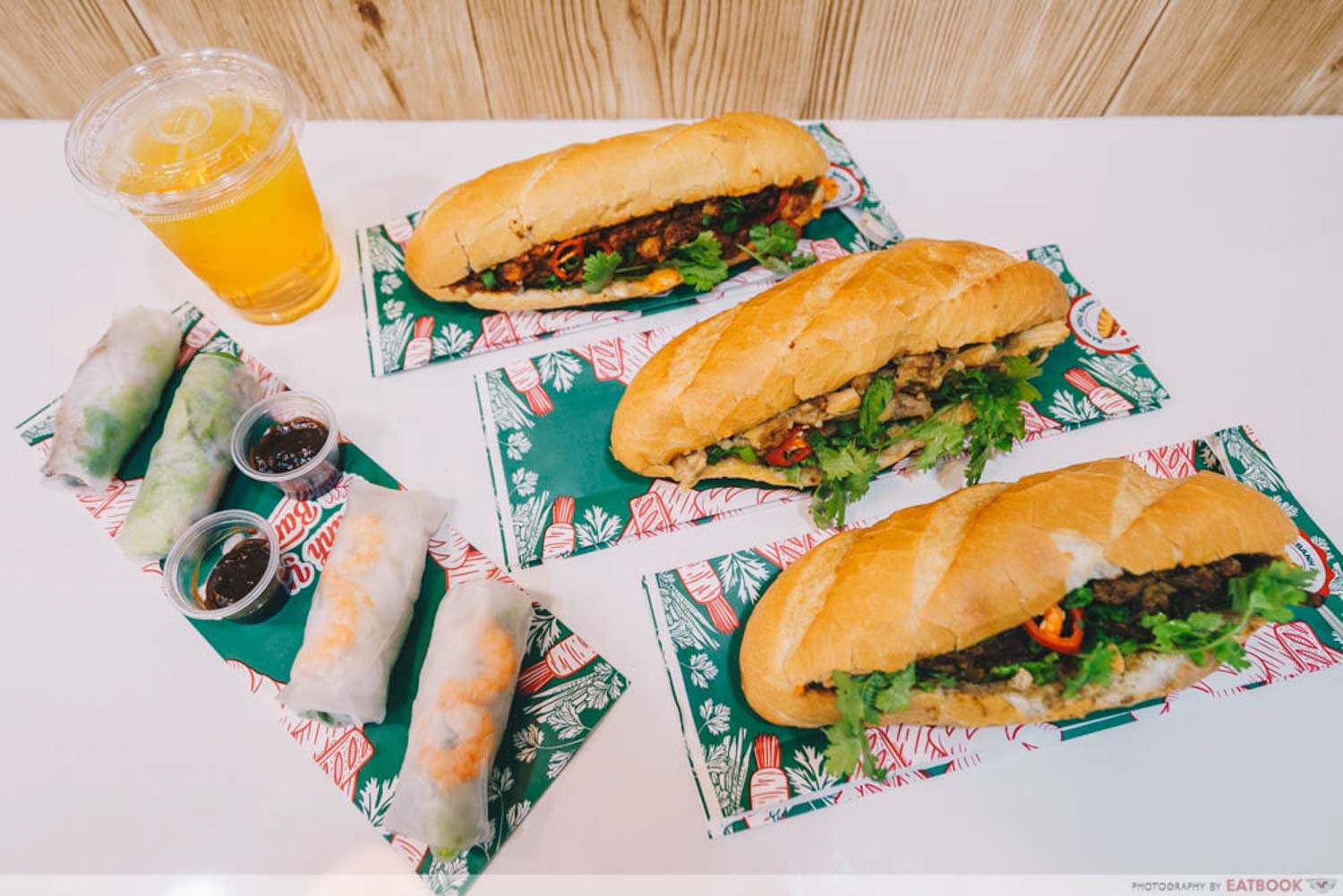 Think about Vietnam and images of drip coffee, hearty bowls of pho, and toasty banh mi come to mind. Introduced to baguette during the French colonial rule, Vietnamese slowly incorporated the bread to their local cuisine. This toasty bread is stuffed with a mix of grilled meat and pickled vegetables, making it a great meal on-the-go. Having visited various countries during his stint as a cabin crew member, Mr Ashraf was looking for opportunities to set up his own business. The idea of Banh You, Banh Mi! was first thought of by his Vietnamese wife, and her idea was later conceptualised into a halal banh mi stall by him and his business partner.
Food at Banh You, Banh Mi!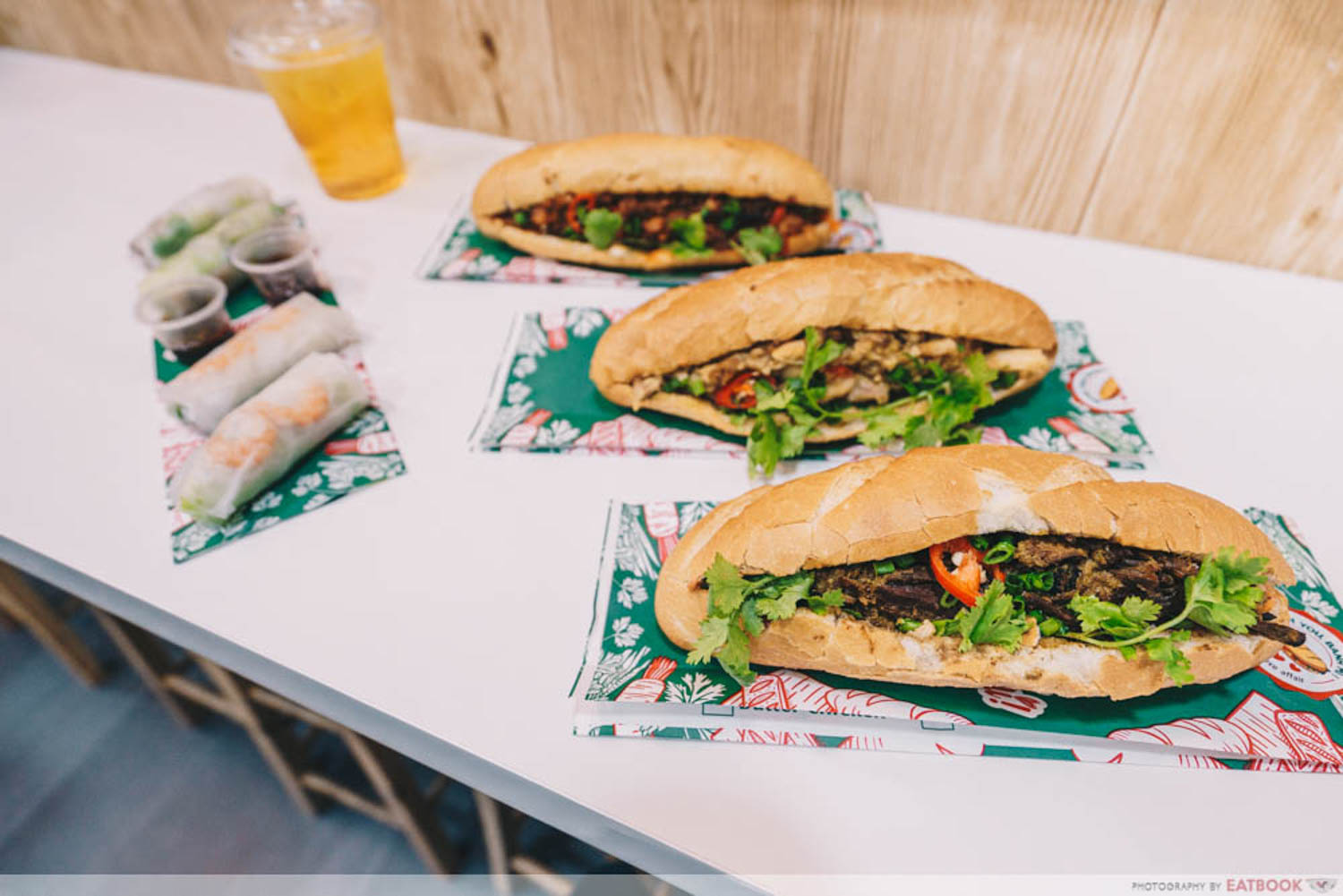 This banh mi joint's menu echoes its spirit of serving traditional banh mi, where they've collaborated with a Vietnamese baker to serve fresh, house-made baguettes. 
Besides classic Vietnamese flavours, they also serve a range of local flavours such as Rendang Beef ($7.50).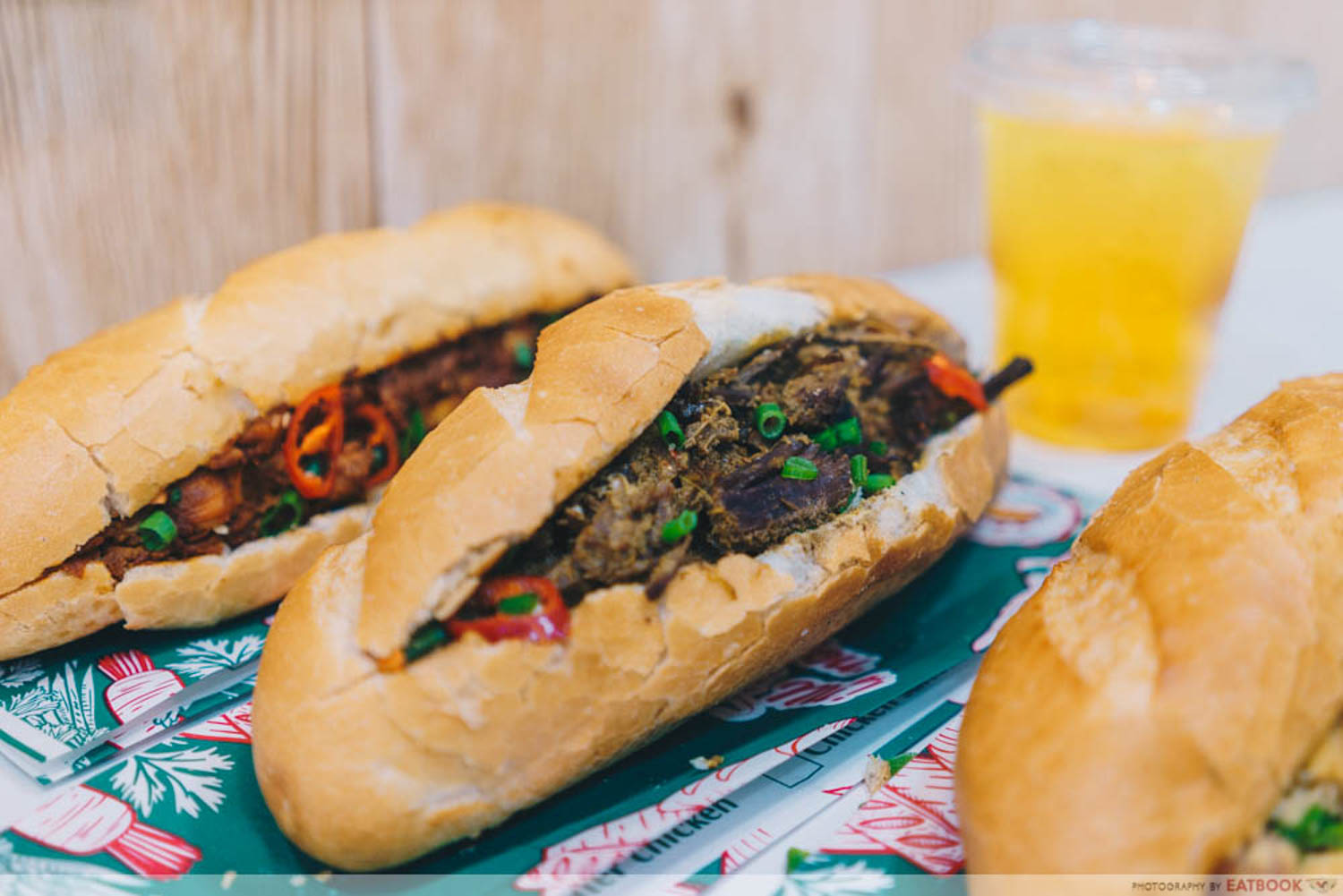 With a generous serving of tender beef rendang sandwiched in a crisp baguette, this thick banh mi involved some jaw workout. 
Toasted upon ordering, the baguette had a crisp exterior with a warm and fluffy interior. Tackling this sandwich was a messy affair. I felt like a child again as crumbs of this crunchy sandwich dotted the countertop with every bite I took.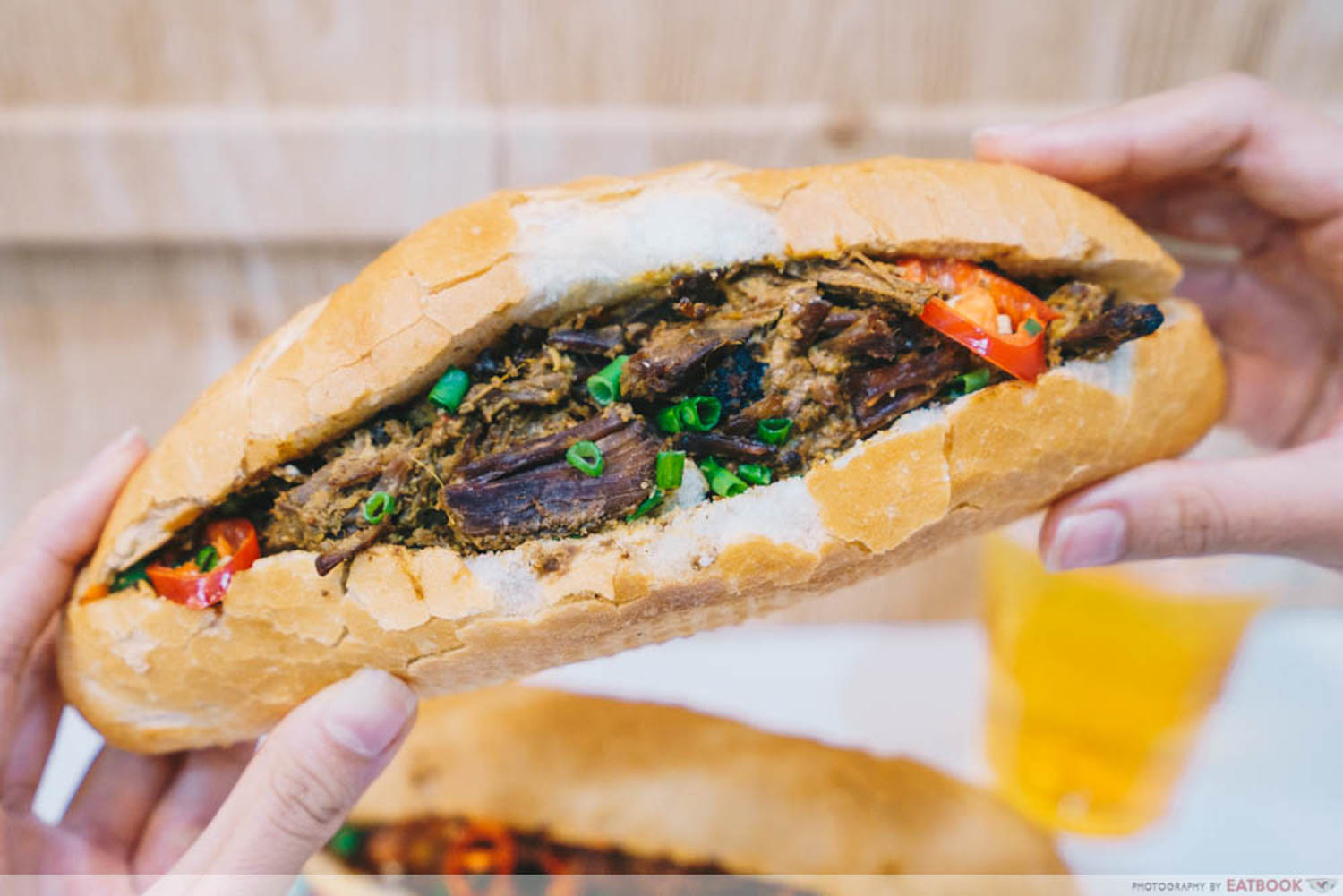 The airy and crisp loaf perfectly partnered the tender beef chunks. The heavenly aroma of curry spices gave a preview of rich beefy and coconut flavours to come. After a burst of these flavours came a subtle spicy kick.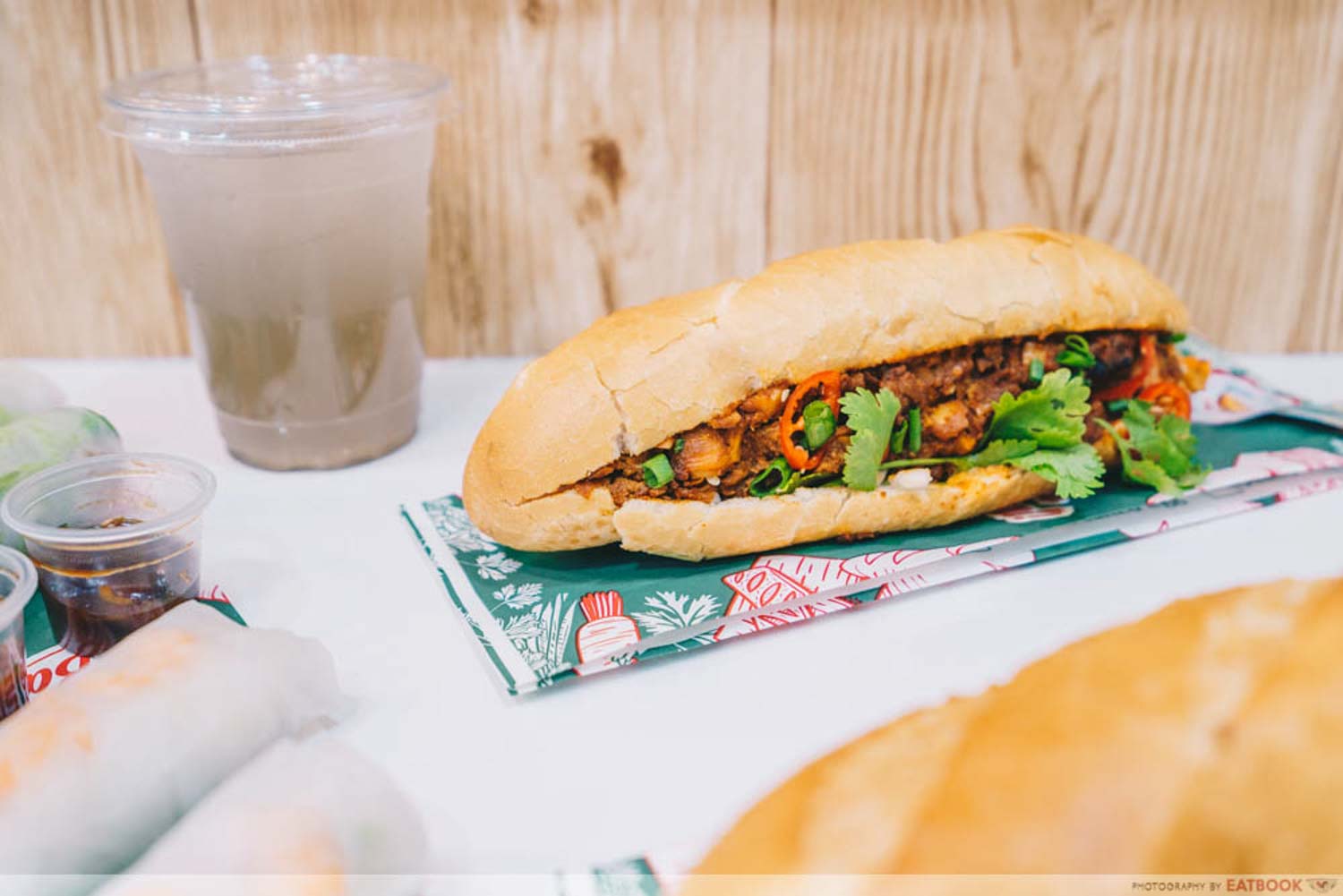 Turn up the heat with their Butter Chicken ($7.50). The bright red and orange hues of this sandwich double up as a warning sign for the thunderous waves of spiciness that will take over your taste buds.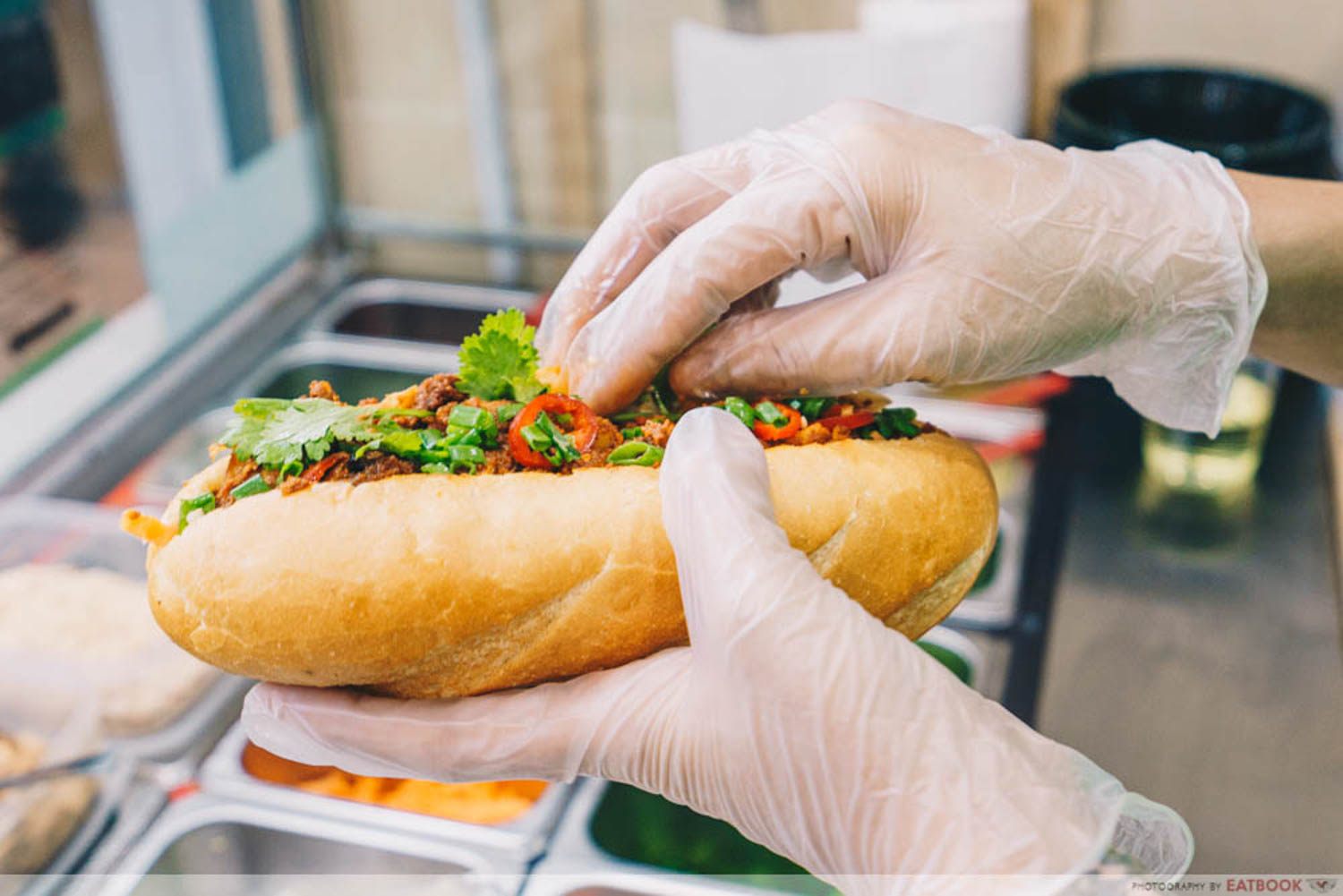 The browned baguette is loaded with a wildly aromatic chicken filling that's redolent with star anise and cinnamon. 
The spicy chicken chunks were slightly numbing on my tongue, but the tartness from the pickled carrots and cucumbers helped to cut through this heat.
Besides chicken, the savoury filling had potato cubes which soaked up the marinade's robust flavours.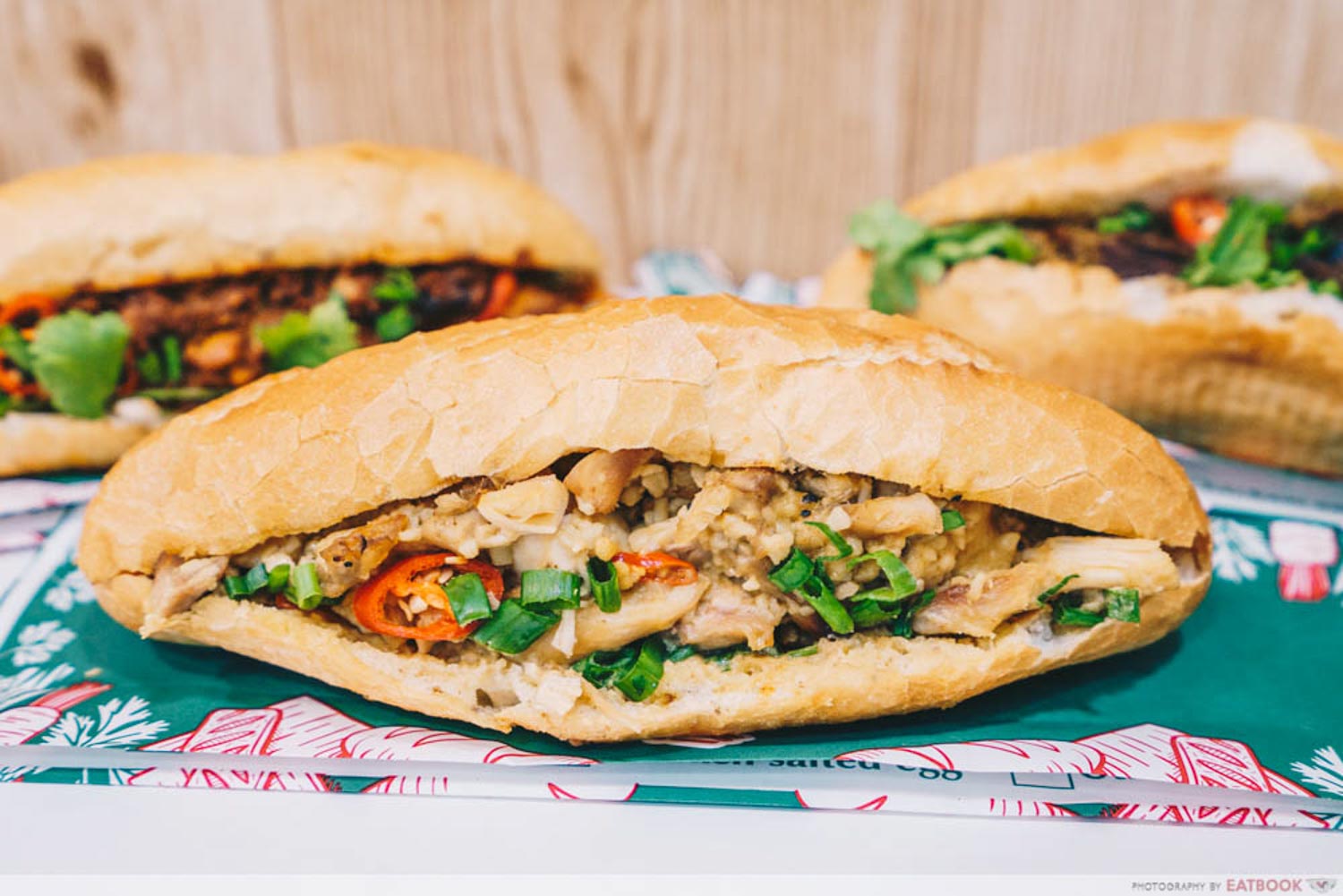 Singaporeans are beyond obsessed with salted egg. The hype over this strong flavour has created all sort of treats, from savoury chips to decadent desserts. Its popularity isn't stopping anytime soon, and this is evident in Banh You, Banh Mi!'s Salted Egg Chicken ($7.50).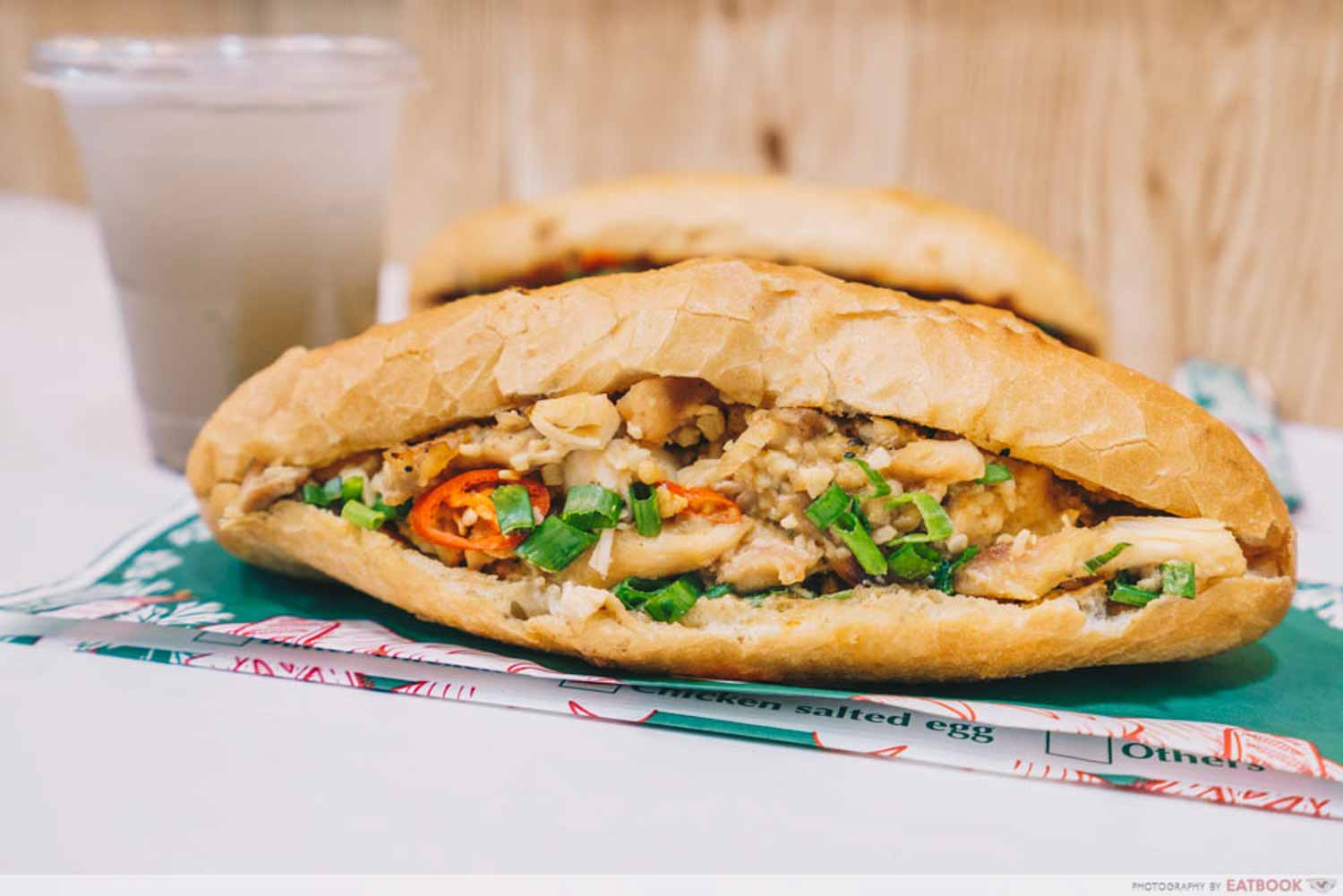 The sandwich is stuffed with a liberal amount of creamy chicken chunks glistening in all of its golden salted egg glory.
Don't spend too much time sniffing the fragrant scent of curry leaves and salted egg, lest the velvety filling dries up.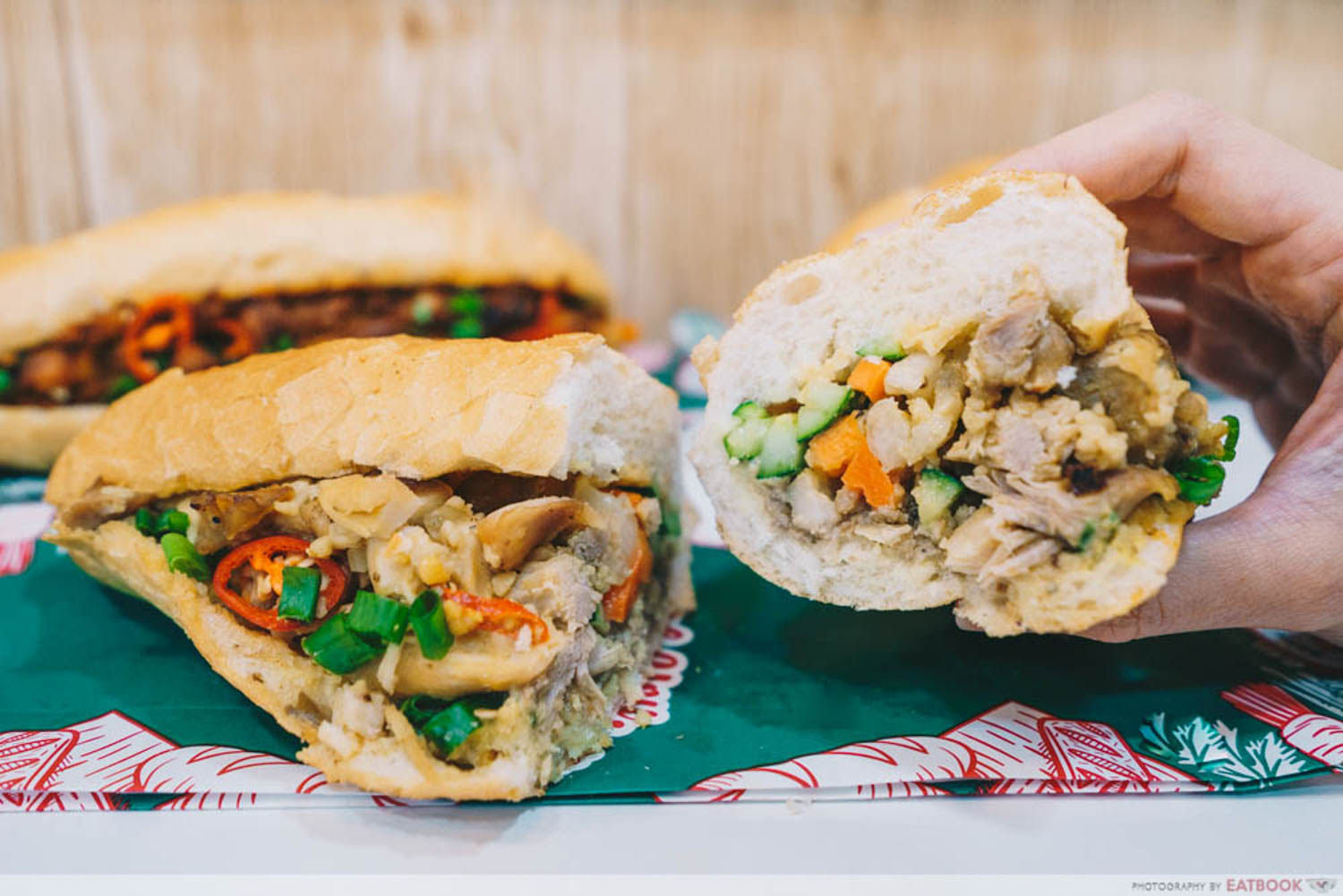 It seems like rich flavours are a running theme across their sandwiches, as this banh mi was jam-packed with robust savoury flavours. 
I find that the salted egg filling can get jelak after a while. Thankfully I ordered a combo, where topping up $2.40 scored me a much-needed drink to quench my thirst and my choice of spring rolls.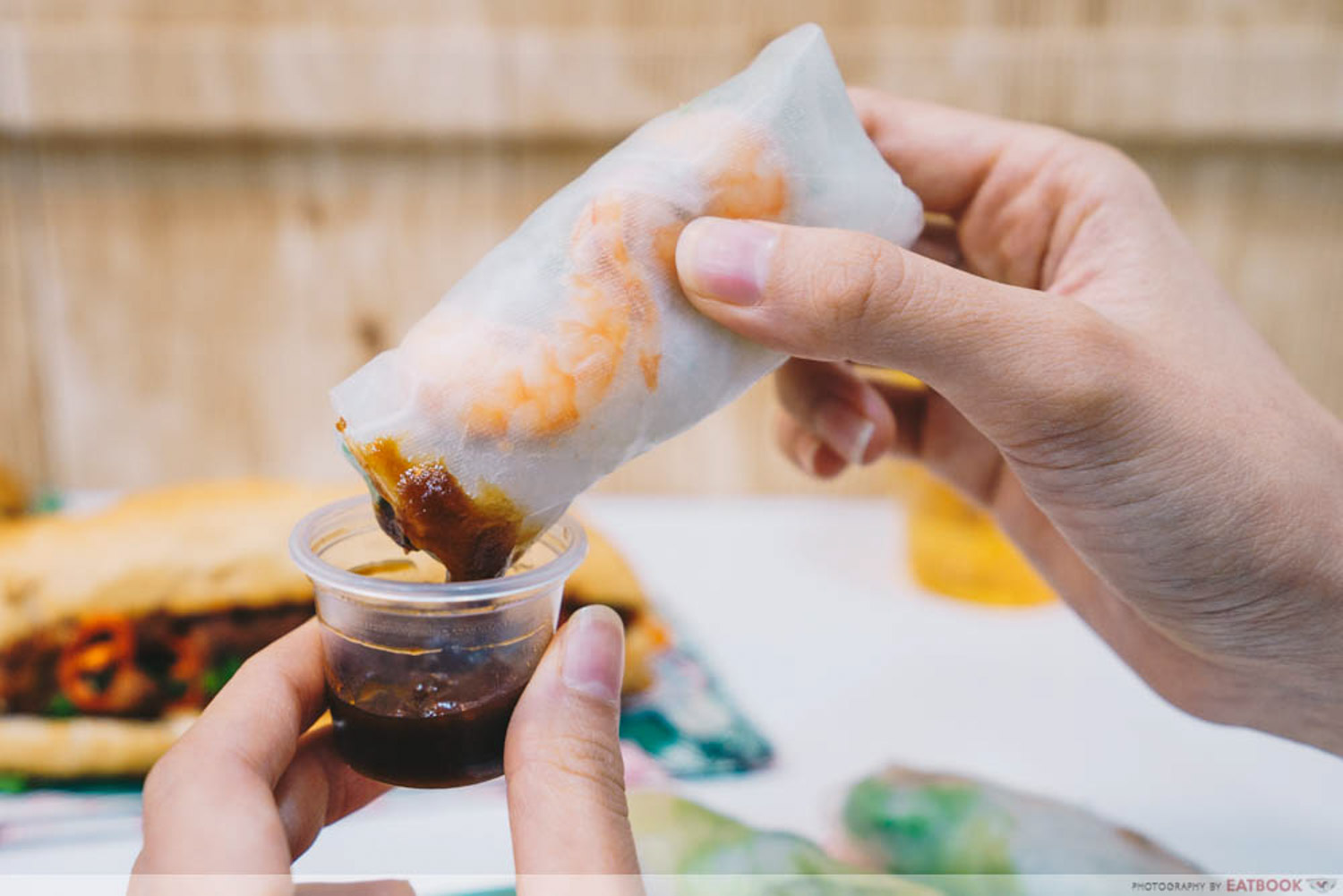 The fresh rolls come in two flavours, chicken and shrimp. I opted for the latter which was fresh tasting,  providing a nice break from the bold flavours.
Ambience at Banh You, Banh Mi!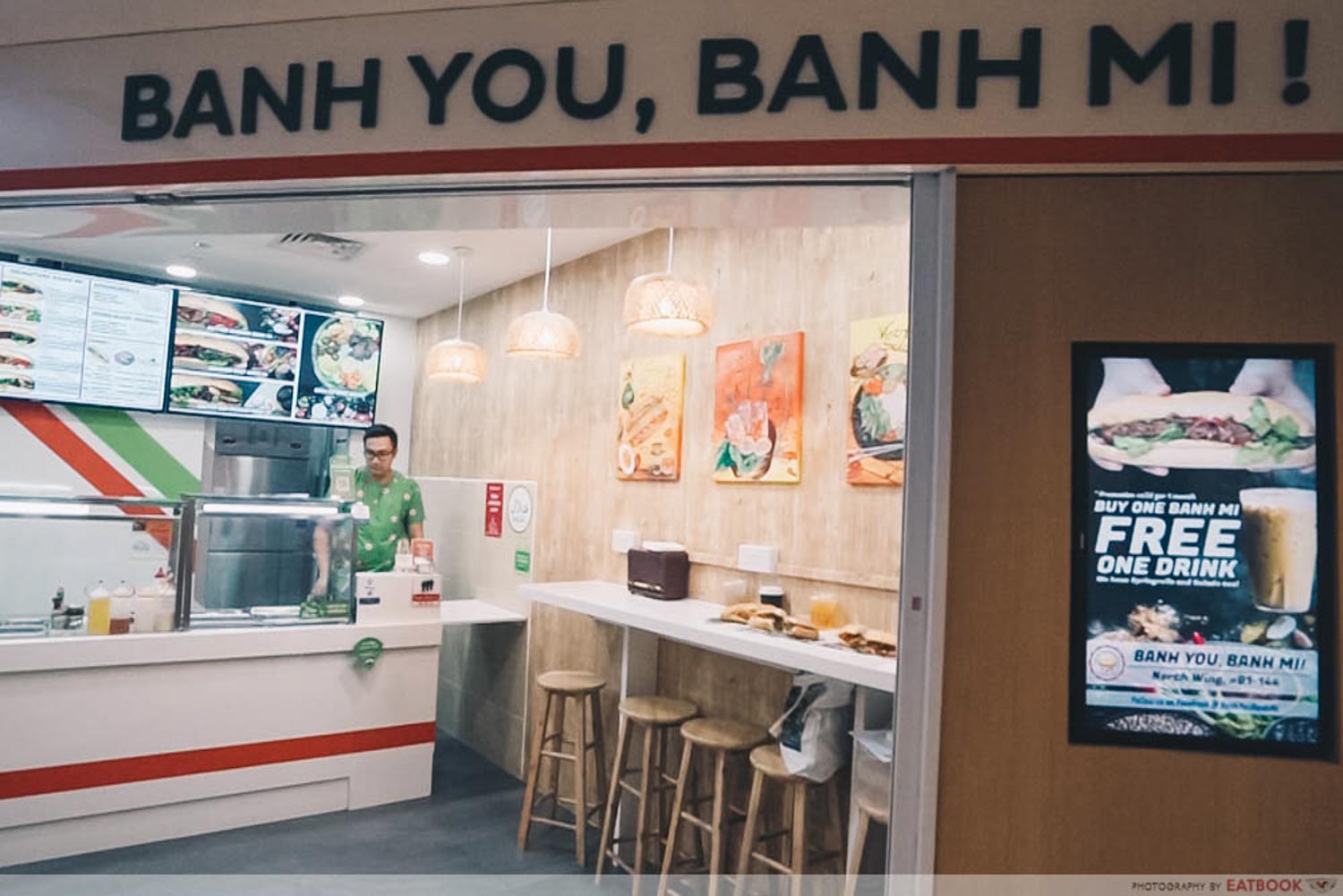 As a hole-in-the-wall joint at Suntec City, this casual eatery is rather easy to miss. My dining partner and I took some time to hunt down this corner unit.
It might not be wise to head down in big groups as there's only one short row of counter seats to dine at. During my time there, I noticed many office workers taking these toasty sandwiches to go. 
The verdict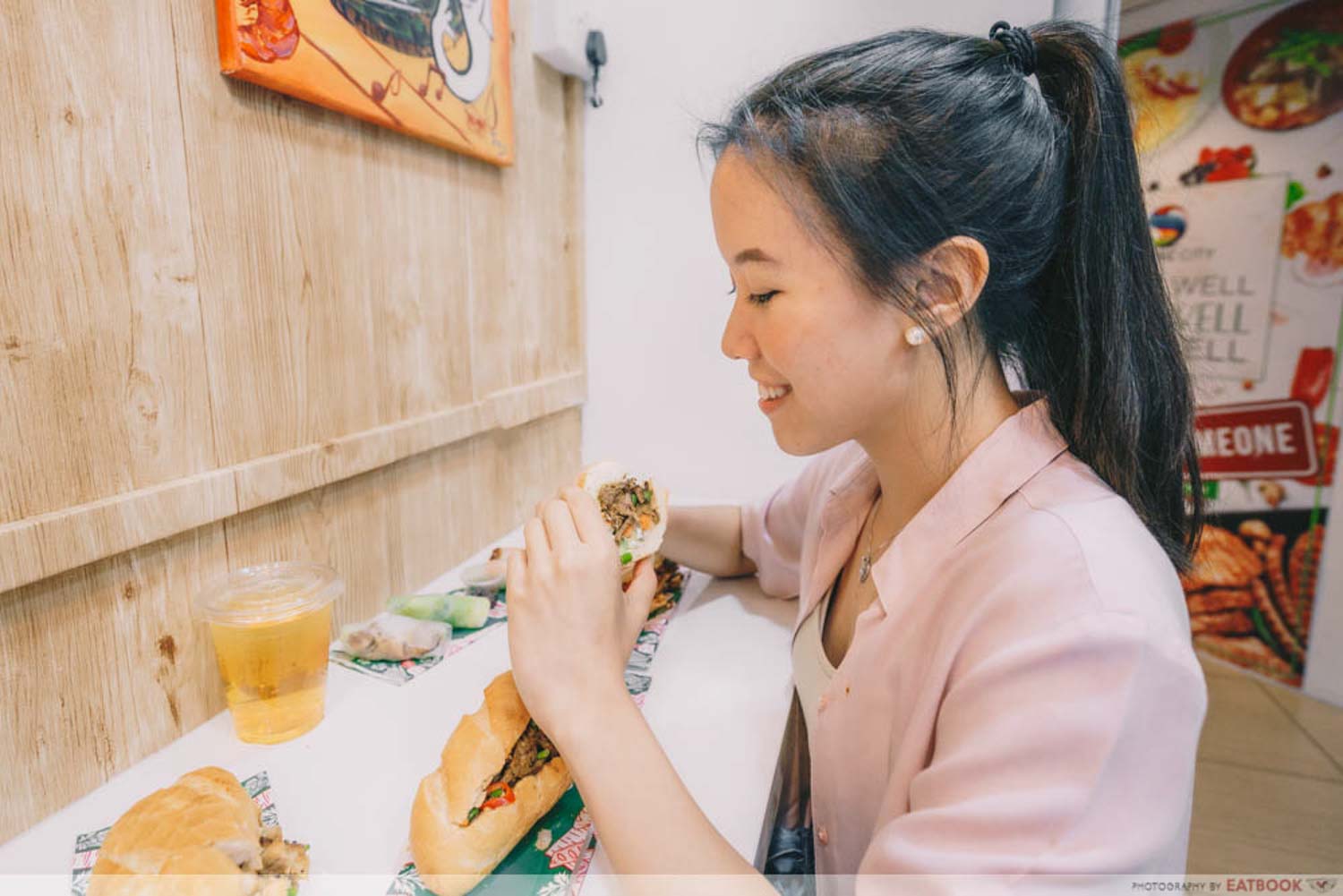 Most places tend to force-fit two distinct cuisines together, but this joint has managed to marry local flavours with classic Vietnamese street food. I was genuinely surprised at how they nailed the tastes of these Singaporean dishes, as they were reminiscent of the actual dishes.
If you can't get enough of this Vietnamese sandwiches, check out our full review of Bami Express!  
Address: 3 Temasek Boulevard, #B1-144, North Wing, Suntec City, Singapore 038983
Opening hours: Daily 10am to 9pm
Tel: 9089 4655
Website 
Photos taken by Joshua Lee.
This is an independent review by Eatbook.sg.
Summary
Pros
– Value for money
– Generous portions
– Flavour-packed banh mi
Cons
– Limited seating
Recommended dishes: Rendang Beef Banh Mi ($7.50), Butter Chicken Banh Mi ($7.50)
Opening hours: Daily 10am to 9pm
Address: 3 Temasek Boulevard, #B1-144, North Wing, Suntec City, Singapore 038983