The Flameshack at Tampines Food Co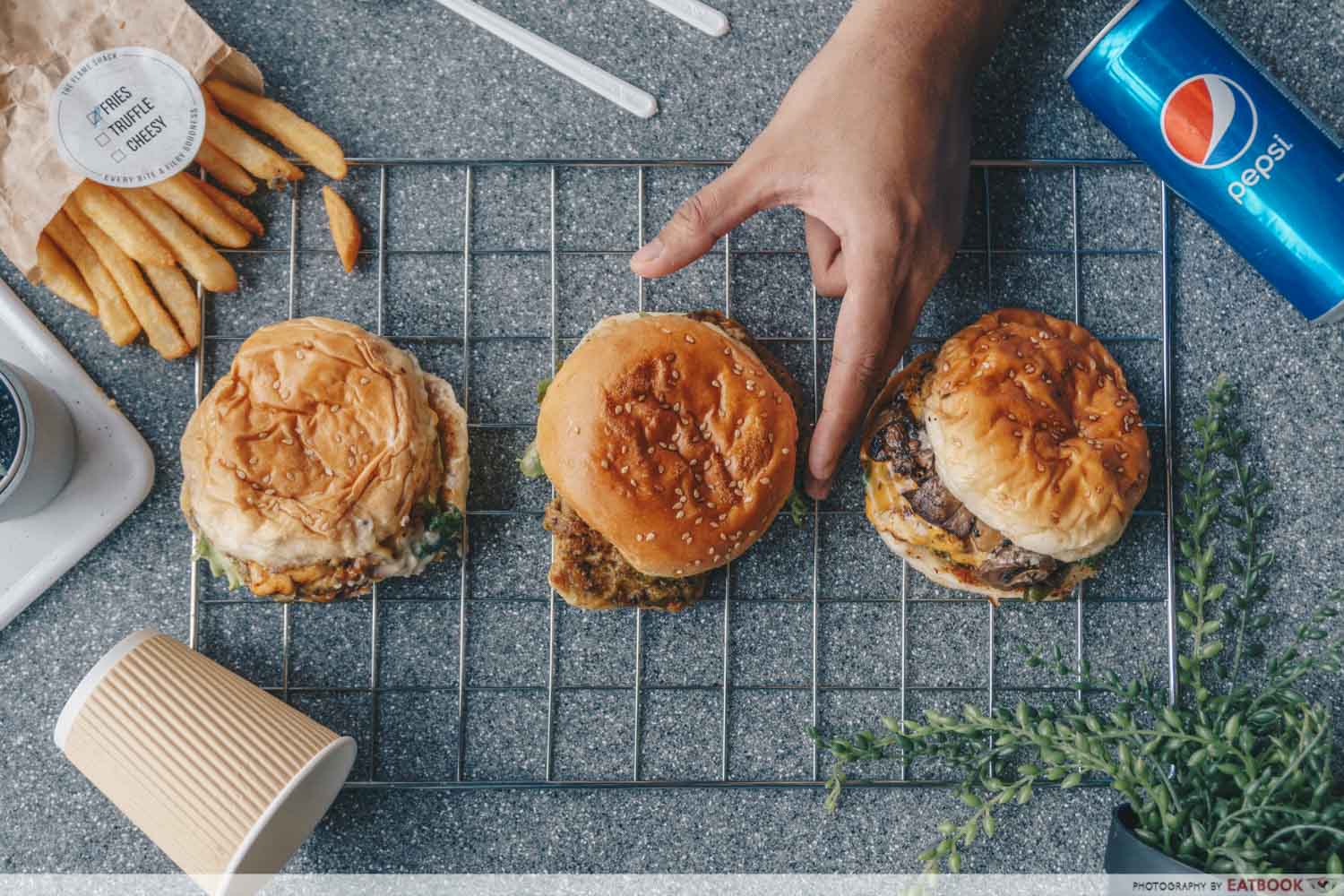 As a true-blue Eastie, I consider myself well-versed in the major makan spots at Tampines. Hence, I was intrigued by the name Tampines Food Co. No one I knew had heard of it and upon loading up Google Maps, I could see why. The dining space was located at an industrial park that was hidden away from the bustling heartlands. It's so ulu that, unless you're a Tampines resident, it's best you get here via a cab.
Anyways, my maiden visit here led me to discover The Flameshack—one of the over-20 F&B stalls here. The Muslim-owned joint serves up burgers with unique ingredients such as green curry chicken, XO duck, and sambal fish.
Truffle Burgers At A Hidden Atas Food Court In Tampines

The Flameshack is a hidden burger joint found at Tampines which has unique options such as XO duck, unagi, and truffle mushrooms. Their Green Curry Chicken was our favourite with its juicy meat and gorgeous sear.Find out more: https://eatbook.sg/the-flameshack-burgers-singapore/Address: 10 Tampines North Drive 4, #01-05, Tampines Food Co, Singapore 528553Opening hours: Daily 10am to 10pm

Posted by Eatbook.sg on Wednesday, January 22, 2020
Food at The Flameshack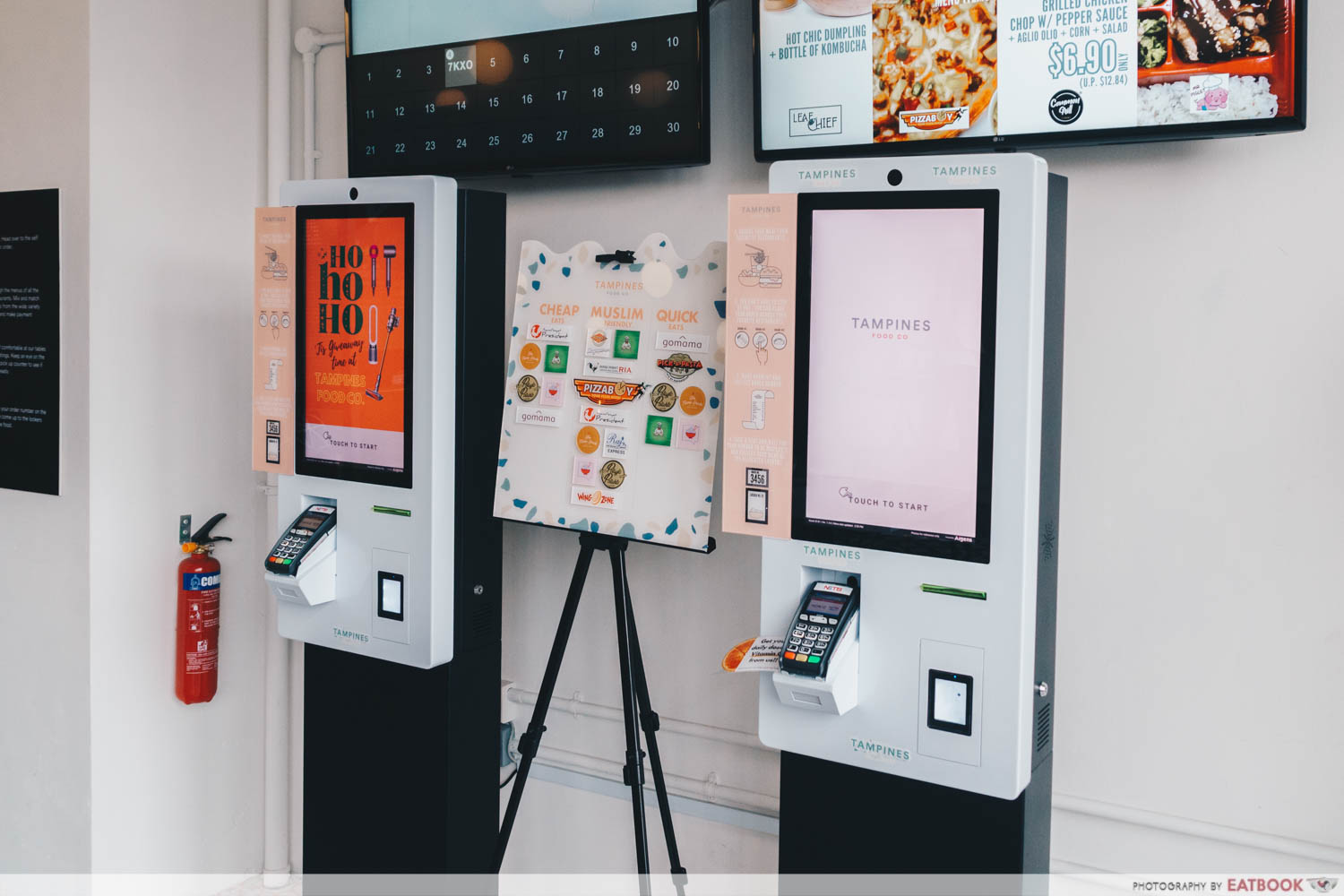 Despite the plethora of merchants, you won't see any chefs working the wok when you enter the cafe—just two self-order kiosks and loads of seats. Think of it as another Deliveroo Editions where a central kitchen is used by multiple restaurants.
Key in your order and once your food is ready, it'll be placed in lockers on the other end of the cafe.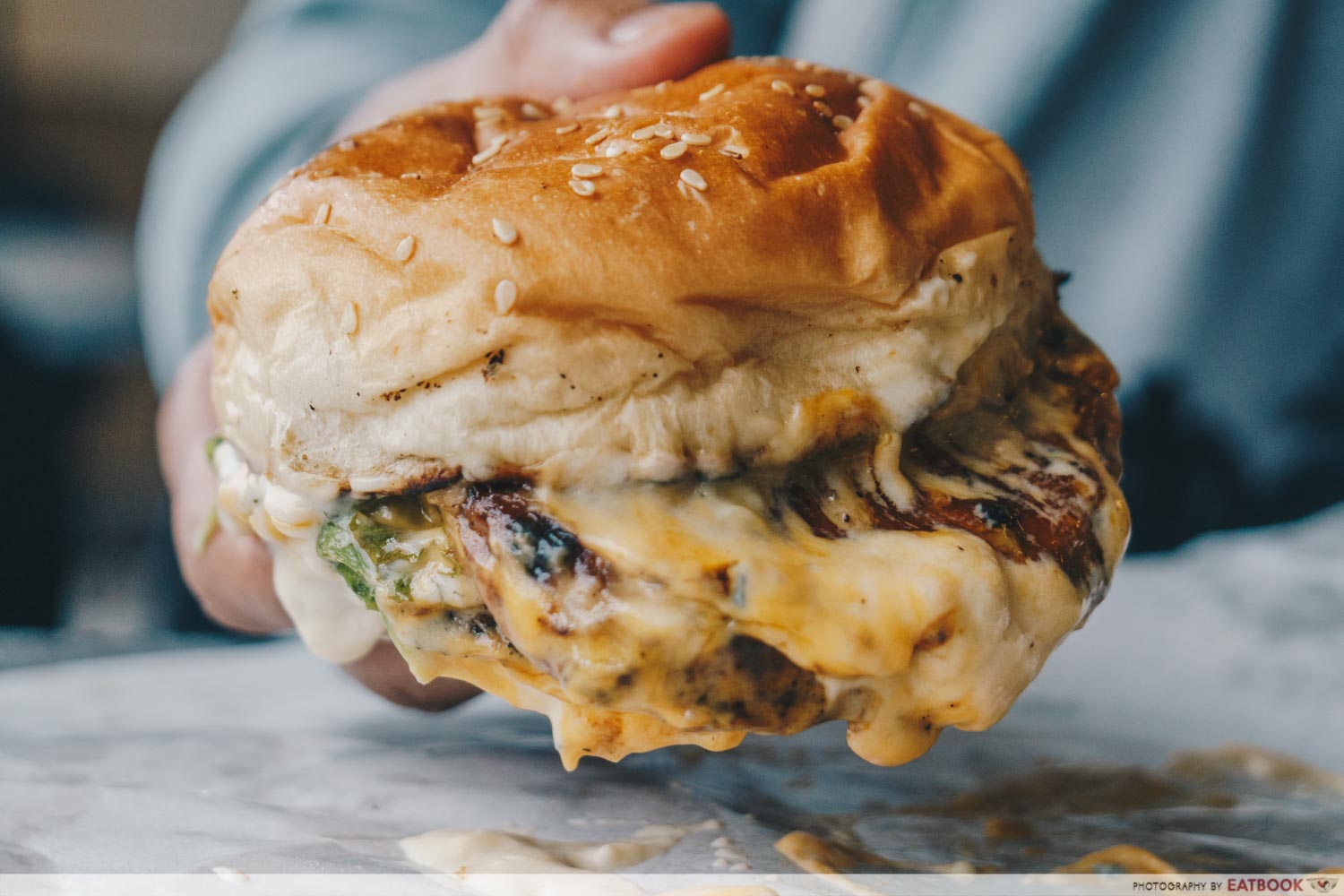 The Beef Cheese Quartet ($8.50) lived up to its name with an ensemble of four cheeses—blue cheese, mozzarella, parmesan, and smoked cheddar. Even though the result was a sloping mess, the melted cheese had a rich flavour marked with sour and creamy notes, so we had no choice but to stan.
The beef patty was tender and offered no resistance as I bit into it. The meat's savoury juices mixed beautifully with the cheese, giving each mouthful a slight saltiness that made the burger all the more intoxicating.
My main issue with it—and this applied to most of the burgers we tried that day—was that the buns were soggy as a result of soaking up the bountiful fillings. Perhaps The Flameshack could consider switching to buttered brioche buns to allow for stronger structural integrity.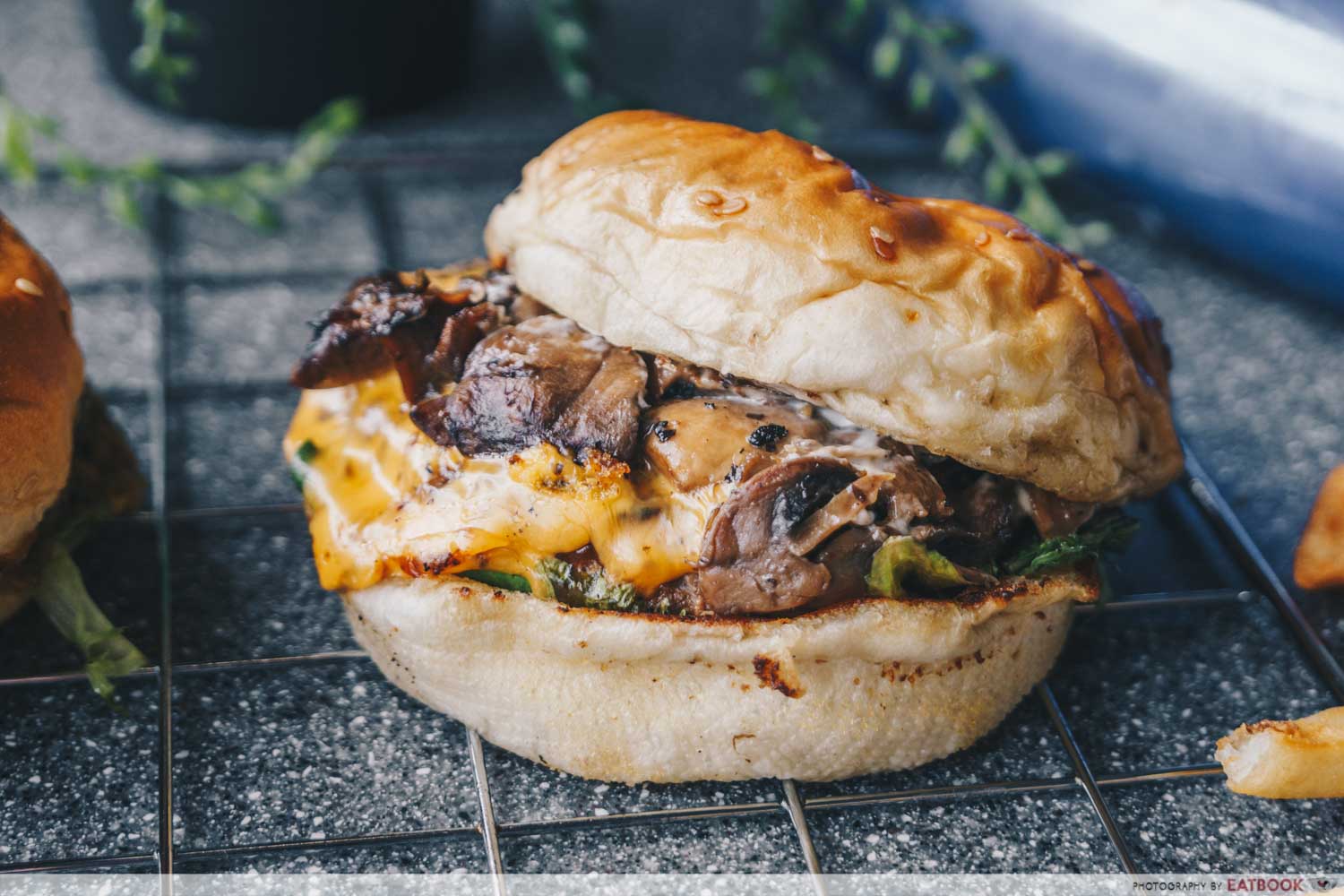 I've had a lot of mushroom burgers this year, and the Beef Shroom Truffle ($9) easily ranks amongst the top three. Capping the beef patty was a heap of wild button mushrooms, sauteed in truffle oil for a punch of aroma. Most burgers usually fall into the trap of allowing the truffle oil to overpower them, and I'm pleased to say that wasn't the case here.
The mushrooms took centre stage with every bite; they were extremely juicy and slightly bitter from the char. The truffle oil was more of a supporting player, providing hints of earthiness to complement the smoky flavours.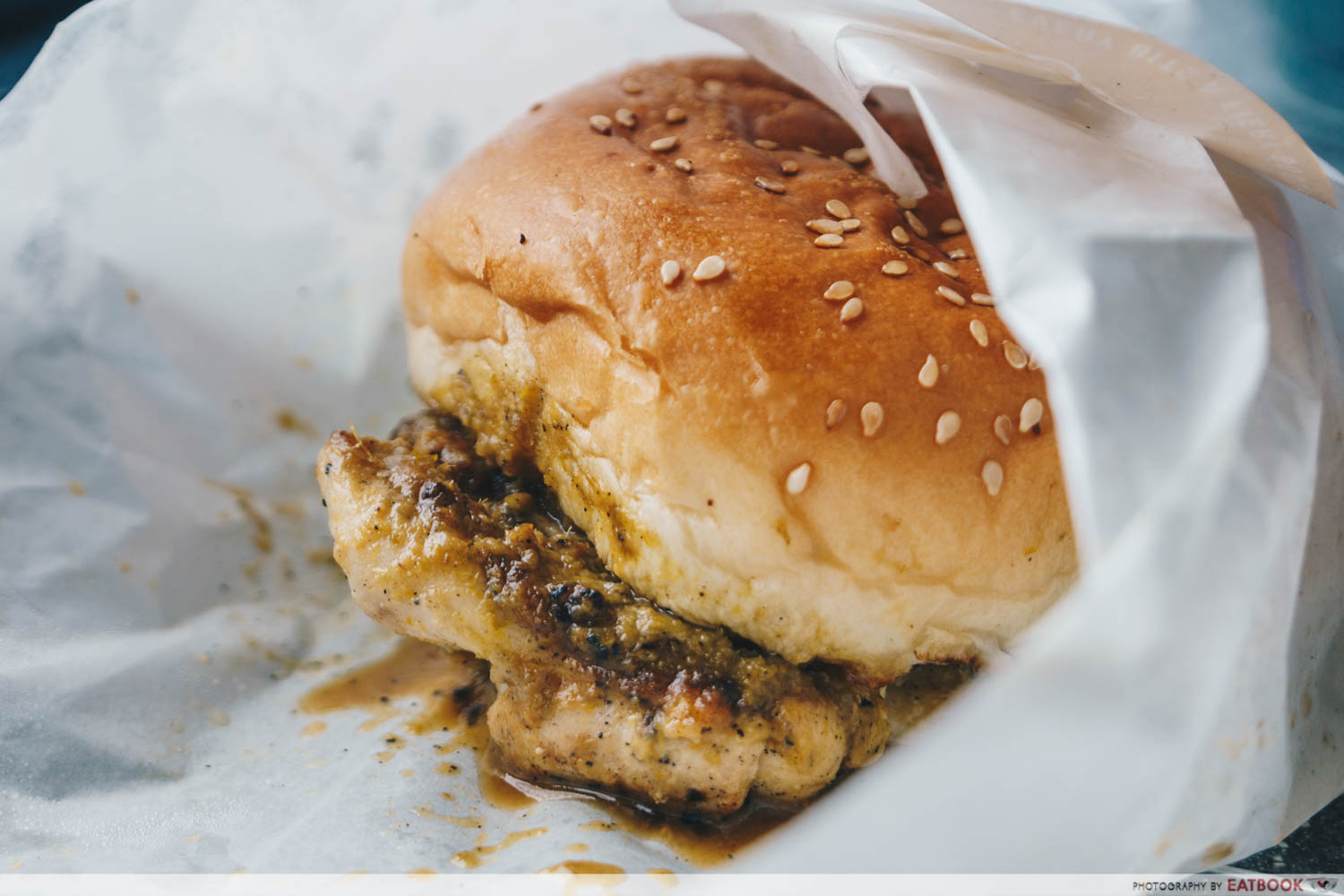 The fact that the Green Curry Chicken ($8.50) ended up being my favourite burger despite the strong contenders speaks volumes. The flame-grilled chicken thigh was an absolute unit that extended beyond the bun. This heft was matched by the gorgeous sear that allowed it to retain its juiciness while being evenly cooked throughout.
The creme de la creme of the entire concoction was the spicy green curry lathered over the thigh. It had gravy-like consistency and imbued every inch of the chicken with rich coconut notes.
Ambience at The Flameshack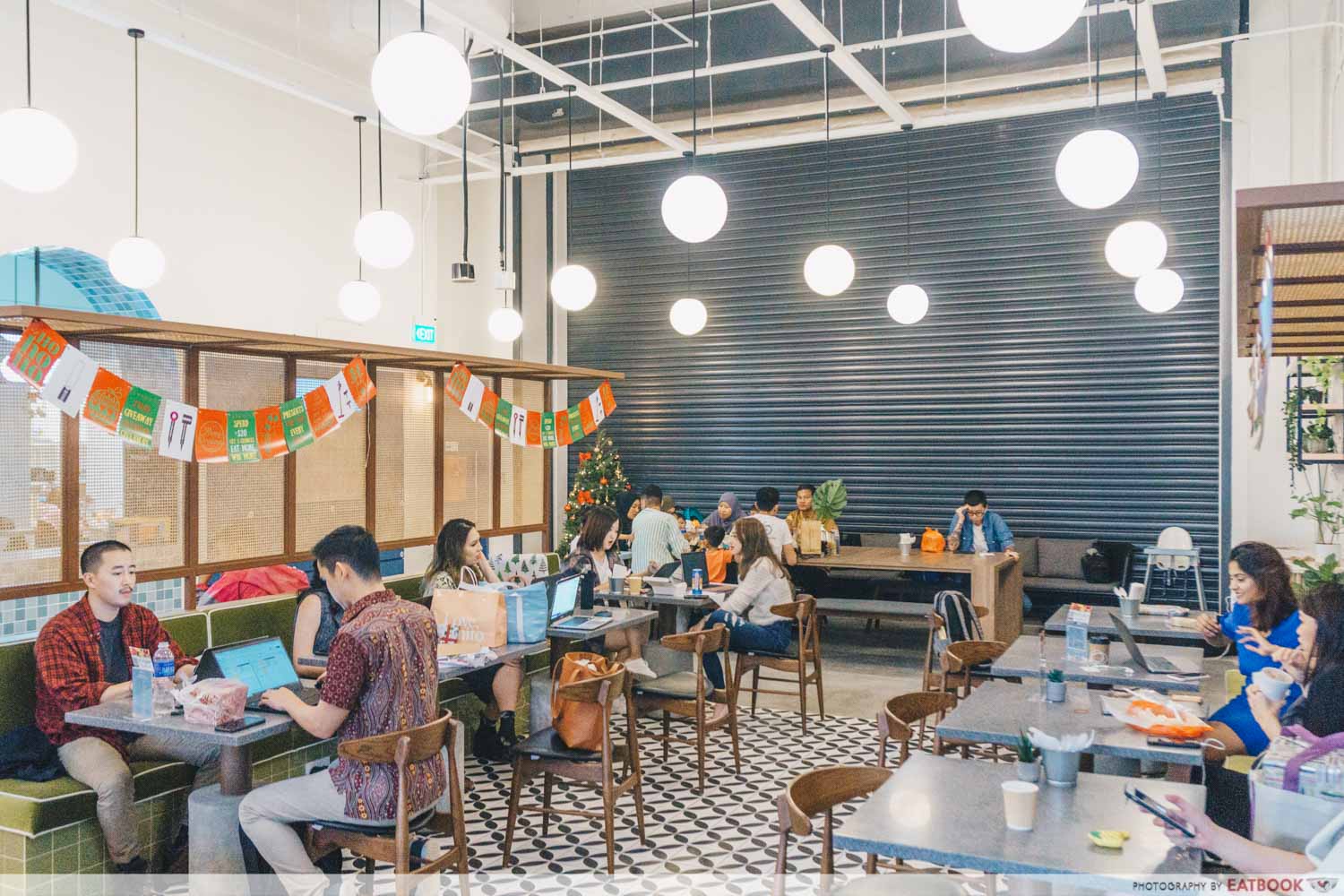 Despite its inaccessibility, the cafe had a steady crowd of visitors when we arrived—and we're certain it's only gonna get more crowded once this article's published. Seats are aplenty, and there are even board games for you to play with your homies. All these lead to a comfy vibe that makes you wanna stay on long after you're done with your meal.
The verdict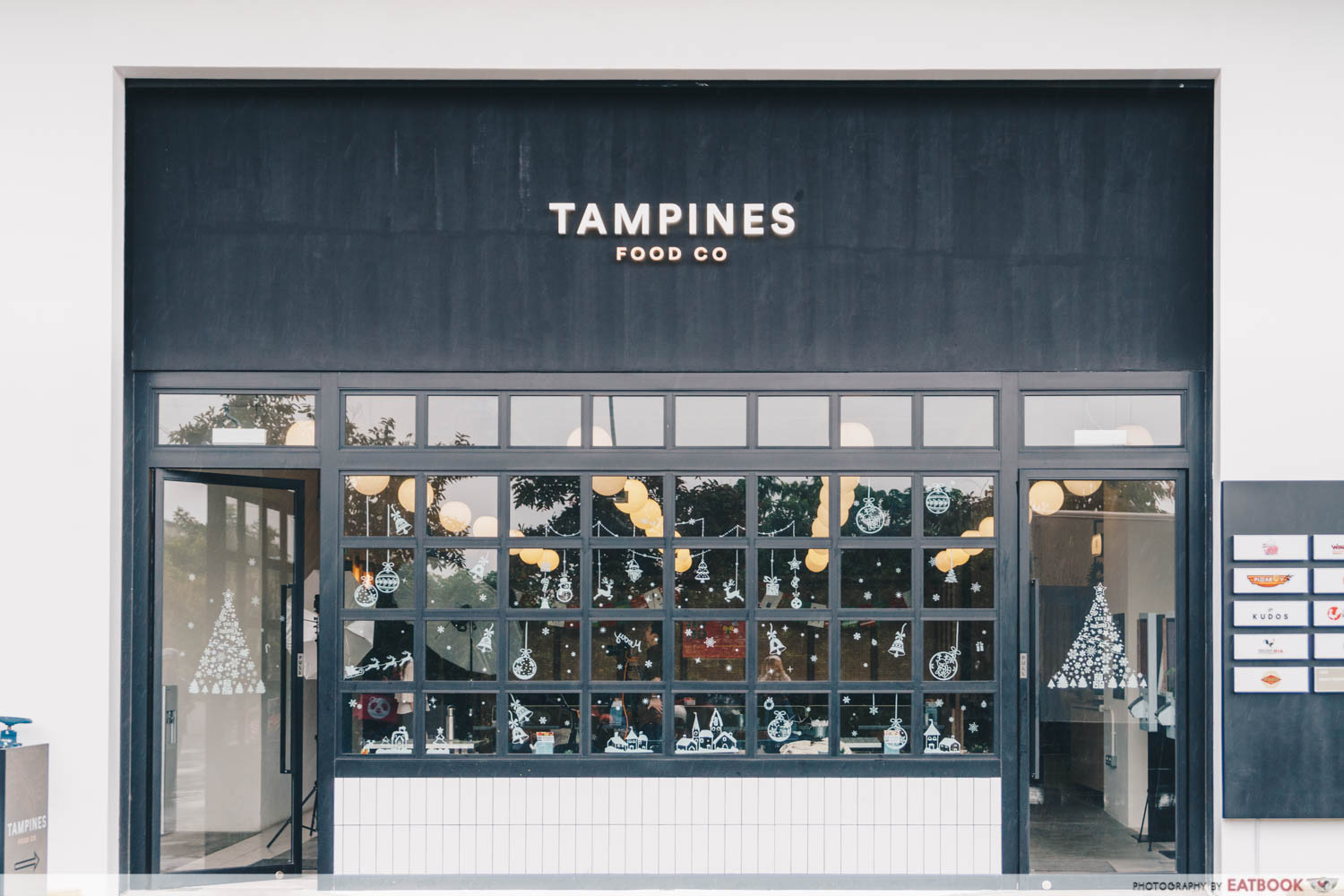 Despite the inaccessibility of Tampines Food Co, The Flameshack's burgers are good enough reasons to make the trip down. Their flavours were on point and rank amongst some of the best burgers we tried this year. 
Even if you don't fancy burgers, you can still indulge at the other stalls here including Ayam Penyet President and Gomama. Burger connoisseurs will also be glad to know that you can even get food from Fatburger and Hot Chick Buns here. 
Fatburger Review: Giant Four-Patty Burger At This New Burger Chain From LA
Address: 10 Tampines North Drive 4, #01-05, Tampines Food Co, Singapore 528553
Opening hours: Daily 10am to 10pm
Website
The Flameshack is a Muslim-owned eatery.
Photos taken by Huang Xiao.
This is an independent review by Eatbook.sg.
Summary
Pros 
– Generous and tasty burgers
– Cosy ambience
– Easy to order
Cons
– Soggy buns
– Inconvenient location
Recommended dishes: Beef Cheese Quartet ($8.50), Green Curry Chicken ($8.50), Beef Shroom Truffle ($9)
Opening hours: Daily 10am to 10pm
Address: 10 Tampines North Drive 4, #01-05, Tampines Food Co, Singapore 528553