Hot Chick Buns delivers huge chicken burgers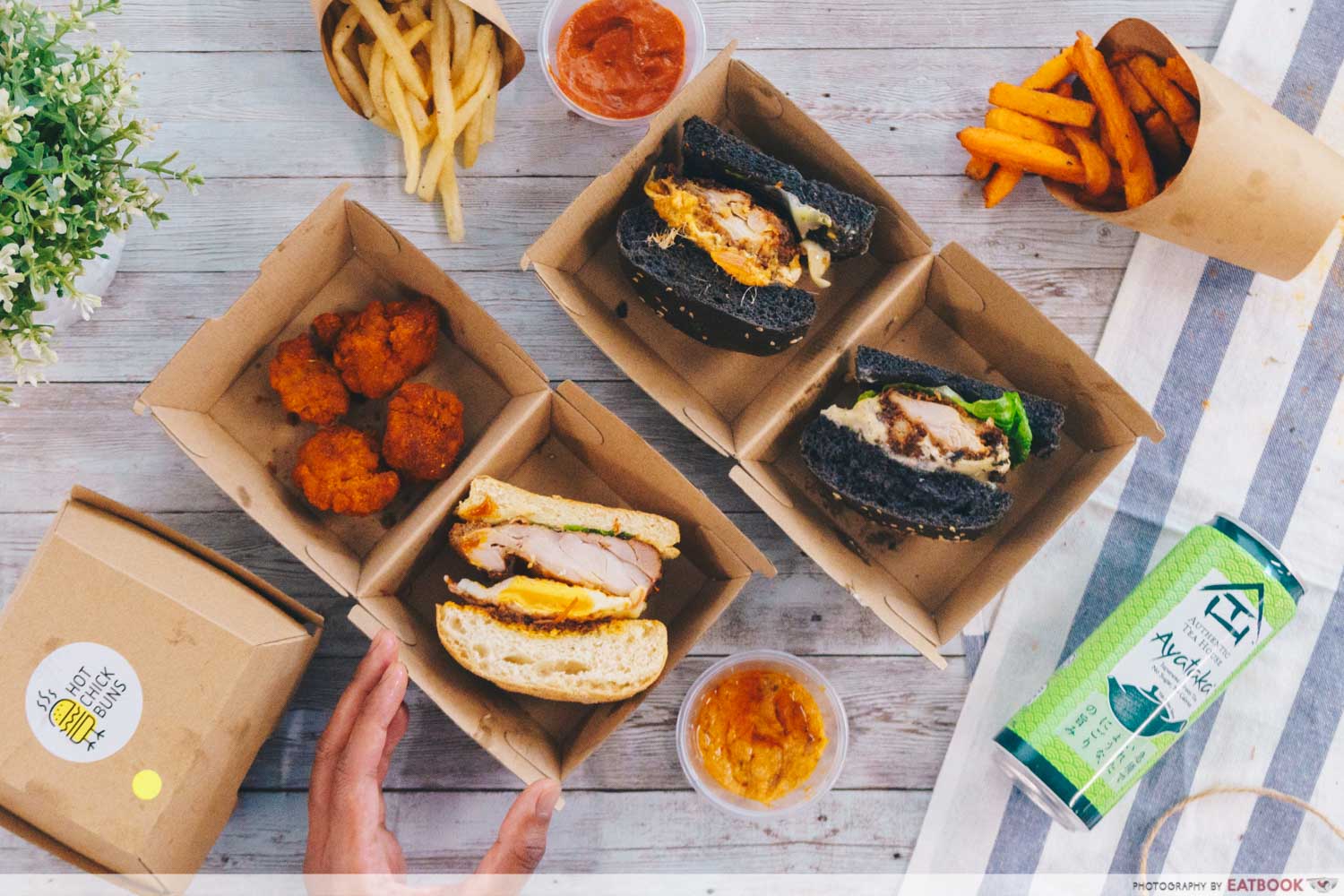 It was fate—and heavy rain—that brought me to my first meal with Hot Chick Buns. My go-to restaurant on GrabFood was closed for delivery, and the merchant under it just happened to be this brand-new halal joint.
GrabFood Deal Matcher: Get Up To 50% Off From Now Until 22 Dec 2019
As I scrolled down the menu, I was impressed by their hefty chicken burgers which utilised traditional Malay flavours such as ayam masak merah (chicken in dried sambal chilli) and assam pedas (spicy and sour stew). Wanting to try as many items as possible, I gathered a bunch of friends for a burger-filled lunch.
Long story short, we enjoyed our orders which led us to this full-blown review. 
Food at Hot Chick Buns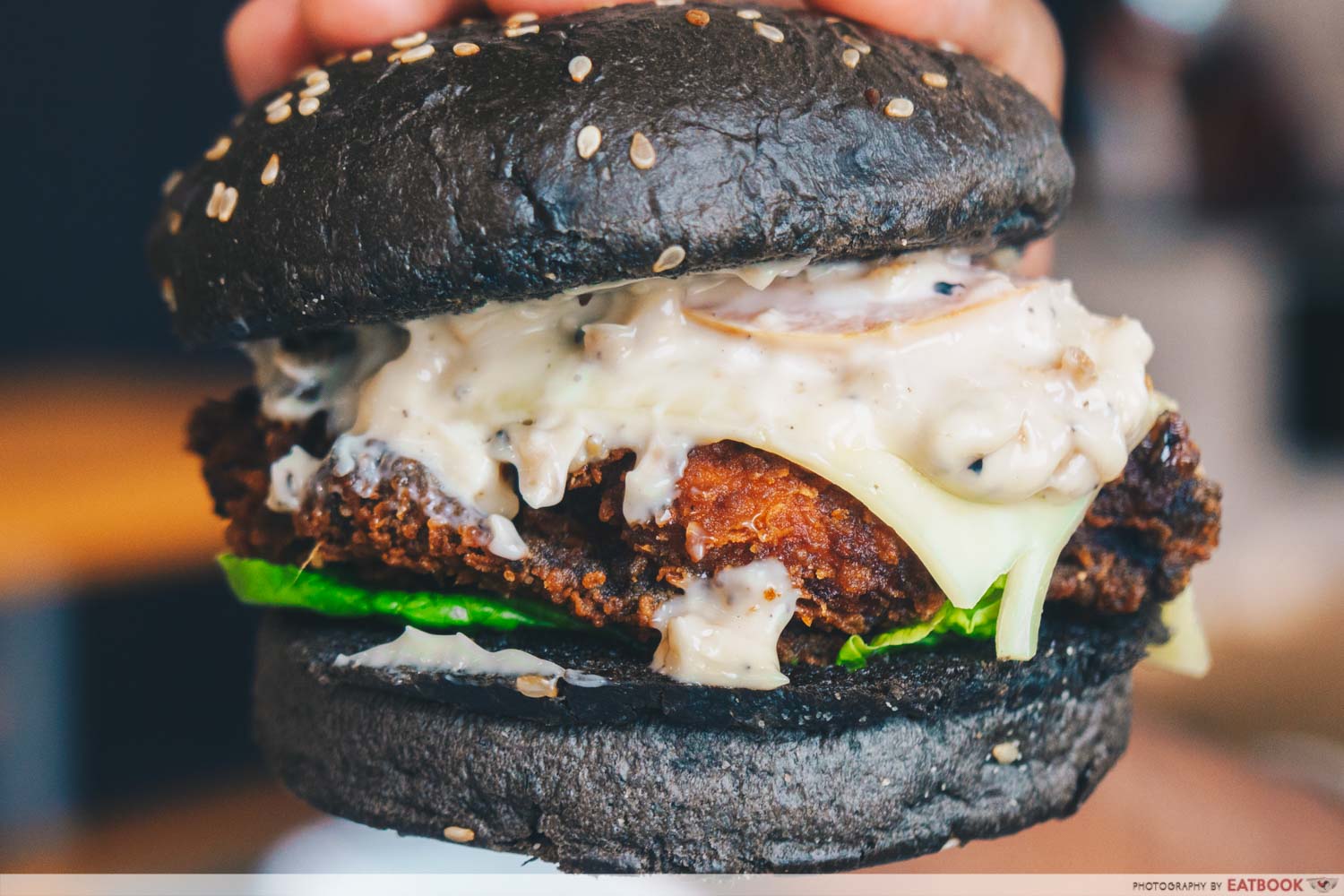 Let me preface this by saying that you can only get these burgers if you're around Tampines or Kallang. Even then, it's only via food delivery apps unless you wanna travel to their central kitchen at Tampines Food Co.
First up to bat was My One Aioli ($7.45). Buttered squid ink buns shielded a fried chicken thigh patty that's slathered in garlic aioli. Arranged between are an assortment of greens including lettuce and onions.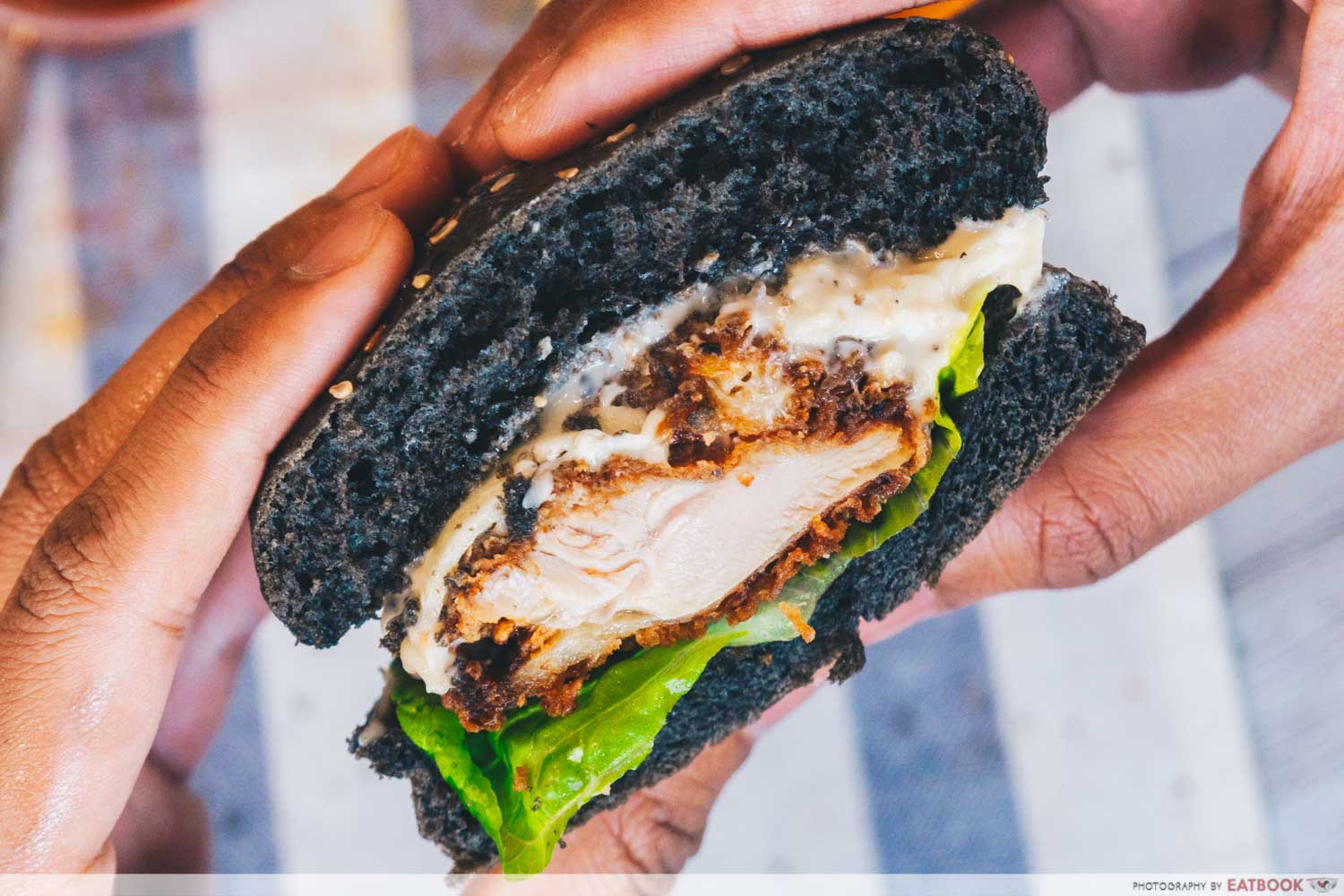 It's a problem specific to just this burger, but holy s****, was the chicken unbearably dry. It felt like it was left in the fryer for way too long, resulting in uber tough meat. 
The burger's saving grace was the smooth garlic aioli. The spread was studded with pepper that broke the monotonous texture while providing a slight kick. On its own, the aioli had a buttery taste—just what we needed to grease up the meat. However, its pungent factor was raised to Level 100 when we ate it with the fresh onion slices.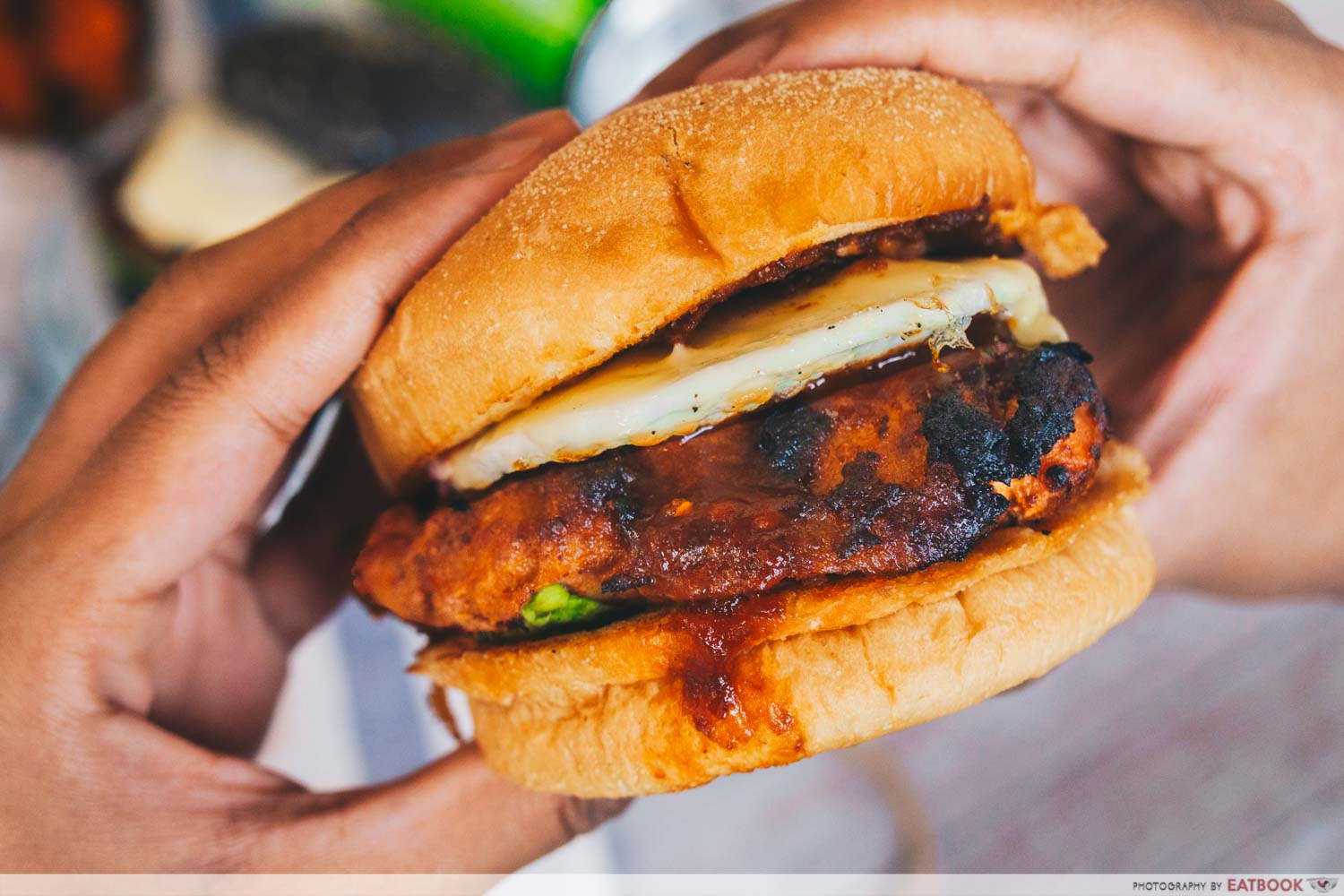 Like the second track of Justin Bieber's My World 2.0, this burger is Sambal-dy to Love ($8.95). It brilliantly executed the tried-and-tested configuration of semolina buns, fried egg, and a grilled chicken patty, delivering a potent punch of savoury flavours with bursts of juiciness.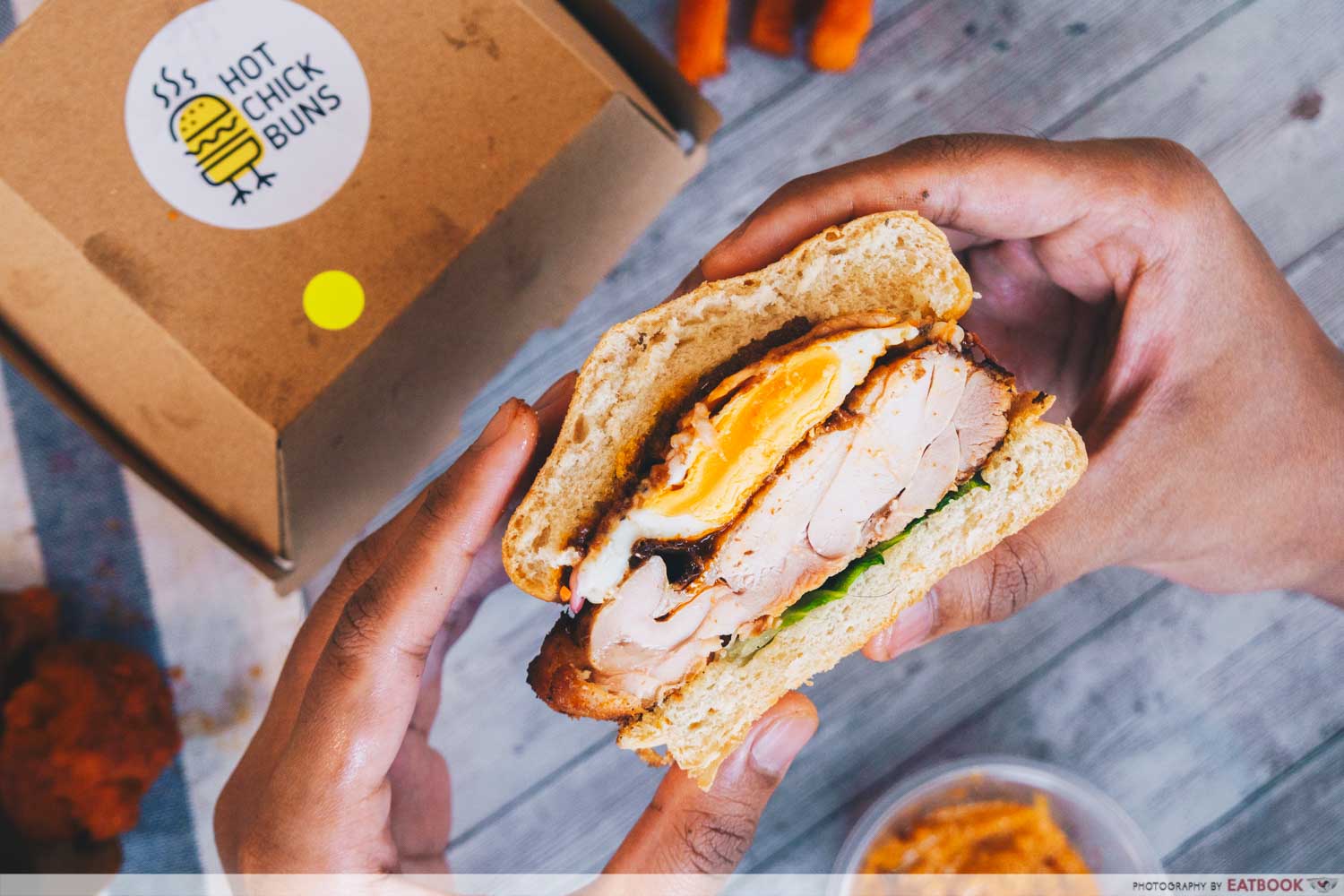 You can tell that the grilling technique used was sublime. In addition to its beautiful sear, the chicken patty was extremely juicy and plump. The egg yolk was still slightly runny, giving a dose of richness to the burger.
That being said, we felt that the ayam masak merah sauce could have been improved. Too much tomatoes were used, leading to a strong acidic aftertaste. Perhaps increasing the proportion of onions and dried chilli would have helped.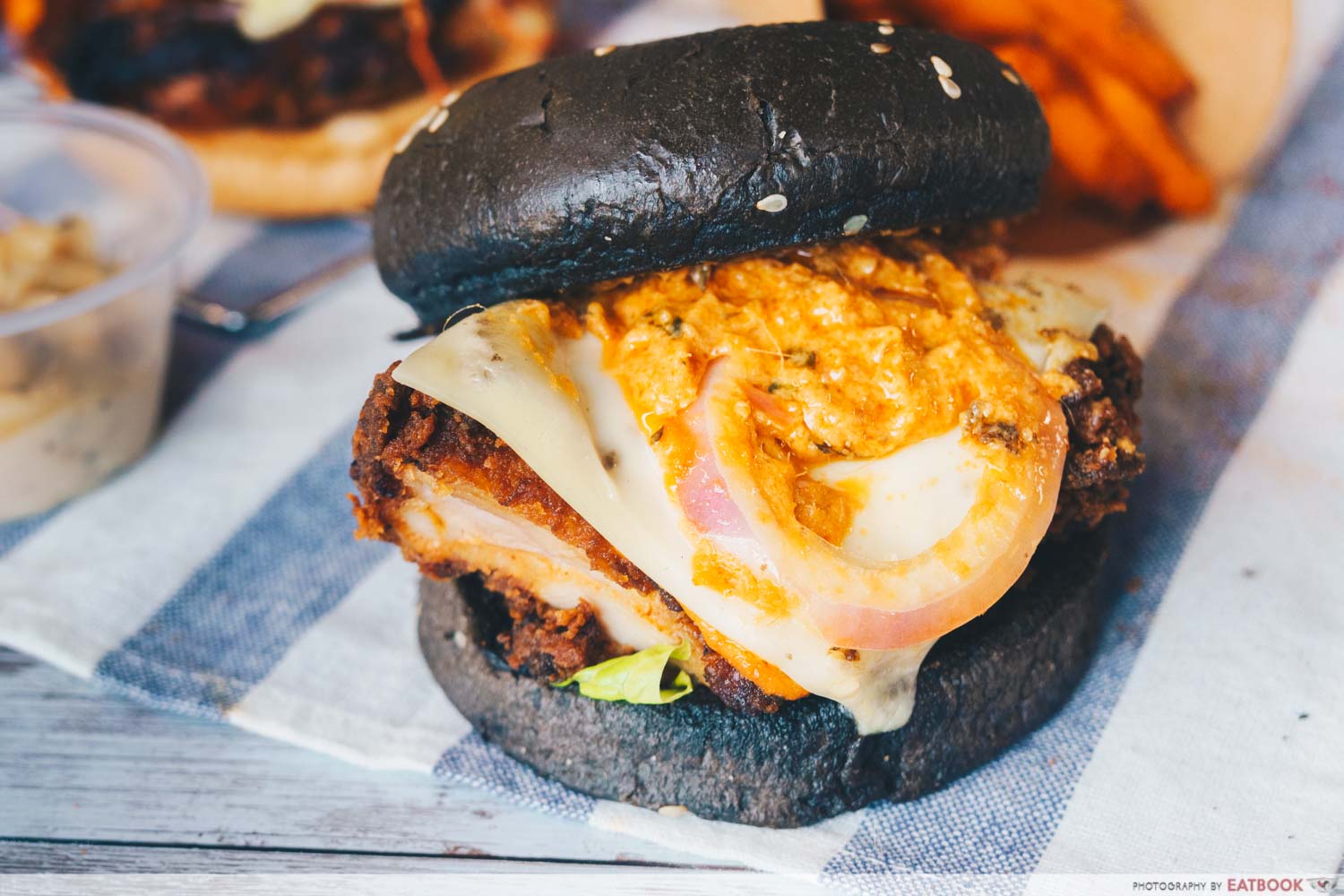 The Hot Ass-am ($9.45) is a case study of what happens when you don't leave your patty in the fryer too long. The chicken meat was oozing succulent juices interlaced with beads of oil. Coupled with tangy assam pedas paste and melted cheese, this led to an indulgent mouthfeel—shooting this burger up to the top spot on our list.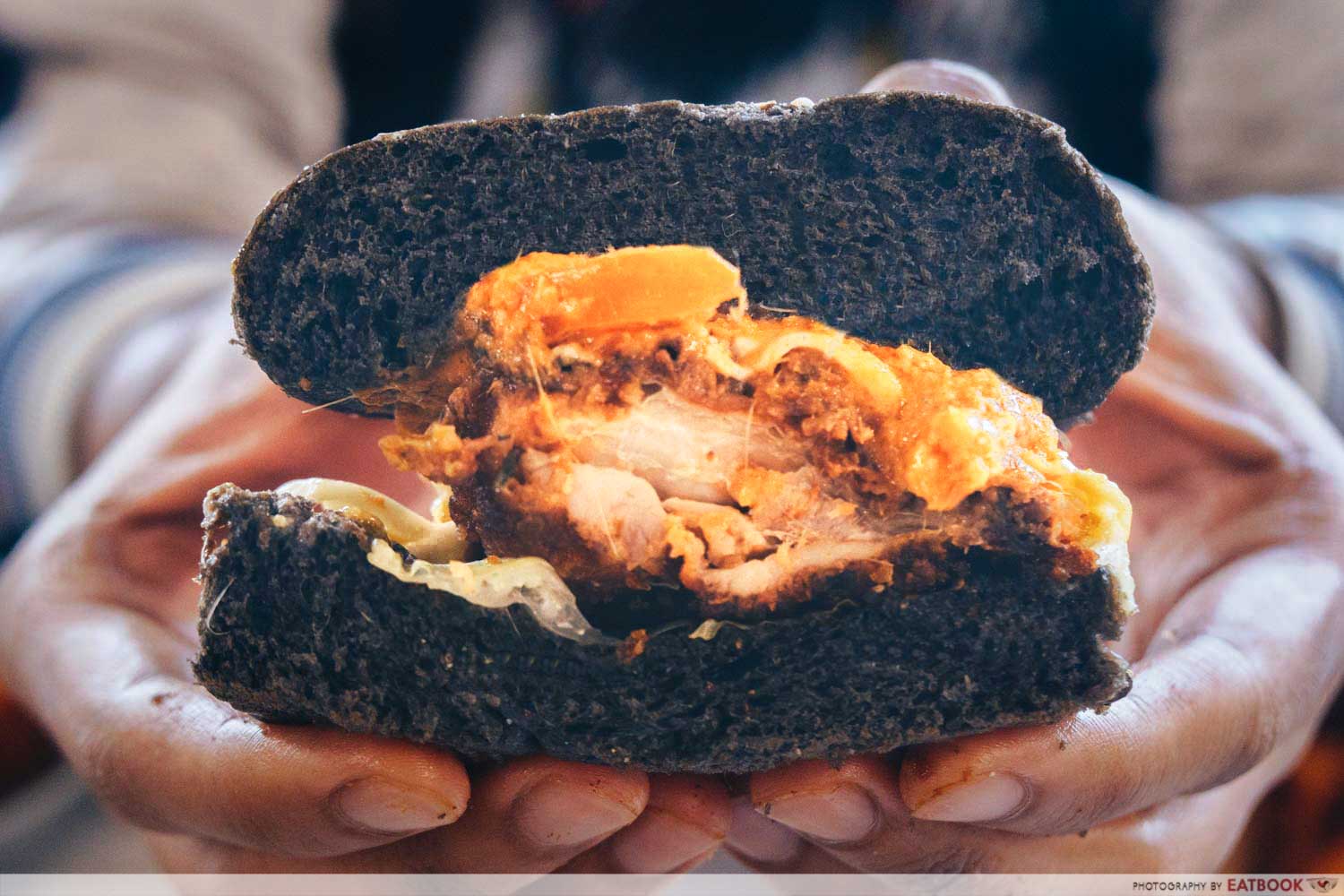 The assam pedas paste deserves high praise. The tamarind pulp and lemongrass worked in tandem to perfume the burger with floral notes and sweet undertones, so as not to let sourness be the dominant flavour of this dish. Shoutout to the fluffy buns for soaking the juices from the paste and patty well.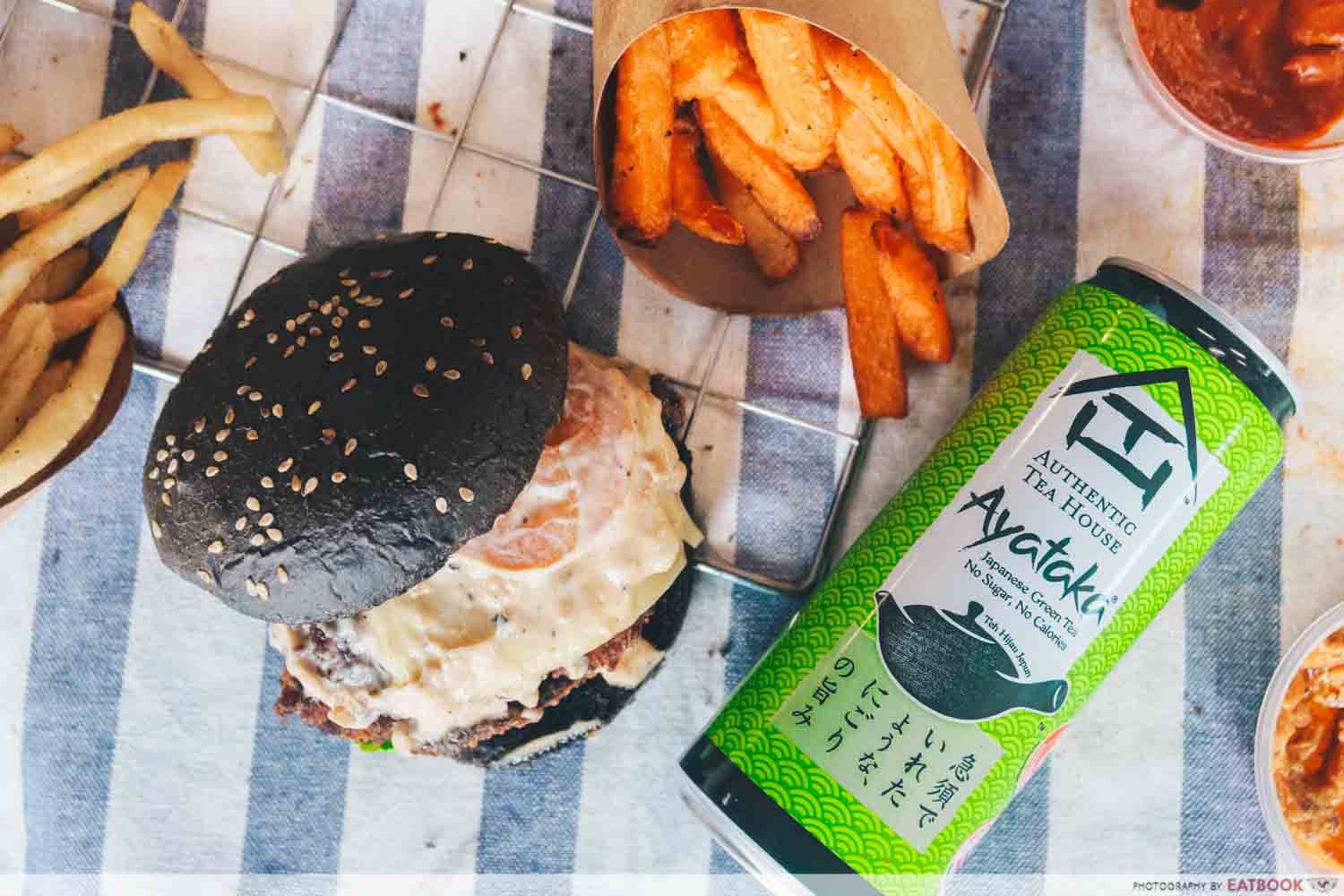 If you're feeling extra peckish, top up $4.50 to get a meal, which comes with a choice of fries, dip, and drink. Dip options include garlic aioli, chipotle mayo, and assam pedas.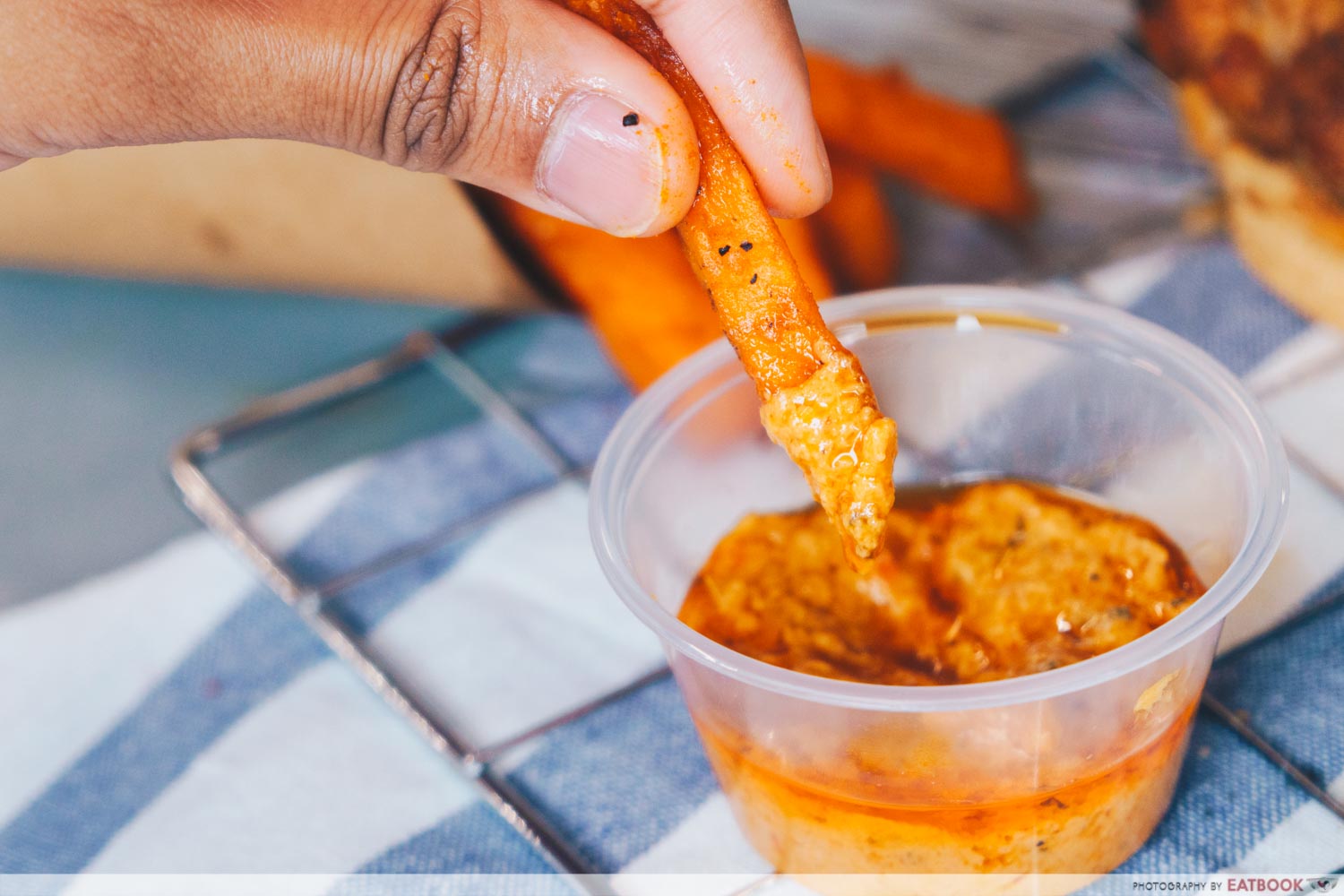 We highly recommend getting the assam pedas dip as it's the most flavourful of the three. The tangy notes we loved in the Hot Ass-am were in full force here. Huge props to Hot Chick Buns for being generous with the sauce—there was leftover sauce even after we finished the fries.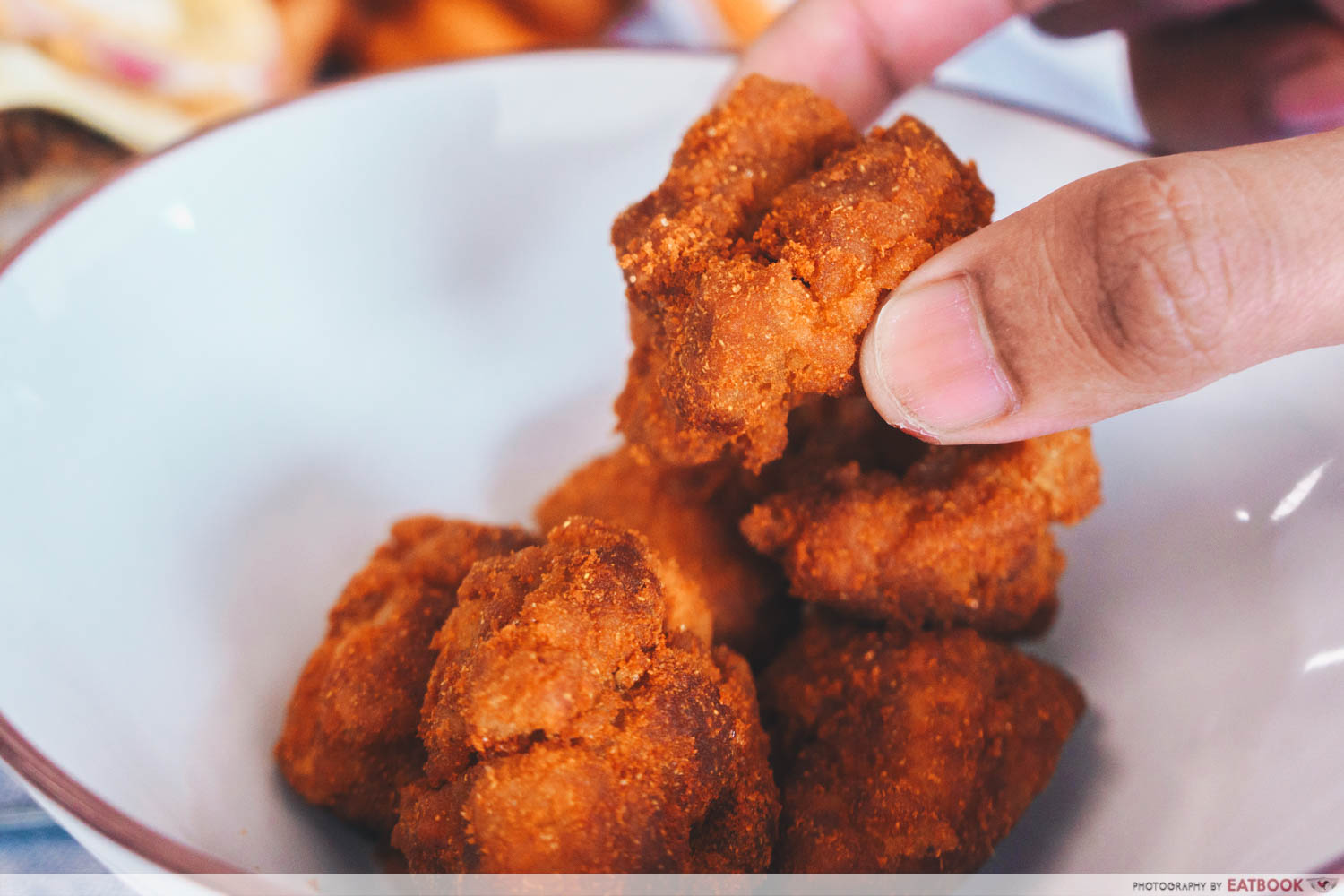 The Tangy Chicken Bites are currently on promotion at an additional $0.99 with every meal, and we implore you to get them. Blanketed by a heavy dose of spices, these morsels were brimming with piquant flavours which made them addictive to pop into your mouth.
The verdict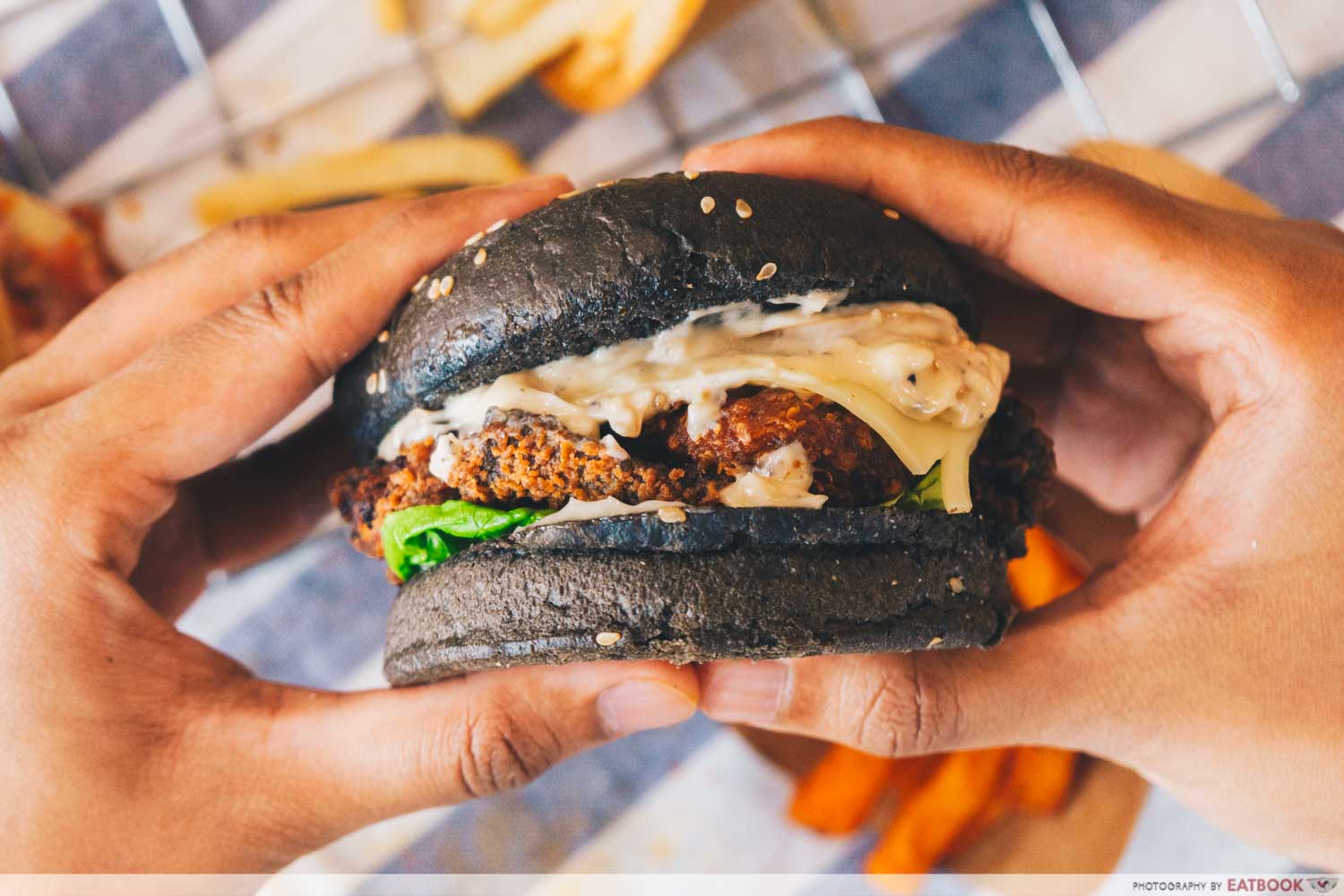 In a sea of halal burger joints such as Ashes Burnnit and Ministry of Burgers, Hot Chick Buns stands out with one-of-a-kind flavours such as assam pedas and ayam masak merah. We also appreciated how big each burger was, making them value for money. 
Ministry of Burgers Review: Ramly Burger Cafe With Biryani Fries At Pasir Ris
That being said, the food is wildly inconsistent in quality. During my very first order, My One Aioli was one of the better burgers I had. This time around that burger fell short.
All in all, if you're looking for fuss-free burgers for your next lunch, Hot Chick Buns is a good bet with their flavourful options. We only hope for improved consistency, so that our next meal isn't a Russian roulette. For those who prefer eating burgers fresh off the grill, head to their central kitchen at Tampines Food Co where you'll find a dining area and other food options.
Address: 10 Tampines North Drive 4, #01-05, Tampines Food Co, Singapore 528553
Opening hours: Mon-Sat 10:30am to 2pm, 5:30 pm to 7:30 pm
Website
Hot Chick Buns is a halal-certified eatery.
Photos taken by Ian Teoh.
This is an independent review by Eatbook.sg.
Summary
Pros
– Unique flavours
– Generous portions
Cons
–  Inconsistent quality across the burgers
Recommended dishes: Hot Ass-am ($9.45), Tangy Chicken Bites ($0.99)
Opening hours: Mon-Fri 7:30am to 11pm, Sat 5pm to 11pm
Address: 10 Tampines North Drive 4, #01-05, Tampines Food Co, Singapore 528553