---
Tampines cafes you can chill out at
---
We've introduced sedap hawker food in Tampines, so it's only right to bring attention to Tampines cafes too. Tampines may not come to mind when the word 'cafe' is mentioned, but there are food gems hidden throughout the neighbourhood. With most of them offering cafe fare at affordable prices, you now know where to bring your hipster mates to the next time you guys are in the area! Here are the best Tampines cafes to visit!
---
1. Two Hana

---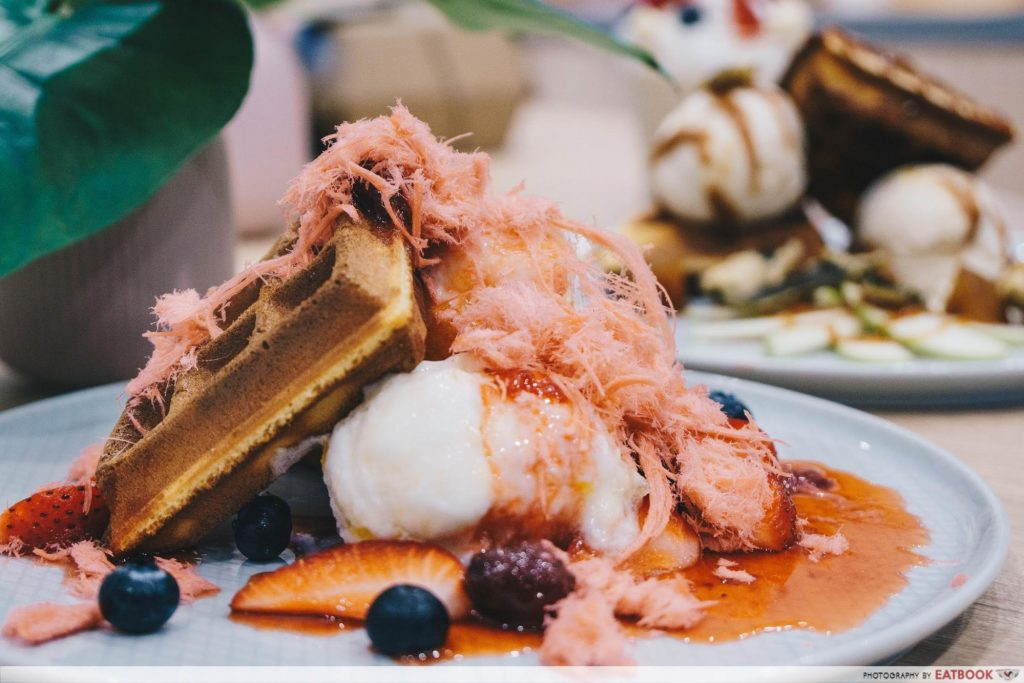 Two Hana, a Korean-Western fusion concept, is found in Century Square mall. The spacious cafe serves up decadent desserts and unique twists on Western dishes—such as Kimchi Mac and Cheese ($9) which is more similar to a croquette than a conventional mac and cheese meal. Bite into the deep-fried pockets and be greeted with gooey mozzarella cheese and zesty kimchi.  The Strawberry Waffles with Honey Citron Ice Cream ($9) is sprinkled with shreds of strawberry fairy floss, imparting a tart fruitiness onto the sour citrus ice cream.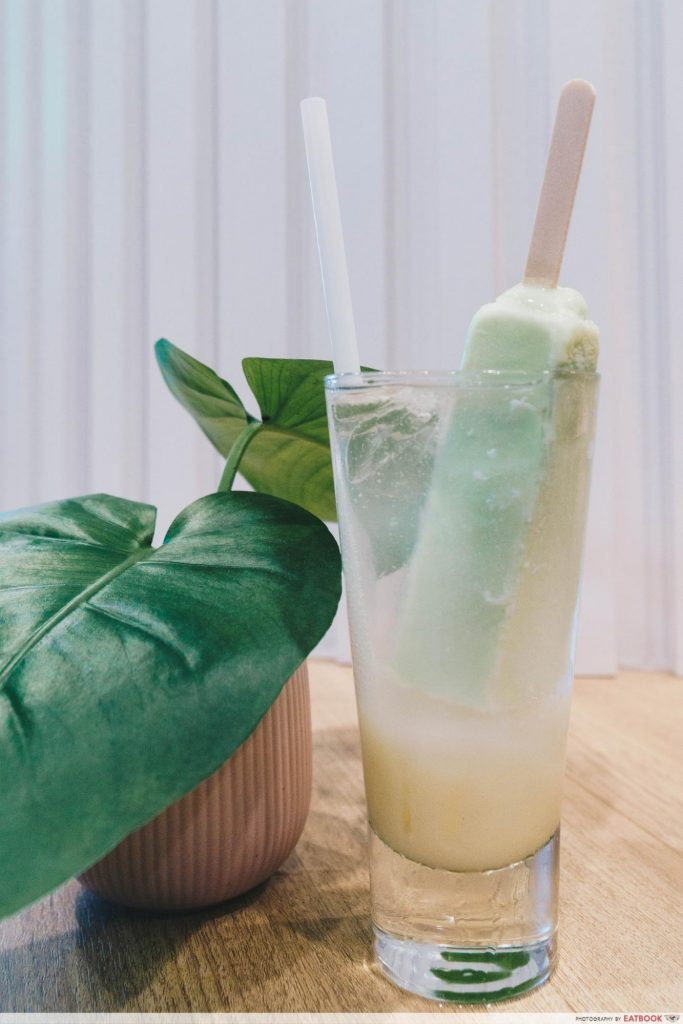 Also heavily recommended is the Melona Melon Calpis Float ($7), made with Calpis soda and a whole stick of Melona ice cream. This fizzy drink is creamy, sweet, and delightfully cleansing. We particularly liked how the mild taste of melon and milky goodness from the ice cream came together to make a wonderfully fruity and creamy concoction.
Check out our full review of Two Hana here!
Address: 2 Tampines Central 5, #01-21, Century Square, Singapore 529509
Opening hours: Daily 8am to 10pm
Tel: 6260 4321
Website
Two Hana is halal-certified eatery.

---
2. 19Tea SG
---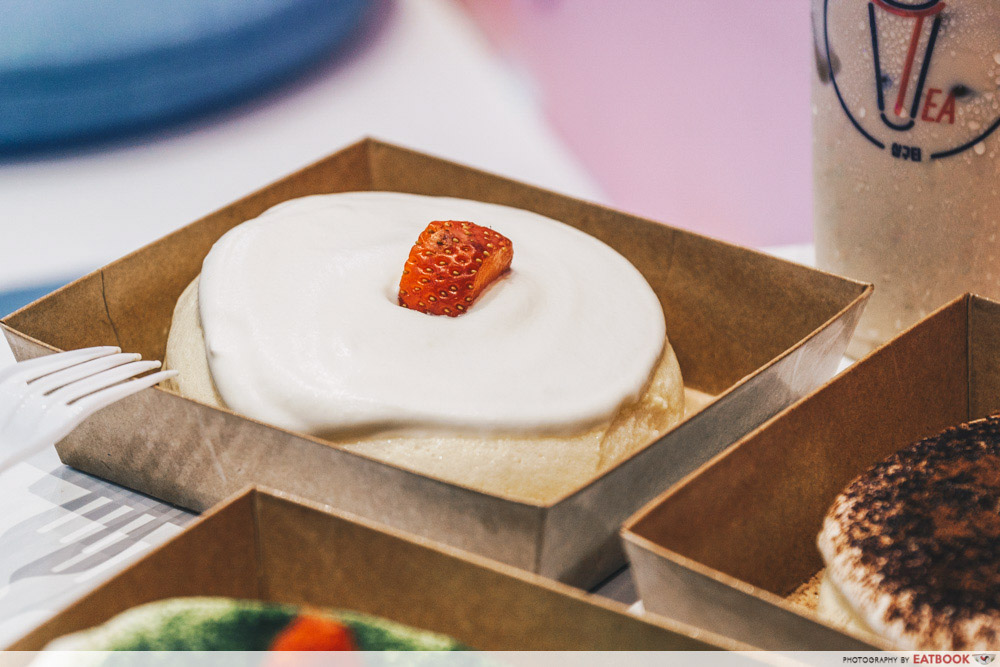 Our Tampines Hub has a wide range of activities available, boasting a stadium, swimming complex, library, and shopping mall! 19Tea SG is one of the few Tampines cafes found in the multipurpose building, serving up their signature milk tea and fluffy souffle pancakes. The highly-Instagrammable Original Snow Pancake ($3.90) comes with a layer of snowy sauce atop a soft pancake. There are two other variations are available. Matcha lovers can get the sweet Matcha Pancake ($4.20) and those who prefer coffee can get the cafe's Tiramisu Pancake ($4.20).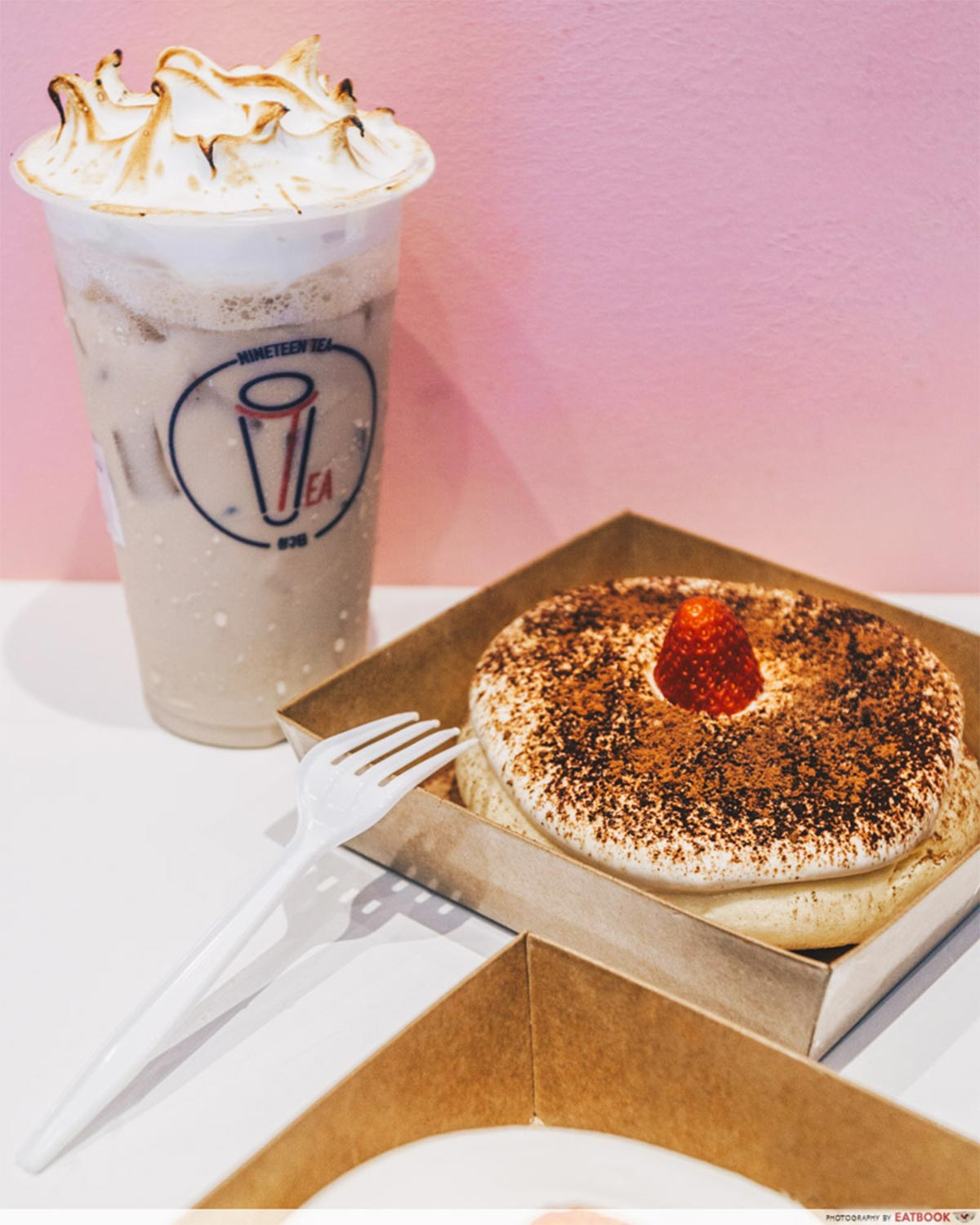 Bubble tea lovers can try the Meringue Milk Tea ($5.90), topped with a layer of lightly charred and sugary foam. The rich drinks, beautifully crafted pancakes and pastel-pink walls of the cosy Tampines cafe make 19Tea SG a great spot to sit down and relax. 
Take a look at our full review of 19Tea SG! 
Address: 1 Tampines Walk, #01-82, Our Tampines Hub, Singapore 528523
Opening hours: Daily 11am to 10pm
Website
---
3. Craze Kitchen
---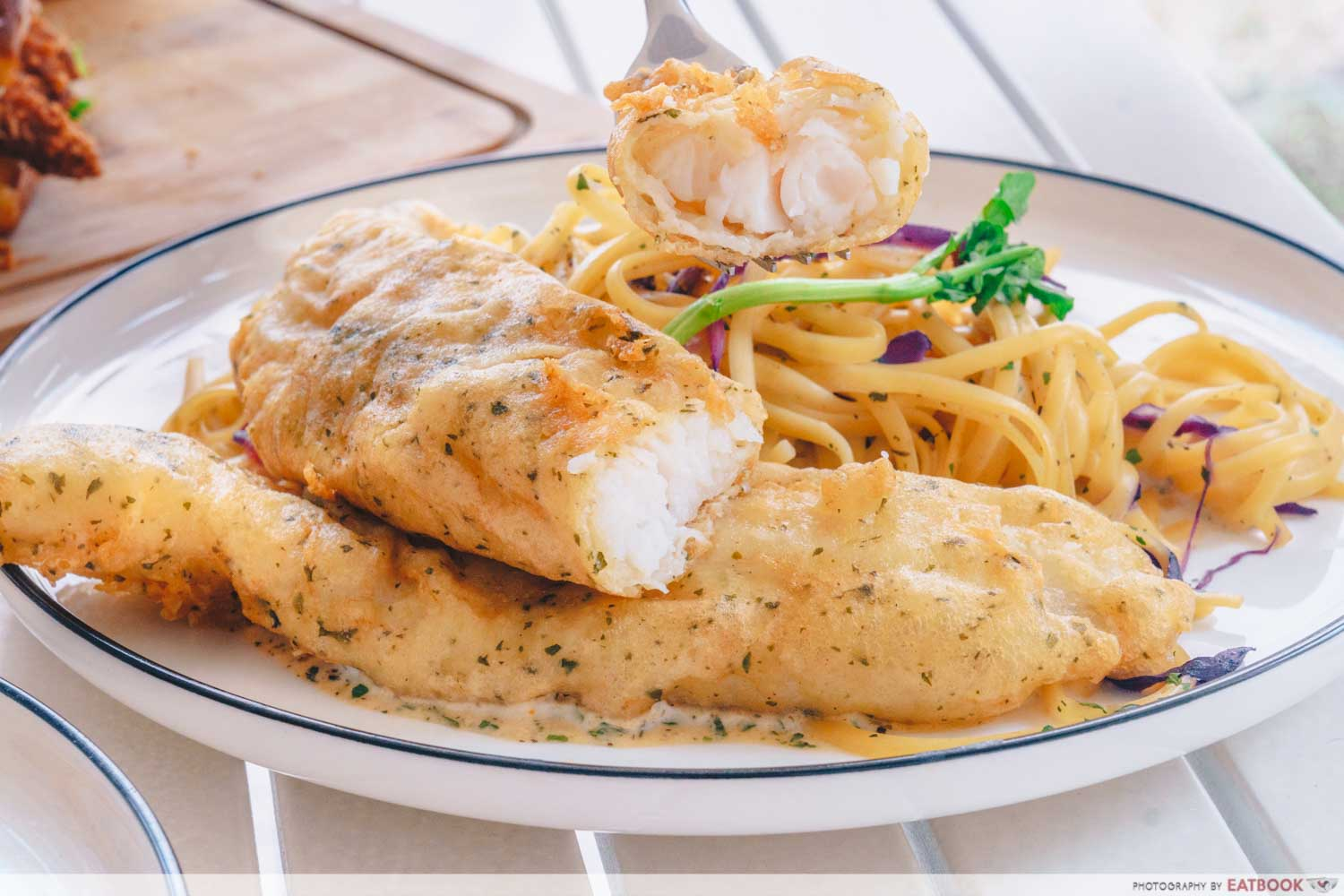 The Muslim-owned Craze Kitchen specialises in affordable Western food. All their items come at nett prices and boast huge portions. The Fish Fillet Carbonara ($10) is bursting with flavours, with a robust parsley cream sauce that brings out the taste from a thick cut of fish. The battered fillet goes best with a little bit of lemon juice.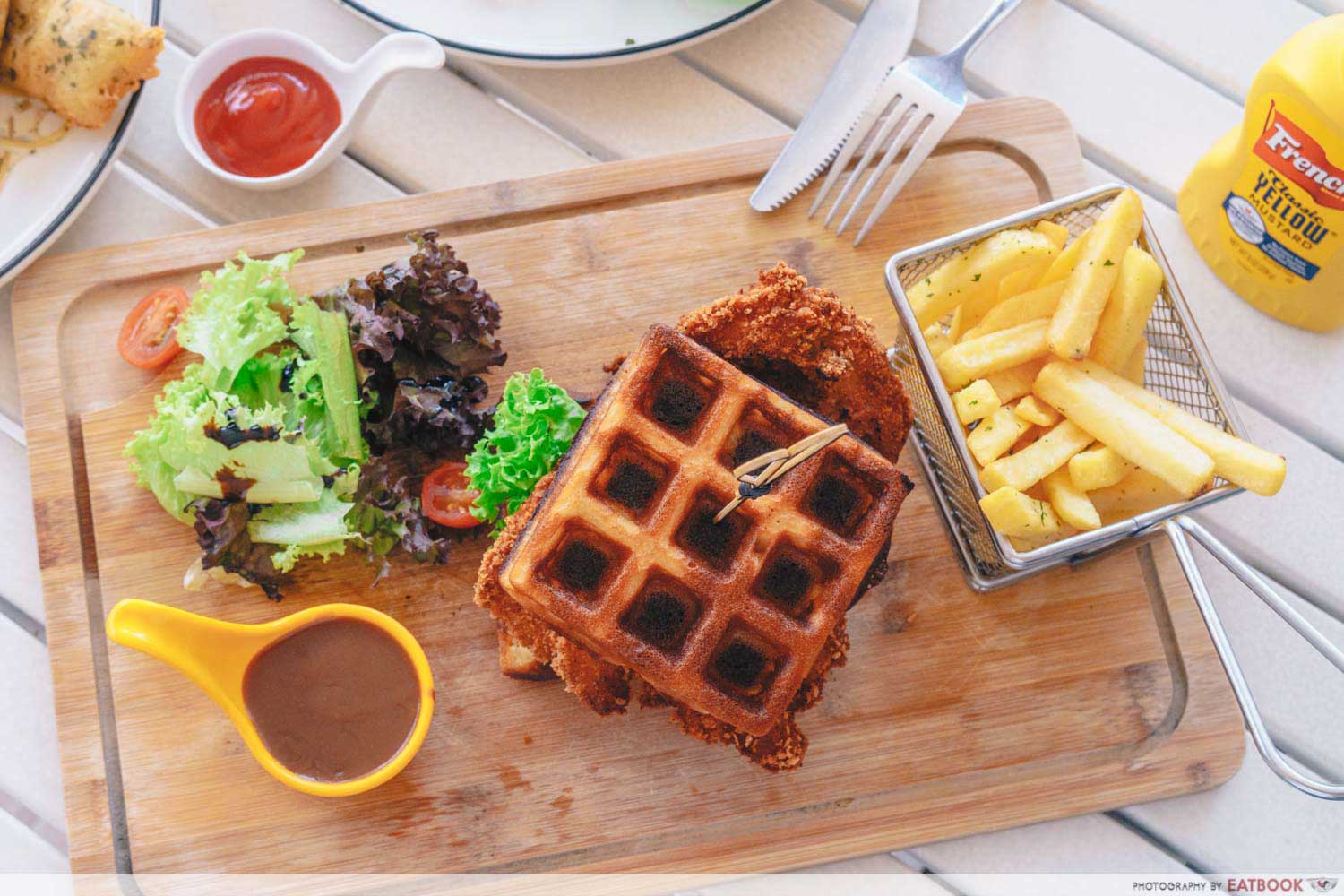 One of the more unique items is the Chicken Run Waffle Burger ($11), which comes with a sizable portion of chicken cutlet and thick waffles. The sweet taste of the waffle buns goes well with the breaded patty. It also comes with a basket of thick fries, mushroom sauce, and a refreshing salad. If you prefer to have the chicken burger with regular buns, you can get it at $9 instead. 
Read more about Craze Kitchen here! 
Address: 201D Tampines Street 21, #01-1171, Singapore 524201
Opening hours: Sun-Thu 11:30am to 11pm, Fri-Sat 11:30am to 2am
Tel: 6970 0287
Website
Craze Kitchen is a halal-certified eatery.
---
4. Tipsy Penguin 
---
Tipsy Penguin is a great place to chill and visit on a Friday night. It's roomy, relaxing, and has live bands performing in the evenings from Mondays to Saturdays. The menu has drinks, rich desserts, and fusion Western fare. One signature is the Singapore Bowl ($15++), coated in a generous slathering of salted egg and smoky fried rice. On top of salted egg dishes, Tipsy Penguin serves mala dishes too. You can get the Szechuan Mala Karage ($10++), made with their house blend of spices and deep-fried chunky chicken.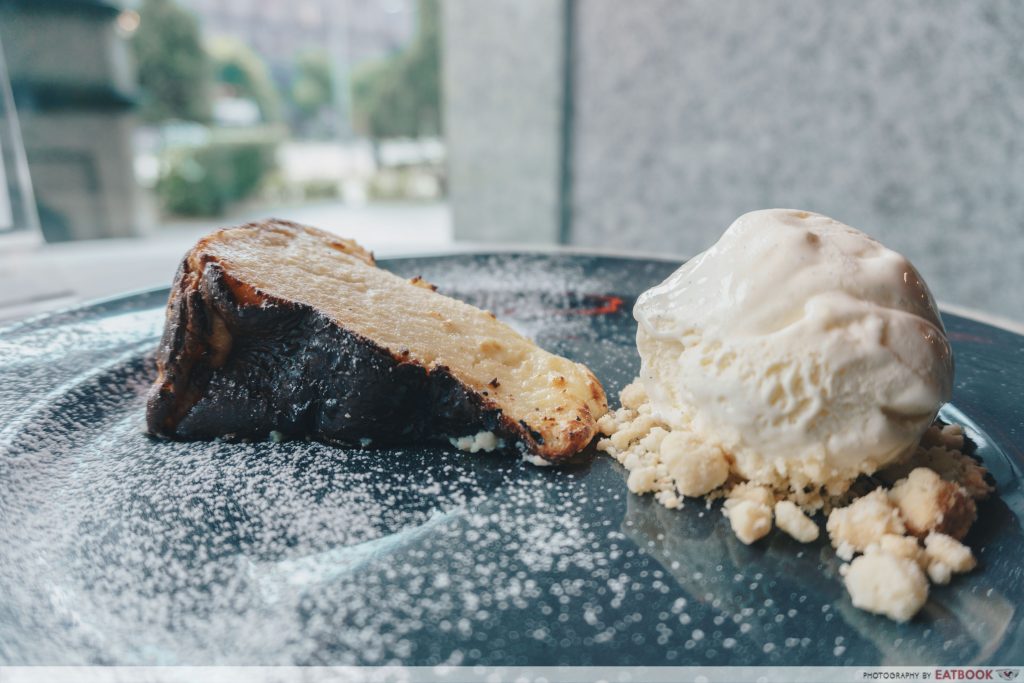 In terms of desserts, you can get their charred Accidental Cheesecake ($10++) which comes with vanilla ice cream. This warm, crustless cake is smooth and milky on the inside, pairing well with the cold ice cream for a mouthful of sweet delight.  
Check out our full review of Tipsy Penguin. 
Address: 300 Tampines Avenue 5, #01-02A, NTUC Income Building, Singapore 529653
Opening hours: Fri-Sat 12pm to 2am, Sun-Thur 12pm to 1am
Tel: 8223 2983
Website
---
5. Rocky Master
---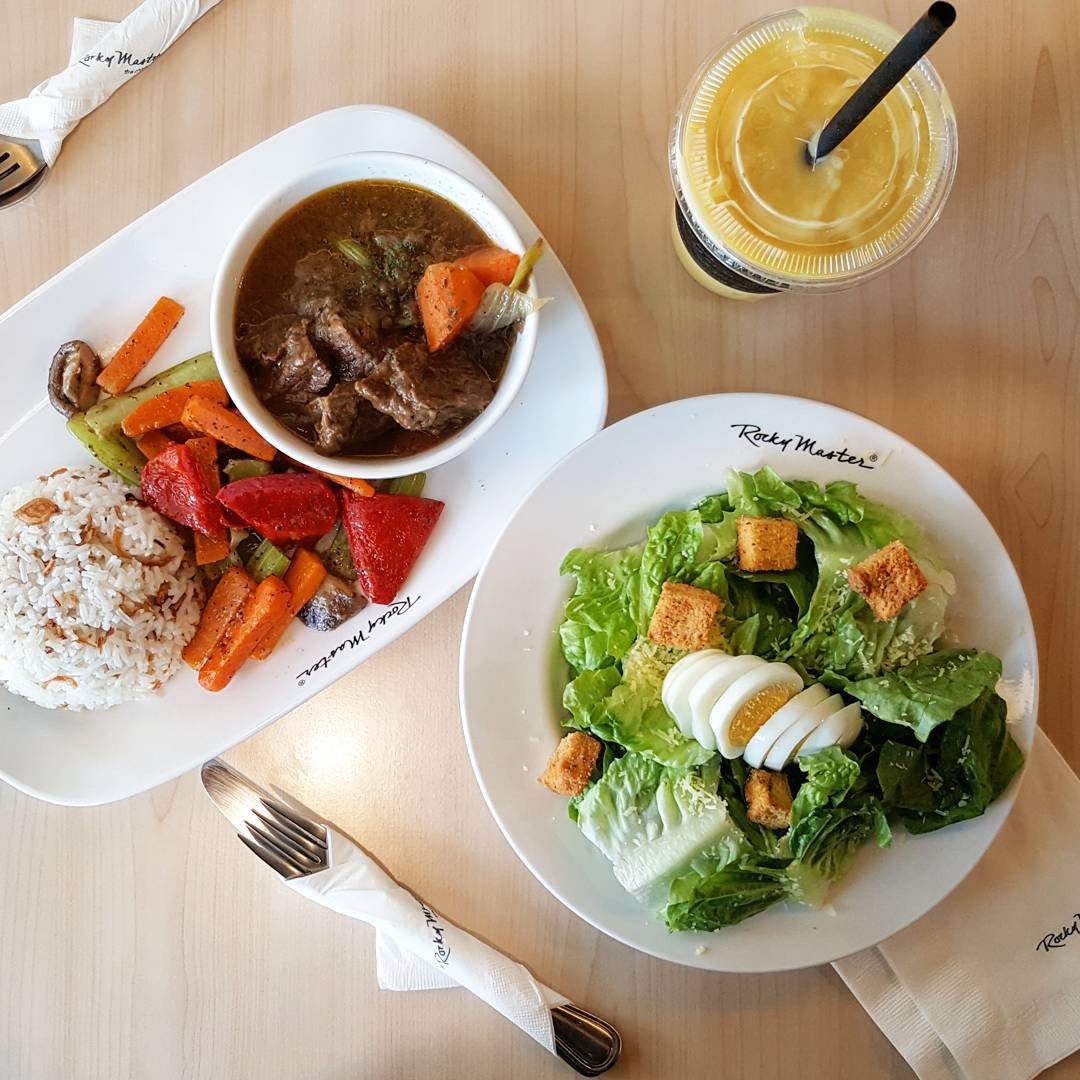 Image credit: @maxxtro
Rocky Master is a Halal cafe that serves up Asian dishes, Western pasta, and fusion food. Their Tampines outlet is located on the first floor of Tampines Grande, a few minutes walk from Tampines MRT Station, and has both indoor and outdoor seating. The spacious cafe serves up fusion food in the form of their signature Flavourice, which pairs Thai rice with veggies and a selection of meat that changes daily. The dish comes in three varieties; Beef Flavourice ($14.80++), Chicken Flavourice ($13.80++), and the Veggie Combo Flavourice ($11++)
The local food is a little pricey, with the Laksa Supreme costing $12.80++. It uses high-quality belacan and comes with juicy prawns, calamari balls, tau pok, and quail eggs. For pasta options, there are both classic Italian options and fusion items. Look out for the Chicken Bolognaise ($12++), Teriyaki Chicken Pasta ($12++), and yet another signature— the Laksa Spaghetti With Prawns ($14.80++).
Address: 9 Tampines Avenue 5, #01-11, Tampines Grande, Singapore 528735
Opening hours: Mon-Fri 7:30am to 6pm, Sat 8:30am to 5:30pm
Tel: 6785 2874
Website
Rocky Master is a halal-certified eatery.
---
6. Laundry Galley 
---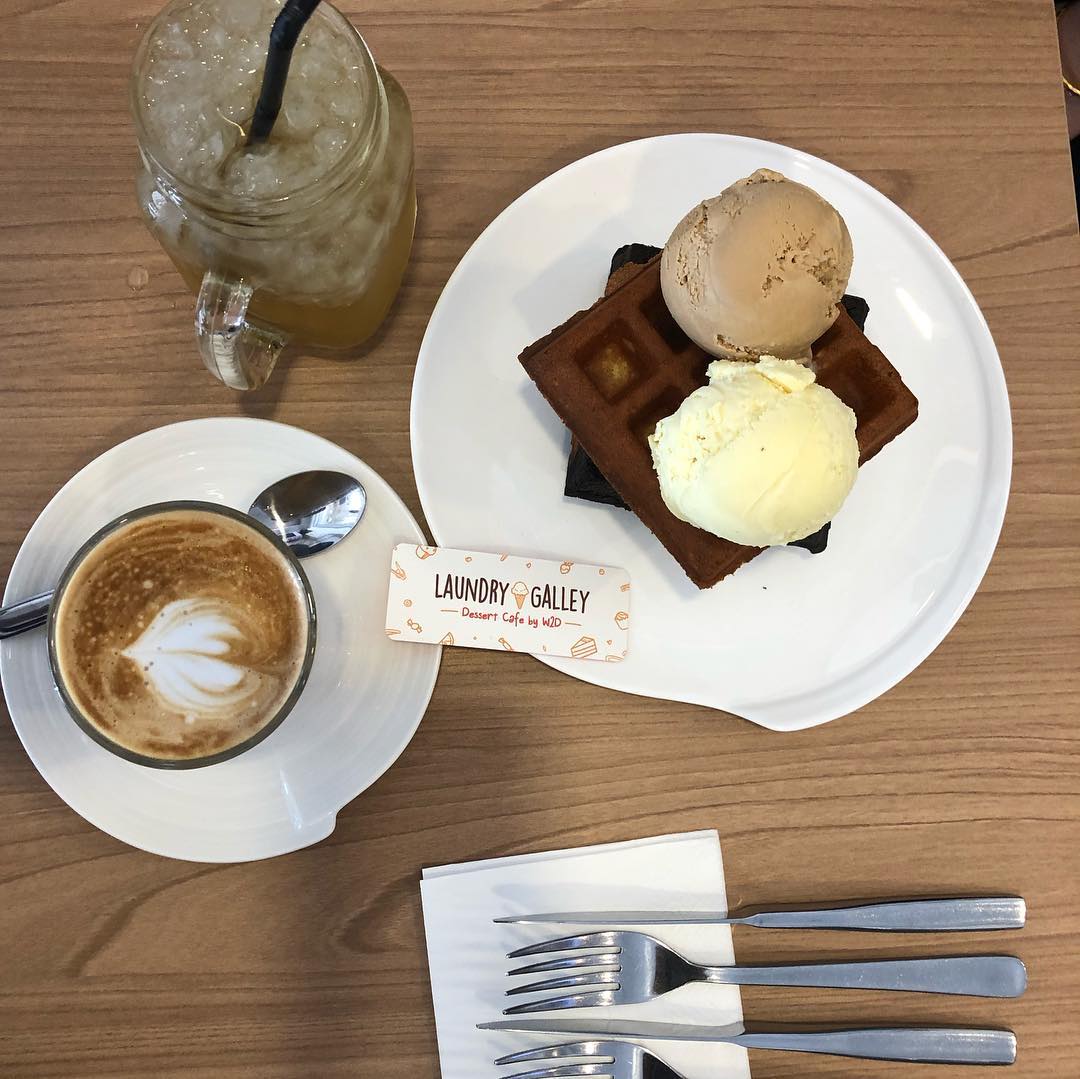 Image credit: @blurdudu

This cafe's odd name has a very simple explanation: It's a place for you to wait while your laundry is done. Laundry Galley was launched by the people behind WASH2DRY, the 24-hour laundromat located right next door to it. This little cafe serves up ice cream and coffee while your clothes are being washed. A screen is located in-store that shows the progress of the washing machines, so you'll be able to keep track of your clothes. 
A Single Scoop of ice cream costs $4, and Original Waffles are another $5. You can get $0.50 off each scoop of ice cream when you order the waffles. The Charcoal Waffles ($6) are a popular pick for customers.
Laundry Galley also has thick, decadent milkshakes, such as their Caramel Popcorn Milkshake ($6.90) and Duo Dark Chocolate ($6.90). The halal-certified cafe is right in the middle of a housing block, and residents can head right downstairs to get their clothes washed and satisfy a dessert craving at the same time. 
Address: Blk 201E Tampines Street 23, #01-118, Singapore 527201
Opening hours: Tue-Sun 12pm to 9pm
Tel: 8700 7622
Website
Laundry Galley is a halal-certified eatery.
---
7. Three's A Crowd
---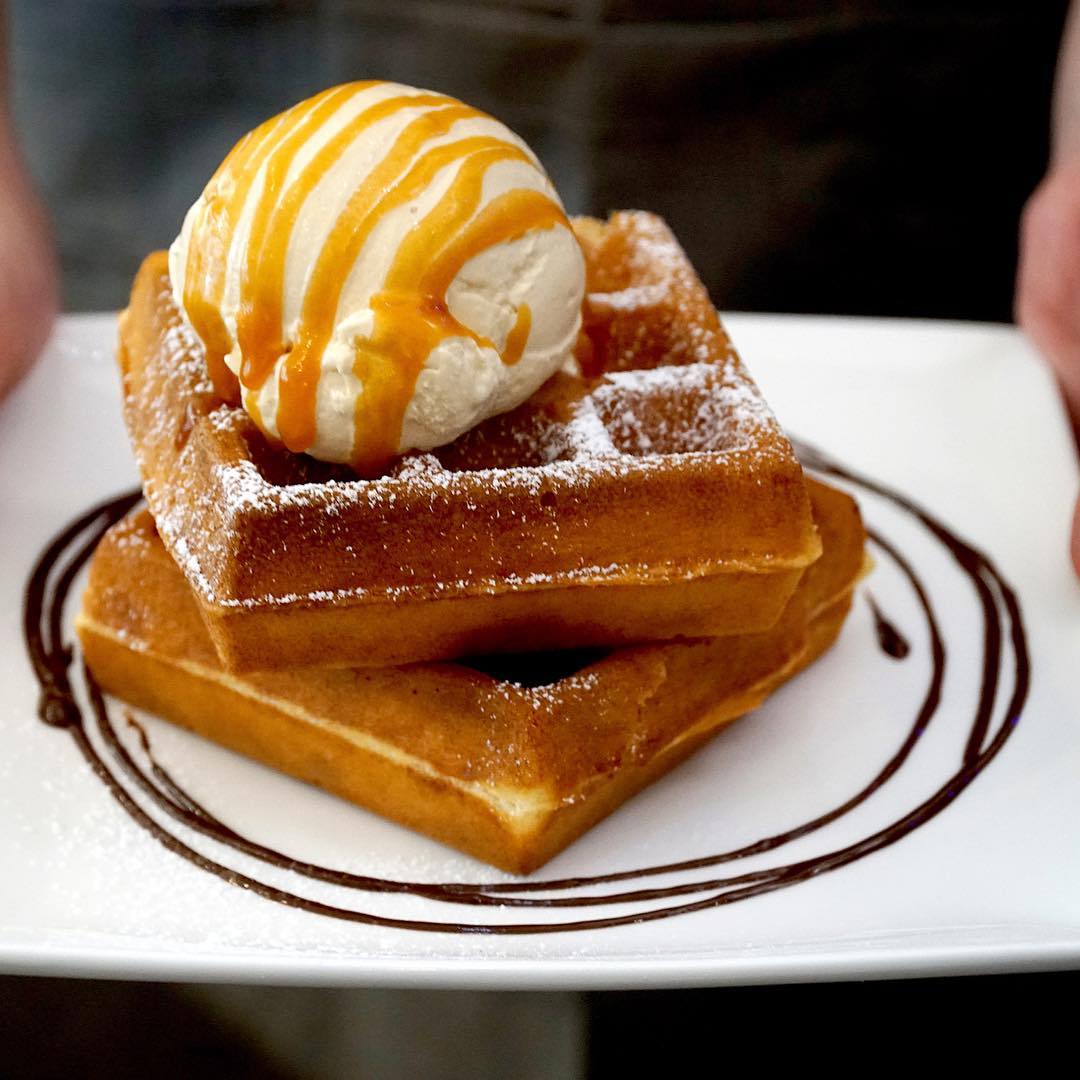 Image credit: @threesacrowdcafe
This neighbourhood cafe specialises in ice cream and whole cakes. Those dining in at Three's A Crowd can get the ice cream parlour's Single Scoop Ice Cream ($3.50) with their Classic Waffles ($6). One of their popular flavours is the Leegacy dark chocolate ice cream that comes with a strong cocoa flavour. They also have premium flavours like the TAC King Durian ($5.50) flavour that cost a bit more. And from 3pm to 6pm daily, you can get 50% off your second purchase of waffles if you dine in.
Apart from piping-hot waffles and sweet ice cream, Three's A Crowd has savoury options too. You can get an American Beef Pie ($9.80) or a Fried Chicken & Waffle ($9.80) combo. Wash down the meal with a creamy Sweet Potato Latte ($5) or Hojicha Latte ($5), both of which are brewed in-house. 
Address: Block 802 Tampines Avenue 4, #01-11, Singapore 520802
Opening hours: Sun-Thu 12pm to 10:30pm, Fri-Sat 12pm to 11pm
Tel: 6702 0700
Website
Three's A Crowd is a halal-certified eatery.
---
8. The Old Malaya Cafe
---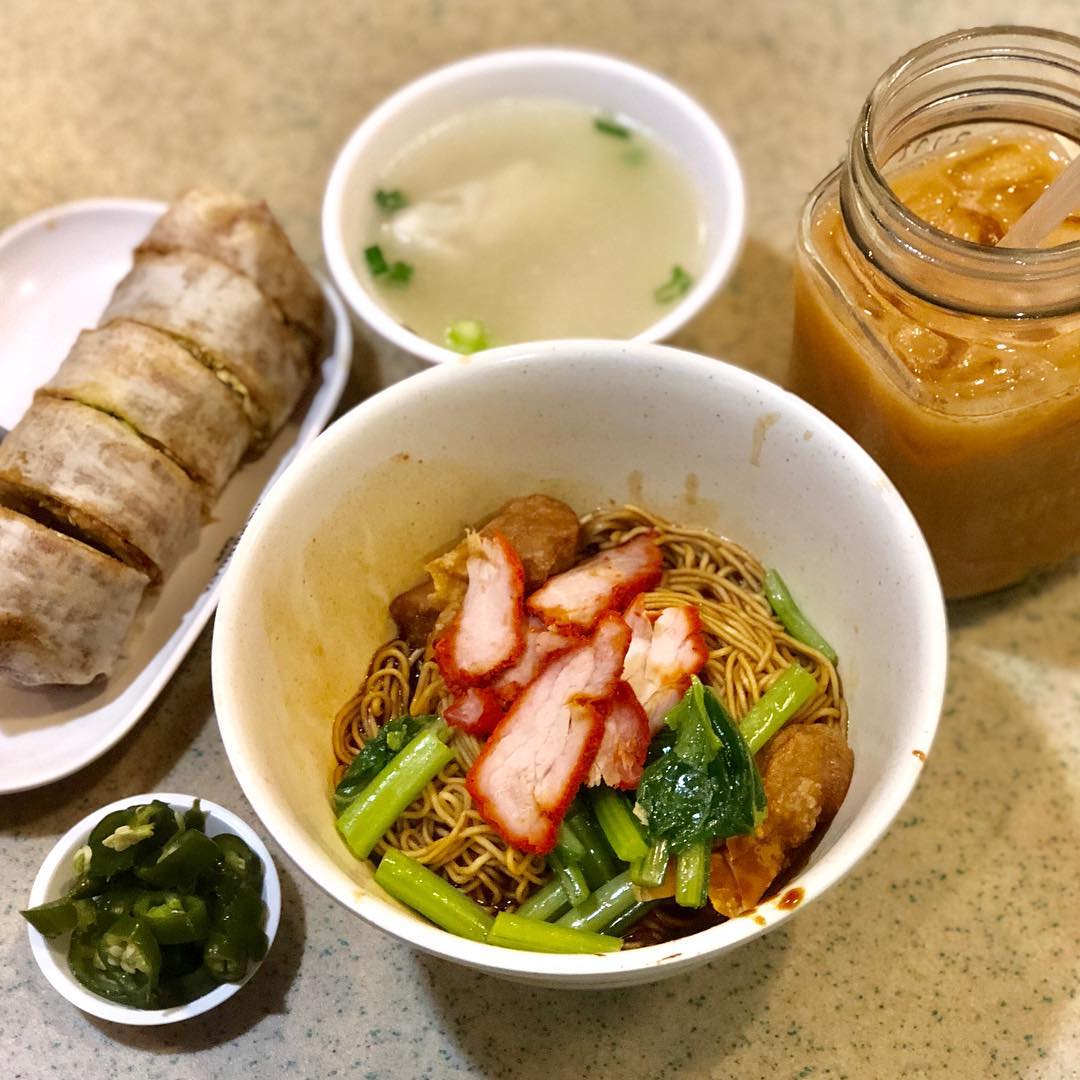 Image credit: @thegeniejournal
If you're looking for Tampines cafes to bring your parents too, look no further than The Old Malaya Cafe. The Malaysian-themed restaurant bears a rustic 60s aesthetic. This old-timey eatery has a popiah making station behind the counter, where the staff visibly rolls up thin-skinned spring rolls and serve them fresh.
Food at The Old Malaya Cafe is affordable for cafe standards. You can get their Pontian Wanton Noodles at $4.80 for a large bowl. The Penang Assam Laksa ($5.00) is a classic Malaysian dish, coming in a large portion too. Be sure not to miss out on their Popiah ($2.80), which is packed with flavour and filled with crushed peanuts. 
Address: 4 Tampines Central 5, #B1-10, Tampines Mall, Singapore 529510
Opening hours: Daily 10am to 10pm
Tel: 6789 9008
---
9. Merely Ice Cream
---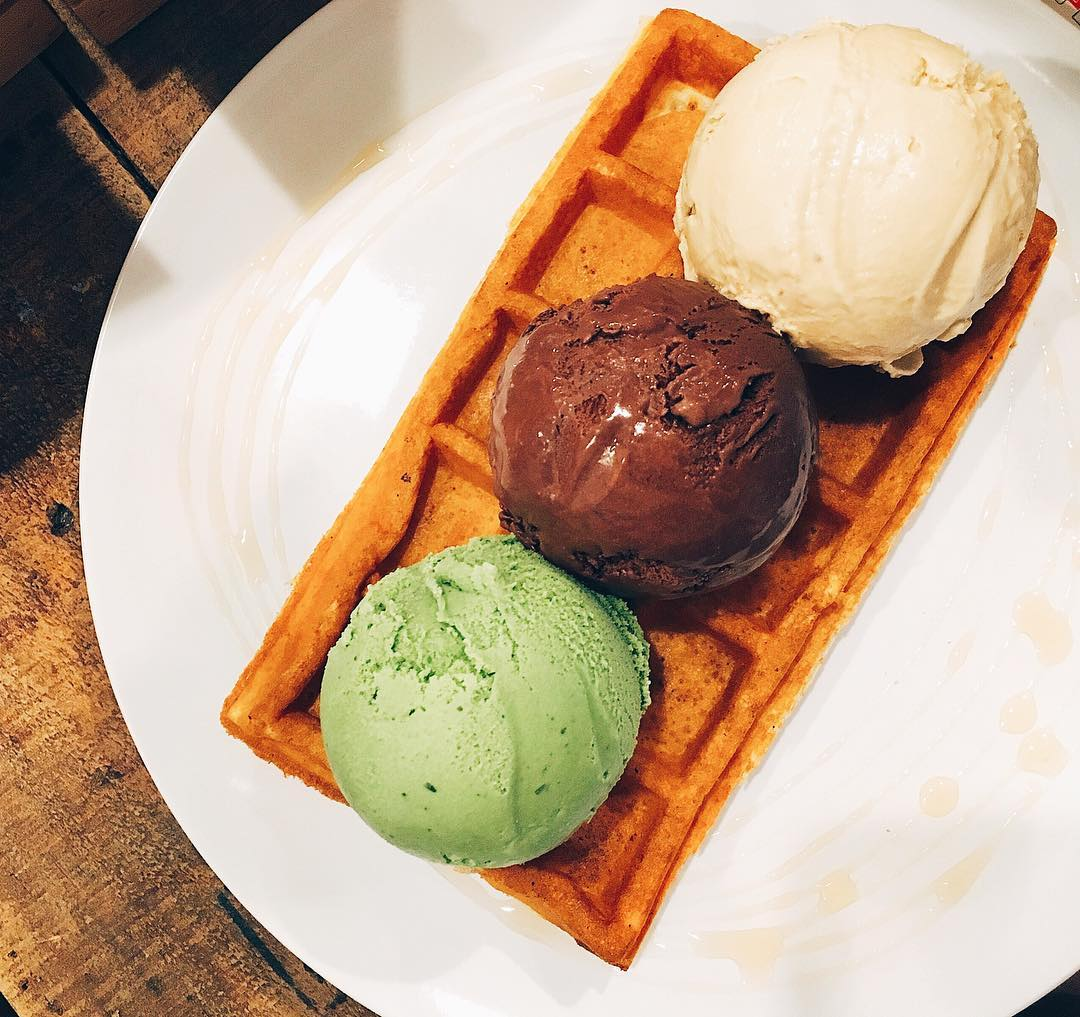 Image credit: @greedypals
Merely Ice Cream makes French-style ice cream. They use egg yolks to make the ice cream creamier and richer, with an almost custard-like consistency. The Tampines cafe makes their ice cream by hand and changes its flavours regularly. The name 'Merely' refers to their belief that high-quality ice cream can be made without any added flavouring or gimmicks. The store believes in full disclosure of what goes into each product, and steer clear of anything artificial. 
Some of their ever-shifting flavours are the Bailey's Coffee, Lychee Beer Sorbet, Valrhona Chocolate, and Breakfast Cereal. 
A Single Scoop costs $3.80, but comes in a sizable portion; the ice-cream completely fills the cone when packed into it. A Double Scoop is $5.60, and the Triple Scoop is $7.90, making it pretty worth to get a combo of flavours. Don't forget to get them atop freshly-baked Waffles ($2.50)!
Address: 1 Tampines Walk, #B1-52, Our Tampines Hub, Singapore 528523
Opening hours: Daily 12pm to 10pm
Website
---
10. The Co-op
---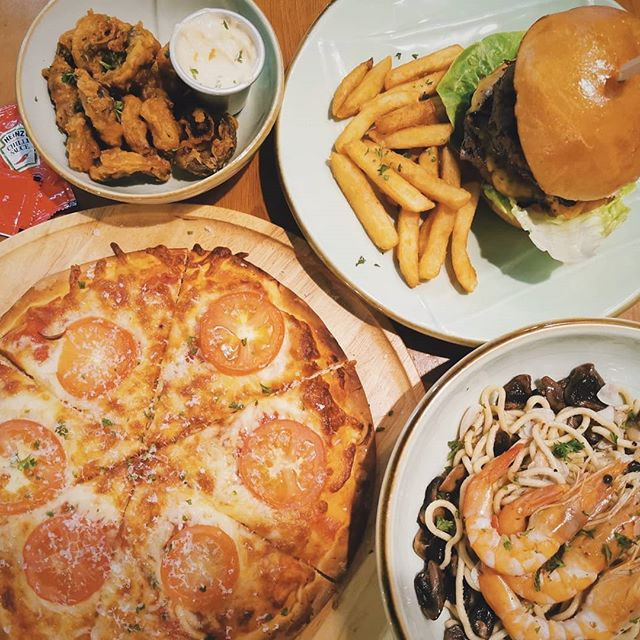 Image credit: @sauceplsx
The Co-op is one of the few Muslim-owned Tampines cafes that opened its doors earlier this year. It's owned by The Black Hole Group, who are responsible for halal eateries like Stack and Tipo. The family-friendly diner combines several past concepts from its sister brands, and serves a variety of cuisine, such as Western, Italian, British, and Mexican. 
Stack Review: Halal Beef Rendang Sandwich And Lamb Meatball Bagels At Bugis
The Co-op serves up three types of burgers. There's the Classic ($12.90++), a beef cheeseburger with caramelised onions, lettuce, tomato sauce and dill chips. The Hawaii Five-O ($10.90++) contains a juicy chicken breast, pineapple, and barbecue sauce. Lastly, the Tofu Fighting ($9.90++) is the vegan option. The tofu patty comes with fried onion rings, tomatoes, romaine lettuce, and creamy mushroom sauce, all sandwiched between two brioche buns.
They also have a Pulled Beef Tacos ($13.90), inspired by Afterwit; their Mexican brand. The tacos are filled with savoury, smoky beef, chunky salsa, spicy jalapenos, and finished off with parmesan cheese and caramelised onions. 
Address: 1 Tampines Walk, #03-04, HomeTeamNS Tampines, Our Tampines Hub, Singapore 528729
Opening hours: Daily 12pm to 10pm
Tel: 6214 9350
Website
The Co-op is a halal-certified eatery.
---
Tampines cafes to visit
---
While Tampines is all the way on the far end of Singapore, there are plenty of malls and hidden gems to discover, as shown with these Tampines cafes! Our Tampines Hub alone has a ton of good spots to eat. For more food in the heartlands, check out our list of spots to dine at in Ang Mo Kio! And if you're hungry for a bigger meal, check out our review of The Social Outcast, located right here in Tampines.
The Social Outcast Review: Muslim-Owned Hawker Serving Wagyu And Unagi Burgers At Tampines