Check out Craze Kitchen at Tampines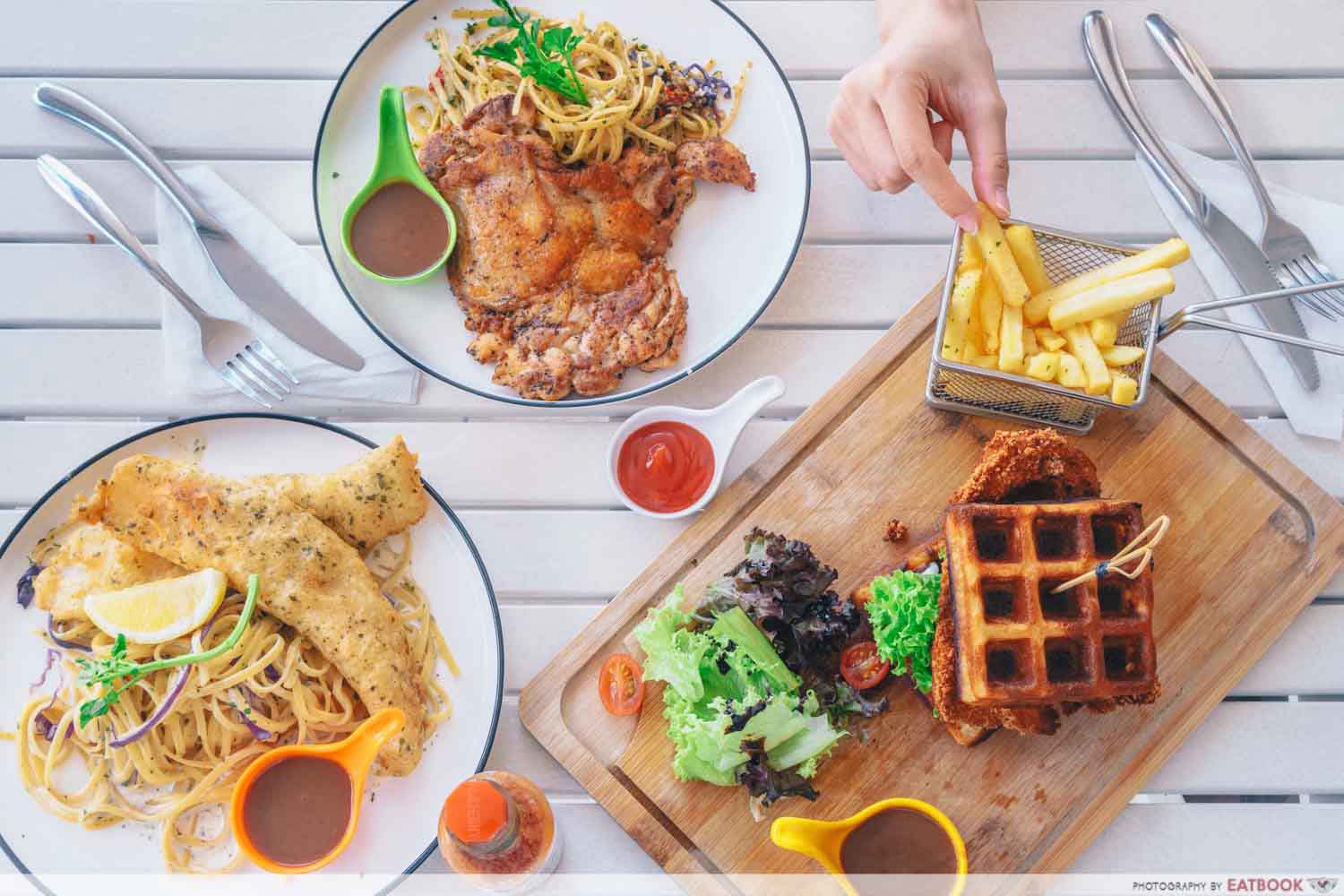 Just like most Asian people, carbs are a staple part of my diet. I love how they come in different forms, such as rice, bread, and noodles. My favourite out of these three has to be noodles, so I was naturally excited when I came across Craze Kitchen. This newly opened cafe in the East serves Western fare and is getting popular for their pasta. 
Pasta in Singapore can easily cost you more than $15, and that's excluding GST and service charge. This Muslim-owned eatery not only serves huge portions, but their dishes are at nett prices too. You can get your fill of pasta without breaking the bank here.
10 Cheap Halal Food Places With Huge Portions And Mains Under $10 Per Person
Food at Craze Kitchen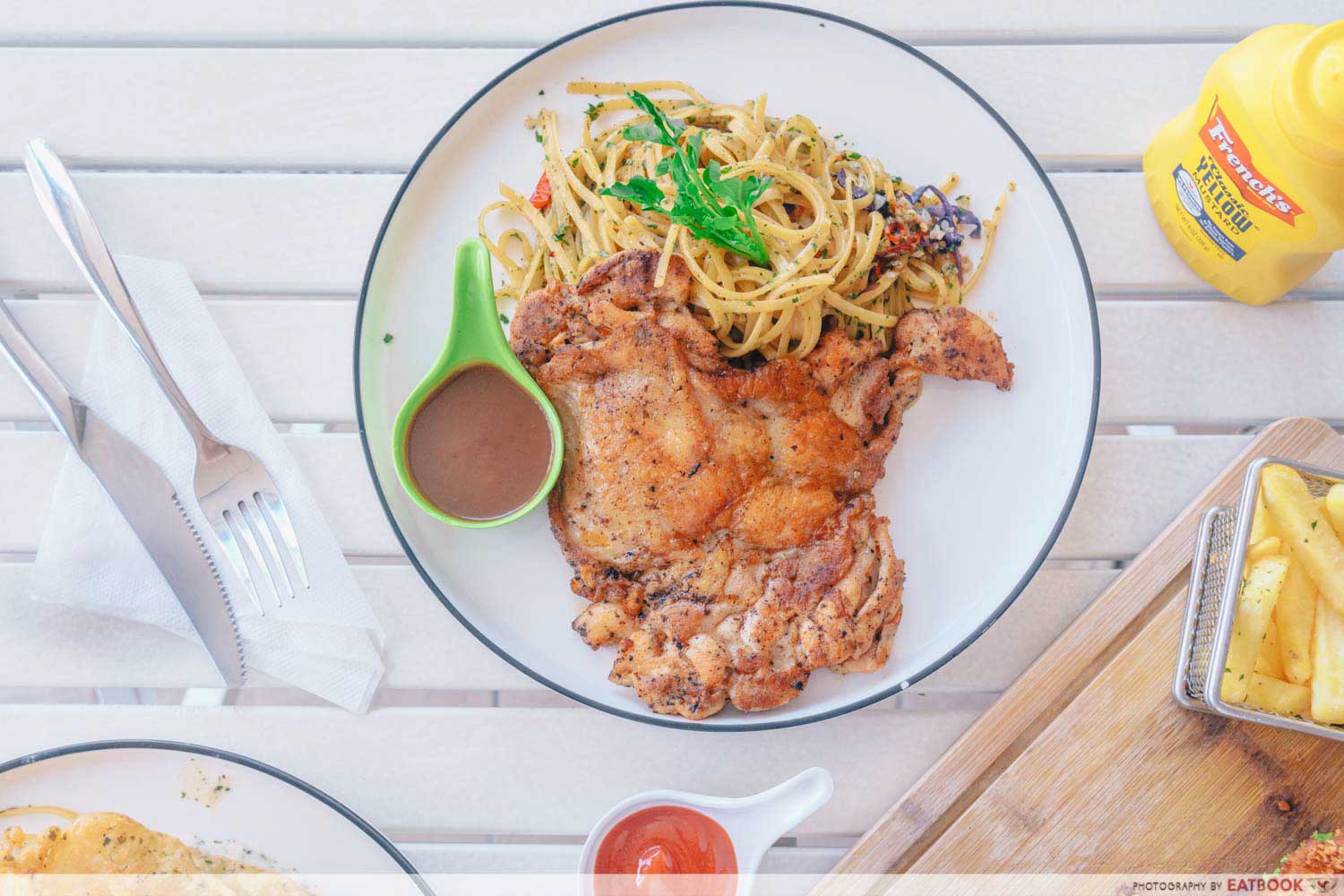 Their extensive menu offers a range of dishes including pasta, burgers, mains, paella rice, and family platters. But the affordable prices of their pasta caught my eye.
You can easily customise your pasta by choosing your sauce base and meat. These options range from tomato to cream, chicken, and seafood. I decided to start with the Chicken Aglio Olio ($10). 
I was shooketh by the generous portion of the dish, where a huge slab of chicken came resting on a bed of linguine. The serving plate itself was huge, and the chicken chop still took up half the plate.
The meat was well seasoned with some peppery hints. I didn't struggle to cut through the chicken, which was juicy and succulent.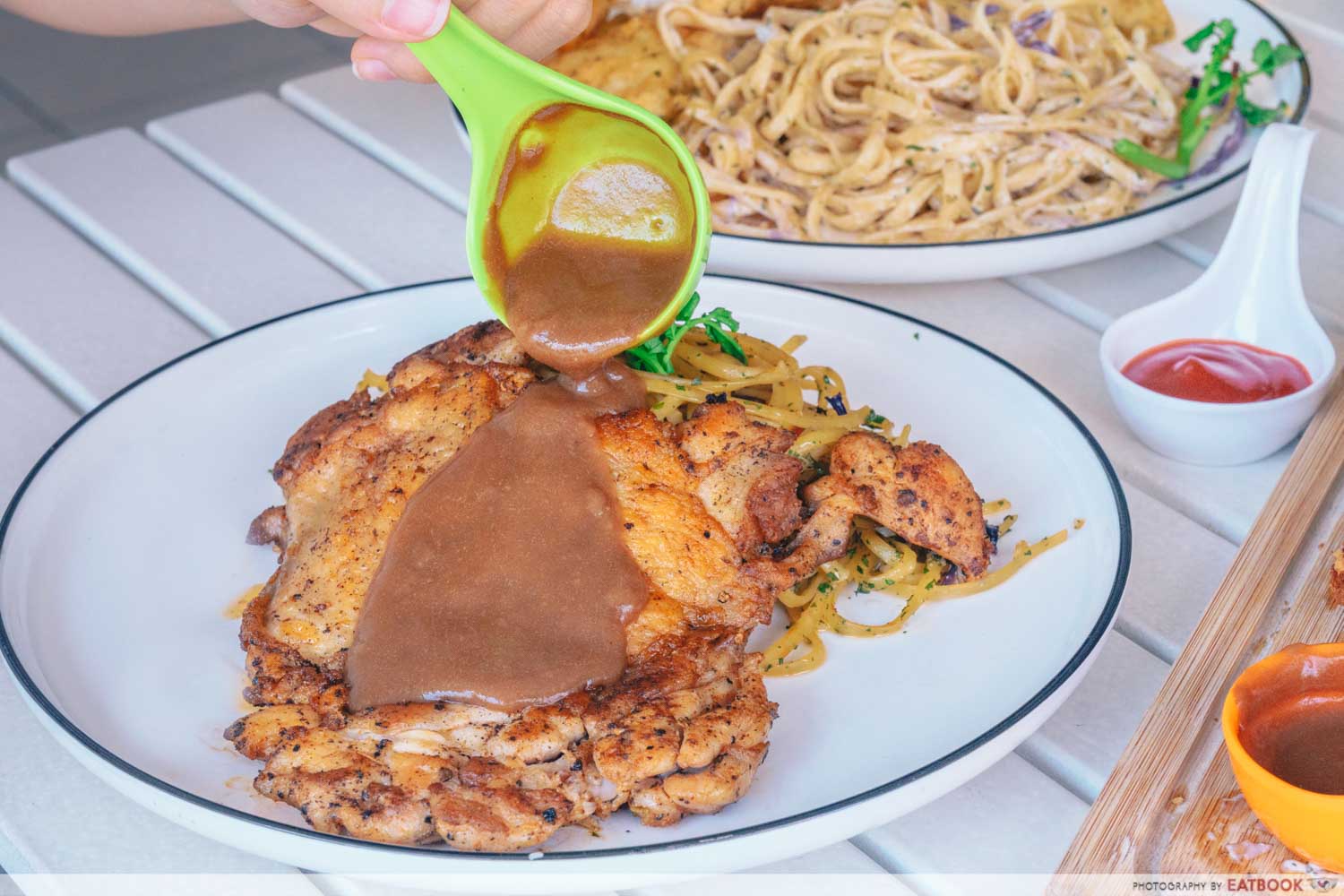 Don't be afraid to pour the accompanying mushroom sauce all over the chicken. The earthy notes of this sauce help to elevate the savouriness of the meat.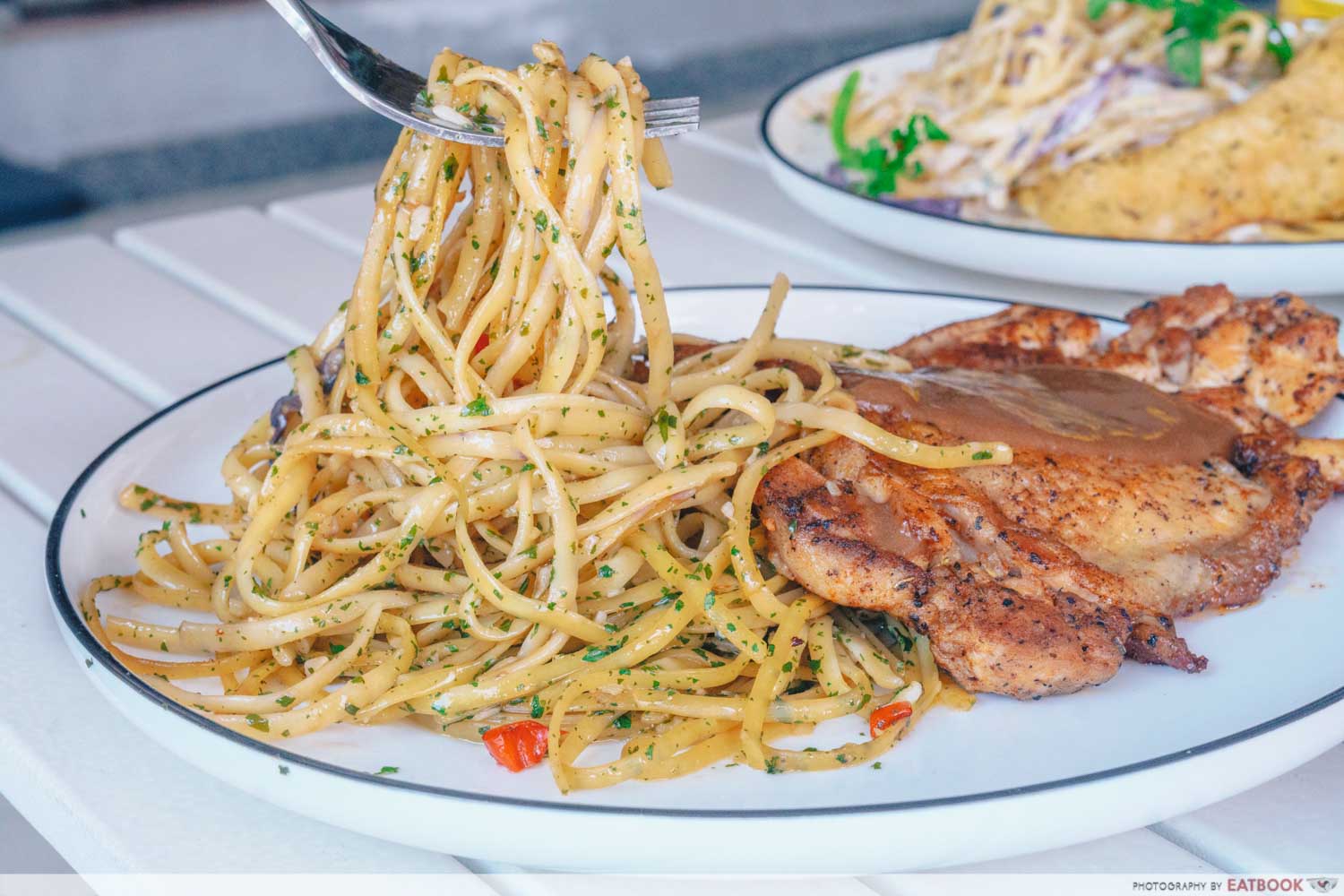 As someone with a sensitive stomach, I tend to stay away from oily food, so I was glad the aglio olio was not soaking in oil. They do go heavy-handed on the garlic, so you might not want to eat this on a first date.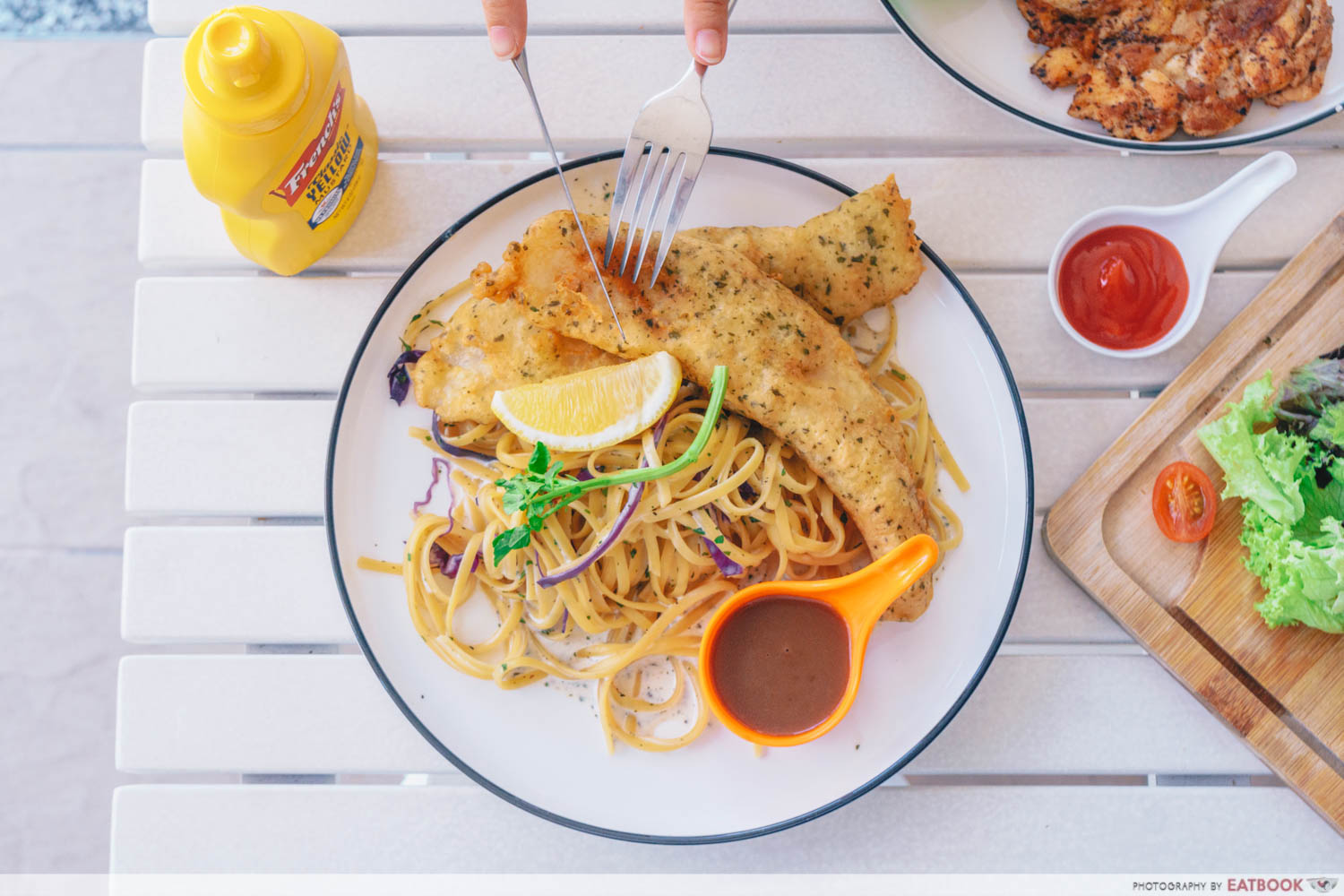 Another value-for-money dish is their Fish Fillet Carbonara ($10) boasting two thick fish fillets along with linguine. The generosity of this cafe continues to leave me dumbfounded.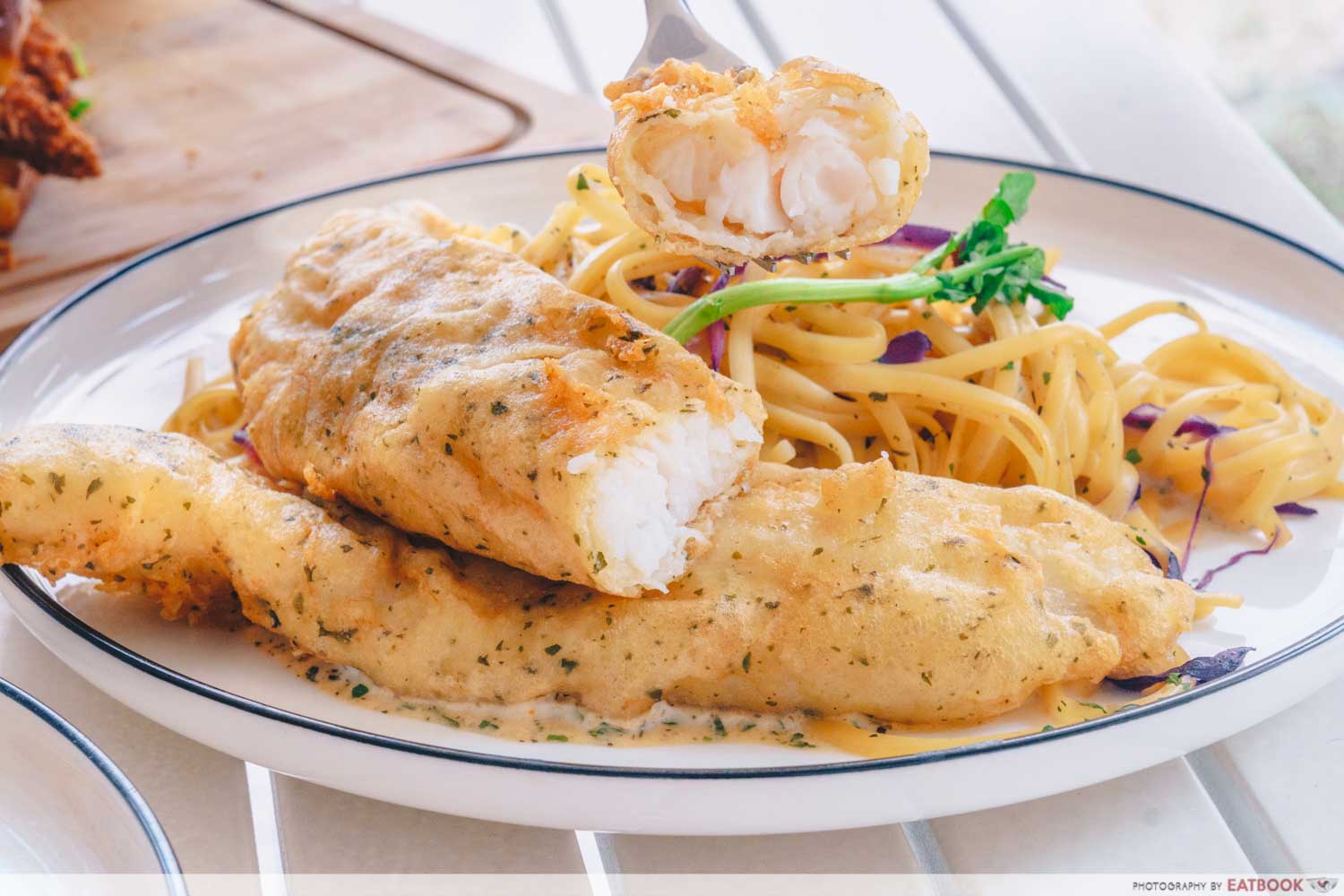 On its own, the batter-fried fish fillet was slightly disappointing, as it was not as well seasoned as I hoped. A squirt of lemon juice helps bring out the natural sweetness of the otherwise bland fish.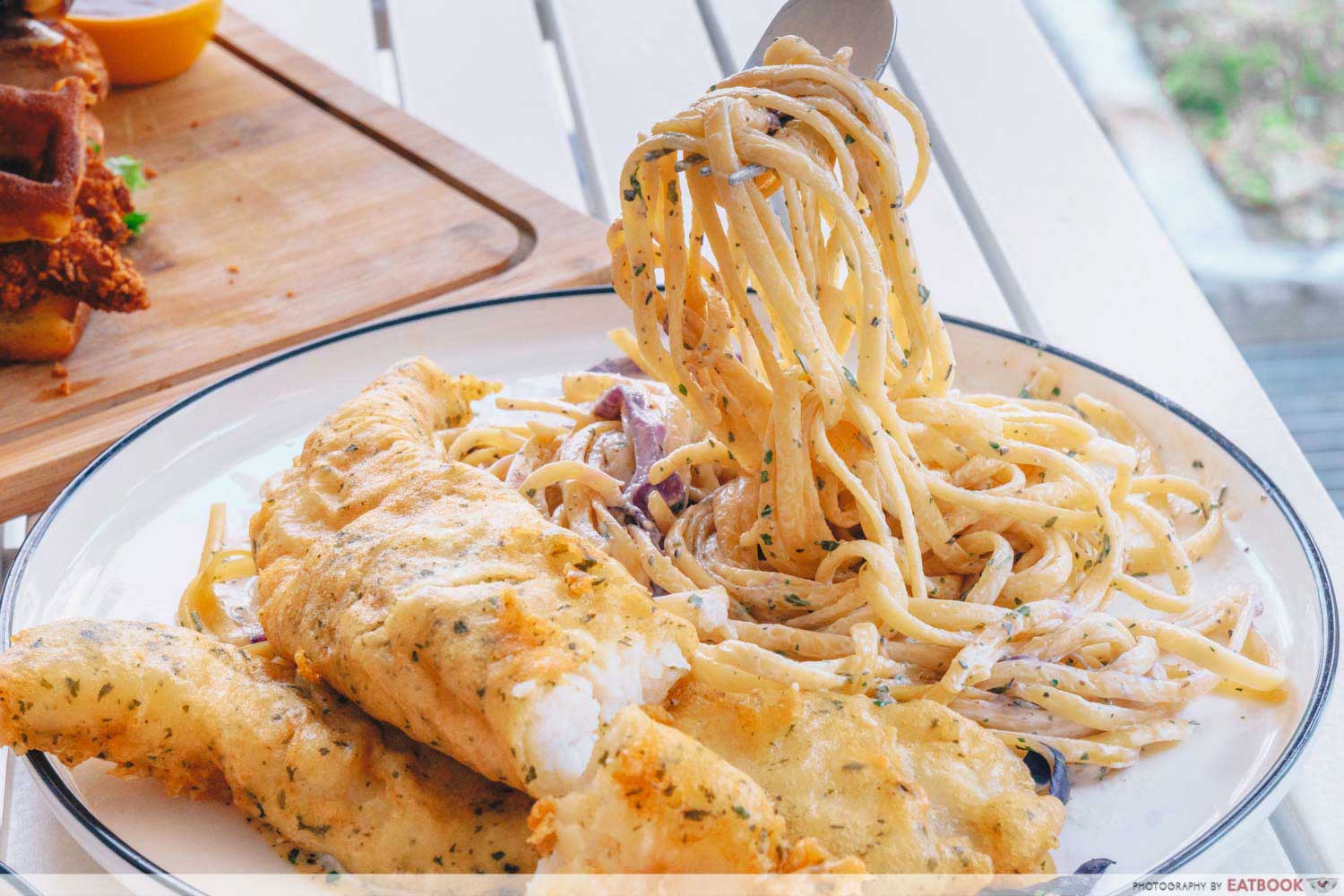 On the other hand, the carbonara was rich and creamy. They didn't hold back on the usage of parsley, resulting in a strong herby taste.
I suppose the fish fillet supported the bolder flavours of the carbonara. All in all, the elements pulled through to be a satisfying dish that would leave you in a food coma.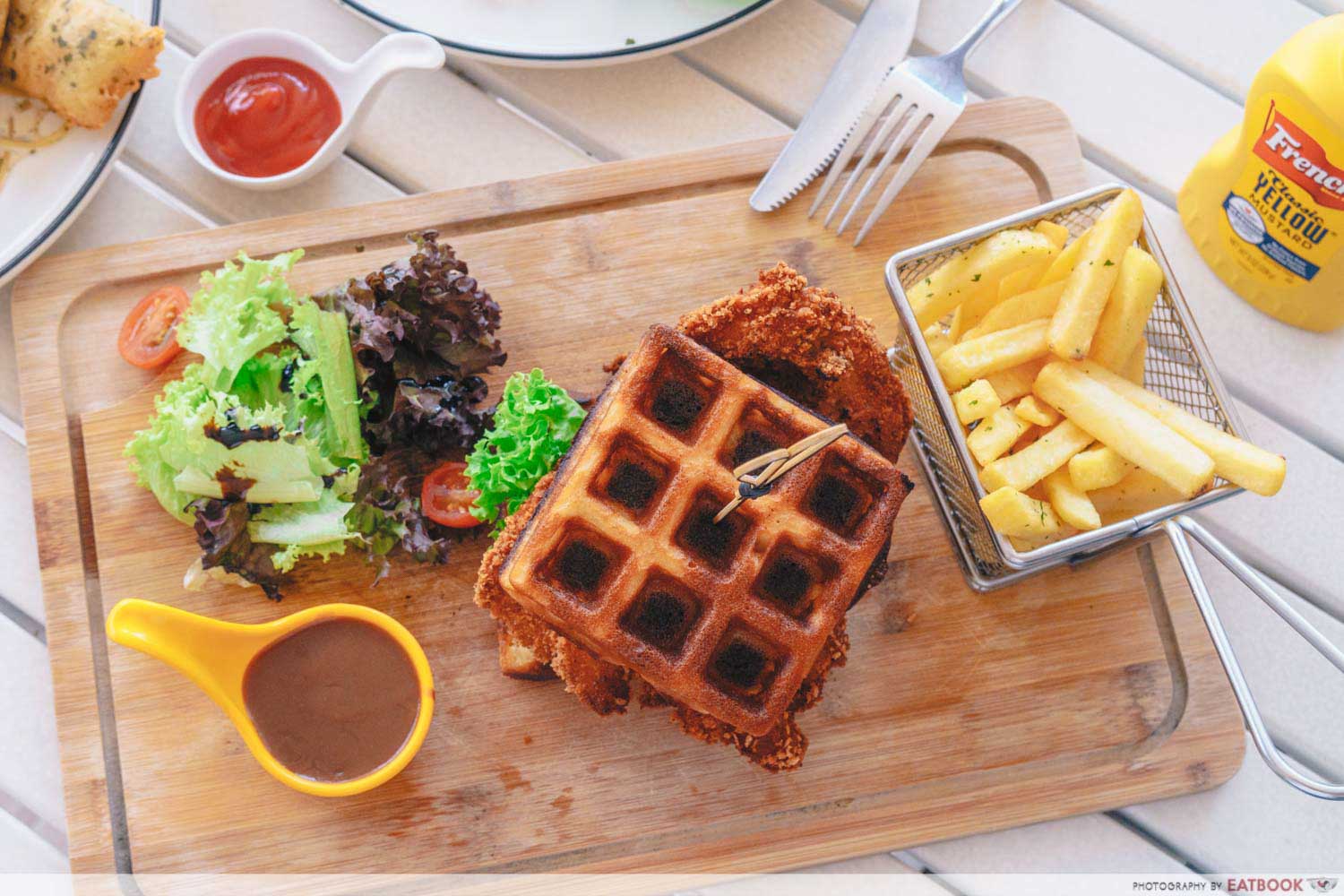 I ordered their Chicken Run Waffle Burger ($11) to shake things up. This dish also comes with regular burger buns at $9.
This indulgent waffle burger is served with a side of fries and salad. The latter balanced out this rather sinful meal.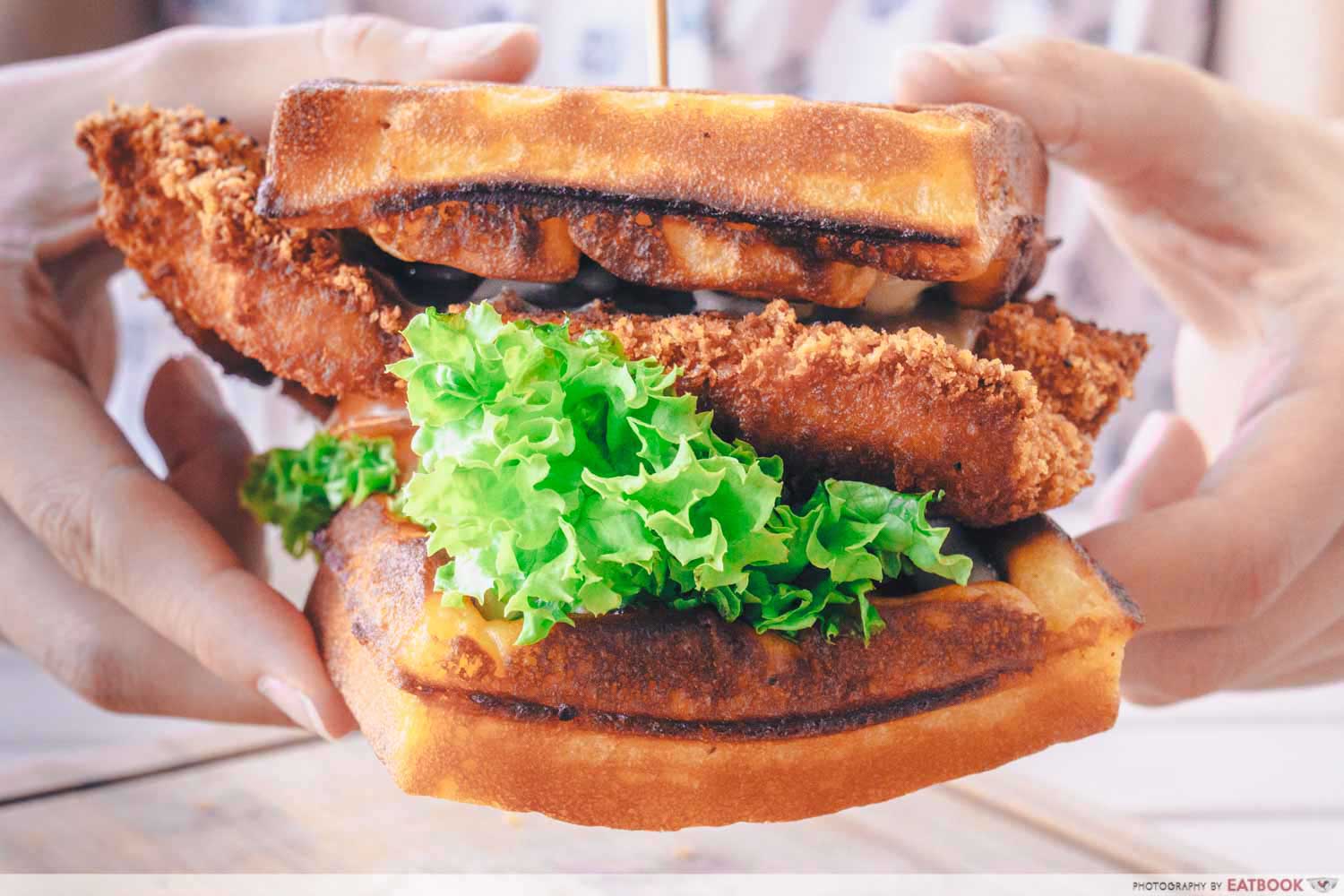 The burger was rather patty was rather dry, but taste wise, the sweetness of the waffle complemented the savoury fried chicken patty well. 
Ambience at Craze Kitchen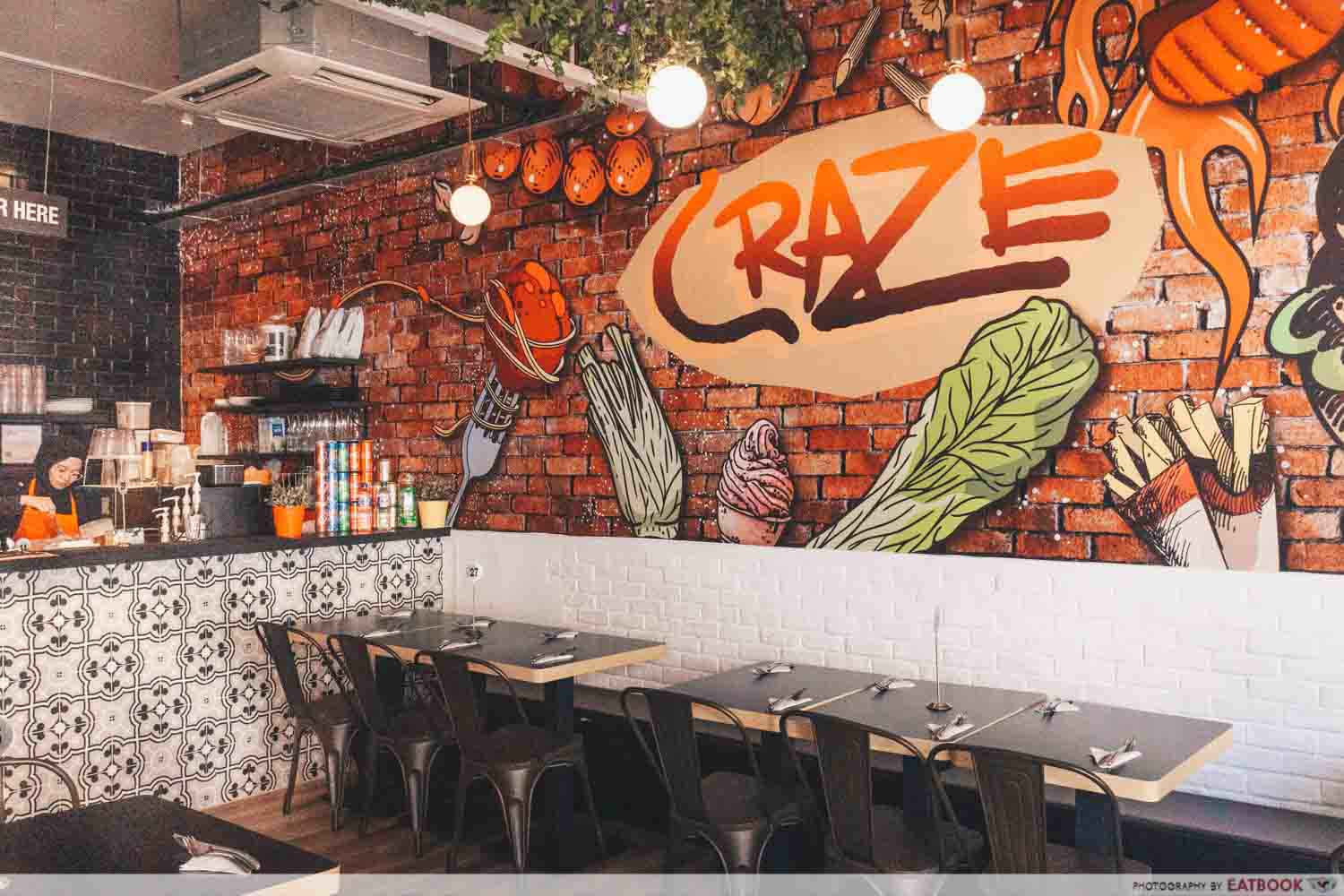 Situated below an HDB complex, this cosy cafe exudes warm and friendly vibes. Don't be afraid to dine here in groups, as there are plenty of seats indoors and a small outdoor dining area.
The verdict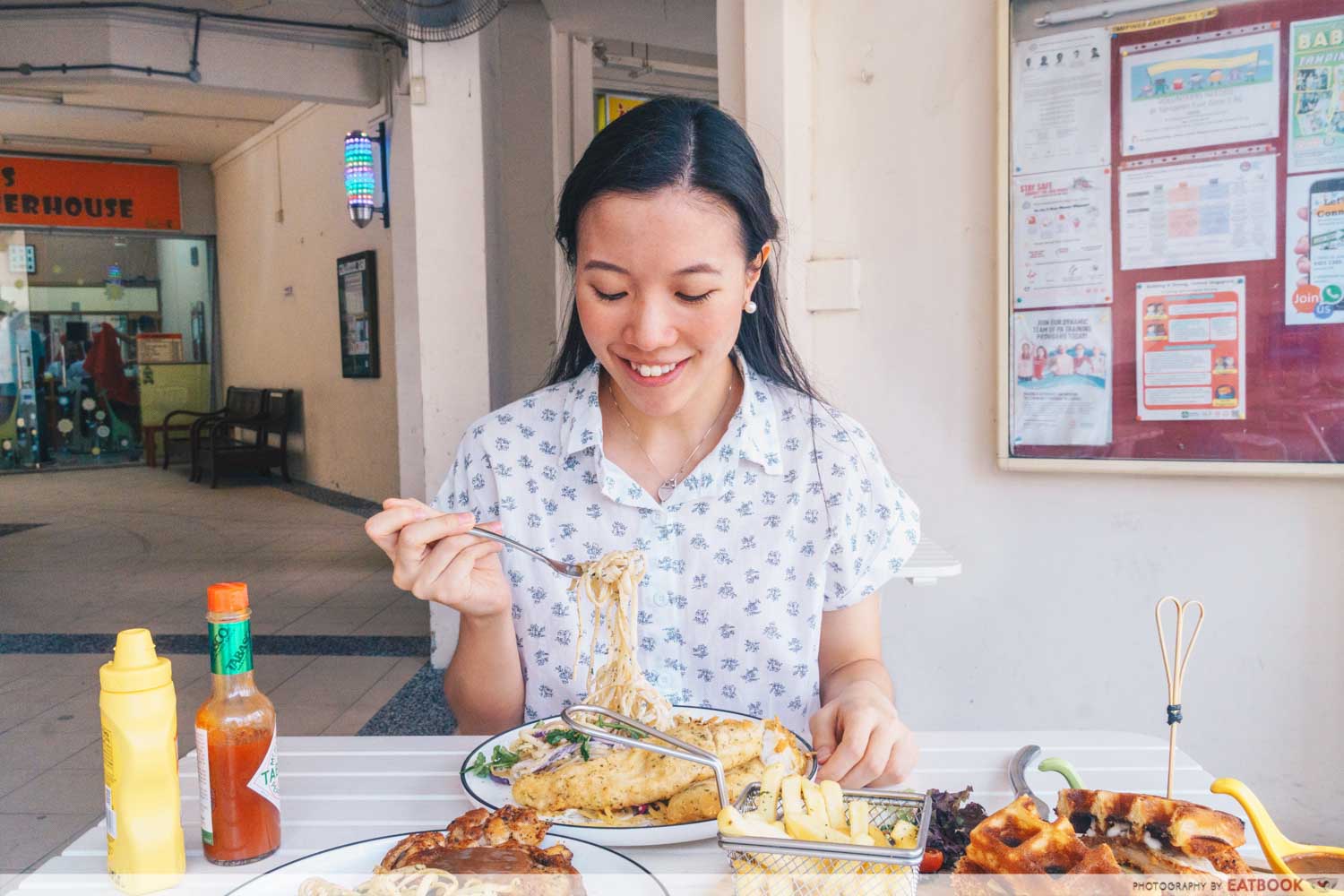 Not all heroes wear capes, and Craze Kitchen is one of them. Not only are they generous with their portions, but the nett prices make it a breeze to split the bill. It is quite a pity that their fish fillet was bland; more flavours would have uplifted the dish.
As this humble cafe is tucked away in the heartlands of Tampines, it is rather inaccessible. At least you get to whip up your appetite with a 15-minute walk from the nearest MRT Station.
If you're looking for more places to dine in the area, check out our review of Nimman Soi 9!
Address: 201D Tampines Street 21, #01-1171, Singapore 524201
Opening hours: Sun-Thu 11:30am to 11pm, Fri-Sat 11:30am to 2am
Tel: 6970 0287
Website
Craze Kitchen is a halal-certified eatery.
Photos taken by Ian Teoh.
This is an independent review by Eatbook.sg.
Summary
Pros
– Value for money
– Generous portions
– Flavoursome chicken chop
Cons
– Inconvenient location
Recommended dishes: Chicken Aglio Olio ($10), Chicken Run Burger ($9)
Opening hours: Sun-Thu 11:30am to 11pm, Fri-Sat 11:30am to 2am
Address: 201D Tampines Street 21, #01-1171, Singapore 524201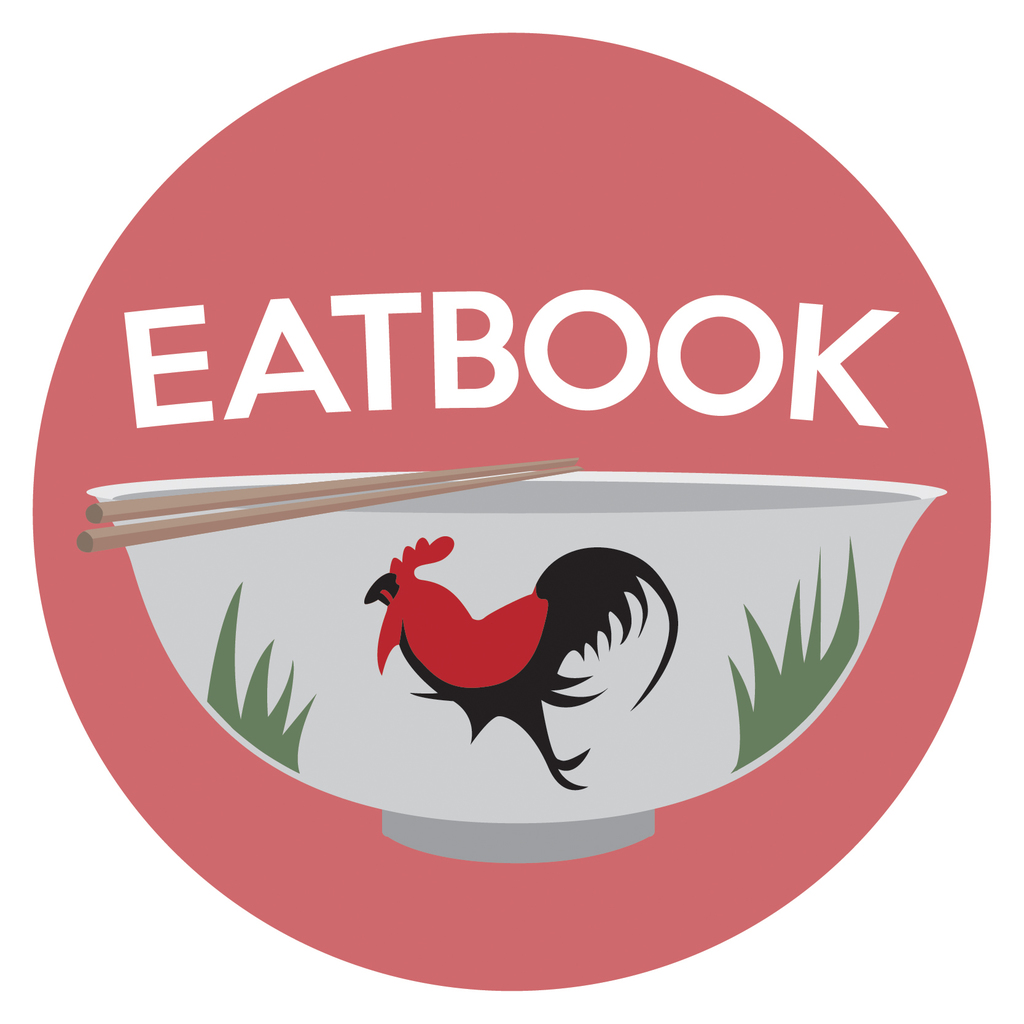 Drop us your email so you won't miss the latest news.