Nimman Soi 9 by Aunty Jane of Jane Thai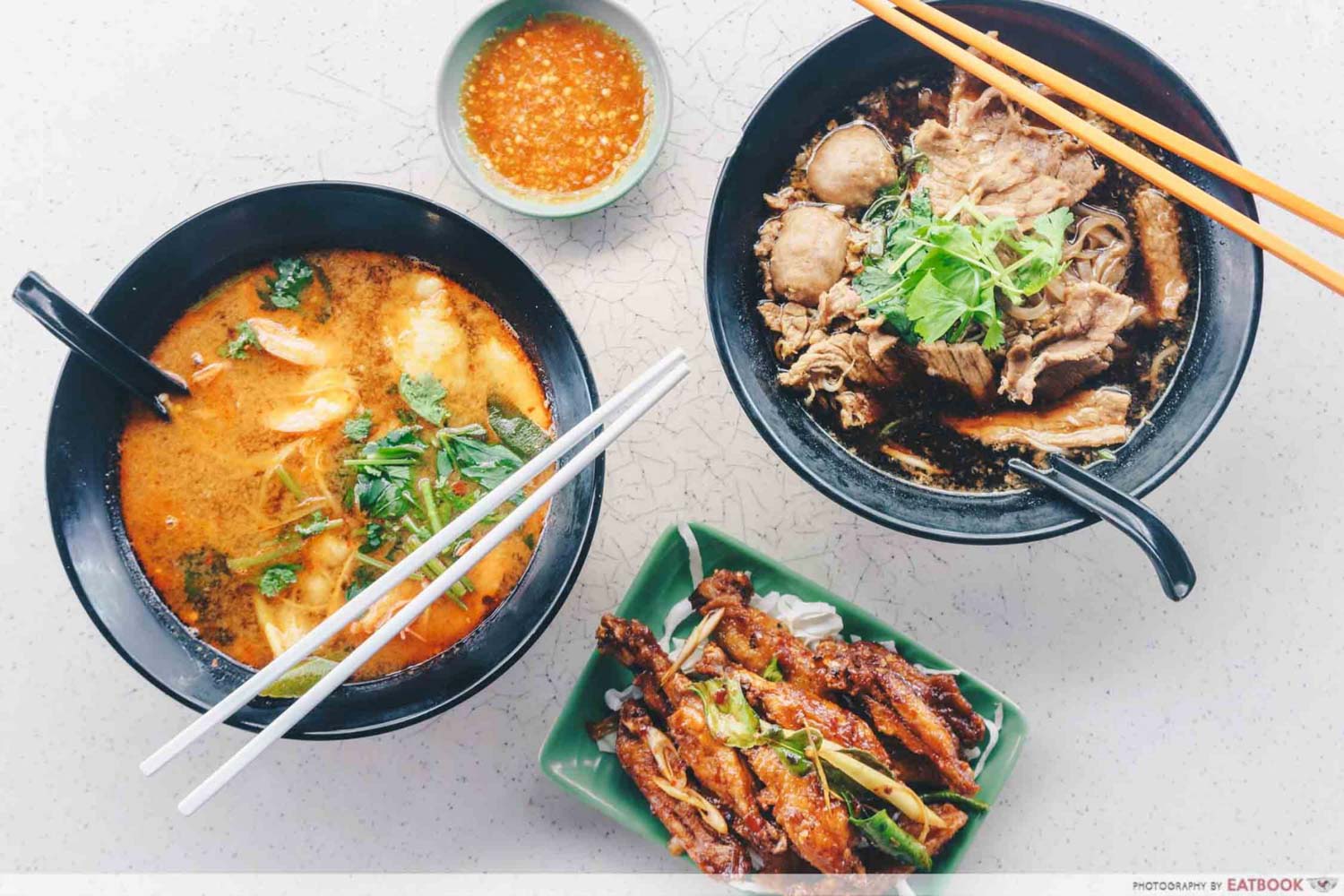 Fans of the OG Jane Thai at Orchard Towers would be happy to know that the ex-owner and chef, Jane Pamakham, is back! This time she's serving up a storm at a hawker stall in Tampines called Nimman Soi 9.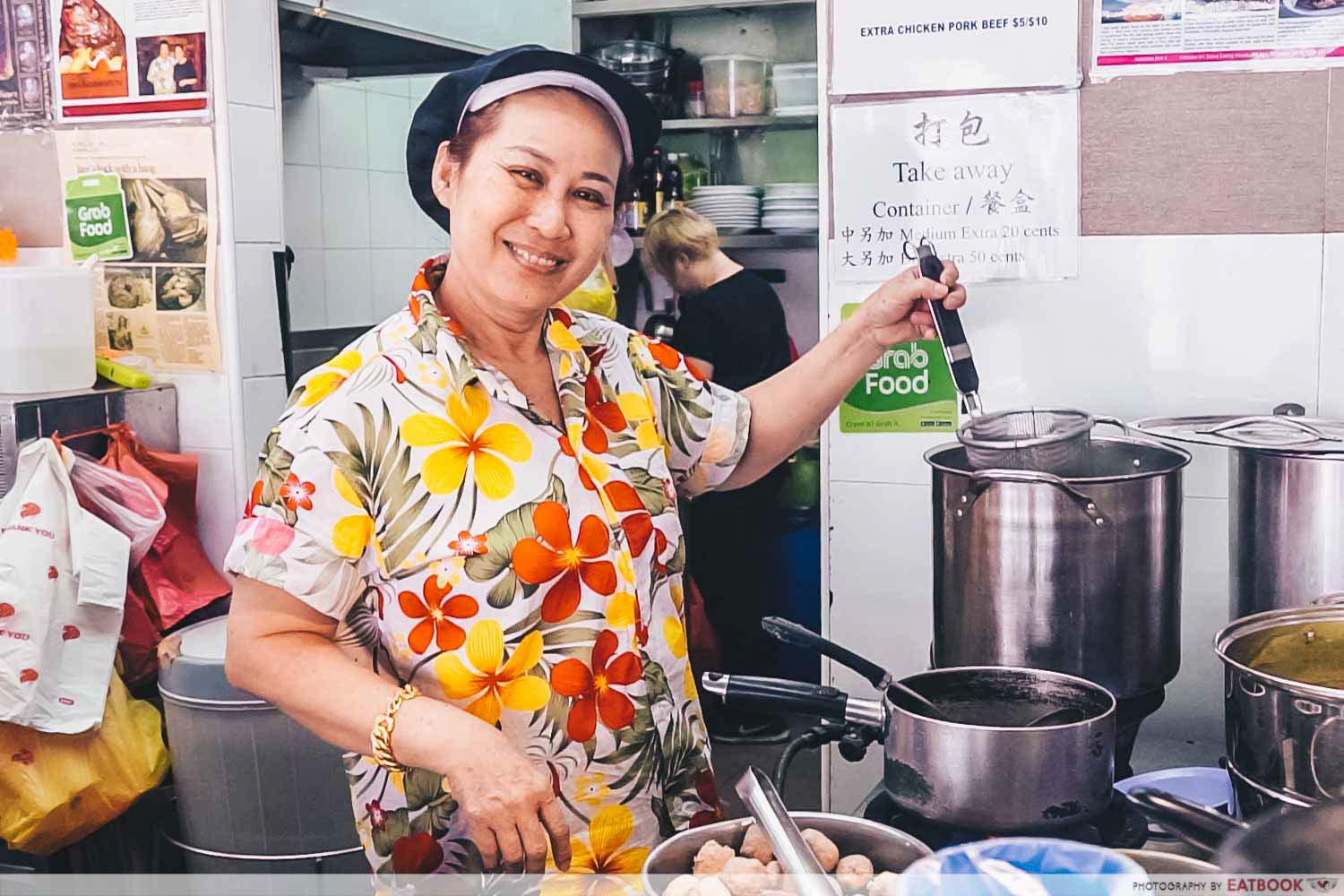 After Jane Thai had to move out of Orchard Towers, Aunty Jane decided to sell off her share in the business and went back to Chiang Mai to take a break. However, this hiatus only lasted two years before she found herself getting restless. Itching to be back at work with her trusty wok, she decided to set up shop again in the heartland of Tampines.
10 Tampines Central Food Spots To Check Out Including Popiah Sushi And BBT Stores
Food at Nimman Soi 9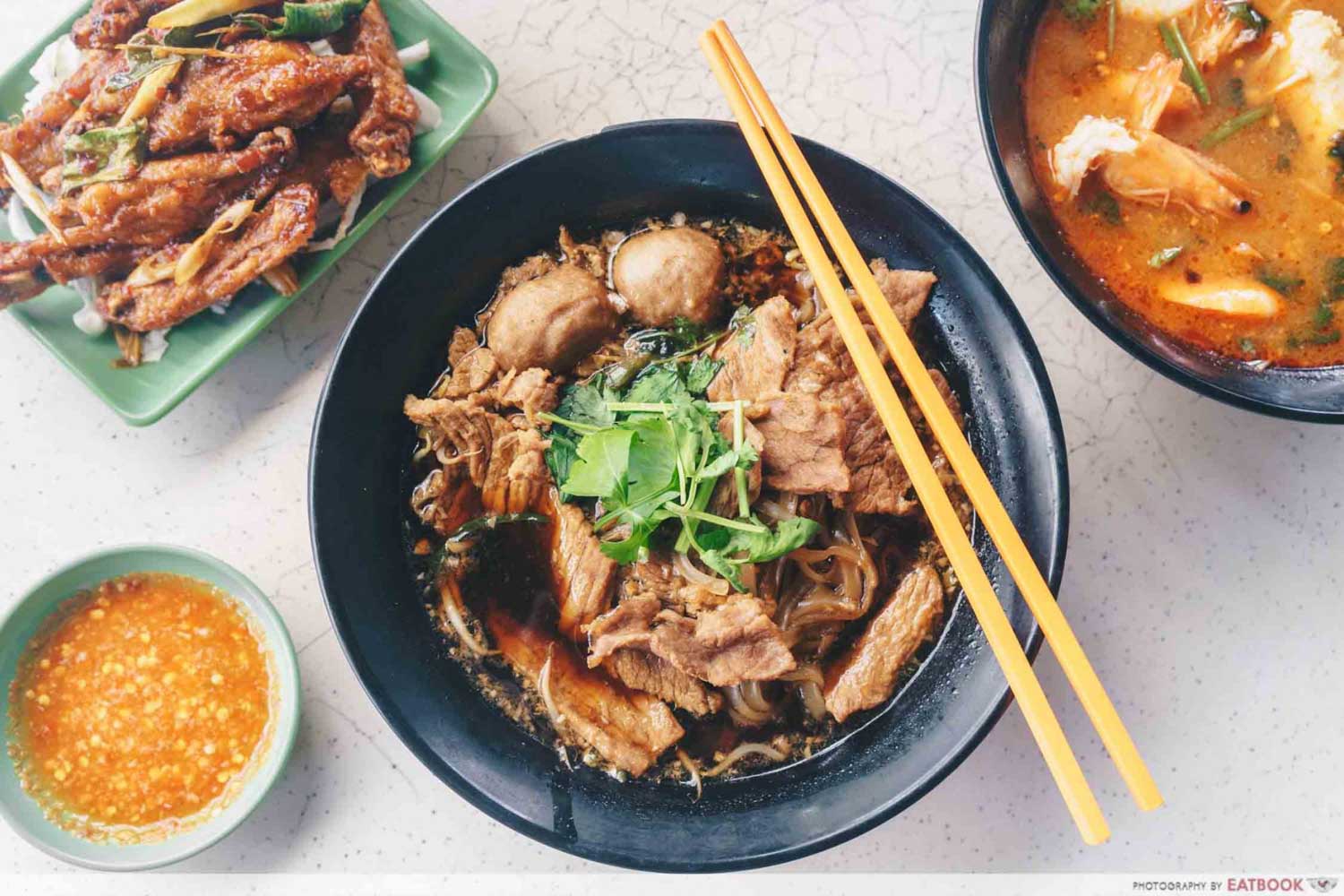 With a menu boasting popular dishes such as tom yum and green curry, you're bound to get your fill of legit Thai food. I decided to settle for a hearty bowl of Beef Noodle Soup ($5) to start off my meal.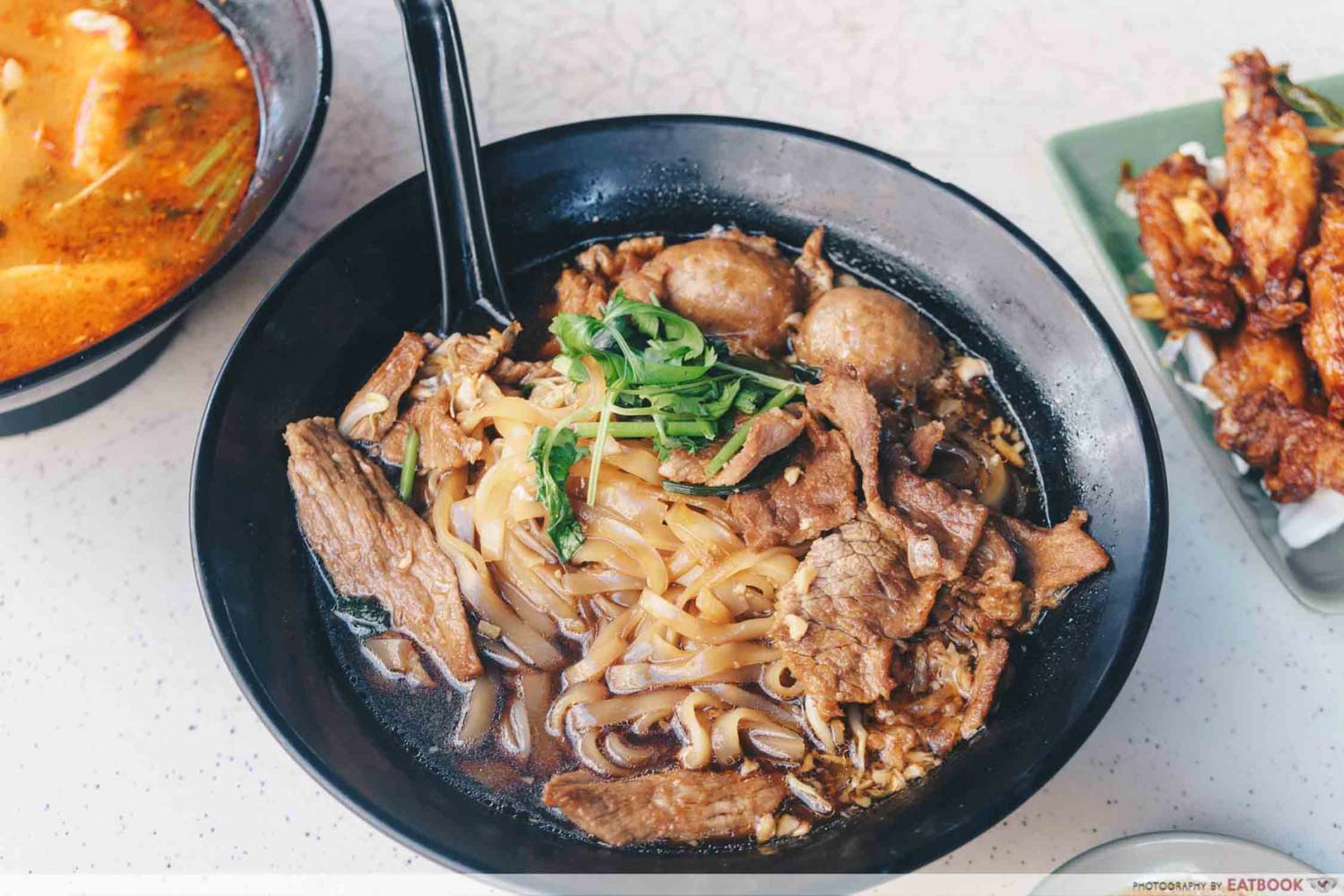 I was first hit by a heavenly aroma of beef and spices wafting from this dish. Digging into the bowl of noodles, I was surprised by the generous serving of noodles and meat, and knew I was getting my money's worth.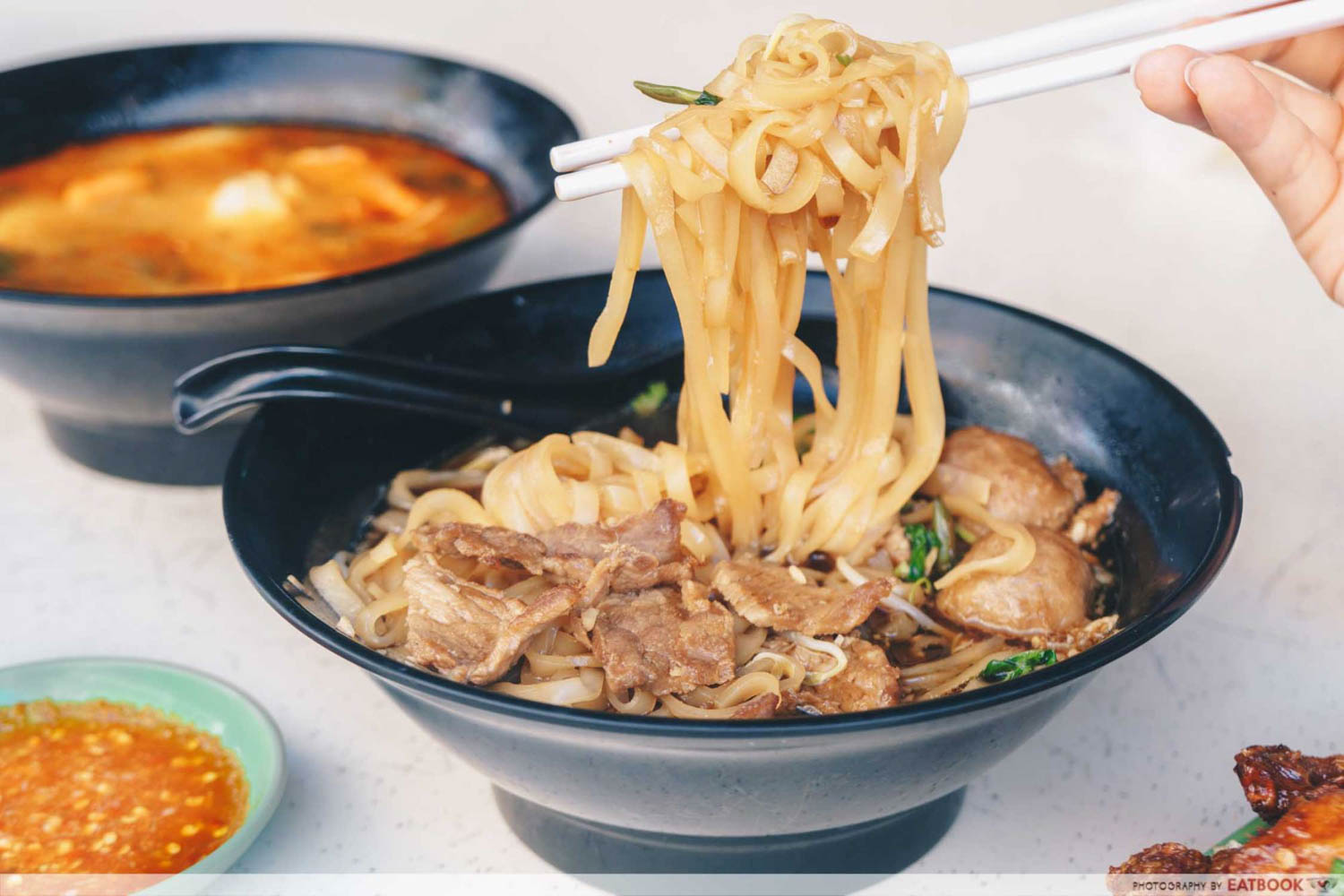 Each spoonful of soup had robust, beefy flavours with hints of garlic. The lemongrass stalks also gave this rich broth an added fragrance, kicking the savouriness up a notch. What made this even better was that the rice noodles soaked up the flavourful broth, making every mouthful a joy to eat.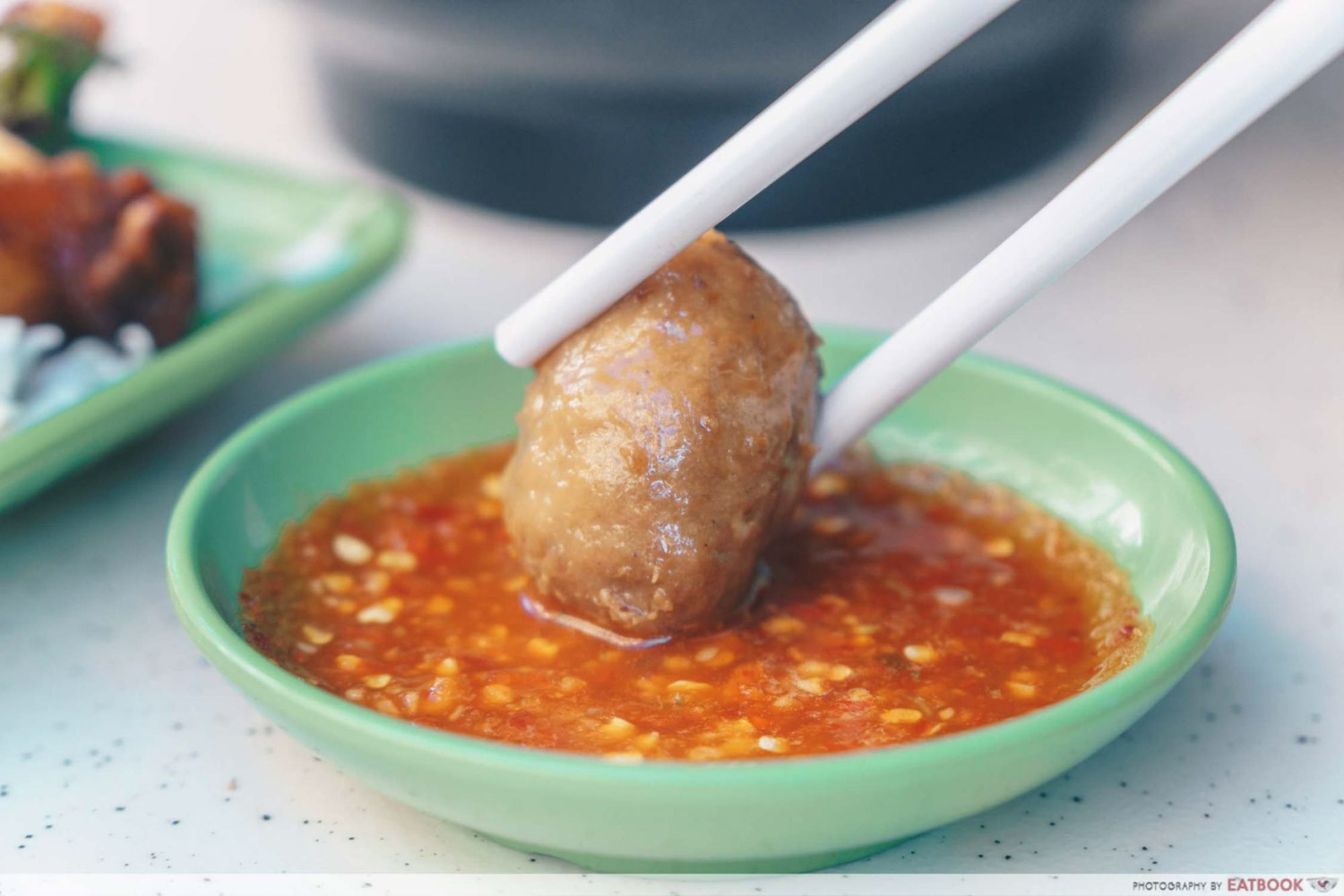 The meatballs were dense and chock-full of flavour, while the strips of beef had a tender and chewy bite; it wasn't a jaw workout as the meat was thinly sliced. If you love spicy food, help yourself to Aunty Jane's house-made chilli sauce. Dipping the beef into this sauce gave it a refreshing and spicy tang.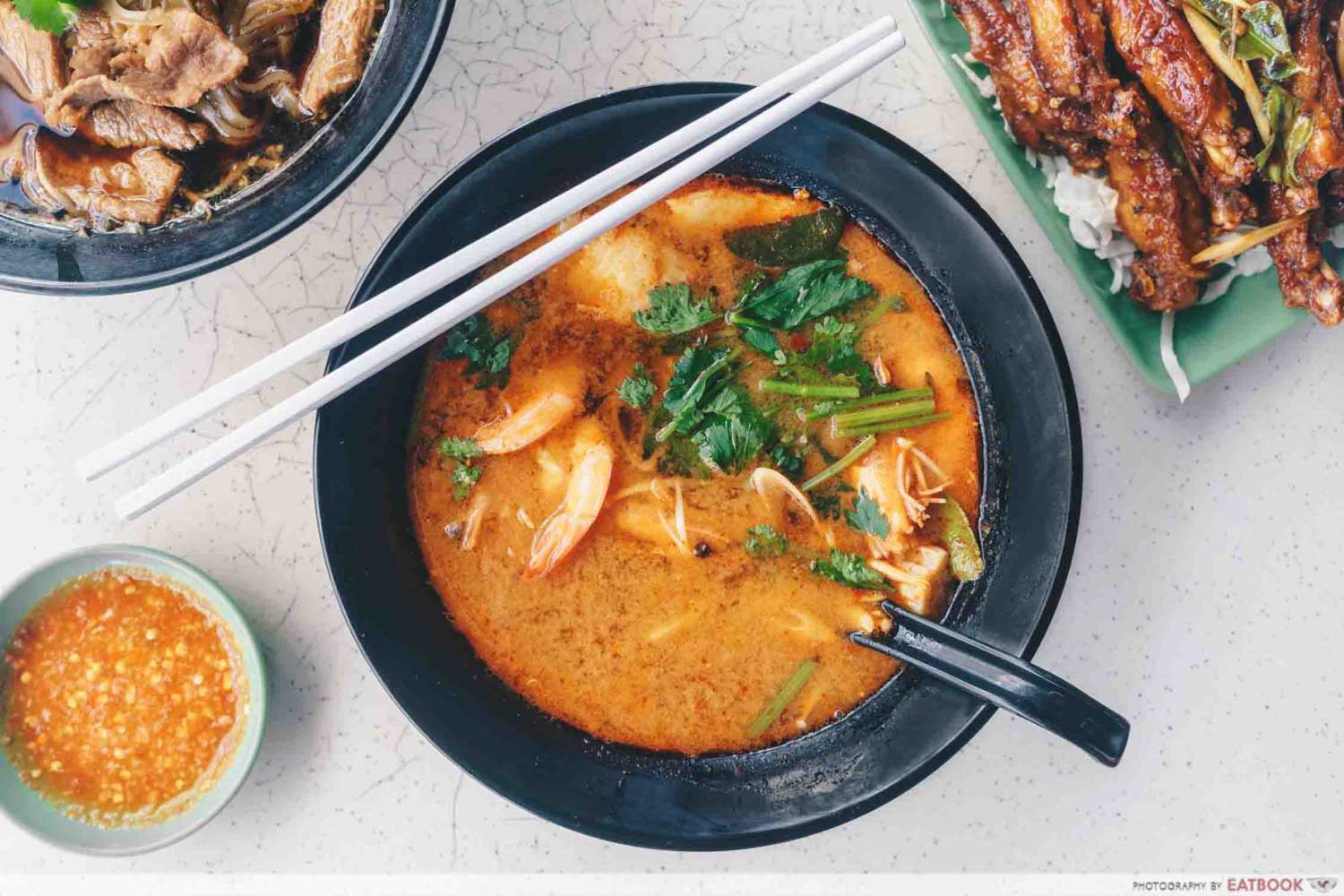 Digging into a spicy and tangy bowl of tom yum is a must at every Thai eatery for me, so ordering the Tom Yum Seafood Soup ($6) was a no brainer. One look at this bright orange soup and you know Aunty Jane isn't messing around with her spices. My tongue soon went numb by the overwhelming spiciness, but the sweet and sour broth kept me going back for more.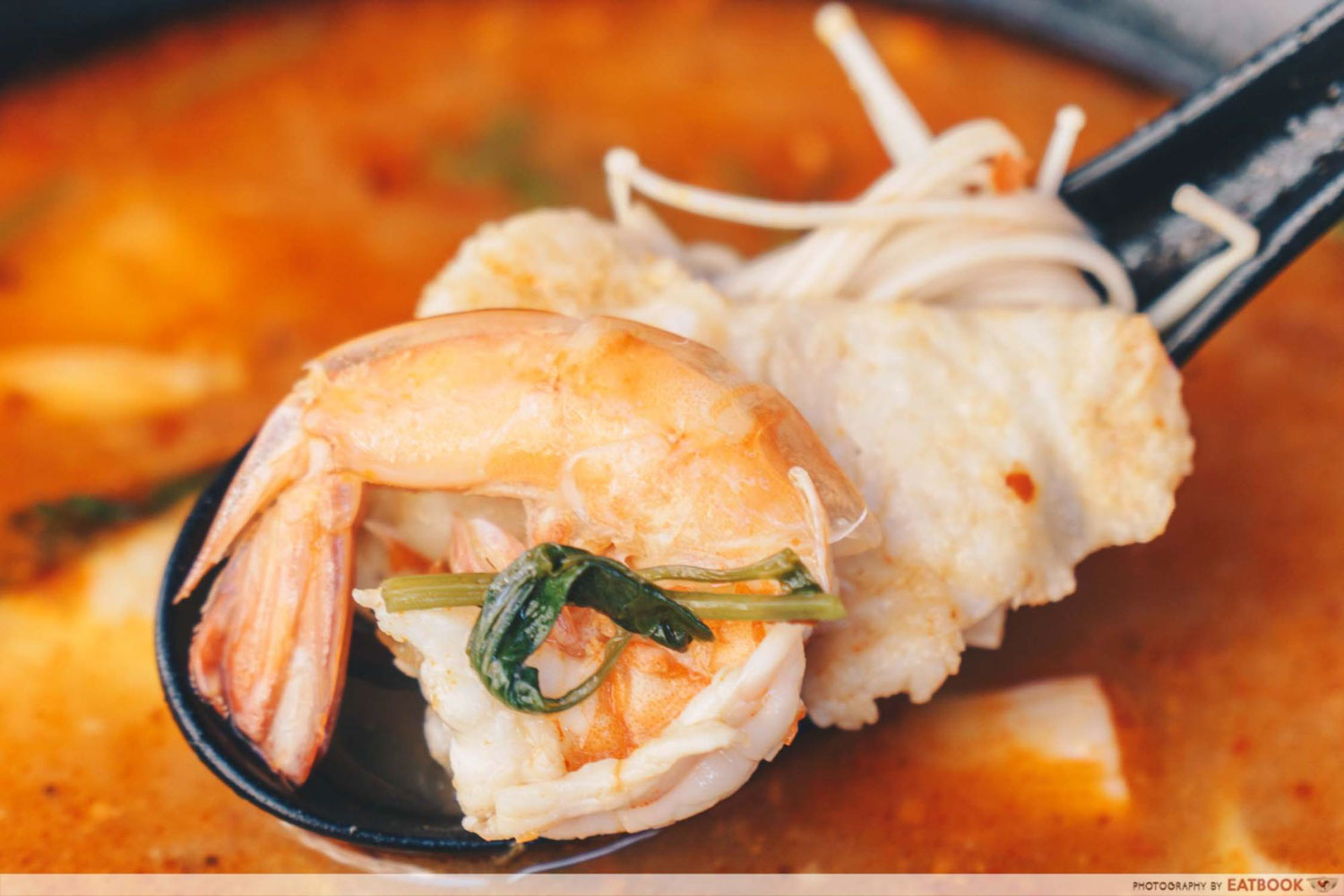 Though there were only fish and prawns in the mix, they both tasted sweet and fresh, making up for the lack of variety in ingredients. The sweetness from the plump slices of fish complemented the tangy soup, while the crunchy prawns gave the dish an added texture.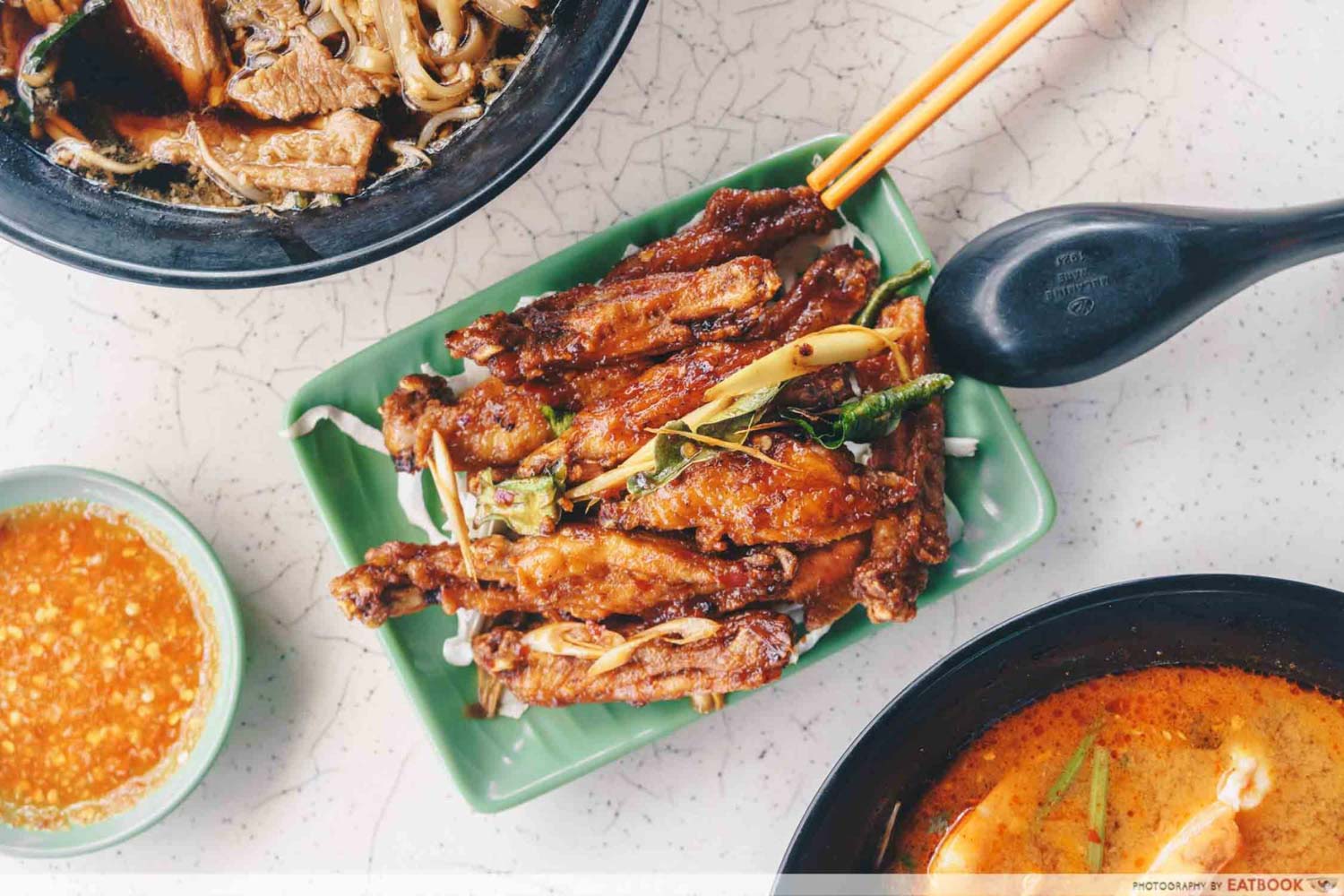 After experiencing the heat from the tom yum soup, I was expecting the same level of spice for their Tom Yum Chicken Wing ($8). With a drink in hand, I braced myself.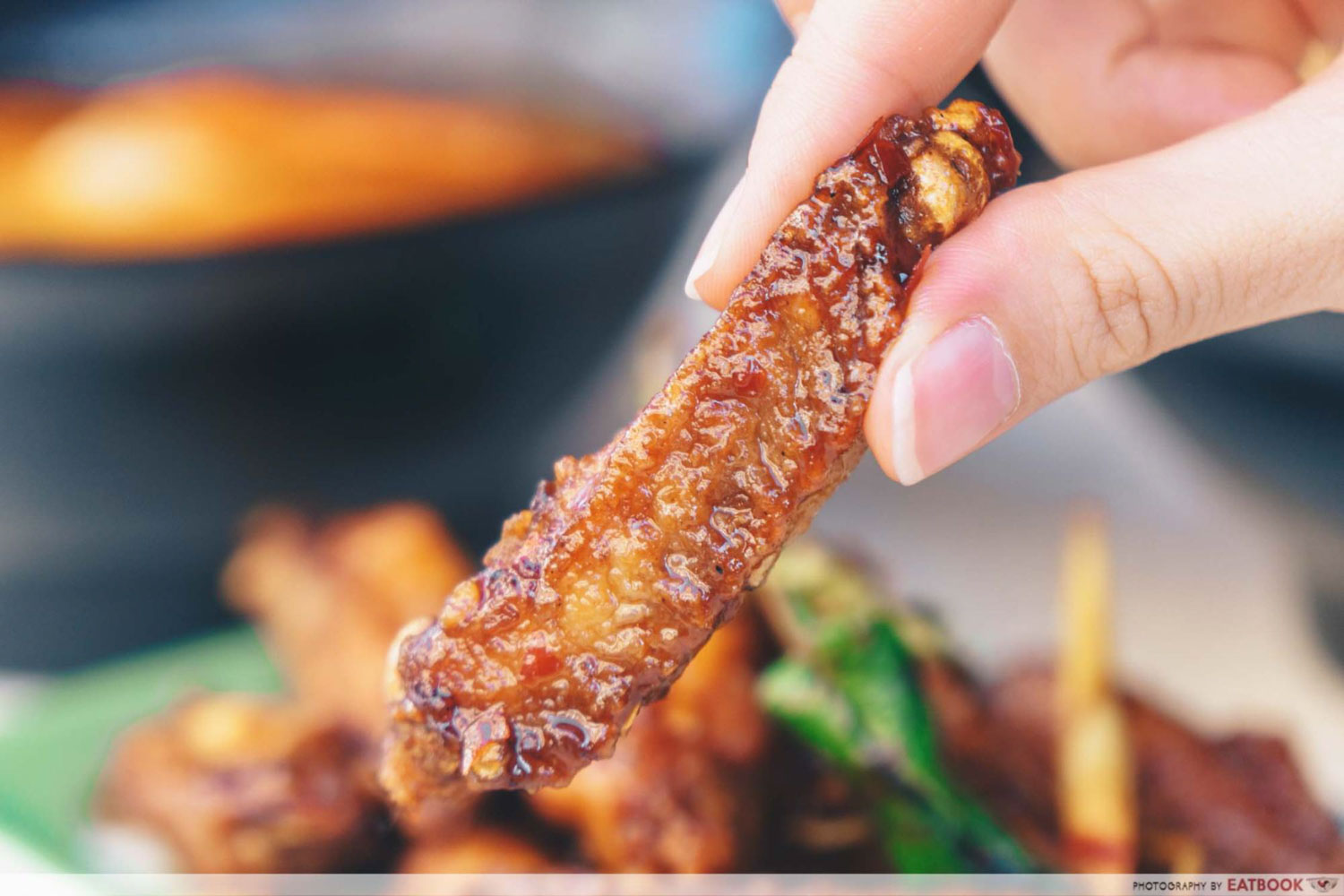 Served in halves, these chicken wings were easy to eat in one bite. The meat was well-marinated, with a sweet and spicy sauce coating the crispy skin. Exceeding expectations, these wings were in fact spicier than the tom yum soup. Even writing about it now is making my tongue salivate in fear.
Ambience at Nimman Soi 9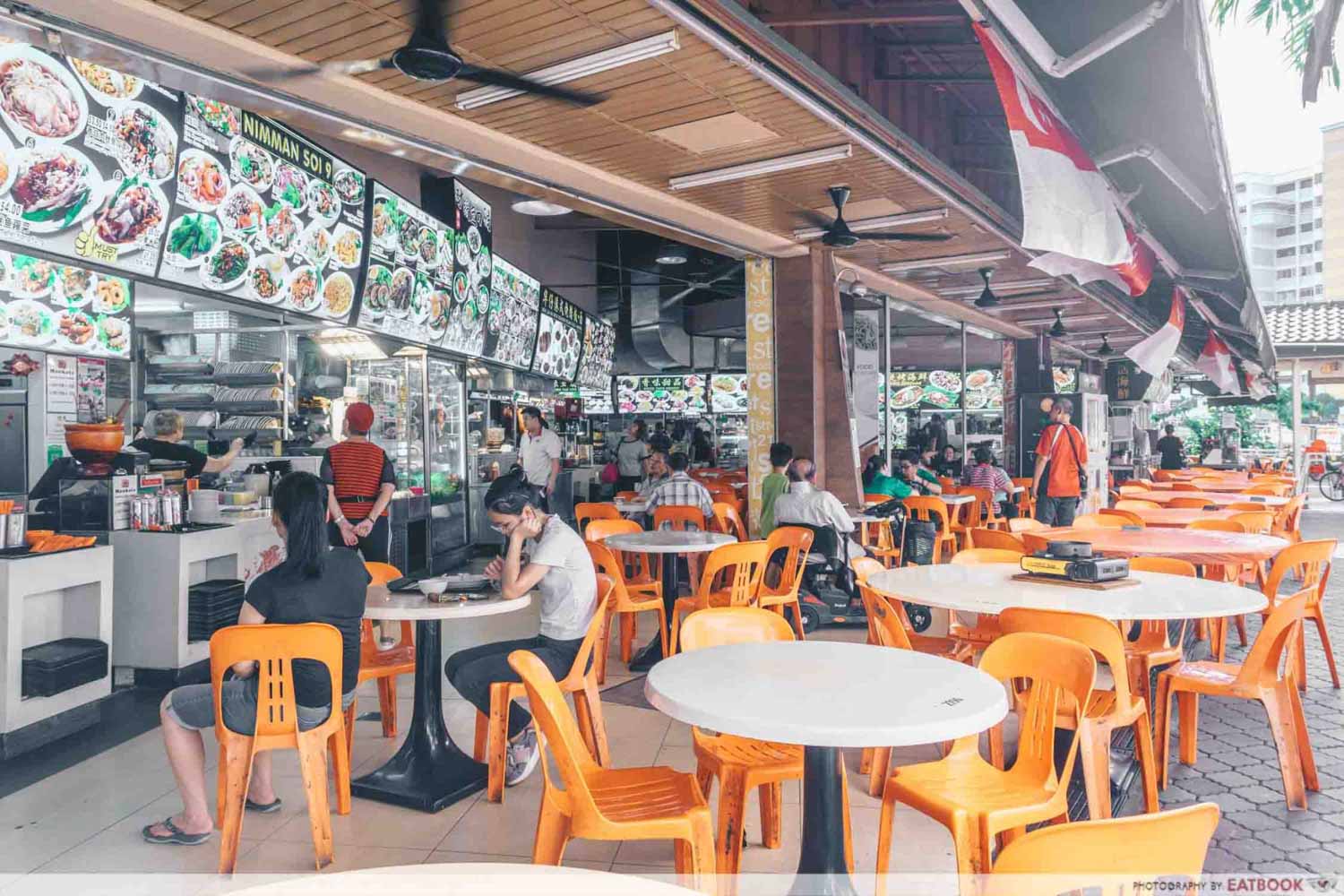 Situated in a typical neighbourhood coffee shop, you can expect a no-frill dining experience at Nimman Soi 9. You don't have to worry about chope-ing seats, as there are plenty of them—for now. But do bring along tissue packets, as the spicy food will leave you sweating at this open-air eatery.
The verdict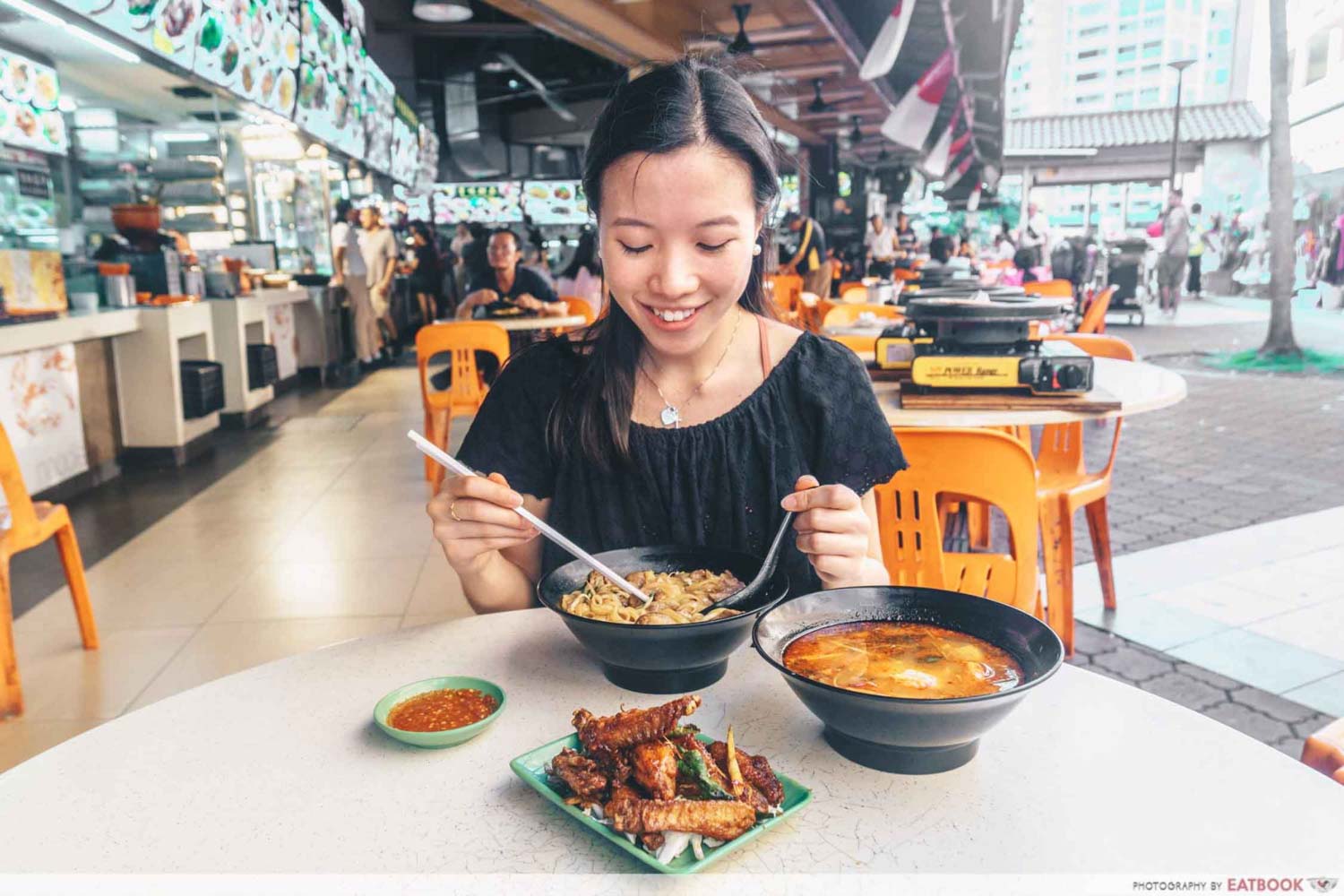 As a Westie, I try my best to disagree that you can only find good food in the East. But this time around, I have to put my ego aside and admit that Nimman Soi 9 has made the East a place to visit for good food. Not only do you get a belly-filling meal with their generous servings, but Aunty Jane also whips up some legit-tasting Thai dishes. Now it seems like I have a reason to head down to the East.
If you're looking for more Thai food, check out our review of Penguin's Kitchen or our list of underrated Thai dishes. 
Address: Blk 201 Tampines Street 21, 21 Street Eating House, Singapore 520213
Opening hours: Mon-Fri 9:30am to 9:30pm, Sat-Sun 10am to 10pm
Telephone: 8569 2482
Website
Nimman Soi 9 is not a halal-certified eatery.
Photos taken by Cindy Yong.
This is an independent review by Eatbook.sg.
Summary
Pros
– Value for money
– Generous portions pf seafood and beef
– Well-seasoned dishes
Cons
-Inconvenient location
Recommended dishes: Beef Noodle Soup ($5), Tom Yum Seafood Soup ($6), Tom Yum Chicken Wings ($8)
Opening hours: Mon-Fri 9:30am to 9:30pm, Sat-Sun 10am to 10pm
Address: Blk 201 Tampines Street 21, 21 Street Eating House, Singapore 520213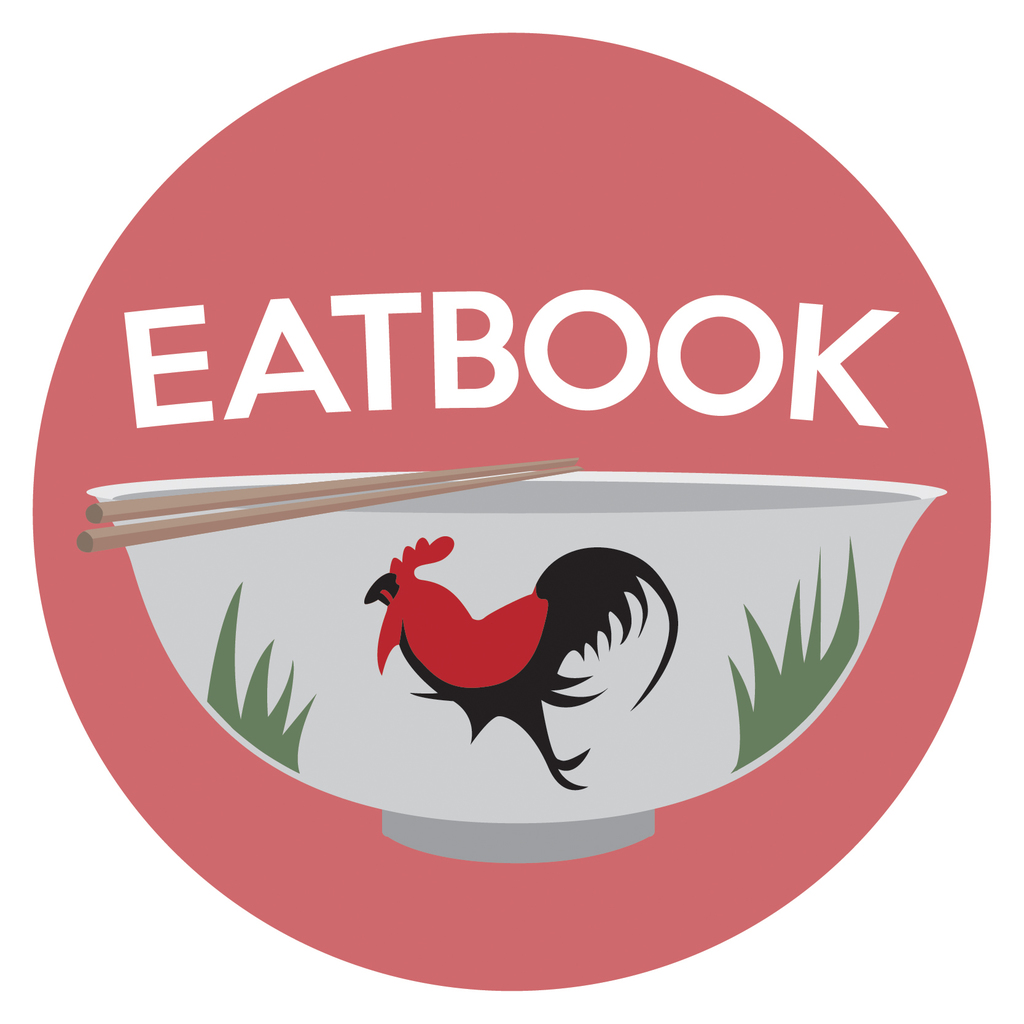 Drop us your email so you won't miss the latest news.