---
Underrated and delicious Thai dishes you've never ordered
---
Thai food is my favourite cuisine, thanks to its never-ending barrage of punchy flavours. Every dish sends sweet, spicy, salty and sour flavours dancing across the tongue; every bite excites the senses in a different way. 
Looking at the numerous new Thai eateries cropping up around Singapore, I'm not alone—locals are crazy for Thai food. Yet, whenever I go out to eat Thai food with friends, they always want to order the same dishes—basil pork, pandan chicken, tom yum and green curry, just to name a few.
While I do love those dishes, there's so much more to Thai food than that. Each region of Thailand has its own rainbow of curries and salads, along with a whole host of noodle dishes. So expand your culinary horizons with just 10 of these underrated Thai dishes, all delivering distinctively potent Thai flavours in relatively unfamiliar packages.
---
1. Gaeng Som (Sour Curry)
---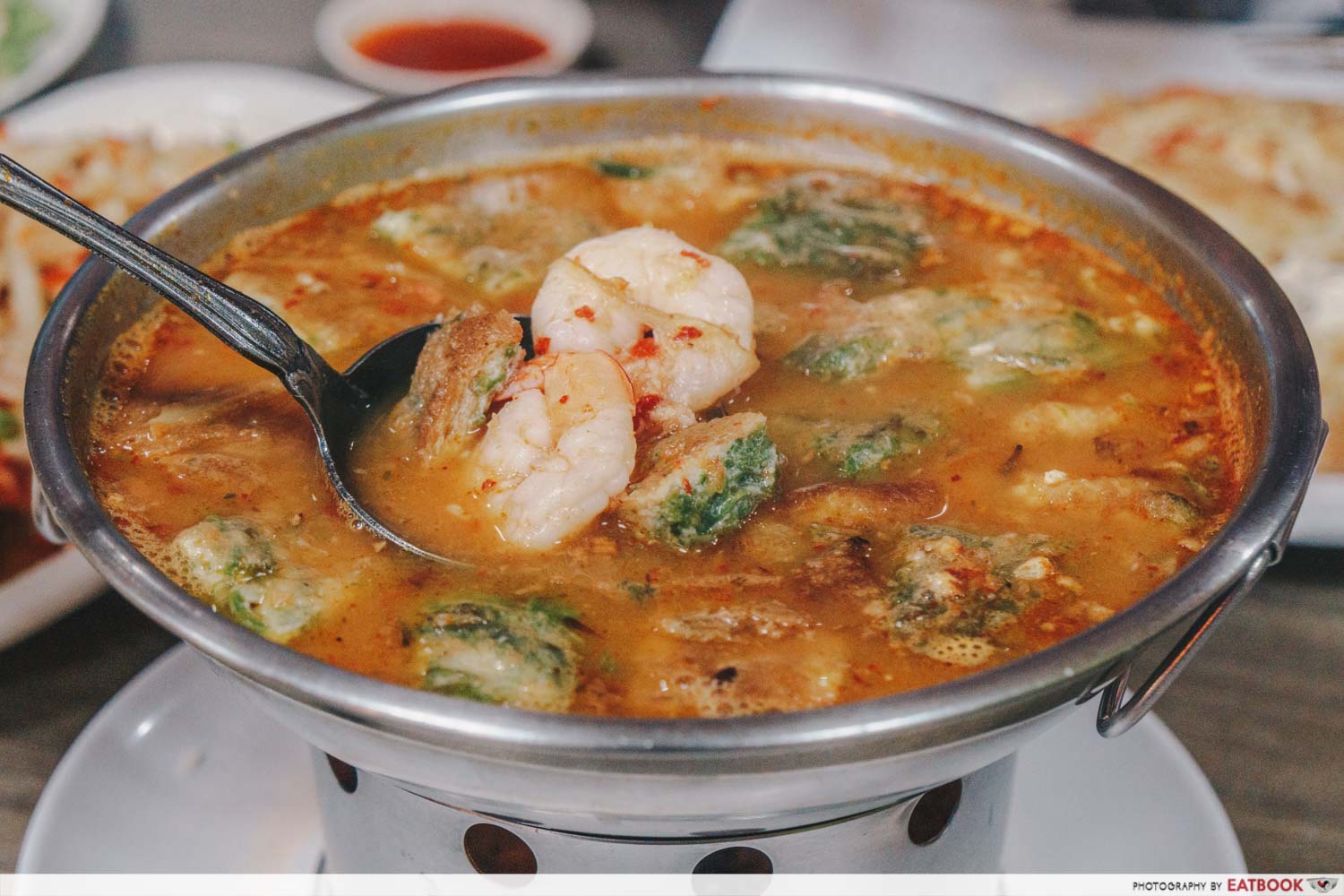 Green curry is the international poster boy for Thai curries, but plenty of other forms of spicy gravy exist in the Thai culinary world. While most are coconut milk-based, Gaeng Som is arguably the nation's most popular water-based curry.
Native to Central and Southern Thailand, it's usually served in a metal hotpot, occasionally over fried fish, but usually with a garden of vegetables. A particularly unique component is the cha om omelette. Copious amounts of thin, fern-like acacia leaves fill a spongy omelette, brilliant for soaking up the tangy curry.
Fish stock, palm sugar, tamarind juice and dried chillies form the base of this curry, resulting in a full-bodied sour flavour that's backed up by sweet undertones. In fact, its dilute nature makes it more like a soup than curry, making this dish positively slurpable sans rice.
Spicy Thai – Thai Cafe is one of the best places to find this sour curry in Singapore. Their Kaeng Som Cha Om ($18) warms the soul with its sour-spicy broth and juicy squares of soaked omelette.
Address: 218 Bedok North Street 1, #01-01, Singapore 460218
Opening hours: Daily 11:30am to 3pm, 5:30pm to 11pm
Tel: 6747 8558
Website
---
2. Khao Soi (Curry Noodles)
---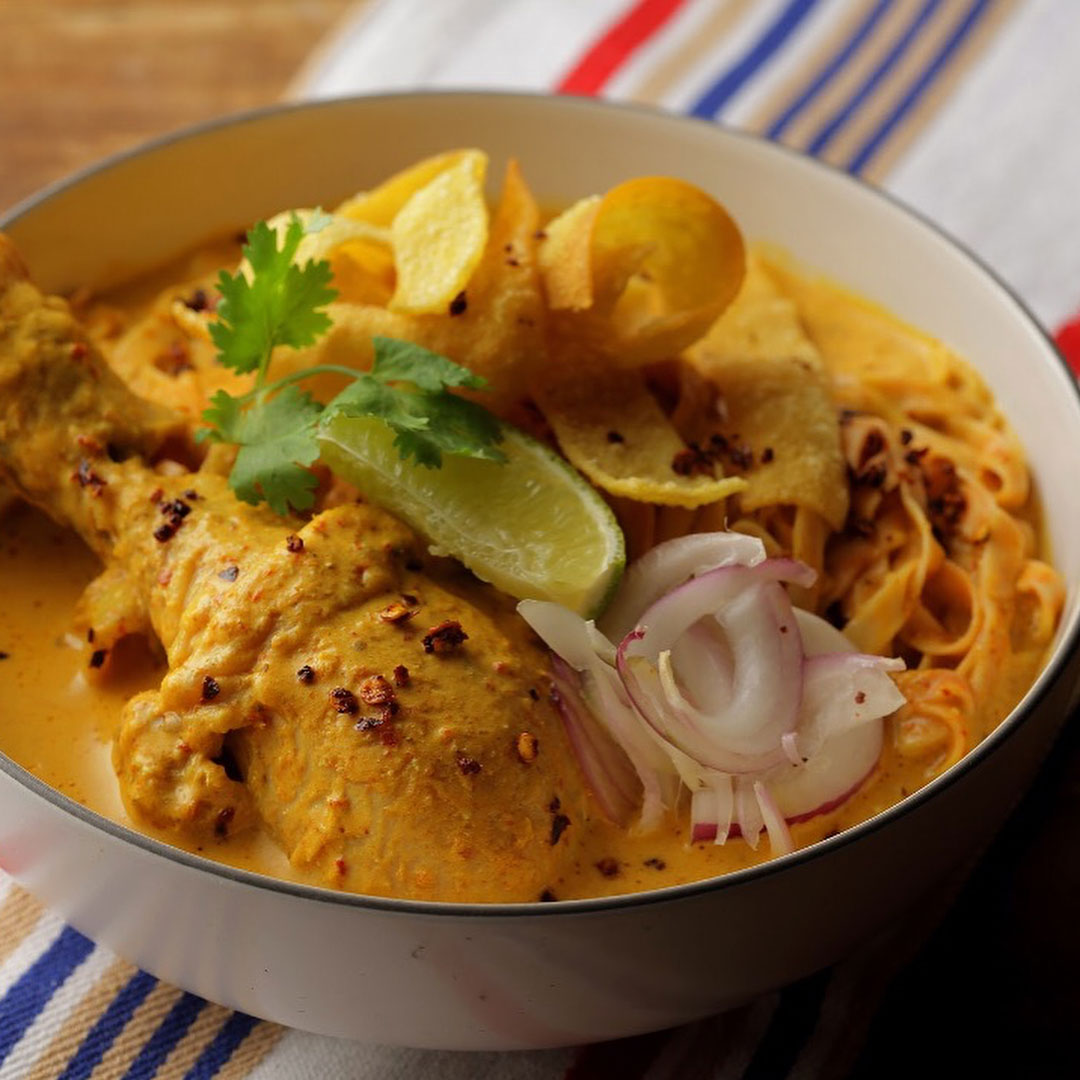 Image credit: @noodlethaithaikitchen
Yellow curry forms the base of Khao Soi, a northern Thai dish with cousins in Myanmar and Laos. This curry derives its colour from turmeric, and has a rich, spiced flavour profile.
Most bowls come with a whole chicken drumstick bathing in the sunny gravy, evoking memories of your grandmother's chicken curry. Also intriguing are the garnishes, with crispy noodles, lime and raw red onion providing crunch as well as fresh, astringent notes that contrast with the rich curry. Broad, mee pok-esque noodles that are slightly thicker and chewier than our local version complete the bowl.
Noodle Thai Thai Kitchen brings this dish to our shores with their Northern Chiang Mai Khao Soi ($7.90). Their curry has a chicken stock base and is simmered for long hours, thus developing a great depth of savoury and spicy flavours.
Check out our full review of Noodle Thai Thai Kitchen.
Noodle Thai Thai Kitchen Review: Legit Thai Food At Beach Road With Claypot Jade Noodles
Address: 327 Beach Road, Singapore 199560
Opening hours: Mon-Fri 11:30am to 3pm, 5pm to 11pm, Sat-Sun 12pm to 11pm
Tel: 6909 0759
Website | Full list of outlets
---
3. Larb Moo (Minced Meat Salad)
---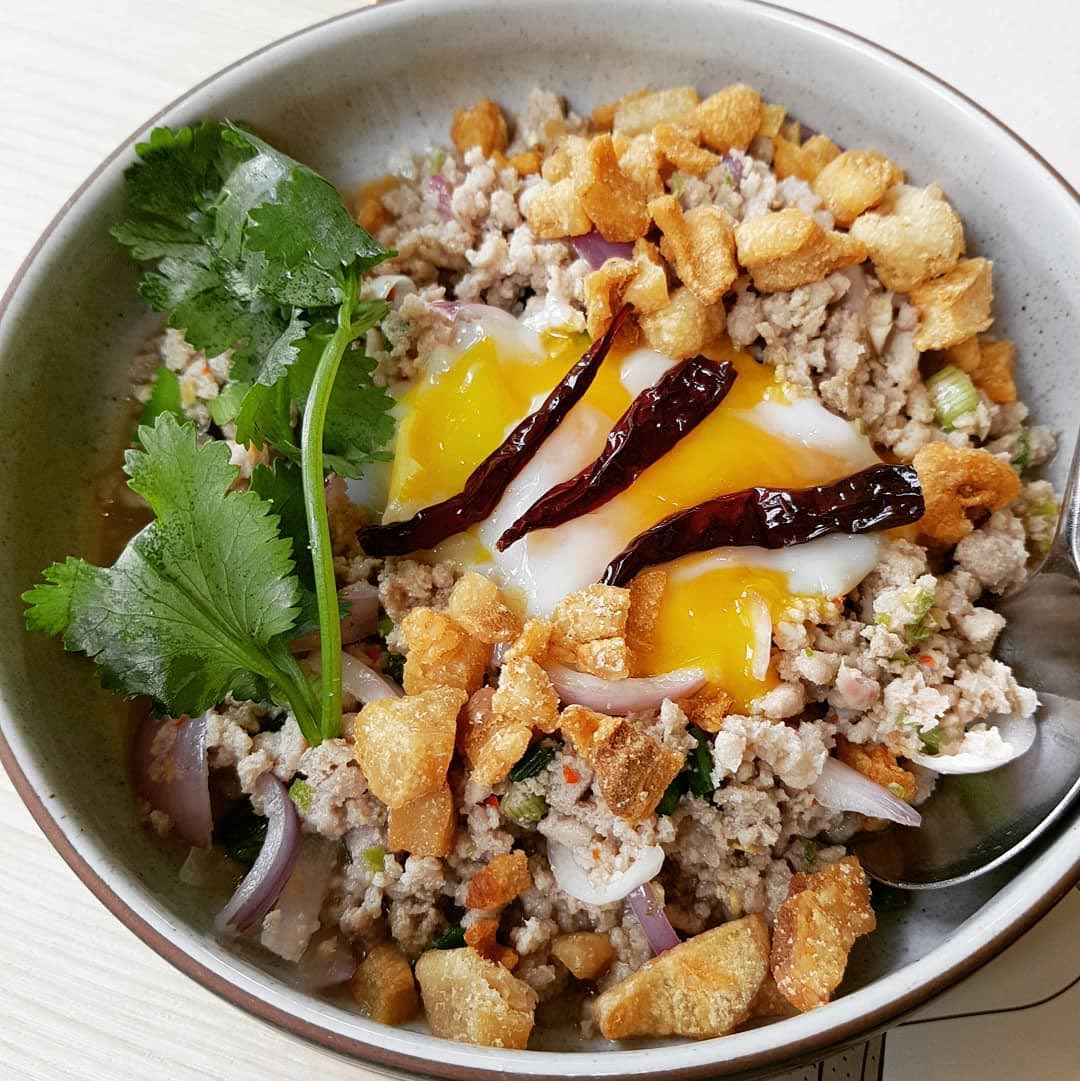 Image credit: @sunstantine
Larb Moo, or minced pork salad, is one of my favourite Thai salads, and is a staple Isan dish. The secret behind this meaty salad is granules of toasted sticky rice. Toasted rice is ground to fine beads that impart a nice textural contrast and a fantastic roasty aroma that's utterly unique to this dish. That fragrance is further amplified by the use of dried, rather than fresh, chillies.
It has all the other recognisable flavours of Thai cuisine, with a sour tang from lime juice, fermented funk from fish sauce and freshness from mint and sawtooth coriander discernible, soaking the rough spheres of pork.
Baan Ying serves up a souped-up version of this classic southern Thai dish. Their Yum Moo Sub Volcano ($11.80++) is pimped out with a jiggly onsen egg and crunchy fried pork lard, adding creaminess and bursts of saltiness to the traditional sour-spicy flavour profile.
Address: 103 Irrawaddy Road, #02-07, Royal Square @ Novena, Singapore 329565
Opening hours: Mon-Fri 11am to 3pm, 5:30pm to 10pm, Sat-Sun 11am to 10pm
Tel: 9111 7852
Website
---
4. Kaeng Phet Pet Yang (Red Curry with Duck)
---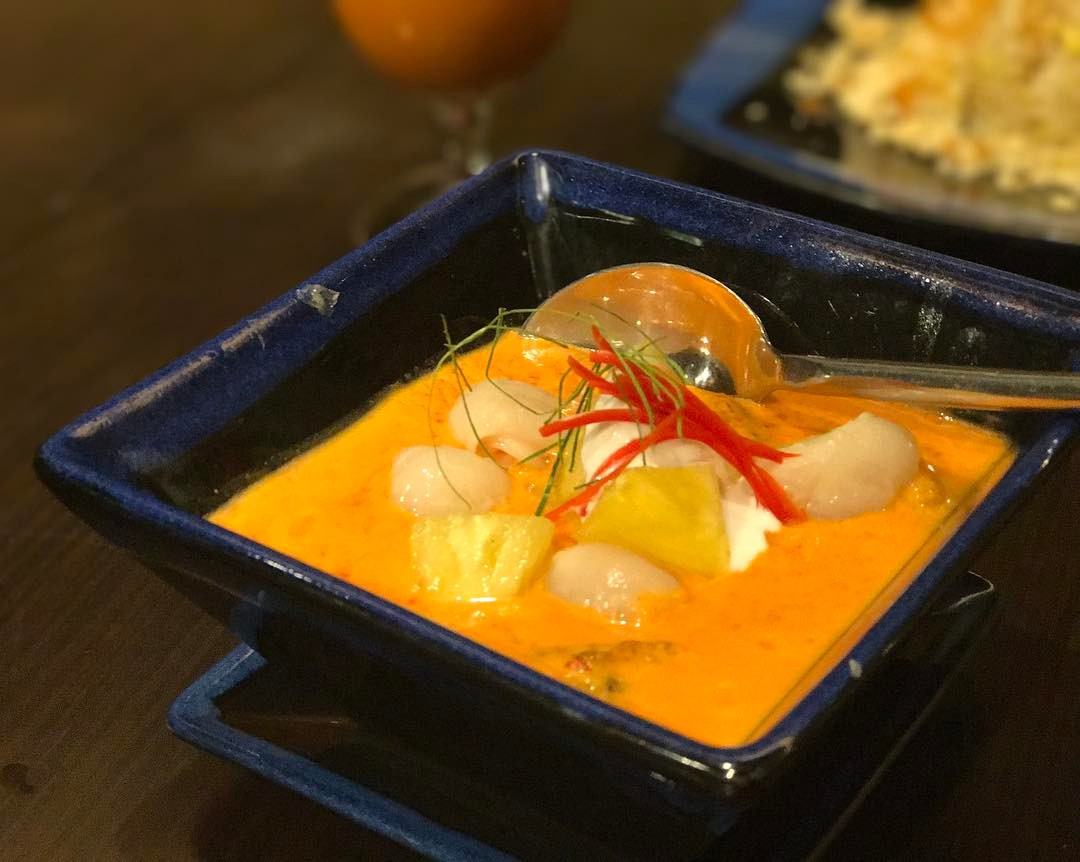 Image credit: @maviscjy
Next up in the rainbow spectrum of Thai curries is red curry. This curry attributes its hue to a greater concentration of dried red chillies, and foregoes tamarind for ingredients like coriander seeds and kaffir lime leaves. A variant of this curry that's especially popular in restaurants is Kaeng Phet Pet Yang, which is headlined by roasted duck and chunks of fresh pineapples.
That injection of tropical fruit lends sweetness to the rich, heavily spiced gravy, while the intensely savoury and slightly smoky flavour of roasted duck prevents that sweetness from becoming overbearing.
Sawadee Thai Cuisine's Thai Red Curry Roast Duck ($18+) doubles down on the fruit factor, throwing lychees into the mix as well. This curry, which has a creamy consistency and an array of sweet, spicy and meaty flavours, is then ladled atop white rice.
Address: 9 Tan Quee Lan Street, #01-01, TQL Suites, Singapore 188098
Opening hours: Daily 11am to 2:30pm, 6pm to 10:30pm
Tel: 6238 6833
Website
---
5. Som Tum Kai Kem (Papaya Salad with Salted Egg)
---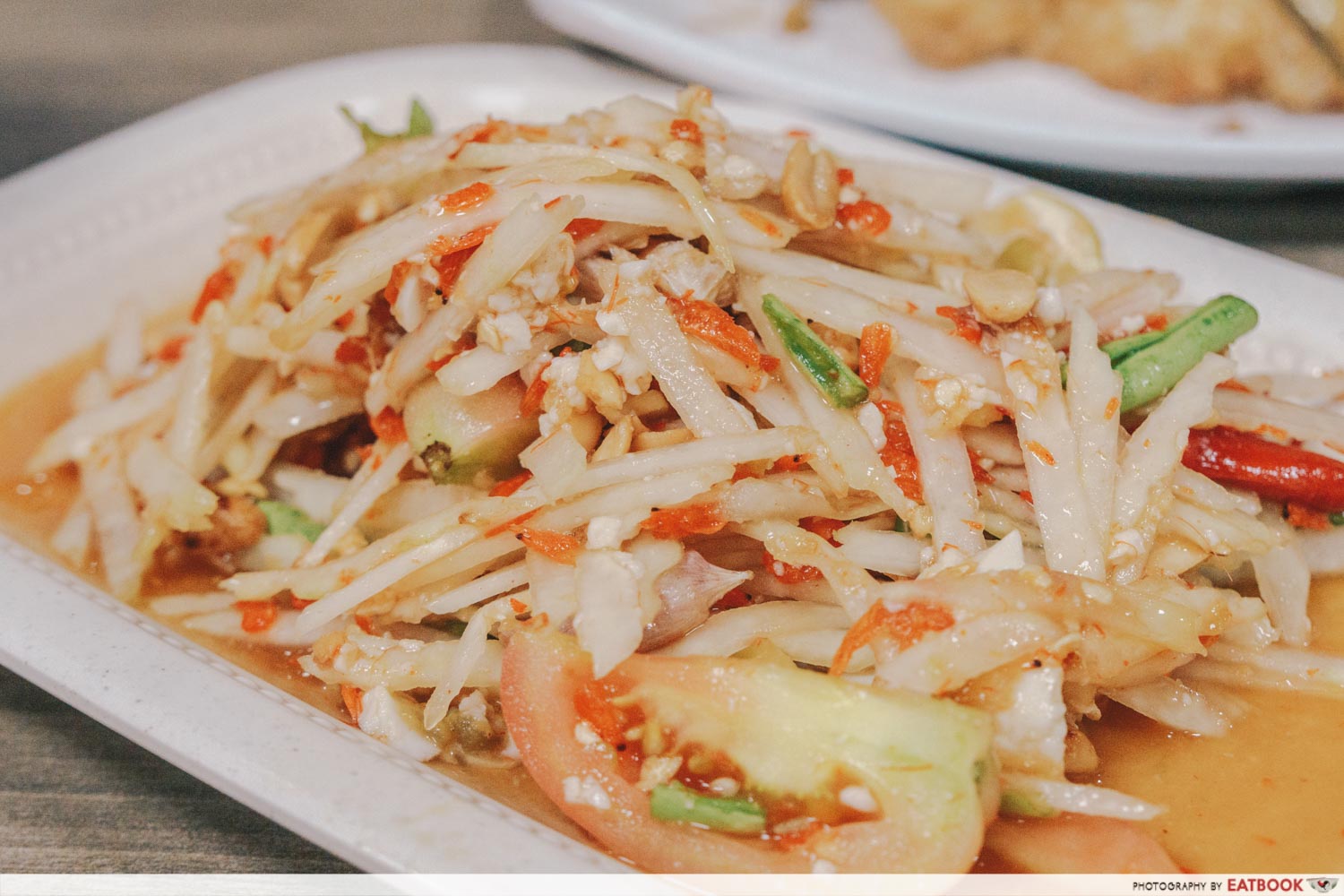 Som Tum is probably the best known Thai salad, with these sour-spicy green papaya shreds tasting familiar to many locals. However, not many have enjoyed this salad with salted egg, which adds another dimension to this already multi-faceted dish.
Salted egg lovers may be disappointed with it though. Instead of a gooey salted egg yolk sauce, a whole salted egg crowns this salad. In my opinion, it's best enjoyed when it's chopped up and mixed thoroughly with the papaya. What results is a dizzyingly delicious fiesta of sweet, spicy and sour flavours that are accompanied by mildly creamy, fermented umami funk from the salted egg.
Helmed by the President of the International Thai Chef Association of Singapore, BeerThai House whips up a terrific Papaya Salad With Salted Egg ($7). There's just the right amount of chopped up salted egg that's enough to grant a hint of creaminess and salty, aged flavour to the fresh salad.
Address: 5001 Beach Road, #01-94/96, Golden Mile Complex, Singapore 199588
Opening hours: Daily 10am to 10pm
Tel: 6291 2267
---
6. Leng Saap (Spicy Pork Spine Soup)
---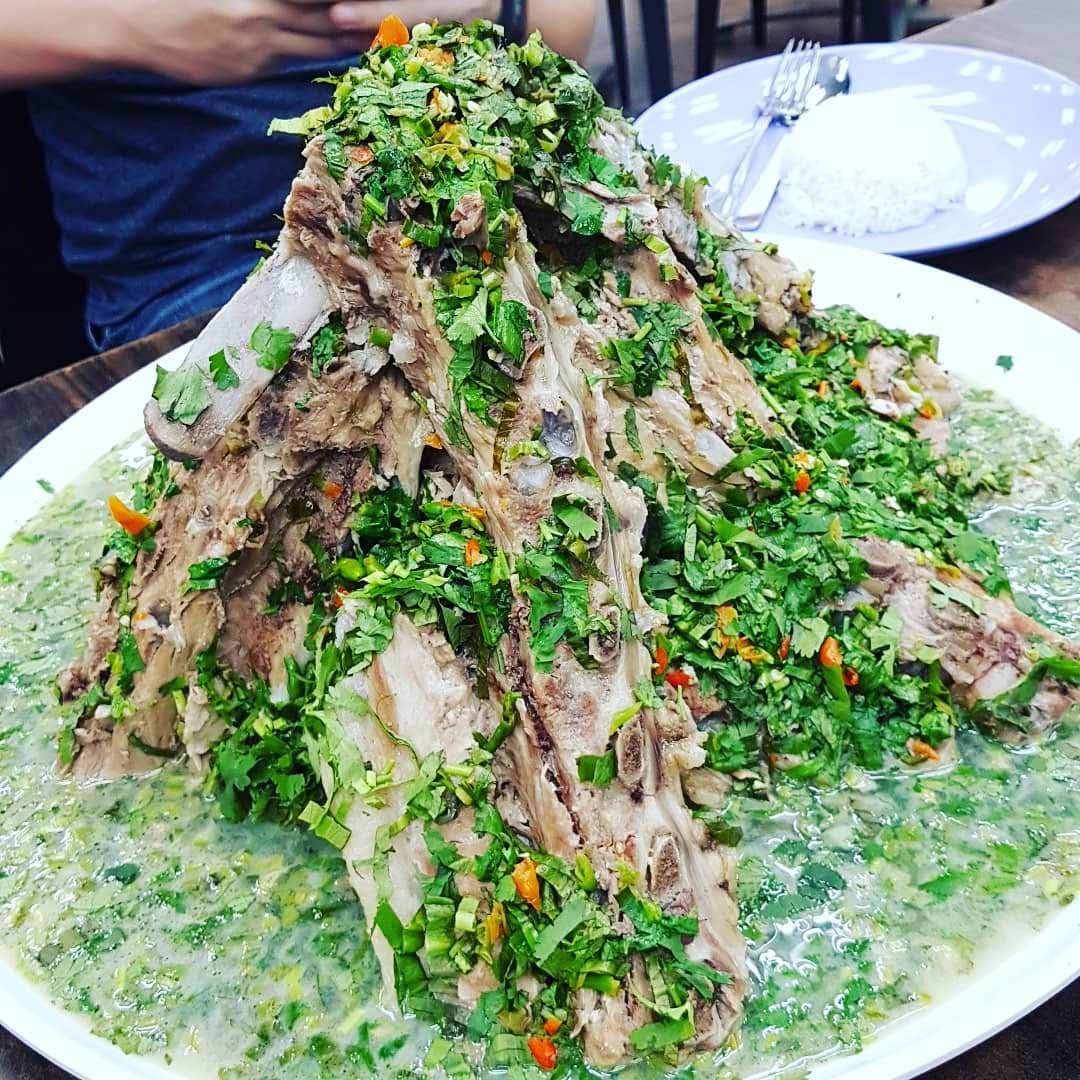 Image credit: @iamevanp
Especially famous in Bangkok's Rot Fai market, this mountain of pork spine soup, known as Leng Saap, is beloved for its big and affordable serving sizes. Here, the unfancied bones take centre stage, flavouring the soup while sporting fork-tender meat. Lavish seasonings of lime juice, fish sauce and coriander support that meaty base with lashes of sour, salty and herbaceous flavour to create a deeply satisfying dish.
There's a handful of stalls serving this spicy stew in Singapore, but to get the XXL version, you'll have to head to Leng Saap at Golden Mile Tower. Their attention-grabbing Leng Saap ($18 for M, $25 for L, $40 for XL, $55 for XXL) is true to its Rot Fai counterparts, boasting bones stacked like a campfire and a forest of cilantro and chillies.
Address: 6001 Beach Road, #B1-65, Golden Mile Tower, Singapore 199589
Opening hours: Daily 12am to 12pm
Tel: 8119 6664
Website
---
7. Bak Mee Moo Daeng (Thai Wanton Mee)
---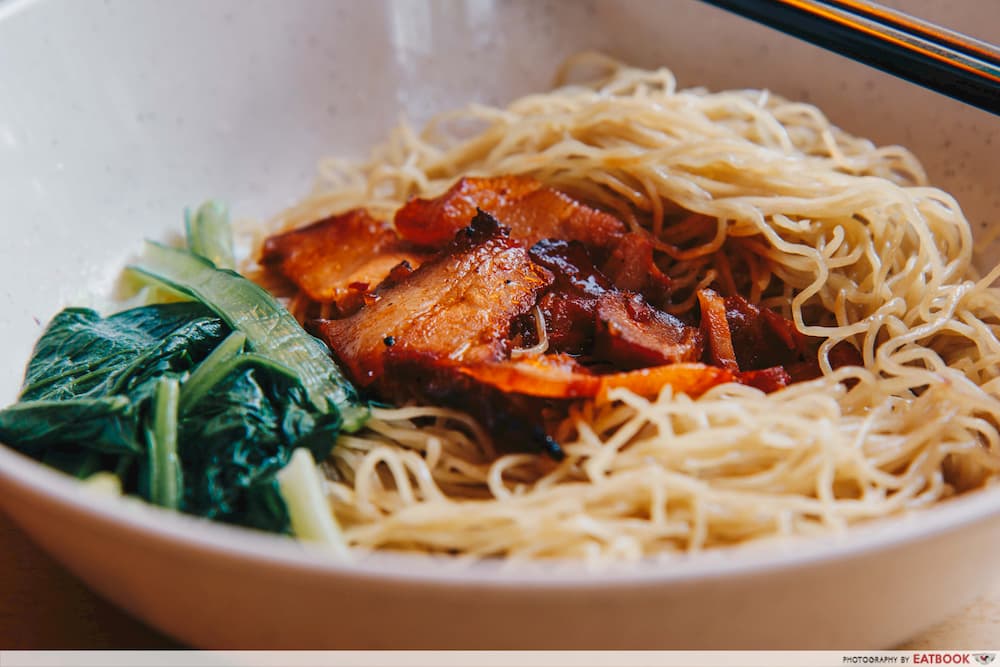 Bak Mee Moo Daeng is a Thai rendition of wanton mee that's significantly drier than our slippery and saucy local hawker centre mainstay. Instead of soy or oyster sauce, the noodles are flavoured by a thorough toss in pork lard oil—leaving an indulgent sheen on each strand. Crunchy bits of fried lard are sprinkled on top as well, creating a rich imprint of pork flavour throughout the dish.
Opened by three young Singaporeans, Fatty Thai delivers a satisfying version of this popular Thai street food. They nail the most crucial aspect—smooth and bouncy noodles, and complement that with rectangles of fatty homemade char siu. They're a far cry from the limp strips that decorate local wanton mee bowls.
Fatty Thai Review: Thai Wonton Mee and Pork Trotter Rice At A Beach Road Stall
Address: 347 Ang Mo Kio Avenue 3, Singapore 560347
Opening hours: Daily 8am to 3pm
Tel: 8767 5727
Website
---
8. Goong Chae Nam Pla (Raw Prawn Salad)
---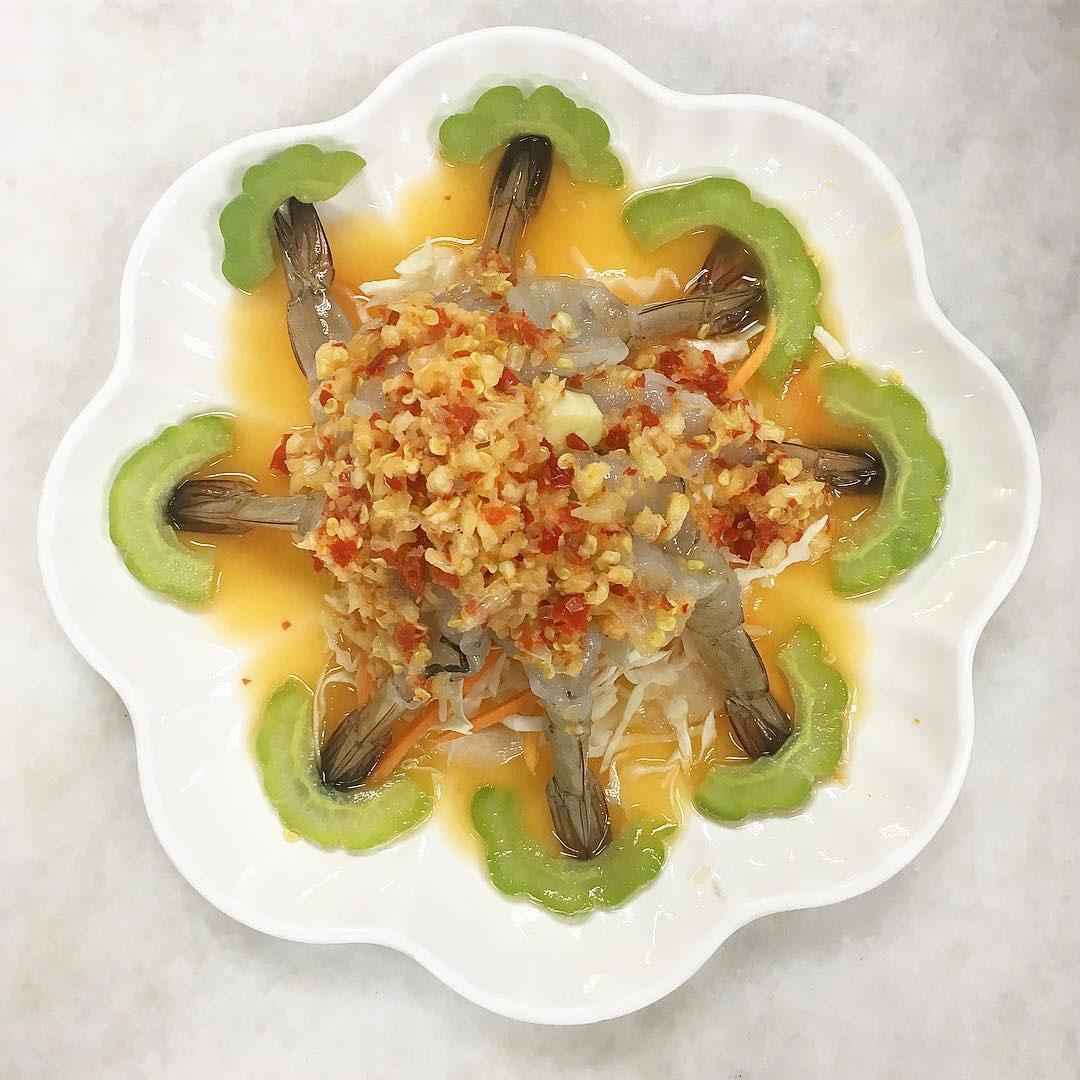 Image credit: @graceofy
Despite the grey prawns, Goong Chae Nam Pla is not a food poisoning hazard.
While it may be reminiscent of prawn sashimi, this dish is a closer relative of South American ceviche, with a ubiquitous sour and salty fish sauce-lime mixture forming a moat beneath the creamy seafood. That also dresses the "salad" part of "raw prawn salad", which comes from half-moons of bitter gourd, a bed of shredded cabbage and a menacing pile of garlic and chilli.
Diandin Leluk is the largest restaurant in the Little Thailand that is Golden Mile Complex. Their Raw Prawns With Garlic & Chilli Sauce ($15+) are formidable, devoid of any unpleasant brininess and dressed in a zingy chilli sauce.
Address: 5001 Beach Road, #01-67/68/69, Golden Mile Complex, Singapore 199588
Opening hours: Daily 24 hours
Tel: 6293 5101
Website
---
9. Pla Tod (Thai-style Fried Fish)
---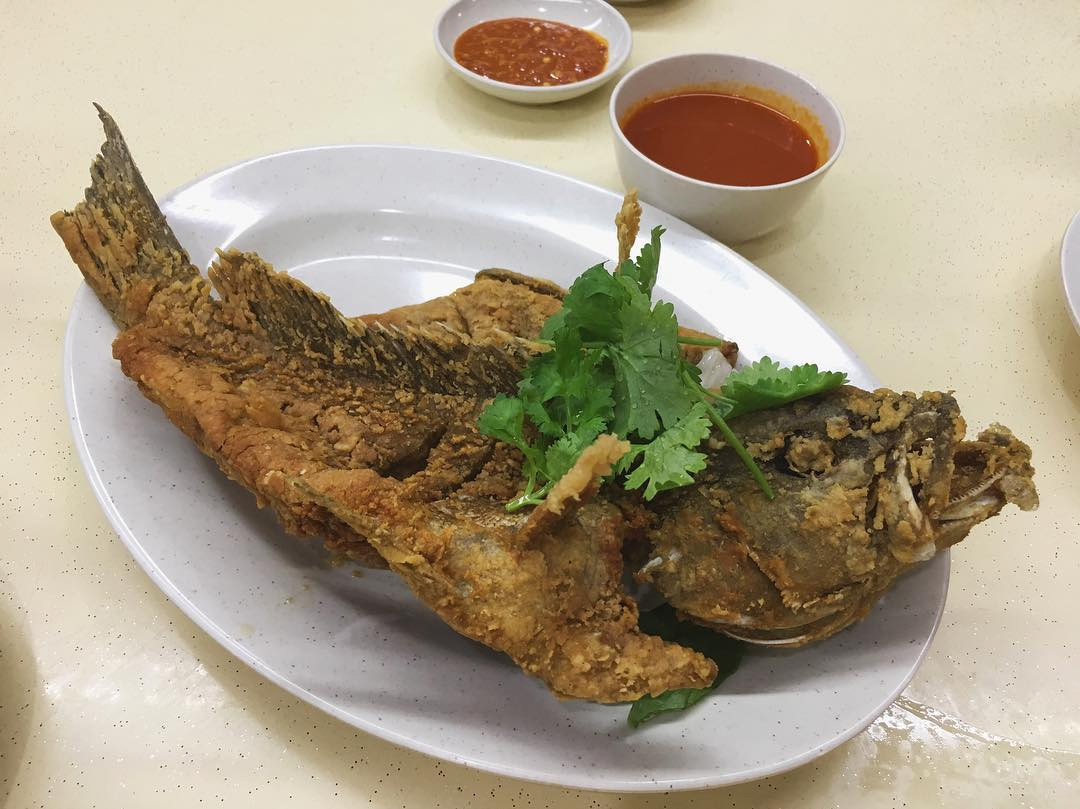 Image credit: @eatverest
Fried whole fish, or pla tod, is a household staple in southern Thailand. Usually served butterflied, fried fish doesn't come much simpler than this. It's seasoned with salt, pepper and occasionally tamarind, before being lightly battered and deep-fried. Such minimal preparation means that fresh fish is paramount.
Equally crucial is a zingy and addictive chilli sauce, which is either served by the side or drizzled on after frying. Executed well, this dish is unexpectedly enjoyable, thanks to the juxtaposition of shatteringly crisp skin and moist, flaky meat. Even the fins are edible, doubling as a crunchy, potato chip-esque snack.
The Thai Deep Fried Fish Delight ($18 for small, $22 for medium, $25 for large) at Taste Of Thailand is hardly a looker, but it's uber-fresh. Every monstrous fish has shatteringly crisp skin, which hides pillowy and moist flesh that goes well with their piquant chilli.

Address: 18 Sin Ming Lane, Stall 12, Midview City, Singapore 573960
Opening hours: Daily 11:30am to 2:30pm, 5:30pm to 10pm
Tel: 6262 0626
Website
---
10. Kuay Jab (Thai Kway Chap)
---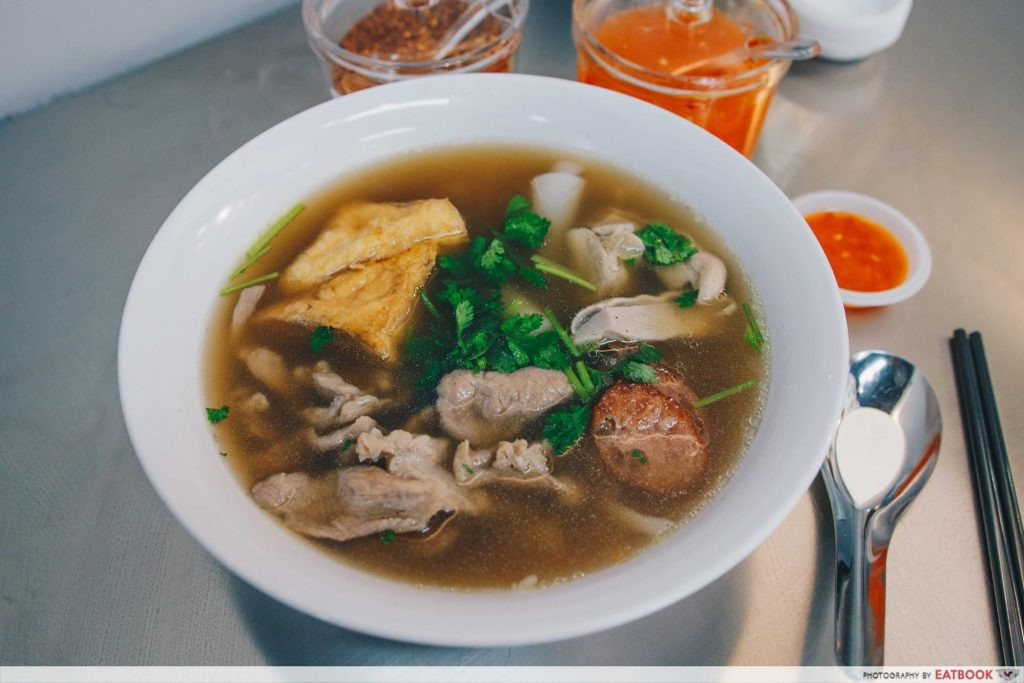 One of the most popular dishes in Yaowarat, Thailand's Chinatown, is kuay jab. A cross breed between our local kway chap and peppery bak kut teh, this dish features a host of pork parts swimming in a cloudy, white pepper-based broth. While it may seem strange, many stalls serve crispy siu yoke in their bowls as its crackling skin provides great textural contrast to the smooth and slippery noodles.
Those noodles are another unique aspect of this dish; they're tightly rolled up into scroll-like tubes. That shape creates folds and holes which capture small pockets of soup, causing the peppery liquid to burst out with each bite, almost like a jumbo, Asian version of bucatini.
Kuay jab is relatively difficult to find in Singapore, but Yaowarat Thai Kway Chap stands out as the island's sole specialist stall. Get their Signature Thai Kway Chap ($5) for a little taste of everything. Instead of a full-on deluge of pork, there's some variety in this bowl, with tau pok and fish sausage accompanying the standard pork slices and offal.
Check out our full review of Yaowarat Thai Kway Chap!
Yaowarat Thai Kway Chap Review: New Cheap Thai Kway Chap Eatery At Kovan
Address: 945 Upper Serangoon Road, Singapore 534711
Opening hours: Daily 11am to 2am
Tel: 8822 5637
Website
---
Experience a new world of Thai flavours
---
If you're jaded from ordering pad thai and tom yum at every Thai restaurant, some of these underrated dishes might reignite your love for Thai food. So keep an open mind and who knows, you may just find your new favourite Thai dish.
For more food from the Land of Smiles that will leave you grinning, take a look at our list of 10 affordable Thai food places and our review of Im Thai Kitchen.
Im Thai Kitchen Review: Cheap XXL Spicy Thai Basil Chicken Rice And Omelette At Punggol
Share your favourite Thai dishes with us in the comments below.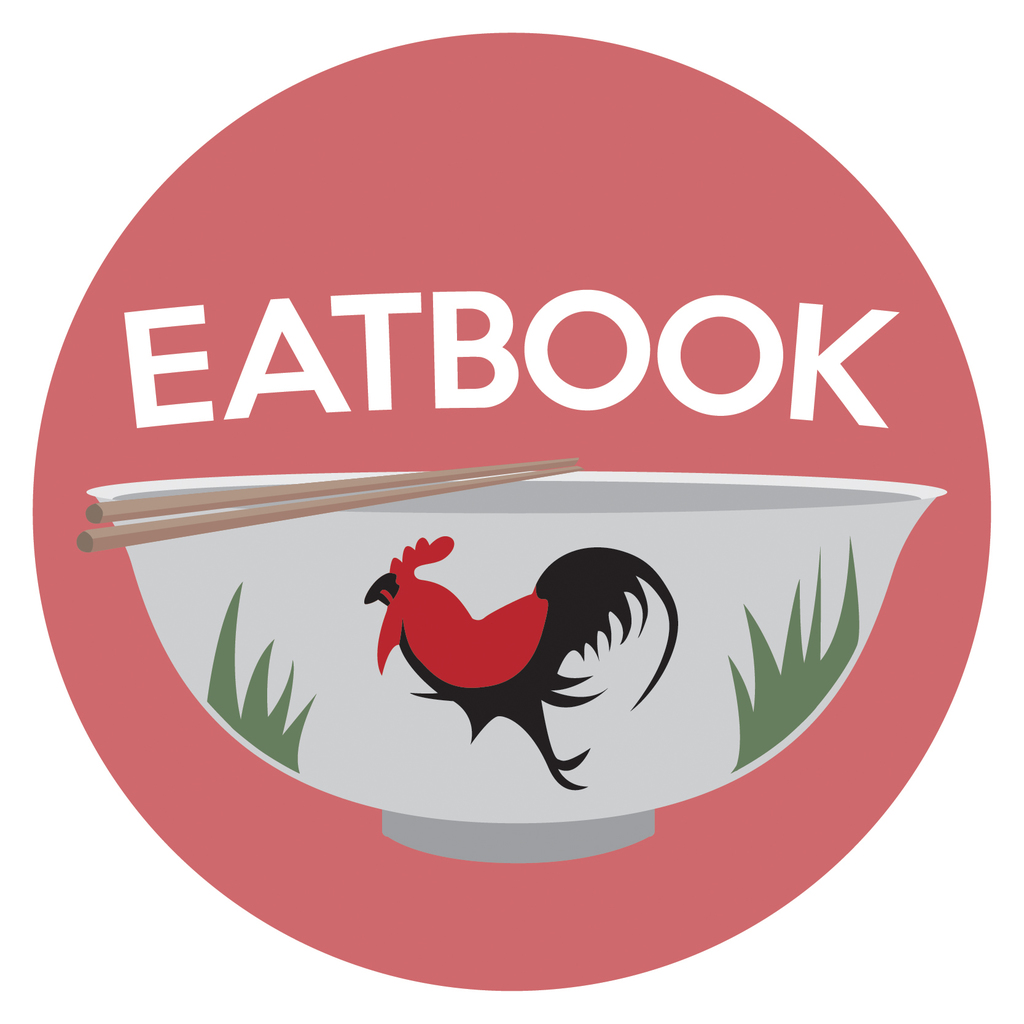 Drop us your email so you won't miss the latest news.