Im Thai Kitchen serves legit Thai food
[
Update, 12 September 2019
: Im Thai Kitchen has since relocated to Sengkang Square Kopitiam]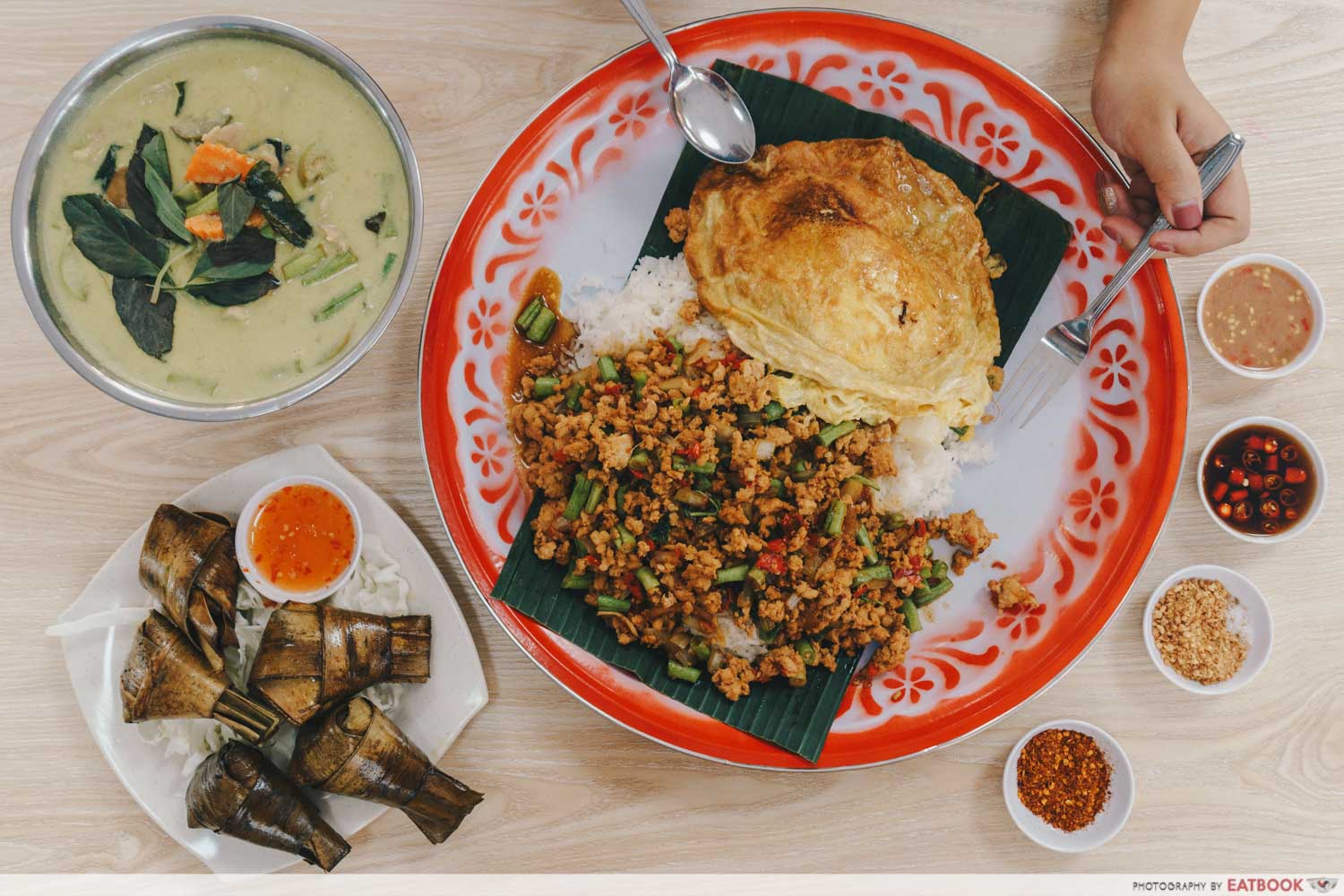 It is time to jio all your makan kakis down to Punggol and feast on the large servings of Thai food at Im Thai Kitchen. As a big eater, eating from a huge bowl or plate of food is always a novelty. 
Food at Im Thai Kitchen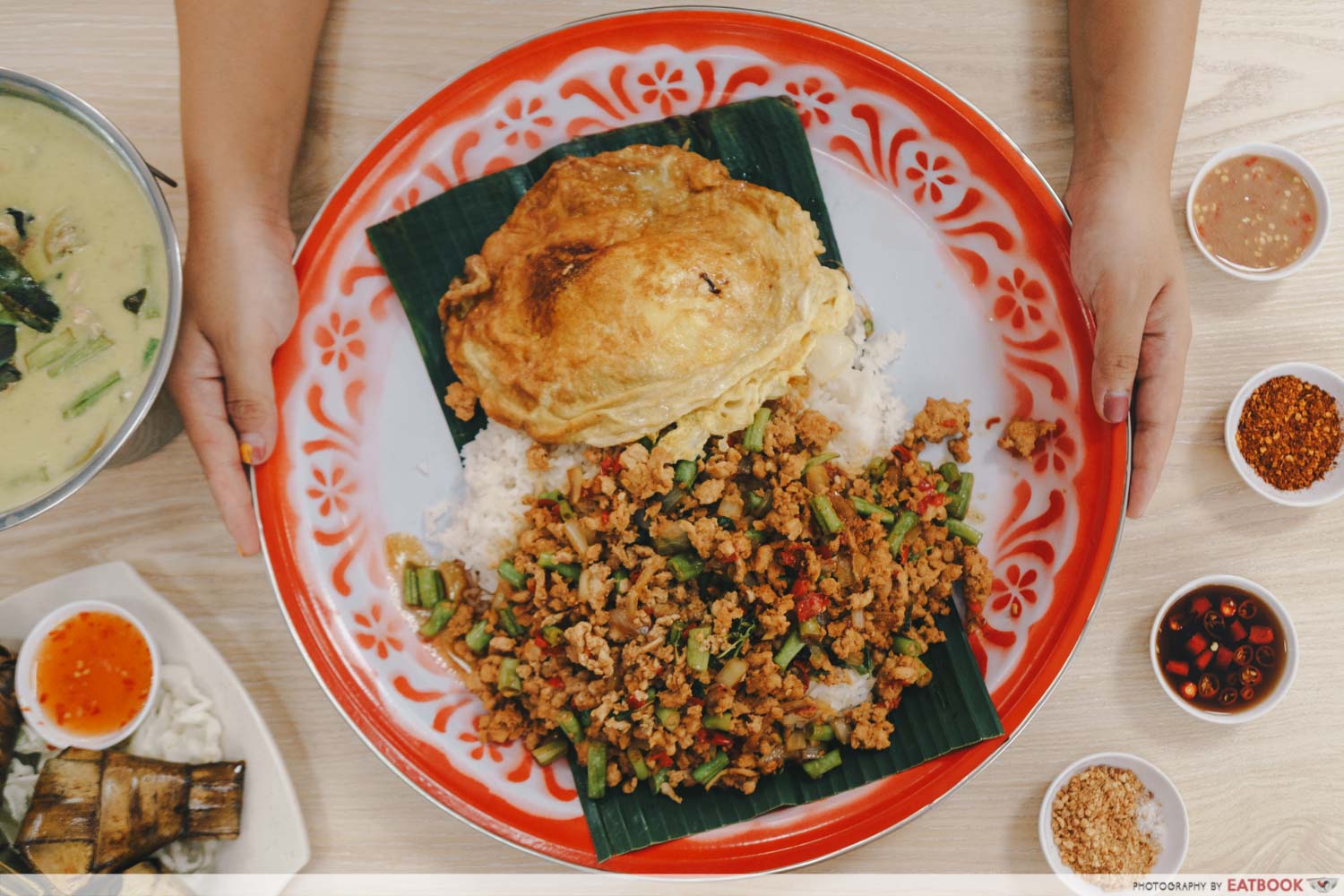 Im Thai Kitchen serves a Giant Phad Kapao, with the regular and large sizes costing $11.50 and $15.90 respectively. Most prolly lost in translation, the names of some dishes are misspelt. Nevertheless, this dish is basically an XXL Thai basil chicken rice – one of the most beloved Thai street food of all time.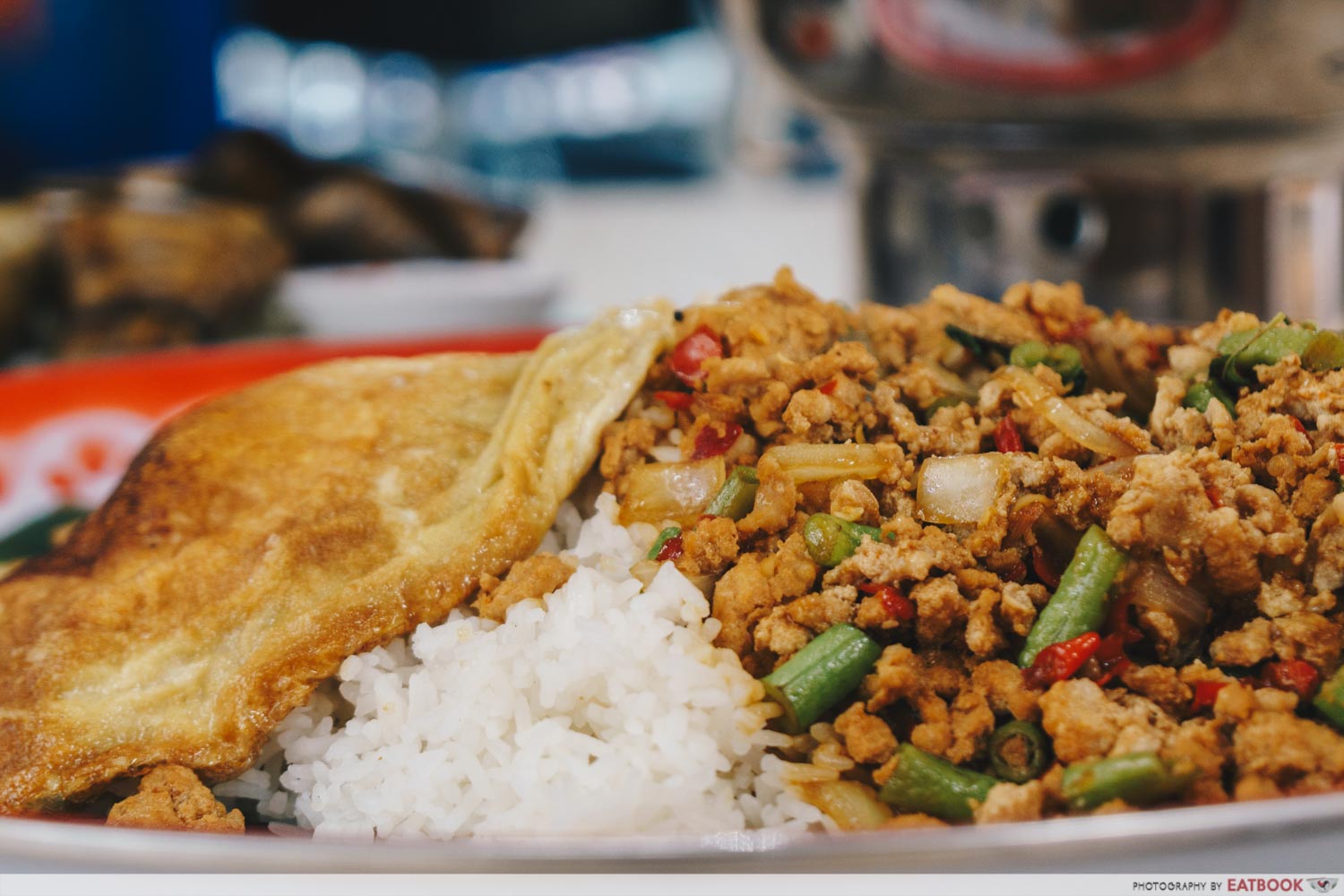 Do not doubt the size of this dish. We got the $15.90 one, and it came in a huge metal tray with food piled onto a large heap. There's a good ratio of meat to rice, along with a palm-sized slab of Thai-style omelette.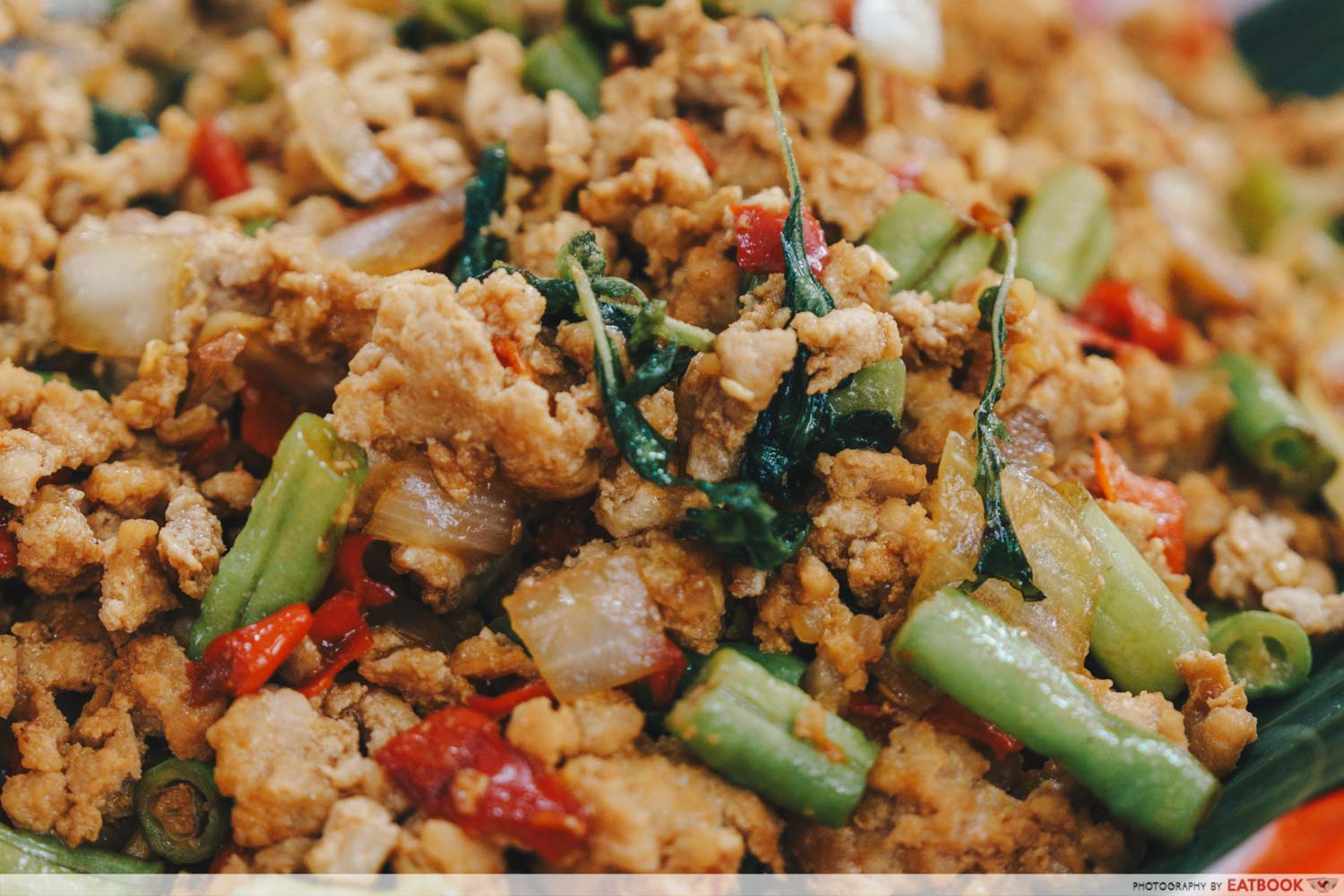 Here, the minced chicken is stir-fried with long beans, diced shallots, chopped chillies, and basil.
I love how the long beans added a nice crunch to each spoonful. The shallots are cooked till translucent, adding a mildly sweet flavour with a slight bite. A random scoop of the minced chicken also gets you a good amount of chilli, enough to leave you with a numb tongue.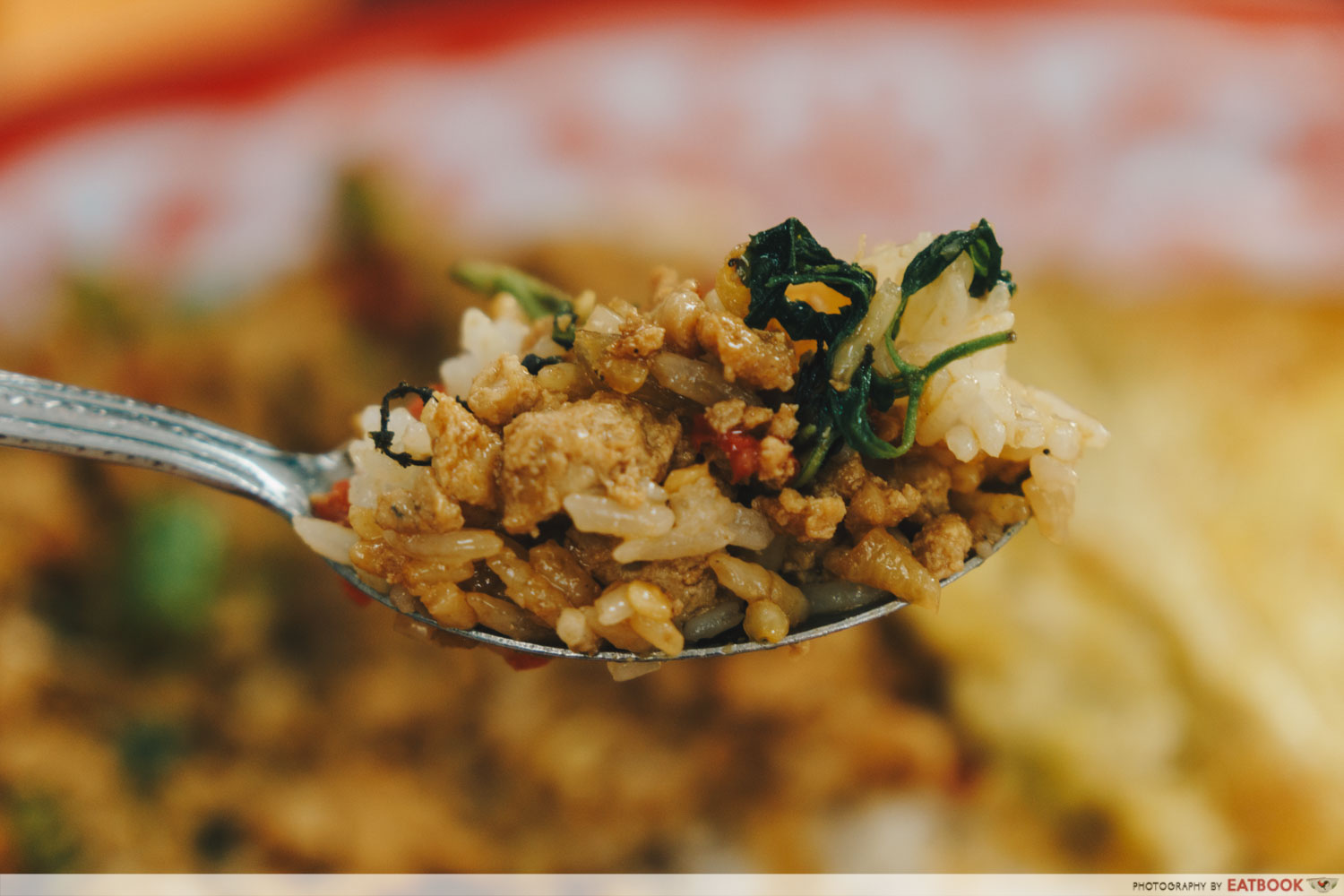 I was expecting my taste buds to be flooded with the usual aromatic flavour of basil. However, it was drowned out by the taste of oyster and light soy sauce. It was delicious on its own, as it tasted like a spicy home-cooked meal prepared with care. However, it failed to shine due to the scant amount of basil.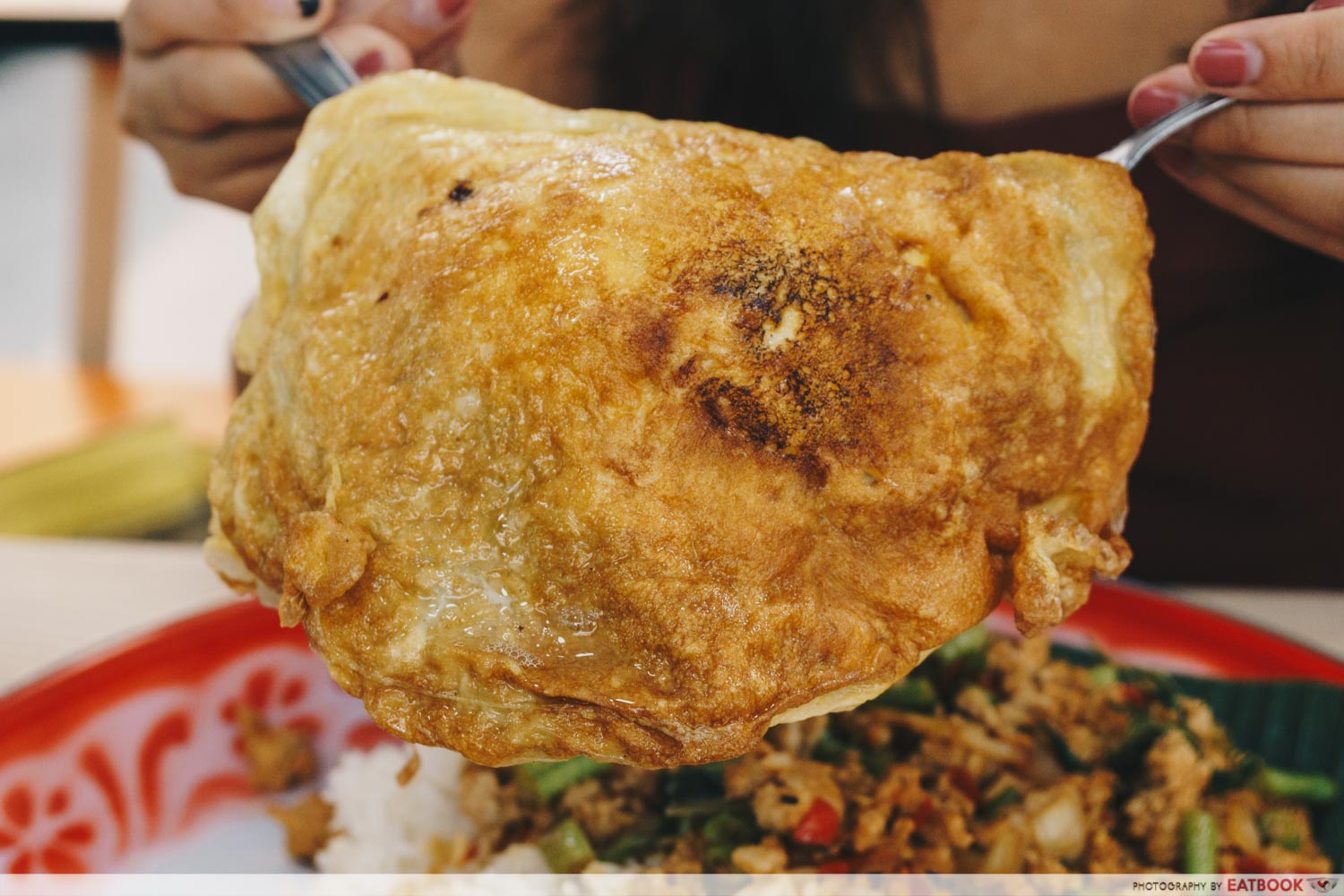 The wow factor is the Thai-style omelette blanketing half the mountain of white rice. Fried with smoking hot oil, the result is an omelette with crispy edges and soft layers on the inside.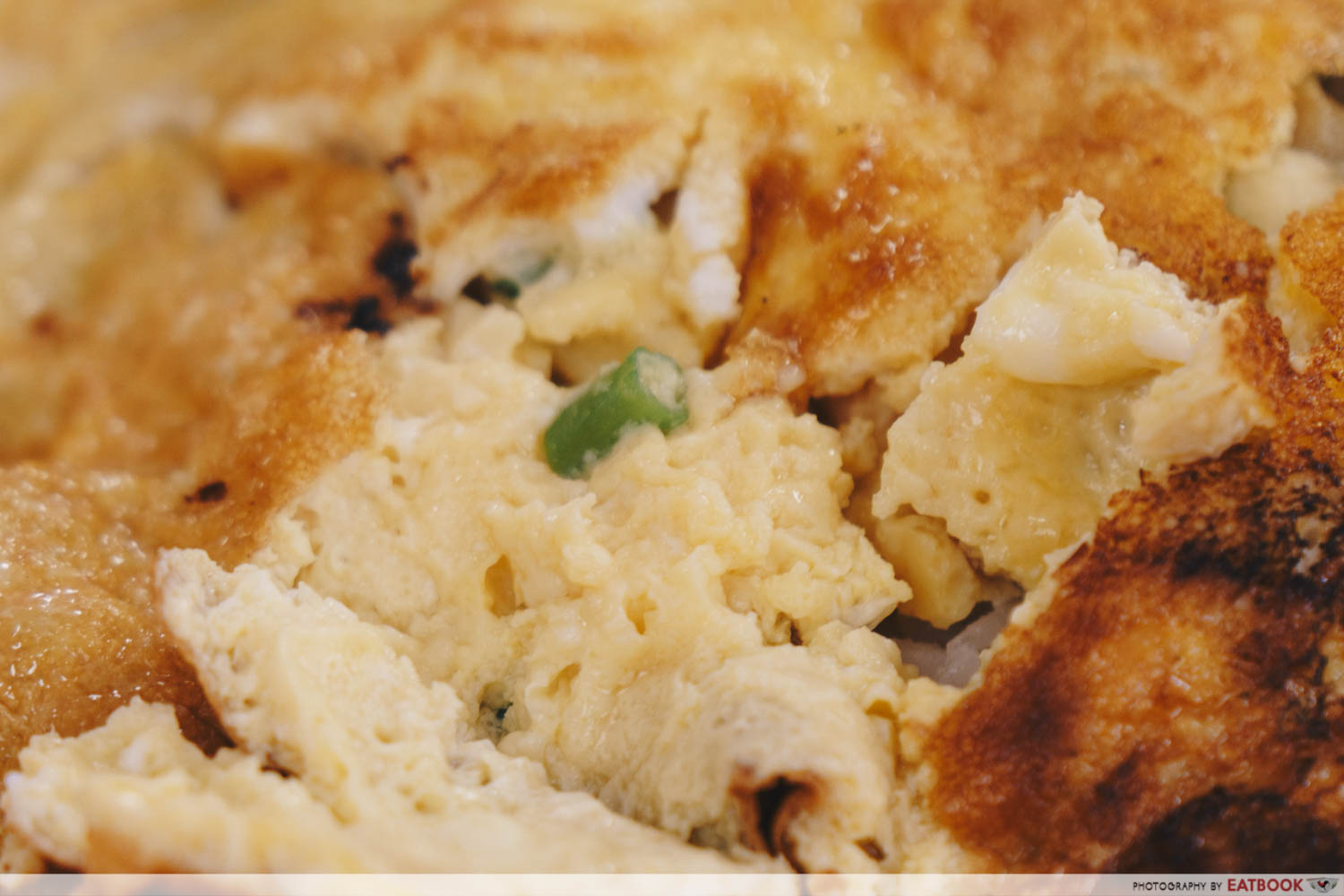 You will find chopped spring onions and long beans within the soft inner layers. The salty and umami taste of fish sauce also shines through, aligning with the deep and rich flavours of the basil chicken.
My colleague and I ate as much as we could, but there was still more than half of the plate left. I can see a group of four guys wiping this huge plate of rice clean.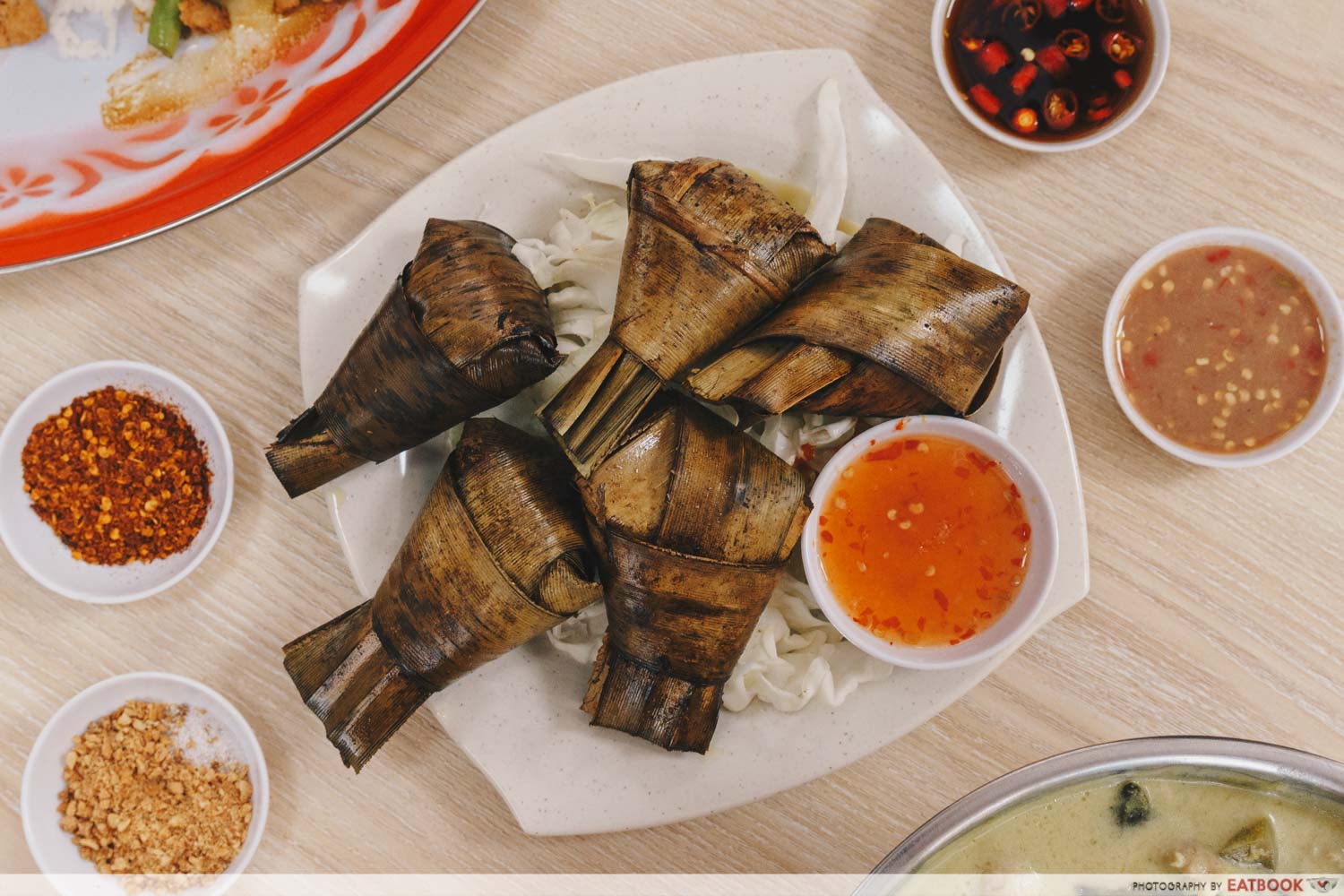 We wanted to give the Thai BBQ Pork ($6/$10/$15) a try, but they ran out of it. Instead, we got the Pandang Chicken ($6/$9). The $6 option comes with five pandan-wrapped chicken pieces.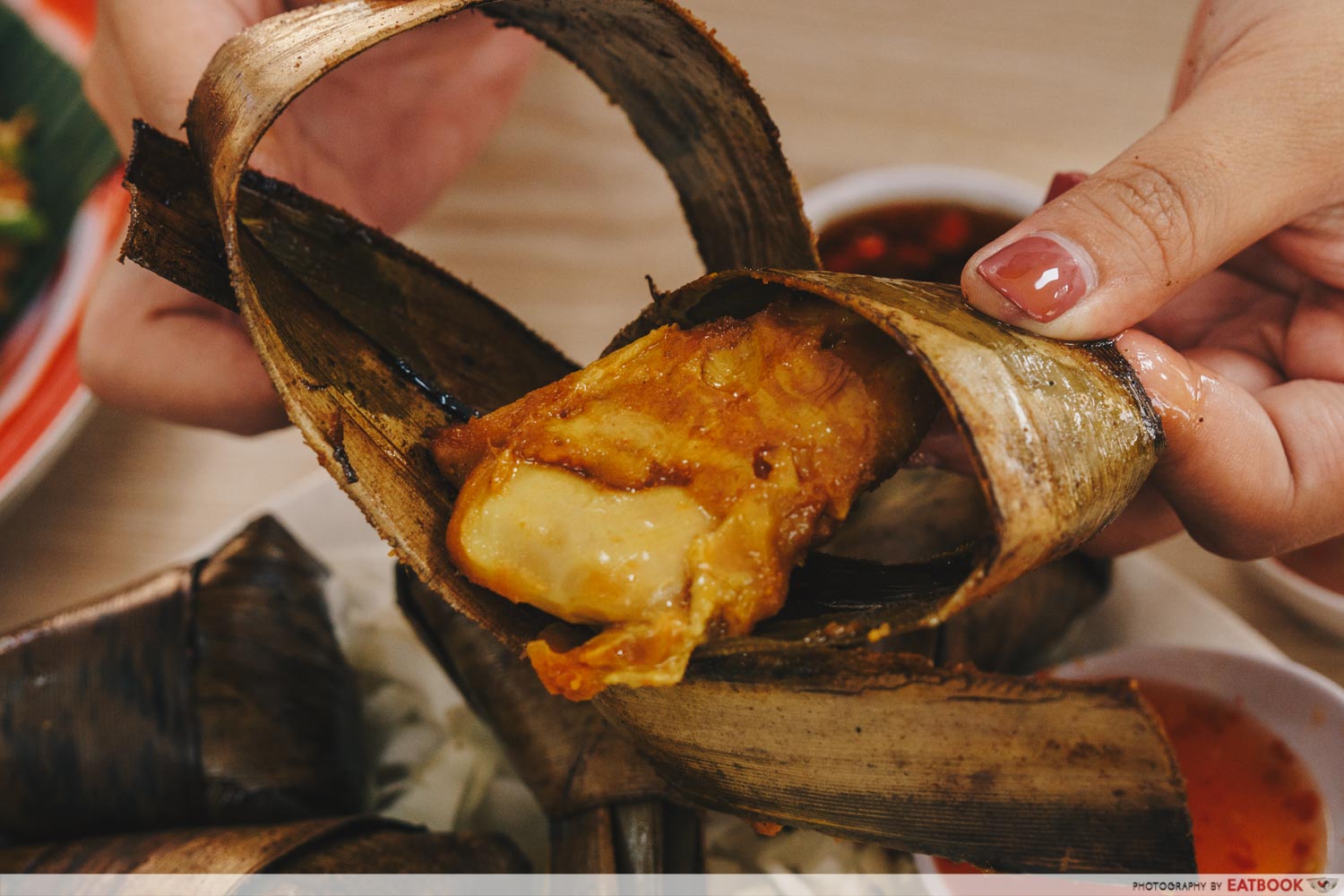 Unwrapping the thick pandan leaves revealed a morsel of chicken dyed yellow with spice.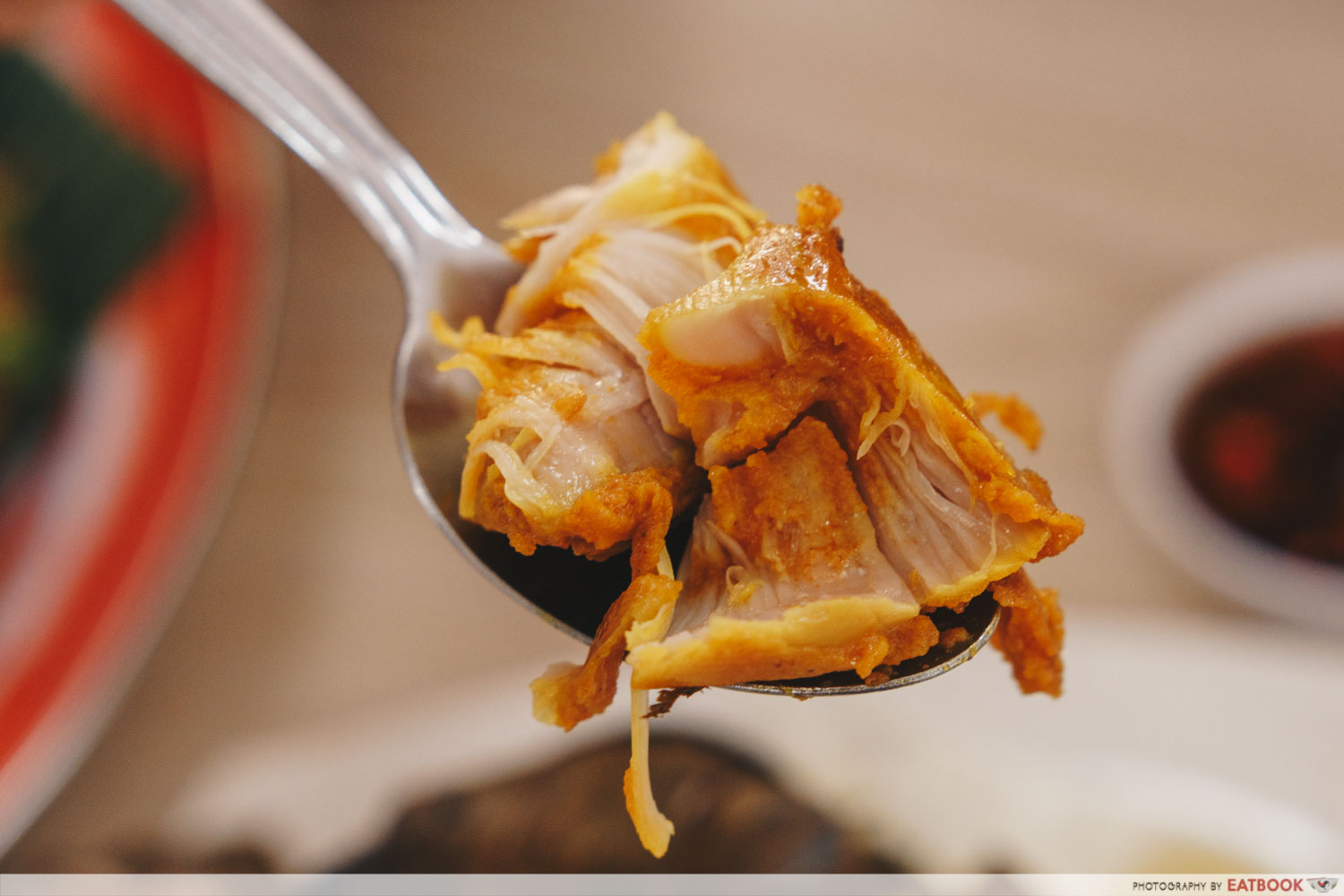 The chicken is delicately soft and tender – even a grandma with false teeth would enjoy it. The earthy flavours of garlic, coriander roots, and pepper from the marinade also make the dish so tasty you'll be thinking about it all week.
No Thai meal is complete without curry or tom yum. We ordered the Green Curry Chicken ($6/$9$14) to share. The curry is on the thicker side, with a strong milky aftertaste. I suggest giving this a pass, especially if you prefer a more piquant and spicy green curry.
Hidden beneath the creamy green curry are chicken slices, carrots, eggplant, and long beans. The vegetables are the saving grace of the dish, as they are sweet and had a nice crunch.
Ambience at Im Thai Kitchen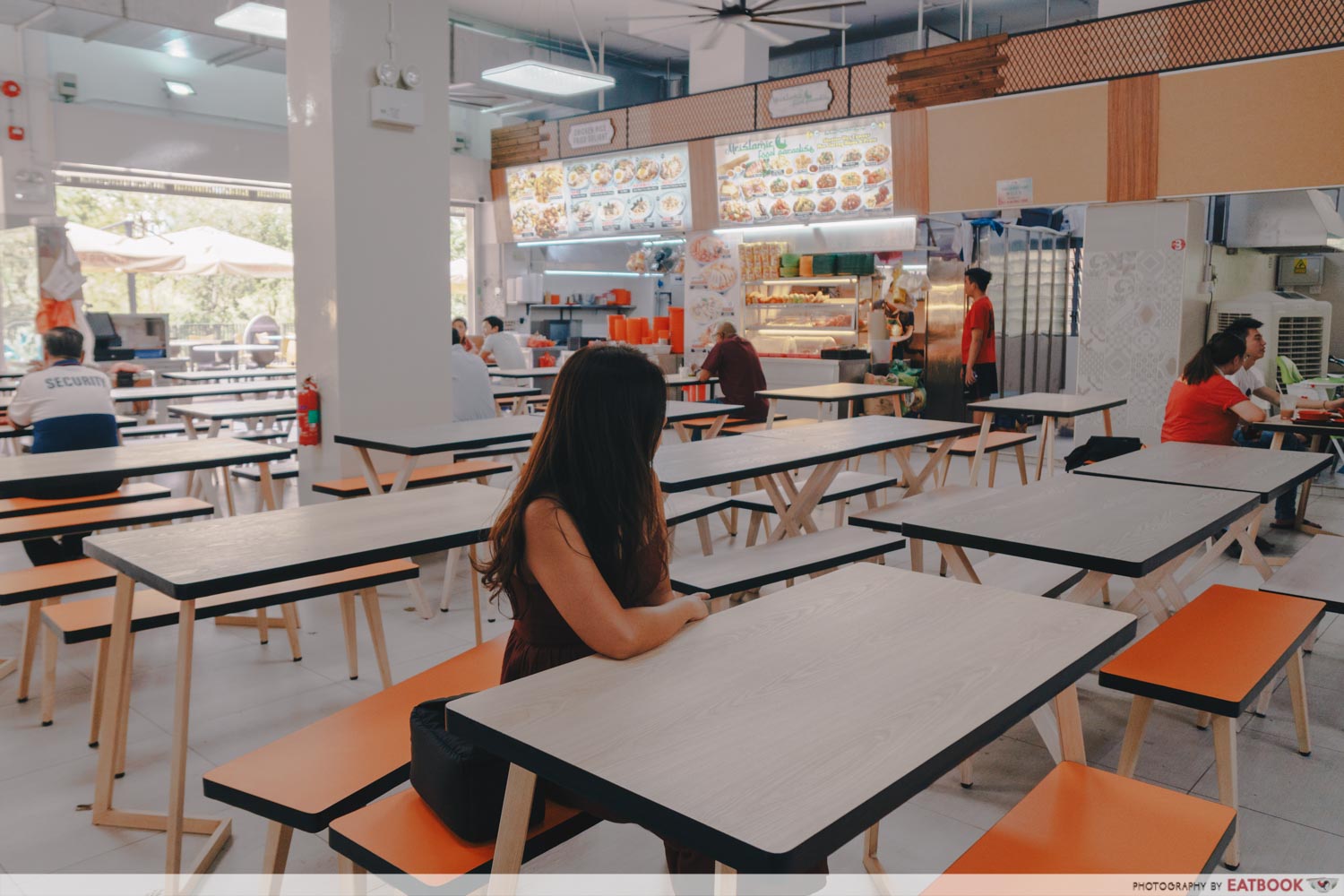 Spacious and clean, Im Thai Kitchen is located at a food court 15 minutes bus ride away from Punggol MRT Station. It might be pretty inaccessible, especially for those without a car. This, however, means you never have to worry about getting a seat when lunchtime rolls around.
10 Punggol Food Places Including Cheap Lok Lok And Beef Bulgogi Fries
The verdict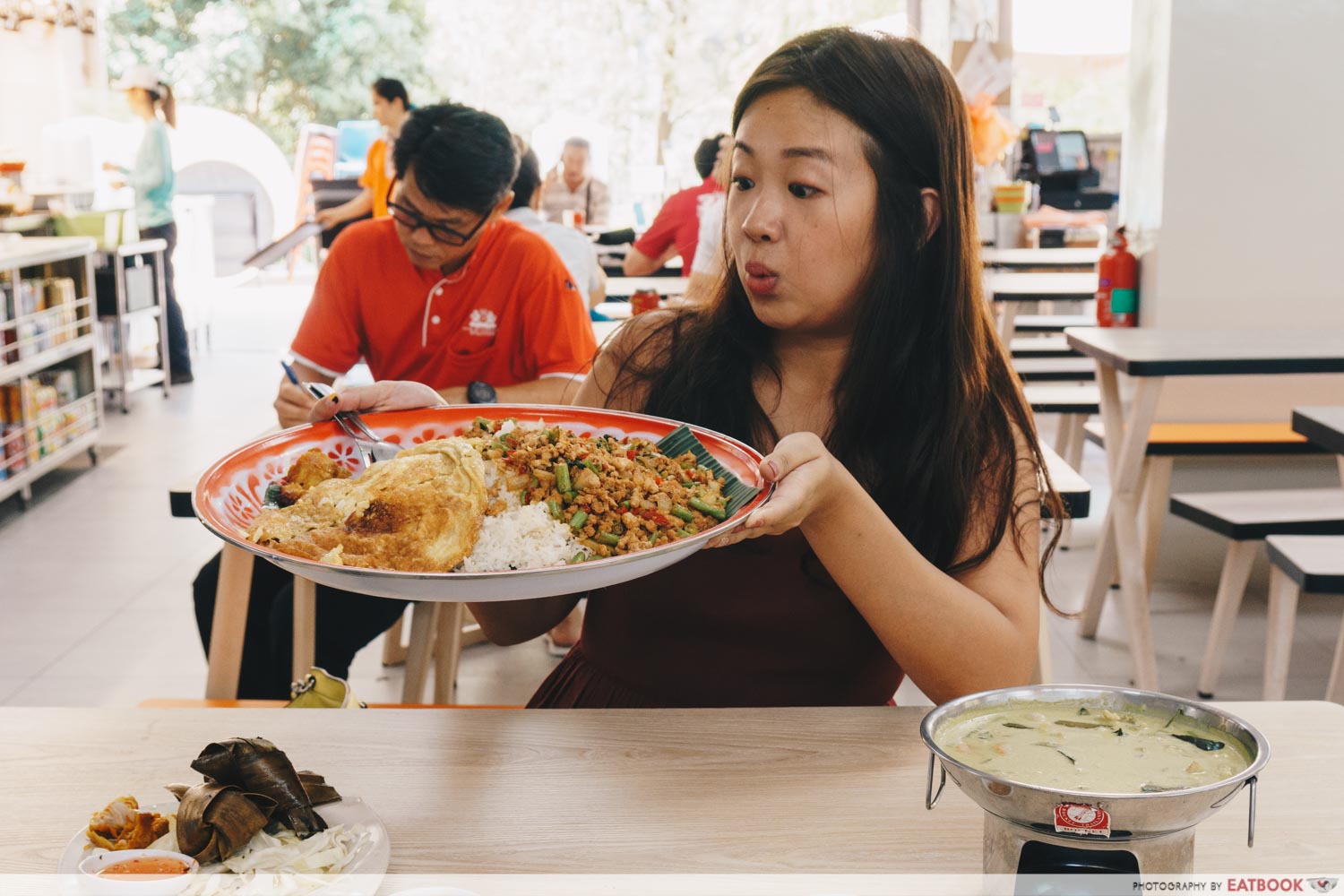 The XXL plate of Thai basil chicken rice might be out of reach for those who do not reside in the area. However, if you happen to be in North-East side of Singapore, make sure you head down to give it a try.
10 Affordable Thai Food Places To Tide You Through Till Your Next BKK Trip
Address: 10 Sengkang Square, #01-49, Singapore 544829
Opening hours: Daily 11:30am to 10pm
Tel: 9224 5992
Website
Im Thai Kitchen is not a halal eatery.
Photos taken by Tan Ee Jing.
This is an independent review by Eatbook.sg.
Summary
Pros
– Extensive menu
– Very generous portions
– Value for money
Cons
– Quite inaccessible via MRT
Recommended Dishes: Giant Phad Kapao ($15.90), Pandang Chicken ($6)
Opening hours: Mon-Tue 11:40am to 9pm, Wed-Sun 11:30am to 9pm
Address: 658 Punggol East, #01-10, Stall 6, Singapore 820658