Roast Paradise has KL-style char siew and roasted pork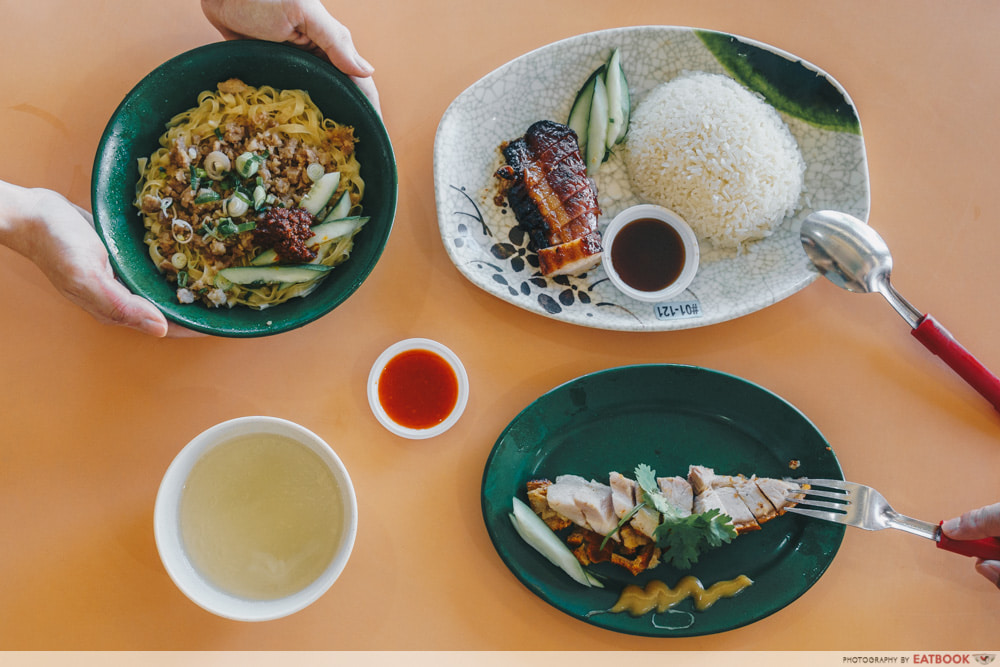 It's almost rare to find a hawker centre that houses multiple reputable stores. Yet, Old Airport Road Food Centre manages to present itself as a treasure trove full of cheap and delectable hawker eats. Situated in a humble corner, Roast Paradise steals the show with its glaring display of roasted meat and snake-like queue.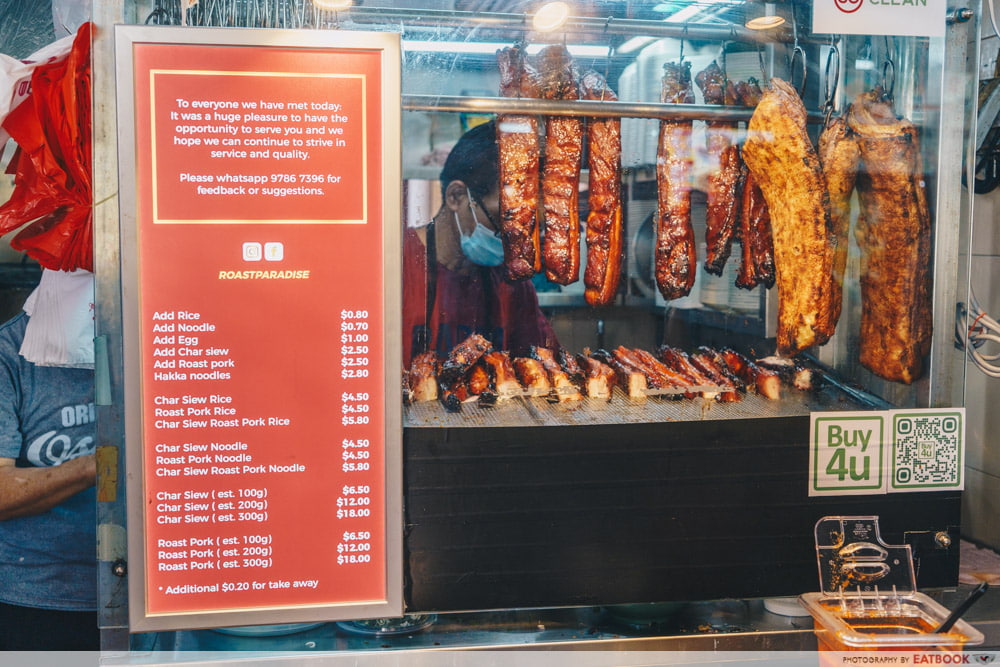 I had the pleasure of speaking with Kai, one of the two owners who founded Roast Paradise. Both Randall and Kai were previously promoters in the nightlife scene for approximately a decade, and they decided to open a food business to move to a fresh, new environment.  
Opening a hawker store demanded a herculean effort as they had to research and study Singapore's gastronomic scene as well as pick up necessary skills for the business. Hence, they decided to dive straight into a six-month training session in our neighbouring country, to learn the ways of making KL-styled char siew and roast pork (sio bak). 
Despite being the eighth person to join the queue, I walked away with a tray full of dishes within minutes while beaming from ear to ear because of their sheer efficiency. 
The food at Roast Paradise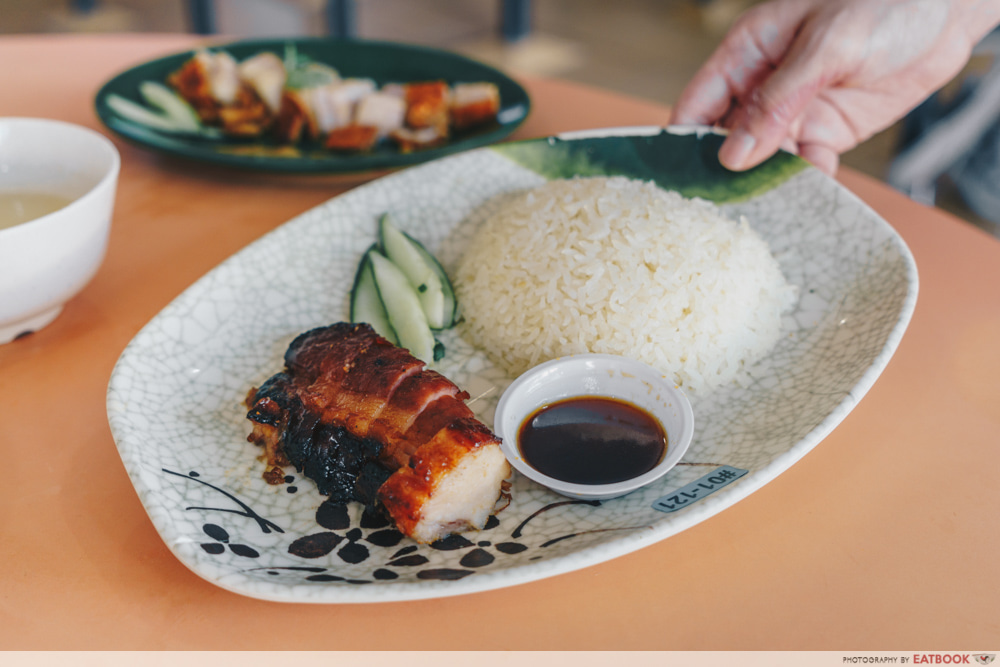 A plate of Char Siew Rice ($4.50) features a decent portion of rice, a few slices of crunchy cucumber, thick cuts of char siew, and their special char siew sauce. The dish could be complemented with cabbage soup, which you can help yourself to via the large pot seated adjacent to the condiment counter. 
The rice tasted like chicken rice, and it was fragrant and tasty, albeit a little dry. Kai explained that the fragrance was due to the use of butter, garlic, ginger, and pork oil instead of chicken oil. Perhaps if the rice was a little fluffier and tender, it would've been perfect.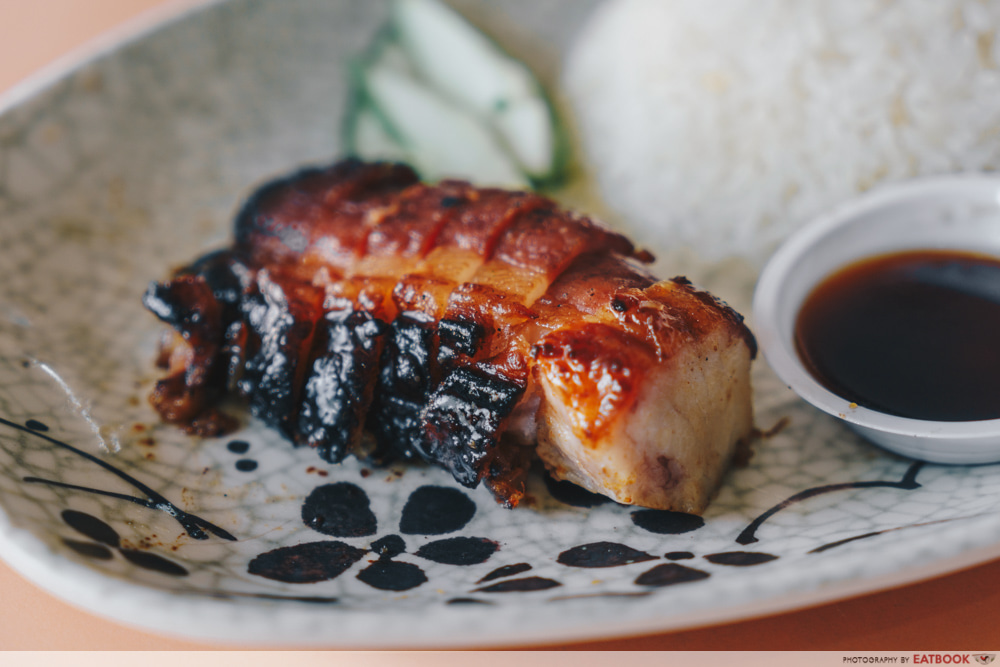 So what makes their char siew KL-styled? Kai shared that through their research, he realised that most hawkers in Singapore use leaner cuts of meat, such as pork collar and pork shoulder. Conversely, char siew in Malaysia is significantly fattier, more charred, and caramelised. The char siew that Roast Paradise offers clearly adheres to the KL flair, since they rely on a more expensive cut, pork belly, which takes two to three hours of roasting before it is chopped up and served.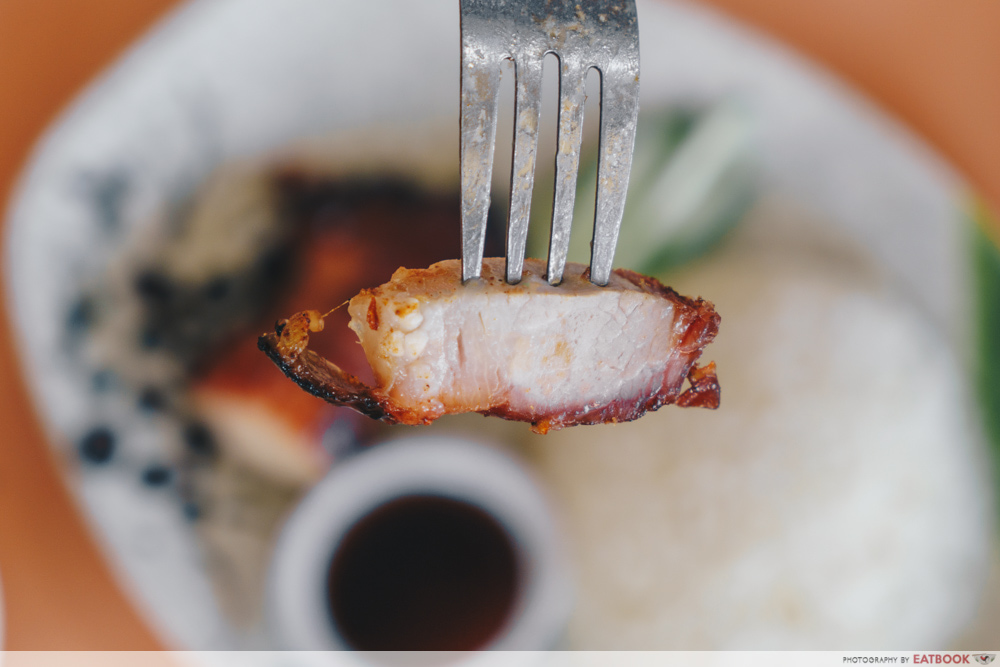 The char siew had a glistening, sticky, and charred exterior. It had a robust sweet and smoky flavour, with a predominant bak kwa-like piquancy. What got me excited was the substantial layer of fat-to-meat proportion, as it gave a juicy and unctuous body. Texture-wise, it was definitely on the chewier side, but I really appreciated the fact that even though the dish is priced quite averagely, the quality of the char siew does sit on the premium end of the scale.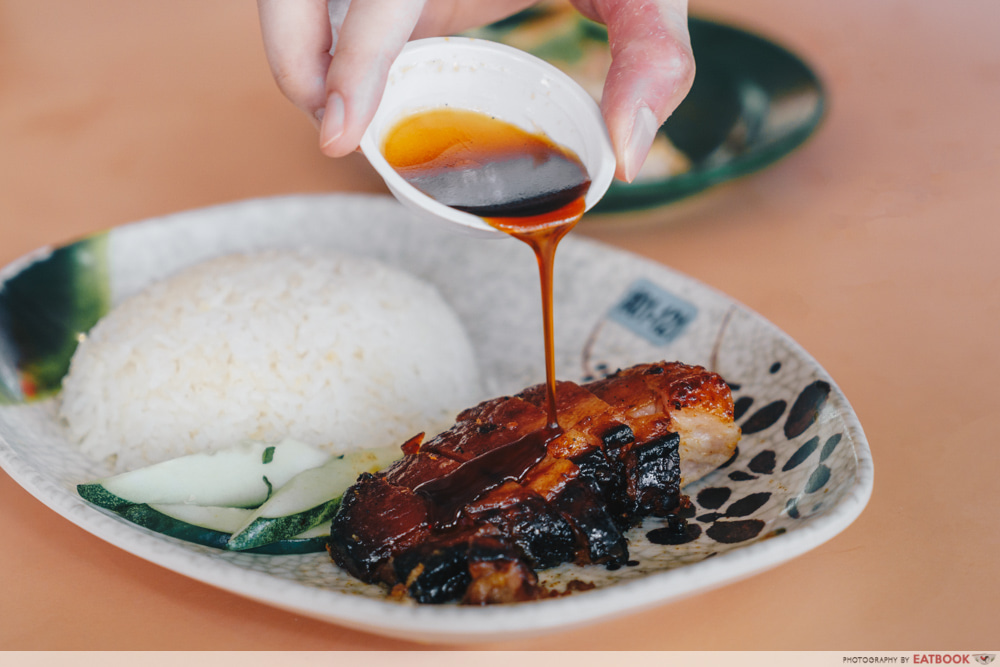 The char siew was drizzled with a treacly, savoury sauce. I was very intrigued at how intense the flavours were; it was sweet, tangy, and left a slight spicy finish on my palate.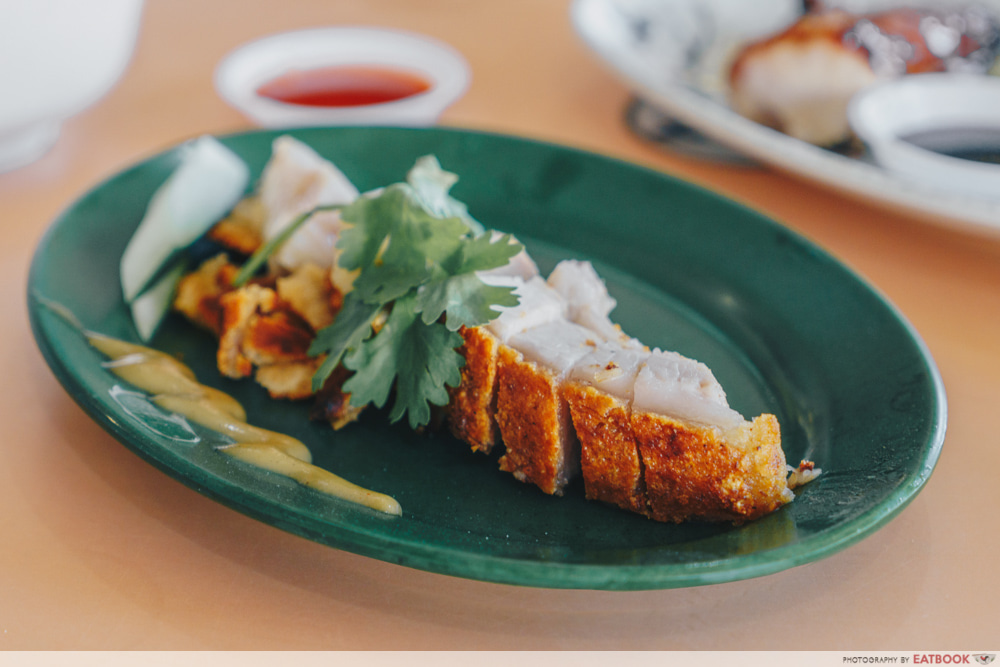 My favourite part of the meal has got to be their 100g Roast Pork ($6.50). Similar to the char siew, the fatty layer was rather significant, and even when I lifted a piece with my chopsticks, the leaner part of the meat was almost threatening to fall right off. 
I am very picky with roast pork because I do feel that it is very challenging to attain the right texture and taste. However, this had the right amount of chewiness, without being overly seasoned or greasy. The mustard had a tinge of sweet undertone, complemented with a tang that just worked really well with the roast pork.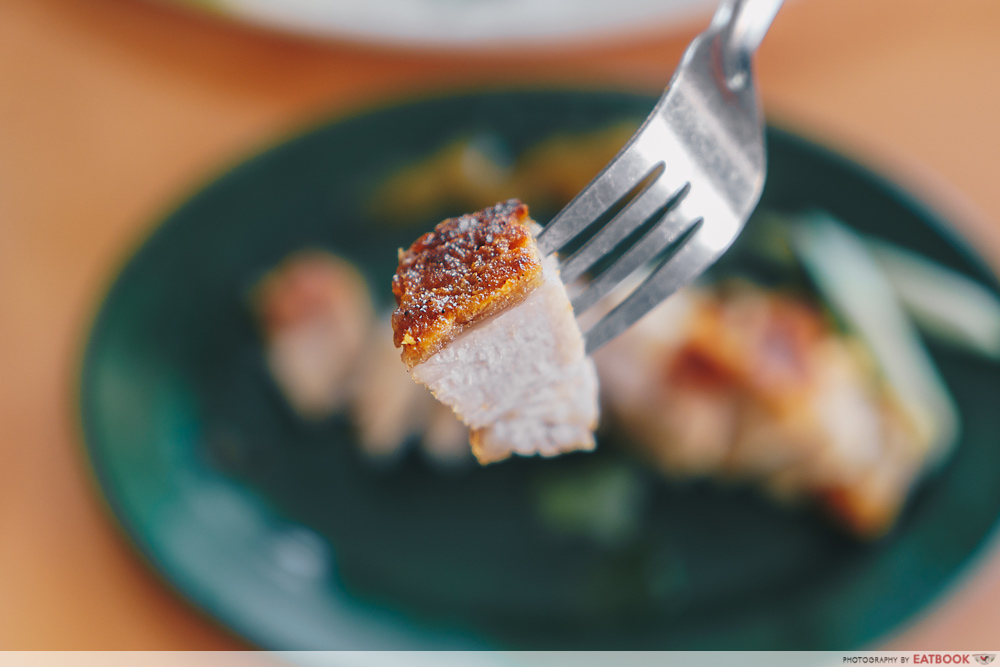 Moreover, the roast pork skin that I'm used to eating usually falls into two categories:  either it is so crispy till it's too hard, or that it's just soft and chewy. Roast Paradise managed to achieve an outstanding texture for their pork crackling, where it was light and crisp.
When asked what the secret behind this crispy texture was, Kai revealed that it boils down to the type of roasting method and pork breed used; both of which are different from what most stores in Singapore are acquainted to.
It is not common to see this dish around in Singapore, perhaps because it is a more KL-centric dish. At first glance, their Hakka Noodles ($2.80) reminded me of bak chor mee, since it featured a decent helping of boiled minced pork and flat 'mee pok' noodles. However, upon tasting it, the key distinction fell in the seasoning. Unlike bak chor mee, where it has a strong, vinegary flavour profile, the Hakka noodles were considerably milder. 
Since the char siew and roast pork had audacious flavours, it probably masked the savoury dressing of the noodles, rendering it to be slightly dull. I would've preferred a stronger seasoning, along with a savoury, nutty aroma.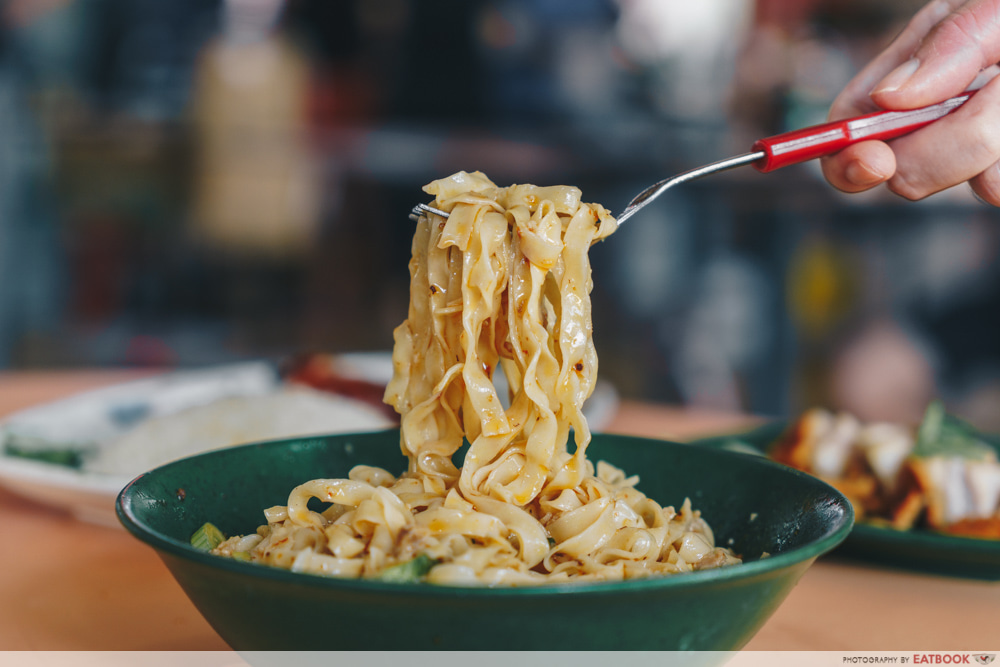 On the other hand, the Hakka noodles compensated with its texture. I could tell that it was slightly undercooked to achieve an al dente effect, evident from the light, translucent appearance of the mee pok. You could already witness the springiness even when mixing the noodles up with the minced meat and chilli. However, I recommend eating this on the spot to enjoy the lovely texture, as understandably, it may turn slightly mushy after a while. 
The ambience at Roast Paradise
With just a three minute-walk from Dakota MRT Station, you'll be rewarded with a variety of local favourites at Old Airport Road Food Centre, including wonton mee, prawn noodles, kway chap and more. It is one of those places in Singapore that remains bustling at any time of the day. 
Roast Paradise lifts their shutters at 11am, with people already making a beeline towards their store. I can't help but notice that there would always be a queue in front of the store, despite whether it was during peak or non-peak hours. Regardless, the staff was adept at managing the constant crowd.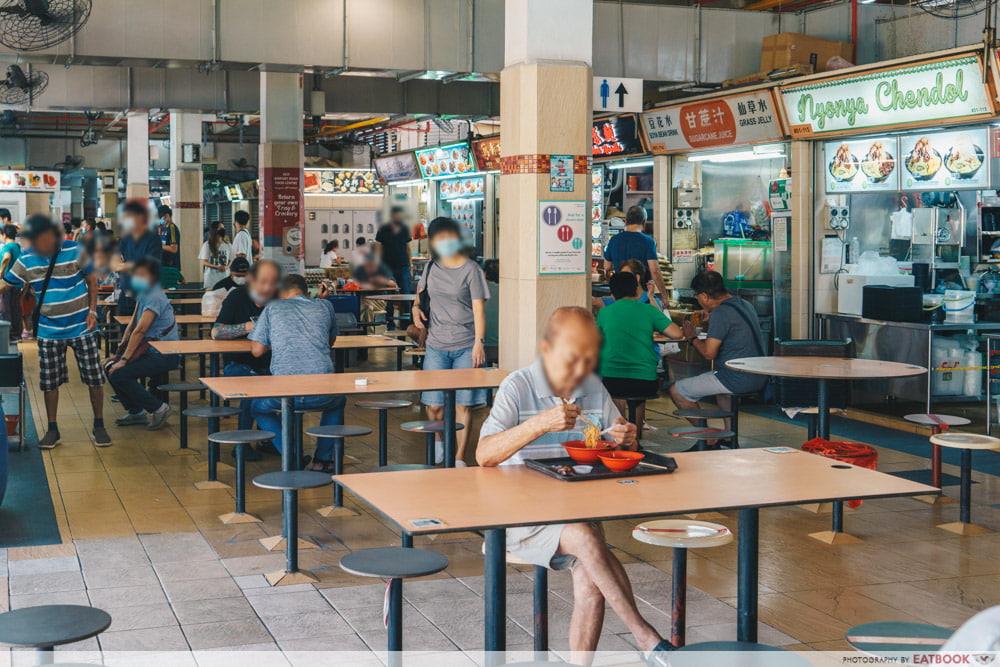 You should be able to find seats rather effortlessly, as there are quite a bit of vacant tables around due to the Phase 2 situation. The spaciousness of the hawker centre invited light and breeze in, so it wasn't too humid. If you choose to visit in the evening, you could also opt for the outdoor seating without the harsh rays of the sun. 
The verdict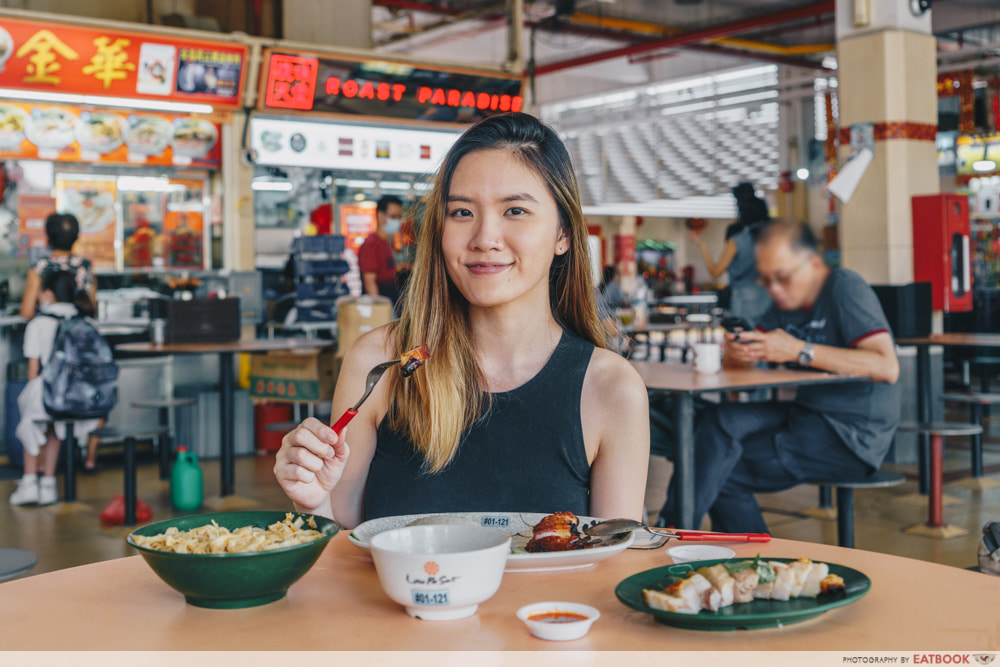 Roast Paradise is definitely not one of those typical 'Roasted Delights' stores that you'd find dotted around Singapore. In fact, it sets itself apart by relying on the KL-style of roasting meat. They are not shy with using more costly and premium ingredients as they believe that it would reflect on the quality of the finished dish. Even though there were a couple of aspects that could be improved, I could see why Roast Paradise remains as a hot favourite among local patrons. 
10 Old Airport Road Food Centre Stalls That Make Us Pray It Will Never Close Down
For more tasty options in the vicinity, do check out our listicle highlighting top 10 picks at Old Airport Road Food Centre. Otherwise, visit our review on Mei Mei Roast for more decadent roasted delights.    
Mei Mei Roast Review: Hawker Stall Opened By Younger Sister of Kay Lee Roast Meat
Address: 51 Old Airport Road, #01-121, Singapore 390051
Opening hours: Tue-Sun 11am to 6pm
Website
Photos taken by Alaric Sim.
This is an independent review by Eatbook.sg.
Summary
Pros
– Thick, fatty slices of char siew
– Crispy roast pork crackling
– Premium ingredients
– Affordable
Cons
– Noodles were slightly lacking in flavour
– Char siew could be much more tender
Recommended Dishes: Char Siew Rice ($4.50), 100g Roast Pork ($6.50) 
Opening hours: Tue-Sun 11am to 6pm
Address: 51 Old Airport Road, #01-121, Singapore 390051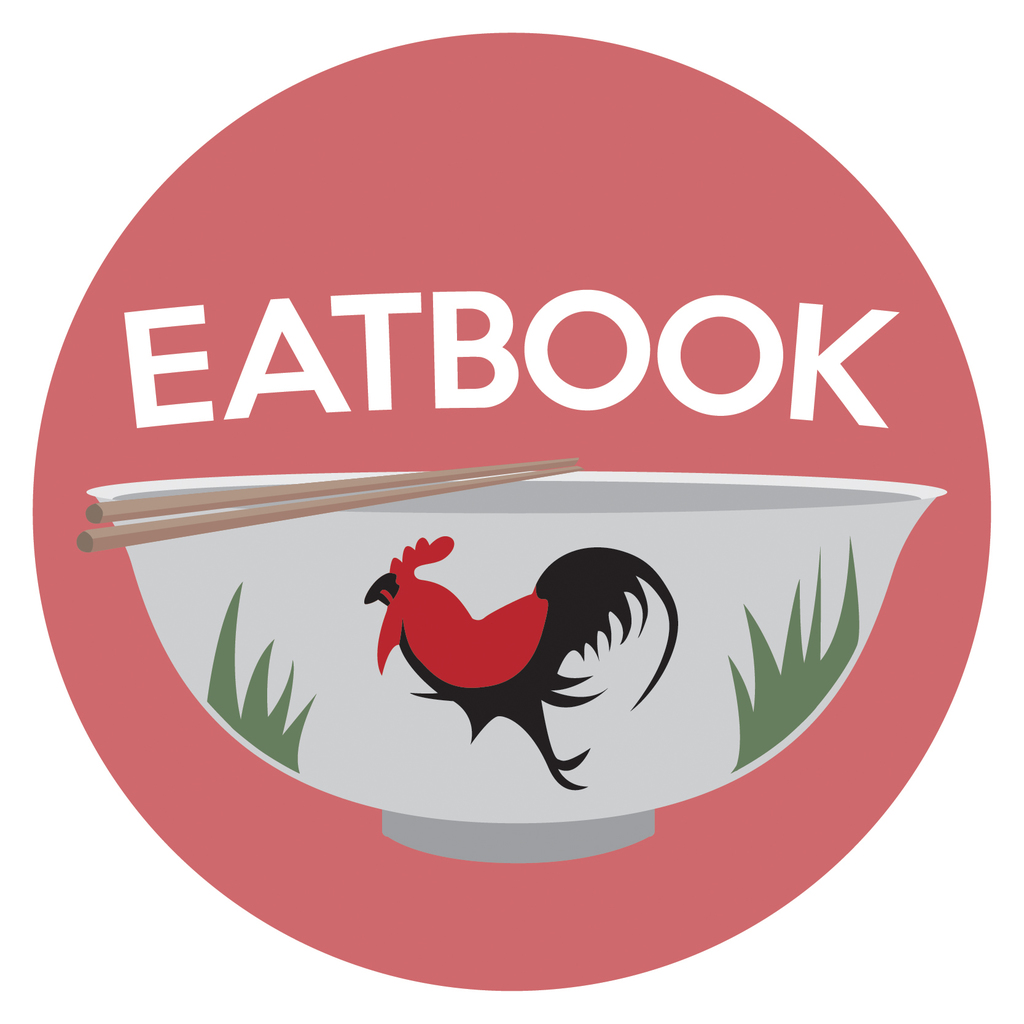 Drop us your email so you won't miss the latest news.