Mei Mei Roast versus Kay Lee Roast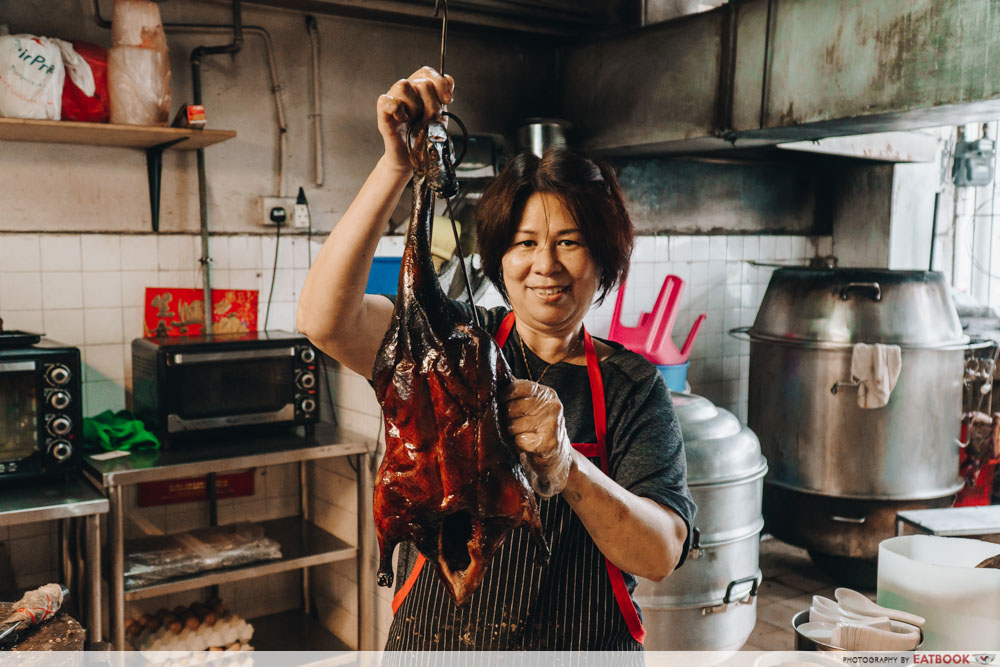 In Cantonese, Mdm Lee asked me, "Small boy, ended school? What would you like?" I chuckled. The prospect of looking that young amused me. Soon, she too broke into laughter, explaining that she just tries to compliment people as much as she can.
Hidden under the façade of her laughter, however, lies a more stoic backstory. Mdm Lee used to work at the famous Kay Lee Roast Duck alongside her sister but subsequently left to set up her own stall, Mei Mei Roast in 2003.
She remembers being ostracised and disrespected for being a woman hawker vendor. Threats, scorn, and loathe were a daily reality for her when setting up the stall. It was not an easy period for her, amidst rampant misogyny.
In a certain way, being so jaded by her work is reflected in how she actively keeps her son out of the hawker trade. I could feel a deep-seated love for him, as she so endearingly spoke of how she was fighting the tough fight – waking up daily at 4am, enduring the sweltering kitchen and getting inflicted with cuts and burns – so that he does not have to.
Food at Mei Mei Roast: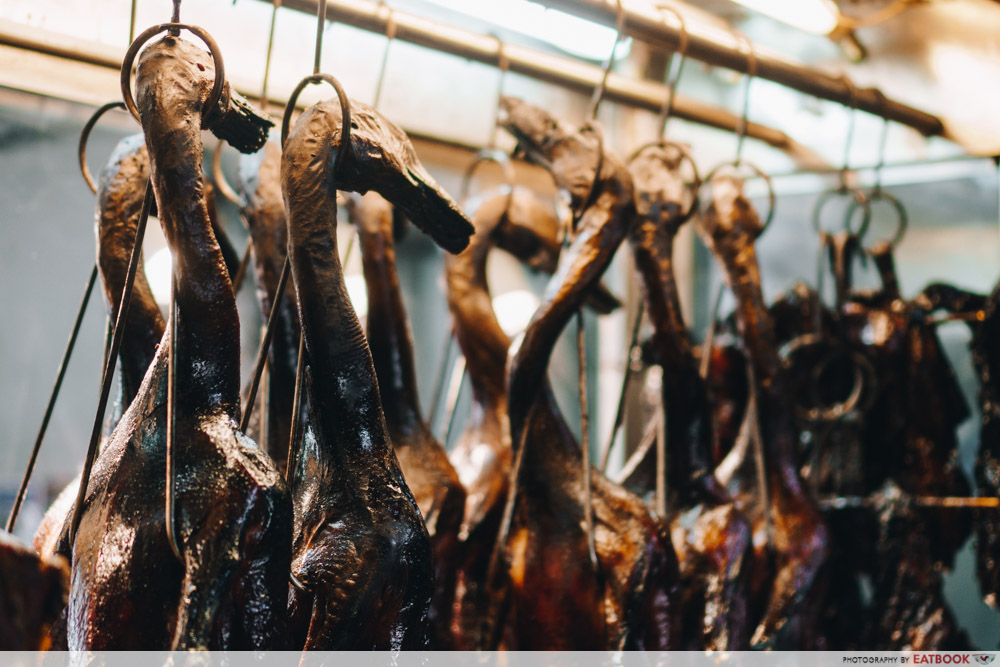 A charcoal oven roars to a firing start as Mdm Lee hung the cumbersome ducks to be roasted. The fire creates an intense heat that imparts a certain smokiness and deep colouration. Such an effect is not possible with conventional gas fire ovens that now saturate the industry.
We then saw her lug the ducks individually out onto a rack with much difficulty. "They're three kilograms each," she said, seemingly to justify her apparent struggle.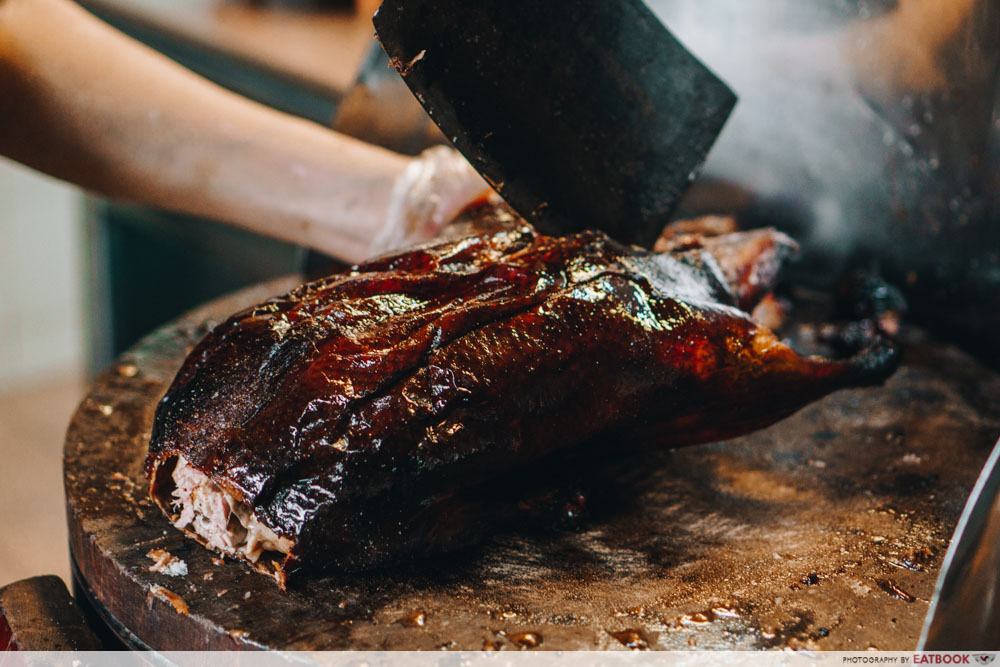 What proceeded were graceful strokes of her cleaver, effortlessly splitting the duck into different cuts. With over 30 years of experience, her knife skills were that of an experienced chef.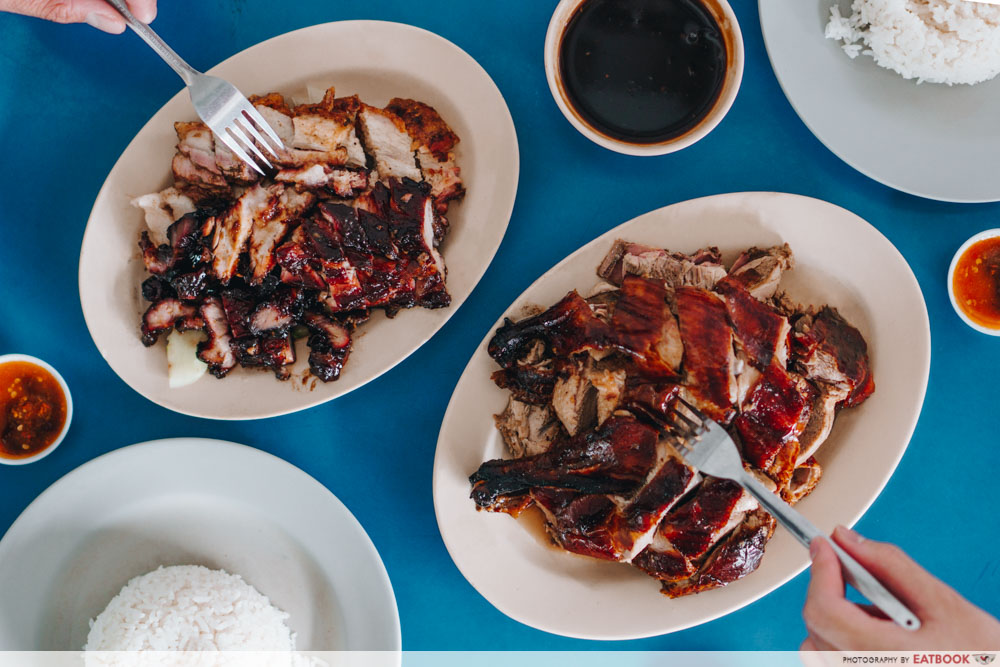 In slipshod Cantonese, I proceeded to order some duck and roasted meats.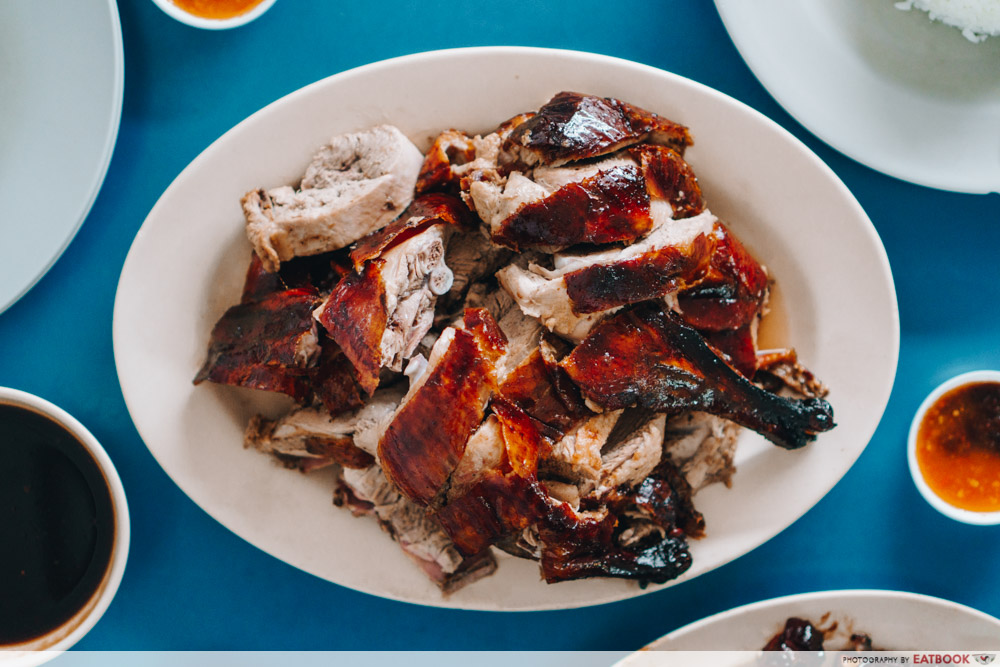 Famished, I embarked on the huge roasted duck ($25 for half a duck). Mdm Lee sources her ducks from a farm in Ipoh, Malaysia. They are fattened weeks prior to slaughter in an effort to introduce a richer marbling.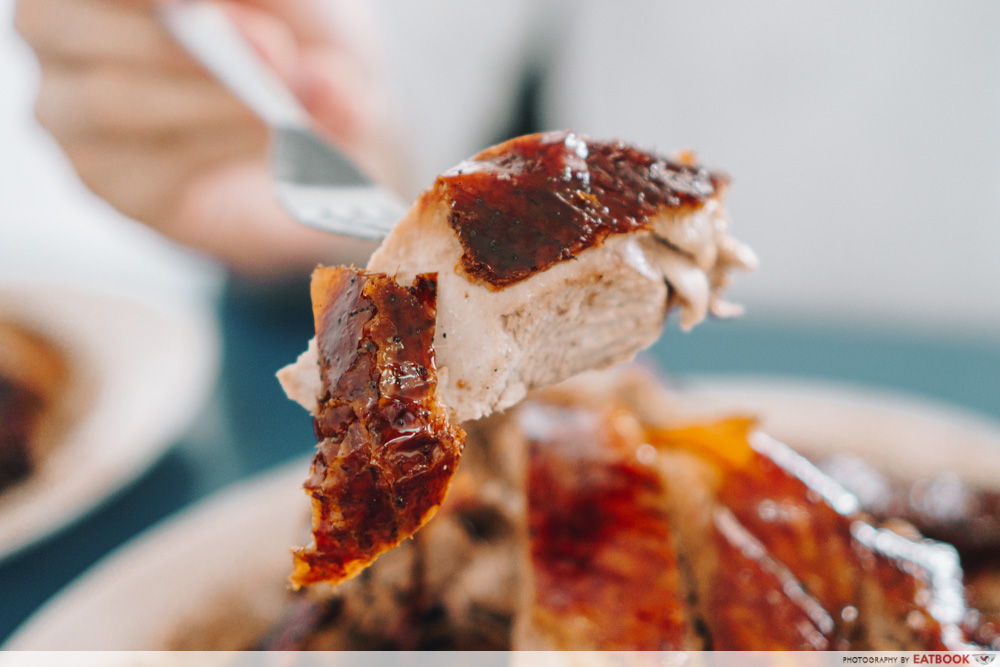 Upon trying it, I noticed the difference. Her duck tasted meatier than what I am used to. While the duck was not necessarily juicier than those found in other roast duck stalls, its flavours were more saturated with a pleasant gaminess.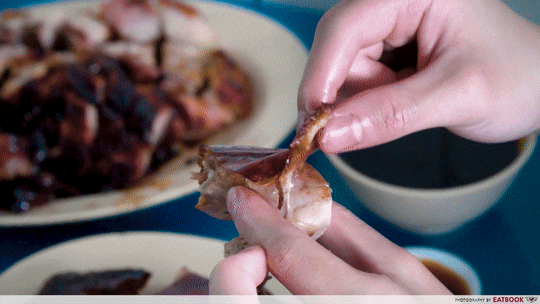 Peeling the skin off revealed a glistening layer of fat that shimmered in the light. Indeed, it was one of the fattier, more beautiful ducks I've had the privilege to come across.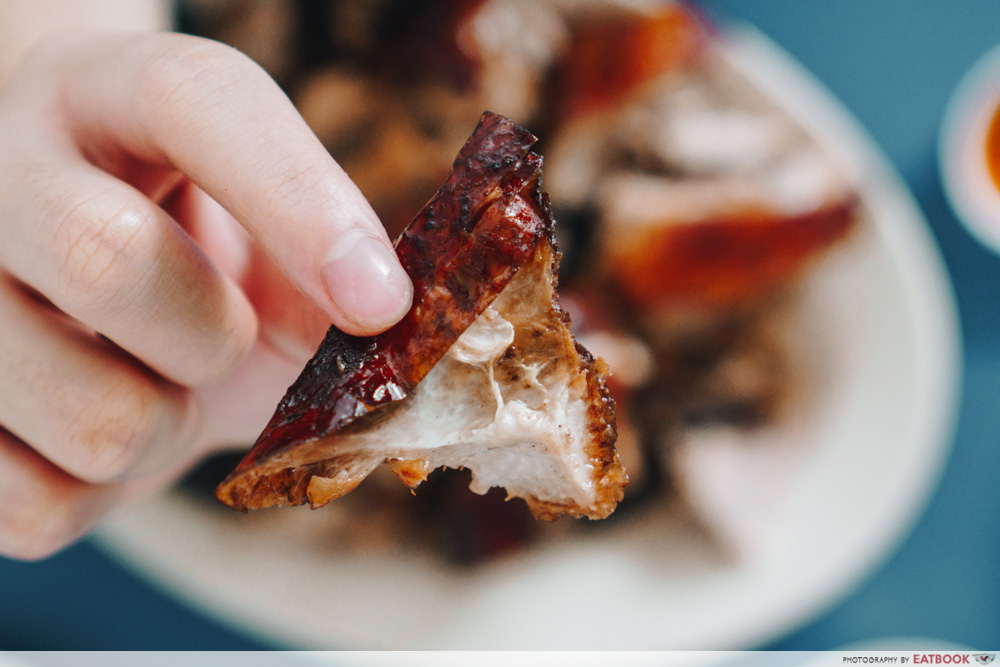 I love eating duck skin on its own; it fools me into thinking I'm eating Peking duck. And the ones here delivered a crunch from the skin, followed by subsequent spurts of oil in the mouth.
Yan Chuan Roasters Review: $6.90 Peking Duck And Crispy Roast Pork At Lavender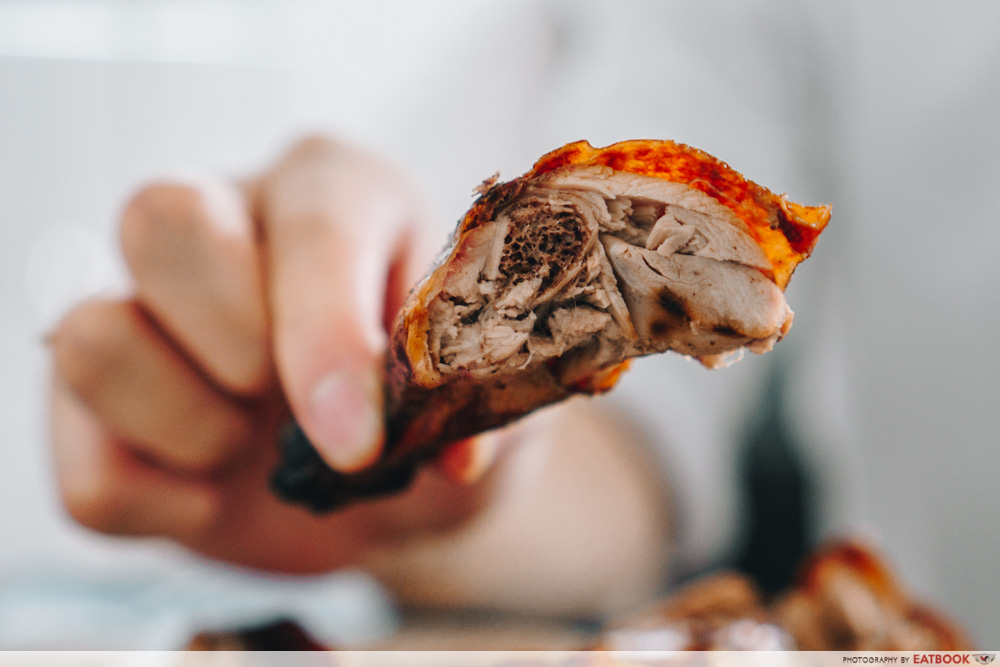 The piece de resistance was the drumstick. Unlike the breast meat, this cut was exceptionally succulent. Layers of fat evenly coat this meat lollipop, giving it an extra boost of juiciness.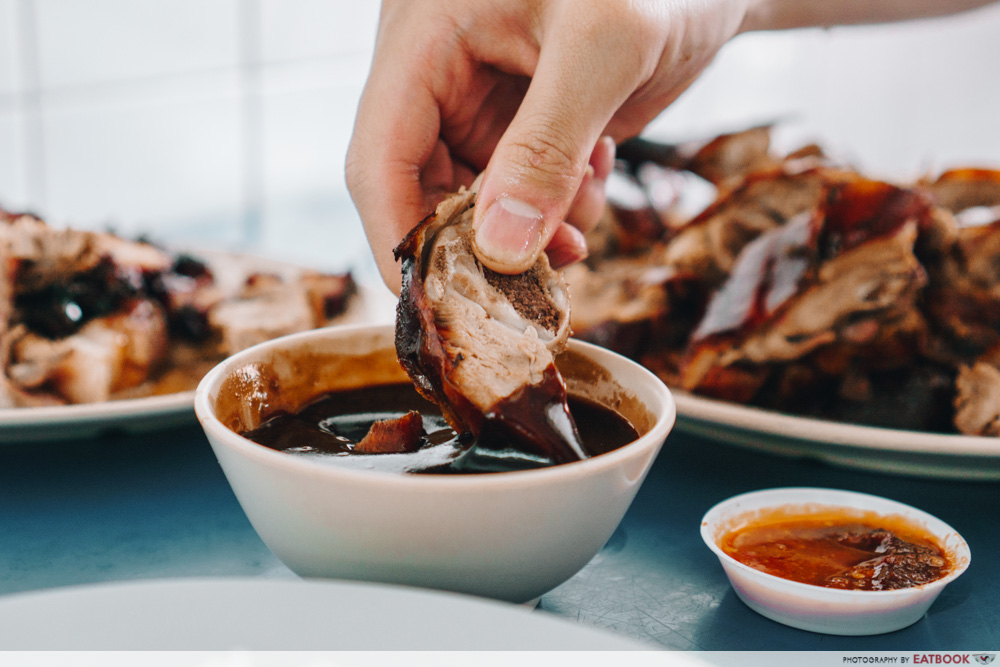 I dipped my duck into the generous bowl of hoisin sauce. It comes lathered onto your plate if you order their Duck Rice ($4) to provide much-needed moisture to the rice.
While I felt that the sauce did complement the duck, more could have been done to pimp-up the sauce as it tasted pretty run-of-the-mill.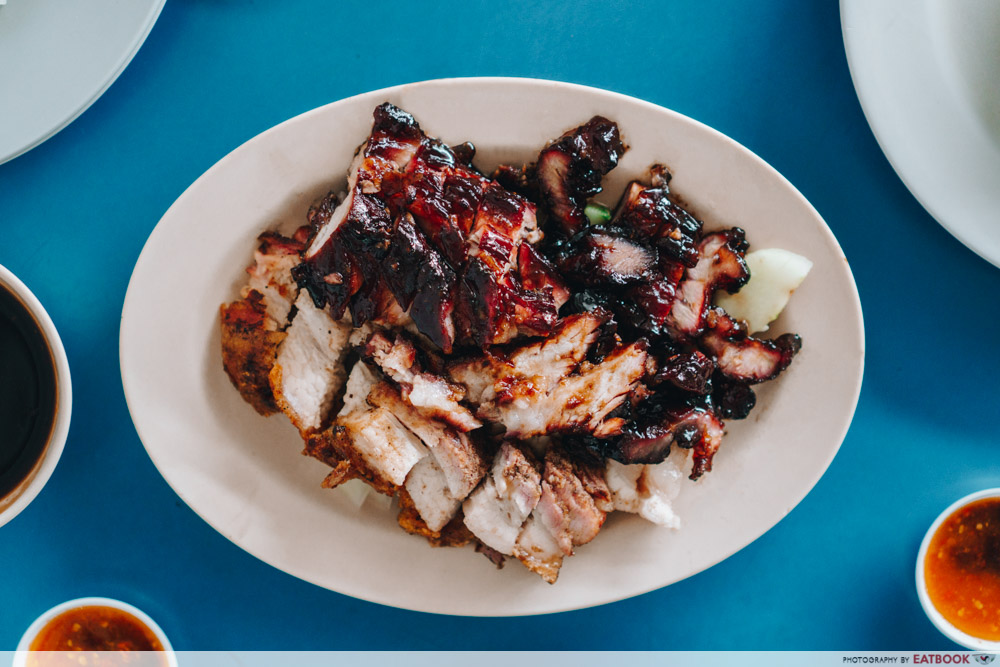 We also ordered a roast pork and char siew platter ($10). The gnarly bits of burnt skin, speckled atop the unevenly sliced roast pork, reminded me of my grandma's sio bak.
They had a certain rustic appeal that broke free from the perfect looking cuboids of meat served in most franchised roast meat stalls.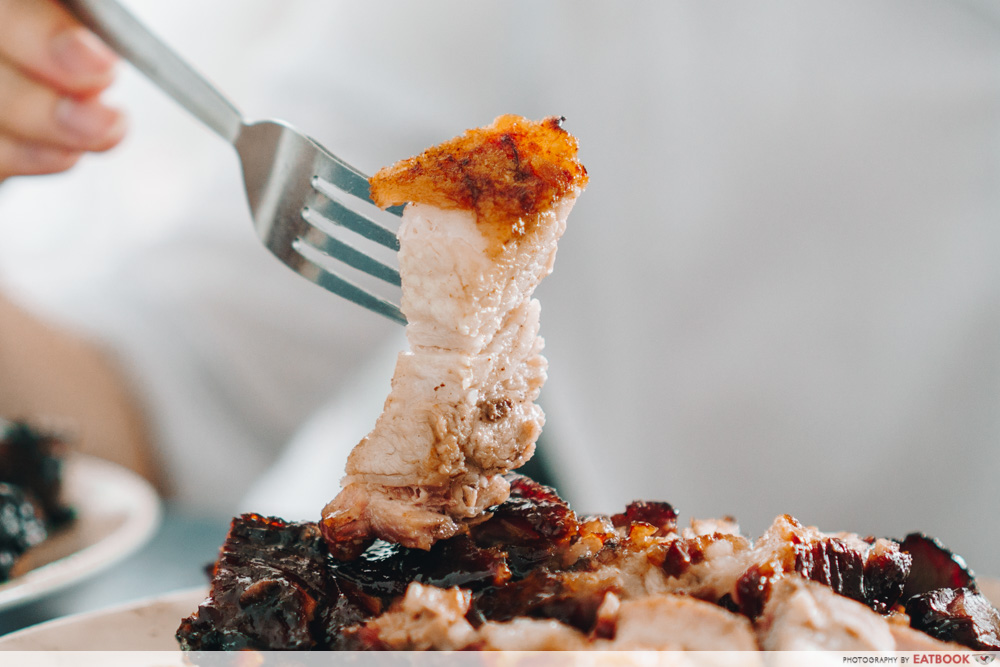 Biting into the pillowy pork sent oils gushing into my mouth; it certainly had more fat than pork. I did feel a little turned off by the fats at first, but a pleasant porkiness eclipsed my initial disgust as I continued chewing. 
Another upside of having so much fat is that it makes the meat so tender. I hardly used my jaw as I tore through the plate of roast pork.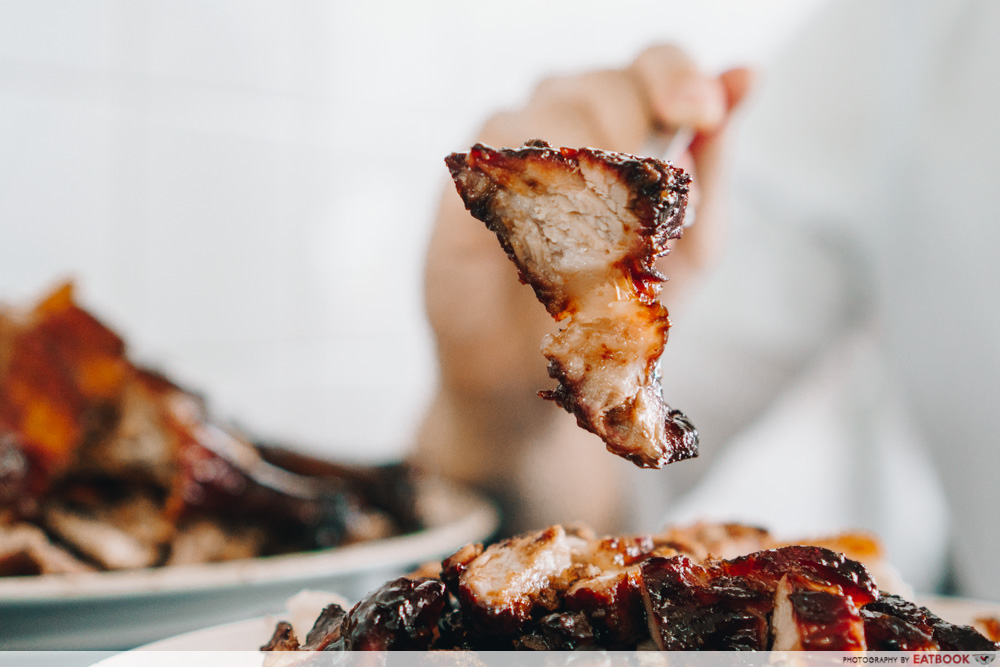 My dining companion absolutely loved the char siew. "This is not typical char siew!" she elucidated. Indeed, a more floral and layered taste emanated from the pork.
I could taste notes of hua diao wine and a gentle waft of five spice mix that provided this layered combination of flavours.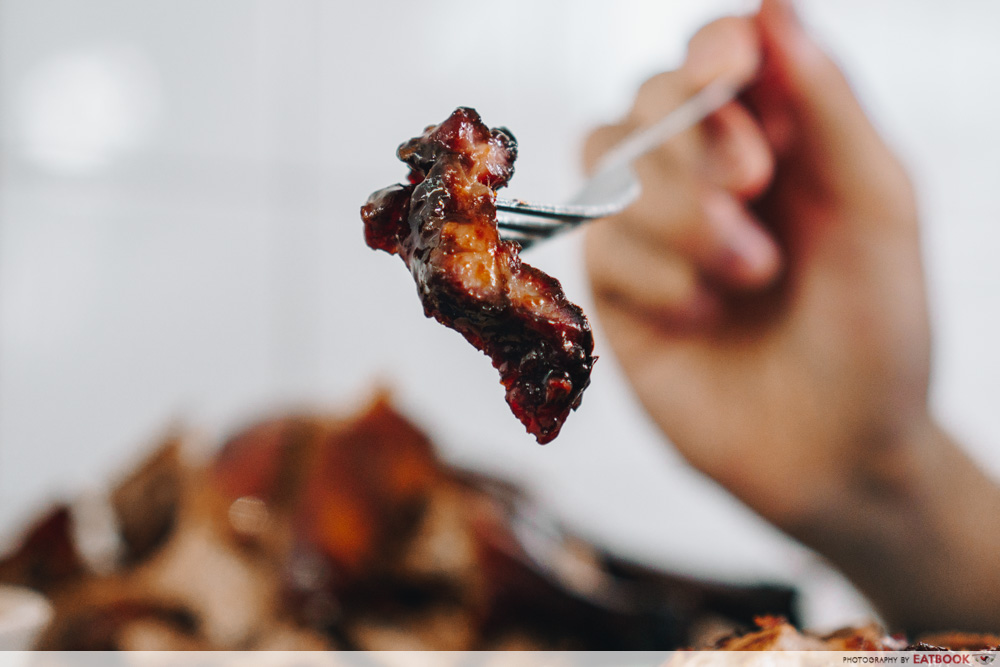 Yes, I know, the char siew looks more char than char siew, but I assure you, those caramelised bits pack a strong punch of sweet porky flavour. I would best describe it as bak kwa-tasting meat candy.
Ambience at Mei Mei Roast
Here, time stands still. This food court is a custodian of history; a preservationist of culture. White ceramic tiles plastered across this dining hall evoked a retro vibe. It seems like an enclave from the mass development of the world.
Wei Ji Braised Duck: Braised Duck Stall Run By A 20 Year-Old Student At Bishan
Streams of middle-aged technicians – who were also called "small boy" by Mdm Lee – swarmed the food court from the nearby repair shops. They gobbled their food in their greasy overalls before dashing back to finish their work. It was like something out of a scene from old Singapore. 
The verdict
Walking into the kitchen, I was taken aback. It was blackened with soot, scarred by time and aged in history. I could tell that this establishment, like the owner, was steeped in the very essence of capitalist Singapore – to strive for betterment in spite of hardship.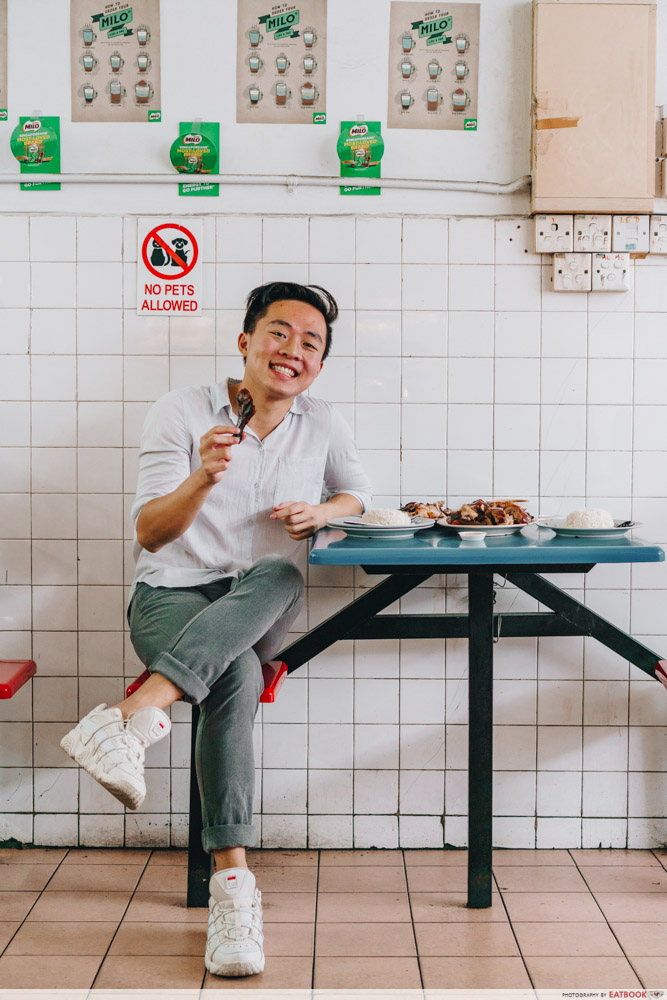 Here is a hawker that rose from the leagues of sexist slurs thrown against her, triumphing to own the renowned stall she has now. Here is a hawker insistent on charcoal ovens, in pursuit of a superior tasting product. Here is a mom pushing her son for higher education, in hopes that his destiny would be vastly different from what she has endured.
Address: Blk 3014 Ubi Road 1, #01-308, Singapore 408702
Opening Hours: Mon-Fri 11am to 5pm, Sat-Sun 11am to 3pm
Tel: 9820 8391
Website
Photos taken by Nadia Loewito.
This is an independent review by Eatbook.sg.
Summary
Pros
– Large portions
– Affordable prices
– Good tasting duck
Cons
– Crowded during meal times
– Inconvenient location
Recommended Dishes: Roasted duck ($25 for half a duck)
Opening hours: Mon-Fri 11am to 5pm, Sat-Sun 11am to 3pm
Address: Blk 3014 Ubi Road 1, #01-308, Singapore 408702