---
Affordable Thai Food In Singapore
---
What's not to love about affordable Thai food? I'm an ardent fan of all things Thai, from the amazing dishes they whip up in the kitchens to their sappy romcoms. The irony is, I've only ever been to Phuket, so all the Thai food I've tasted in this lifetime have mostly been in the motherland. But, the good news is, I'll be touching down in Bangkok in slightly over a month's time. Meanwhile, as I try to contain my excitement, here's a list I've compiled of my favourite Thai eateries in Singapore to satisfy my Thai food cravings while on a budget.
---
1. Took Lae Dee
---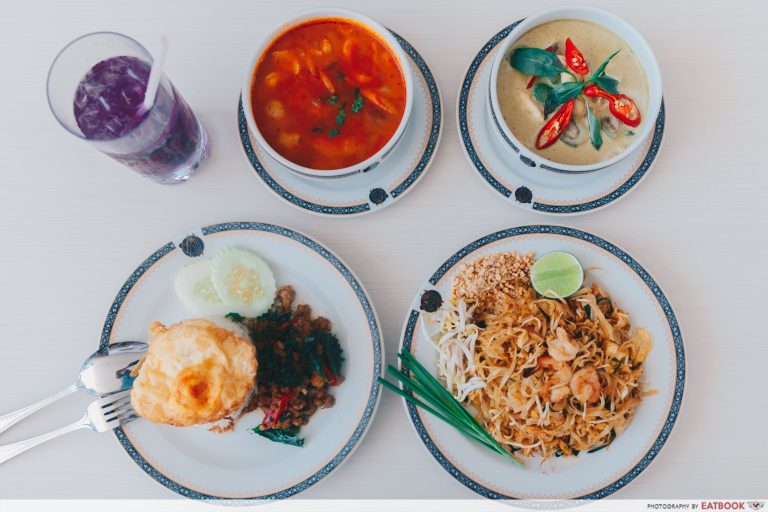 What other restaurant can you find a plate of Pad Krapow (basil pork rice) at $3.80? Dishes at Took Lae Dee are all listed at reasonable nett prices. A delicious plate of seafood Phad Thai goes at just $5 and is brimming with wok hei. For dessert, get yourselves a plate of Mango Sticky Rice at $3.80! However, do be warned that this dish is not always available.
Other than the prices, something cool about this place would be their drinks. Their Iced Butterfly Pea Tea ($2.80), a more refreshing alternative to the usual Thai milk tea, contains fizzy soda water tinted blue on the surface, having had its colour naturally extracted from butterfly pea flowers! You already know without looking that this drink was made for the 'gram.
Check out our full review of Took Lae Dee!
Address: 18 Tai Seng Street, #01-34/35/K9, Singapore 539775
Opening hours: Daily 11am to 9pm (last order at 8:30pm)
Tel: 6272 2000
Website
---
2. Noodle Thai Thai Kitchen
---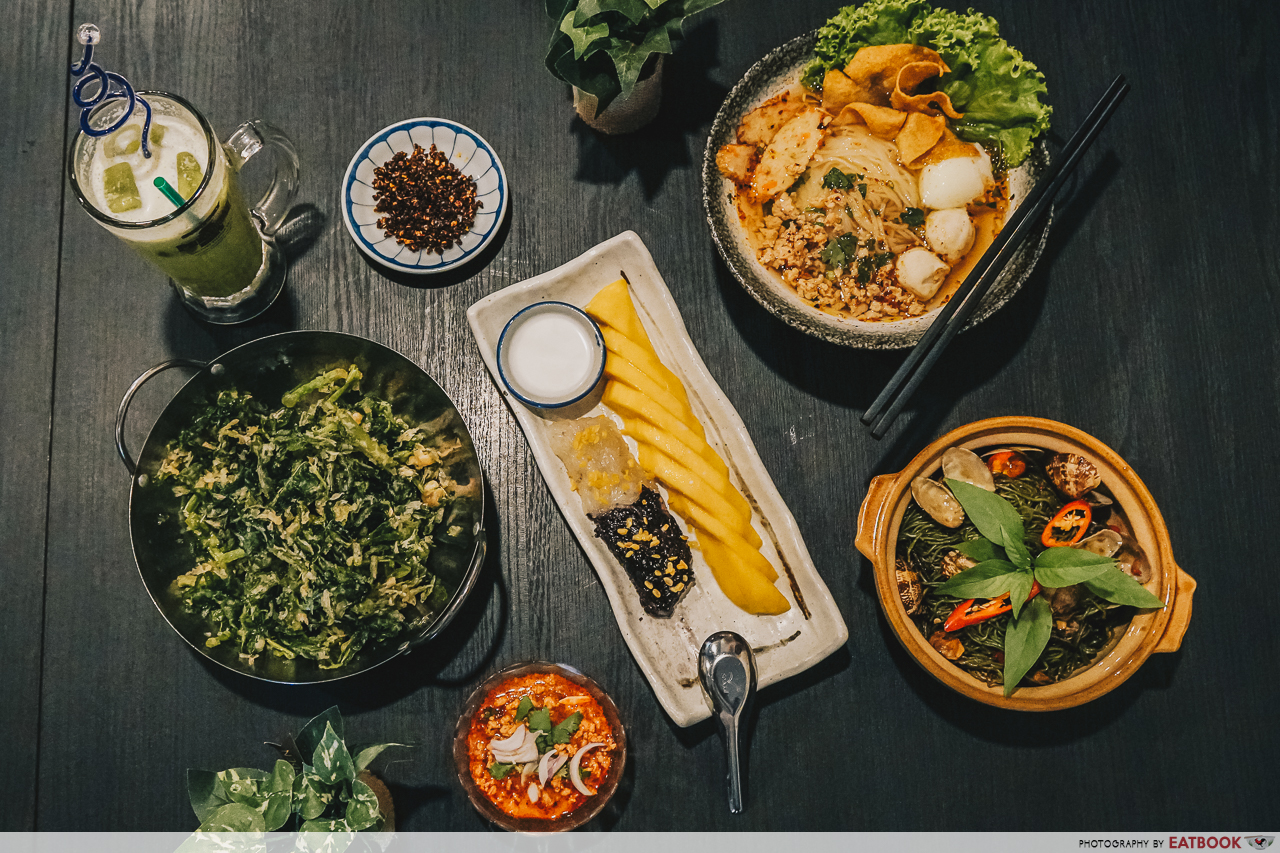 If you're looking for interesting Thai food places, look no further than Noodle Thai Thai Kitchen! Kick start your meal with a pot of Crispy Kangkong ($10.90), which comes with an umami dipping sauce. If you detest your veggies, this crunchy dish might just change your mind. When it comes to carbs, order a bowl of Spicy Thai Thai Noodle Soup ($6.90). It comes with chicken, deep-fried wonton skins, fishcakes, veggies and a sous vide egg. Fair warning, this dish might very well light your taste buds on fire, so ready a cold drink on the side.
We love the Mango Sticky Rice ($7.90) here! The dish comes with both white and purple sticky rice, and a lengthy amount of mango slices. Interestingly, the coconut gravy is more salty than sweet, so it contrasts nicely with the fruit.
Read on in our full review of Noodle Thai Thai Kitchen!
Address: 327 Beach Road, Singapore 199560
Opening hours: Mon-Fri 11:30am to 3pm, 4:30pm to 10:30pm, Sat 11:30am to 10:30pm
Website
---
3. Bubble's Kitchen
---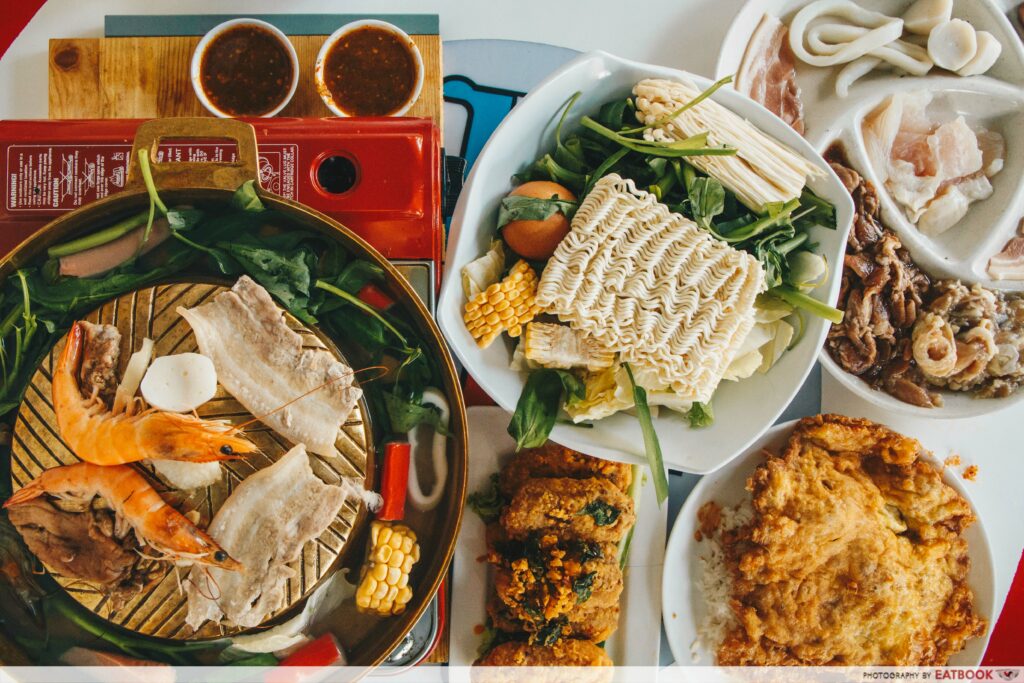 If you're a Thai food enthusiast who loves discovering hidden gems, check out Bubble's Kitchen! Nothing here costs over $10, unless you want to upsize your dishes. Better yet, they offer Mookata ($28.80 for two people) with seafood, meat and veggies! You can opt for either a plain or tom yum soup base. We adored their Salted Egg Chicken Wings ($8) – especially for how each wing was richly coated in sandy egg yolk granules, and the way the tender meat tore cleanly from the bone. Another dish that made our mouths water was the Thai Omelette Rice ($5), because of how delightfully crispy, albeit oily, the fried egg was. There was even minced pork stuffed inside to richen its taste.
Check out our full review of Bubble's Kitchen!
Address: 475 Upper Serangoon Crescent, #01-01, Singapore 530475
Opening hours: Daily 11am to 9pm
Tel: 8160 8111
Website
---
4. Fatty Thai
---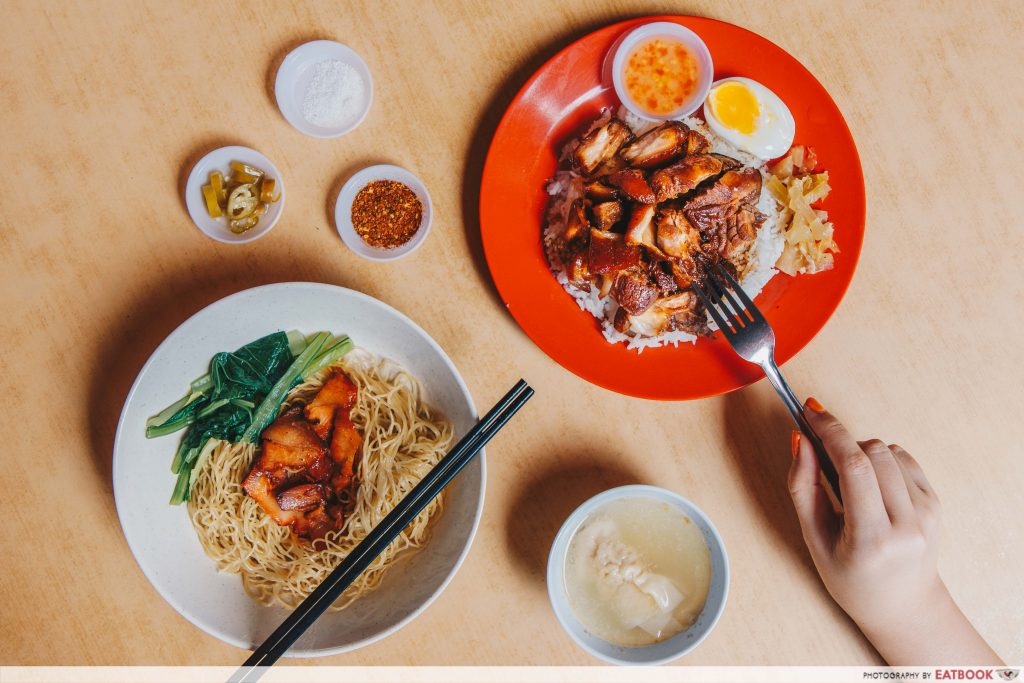 Ever tried Thai wonton mee in Singapore? You'll be able to at Fatty Thai, a hawker stall with only two dishes on the menu. The stall sells Ba Mee Kiao Moo Dang ($3), Thai wonton noodles topped with handmade dumplings, char siew and vegetables, and Khao Ka Moo ($5.50), AKA pork trotters with rice.
Despite the Thai wonton noodles looking plain, each strand is coated in a flavourful sauce. The dish also comes with wonton soup on the side. The fatty pork trotters here truly steal the show, so get this if you're not feeling up for noodles.
Fatty Thai Review: Thai Wonton Mee and Pork Trotter Rice At A Beach Road Stall
Address: 341 Beach Road, Singapore 199567
Opening hours: Mon 9am to 8pm, Tue-Fri 9am to 7pm, Sat 9am to 7pm
Tel: 9383 8842
Website
---
5. Thai Baang
---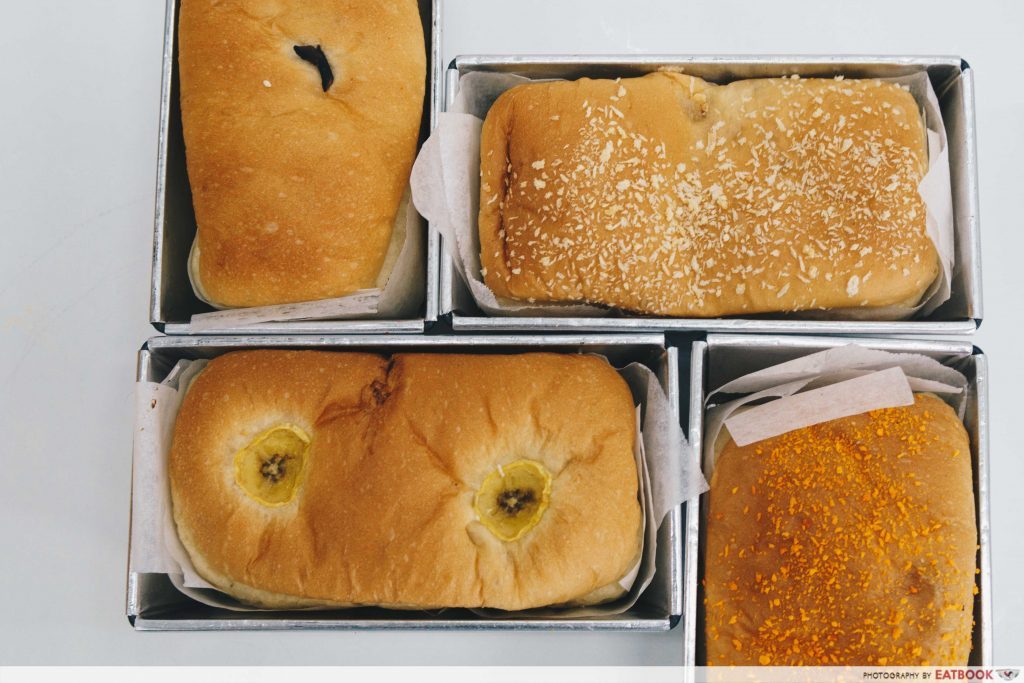 Putting main dishes aside, let me direct your attention to Thai Baang, Singapore's very first Thai bread bakery! This popular bread stall sells freshly baked Thai bread varying from savoury to sweet, such as their well-received Tomyum Chicken Bread ($1.80/$2.50) and Banana Chocolate Bread ($1.80/$2.50). The tom yum filling tastes really legit and delivers a spicy kick, while the mashed chocolate and banana stuffing go well hand-in-hand, without being overly jelak. Apart from bread, Thai Baang also offers castella cakes and glutinous rice.
Find out more about Thai Baang, and the inspiring woman behind the successful bakery.
Address: 809 French Road, #01-41, Kitchener Complex, Singapore 200809
Opening hours: Mon-Fri 8:30am to 8:30pm, Sat 8:30am to 8pm, Sun 9am to 7:30pm
Tel: 9722 1213
Website
---
6. Thai Boat Noodle
---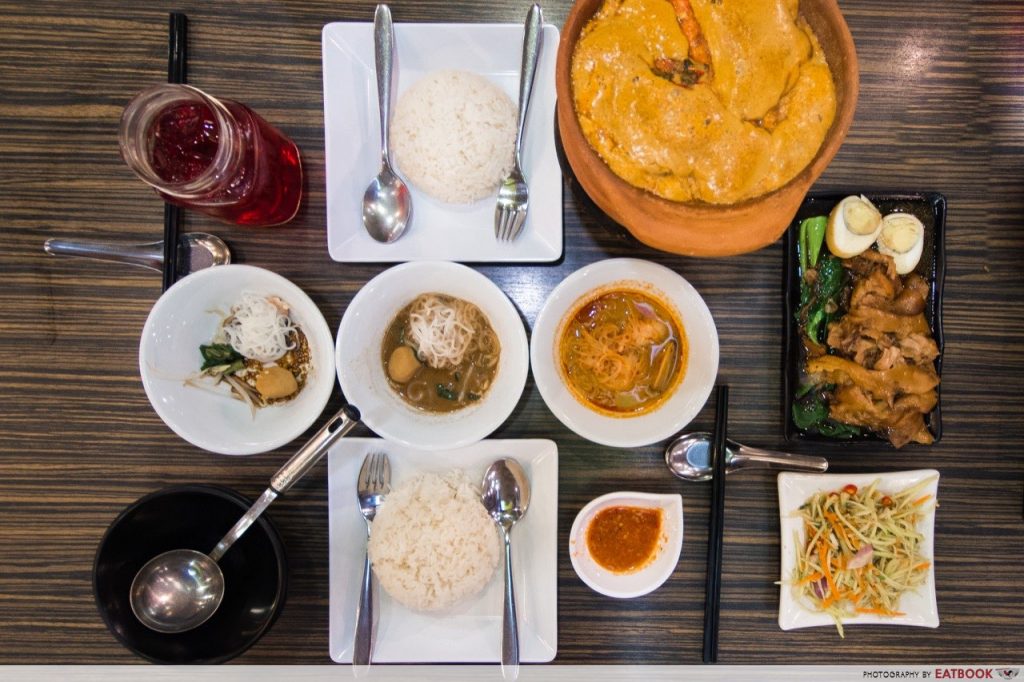 Thai Boat Noodles serve noodles with tiny portions, with the cheapest going at just $1! Some options you can select include the original Mini Boat Noodle Dry/Soup ($1+) and Mini Tom Yum ($1.50+). These dishes are great when you're not feeling too hungry, or when you want to try a little of everything. If one bowl doesn't satisfy you, you could always order three more! Thai Boat Noodles also offers Tom Yum Seafood Hot Pot ($14.80+), a huge, steaming bowl of tom yum soup simmering with clams, mussels, squid and prawns. 
Check out our full review of Thai Boat Noodles!
Address: 799 New Upper Changi Road, #02-32/34, Bedok Point, Singapore 467351
Opening hours: Daily 11:30am to 10pm  (last order at 9:15pm)
Tel: 6445 9932
---
7. Sticky Rice
---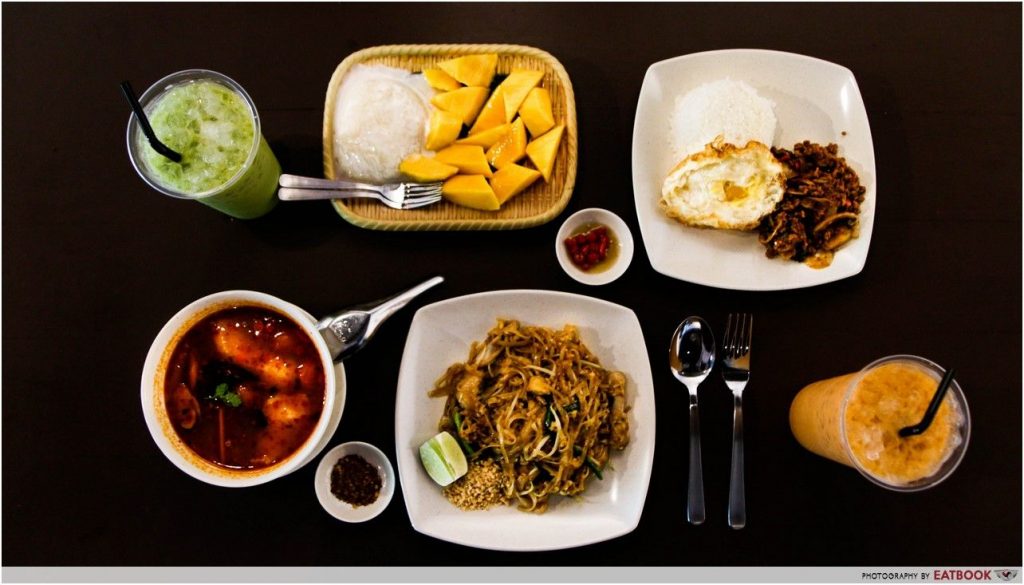 Sticky Rice is your typical, yummy Thai eatery, except most of its dishes don't go over $10. Order the classics, and I assure you you won't go unsatisfied – especially when you're not burning a hole in your pocket in the process. We loved their Chicken Pad Thai ($6.50+). Give the stir-fried rice noodles a good mixing up, and show the lime no mercy by squeezing its juices generously all over the dish for a sour kick.
Order the Thai Iced Milk Tea ($3+) for a cold, creamy drink on the side. Finally, you can't leave this Thai joint without getting their Mango Sticky Rice ($7+)! This sweet treat tastes extra special once you slather it in velvety coconut cream, although we felt the sticky rice was delicious even on its own.
Sticky Rice Review: New Halal Thai Restaurant With Nothing More Than $10 At Bugis
Address: 23 Bali Lane, Singapore 189859
Opening hours: Mon-Thur 12pm to 3pm, 6pm to 10pm, Fri-Sat 12pm to 3pm, 6pm to 10:30pm
Tel: 6294 0118
Website
---
8. Oh My Mango
---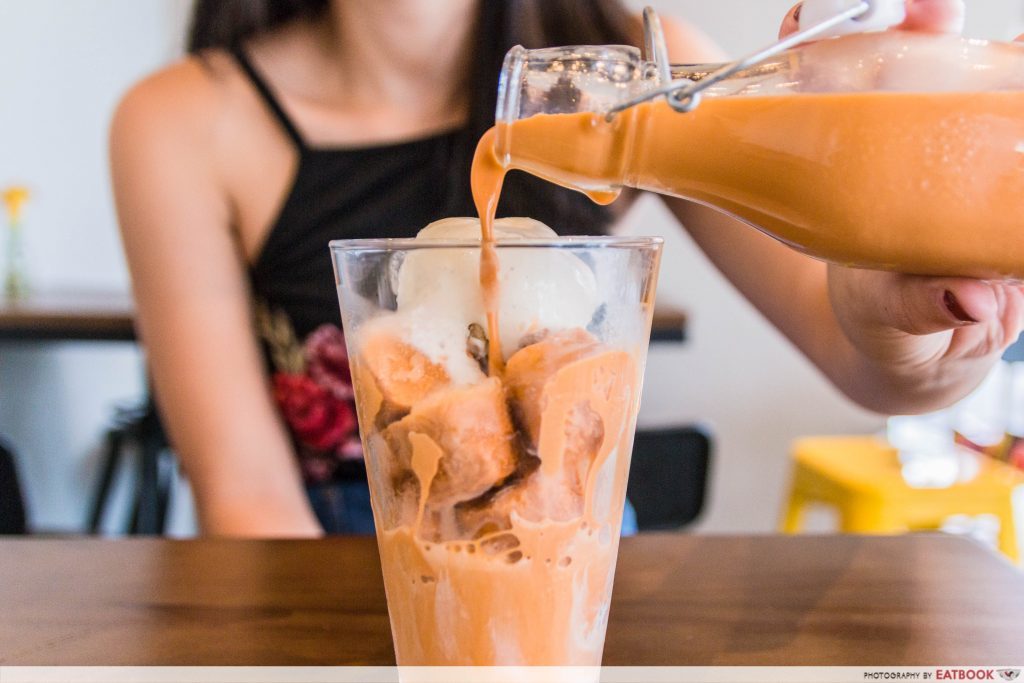 If you've got a sweet tooth, Oh My Mango is one Thai dessert joint you absolutely should not miss. Opt for their Coconut Bingsu with Gula Melaka ($13.90). The shaved ice is blanketed in a layer of cream, a sprinkling of toasted almonds and is topped off with a scoop of vanilla ice-cream. The dessert even comes with actual slices of coconut!
You'll definitely be whipping out your cell phone to snap a photo of their Thai Milk Tea Cube Set ($6.90). The milk tea is provided in a large pitcher on the side, while the glass is filled to the brim with milk tea ice cubes, so the drink won't dilute, and a dollop of vanilla ice-cream.
Read on in our full review of Oh My Mango!
Address: 762 Jurong West Street 75, #01-334, Gek Poh Shopping Centre, Singapore 3640762
Opening hours: Daily 11am to 10pm
Tel: 9066 0426
Website
---
9.  Tomyum Mama
---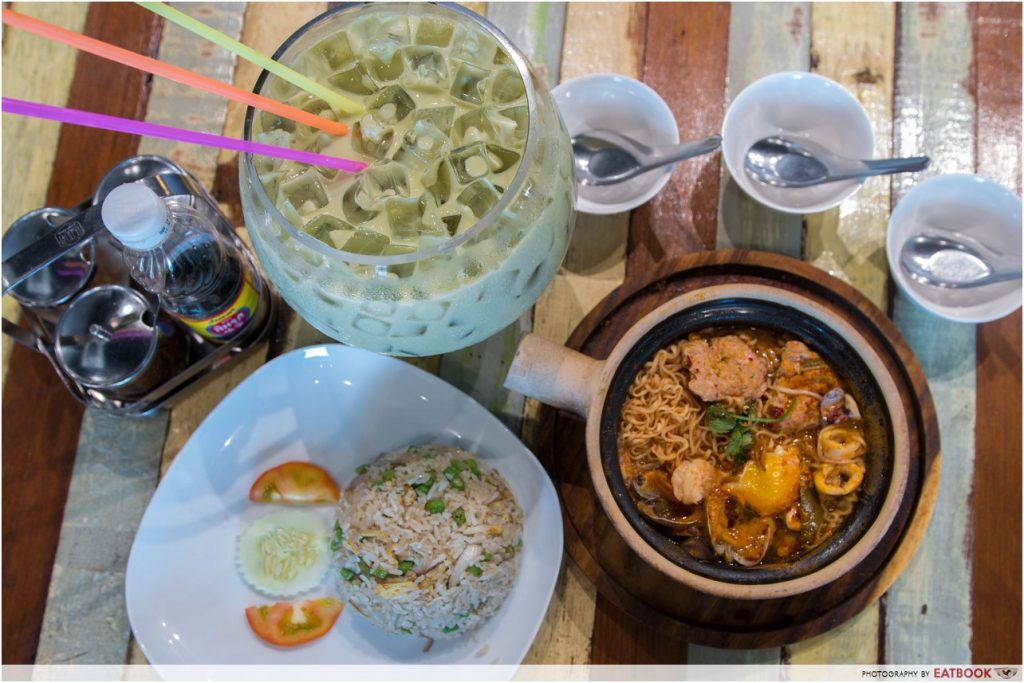 As its name suggests, Tomyum Mama sells the popular Mama brand tom yum instant noodles, served in a large clay pot filled with pork, prawns, squid, and an egg! This dish, the Signature Tom Yum Mama Claypot ($12.90) is delivered to your table bubbling hot, with the strong aroma of tom yum permeating the air. Do slurp your noodles down quick, because they tend to get soggy fast.
Another dish to try would be the Isan Crab Claw Meat Fried Rice ($9.90). While deceptively plain, it actually delivers a rather spicy punch to your taste buds, and contains a rich wok hei fragrance. You're bound to need something cold to douse the flames. Get yourself a Jumbo Thai Green Milk Tea ($12.90) and share it with a friend or two. The glass is huge enough to double as a fish bowl!
Tomyum Mama Review: Claypot Tom Yum and Massive Thai Green Tea At Upper Thomson
Address: 244P Upper Thomson Road, Singapore 574369
Opening hours: Mon-Fri 12pm to 3pm, 5:30pm to 11pm, Sat-Sun 12pm to 11pm
Tel: 8687 9990
Website
---
10. Gin Sen
---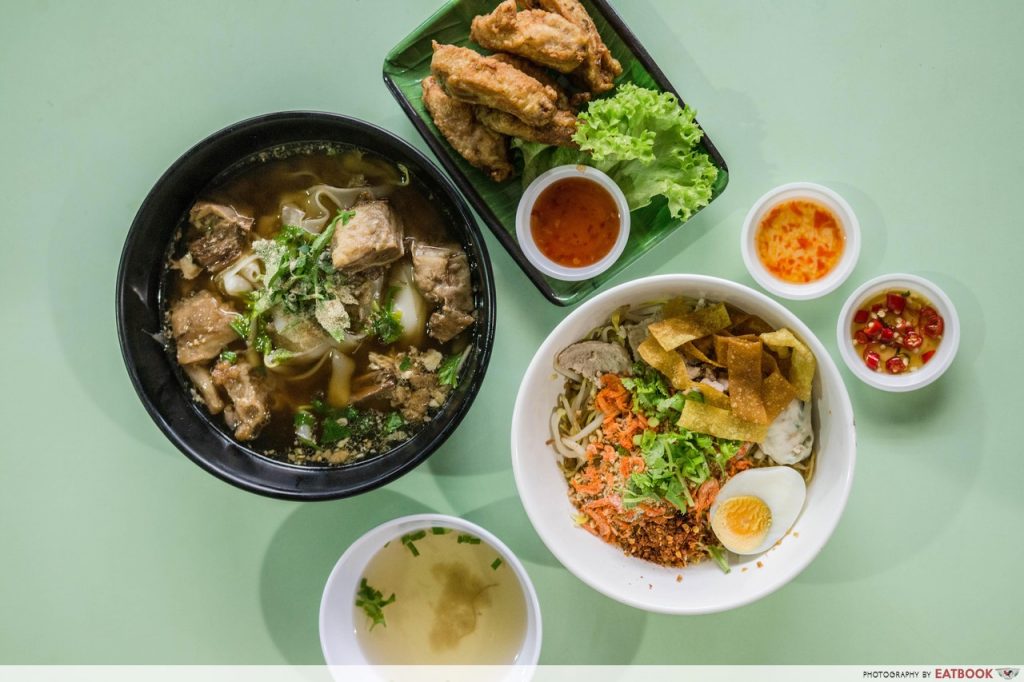 Gin Sen is a popular stall run by two Thai ladies at Old Airport Road. Their intriguing Thai Bak Mee Dry ($4/$5) is like a cross between bak chor mee and phad Thai. It's served with egg noodles covered in pork, half a boiled egg, a chicken ball and a handful of crispy fried wonton skin. Sugar, chilli flakes, ground peanuts and dried shrimp further enhance its flavour and brighten the dish.
If you're craving something soupy, get a bowl of Thai Beef Soup Noodle ($5.50/$7). The silky kway teow soaks up the beefy broth and the cubes of fatty beef taste like they're melting on your tongue.
Check out our full review of Gin Sen!
Address: 51 Old Airport Road, #01-65, Old Airport Road Food Centre, Singapore 390051
Opening hours: Mon-Thur 11am to 3pm, 5:30pm to 9pm, Fri 11am to 3pm, Sat 5:30pm to 9pm, Sun 9:30am to 5pm
Tel: 9750 8854
Website
Menu
---
Affordable Thai food all day every day
---
I could live off affordable Thai food forever. If like me, you're always craving for Thai food, give these places a visit. They won't disappoint, and while they might not all be the real deal, I have a strong feeling they cut it pretty close. For even more Thai food, check out Siamese Cat, a new Thai cafe which has taken over some Tuk Tuk Cha outlets, and sells matcha shibuya toast!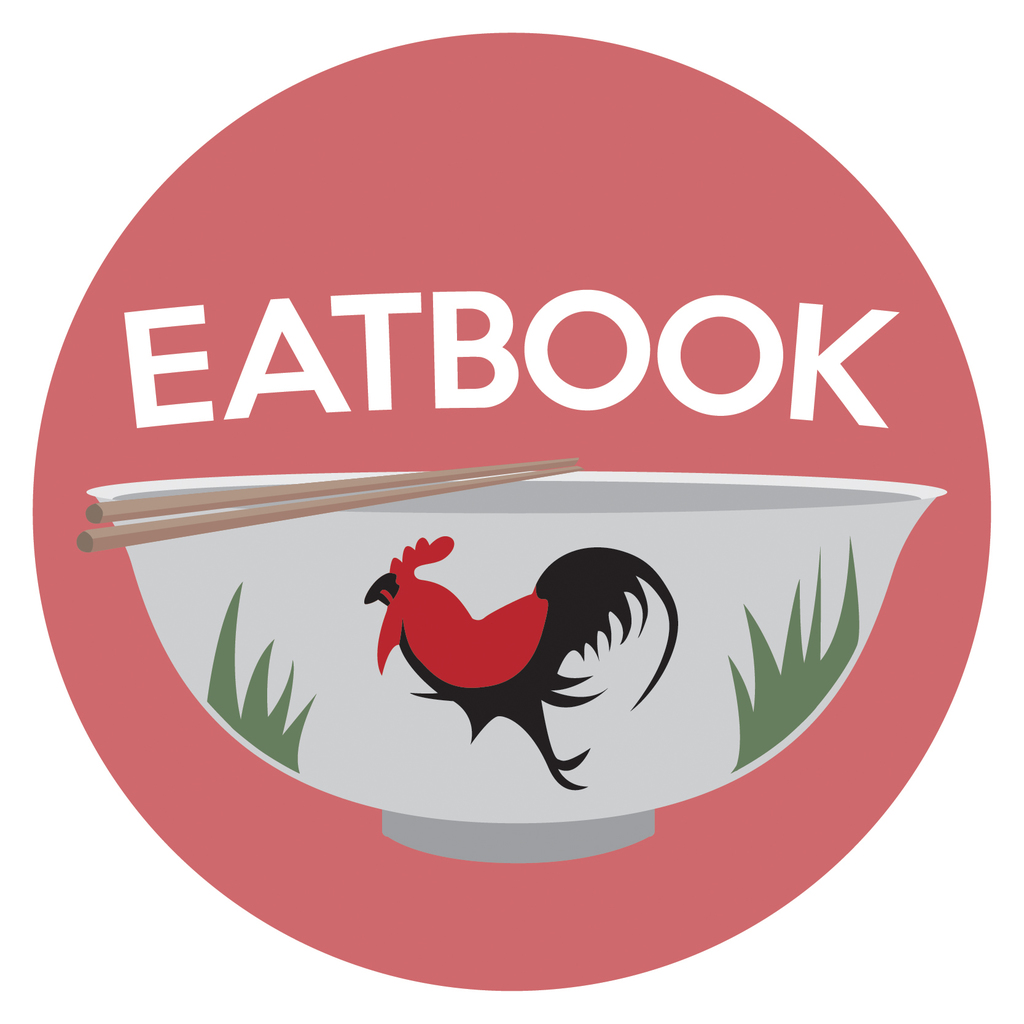 Drop us your email so you won't miss the latest news.