Oh My Mango presents a
roy mak mak
Thai desserts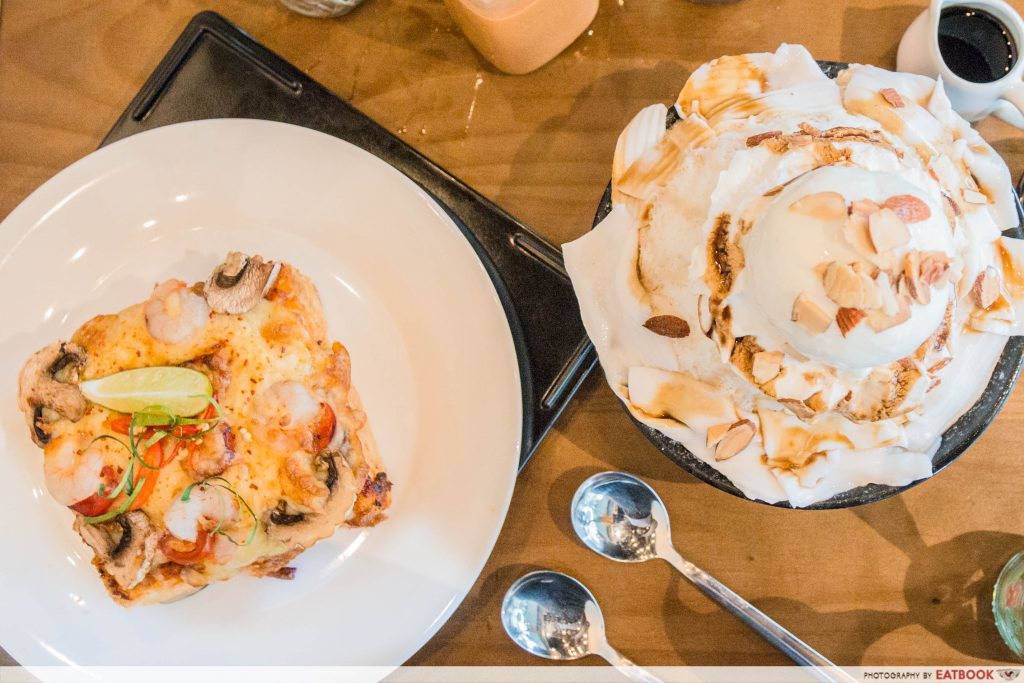 Having been to Bangkok for the first time last year, I fell in love with all things Thai, especially Thai desserts. I fondly remember strolling down the streets of BKK with my best friend, sharing our daily dose of Thai milk tea, eating Shibuya toast from the famous After You, and indulging in mango sticky rice after having tom yum goong for dinner.
Discovering Oh My Mango was purely accidental. I was casually looking through Instagram when I saw a photo of their tom yum toast. After a quick research, their menu with over 40 items sparked my interest – enough to entice me to pay them a visit.
Food at Oh My Mango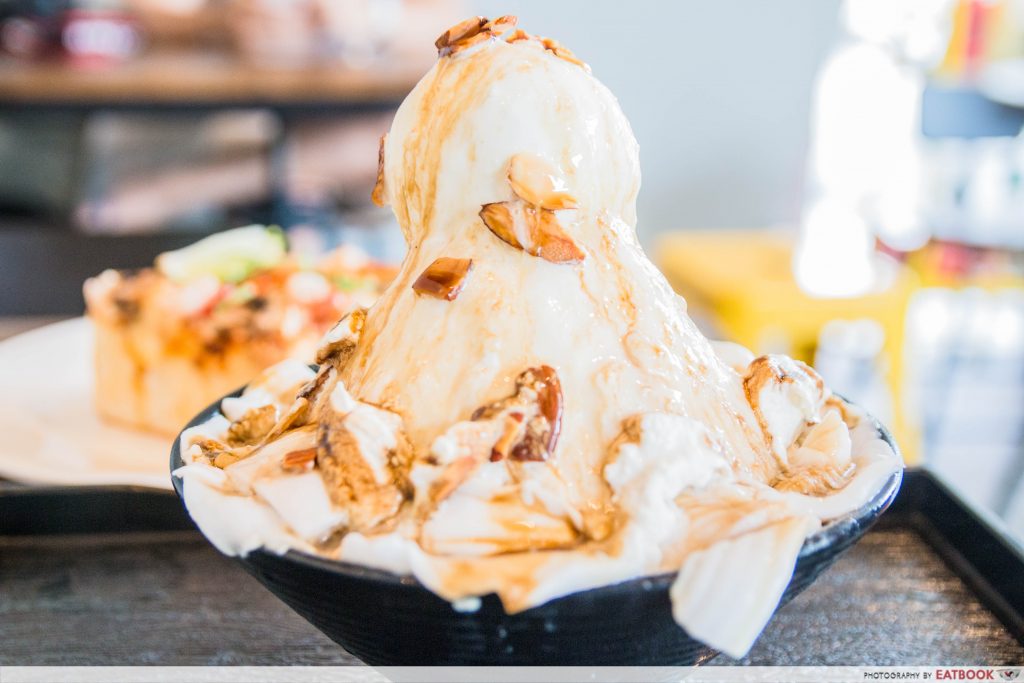 Being the huge gula melaka fan that I am, I had to give their Coconut Bingsu with Gula Melaka ($13.90) a try. Laced with tender coconut slices, the finely shaved ice was topped with a layer of cream, toasted almonds and a scoop of vanilla ice-cream.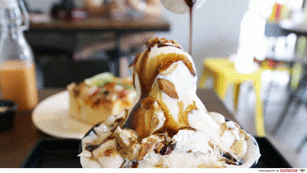 When I took my first bite, there was a tiny explosion of flavours and textures in my mouth. The crunchy toasted almonds and milky ice-cream, along with the soft ice shavings, brought the dessert to a whole new level. Ultimately, what tied this sweet treat together was the fragrant and caramel-like gula melaka. I was hooked on this dessert!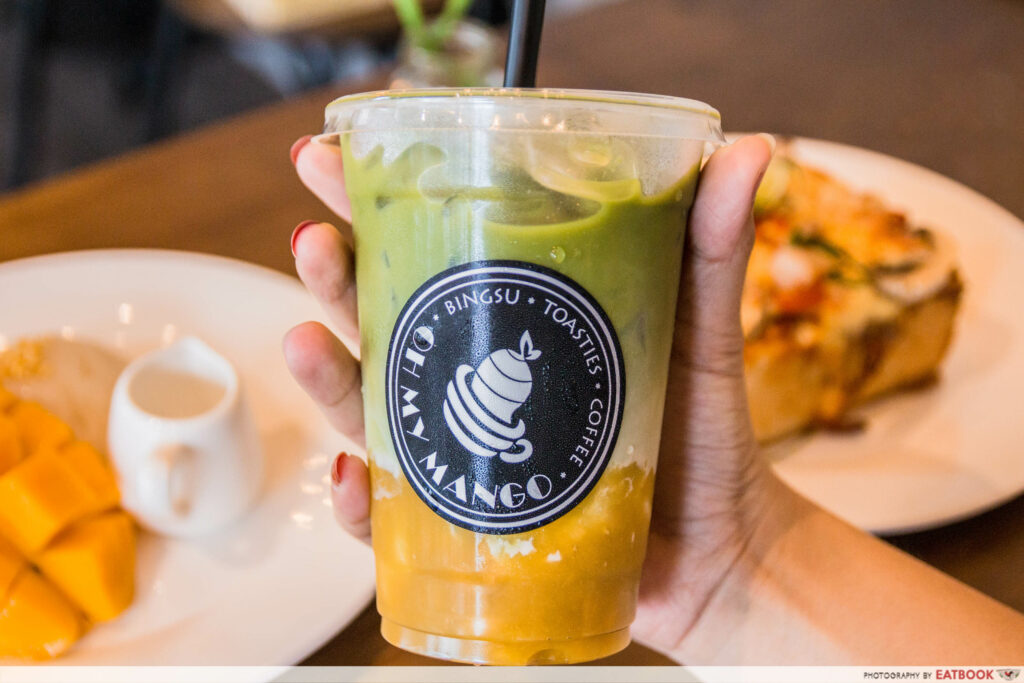 I may not be a fan of matcha, but I can understand why people would fall in love with their Matcha Mango Latte ($5.90). The unique drink came with three layers: mango plup, milk, followed by matcha on top. The vibrant colours sure made for a pretty photo!
Unsure about how this drink would work, I took my first sip with much skepticism and noticed a slight bitterness lingering at the back of my throat, coupled with a fruity sweetness from the mango.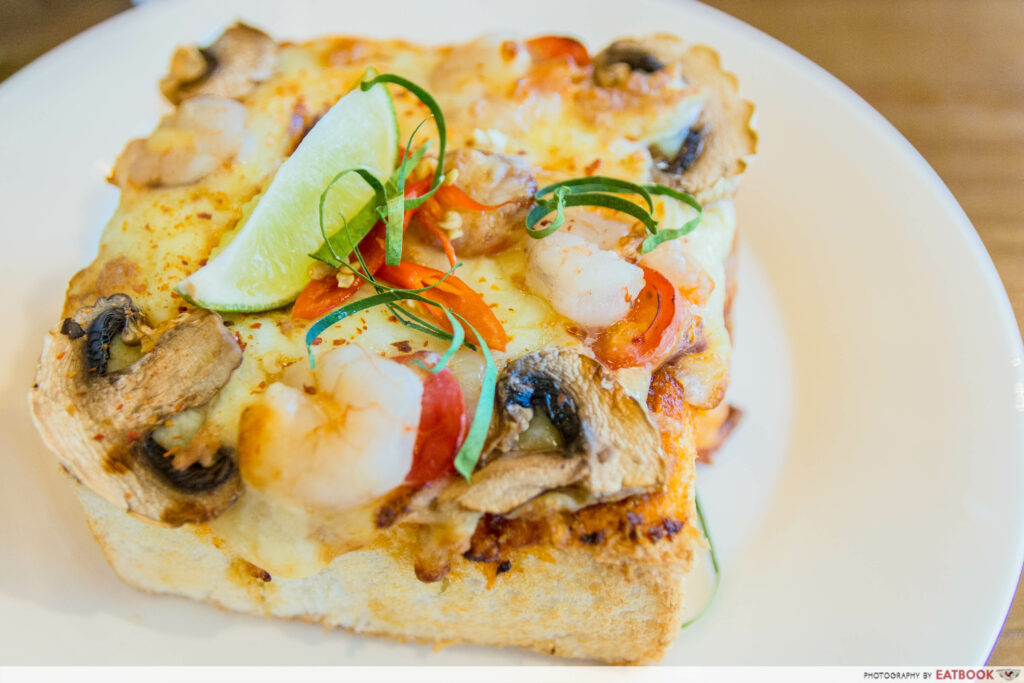 I've had too many disappointing tom yum dishes to expect much from their Tom Yum Goong Toast ($6.90), but I decided to order it anyway, as it was this interesting toast that first caught my eye. The thick toast was layered with mozzarella, spicy tom yum paste, mushrooms, and prawns. Decorated with some chilli powder, lemongrass and a slice of lime, it looked really appetising.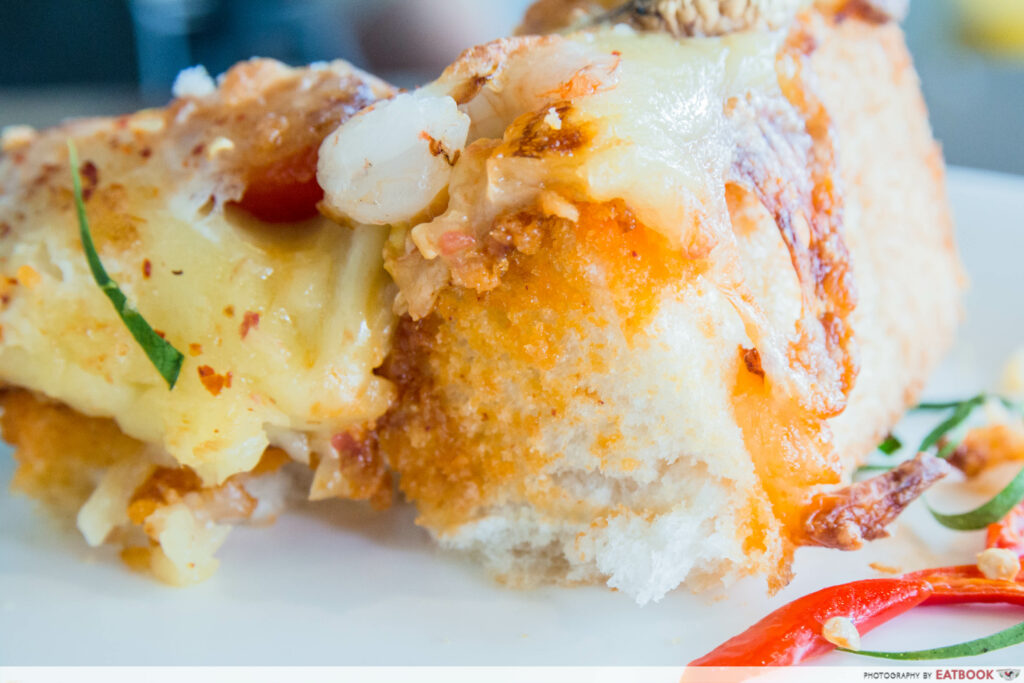 The strong taste of lemongrass was overwhelming at first, but it subsequently got blurred out by the fiery tom yum paste and zesty lime. Biting into the crispy exterior revealed soft and fluffy insides that were stained by the tom yum paste; the once white interior of the bread glowed red. While the dish was interesting, it was missing a certain oomph.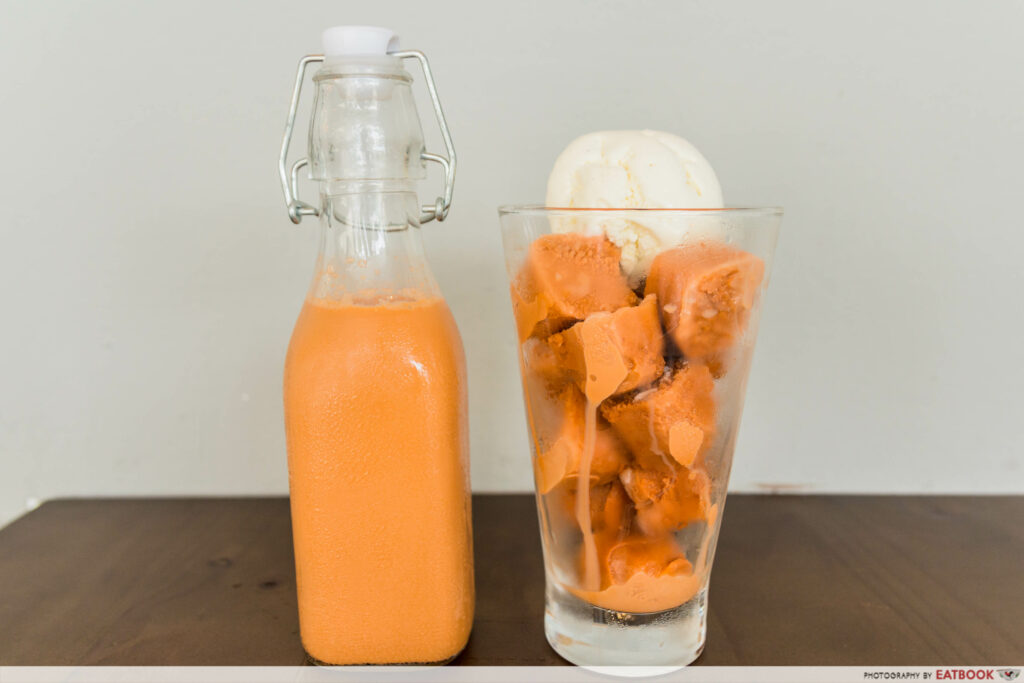 I couldn't leave Oh My Mango without getting their Thai Milk Tea Cube Set ($6.90). I have high expectations for Thai milk tea after my time in Bangkok, and Oh My Mango's Thai milk tea was indeed comparable to the many cups I had there.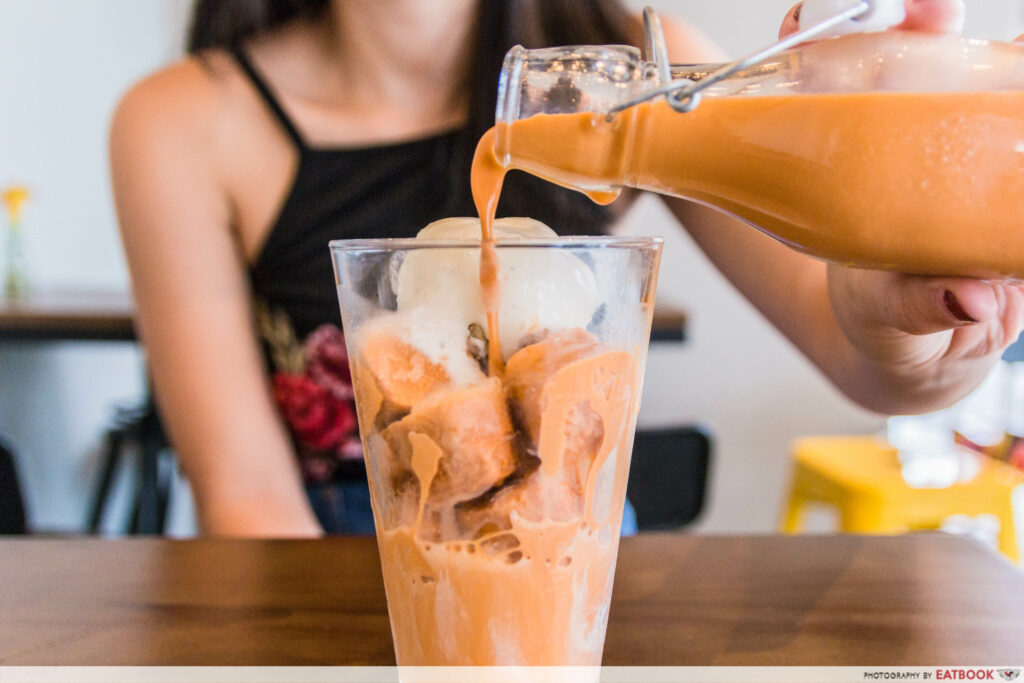 It was satisfying just watching the Thai milk tea ice cubes and vanilla ice-cream melt into one. The tea's flavour was strong, but not overpowering. This is one of the better ones in Singapore, as it didn't make my mouth siap siap like many teas do. It was, however, slightly too milky for my liking.
Ambience at Oh My Mango

Opened late last year, this dessert cafe is nestled in Gek Poh Shopping Centre at Jurong West. Separated into two sections, orders are taken on the right, while seats are situated on the left. There are also a couple of tables outdoors if you'd like some cool breeze.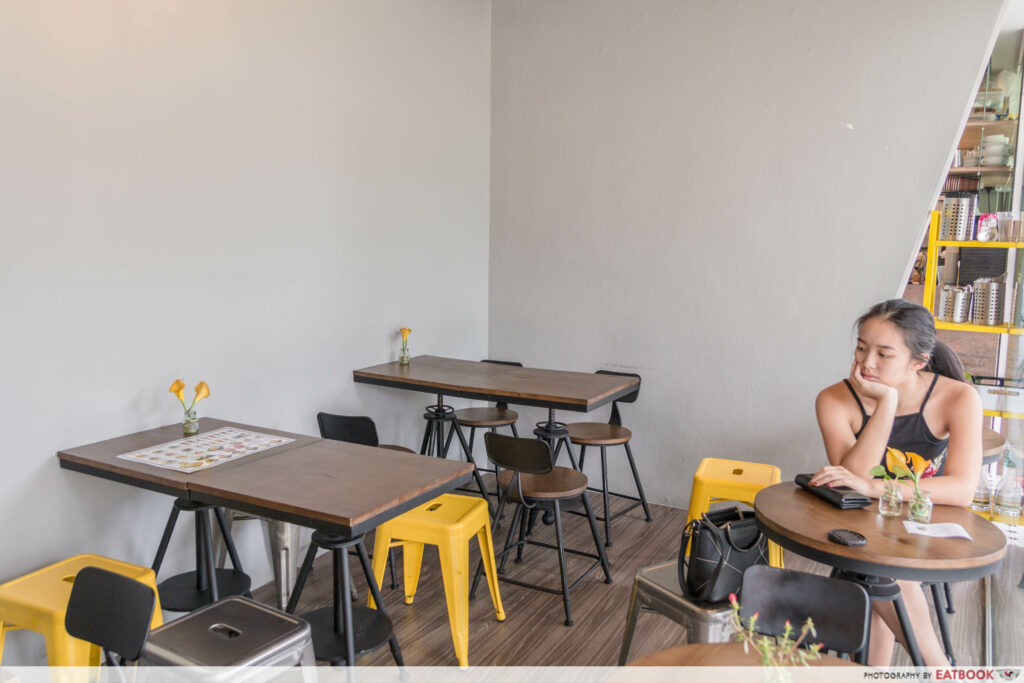 The simple contrast of dark wooden tables and cheery yellow stools makes this place a rather cosy one – ideal for get-togethers with friends! What made the entire experience at this cafe even better was the friendly service. Only cash is accepted, so remember to drop by an ATM before heading over.
The verdict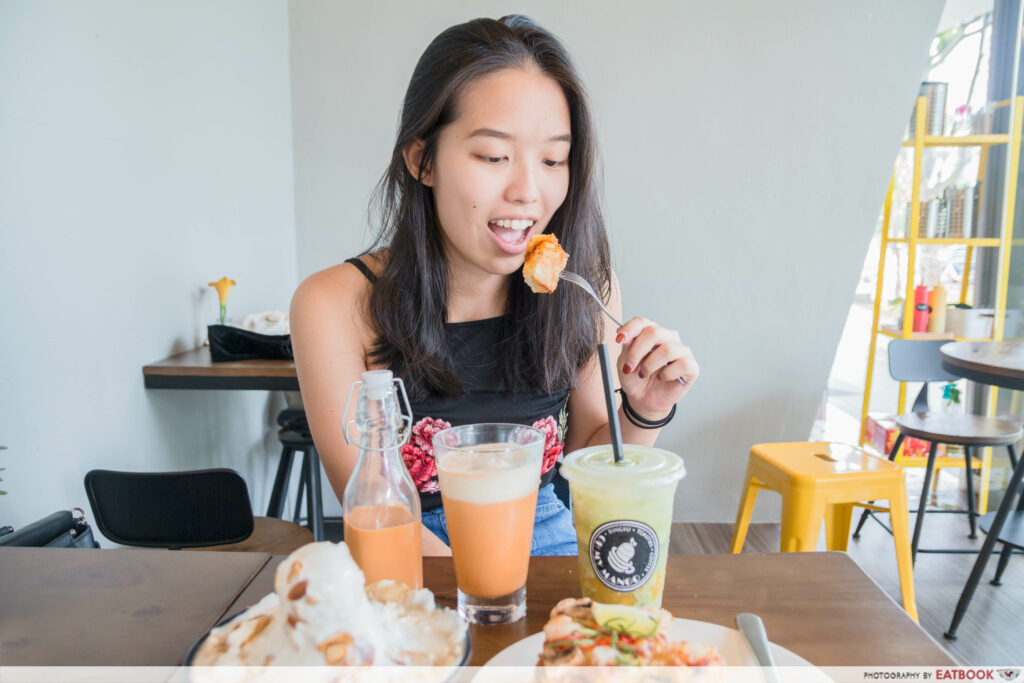 While their desserts were mostly a hit, I don't see myself travelling so far down for it; I will only visit if I am in the neighbourhood. But if you are willing to travel for some really creative and tasty desserts or live around Jurong West, I'll say you won't be disappointed by Oh My Mango. With over 40 products on their menu including sweet and savoury Shibuya toasts, Instagrammable desserts as well as traditional Thai desserts, you'll be spoiled for choice!
For more things Thai, check out these halal Thai food spots  serving affordable mookata and more! Alternatively, check out Jurong West Hawker Centre while you're in the area.
Address: 762 Jurong West Street 75, #01-334, Gek Poh Shopping Centre, Singapore 3640762
Opening hours: Daily 11am to 10pm
Tel: 9066 0426
Website
This is an independent review by Eatbook.sg.
Summary
Pros
– Friendly owners
– Interesting dishes
– Drinks and desserts are made with fresh fruits
Cons
– Limited seats
– Some dishes are pricey
– Only accepts cash
Recommended Dishes: Coconut with Gula Melaka ($13.90) and Matcha Mango Latte ($5.90)
Operating Hours:
Daily 11am to 10pm
Address: 762 Jurong West Street 75, #01-334, Gek Poh Shopping Centre, Singapore 3640762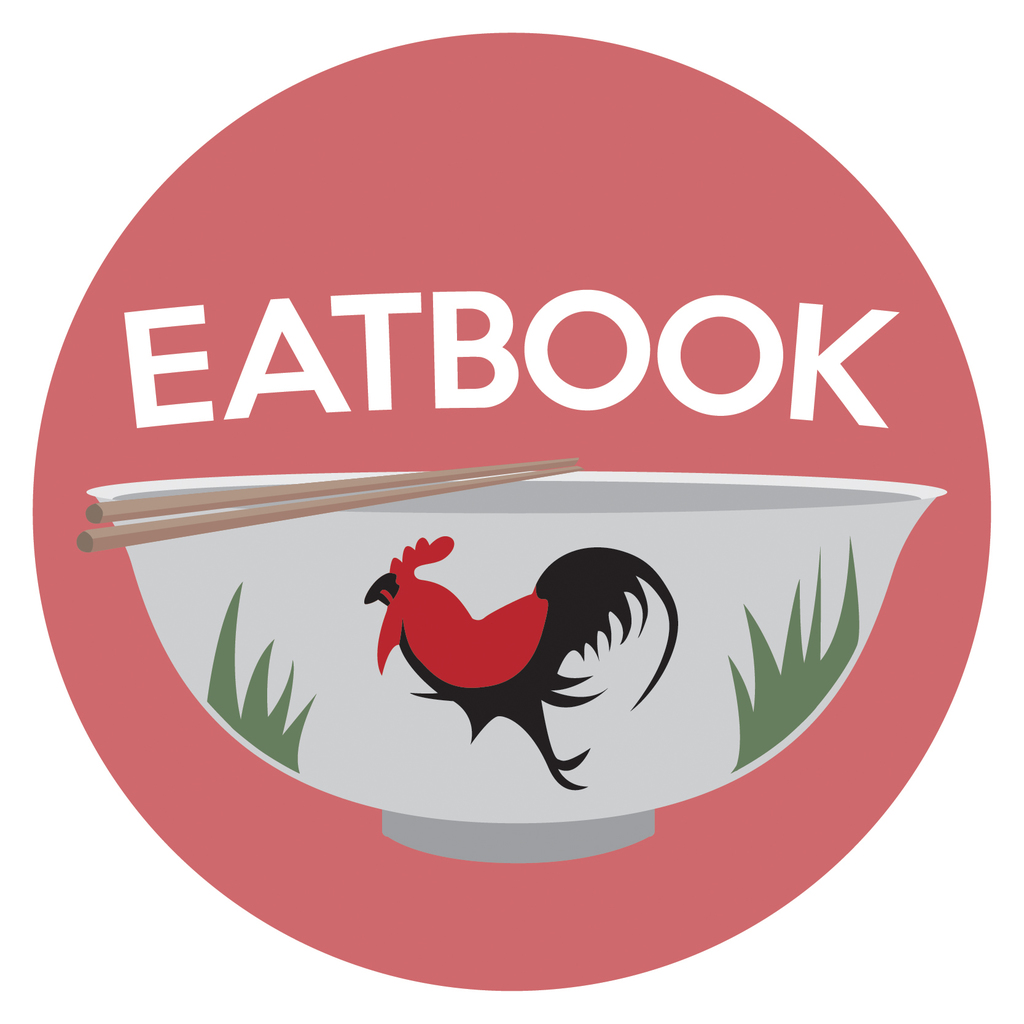 Drop us your email so you won't miss the latest news.