---
Jurong West Hawker Centre has value meals at $2.80
---
Hooray to us Westies for the new Jurong West Hawker Centre! We've got one more makan place to jio our kakis to when they ask, "Jurong got what?" The second storey of the new hawker centre-cum-market houses over 30 cooked food stalls, including halal zi char and modern vegetarian cuisine. Each one sells two value meals at $2.80 with the rest at regular prices to ensure meals are affordable for residents. This is also Koufu's first centre with smart technology like self-payment kiosks and smart tray-return machines. We saw some unique dishes and heard aunties raving about others, so we headed down to check it out for ourselves.
---
1. Enyyah Enak

---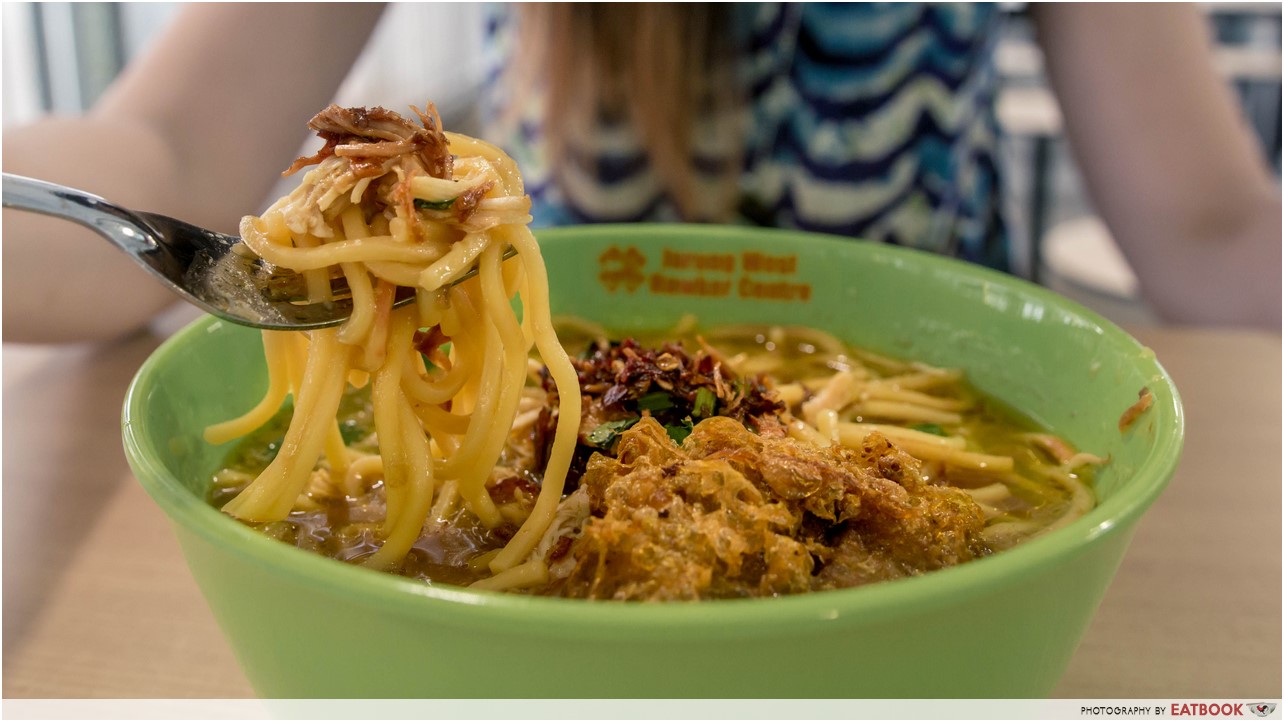 Promoting hawker culture is the way to go and Farah Damri is one of the six hawkerpreneurs here who are receiving subsidies to help ease them into the trade. She runs Enyyah Enak, which is named after her daughters, Hui En and Rui En, with her mother as the main cook. Their Mee Rebus ($2.80) value meal has been selling so well that it already sold out when we arrived, but their Mee Soto ($3) had me licking my lips.
A deliciously seasoned begedil topped off yellow noodles that I savoured with an appetising soup. Shreds of chicken, chilli, bean sprouts, and fried shallots mixed in enhanced its taste and added a variety of textures. This was a dish that was light on the palate and easy to finish.
Unit number: #02-15
Opening hours: Fri-Wed 7:30am to 8pm
Enyyah Enak is a Muslim-owned stall.
---
2. Tenderfish Mee
---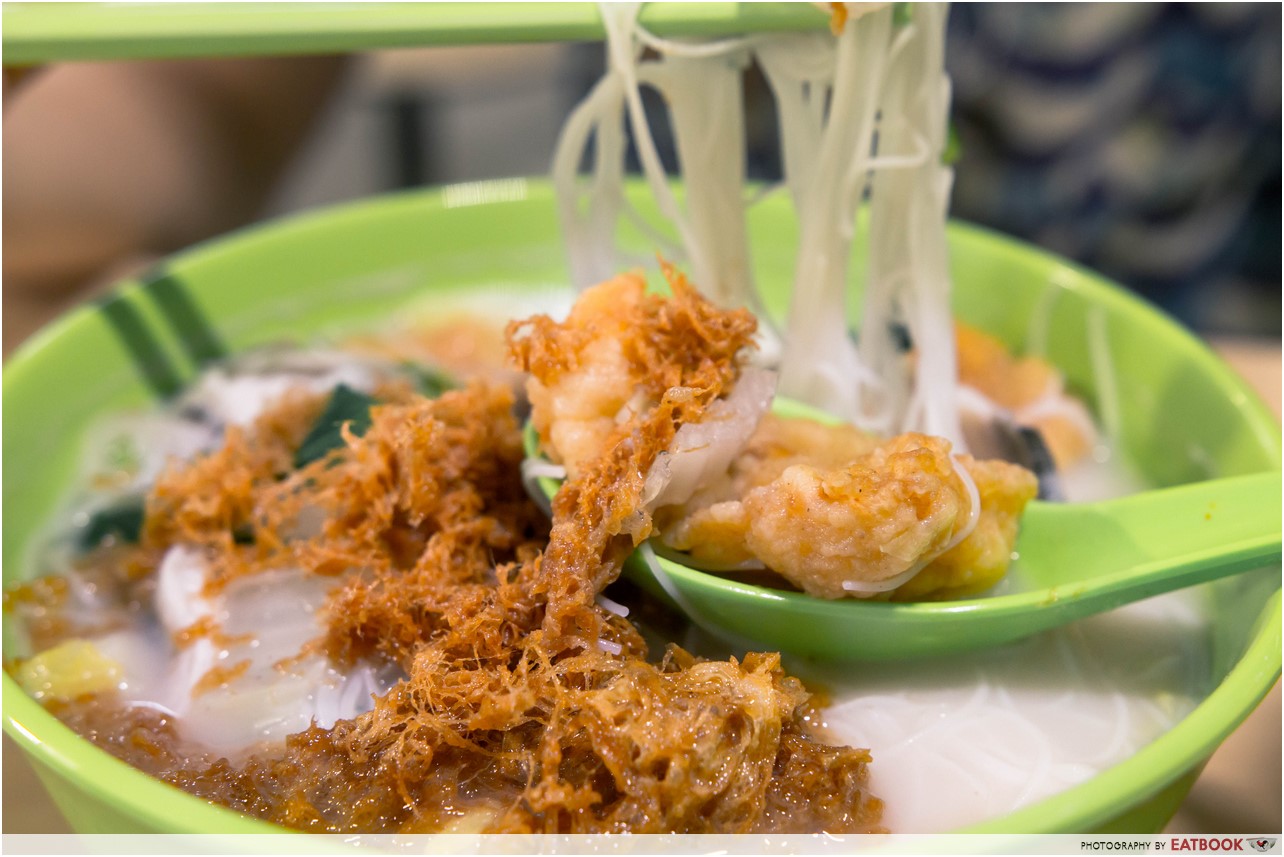 My favourite fish soup in town has a special place in my list of comfort food, but Tenderfish Mee works as a convenient go-to for me. I asked for extra egg floss and milk with Double Fish Soup ($5) and thin beehoon (additional $0.50). The fish slices had a savoury flavour that came through even when fried in batter, and the boiled slices were soft but didn't fall apart. They went well with the broth that had a faint flavour of fish and the fragrant egg floss deepened it with a satisfying flavour. The amount of noodles was so generous that it filled at least half the bowl!
Unit number: #02-22
Opening hours: Daily 7am to 10pm
Tenderfish Mee uses no pork and no lard.
---
3. Mama's Kitchen
---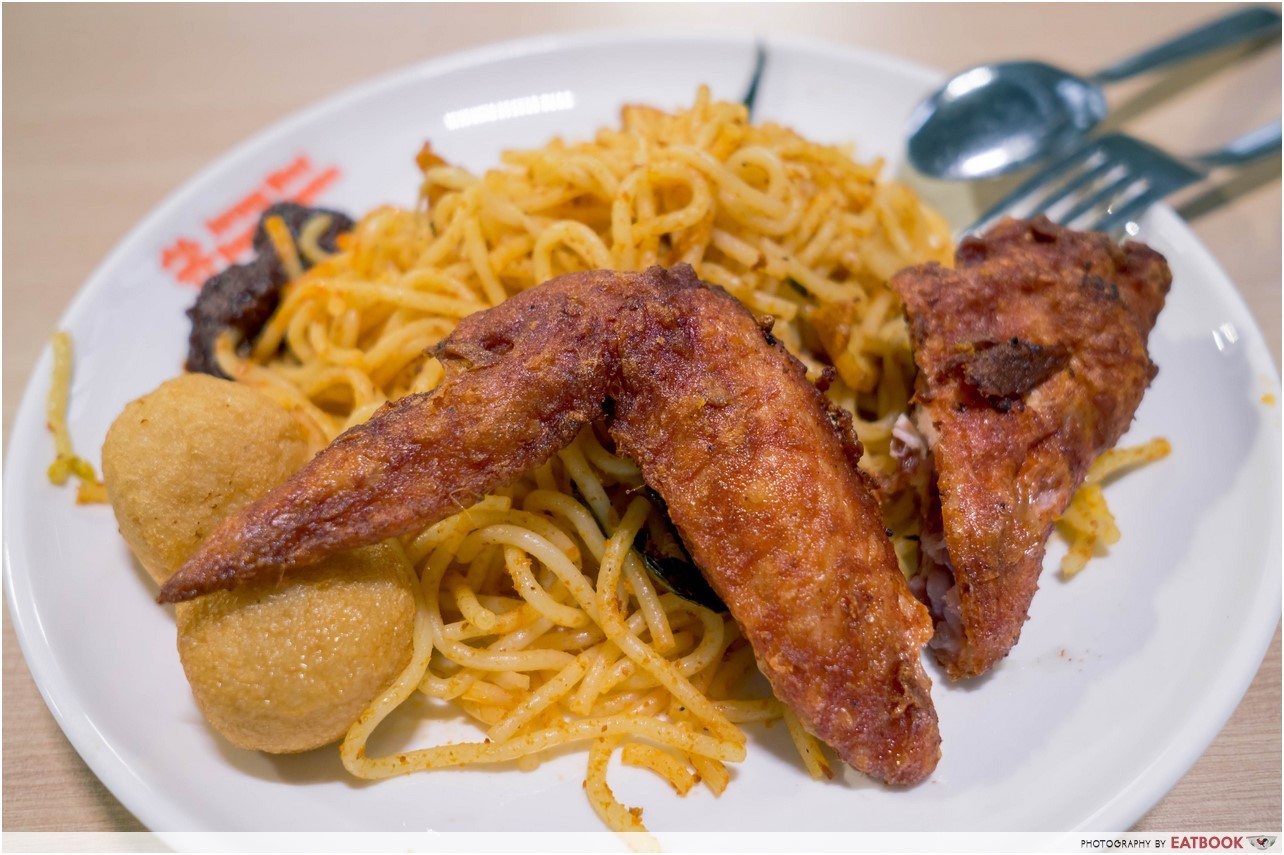 The sound of dry laksa piqued my curiosity so I had to check out Mama's Kitchen. I was lucky to catch them when they were open because the hawkerpreneurs who run this stall were still adjusting to the tough demands of the trade and closed for two days. Mama's recommendation is Shiok Dry Laksa ($3.50) which has two fish balls and one Fantastic Chicken Wing ($1.50 per piece). Pairing thick beehoon with the chilli paste they served on the side was what left an impression. The savoury chilli deepened the light laksa flavour of the noodles and quickly picked up to a burn. Shreds of tau pok and slices of fish cake were mixed into the slightly chewy noodles that didn't clump together. The freshly fried wing was crispy and salty while the fried fish balls were a nice addition.
Unit number: #02-34
Opening hours: Tue-Sun 11am to 8pm
Mama's KItchen is not a halal stall.
---
4. Good Luck Fishball Noodle
---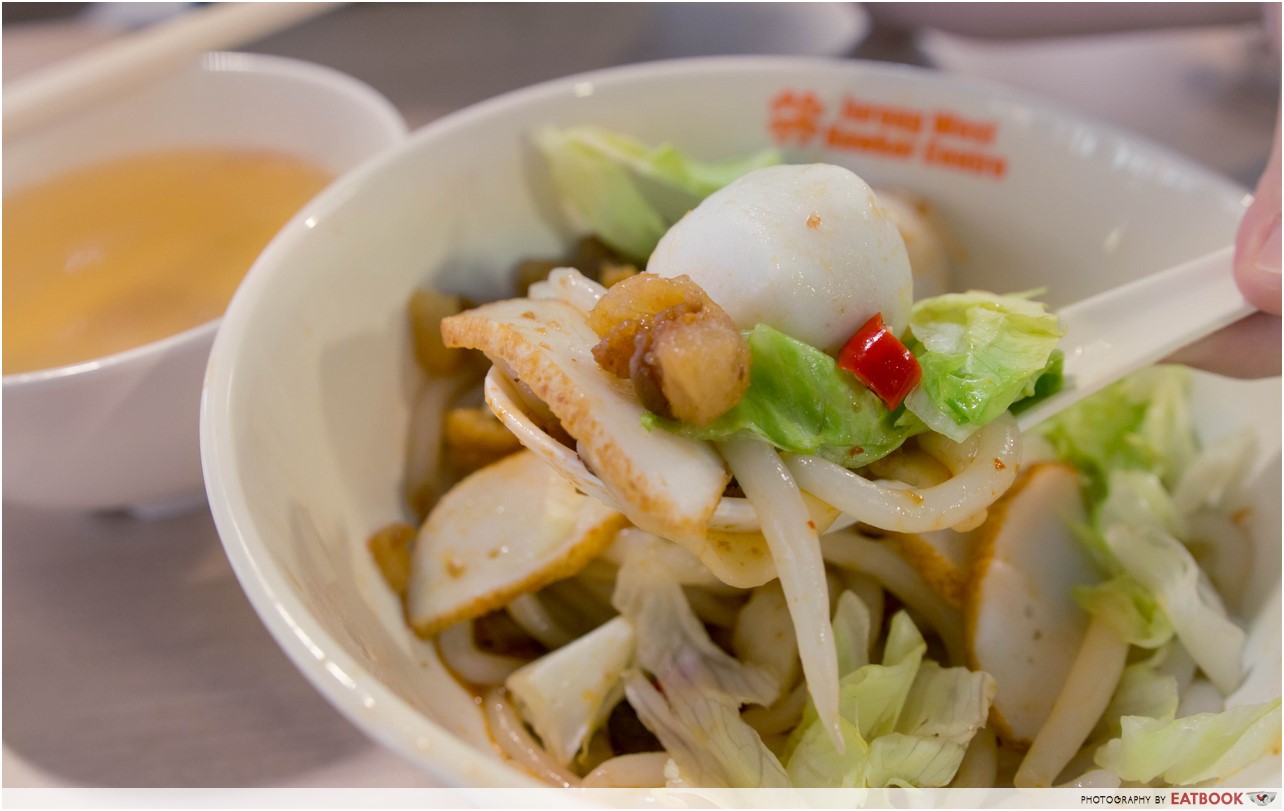 Although I dreaded fish ball noodles as a kid, I finished this bowl from Good Luck Fishball Noodle clean. My dry order of their Fish Ball Mee Tai Mak ($2.80) value meal came with two fish balls, fish cake slices, lettuce, and was garnished with fried shallots. The side of soup was savoury with some fish flavour and wasn't salty. I tucked into soft and chewy noodles laced with sharp flavours of their spicy sauce mix and bit into soft fish balls. The best part had to be the chunks of crunchy pork lard I happily helped myself to at their counter. If you feel like having something heavier, they also sell Mushroom Minced Pork Noodle ($3.50), Pork Ribs Noodle ($3.50) and Laksa ($3.50).
Unit number: #02-33
Opening hours: Daily 7am to 6pm
Good Luck Fishball Noodle is not a halal stall.
---
5. Mini Wok

---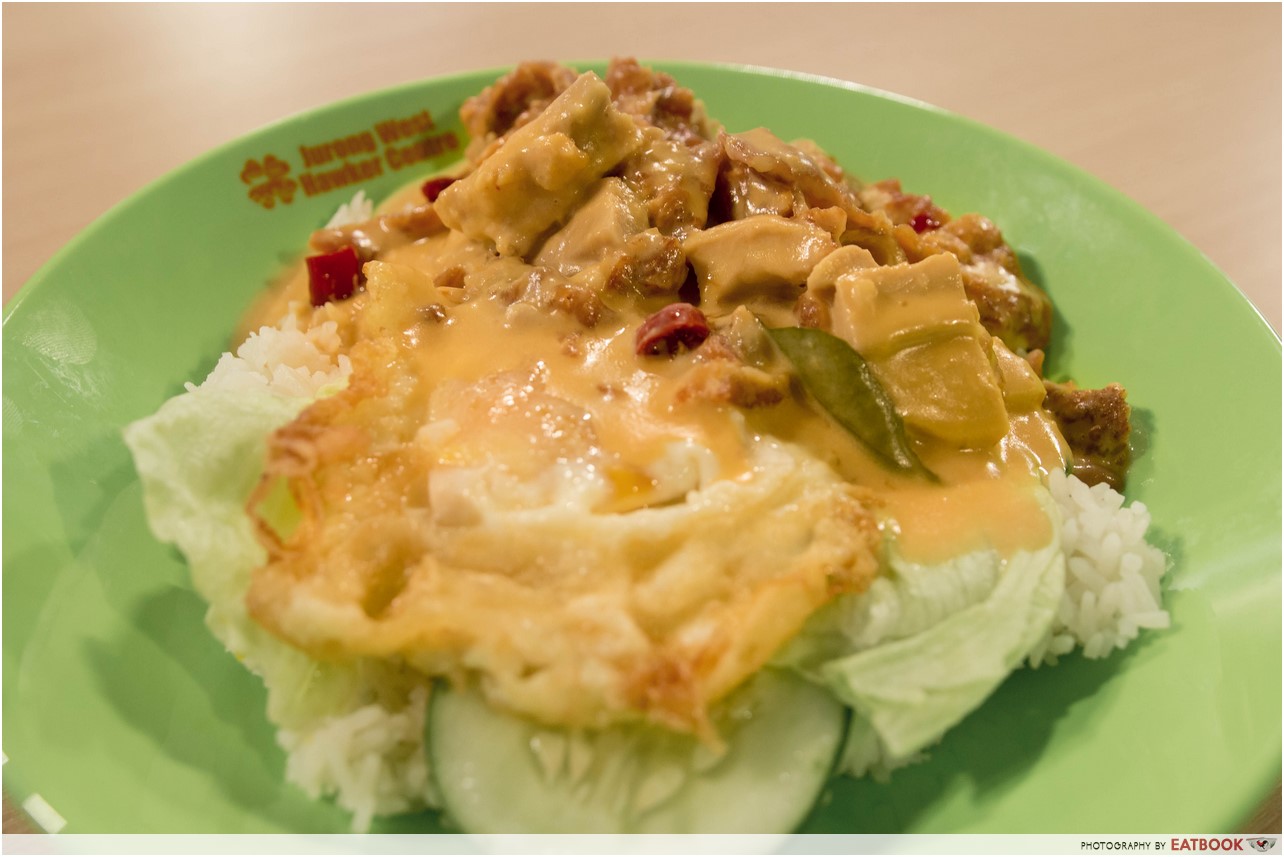 Shout "salted egg" with anything and you've got me listening. I silently cheered for Mini Wok because Salted Egg Chicken/Fish Rice ($6) is their recommendation. The dish was fragrant from the creamy yellow sauce that was ladled over chunks of chicken, a sunny side up, lettuce, and crunchy cucumber slices. I garnished it with chilli padi for some heat and tucked into savoury spoonfuls of tender meat with delicious chicken skin still on it. The generous amount of smooth sauce was not strongly flavoured but still tasted of salted egg yolk, reminding me of zi char gravy. For the same price, try their Crab Meat Fried Rice ($6) or Cereal Prawn/Chicken/Fish Rice ($6) and add $1 to change from white rice to fried rice.
Unit number: #02-23
Opening hours: Daily 10am to 9:30pm
Mini Wok uses no pork and no lard.
---
6. Jia Le Yong Tau Fu
---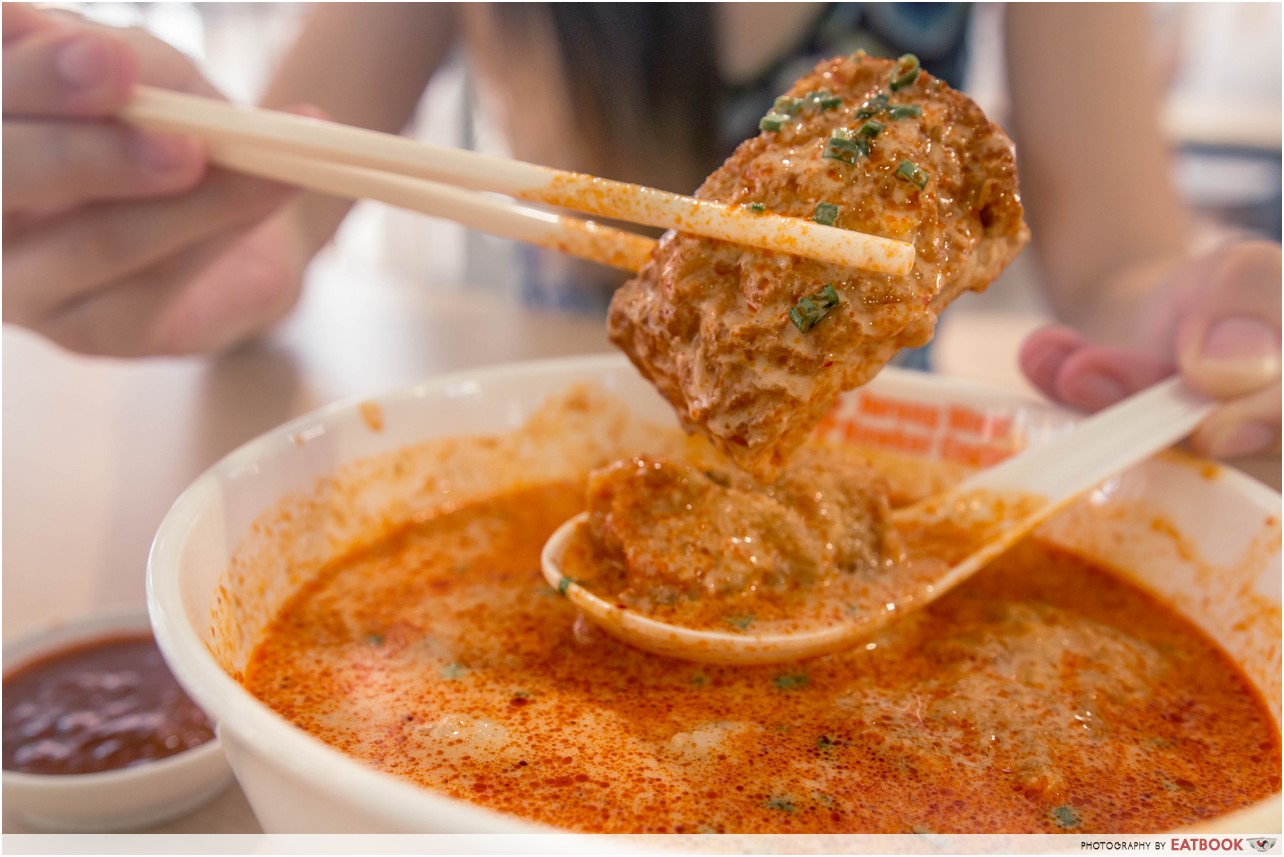 Jia Le Yong Tau Fu was started two years ago by an ex-banker, and it sells freshly handmade fried yong tau fu. Their Curry Yong Tau Fu ($4) tasted like laksa gravy with strong notes of coconut milk and had ingredients like tau pok and meat balls. Their fish paste stuffing was tasty with some fish flavour but I'm sure I would have enjoyed this even more if the yong tau fu was deep-fried till crispy. If you want a go at all their ingredients, get their signature Happiness Bowl ($5) which comes with clear soup.
Read more about young hawkers like the owner of Jia Le Yong Tau Fu!
Unit number: #02-42
Opening hours: Daily 10am to 10pm
Jia Le Yong Tau Fu is not a halal stall.
---
7. Warong Kim's Goreng Delights
---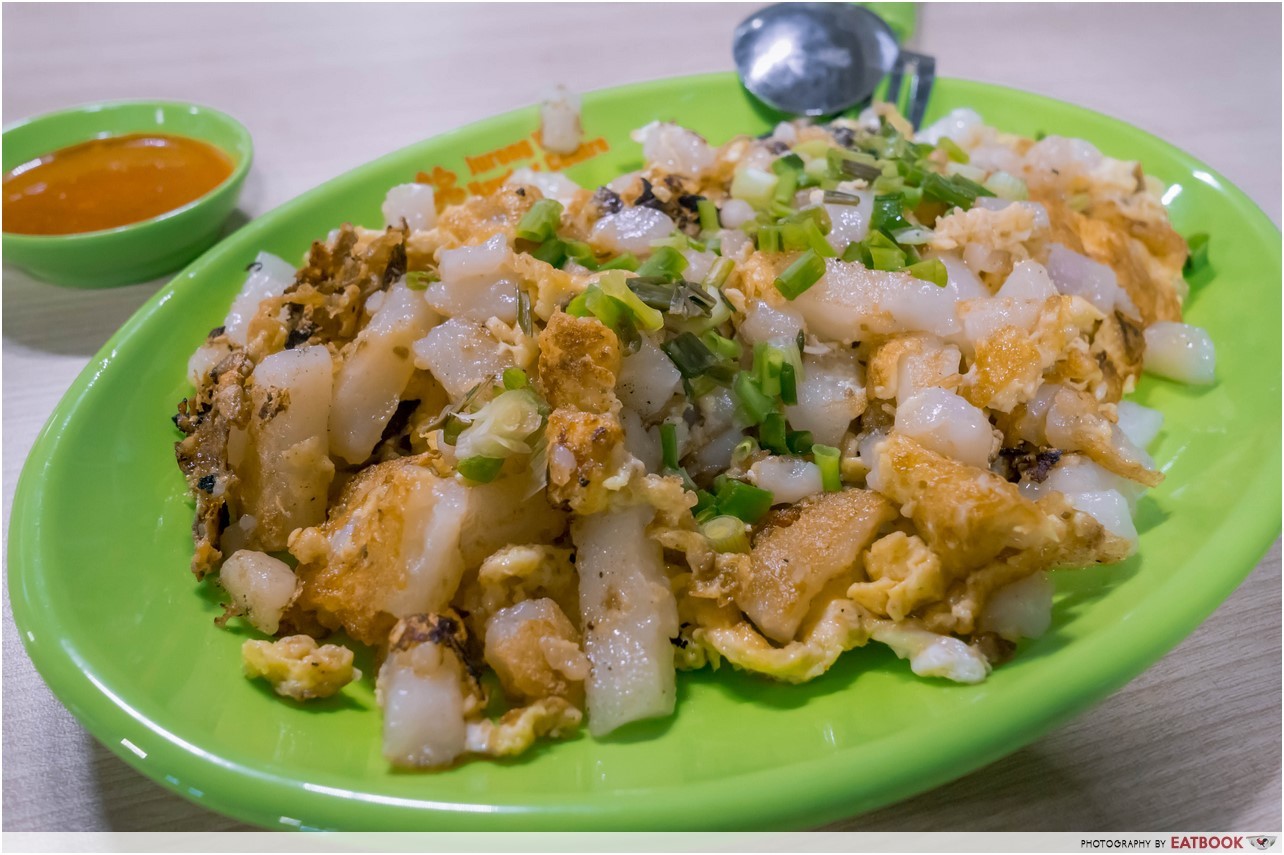 When I was a kid, I usually asked for chai tow kway (fried carrot cake) whenever my mum bought takeaway for dinner. I couldn't stray from Warong Kim when I saw their black and white carrot cake as one of their value meals, and my small order of Fried White Carrot Cake ($2.80/$4.50) looked enough for a filling meal. It came with chunks of fried egg that were a little too dry but had crispy edges which I liked. The radish cakes were cooked till soft and had some charred bits that added flavour. Chilli and spring onions improved the taste of this dish which didn't feel too greasy.
Unit number: #02-19
Opening hours: Daily 10am to 10pm
Warong Kim's Goreng Delights is a Muslim-owned stall.
---
8. June Kee Noodle House

---
Another cheap and filling value meal is Traditional Lor Mee ($2.80/$3.80) from June Kee Noodle House. The thick zhup (gravy) wasn't too starchy but I found it lacking in flavour and helped myself to good amount of their chilli paste, garlic, and black vinegar at their counter. It came with half a braised egg, thin fish cake slices, and a few pieces of fried fish. Order their large bowl if you'd like more ingredients, but there's also Prawn Noodle ($2.80/$3.80) at the same price if you prefer something soupy.
Unit number: #02-36
Opening hours: Thur-Tue 6.30am to 5pm
June Kee Noodle House is not a halal stall.
---
9. Dong Dong Food Express
---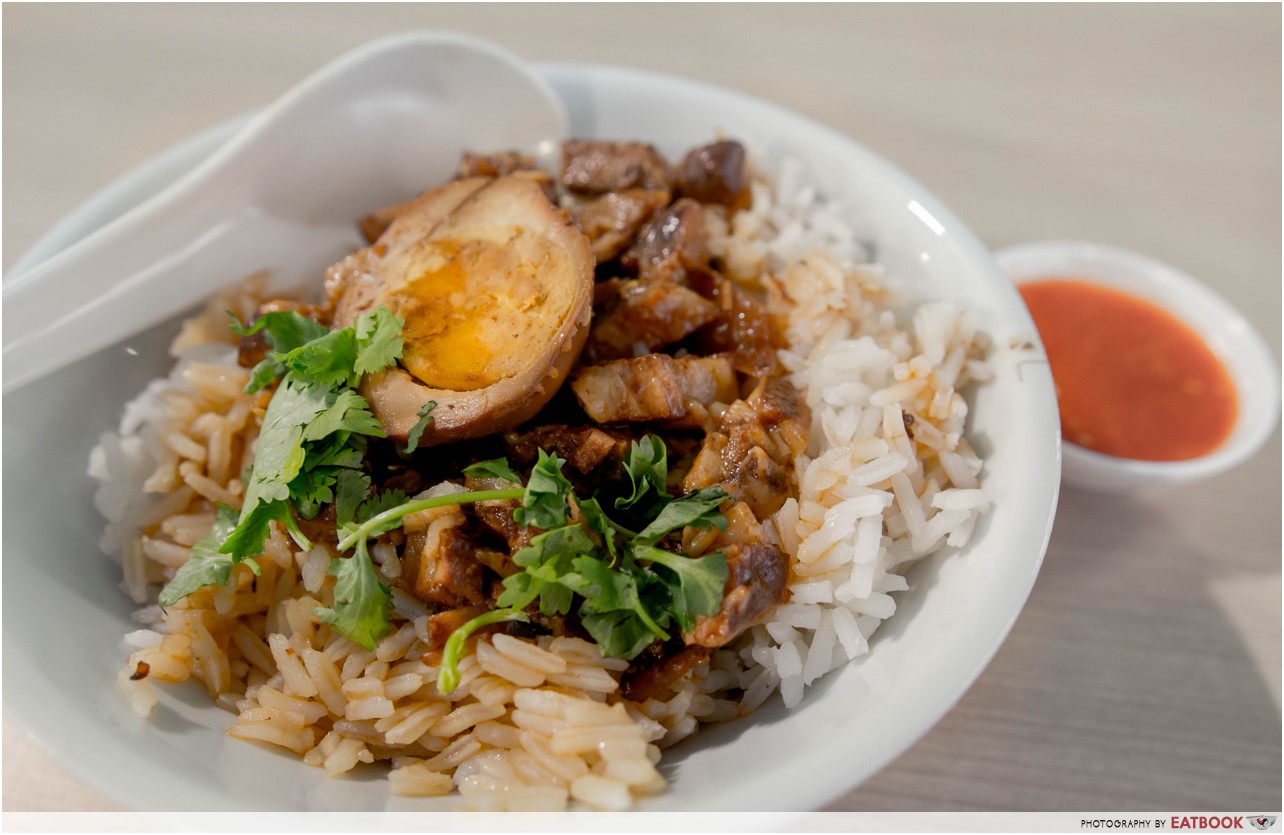 This is the fourth outlet by Dong Dong Food Express which sells claypot dishes like Claypot Fragrant Rice with Smoked Duck ($5/$8/$10) and Herbal Bak Kut Teh ($4.50) that can be ordered with shabu shabu pork belly. Stewed Pork Rice ($2.80) is one of their value meals, and it is Taiwanese-style lu rou fan (braised pork rice) with half a braised egg, chopped tau pok, and pork belly. The pork had chewy meat and a good amount of fats that were so soft they seemed like jelly. The distinct grains of rice were moist and flavoured with thin braising sauce that I wished tasted more savoury.
Unit number: #02-41
Opening hours: Daily 10am to 9:30pm
Tel: 9858 0913
Website
Dong Dong Food Express is not a halal stall.
---
10. Royal Rojak
---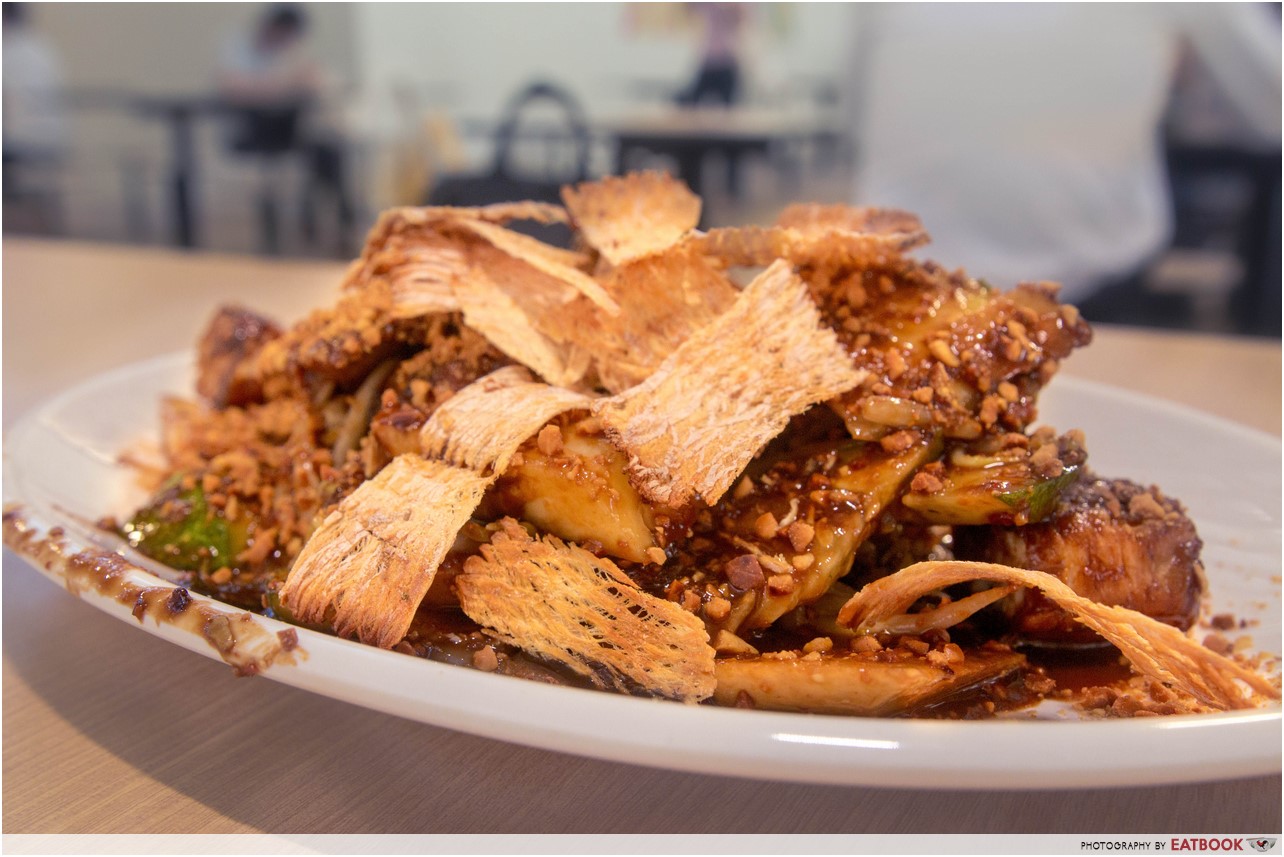 Signature's Rojak ($5/$6/$7) looked like a must-try at Royal Rojak, as it had dried cuttlefish, dried cod fish, pineapple, green apple, bean sprouts, cucumber, turnip, toasted you tiao (dough fritters) and tau pok. We waited in queue as they toasted some ingredients till they charred and I appreciated that they tried to serve it hot and crispy. Unfortunately, the salad didn't taste as fragrant as I hoped and the you tiao was too dense and hard. The fruits were juicy though and the rojak paste wasn't overwhelmingly sweet. If you're looking for some popiah instead, they also sell two pieces of that at $2.80.
Unit number: #02-26
Opening hours: Daily 11am to 9pm
Royal Rojak is not a halal stall.
---
To the West of the West!
---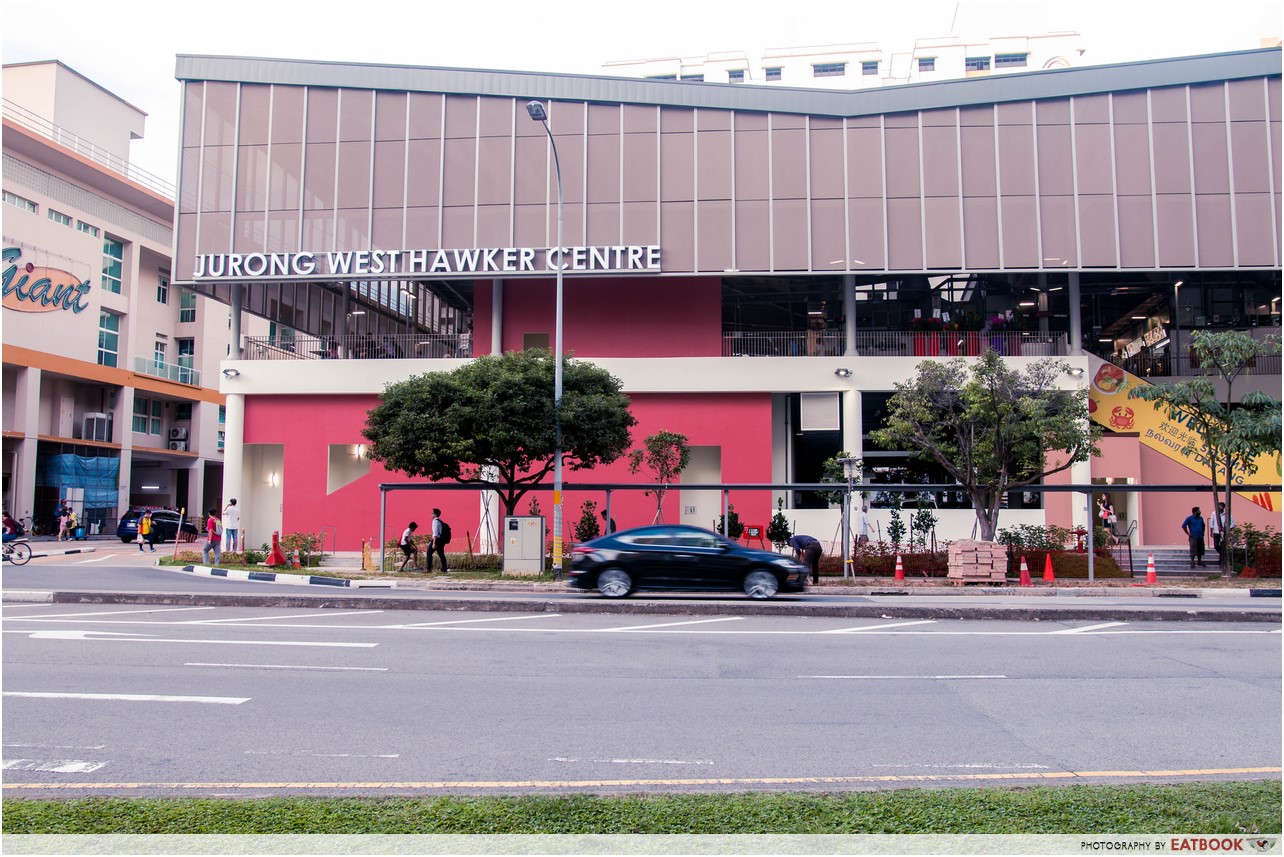 This new hawker centre is essentially in the far far part of Jurong West. As the hawkers are still adjusting to demand, some of them may finish selling earlier and adjust their opening hours. What really stood out to me more than anything was the people. Most of the hawkers were cheery and even the young hawkerpreneurs who were physically overwhelmed had bright smiles. While some dishes tasted average to me, older uncles and aunties would walk back to the stall to say "hao chi (delicious)!" with a firm thumbs up. Despite many stalls being underprepared for business, the supportive environment was rather heartwarming.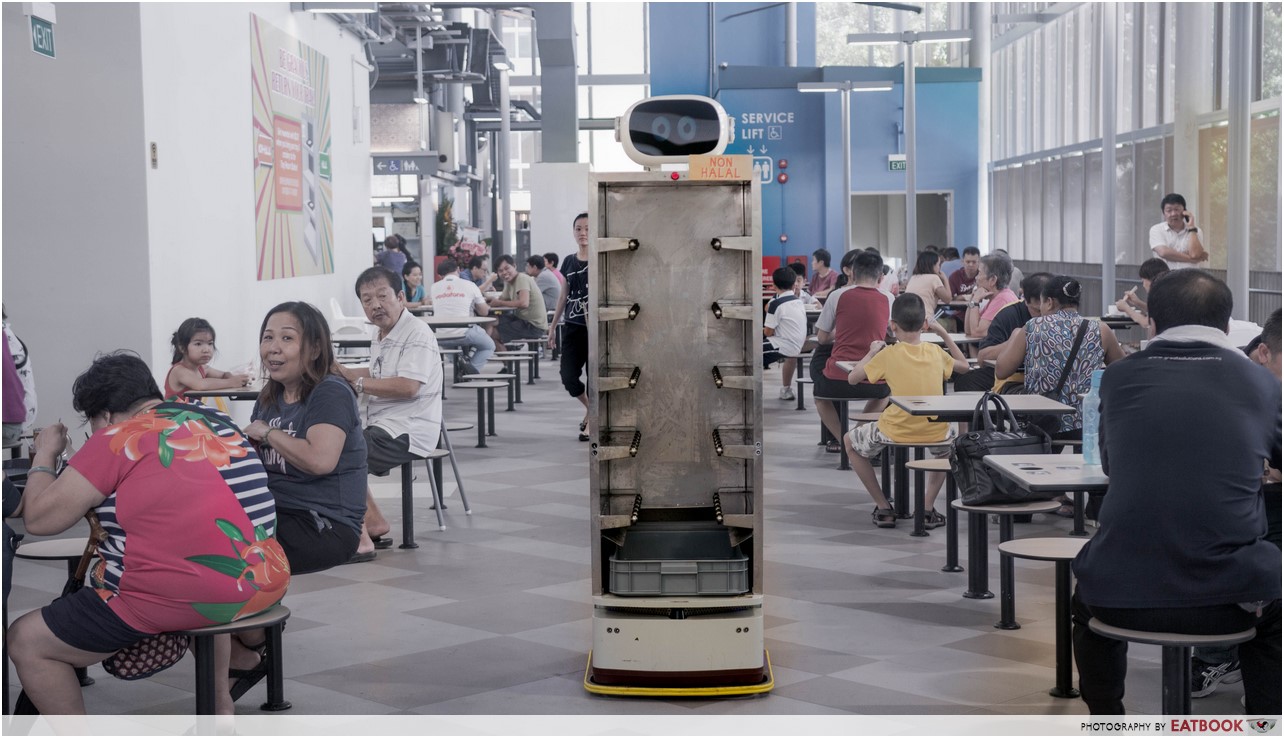 Changes are bound to take place as we transit into a smart nation to cope with problems like manpower constraints. Some people I spoke to were glad to be able to help the less-privileged and thought it'd be easy for children from the primary schools nearby to buy lunch with their EZ-Link cards. Instead of lamenting on how to get used to cashless payment systems, I was happy to see many hawkers patiently demonstrate and explain to their customers how to use the machines. Tray-collecting robots that reminded me of Eva from "Wally" circled the hawker centre and drew some curious looks, and if you return your tray to the automated stations, you'd earn back $0.20.
Address: 50 Jurong West Street 61, Singapore 648202
Nearest MRT Station: Pioneer