---
Affordable mookata places around Singapore
---
For those who love both steamboat and Korean BBQ, mookata can give you the best of both worlds. This Thai barbecue steamboat arrived in Singapore a few years back, and it's still going strong among us foodies. One thing though, this meat feast can get taxing on the wallet, so we've found 12 affordable mookata places that'll hit the spot for $16++ or less. Don't forget to wear something light so the heat from the grill doesn't bother you! 
---
1. 888 Mookata

---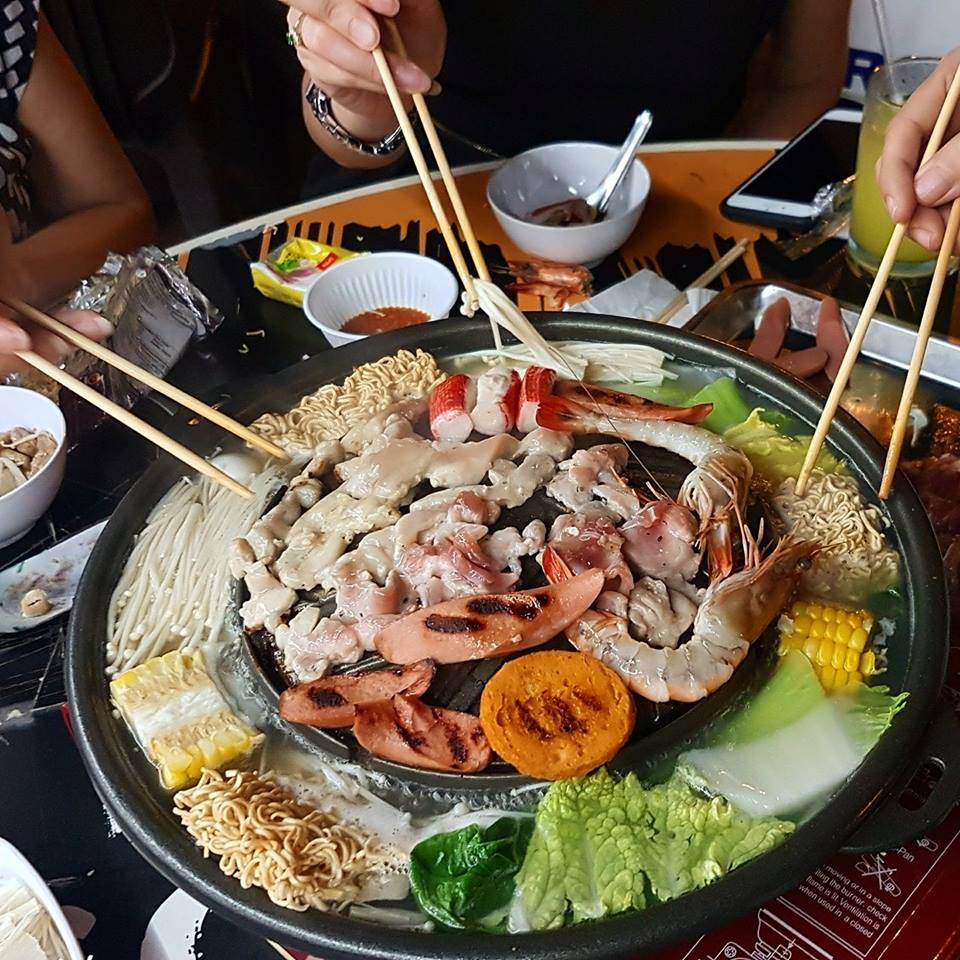 Image credit: 888 Mookata
With late opening hours, 888 Mookata makes a great supper spot. Opened by artistes Chew Chor Meng and Dennis Chew, the affordable mookata sets here will set you back around $12 to $13 per person. Their Platter for 2 ($26) includes mussels, half-shell scallops, marinated chicken thigh and pork collar, and prawns. If you're coming in a bigger group, opt for their Platter for 4 ($45). They don't accept reservations, so head down early to get good seats.
Website | Full list of outlets
---
2. Thai Hao Chi Mookata  
---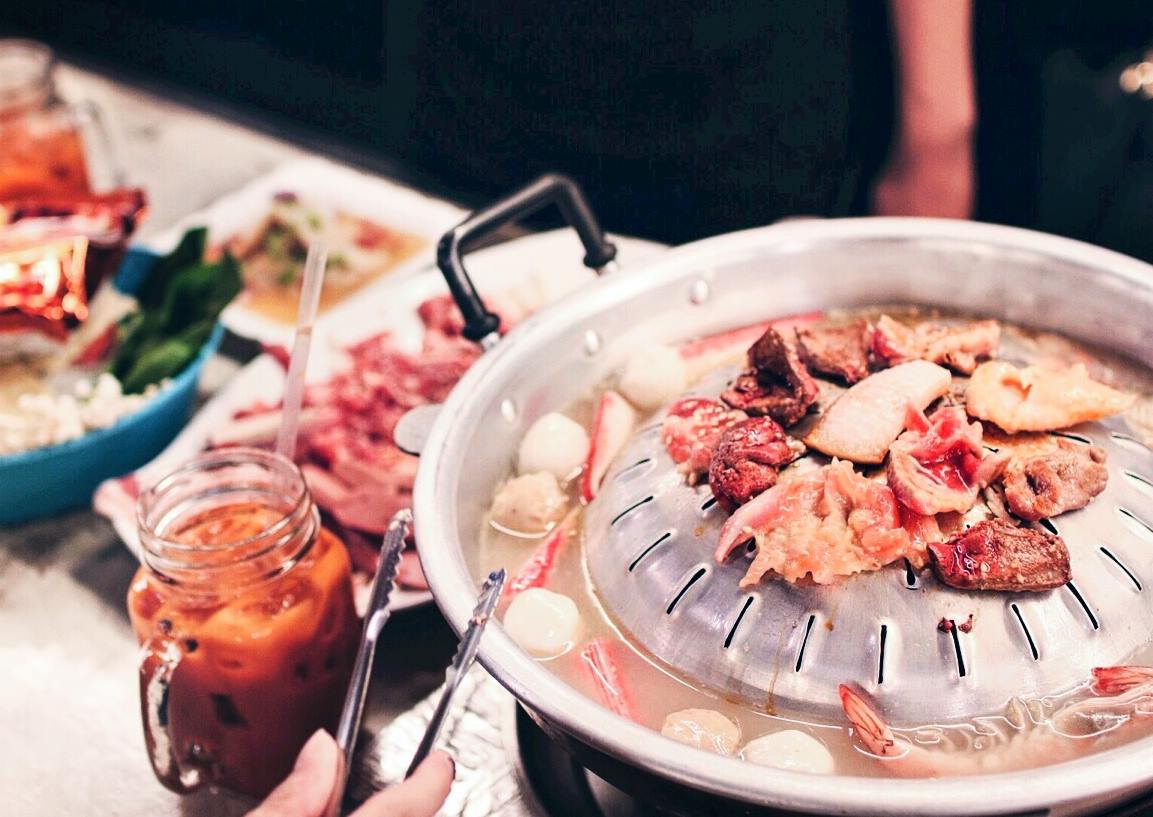 Image credit: Thai Hao Chi Mookata
What differentiates Thai Hao Chi Mookata from usual affordable mookata joints is that instead of gas stoves, smokeless charcoal stoves are used to cook the meats. This gives your meats a smoky fragrance, making them extra delicious. Additionally, their chicken stock is made by boiling whole chickens sans MSG, so you can slurp up without a worry. For a group of three, their Yum Mak Mak Set ($39.90 for two diners) can sufficiently satisfy with a range of meats, seafood, veggies, and tom yum maggi mee.
Address: 908 Upper Thomson Road, Singapore 787111
Opening hours: Daily 5:30pm to 11pm
Tel: 8553 5581
Website
---
3. Happy Pot
---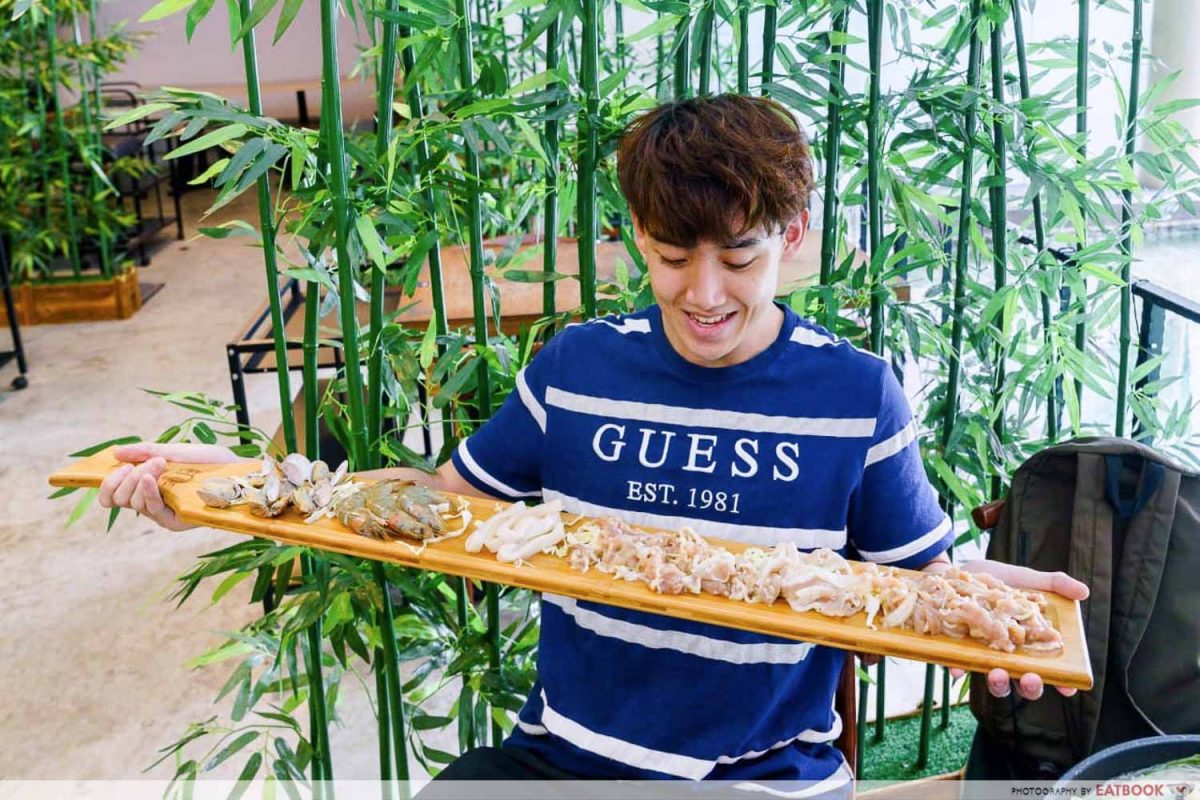 Happy Pot offers 100cm long mookata platters for just $29.90+, of which feeds two to three. The platter gets you an array of things to cook on the sizzling hot grill, such as marinated chicken, pork belly, prawns, clam, and sotong. There's also a side platter which includes veggies, eggs, mushrooms, and much more. On top of the ingredient selection, Happy Pot also offers a tonkotsu-style broth as an option to enjoy your mookata with too.
Read our Happy Pot review!
Address: 31 Ah Hood Road, #01-06, HometeamNS-JOM Balestier, Singapore 329979
Opening hours: Daily 4pm to 10pm
Tel: 8857 4136
Website
Happy Pot Review: 100cm Mookata Platter For $29.90+ In Balestier
---
4. Bangkok Street Mookata
---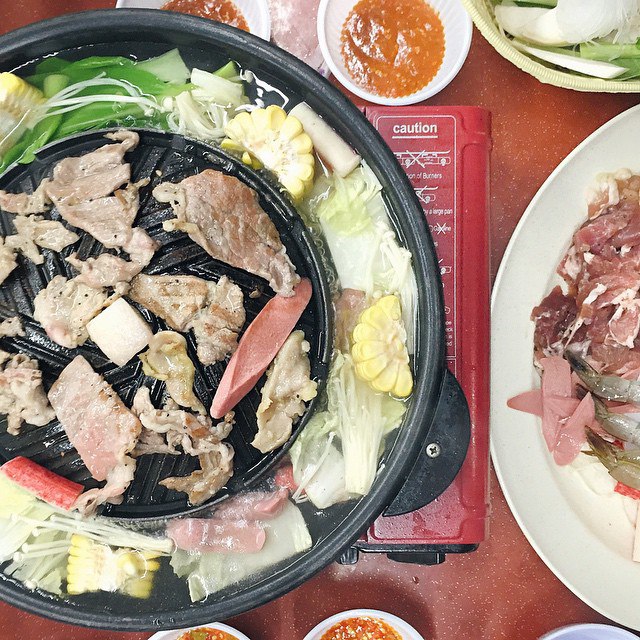 Image credit: @perryong
With eight outlets islandwide, Bangkok Street Mookata makes a convenient go-to stall whenever the mookata cravings hit. Just like most on this list, they have platters for groups of two or four, and an a la carte menu with prices ranging from $0.50 to $3.90. Their Platter for 2 ($22) includes marinated chicken thigh, marinated pork collar, and seafood items such as scallops and shishamo. Make it a party of four to get the more value-for-money Platter for 4 ($39), which includes pork liver and marinated pork belly slices.
Website | Full list of outlets
---
5. Y Cube Mookata

---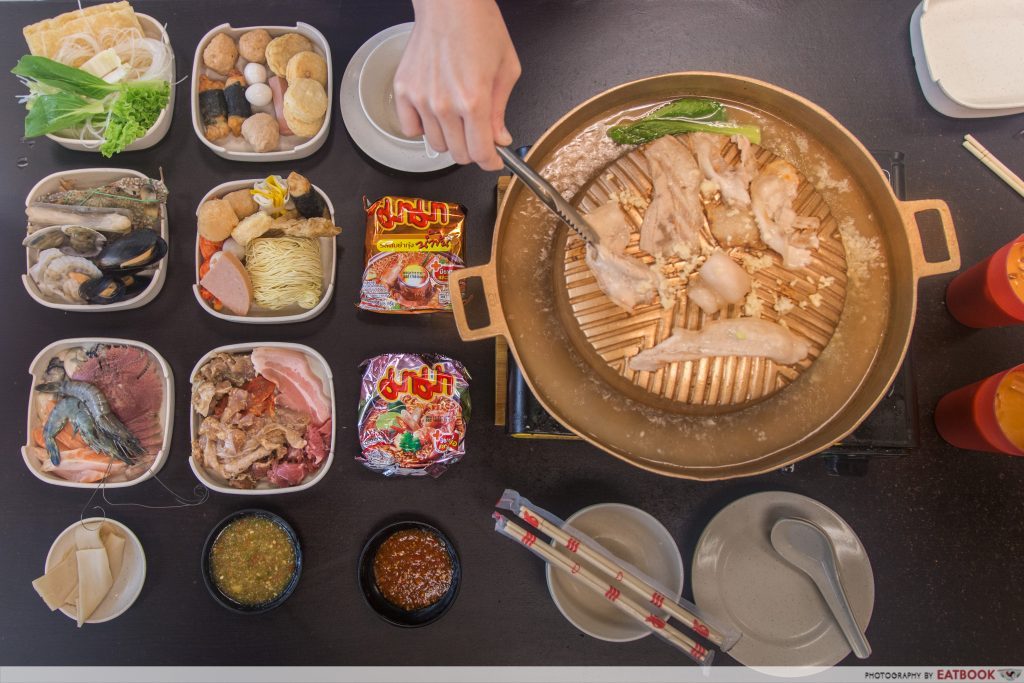 Situated at "Little Thailand" of Singapore, Y Cube Mookata is famed for its affordable mookata buffet. Priced at $29.90+ on weekdays and an additional $3+ for weekends, the buffet is extremely value for money as it features a wide range of fresh seafood and marinated meat. Walk into the restaurant and you will be greeted by a bed of ice repleted with crabs, crayfish and de-shelled oysters!
Read our full review of Y Cube Mookata here! 
Address: 5001 Beach Road, #02-45 Golden Mile Complex, 199588
Opening hours: Daily 12pm to 6am
Tel: 9159 9152
Website
---
6. Chice: The Original Chickata 
---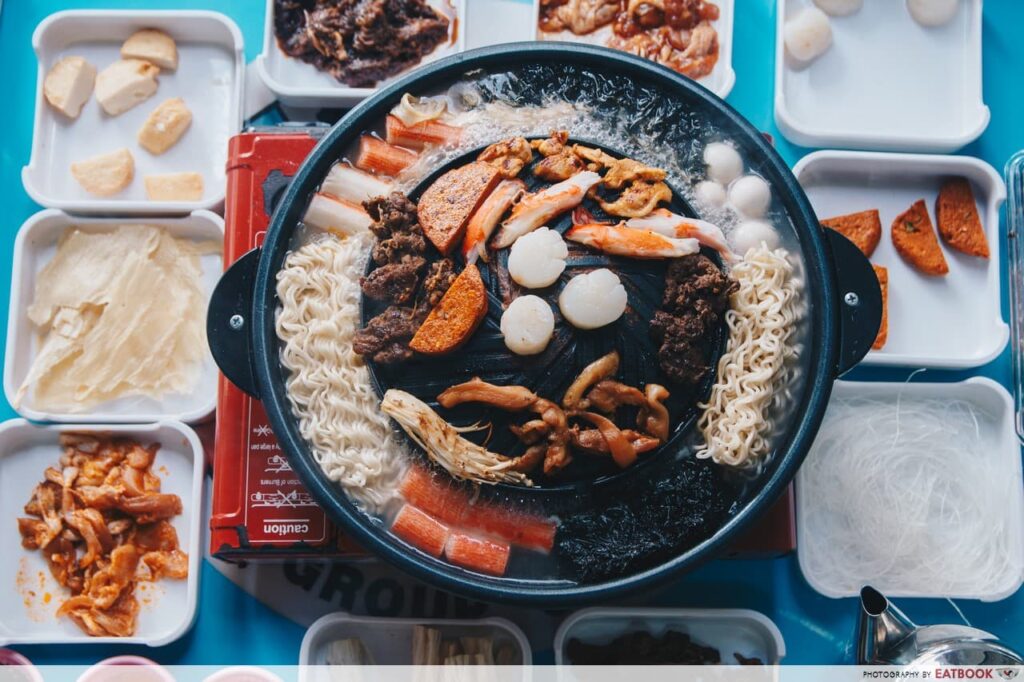 Chice: The Original Chickata is a halal-certified mookata buffet at Jurong East, which comes with ingredients such as meats, seafood, veggies, and other mookata staples. Prices start from $19.90 for the 90-minute buffet, and you even get free-flow soft drinks to quench your thirst! If you're not a big eater and only want the best cuts to grill up, then order the tom yum chicken and black pepper lamb! The former is spicy and sour, with a nice juicy texture. There's also smoked duck on the menu, but it gets sold out fast.
Check out our full review of Chickata!
Address: 2 Venture Drive, Vision Exchange, #01-47, Singapore 608526
Opening hours: Tue-Fri 5pm to 11pm, Sat-Sun 1pm to 11pm
Tel: 8440 4938
Website
---
7. 2211 Mookata

---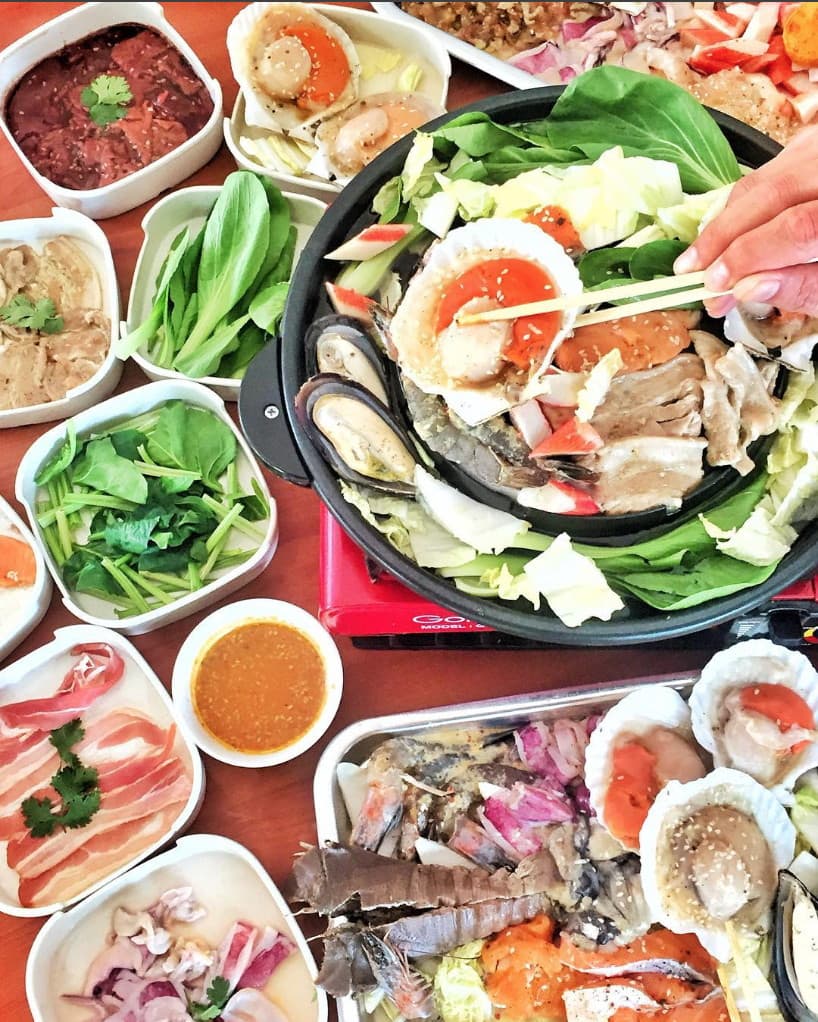 Image credit: @2211mookata
2211 Mookata, which is a short bus ride away from NTU, is a convenient and affordable supper option for students. They're opened from 5pm to 3am, and a la carte prices start from $1.90 per plate. As for mookata platters, their small one, priced at $22, is enough to feed two, while their big platter can feed a party of four at $40. Wash down your meal with their signature Thai Ice Milk Tea or Ice Lemon Tea at $2.50 each!
Address: Block 907 Jurong West Street 91, Singapore 640907
Opening hours: Daily 5pm to 2am
Tel: 9159 9729
Website
---
8. 1345 Mookata
---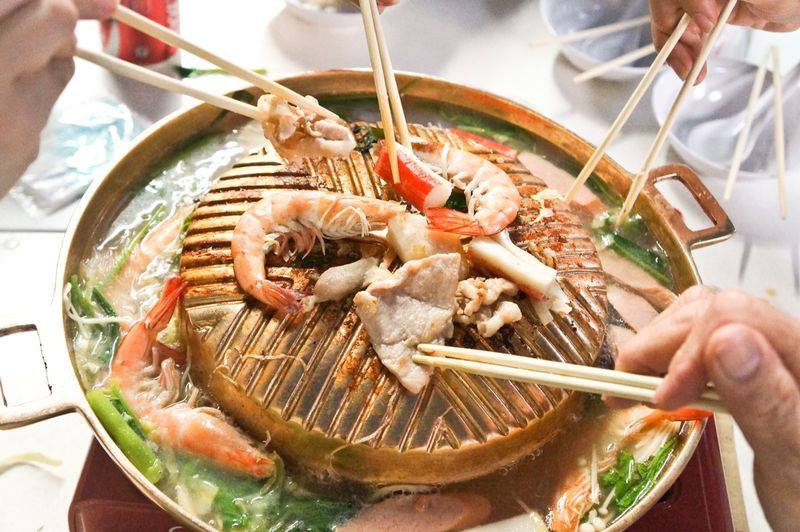 Image credit: 1345 Mookata
Huge portions, kickass chilli, and a nondescript location are the things that draw diners to 1345 Mookata. Located on the first floor of a commercial building at Bukit Batok, 1345 Mookata is situated in a spacious, breezy coffee shop with plenty of parking lots nearby. There are two platters here. The smaller set ($32.80) feeds two to three people, while the larger one ($41.80) is good for four. Their special chilli mix packs a punch, so don't forget to dip your meats into it!
Address: 25 Bukit Batok Crescent, #01-01, The Elitist, Singapore 658066
Opening hours: Tue-Sun 4pm to 11pm
Tel: 8720 1345
Website
---
9. Sedap Thai
---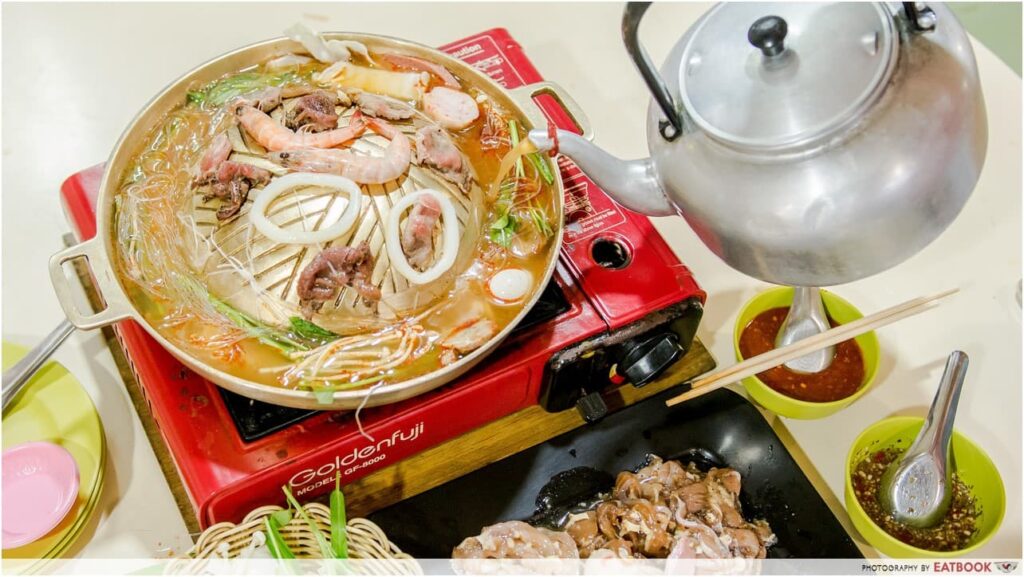 Located on the first level of Berseh Food Centre, Sedap Thai offers halal-certified mookata. Their popular Couple Set ($38 for two people) comes with 15 different items including garlic chicken, black pepper beef, beef slices, and a range of seafood and vegetables. In place of the usual pork lard, Sedap Thai uses beef fat to grease the skillet, making your meal less jelak. As for the soup options, you can go for their chicken broth, or add $2 for tom yum soup.
Check out our full review of Sedap Thai!
Address: 166 Jalan Besar, #01-08, Berseh Food Centre, Singapore 208877
Opening hours: Mon-Sat 4:30pm to 9:30pm
Tel: 8298 3579
Website
---
10. WBL Mookata
---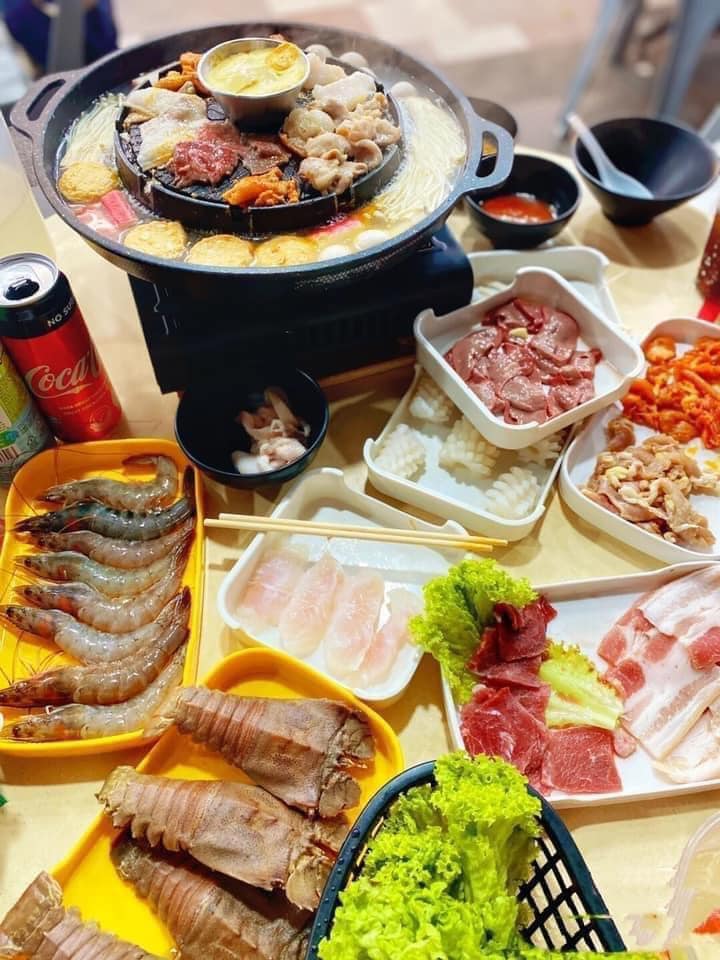 Image credit: WBL Mookata
WBL offers affordable mookata buffet across their four outlets in Singapore, located in Lavender, Bukit Batok, Tai Seng, and Sultan Street. Though their buffets are seasonal, prices often go under $20, with their latest Thai Seafood Buffet costing just $16.90 per person. Items include marinated meats, crayfish, oyster, abalone slices, and much more for the price. You also get unlimited cheese. Do call in advance to reserve a table as it can get quite busy here.
Website | Full list of outlets
---
11. Phuket Town Mookata
---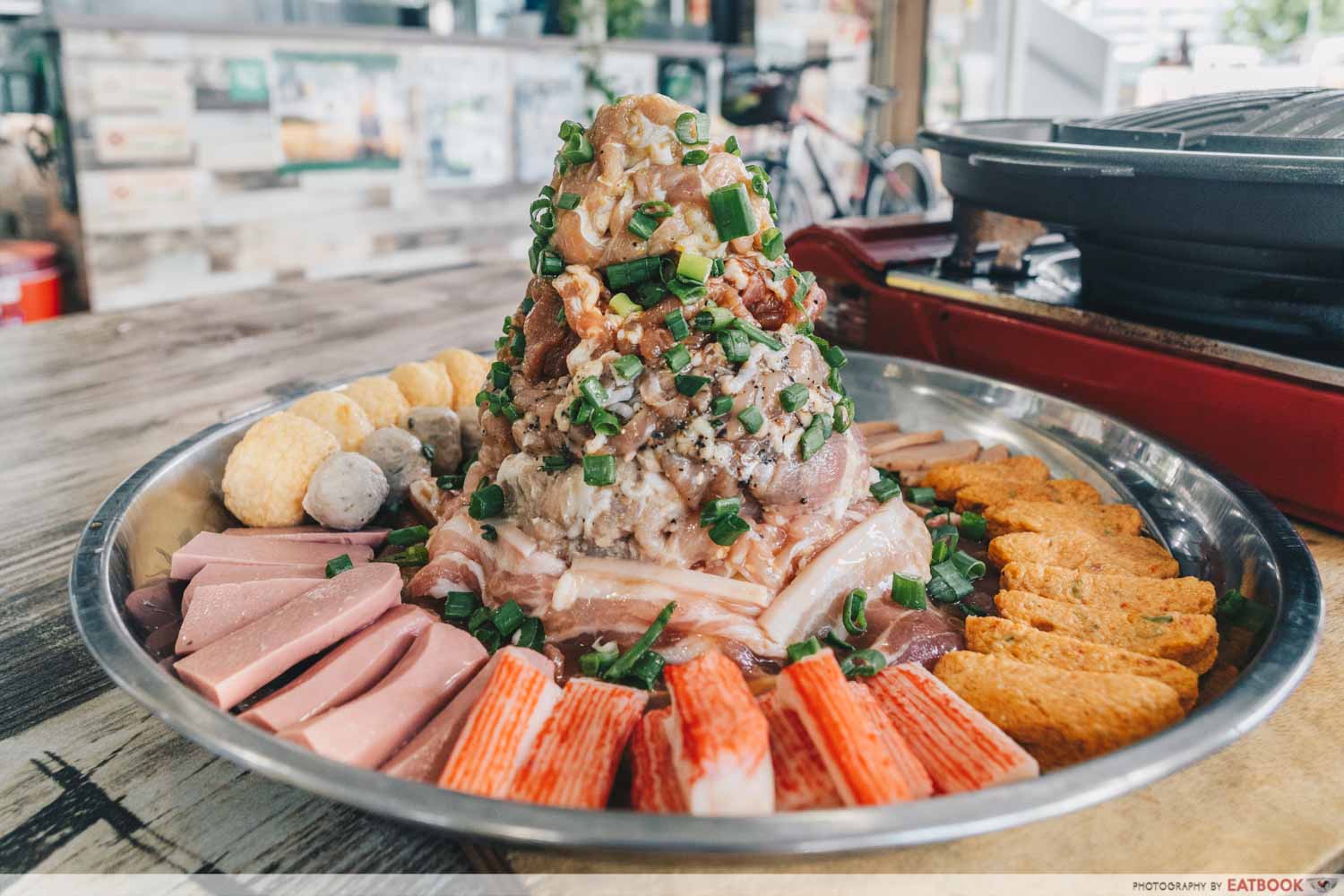 Phuket Town Mookata is famous for their 1kg Meat Mountain ($39.90), which, as its name suggests, contains a whopping kilogram of all types of meat you can cook on the mookata grill. The meat comes in six flavours, such as green curry, tom yum, black pepper, garlic, signature sauce, and sesame. Split this massive serving with two or three friends and leave feeling satisfied.
Read our Phuket Town Mookata review.
Address: 340 Ang Mo Kio Avenue 1, Singapore 560340
Opening hours: Wed-Mon 6pm to 1am
Tel: 8613 0826
Website
---
12. Ja Kin Mookata
---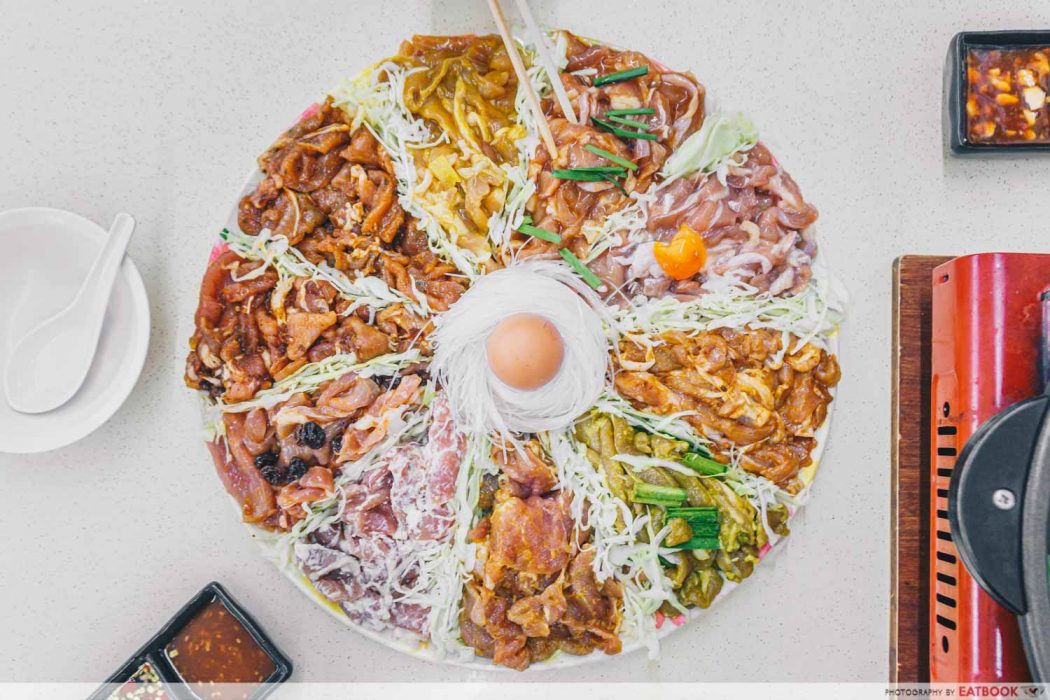 The XXL Mookata Platter ($53.80)  at Ja Kin Mookata comes with a whopping 10 different meat flavours, which you select out of their lengthy menu. Flavours range from the classic tom yum, to the likes of pandan, pineapple, salted egg, and butter. An order feeds four to five, which works out to less than $14 per person! Also accompanying the different meats are vegetables and carbs to make this a full-on meal.
Read our Ja Kin Mookata review.
Address: 414 Yishun Ring Road, #01-1871, Singapore 760414
Opening hours: Daily 12pm to 11pm
Tel: 8484 5551
Website
---
Affordable mookata in Singapore
---
Mookata is more than just dining on grilled meats. It comes with the experience of spending quality time with your friends and family over good food. For the ones with hearty appetites, check out this list of steamboats below $20 or wagyu buffets around Singapore.
Featured image adapted from The Mookata Empire's Facebook photo.
10 Affordable Steamboats Below $20 For Your Clique To Feast On At Your Next Gathering
This article was written on 11 August 2017.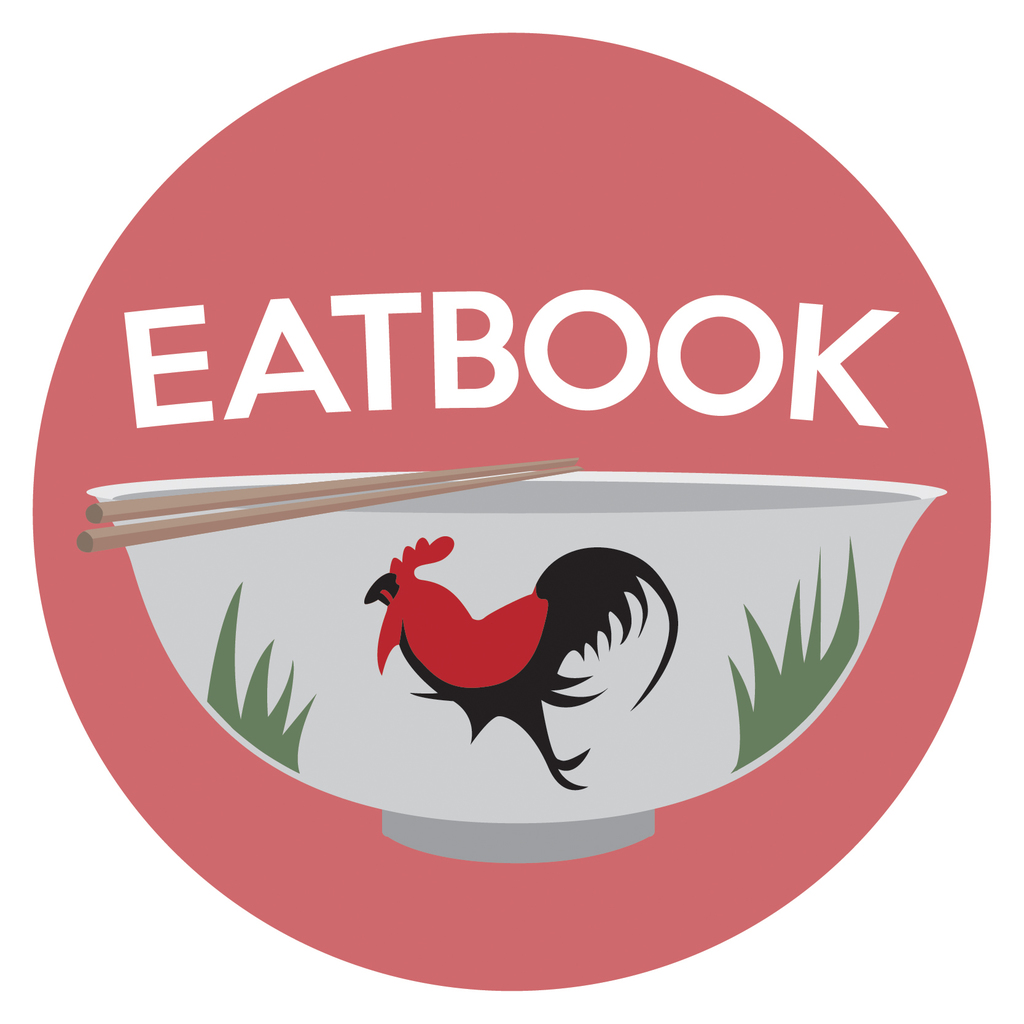 Drop us your email so you won't miss the latest news.