Giant meat mountain at Phuket Town Mookata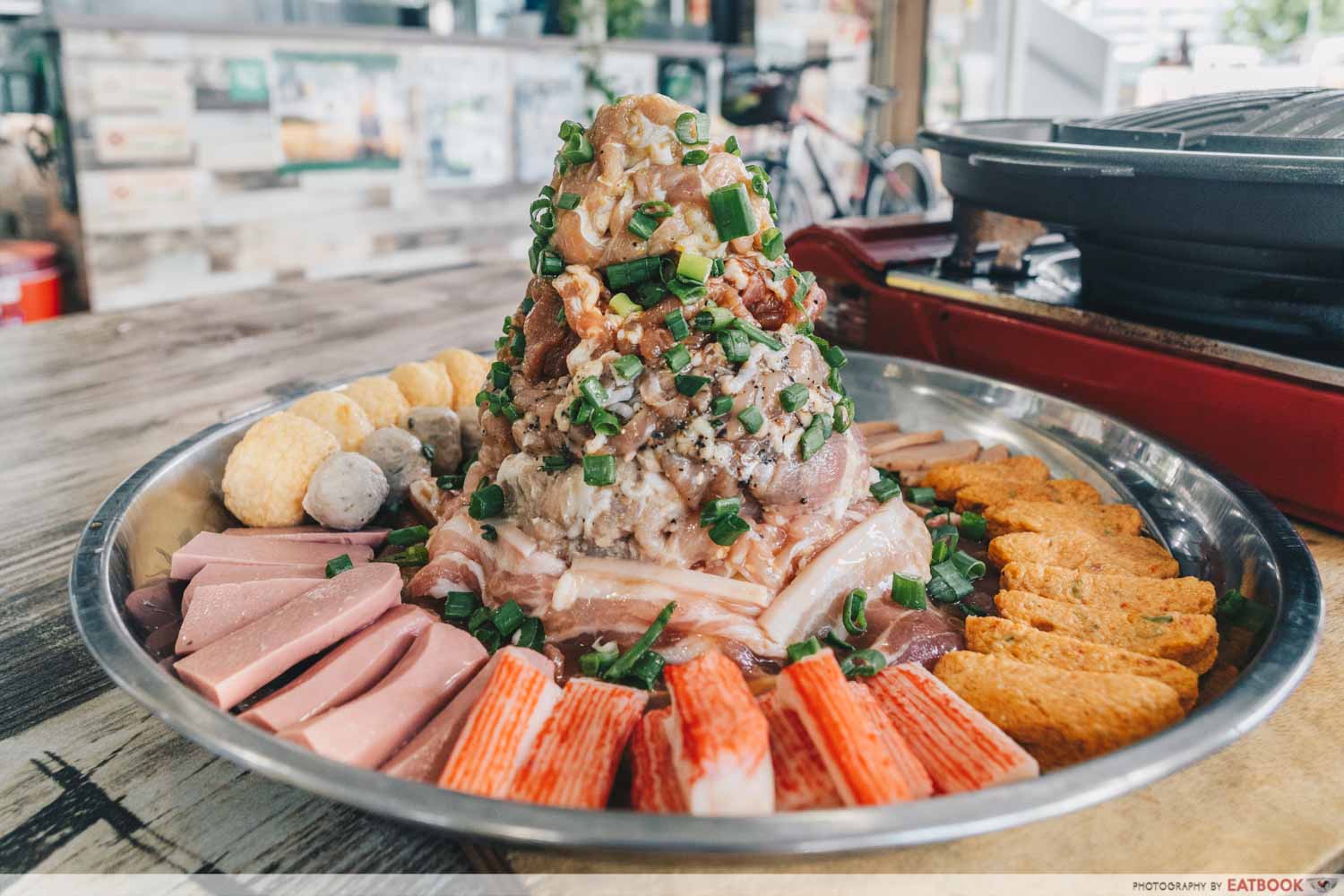 I have come across my fair share of XXL dishes, but I've yet to find one that poses a worthy challenge to my ravenous appetite. The XXL fried chicken cutlet slathered in nacho cheese at Skinny Chef was sinfully delicious, but failed to leave a dent in my appetite as I devoured the hunk of meat in one sitting. When I first heard about the 1kg Meat Mountain ($39.90) from Phuket Town Mookata, I contemplated that it might be a worthy challenger. 
This meat mountain has been a frequent sight on social media platforms, and has generated much hype for its presumed size. The owners of the stall shared with me that many of their customers come from different parts of Singapore, but all with the single goal of taking down this behemoth. One hungry customer has even managed to finish this 1kg dish by himself! With that said, I headed down to Phuket Town Mookata at once as I couldn't wait to slay this mighty meat mountain. 
Food at Phuket Town Mookata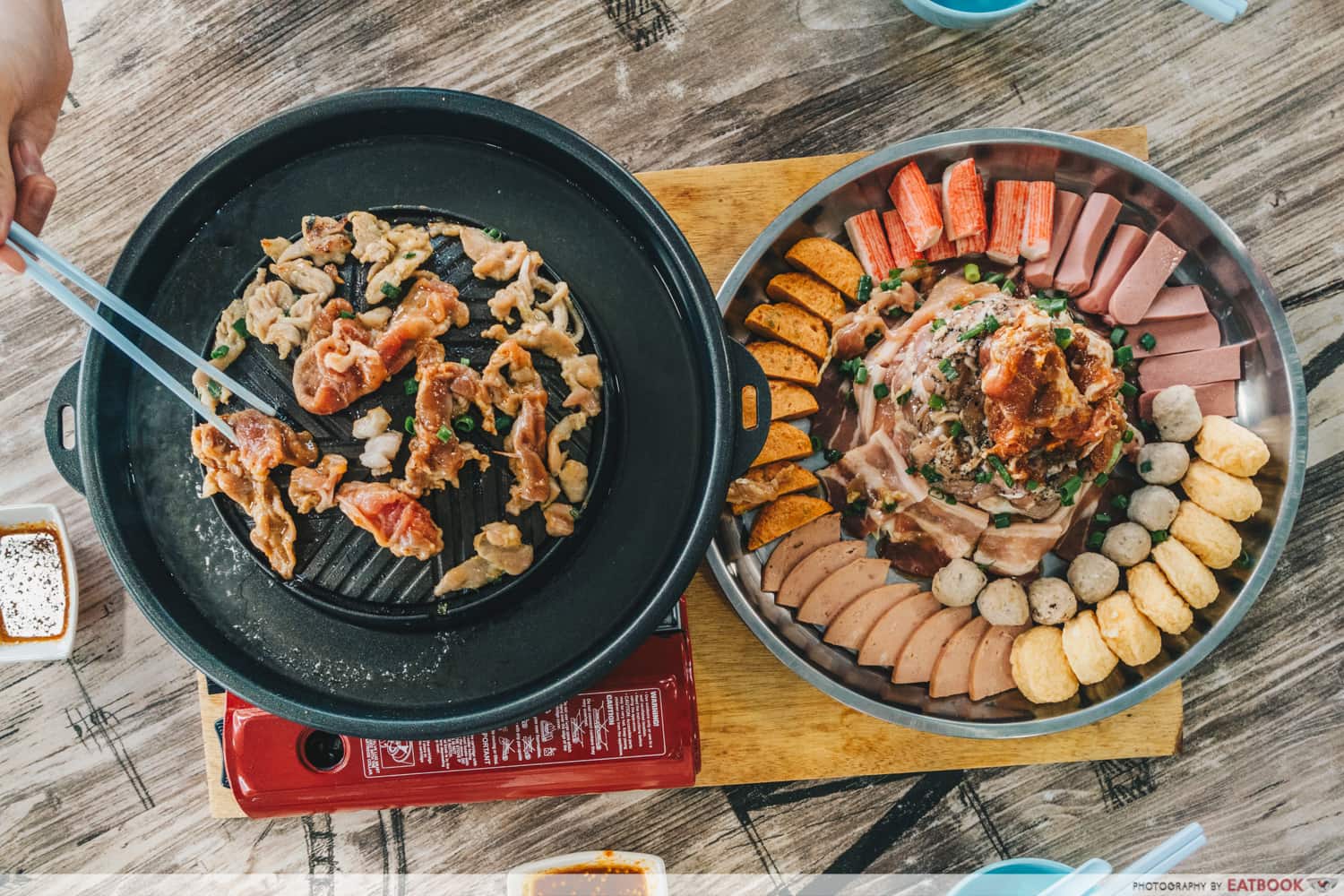 At first glance, the meat mountain was shorter than expected, and my dining companion remarked that it looked bigger in pictures. I decided not to underestimate this meaty dish, as there were many layers of hidden within this mountain. 
Andrew, one of the stall owners, shared with me that the meats were meant to be eaten from top to bottom for maximum satisfaction. He wanted diners to feel a slow build-up of the senses as they proceeded to eat their way down. Starting with the green curry chicken, the meats at the top are light on the palate. In contrast, the meats at the bottom are more jelak, ending with the heavily flavoured sesame chicken.
This dish consists of six tantalising flavoured portions of meat. From top to bottom, they are:
Green Curry Chicken

Tom Yum Pork Collar

Black Pepper Chicken

Garlic Pork Collar

Pork Belly with Signature Sauce

Sesame Chicken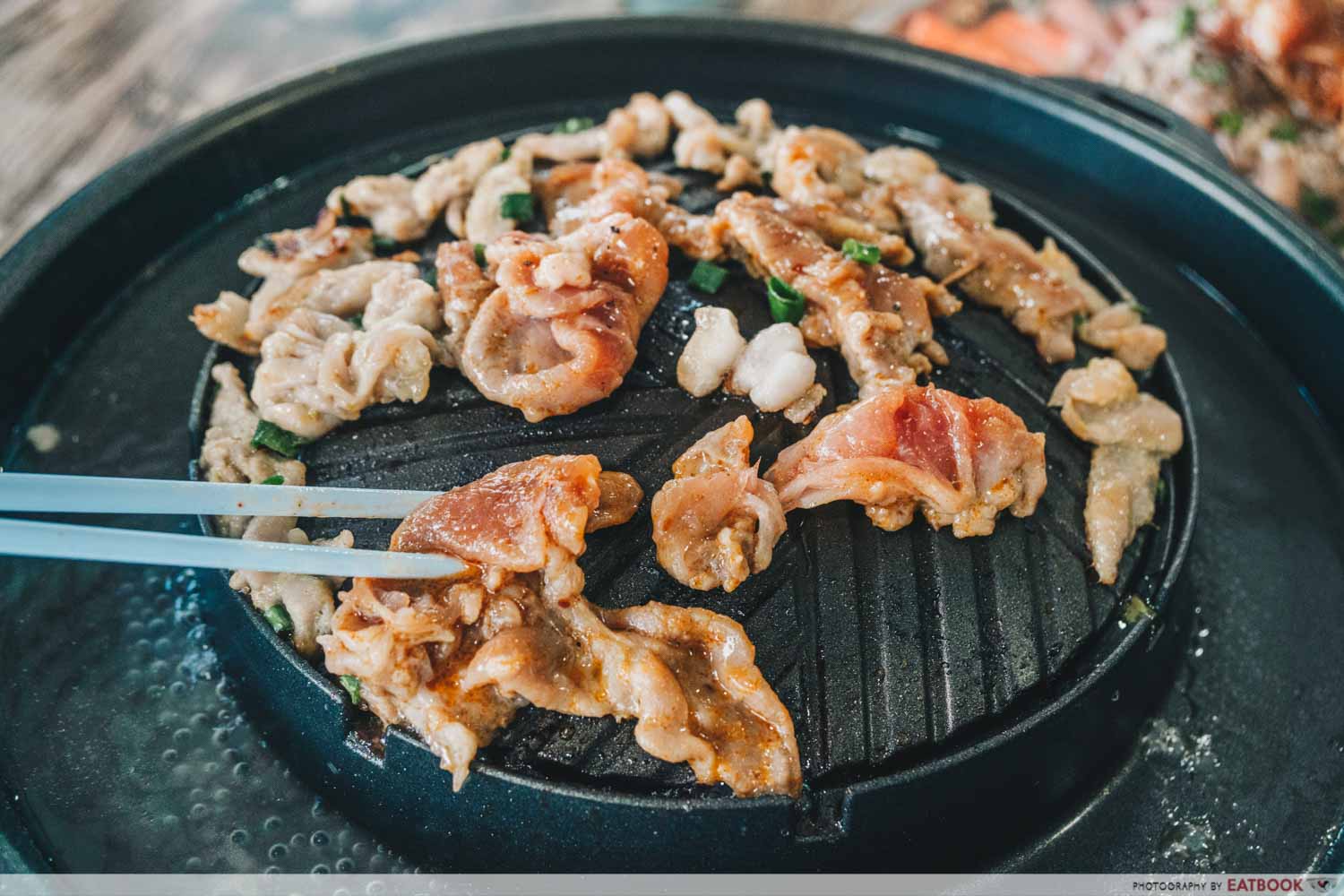 Having walked a long way to get to the coffee shop, I was famished. Hence, I wasted no time cooking the meats, right before lathering the luxurious pork lard on the hot skillet.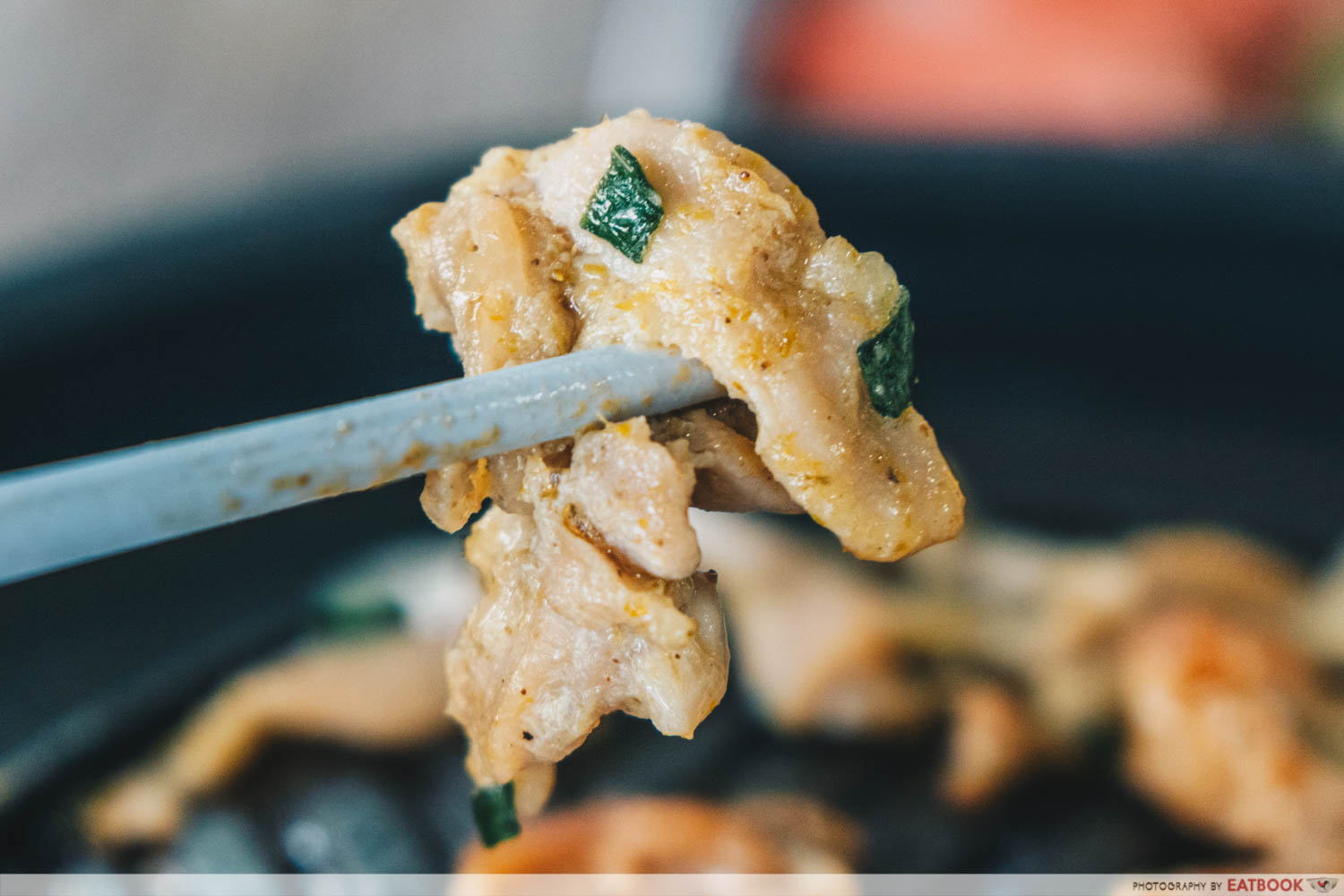 Green curry is my must-order dish at Thai restaurants as I'm a fan of its immense fragrance and deep flavour profile. The green curry chicken at the top of the meat mountain only told half of the story.
Despite being fiercely aromatic, the classic fragrant taste of green curry did not permeate through each piece of chicken, which resulted in a slightly bland centre. However, its surface was sweet and spicy, and the smooth creaminess from the green curry paste was evident. I took meticulous care to ensure I did not overcook the chicken pieces and thankfully, they were moist and tender.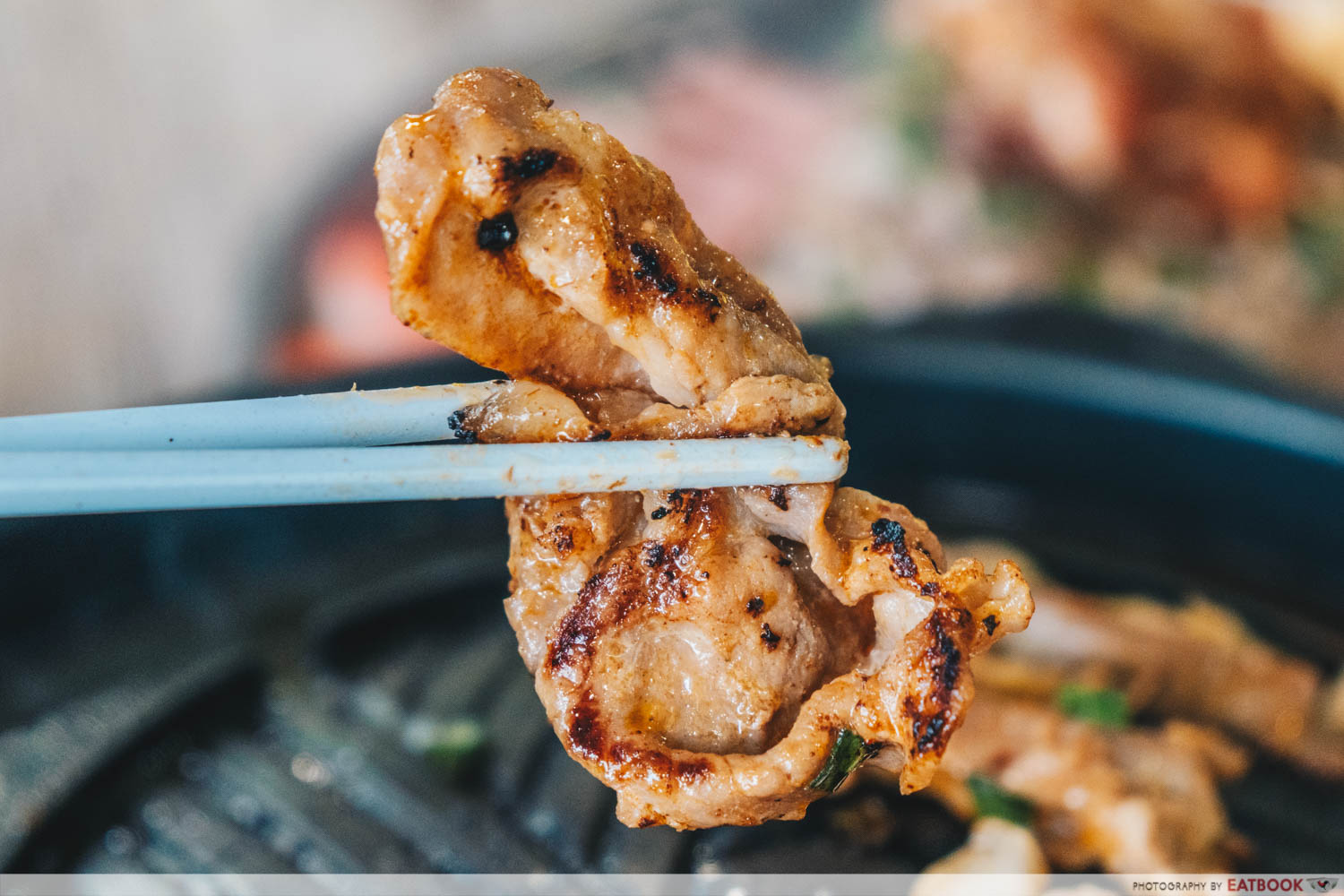 Without a doubt, the tom yum pork collar is my fav' meat from the mountain. Its addictive tom yum taste was immense and spot-on—sweet and spicy with a welcome sour zing. The pork pieces were firm yet succulent, which made for a pleasant chew.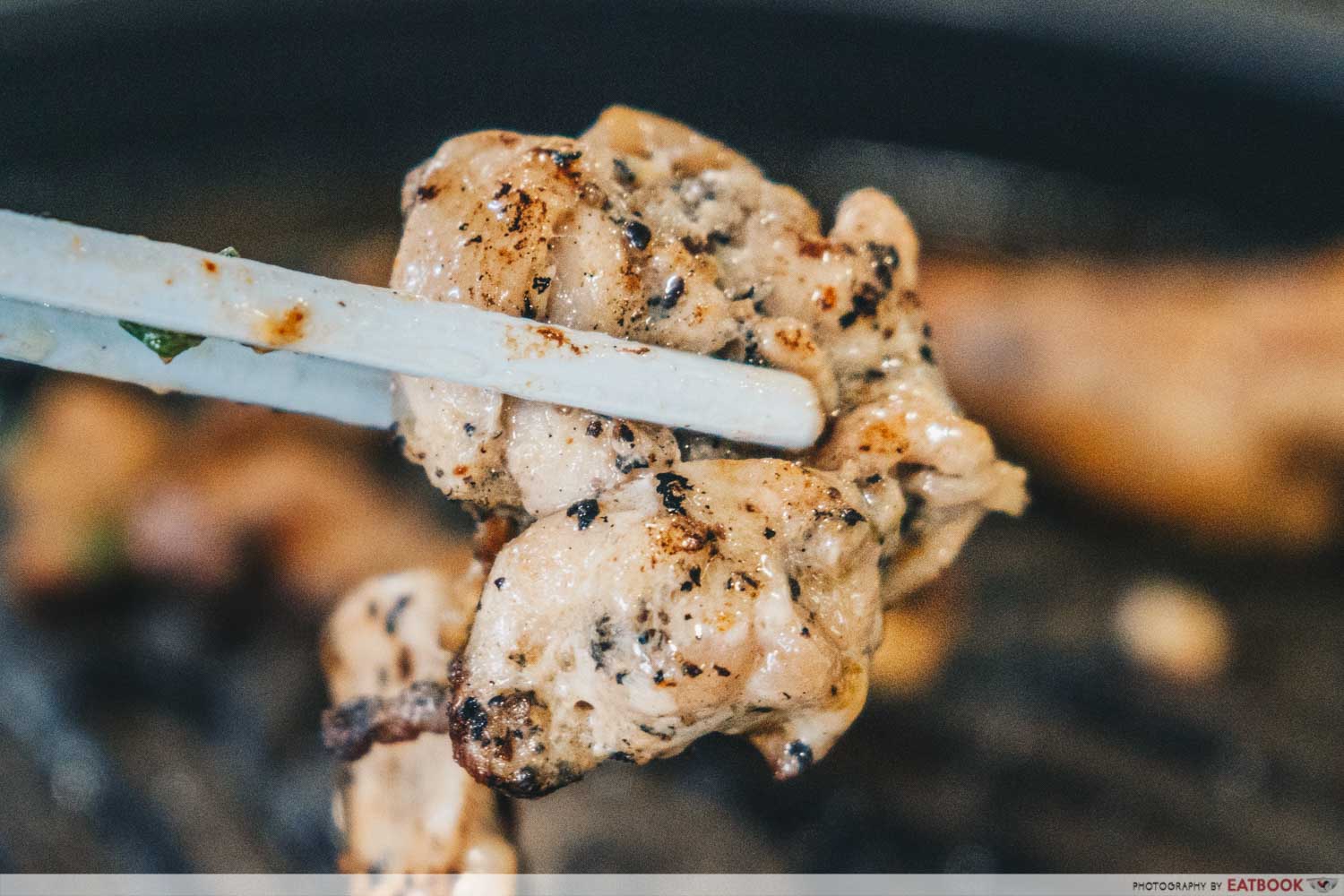 The black pepper chicken pieces made up the middle of the meat mountain, and its flavours were intense and peppery. Each bite created tingling sensations on my tongue; my senses were refreshed as I slowly chew on the peppery chicken pieces.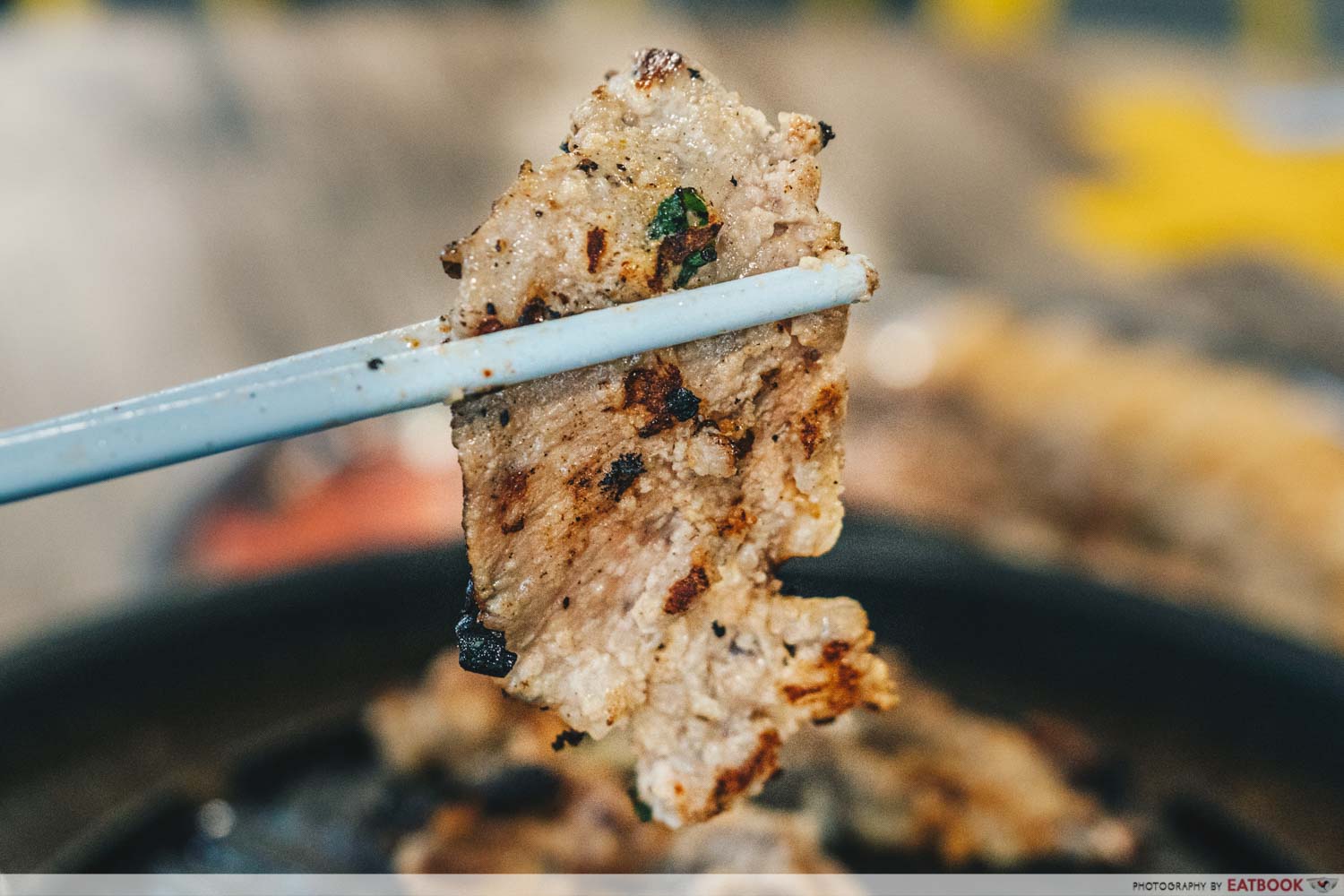 The garlic pork collar told a different story from its tom yum counterpart. I expected an intensely herbaceous, garlicky taste, but each mouthful only drew subtle notes of garlic.  Like the green curry chicken, the pieces of garlic pork collar also felt under-seasoned.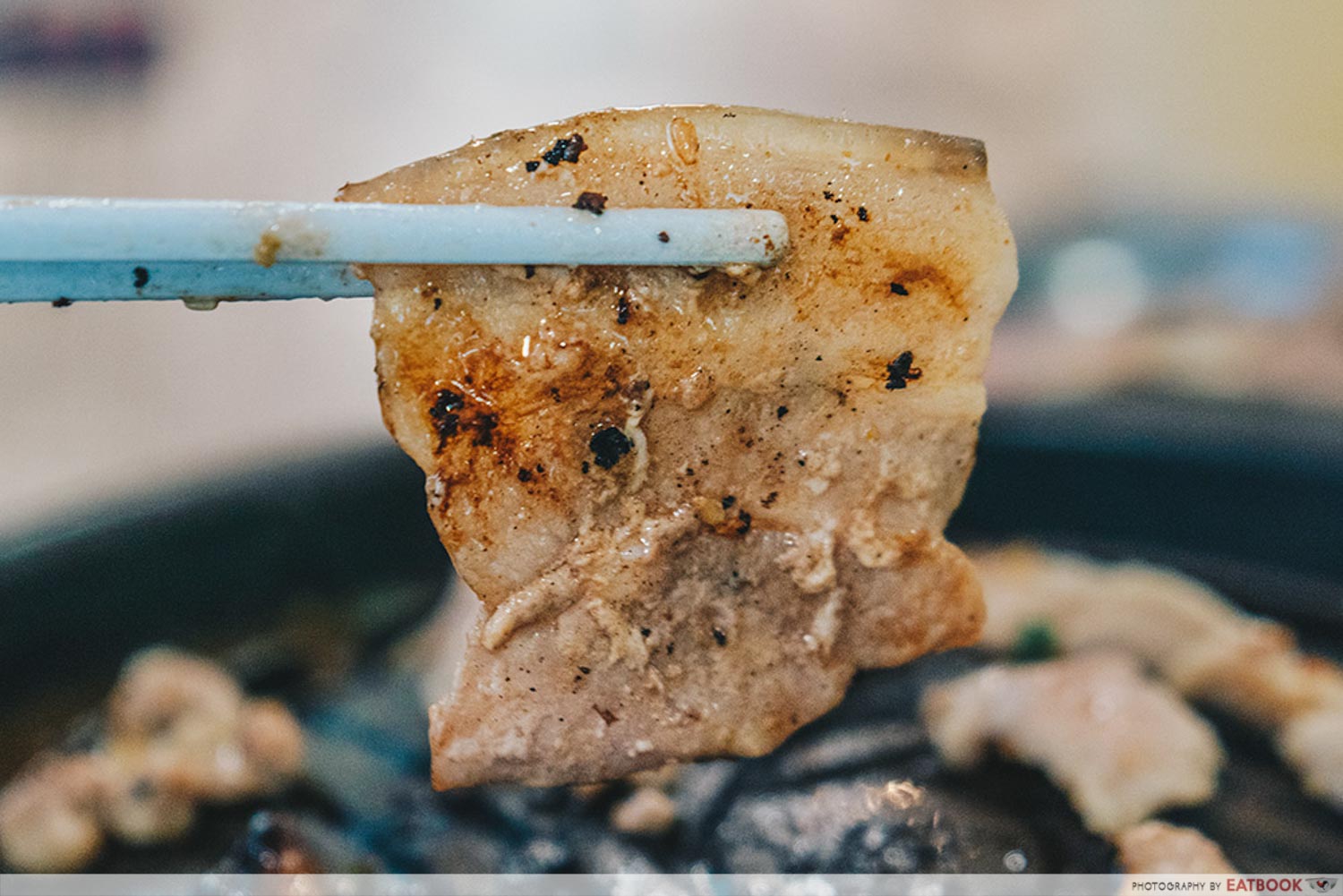 Each piece of the pork belly with signature sauce was delightfully fatty, and the melted fat added a nice creamy touch to each mouthful. However, I could barely make out the smoky flavour of the signature sauce.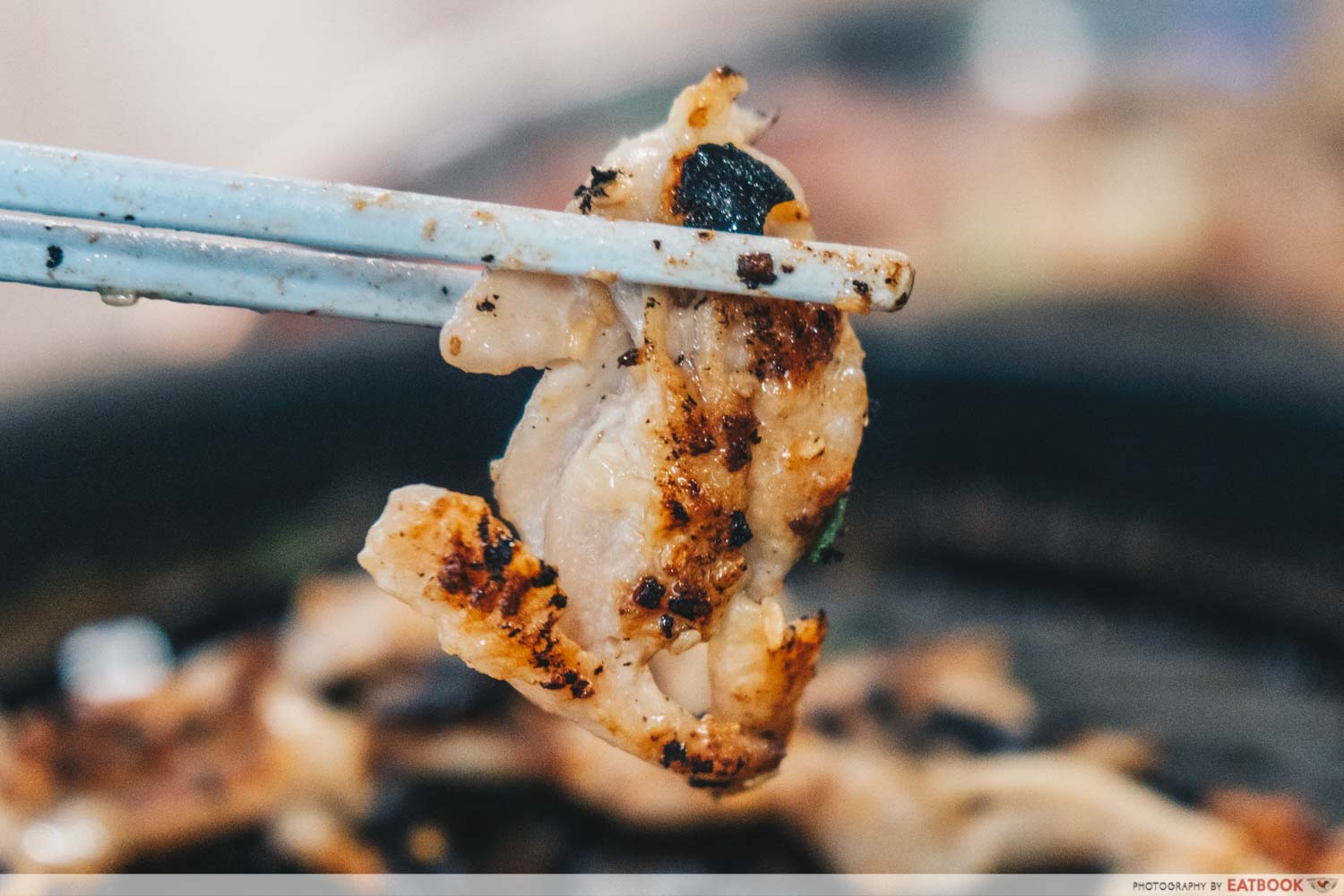 I finally arrived at the sesame chicken, which can be found at the bottom of the meat mountain. Each piece was nicely marinated. The earthy taste of sesame was evident, and had the right balance of sweetness and saltiness.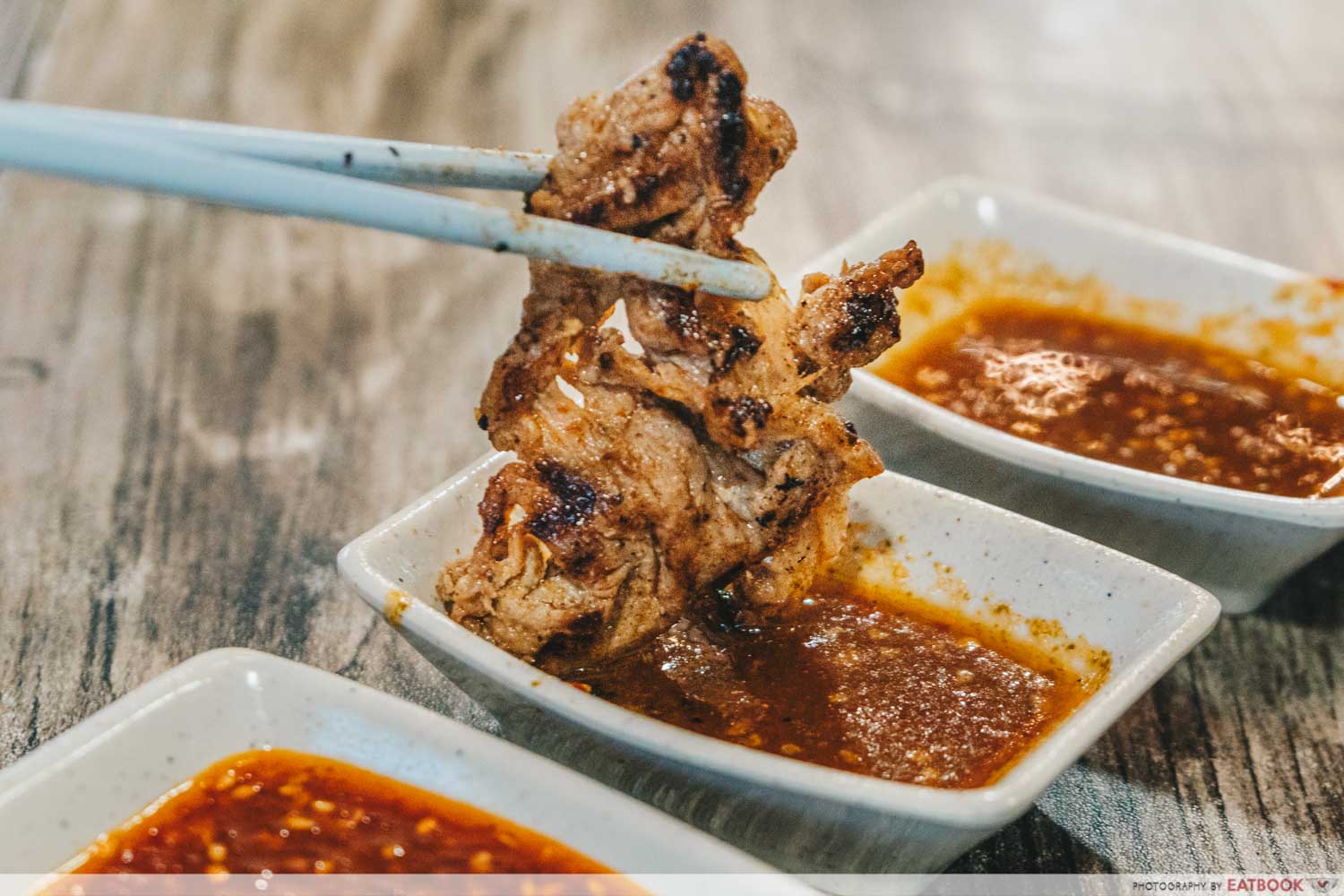 Chillies add a nice touch to every dish, and the stall's house-made chilli sauces nicely rounded off the entire mookata experience. They consist of three piquant flavours, namely Original, Sour Spicy, and Super Spicy.
Being a spicy food amateur, my fav' flavour was Original, as it gave the meats a neat sweet touch. Spicy food lovers have to try the super spicy sauce. The latter is devilishly fiery, and temporarily numbed my taste buds.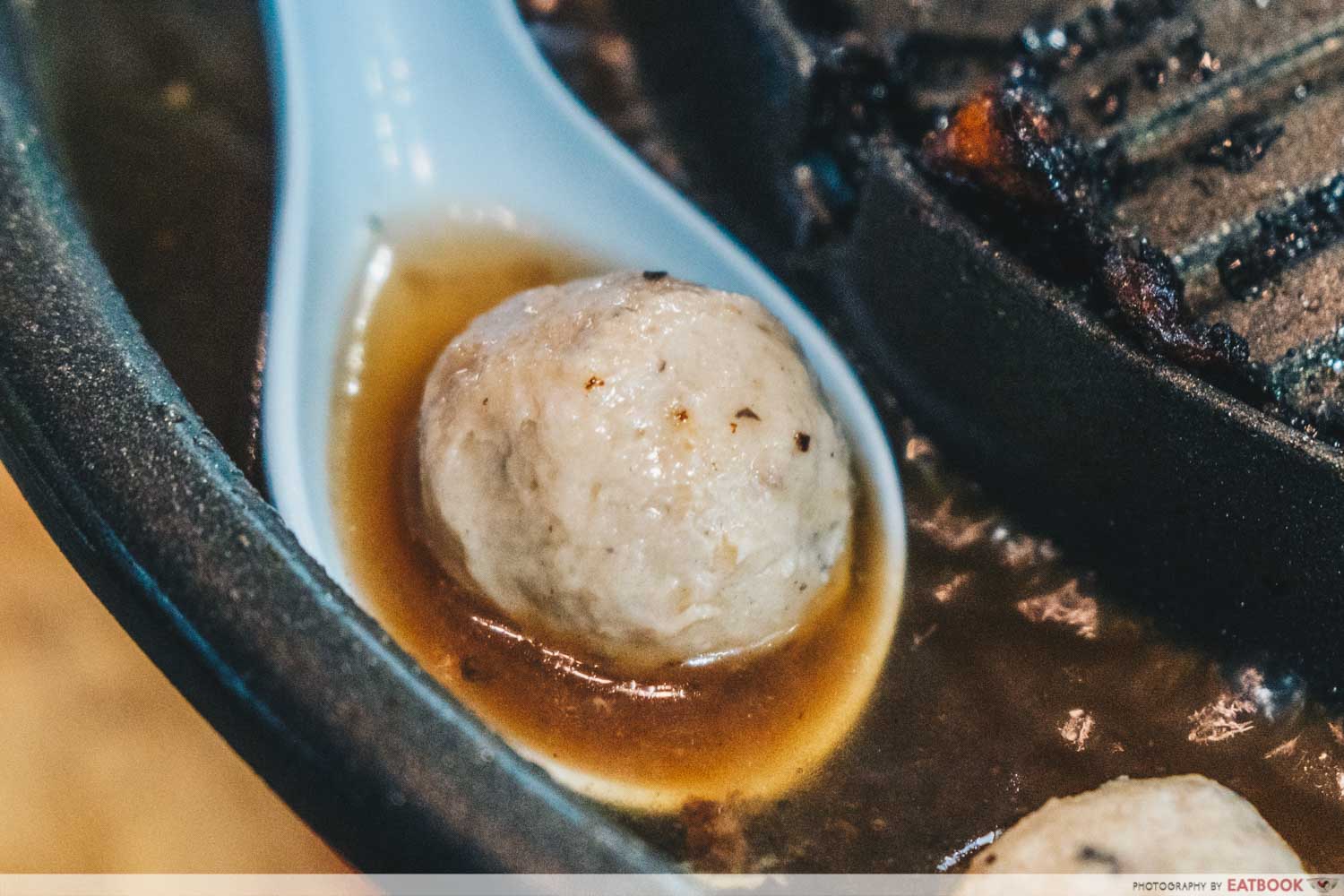 The meat mountain is also accompanied by non-meat items that can be found at its base. They include meatballs, sausages and luncheon meat. As they were cooked in the moat of umami broth around the skillet, the non-meat items retained the flavourful broth, and had a rich, full-bodied taste.
Ambience at Phuket Town Mookata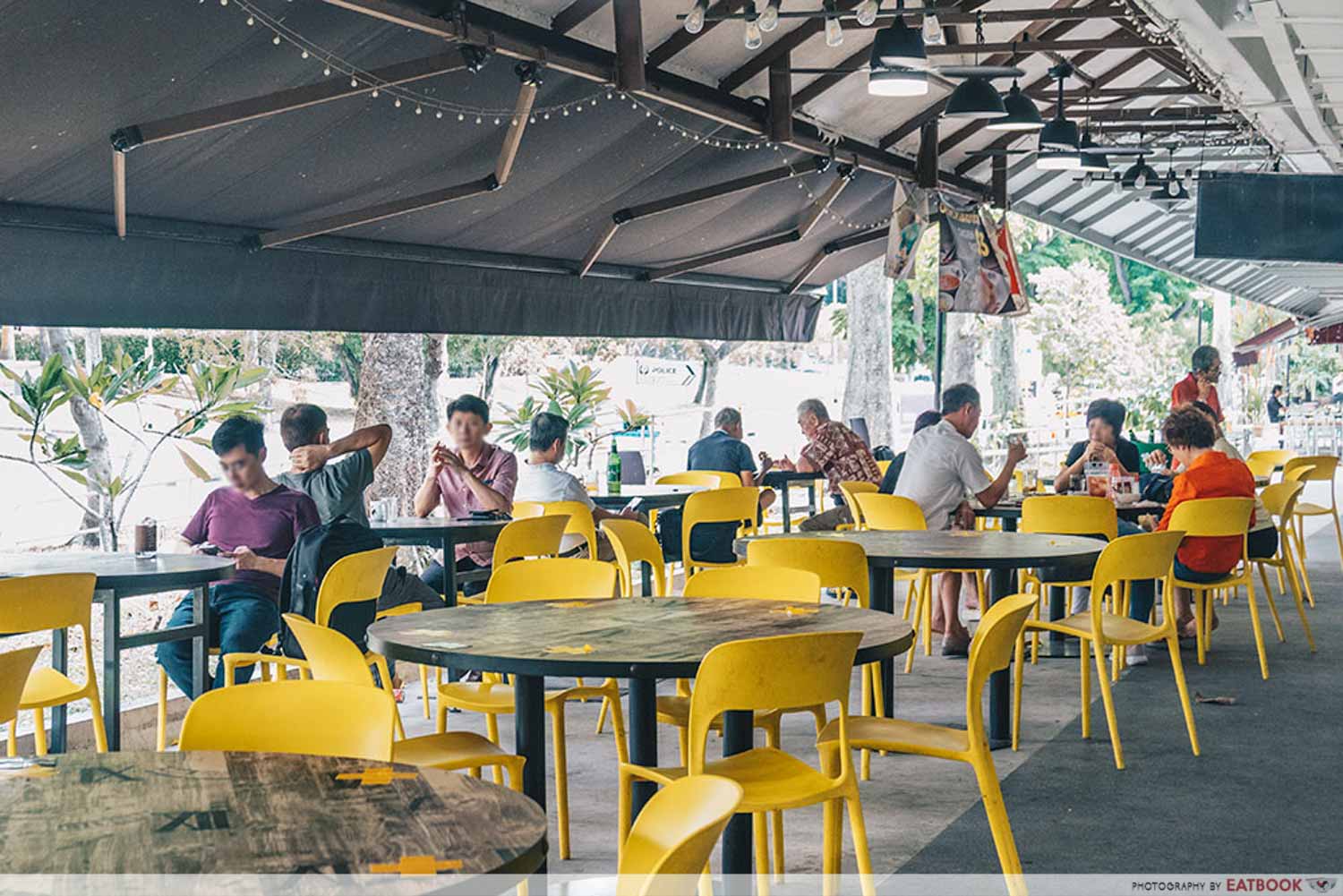 Phuket Town Mookata is situated in a typical-looking coffeeshop at Ang Mo Kio. The seating area is rather airy, and has vast shelters to shield customers from the fast-changing weather elements. Be it under the scorching sun or heavy rain, customers would be able to enjoy their meal comfortably. The crowds during mealtimes can be heavy, so come down early if you wish to dine without much background noise. 
The verdict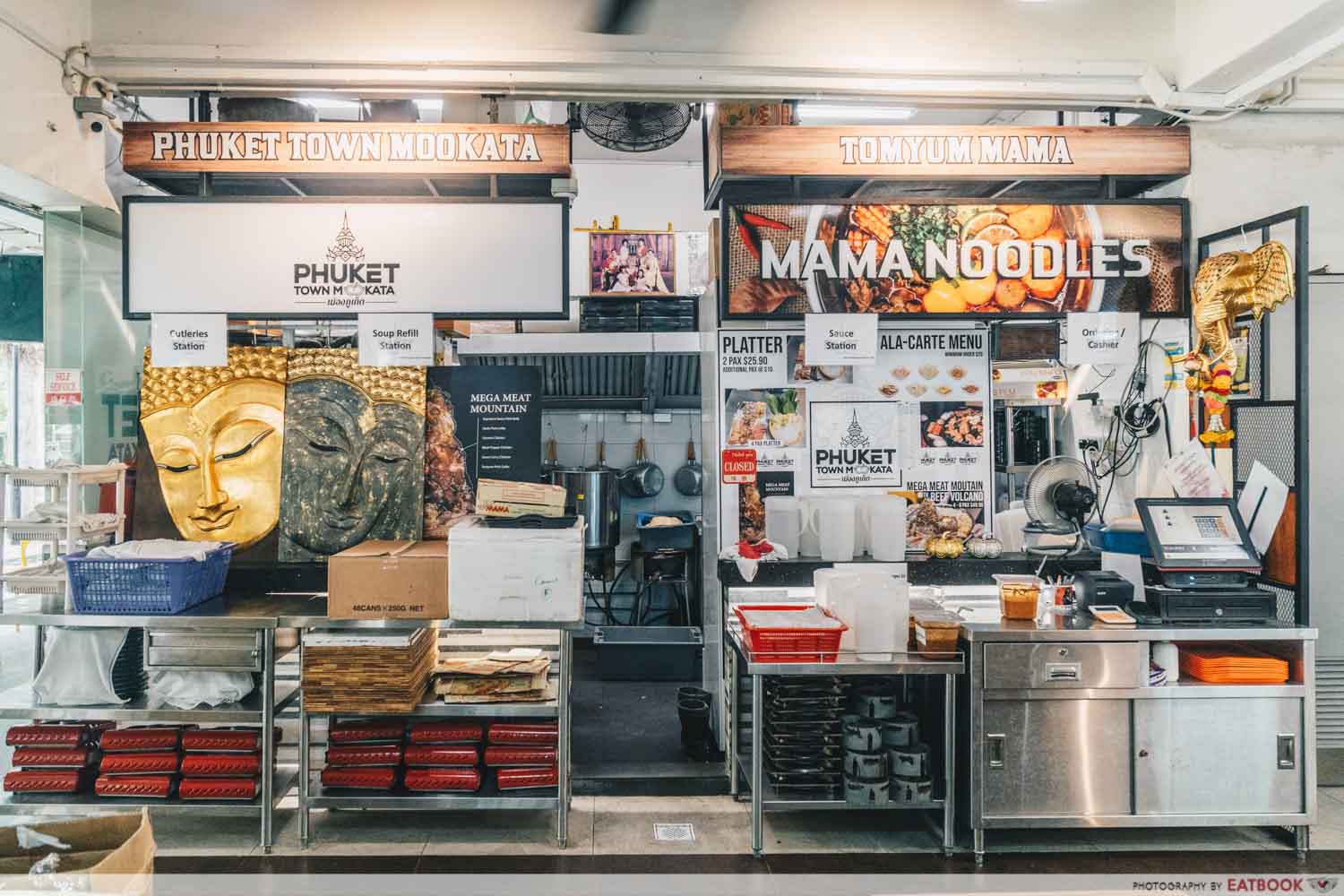 Not surprisingly, my dining companion and I managed to finish the hefty meat mountain, and we left with full stomachs. I must say that the meat portions were pretty sizeable, even though the meat mountain came down pretty easily. In addition, $20 per person for a mookata meal was quite a costly endeavour, and I would have preferred more meat to get more bang for my buck. 
Nonetheless, big portions and nicely marinated meats were what I was looking for. If you're really hungry and are around the Ang Mo Kio area, Phuket Town Mookata is worth a try. 
Phuket Town Mookata also offers islandwide delivery, with a minimum order of $50, and a flat $10 delivery fee.
Call 8613 0826 to place your orders. Check out their Facebook page for more information. 
10 XXL Dishes That Are Great For Family Dinners Including Giant Dessert And Meat Platters
If you're like me and are looking to challenge your monstrous appetite, check out these 10 XXL dishes! For more Thai food feasts in the comfort of your own home, check out these 10 Thai food delivery places with delivery fees under $5. Also, check out these 10 easy recipes for famous dishes to try in your free time. The latter includes DIY recipes for Famous Amos cookies and the highly-sort-after McDonald's McGriddles. 
Address: 340 Ang Mo Kio Avenue 1, Singapore 560340
Opening hours: Wed-Mon 5pm to 1am
Tel: 8613 0826
Website
Phuket Town Mookata is not a halal-certified eatery.
Photos taken by Kerrianne Goh.
This is an independent review by Eatbook.sg.
10 Easy Recipes For Famous Dishes Such As McGriddles And Famous Amos Cookies That You Can DIY
Summary
Pros
– Big portions
– Meats were tender
– Tom yum pork collar was delicious
Cons
– Green curry taste was subtle
– Signature sauce taste was not obvious
Recommended dishes: 1kg Meat Mountain ($39.90)
Opening hours: Wed-Mon 5pm to 1am
Address: 340 Ang Mo Kio Ave 1, Singapore 560340