Delicious Western fare at Skinny Chef
Update: Skinny Chef has moved, please check below for the updated address.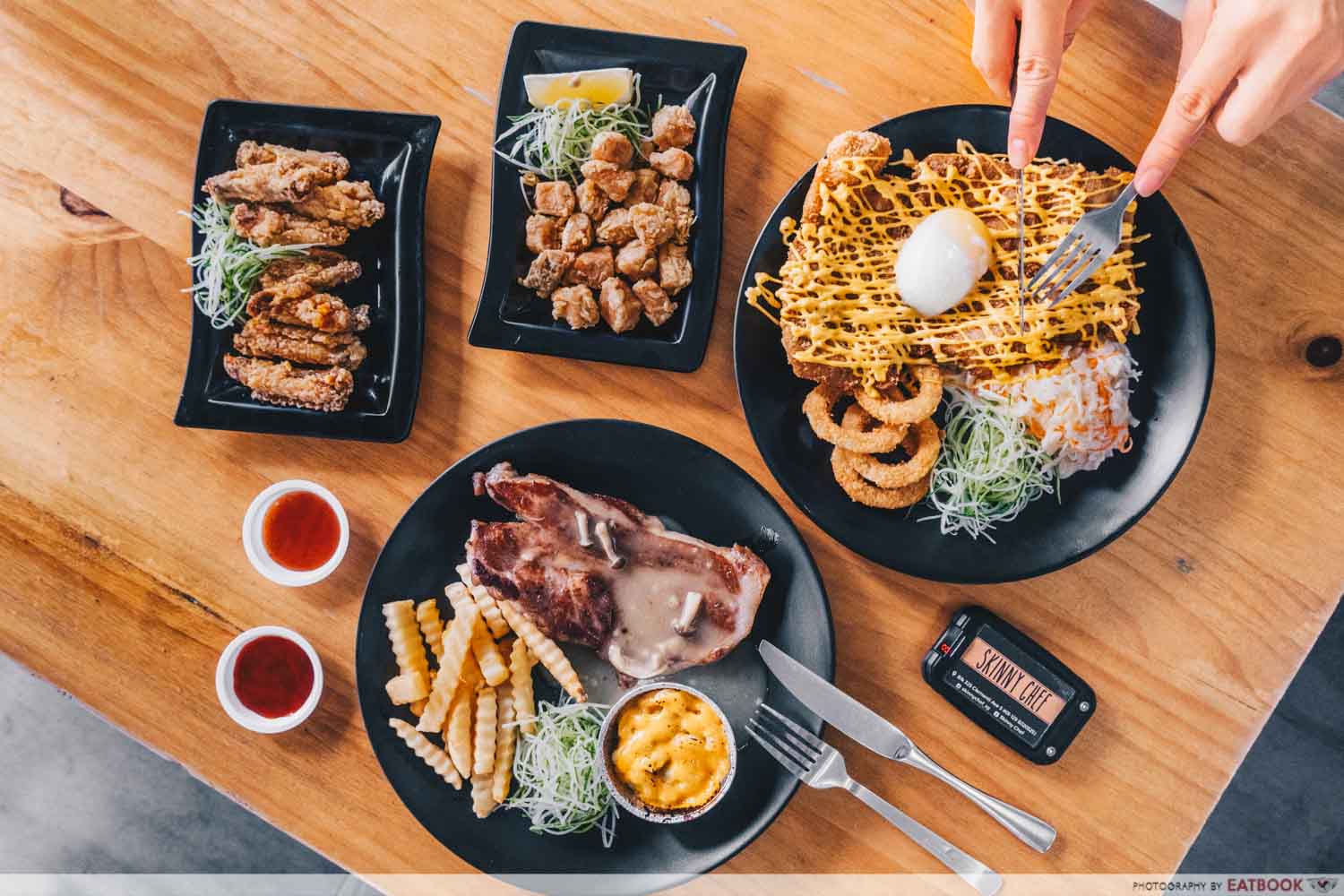 Being a big eater, I have a ravenous appetite when I'm hungry. When I heard that Skinny Chef has an XXL chicken cutlet, I figured it would be a worthy challenger for my stomach. I soon discovered that there was more than just giant fried chicken cutlets at this unassuming Western food stall.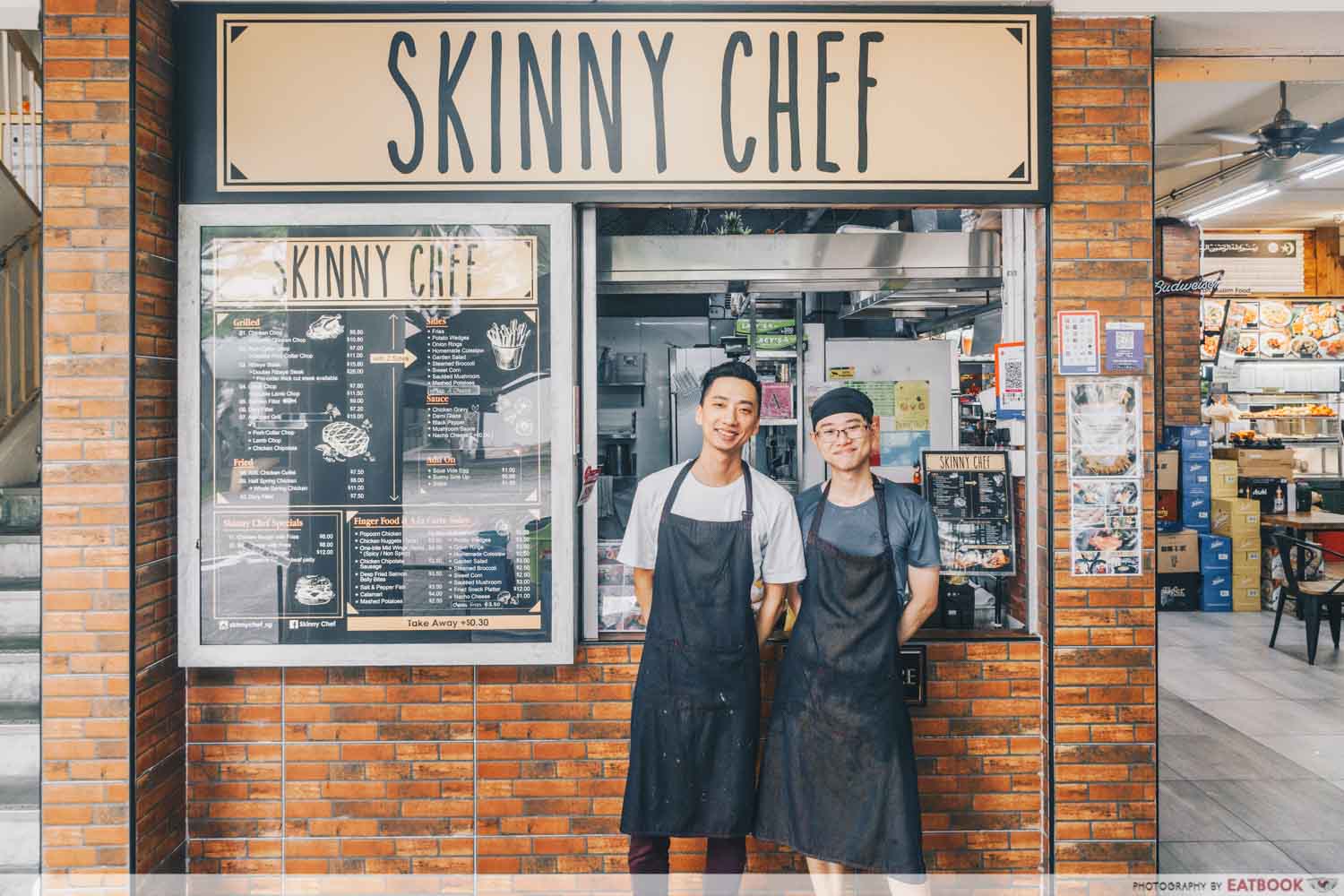 Opened in November 2018, Skinny Chef is helmed by two young chaps named Steve and Kheng Lun. They were former colleagues at a hotel restaurant, and many called them "skinny'. With their similar nicknames, they were inspired to start a food business together, and they ingeniously named it 'Skinny Chef'.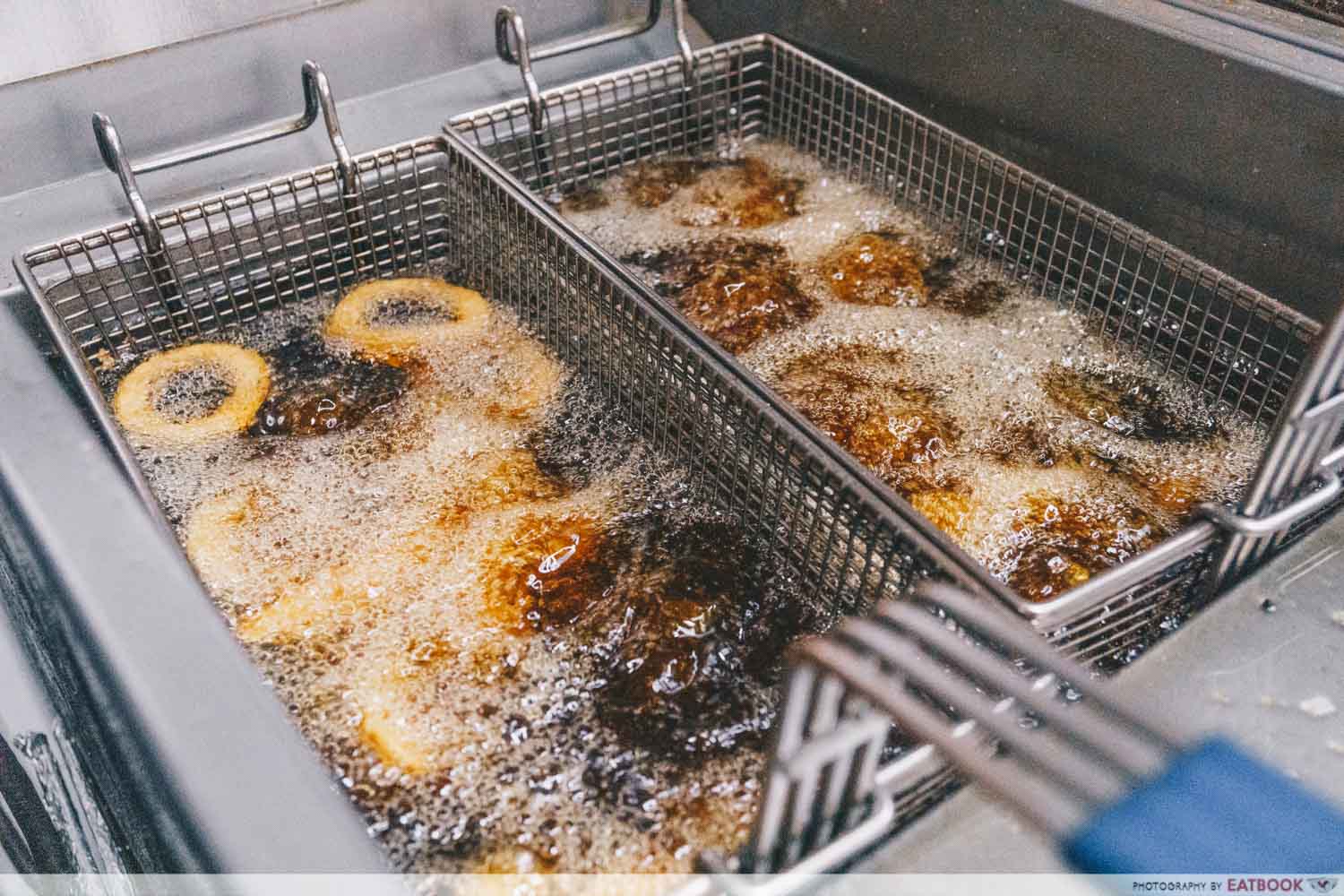 The chefs only use quality ingredients, such as the ribeye cut for their beef. They also incorporate traditional Western cooking methods to prepare their foods. 
Food at Skinny Chef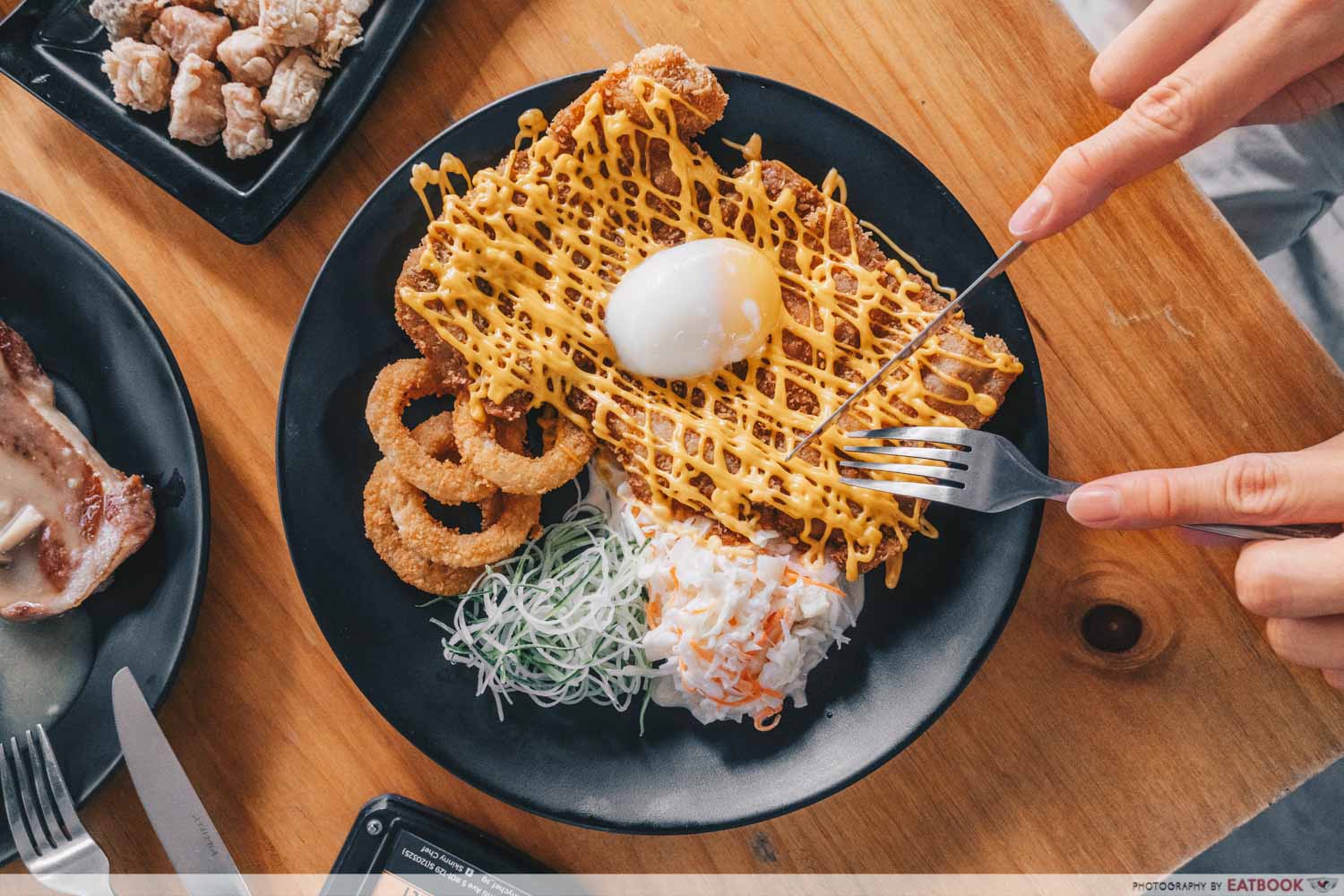 Hungry me went straight for their signature dish, the XXL Chicken Cutlet with Nacho Cheese and Sous Vide Egg ($9). The mammoth-sized chicken cutlet was slathered with copious amounts of nacho cheese, and then topped with a beautiful sous-vide egg.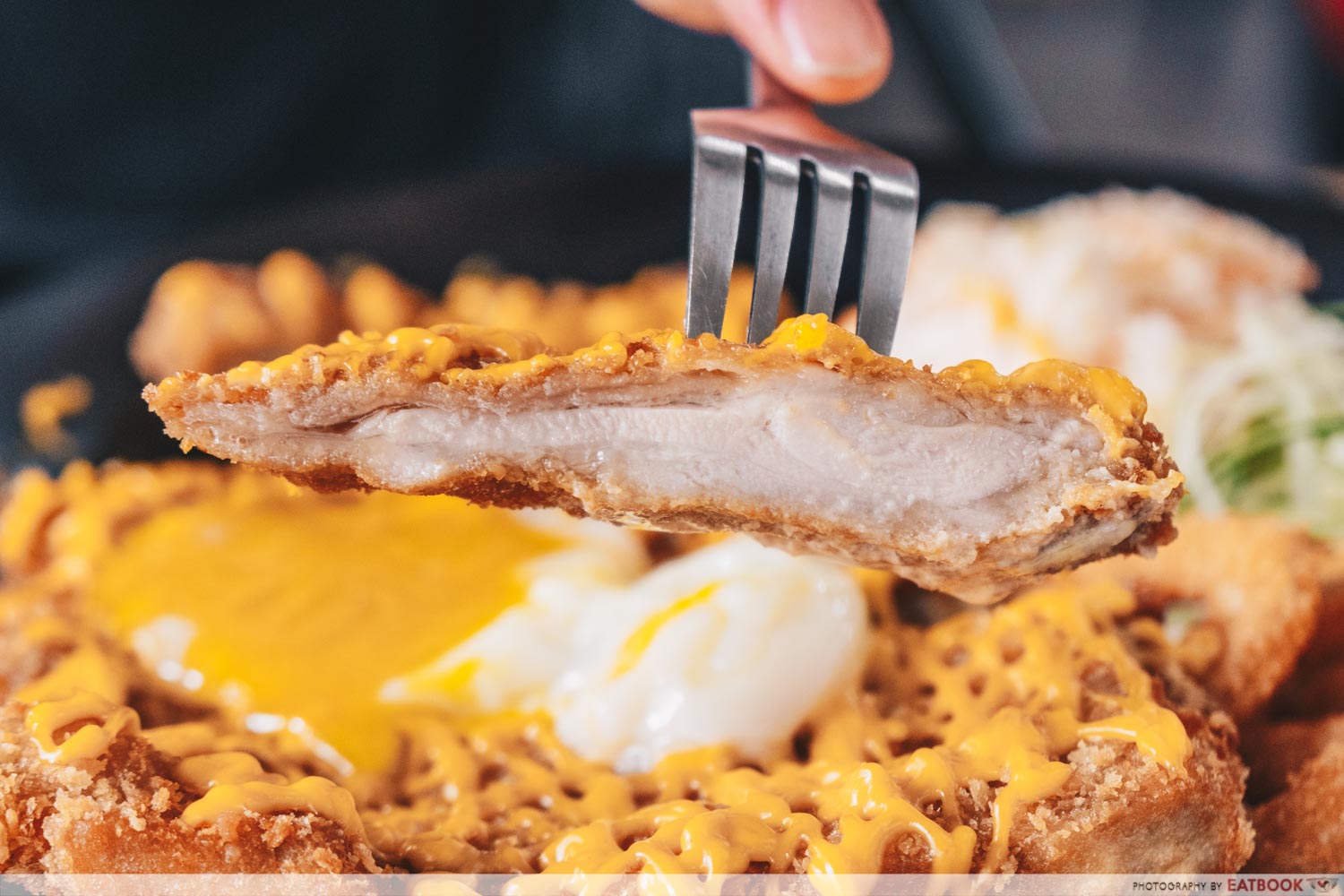 The chicken cutlet was a big treat, as the warm and tender meat was encapsulated by a crispy, deep-fried exterior. The nacho cheese was wonderfully creamy, and it gave the meat a more luxurious texture. Each bite of the chicken cutlet was met with a delightful crunch, and I thoroughly enjoyed each mouthful.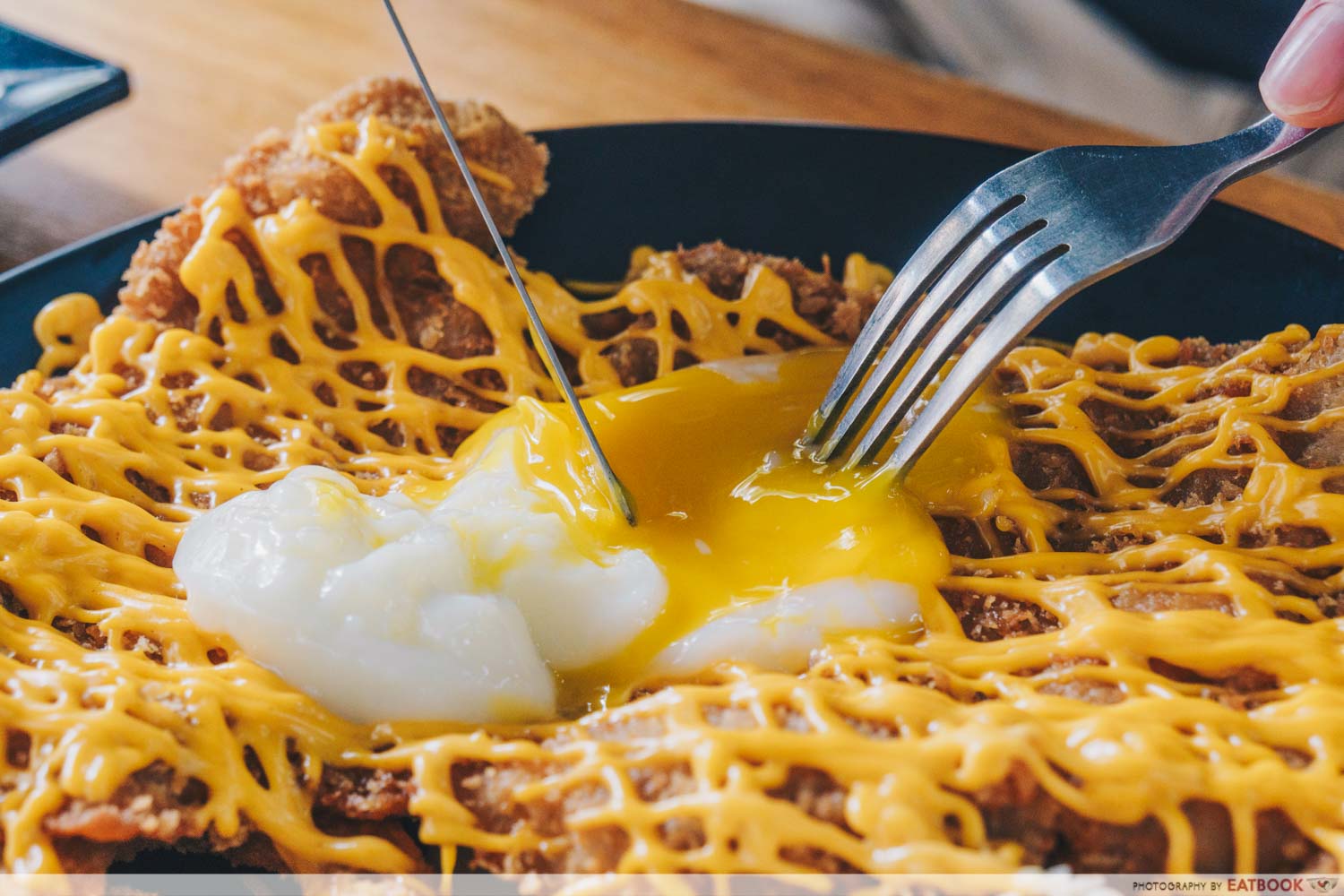 The luscious sous-vide egg provided a nice finishing touch to the dish. It was smooth and creamy, and deepened the flavour profile of the meat. Not to mention, I was very excited to break the egg yolk.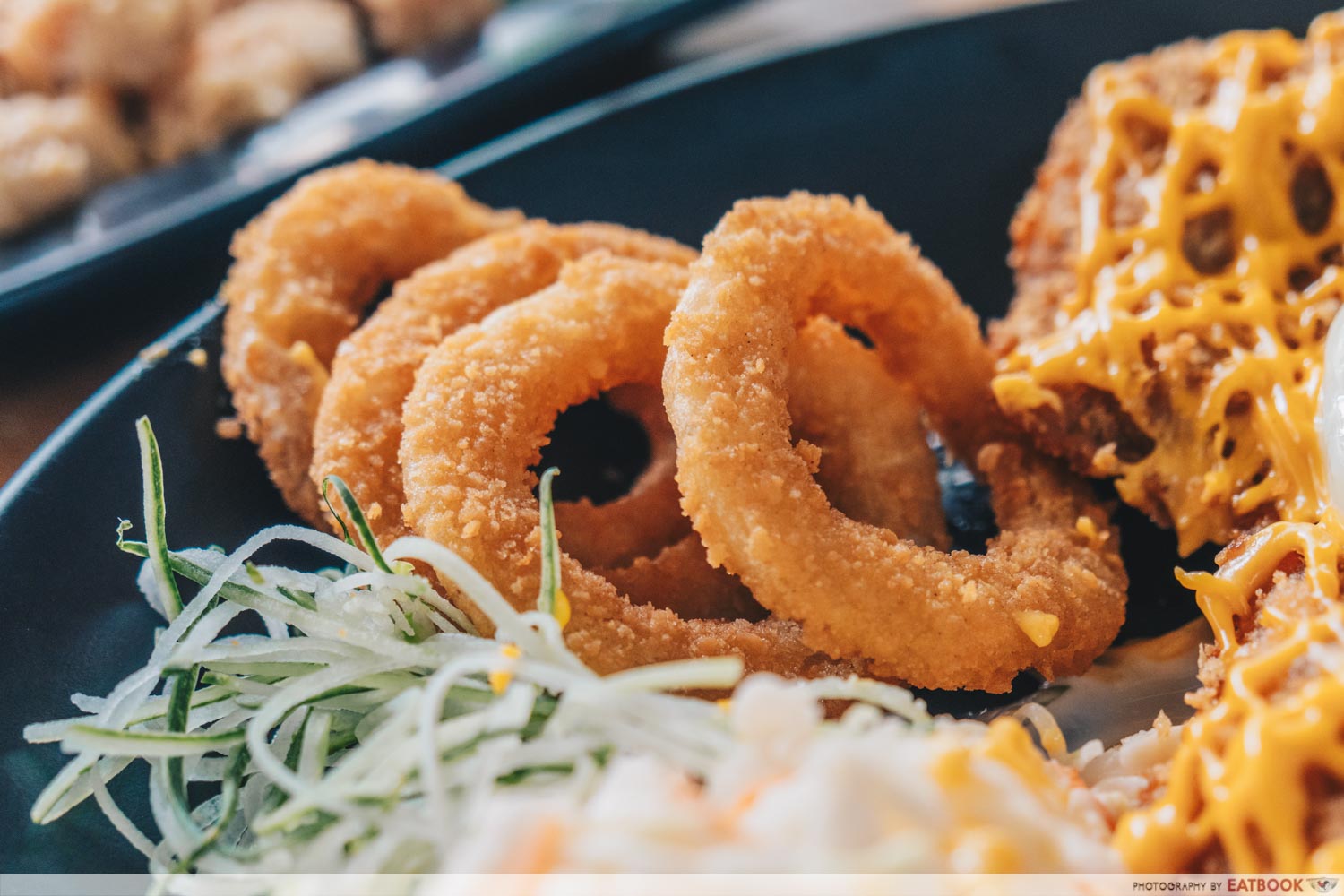 Accompanying the huge chicken cutlet were onion rings and coleslaw. Each onion ring was beautifully fried, as the golden batter encircling the onion slice was crisp but not too hard. I would have preferred a larger portion of onion rings though.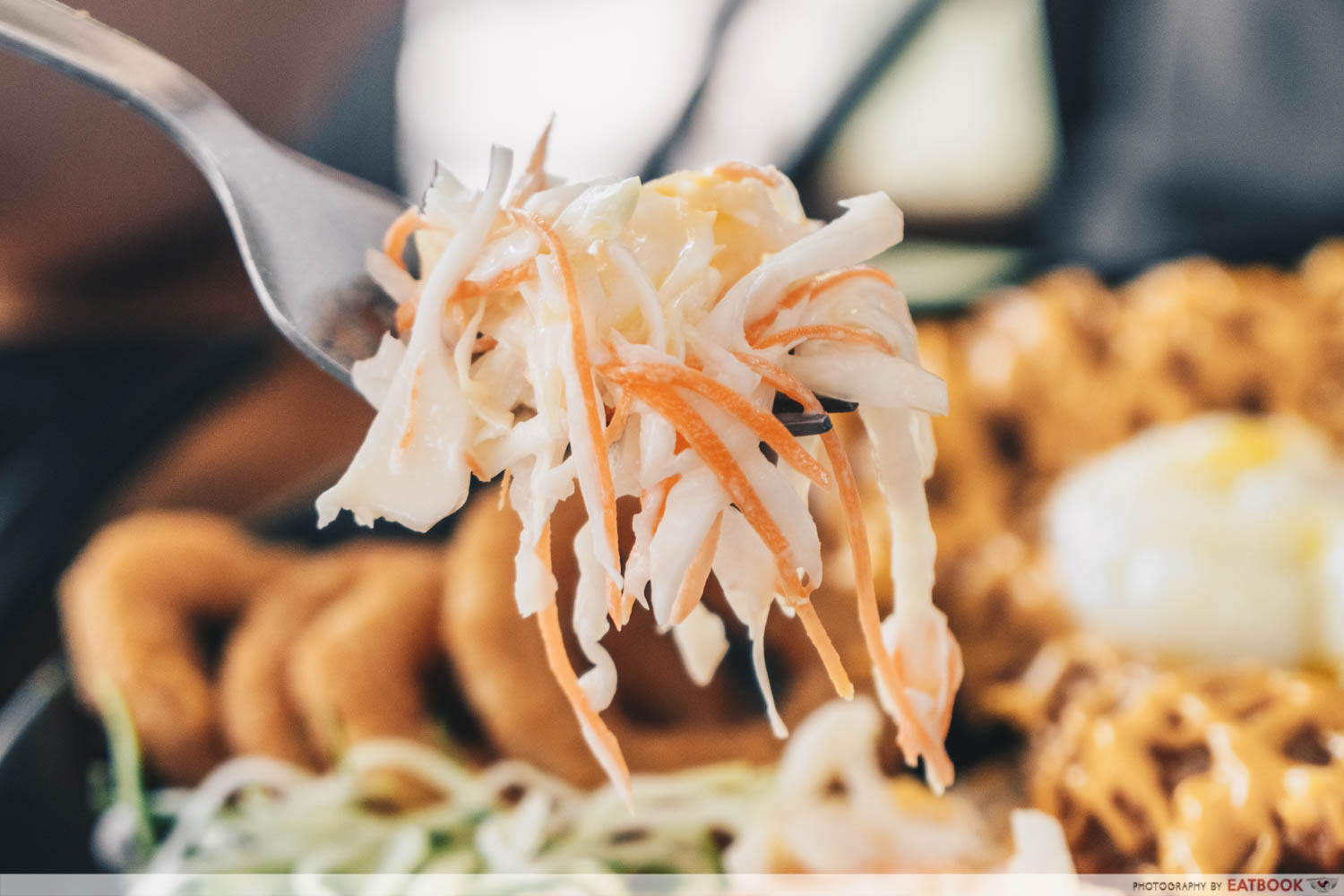 Eating a lot of nacho cheese gave me an overwhelming feeling of satisfaction. The coleslaw was refreshingly sweet and crunchy, and nicely balanced out the flavours of this dish.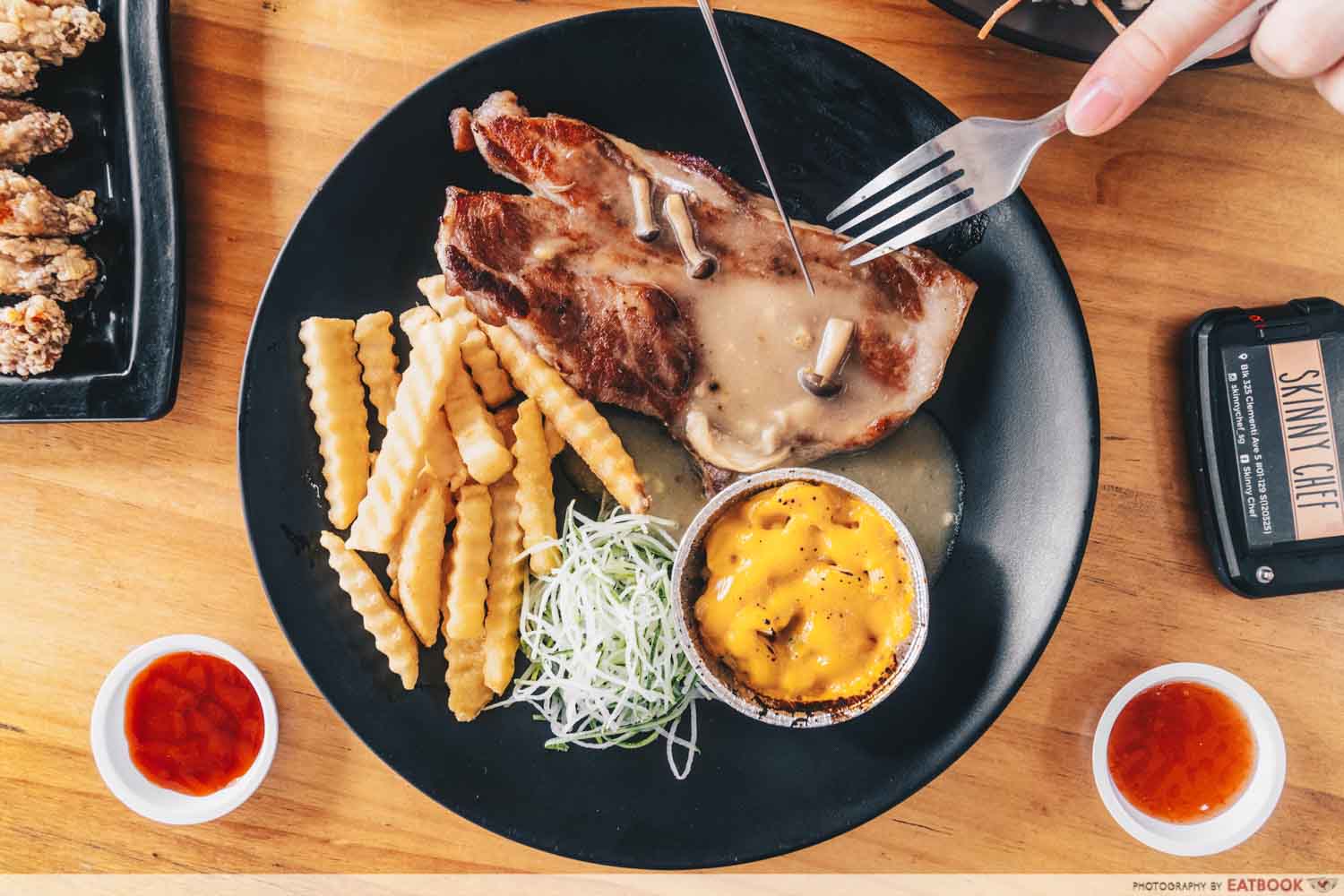 My dining companion and I didn't want to stick to the usual chicken chop, so we got the Pork Collar Chop ($7). We could customise our sides, and chose to pair this beautiful slab of pork with mac & cheese and a side of fries.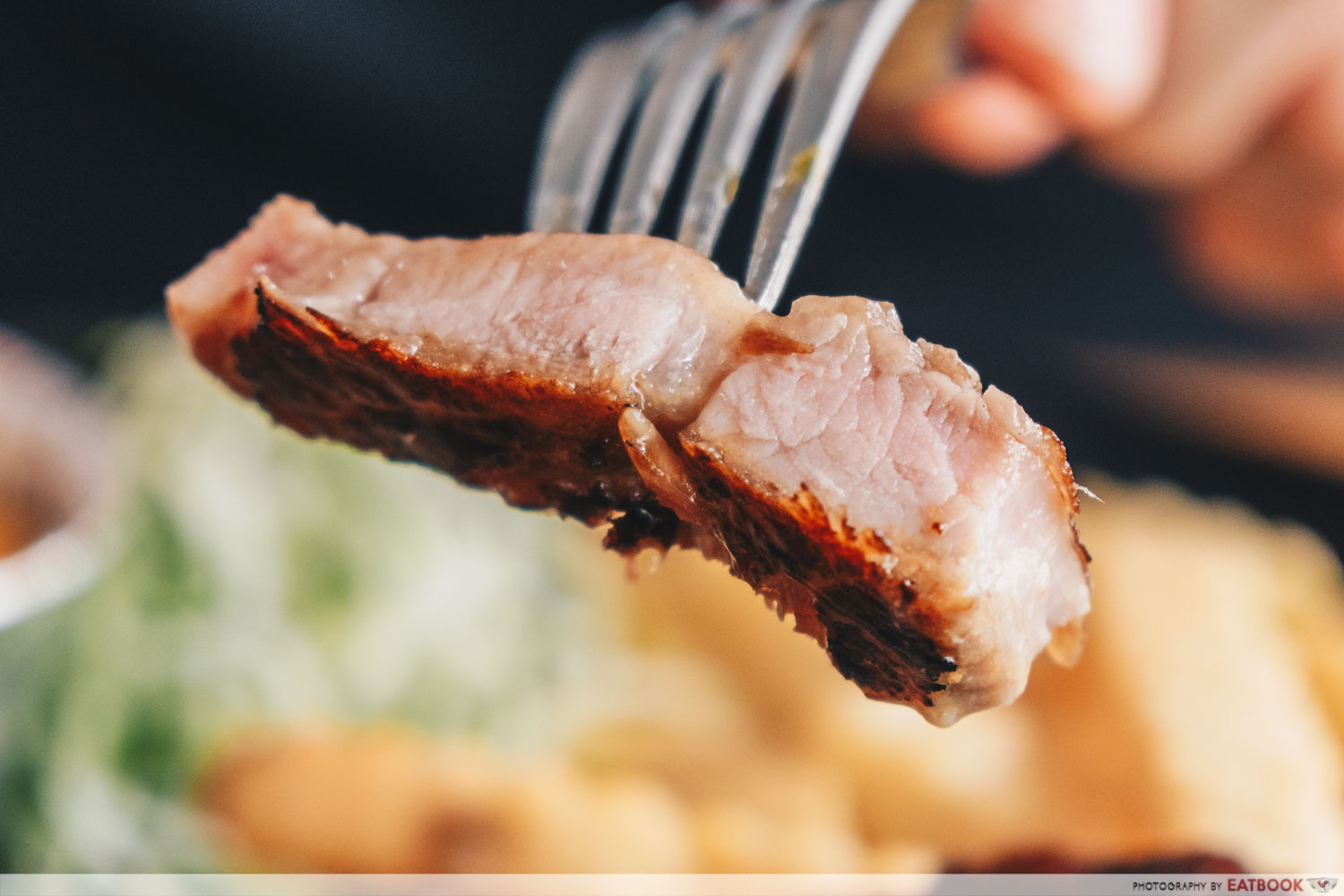 Boy, the slab of pork chop was thick! Despite its thickness, cutting through it proved to be a relatively easy task. The meat was beautifully glazed with a sweet char, and each slice of pork was melt-in-the-mouth tender. I've tasted my fair share of dry pork chops, and I was glad that this one had a nice juicy centre.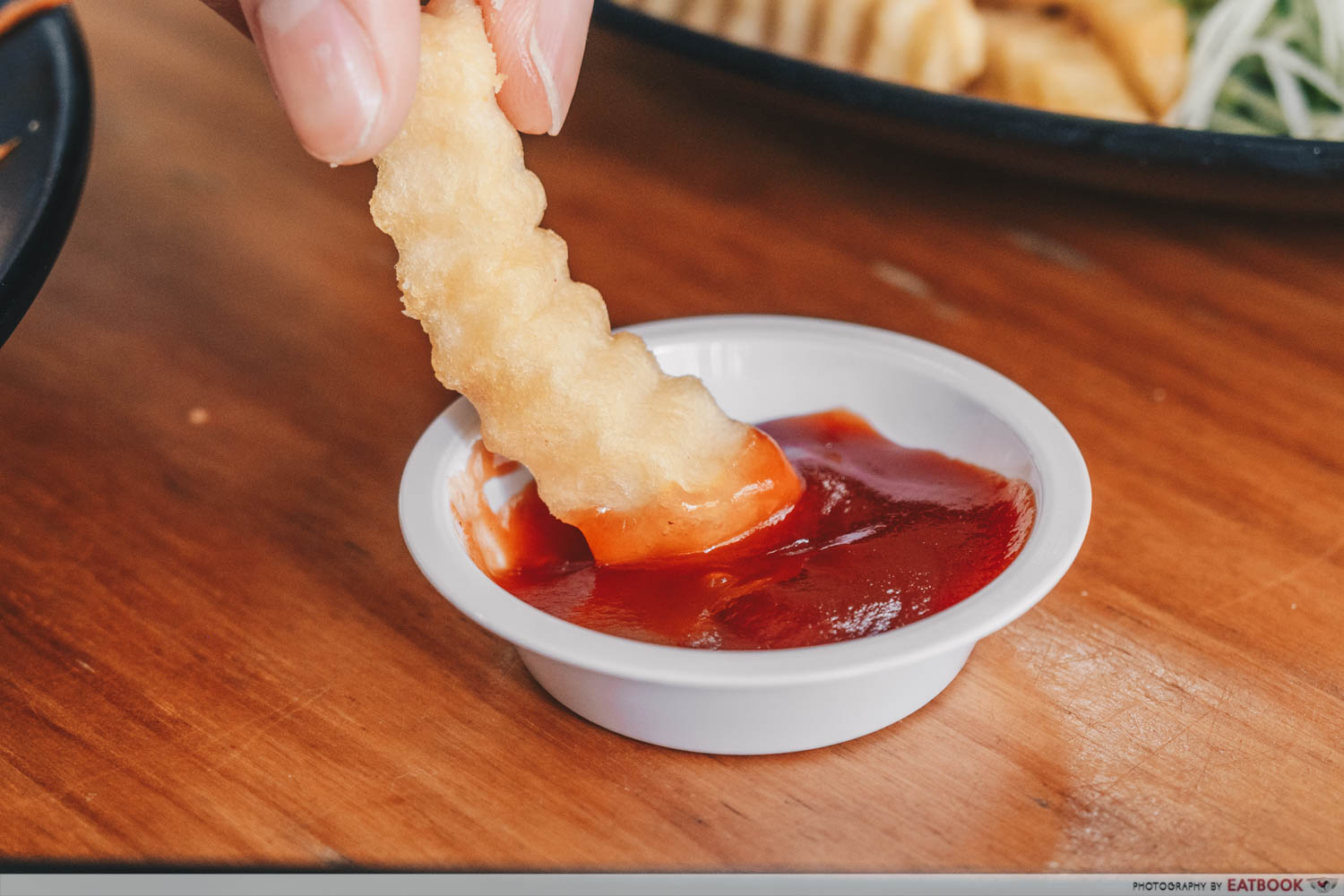 The crinkle-cut fries were thick and crispy. I then dipped each fry into chilli sauce. The sauce did not possess any special qualities, and it tasted like normal chilli sauce, except that it wasn't very spicy. And that's coming from a spicy food amateur.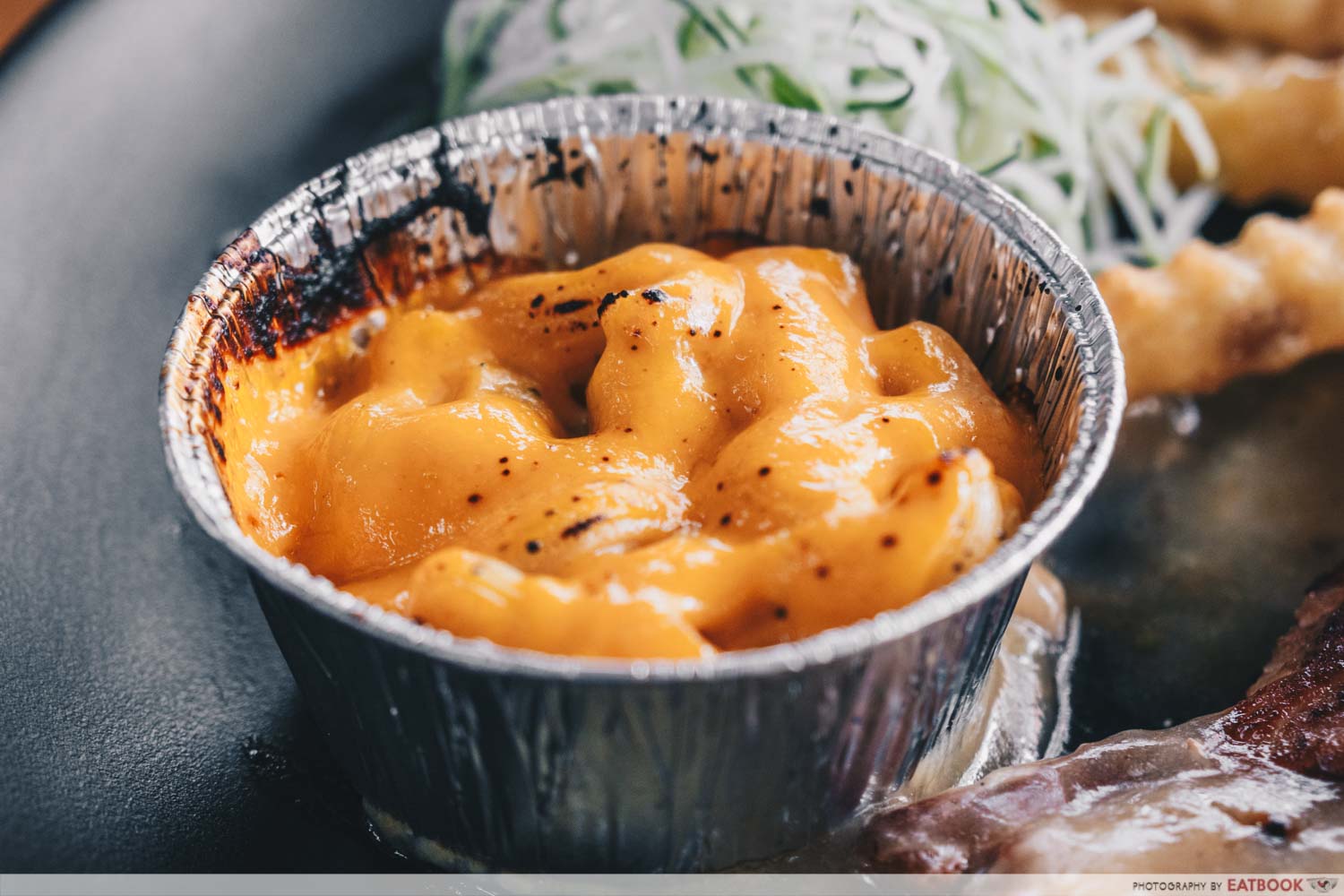 The mac and cheese was a small and sinful indulgence, and was delightfully rich and cheesy. However, my dining companion was disappointed that she could not produce any aesthetic cheese pulls.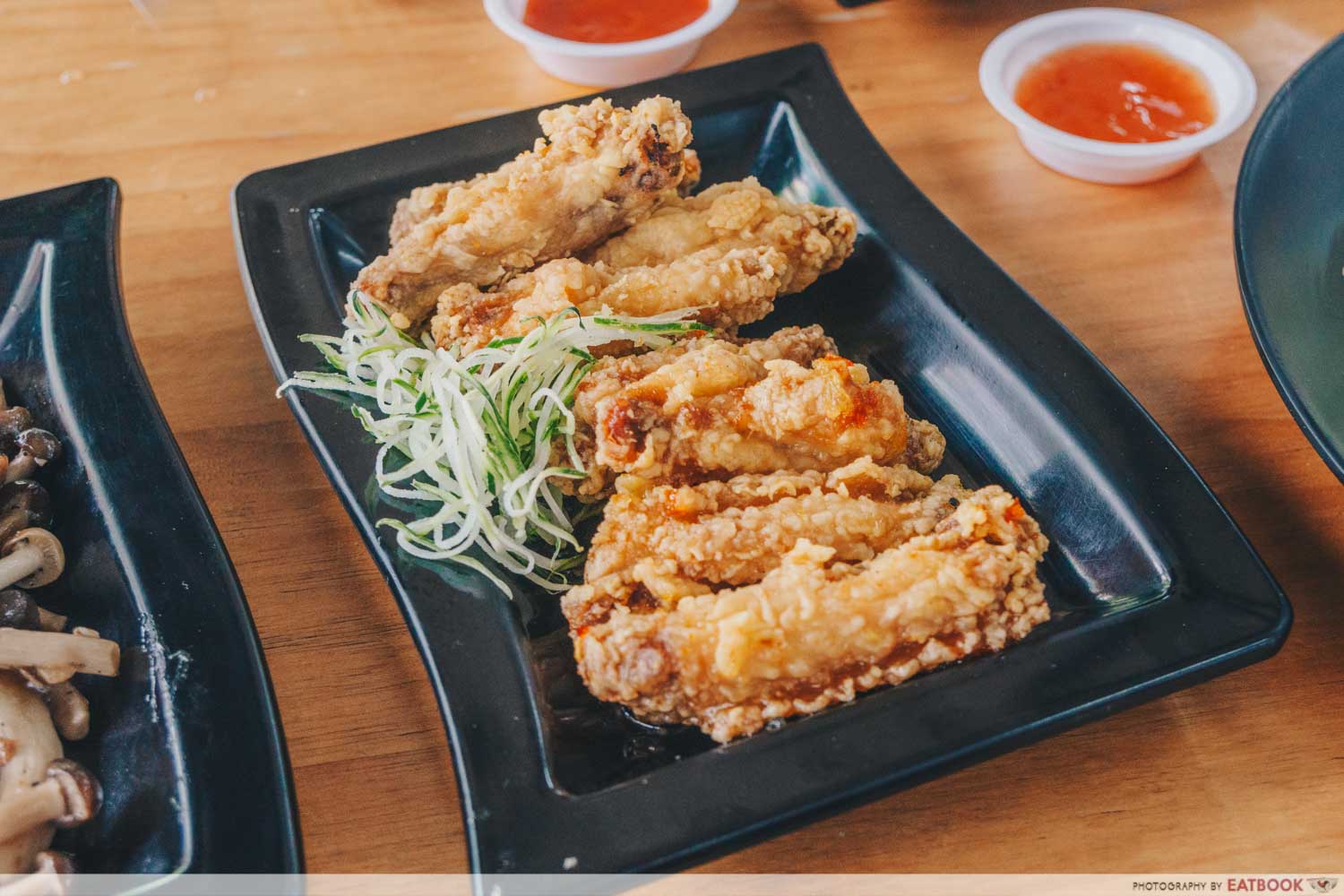 I was craving for something spicy. As such, I got the spicy version of their One Bite Mid Wings ($4). Though the wings were rather small, they contained a good among of flesh.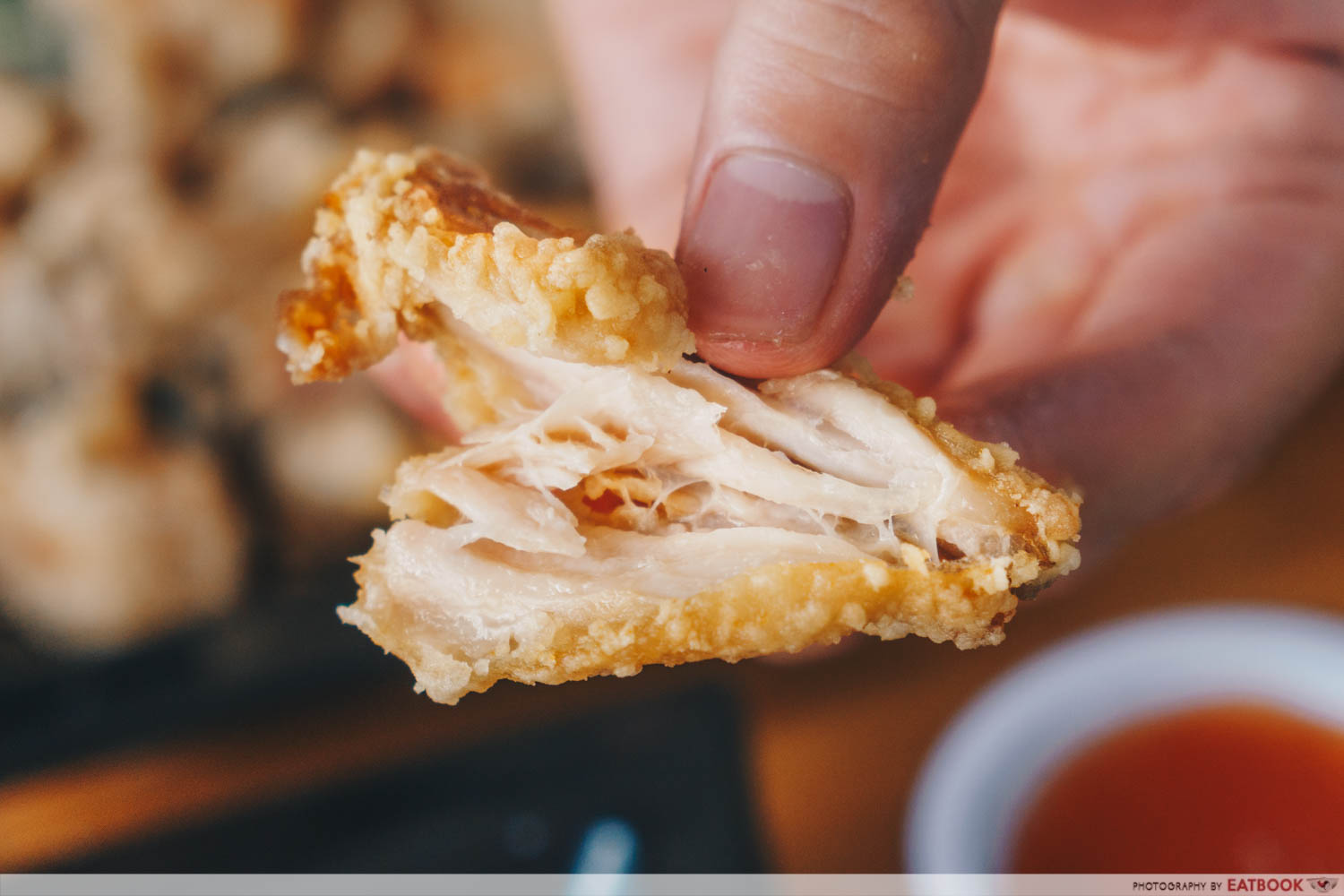 The chicken meat was juicy and flavourful, and came off the bone easily after a few gentle tugs. However, it did not possess the fiery kick I was looking for. I then learned from the two chefs that some of their loyal customers had a low tolerance for spicy food. Hence, they decided to tone down the spiciness of their wings.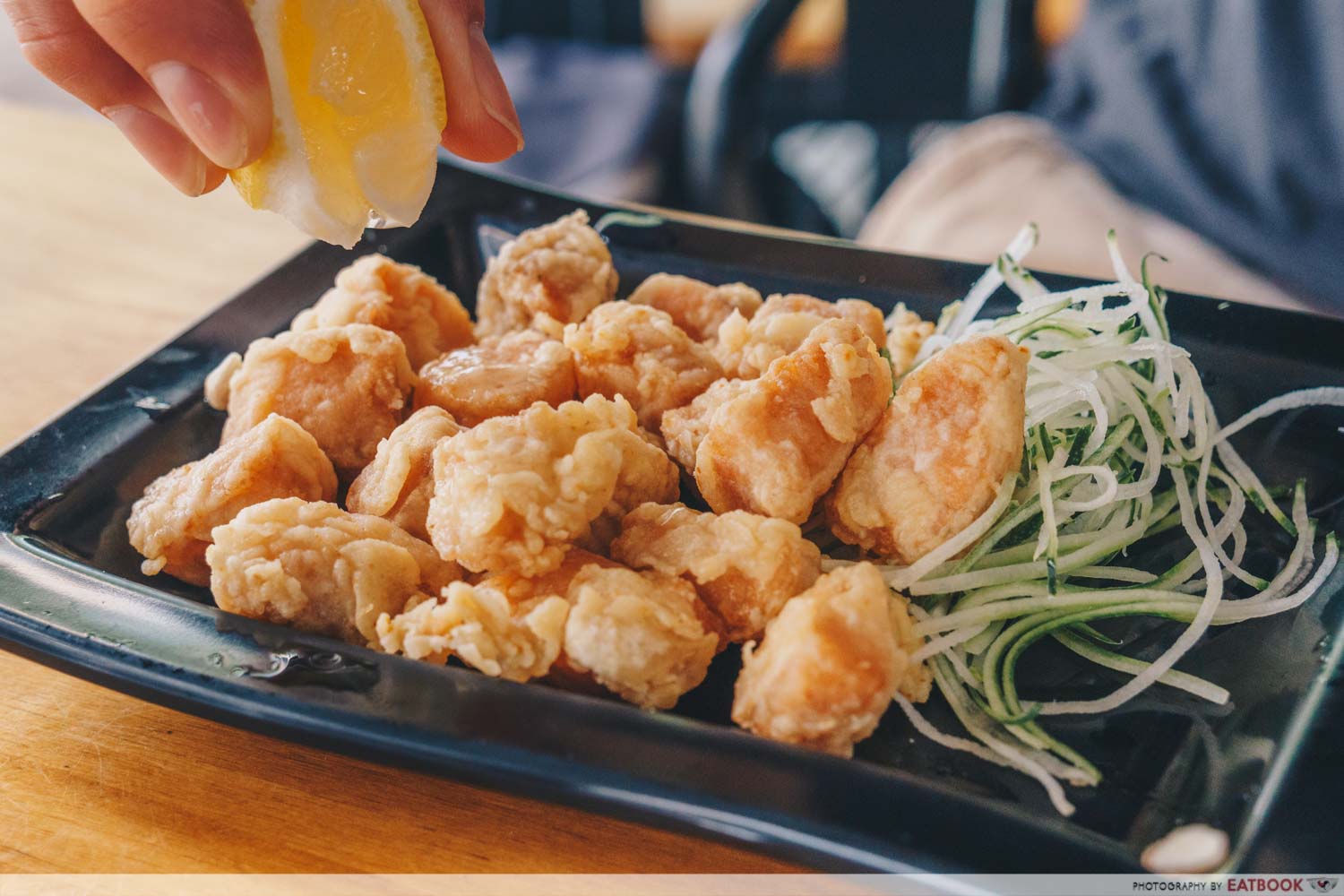 The Deep-Fried Salmon Belly Bites ($3.50) sounded delish, and I knew had to get it. The chefs trim the salmon bellies from their salmon to prevent wastage, and the bellies are then brined in brown sugar. 
This explained why the bites had a slight sweetness to them. Beautifully fried and filled with moist, soft salmon meat, they reminded me of the salmon version of my favourite of popcorn chicken. Each bite-sized piece was rich flavourful, and I couldn't stop popping them into my mouth. The lemon zest added a refreshing tang to every mouthful, and elevated the flavour of the salmon.
Ambience at Skinny Chef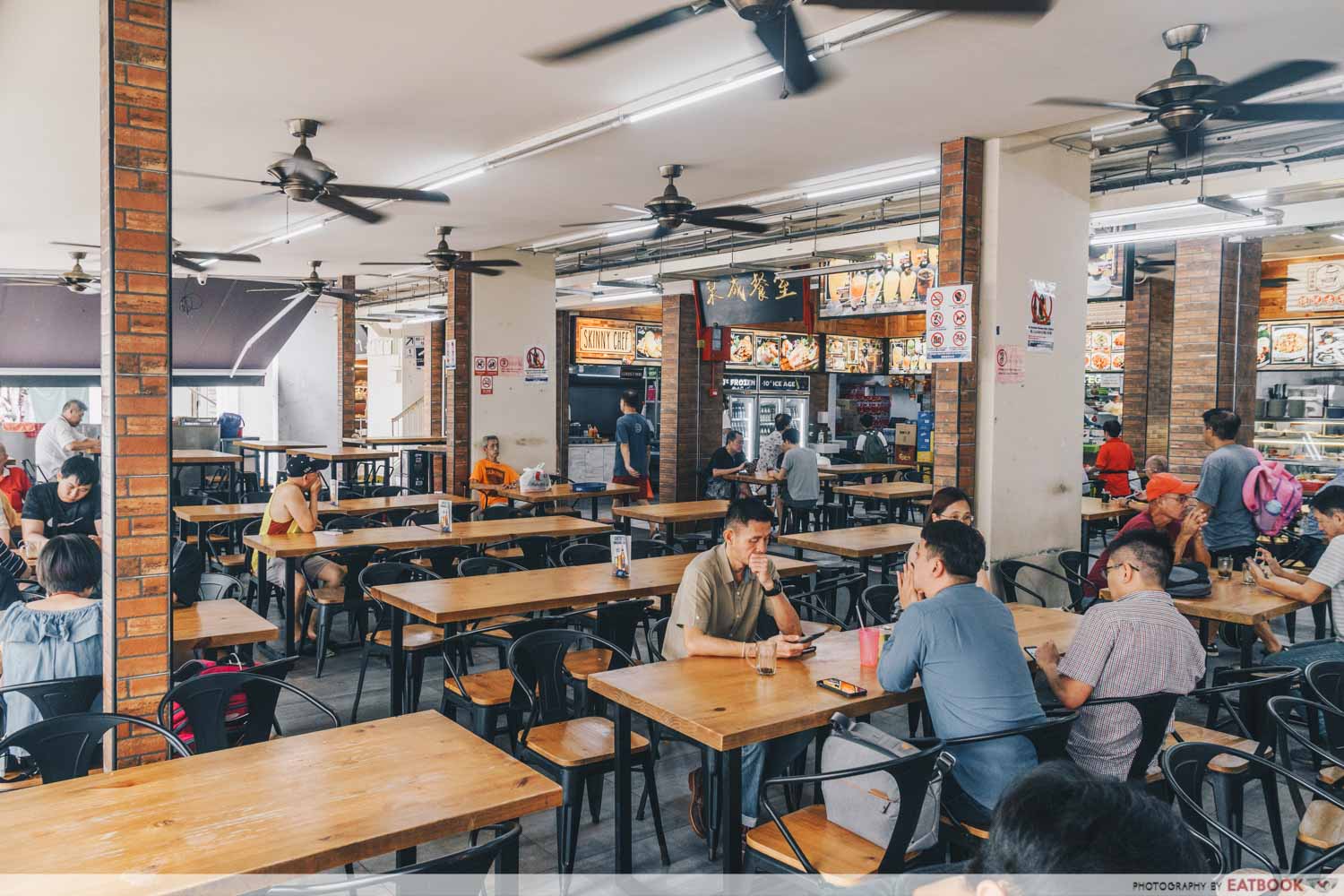 The Western stall is situated in an aesthetically pleasing coffeeshop. With large wooden tables, you'll have more than enough space to dine comfortably. You'll be ensured a cooling dining environment with numerous ceiling fans around the coffee shop. The place tends to get crowded around meal times, so come during the non-peak hours for a chill meal.
The verdict
Skinny Chef dishes out delicious Western food at an affordable price, and I'll pay them a visit if I happen to be in the area. Funny enough, I realised after my meal that the saying "never trust a skinny chef" is BS.
During this tumultuous time, Skinny Chef offers delivery to nearby homes at certain timings, as long as you purchase at least 10 sets of mains. Alternatively, you can just dapao from their stall. WhatsApp them at 9758 2325 to place your orders.
The White Tiffin Review: XXL Lobster Nasi Lemak at Alexandra Road
For more XXL-sized foods, check out The White Tiffin and these 10 XXL dishes.
Hougang Outlet
Address: Block 121 Hougang Avenue 1, #01-1340, Singapore 530121
Opening hours: Daily 11:30am to 3pm, 5pm to 9pm
Tel: 8770 6121
Changi Road Outlet
Address: Block 324T Changi Road, Singapore 419799
Opening hours: Daily 11:45am to 8:45pm
Tel: 8920 8324
Website
Skinny Chef is not a halal-certified eatery.
Photos taken by Huang Xiao.
This is an independent review by Eatbook.sg.
Skinny Chef Review: XXL Fried Chicken Cutlet with Nacho Cheese and Sous-Vide Egg
Skinny Chef Review: XXL Fried Chicken Cutlet with Nacho Cheese and Sous-Vide Egg -

8/10
Summary
Pros
– Tasty XXL chicken cutlet
– Pork chop was juicy and flavourful
– Salmon belly bites were delicious
– Affordable prices
– Generous portions
Cons
– Very few onion rings
– Spicy chicken wings were not very spicy
Recommended dishes: XXL Chicken Cutlet with Nacho Cheese and Sous Vide Egg ($9), Pork Collar Chop ($7), One Bite Mid Wings ($4), Deep-Fried Salmon Belly Bites ($3.50)
Opening hours: Daily 11:30am to 3pm, 5pm to 9pm
Address: Block 121 Hougang Avenue 1, #01-1340, Singapore 530121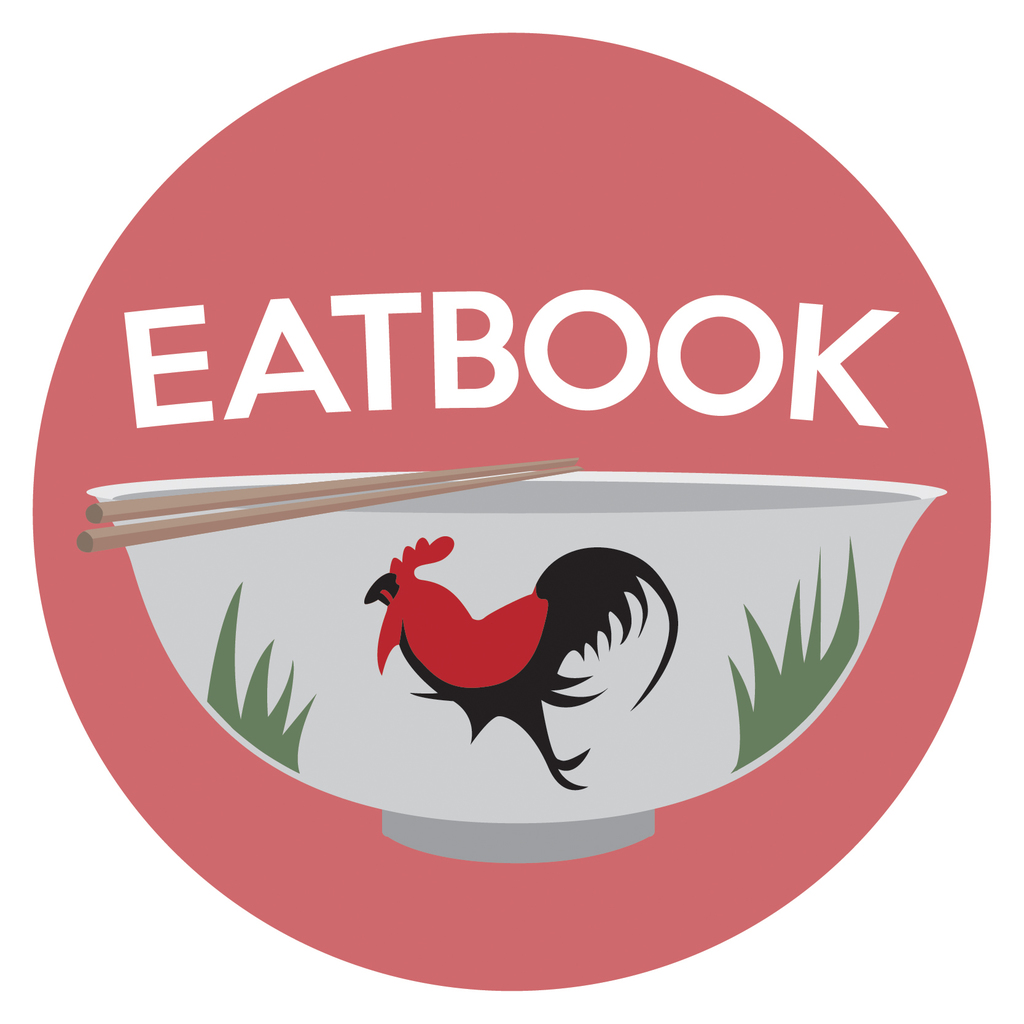 Drop us your email so you won't miss the latest news.