House-made fishballs at Song Heng Fishball Noodle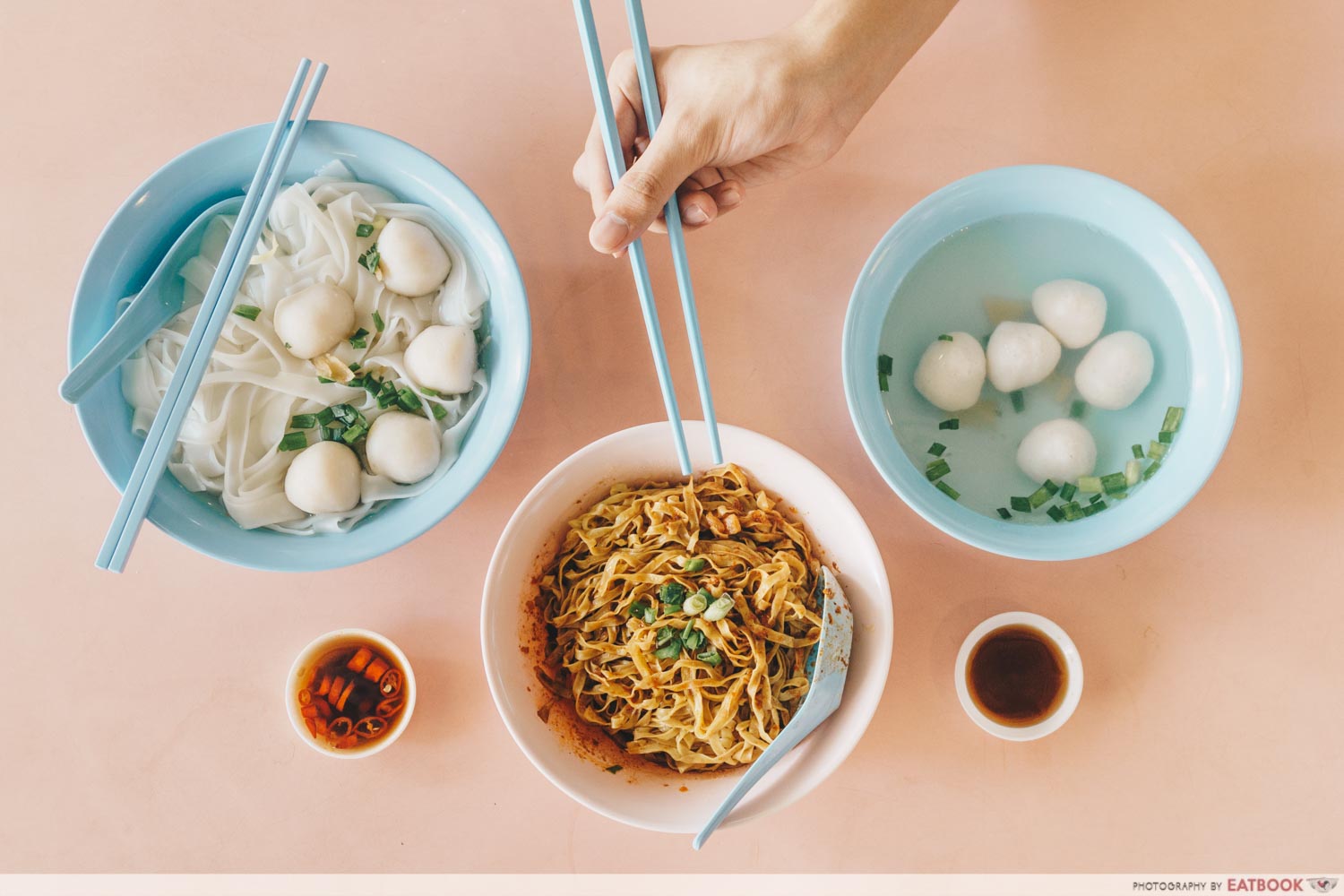 Song Heng Fishball Noodle has half a century of history. The fishball noodle store has been around for the last 54 years, 25 of which have been spent at the Telok Blangah hawker centre. We headed down after hearing praises that residents had for this hidden gem.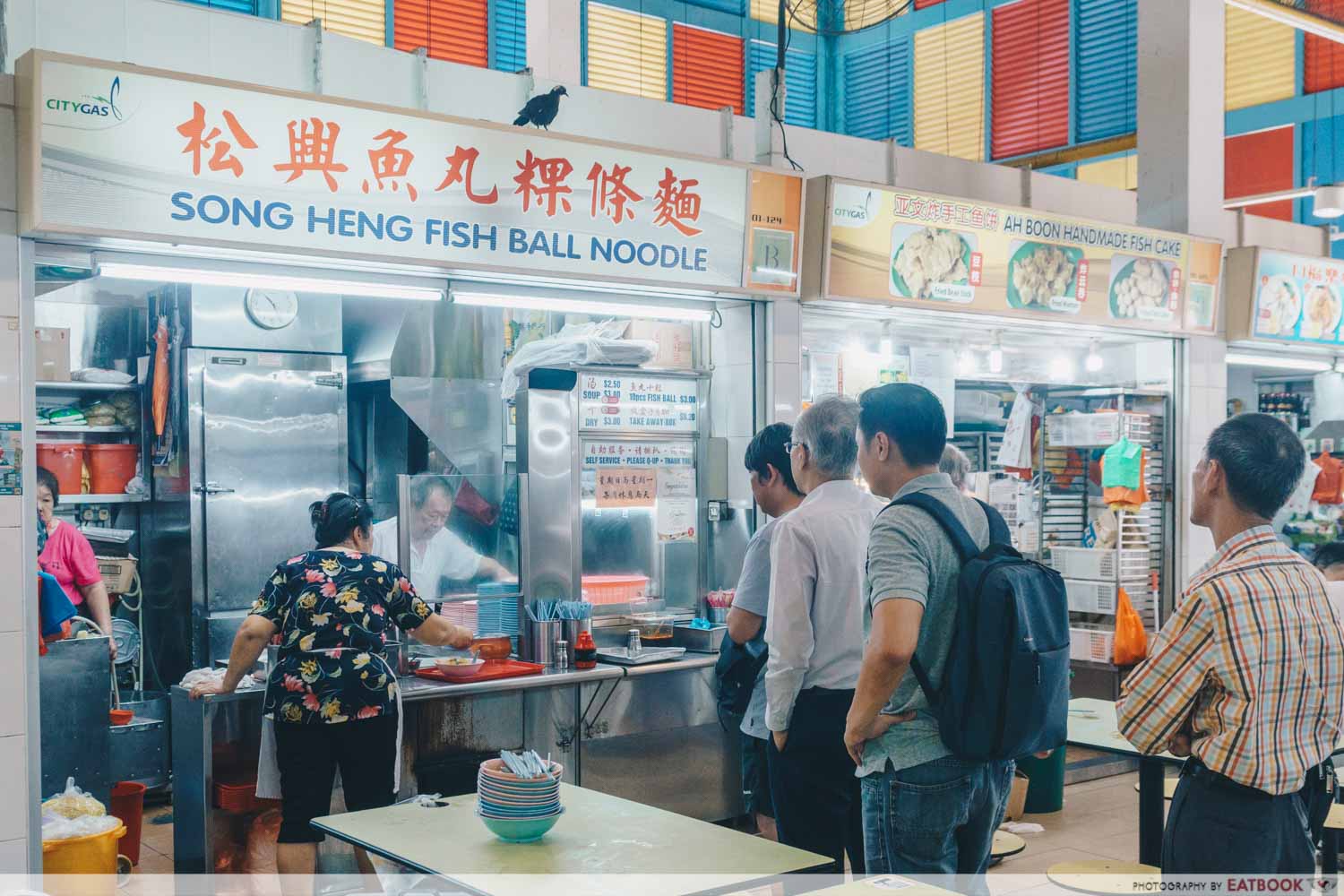 Even outside of mealtimes, the stall has a constant queue. From the minute we arrived, to the moment we left, there were always people lining up to get a taste. By the time we headed off, a long line was forming as the lunch rush began.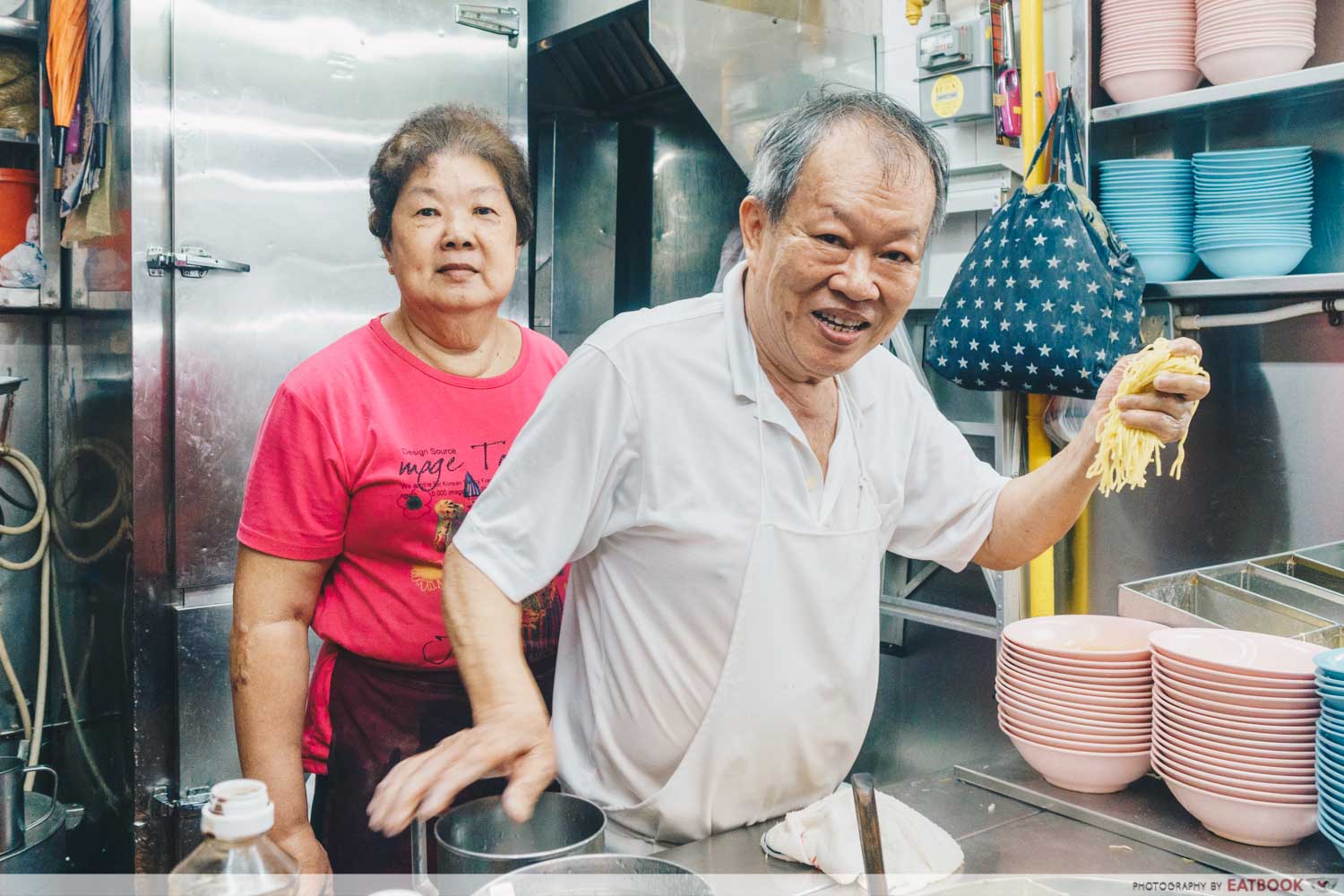 The store is manned by Khoo Song Hiang and his wife. The hardworking duo starts their day at 1am. They arrive long before the crack of dawn and start making fishballs. The stall has its own machines to help with in-house fishball production, but plenty of effort is still spent on filleting the fish and preparing them to be ground up. The elderly couple are usually done with the fishballs by 3am, and finish up the rest of their prep until 5am; just in time to open. It's a tough schedule, but they've been keeping it up for decades.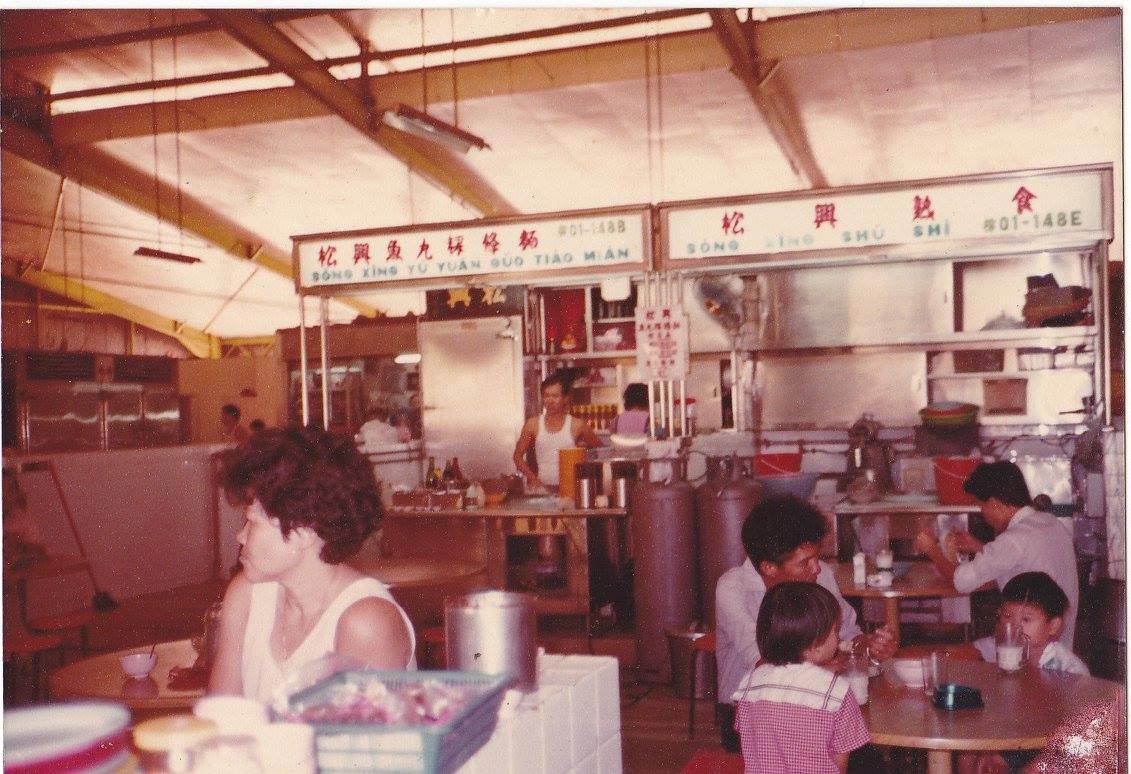 Image credit: Song Heng Fishball Noodle 
The very first iteration of the store sold char kway teow to workers along the Singapore River. But because the meal was dry, customers had to spend extra on drinks to quench their thirst. Most of the customers were coolies sending money back home. The founder, Qiu Yu Cheng, opted to sell fishball noodles instead, since the addition of soup would stop one from feeling parched after eating. He eventually founded Song Heng at Kim Tian Road, and had two whole units: one for making noodles, and the other for producing fishballs. After 29 years there, they moved to their Telok Blangah location and had the longest queues in the hawker centre ever since.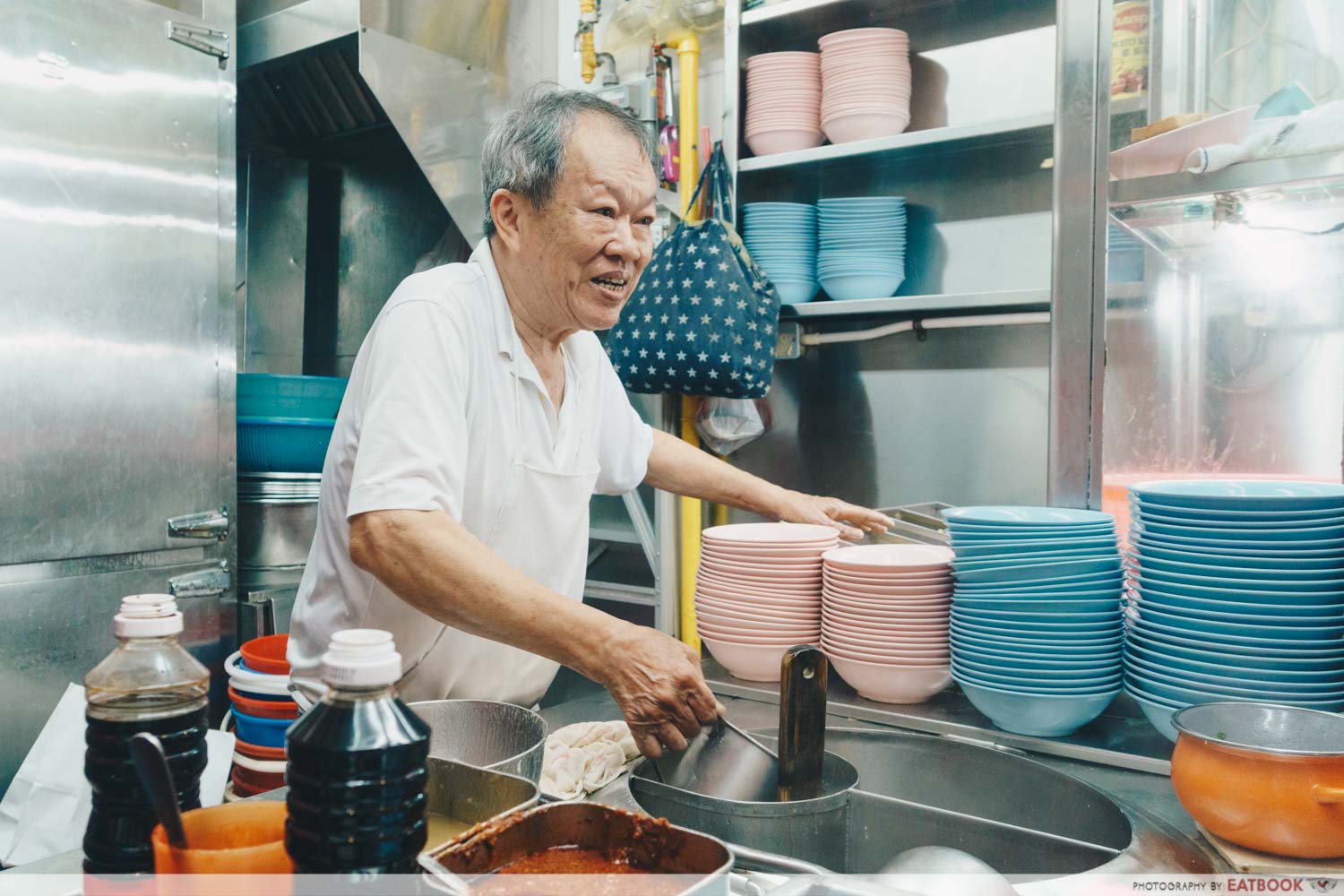 The business is now helmed by his son, Mr. Khoo, who greets every customer with a warm smile. He continues to uphold the legacy and serves up bowls of noodles with passion and care. He and his wife run the stall along with his sister-in-law. When asked about plans for the future, they told us that the store didn't have a successor. The duo plan to keep working as long as they can. 
Food at Song Heng Fishball Noodle
At $3, the Dry Fishball Noodles comes with a huge portion of noodles, and five fishballs. The noodles are topped with chunks of deep-fried lard and spring onion. Scoops of chilli, lard oil, fish sauce, vinegar, and soy sauce are expertly measured and drizzled into the bowl, and stirred to make their signature mix.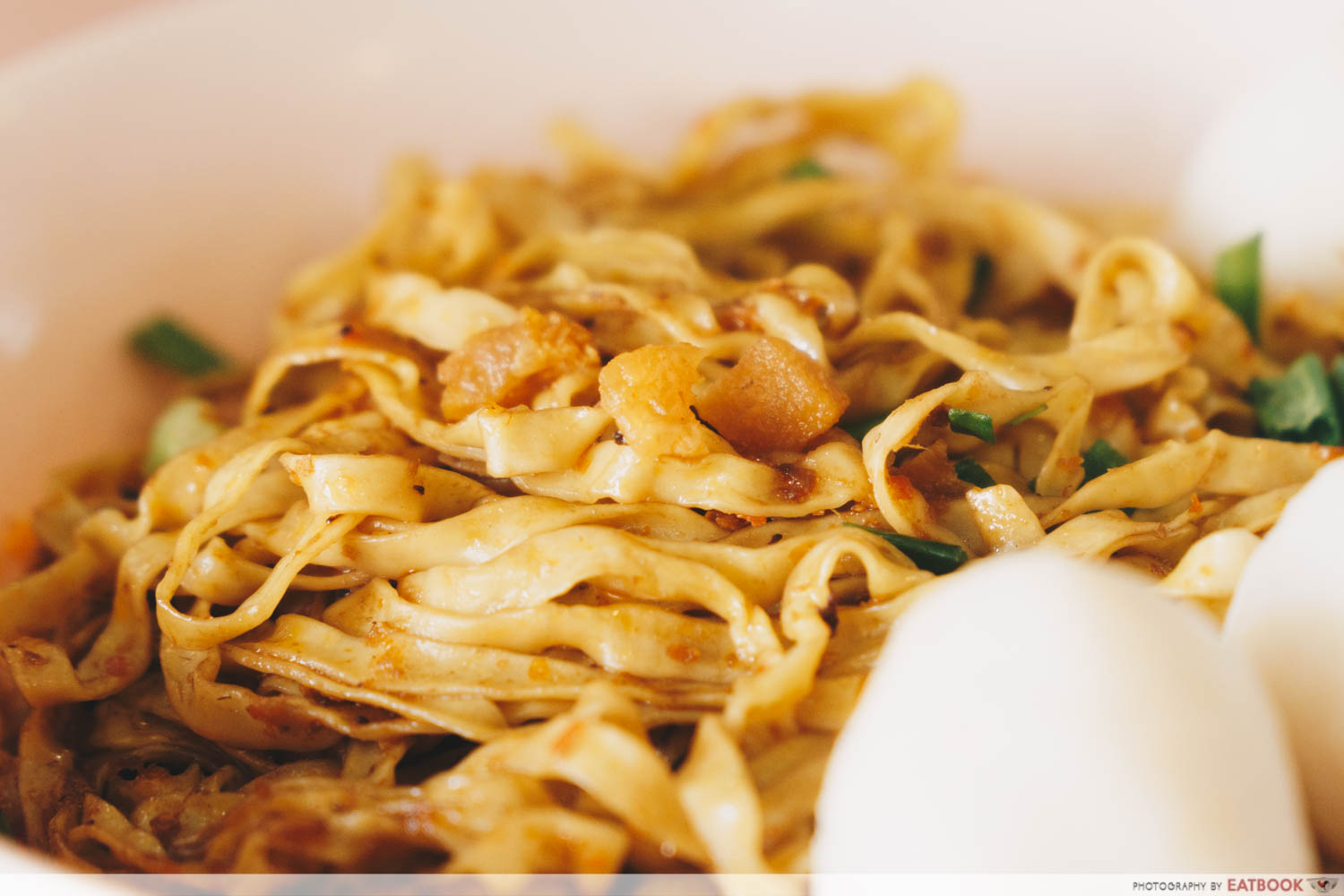 I'm a huge fan of mee pok noodles. The bowl of fishball noodles had chunks of fried lard, spring onion, fishballs, and that was it—simple and familiar.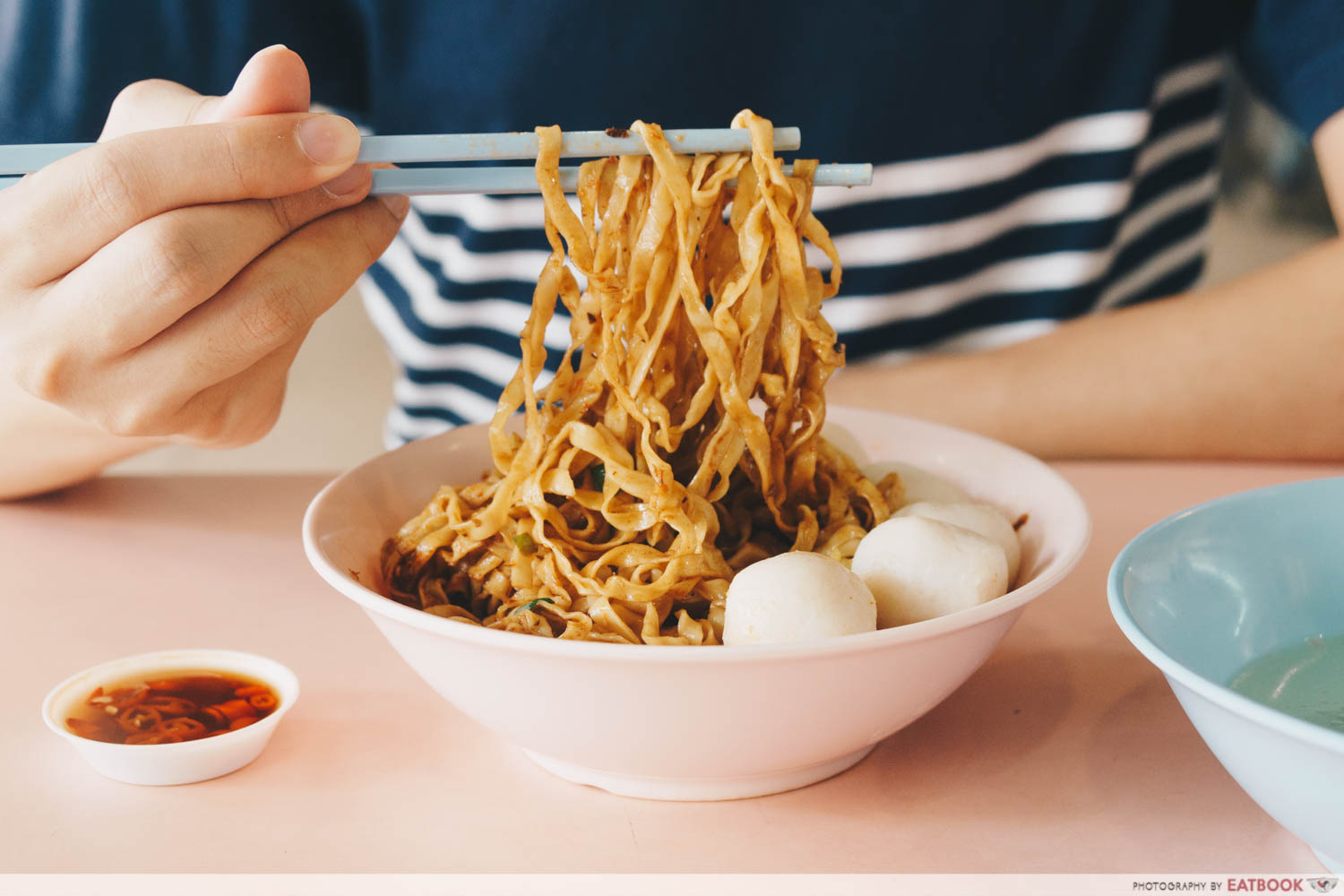 The noodles were chewy and tasty, courtesy of the rich sauce clinging to them. It wasn't too hard, but did have a bit of chewiness to it. Tossing the mee pok for a few moments helped form an even coat of chilli over the yellow noodles. The vinegar gave the dish a bit of a sour tang, which helped cut through the spicy chilli.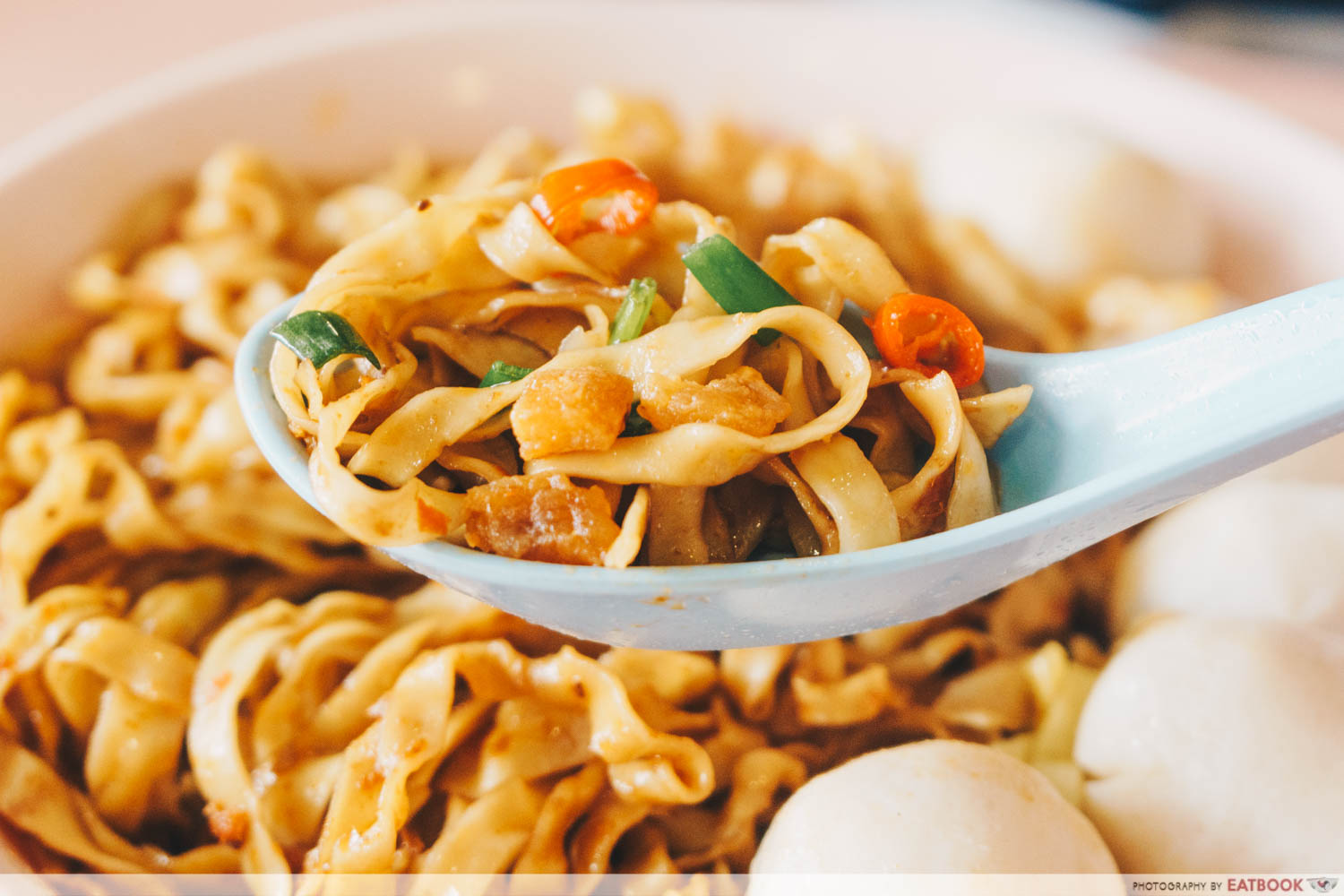 The bowl of noodles captured everything I loved about mee pok and bak chor mee. Savoury, spicy, and sour at the same time; big portions, great noodle texture, and tons of crunchy lard. You'll definitely want something to drink with the spoonfuls of flavourful noodles.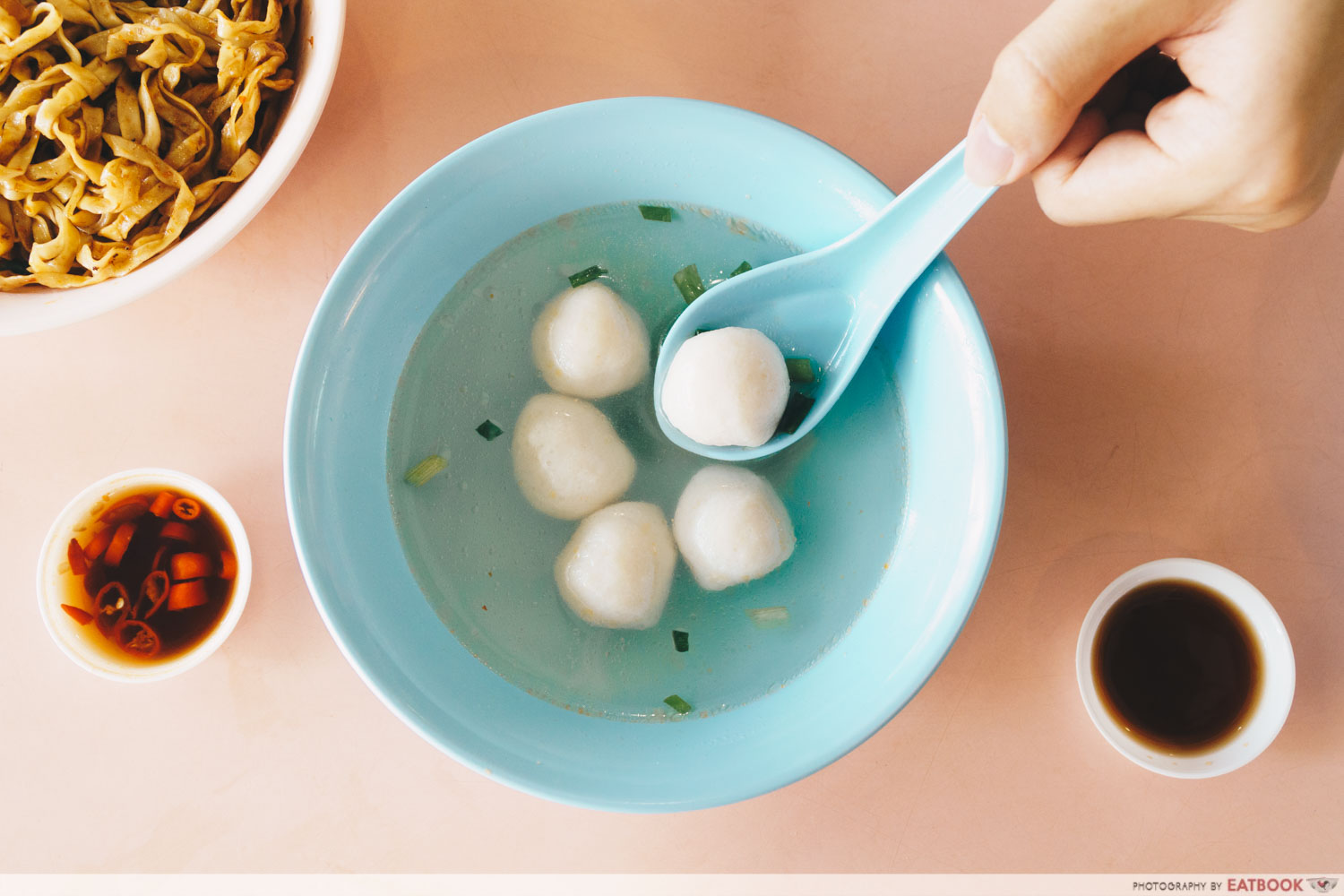 There's a bowl of clear soup to help wash down the strong taste and cleanse your palate of rich oil. The soup was clean tasting, refreshing, and had a hint of umami flavour. You get five fishballs per order of noodles, and they come floating in the soup. If you want even more of them, you can buy 10 pieces on their own for $2.50.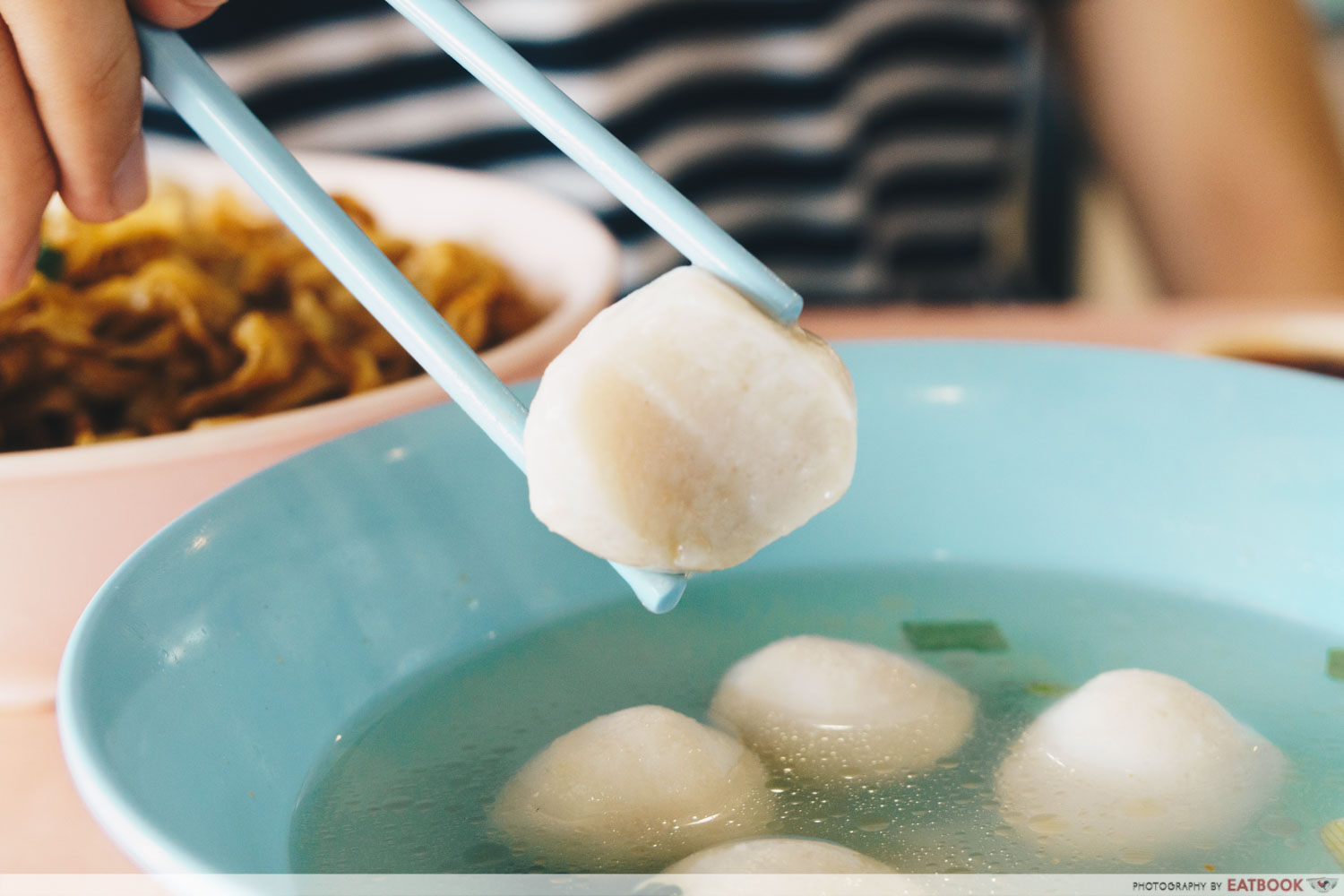 The house-made fishballs have that much-desired bouncy texture. They were springy and held together well. While the taste itself wasn't anything revolutionary, eating these fishballs felt particularly meaningful. 
They were labours of love from the elderly couple, who dragged themselves out of bed to prepare these tasty morsels for us at 1am.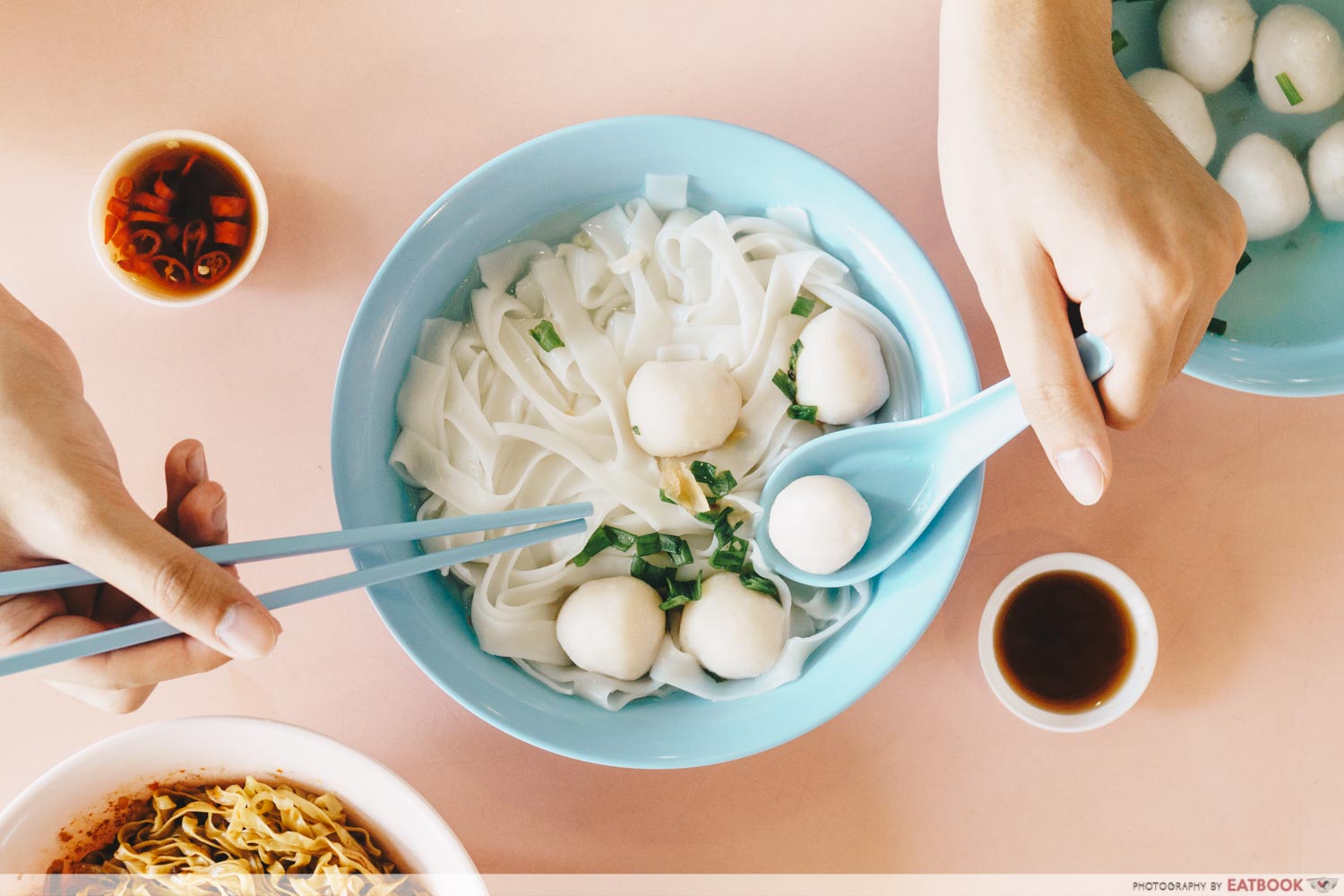 The Fishball Noodles Soup ($3) came with five fishballs too. Instead of arriving in a separate bowl, they were laid out among the spring onions and white kway teow. Just like the dry version, the portion size was impressive for just three dollars.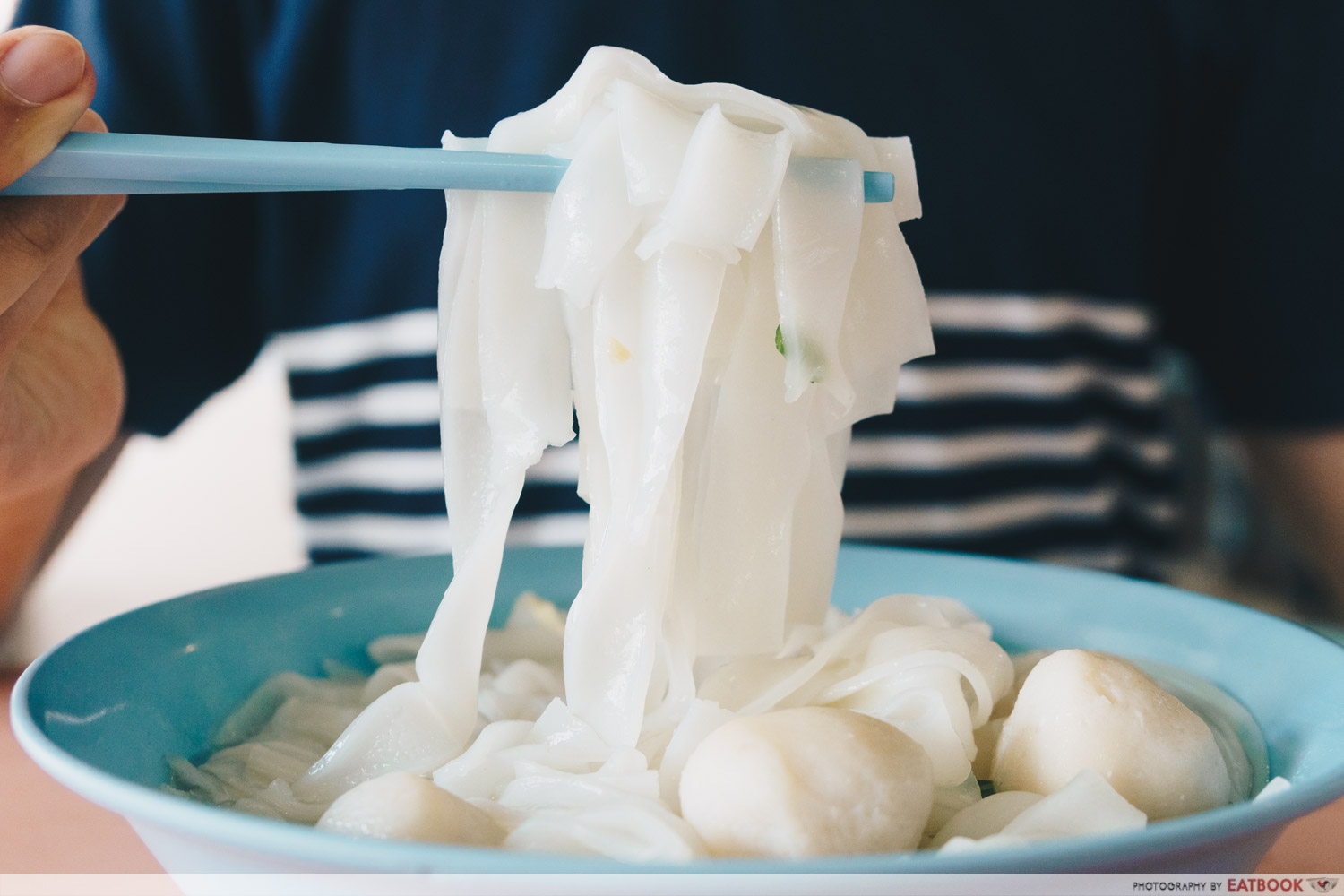 The kway teow was slippery, plain, and flavoured lightly by the soup. Its taste was too mild for my liking, but I liked how smooth and soft the noodles were. They soaked up the soup well and had a delightful silky texture.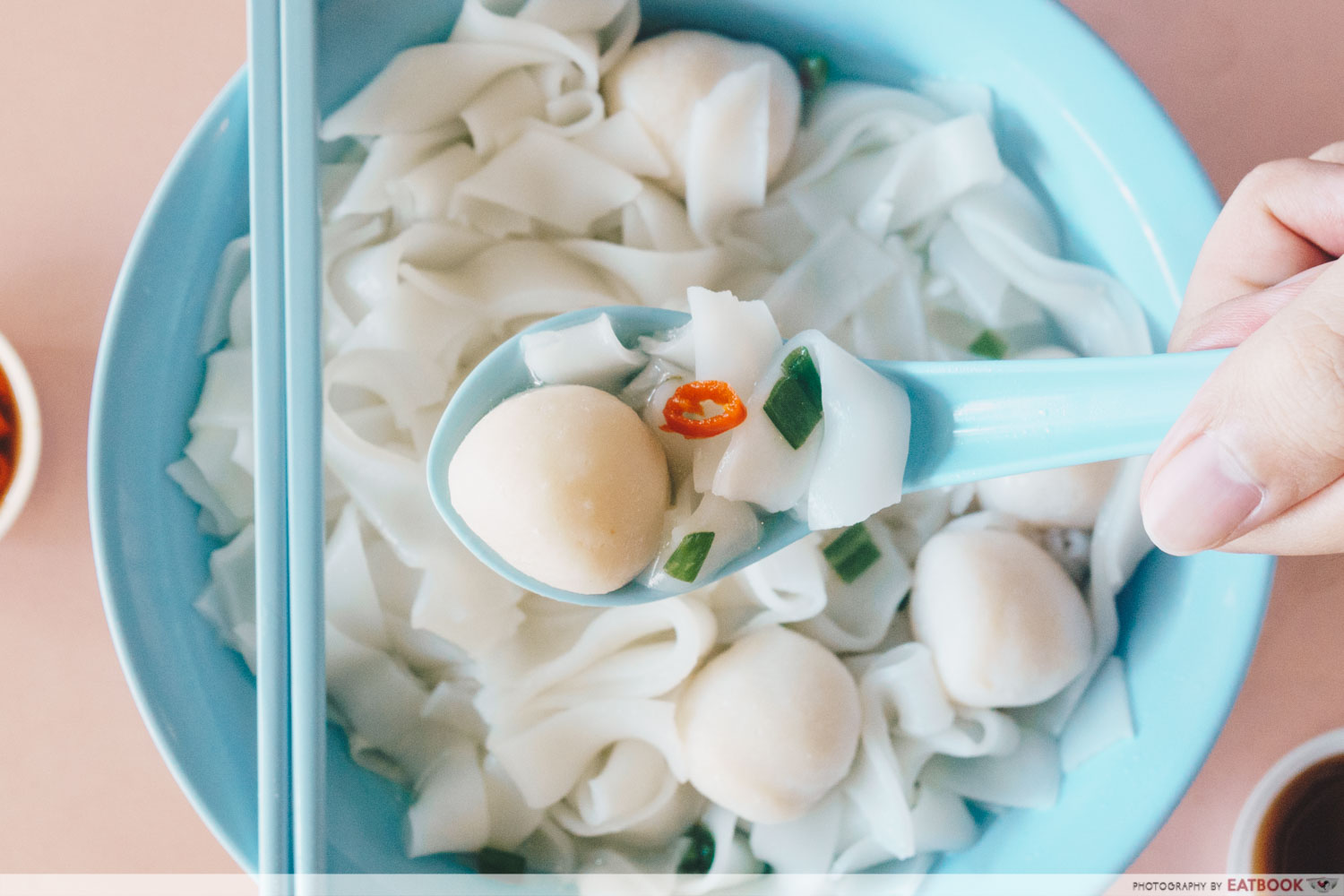 Kway teow is usually a bit too plain for my liking. While the lack of flavour put me off at first, the dish was much improved by adding drops of soy sauce and bits of chilli to each spoonful. 
Overall, I'd definitely recommend the dry noodles over the soup one. Both have great value and large sizes, but the mee pok was bursting with flavour and felt a lot more filling. The kick of vinegar, spicy chilli, and QQ fishballs made me crave more when I was done. At its price, I was tempted to order a second bowl on the spot. Unfortunately, I couldn't spare the time to queue.
Ambience at Song Heng Fishball Noodle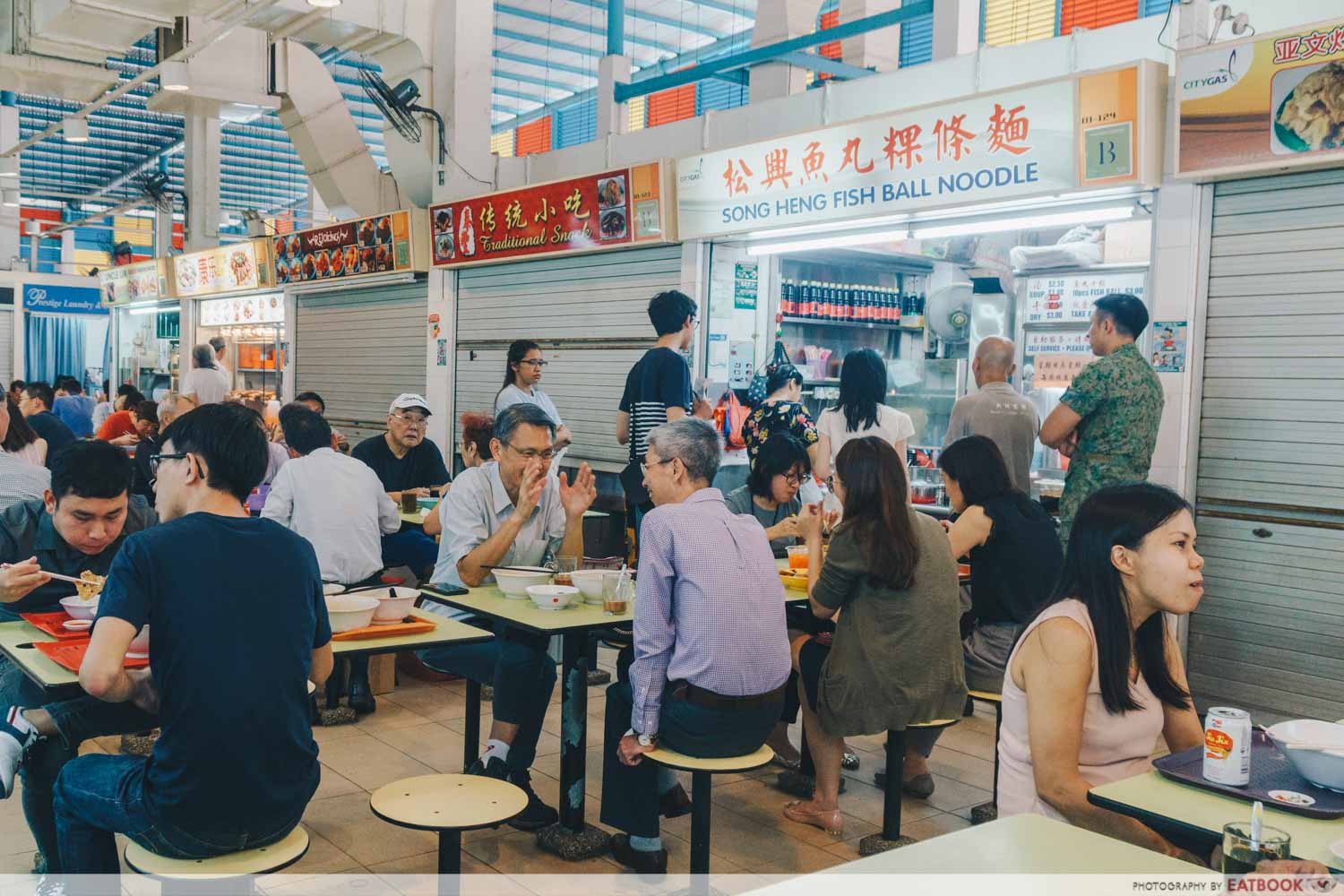 Telok Blangah Crescent hawker centre is far from any MRT station, and getting there can be a bit of a hassle. It took a 10-minute bus ride to reach from Tiong Bahru MRT Station. The queue at the store is always pretty long, so be prepared to wait in line.
While the food was great, the ambience left much to be desired. The hawker centre itself had a LOT of pigeons, all wandering around and weaving beneath the tables. 
The verdict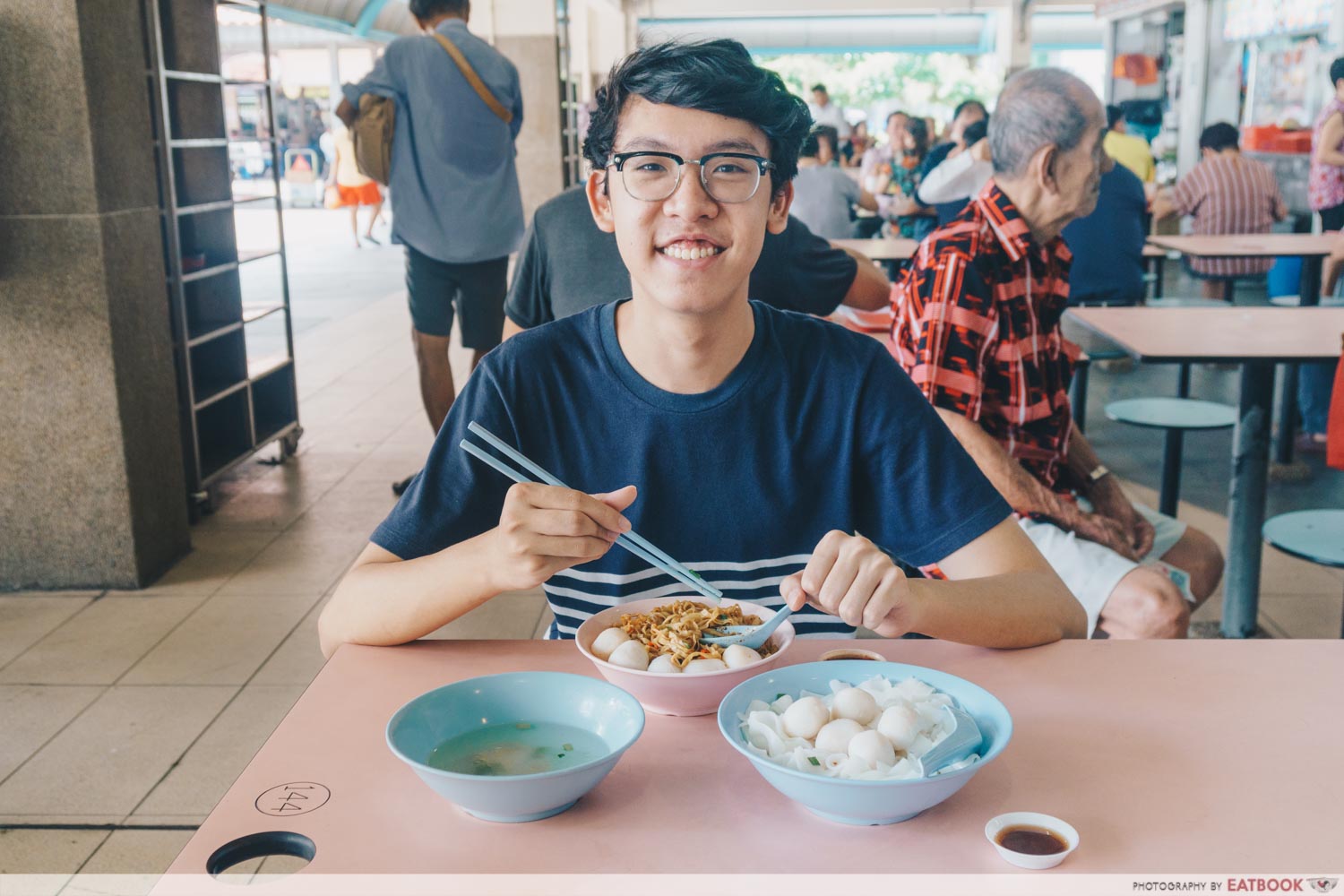 Song Heng Fishball Noodle is worth queuing for. The big portions are great for their prices, and the mee pok is delicious. There are only so many ways you can make mee pok, but the sauce that goes into their noodles made it stand out quite a bit.
I can't deny that I got a bit sentimental while hearing about their hard work and effort, and if I'm in the area again, I would be willing to stand in line to show my support for the friendly auntie and uncle. 
The homely stall has an old-fashioned vibe, just like the quaint neighbourhood it sits in. If you're interested in more hawker food, check out some other stalls in Telok Blangah Crescent! Tian Tian Hainanese Curry Rice can also be found nearby. 
Address: 11 Telok Blangah Crescent, #01-124, Telok Blangah Crescent Market & Food Centre, Singapore 090011
Opening hours: Tues-Sat 5am to 3pm
Website
Song Heng Fishball Noodle is not a halal-certified eatery.
Photos taken by Huang Xiao.
This is an independent review by Eatbook.sg.
Summary
Pros
– Generous portion of noodles
– Affordable
– Amazing mee pok 
Cons
– Long queue
– Unpleasant ambience
Recommended dishes: Dry Fishball Noodles ($3)
Opening hours: Tues-Sat 5am to 3pm
Address: 11 Telok Blangah Crescent, #01-124, Telok Blangah Crescent Market & Food Centre, Singapore 090011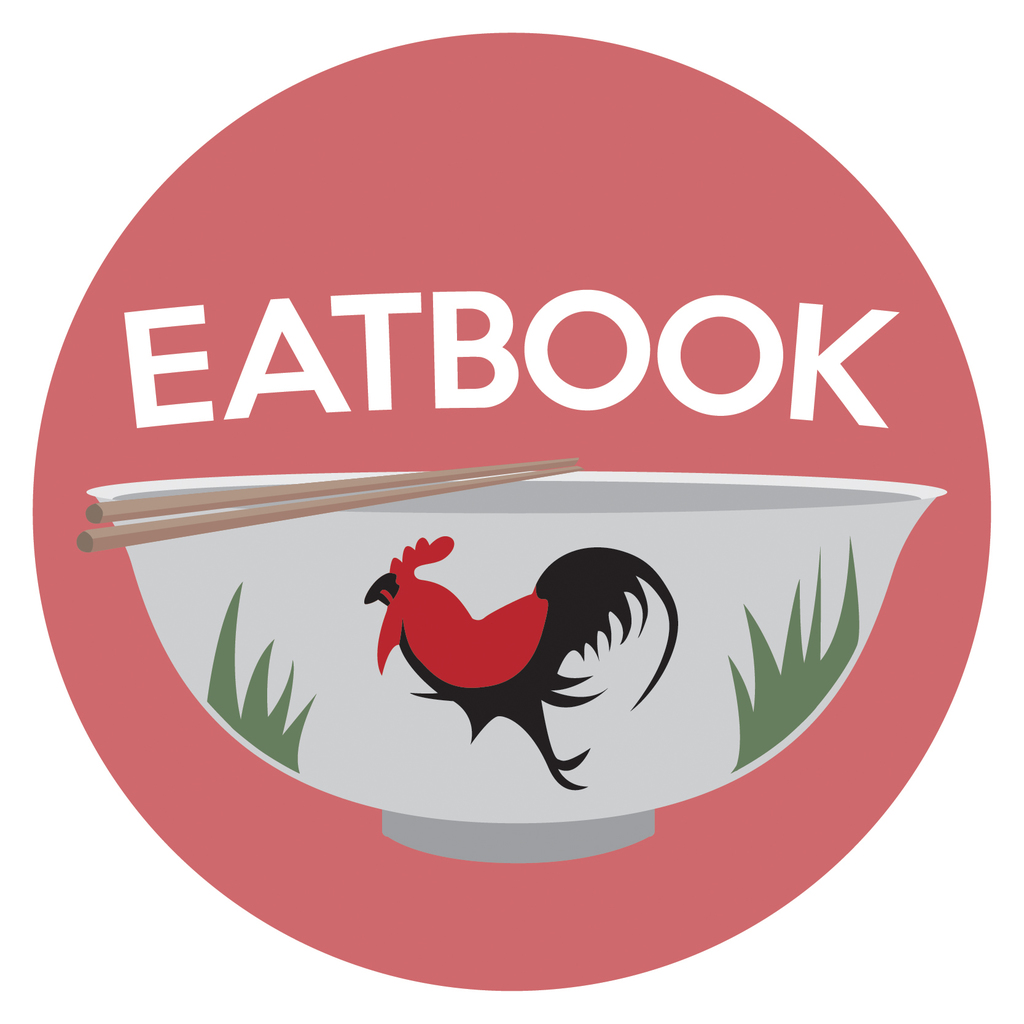 Drop us your email so you won't miss the latest news.