Tian Tian Hainanese Curry Rice at Redhill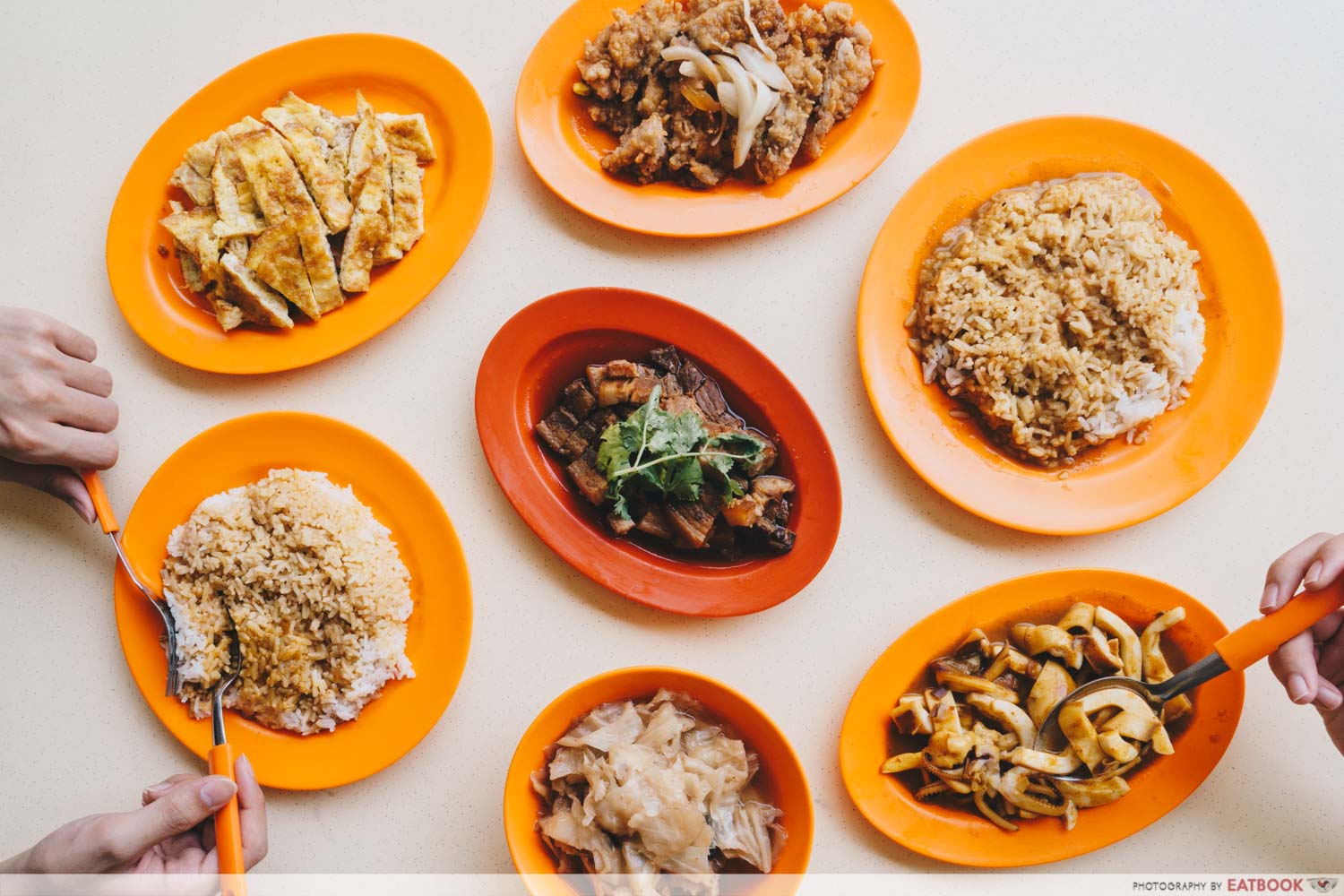 From father to son, generation after generation, Tian Tian Hainanese Curry Rice has been the Booi's family heirloom for the last 40 years.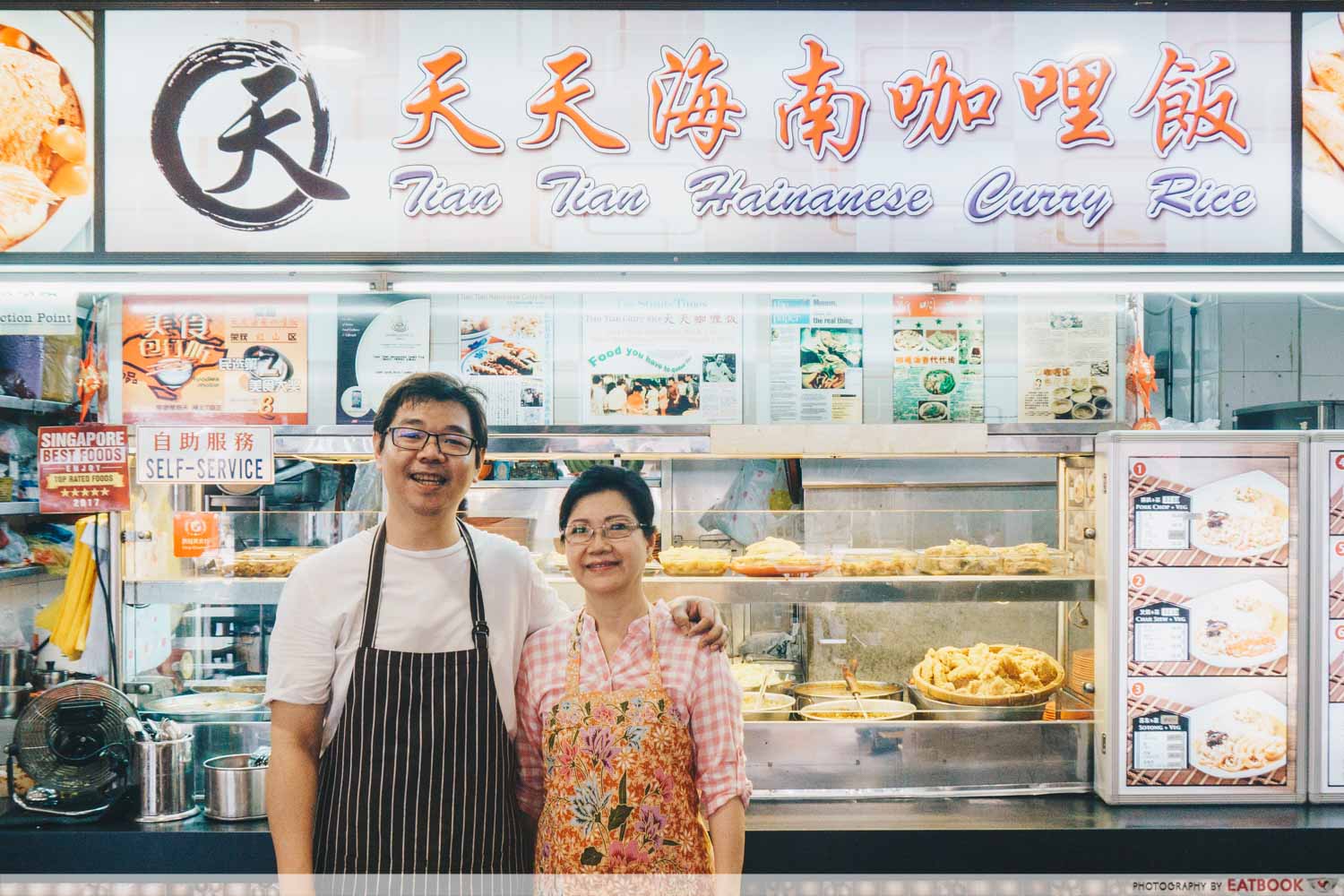 The stall currently has three members of the family running it: Moh Yeow, his younger brother Jamie, and his mother, Yoke Eng. Their father, Mr Booi, retired from the business several months ago. The stall began as a venture by Moh Yeow's great grandfather in 1973. The family has been cooking at the same store since then, keeping their recipes a closely-guarded secret and passing them down from parent to child.

Moh Yeow and Jamie were previous holding corporate jobs, and didn't have plans to take over the family business. But several months ago, they got a call from their parents. They were prepared to put down the ladle for good due to Mr. Booi's health. The store would have to be closed down, and the family legacy was close to its end.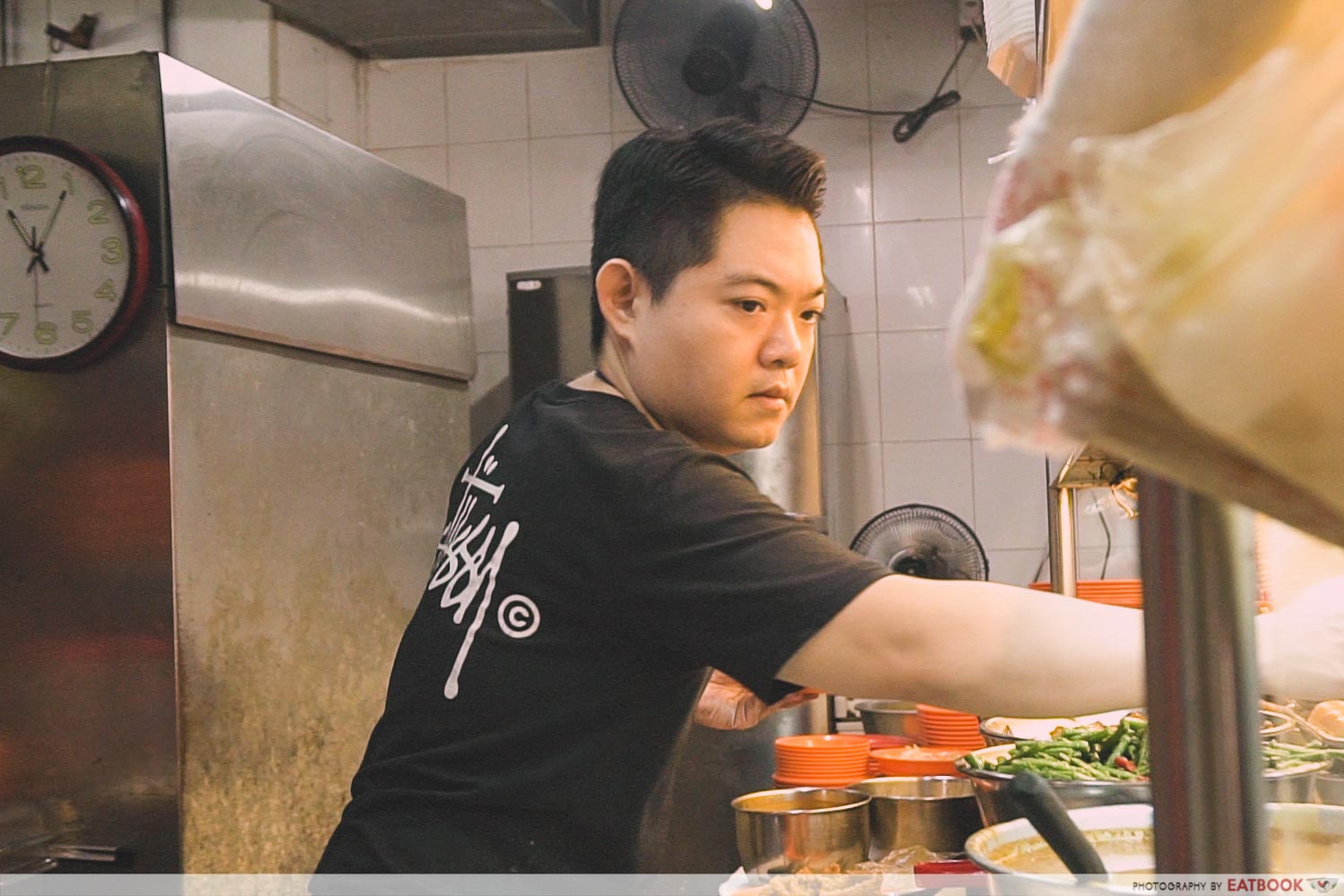 Wanting to keep the family's Hainanese curry rice alive for another generation, the two siblings rose to the occasion and decided to take over the family business full-time.
Jamie left a while into our visit to manage their second location, and Moh Yeow and Yoke Eng plated up our sumptuous meal.
Food at Tian Tian Hainanese Curry Rice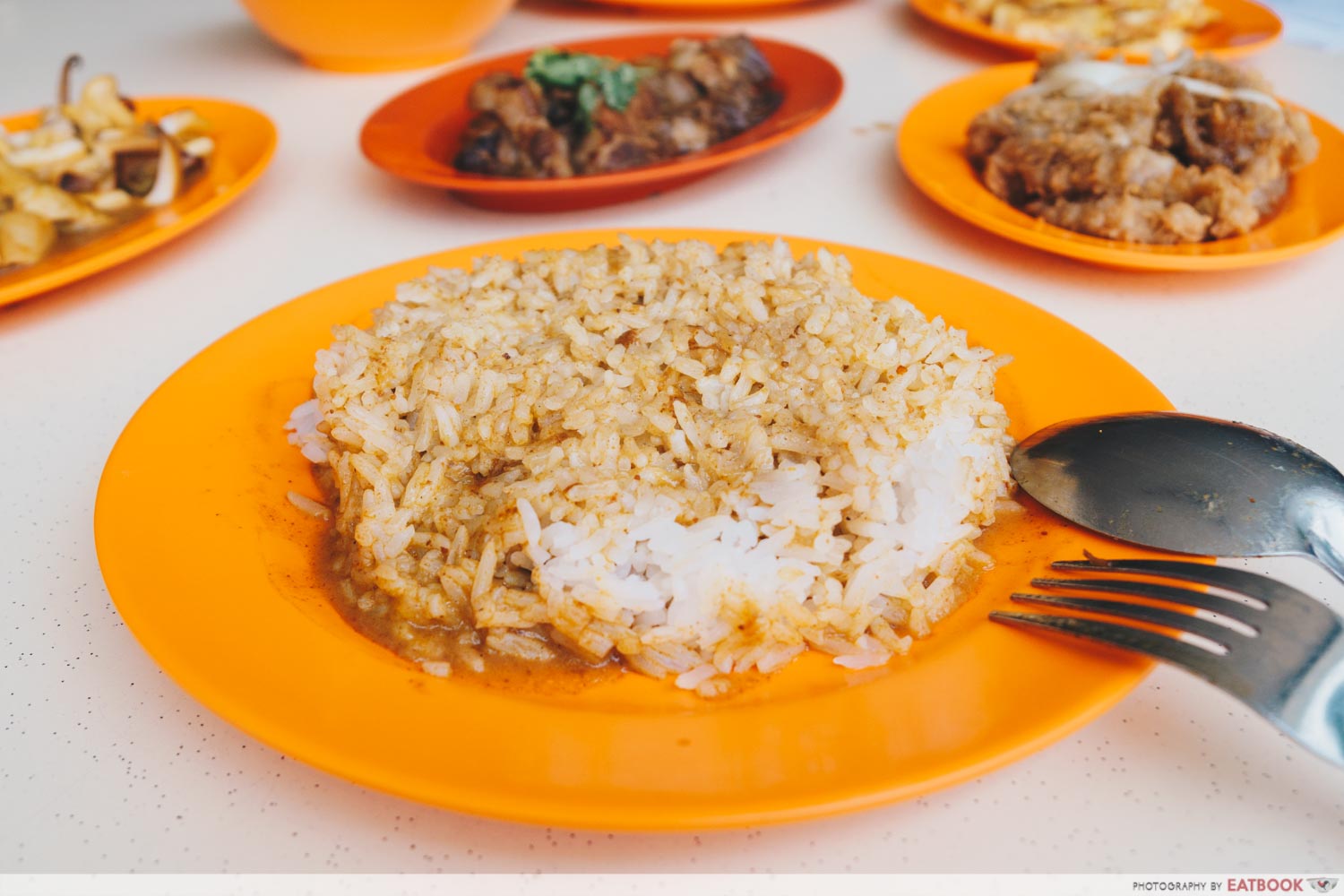 We ordered larger portions for three to share, so expect the food at this cai fan curry stall to be a lot cheaper when you're eating alone. 
Each bowl of Curry Rice came at a mere $0.50 with three different types of curry slathered over it: chicken curry, seafood curry, and vegetarian curry. Upon request, you can get three meat sauces—lor bak sauce, char siew sauce, and pork chop gray— poured onto your plate too.
Moh Yeow told us how regular customers had their own favourite sauce combinations. Those who had been visiting since they were kids tend to be fond of the sweet char siew sauce, a taste acquired back when it was popular during their childhood. Meanwhile, the older generation preferred the salty lor for its stronger flavours.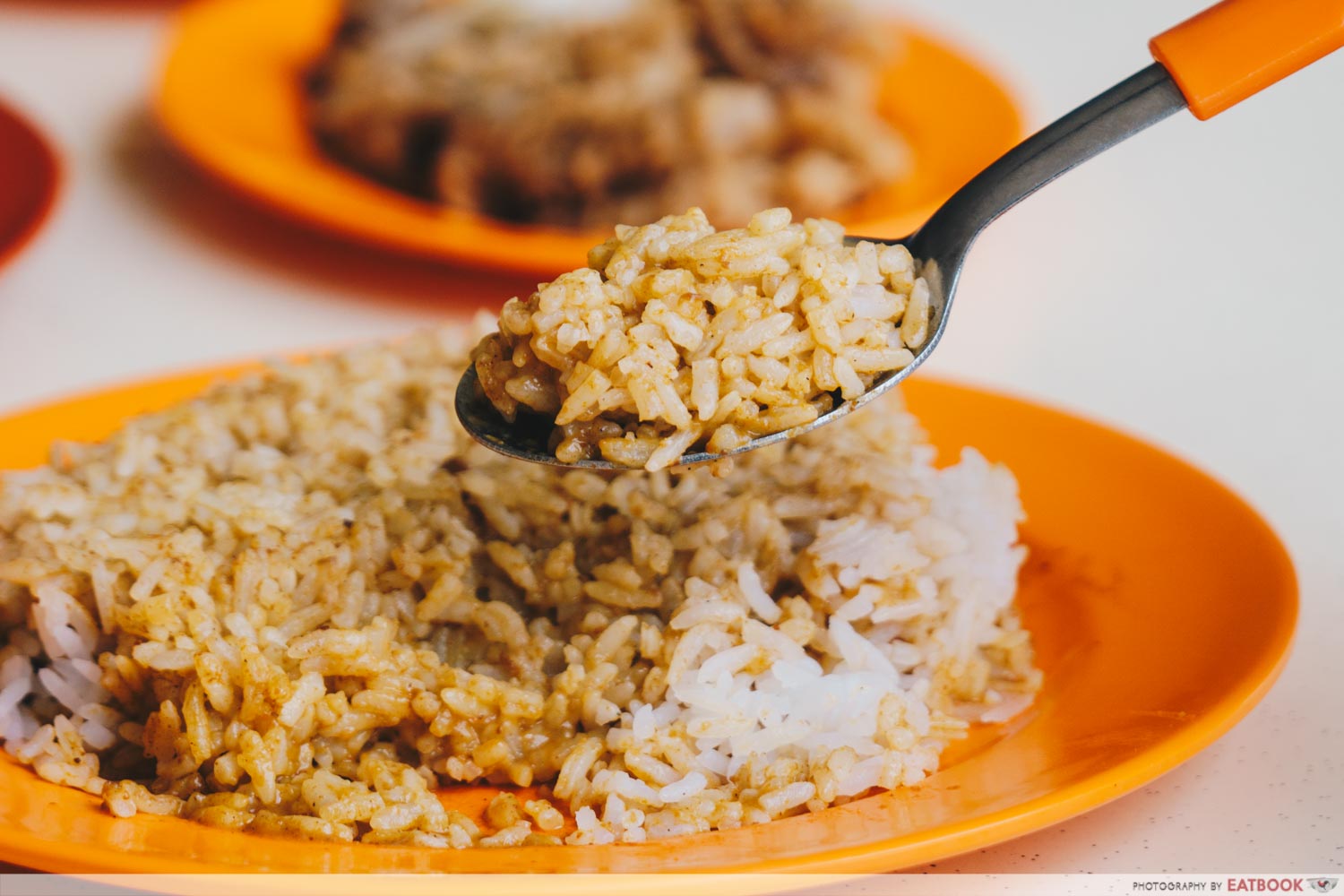 There was a generous serving of each curry, and the rice sat in a pool of mixed curry.
As with most Hainanese curry, there wasn't much spice to be found. Instead, it was a milder, sweeter flavour. The three different sources of flavour worked in sync, each contributing their own unique tang to the rice. 
There's also a choice to have your curry separated from the rice, if you want to apply it more strategically. I personally prefer my rice drowning in the bright-orange gravy, and that's exactly what I got.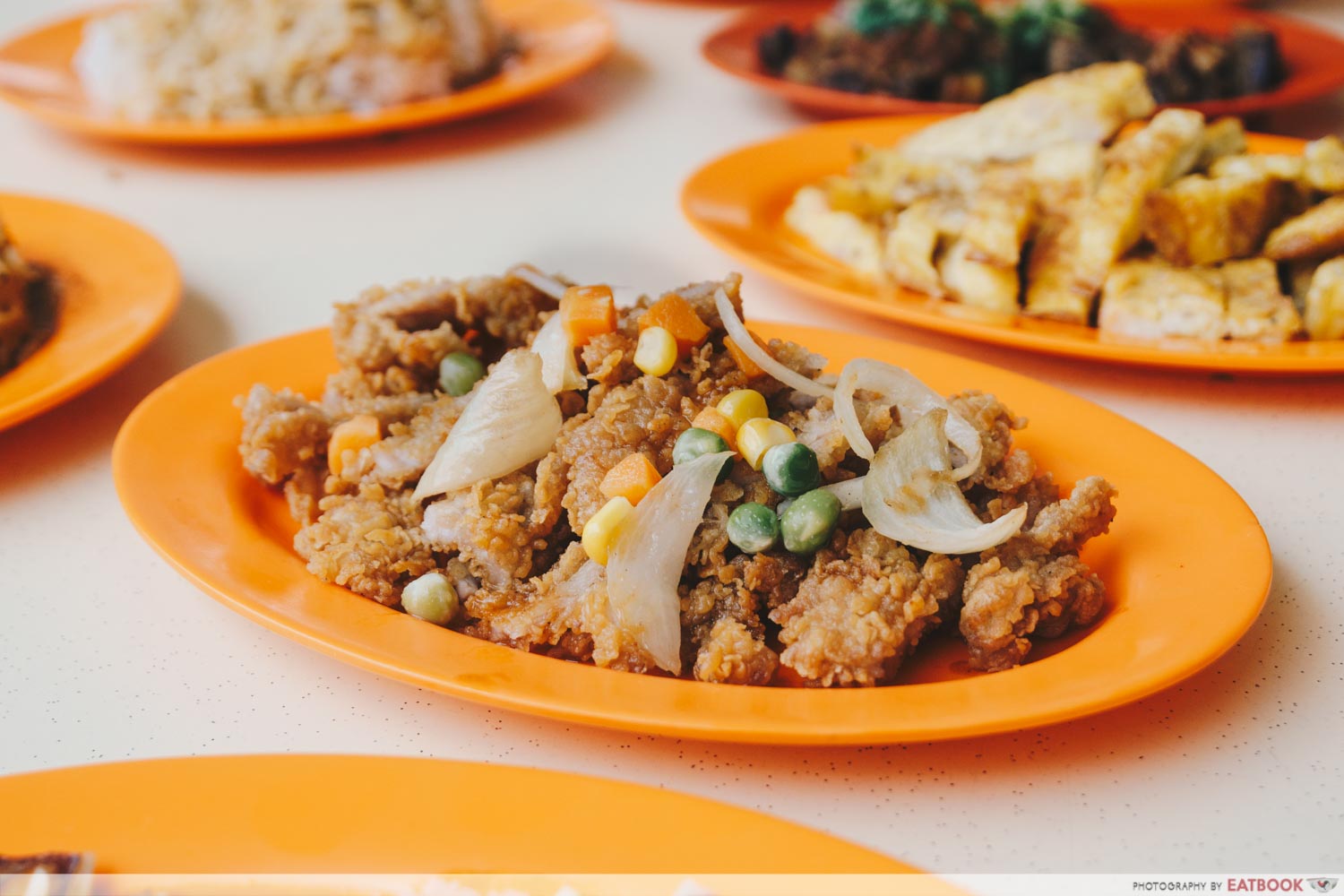 The star of the show was the Pork Chops ($6), served with a bowl of luscious brown gravy to be dipped into. The crumb-coated meat was well seasoned and thick, and the garnish made the golden-brown colour all the more attractive.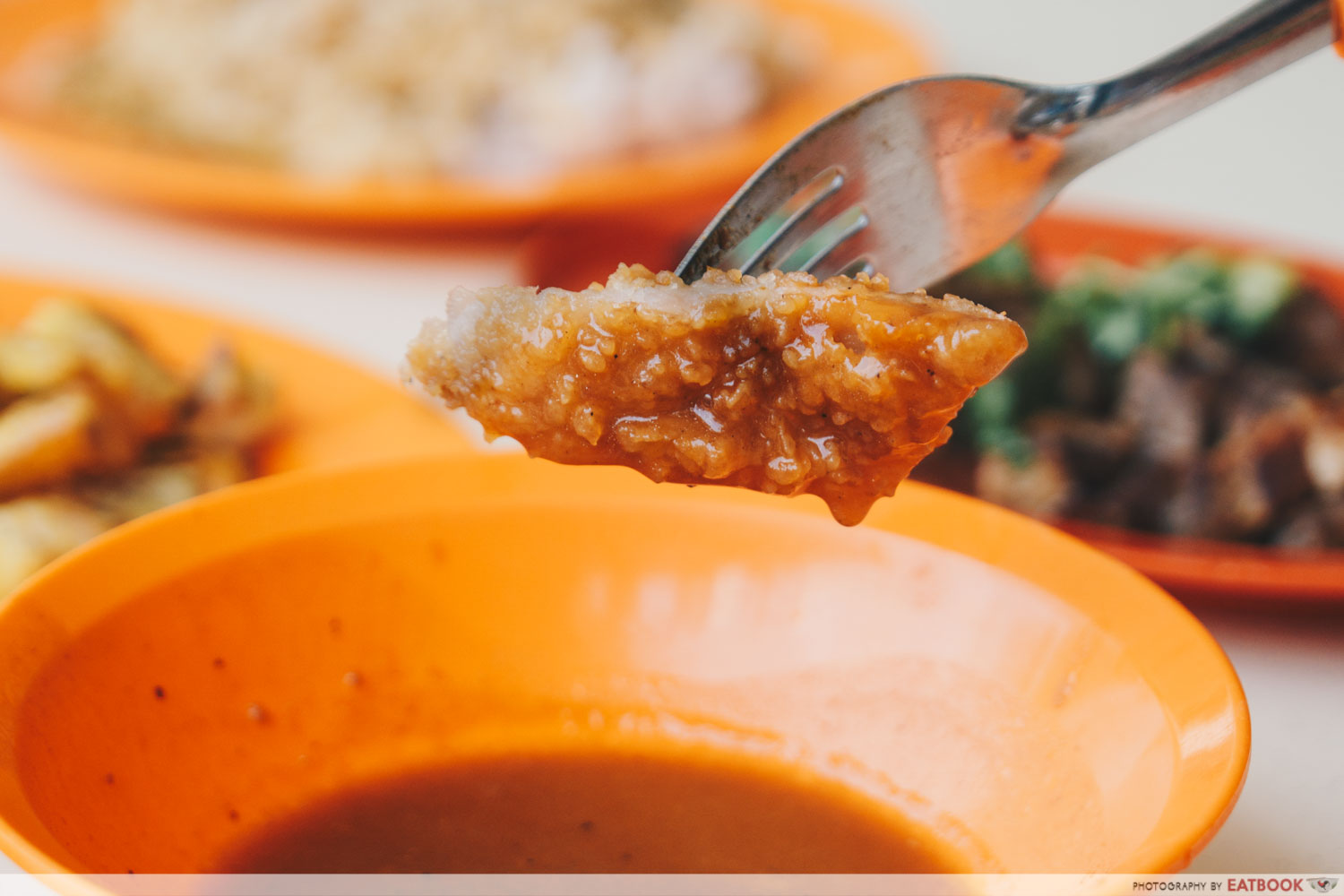 Dipping it in the gravy gave the meat a robust sweetness. While the idea of combining all these sauces might be a little overwhelming, it only felt natural to mix the pork chop gravy with the rest of the curry rice. 
The result was a mouthful of savoury-sweet goodness, mixed with the satisfying crunch of the fried pork. As the go-to choice of meat, these pork chops didn't disappoint. The batter was substantial yet didn't overpower the meat.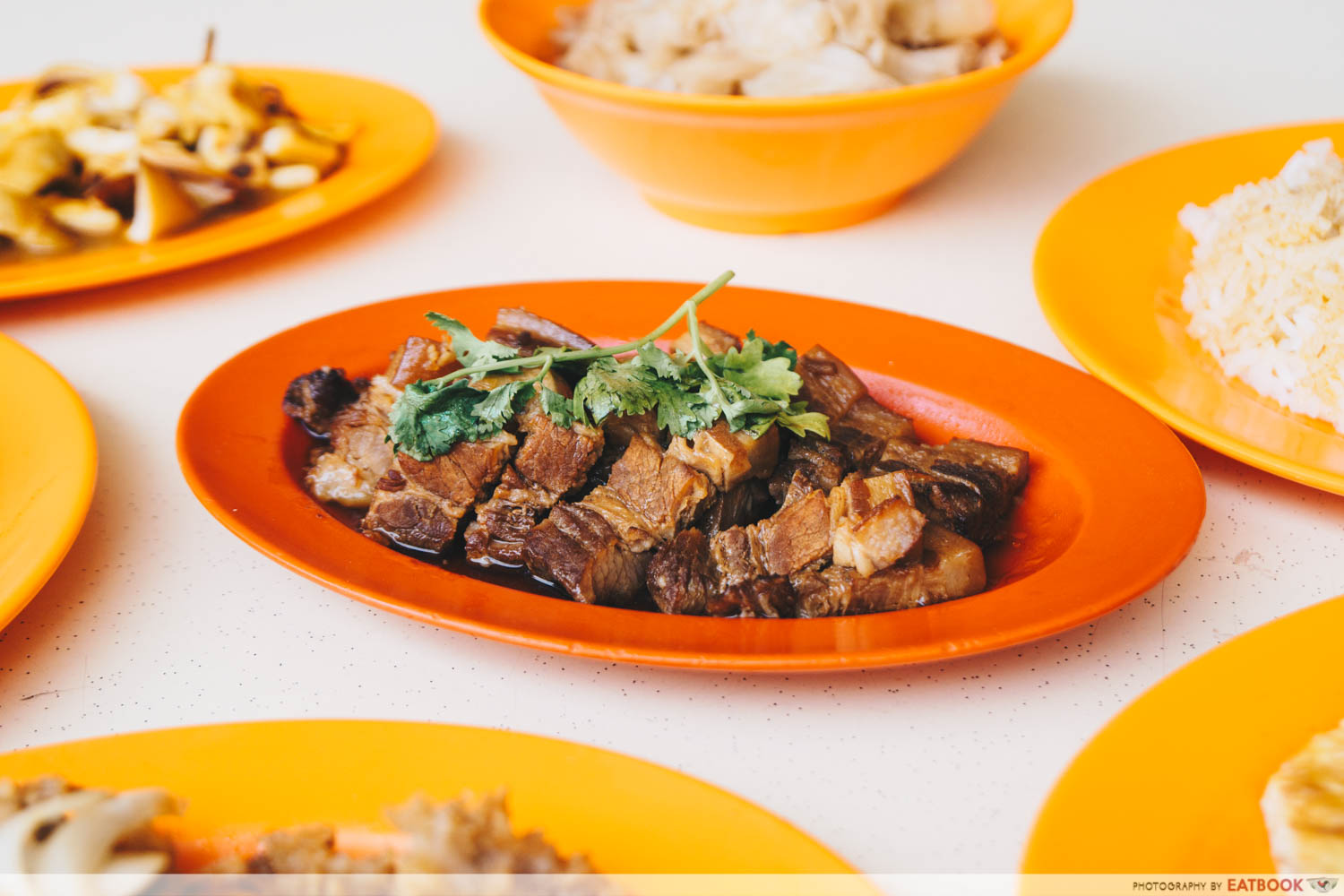 A favourite with elderly customers was the Stewed Pork ($6), served in a puddle of braising sauce and garnished with a sprig of coriander.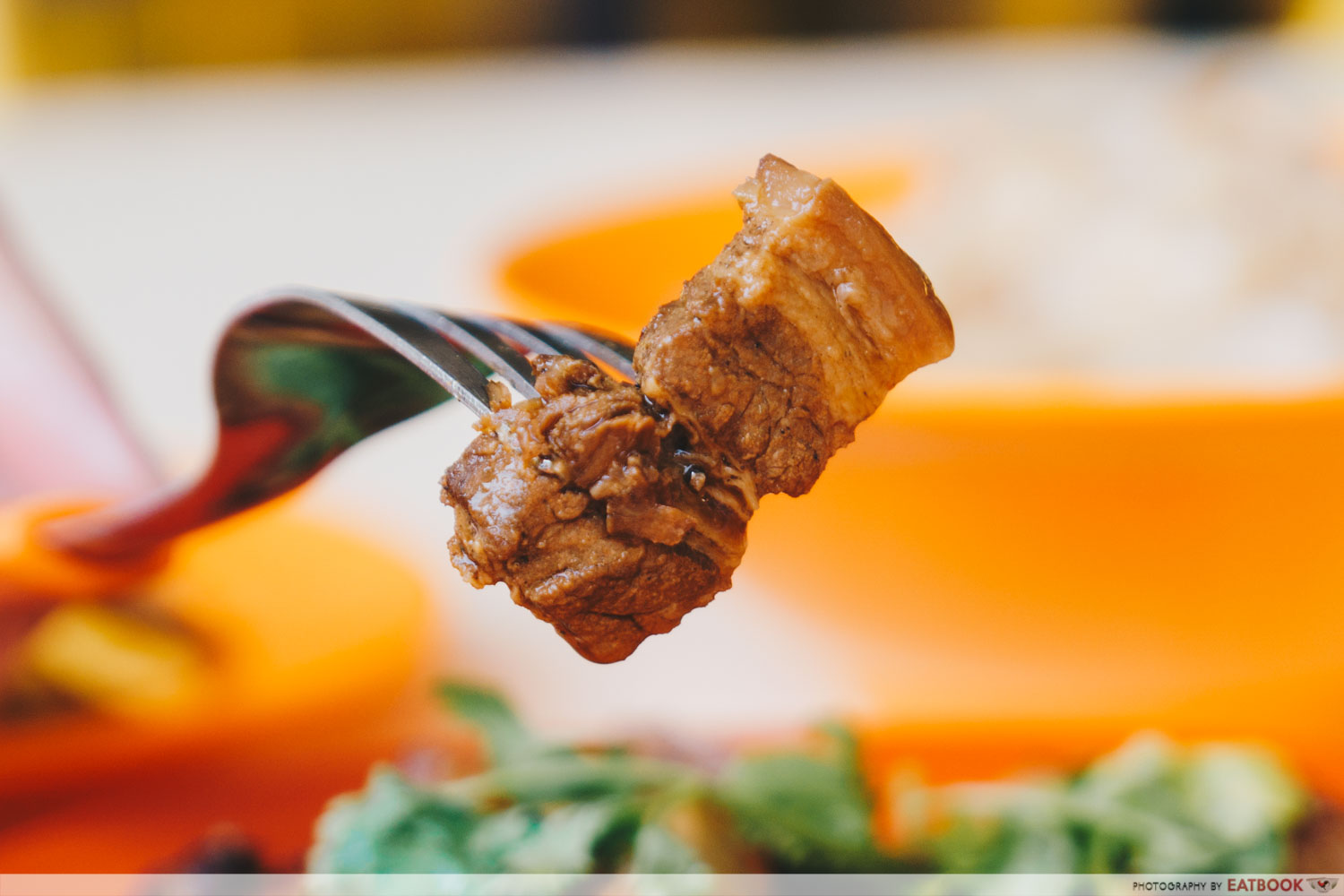 The lean portion was tender and salty, while the fatty belly melted in my mouth and hardly needed to be chewed. Pouring the gravy over the curry-soaked rice added another layer of salty flavour to it.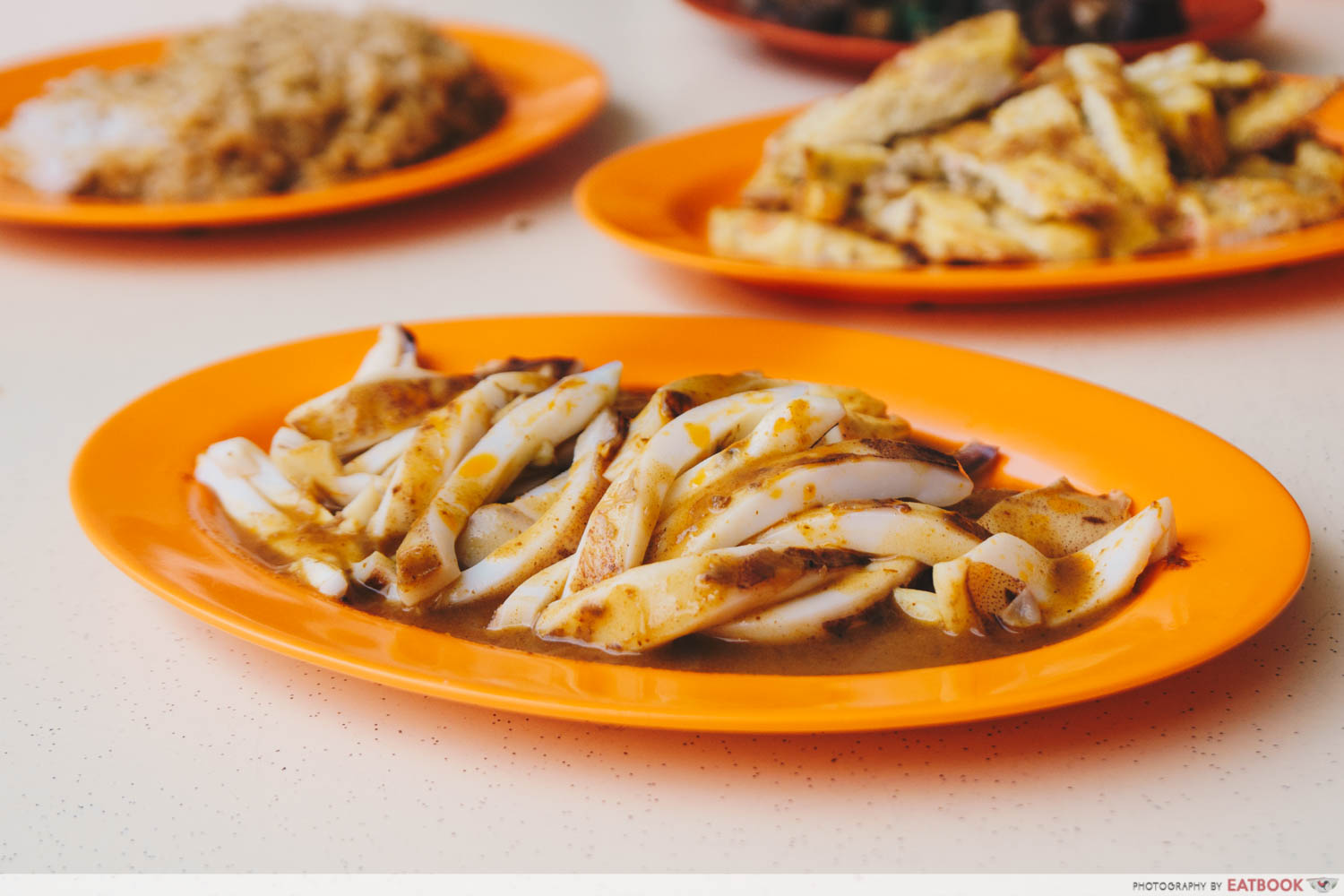 The Squid ($8) came glistening and white, swimming in curry. The bright colour of the sotong meat stood out among the orange sauce.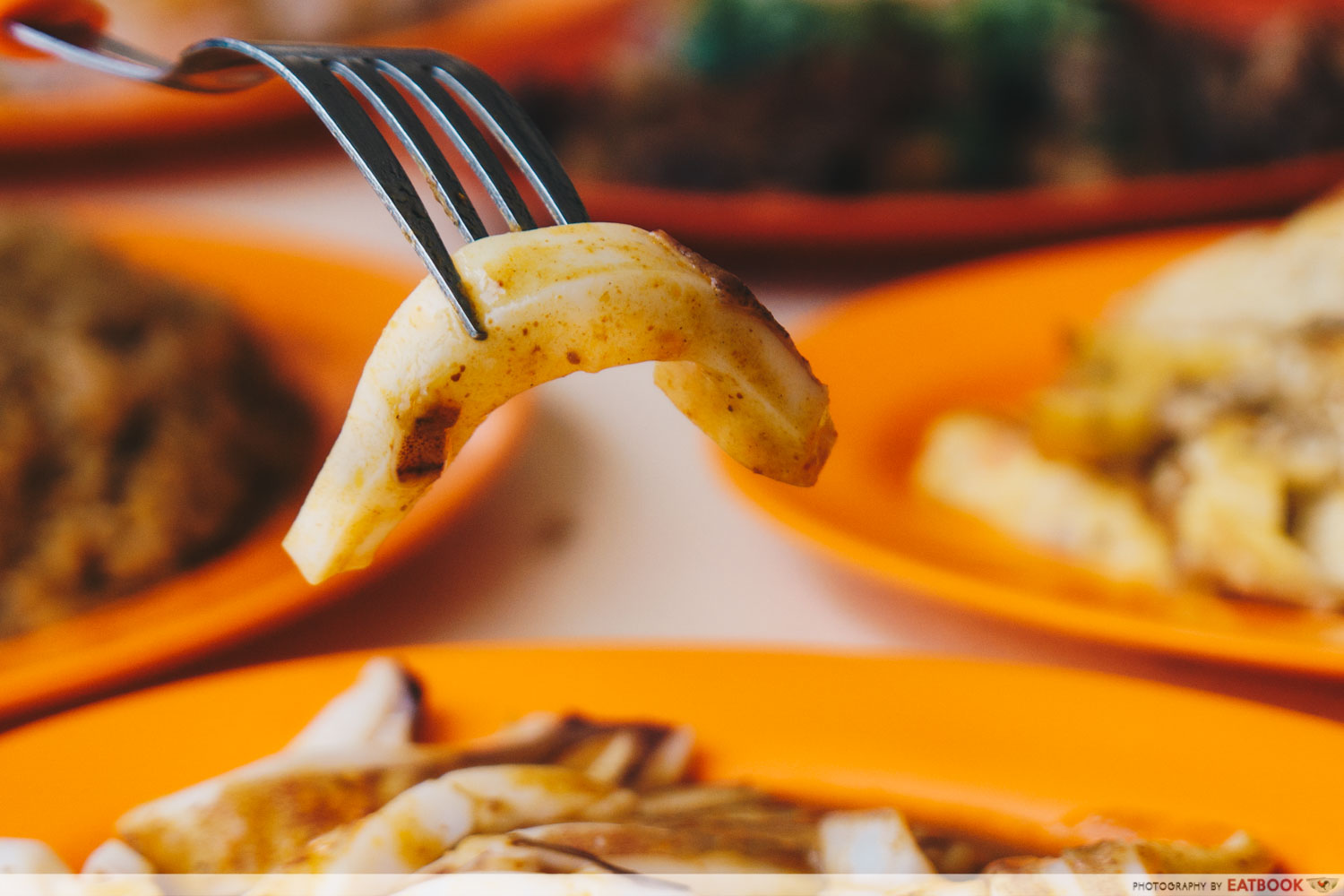 Biting into it proved my suspicions; it was remarkably fresh. The squid was chewy without being tough, and had a savoury-sweet taste that shone through the curry. Each segment was thick and meaty. 
Moh Yeow tells me that they make sure to get their squid from dedicated suppliers for maximum quality. In the offseason, they prefer to take it off the menu entirely rather than serve sub-par squid. The cooking style and curry is a family secret too, and a thing of pride.
Though slightly pricey, I don't think you'll find this kind of quality in other coffee shops. Adding on the squid is a lot cheaper if you go for the set meals.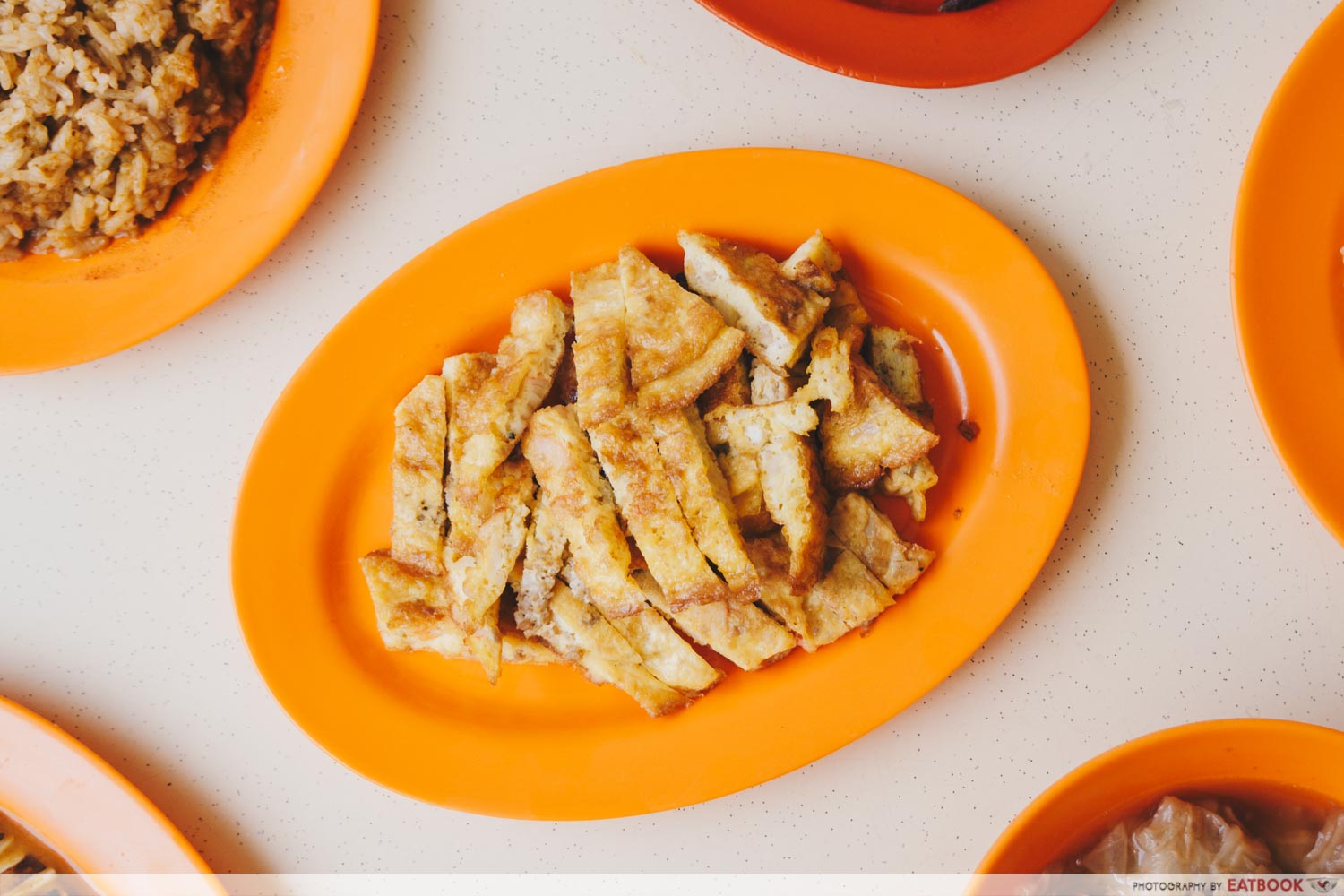 The Fried Egg ($6) came with little bits of prawn and pork inside. The yellow strips were spongy and helped soak up the curry.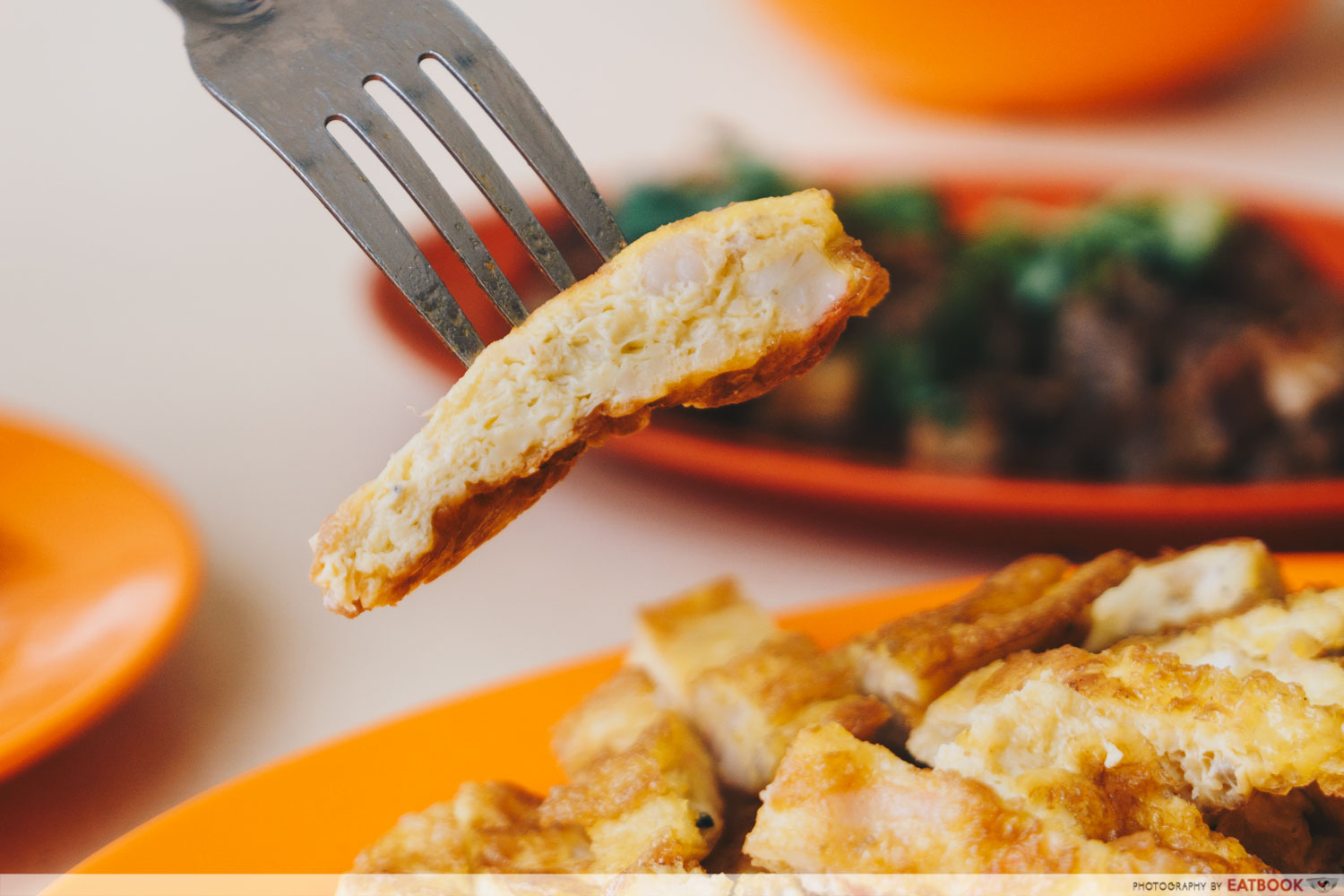 While a plain egg omelette would have gotten a bit dull, the added bursts of flavour and texture from the meats helped prevent it from becoming repetitive in flavour. The prawns also helped give a bit of crunch here.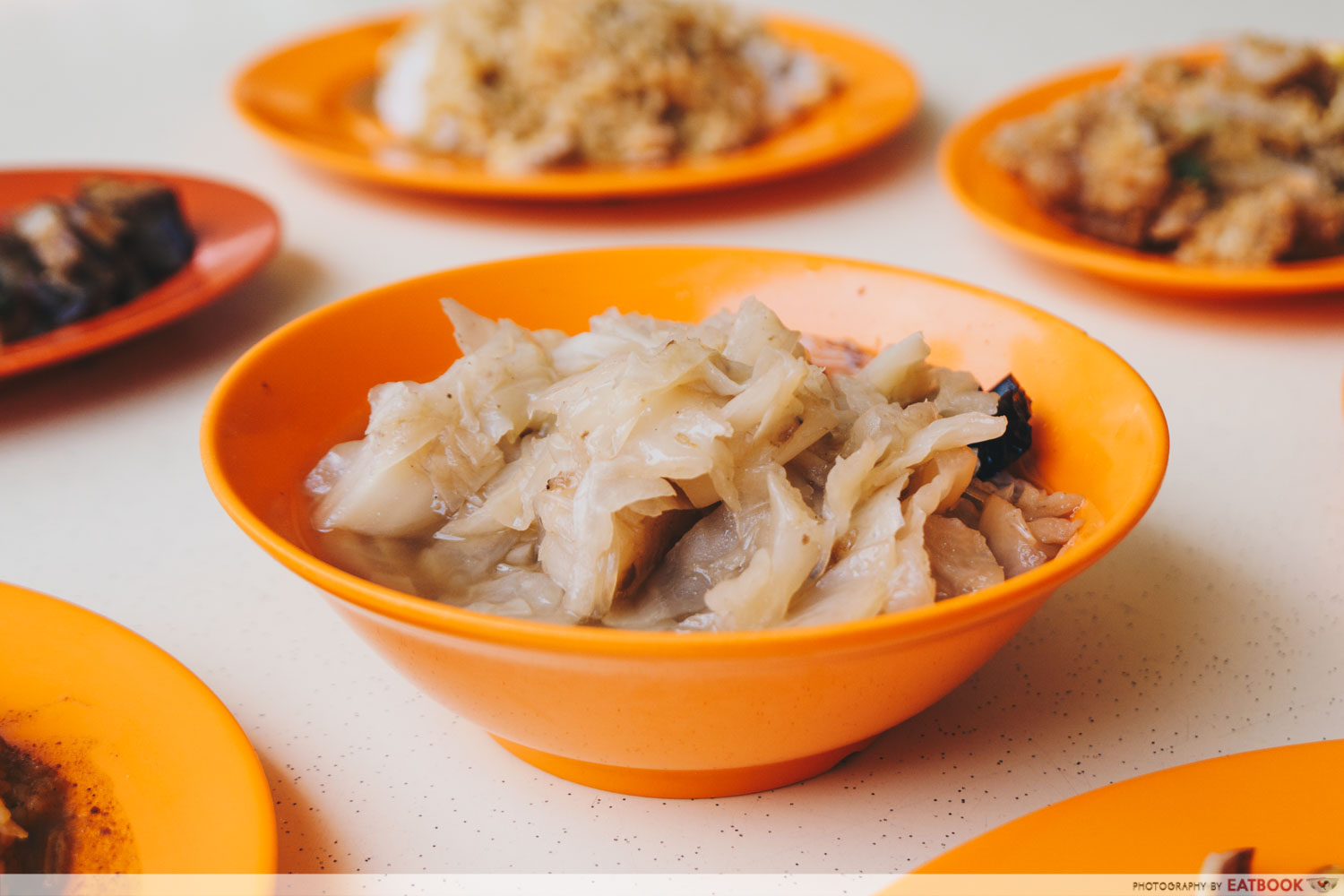 A classic bowl of Mixed Vegetables ($4) was set down in front of us. The standard curry rice chap chye came with cabbage, black fungus, and strips of vermicelli.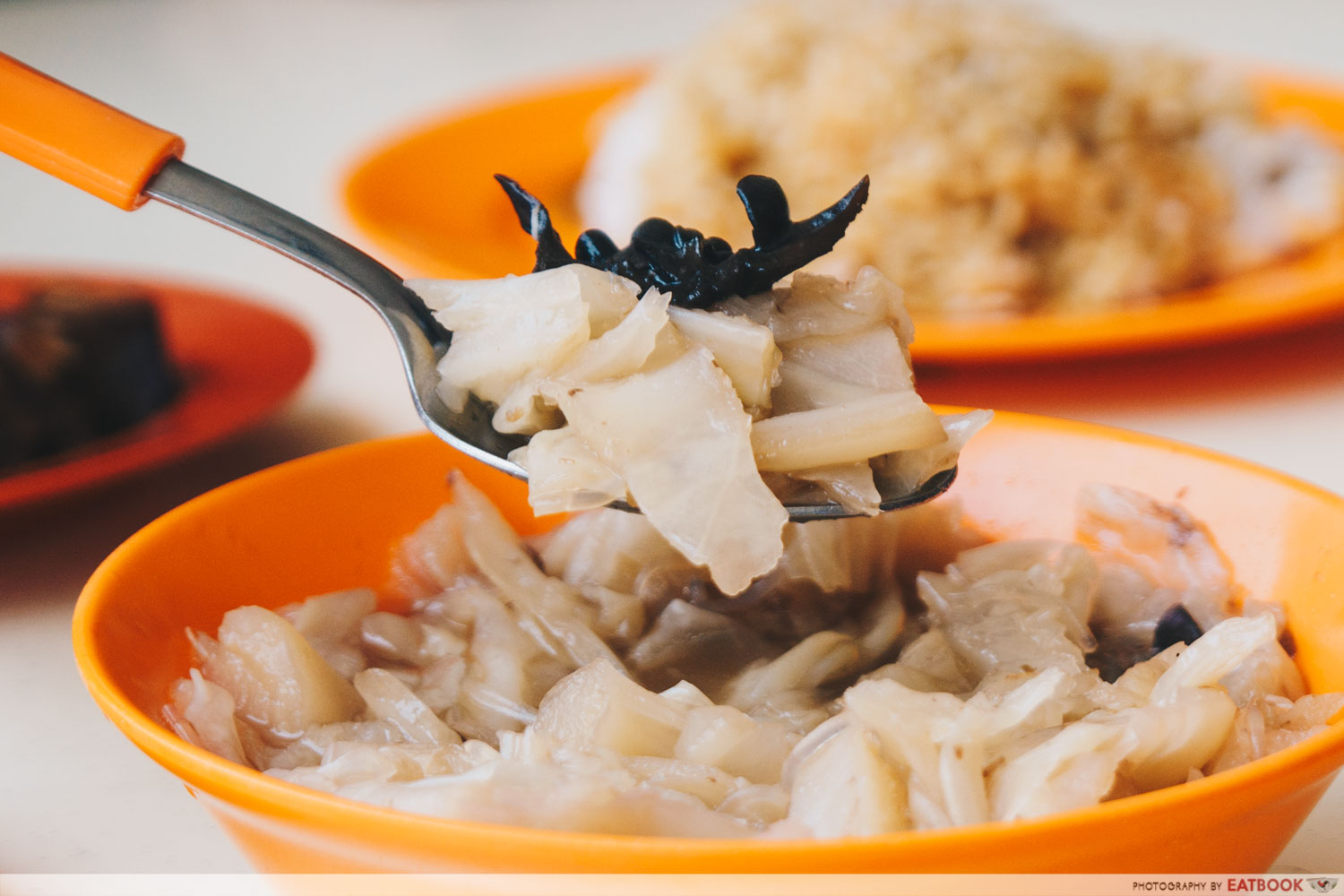 I'm typically not fond of cabbage. I grew up disliking the pungency of the often boiled vegetable, and tend to pick out the black fungus and mushrooms from chap chye instead.
But Tian Tian's stewed veggies were soft, sweet, lacking the sulfur-like odour that haunted my kitchen when I was a kid. For once, I didn't mind drenching it in curry and scarfing it down with the rice and pork.
Ambience at Tian Tian Hainanese Curry Rice
Tian Tian is a short bus ride from Redhill MRT Station. It's a little tucked away, so it might be difficult to locate at first. When the lunch rush started, the queue came and went in the blink of an eye. Service was fast enough that they cleared orders just as quickly as hungry customers arrived. 
A second Tian Tian outlet sits at Telok Blangah. That outlet occupies an entire store, rather than a single stall in a hawker centre. While they have workers to help, all their secret recipes are solely managed by the family. 
The verdict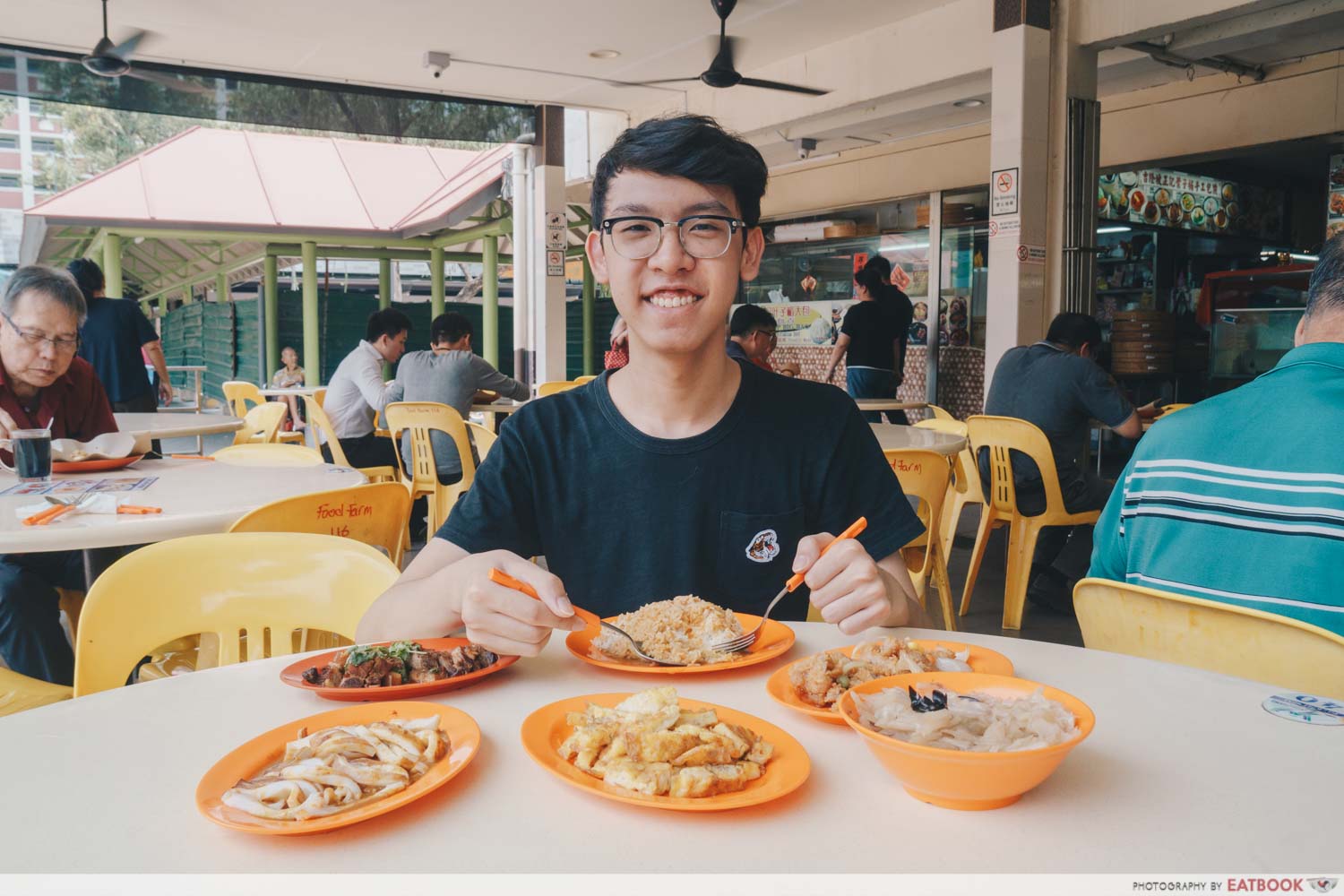 Tian Tian's cai fan has the soothing familiarity of home-cooked food, and their passion and heritage are clear for all to see. The friendly family serves up plates of rice drenched in curry with a smile. There have a larger variety of sauces than I'm used to, and it was interesting to observe what combos other patrons ordered. 
While a little pricey, dishes like the squid have impressively high quality. You can get a taste of it with their Sotong + Veg Set ($4.50). The set meals are more affordable for a single person, with their main option being the Pork Chop + Veg Set ($3.50). If you plan on heading down, try requesting for your own special combination of sauces to see what you like best.
If you're hungry for pork chops, check out our review of Supreme Pork Chop Rice. Or if you're interested in more legendary hawkers in Redhill, look for Hua Kee Chicken Rice!  
Address: 116 Bukit Merah View, #01-253, Singapore 151116
Opening hours: Daily 9am to 9pm
Tel: 9821 0200
Tian Tian Hainanese Curry Rice is not a halal-certified eatery.
Photos taken by Daren Khek.
This is an independent review by Eatbook.sg.
Tian Tian Hainanese Curry Rice Review: Famous Redhill Hawker Stall That Has Been Around Since 1973
Summary
Pros
– Large variety of curry and gravy
– Fresh and tasty squid
– Friendly Staff
Cons
– Squid is slightly expensive
Recommended dishes: Pork Chop + Veg ($3.50), Sotong + Veg ($4.50)
Opening hours: Daily 9am to 9pm
Address: 116 Bukit Merah View, #01-253, Singapore 151116