Hua Kee Chicken Rice in Redhill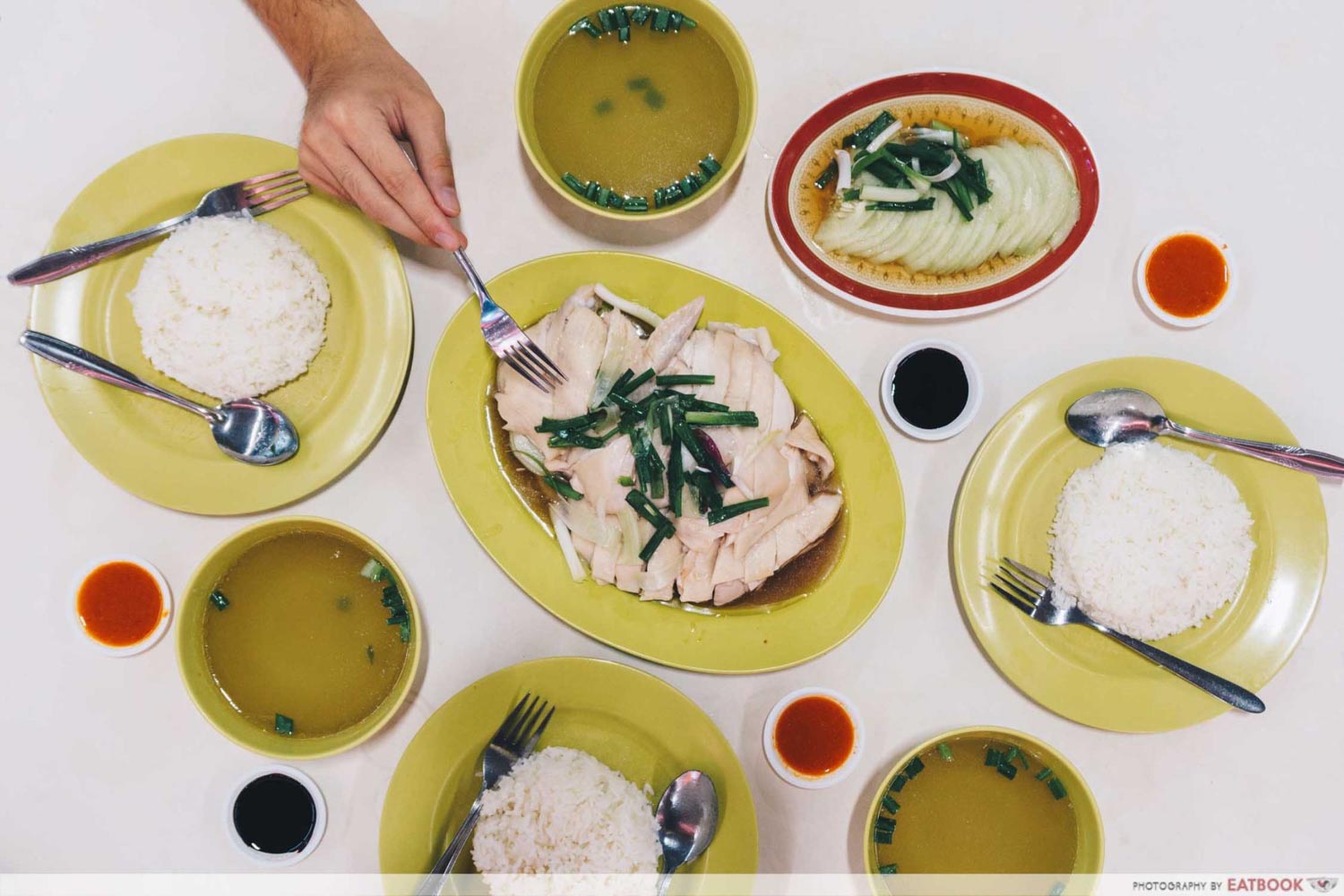 Having grown up near Redhill, I carry a soft spot for the food from this folksy neighbourhood. Be it messy plates of Hainanese curry rice or lemak bowls of curry, a meal here always leaves my belly comforted and heart soothed.
Much of this heartfelt sincerity emanates from the people. From the generous servings to the affectionate nicknames, these kindly 'aunties' and 'uncles' treat each customer with familial warmth. 
None more so than Hua Kee Chicken Rice. Starting as a humble trishaw stall in the '70s, this no-frills hawker shop has amassed a faithful following over the past 40 years with their mouth-watering chicken rice.
Food at Hua Kee Chicken Rice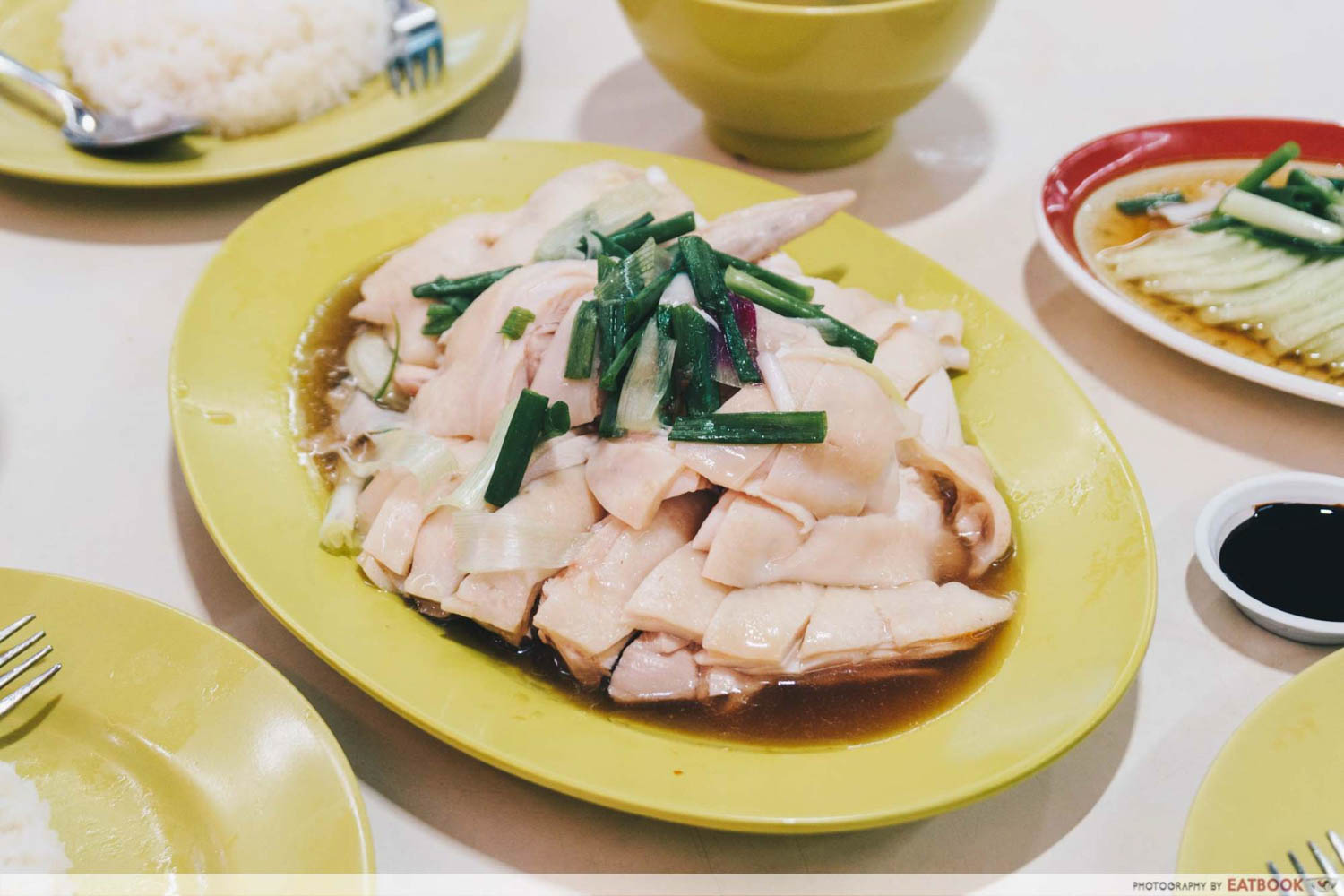 Unlike most chicken rice stalls, Hua Kee Chicken Rice offers only one item on their menu: Poached Chicken ($15 for half, $28 for whole). Despite this limited selection, the stall remains immensely popular with locals. Queues usually start forming from nine in the morning, with waiting time averaging between 30- to 45-minutes during peak hours.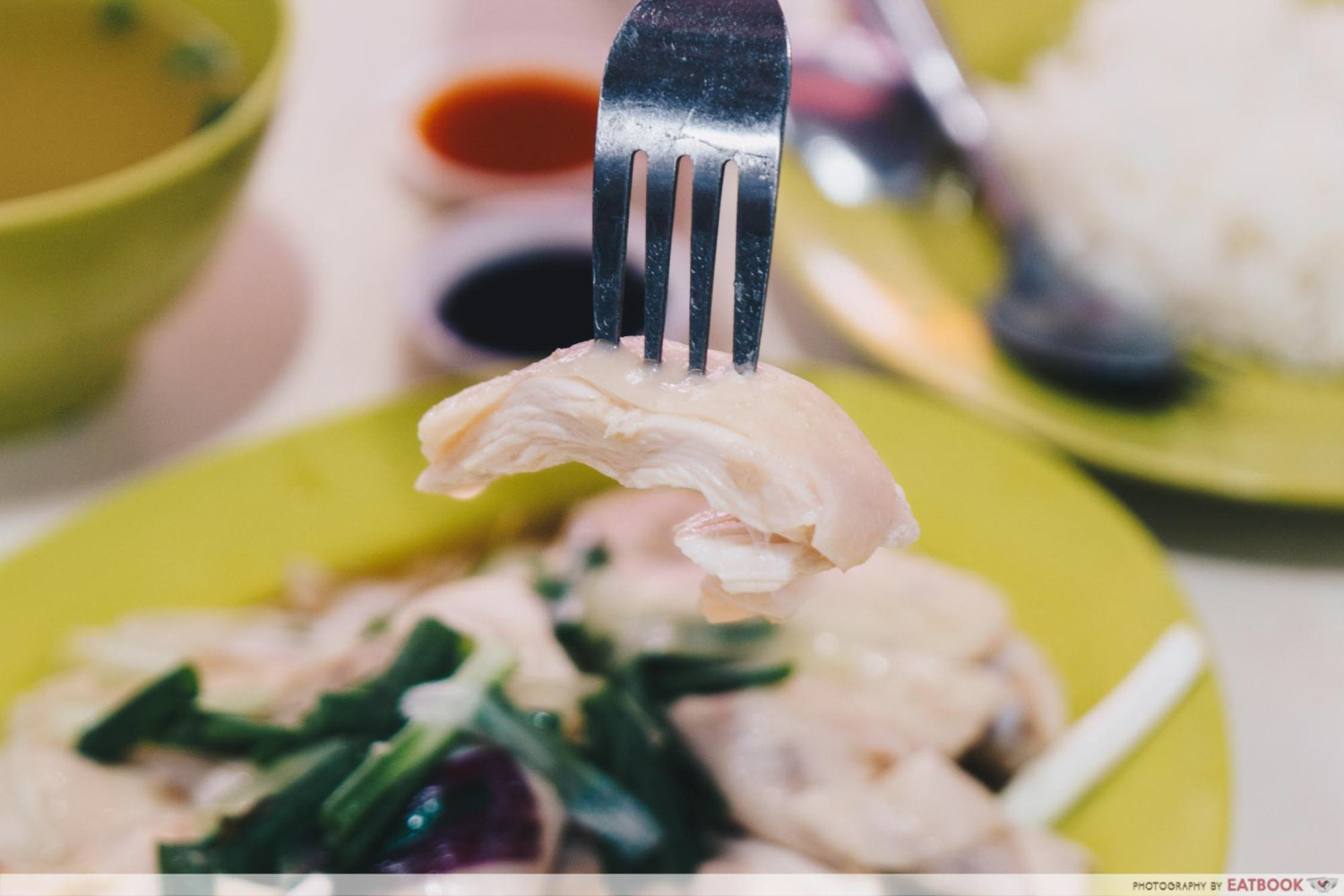 Given its formidable reputation, our expectations for Hua Kee Chicken Rice was set high⁠⁠—and it was met with their near-perfect steamed chicken. Plump and thick, each slab of meat teased me with its delicious succulence. Every bite of it offered a playful and satisfying tussle, as the moist flesh offered a slight resistance before splitting into tender sinews.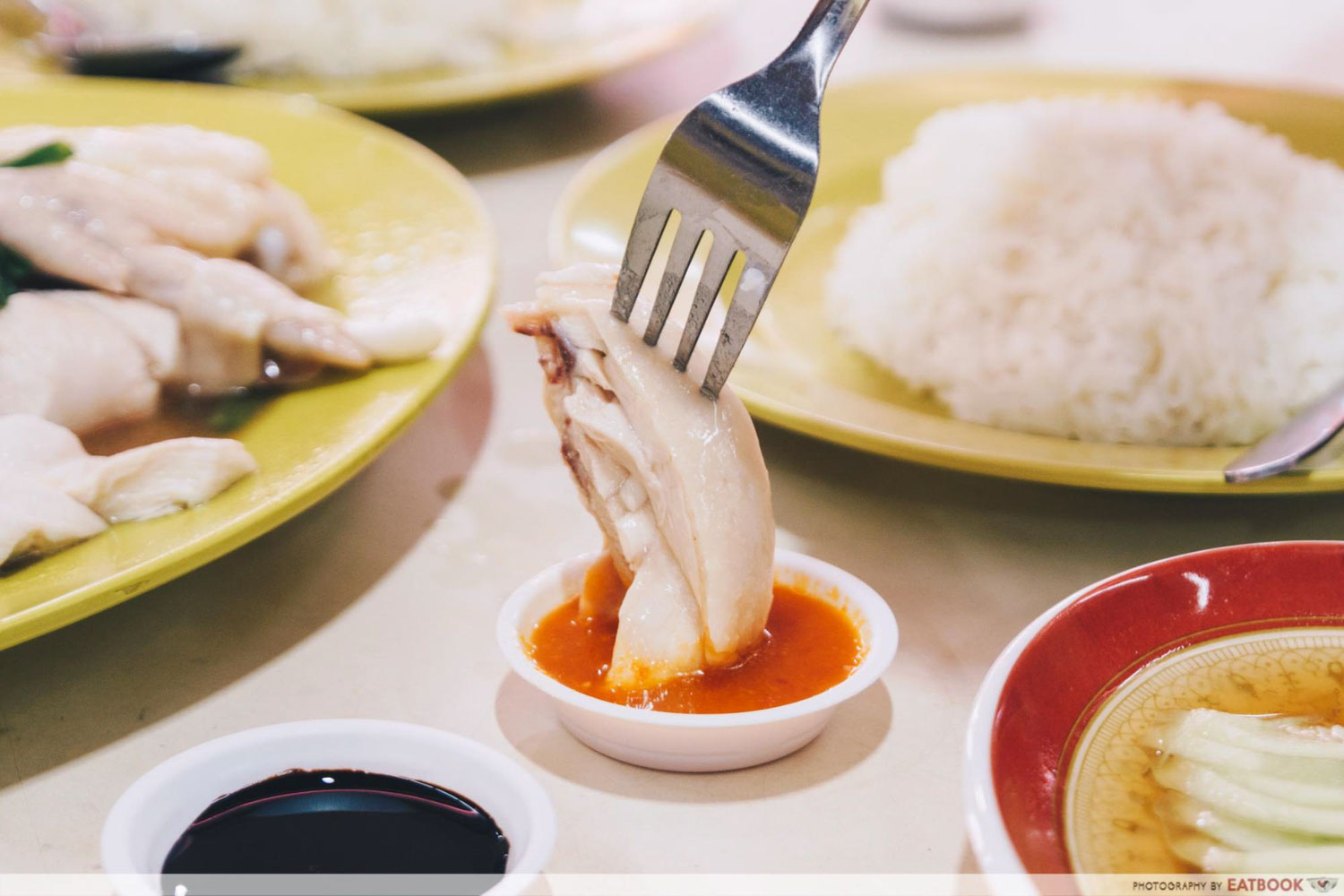 A blend of light soy sauce and chicken broth bathed the steamed chicken, enhancing its meaty richness with sweet and savoury undertones. Delicious as this simple dressing was, it was their house-made chilli sauce that elevated the chicken to new heights. 
Effusing a gingery and garlicky aroma, this piquant relish lent heft to the protein with its spicy kick and slightly sour aftertaste.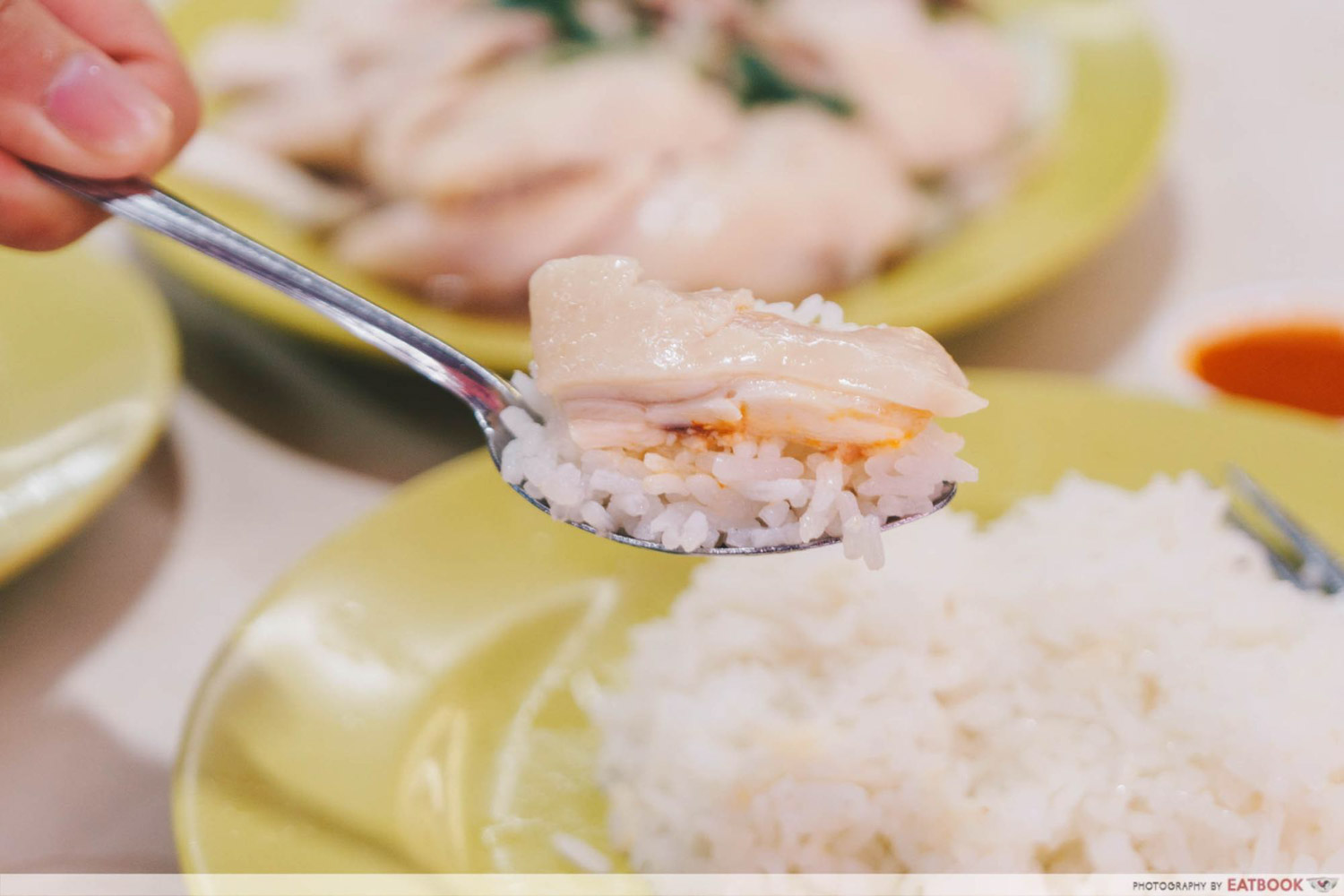 Rounding off this stellar dish was the Rice ($0.50), which complemented their juicy chicken with its fluffy and pillowy texture. Carrying hints of chicken and sesame oil, as well as a subtle onion sweetness, the rice also married nicely with the bolder flavours of the meat.
That being said, those with a heavier palate could find their chicken rice a tad bland.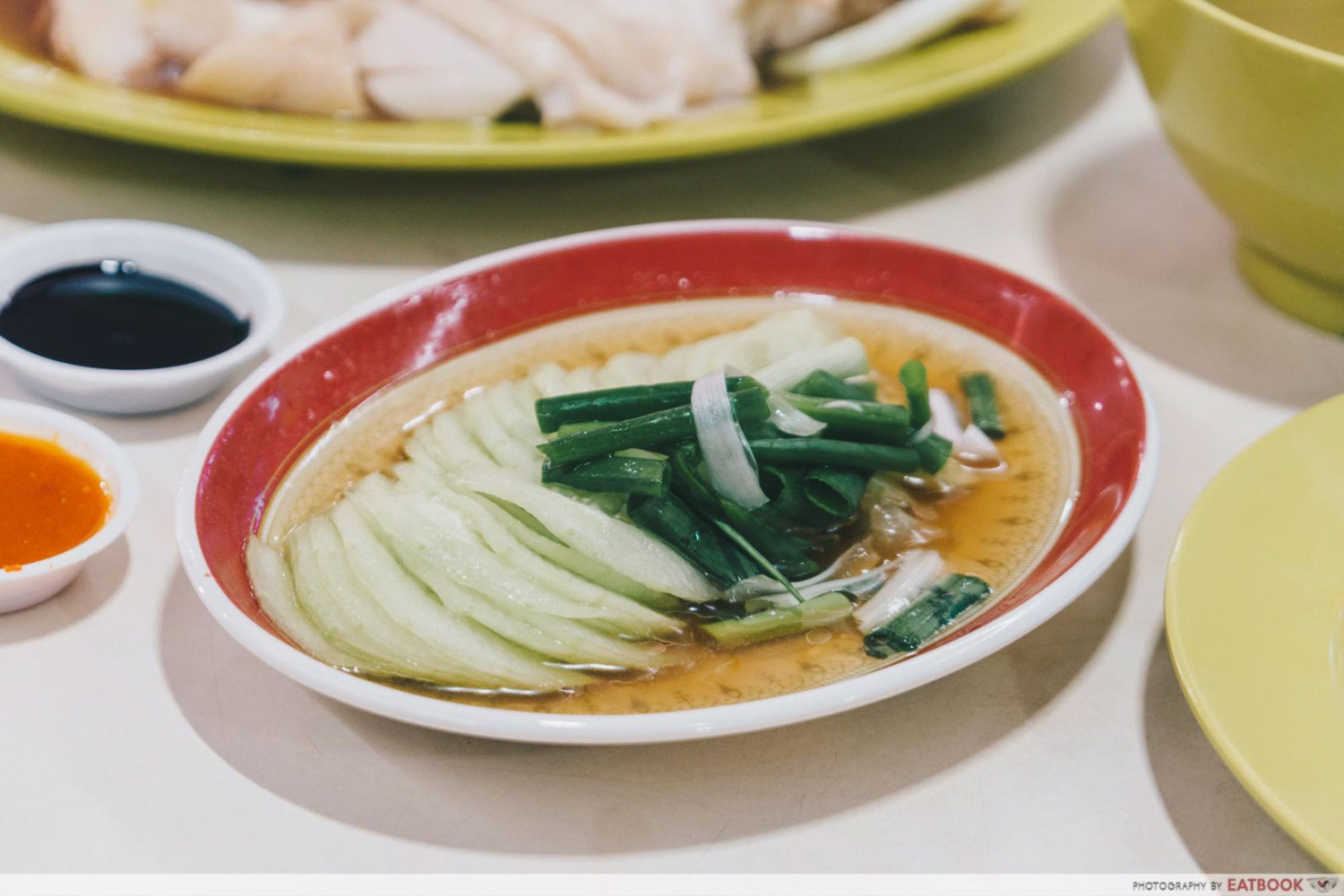 Cucumbers are typically an afterthought at most stalls, but the ones here deserve a special mention. Sliced with mechanical precision, these fine slivers shone with their refreshing taste and resonant crunch.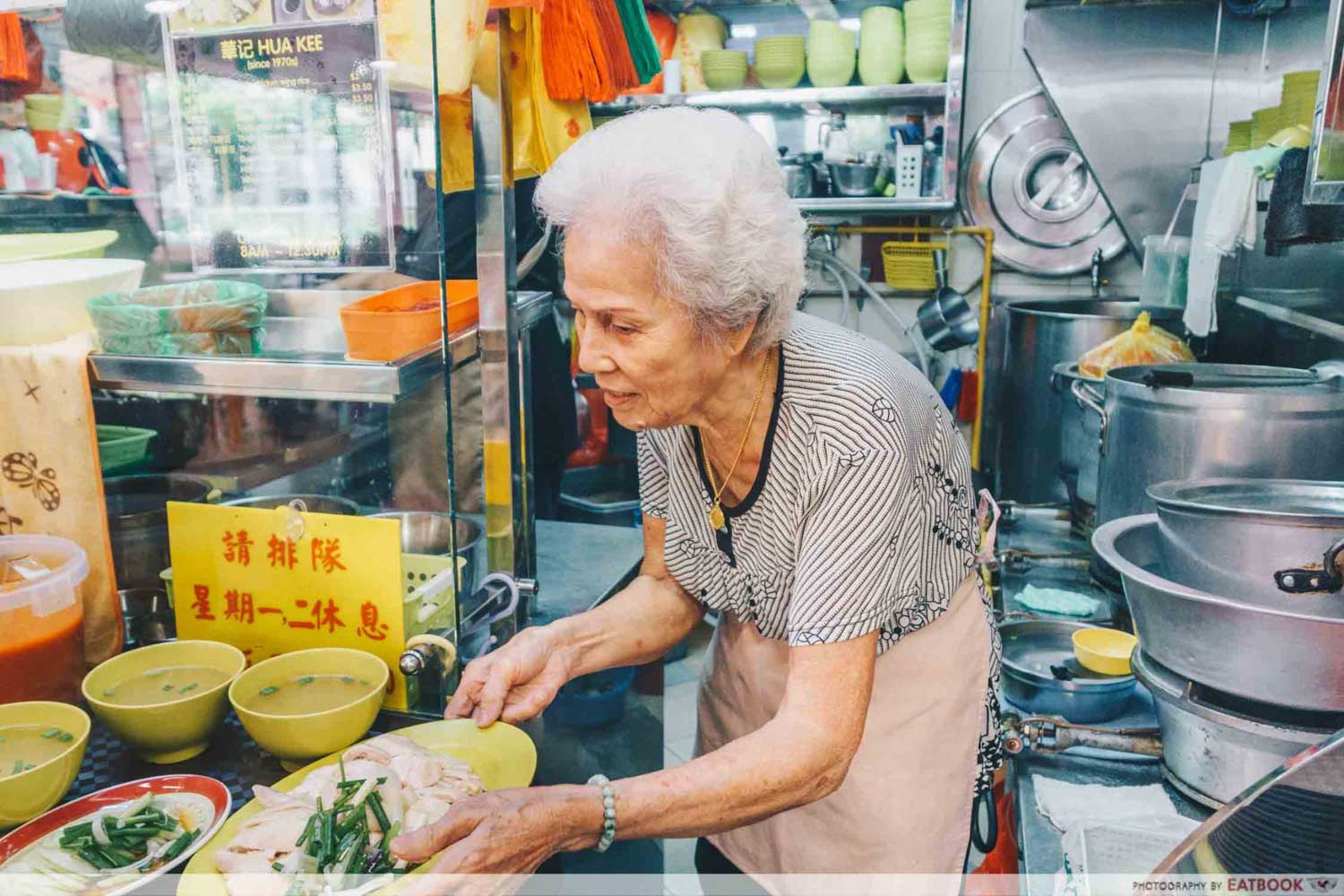 From these quality dishes, it's obvious that a pair of experienced hands oversee the kitchen.
Meet Mdm Tan, the 77-year-old owner of Hua Kee Chicken Rice. Nearly half-a-century of hard work has taken a toll on her body, as this silver-haired master trudges about with a slight hunch.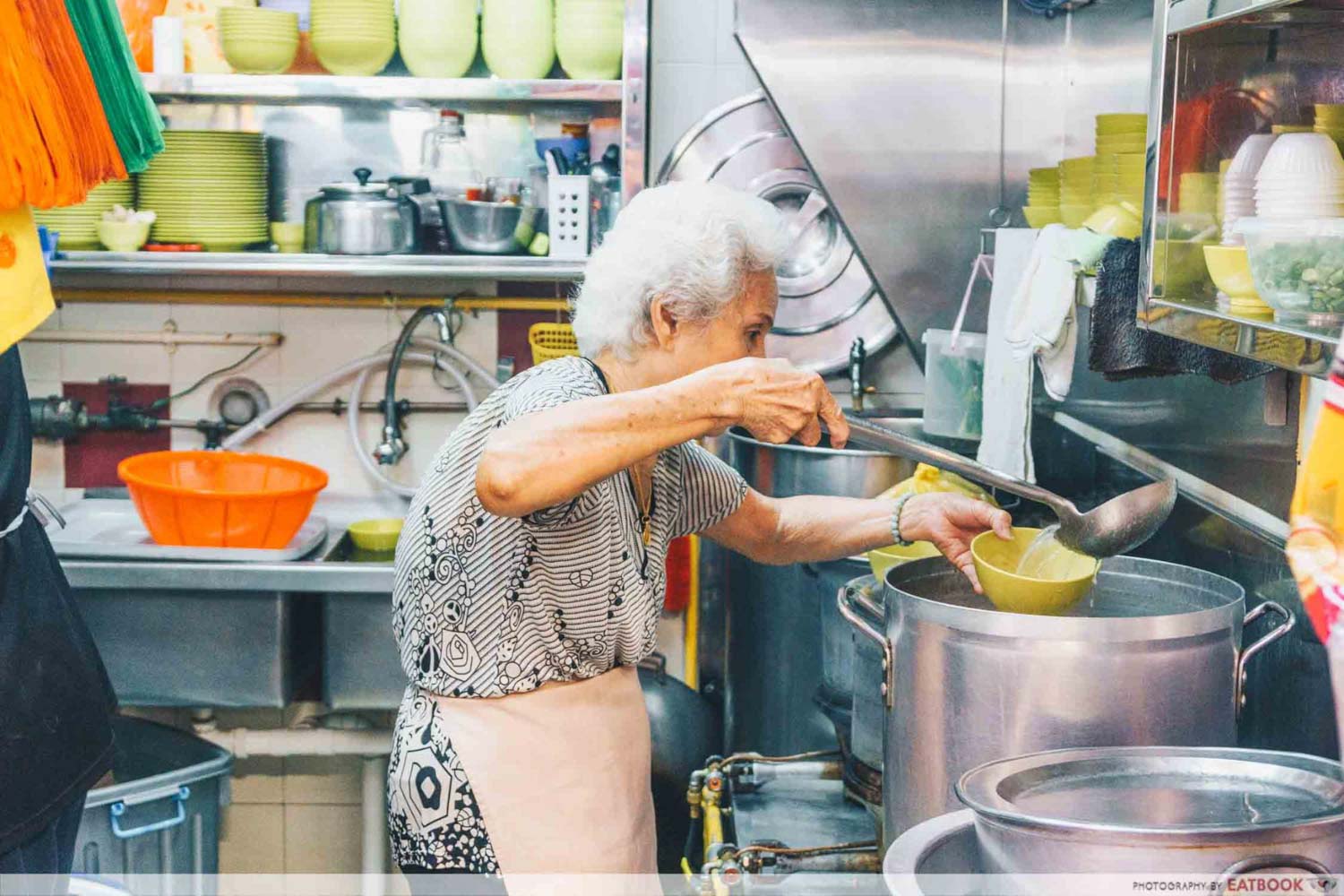 For someone of her age, retirement seems like the easier path, but it's also one she has chosen not to take.
Though her son, Mr Jay Lim, has taken over most of the ropes, Mdm Tan remains a regular fixture at the stall, greeting her customers with warm smiles and affectionate strings of Hokkien words. 
All of this not only reflects her sheer mental strength, but also her steadfast dedication to her regulars.
Ambience at Hua Kee Chicken Rice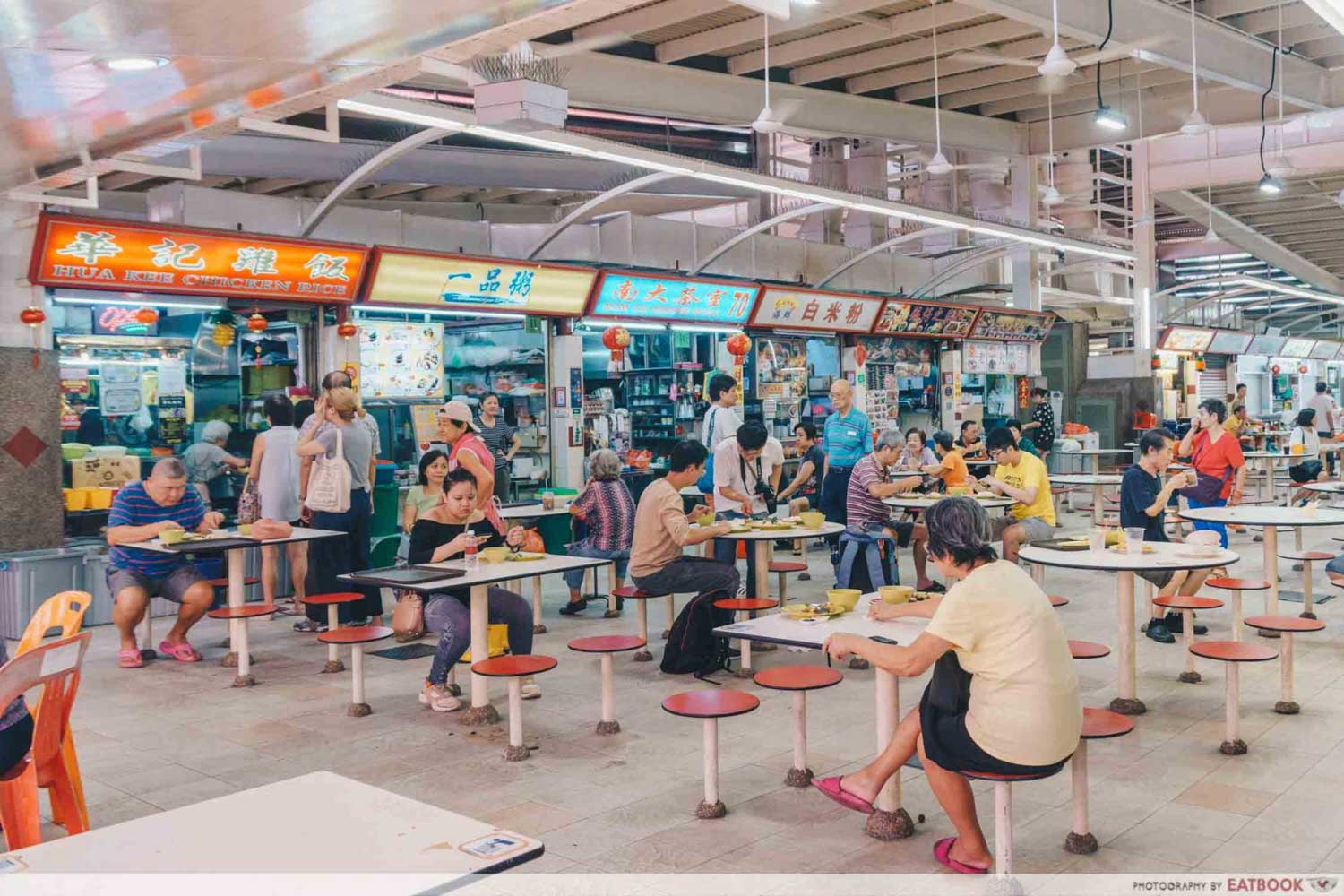 Tucked within Redhill Hawker Centre, Hua Kee Chicken Rice is a short 5-minute walk from Redhill MRT station. Furnished with an improved ventilation system after a recent renovation, the place offers a cooling setting for lunch. This hawker centre is a favoured lunch spot among locals, so it's best to visit early to avoid jostling for seats.
The verdict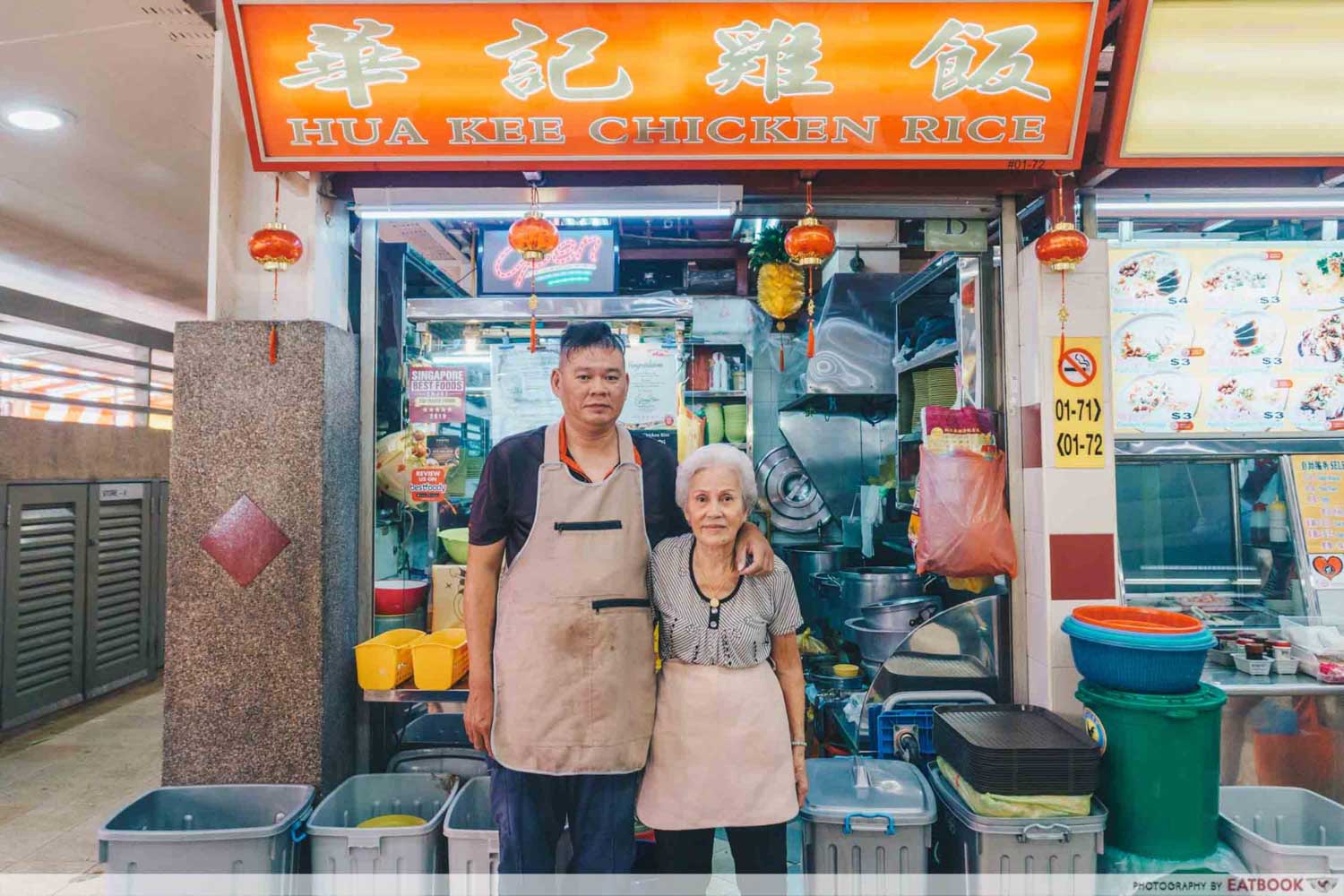 Visiting a stall like Hua Kee Chicken Rice has been one of my highlights as a food writer at Eatbook. It's not only quality dishes that make a stall unforgettable, but the people as well. Mdm Tan offers a shining example.
It's inspiring to witness how dedicated she is to her craft and this devotion is also what makes our hawker culture worth celebrating.
Having got every aspect of their menu down pat, Hua Kee Chicken Rice stands as one of my top picks—if not top—for chicken rice in Singapore. Queues here may seem frustratingly long, but every second of waiting is worth it after the first bite. 
If you're searching for more delicious food, check out these 10 stalls from Redhill Food Centre. Whether it's crispy fried chicken wings that our Prime Minister queued 30 minutes for or fatty cuts of char siew, the food here will impress you with their sumptuous taste.
10 Redhill Food Centre Stalls Including Claypot Curry, Satay Beehoon And Curry Rice
Address: 85 Redhill Lane, #01-72, Redhill Food Centre, Singapore 150085
Opening hours: Wed-Sun 8am to 12:30pm
Hua Kee Chicken Rice is not a halal-certified eatery.
Photos taken by Lim An.
This is an independent review by Eatbook.sg.
Summary
Pros
— Fork-tender and succulent steamed chicken
— Fluffy rice
— Affordable prices
— Generous portions
— Accessible location
Cons
— Long queue times
Recommended Dishes: Half Chicken ($15)
Opening hours: Wed-Sun 8am to 12:30pm
Address: 85 Redhill Lane, #01-72, Redhill Food Centre, Singapore 150085