Hock Shun Traditional Homemade Curry sticks to tradition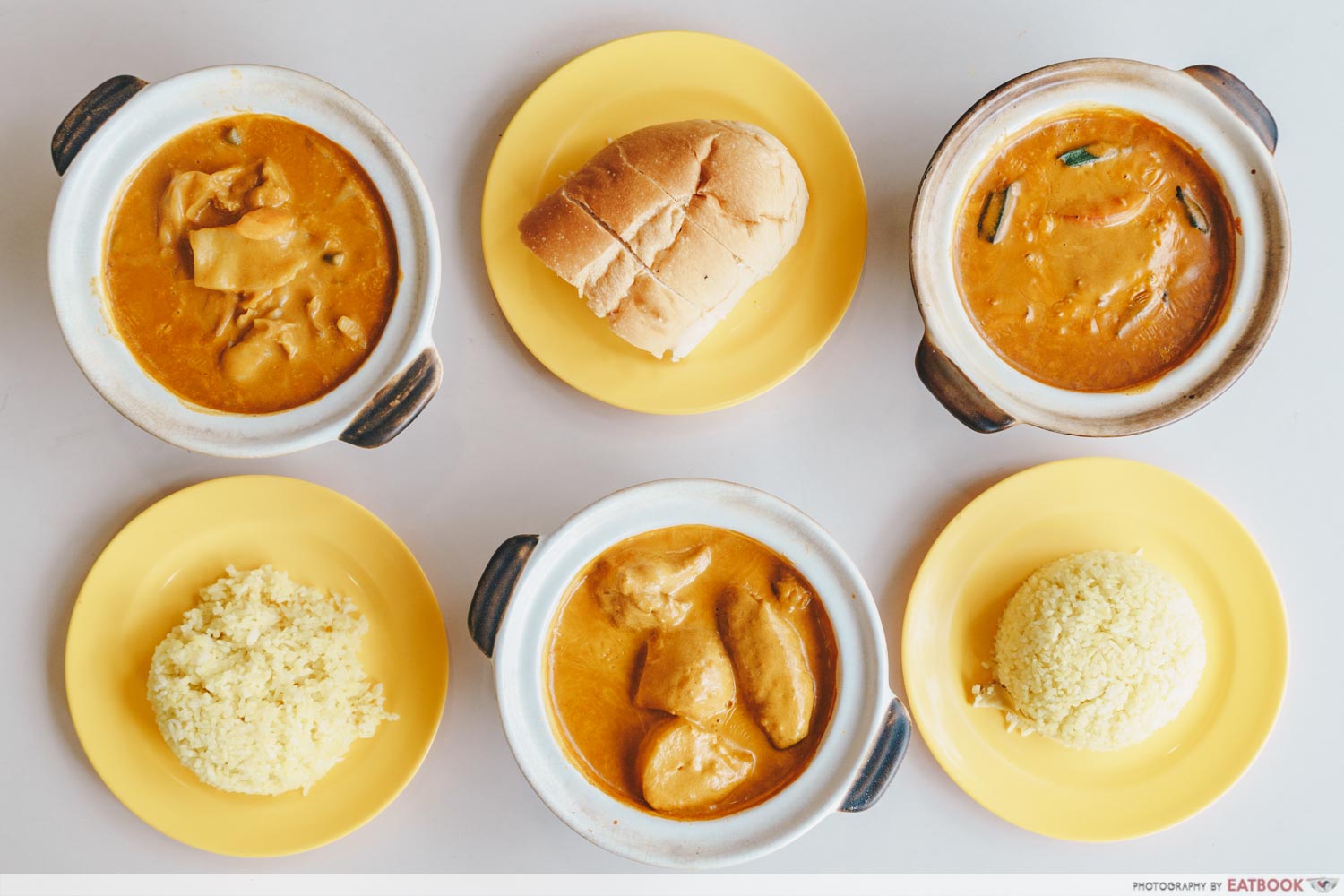 I come from a Nyonya family. Growing up, most weeknight dinners were cooked by my grandmother, who whipped up traditional favourites like ayam buah keluak and chap chye on a regular basis. One dish that she's gradually made less over the years is Nyonya chicken curry. That's because the process of preparing the aromatic rempah, or spice blend, is cumbersome and time-consuming.
It's safe to say that many Singaporeans have similar fond memories of chicken curry made by their elders. Serving up claypots full of tantalising yellow gravy, Hock Shun Traditional Homemade Curry brings this iconic childhood dish out of the home and to the masses.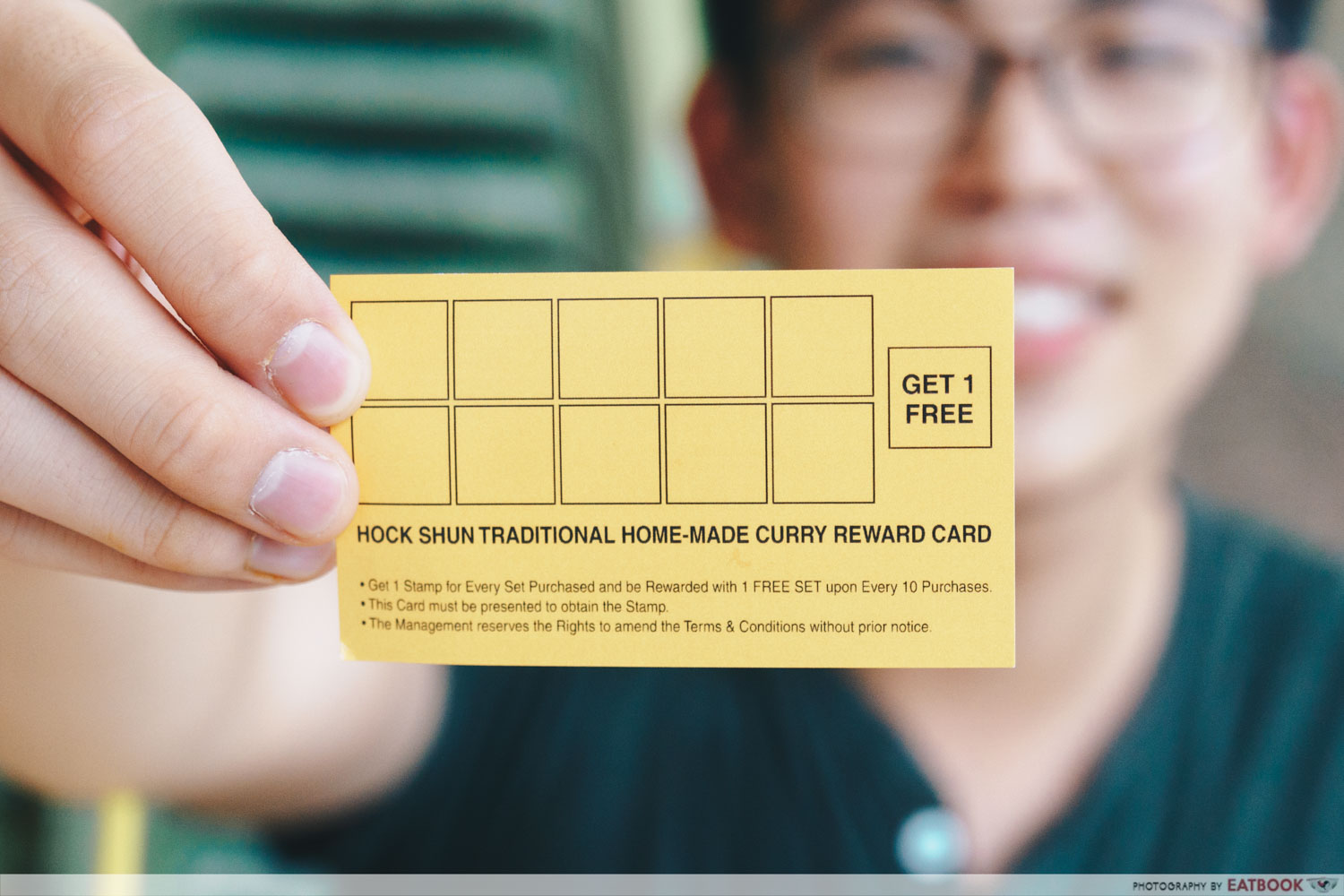 This Redhill Market stall is helmed by a couple in their 30s, and despite the nostalgic dish, influences of a younger generation come through. That's most prominent in their loyalty card that's certainly not a common sight in a hawker centre.
Traditional hawker businesses, especially in lower-profile hawker centres such as this, are predicated on loyalty and a strong base of regulars. The loyalty card, therefore, is a cute way to reward faithful customers and keep them coming back, as every 10 orders of curry entitles you to another free pot.
Food at Hock Shun Traditional Homemade Curry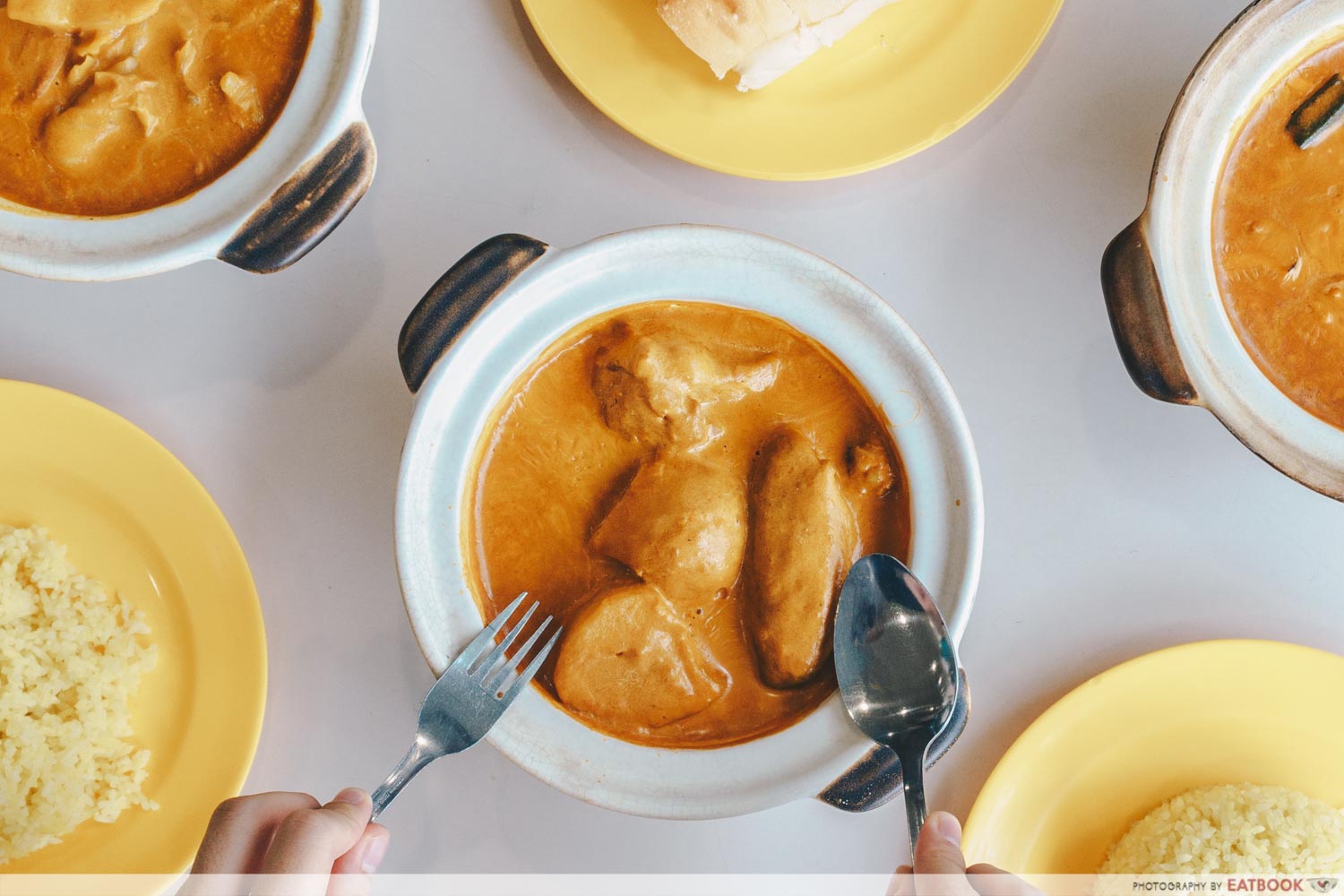 Here's the million dollar question: why the claypot? Rather than a gimmick to evoke nostalgia, these hawkers use claypots as they retain heat and flavour better. It's all to ensure your bowl of curry chicken remains warm and flavourful from start to finish.
The Claypot Curry Chicken Wings ($4) arrived bubbling like a witch's cauldron, except it was way more appetising. A familiar, comforting fragrance wafted from it, bringing childhood memories of my grandmother's food rushing back. Each order comes with two chicken wings, a duo of sizable potatoes, and a choice of rice or bread. It's great value-for-money.
Digging in, I instantly understood why my colleague described this curry as reminiscent of "the one [her] domestic helper [cooked] for [her] at home". I'm 99% sure the stall owners aren't related to me, but their curry simply tasted like my grandmother's.
10 Redhill Food Centre Stalls Including Claypot Curry, Satay Beehoon And Curry Rice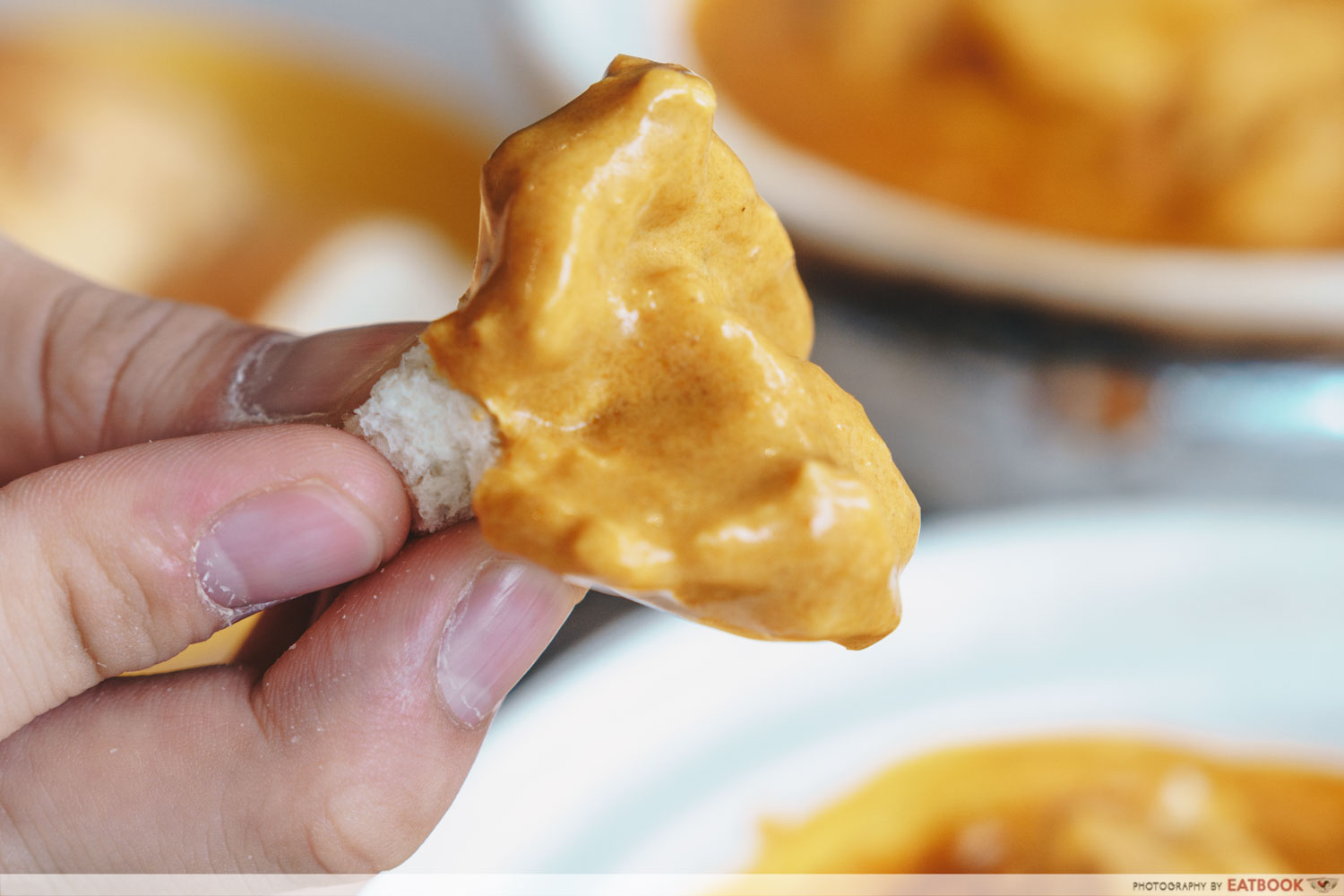 The rich gravy was creamy and complex, rounding off with a surprising sour accent. Coconut milk dominated the aftertaste, lingering long after we had gulped the curry down. Heat-wise, it was gentle, with mild spice that dissipated quickly. Even my chilli-fearing dining companion had no trouble wolfing down the curry.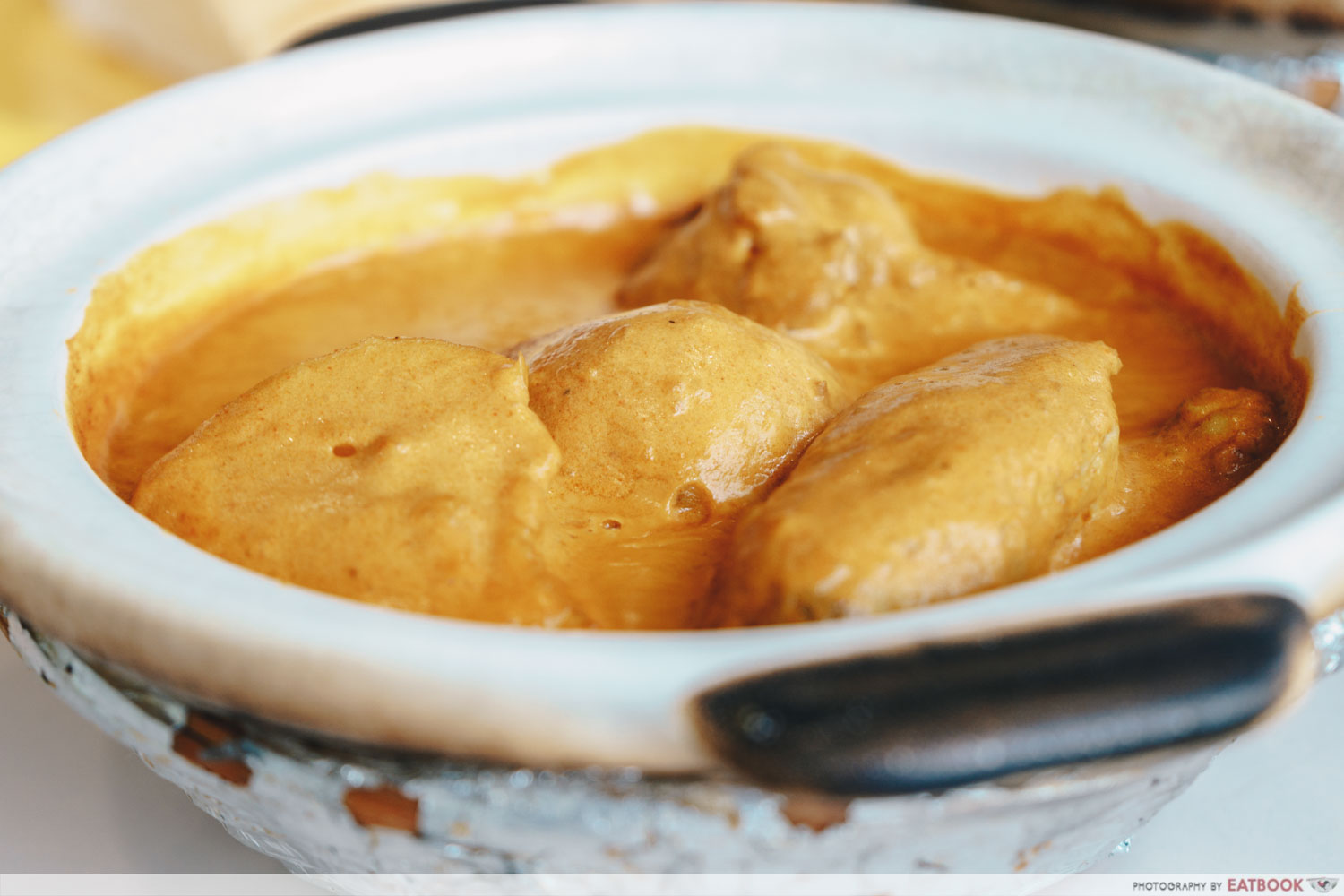 We didn't really see the point of the claypot at first. But that became clearer as we approached the bottom. Curry usually deteriorates as you consume it, with the magically spicy aroma gradually vanishing. However, the opposite was true here.
Towards the end of our meal, the curry's flavour intensified, imbued with a delightful earthiness. That unexpected depth pushed it from "elevated cai fan curry" to a whole new level. Mopping up dregs of curry with lightly toasted bread was the highlight of our meal.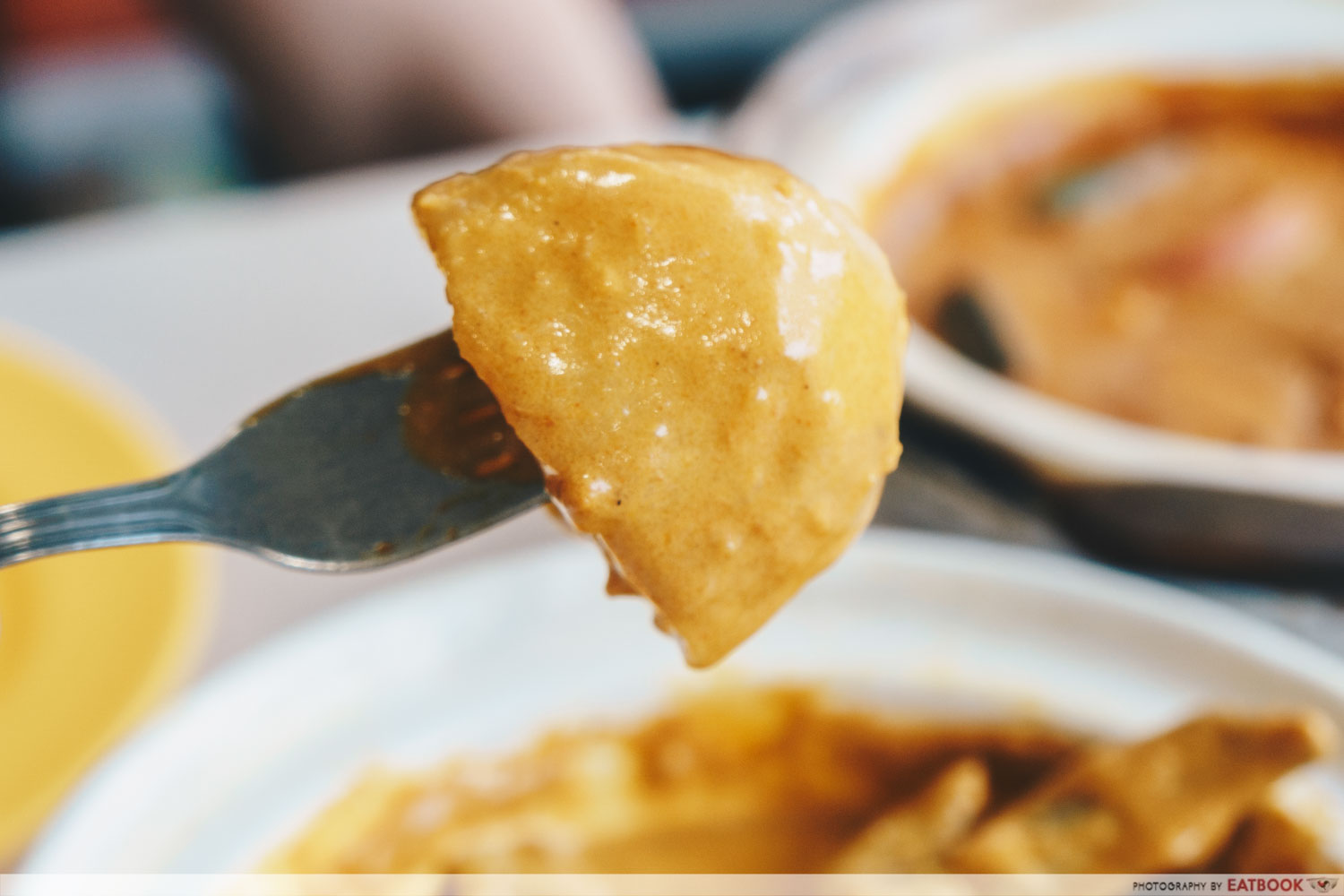 Call me a heretic, but potatoes are ironically the best part of chicken curry for me. Unfortunately, these potatoes were off the mark; a touch too soft and not permeated by curry flavour. That's likely because they were showered with curry on order, rather than being steeped in that luscious gravy over time.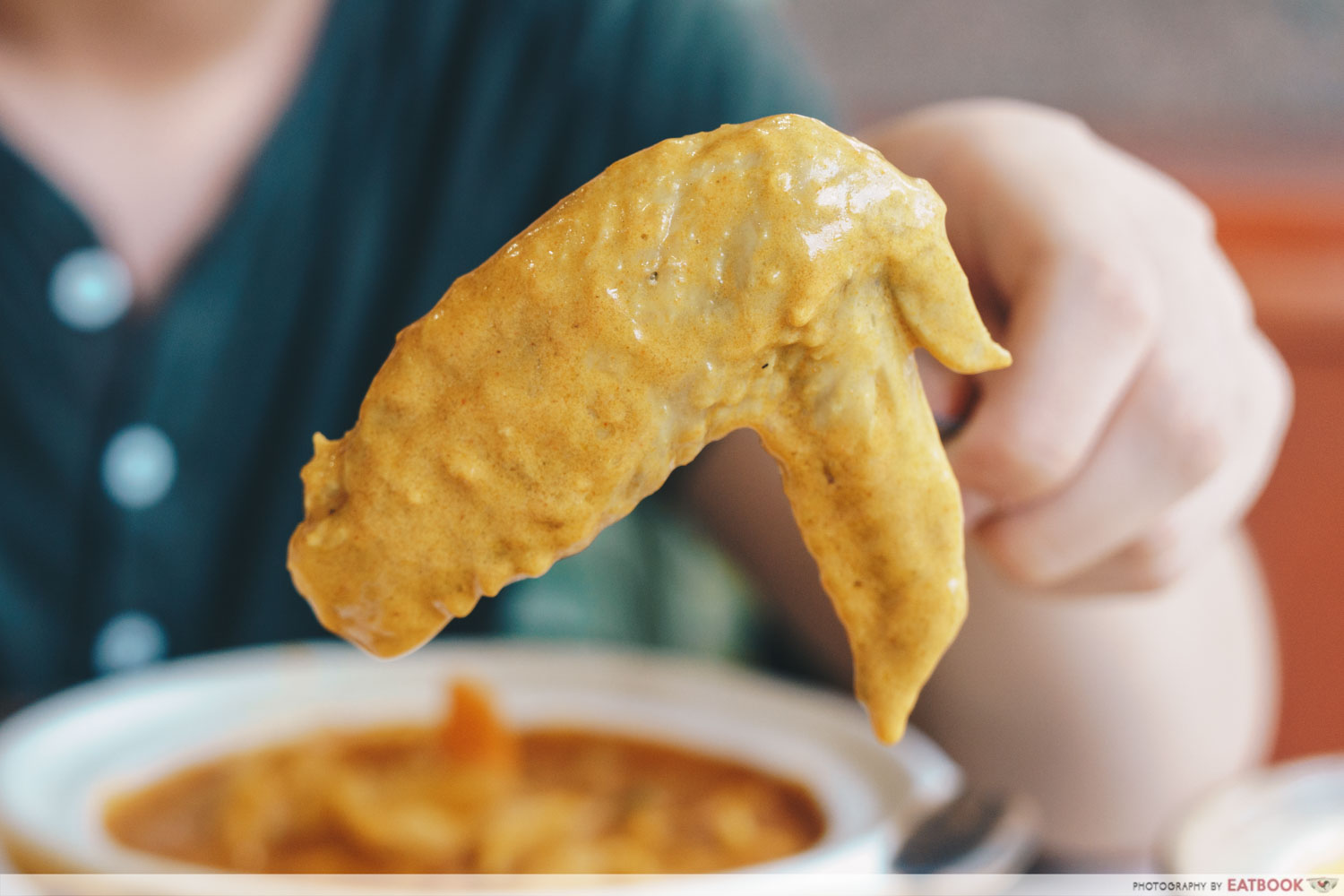 Similar to its tuber companions, the chicken wings were only met with curry on order. As a result, our poultry didn't have the fall-apart-tender, stewed texture we were looking for. That said, it certainly wasn't tough, and for $4, there isn't much cause for complaint.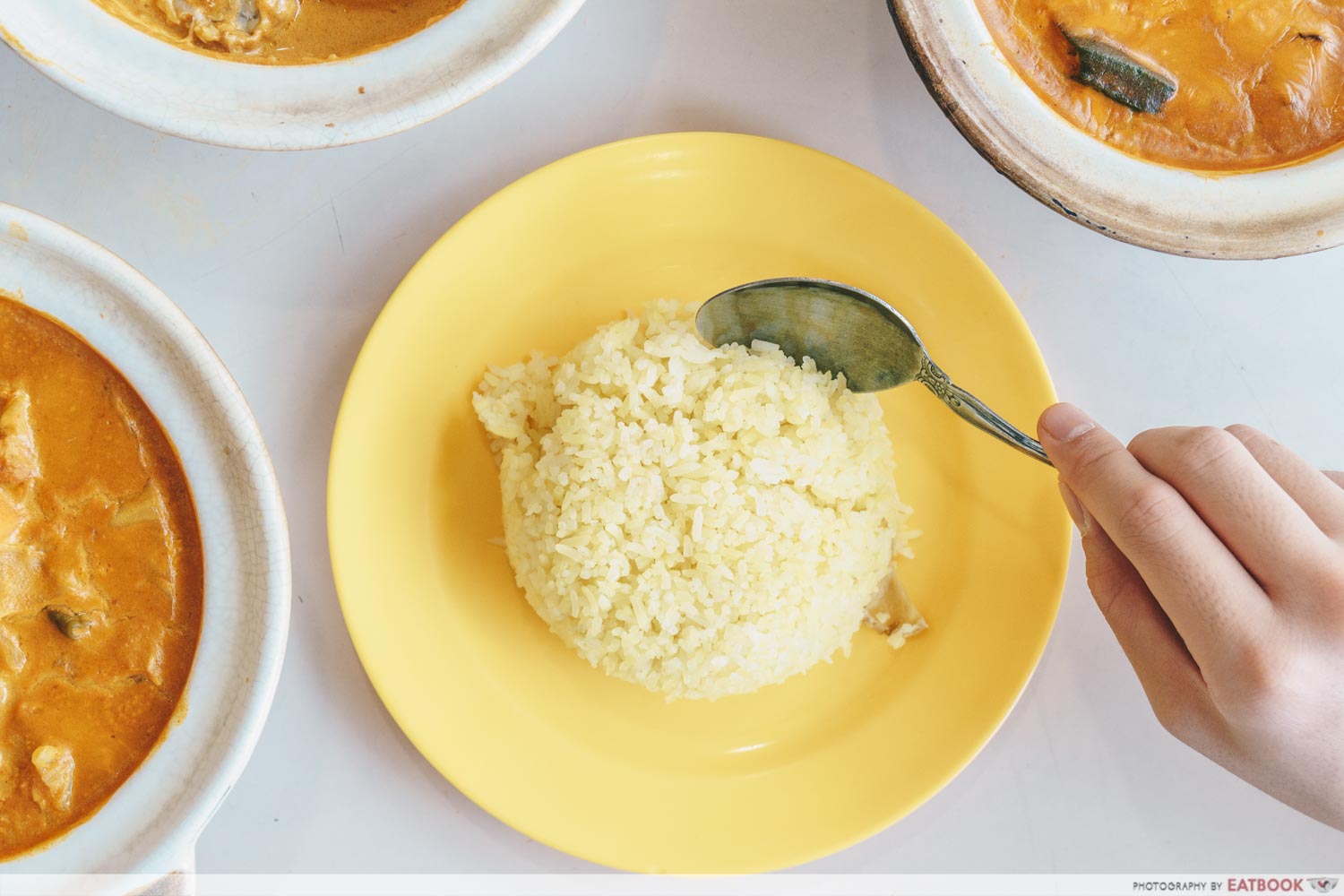 Apart from bread, you can partner your curry with white or turmeric rice. The latter isn't a common sight, but these yellow grains carry a gentle spiced aroma that complements the melange of spices in whichever curry you order. Drenched with chicken curry, it was like a ghetto Chinese knockoff of chicken biryani.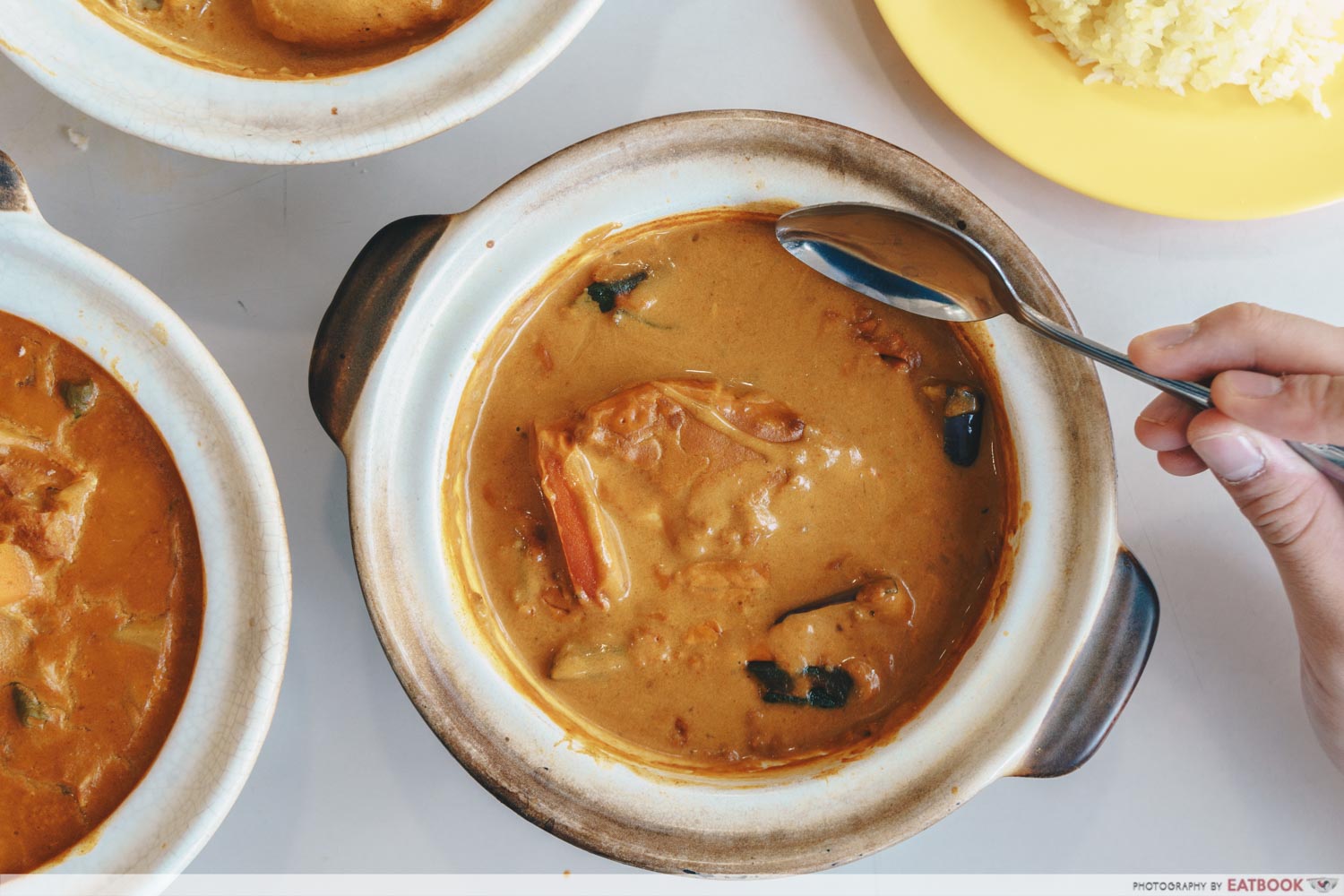 Our Claypot Fish Curry ($5.50) arrived with a slightly darker, reddish hue, though not nearly as crimson as at fish head curry joints like Banana Leaf Apollo. The fish component came in the form of a pearly white batang fish or Spanish mackerel steak, and was kept company by brinjal, lady's finger, and tomato wedges.
Assam curry is a weakness of mine, so I was pleased that our gravy bore a strong sour tang. Think your classic Chinese-style fish head curry but richer.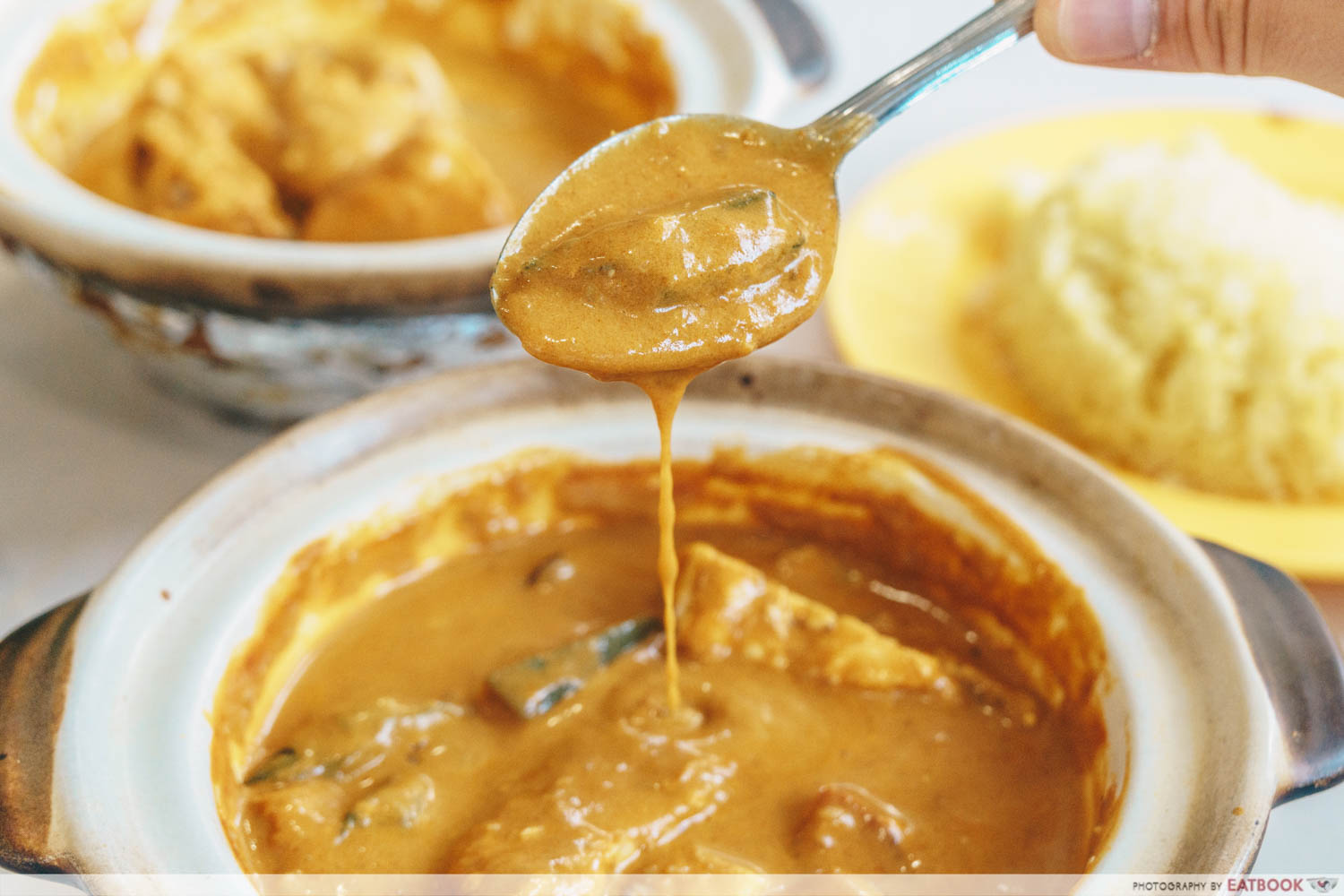 Assam works best with fish because its powerful zing masks any unpleasant fishiness, and those powers were only magnified by the curry's velvety texture. However, this curry was two-dimensionally sour and spicy; satisfying, but lacking the chicken's depth and nuance of flavour.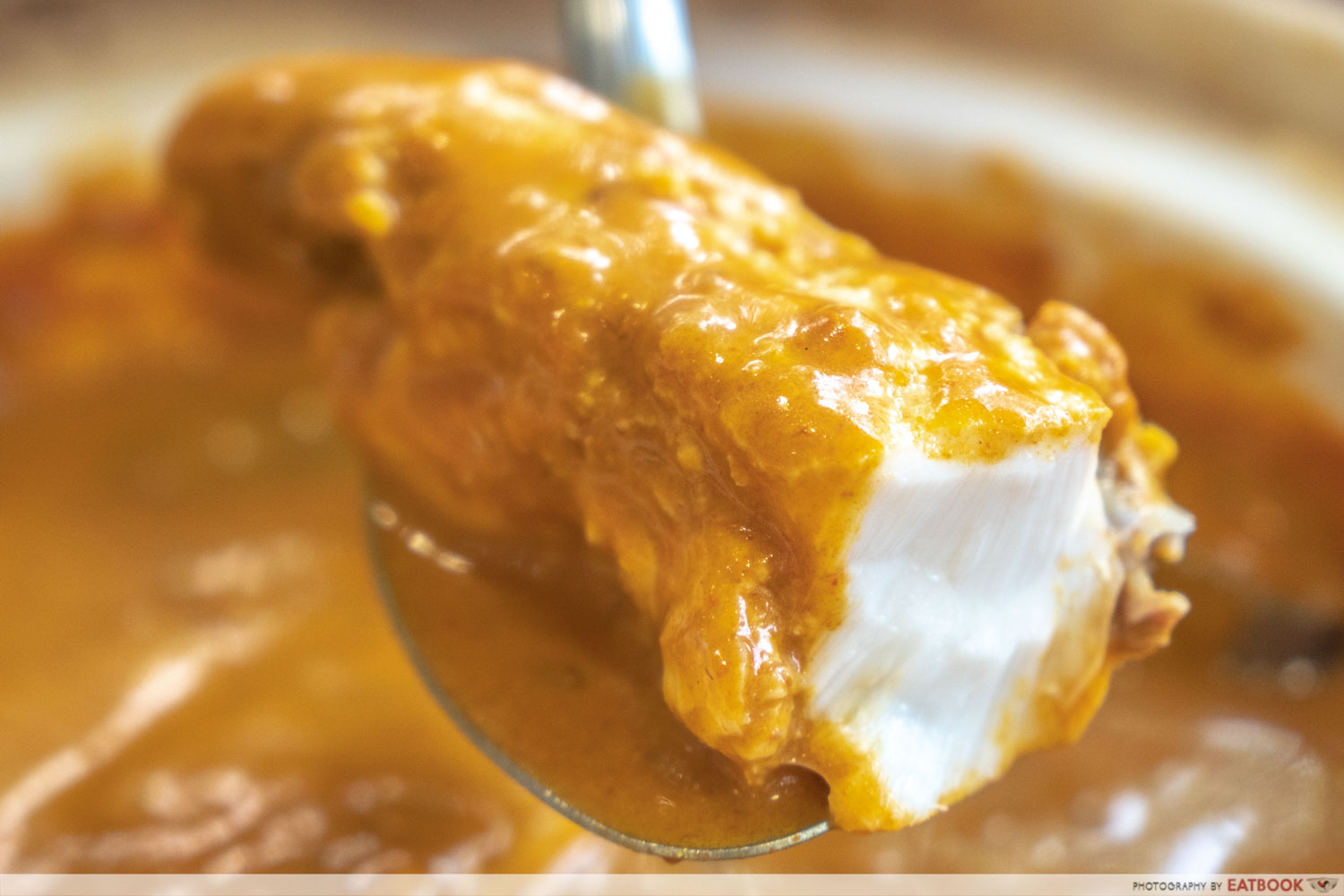 Unlike the chicken curry, we had only good things to say about this assam curry's ingredients. Batang is so popular because it's so easy to find, but it's equally easy to mess up. Overcooking it is an all-too-common hawker blunder, resulting in hard and powdery flesh.
This steak was thankfully soft and flaky, with minimal fishy aroma. Its milky flesh soaked up the curry like a sponge, carrying those piquant flavours well.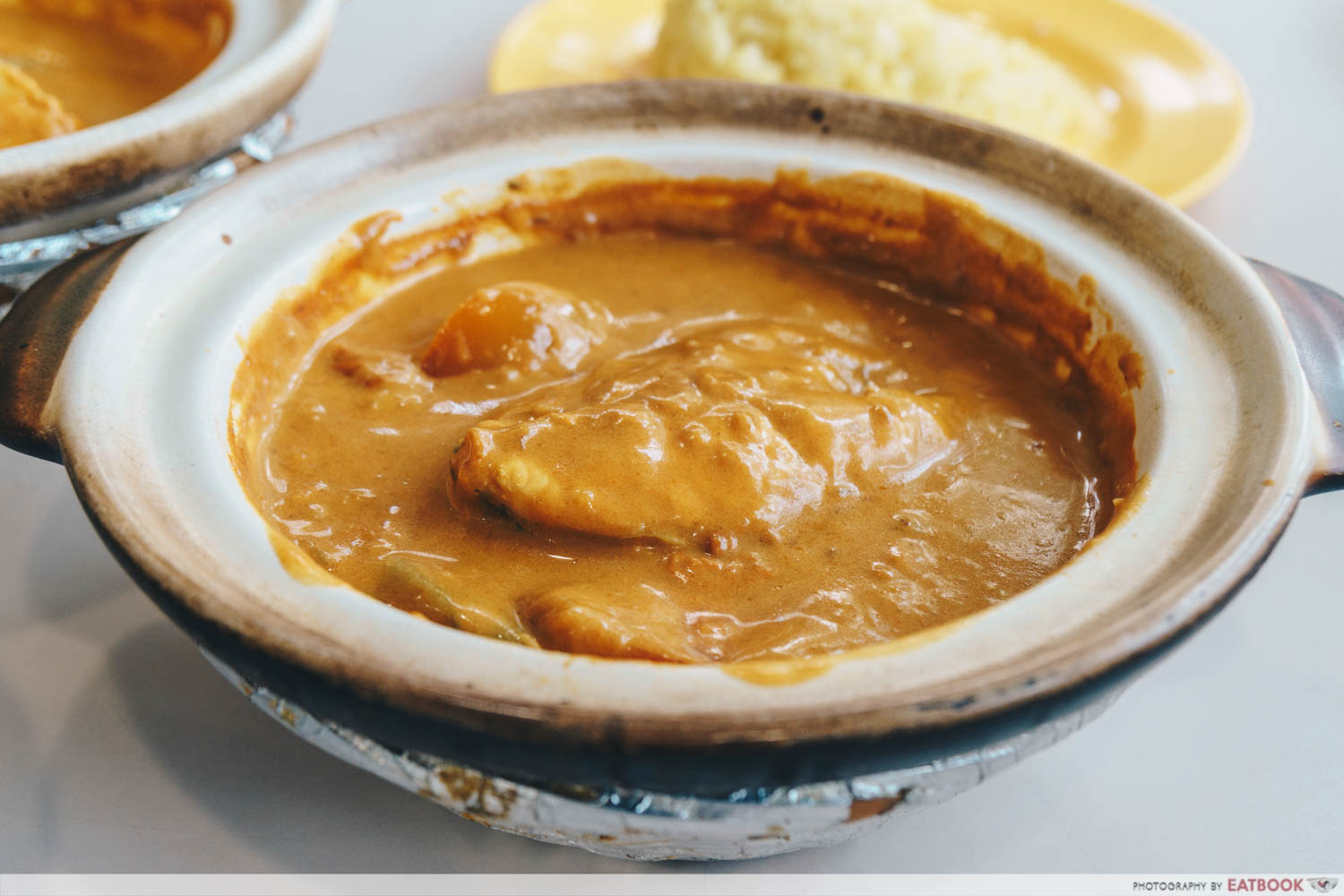 The vegetables also deserve a shout-out, with the eggplant being a stand out. When not stewed thoroughly, this purple veggie is spongy and tough. Here, it was cooked completely, with a tender and creamy texture.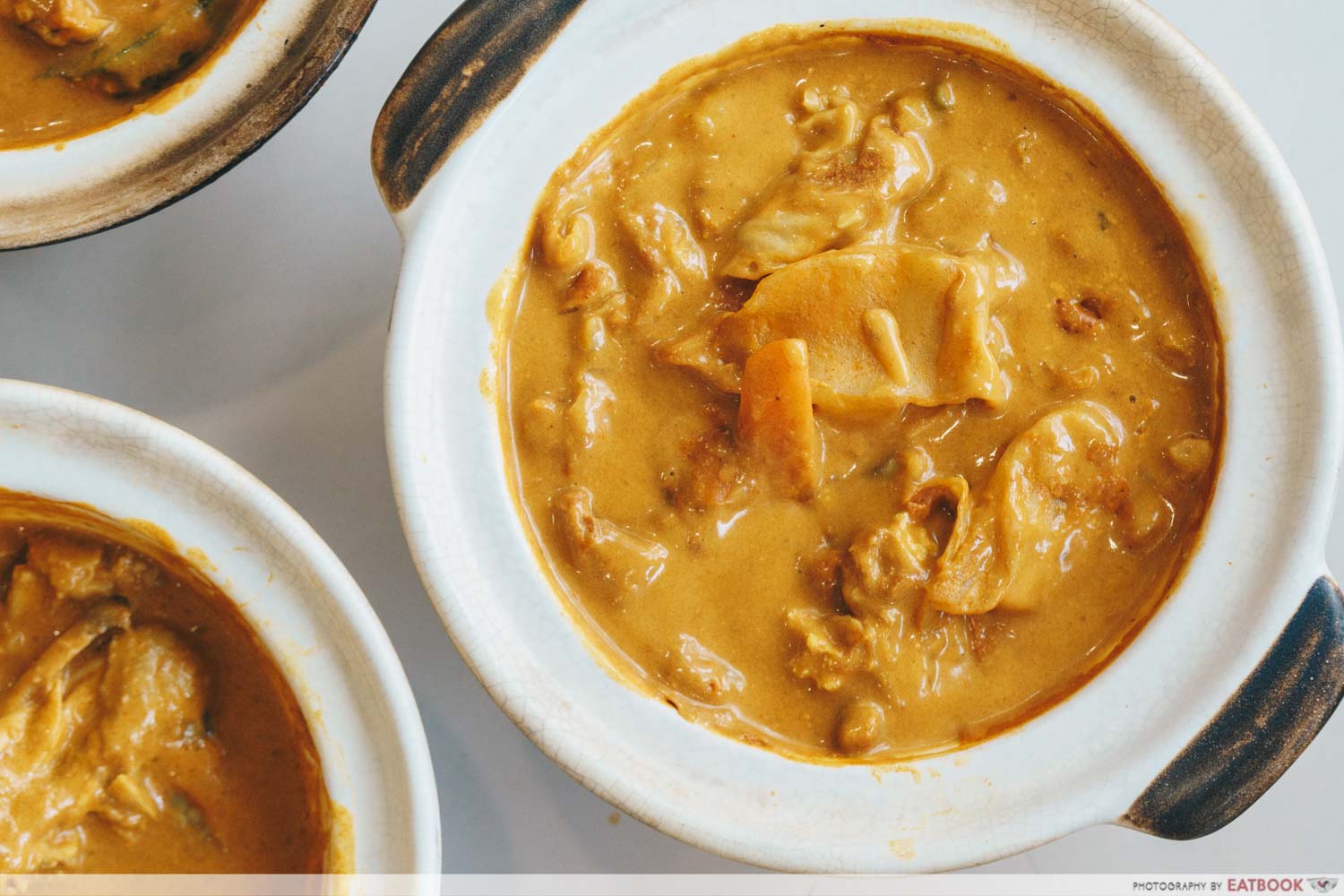 While it had a similar tint to the chicken curry, our Claypot Mixed Vegetables Curry ($3.50) entered another realm of flavour. This claypot was absolutely laden with ingredients, composed by tau pok, cabbage, carrot and long beans.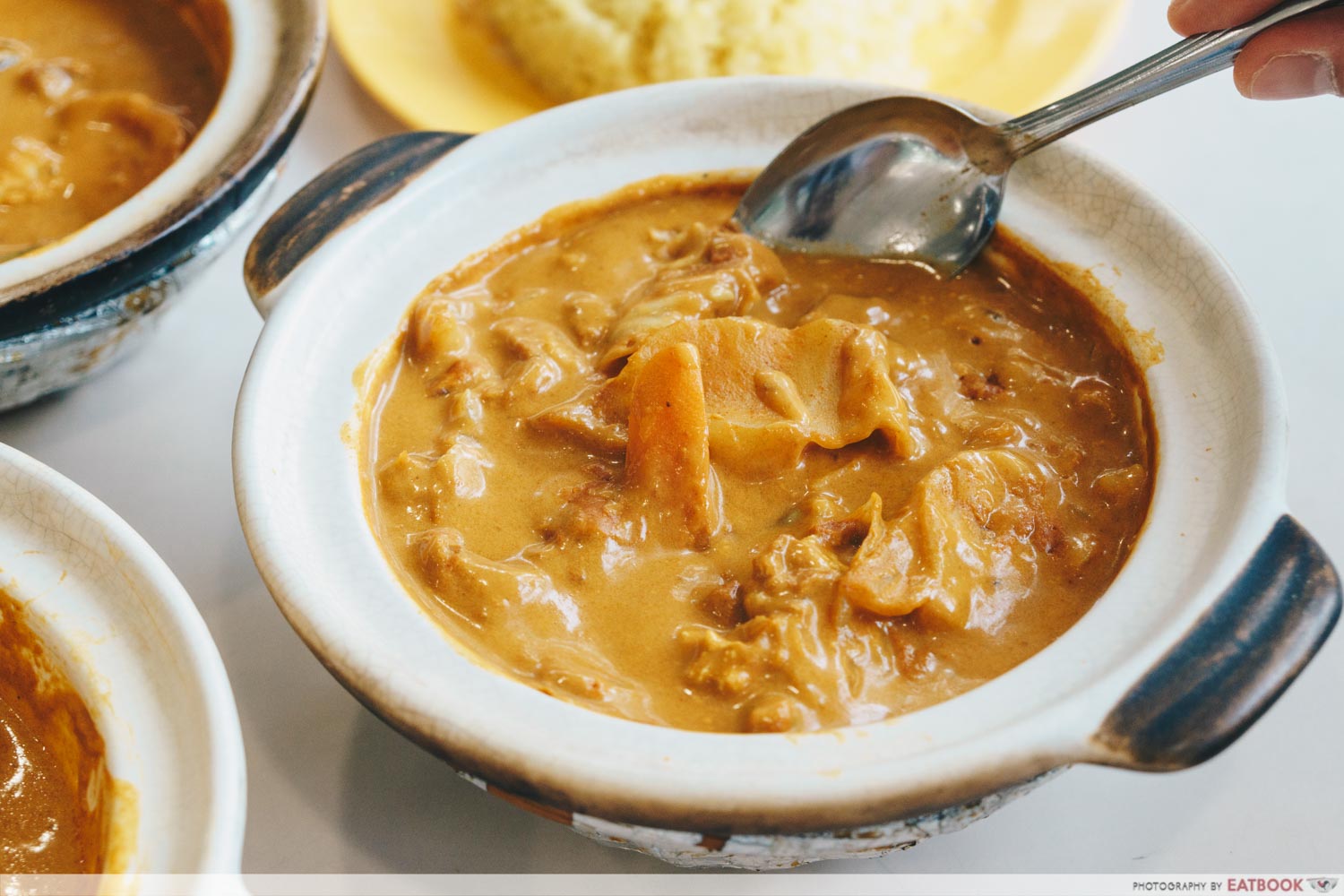 This curry was the least impressive of our trio. Cai fan vegetable curry is an appropriate comparison, but with strong, earthy whiffs and a thicker consistency. Inoffensive by all counts, but for a speciality curry stall, we had loftier expectations.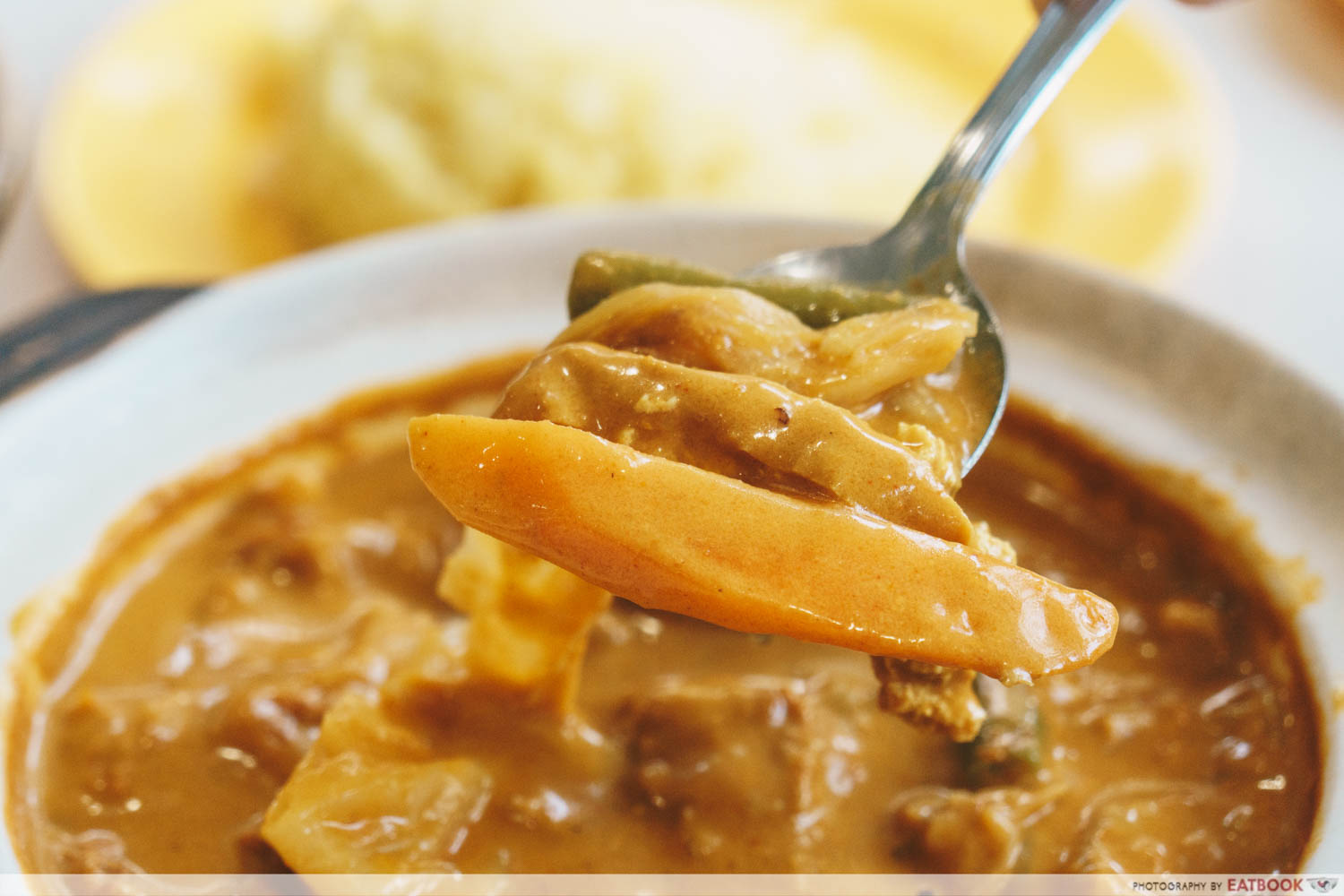 The tau pok was our favourite ingredient. Its absorbency acting as a wonderful canvas to showcase the curry's flavour. The rest of the lineup was appropriately tender, but nothing noteworthy. All in all, we wouldn't hesitate to stump up another $0.50 for the chicken curry.
Ambience at Hock Shun Traditional Homemade Curry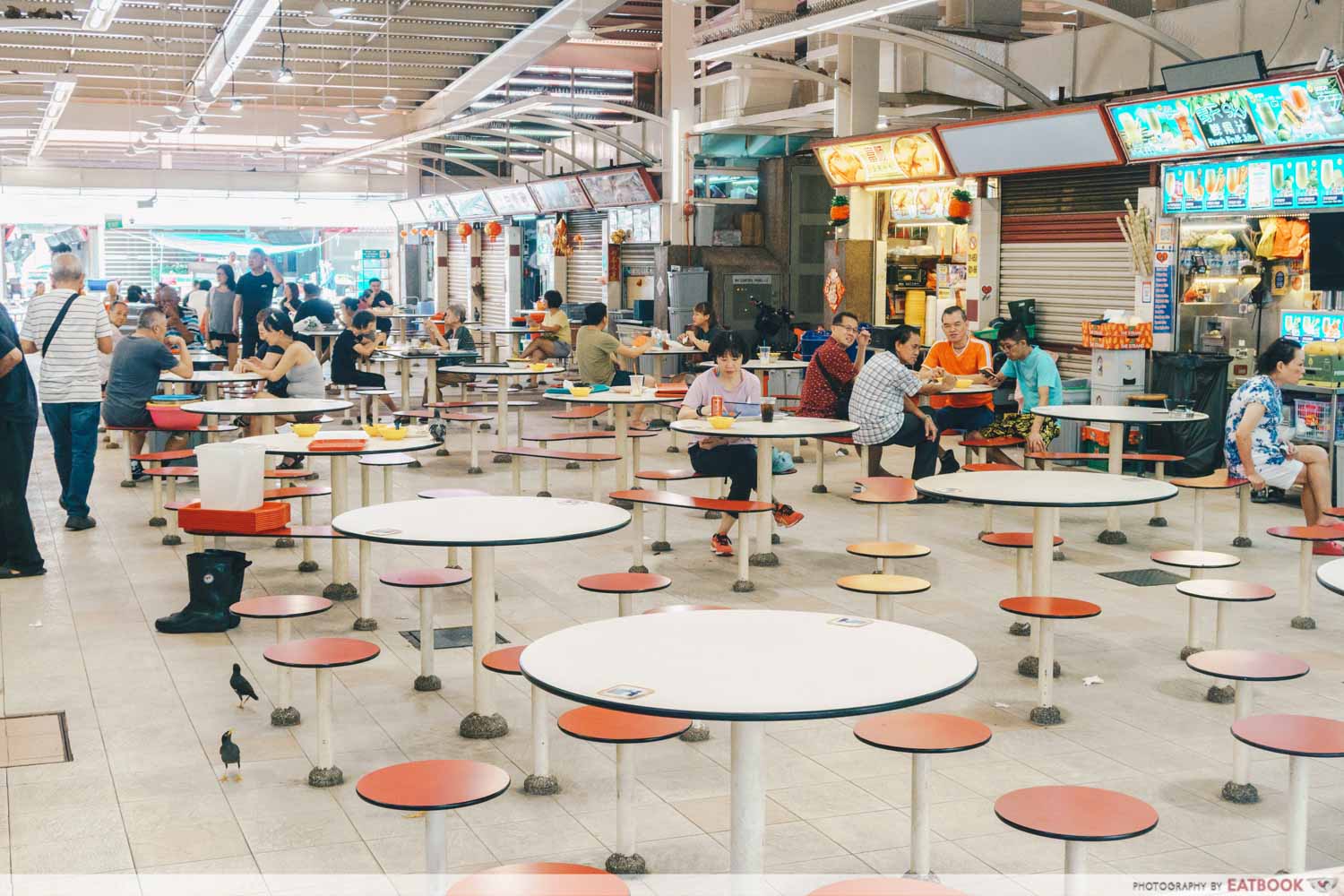 A five-minute walk from Redhill MRT station, this quiet food centre is frequented mostly by nearby residents. While it's a far cry from its bustling, illustrious counterparts at Amoy Street and Maxwell Road, there's always a diamond in the rough to be unearthed in these under-the-radar neighbourhoods.
The verdict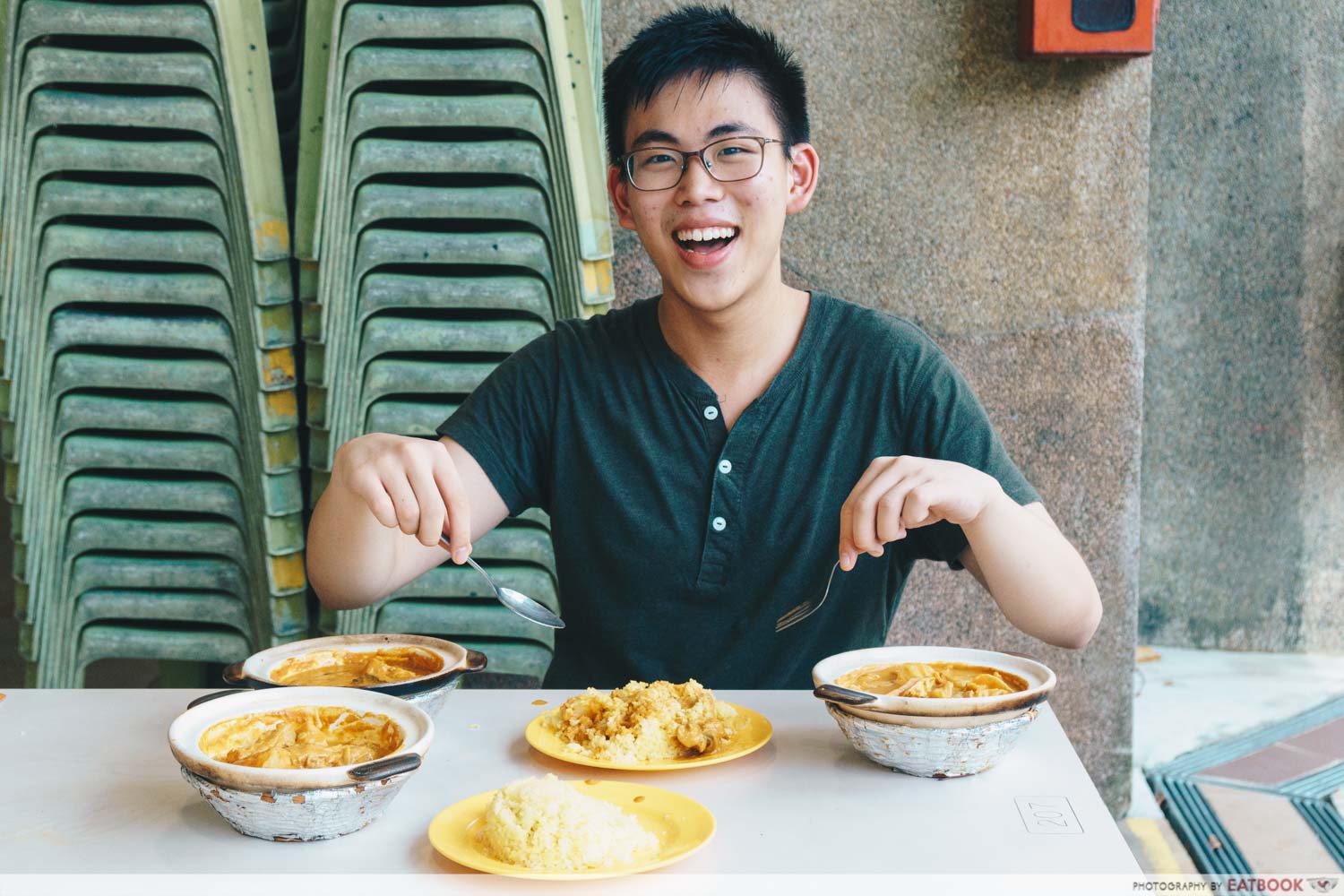 Hock Shun Traditional Homemade Curry is a slice of home in Redhill. We enjoyed how they retained the soul of classic, home-style curry while flashing creativity through unconventional facets like turmeric rice and a loyalty system.
While nothing here will blow your mind, you're assured a simple and immensely satisfying meal. That's enough for us to make another trip down.
Fans of Chinese-style curry should also check out Cantonese Delights. If you prefer other styles of spicy gravy, take a look at Yes! Nasi Kukus and Japanese Curry Express for Malay and Japanese takes on this global dish.
Cantonese Delights Review: Fried Chicken Cutlet Noodles Drenched In Curry Sauce At Chinatown
Let us know your favourite spots for chicken curry in the comments below!
Address: 85 Redhill Lane, #01-66, Redhill Lane Block 85 Food Centre, Singapore 150085
Opening hours: Tue-Sun 9am to 9pm
Photos taken by Crystal Tan.
This is an independent review by Eatbook.
Summary
Pros
– Chicken curry had complex flavour
– Affordable prices
– Nifty loyalty system
Cons
– Curry potatoes were underwhelming
– Mixed vegetable curry was basic
Recommended dishes: Claypot Curry Chicken Wings ($4)
Opening hours: Tue-Sun 9am to 9pm
Address: 85 Redhill Lane, #01-66, Redhill Lane Block 85 Food Centre, Singapore 150085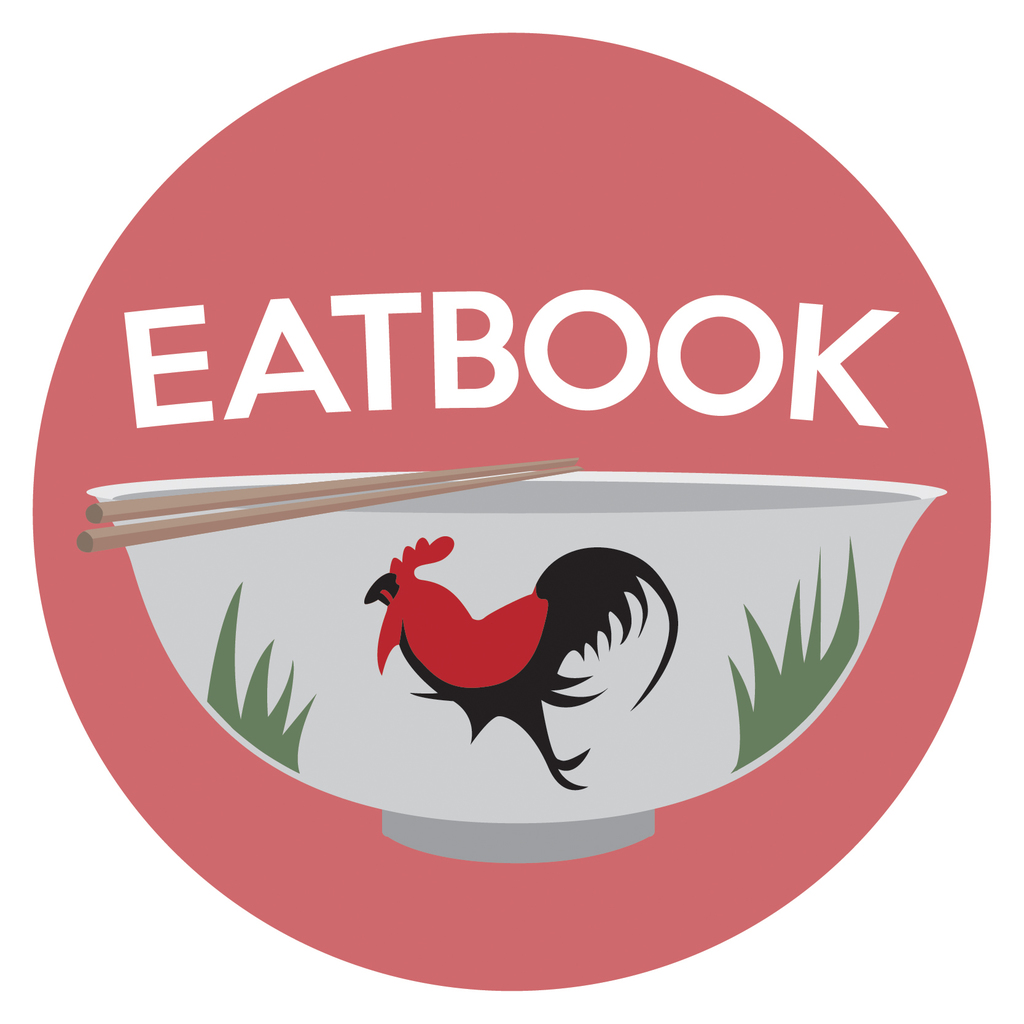 Drop us your email so you won't miss the latest news.