Say yes to Yes! Nasi Kukus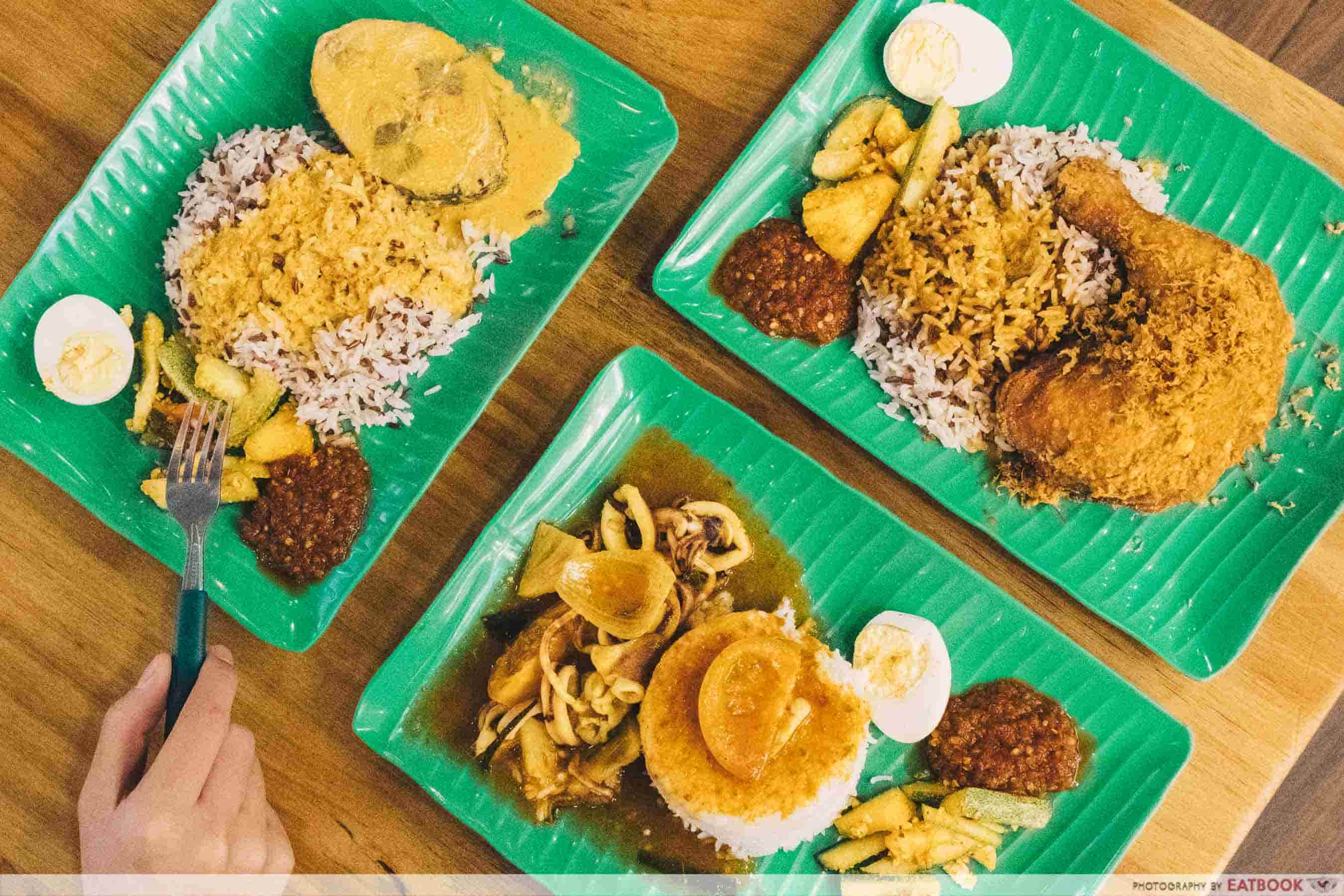 Nasi lemak is one of the darlings of Singaporean cuisine. Standing in its shadow is nasi kukus, a lesser-known but equally tasty sister. Originating in Kelantan, Malaysia, this dish is characterised by the steamed rice that's painstakingly prepared in individual aluminium bowls.
Yes! Nasi Kukus is one of Singapore's premier nasi kukus specialist. But it isn't all about the rice here. With robust curries and alluring proteins, this stall dishes out meals that are mouthwatering and soul-warming in equal proportion.
Food at Yes! Nasi Kukus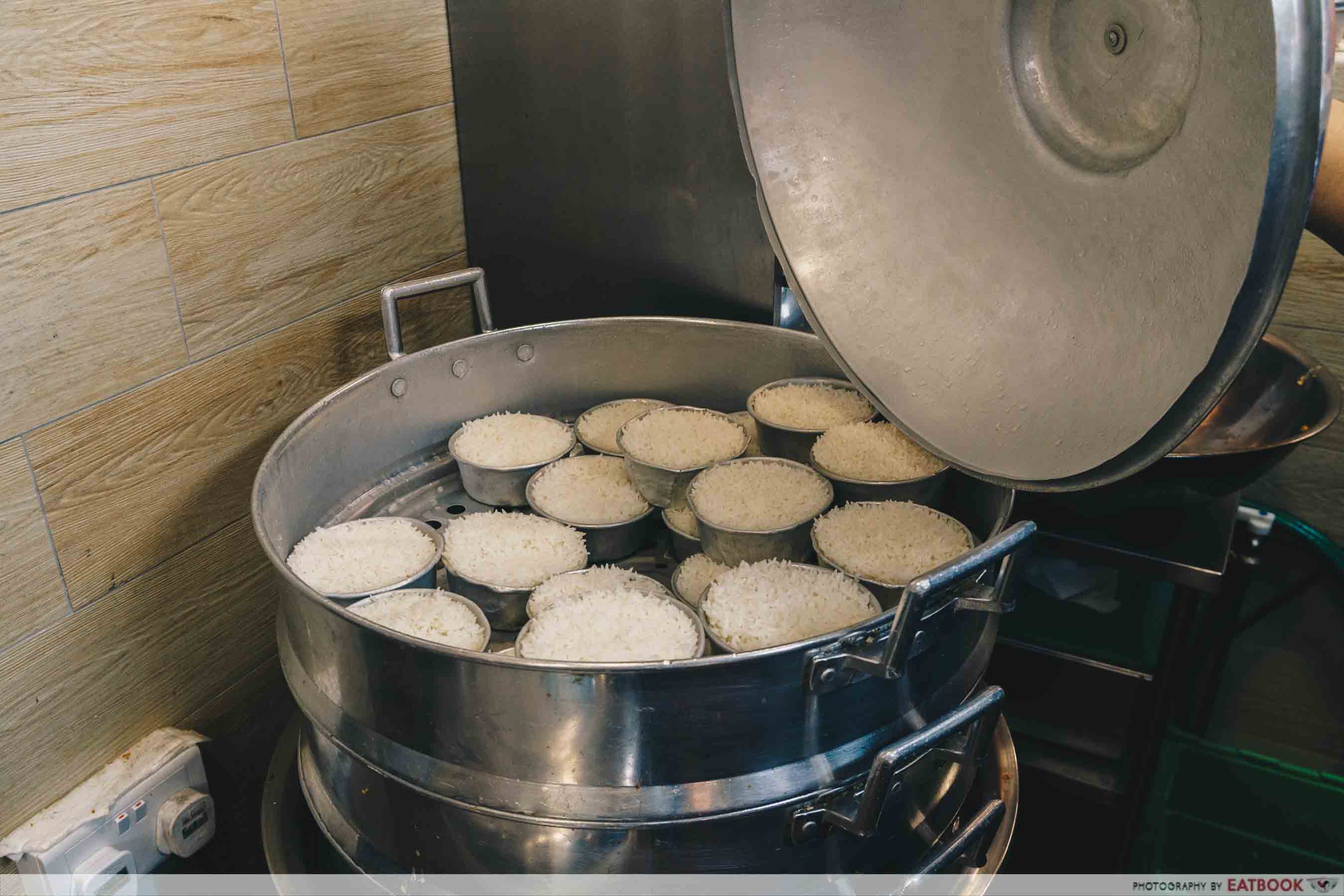 Rice is indeed their specialty at his hawker stall, with two special types of rice being offered. Hawker stalls usually cook white rice in bulk, but Yes! Nasi Kukus takes humble everyday rice up a notch.
Cooked in a special metal steamer, with each portion steamed individually in an aluminium bowl, this might seem like a lot of extra effort just for rice, but this process purportedly makes the rice grains extra fluffy.
For just $0.50 more, their nasi dagang comes with mixed white and red rice. However, instead of being individually steamed, the rice is cooked in coconut milk, resulting in drier grains brimming with lemak flavour.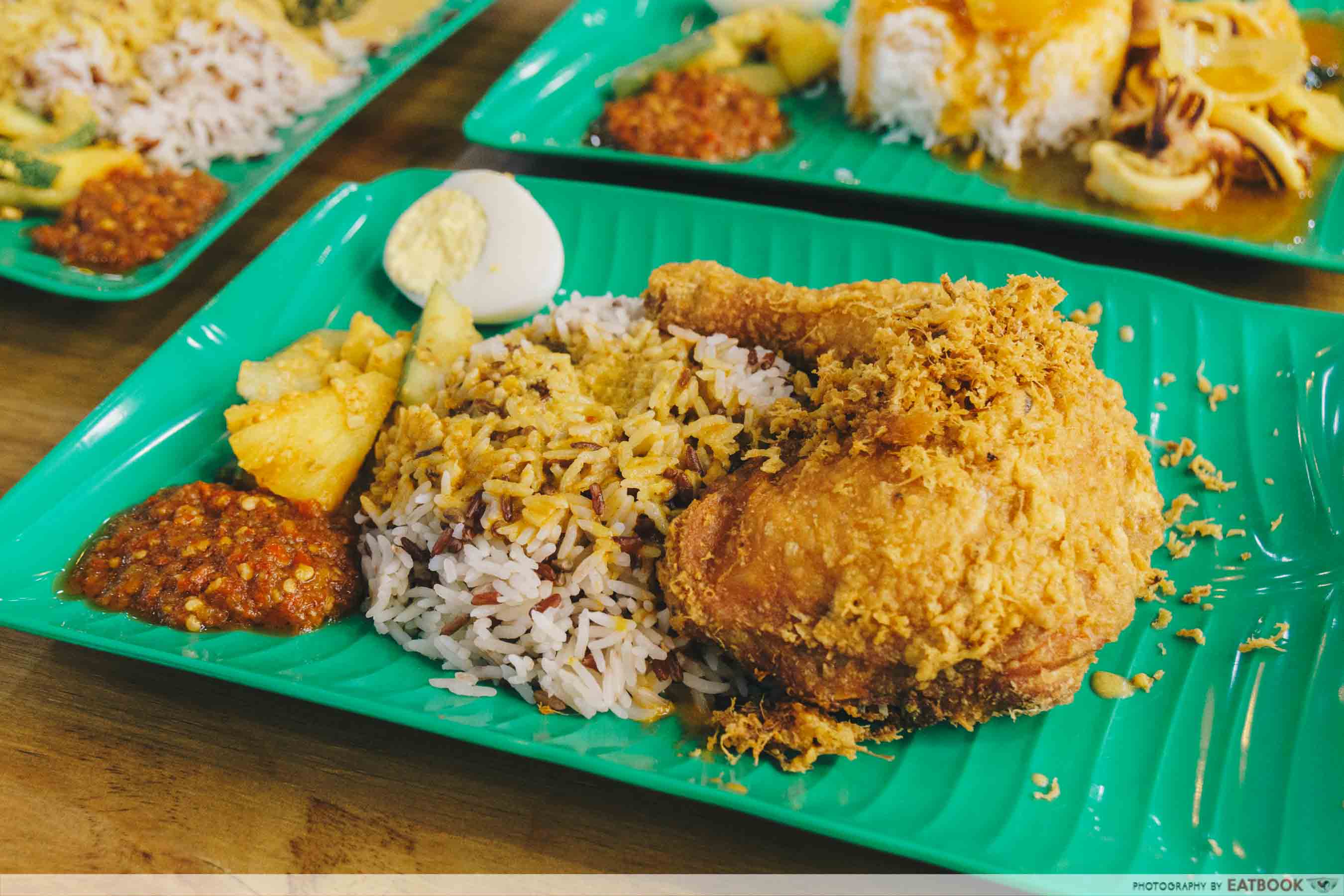 Proudly emblazoned on the storefront, their signature dish Nasi Dagang With Fried Chicken ($5.50) was chock-full of vibrant colour. With golden-brown fried chicken, crimson sambal, white and red rice, yellow-green achar and orangey curry, my stomach rumbled just looking at the dish.
My excitement only increased as a gigantic chicken thigh was slammed on the plate. With a big portion of carbs and protein, this dish will sate the biggest of bellies.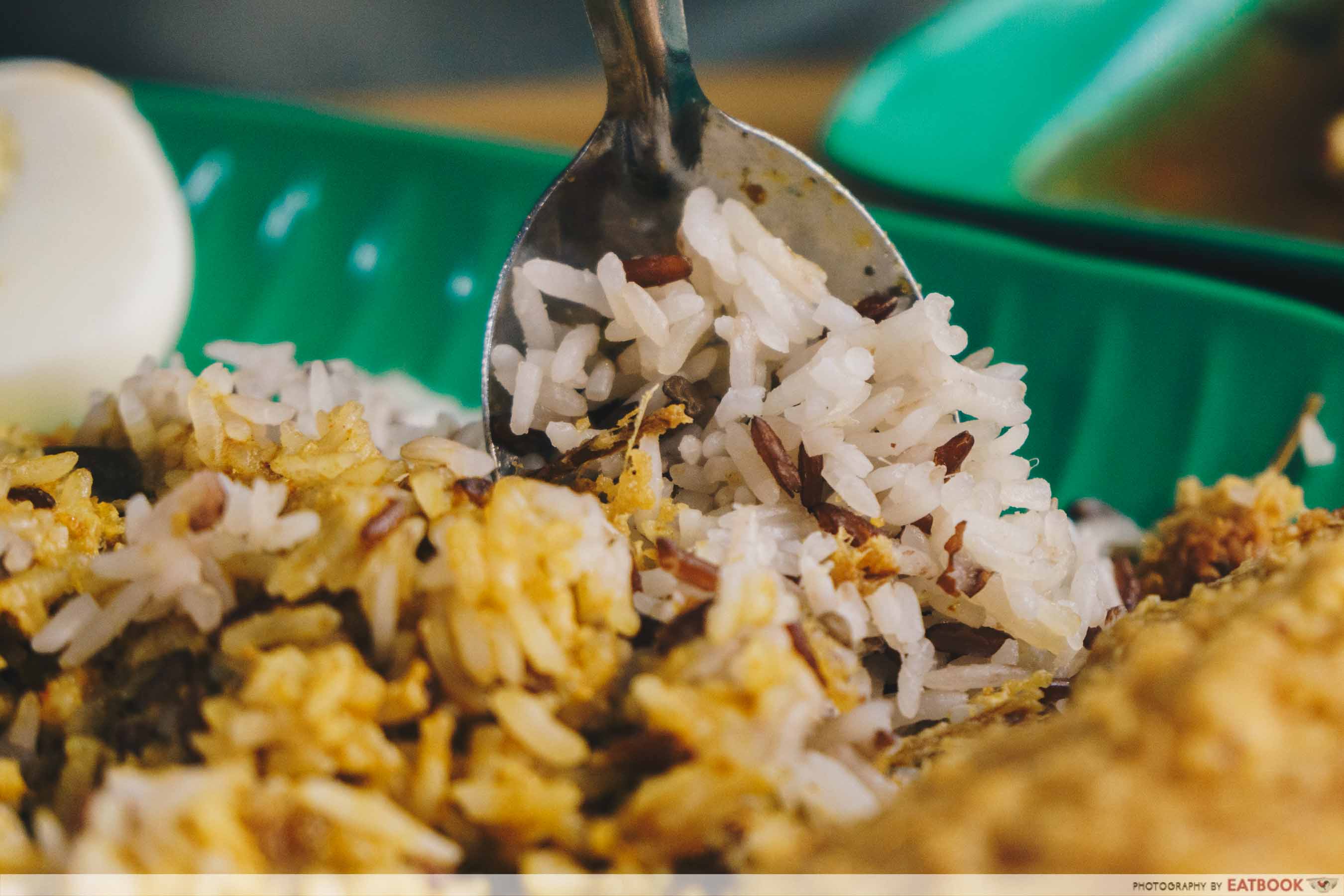 Clumpy and mushy rice is one of my greatest bugbears, so I enjoyed the dry and loose grains of the nasi dagang. The red rice added a nice bite, and each grain was utterly crammed with coconut flavour. It's like nasi lemak without the pandan fragrance, but with the coconut knob cranked up to a 100.
The combination of nasi dagang and curry was a revelation. On the curry flavour spectrum, this was firmly on the earthy curry powder side, with a mild spicy kick backing it up. Together with the coconut flavour from the nasi dagang filling in the lemak element, both flavour elements danced beautifully together on our palates.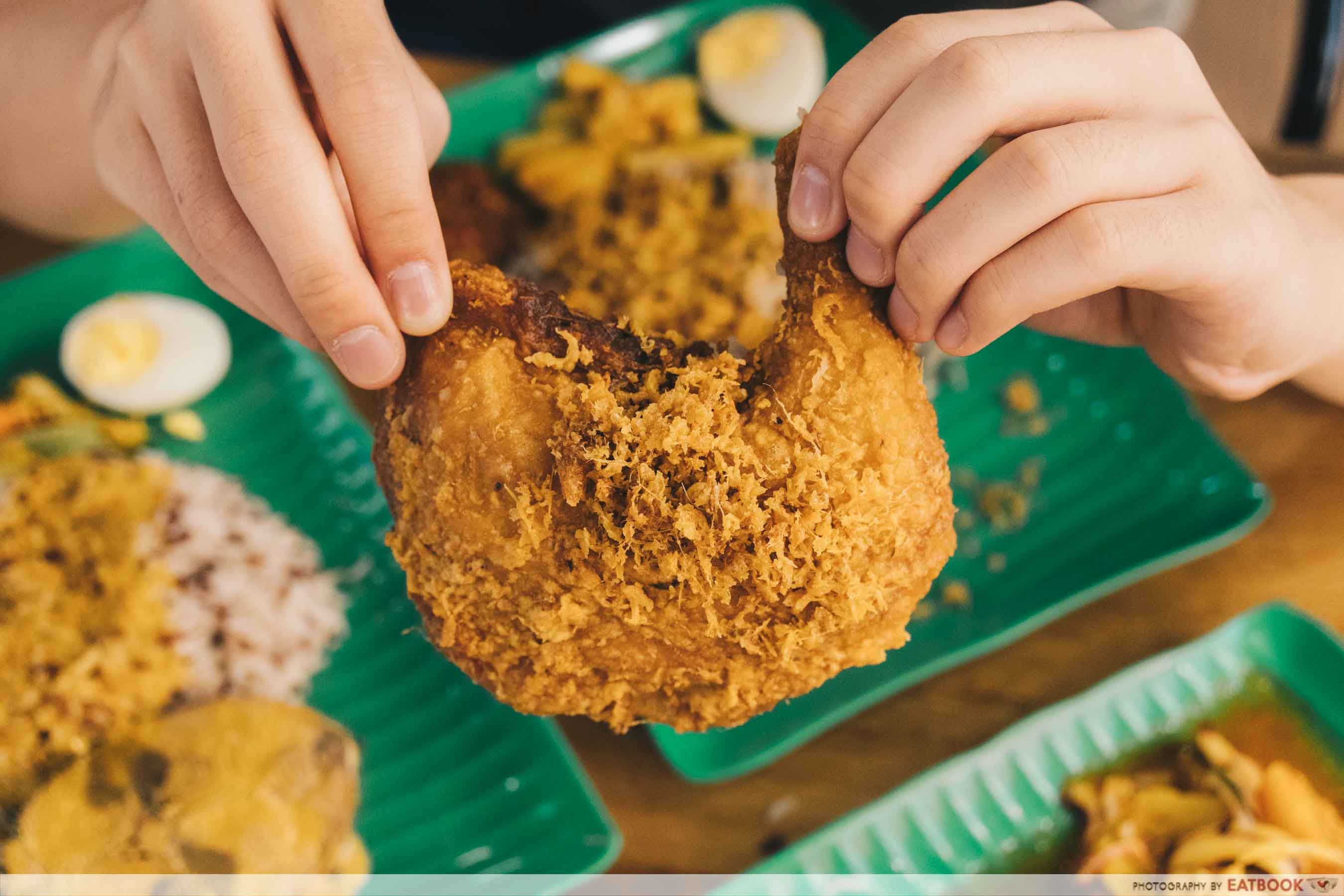 I was salivating as I tore apart the fried chicken. The meat was glistening with juices and was visibly tender. The skin crackled as it was torn apart, hinting at its crispiness. It checked all the boxes for a lip-smacking leg of fried chicken.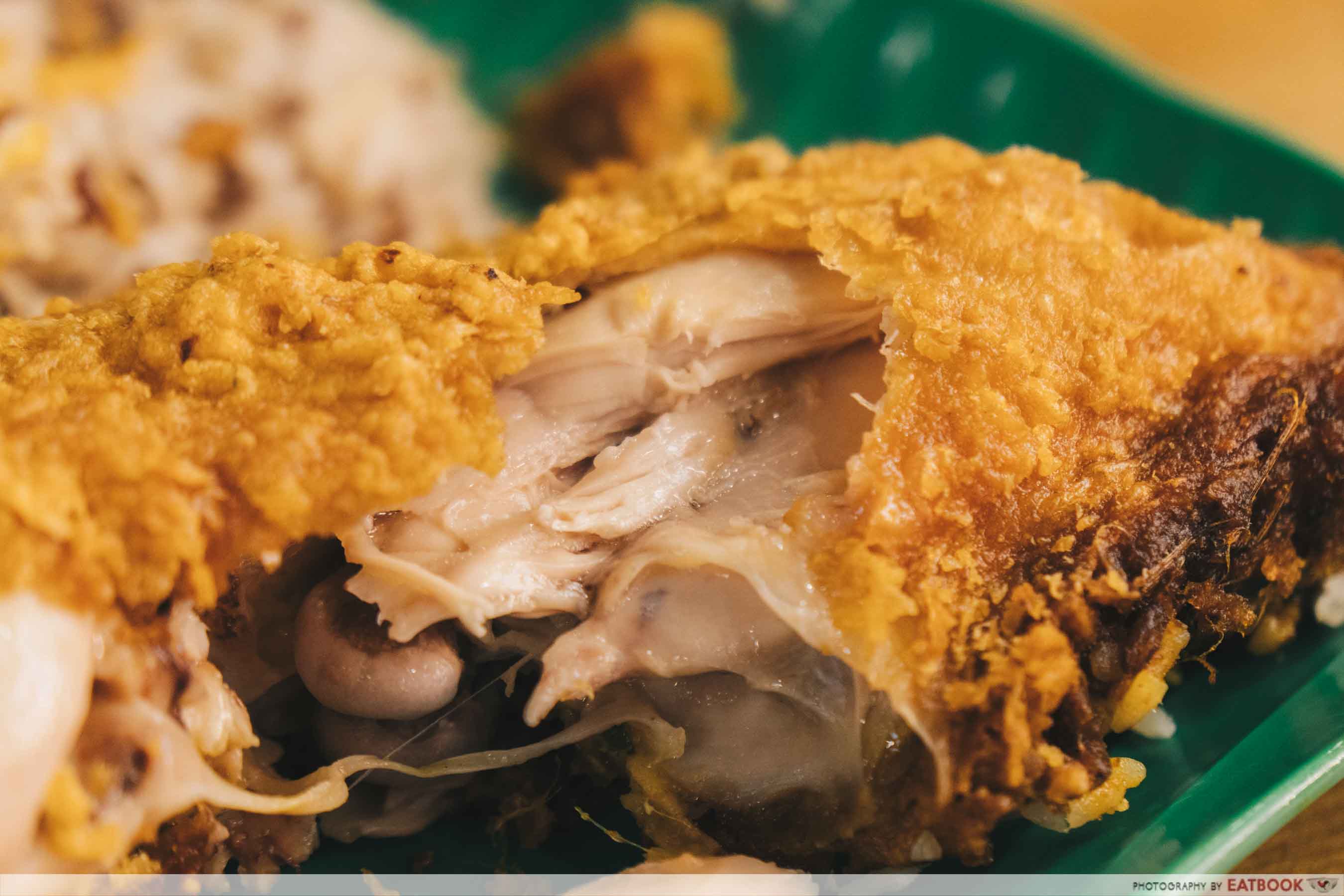 The meat within was pretty tasty, but it was the skin that stole my heart. It was spiced well, with yellow-hued turmeric peeking under its surface, but the mysterious stringy fried clusters sprinkled on top proved to be key.
These lengkuas, or fried shreds of galangal, gave added crunch and a lemongrass-esque spiciness and fragrance to the chicken.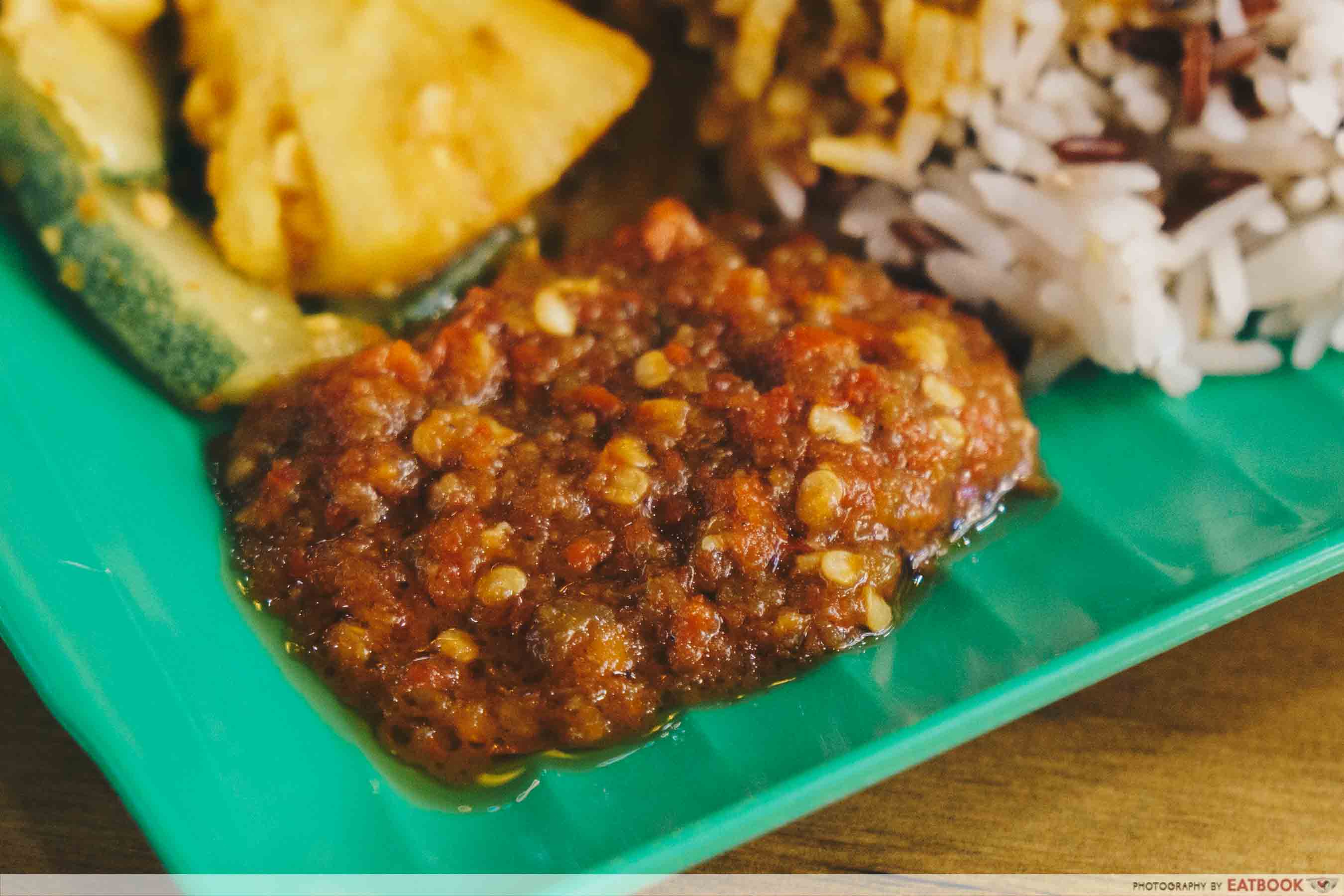 The terrific sambal is an unsung hero. There was definitely belacan in it. This ingredient provided a fermented, umami effect, supplying both hair-raising heat and an extra dimension of flavour to the chicken.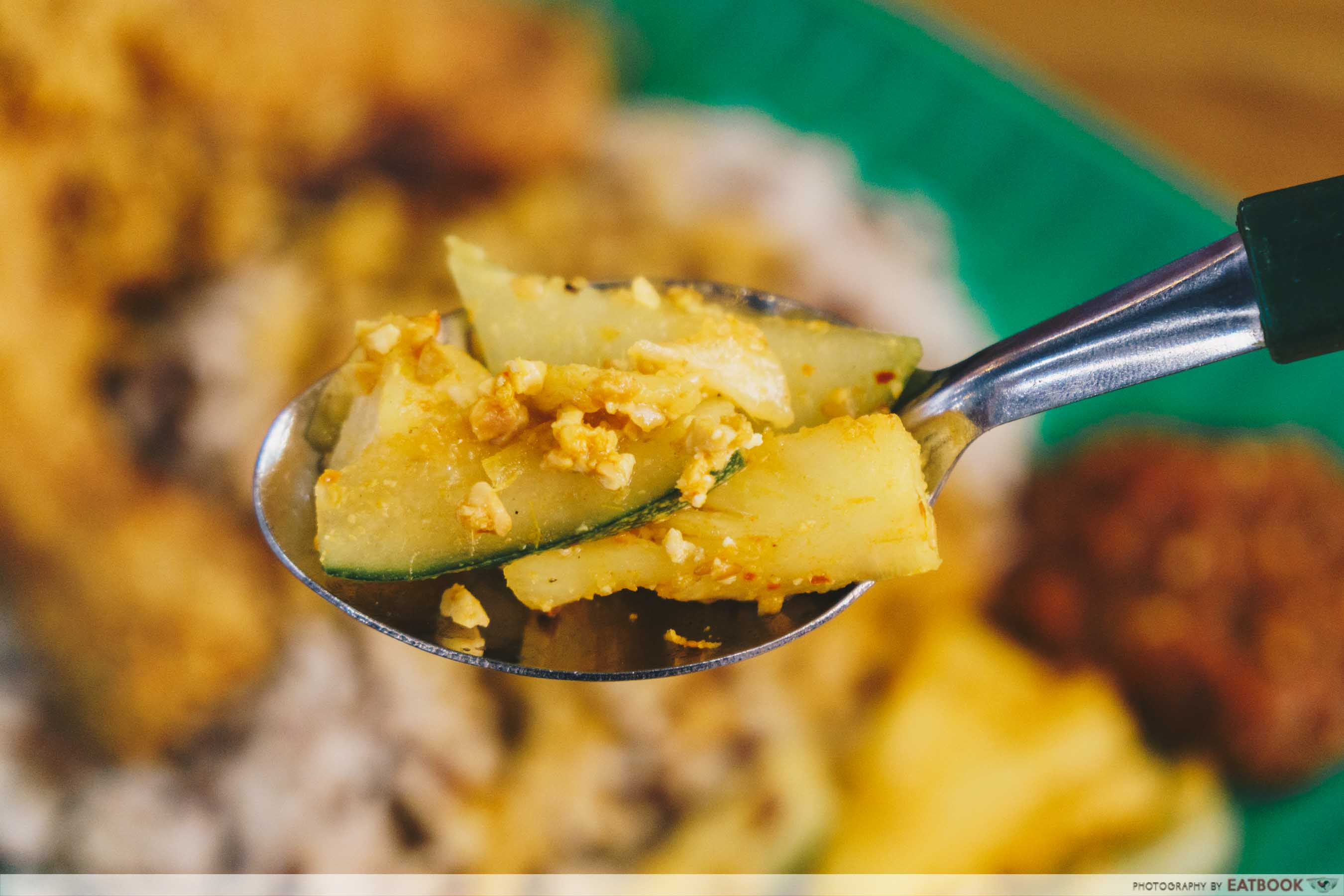 I'm not a huge fan of achar, but I can't deny its value here, granting hits of freshness among the indulgently lemak spoons of rice. Achar tends to be a touch too sour for my liking, but this version was much milder, enabling the vegetables' freshness and earthiness from the roasted peanuts to shine through.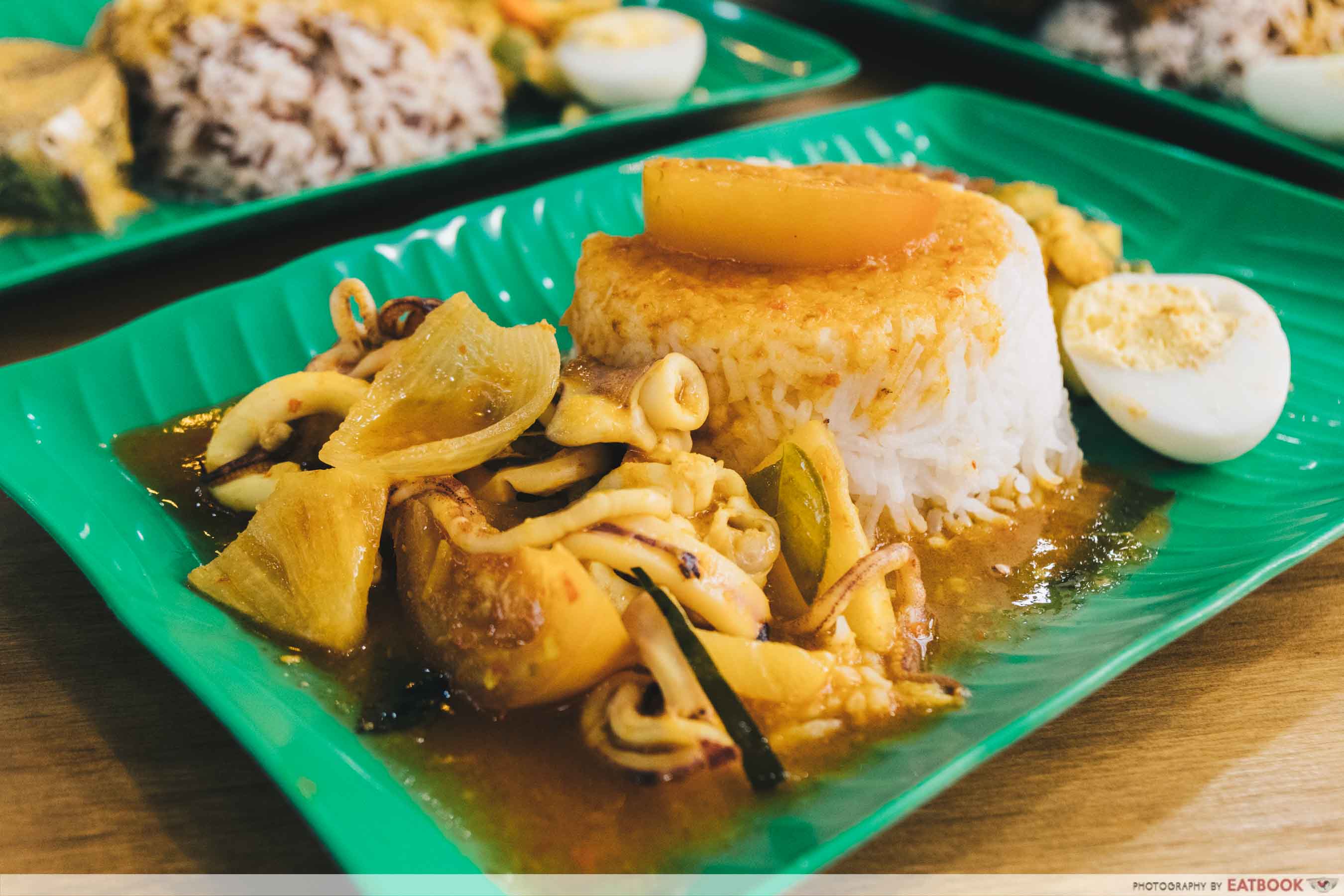 Nasi Kukus With Sambal Sotong ($5) was next on the agenda. We were raring to dig into the rice, but it turned out slightly disappointing. While it was moist and clean-tasting, it clumped very easily. To minimise this, be sure to dig in immediately and save your snaps for another day.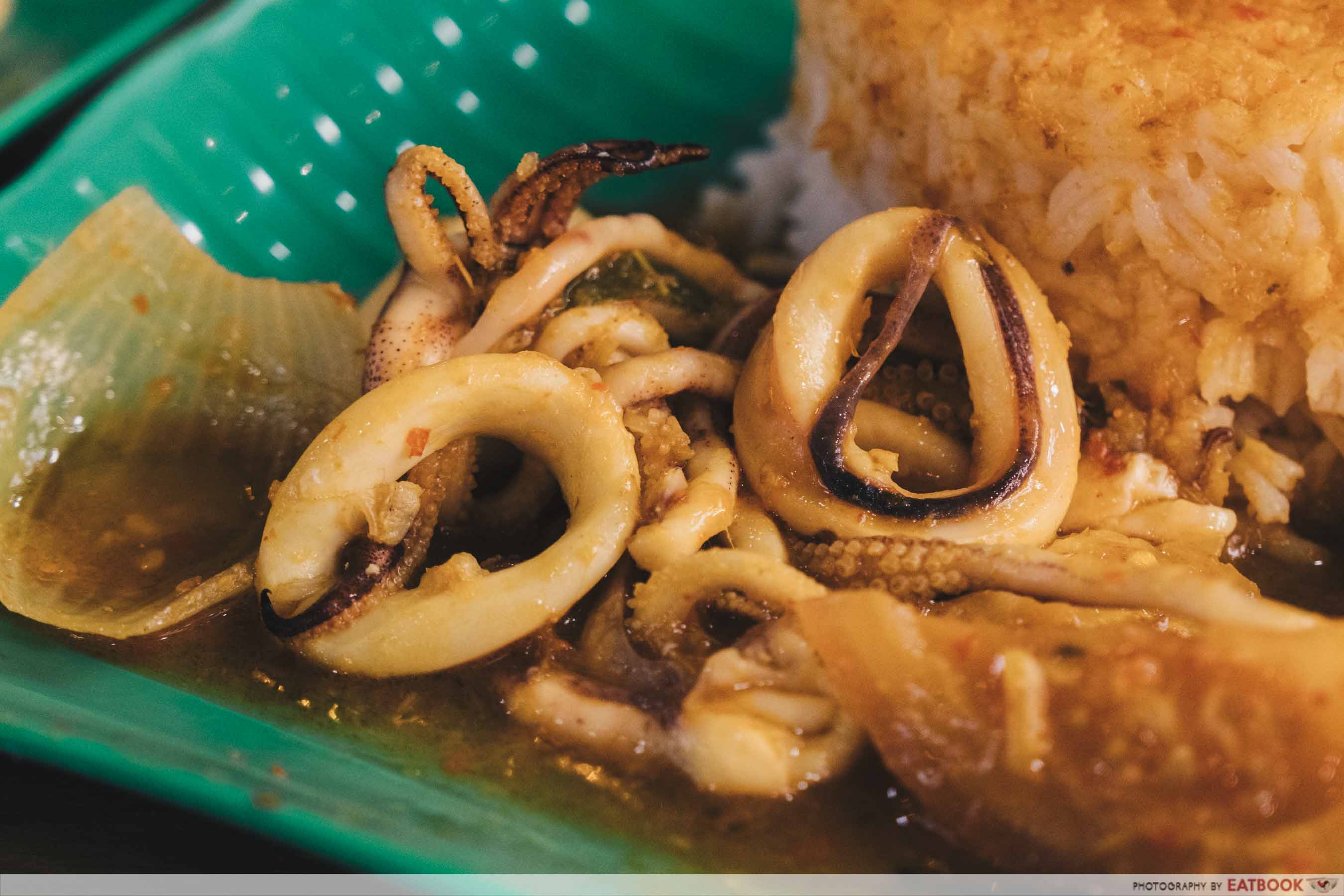 In my opinion, squid is the hardest protein to cook properly. Cook it too short and it's unpleasantly slimy. Overdo it by the slimmest of margins and you'll be struggling to swallow rubbery rings. Yes! Nasi Kukus cooked it to perfection, serving us tender, bouncy rounds of seafood.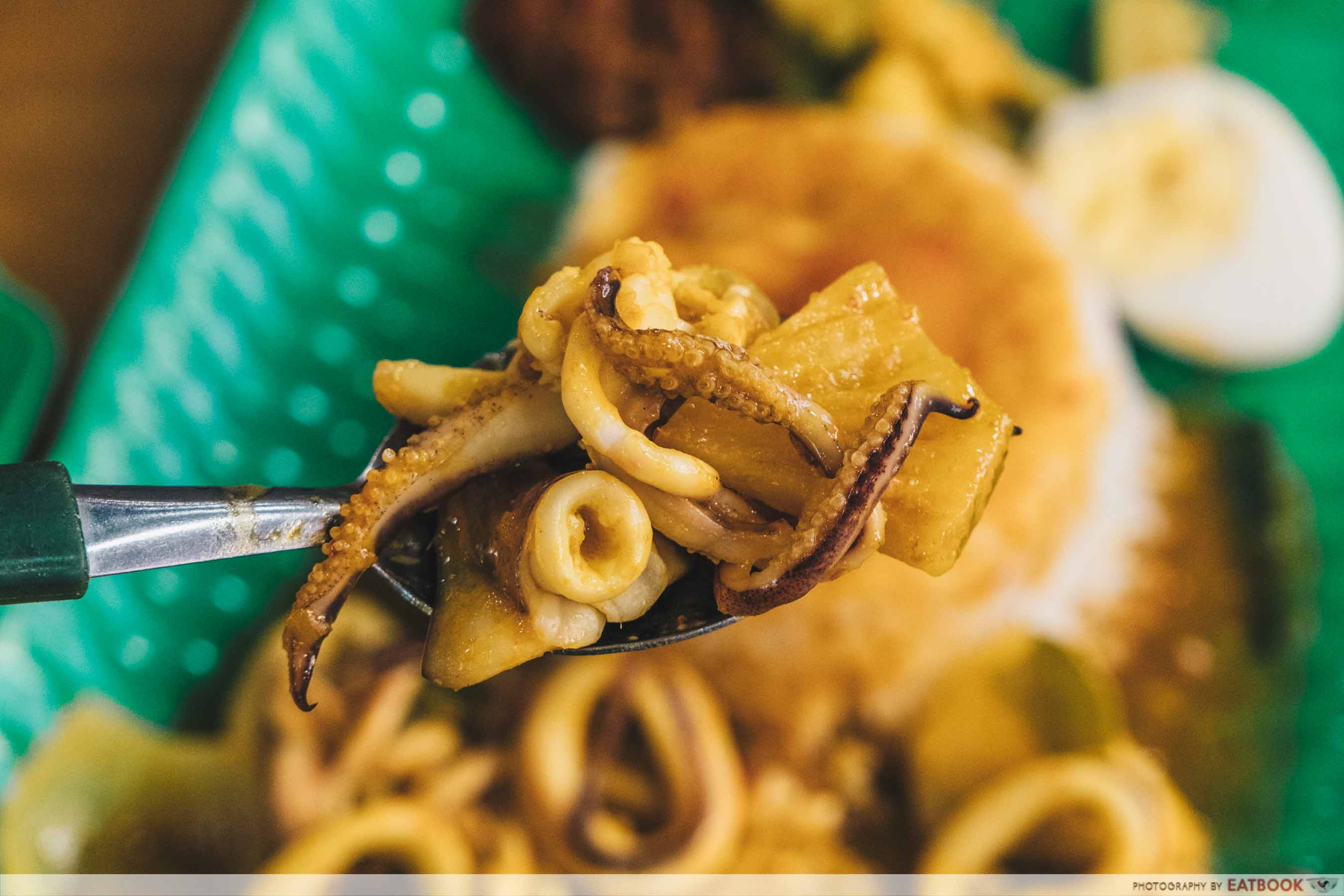 When I think of sambal sotong, I imagine either a thick, robust gravy or a tangy assam sambal. This was neither, with the squid rings resting in a watery chilli sauce with touches of sweetness from pineapple and tomato.
To its credit, it was quite pleasant, but more assam flavour and heat would have been welcomed accompaniments for the tasty squid.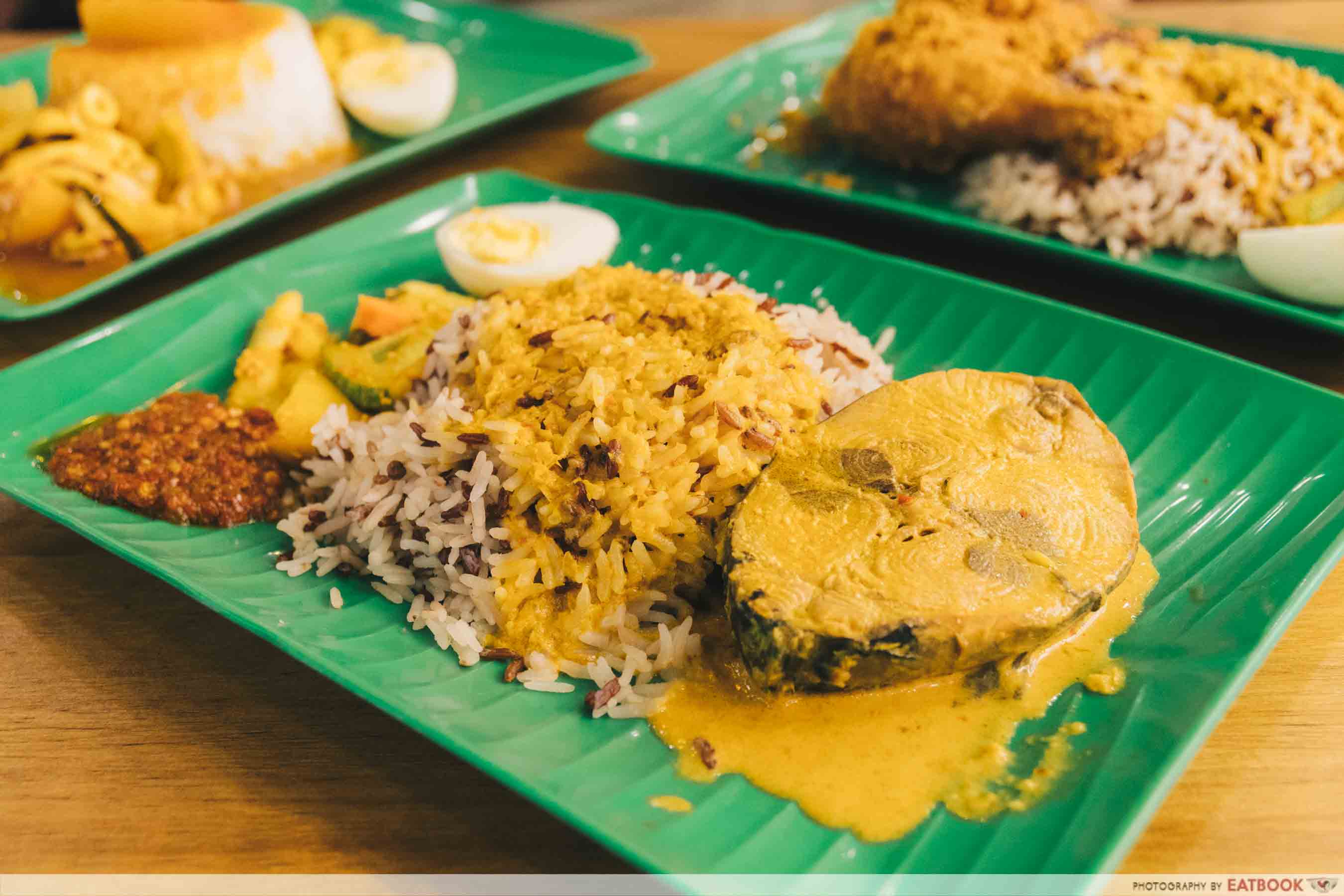 The curry in the Nasi Dagang With Curry Fish ($5.50) looked unassuming, lightly colouring the rice with a pale yellow tone. It turned out to be the best sauce we had all day. On the scale of coconut and curry flavour, it was basically the opposite of the first curry, and was amazingly rich and coconutty. Combined with the nasi dagang, each bite was sumptuous and indulgent.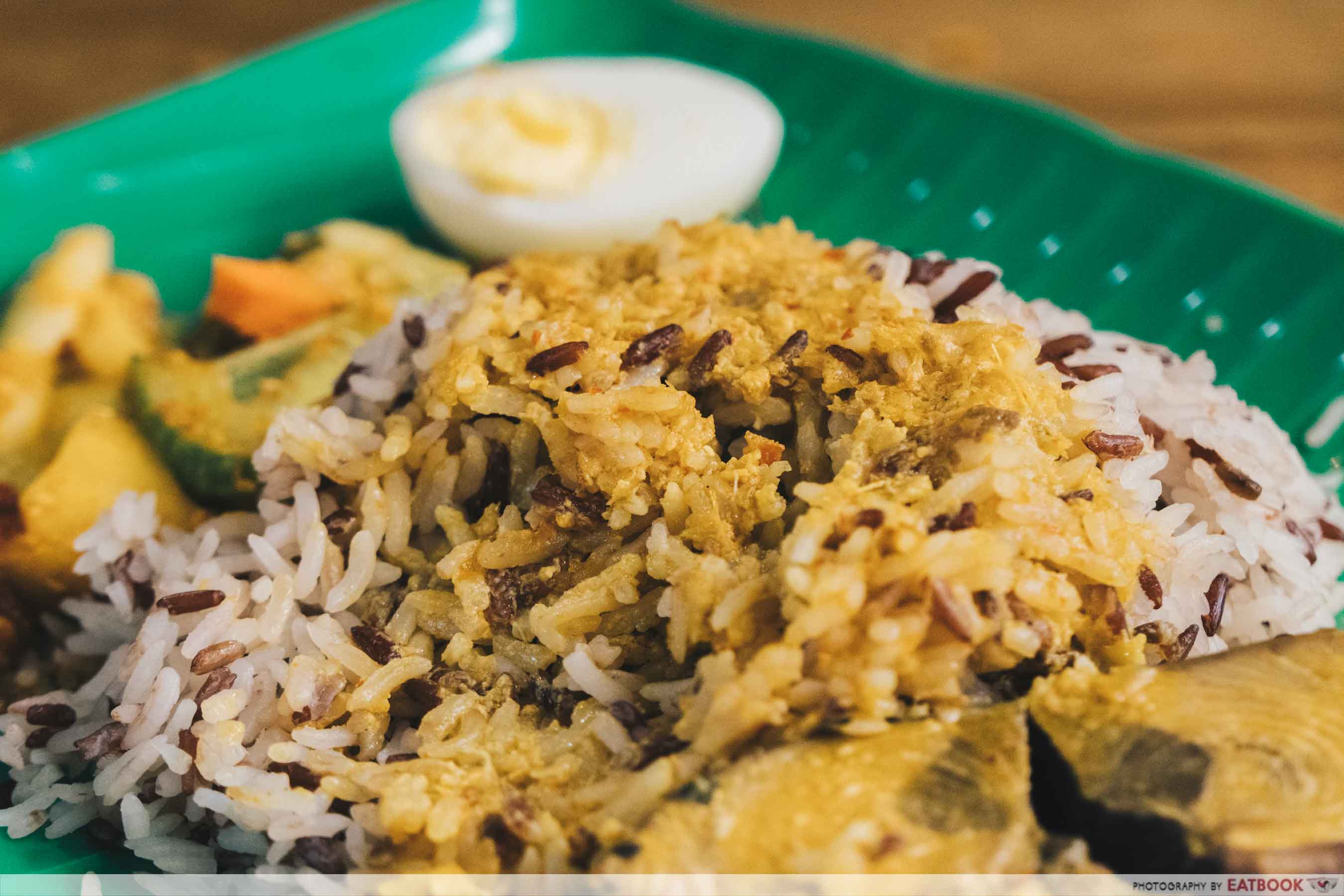 The single best bite we had was this curried rice mixed with the piquant sambal, creating a luscious, savoury, spicy fiesta in our mouths.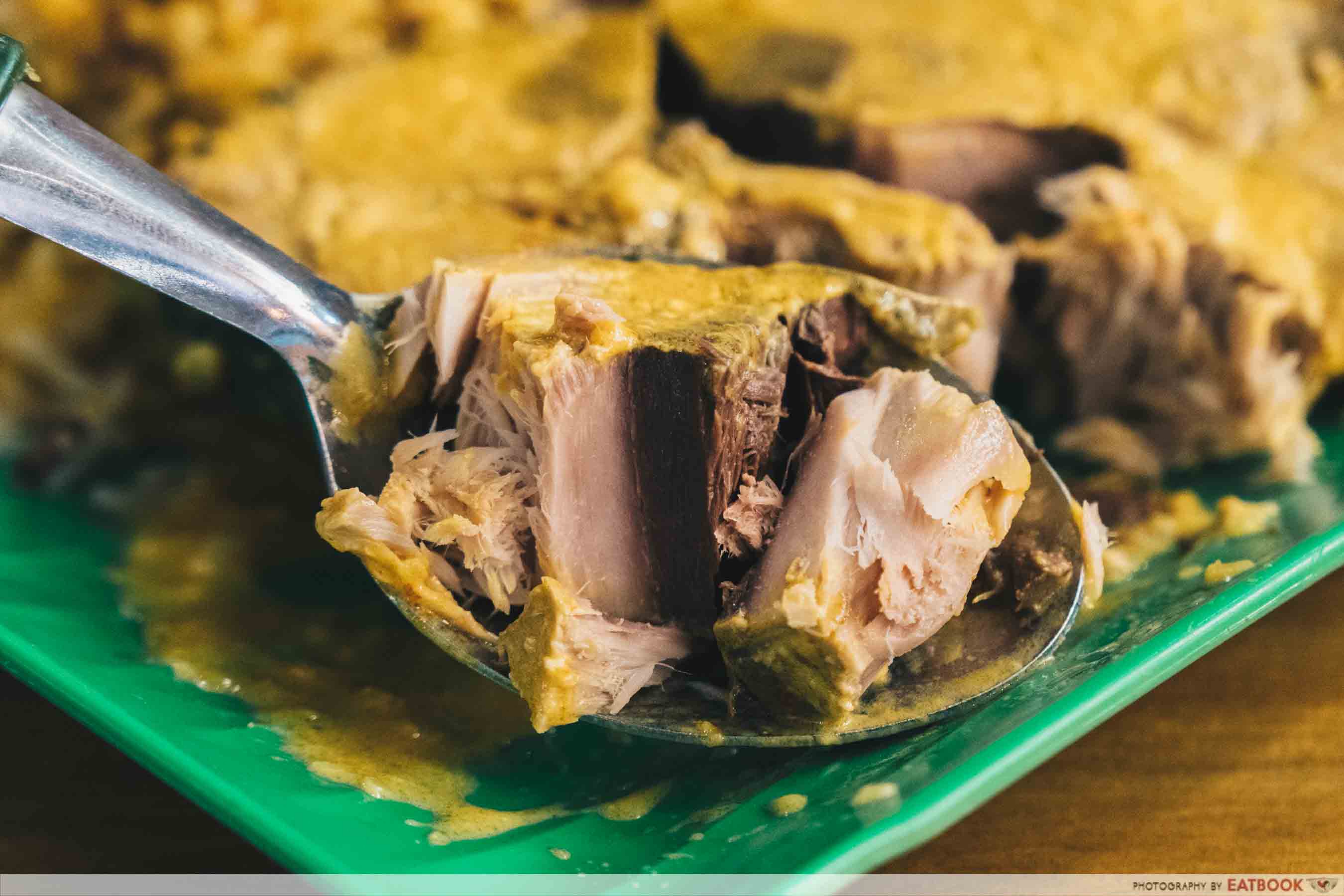 Unfortunately, it was let down by the batang fish. Batang conventionally has a mild, sweet flavour, but this strangely had a strong sardine-like taste.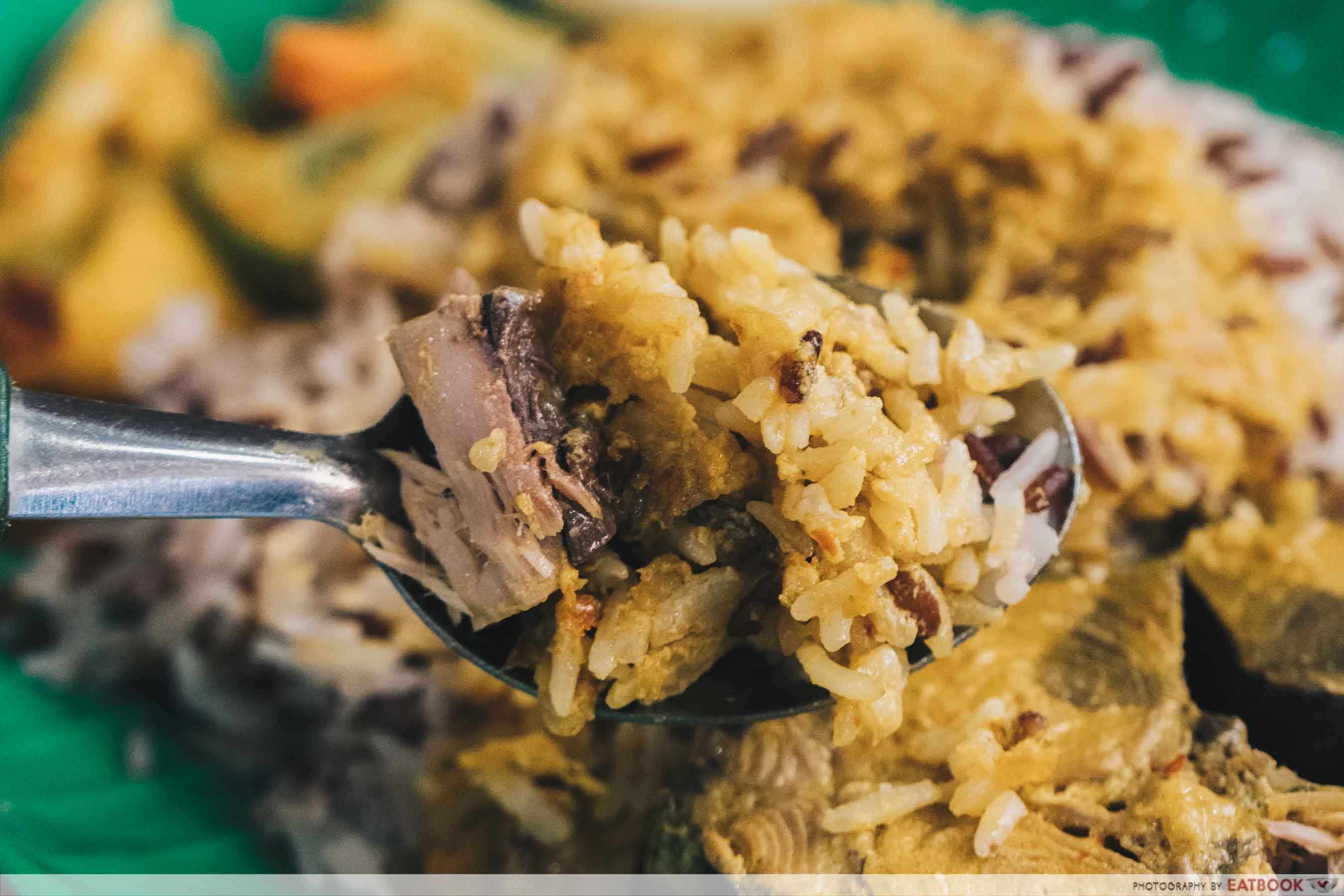 The flesh was appropriately tender with a firm bite, but its strong fishy flavour completely overpowered the coconutty curry. The fresh and tender squid would have been a much better pairing.
Ambience at Yes! Nasi Kukus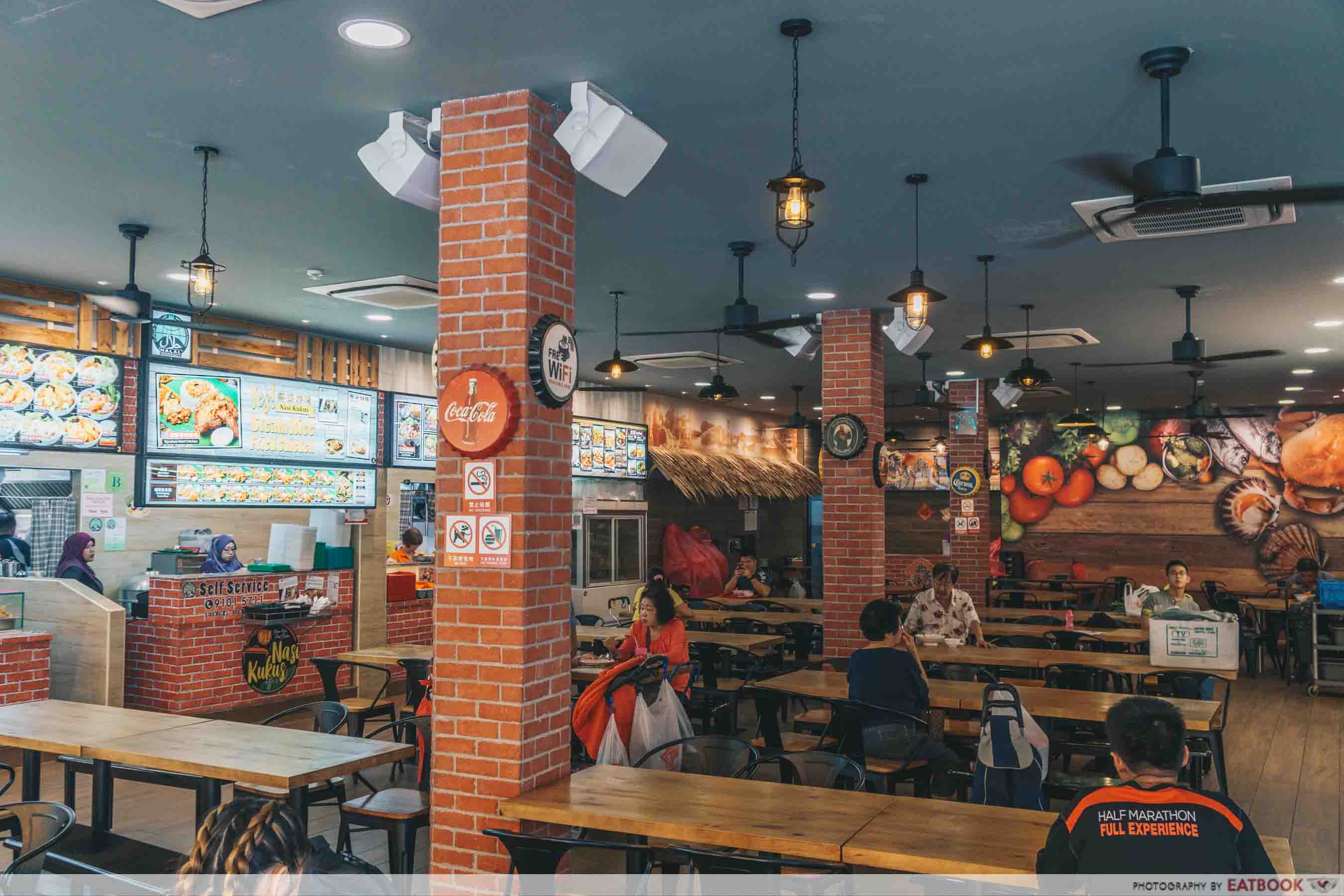 Located at the foot of Woodlands Glen housing estate, this halal-certified joint is a little out of the way, taking 15 minutes to reach from Admiralty MRT by a combination of bus and foot. It sits in a mostly air-conditioned coffee shop, and is a welcome escape from the sweltering weather.
The food court gets busy around lunchtime, so come slightly earlier if you don't want to sweat it out on an outdoor seat.
The verdict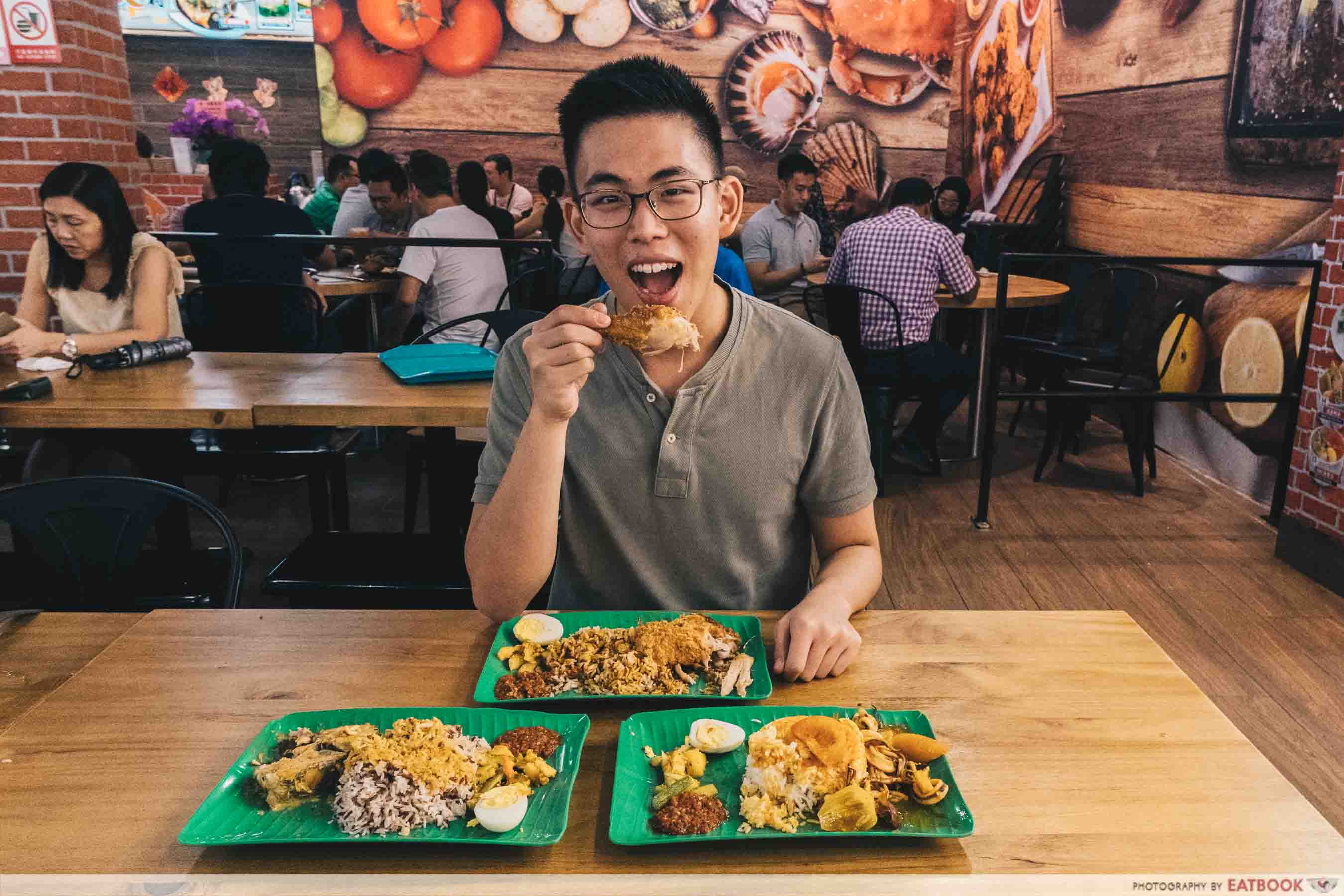 Yes! Nasi Kukus comes near the top of our list for a quality and affordable meal in the North. Not every dish is a hit, but order the right combination of items and you'll get an intensely satisfying plate that rivals your favourite nasi lemak.
Their signature fried chicken offers the most bang for your buck, and we highly recommend shelling out an extra $0.50 for their superb nasi dagang.
If you're in the Woodlands area and hankering after some zi char, check out Cafe 566. Or for rice lovers who can never have enough carbs, take a gander at our list of 10 famous nasi biryani stalls.
10 Famous Nasi Biryani From $3 So Good You'll Willingly Queue For Them
Address: 573 Woodlands Drive 16, #01-01, Singapore 730573
Opening hours: Daily 10am to 9pm
Tel: 9101 5711
Website
Photos taken by Rae Fung.
This is an independent review by Eatbook.
Summary
Pros
– Tasty nasi dagang
– Moist and crispy chicken
– Large portions
Cons
– Relatively inaccessible by public transport
– Fish wasn't fresh
Recommended dishes: Nasi Dagang with Fried Chicken ($5.50)
Opening hours: Daily 10am to 9pm
Address: 573 Woodlands Drive 16, #01-01, Singapore 730573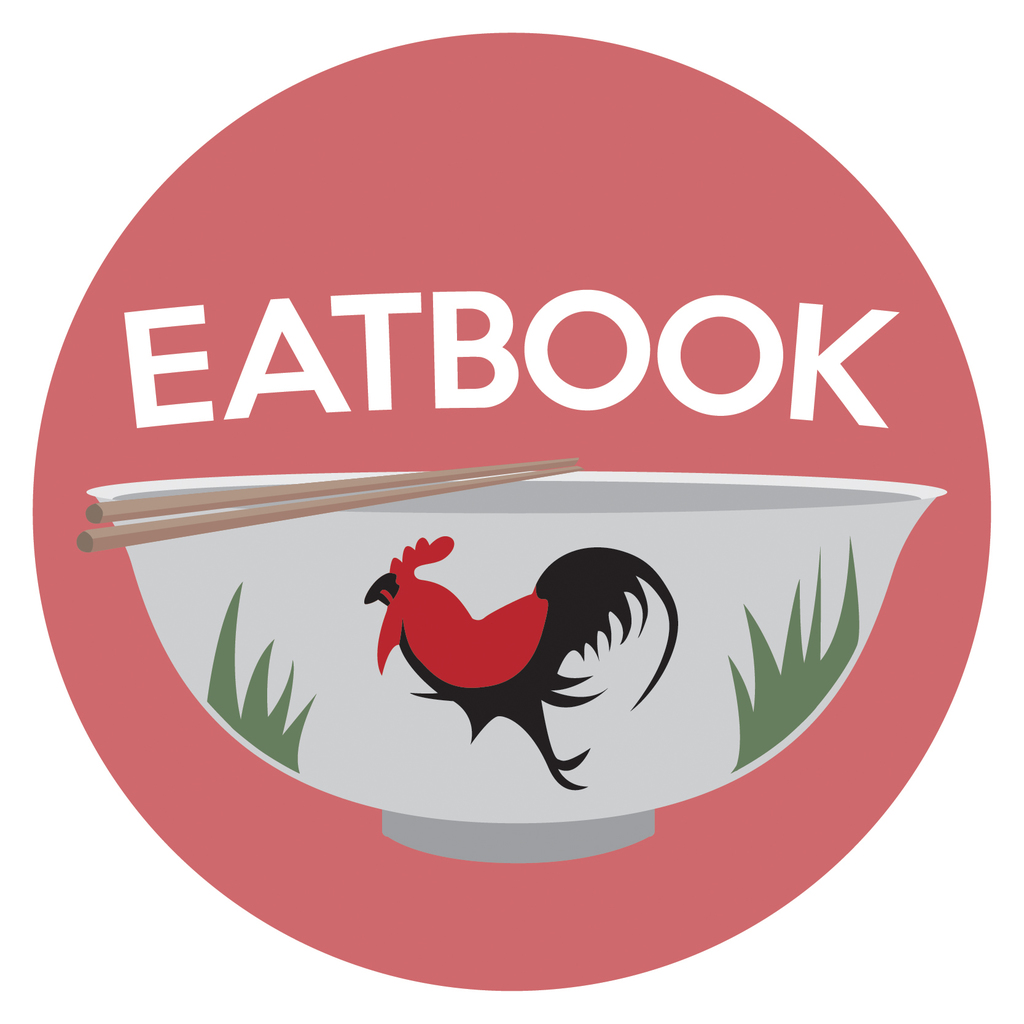 Drop us your email so you won't miss the latest news.