Delicious noodles at Cantonese Delights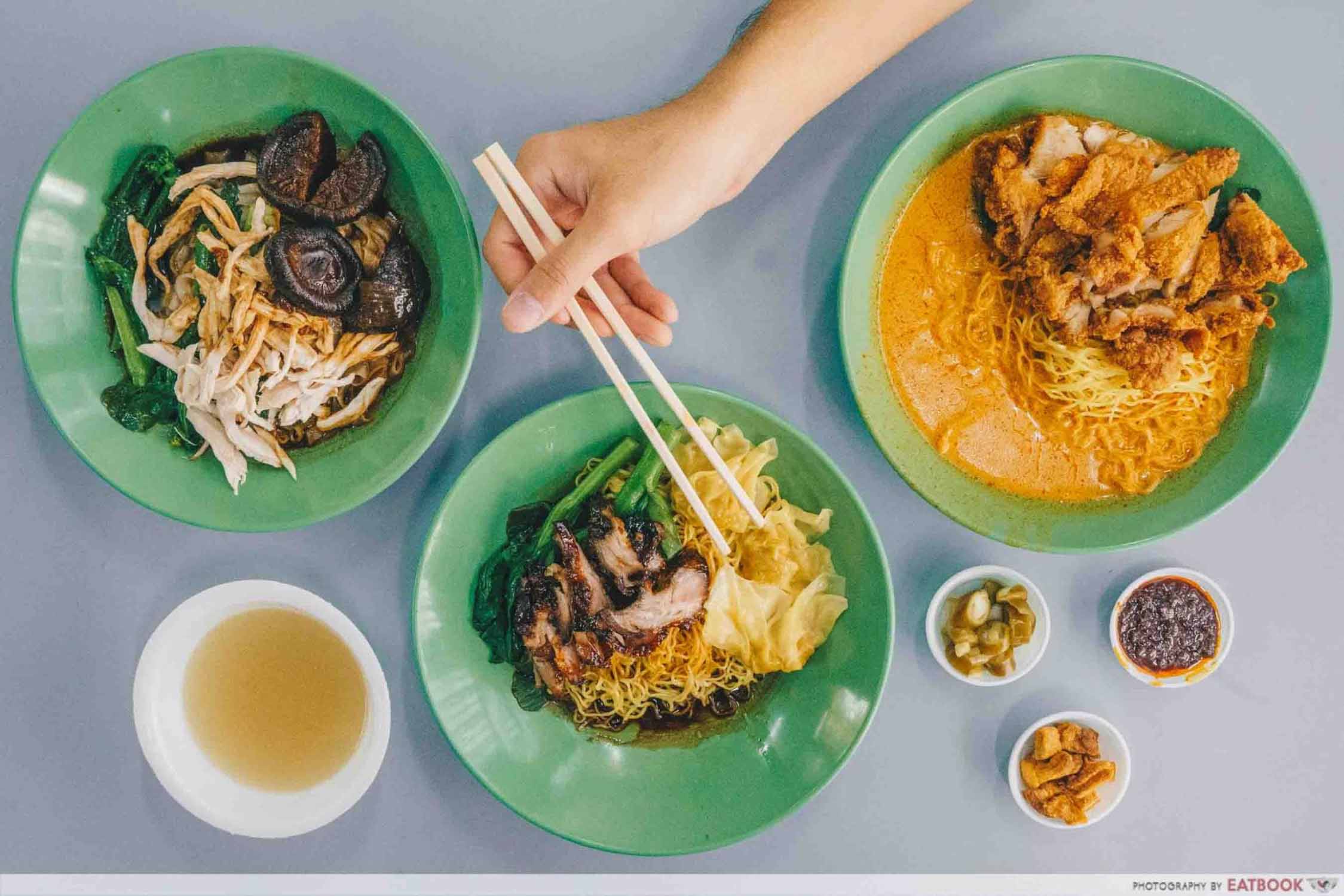 One of my favourite combinations of food is fried bee hoon doused in a generous serving of curry. I love how curry enriches the taste of the bee hoon and it's a pairing I would love to see with more forms of noodles. I was therefore euphoric when I discovered that Cantonese Delights, a stall hidden on the second floor of Hong Lim Food Centre, doles out springy egg noodles in a rich bowl of curry.
Food at Cantonese Delights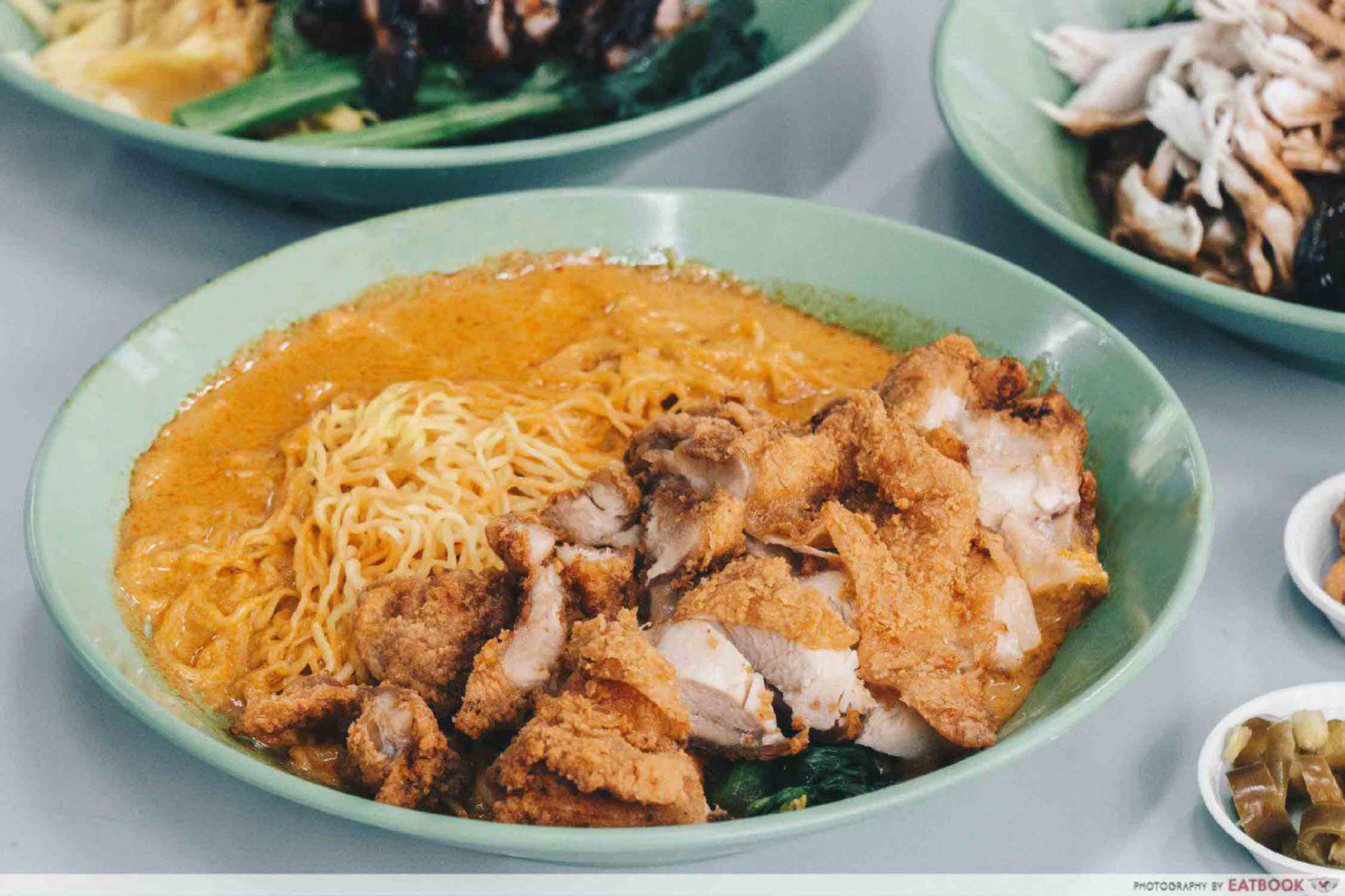 From the heap of chicken cutlets on display to the spatter and sputter of chicken cutlets deep fried in oil, my stomach was growling with anticipation as I awaited my plate of Curry Fried Chicken Cutlet Noodles ($4/$5).
Gazing at the thick slabs of fried chicken and the bountiful portions of mee kia resting in a pool of rich curry, my hands instinctively reached to loosen my belt.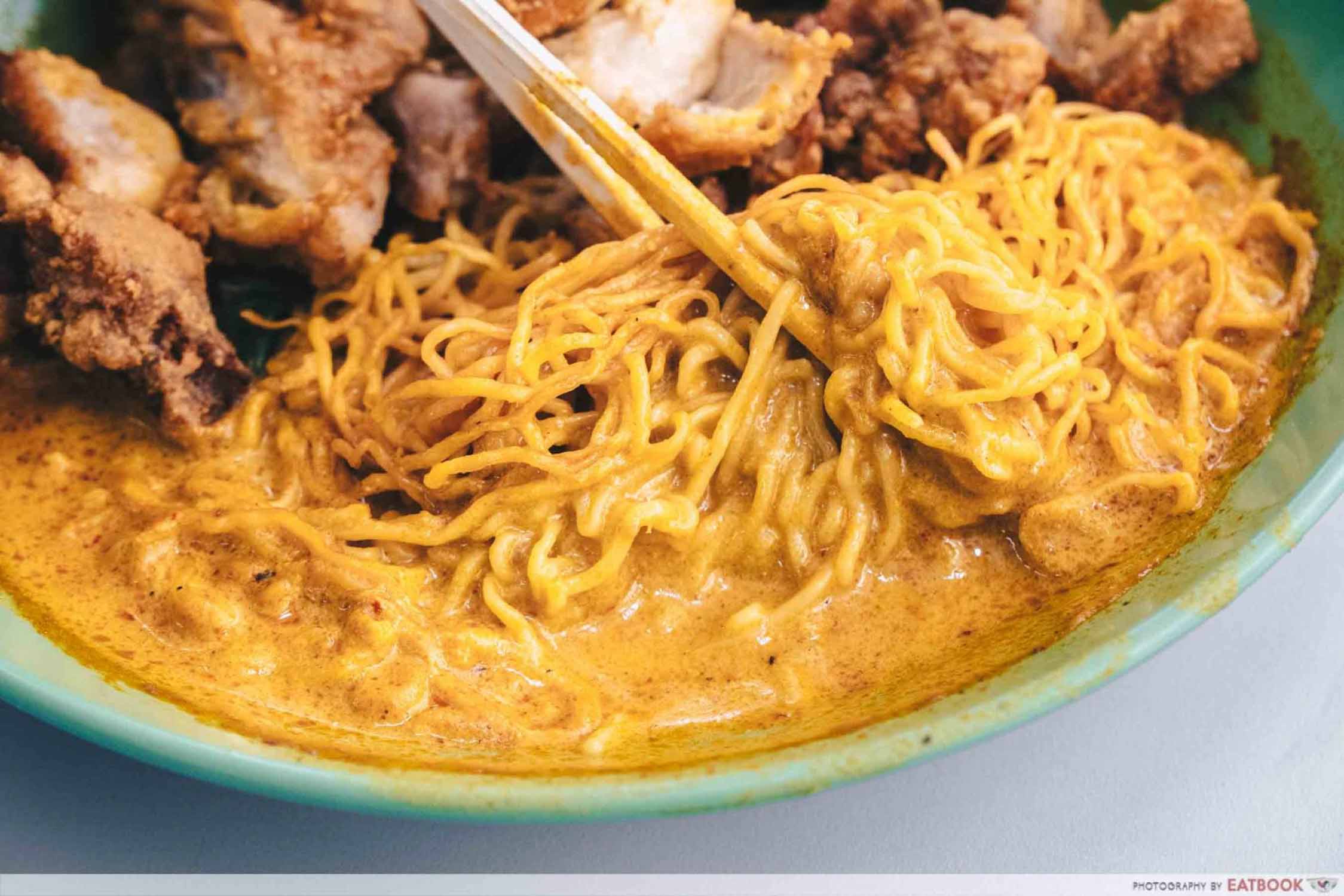 I had my reservations about the unusual marriage of mee kia and curry gravy, but the pairing proved to be a match made in heaven. If you prefer a more traditional combination, you can always opt for the Curry Fried Chicken Cutlet Rice ($4) instead.
9 Most Famous Curry Rice Spots In Singapore For Cheap And Shiok Curry Rice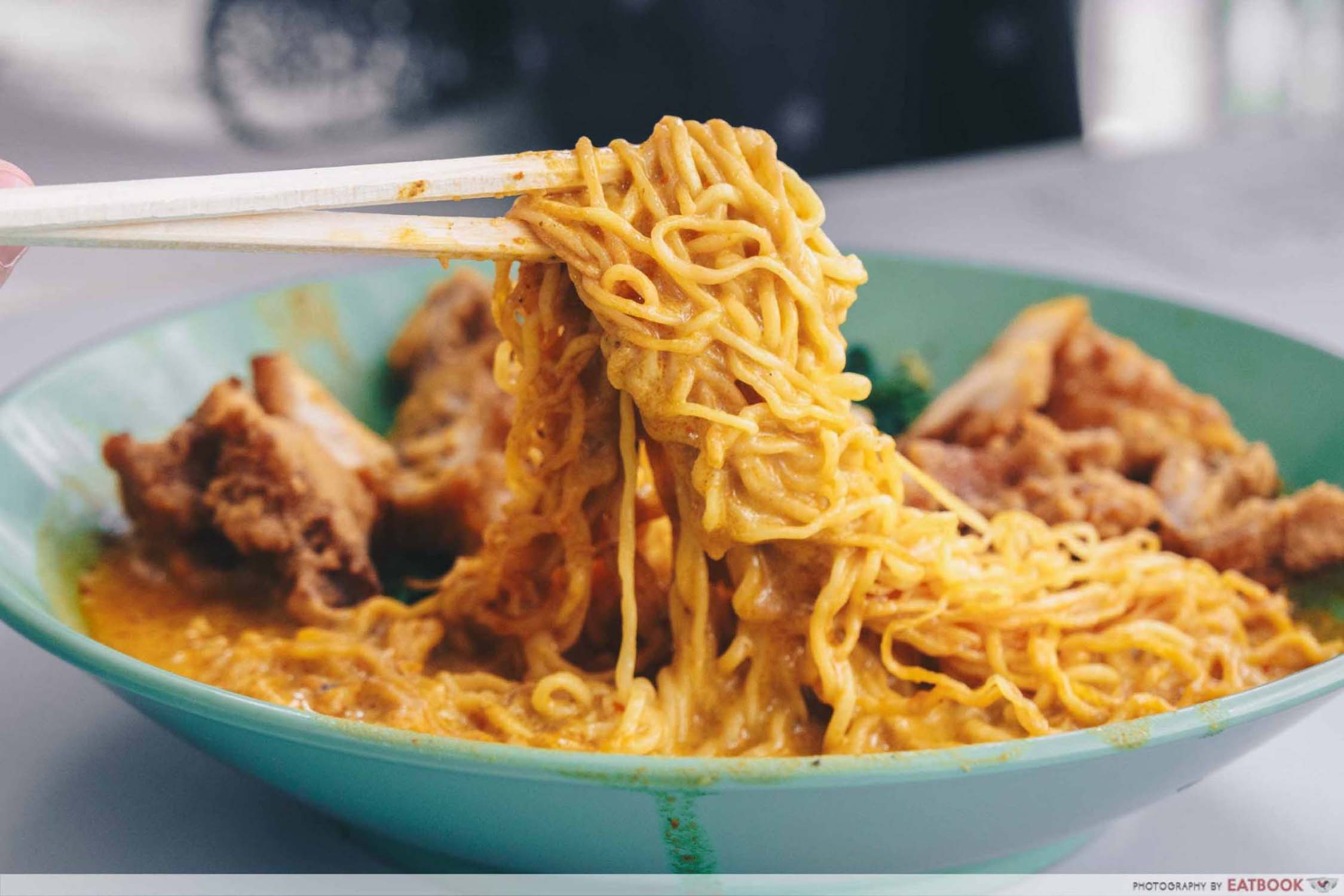 As the lemak gravy wrapped the thin noodles in its coconutty sweetness, I could barely detect the alkaline taste of the noodles. Furthermore, the creamy curry paired well with the springy noodles, creating a slurp-worthy medley of textures.
What I loved most about their curry was its gentle spiciness. Gravitating towards the subtle fiery burn you would experience with curry vegetables from an economical rice stall, the curry is perfect for someone with a low spice tolerance.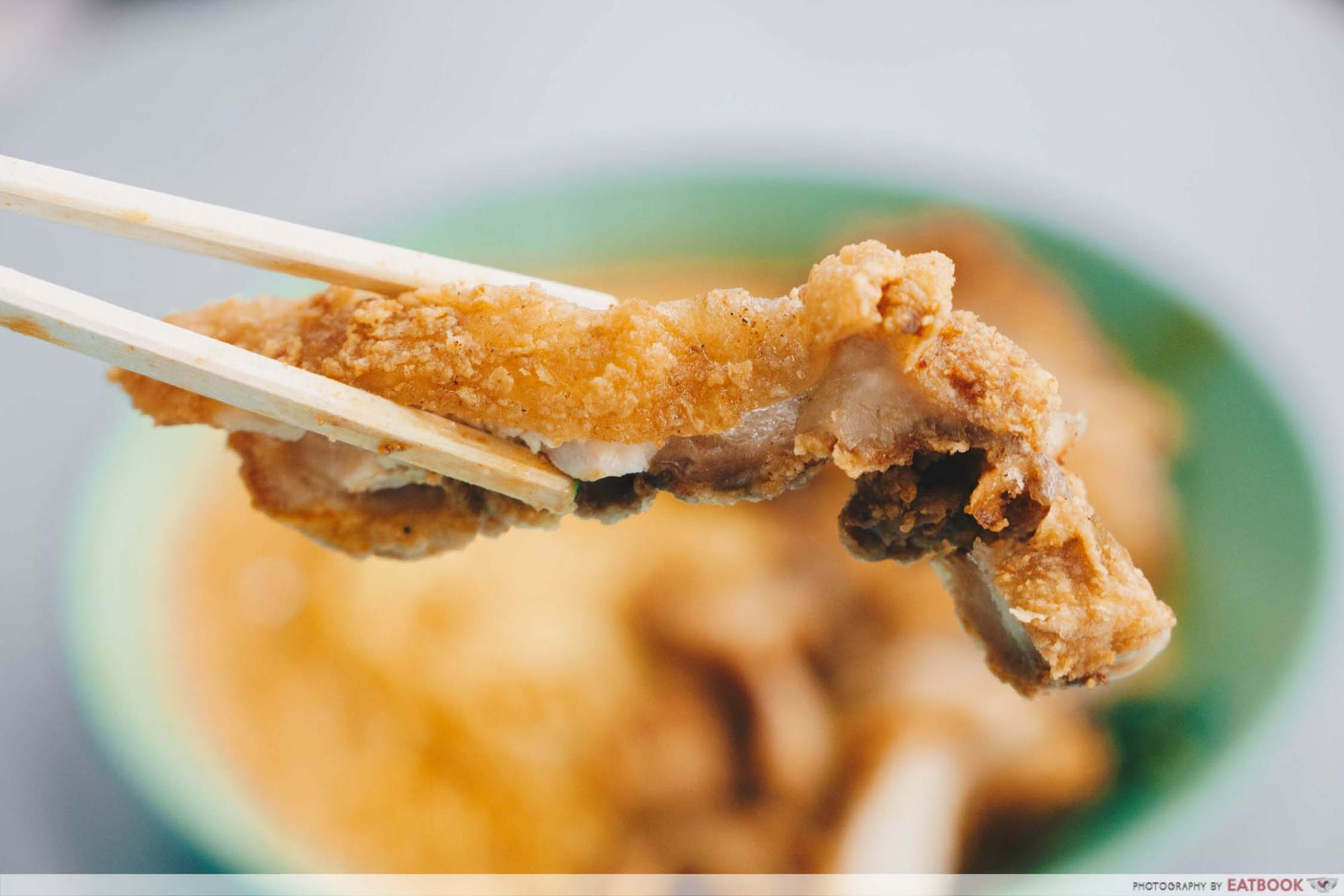 Now onto the darling of the show: thick slabs of golden-brown fried chicken that would satisfy the hungriest of carnivores. Personally, I enjoyed tearing off the fried skin first, to savour it last. And I would advise you to do the same, since the skin packed most of the flavour.
Skillfully fried, it was a sinful treat which unleashed ASMR-worthy creaks and cracks with every bite. Like a forceful torrent, the buttery richness of chicken fats surged into my mouth, with the bold taste of pepper and salt riding on its coattails.
Feel free to lather your chicken cutlet with curry. The simple flavours of the protein served as a perfect foil for the robust tang of the gravy. Furthermore, the meat retains its crunch despite resting in the curry for long periods of time.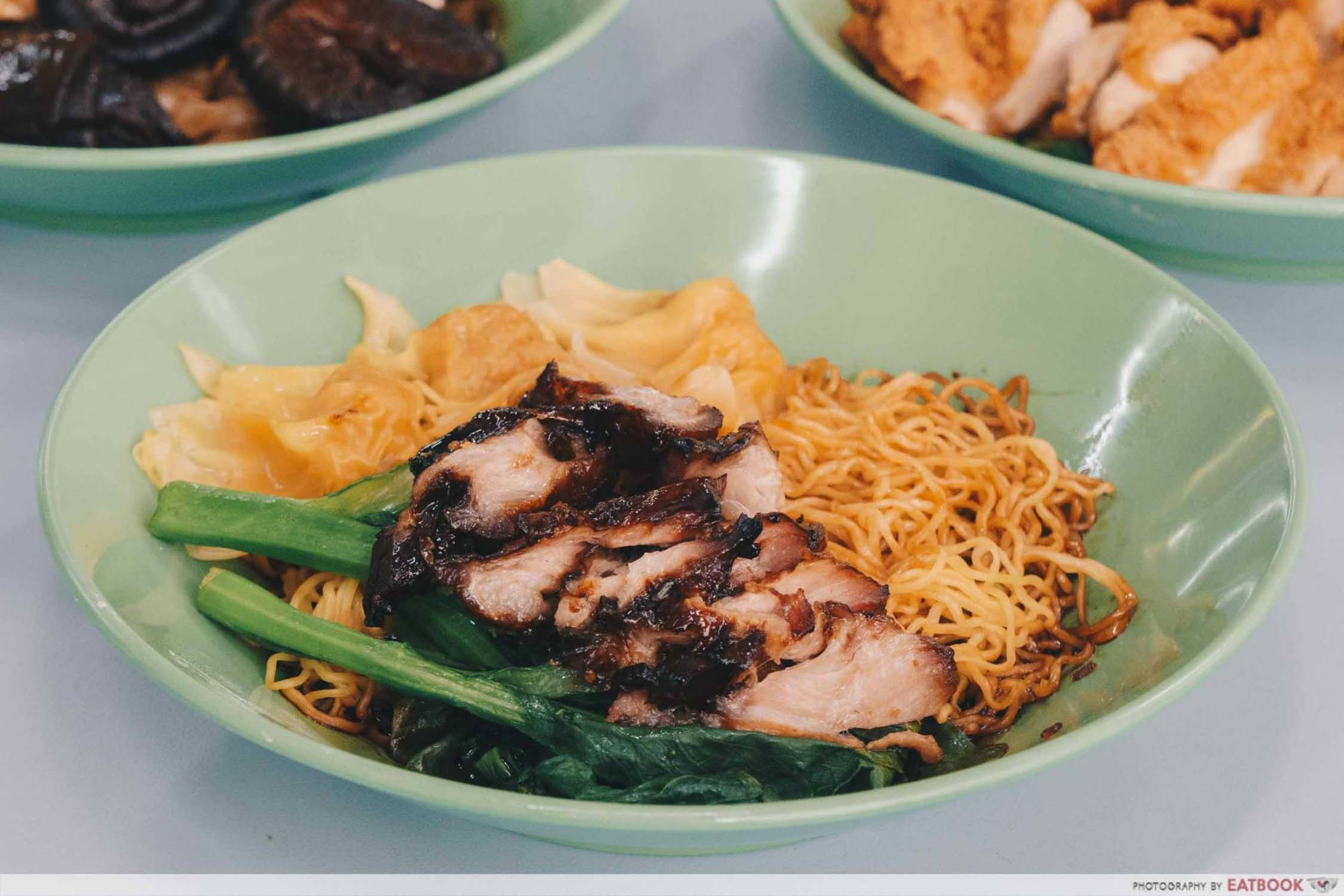 I normally judge wonton mee by its char siew. And the giant slab of pork resting on a pool of pork drippings convinced me to try the stall's Wanton Mee ($3.50/$4.50). My choice proved judicious as their char siew thrilled me with its succulence.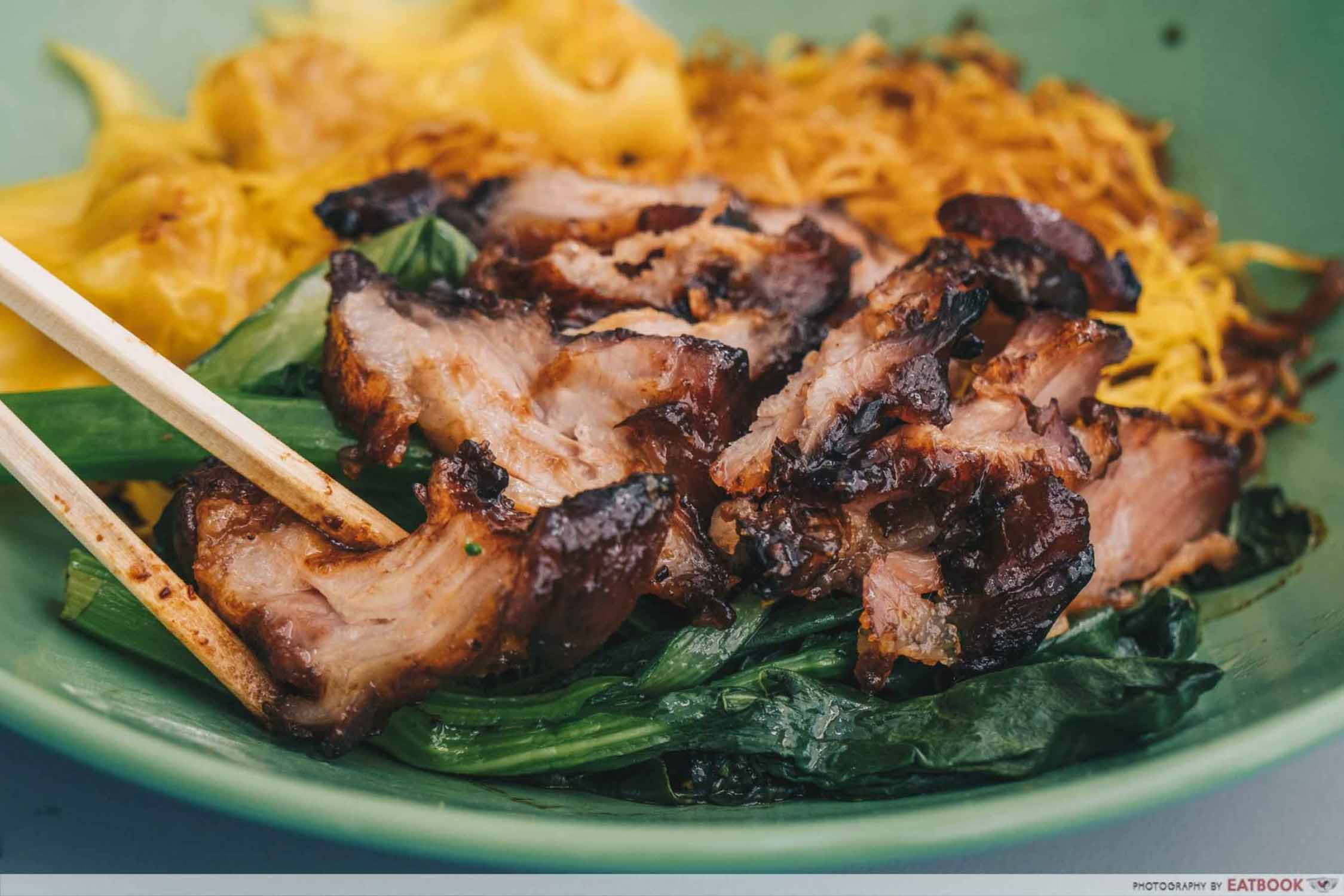 The char siew possessed the right amount of chewiness, luring me into a game of push-pull. Its juiciness coaxed me into making repeated bites, ensuring I fully relished the honeyed touch of the marinade and porky essence of the protein. Yet, it wasn't overly chewy, freeing me from a desperate tussle with the char siew.
What sealed the deal was the seductive layer of fat which adorned the meat. It wasn't an exaggeration to say that these fats melted in my mouth. Similar to how one savours wine, the fats swirled around my mouth before coating my tongue with creaminess.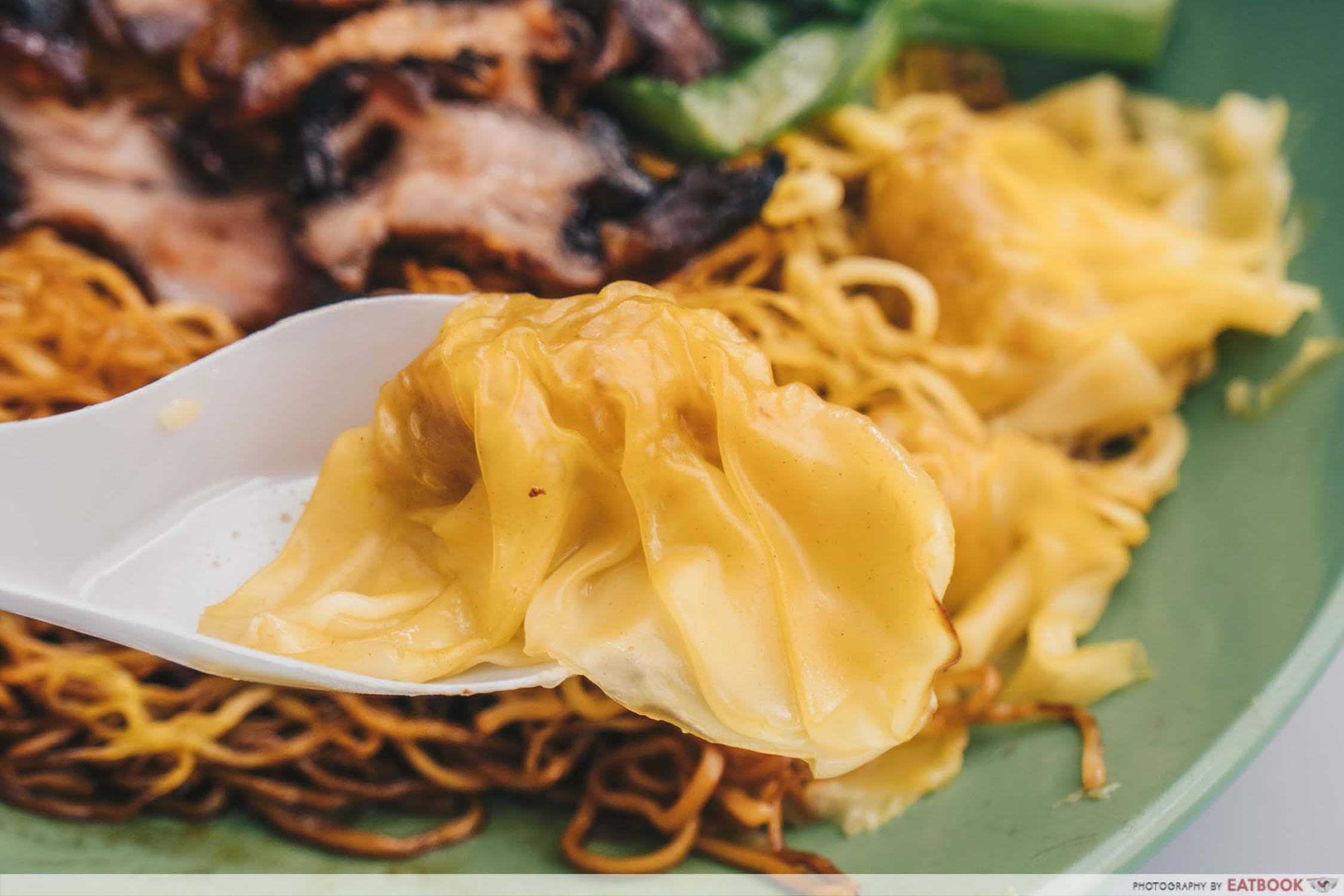 On the other hand, their wontons tasted pretty ordinary. Don't get me wrong, these wontons were well-executed, but my tongue was still reeling from the full-bodied char siew.
The ground meat sealed within the wontons had an optimal ratio of fat and meat. Furthermore, the light seasoning of soy sauce and sesame oil married well with the porkiness of the minced meat. However, I believed the wonton skin could have been thinner, as I found it too stodgy for my liking.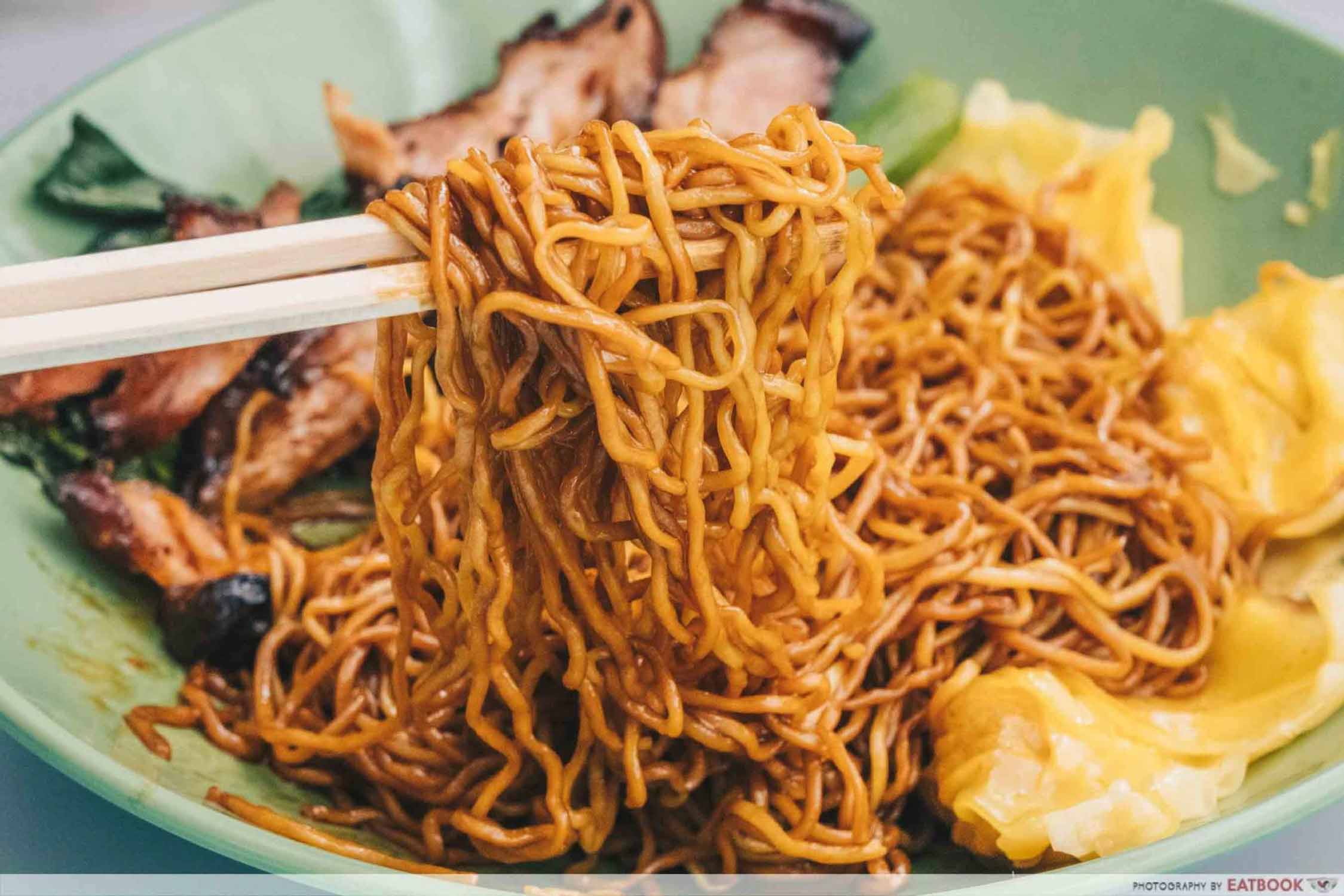 As for their noodles, I enjoyed that they preserved a springy feel despite resting in the sauce for awhile. Nevertheless, I felt that the sauce, which was a blend of light and dark soy sauce, was too intense, especially since the noodles supplied a distinct alkaline kick.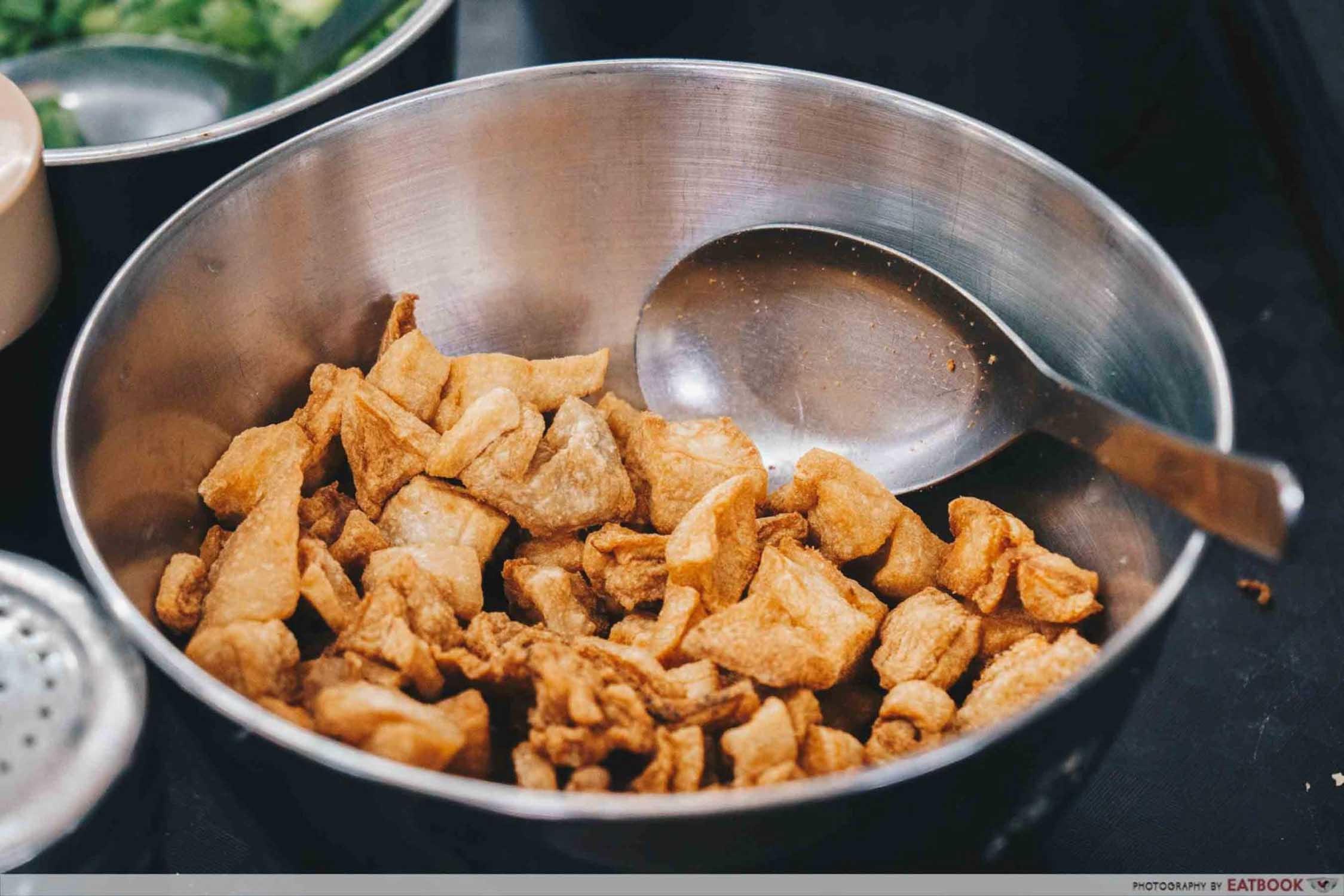 Did I forget to mention that Cantonese Delights offers FREE-FLOW fried pork lard? Feel free to drown your noodles with these decadent treats. I adore how the pork lard injected crunch and saltiness to create a more comprehensive taste.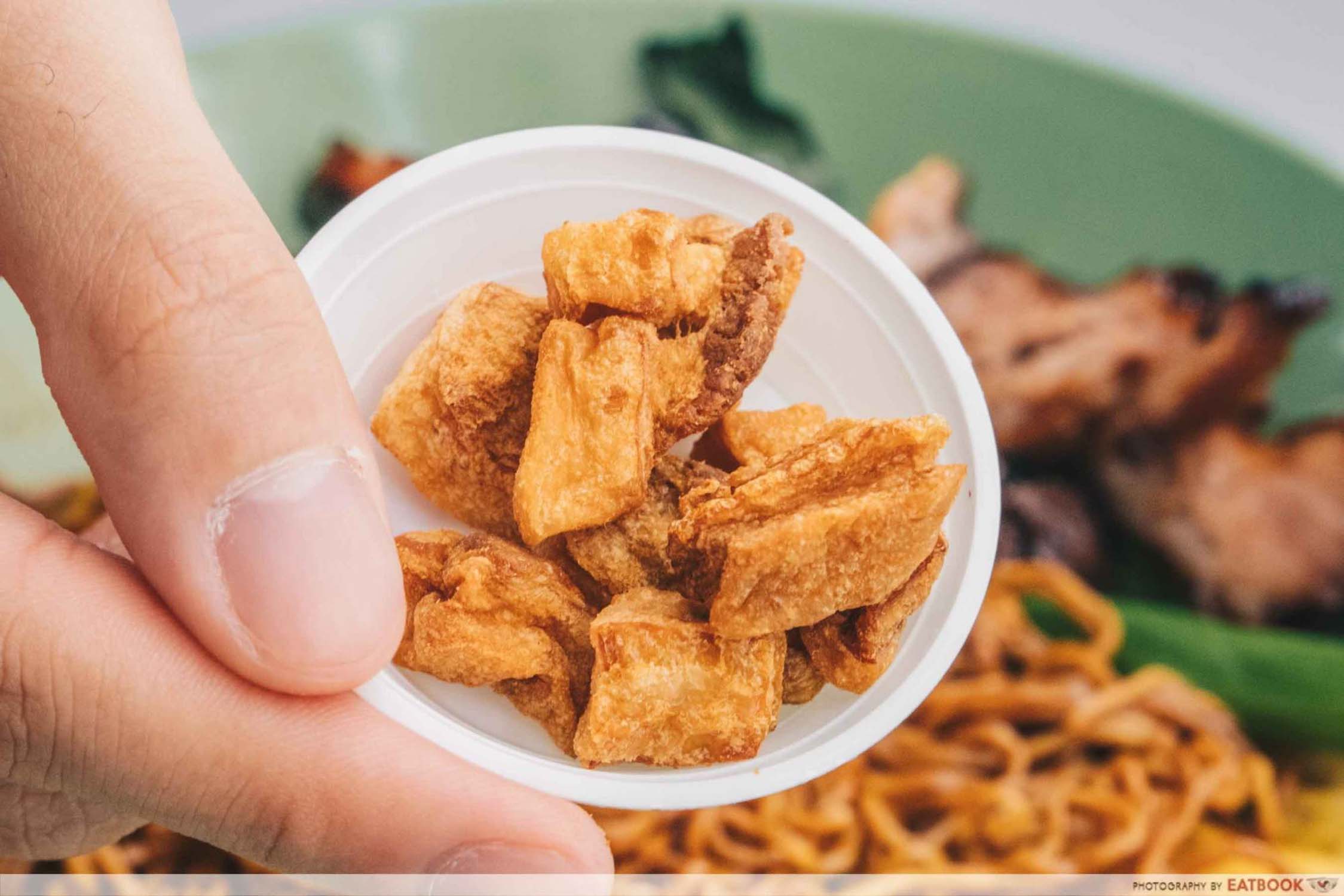 My only gripe was that the fried pork lard tasted slightly lao hong (soft). Some of the pork lards were hollow on the inside with a texture that hovered closer to pork rind rather than pork lard.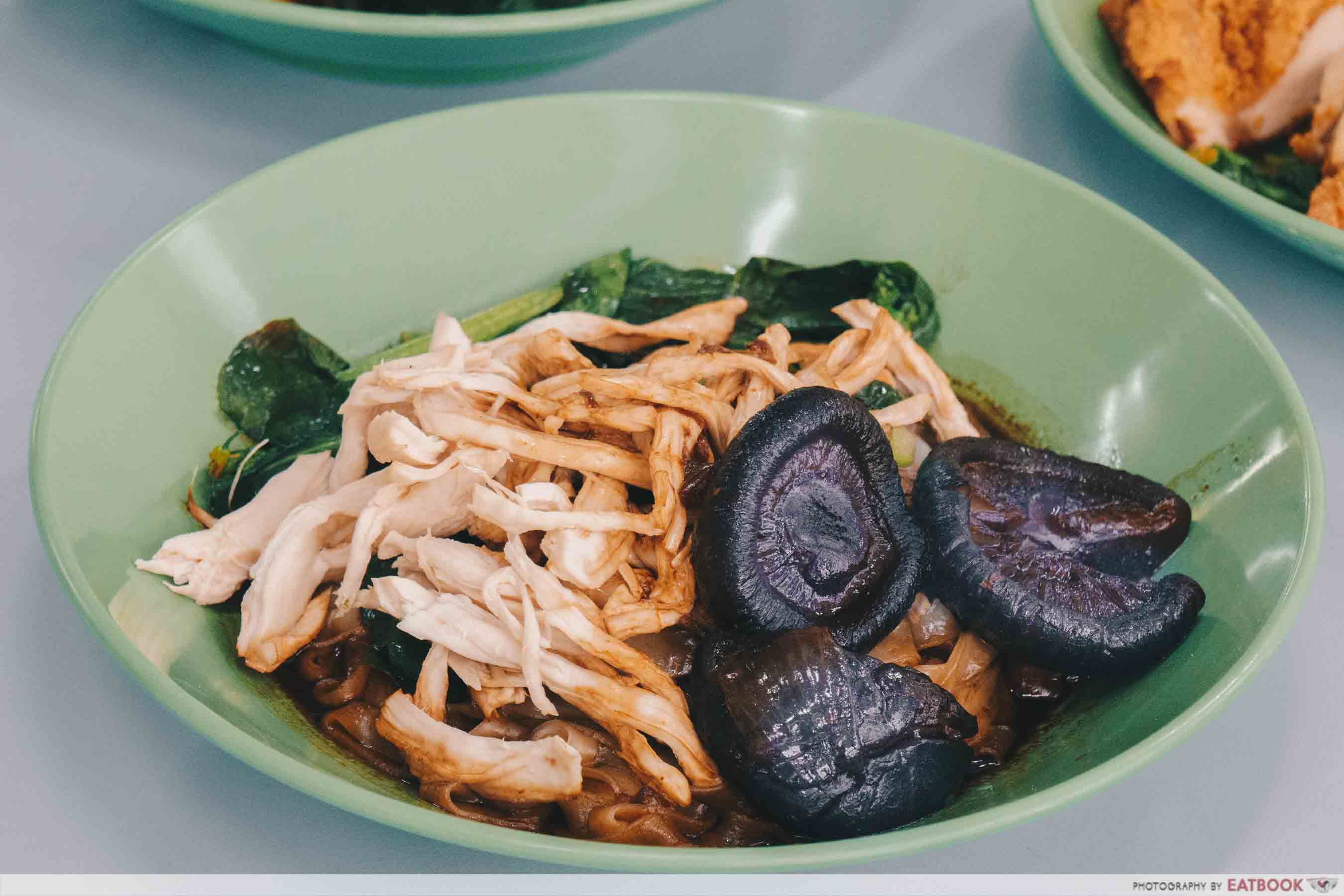 With the Shredded Chicken Hor Fun ($3.50/$4.50) receiving stellar reviews online, we decided to finish our meal with the dish. Compared to the other dishes we tried, their hor fun seemed lacklustre. A generous serving of kway teow was drenched in a mushroom gravy before shredded chicken, shiitake mushrooms, and chye sim were haphazardly garnished upon it.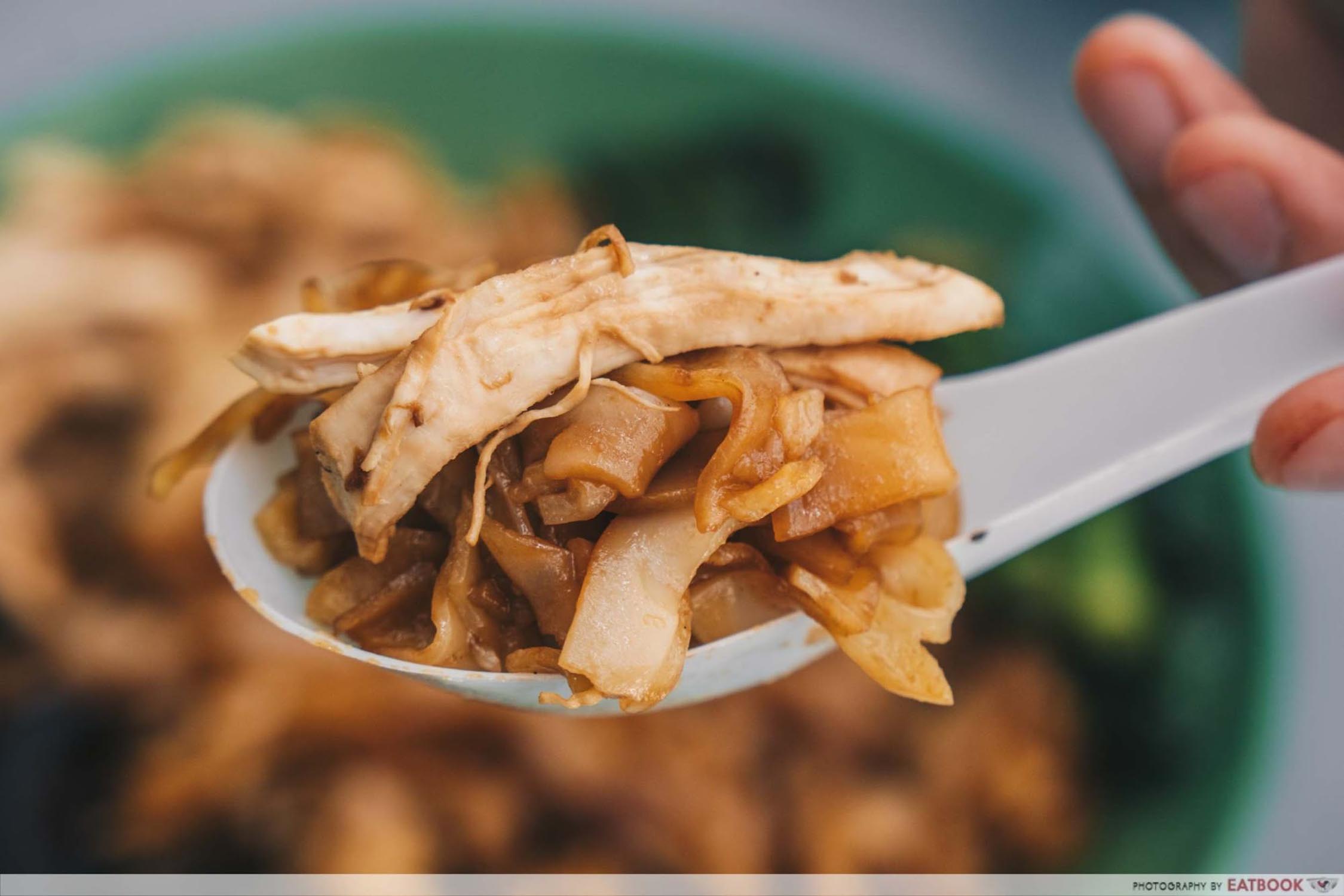 Given the blandness of the kway teow, the taste all came from the gravy. The latter dominated the noodles with a bold earthiness – characteristic of shiitake – that was spiked with a light touch of ginger-esque spiciness.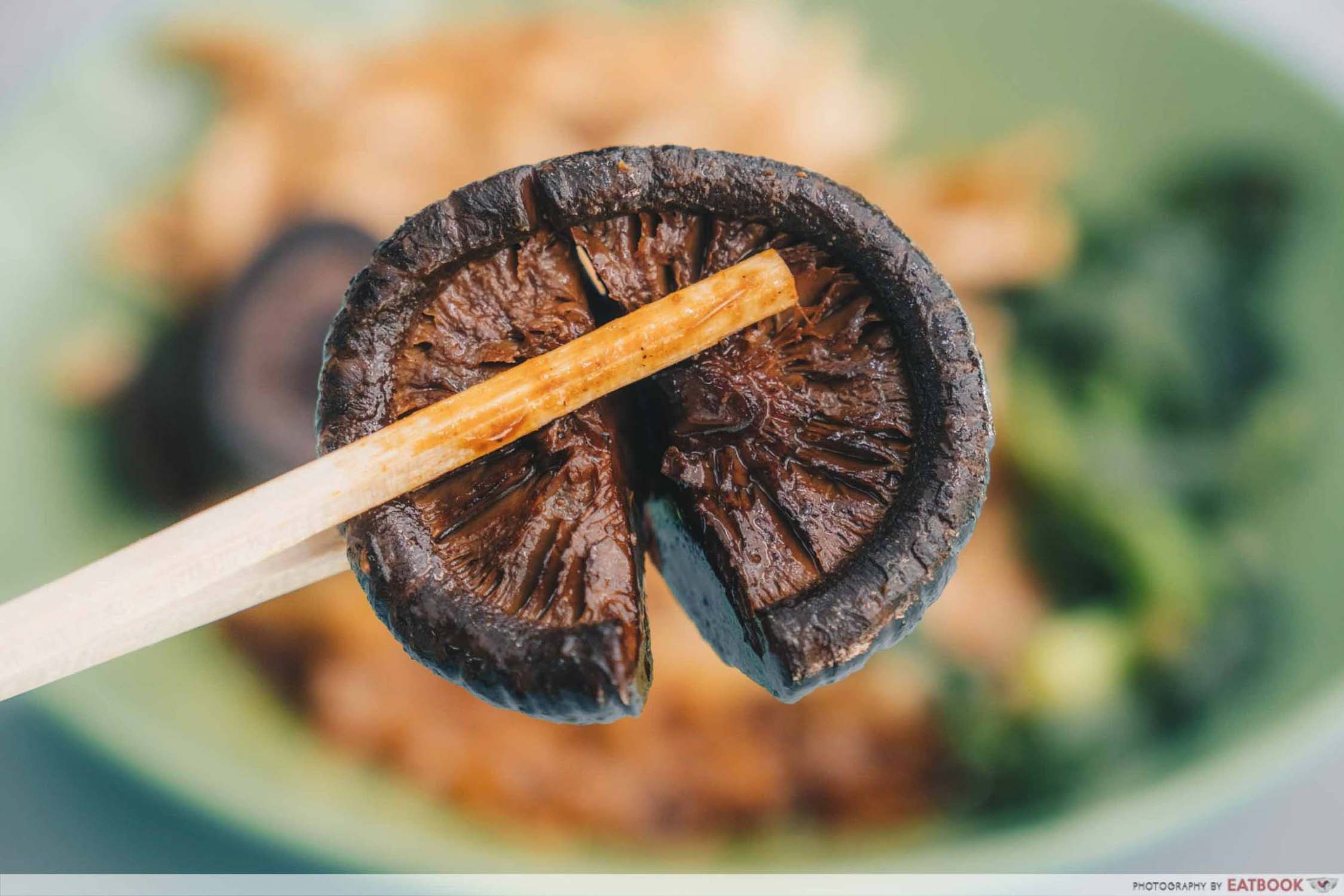 However, I felt their shredded chicken could take a leaf off the page of the shiitake mushrooms. While the mushrooms impressed with their robust chewiness, the overcooked shredded chicken disappointed with its stiff and dry texture.
Ambience at Cantonese Delights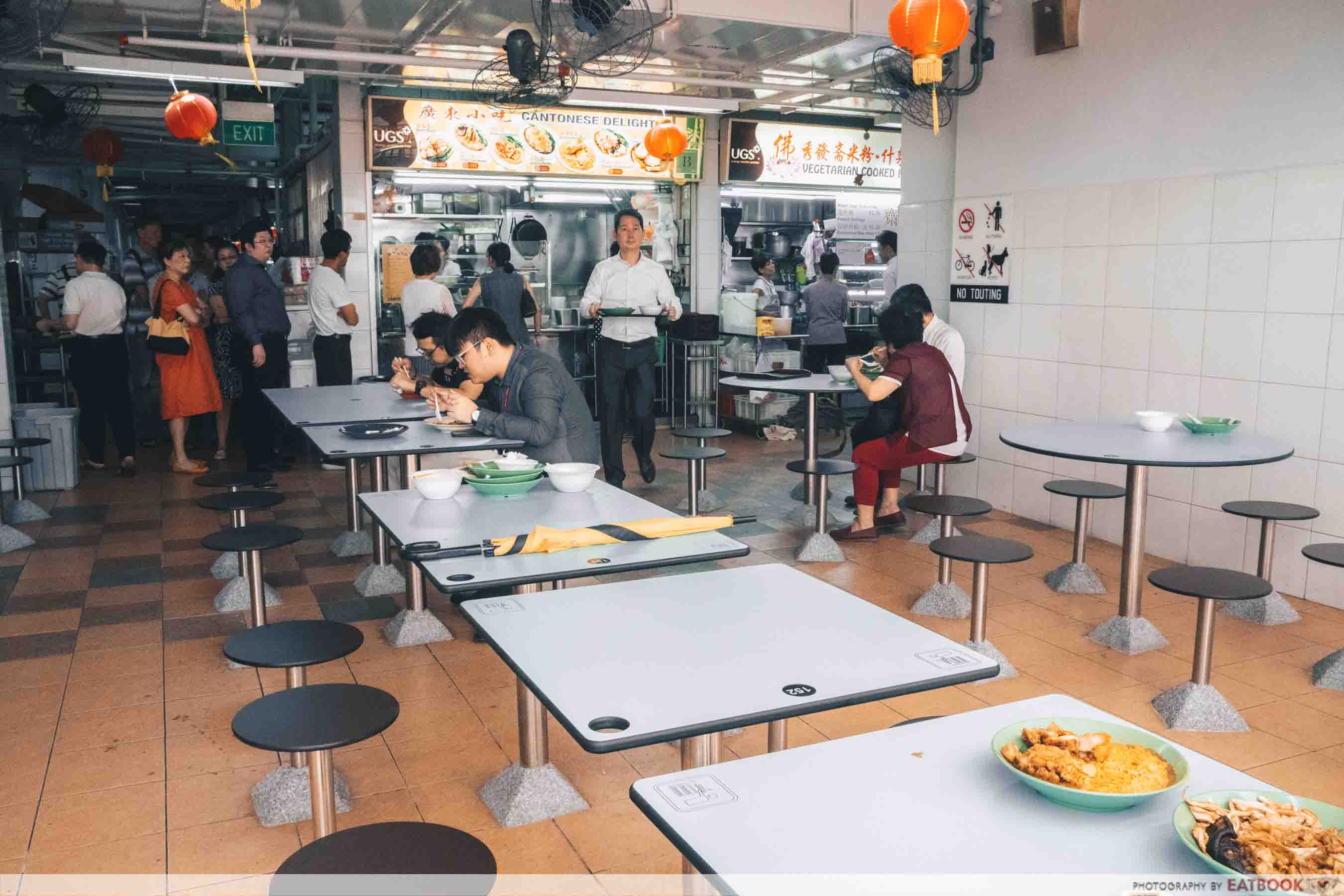 Cantonese Delights is one of the perennial favourites of Hong Lim Food Centre and queues usually begin forming as early as 11am. Thankfully, due to the deft chopping and swift service of the chef, the line is constantly moving. Fans are also well-distributed throughout the hawker centre. You'll thus be spared the discomfort of queuing with beads of sweat clinging uncomfortably on your back.
The verdict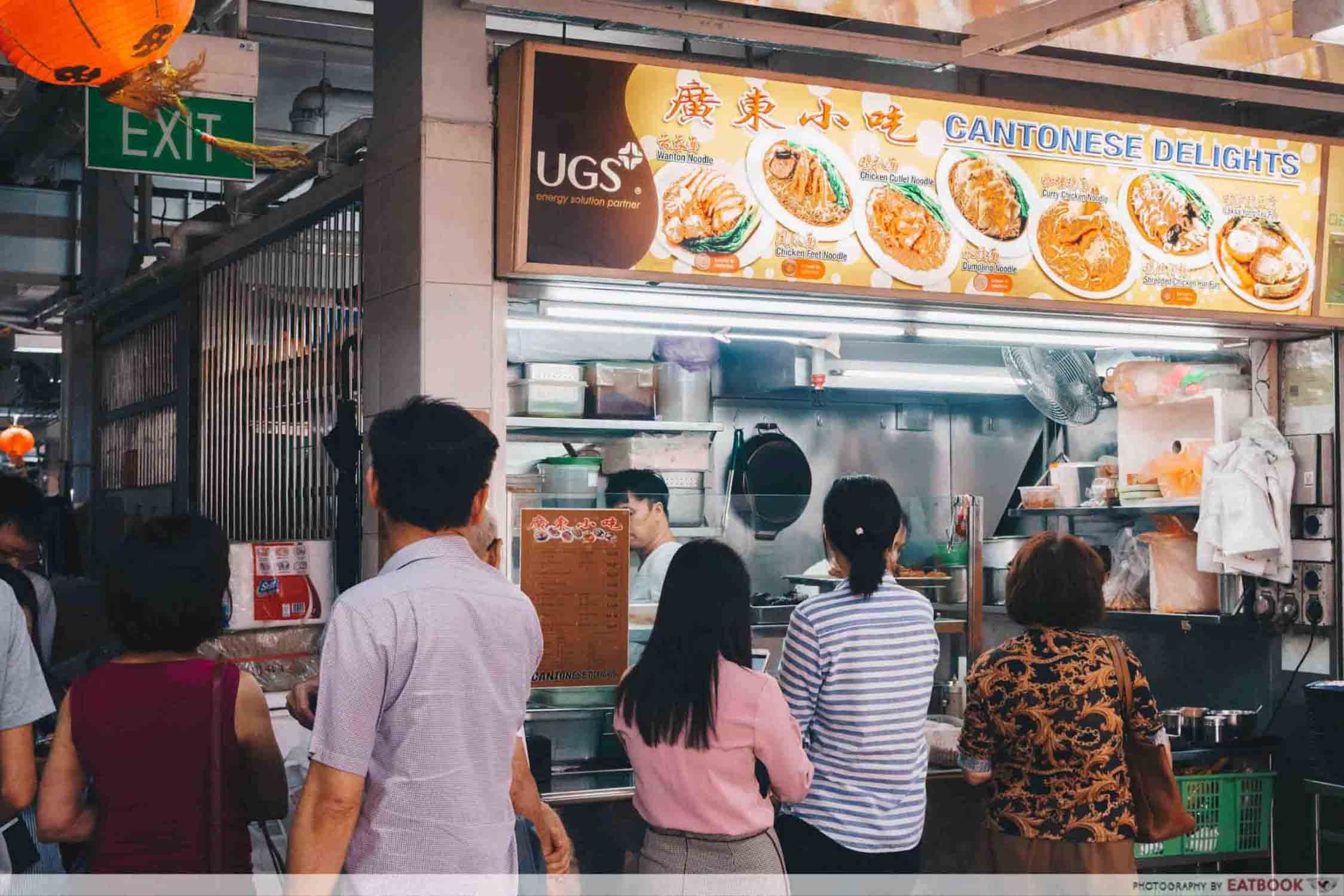 Finishing a meal here left me with a hodgepodge of emotions. There was the satisfaction of surviving a 20-minute queue and finally tasting their Curry Fried Chicken Cutlet Noodles. Yet, there was also a tinge of sadness as I realised that Cantonese Delights is regrettably my only choice for lemak curry with mee kia.
While you are at Hong Lim Food Centre, remember to drop by Tuck Kee (Ipoh) Sah Hor Fun, a popular hawker stall which serves scrumptious Crayfish Ipoh hor fun. Find out more about Tuck Kee (Ipoh) Sah Hor Fun below!
Tuck Kee (Ipoh) Sah Hor Fun Review: Crayfish And Pacific Clam Prawn Hor Fun At Chinatown
Address: 531A Upper Cross Street, #02-03, Hong Lim Market & Food Centre, Singapore 051531
Opening hours: Sat-Thur 10:30am to 2pm
Cantonese Delights is not a halal eatery.
Photos taken by Rae Fung.
This is an independent review by Eatbook.sg.
Summary
Pros
– Addictive and crispy fried chicken
– Springy wonton noodles
– Free-flow pork lard
– Wallet-friendly prices
Cons
– Short opening hours
– Long queues
Recommended Dishes: Curry Fried Chicken Cutlet Noodles ($4), Wonton Noodles ($3.50)
Opening hours: Sat-Thur 10:30am to 2pm
Address: 531A Upper Cross Street, #02-03, Hong Lim Market & Food Centre, Singapor 051531