Redhill Pork Porridge has $3.50 Hainanese pork porridge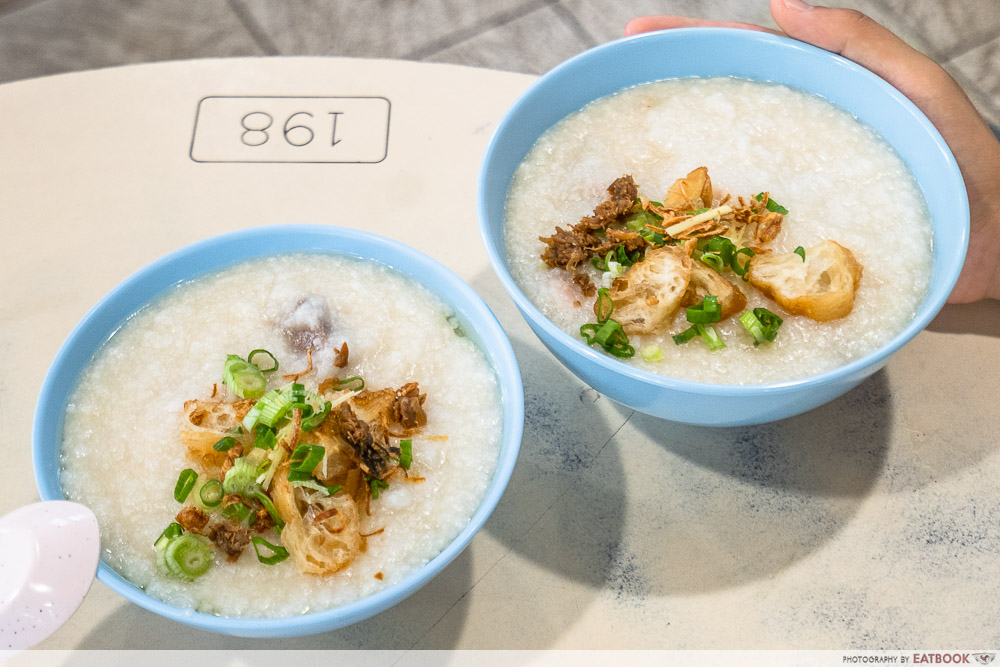 Whenever I think of porridge, the first words that come to my mind are 'plain' and 'bland'. So when I first heard about Redhill Pork Porridge, whose bowls are said to be full of flavour, I was a little sceptical. Nonetheless, with my interest piqued, I decided to pay a visit to Redhill Food Centre to try out this famous pork porridge.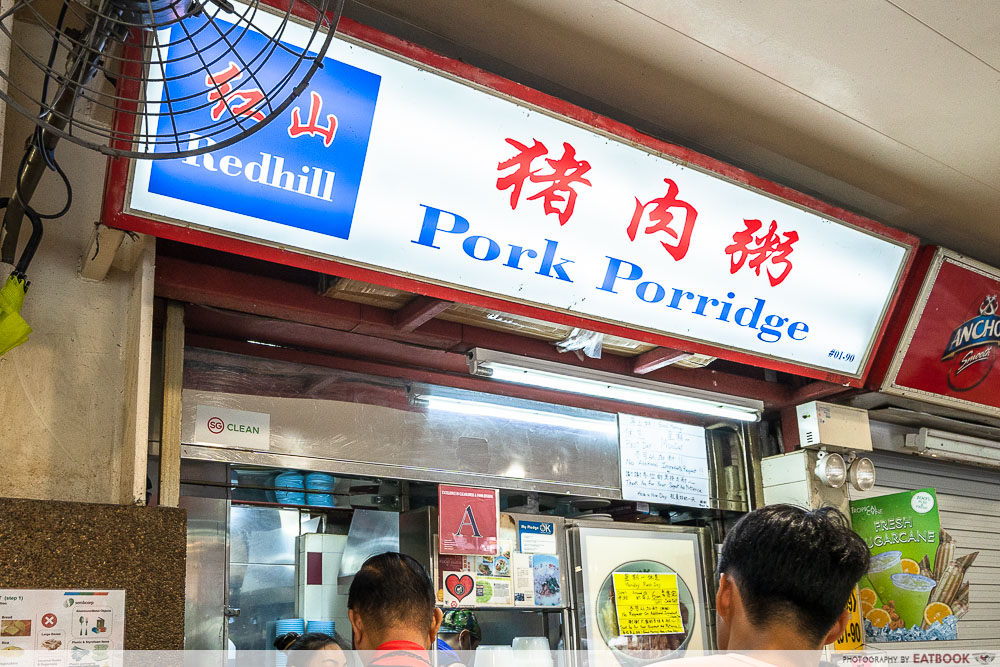 If you were previously a fan of Redhill Pork Porridge, you may know that the original stall closed down when its owner, Mr Han, retired. The stall was taken over and is now headed by local food writer Maureen Ow, AKA @MissTamChiak, together with her business partners Chef Cao Yong and Chef Kenny. Despite the change in management, the stall's namesake dish is said to still be prepared according to its original recipe, albeit with better ingredients.
Food at Redhill Pork Porridge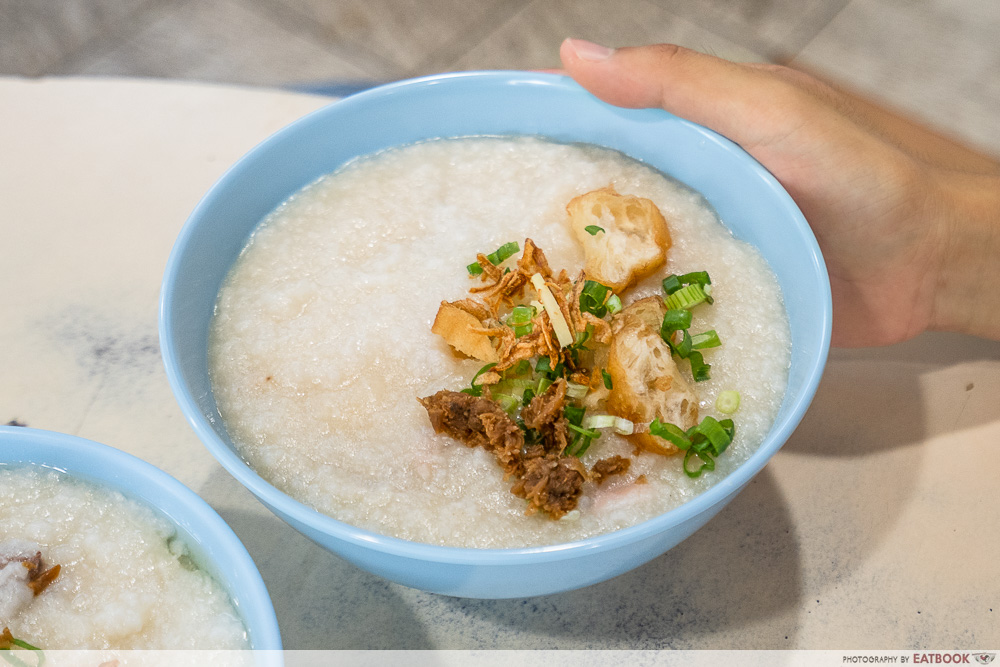 There's only one item on the menu: Pork Porridge in small ($3.50), or large ($4.50). There is an option to add an Egg to your porridge for just $0.50. Whichever portion you order, your bowl will come topped with slices of you tiao, spring onion, fried shallots, and dong cai, AKA preserved Chinese cabbage.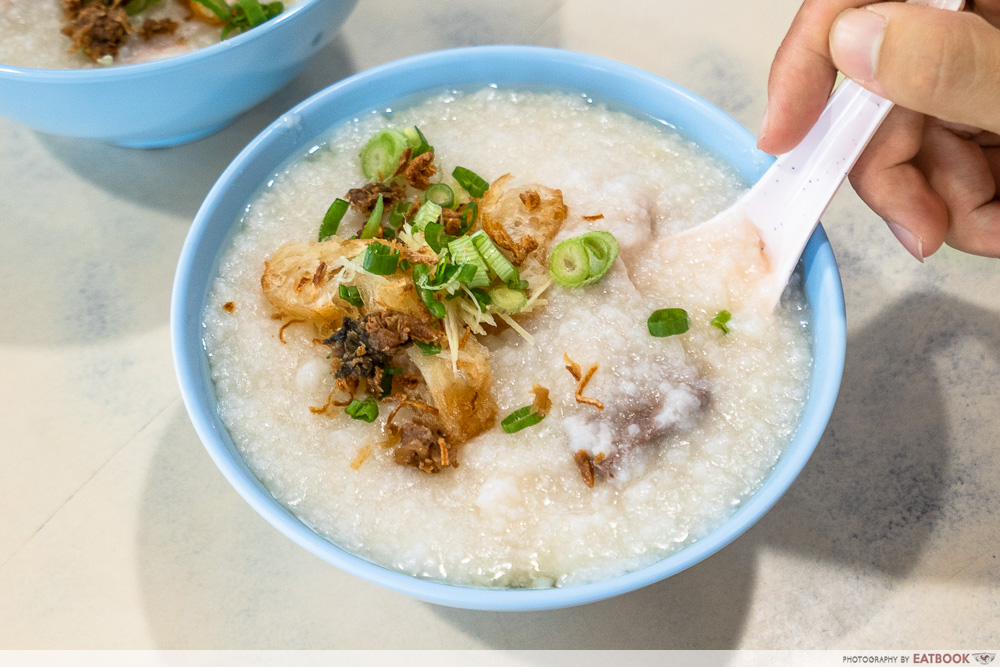 To my pleasant surprise, each mouthful of porridge was thick and smooth. Though the creamy porridge was slightly bland for my liking, we were able to add flavour with sesame oil and pepper, both of which are available at the stall. The dong cai also added some savouriness, so it's best to mix it in properly.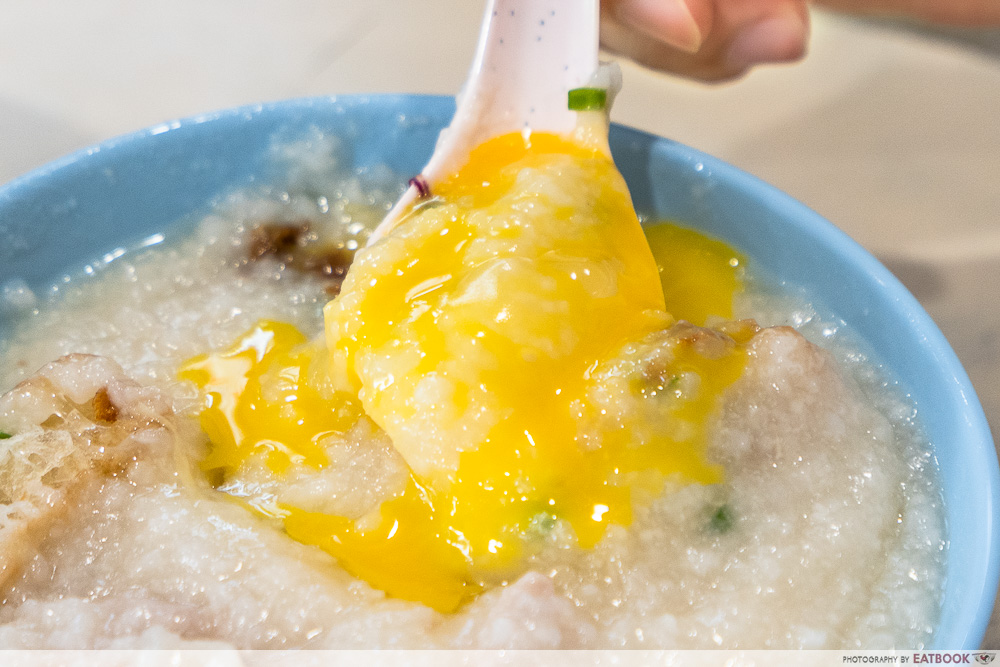 I definitely preferred the bowl of porridge that we added an egg to━break it in and stir through the porridge for extra silkiness and richness.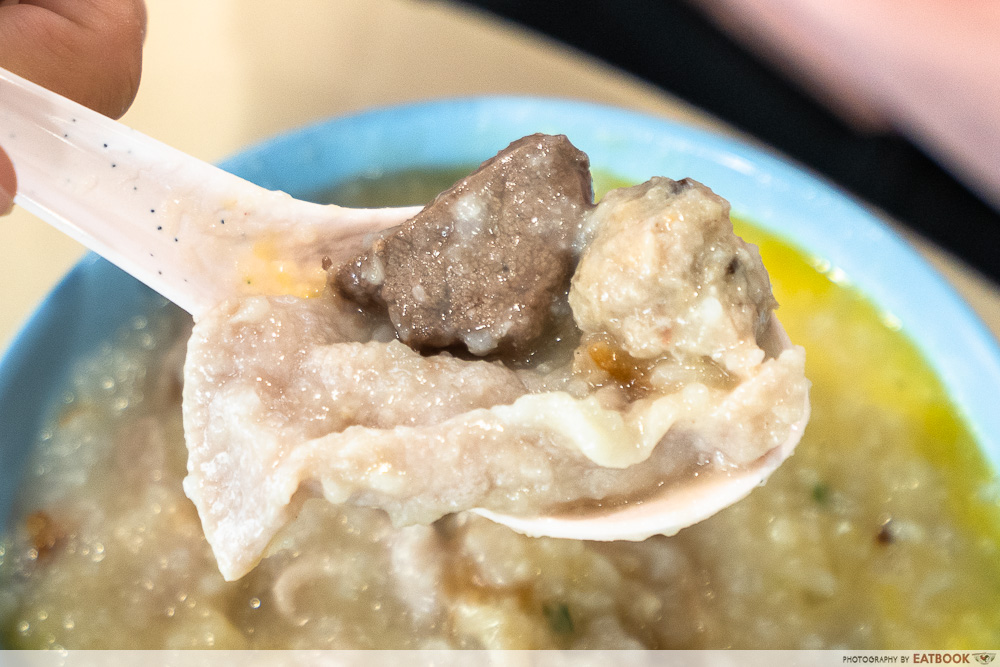 My personal favourite of the liao in these bowls of porridge was the slices of pork, of which there was a good number included. What I enjoyed about them was that they came in hearty slices that were smooth, tender, and lightly marinated, without any overwhelmingly porky flavour.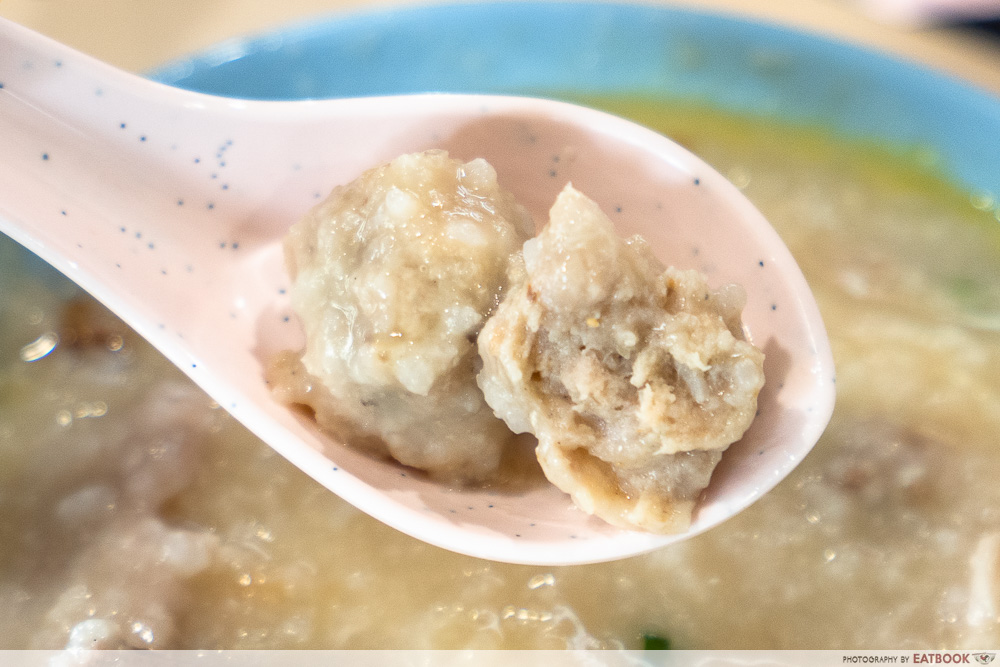 All the pork balls in the porridge are house-made and tasty with the umami addition of dried mushrooms. Though I would have preferred the pork balls to be less salty, I felt that they did lend extra flavour to the porridge.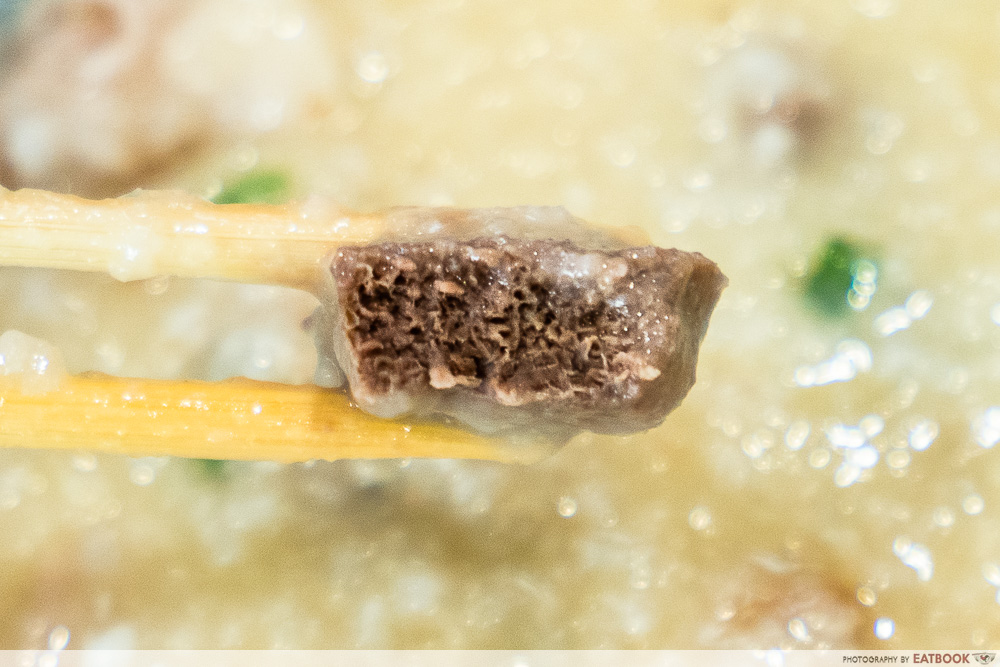 I usually avoid pork liver because of its hard, dry texture and strong metallic taste. However, I was amazed by how the thick-cut pork liver here was instead deeply flavourful, with just a mild touch of that gamey iron flavour. Though the pork liver was firm, it was slightly chewy, rather than dry and hard.
13 Teochew Porridge Spots In Singapore For Affordable Feasts
Ambience at Redhill Pork Porridge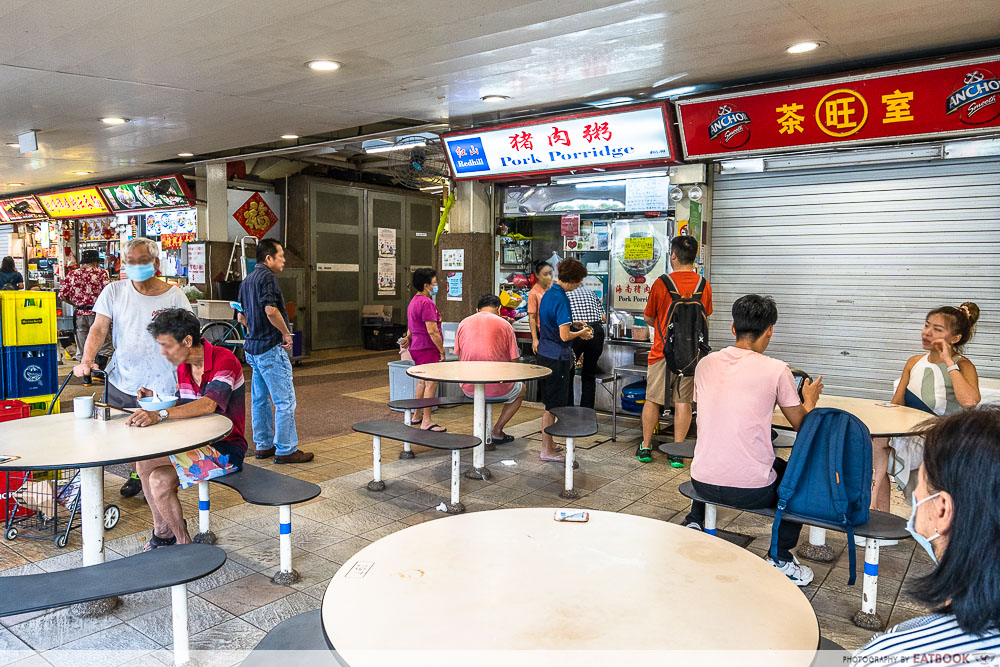 Redhill Pork Porridge is located in Redhill Food Centre, which is a convenient five-minute walk from Redhill MRT Station. Before heading here for your breakfast, do note that they are only open in the morning from 6am to 9am, and close once they are sold out. The queue starts to build around 7:30am to 8:30am, and only about 250 bowls are prepared each day, so I would recommend coming earlier to avoid making a wasted trip down. 
Redhill Food Centre is generally breezy and spacious, with a sufficient number of tables spread across the hawker centre, so you should not have a problem finding a seat if you decide to have your meal there.
The verdict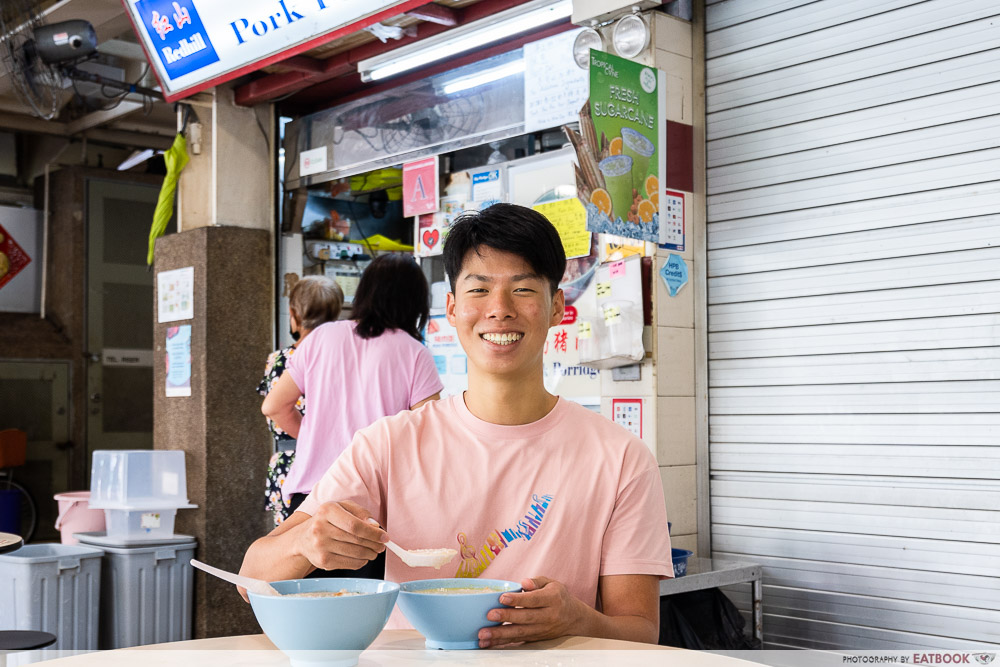 While I am still not a hardcore fan of porridge, I must admit that I was still impressed by the distinct richness of the porridge at Redhill Pork Porridge, and the tenderness of their pork slices. Prepared upon order, you can be rest assured your breakfast is fresh and hot.
Only early birds will get to enjoy this porridge, so this is the true test of your love for congee if you want to get your hands on some. Redhill Pork Porridge will be a good option for a comforting breakfast.
If you haven't had enough of congee, you can consider visiting Sin Heng Kee Congee in Hougang, which comes with generous servings of ingredients in their porridge. Alternatively, we've got a list of Teochew porridge spots for you to hit up! 
Address: 85 Redhill Lane, #01-90, Redhill Food Centre, Singapore 150085
Opening hours: Daily 6am to 9am
Redhill Pork Porridge is not a halal-certified eatery.
Sin Heng Kee Porridge Review: Famous Congee With Generous Ingredients From $4.50
Photos taken by Chew Yi En.
This was an independent visit by Eatbook.sg.
Redhill Pork Porridge Review: $3.50 Hainanese Pork Porridge With Lots Of Ingredients
Redhill Pork Porridge Review: $3.50 Hainanese Pork Porridge With Lots Of Ingredients -

7/10
Summary
Pros
– Affordable 
– Tasty, well-executed pork ingredients
Cons
– Meatballs were a little too salty
– Short opening hours
Recommended dishes: Small Pork Porridge with Egg ($4.50)
Opening hours: Daily 6am-9am
Address: 85 Redhill Lane, #01-90, Redhill Food Centre, Singapore 150085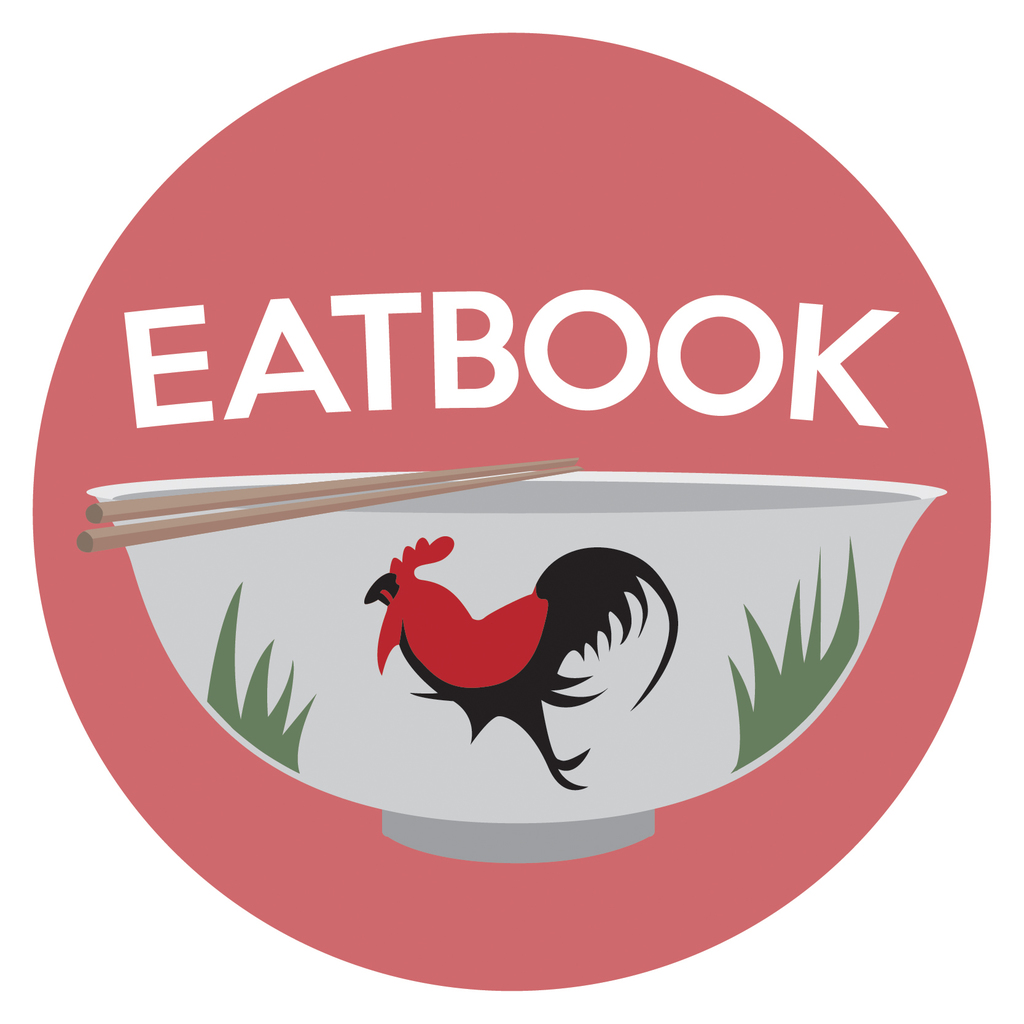 Drop us your email so you won't miss the latest news.