---
Teochew porridge supper places for a late-night feast
---
Dim sum supper joints are great for an array of nibbles in baskets, but Teochew muay (porridge) are for times you and your kakis need a feast. Gulp down hot porridge with a mouthful of salty tau kee for warmth and comfort in the night. Here's a list of late-night Teochew porridge places for a late banquet to feel like a king while keeping your wallet intact!
---
1. Ye Shang Hai

---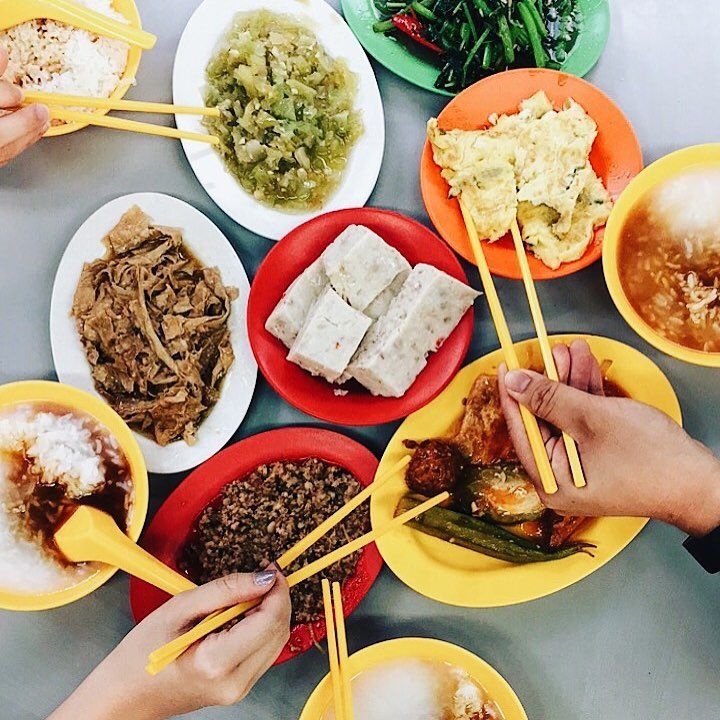 Image credit: @_zooying
Cab often enough and you'll know Ye Shang Hai is a popular haunt among taxi uncles, attracting a long queue even after relocating to Bukit Merah. Get braised intestines and steamed minced meat with salted fish to go with their thick porridge. Add on two veggies to share with a friend, and supper's settled at under $10 per person.
Address: 107 Jalan Bukit Merah, #01-1826, Singapore 160107
Opening hours: Daily 6am to 3am
---
2. Ah Seah Teochew Porridge
---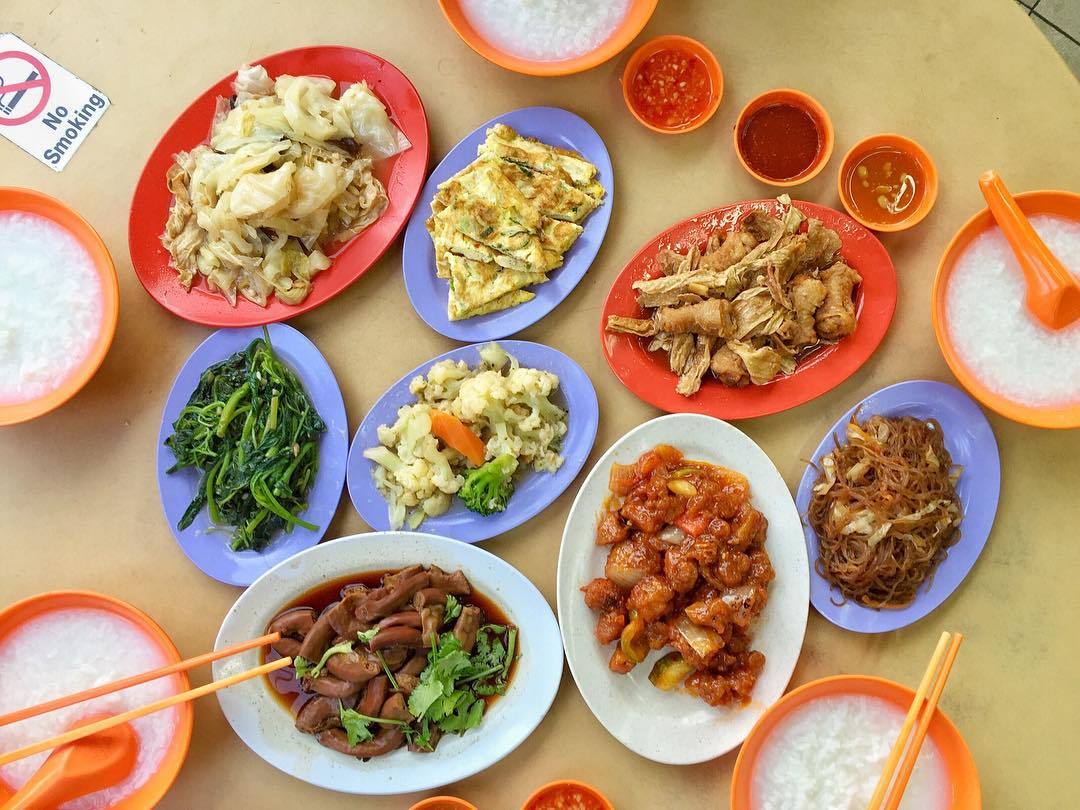 Image credit: @iamtzeyang
Ah Seah Teochew Porridge is recommended when in Kovan. Their braised duck and large intestines have a full-bodied meat flavour, but their steamed pomfret has a clean taste if you prefer something light. Their filling porridge ($0.50) is essentially rice in a thick translucent broth. For $10 per person, you can share an additional three to four dishes between two people.
Address: 31 Teck Chye Terrace, Ah Seah Eating House Kovan Centre, Singapore 545731
Opening hours: Daily 11am to 12am
Tel: 6283 7409
---
3. Joo Seng
---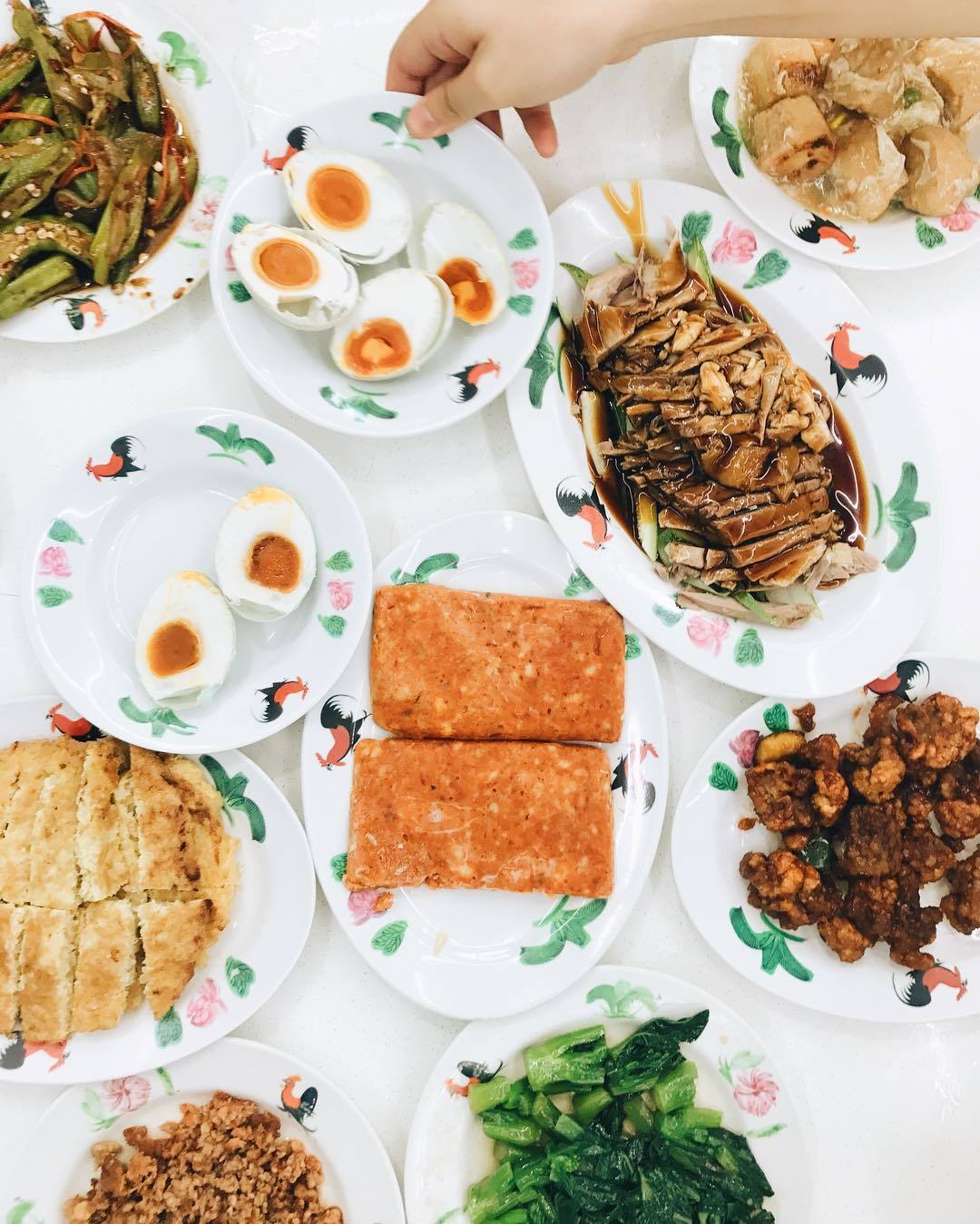 Image credit: @gudgudfud
The star at Joo Seng is braised duck leg ($6), which is fall-off-the-bone tender, and drenched in a savoury-sweet soya sauce. It's almost obligatory to get another bowl of zhup (gravy) to pour into your porridge ($0.50). Their minced pork with black bean ($2) has a hint of spiciness, and bittergourd with eggs ($1.50) are cooked till soft and aren't bitter.
Address: 14 Cheong Chin Nam Road, Singapore 599738
Opening hours: Daily 10am to 4am
Tel: 6463 0768
---
4. Sin Hock Heng
---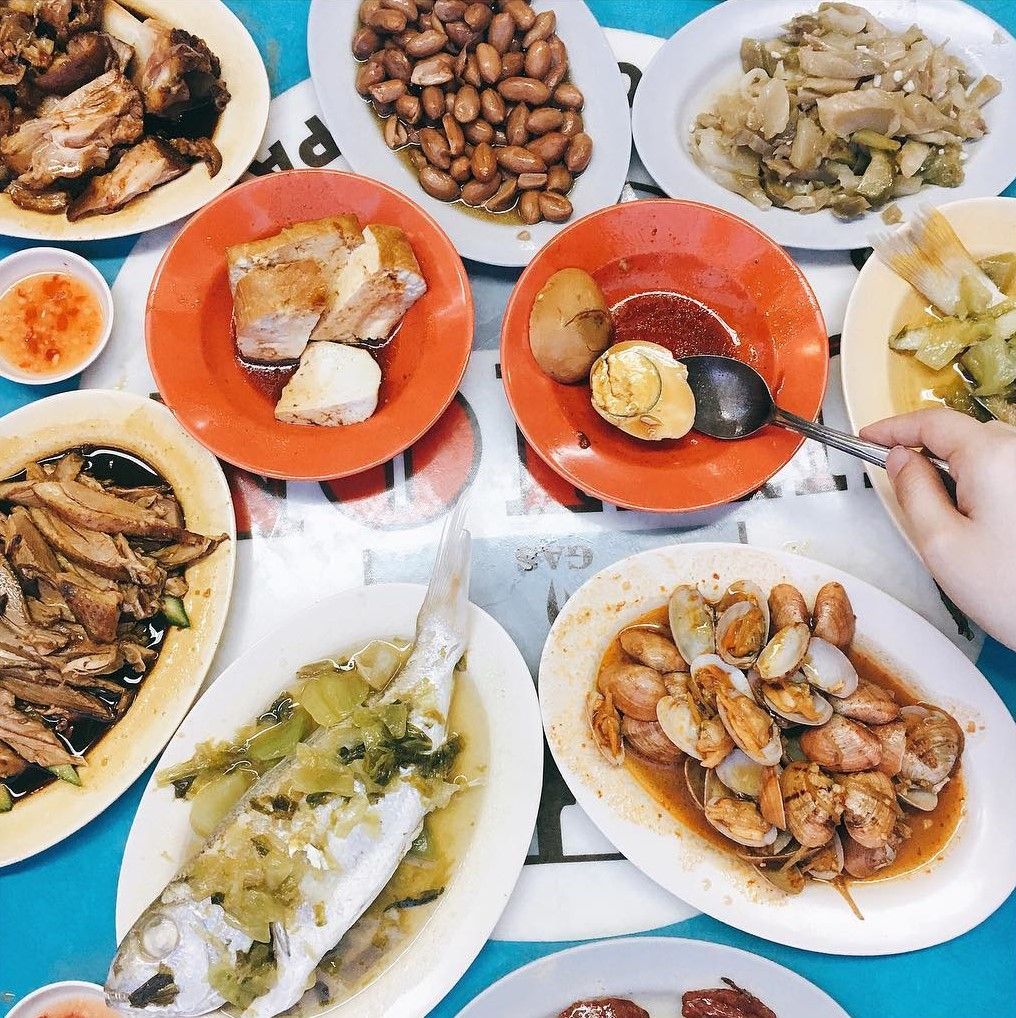 Image credit: @yl.teo
Sin Hock Heng's salty and savoury hae bee hiam (spicy dried shrimp sambal) is slightly sweet without being too greasy or spicy, and their well-braised meats are flavourful. With their chewy baby squid in sweet chilli sauce, and a plate of preserved vegetables, this supper comes up to $12 per person for two. You can ask for extra sauce and porridge soup for free too!
Address: 701 Geylang Road, Lorong 37, Singapore 389687
Opening hours: Daily 9am to 4am
Tel: 9821 0692
---
5. Lim Joo Hin Eating House

---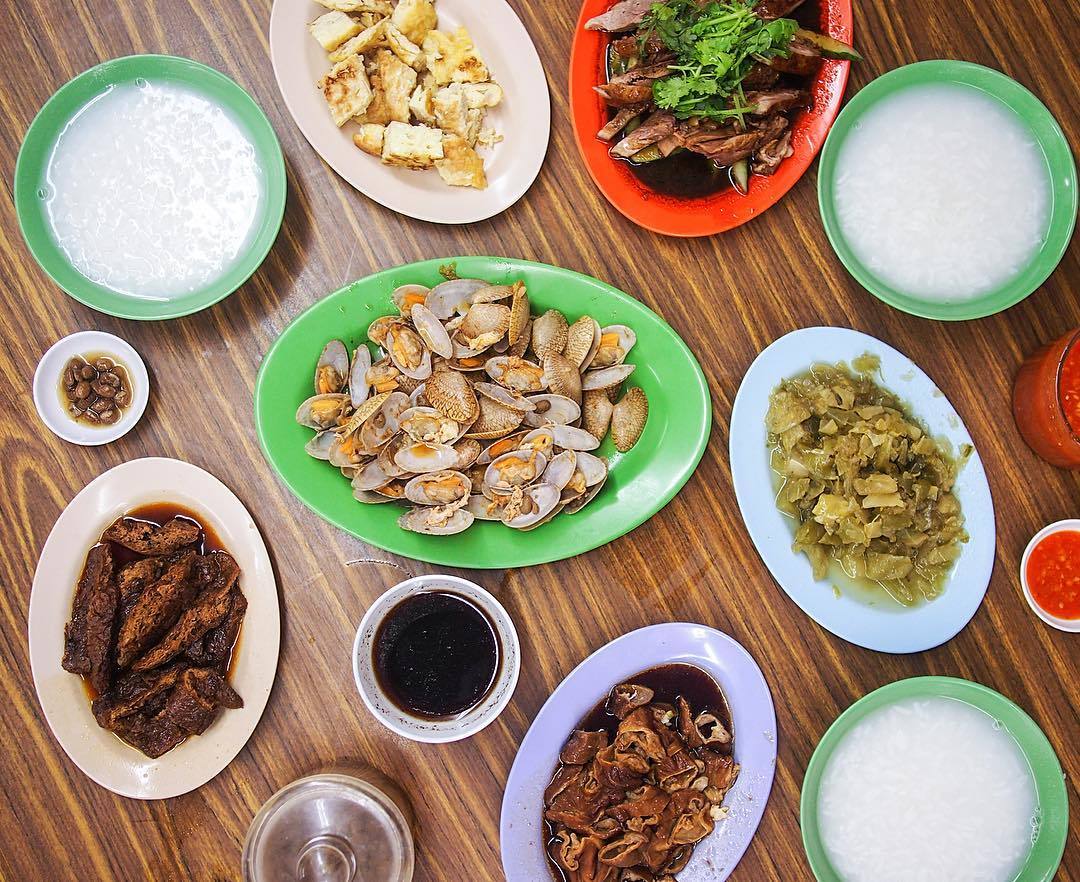 Image credit: @riinns
Lim Joo Hin is one of the pricier stalls where you can easily spend $15, but they're also open till the wee hours of the morning. Their well-cleaned pig intestines don't have a stench, and their plump garlicky clams are stir-fried in bean sauce. Their braised dishes, like duck and tau pok, and preserved vegetables make a meal good for three to four.
Address: 715 Havelock Road, Singapore 169643
Opening hours: Daily 11am to 5am
Tel: 6272 9871
---
6. Heng Long Teochew Porridge
---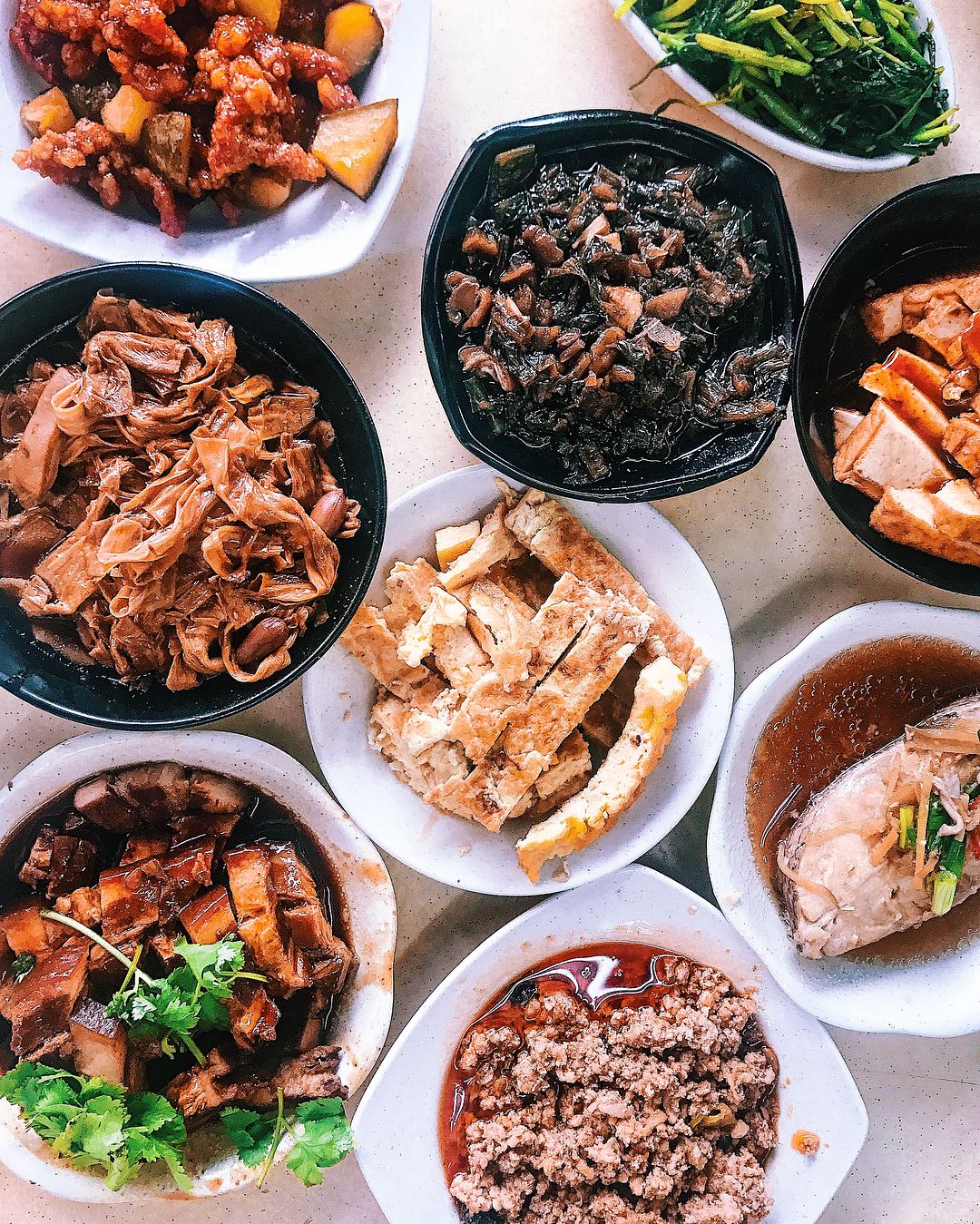 Image credit: @makankhakis
Folks in the north-east can head to Heng Long Teochew Porridge for a spread. Besides the homely flavours of familiar side dishes, their chilli lala and umami braised pork belly are delicious to gobble up. Zhup with plain porridge makes the finishing touch to a satisfying supper there, and you'll only need $10 or less.
Address: 1006 Upper Serangoon Road, Tai Peng Gardens, Singapore 534744
Opening hours: Daily 10am to 4:30am
Tel: 6844 3545
Website
---
7. Broadway Teochew Porridge
---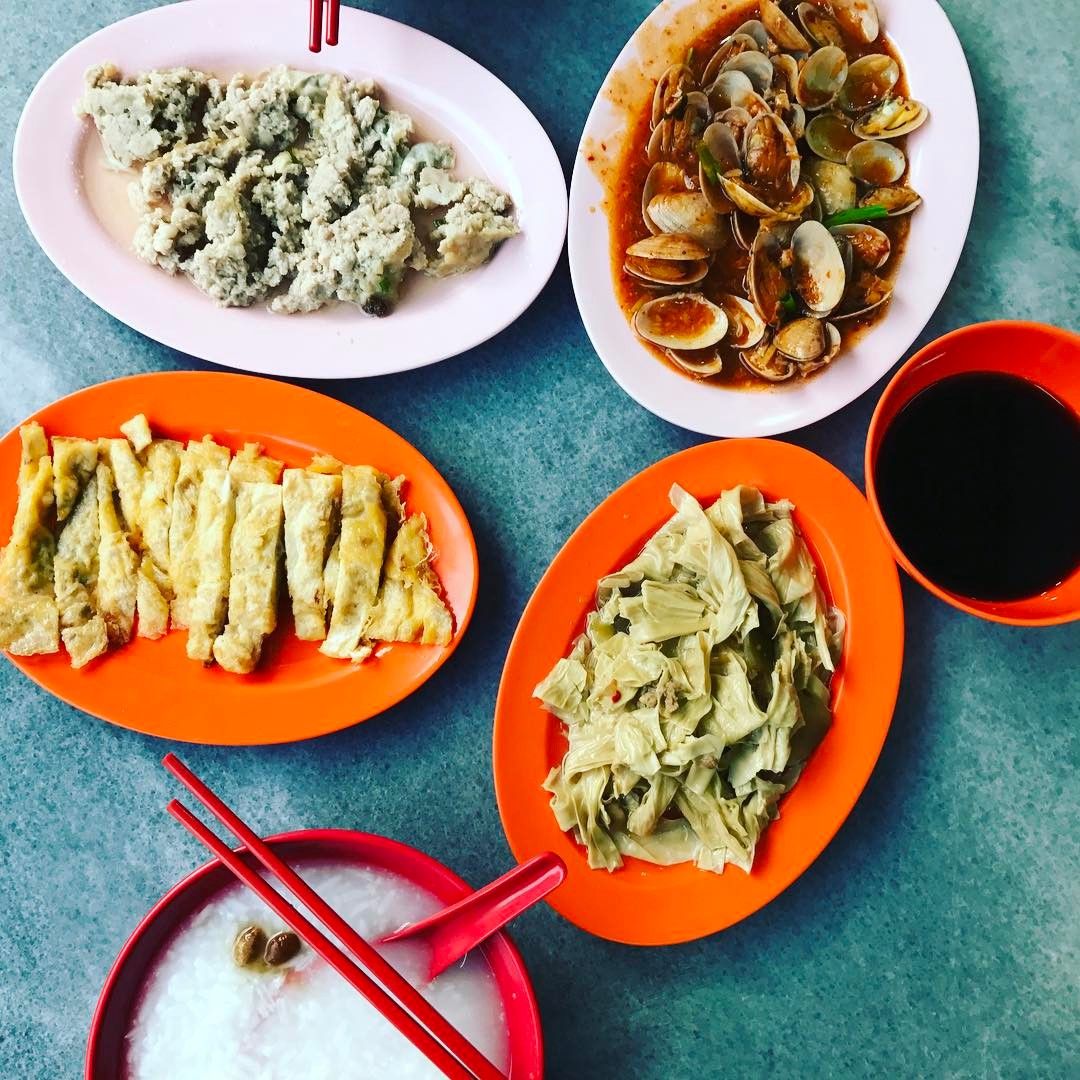 Image credit: @kenny_gallagher
In a corner coffeeshop at Serangoon, Broadway Teochew Porridge offers a wide variety of sides. Stir-fried squid, braised large intestines, pork, handmade fishcakes, and a few other vegetables and egg dishes for a group of six would come up to under $10 for each person. It's extremely hard to find a Teochew porridge eatery that's open 24/7, but this is one of them.
Address: 1 Beng Wan Road, Singapore 339833
Opening hours: Daily 24 hours
---
8. Tian Tian Fatt Rice and Porridge

---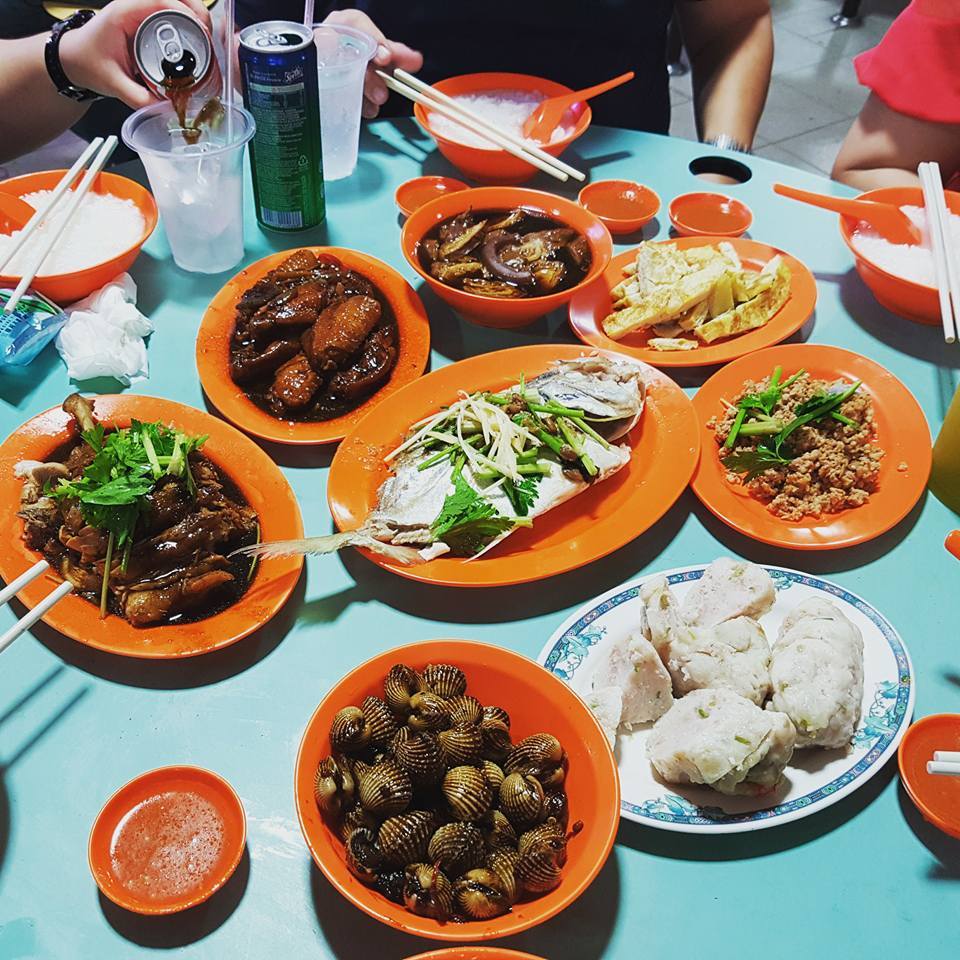 Image credit: nigel lian
This table of dishes from Tian Tian Fatt Rice and Porridge has a good amount of meat, but costs about $7 per person for a group of six. Aside from braised pork belly and braised intestines, tuck into their steamed pomfret, black sauce chicken wings, and thick fried egg for some of their more popular orders. The queue forms from dinner onwards, and their food is freshly cooked at night, so it's still warm when served.
Address: 210 Lorong 8 Toa Payoh, #01-14, Toa Payoh Lorong 8 Market & Food Centre, Singapore 310210
Opening hours: Mon-Sat 1pm to 1am
---
Teochew
muay
supper jio!
---
These Teochew porridge supper feasts are gonna give you a food coma to help you sleep like a baby. For more porridge feasts, check out these porridge buffets below $20!