Happy Congee In Bendemeer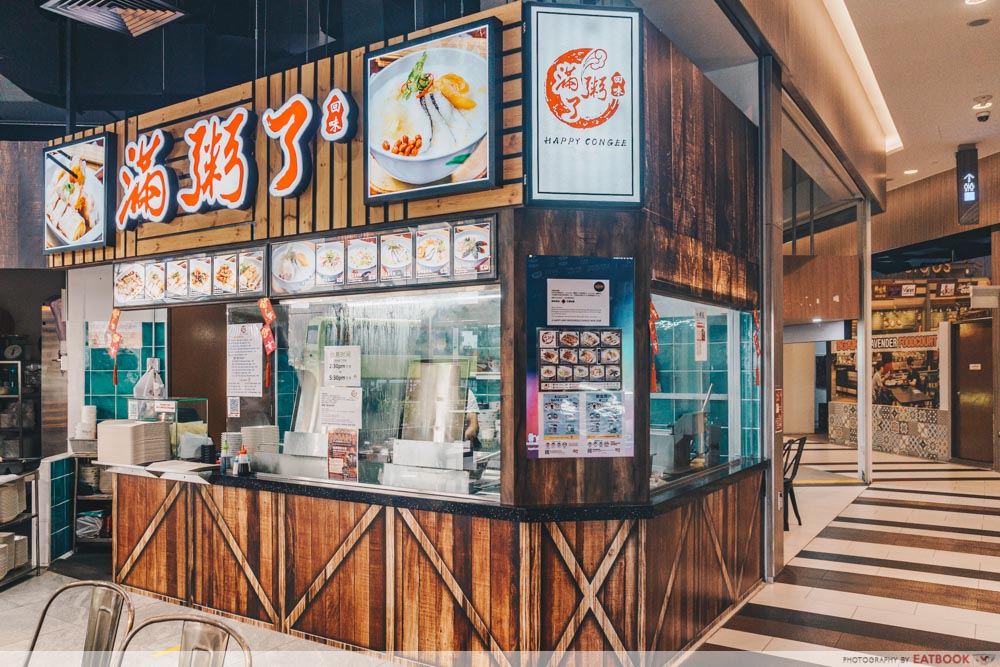 While most people turn to cafes, my kind of brunch looks like savoury congee and silky chee cheong fun, shared with family at the neighbourhood hawker centre. Happy Congee at Bendemeer takes these comforting dishes up a notch, serving up renditions with mala and abalone.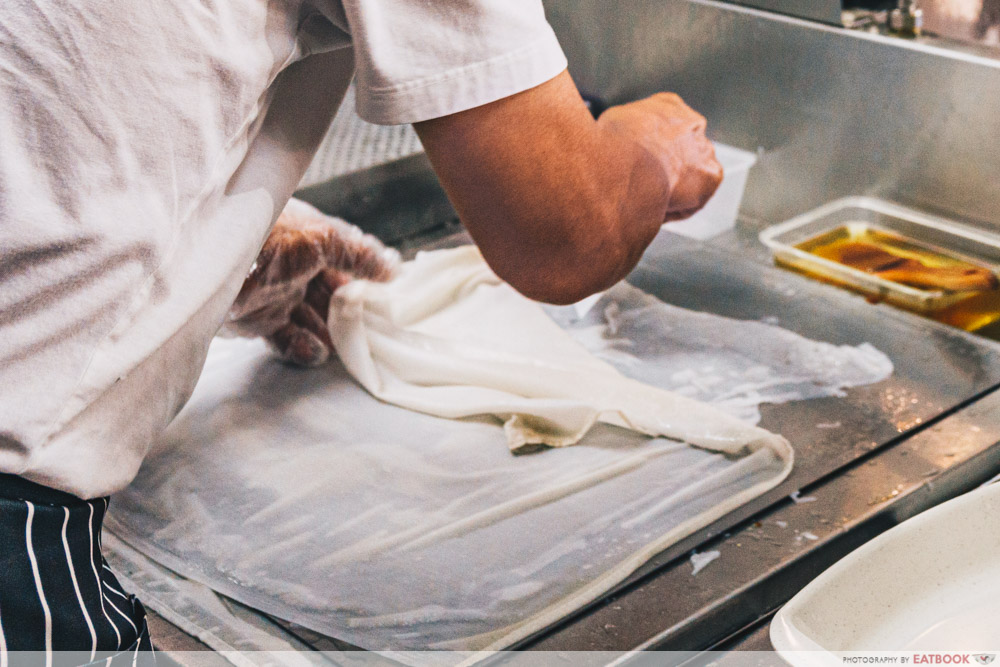 The owner personally learned recipes from a Hong Kong chef, who cooked at the likes of famous porridge restaurant, Da Wan Zhou. Learning about this, we were eager to dig in, backed by the good vibes from the team of cheery staff who manned the stall.
Food at Happy Congee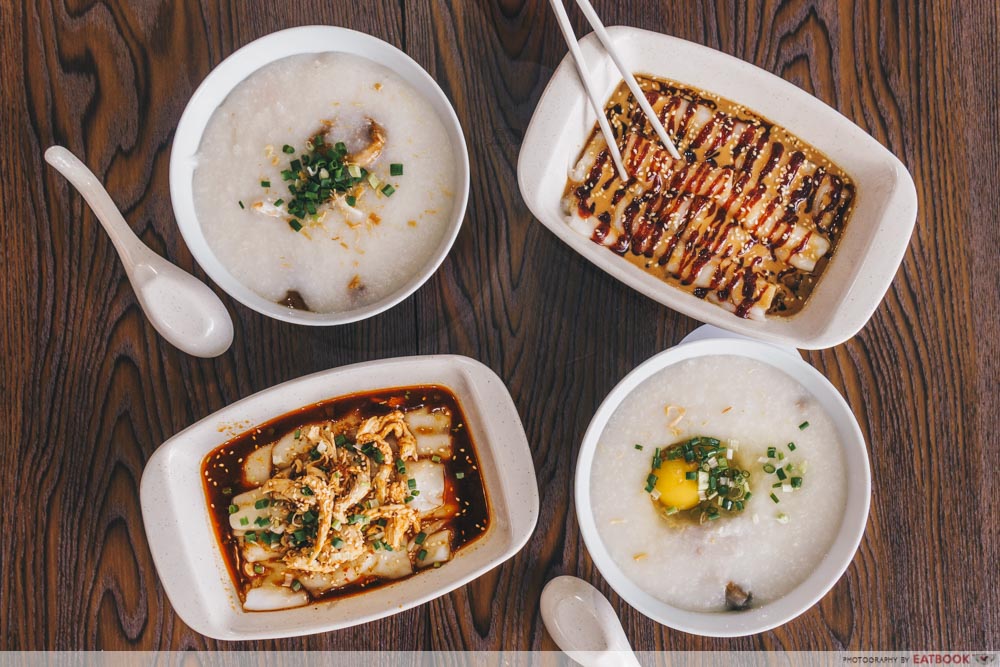 Happy Congee does mainly congee and chee cheong fun, dressed with various toppings. They also have a small selection of snacks, where you can get Dough Sticks ($2) to dip into your congee, or Pickled Vegetables ($3.80) to refresh your palate.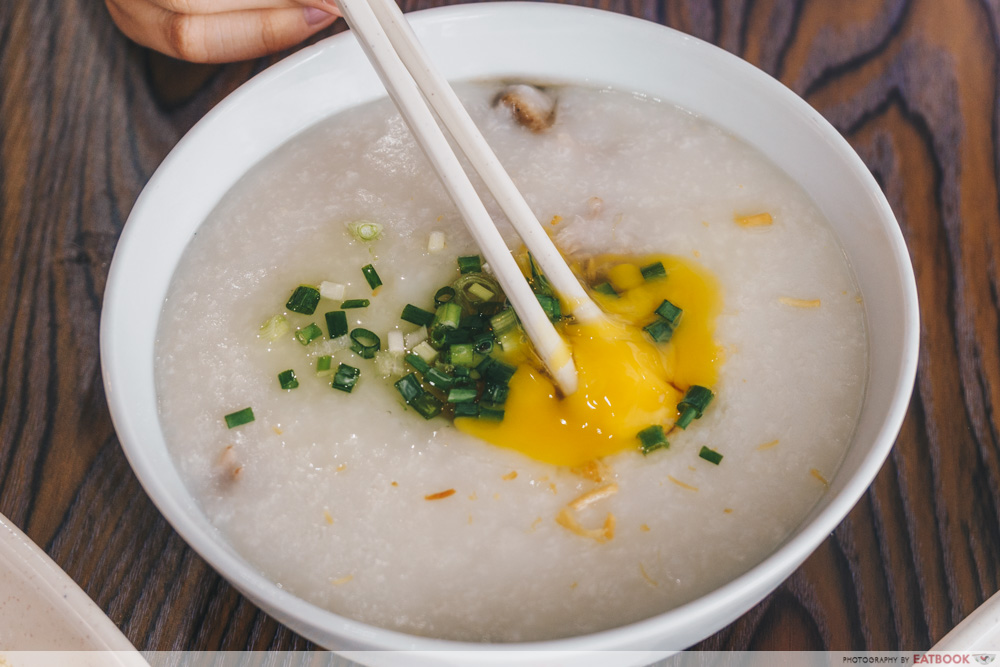 We started the meal with their Black Iberico Pork Congee ($5) and topped up an egg for $0.80. Pork congee is my go-to, and I was excited to see how this fared with their use of Iberico pork. The dish came in a heaping portion, with pork slices and chopped mushrooms, then topped with spring onions.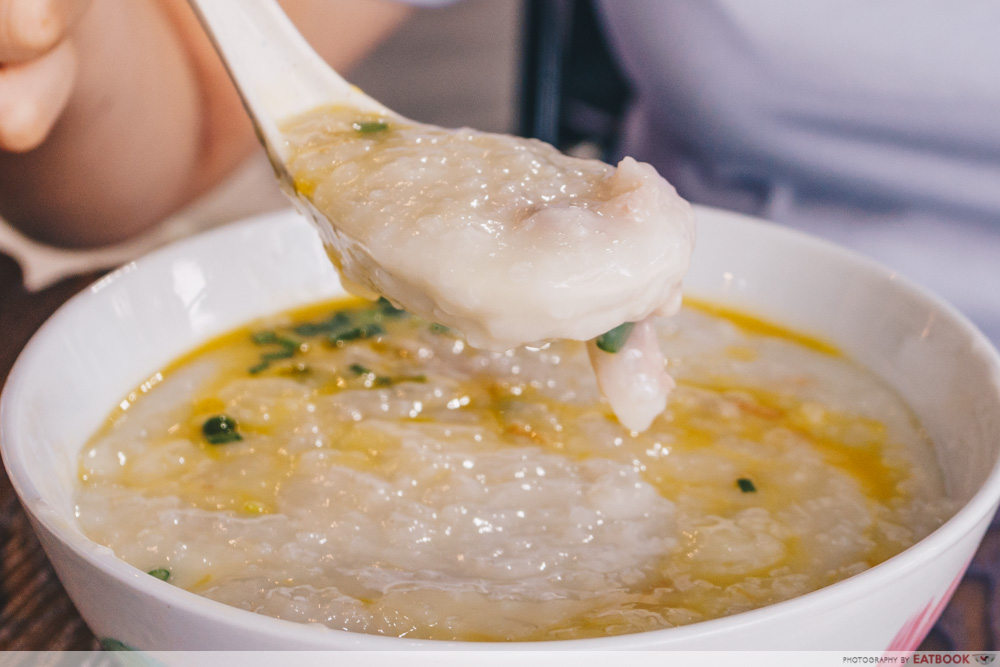 The congee was incredibly thick, with a creamy, starch-like consistency that's true to a traditional Cantonese style porridge. However, I found that the flavour was rather bland, which did not complement its viscous texture.
I couldn't stop digging for the Iberico pork slices, which were tasty on their own, without requiring much seasoning. These tender slices of pork also retained a slight chew, providing some textural contrast against the starchy congee.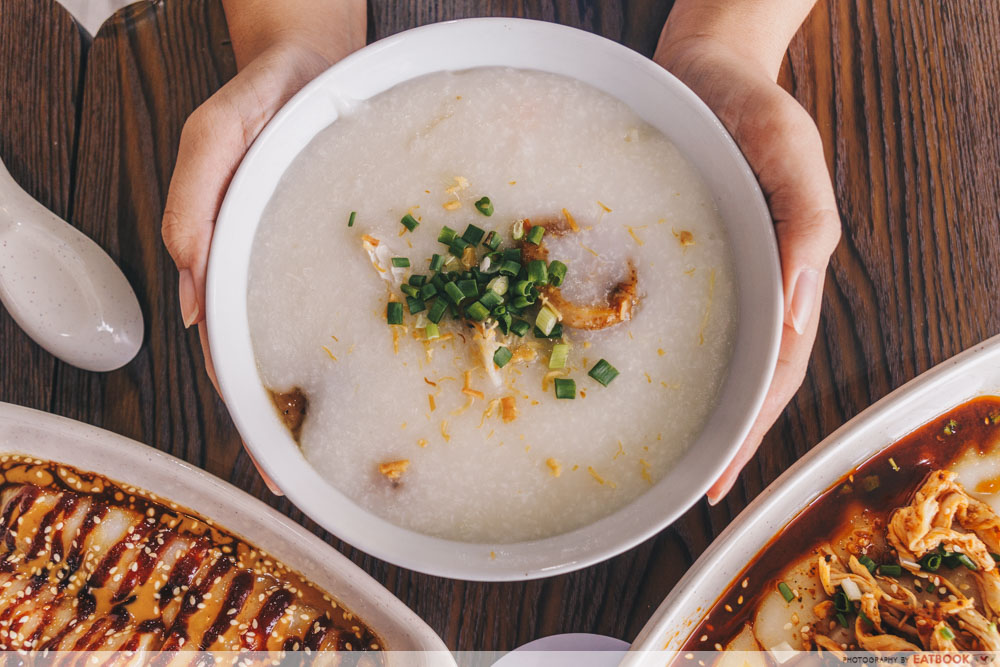 We paid $8 for their Seafood Abalone Congee, which might seem like a hefty price for a meal at the food court. However, this bowl of congee came chock full of ingredients, including prawns, fish, fish maw, and a whole baby abalone that made the price worth it.
The congee was similar in texture to the Iberico pork congee, except it's topped with slivers of ginger, which helped cut through the heaviness of the dish.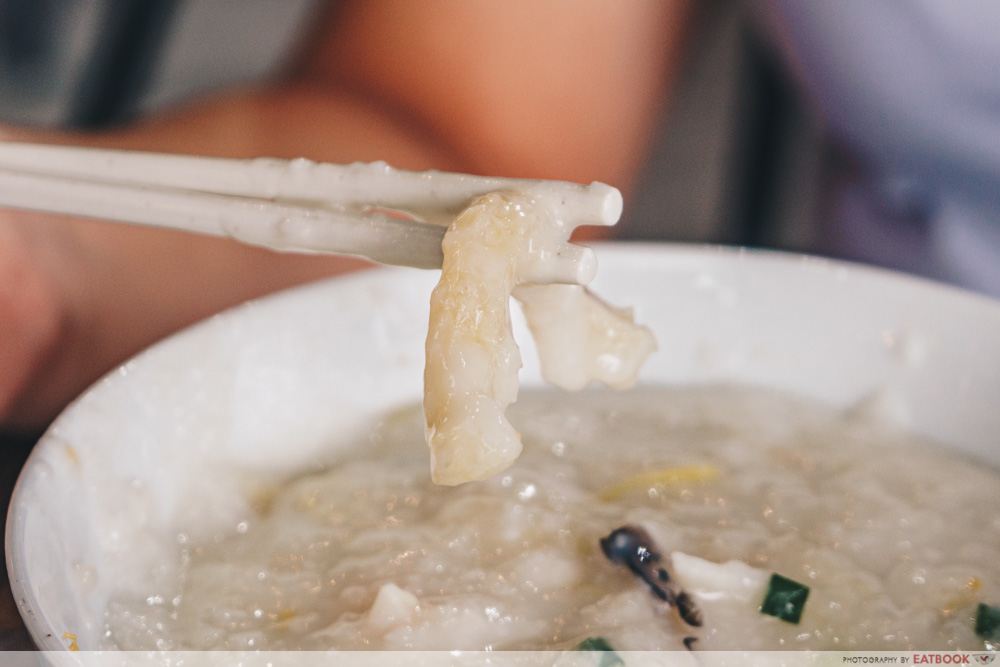 I was particularly interested by the addition of fish maw, as its spongy texture was addictive to chew on. These pieces of fish maw did not turn soggy, despite soaking up the congee.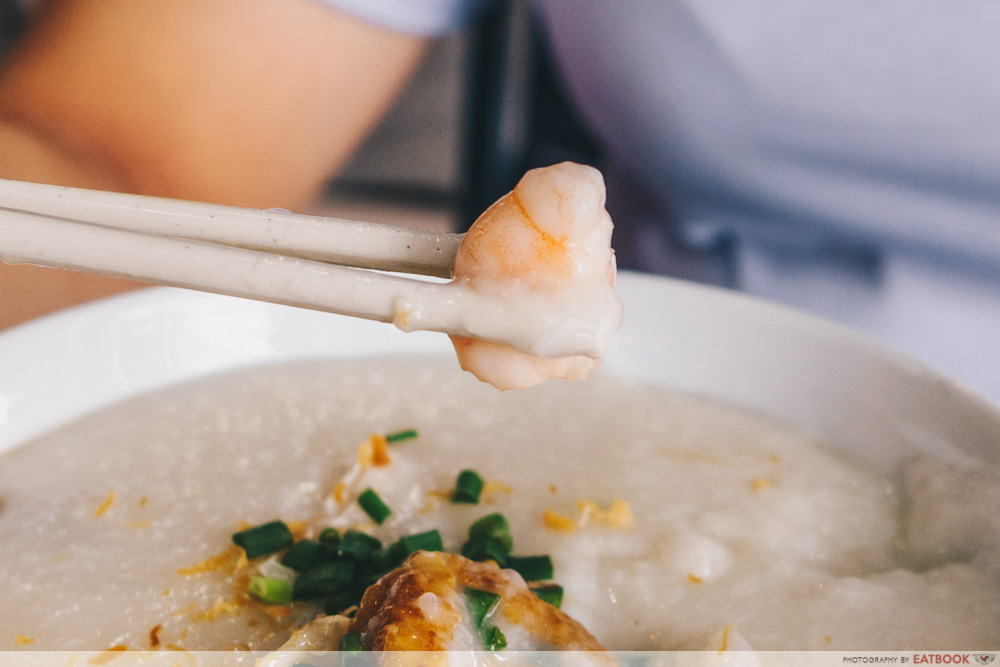 The prawns were fresh and had a good bite, though they were chopped too small for my liking.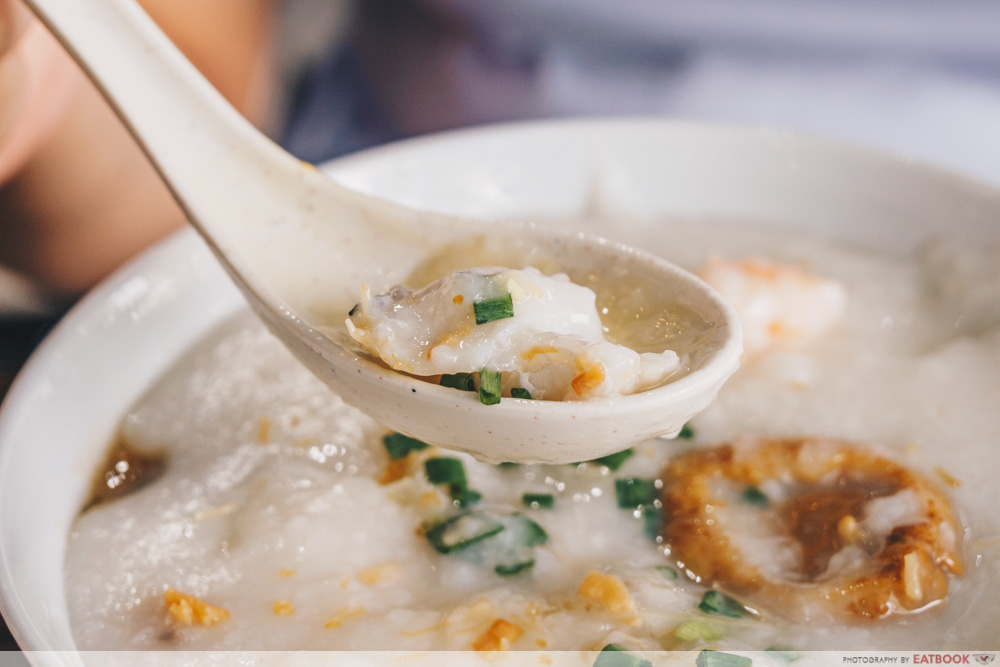 I was also disappointed by the fish, which sported a slightly fishy odour, and was flaky.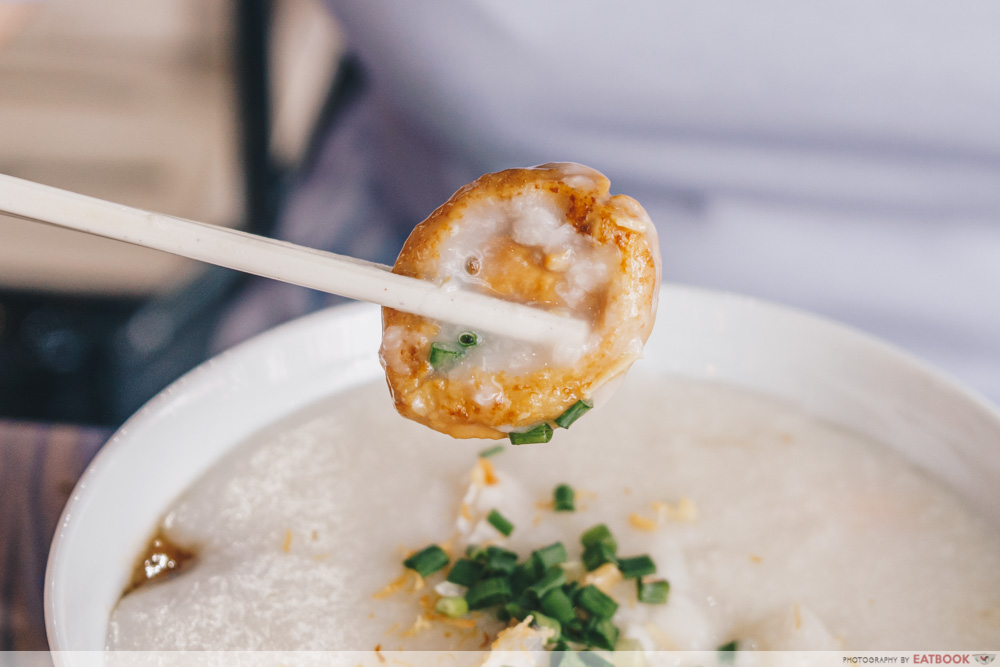 Meanwhile, the abalone was the star of the dish, lightly braised and bursting with flavour when I bit into it.
Moving on from the congee, we had to have their chee cheong fun, which are made fresh to order. Their signature Triple Sauce Rice Noodle Roll ($3.50) came dressed in stripes of peanut, sweet, and light soy sauces, then peppered with sesame seeds. 
While I expected a savoury-sweet profile, this dish leaned towards the sweeter side. The peanut sauce came through strongly, overwhelming the other flavours. Maybe they could consider changing the ratio of sauces for more balance.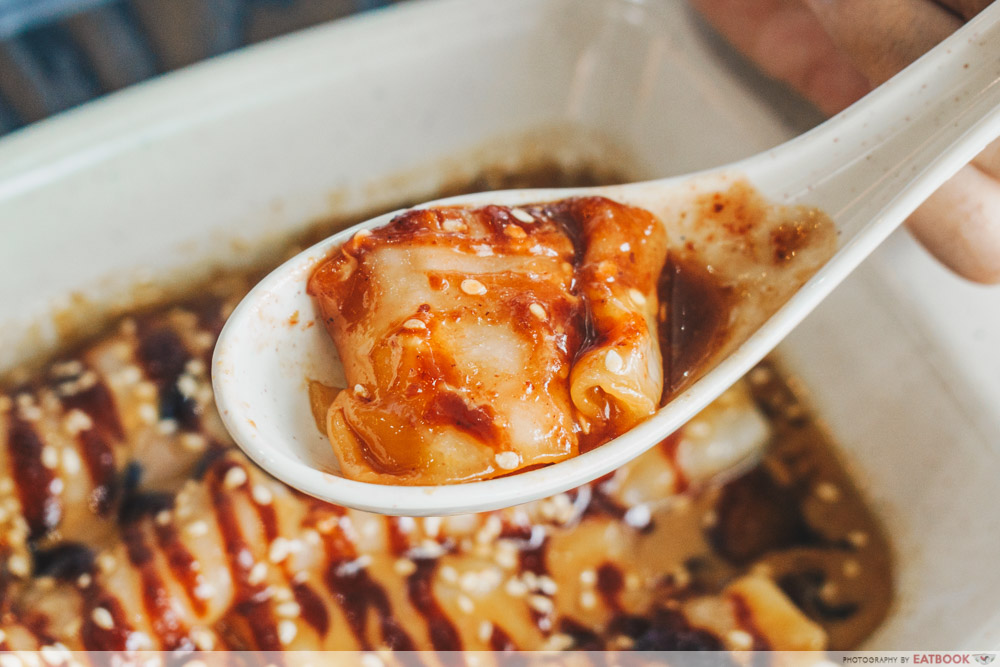 The rice rolls were delightfully silky, a good vehicle for the sauces.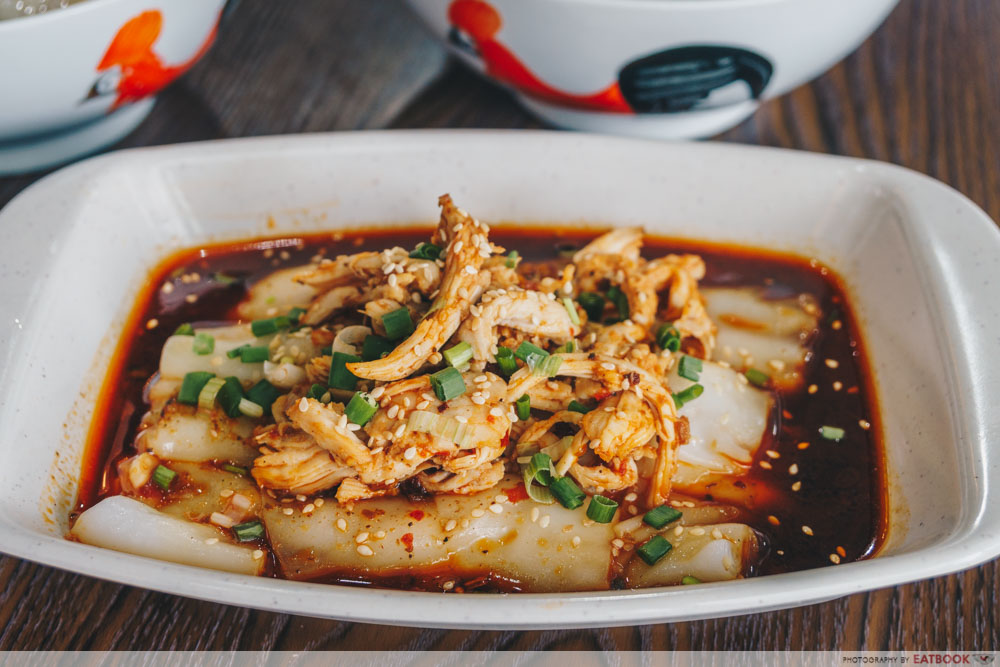 Mala is a trend that doesn't seem to die out amongst Singaporeans. With that, Happy Congee has come up with their own Mala Chicken Shredded Rice Noodle Roll ($5) to be on-trend. The dish sees their house-made rice rolls drenched in mala sauce, with shredded chicken that's also cooked in the same sauce.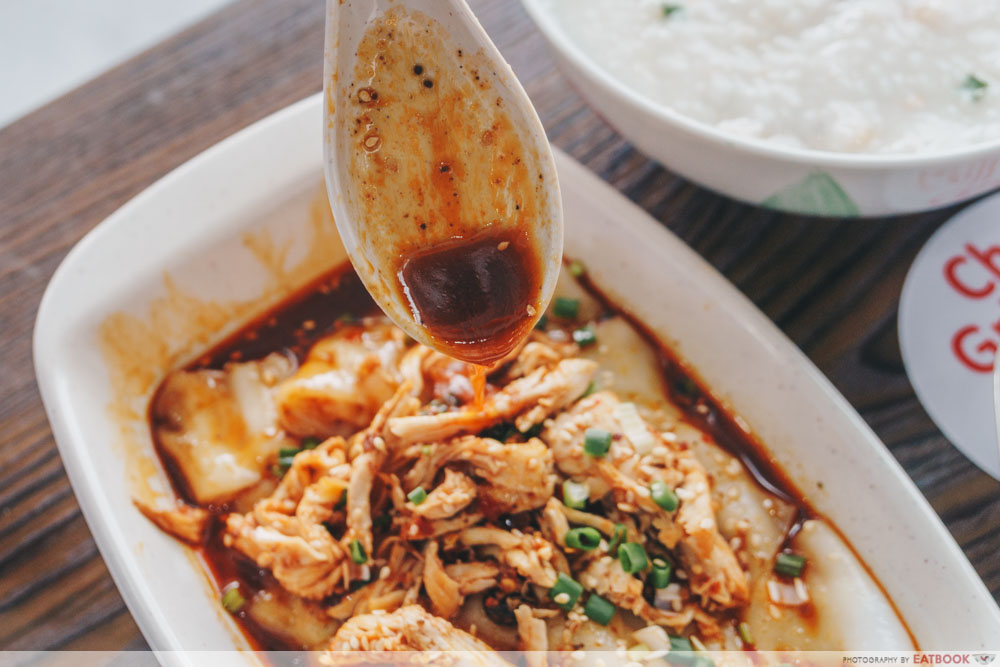 I felt that the mala sauce complemented the rice noodles better as it was lighter in consistency. At first bite, it wasn't punchy, but flavourful with distinct notes of Sichuan peppercorn. The spice came belatedly and left a numbing sensation that lingered even after we were done with our meal.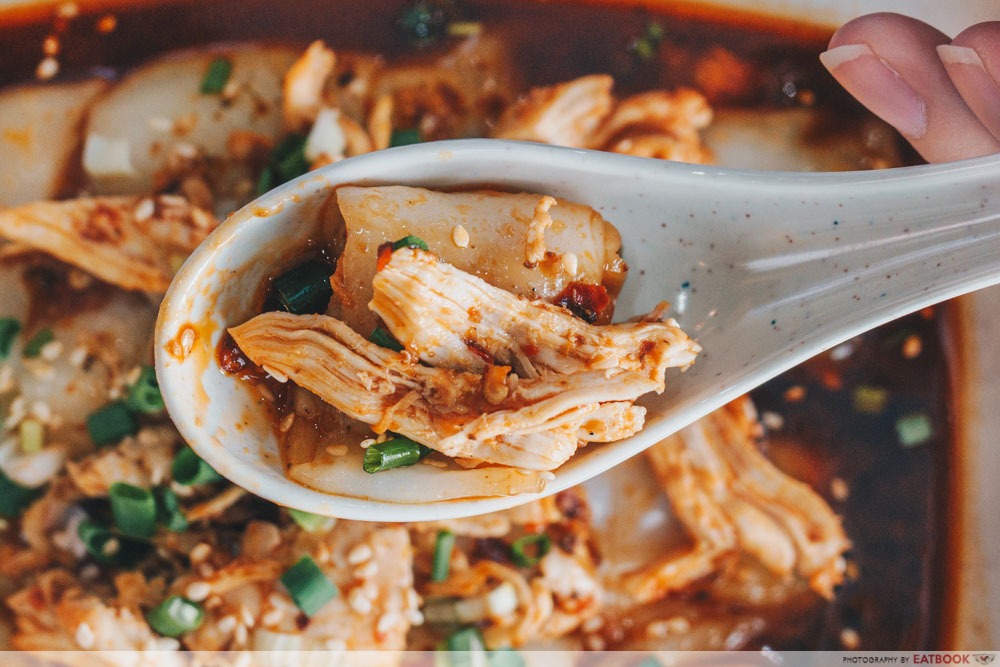 I found the shredded chicken a tad bit dry, but it made the dish more substantial, so this plate of chee cheong fun could even pass off as a main.
Ambience at Happy Congee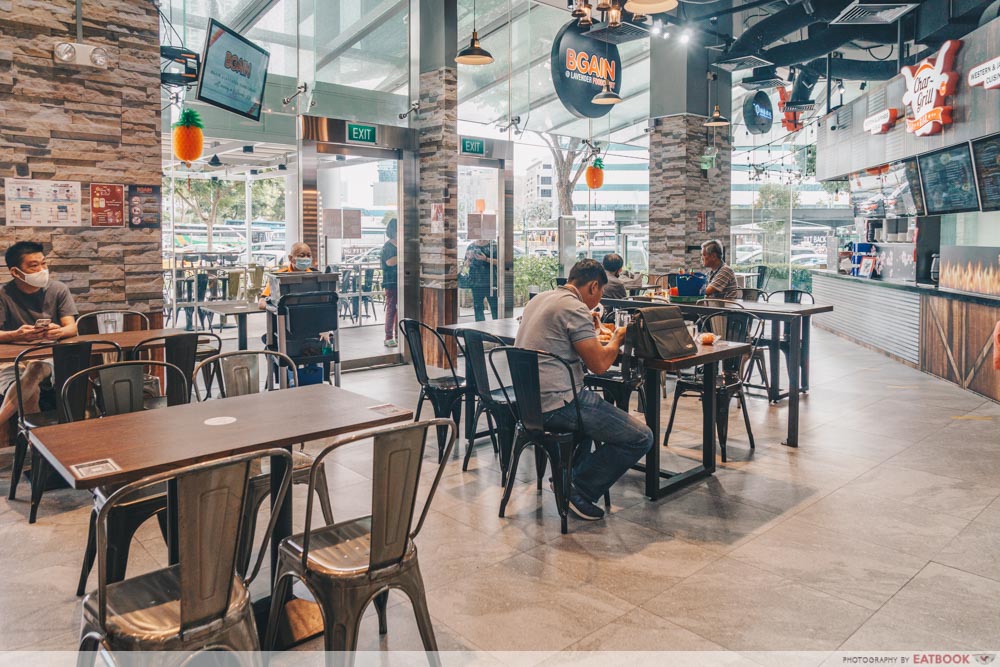 Happy Congee is located at the food court inside ARC 380. The space is air-conditioned, great if you're constantly finding ways to hide from Singapore's heat. Sadly, we found the indoor seating area rather cramped, without many seats available too. If you're okay with the heat, we recommend sitting outdoors instead.
Location-wise, it's fairly convenient, requiring a seven-minute walk from the Bendemeer MRT Station.
The verdict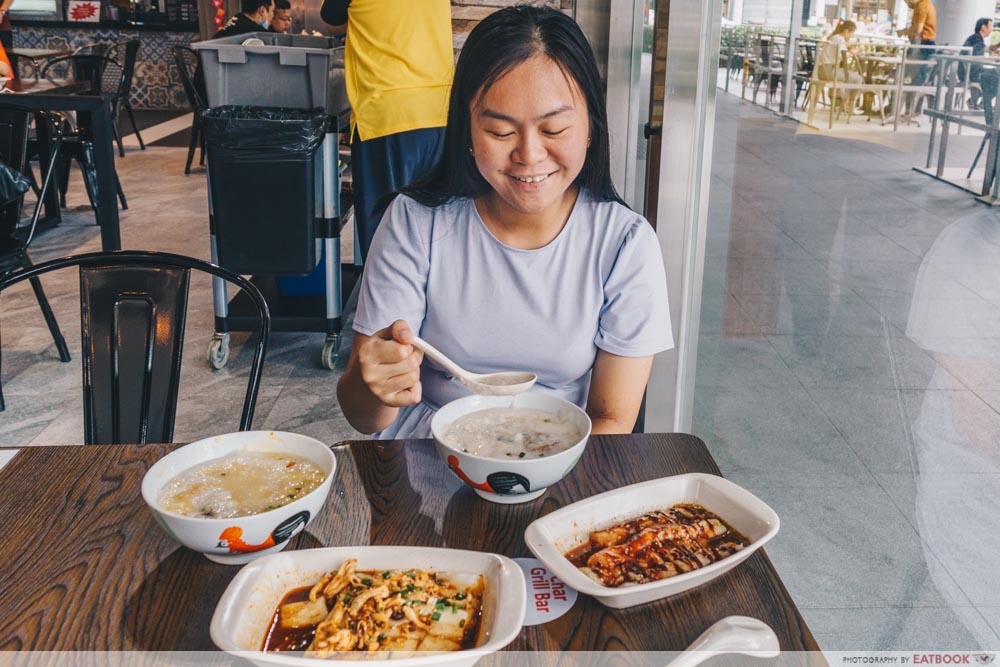 Though they nailed the texture of the congee and chee cheong fun, I felt that Happy Congee lacked on the flavour front. This isn't a problem for the stall, which, having just opened last Christmas, brims with so much potential. A few tweaks here and there, and they'll be on their way to improved recipes and more happy customers. With that, be sure to check out Happy Congee if you're in the area.
For more Hong Kong style eats, check out our dim sum guide that caters to all budgets. Alternatively, if you're in the area, check out our For The People review for unique pastries in a Muji-esque cafe.
Address: 380 Jalan Besar, ARC 380, Singapore 209000
Opening hours: Daily 8:30am to 2:30pm, 5:30pm to 8:30pm
Happy Congee is not a halal-certified eatery.
15 Dim Sum Places In Singapore From $1.30, Including Halal Dim Sum And Buffets
Photos taken by Syamira Rohaizad.
This is an independent review by Eatbook.sg.
Happy Congee Review: Handmade Mala Chee Cheong Fun And Abalone Congee At Bendemeer
Summary
Pros
– Congee was thick
– Iberico pork was tasty
– Rice rolls were silky smooth
Cons
– Flavour of congee was bland
– Triple sauces didn't complement the rice roll well
Recommended dishes: Black Iberico Pork Congee ($5), Mala Chicken Shredded Rice Noodle Roll ($5) 
Opening hours: Daily 8:30am to 2:30pm, 5:30pm to 8:30pm
Address: 380 Jalan Besar, ARC 380, Singapore 209000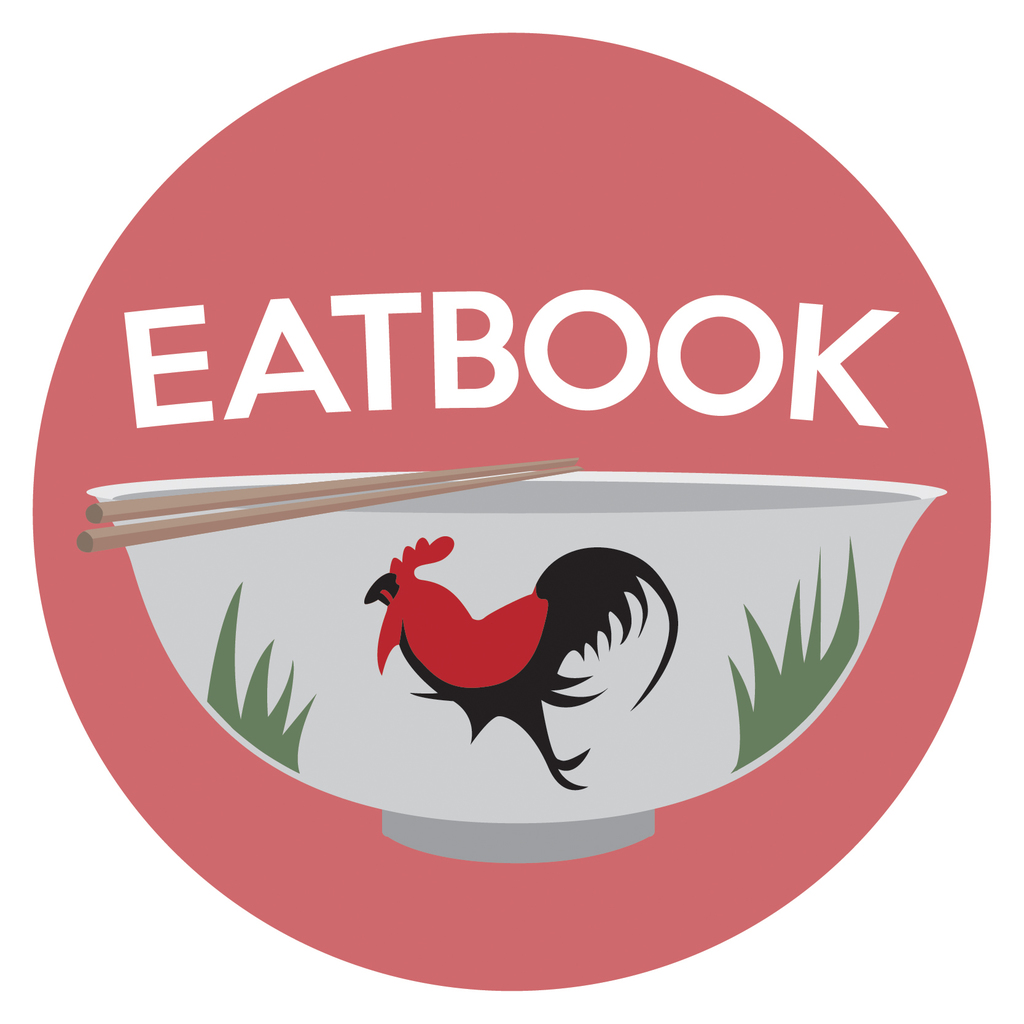 Drop us your email so you won't miss the latest news.