---
Famous curry rice
---
Since young, I have never been a fan of rice because of its tastelessness, and none of the Chinese superstitions about not finishing my bowl of rice could scare me into eating it. The flavour-packed Hainanese curry rice, however, is my only exception. Mostly known for the generous curry gravy poured over a messy plate of goodness, this list of famous curry rice places will leave your belly and wallet happy.
---
1. Gorilla Curry
---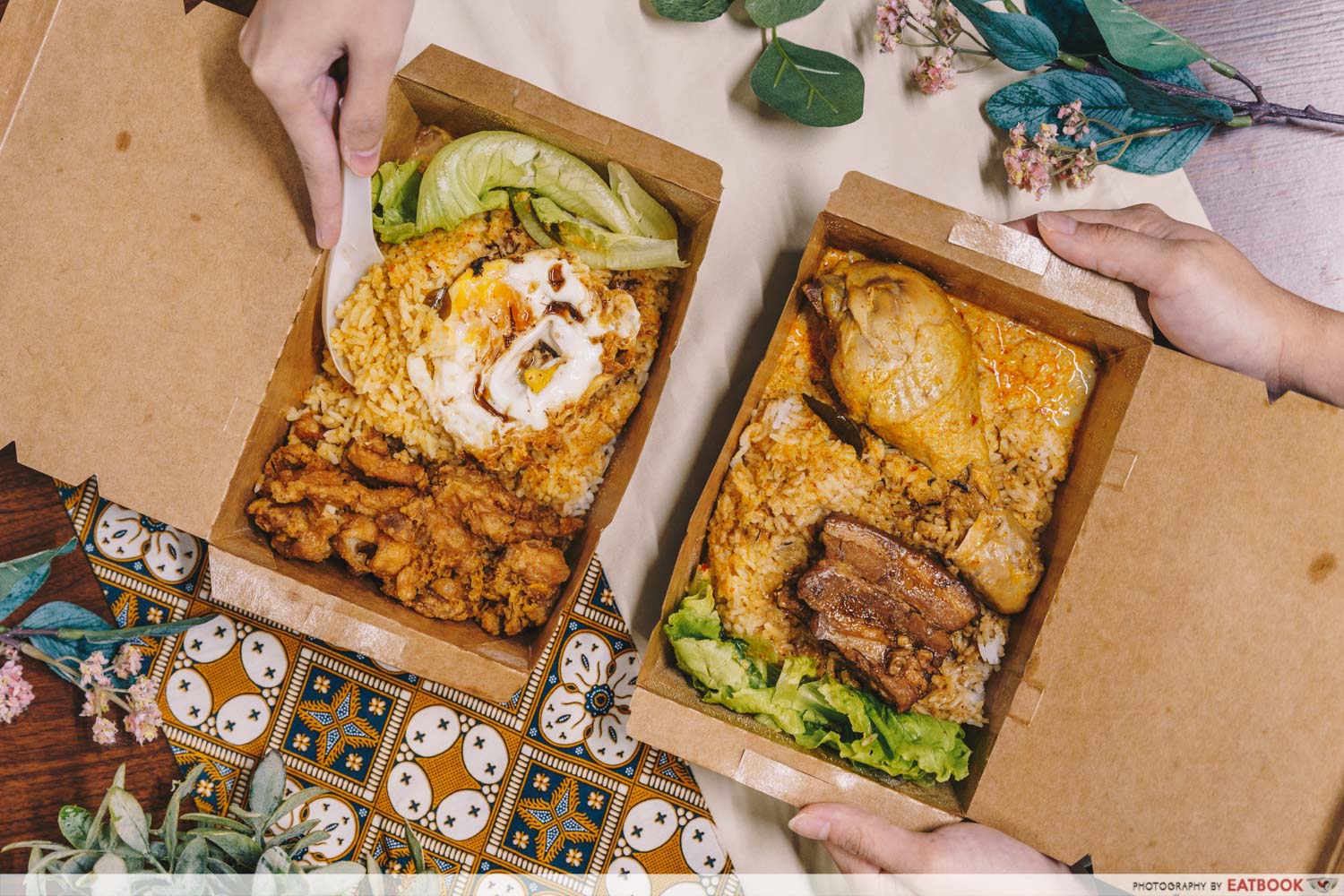 Three generations run Gorilla Curry, a coffeeshop stall in Bukit Batok with a curry recipe that was created more than 40 years ago. More than 10 different ingredients go into the making of this curry, which is fragrant without being overly lemak and jelak. Every portion of rice comes with generous lashings of curry and drizzles of braised gravy, both of which are freshly made every day.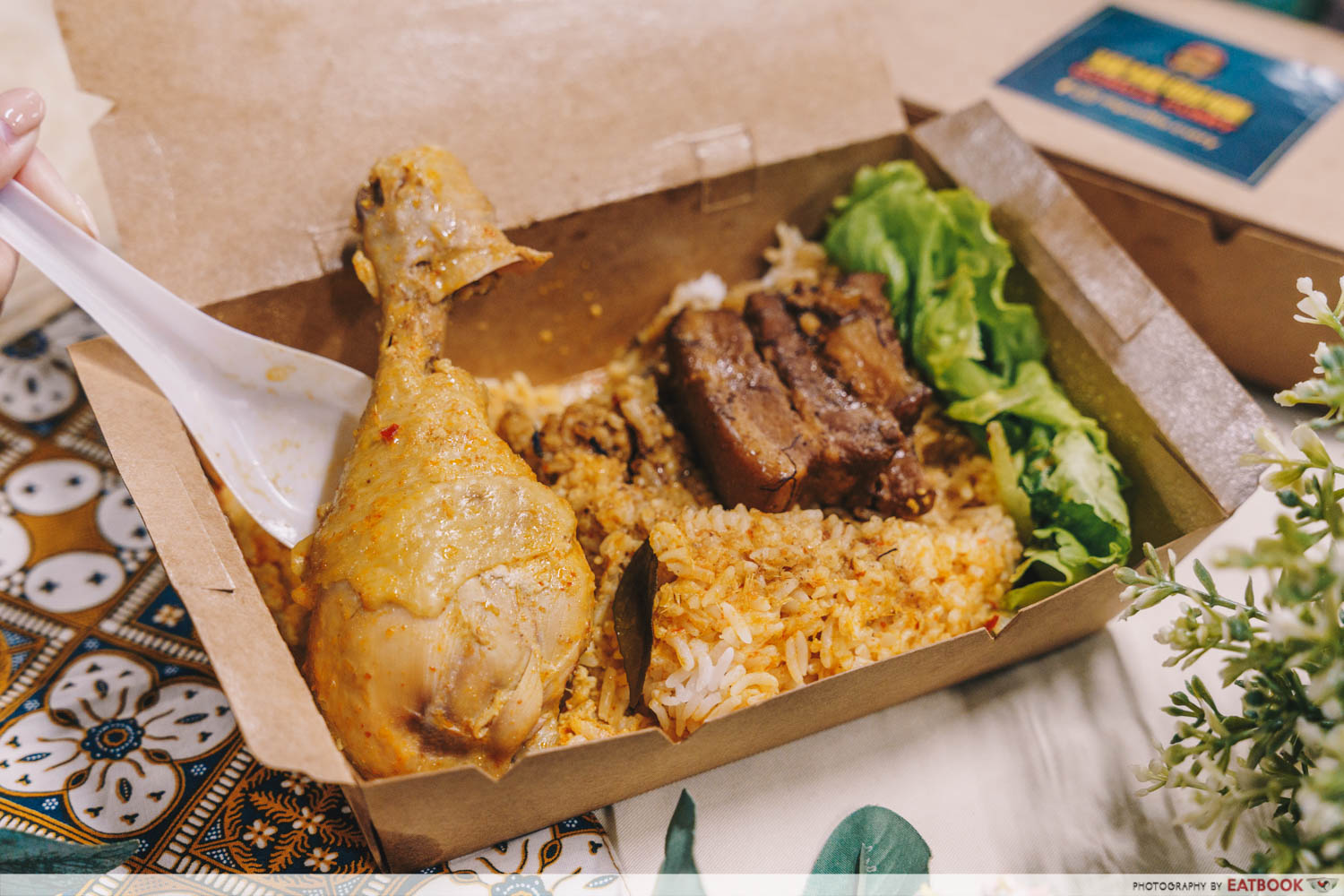 Proteins-wise, take your pick from double-fried Crispy Cutlet ($4), Gorilla Curry Chicken ($4.50) that features a whole chicken drumstick, or double it up with melt-in-your-mouth braised pork belly in the Signature Double Delights Set Meal ($6). There's even a Salted Egg Cutlet Curry Rice ($6) if you're after something different. Each of these comes with white rice, and fresh lettuce. What's more, they're right beside Changi Nasi Lemak so you can even add their Legendary Changi Chilli, or nasi lemak ingredients, for an extra special meal! 
Address: 323 Bukit Batok Street 33, Singapore 650323
Opening hours: Tues-Sun 8:30am to 3pm
Website
---
2. Eleven Fingers (Eu Kee) Scissors Curry Rice
---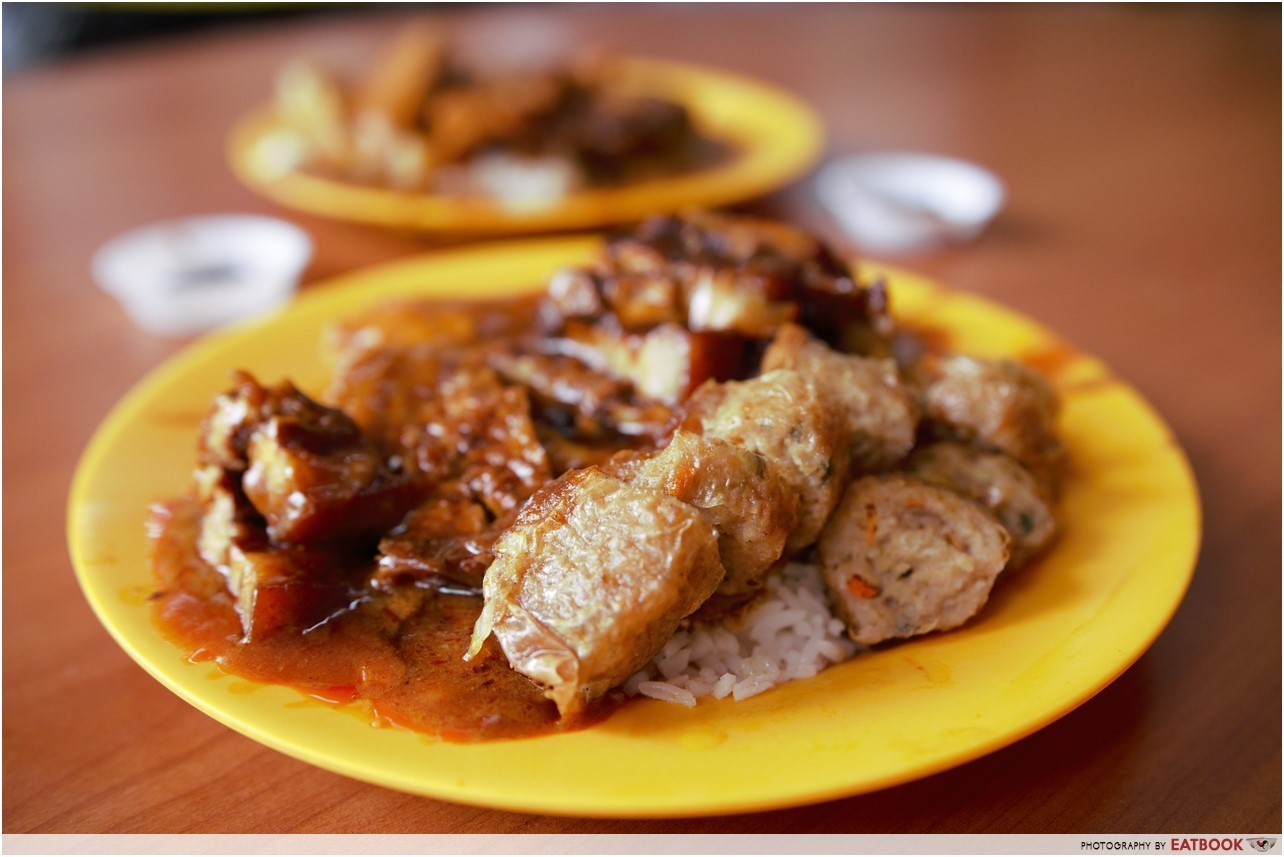 Eleven Finger Scissors Curry Rice is tucked away at the back of a kopitiam at Queen Street but despite its location, the stall can be easily spotted by the long queue snaking out during lunchtime. Along with four different types of curry sauce, a plate of rice with chicken wings, pork cutlet, and braised cabbage would cost you about $4. Besides the curry sauces, they also have a simmering pot of braising sauce if you'd like an even more intense and savoury kick to your dish.
Address: Blk 269B Queen Street, #01-235, Rong Liang Ge Eating House, Singapore 180269
Opening hours: Daily 10:30am to 7pm
---
3. Hong Seng Curry Rice (Redhill)
---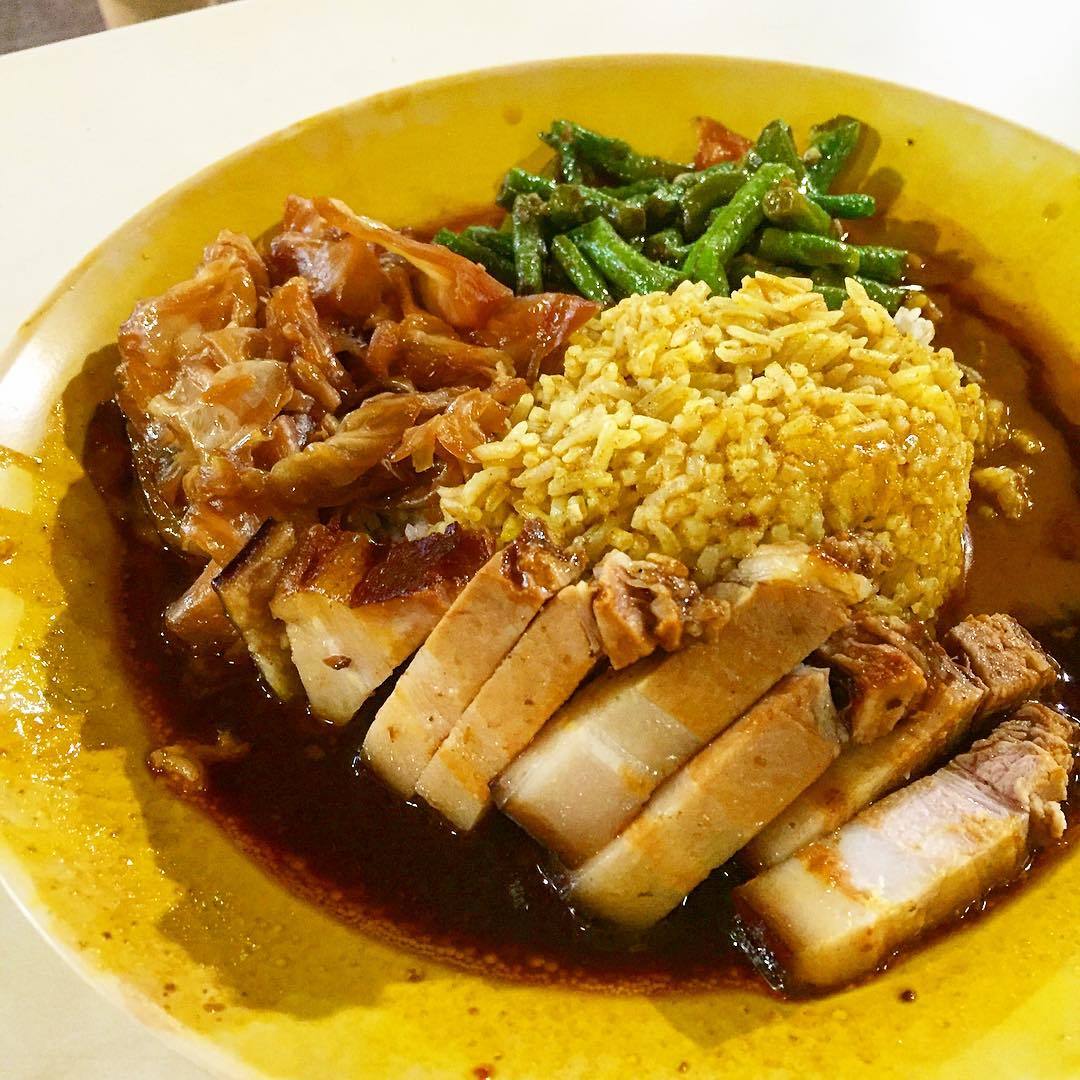 Image credit: @kianzoid
Students at Singapore Management University will probably be familiar with the name Hong Seng Curry Rice, but not many may know of the family's original stall in Redhill Food Centre, and their third branch in Bedok. As with other curry rice stalls, they have an extensive spread of dishes for you to choose from, including Dong Po Pork ($2.50) and the ever-popular Cabbage ($0.70).
Website
Full list of locations
---
4. Scissors Cut Curry Rice
---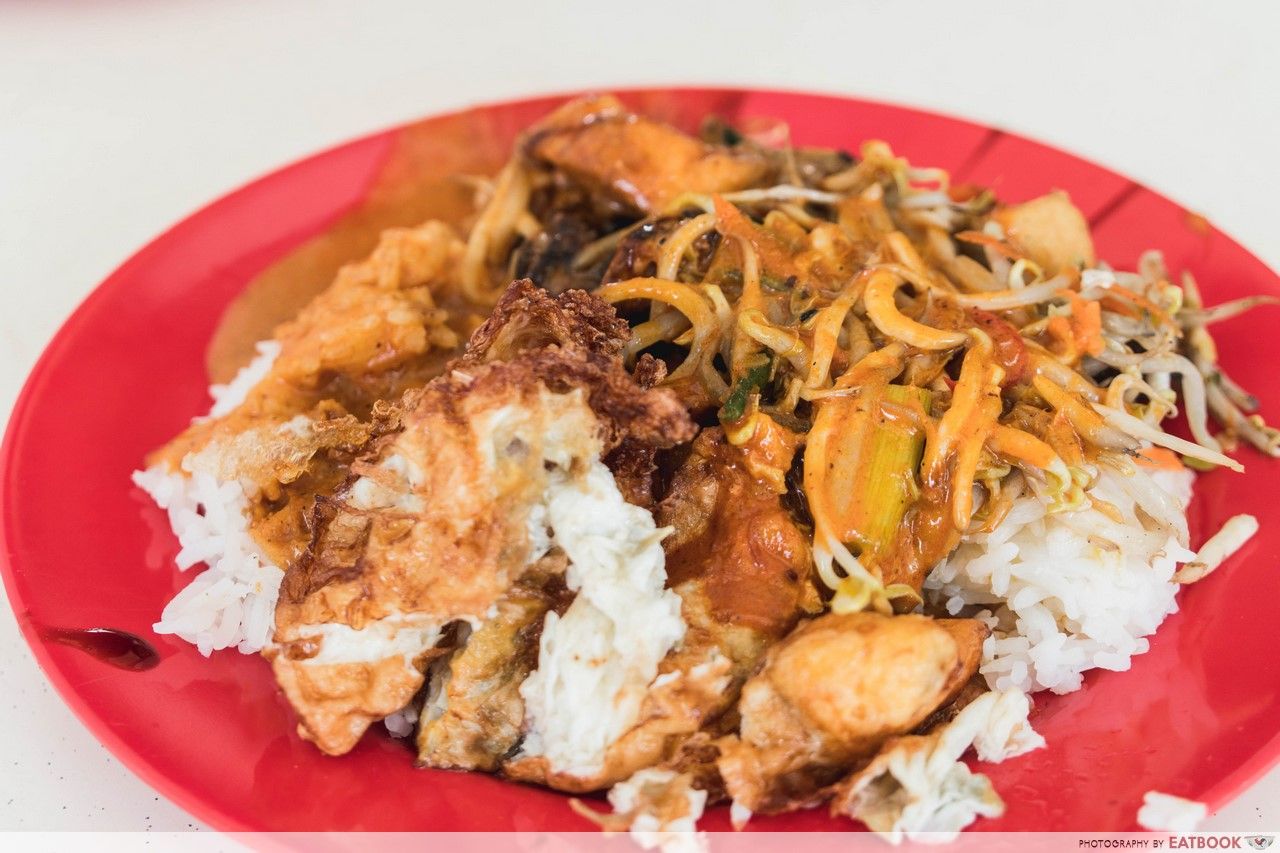 With all the hype surrounding this famous brand, Scissors Cut Curry Rice is no stranger to curry lovers. Found in Jalan Besar, the stall serves plates of rice coated with thick, sticky curry that is made of four different sauces─chilli sauce, chilli oil, braised gravy, and curry. Heaps of ingredients including fried fish, pork cutlet, and braised pork belly are displayed at the storefront. You're charged per ingredient that you choose here, and you know the curry is good when there's signs telling you it's not for sale separately.
Check out our full review of Scissors Cut Curry Rice!
Address: 229 Jalan Besar, Singapore 208905
Opening hours: Daily 11am to 3am
Tel: 9826 1464
---
5. Loo's Hainanese Curry Rice
---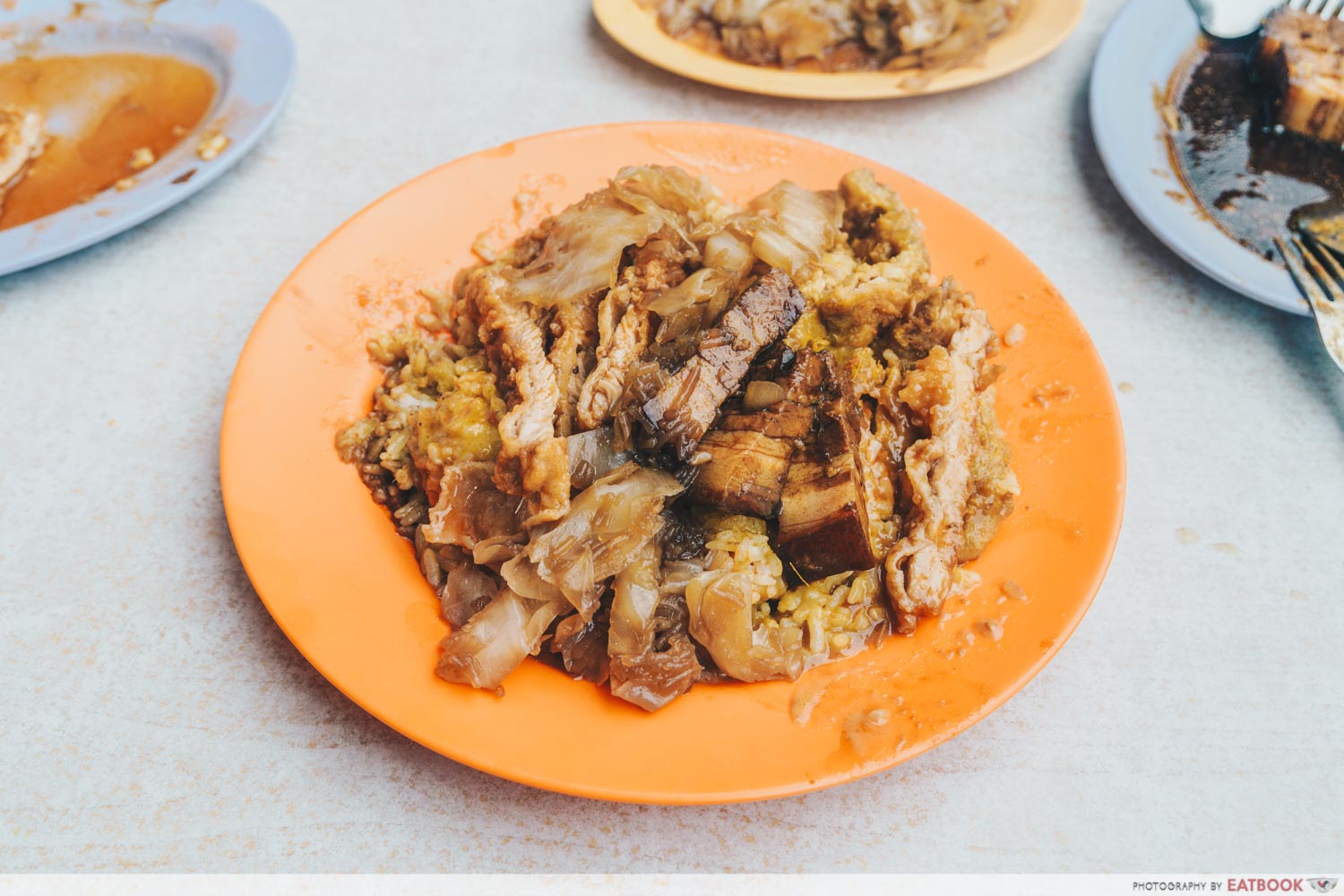 If you're a Tiong Bahru regular, you'll recognise Loo's Hainanese Curry Rice for the perpetual long queues at the corner shop that sometimes spill onto the narrow road. They've been in business since 1946, making the same traditional Hainanese curry for the past 75 years. Each batch of curry here takes three days to prepare! If you go for the basic Chap Chye ($2) and Pork Belly ($2), you'll be able to eat on a budget, but pick the seafood items, and your bill will inevitably go up. It's worth it, though, because their seafood is fresh, and well-done.
Check out our full review of Loo's Hainanese Curry Rice.
Address: 71 Seng Poh Road, #01-49, Singapore 160071
Opening hours: Fri-Wed 8am to 2:45pm
Tel: 6225 3762
Loo's Hainanese Curry Rice Review: Famous 70-Year-Old Hainanese Curry Rice At Tiong Bahru
---
6. Yuguo Curry Rice 
---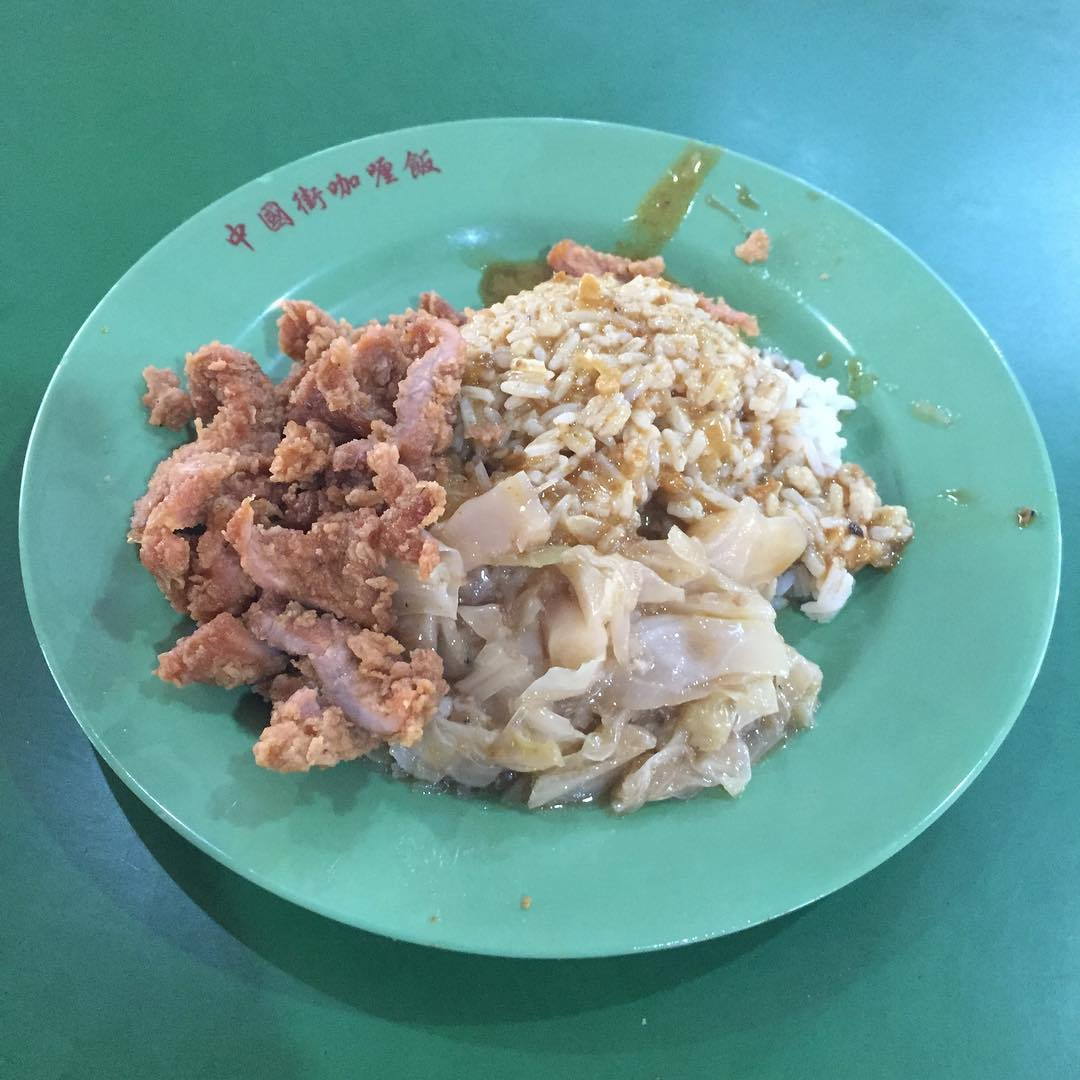 Image credit: @foodynatured
Besides the many impressive list of stalls that received the Bib Gourmand award in ABC Brickworks Market Food Centre, another reason to visit the hawker centre would be for the cheap and good Yuguo Curry Rice. With a large variety of ingredients, you can get a hearty meal of vegetable, egg, and meat at $4. You can also help yourself to free egg-drop soup to complete your meal!
Address: 6 Jalan Bukit Merah, #01-138, ABC Brickworks Market Food Centre, Singapore 150006
Opening hours: Daily 10:30am to 8:30pm
---
7. Beo Crescent Curry Rice
---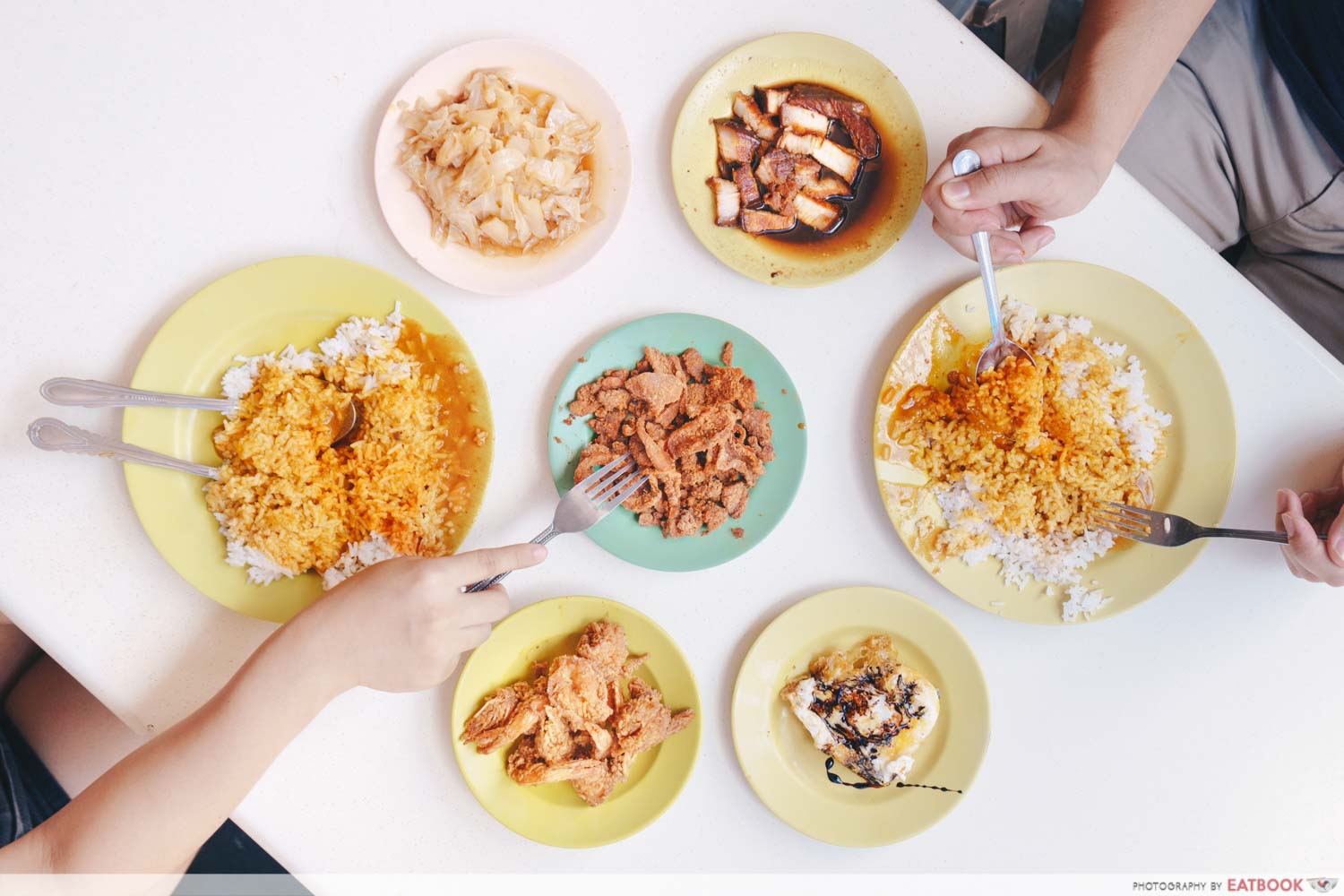 Beo Crescent Curry Stall is the unofficial name of this curry rice shop that has been around since 1990. The stall has no official name or signboard, so it's simply known by where it's at. They are popular for their twice-fried Crispy Pork ($4), which is served in shatteringly thin slices. Aside from your typical ingredients, the elderly owners also whip up giant pork balls, pork belly, and fried prawns on a daily basis.
Read our full review of No Name Hainanese Curry Rice!
Address: Blk 40 Beo Crescent, #01-10, Ho Ping Hng Coffeeshop, Singapore 160040
Opening hours: Thur-Tue 7am to 3pm
---
8. An Lock Curry Rice
---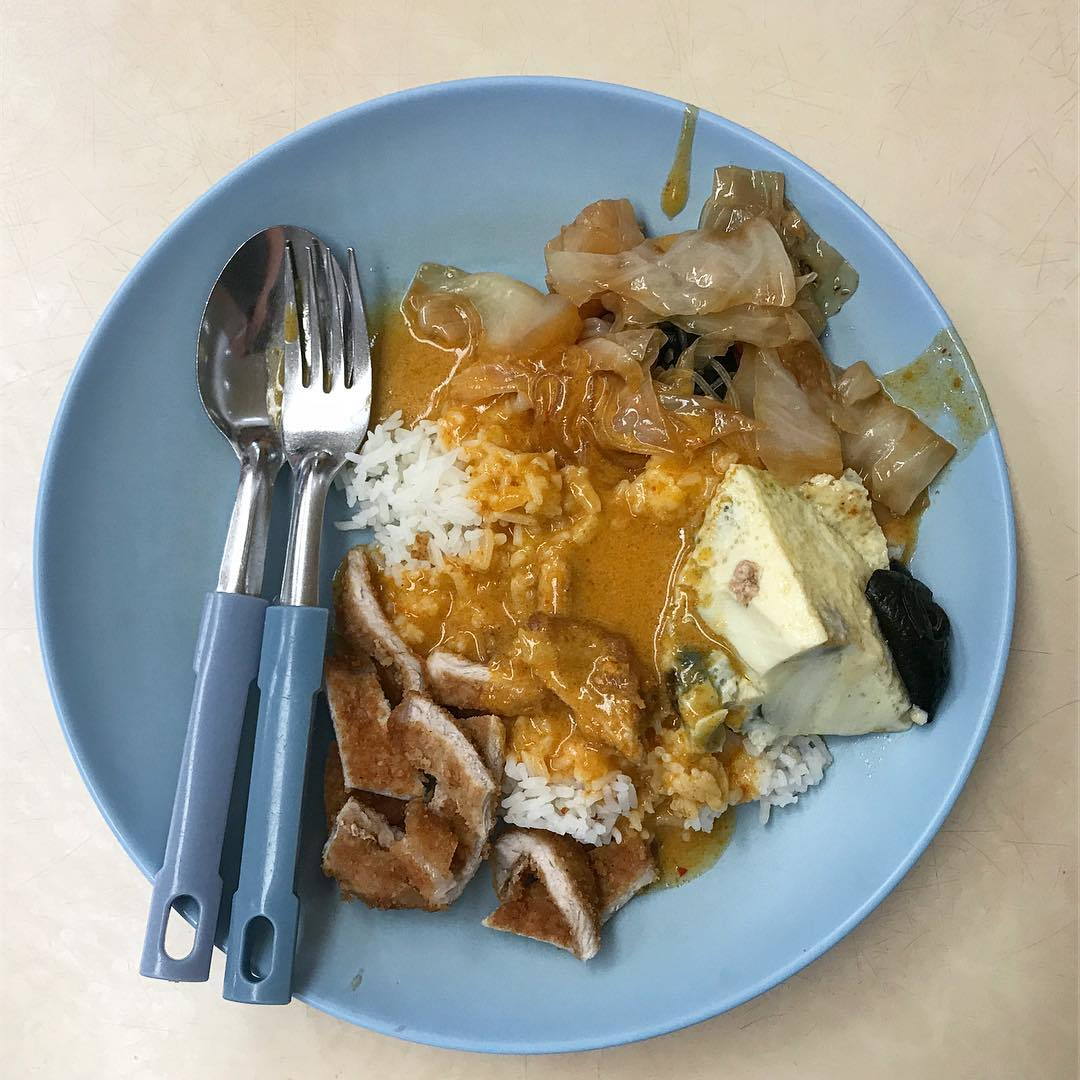 Image credit: @chutoro
Another curry rice stall that is constantly spotted with an insanely long queue is An Lock Curry Rice, which is located in North Bridge Road Market Food Centre. Among the many curry stalls in Singapore, An Lock Curry Rice is probably one of the most affordable places to go to. For a usual plate of curry rice with one meat and one vegetable side, you will not be paying more than $3.
Address: 861 North Bridge Road, #01-109, Singapore 198783
Opening hours: Daily 8am to 5pm
---
9. Sin Chie Toke Huan
---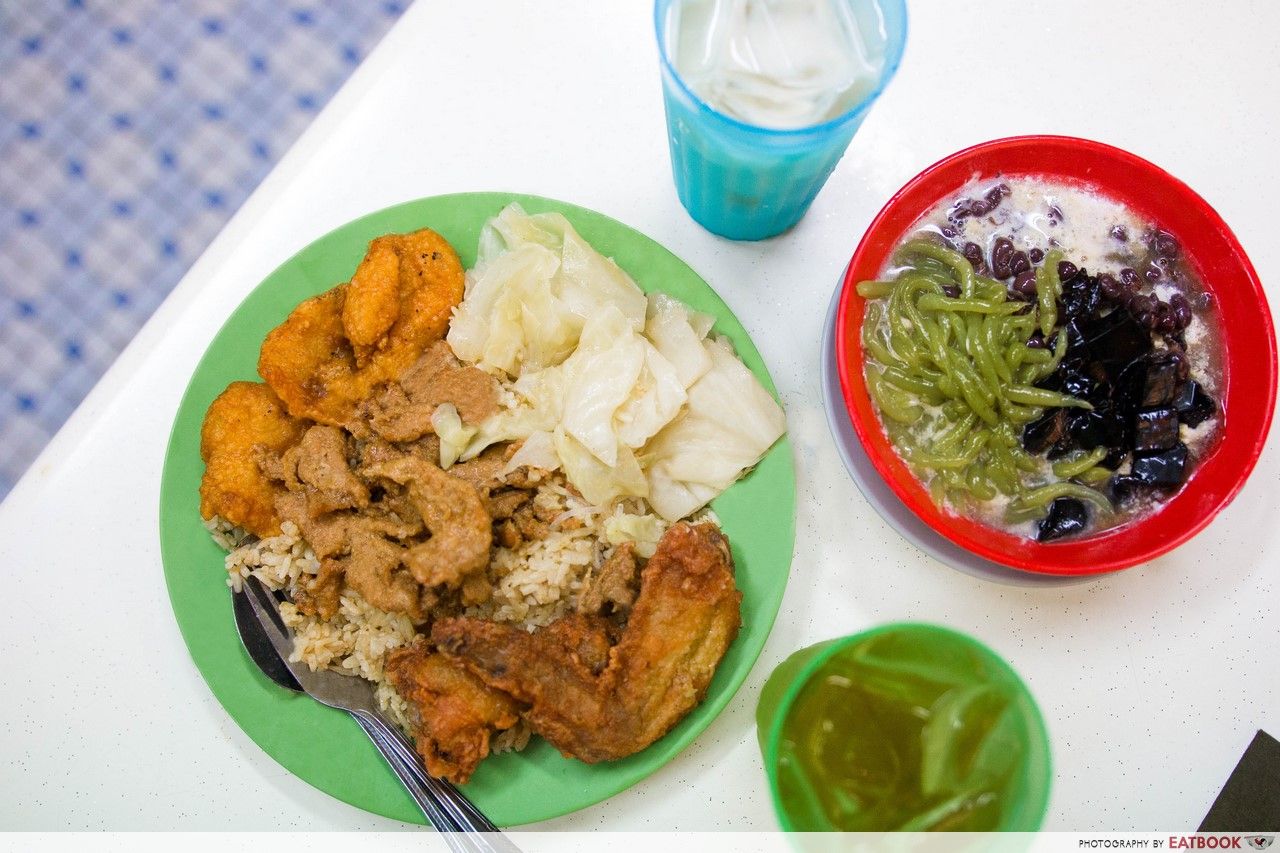 For those looking to satisfy your midnight craving for curry rice, Sin Chie Toke Huan at Upper Serangoon opens till 3:30am. Their Har Cheong Gai chicken wings are well-fried, and you get to choose between braised or fried pork to go with your supper. End the meal off with a bowl of Cendol ($2). Queues form pretty quickly the moment the stall opens, so be prepared to wait a little before you get your hands on the curry rice.
Check out our full review of Sin Chie Toke Huan!
Address: 1018 Upper Serangoon Road, Singapore 534756
Opening hours: Daily 5pm to 3:30pm
Tel: 9003 5337
---
10. Hai Nan Hometown Curry
---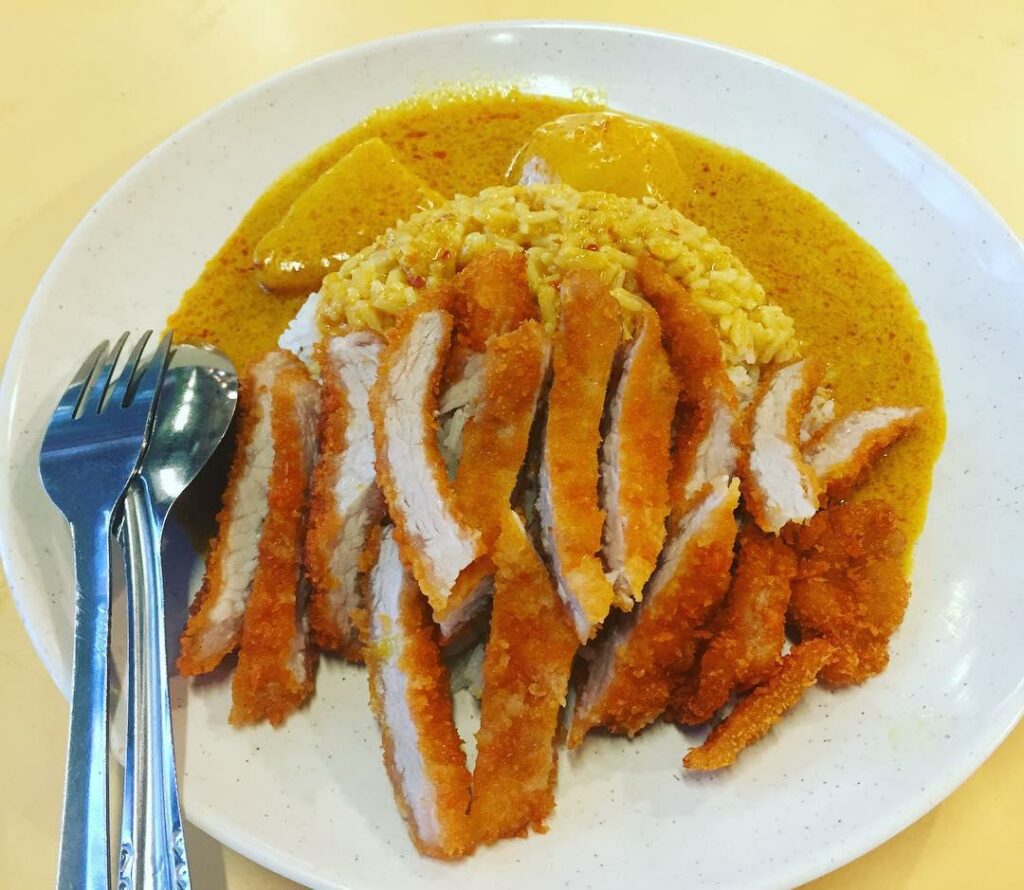 Image credit: @vincentzo73
A popular stall at Ghim Moh Market & Food Centre, Hai Nan Hometown Curry tops their rice with rich and slightly spicy chicken curry. Unlike the rest of the curry rice stalls on this list, you don't get to pick the sides you want with your curry rice. Their Hainan Curry Chicken Cutlet Rice ($5) comes as a fixed plate, with rice, curry, potatoes and plenty of chicken that's fried to order. If you prefer, you can also get just a bowl of Curry Chicken ($4.50/$6.50) to go with rice ($0.50/$0.80) or a loaf of fluffy bread ($1).
Website
Full list of locations
---
Guilty pleasure for all curry lovers
---
Nothing quite beats indulging in a plate of warm rice overflowing with a ladle full of curry gravy, and with this list of places for curry rice in Singapore, you can enjoy without having to worry about making a hole in your wallet! If curry rice is not quite your thing, we also have a list of cheap nasi lemak for you to enjoy a similarly hearty experience.
This post is brought to you by Gorilla Curry.
Photos taken by John Lery Villanueva.