No Name Hainanese curry rice stall in Tiong Bahru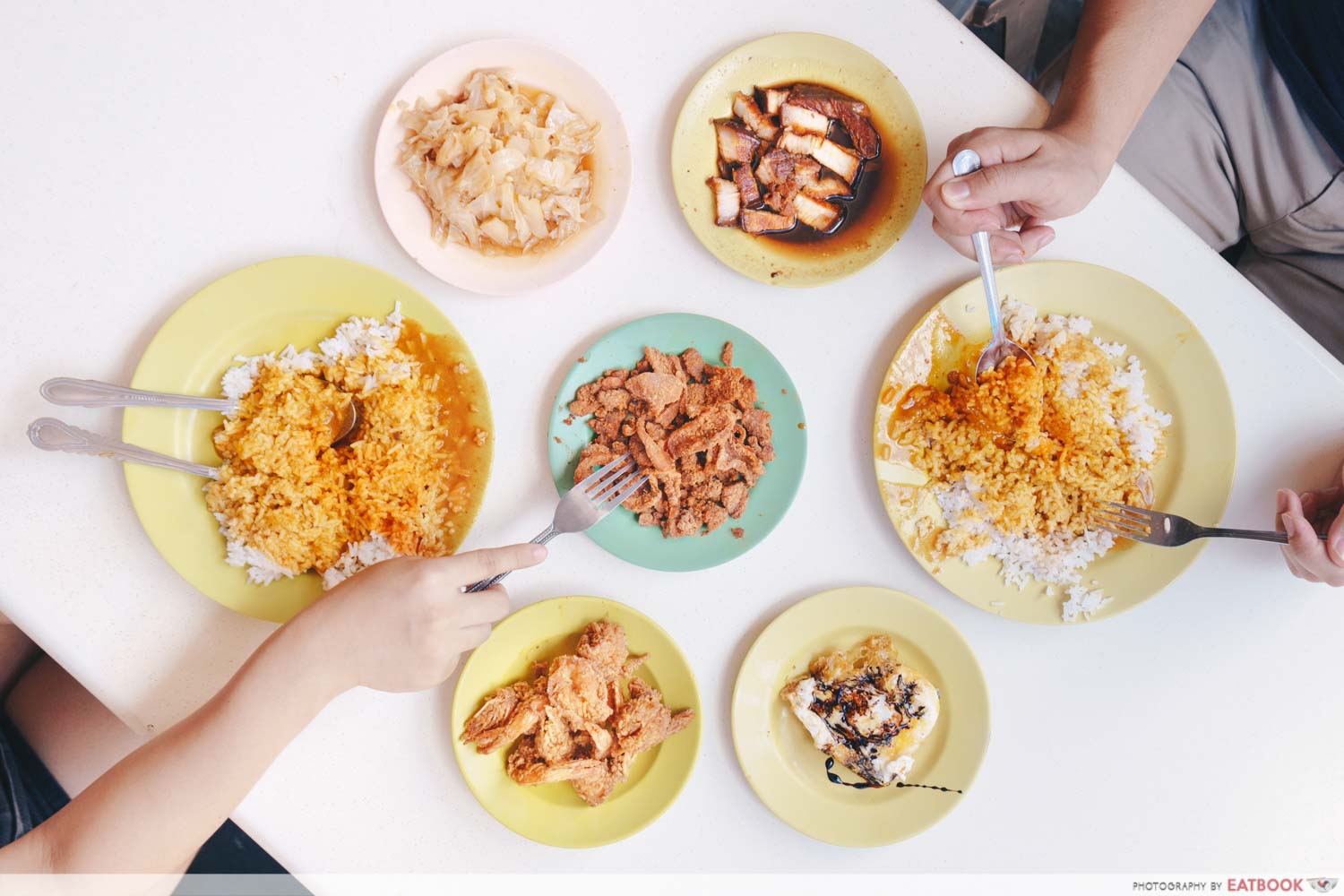 Nestled in a nondescript corner in one of Tiong Bahru's many coffee shops, this Hainanese curry rice stall is known to residents through different names: 'No Name Hainanese Curry Rice' or 'Beo Crescent Curry Rice'. Nameless as it is, the 32-year-old stall is well known even beyond the Tiong Bahru neighbourhood for its addictive biscuit-like crispy pork and ultra-shiok curry.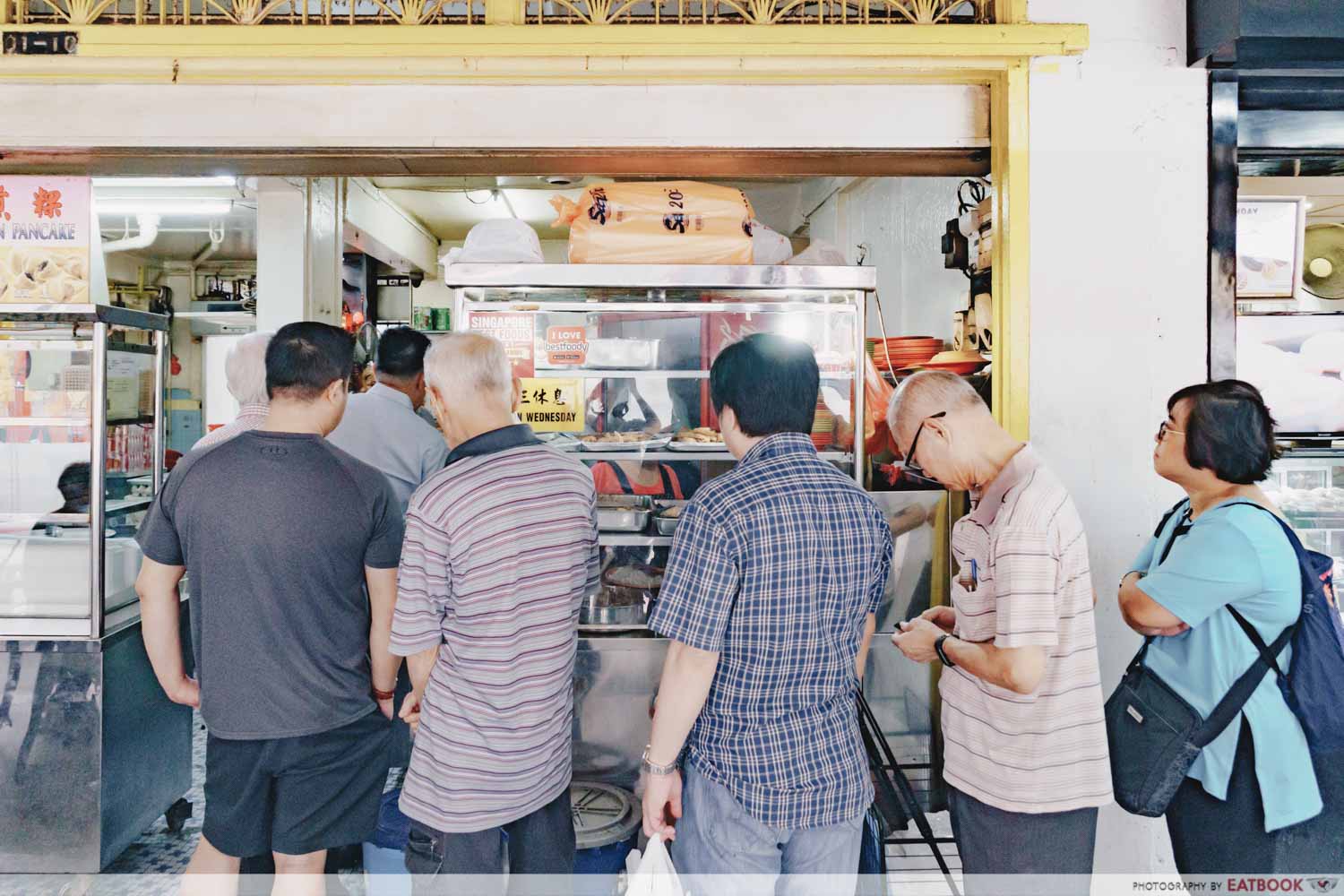 Despite the lack of signages and its relatively discreet location among the Beo Crescent blocks, No Name Hainanese Curry Rice never fails to have long queues even early in the morning. The traditional eatery operates with a cai png style of ordering and queues move quickly with the efficiency of experienced vendors. 
Food at No Name Hainanese Curry Rice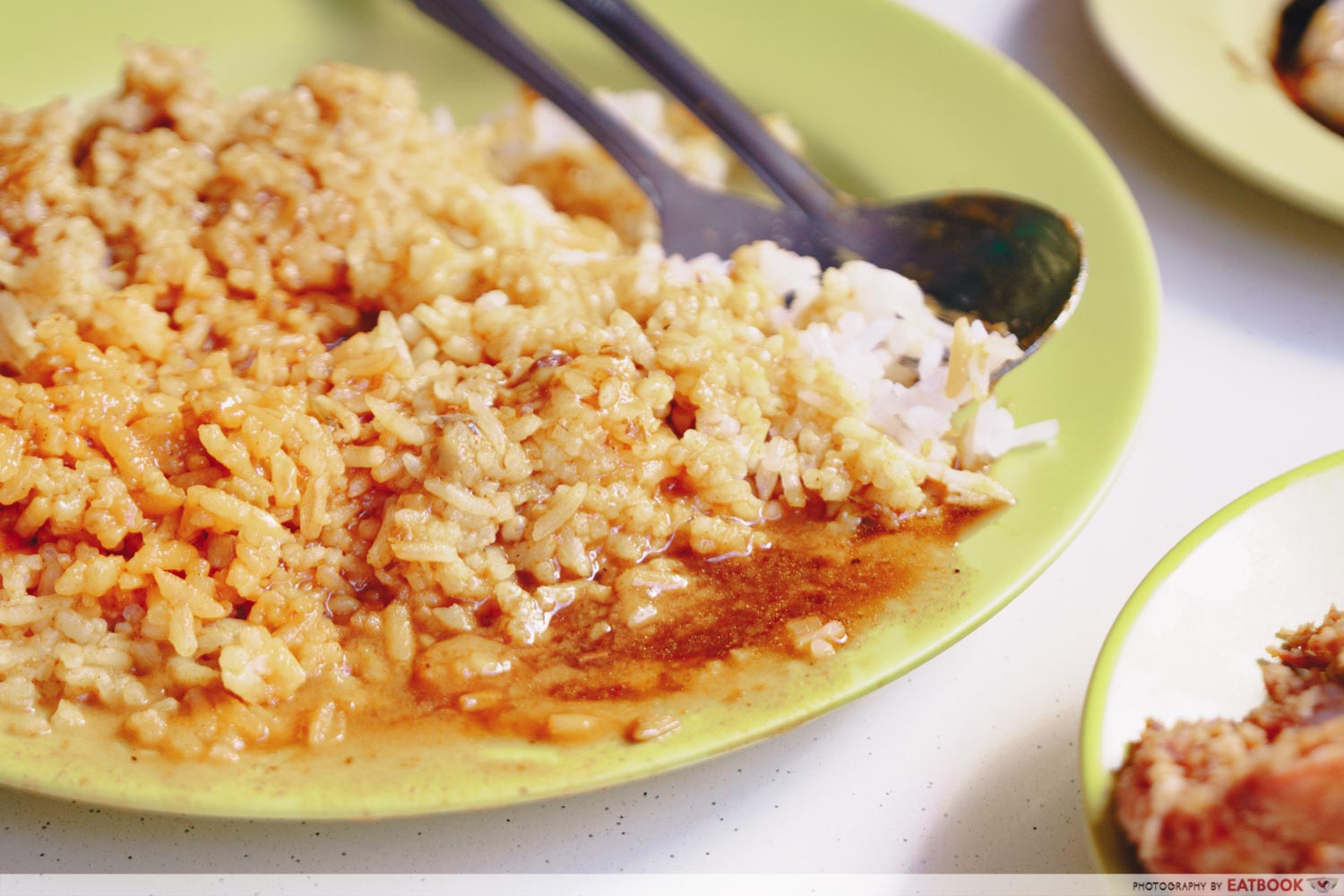 The Curry Rice is value for money at only $0.50 per plate. Each serving came with a generous mound of rice doused with a trio of sauces. It is a mix of their signature ayam curry, lor bak sauce, and chap chye gravy. Customers who prefer more of a spicy kick can also opt for the assam curry instead.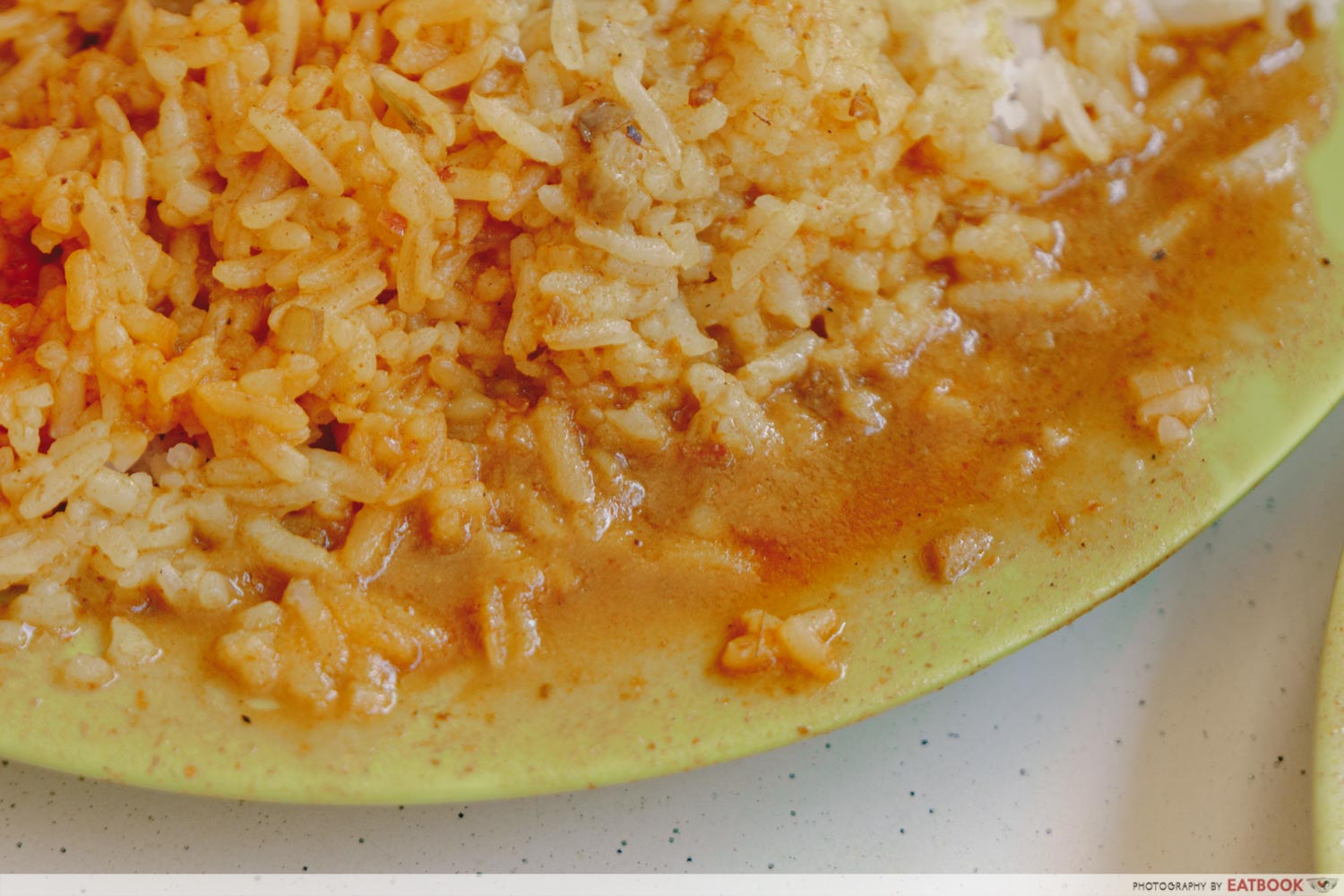 As with most traditional mixed Hainanese curry, I wasn't expecting as much heat as flavour. But this plate of curry rice proved my presumptions wrong. The gravy gave off shiok, spicy overtones while drawing sweet undertones from the chap chye gravy. These flavours are then balanced off with the savoury lor bak sauce. 
The mixture of gravy is made to be more on the thin side, and even with my preference for thicker curries, the full-bodied combination of flavours more than made up for it.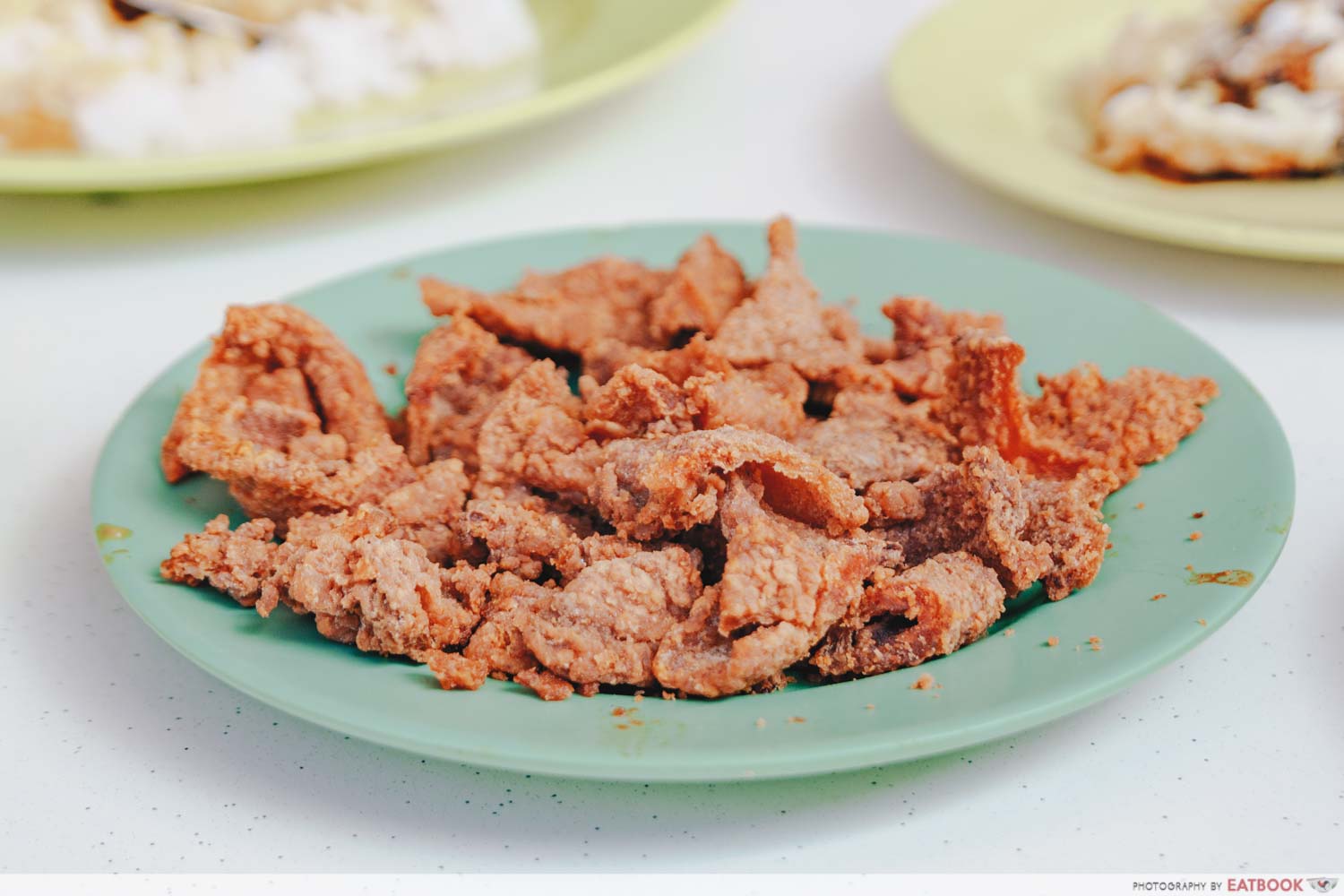 For the sides, the Crispy Pork ($4) is known to be the dish that turned many of the stall's first-timers into faithful regulars. The bite-sized pieces of pork, which are fried to a deep brown colour, are the most popular side for any plate of curry rice.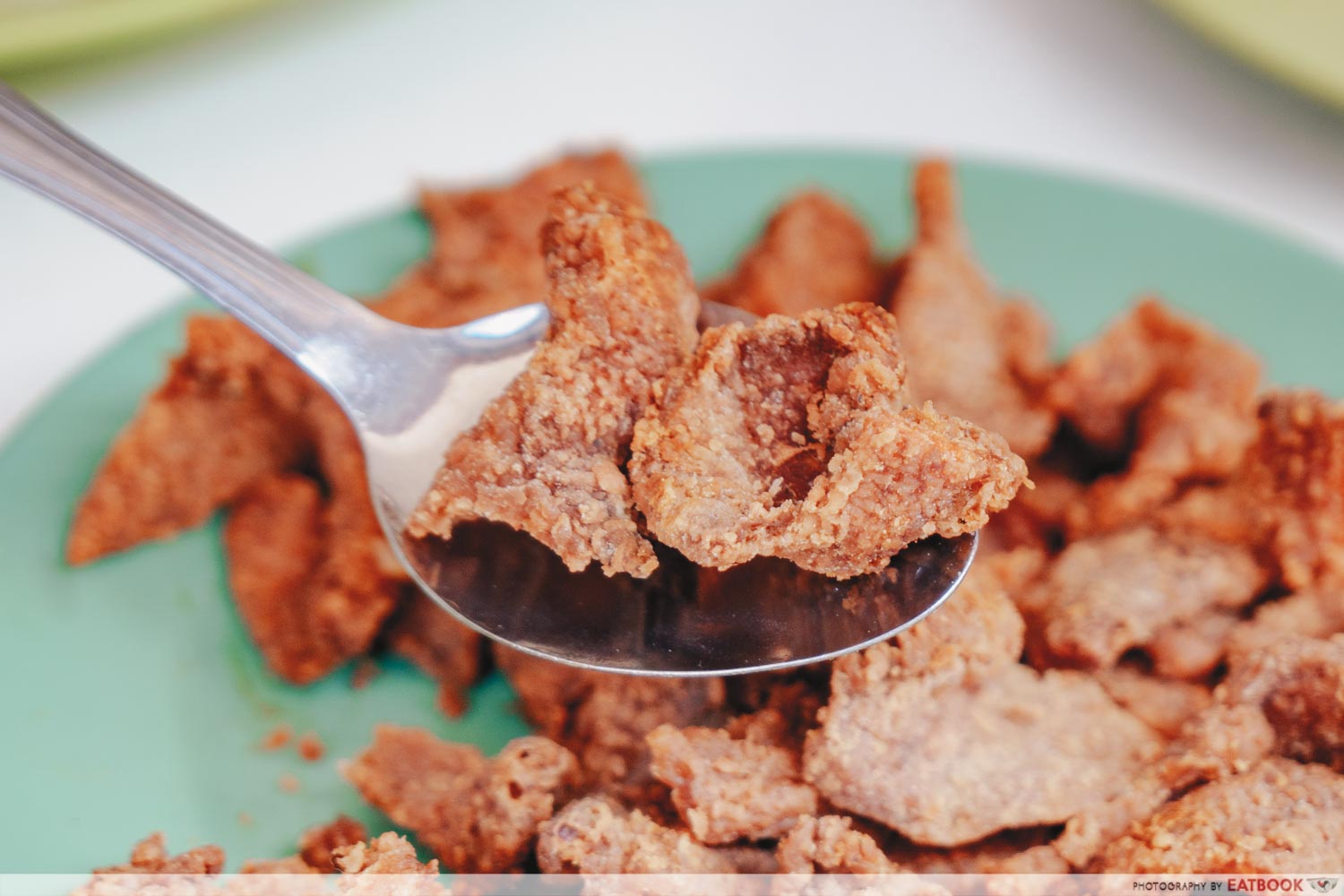 In order to achieve maximum crisp, only the fattiest cuts of the pork are picked for this Hainanese-style pork chop dish. These pieces are left to marinate overnight, then coated with flour, and fried two times to guarantee a good crackle in every bite. 
Flavour-wise, they reminded me of crispy pork floss—sweet, savoury, and inexplicably addictive. It goes without saying that this dish was a win for me!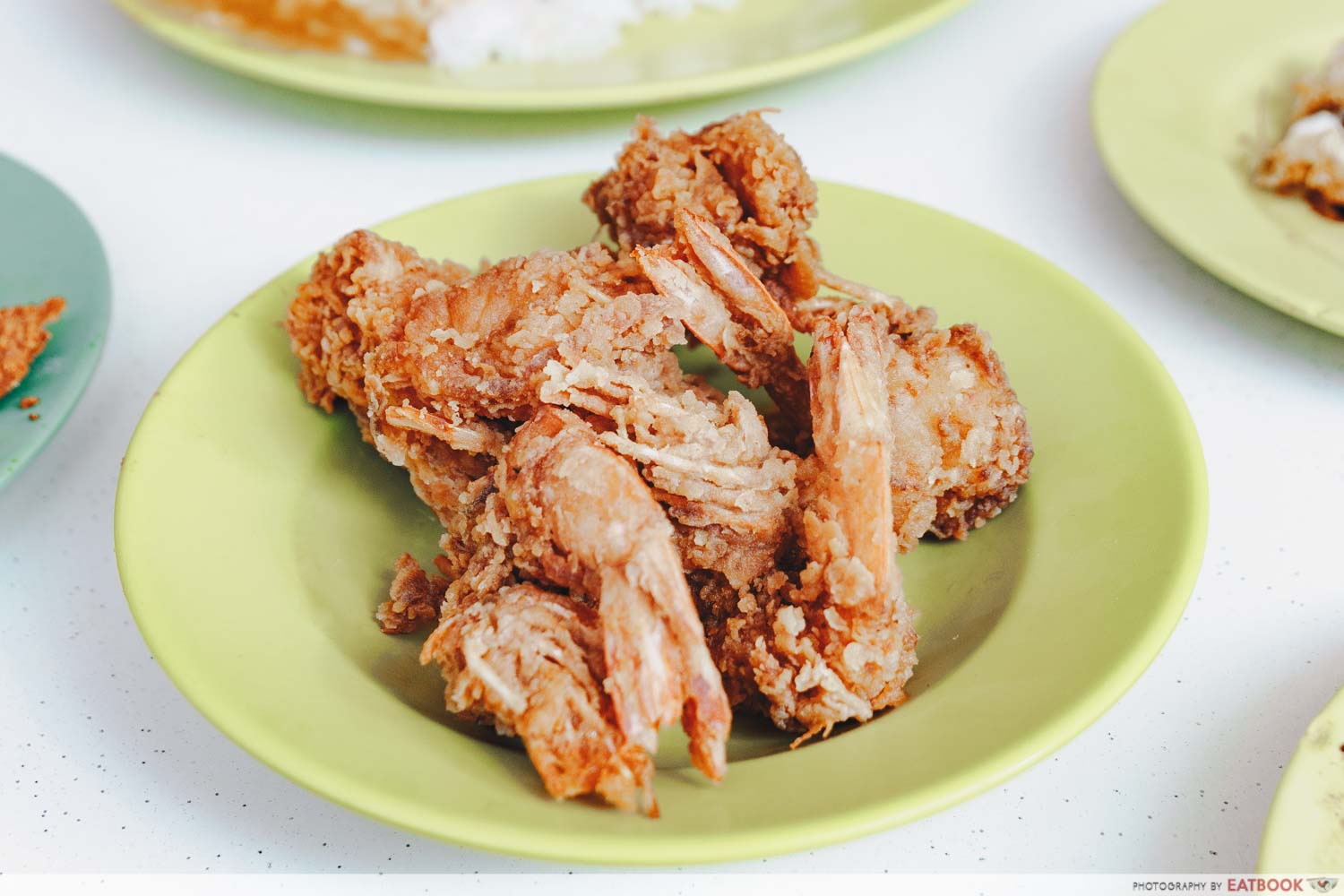 The Cereal Prawns are another hot favourite of the stall's regular customers. At $4, the plate only had six to seven pieces of fried prawns. The batter used for the prawns is different from the one used for the pork. It consists of coarse bread crumbs, cereal, and egg, which formed a thick and crunchy layer around the shelled meat.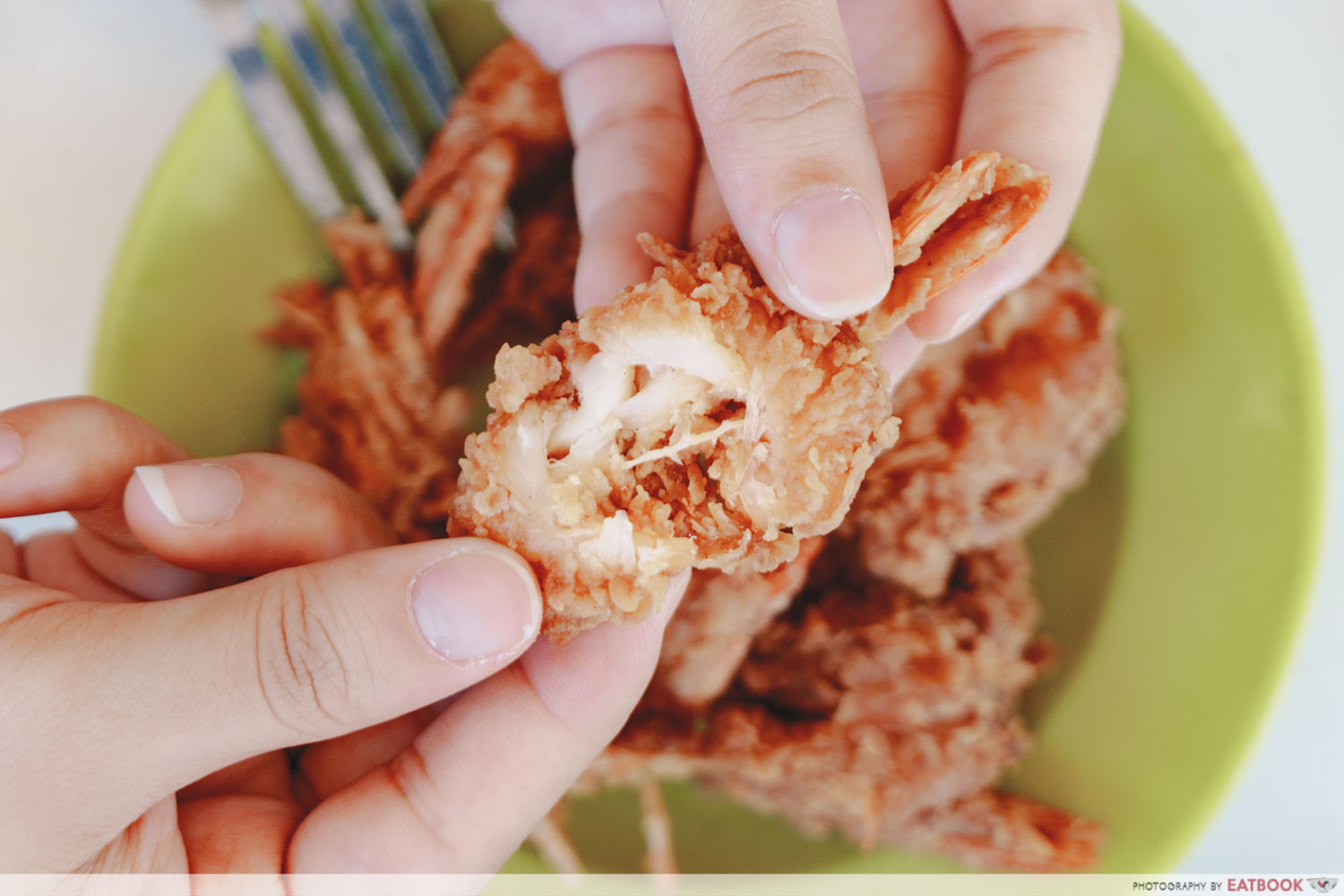 Unlike the thin, airy crust of most cereal prawns outside, the selling point of these prawns would definitely be their thick, fried batter that delivers a formidable crunch. The prawn meat is well-marinated and steeped in flavour. However, the size of the prawns was a bit small in my opinion.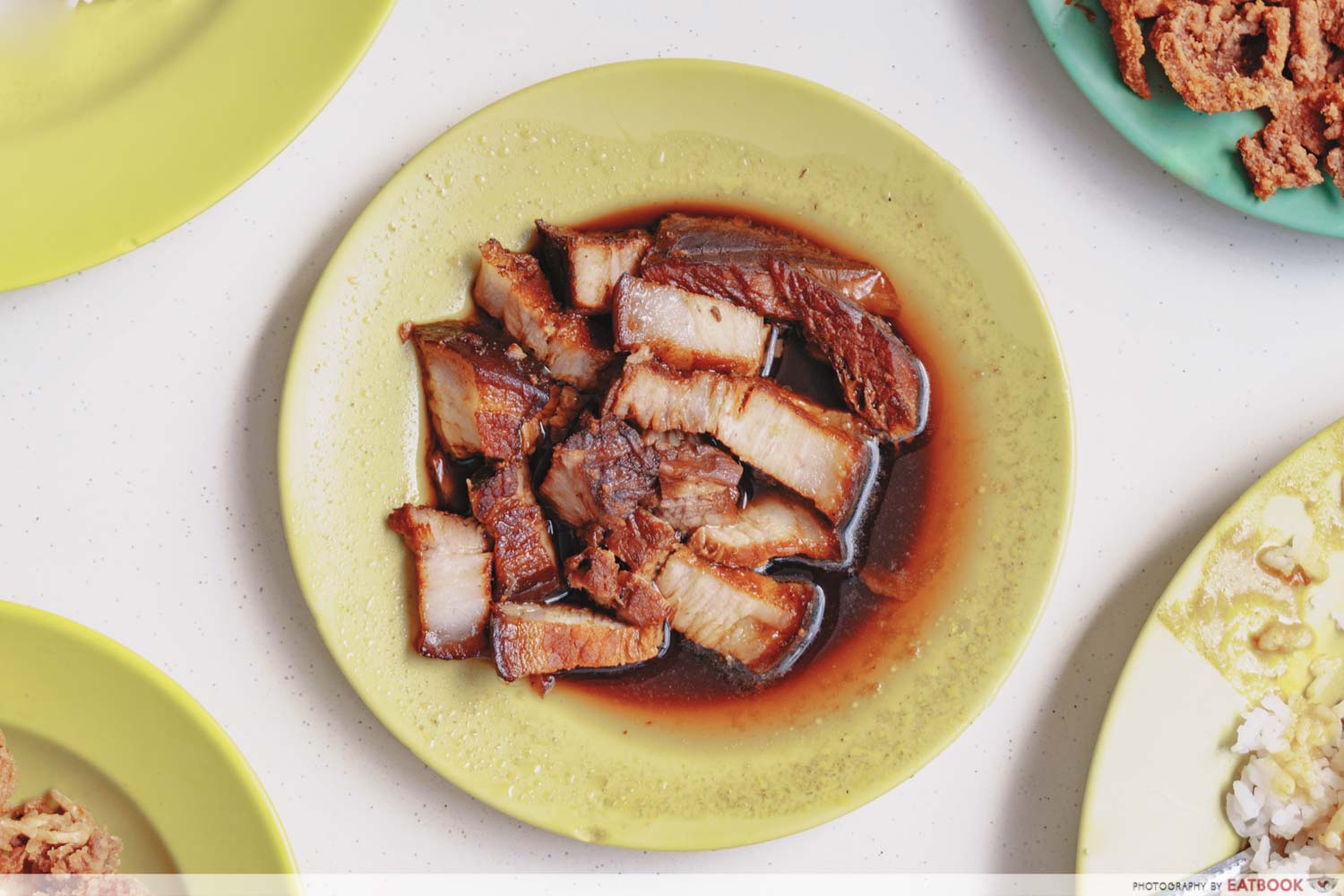 The Braised Pork ($3) comes drenched in a generous pool of the dark braised sauce. Thankfully, the sauce is free from big oil molecules floating atop, which is often a large turn-off for me. Like the cereal prawns, the portion size was also a tad small considering its price tag.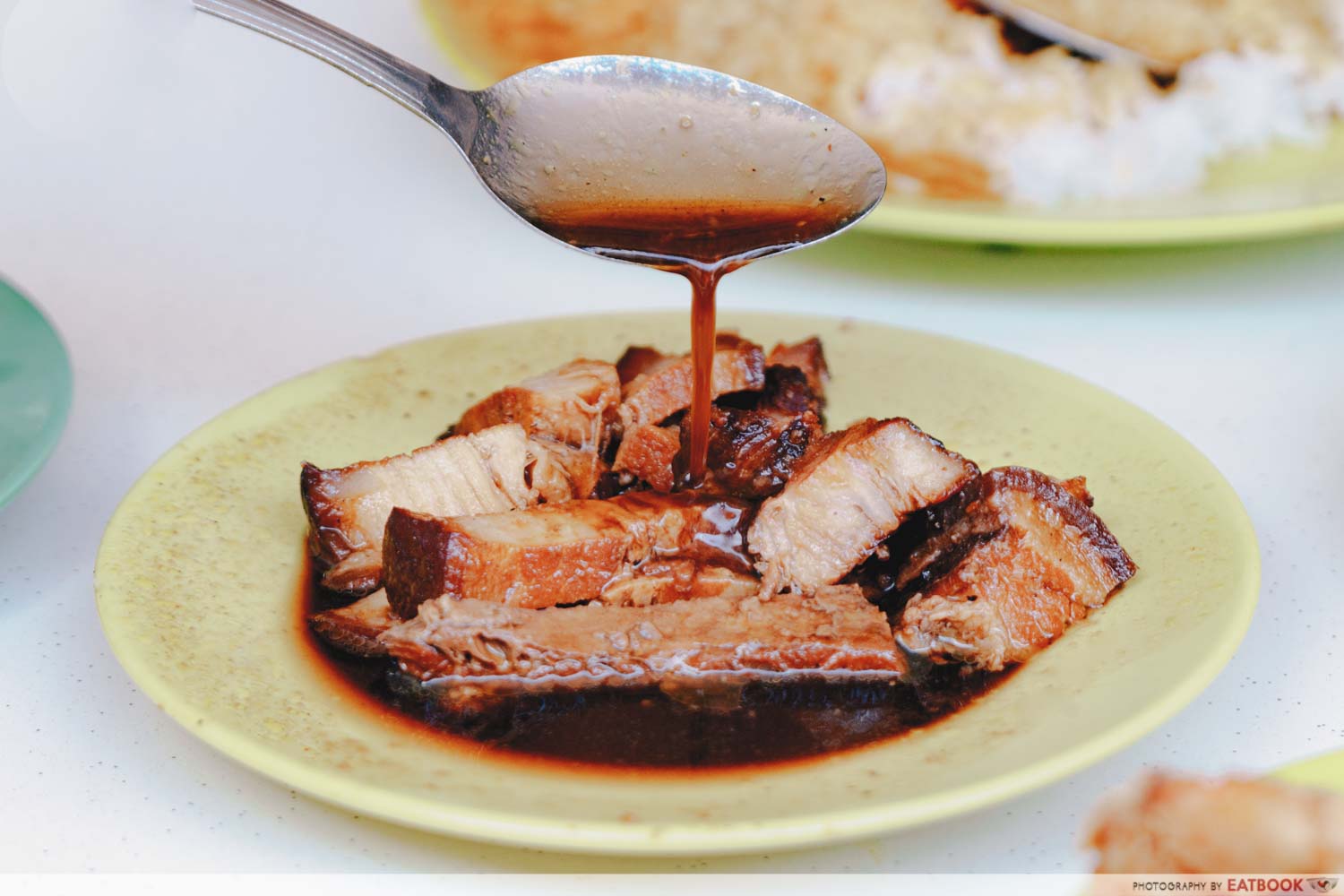 The braised pork sauce was intensely flavourful. It was a harmony of salty and sweet, with subtle herbal notes. The pork belly itself was tender and it soaked up the mix of flavours well. This dish aced it for me in the flavour department, though it would have done even better if a fatter cut of pork was used.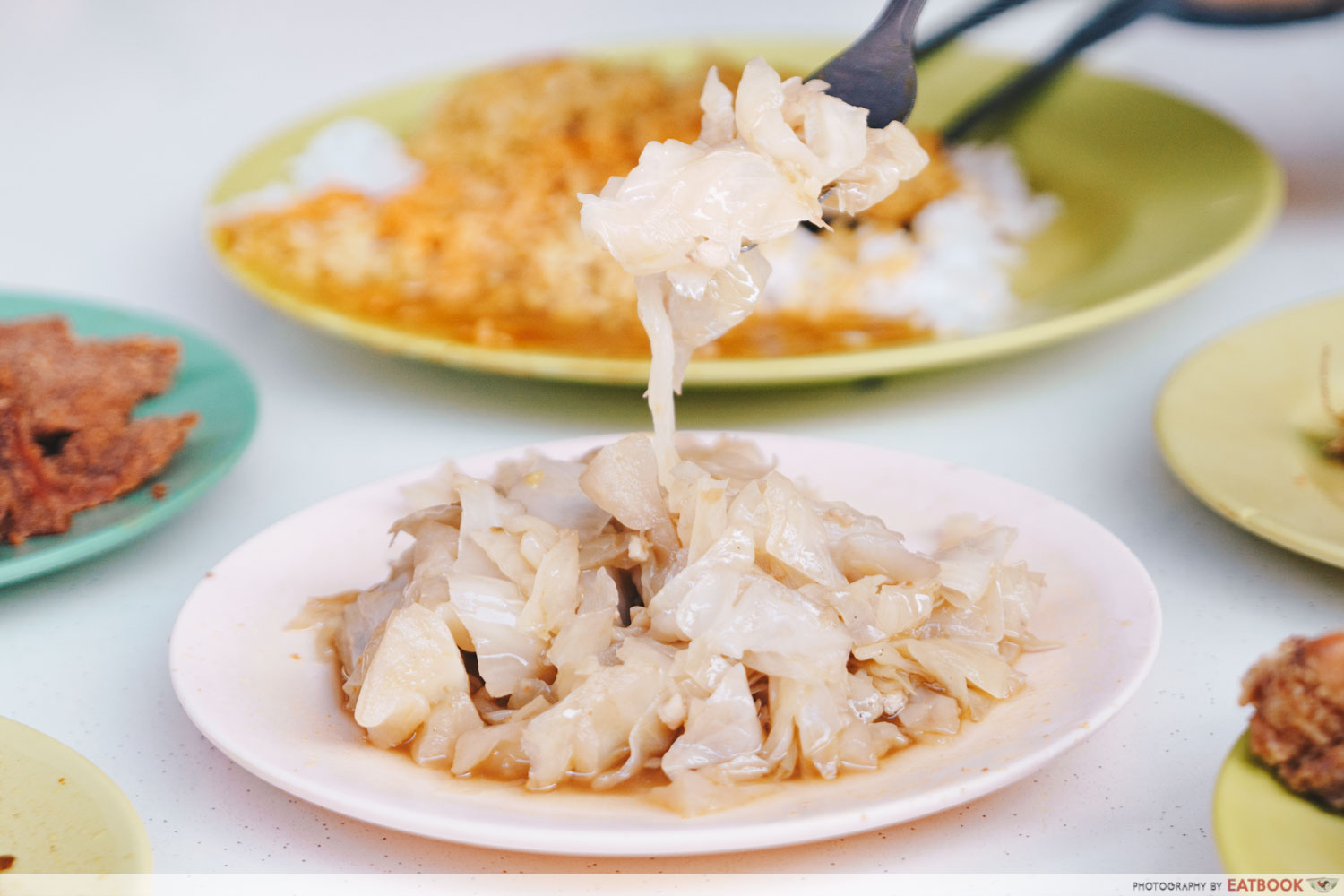 The Stewed Cabbage ($2) is served in a portion for two. The cabbage was cooked till soft without being too soggy, and it was also seasoned well. Though not particularly outstanding, go for this dish if you want a break from the sinfulness of the fried sides.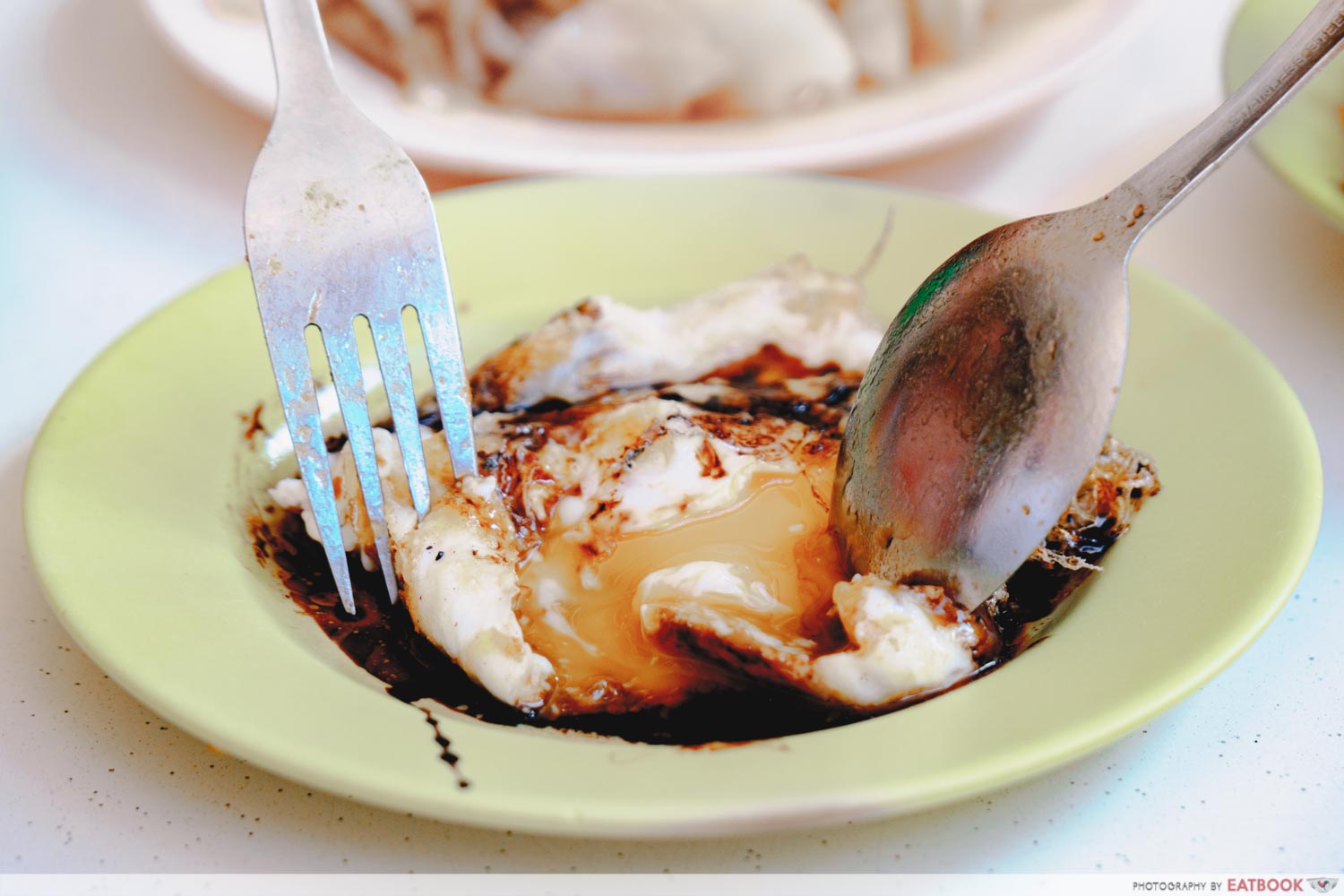 The Fried Egg ($0.50) is usually served on top of your rice if you're ordering for one. This egg is expertly fried in hot oil to give a crispy egg white, while preserving the runniness of the yolk. Mixing in the dark sauce and the rich yolk added a silkiness to the curry rice. I highly recommend this as a topping!
Ambience at No Name Hainanese Curry Rice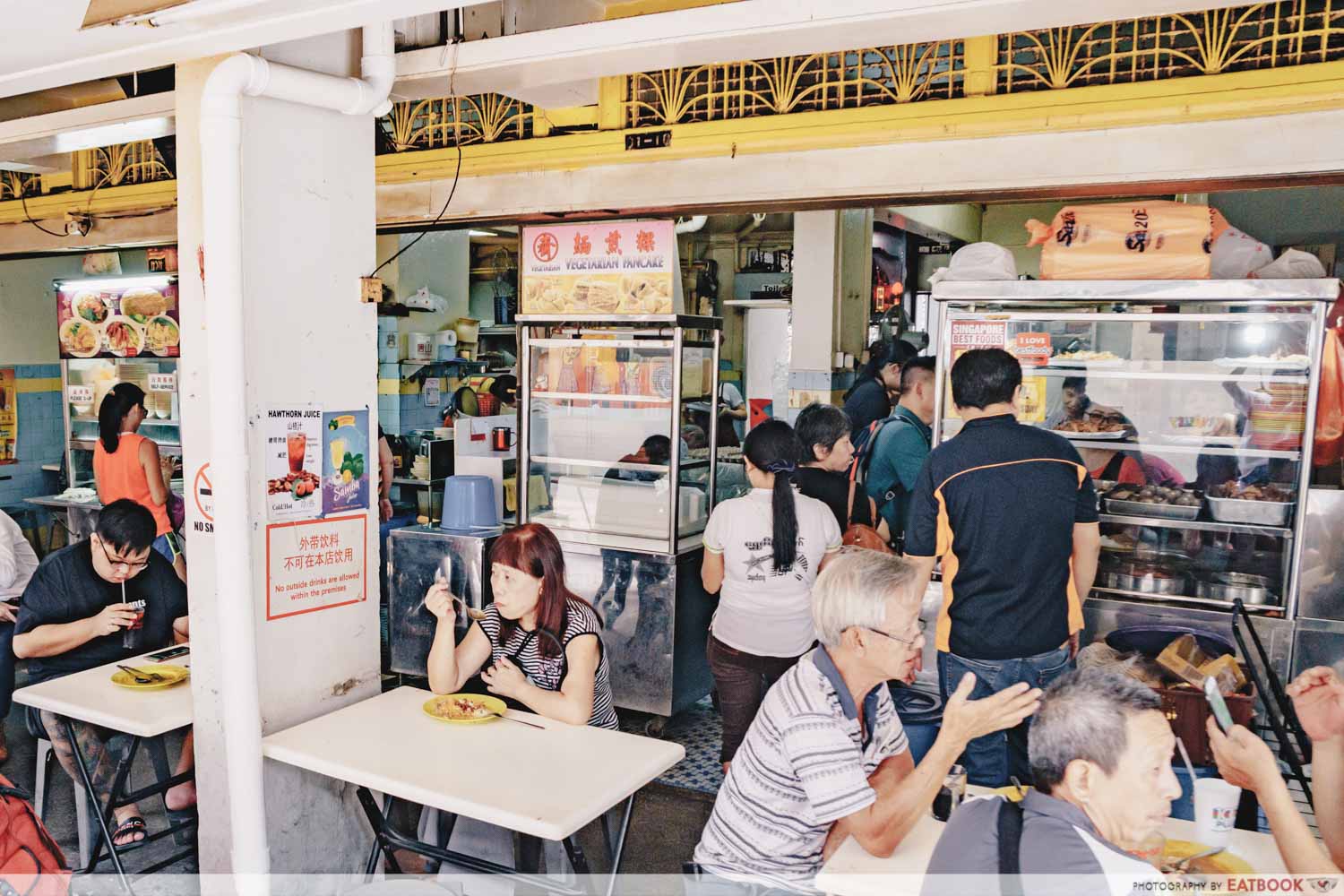 Don't come here anticipating an exquisitely comfortable dining experience. At small coffee shops like these, you may even be nudged out the moment you clear the last grain on your plate! Nevertheless, the stall never ceases to attract lines of a hungry lunch crowd. So be sure to come early if you wish to snag a seating place for your meal, otherwise, just do a takeaway!
If you plan to make a trip there, No Name Hainanese Curry Rice is conveniently located at only a short five-minute walk from Tiong Bahru MRT station.
The verdict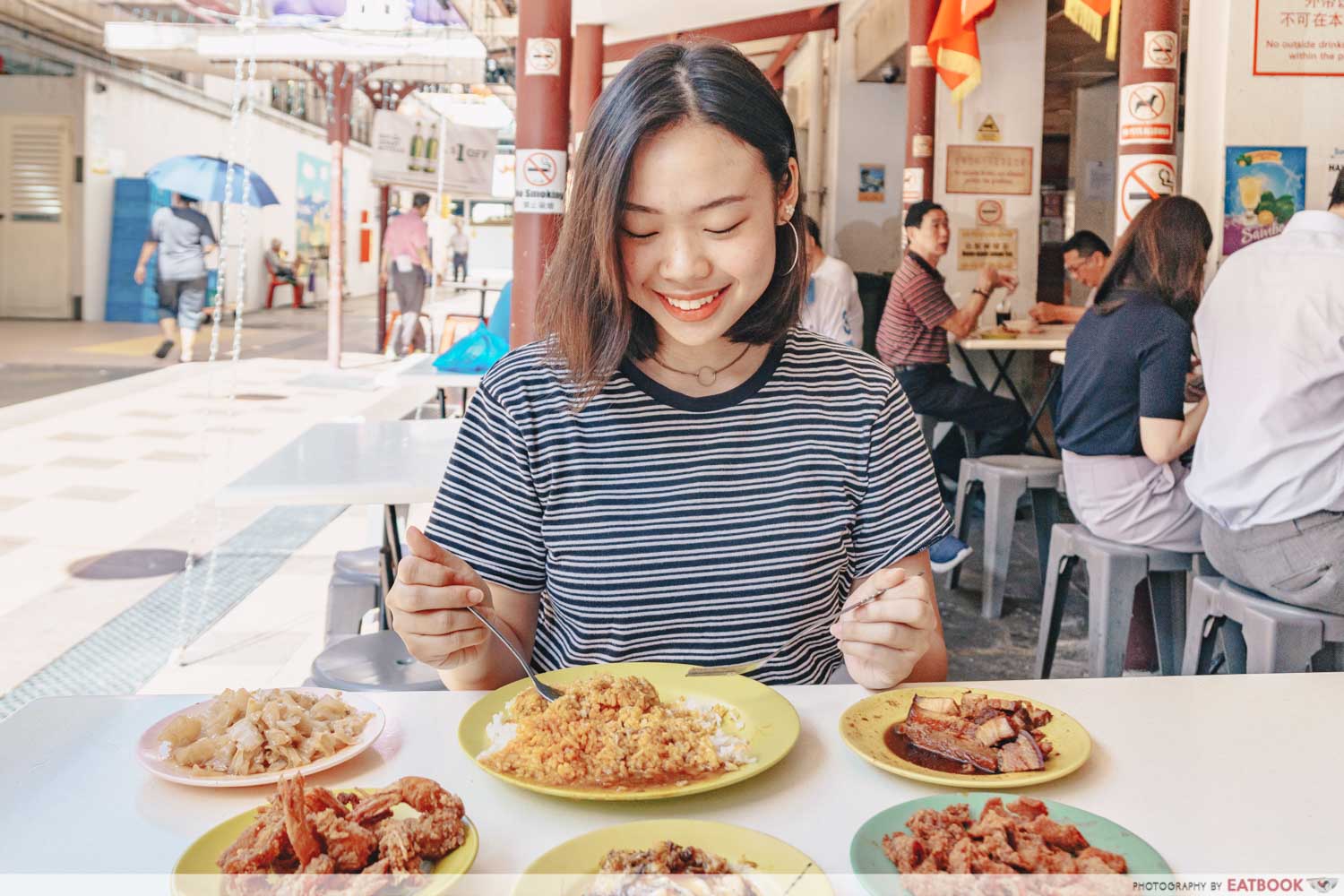 This Hainanese curry rice is worth queueing for. The spiced curry rice left a satisfying warm feeling in my stomach as we left. The side dishes, while notable in their own ways, complemented the main dish well. Furthermore, it is hard to find food stalls today selling dishes made in the traditional Hainanese style. I will definitely be making a revisit to this stall. 
If you're looking for more good food in the area, check out our list of Tiong Bahru food or more famous curry rice spots in Singapore to quell your curry cravings!
Address: Blk 40 Beo Crescent, #01-10, Ho Ping Hng Coffeeshop, Singapore 160040
Opening hours: Thurs-Tue 7am to 3pm
No Name Hainanese Curry Rice is not a halal-certified eatery.
Photos taken by Isabel Lim.
This is an independent review by Eatbook.sg.
No Name Hainanese Curry Rice
Summary
Pros
– Cheap and good curry rice
– Delicious crispy pork
Cons
– Small portions for sides
Recommended dishes: Crispy Pork ($4), Braised Pork ($3), Curry Rice ($0.50)
Opening hours: Thurs-Tue 7am to 3pm 
Address: Blk 40 Beo Crescent, #01-10, Ho Ping Hng Coffeeshop, Singapore 160040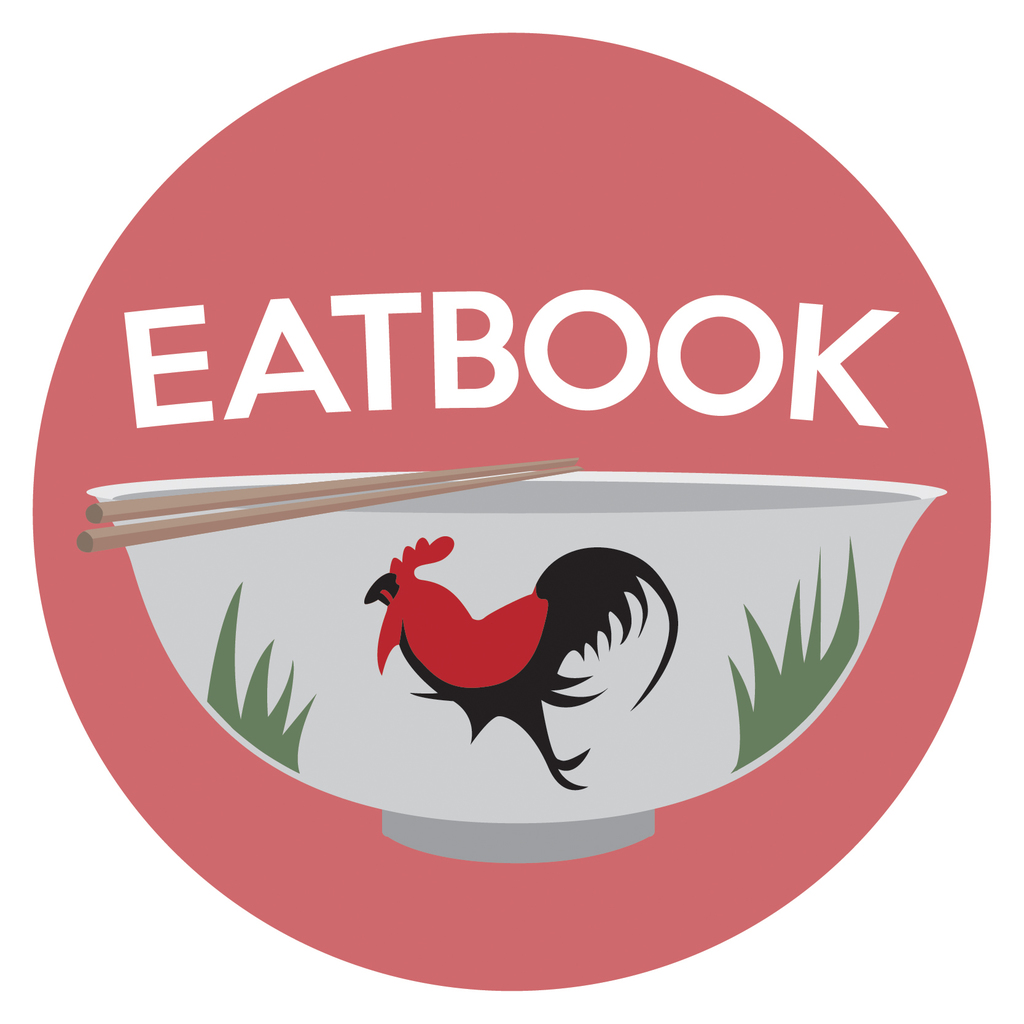 Drop us your email so you won't miss the latest news.