---
Revisiting Tiong Bahru's history with food
---
Returning to Tiong Bahru leaves me with mixed emotions. I was brought up by my grandparents in this cosy neighbourhood, so it's always comforting to revisit my childhood haunts. At the same time, it's overwhelming to experience how quickly this district has transformed in the past decade. Block 110, the flat that I grew up in, is now an empty patch of land. Similarly, Tiong Bahru Plaza, the quiet mall from before, has evolved into a sleek shopping complex.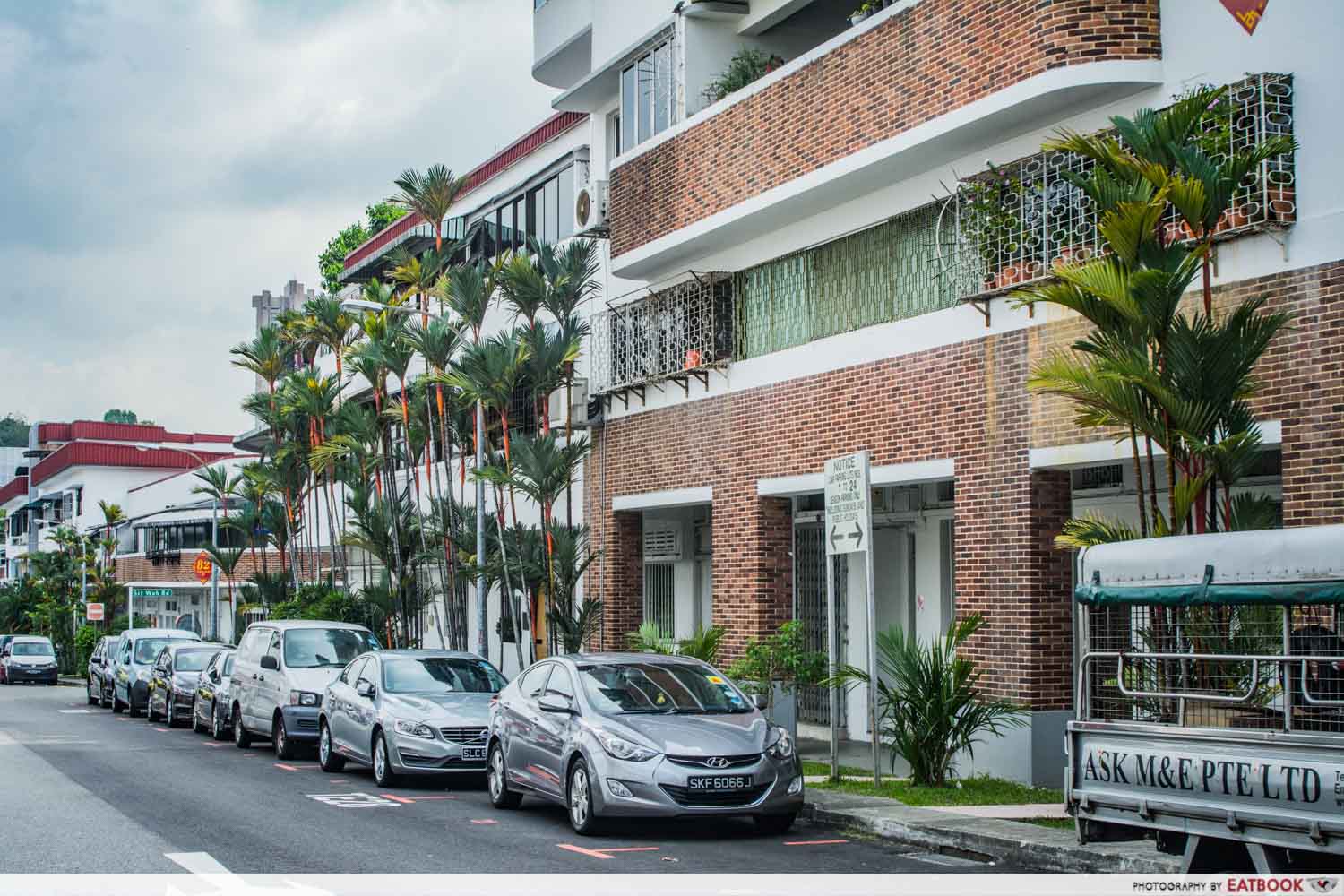 However, the greatest change lies in the food. While messy plates of curry rice were the main attractions of the past, #aesthetic creations now hog the limelight.
Facing such change, the historically rich food scene in Tiong Bahru is ideal for us to reflect on what we cherish as Singaporeans. Should we prioritise heritage over progress? If so, what's worth preserving?
With that in mind, hop onto this food trail with me and explore the history of Tiong Bahru with these 11 food spots.
---
Early development (1930s)
---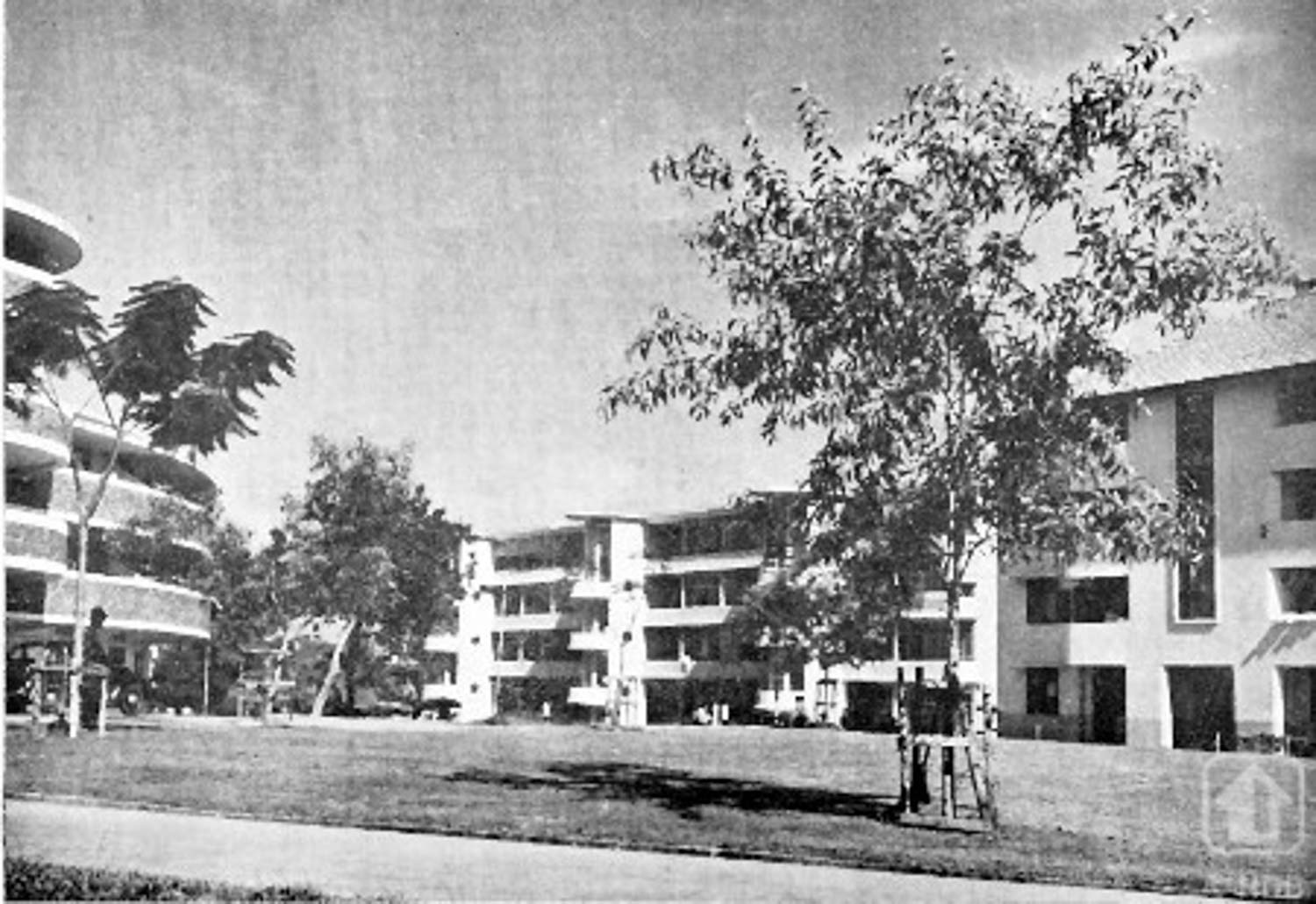 Image courtesy of the Housing & Development Board
Even if you've never been to Tiong Bahru, you would have probably heard of their iconic Art Deco buildings. Built by the Singapore Improvement Trust (SIT) in the early '30s, they transformed Tiong Bahru from a squatter settlement into what was then an atas housing estate.
This first wave of development ended in 1940 with Block 78 Moh Guan Terrace—Singapore's first five-storey flat. It's also where you can find Hua Bee Restaurant.
---
1. Hua Bee Restaurant
---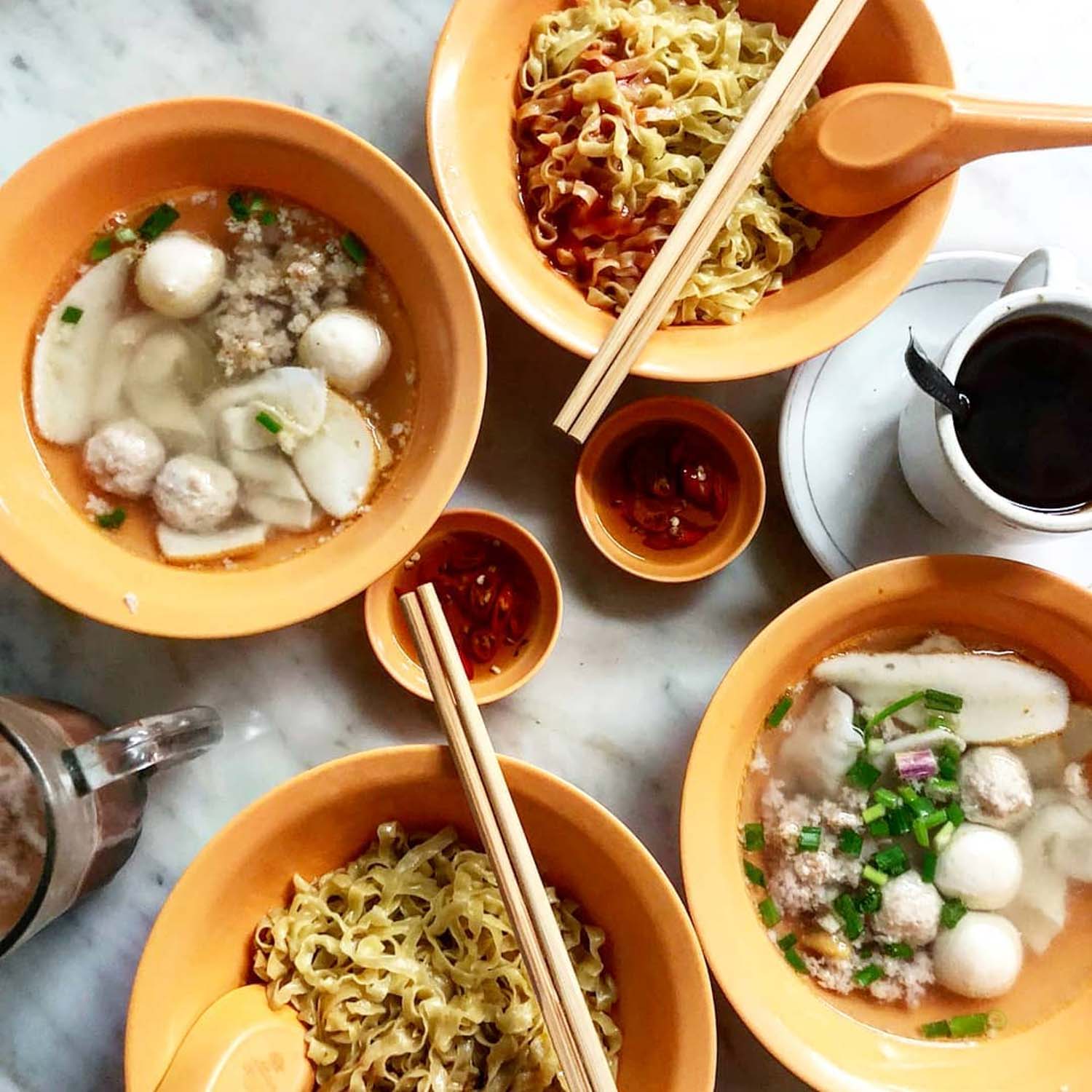 Image credit: @sghawkerspots
Time seems to come to a standstill at Hua Bee Restaurant. Like their creaky wooden doors, the dishes haven't changed much since this humble noodle house opened in the '40s. Most regulars drop by for their time-tested Fishball Noodle ($4). Whether it's mee kia or mee pok, the noodles are cooked till al dente and will wow you with their springy bite. 
Address: 78 Moh Guan Terrace, #01-19, Singapore 162078
Opening hours: Tue-Sun 7:30am to 2:30pm
Tel: 6438 4567
---
Post-war growth (1945 – 1954)
---
Food shortage during the Japanese Occupation forced locals to grow their own food, reducing Tiong Bahru to an untamed forest of tapioca plantations. Following the war, its diminished value and dilapidated buildings attracted thousands of homeless Singaporeans, transforming this once-proud district into a cluster of slums.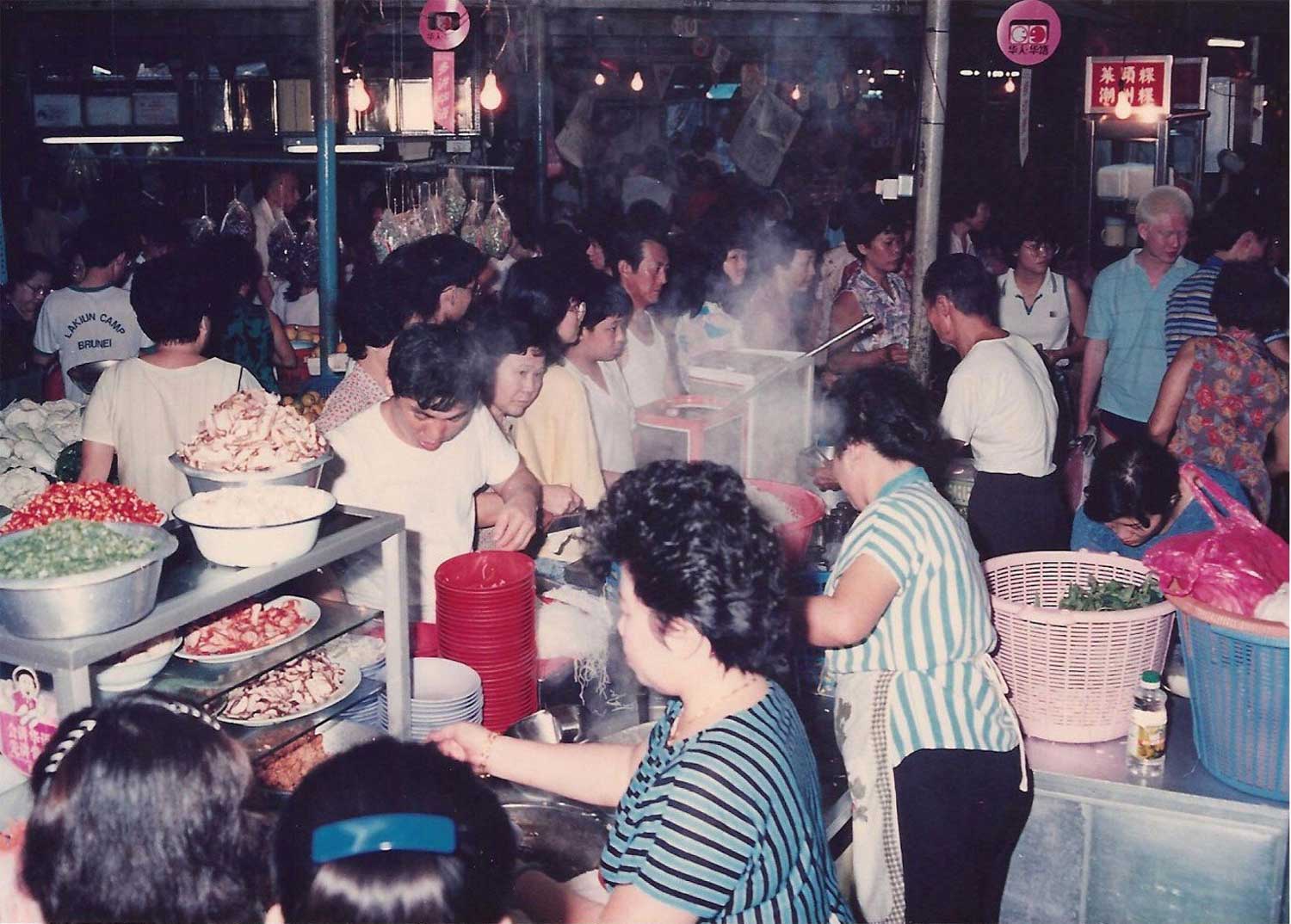 Image credit: Tiong Bahru Estate's Facebook Page
This influx of people was matched by a surge in hawkers, precipitating the construction of Seng Poh Road Market. This lively local market has changed over the years, and is now known as Tiong Bahru Market and Food Centre.
---
2. Koh Brother Pig's Organ Soup
---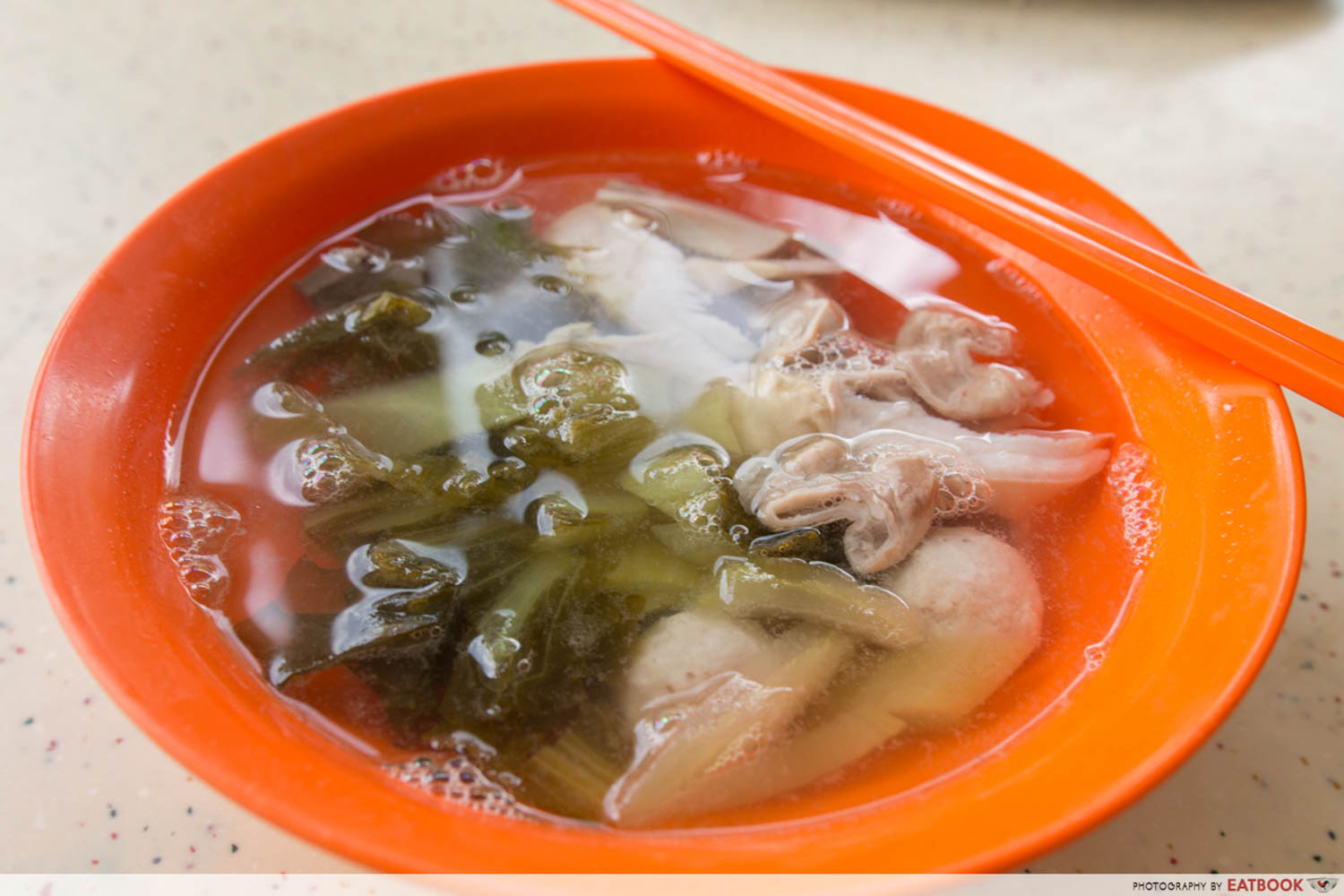 One of the earliest stalls to move into Seng Poh Road Market, Koh Brother Pig's Organ Soup impresses with its full-bodied Pig's Organ Soup ($4/$5). Prepared from pork bones and offal, the broth brims with meaty richness. The preserved vegetables then take things up a notch, boosting the moreish soup with salty undertones. 
Make a beeline for the house-made Glutinous Rice Roll (from $3) as well! Featuring chestnut, pork belly, and glutinous rice stuffed in silky pig's intestine, this Teochew classic is incredibly rare to find today. 
Address: 30 Seng Poh Road, #02-29, Tiong Bahru Market, Singapore 168898
Opening hours: Tue-Sat 8:30am to 3:30pm, 6pm to 8:30pm, Sun 8:30am to 3:30pm
---
3. Tiong Bahru Fried Kway Teow
---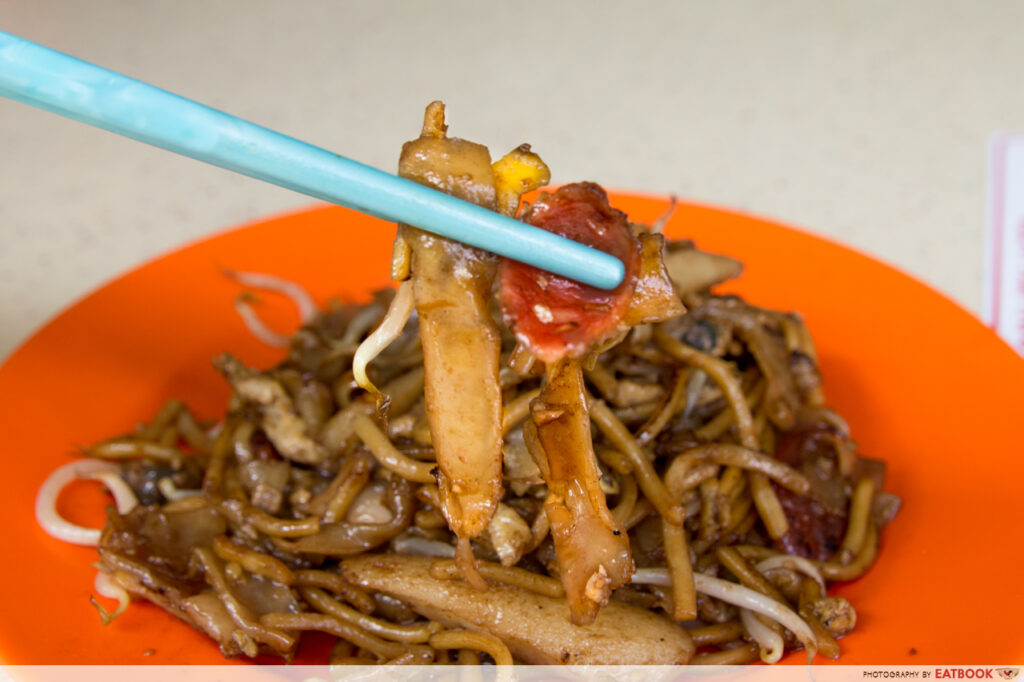 Tiong Bahru Fried Kway Teow boasts an equally vivid history. The owner, Mr Tay Soo Lan, initially sold char kway teow at Kim Tian Road before settling down in Seng Poh Road Market. What fans love about their Fried Kway Teow ($3/$4) is its distinct wok hei. A smoky aroma permeates the noodles, enhancing the dish's sweet and savoury flavours.
Address: 30 Seng Poh Road, #02-11, Tiong Bahru Market, Singapore 168898
Opening hours: Thur-Tue 11am to 10:30pm
---
The Quiet Years (1955 – early 2000s)
---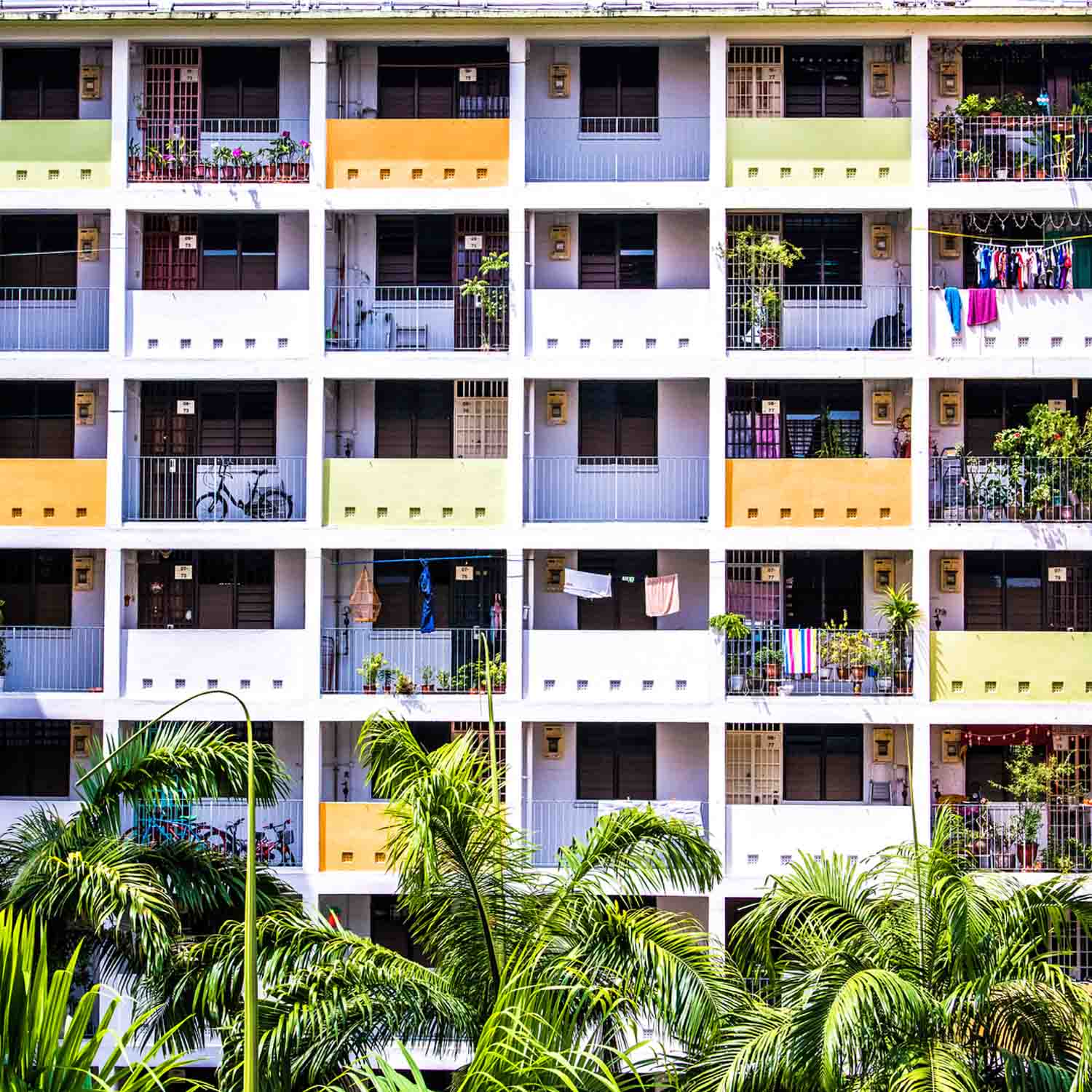 Image credit: @thisusernameistaken276
From the gradual expansion of public housing to increased standards of living, the growth of post-1955 Tiong Bahru largely mirrored Singapore's narrative.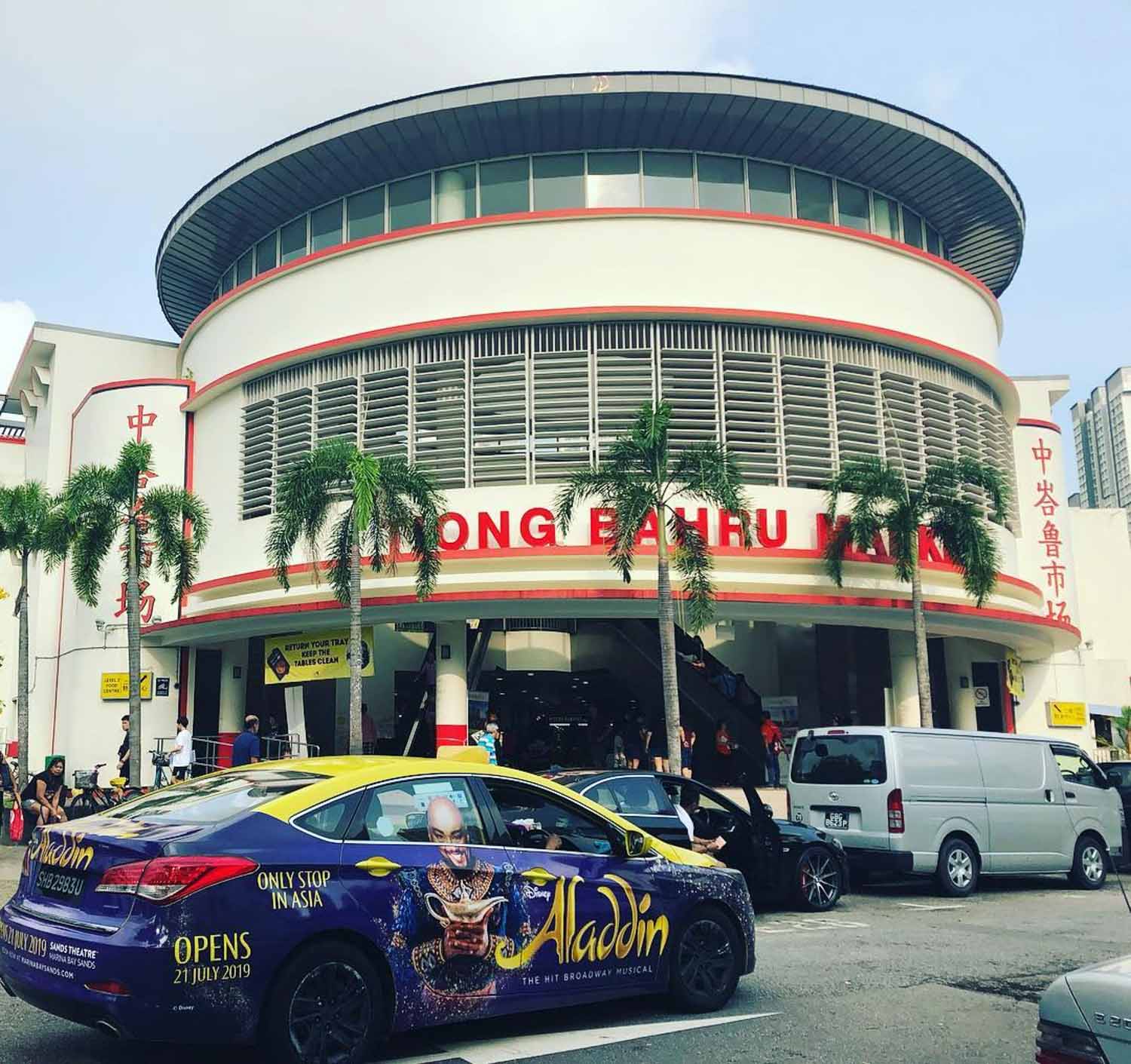 Image credit: @delphinedoidy
However, unlike the glamorous streets of Orchard, the monochrome avenues of Tiong Bahru have eluded the spotlight. Barring the construction of Tiong Bahru Plaza in 1994 and renovation of Tiong Bahru Market in 2004, large-scale developments were far and few between.
Tiong Bahru simply waded along the years, quietly.
There was a quaint homeliness to this folksy neighbourhood, qualities that parts of Tiong Bahru still retain today, and no stall reflects this more than Beo Crescent Hainanese Curry Rice.
---
4. Beo Crescent Hainanese Curry Rice
---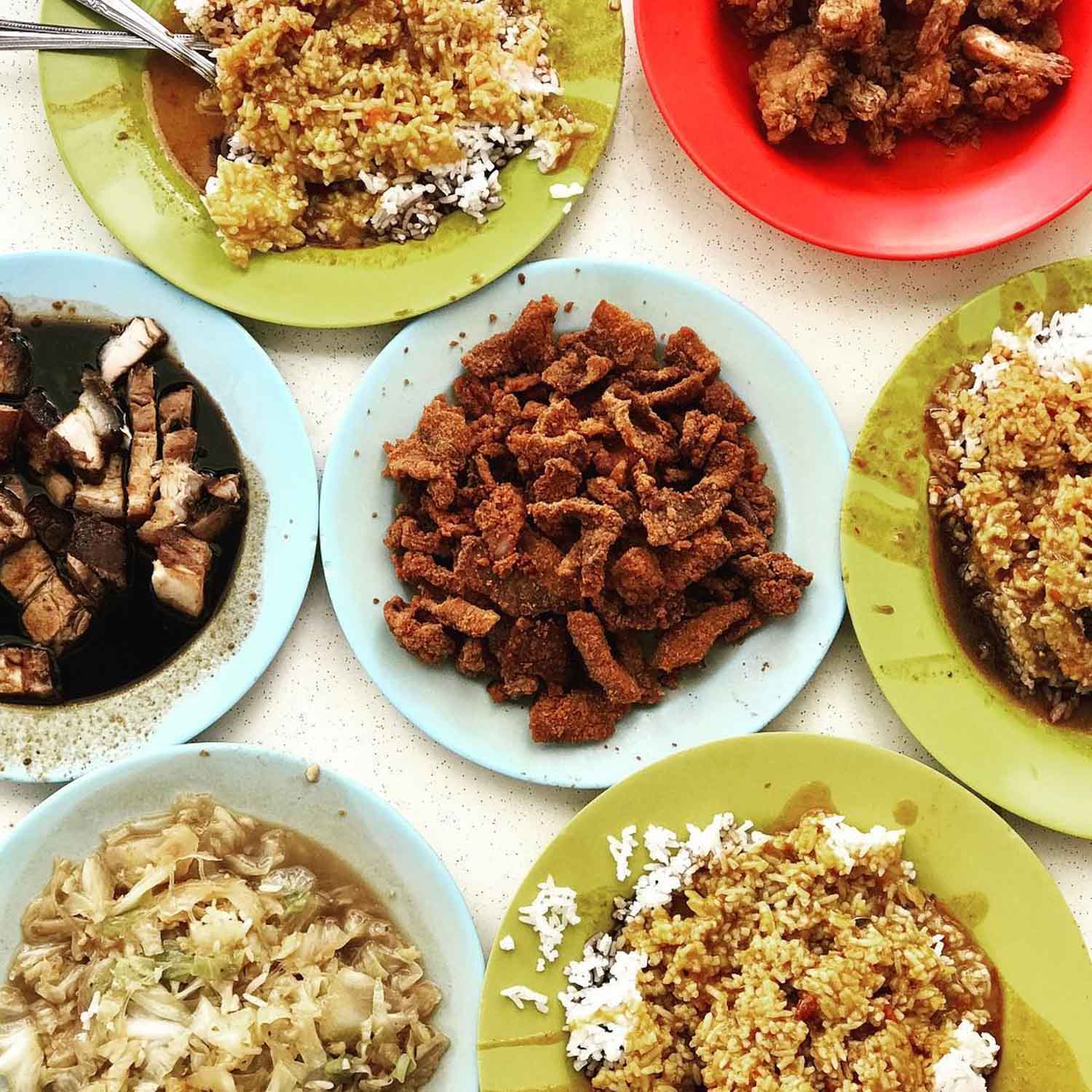 Image credit: @tamago.insta
With fans slowly revolving overhead and tables squeezed closely together, Beo Crescent Hainanese Curry Rice doesn't provide a comfortable dining experience. Yet, dingy and rackety as it may be, this no-frills stall continues to garner snaking queues with their pork chops. 
Unlike the scrawny strips of pork fillet that we're accustomed to, the dish here features thin but fatty rashers of meat that are deep-fried to a shattering crisp. Crunch down on their biscuit-like crust and a cohesive burst of savoury flavours greets your tongue. Sinful, yet addictive.
Address: Blk 40 Beo Crescent, Singapore 160040
Opening hours: Thur-Tue 6:30am to 3pm
---
Cafe hotspot (2009 – Present Day)
---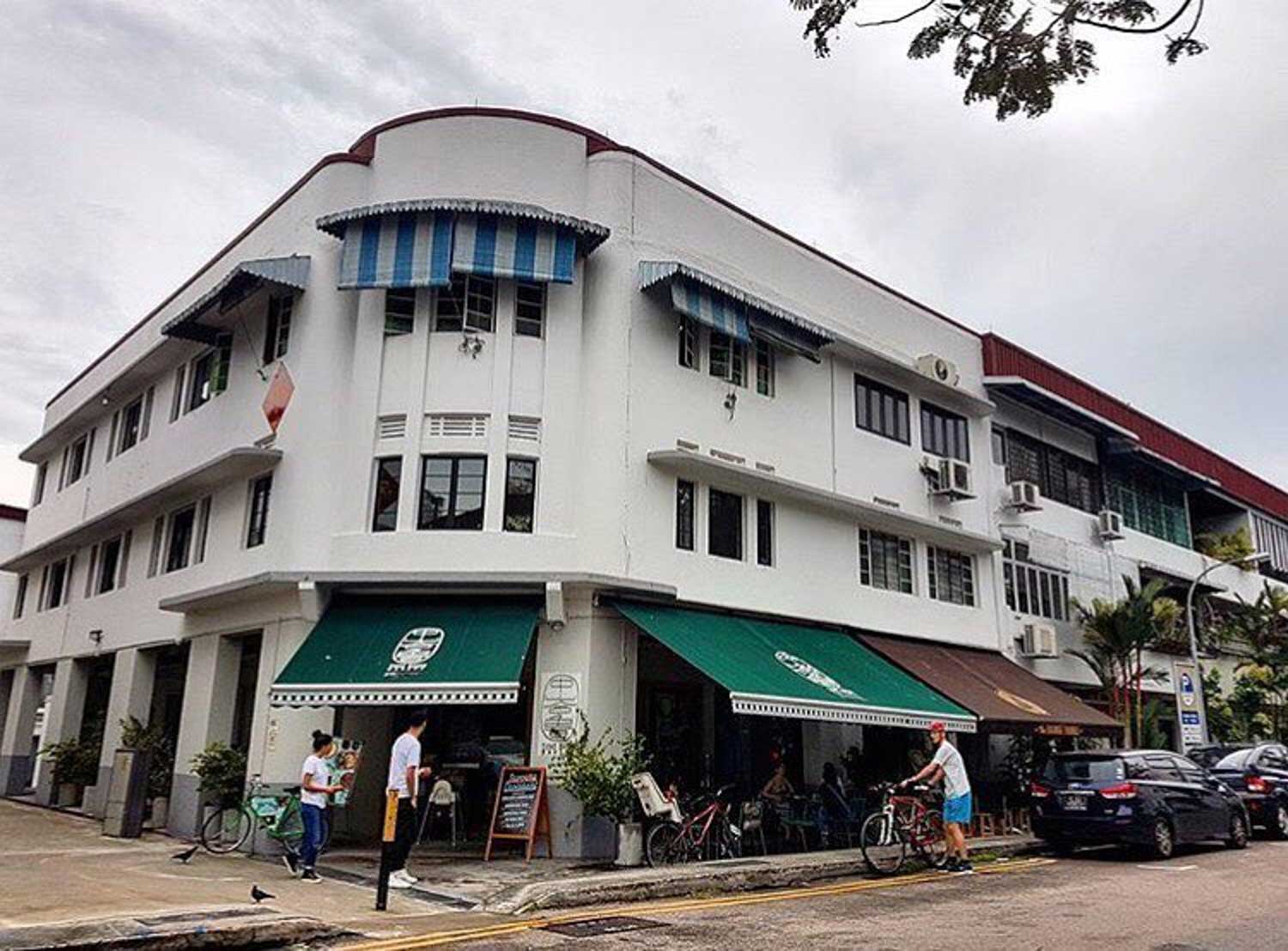 Image credit: @tiongbahrubakery
Perhaps Tiong Bahru riveted cafe owners with retro vibes and bohemian beauty. Or perhaps, overwhelmed by the pace of change, we sought to remind ourselves of the past.
Either way, the quaint and quiet streets of Tiong Bahru became fertile ground for a garden of cafes in the early 2000s. Wave after wave of cafes sprouted in this slumbering neighbourhood; Forty Hands, Merci Marcel, Plain Vanilla Bakery, and the list goes on, with each cafe buoyed by the success of their predecessors.
---
5. Forty Hands
---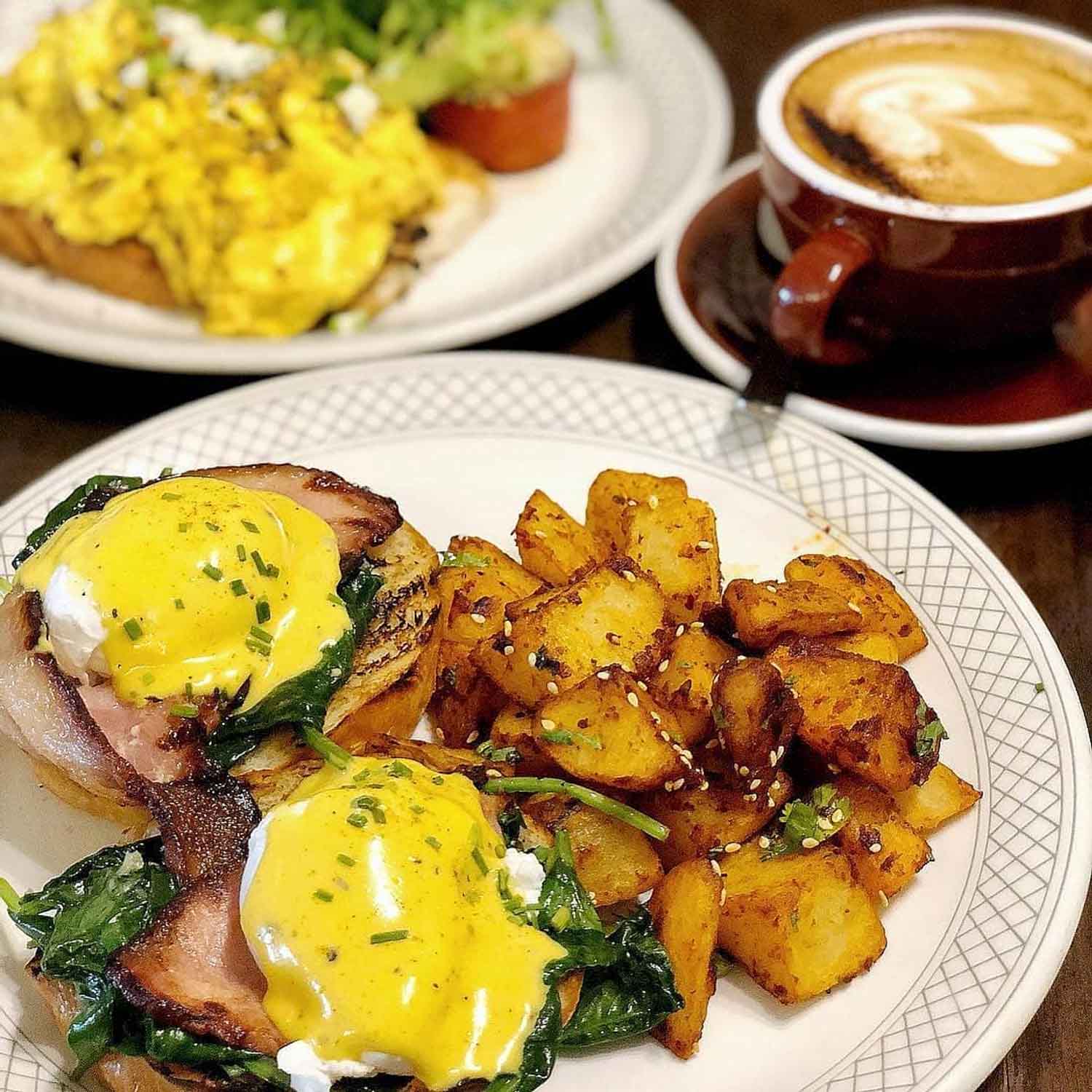 Image credit: @wil_eats
One of the first cafes in Tiong Bahru, Forty Hands planted the seeds for a verdant cafe scene. Approaching its tenth birthday in 2019, this cosy hideaway has become a favourite with cafe-hoppers for its hearty Aussie-inspired selection. 
A standout is their Eggs Benedict ($18+)—the poached egg in this breakfast favourite melds the savoury bacon and earthy spinach together with its creamy yolk. 
Complete your brunch experience with a sip of their Flat White ($5.50+/$7+). The smooth brew offers a light conclusion to a heavy meal.
Address: 78 Yong Siak Street, Singapore 163078
Opening hours: Mon-Fri 7am to 6pm, Sat-Sun 7am to 7pm
Tel: 6225 8545
Website
Menu
---
6. Tiong Bahru Bakery
---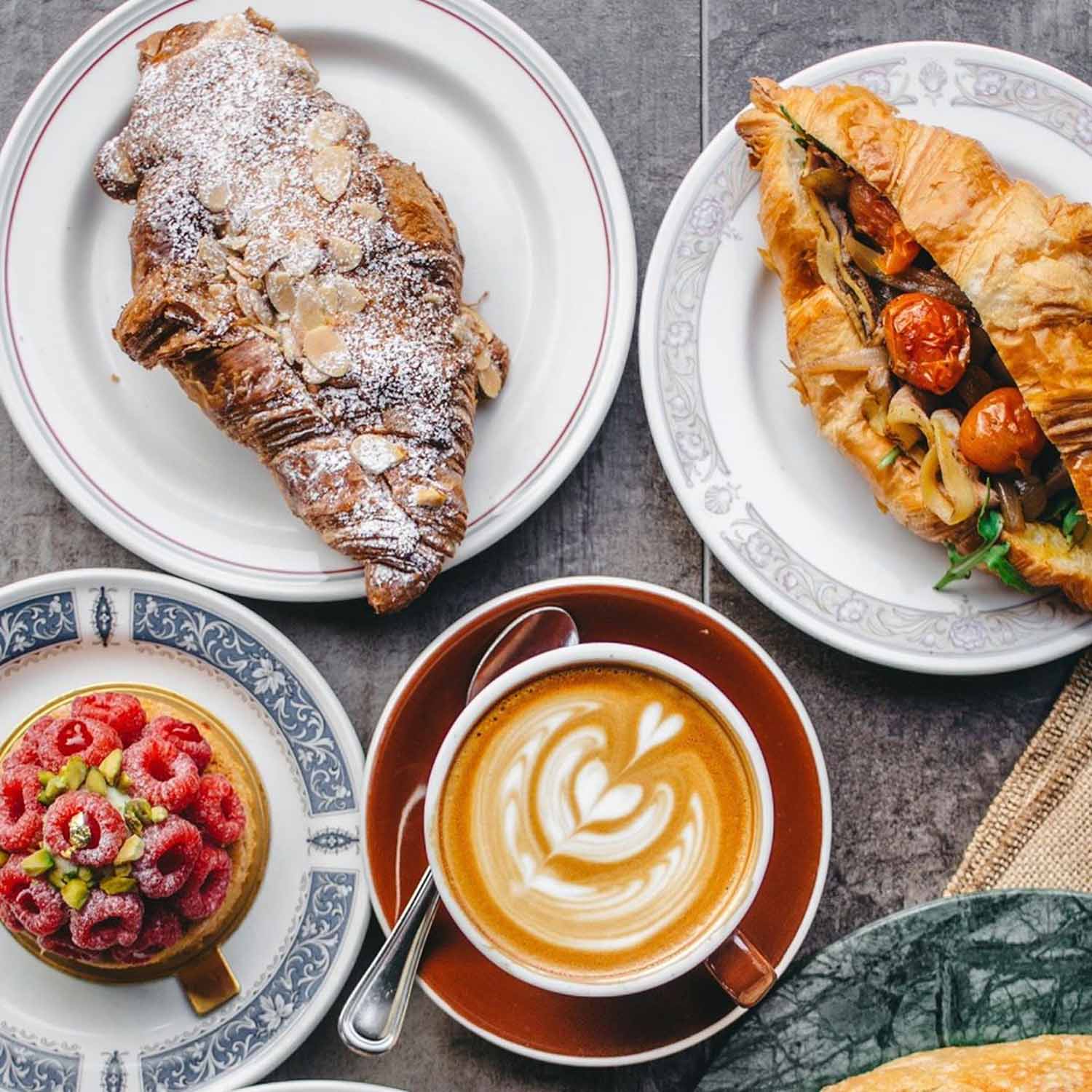 Image credit: @tiongbahrubakery
We can't talk about Tiong Bahru cafes without inevitably mentioning Tiong Bahru Bakery. A collaboration between celebrity chef Gontran Cherrier and the Spa Esprit Group, this much-feted pâtisserie pleases any dessert lover with a plentiful array of French pastries. 
Leading the line is their signature Almond Croissant ($3.80). Moist and fluffy like a sponge cake, this decadent treat beckons enticingly with its buttery aroma– a prelude of the rich flavours to come.
Address: 56 Eng Hoon Street, #01-70, Singapore 160056
Opening hours: Daily 8am to 8pm
Tel: 6220 3430
Website
Menu
---
7. TINOQ
---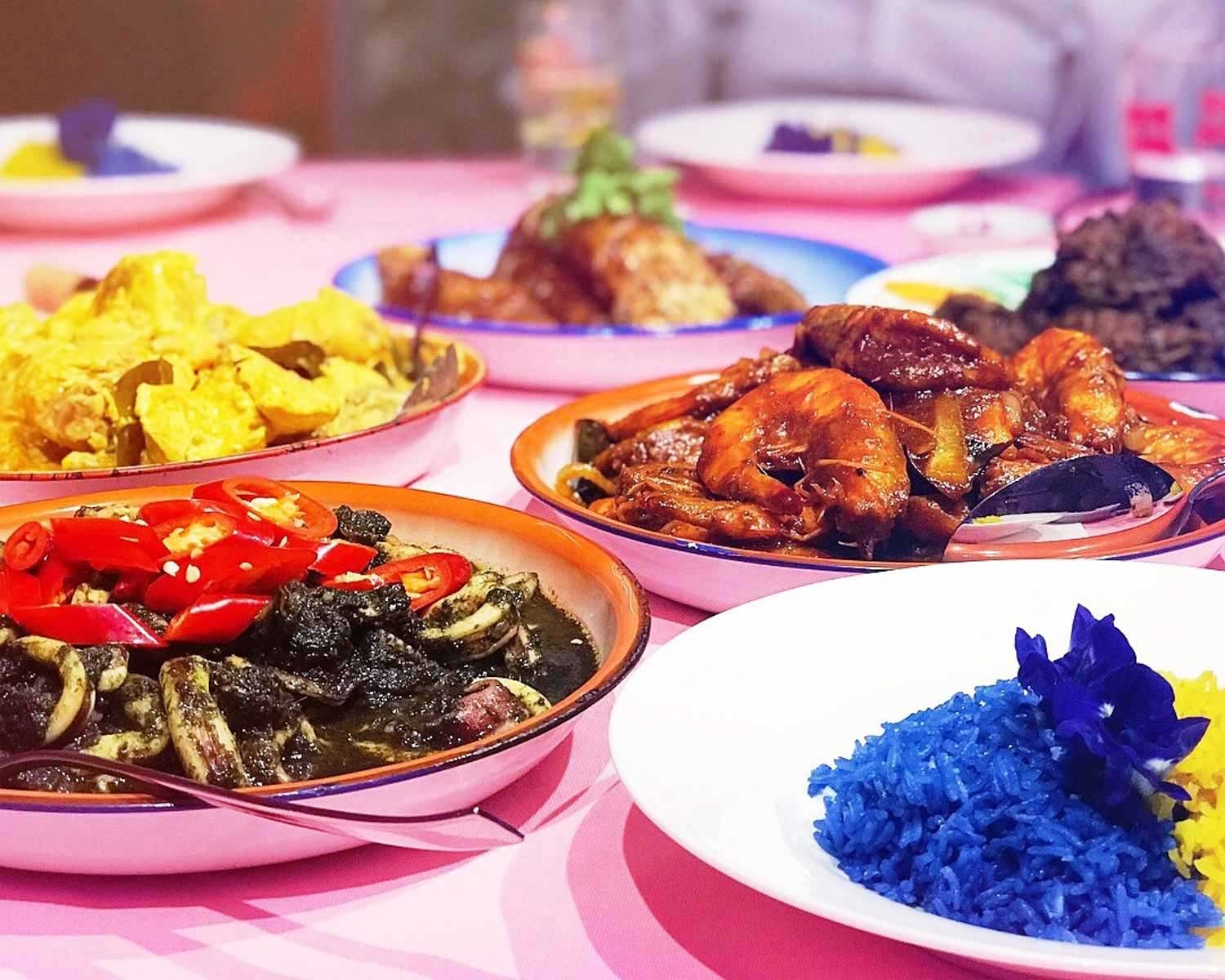 Image credit: @1cattynapinch
TINOQ best encapsulates Tiong Bahru's makeover. Enamoured by the area's rustic vibes, celebrity makeup artist Tinoq Russell Goh converted his two-room flat into a vibrant private diner. Behind his nondescript door lies a homely eight-course feast of Peranakan dishes. At $100 per person, this fancy selection is a marked change from economical hawker dishes. Yet, the experience is worth every dollar. Fill your bellies with their Butterfly Pea Flower Coconut Rice and Minangkabau Rendang, before ending your meal with a forkful of flavourful Ngoh Hiang.
Tel: 9338 6439
---
International recognition
---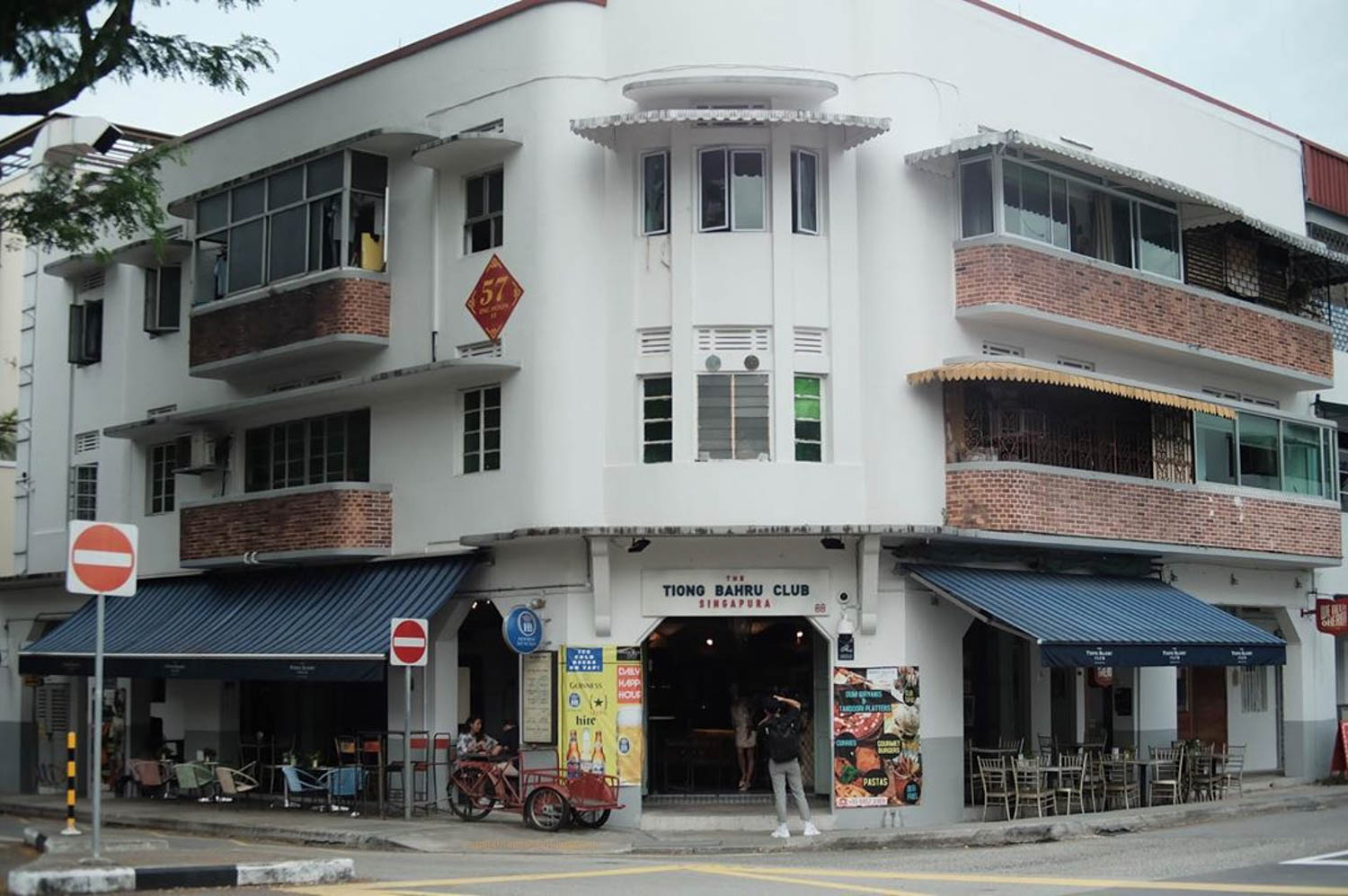 Image credit: @pppatthanun
Spruced up by a myriad of hipster cafes, this district has evolved into a vibrant tourist attraction. An explosion of global interest in Tiong Bahru shifted the spotlight towards her "hidden" hawker gems, giving them the due recognition they long deserved.
As such, it's no surprise that a growing number of Tiong Bahru hawker stalls are awarded the Michelin Bib Gourmand each year.
Michelin Bib Gourmand 2018 Awarded To 50 Places And Kicks Out Two Popular Eateries
---
8. Hong Heng Fried Sotong Prawn Mee
---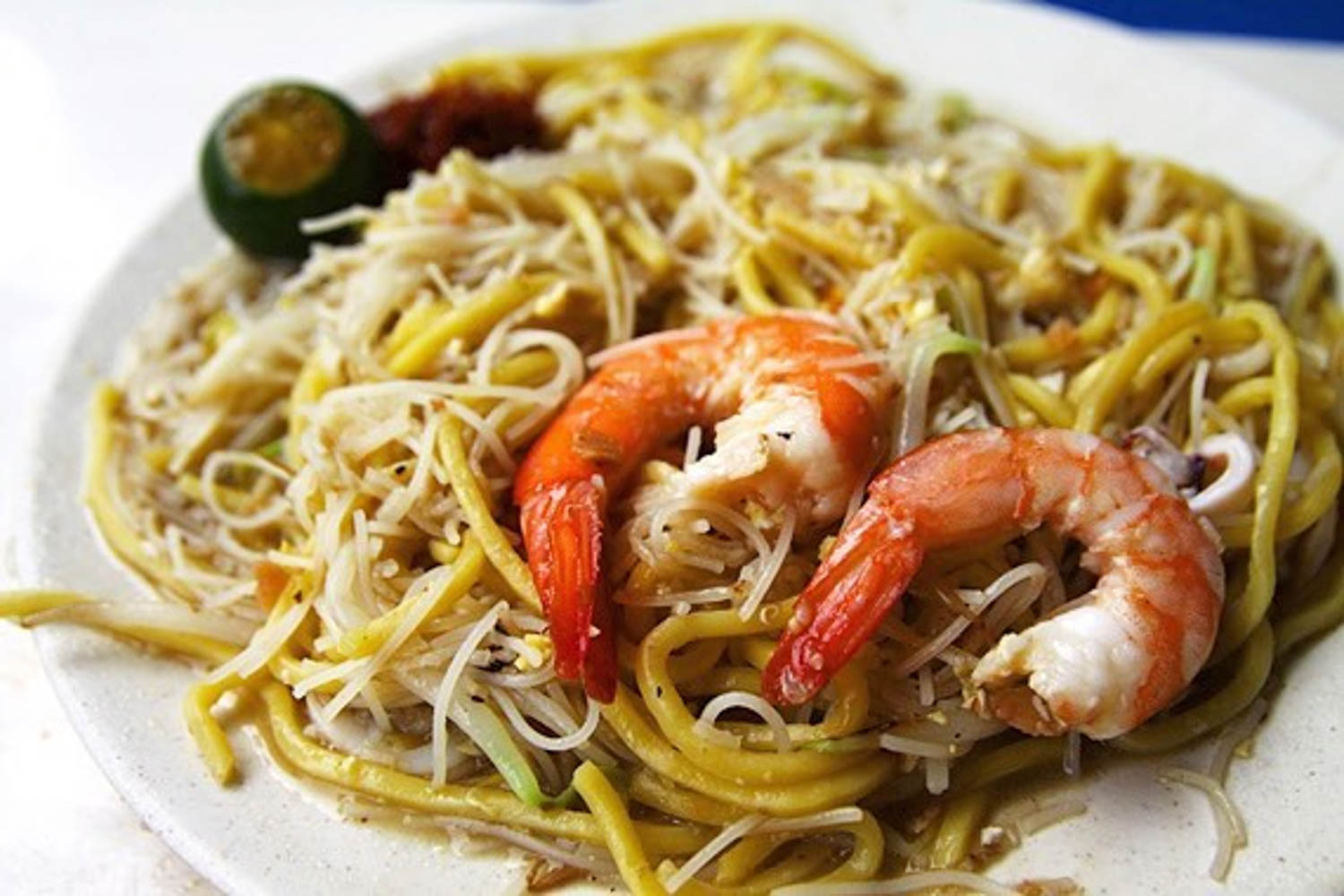 Image credit: @gardengnome89
Hong Heng Fried Sotong Prawn Mee needs no introduction, having received the Michelin Bib Gourmand for four consecutive years. Constant long queues here are an indicator of the quality, so trust it to set the bar high with its Hokkien Mee ($3). Perfumed by a light smokiness, these noodles shine with an addictive garlicky tang. For a rounder flavour, add a few drops of lime juice to let its citrusy notes lift the savoury noodles. 
Address: 30 Seng Poh Road, #02-01, Tiong Bahru Market, Singapore 168898
Opening hours: Tue-Sun 11am to 3pm, 4:30pm to 7:30pm
---
The road ahead
---

Image credit: @vejhe
Much like Singapore, Tiong Bahru now stands at a crossroads. Is it a historical site that captures the last vestiges of twentieth-century Singapore? Or is it a bohemian district with growing economic potential? 
The next few restaurants offer three different perspectives to the road that lies ahead.
---
9. Cheng's @ 27
---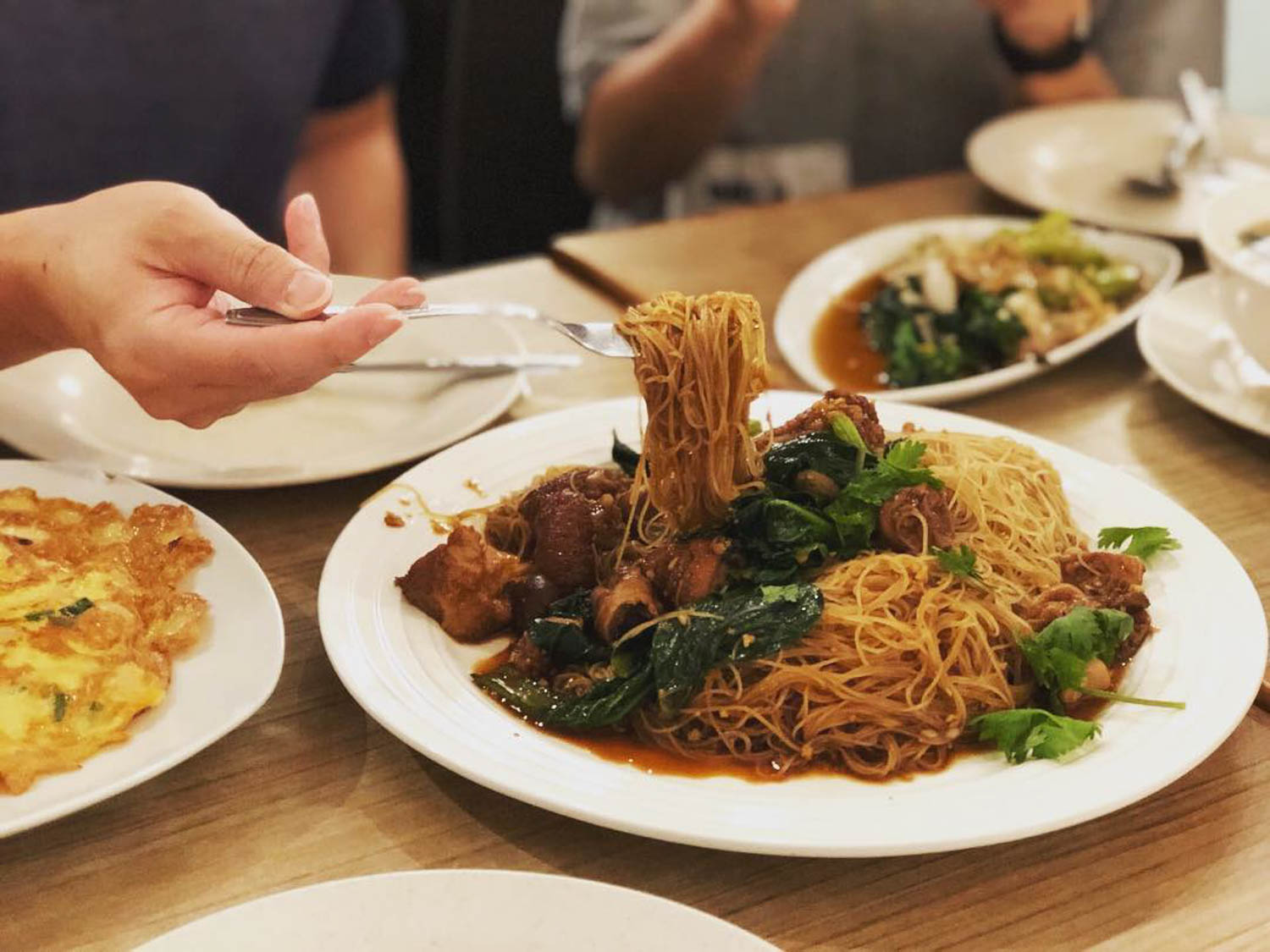 Image credit: @lappystarry 
Cheng's @ 27 is a bonafide family business. Passed down in the Cheng family for three generations, it delights regulars with mouthwatering Hainanese fare. Regulars love its old-school Pig Trotters Bee Hoon ($20), which warms the belly with umami-packed vermicelli. And thanks to a recent revamp, Cheng's @ 27 is slowly garnering the attention of youths with their chic and classy decor.
Address: 27 Yong Siak Street, Singapore 168654
Opening hours: Wed-Mon 10:30am to 2:30pm, 5:30pm to 9:30pm
Tel: 6223 7883
Website
---
10. Tiong Bahru Galicier Pastry Bakery
---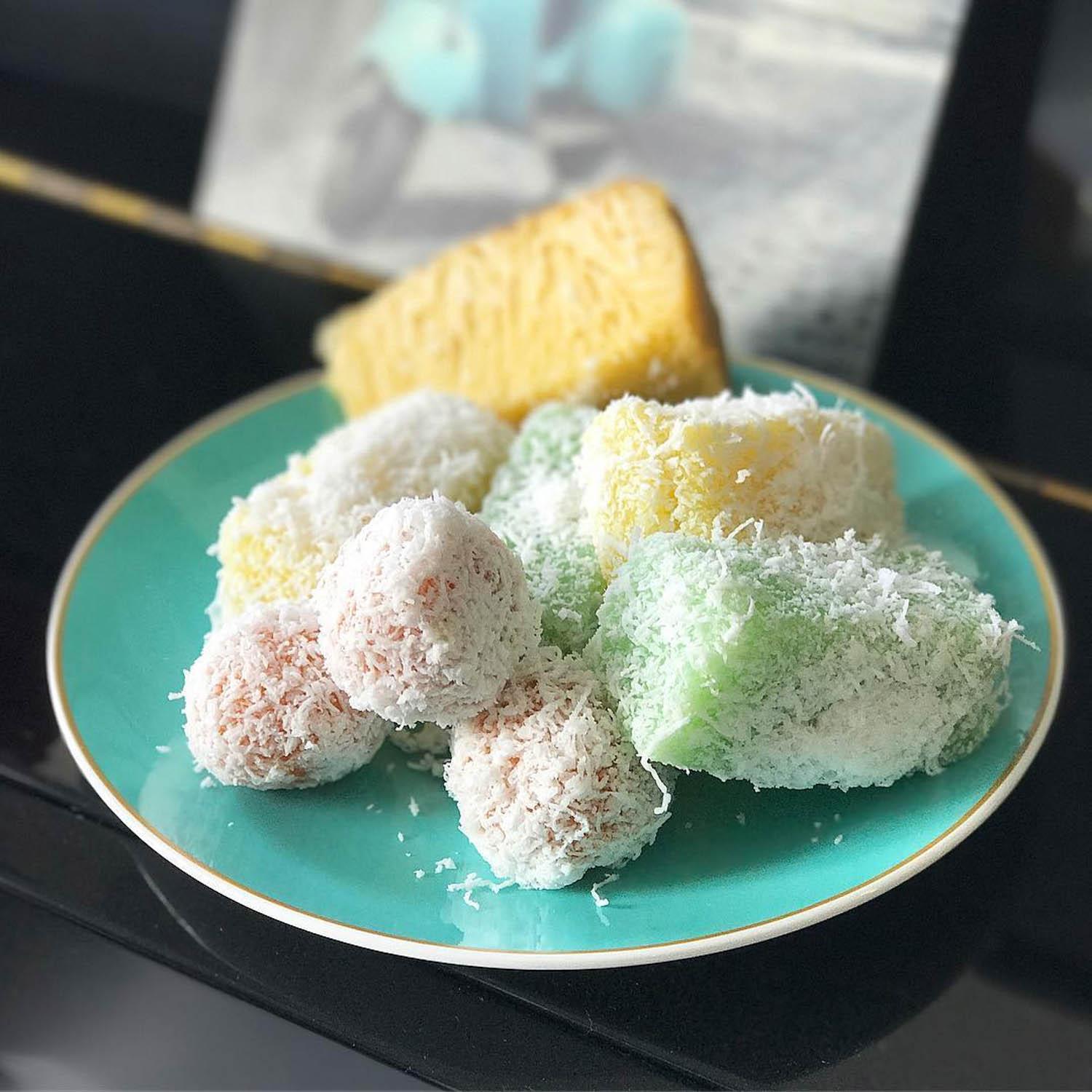 Image credit: @_zhihui.lim
Block 55 – the first flat built at Tiong Bahru – is a worthy home for Tiong Bahru Galicier Pastry Bakery. Much like the historic building, this old-school confectionery has steadfastly stood by its traditional recipes, impressing fans with delightful Nonya kueh for the past 30 years.
Sweet Potato Ondeh Ondeh ($0.60) is a particular fan-favourite; these soft and chewy orbs burst into a cascade of luscious brown sugar in your mouth.
Similar to Cheng's @ 27, Tiong Bahru Galicier Pastry Bakery has been passed on to third-generation owners. And hopefully, the legacy will live on.
Address: Block 55 Tiong Bahru Road, #01-39, Singapore 160055
Opening hours: Tue-Sun 10am to 8:30pm
Tel: 6324 1686
---
11. Bincho At Hua Bee
---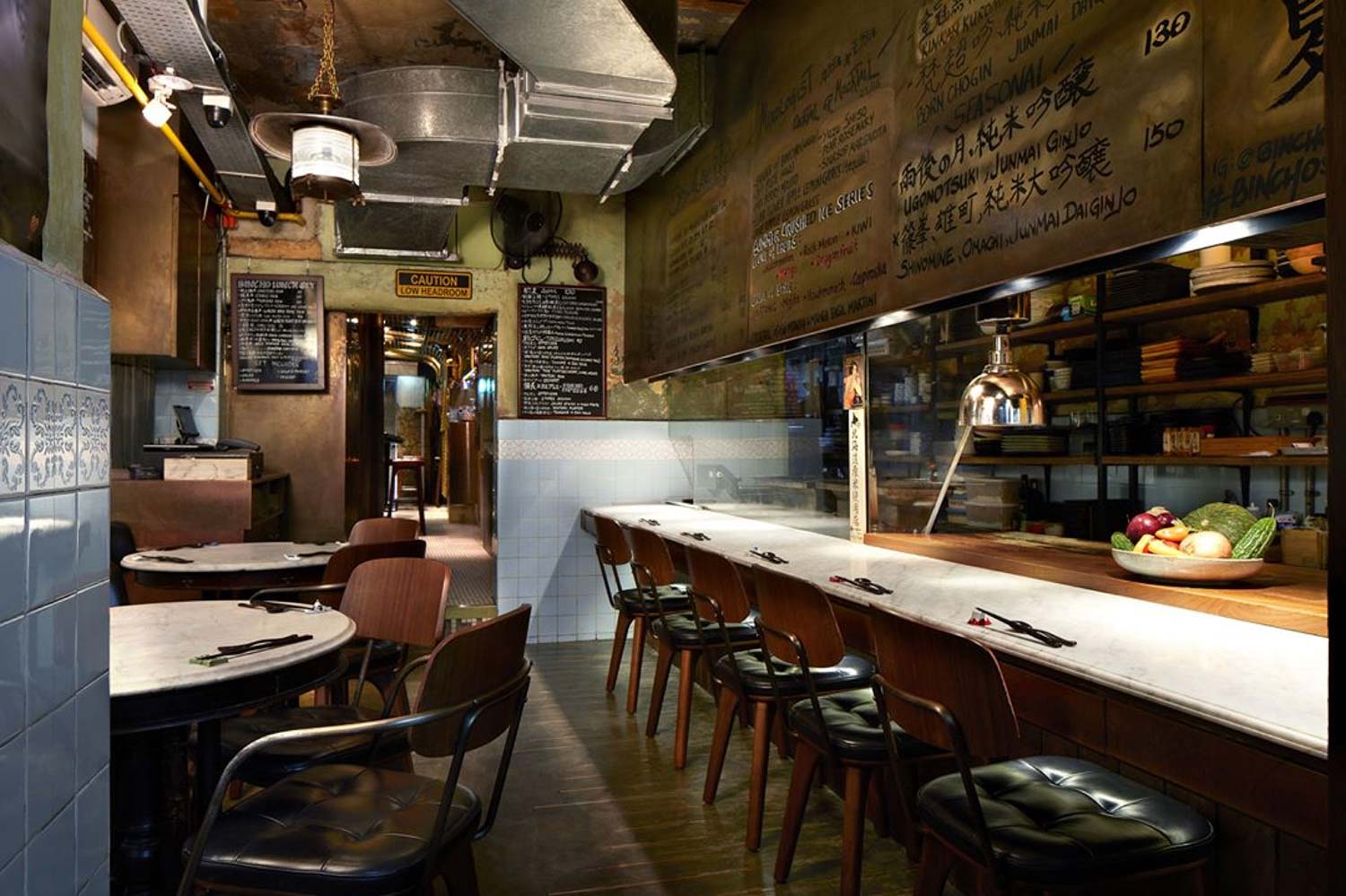 Image credit: @binchosg
The last stop of our food trail and the latest chapter in Tiong Bahru's history circles back to Hua Bee Restaurant or, as it's known by its enigmatic alter-ego, Bincho at Hua Bee.
The Bruce Wayne of Moh Guan Terrace, this modest mee pok stall transforms into a charming izakaya in the evening. As night falls, a special entrance opens at the back of the coffee shop, paving the way to overhung pendant lights and retro blue tiles.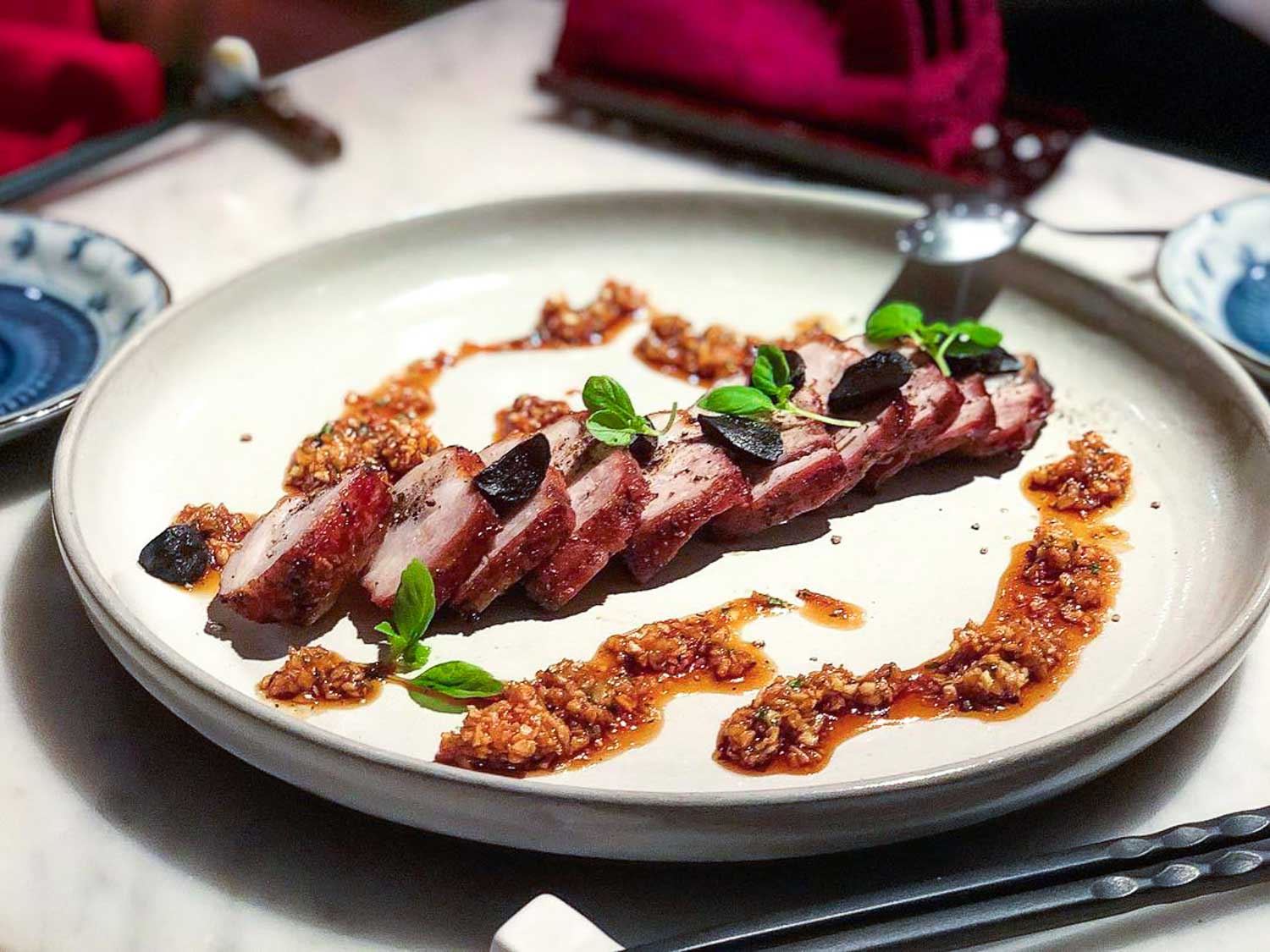 Image credit: @binchosg
Treat yourself to a parade of Japanese dishes, beginning with an assortment of yakitori skewers, followed by their numerous signatures. The Hokkaido Pork Belly with Black Garlic ($45++) is a standout. Spiked with garlicky undertones, the tender and succulent meat shines with meaty and savoury accents.
Address: 78 Moh Guan Terrace, #01-19, Singapore 162078
Opening hours: Tue-Sun 12pm to 3pm, 6pm to 12am
Tel: 6438 4567
Website | Menus
---
Nothing quite like Tiong Bahru
---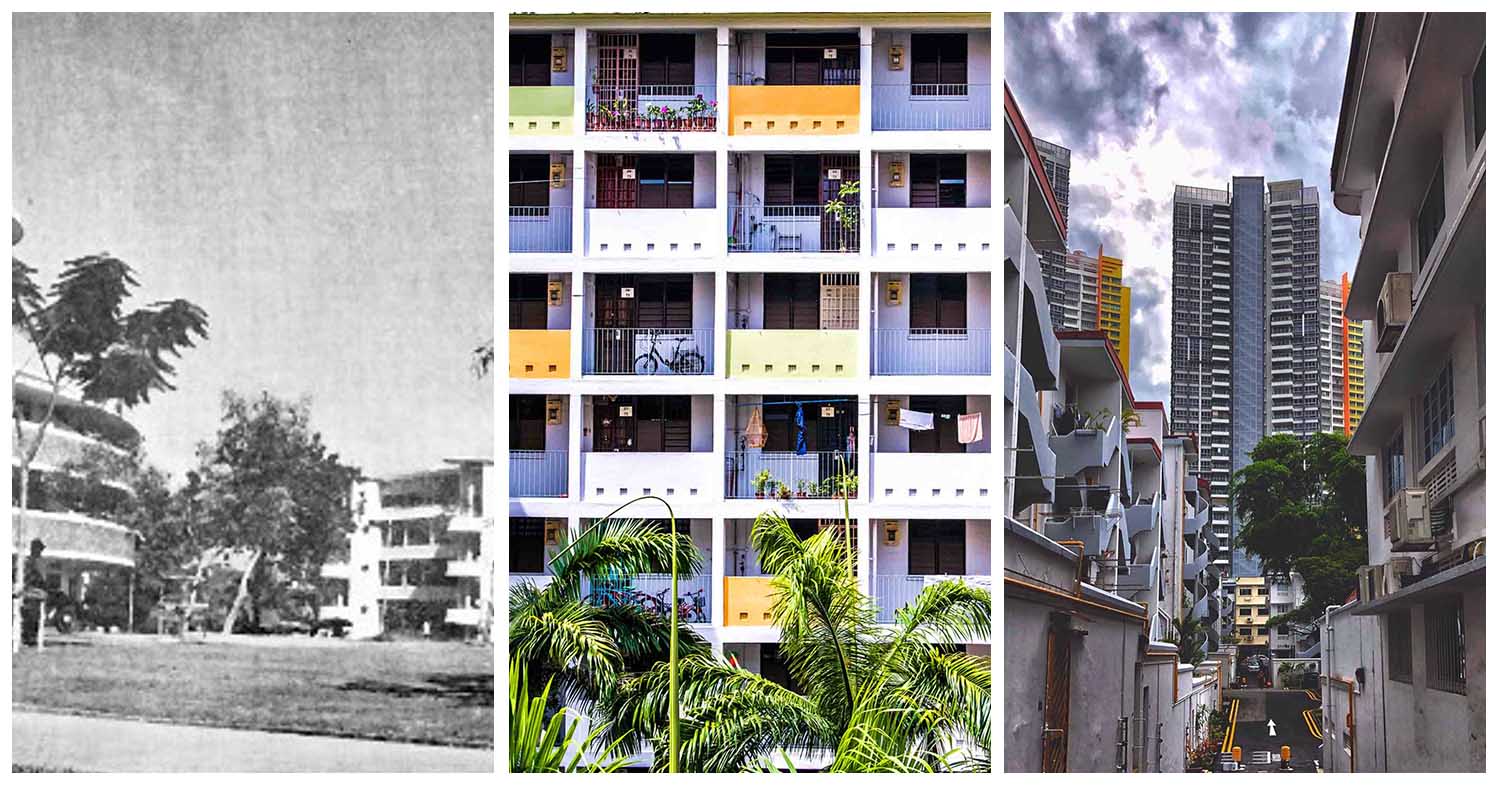 Collage adapted from @vejhe, @thisusernameistaken276, and the Housing & Development Board's photos. 
A jumble of timeless Art Deco buildings, plain HDB flats, and glamorous cafes, Tiong Bahru juxtaposes both the past and present. While the landscape will continue to evolve, I can only hope that the essence of Tiong Bahru remains the same. 
Block 110 may have become part of Tiong Bahru's forgotten past, but it will always be, home.
Just as I found comfort in this simple neighbourhood, I hope future generations will continue to find solace from the Bohemian cafes and timelessly beautiful buildings.