Comforting curry rice plates at Loo's Hainanese Curry Rice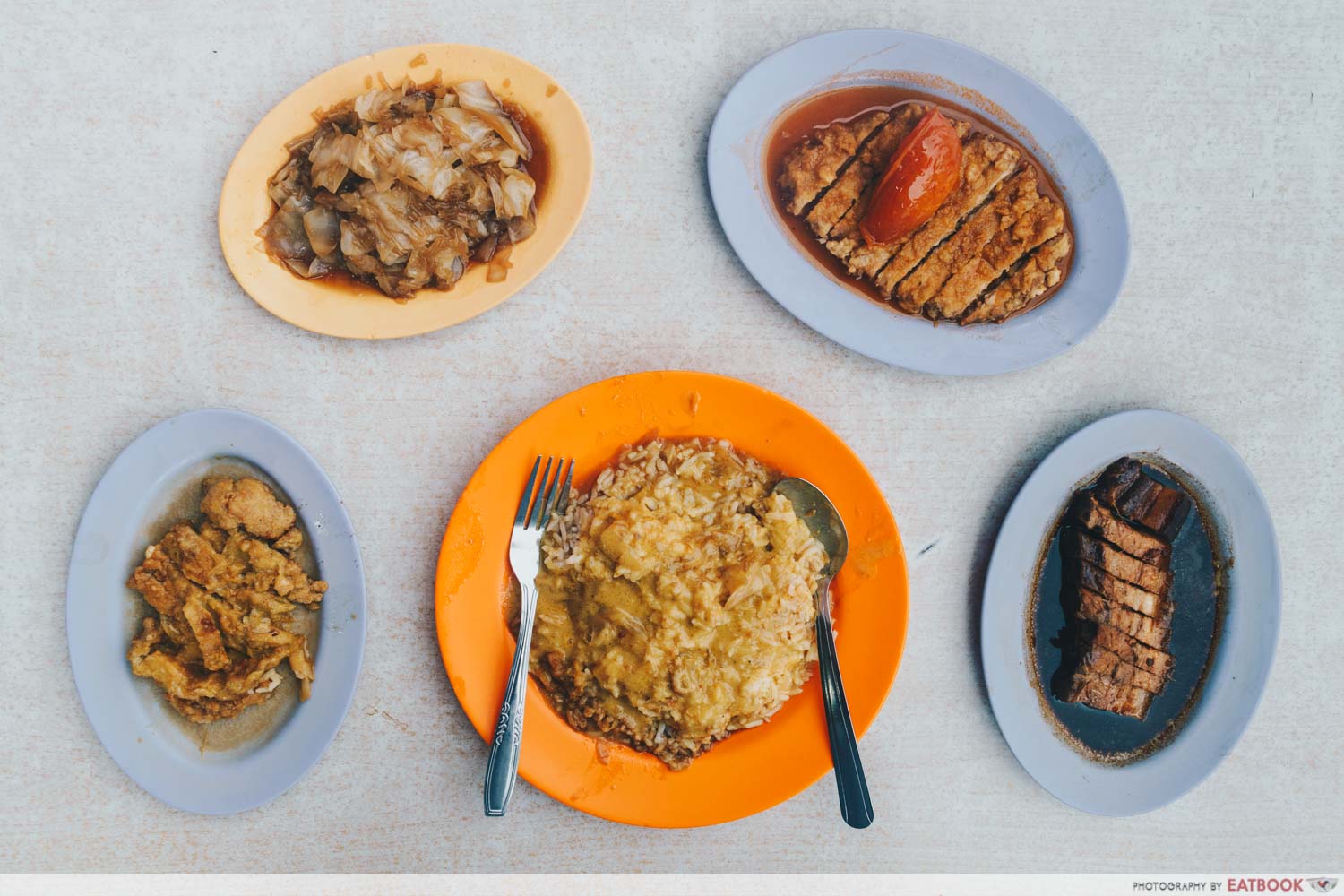 Singapore-style curry rice is a simple affair, featuring a good mix of rice, meat, and vegetables, all drenched in luxurious curry. This Hainanese staple is known to be a quick and affordable way to fill our bellies since the olden days, and Loo's Hainanese Curry Rice is a popular name in the business.
Started in 1946, this long-standing stall is a whopping 74 years old! It's currently helmed by Mr Loo Kia Chee, who took over this business from his father. To date, Mr Loo has been running this business for more than 40 years, using the same traditional Hainanese curry recipe that has made his stall a favourite over the years. 
Food at Loo's Hainanese Curry Rice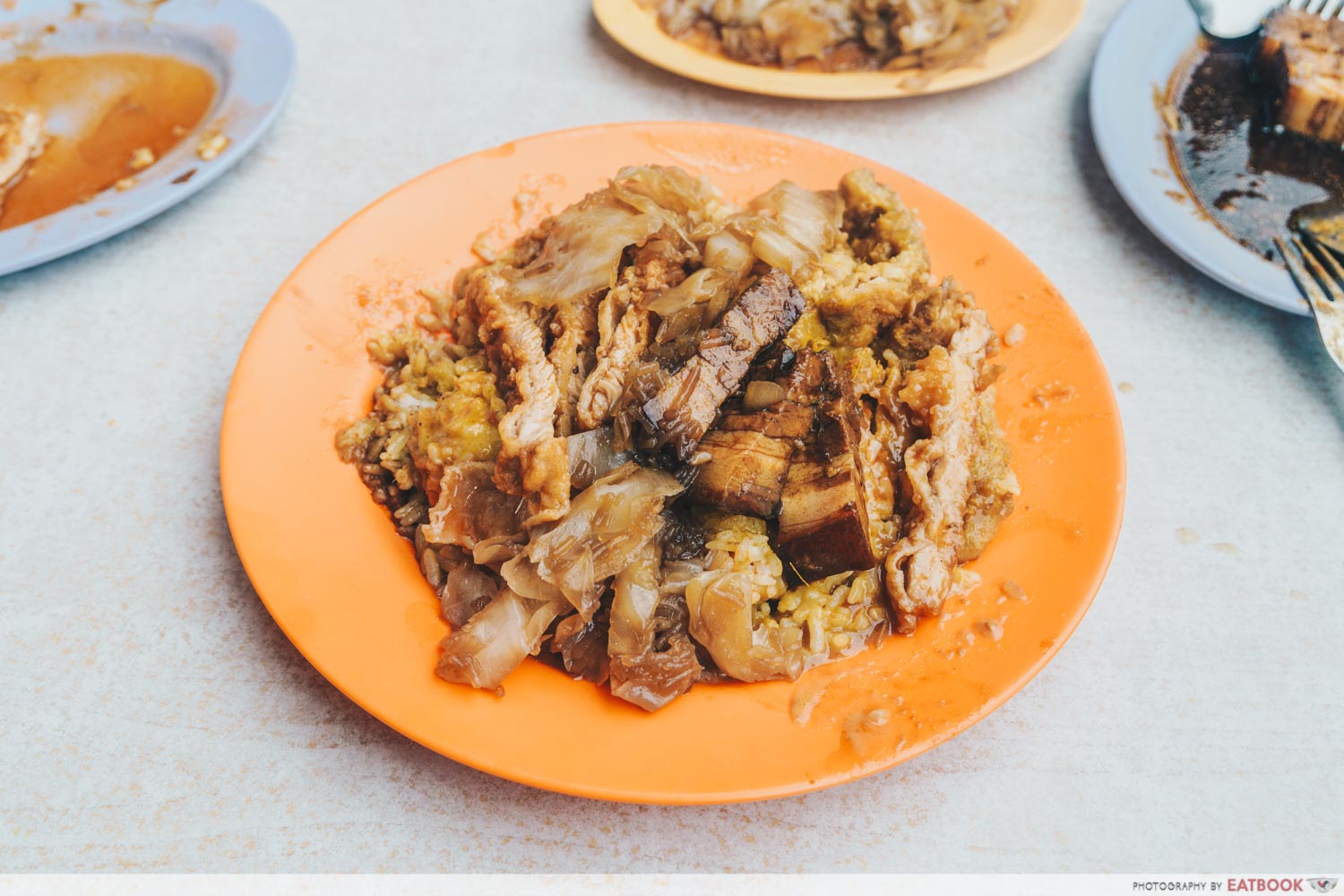 My plate of curry rice was prepared swiftly, and the whole process took less than 10 seconds. The stall attendants expertly drenched my white rice in a generous amount of curry, then proceeded to dump my requested ingredients on my plate. This is my ideal type of fast food.
Messy, yet irresistibly tasty, this hefty plate of curry rice was solid and ticked off most of my boxes. Curry rice is my idea of a hearty indulgence, and it's truly one of my ultimate comfort foods.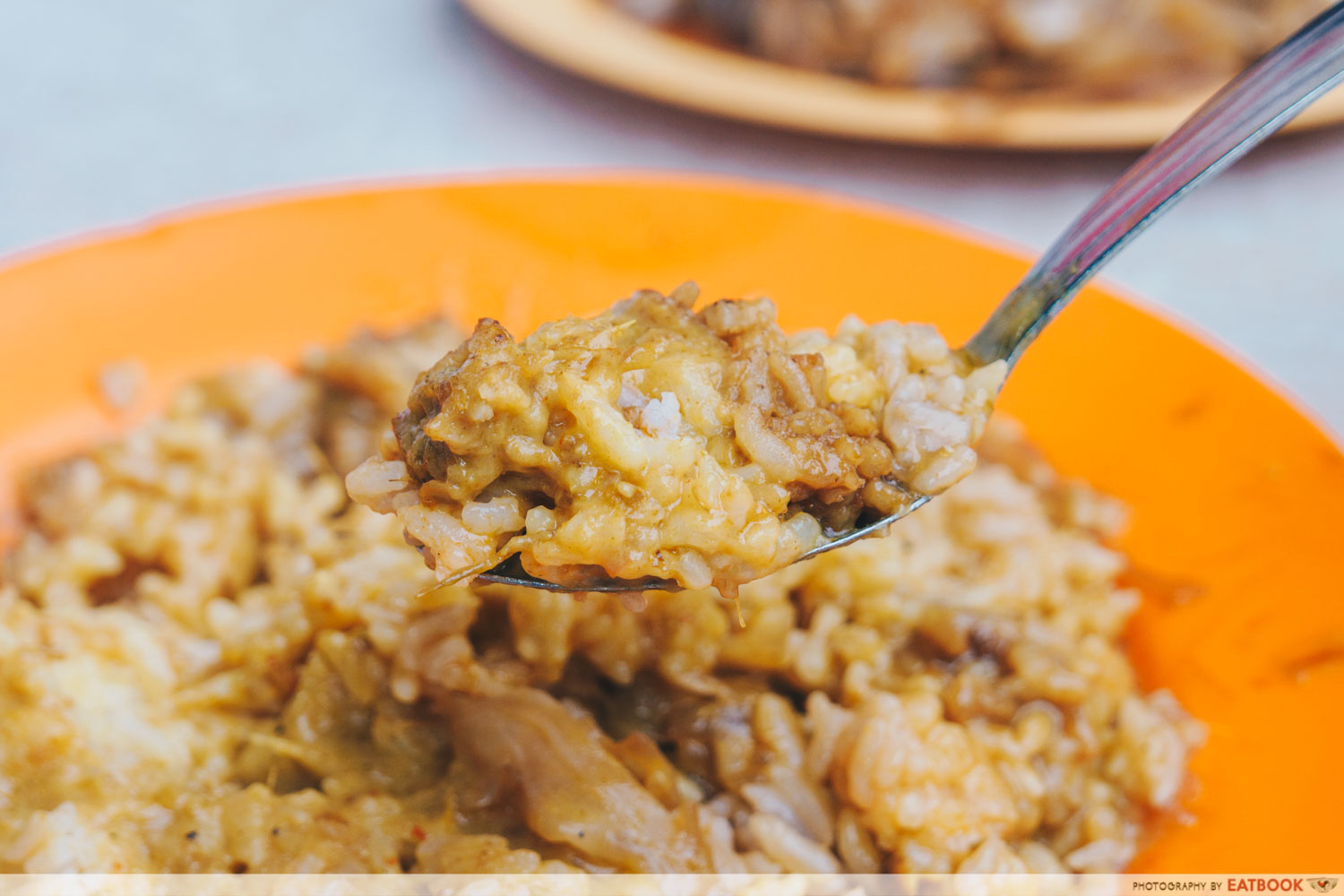 The curry was smooth and fiercely aromatic, and I could make out a tinge of creaminess from the coconut milk and refreshing gingery undertones. Surprisingly, it did not have any kick of spice, and the classic tongue-tingling sensation from eating spicy foods was absent. This was welcoming to a spicy food amateur like me, and I spared no time gobbling up my plate in delight. 
The pairing of the fragrant curry with Plain Rice ($0.50) was a match made in heaven, with the white rice thoroughly complementing the deep flavour profile of the curry.
To my surprise, I heard that Mr Loo spends about three days preparing each batch of curry. The myriad of curry ingredients has to be tirelessly chopped up for two days, before being grounded by a machine for one full day! "No wonder the curry was so tasty," my dining companion remarked.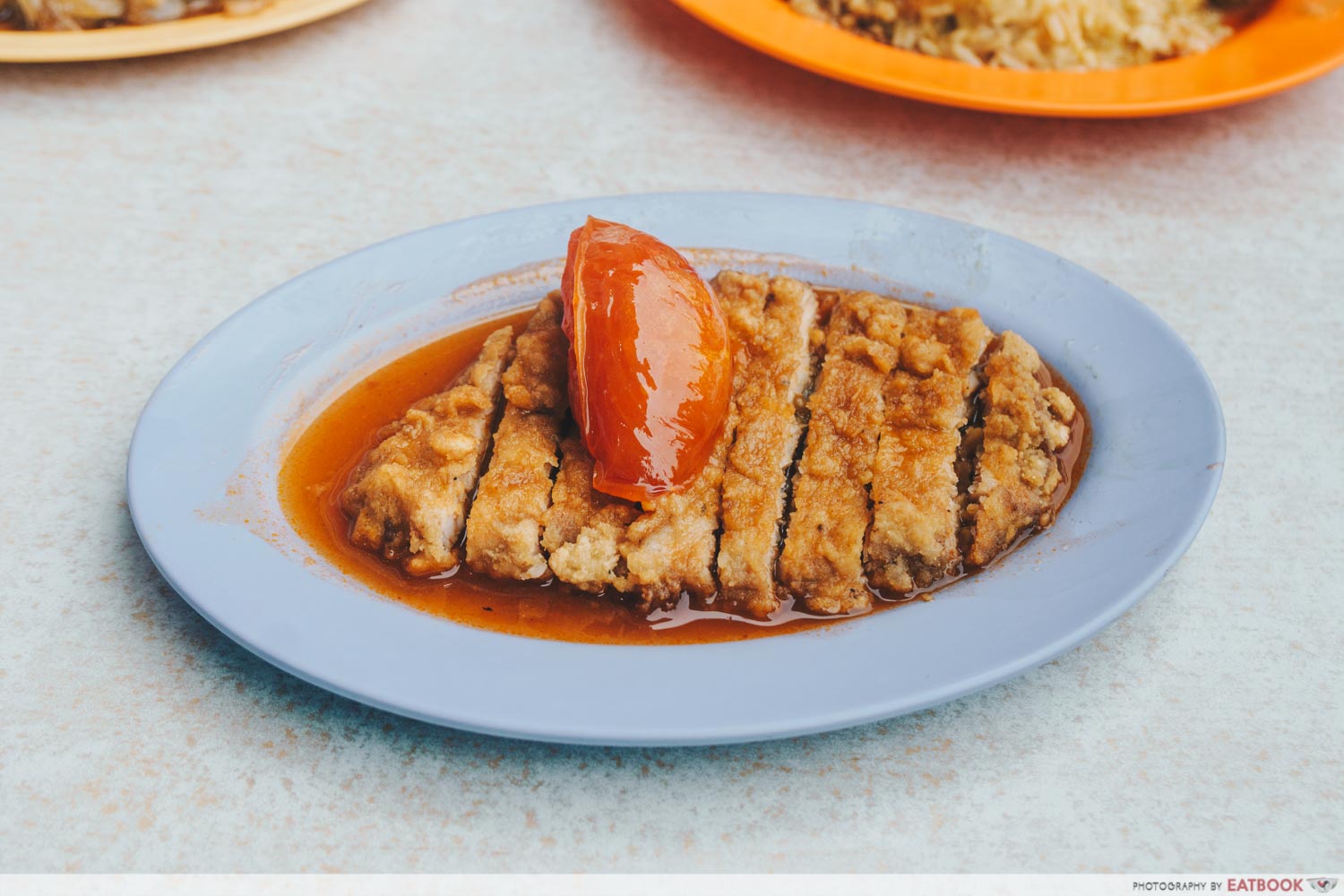 Being a meat lover, I expected the highest standards for the Pork Chop ($2/$3), and I was not disappointed.
The pork pieces were moist and succulent, and the sweet tomato-based sauce lifted this dish. My only qualm was that the pork chop's exterior was not very crispy, and slightly on the soggier side. We heard that Mr Loo uses Khong Guan biscuits for the pork chop's crust and sadly, it fell short in terms of texture and flavour profile.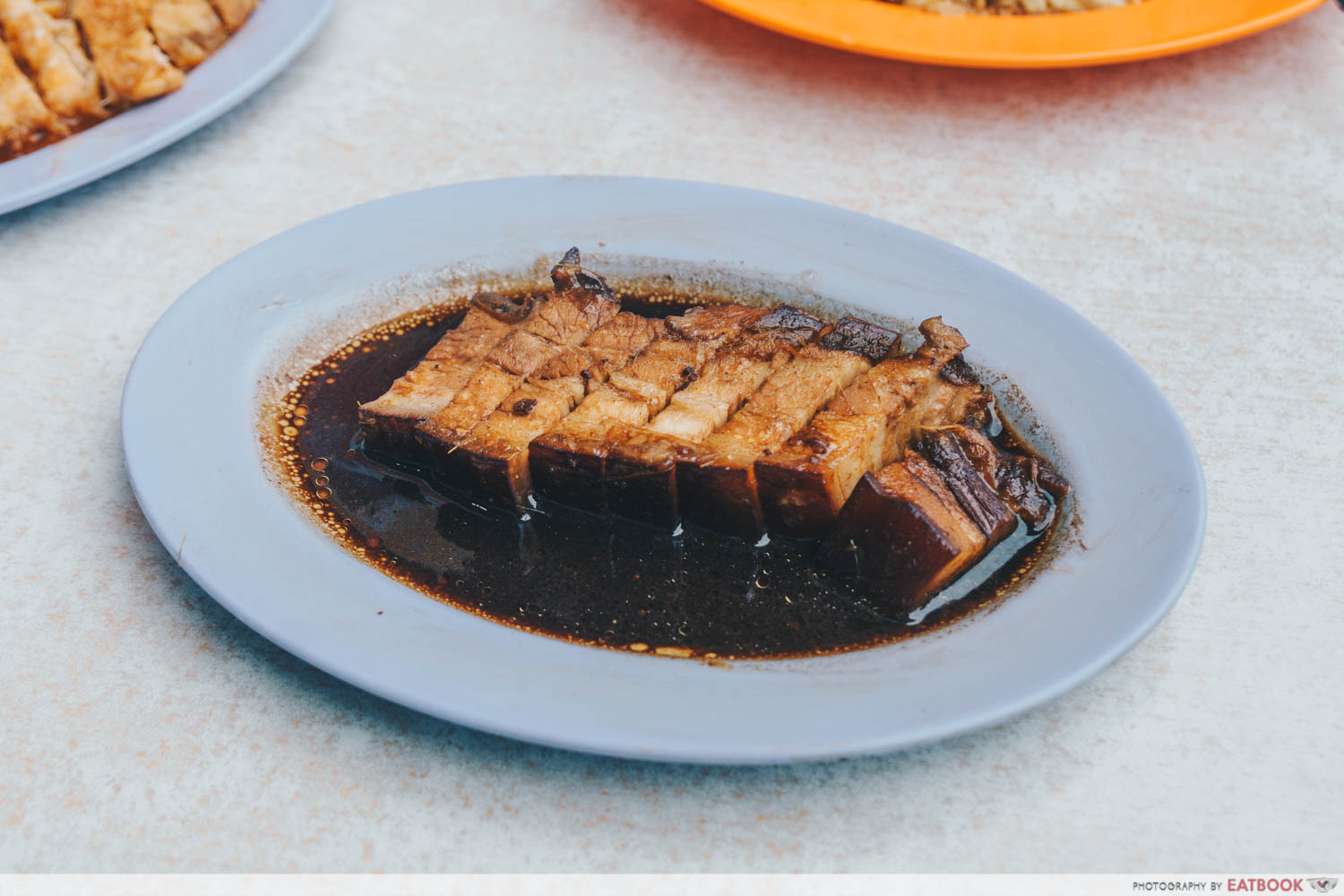 I have a soft spot for fatty food. As such, pork belly is my must-order dish at every curry rice stall, and I wasted no time in ordering their Pork Belly ($2).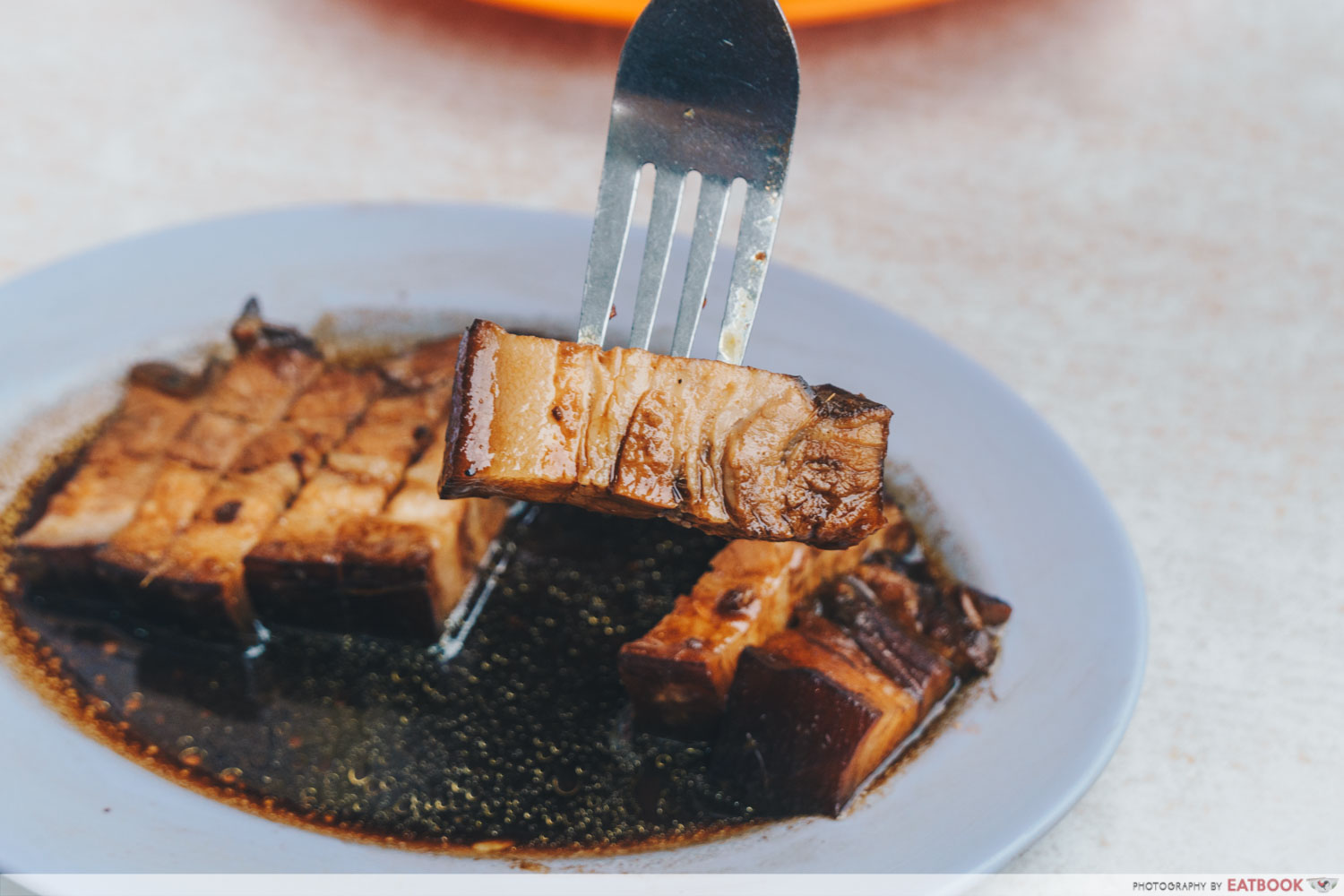 The pork bellies were a sinful indulgence, and were cut into thick chunks. Each piece was delightfully fatty, and possessed creamy, melt-in-your-mouth fat. It clung beautifully to the tender pork meats, and eating them together made for an enjoyable experience. The braised sauce was rich and smoky, and it added another depth of flavour to the pork bellies.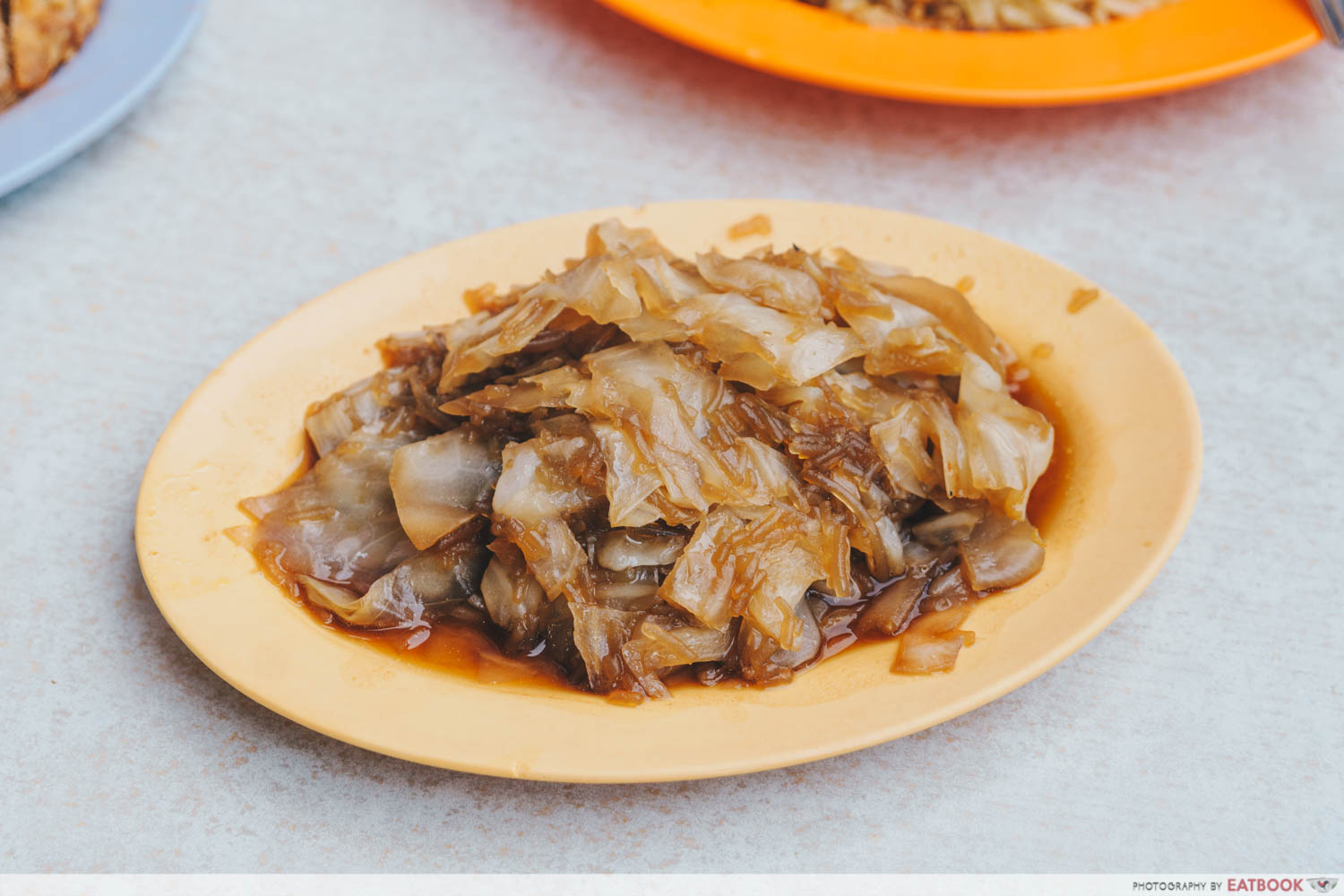 The Chap Chye ($2) rounded off the whole curry rice dish. It was refreshing, crunchy, and bursting with herbaceous flavour. It toned down the richness of the curry rice dish, and gave the flavours of this dish a nice balance. 
Ambience at Loo's Hainanese Curry Rice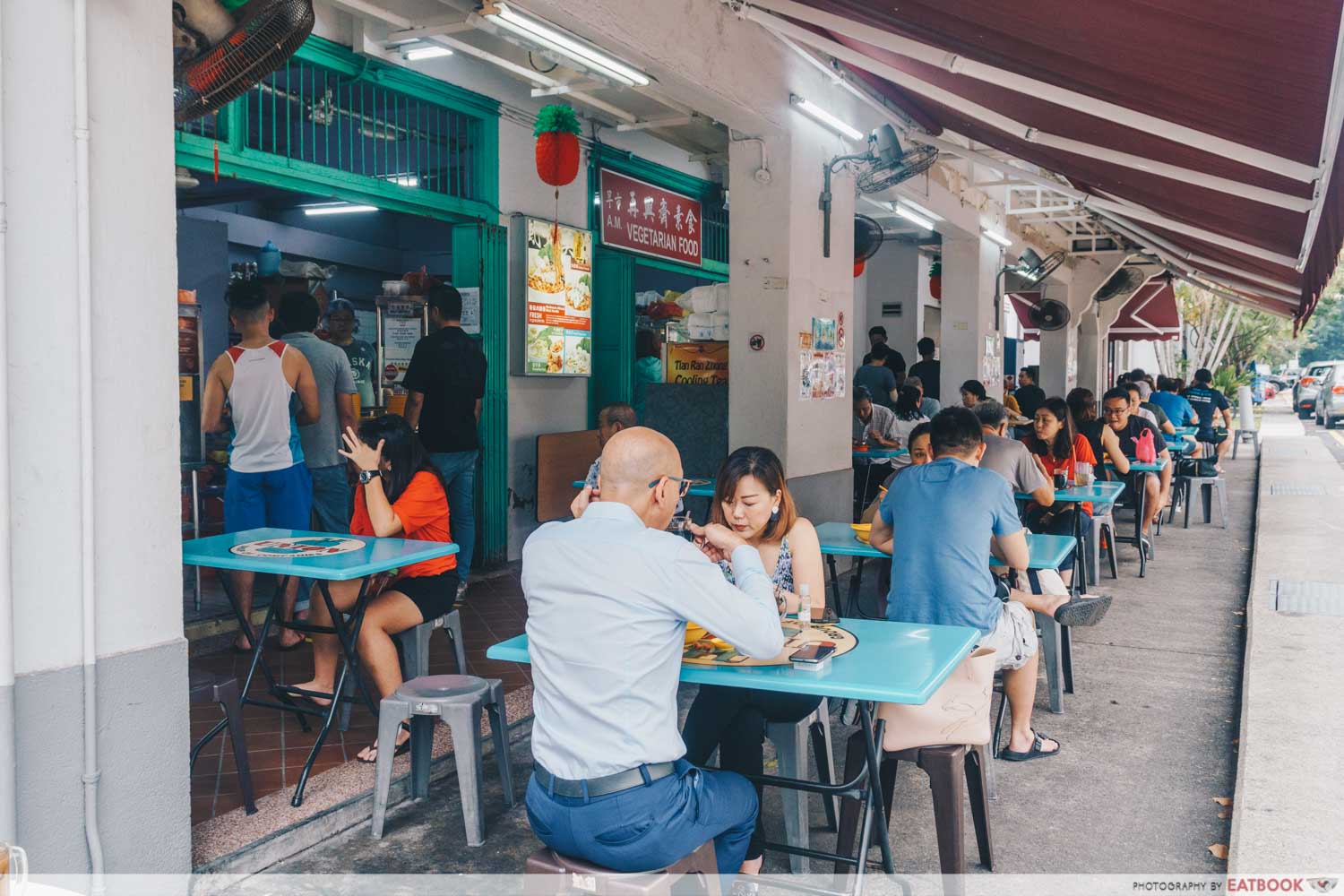 The stall is housed in a coffeeshop under a row of shophouses at Tiong Bahru. The coffeeshop gets pretty crowded during mealtimes, especially during breakfast hours, so come at non-peak times for a comfortable meal. Frustratingly, my dining companion and I had to swat away numerous pesky flies so we could enjoy our meal in peace, so bear that in my mind when you visit this coffeeshop. 
The verdict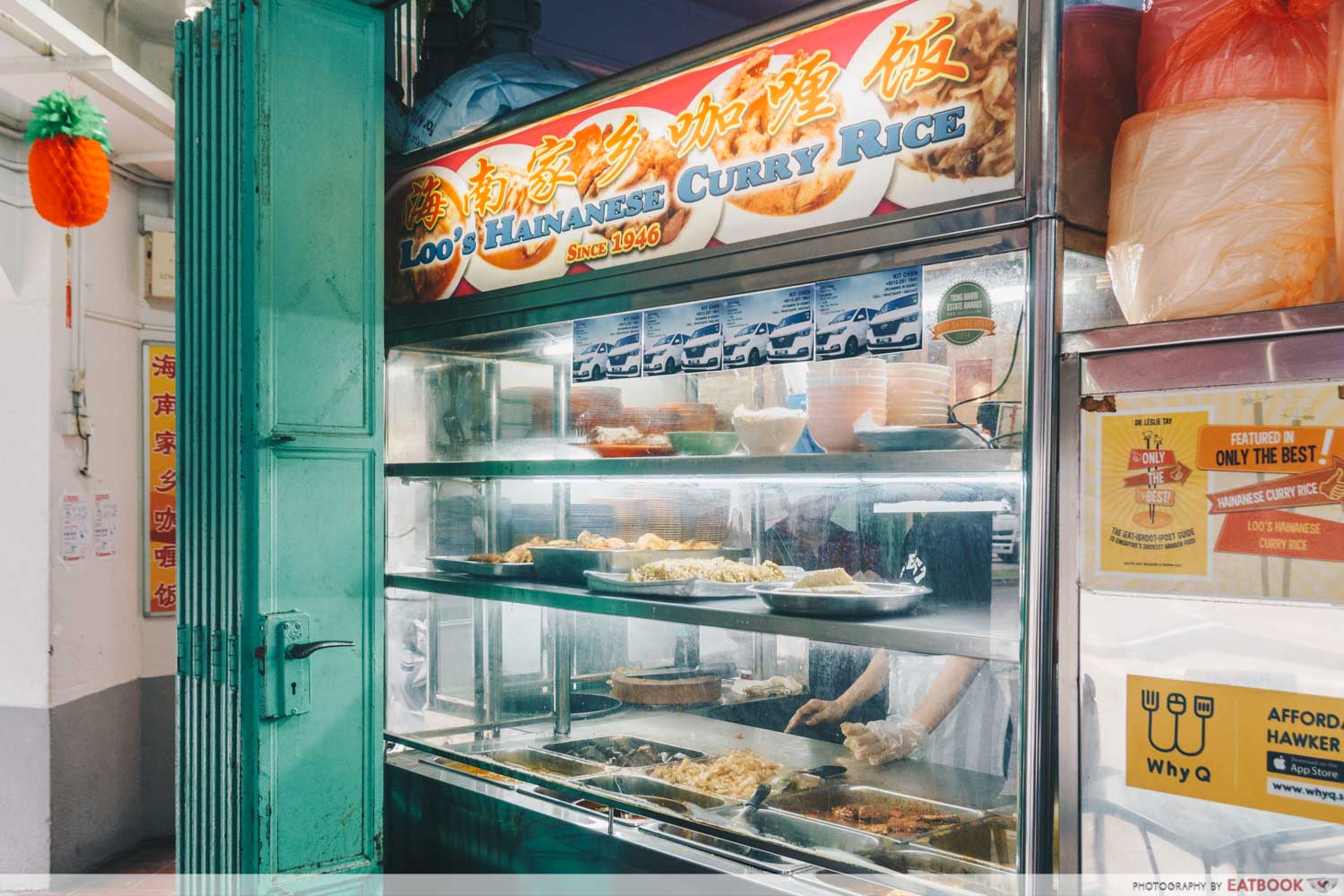 Loo's Hainanese Curry Rice dishes out tasty and comforting plates of curry rice that are super affordable. I'll definitely be back for more of that curry rice goodness if I'm around the Tiong Bahru area. The stall's storefront is rather obscure, so be sure to watch out for the words "Loo's Hainanese Curry Rice"!
For more delicious curry rice spots, check out our reviews of No Name Hainanese Curry Rice and Tian Tian Hainanese Curry Rice.
Address: 71 Seng Poh Road, #01-49, Singapore 160071
Opening hours: Fri-Wed 8am to 2:45pm
Tel: 6225 3762
Loo's Hainanese Curry Rice is not a halal-certified eatery.
Photos taken by Chng Jia Yan.
This is an independent review by Eatbook.sg.
Summary
Pros
– Tasty curry
– Tender pork chop
– Affordable prices
Cons
– Pork chop's exterior was soggy
– Pork was rather bland
– Coffeeshop has many flies
Recommended dishes: Pork Chop ($2/$3), Chap Chye ($2), Plain Rice ($0.50), Pork Belly ($2)
Opening hours: Fri-Wed 8am to 2:45pm
Address: 71 Seng Poh Road, #01-49, Singapore 160071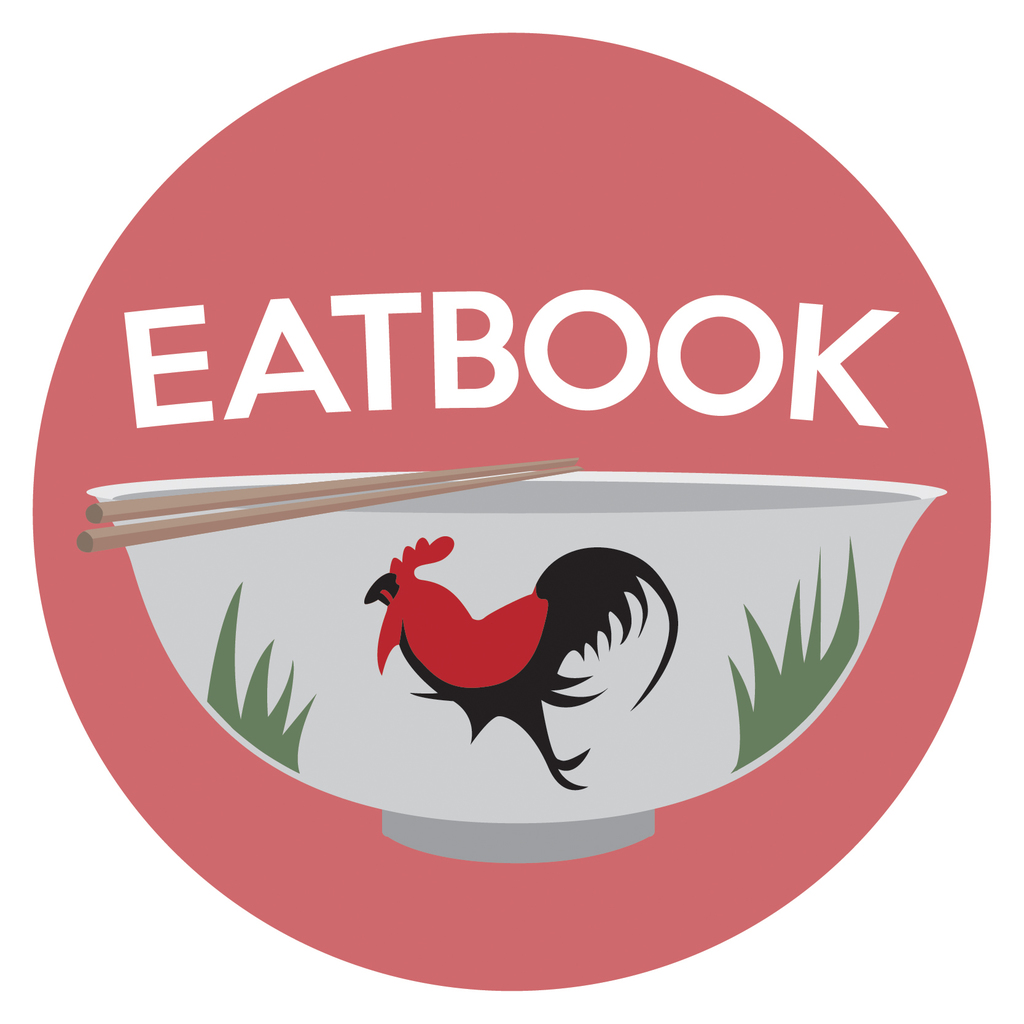 Drop us your email so you won't miss the latest news.