---
Cheap and good nasi lemak around Singapore
---
Directly translated as "fatty rice", nasi lemak is a beloved national dish we would gladly eat for breakfast, lunch, dinner or supper. Rice, be it long or short grain, is cooked in coconut milk to give it a rich nutty flavour and a light and fluffy texture.
While we understand how atas nasi lemak uses premium ingredients that you probably won't get at a kopitiam, it's sometimes easier to just roll out of bed in your FBTs and school t-shirt for these cheap but still very sedap plates of coconut rice. Here are 10 nasi lemak stalls in Singapore that'll help you do just that.
---
1. Yi Liu Xiang
---
Instead of anchovies, Yi Liu Xiang tops their nasi lemak with fried whitebait that is crisp like keropok without the mild bitter aftertaste of anchovies. Rice here has a strong fragrance of ginger and lemongrass, and tastes lighter than the usual coconut rice elsewhere. For $2.50, you get rice, fried egg and a side dish, which includes choices like ikan kuning (yellow banded scat) and fish cake.
Address: Blk 105 Hougang Avenue 1, #02-30, Hainanese Village Centre, Singapore 530105
Opening hours: Tue-Wed and Fri-Sun 6:30am to 12pm
---
2. Bali Nasi Lemak
---
Perhaps it's in the name, but Bali Nasi Lemak really reminds us of Indonesian cuisine. Coconut rice and sambal here come with a strong aroma of shallots. The black fried chicken is crispy with a sweet caramelised coating of kicap manis (sweet soya sauce). Another side dish of theirs I love is sambal petai (bitter bean), which comes with a nutty flavour that complements the coconut rice well. I had two sides of meat and a side of vegetable here for $5.
Address: 2 Geylang Lorong 15, Singapore 388596
Opening hours: Daily 5:30pm to 4am
Tel: 9069 6881
---
3. Golden Shoe Nasi Lemak
---
Golden Shoe Nasi Lemak's soft coconut rice is in a pastel green that screams "pandan". For $2.80, it is paired with a sunny side up and crispy fried chicken that's been spiked with five spice powder. This is more of a Chinese-style nasi lemak, hence you can taste a hint of hae bee (dried shrimp) in the sambal rather than anchovies.
Check out other good Golden Shoe Food Centre grub before the hawker centre closes!
Address: 50 Market Street, #02-14, Golden Shoe Food Centre, Singapore 048940
Opening hours: Mon-Sat 9:30am to 6:30pm
---
4. Selera Rasa Nasi Lemak (Adam Road)
---
Fun fact: Malik, the second generation owner of Selera Rasa Nasi Lemak, used to be a pilot before taking over the stall. All set meals here are cheekily named after poker card games, such as Royal Rumble ($5.50). It's a set complete with fried egg, bergedel (fried potato mash patty), fried chicken wing, otah, fried fish, ikan bilis and sambal. They use long grain basmati rice that results in a lovely loose texture.
Address: 2 Adam Road, #01-02, Adam Road Food Centre, Singapore 289876
Opening hours: Sat-Thur 7am to 5pm
Tel: 9843 4509
Click here for more info on their Ang Mo Kio outlet.
---
5. No. 1 Adam's Nasi Lemak
---
No. 1 Adam's Nasi Lemak is another popular nasi lemak stall housed in Adam Road Food Centre, often seen as a close competitor to Selera Rasa. They also use long grain basmati rice that is nuttier as compared to other types of grain and goes well with coconut milk. For $5, you get a side of fried chicken wings, fried egg, bergedel (fried potato mash patty) and fork tender beef rendang.
Address: 2 Adam Road, #01-01, Adam Road Food Centre, Singapore 289876
Opening hours: Wed-Mon 8:30am to 1pm
---
6. Sri Sujana
---
Changi Village Market & Food Centre houses several nasi lemak stalls and Sri Sujana is my favourite. Their sambal has a smokiness of rempah (spices) that have been browned until aromatic, spicy and rather savoury. The coconut rice is light in texture and sweetness. It's good to know they open for long hours and a satisfying plate here only costs $3.50.
Check out other Changi Village food stalls you must visit when you drop by!
Address: Blk 2 Changi Village Road, #01-30, Changi Village Market & Food Centre, Singapore 500002
Opening hours: Tue-Sun 7am to 2am
---
7. Punggol Nasi Lemak
---
Punggol Nasi Lemak uses short grain rice to create a glutinous-like chewy bite. For $5, we love pairing their nasi lemak with hae bee hiam (spicy dried shrimp) and achar (pickles) to cut through the richness of coconut rice. Prices for meat side dishes start at $1.50, while a vegetable side dish is priced at around $1.
Address: 965 Upper Serangoon Road, Mee Sek Food Court, Singapore 534721
Opening hours: Fri-Wed 5:30pm to 5am
Tel: 6281 0020
Click here for more info on other outlets.
---
8. Nasi Lemak Kukus
---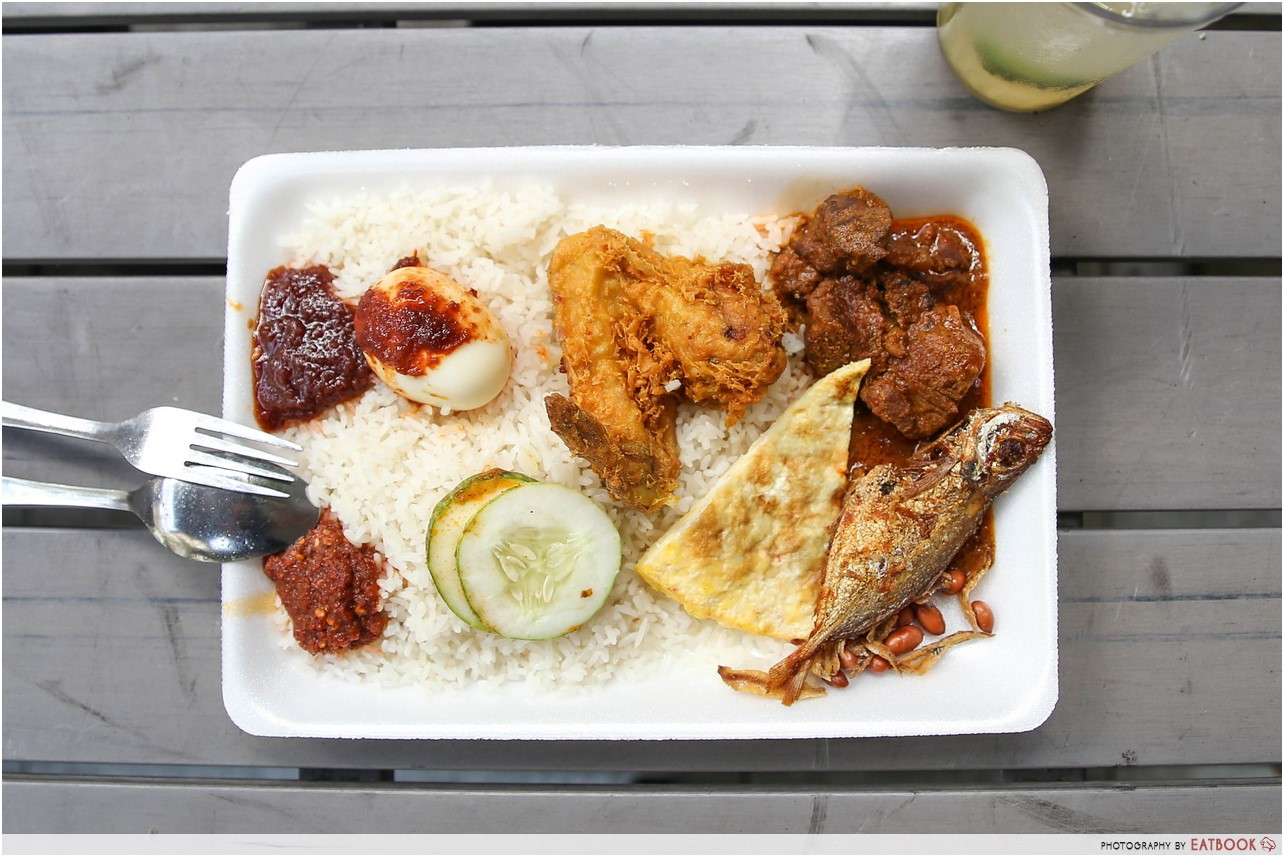 What makes Nasi Lemak Kukus unique is how they kukus (steam) the rice instead of boiling. The result is light and moist coconut rice, which you can get free-flow for only $1. Prices of side dishes start from $0.50, and include fish cakes, hot dogs and rendang. For those who can't decide, pay $4 for a standard set that comes with a slice of omelette, hard-boiled egg, fried fish, fried chicken wing and ikan bilis with peanuts.
Address: 229 Selegie Road, Singapore 188344
Opening hours: Mon-Sat 12pm to 11pm
Tel: 8222 9517
Read our full review here.
---
9. Haji Maksah Barkat Chahya (Boon Lay Power Nasi Lemak)
---
Say hi to NTU's best kept secret. Opened till 4am daily, Boon Lay Power Nasi Lemak is a hot spot for NTU students who need some fuel while burning the midnight oil. A standard set here costs $3, and you can add side dishes like rendang and sayur lodeh (vegetable curry). Sambal here has a strong taste of anchovies and is incredibly spicy and umami.  
Address: Blk 221B Boon Lay Place, #01-106, Boon Lay Food Centre, Singapore 642221
Opening hours: Mon 6pm to 4am, Tue-Sun 6am to 3pm, 6pm to 4am
Tel: 6266 4466
---
10. Chong Pang Nasi Lemak
---
Chong Pang Nasi Lemak is another go-to supper spot for Westies as they open until 7am. With a wide range of side dishes to choose from, this place is more like a cai png (economical mixed rice) stall with a bonus of coconut rice. At $4.50, I had a side of meat, veggie and otah. The sambal is sweeter and less caramelised as compared to the rest on this list, but still shiok.
Address: 447 Sembawang Road, Singapore 458404
Opening hours: Daily 5pm to 7am
Tel: 6756 0048
---
Nasi Lemak you'll want to
makan
forever
---
The next time you're making brunch plans with your friends, consider having a hearty plate of nasi lemak. The rich coconut rice will fill you up for the next few hours and, let's be real, nobody says no to a good fried chicken wing on the side. Let us know if we missed your favourite nasi lemak stall in the comments below!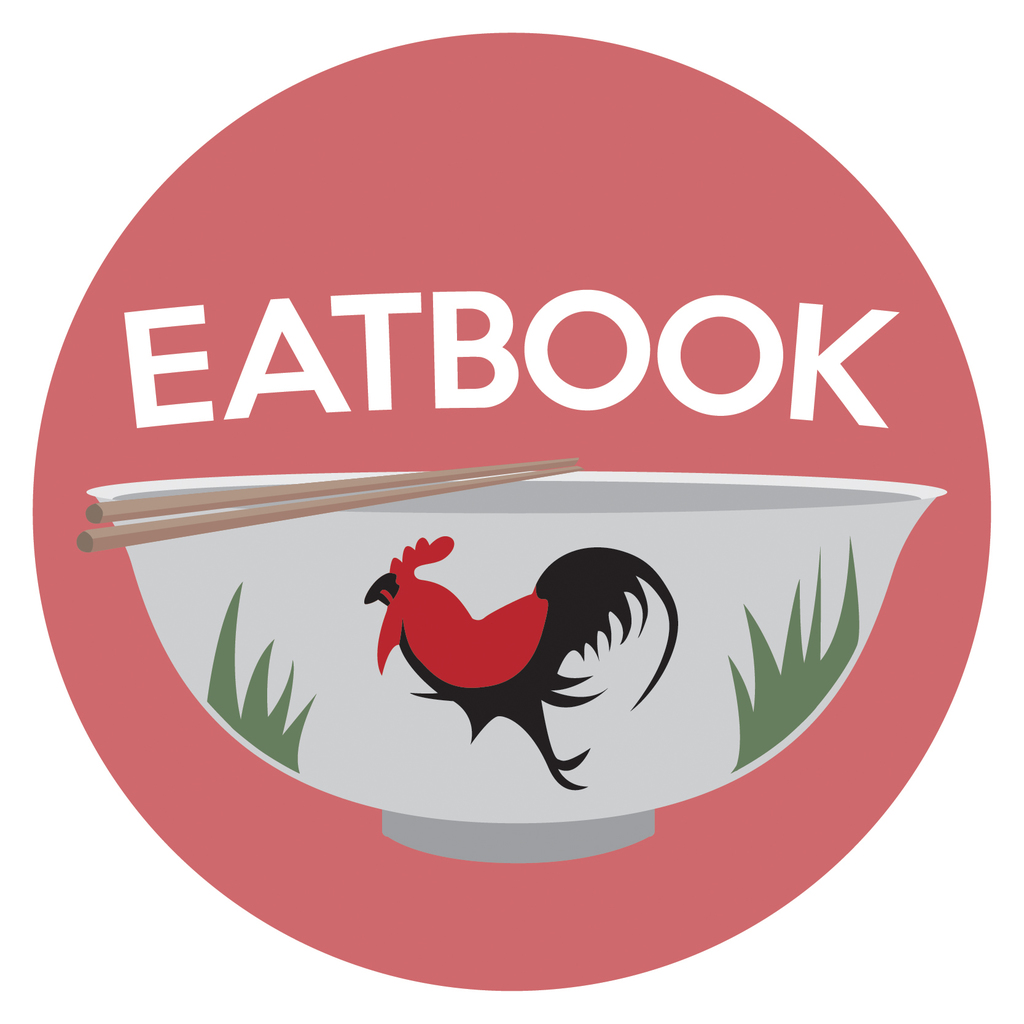 Drop us your email so you won't miss the latest news.