Crayfish hor fun at Tuck Kee (Ipoh) Sah Hor Fun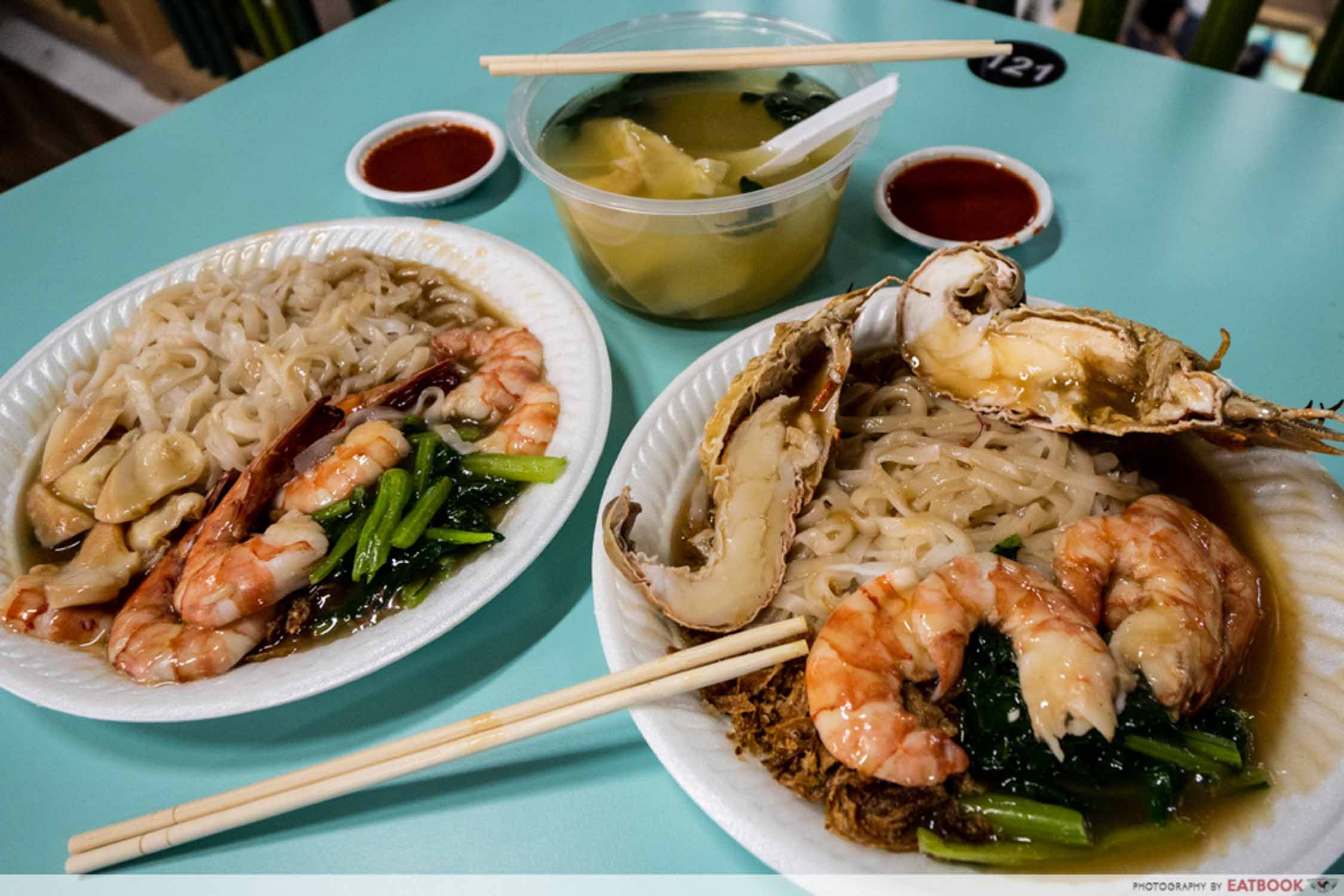 I have a soft spot for Chinatown's food. From Hong Lim Food Centre to Maxwell Food Centre, there lies a treasure trove of old-school Singaporean hawker dishes served at affordable prices. Another stall to add to your bucket list of must-try Chinatown stalls is Tuck Kee (Ipoh) Sah Hor Fun. Boasting an illustrious 40-year history, the hawker stall has garnered a loyal following with its highly affordable seafood Ipoh hor fun.
Food at Tuck Kee (Ipoh) Sah Hor Fun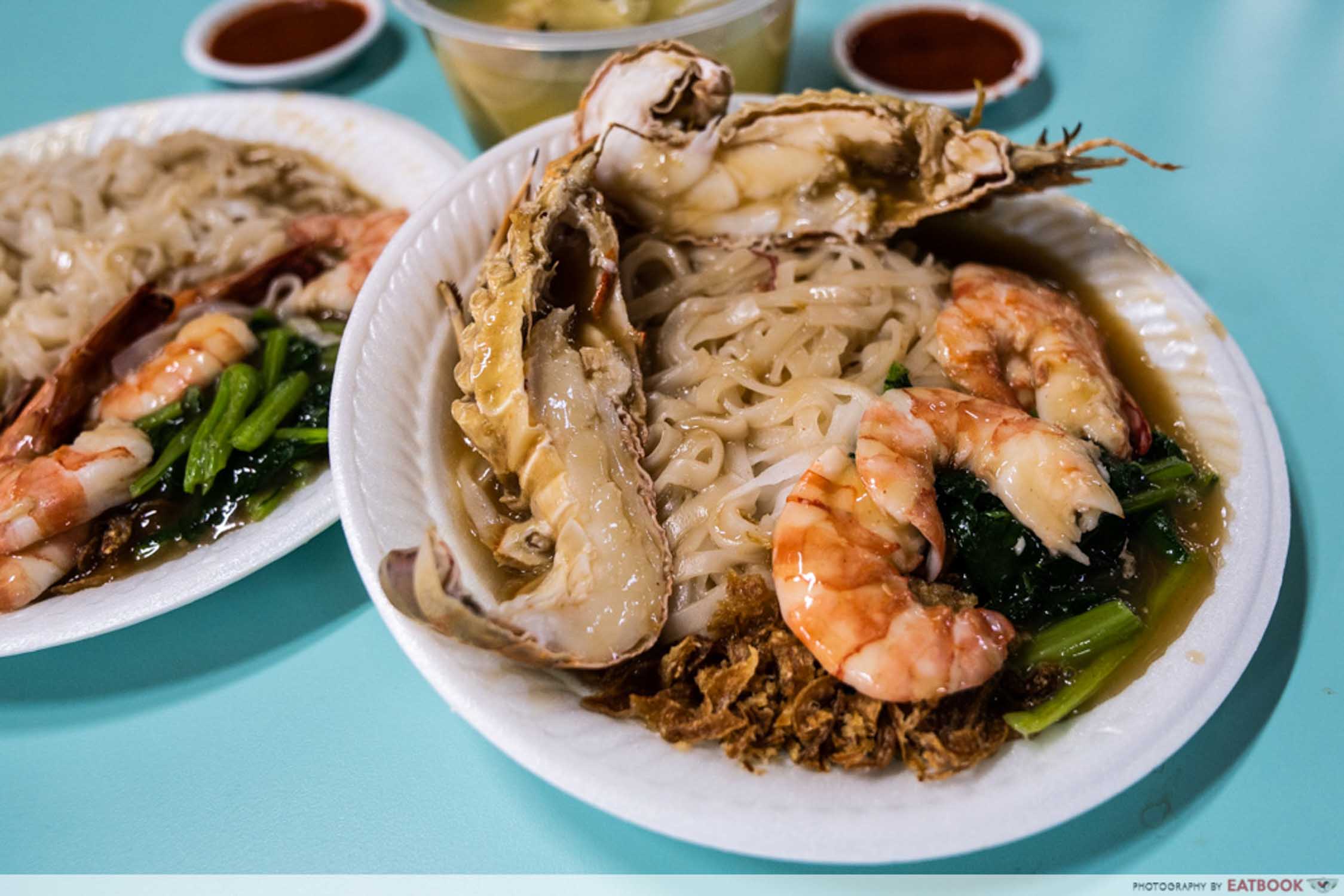 The star attraction is the signature Crayfish Prawn Hor Fun ($10). A generous helping of kway teow is served with thick prawn slices, chye sim, and two halves of a crayfish. A viscous brown gravy blankets the noodles before fried shallots are sprinkled on the side.
Unlike our local hor fun, Ipoh hor fun omits egg in the preparation of the gravy. The sauce, therefore, lacks both the egg white flowers and silky texture synonymous with hor fun.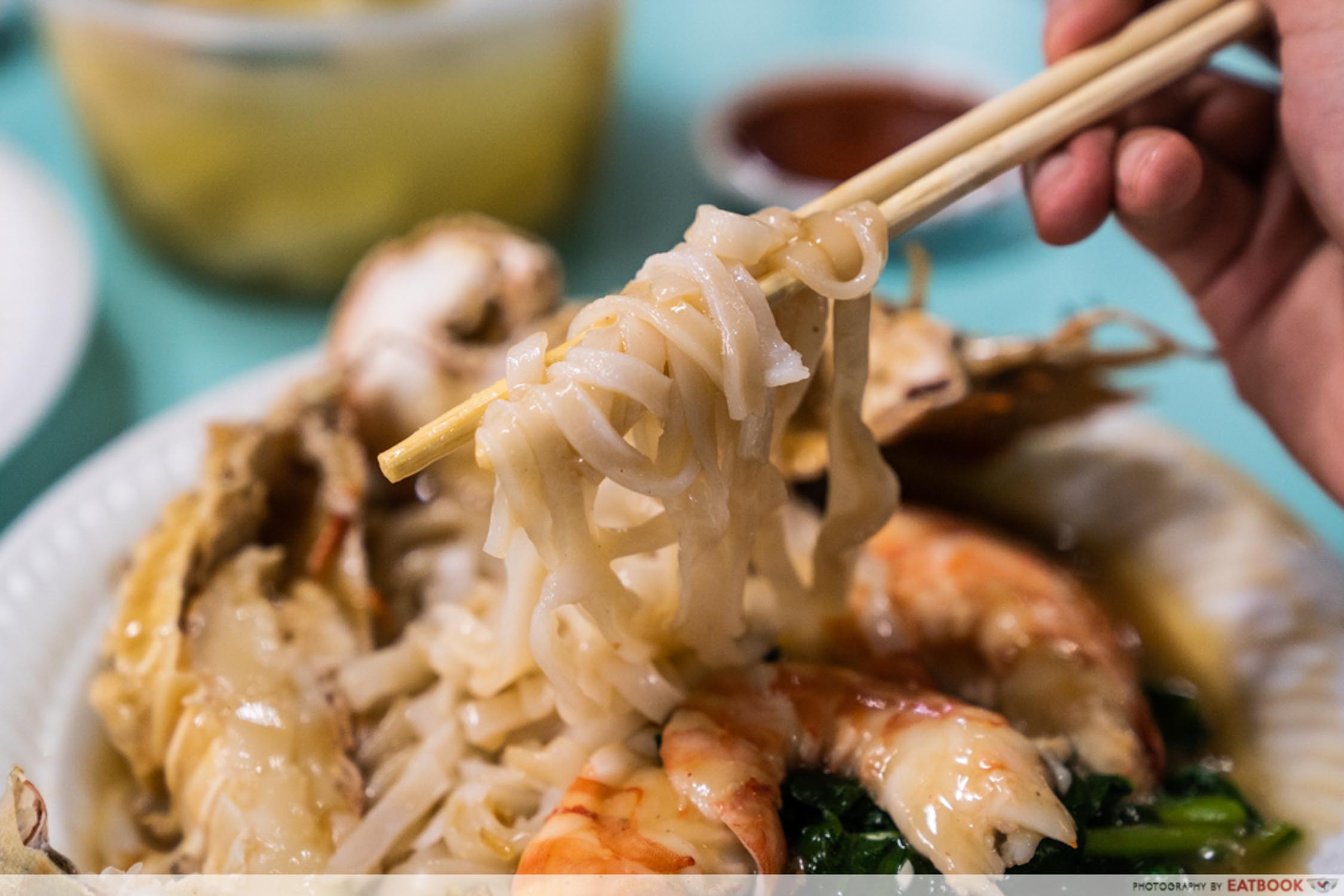 Ipoh hor fun is further distinguished by its thin and flavourless kway teow. As these noodles are not stir-fried beforehand, it lacks the familiar wok hei which perfumes our local hor fun.
Owing to its thinness, the noodles can soak up more of the gravy. Stewed in a robust stock of prawns, prawn heads, and chicken bones, the umami-rich sauce married well with the bland noodles. Doubling up, the glossy gravy also enhanced the slurp-worthy silkiness of the kway teow as mouthful after mouthful of noodles cascaded down my throat.
My only gripe is with the gravy's one-dimensional nature. With every spoonful coating layer after layer of savouriness on your tongue, you'll instinctively crave drinks to quench your growing thirst.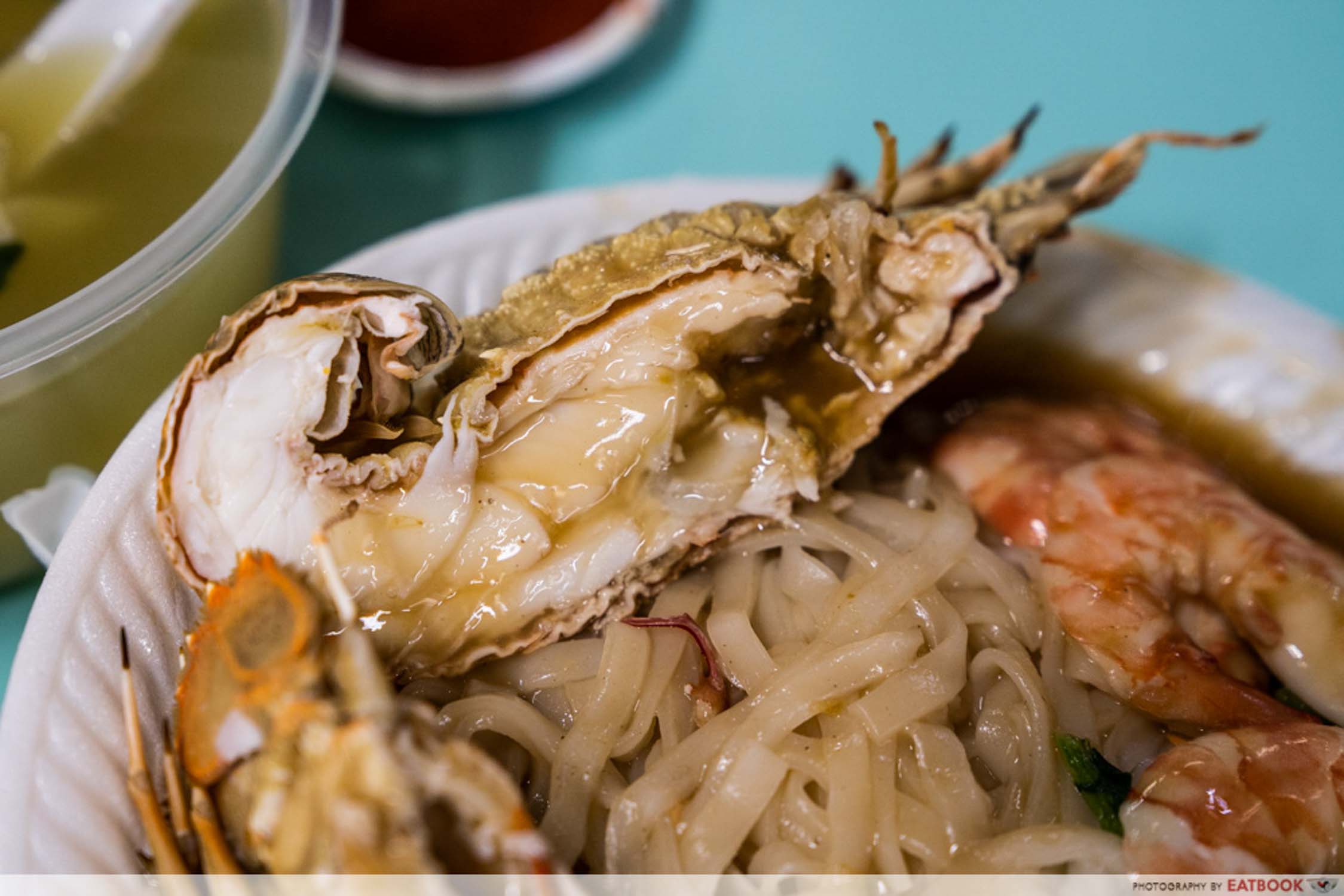 The most impressive feature of the dish was undoubtedly the meaty crayfish. With every nook and cranny of its shell brimming with plump meat, it was a challenge for me to lift the crayfish with my chopsticks.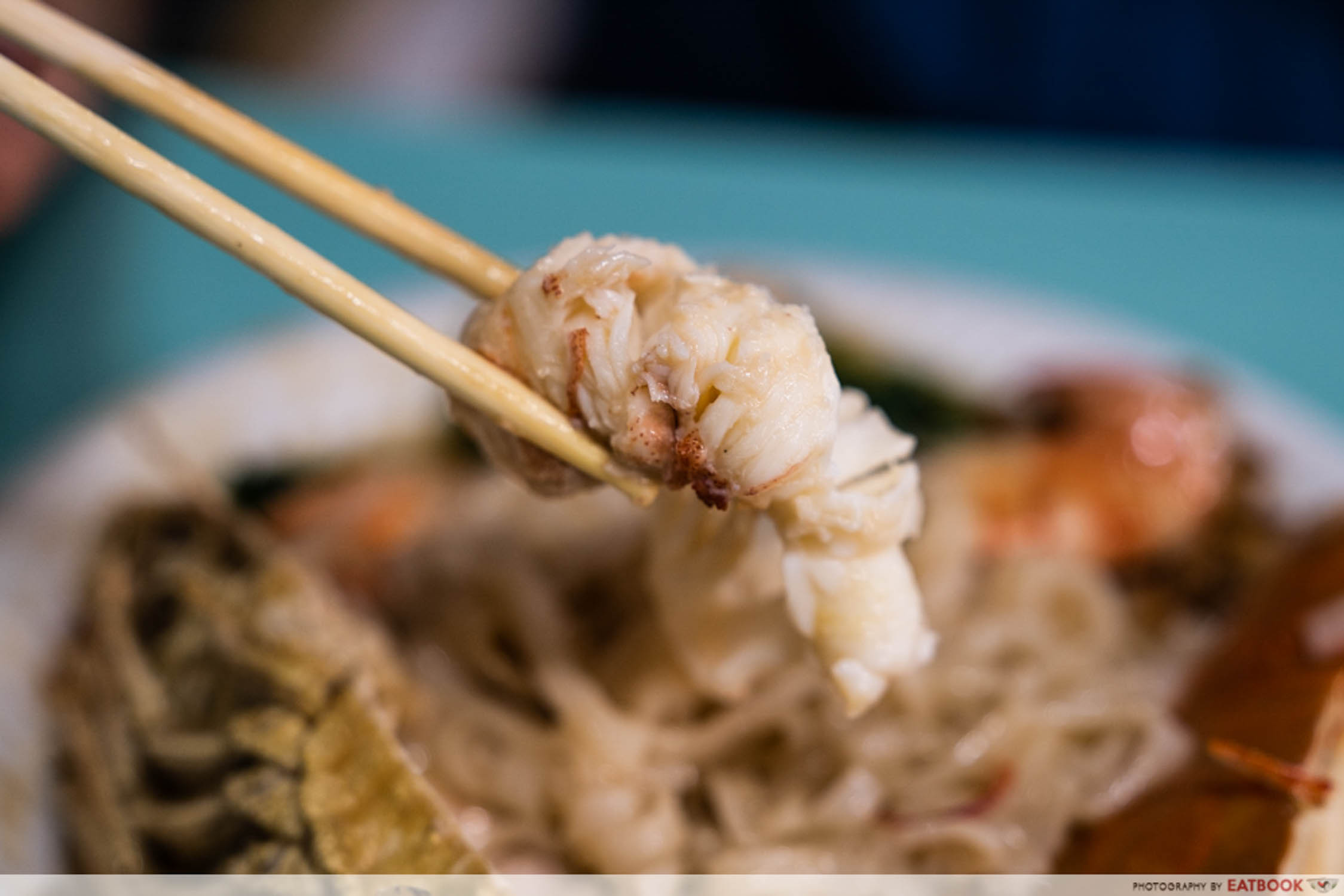 Crayfish needs to be prepared fresh. Shortchange fresh crayfish with frozen ones and you'll be left disappointed by the mushy texture.
Thankfully, Tuck Kee (Ipoh) Sah Hor Fun uses only fresh crayfish which beckons enticingly with its succulent meat and firm texture. The flavour profile of crayfish is comparable to lobster, but with a lighter crustacean sweetness and more pronounced brininess.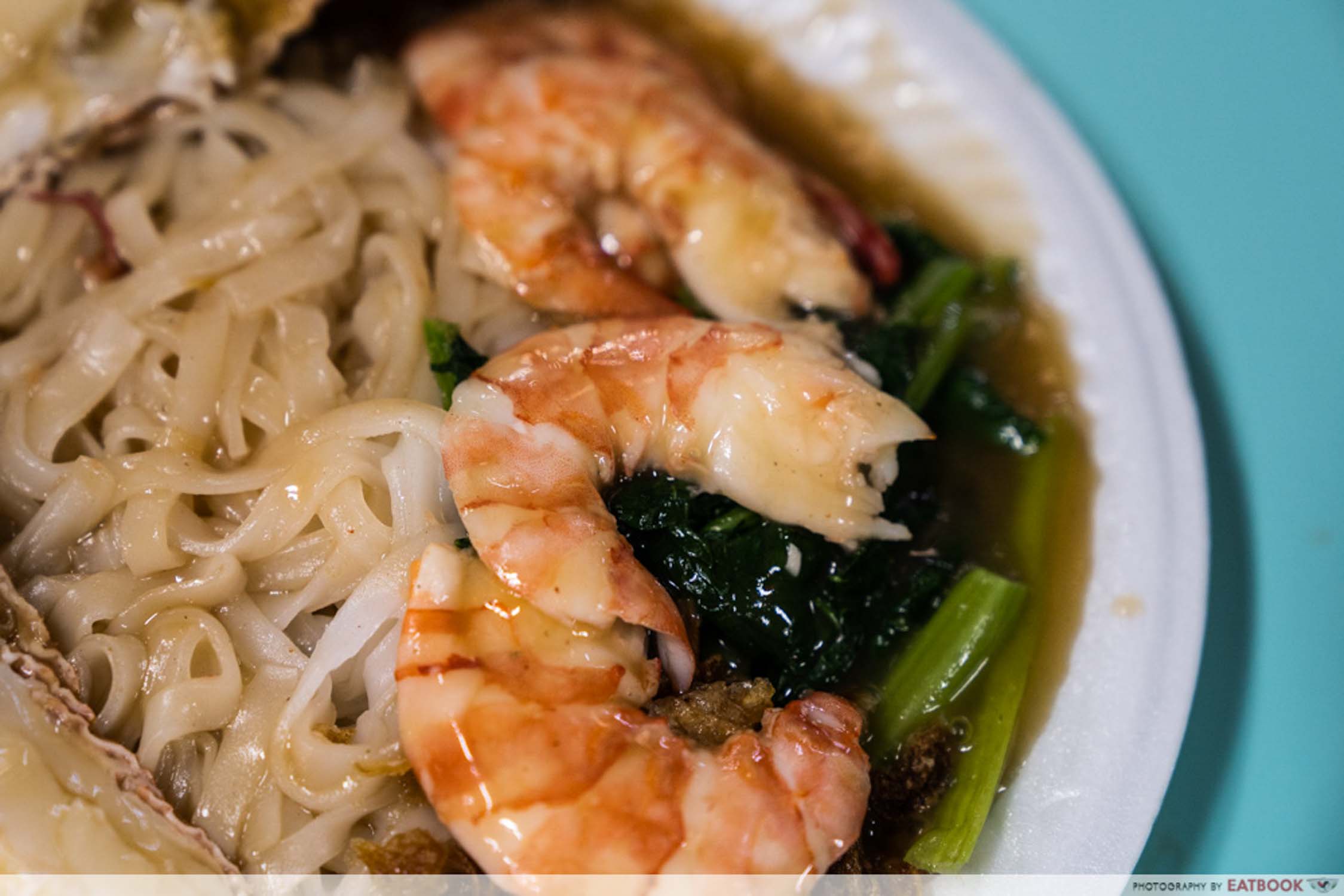 We were also impressed by the quality of the fresh prawns, which matched the lofty standards set by the crayfish. Unlike the razor-thin versions offered by some stalls, every slice of prawn here was sufficiently succulent, enabling you to experience light resistance as you sink your teeth into the meat.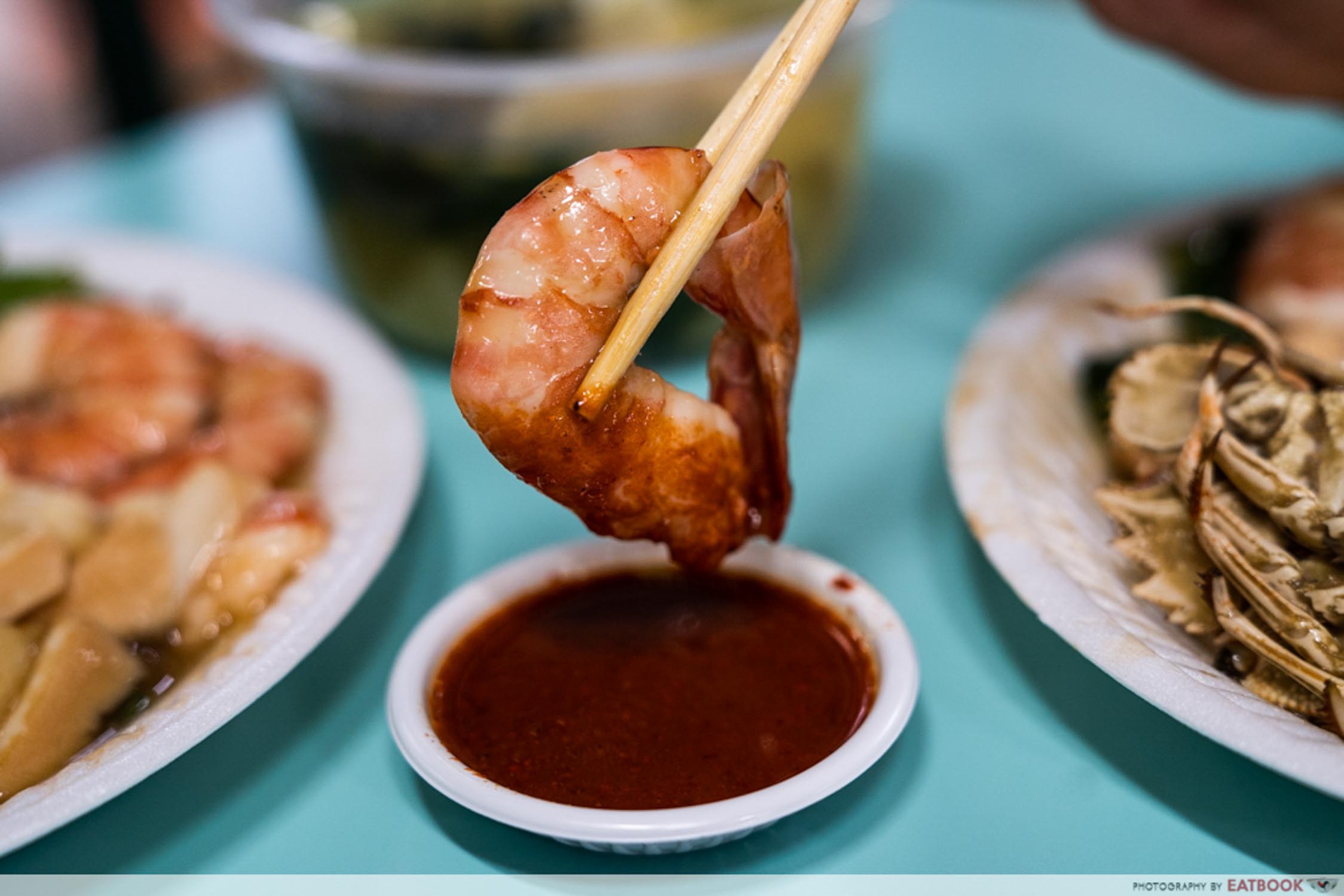 Feel free as well to dunk your prawn and crayfish into the chilli sauce. Similar to the dipping sauce served with orh luak, the relish offered a spicy kick spiked with a sour aftertaste, suggesting a touch of vinegar, and paired well with seafood.
If you desire a more nuanced taste to your hor fun, add a dollop of chilli sauce to the gravy to supply it a piquant zing and more full-bodied flavour.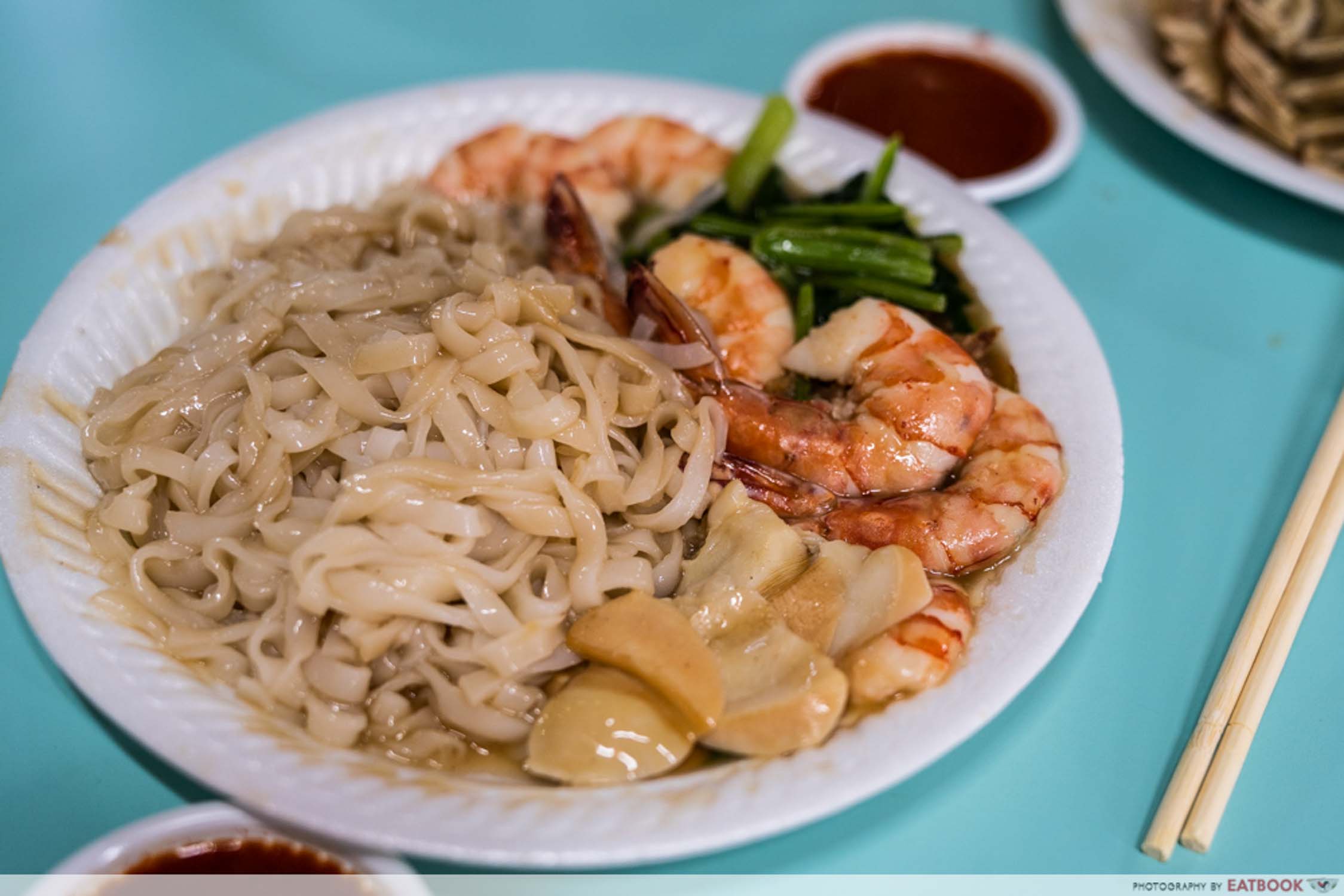 It's rare to find Pacific clams served with hor fun, especially at a hawker centre, so we were surprised to discover Pacific Clam Prawn Hor Fun ($6) on their menu. Just like their Crayfish Prawn Hor Fun, a generous amount of prawn slices and Pacific razor clams peppered the kway teow.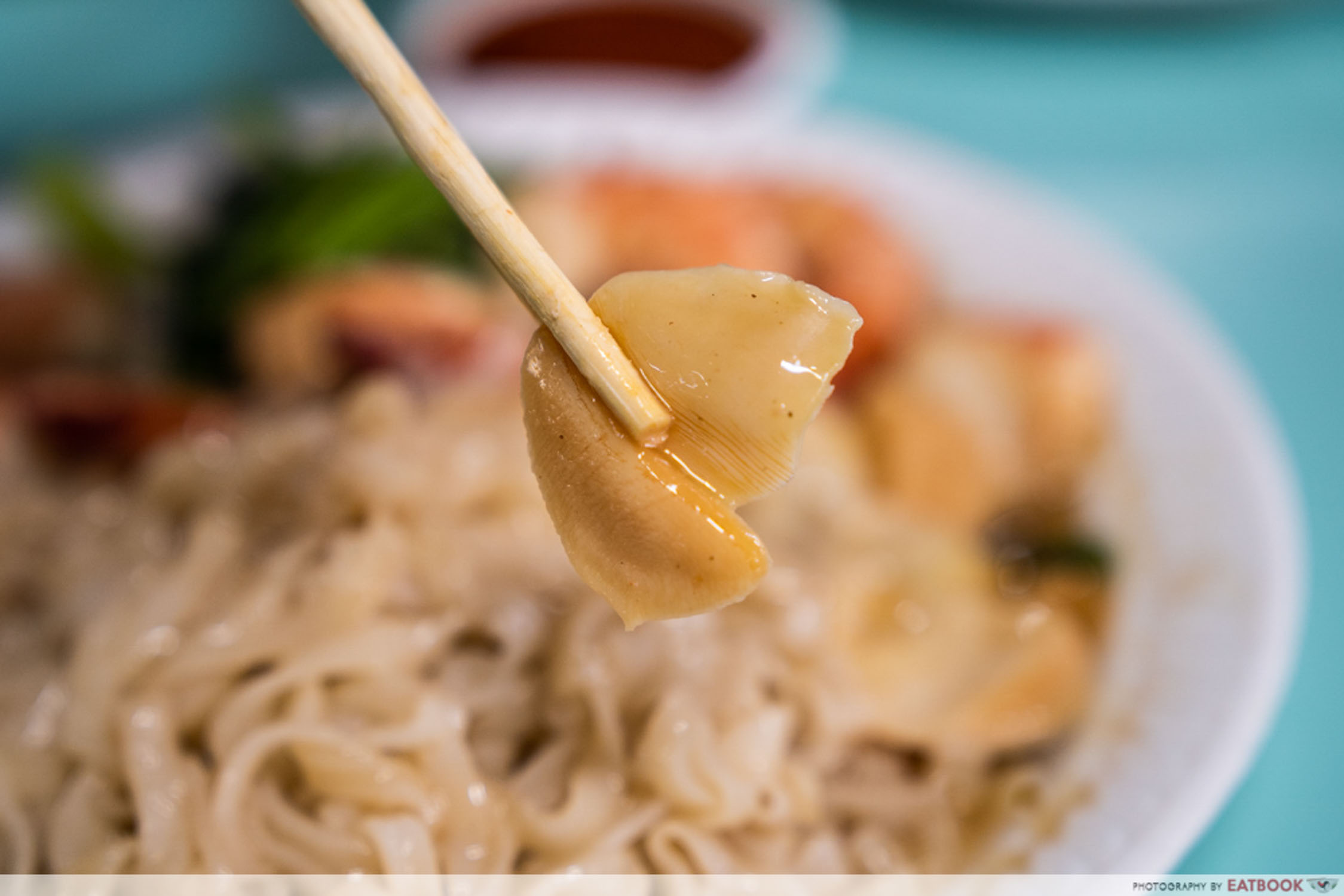 To say the clams were difficult to swallow would be an understatement. I found myself furiously chomping my teeth in a desperate attempt to tear apart the meat due to its abalone-like rubberiness.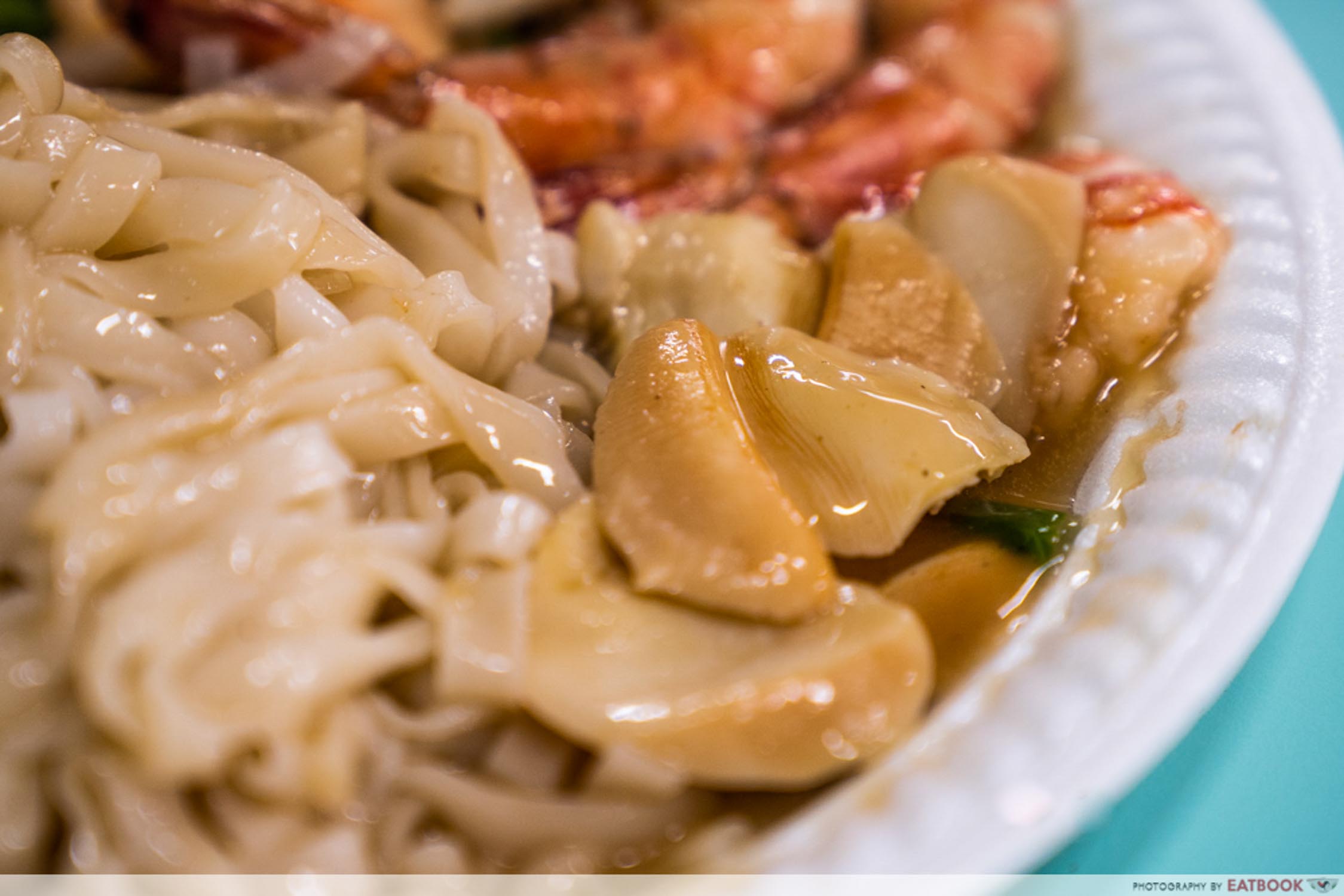 While the clams brought something different to the ingredients, their natural saltiness combined with the robust gravy to create an overpowering taste. Unless you are a fan of Pacific razor clams, I would not recommend the following dish.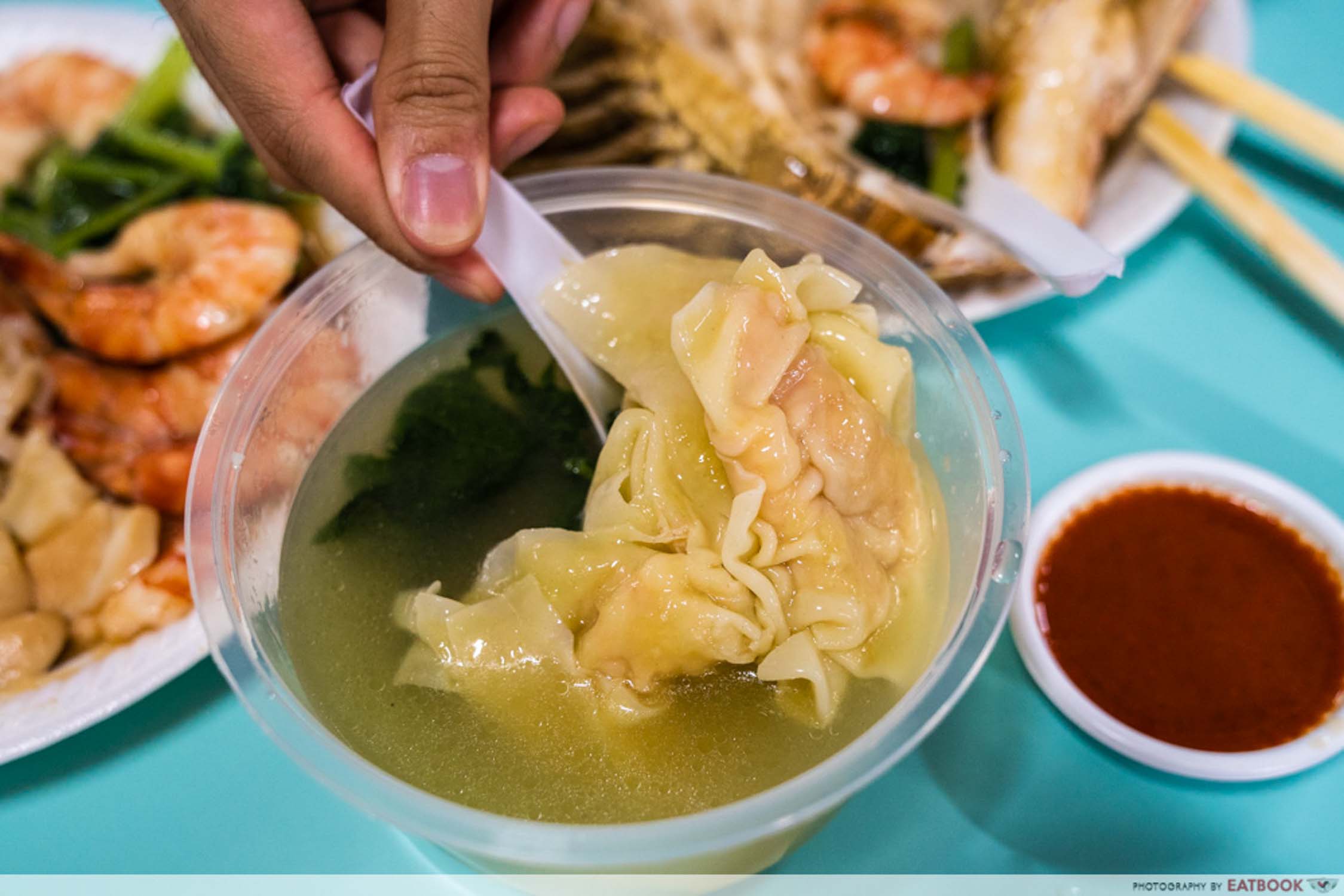 Being an avid fan of wontons, I was keen to dig into the five large wontons swimming in their Fresh Prawn Wanton Soup ($3).
Instead of the usual minced meat and diced prawns stuffing, an entire prawn is tucked within these golden pouches. Flavoured with sesame oil and pepper, I enjoyed how the seasoning highlighted the sweetness of the prawn.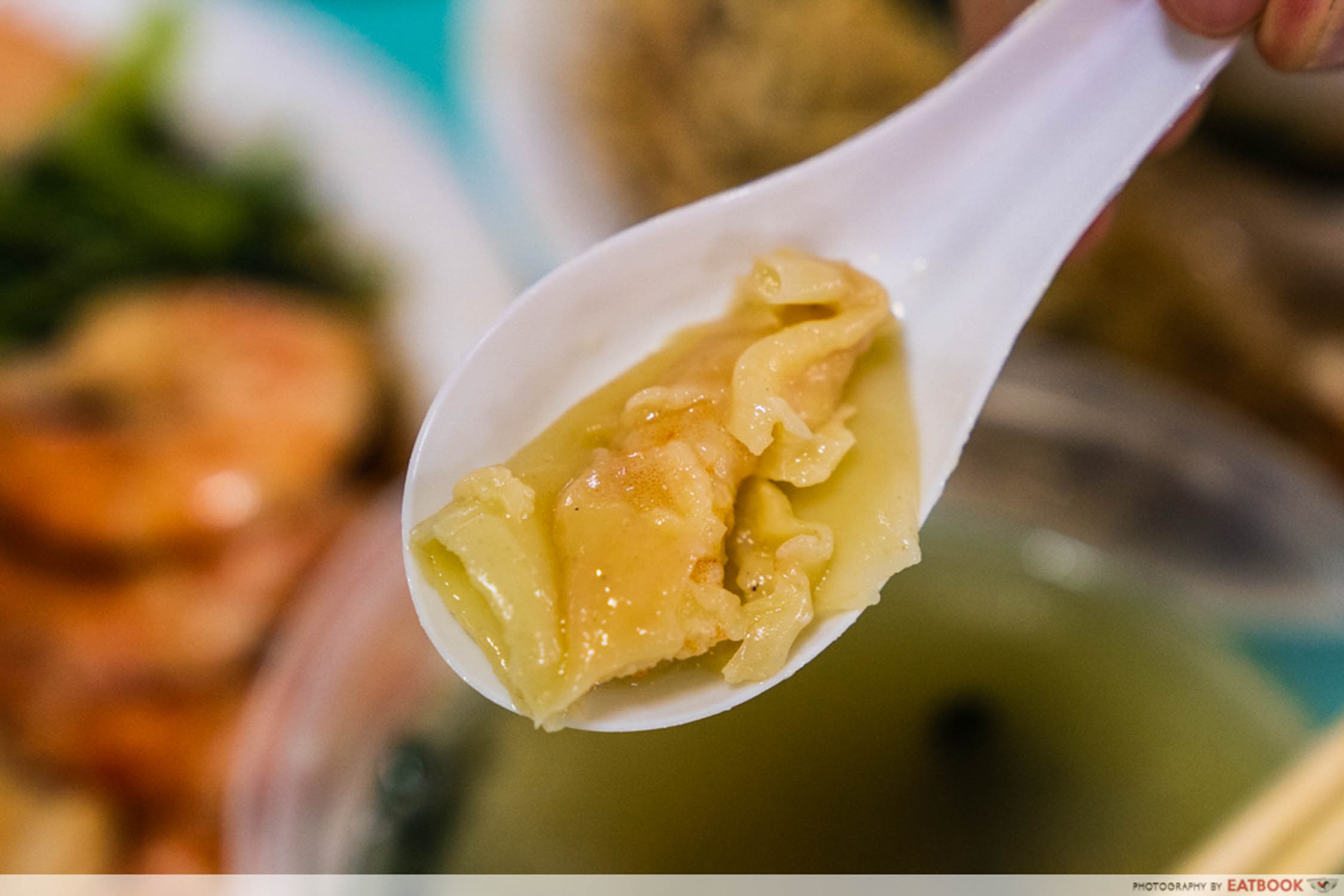 Another laudable feature of the wonton was the skin, which walked a fine line between delicate and strong. Despite the skin's seeming fragility, it held the meat well and did not disintegrate into the soup.
Ambience at Tuck Kee Sah Ipoh Hor Fun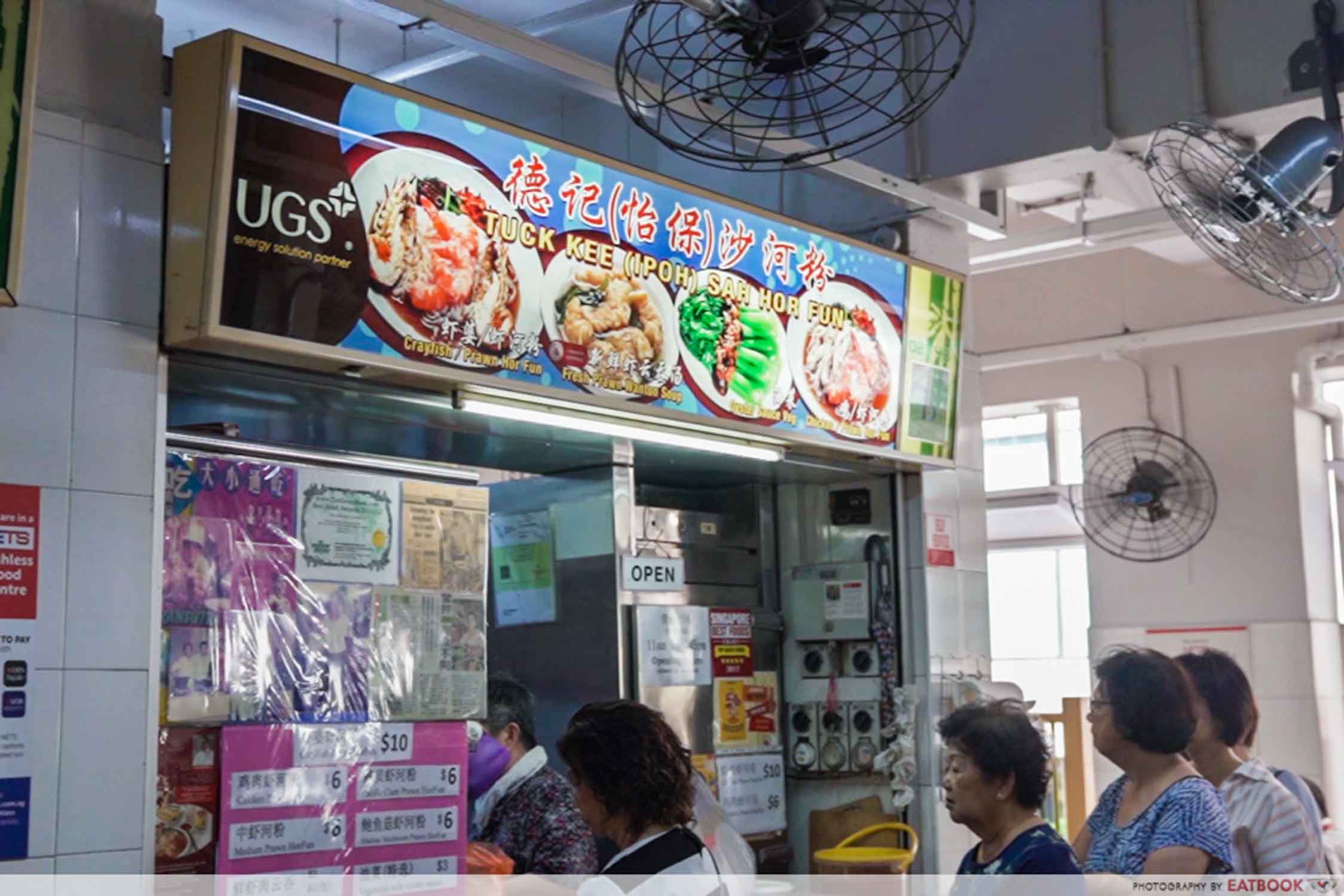 Having lunch at the popular Hong Lim Food Centre is usually a daunting challenge of navigating around snaking queues and desperately searching for free seats to chope. If, like me, you are uncomfortable in crowded areas, it is best to visit before noon or opt for takeaways instead.
10 Hong Lim Food Centre Stalls To Visit After Exploring Chinatown Like A Tourist
The verdict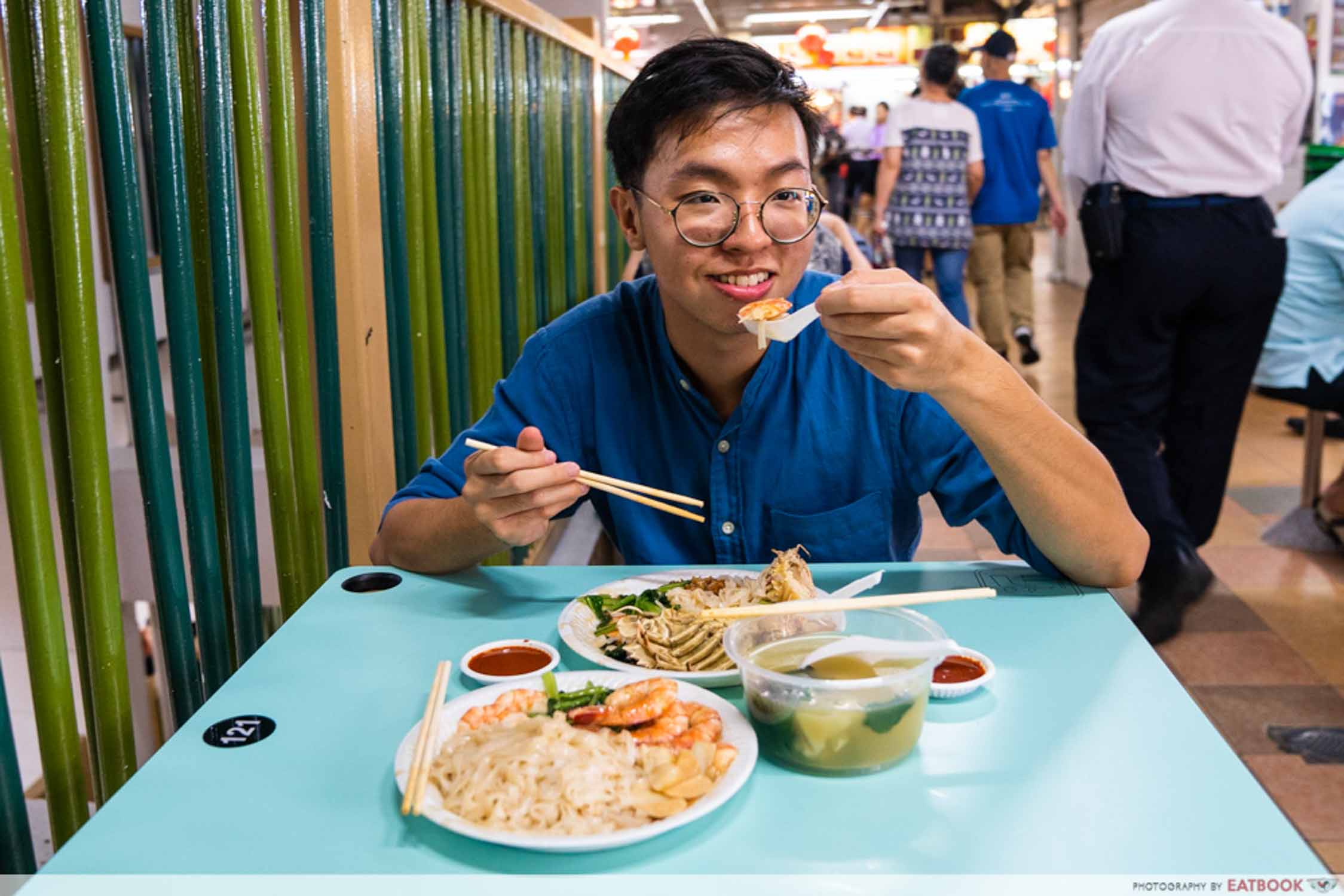 Though the food isn't mind-blowingly spectacular, it is undeniable that Tuck Kee (Ipoh) Sah Hor Fun stands as one of Singapore's cheapest places to enjoy crayfish hor fun. More importantly, in spite of the low prices charged, the eatery doesn't compromise on quantity or quality, ensuring that you leave with your seafood craving sated, your tummy filled, and your wallet intact.
If you are enticed by bargain seafood hawker dishes, check out our review of Sumo Big Prawn, a hawker stall in AMK which offers a value-for-money, upsized prawn mee!
Sumo Big Prawn Review: Lobster And Crayfish Prawn Mee At A Hawker Stall In AMK
Address: 531A Upper Cross Street, #02-40, Hong Lim Market & Food Centre, Singapore 051531
Opening hours: Mon-Sat 11am to 2:45pm
Tel: 9826 2083
Tuck Kee (Ipoh) Sah Hor Fun is not a halal eatery.
Photos taken by Dexter Looi.
This is an independent review by Eatbook.sg.
Summary
Pros
– Value-for-money portions
– Fresh seafood
Cons
– Short opening hours
– Difficult to find seats during lunch hours
Recommended dishes: Crayfish Prawn Hor Fun ($10), Fresh Prawn Wanton Soup ($3/$4/$6)
Opening hours: Mon-Sat 11am to 2:45pm
Address: 531A Upper Cross Street, #02-40. Hong Lim Market & Food Centre, Singapore 051531