---
Chinatown food gems to curb your hunger pangs
---
Since young, a trip down to Chinatown would mean shopping for Chinese New Year goodies and decorations. However, with more and more food gems appearing in Chinatown, heading there for Chinese New Year shopping is no longer my only purpose. Here are some Chinatown food gems that are worth a visit the next time you're in the area.
---
1. Steamov
---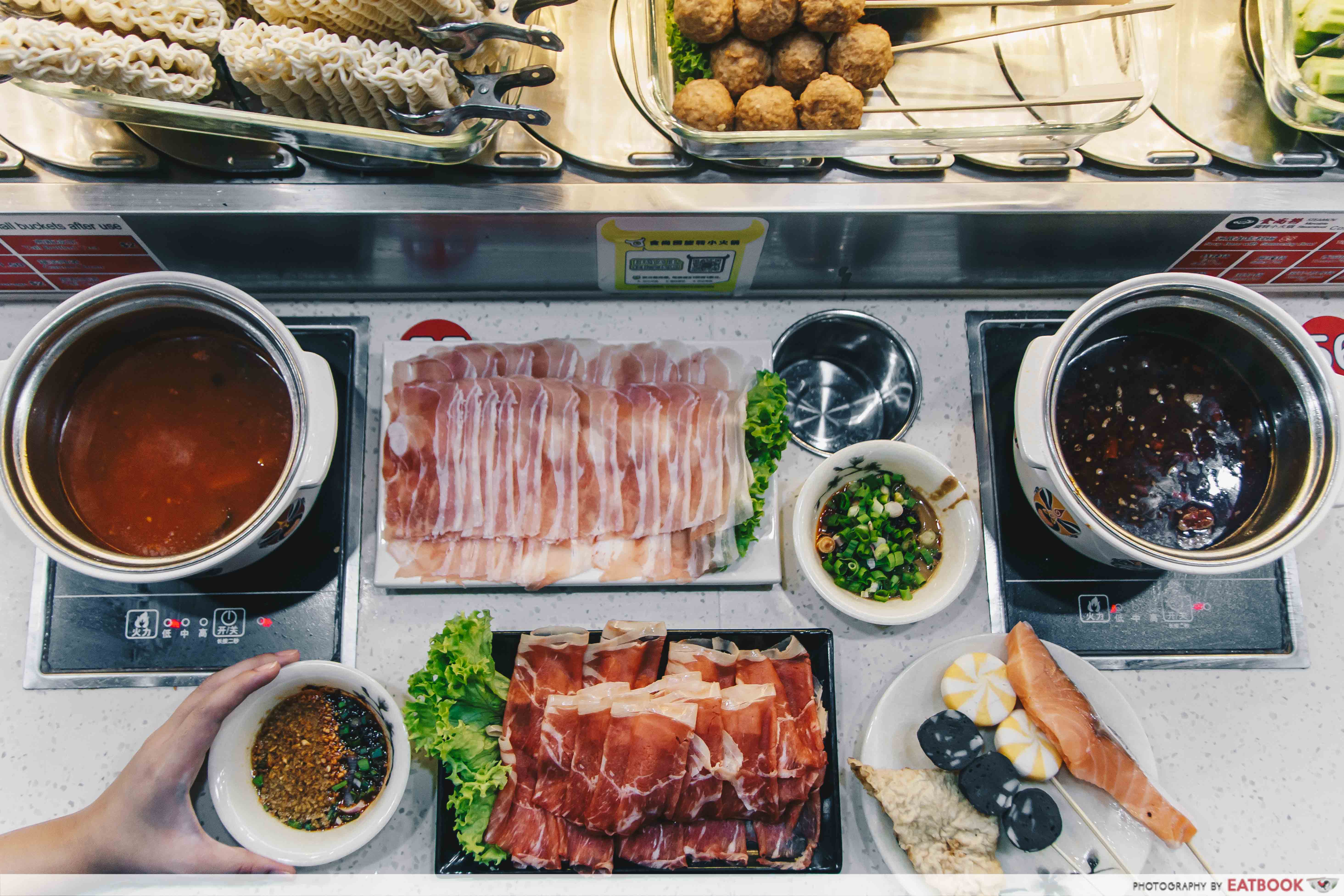 Steamov is one supper spot you can check out for its unique conveyor belt concept. Some of the soup bases offered include Tomato Pot, Herbal Duck Pot, and Sour Vegetable Fish Pot, and they set you back $5 each. Each skewer or clipped item is priced at $1, whereas sticks with a flat end is priced at $3. Also, meat lovers would be elated to know that there are Beef Rolls ($10) and Pork Bellies ($8) available. To enjoy your hot pot session even more, pair your food with some of your own sauce concoctions at the sauce counter.  
Check out our full review of Steamov!
Address: 325 New Bridge Road, Singapore 088760
Opening hours: Daily 11am to 6am
Tel: 9380 3883
Website
---
2. DM Chicken
---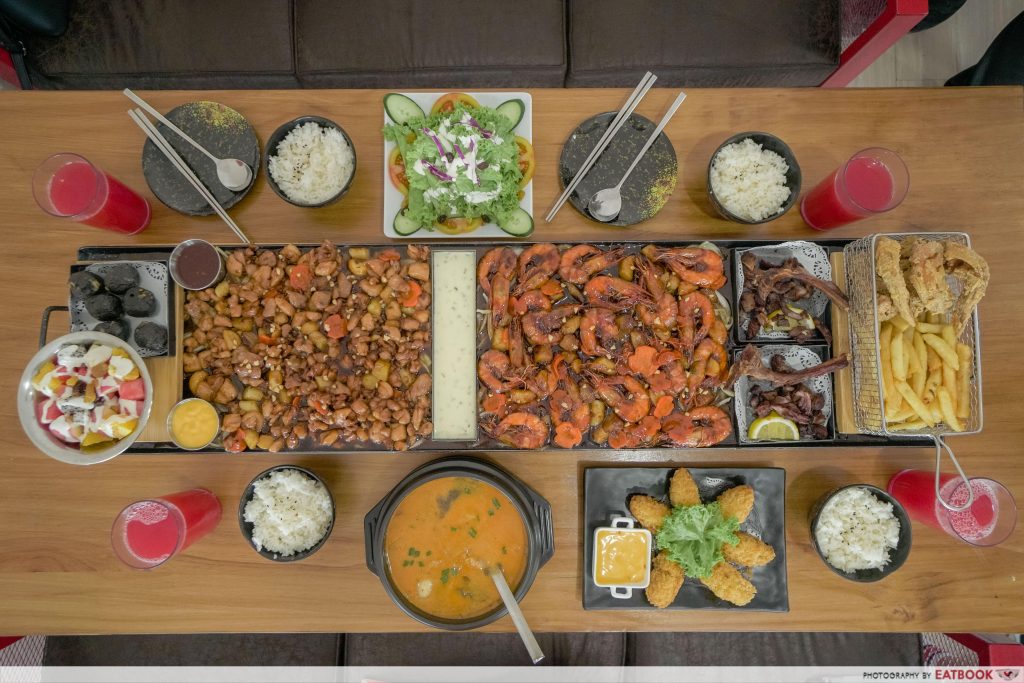 Over at DM Chicken, a 100cm DM Chicken + DM Prawn ($110+) platter awaits! Their platters come in 50cm and 75cm as well to accommodate smaller groups. Other than chicken, which is tossed in a savoury brown sauce, and spicy prawns, the platter also comes with a basket of Korean fried chicken and fries, two sets of lamb chops, a plate of squid ink balls, and a bowl of fruit salad. As an alternative, customers can also go for their a la carte Hotpot and BBQ buffet ($23.90+ for lunch, $28.90+ for dinner).
Check out our full review of DM Chicken!
Address: 191B New Bridge Road, Singapore 059423
Opening hours: Daily 11:30am to 12am
Tel: 6909 2758
Website
---
3. Kok Sen Restaurant
---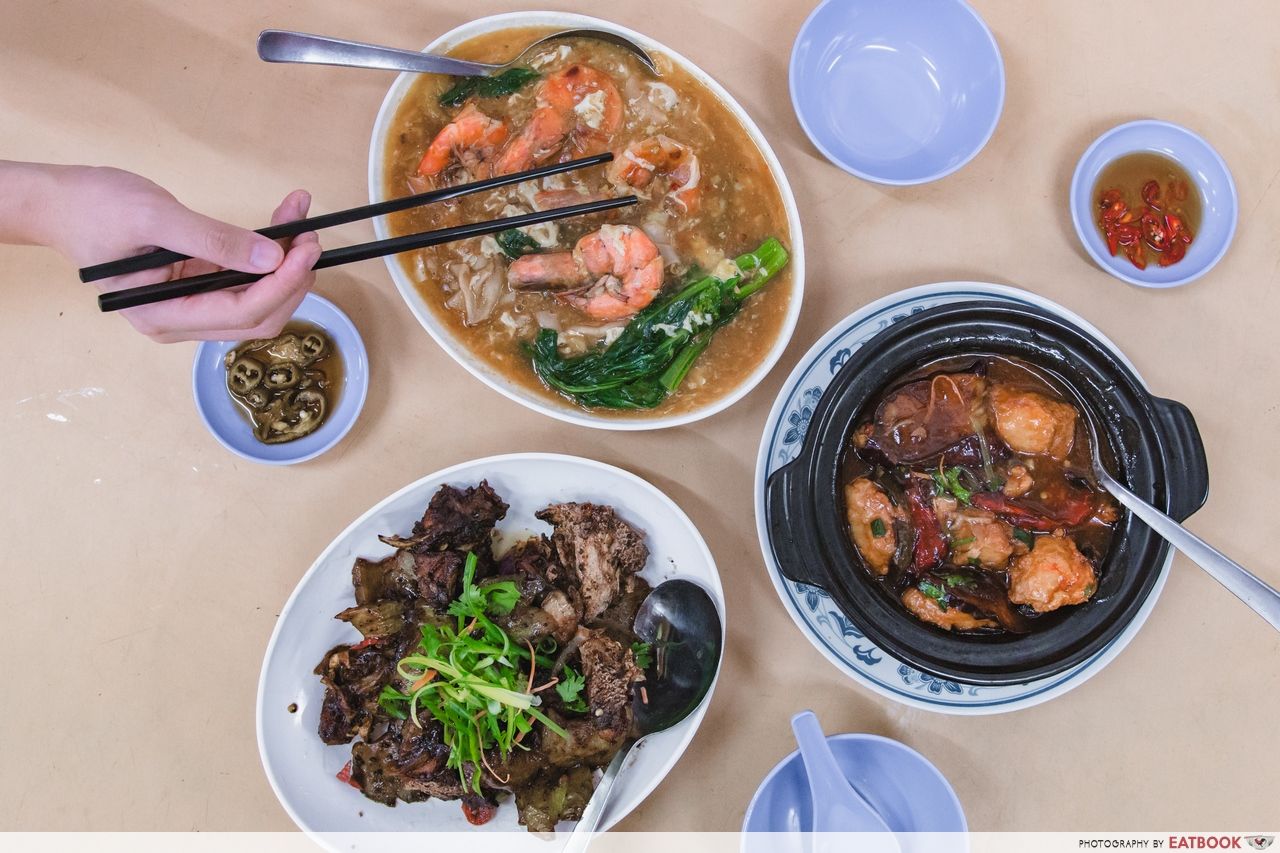 Kok Sen Restaurant is known to have many signature dishes such as Big Prawns Bee Hoon Soup ($18), Big Prawns Horfun ($18), and Kung Pao Frogs stir-fried with Dried Chilli ($22). Out of these few listed, the one dish that really captured my heart was the Big Prawns Bee Hoon. Its orange-red broth holds a strong prawn flavour while bearing some spicy notes, which is what makes it addictive and fragrant. This dish comes with thick bee hoon, chye sim, and of course, big prawns. Another must-try here is the Big Prawns Hor Fun, which is brimming with silky rice noodles soaked in a wok hei-filled gravy.
Check out our full review of Kok Sen Restaurant!
Address: 30 Keong Saik Road, Singapore 089137
Opening hours: Daily 12pm to 2.15pm, 5pm to 10pm
Tel: 6223 2005
Website
---
4. Kazo
---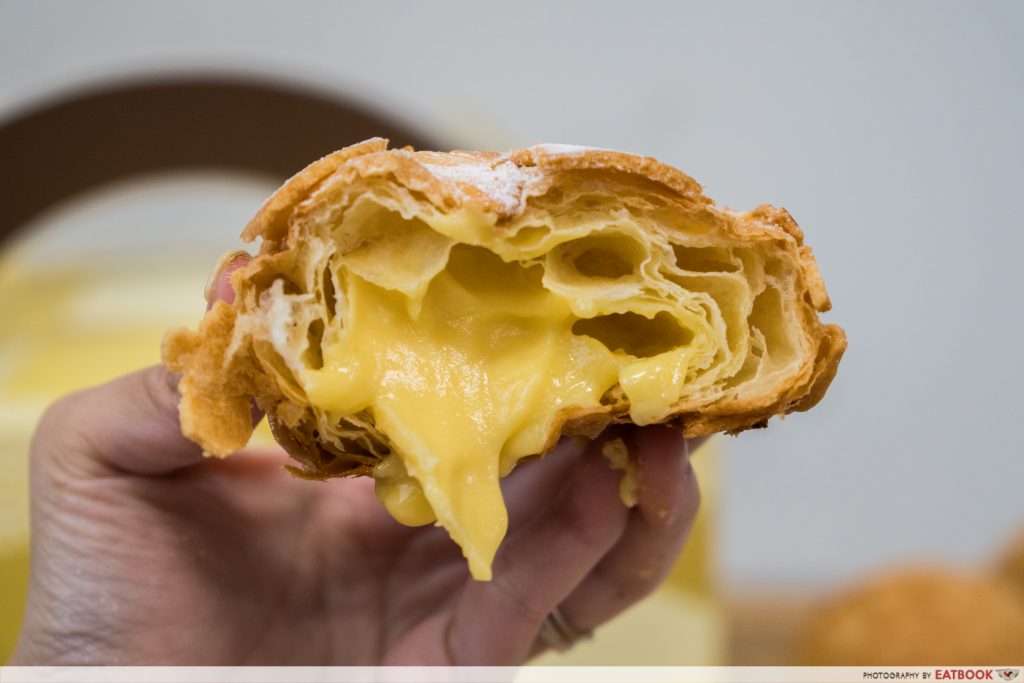 Fans of cream puffs, this one is for you! Kazo has a variety of items on their menu, including cheese tarts, cream puffs, and Danish polo bun ice-cream sandwich. One of their best-selling puffs is the Golden Lava Danish Polo ($3) – a flaky and soft croissant containing oozy salted egg custard. If not, try snacking on their Dacquoise ($2.80) that come in various flavours like Sea Salt Caramel, Oreo, and Melon among others or indulge in their signature cakes like Lemon Cheese Cake ($5.50 for a slice).
Check out our full review of Kazo!
Address: 531 Upper Cross Street, #02-57A, Hong Lim Complex, Singapore 059413
Opening hours: Daily 11am to 7.15pm
Tel: 6970 4900
Website
---
5. Yum Cha
---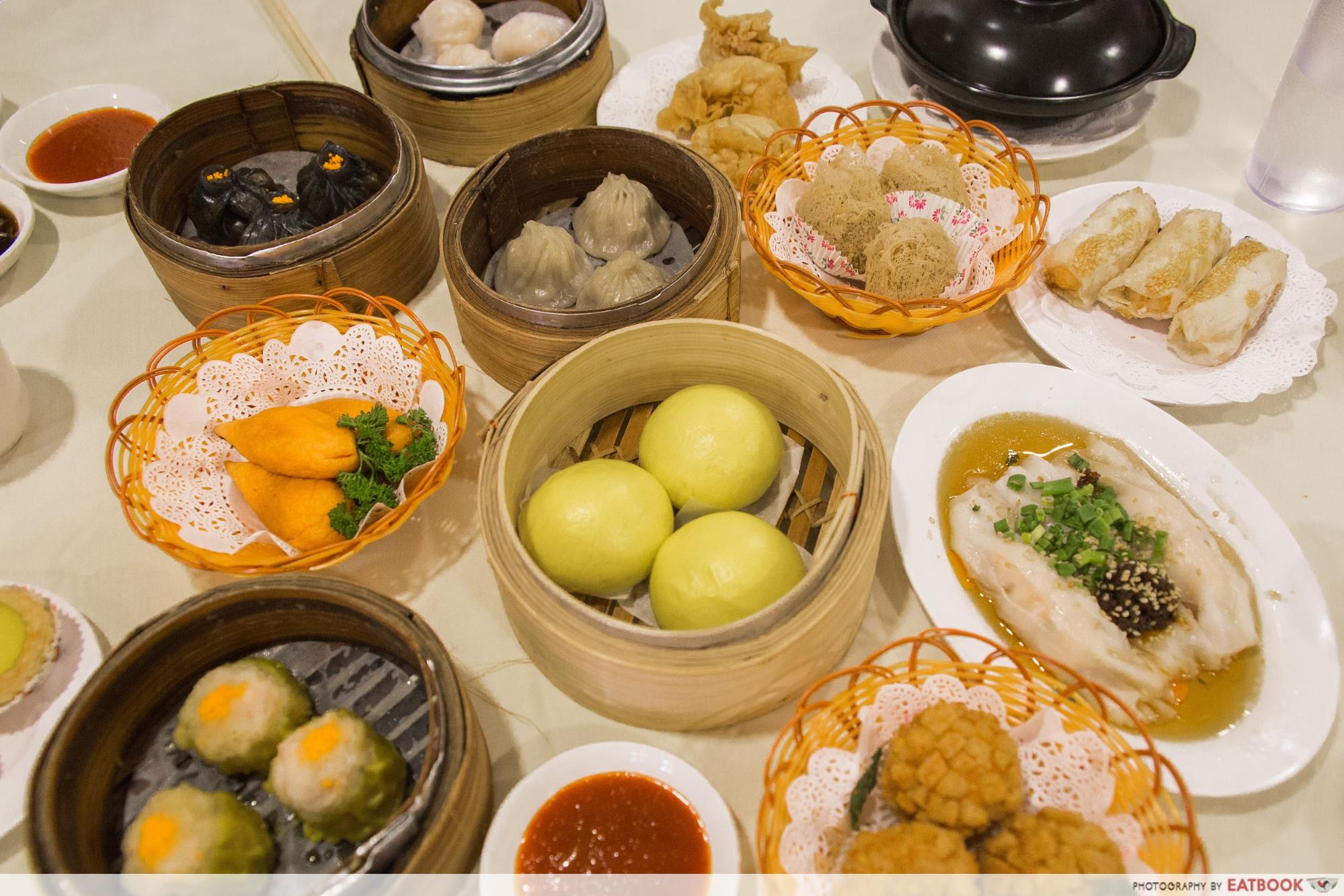 Indulge in dim sum with Yum Cha's Weekday High Tea Dim Sum Buffet ($26.80++), which is available from 3pm to 6pm. The buffet offers over 50 types of dim sum dishes, enough for you to skip a meal for. You can expect classics such as Steamed Custard Bun With Salted Egg Yolk, Xiao Long Bao, Baked Mini Egg Tarts, and more! A little more to the special side would be their Squid Ink Dumpling and Truffle Mushroom Bun, that might really pique the interest of some.
Check out our full review of Yum Cha!
Address: 20 Trengganu Street, #02-01, Singapore 058479
Opening hours: Mon-Fri 11am to 9pm, Sat-Sun 9am to 9pm
Tel: 6372 1717
Website
---
6. Hao Lai Wu
---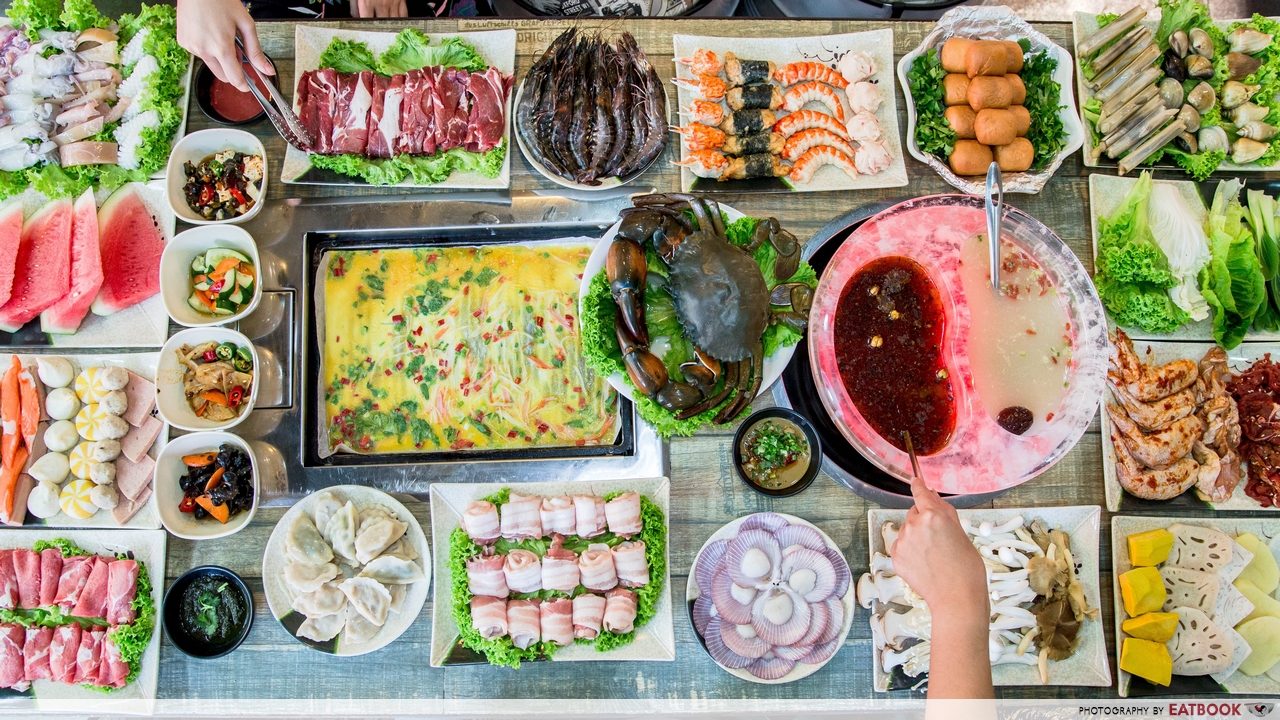 Hao Lai Wu is what helps you get the best of both worlds – steamboat and BBQ. Their Steamboat And BBQ Buffet costs $19.80+ for weekday lunch, while dinner goes at $24.80+. On weekends, it's $25.80+ for the entire day. Besides sliced meat, fresh seafood, and frozen food, you can also expect cooked food at Hao Lai Wu! Dishes they serve include mantou and pork dumplings.
Check out our full review of Hao Lai Wu!
Address: 8 Sago Street, Singapore 059012
Opening hours: Daily 11am to 3am
Tel: 6221 0065
Website
---
7. Tang Kay Kee Fish Head Bee Hoon
---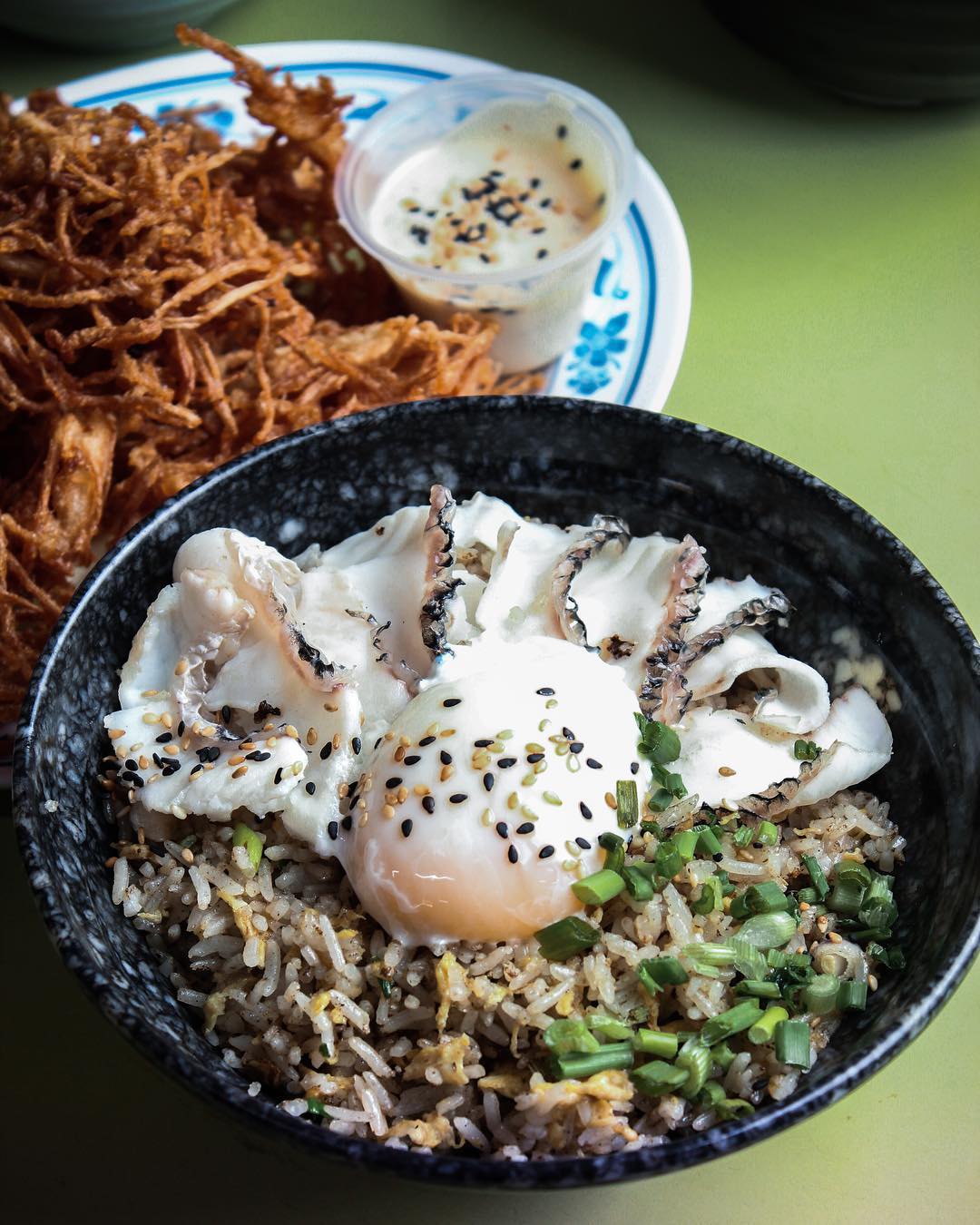 Image credit: @tangkaykee
Coming up with a new concept, hawker stall Tang Kay Kee serves up affordable lunch bowls! The Mixed ($6), which consists of stir-fried hor fun, pork slices, fish slices, vegetables, battered enoki mushrooms, and sous-vide egg, is known to carry a strong wok hei. Another all-time-favourite is their Deep Fried Chicken With Prawn Paste ($12 for eight pieces). Unlike the usual har cheong gai that uses chicken wings, the ones at Tang Kay Kee come boneless and are served with their house-made mustard mayonnaise, which adds a sharp tangy note to the overall flavour.
Check out more good eats at Hong Lim Food Centre!
Address: 531A Upper Cross Street, #01-70, Hong Lim Market & Food Centre, Singapore 051531
Opening hours: Mon 11am to 2.30pm, Tue-Fri 11am to 2.30pm, 5pm to 10pm, Sat-Sun 5pm to 10pm
Tel: 8157 2641
Website
---
8. Ri Ri Hong Ma La Xiang Guo
---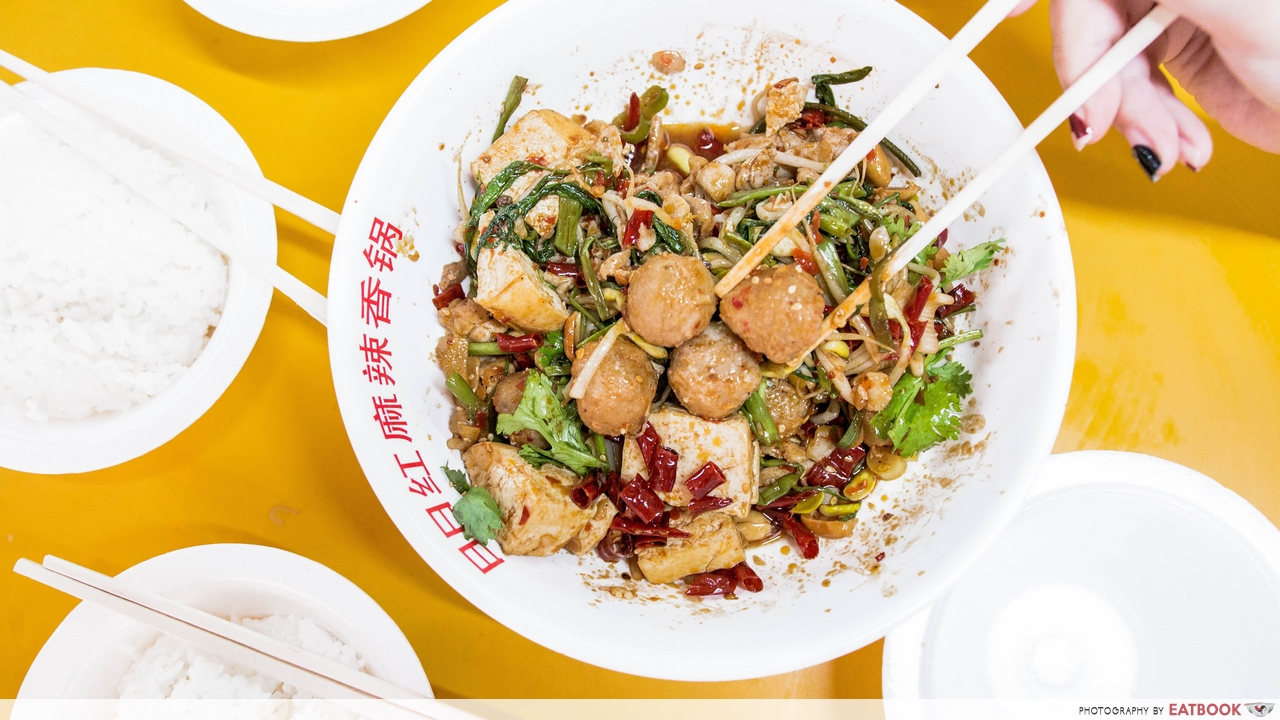 When asked about their favourite ma la stall, the most common answer I get from my friends is Ri Ri Hong Ma La Xiang Guo. Instead of charging by weight, they price your ma la based on the type of ingredients you pick. Vegetables, meat, and seafood set you back $1, $2, and $3 respectively. After picking your level of spiciness and ingredients, you can then tell the stall owners if you want your ma la soaked in sauce or stir-fried till dry.
Check out our full review of Ri Ri Hong Ma La Xiang Guo!
Address: 32 New Market Road, #01-152, People's Park Food Centre, Singapore 050032
Opening hours: Daily 10am to 9.30pm
Website
---
9. China Street Rickshaw Noodles
---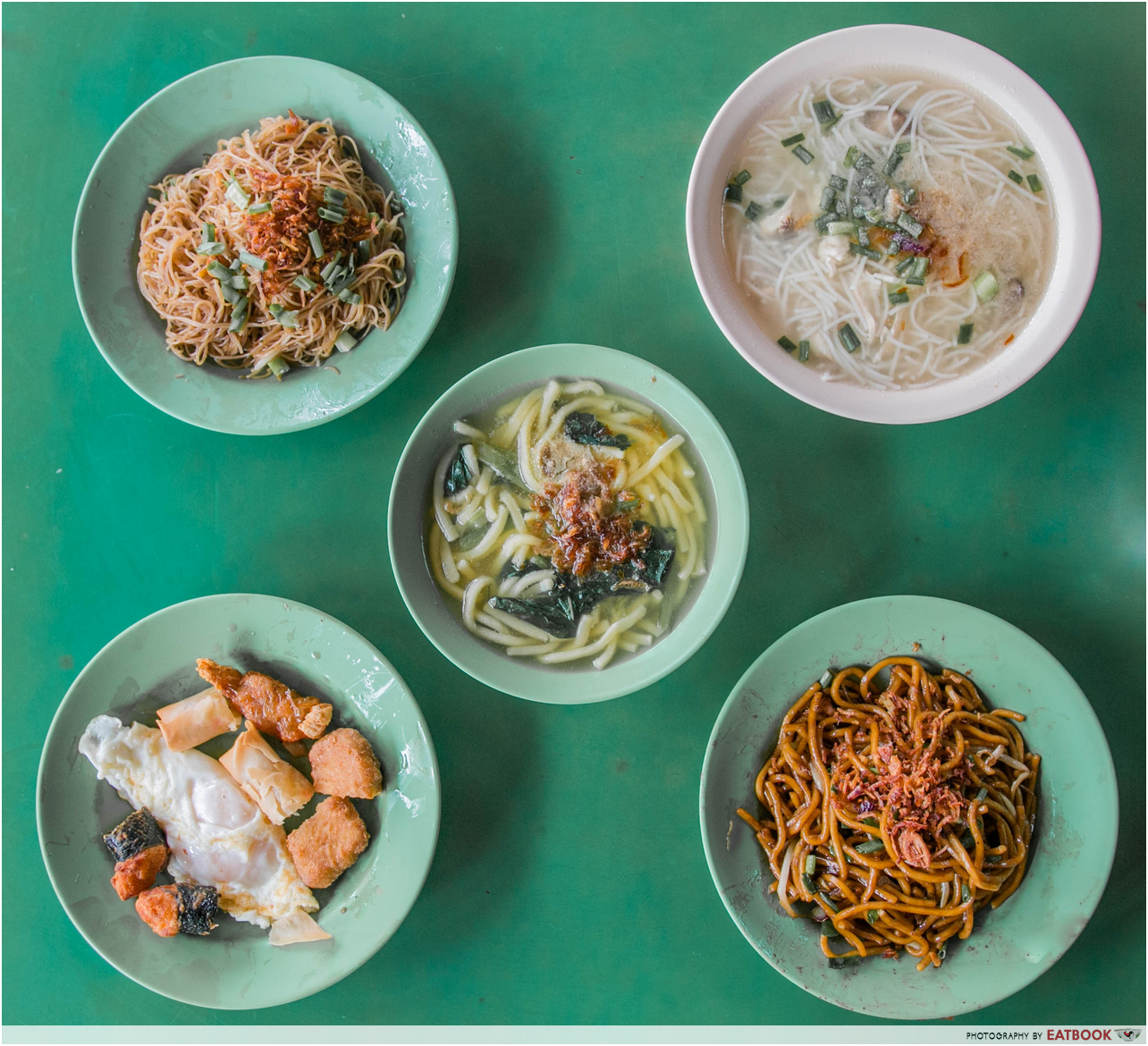 If you are ever on a tight budget, China Street Rickshaw Noodles is the place for you! With just $1 in your pocket, you can get yourself a bowl of noodles out of the variety they offer – la che mian, mee sua, economy noodles, and bee hoon. While the last three names are pretty direct, la che mian is actually a dish that comprises thick yellow noodles and a broth made up of ikan bilis, and topped with a dash of fried onions to enhance the dish's flavour.  
Check out our full review of China Street Rickshaw Noodles!
Address: 1 Kadayanallur Street, #01-87, Maxwell Food Centre, Singapore 069184
Opening hours: Sat-Thurs 5:30am to 12pm
---
10. Tong Heng
---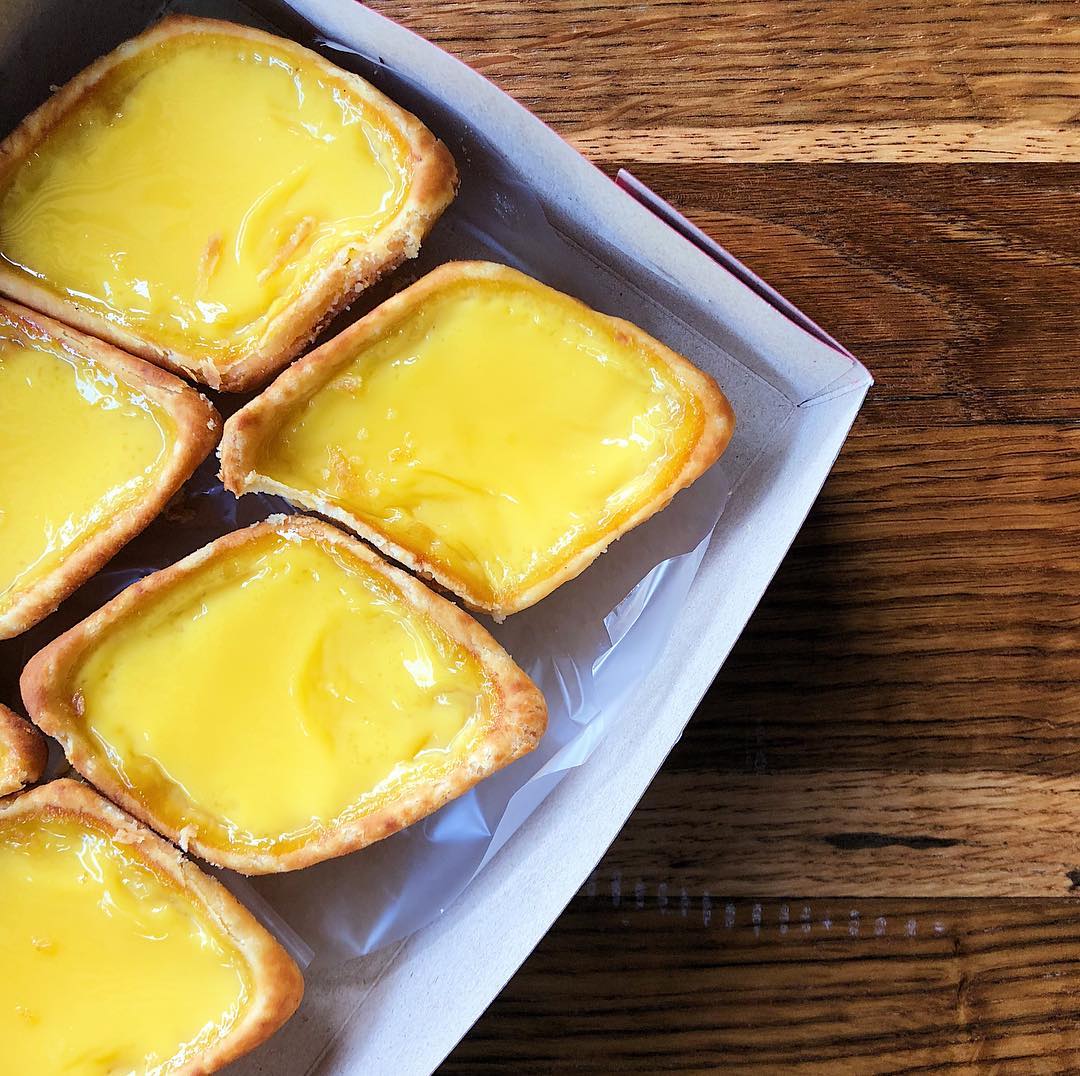 Image credit: @_whatsuppunk
If you are a huge egg tart lover, you would have definitely heard of the famous Tong Heng egg tarts ($2/piece). What sets their egg tarts apart from the others is the use of pork lard, which makes the crust extra flaky. The egg in the middle is delicate and wobbly, and it droops out of the diamond-shaped flaky crust once the egg tart is bitten into half.
Address: 285 South Bridge Road, Singapore 058833
Opening hours: Sun-Thurs 9am to 7pm, Fri-Sat 9am to 8pm
Tel: 6223 3649
Website
---
Chinatown food for the win
---
Besides Clarke Quay, Chinatown is another stop along the NEL that offers awesome food. For more food places within Chinatown, check out our list of Chinatown Complex food stalls!