Tang Kay Kee Fish Head Bee Hoon in Chinatown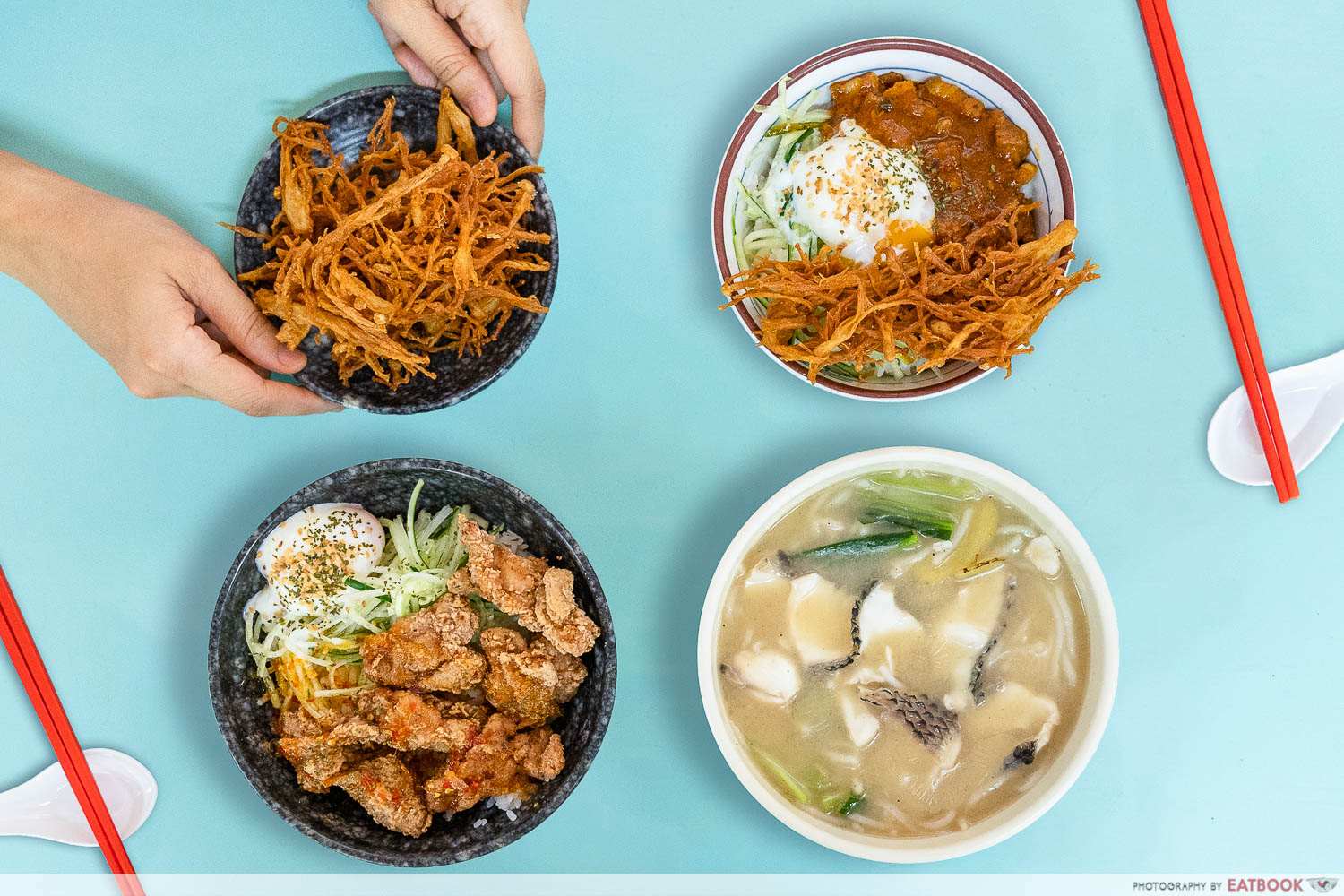 When I first tried Tang Kay Kee Fish Head Bee Hoon earlier this year, I knew I'd stumbled upon a gem. After all, it's rare to come across a family-run hawker stall that has been in business since the 1940s. They're most known for their fish soup, a secret recipe that traces all the way back to the stall's pushcart days along Upper Hokkien Street in Chinatown.
Today, the baton has been handed over to its fourth generation. Young hawker Debbie now oversees the wok, with some help from family members behind the kitchen. The chirpy and well-spoken 32-year-old is the brainchild of the Hong Lim Food Centre stall's latest concept: modern zi char lunch bowls that are only available on weekdays, from 11:30am to 2pm.
543 Laksa: Fresh Laksa By Young Hawker In Bukit Panjang Sells Out Daily
Food at Tang Kay Kee Fish Head Bee Hoon
We started with one of their bestsellers, the Slow-cooked Spicy Braised Pork Belly Rice Bowl ($6). This IG-worthy dish consists of a generous serving of braised pork belly, deep-fried enoki, julienned cucumber, and an onsen egg, atop a bed of fluffy jasmine rice.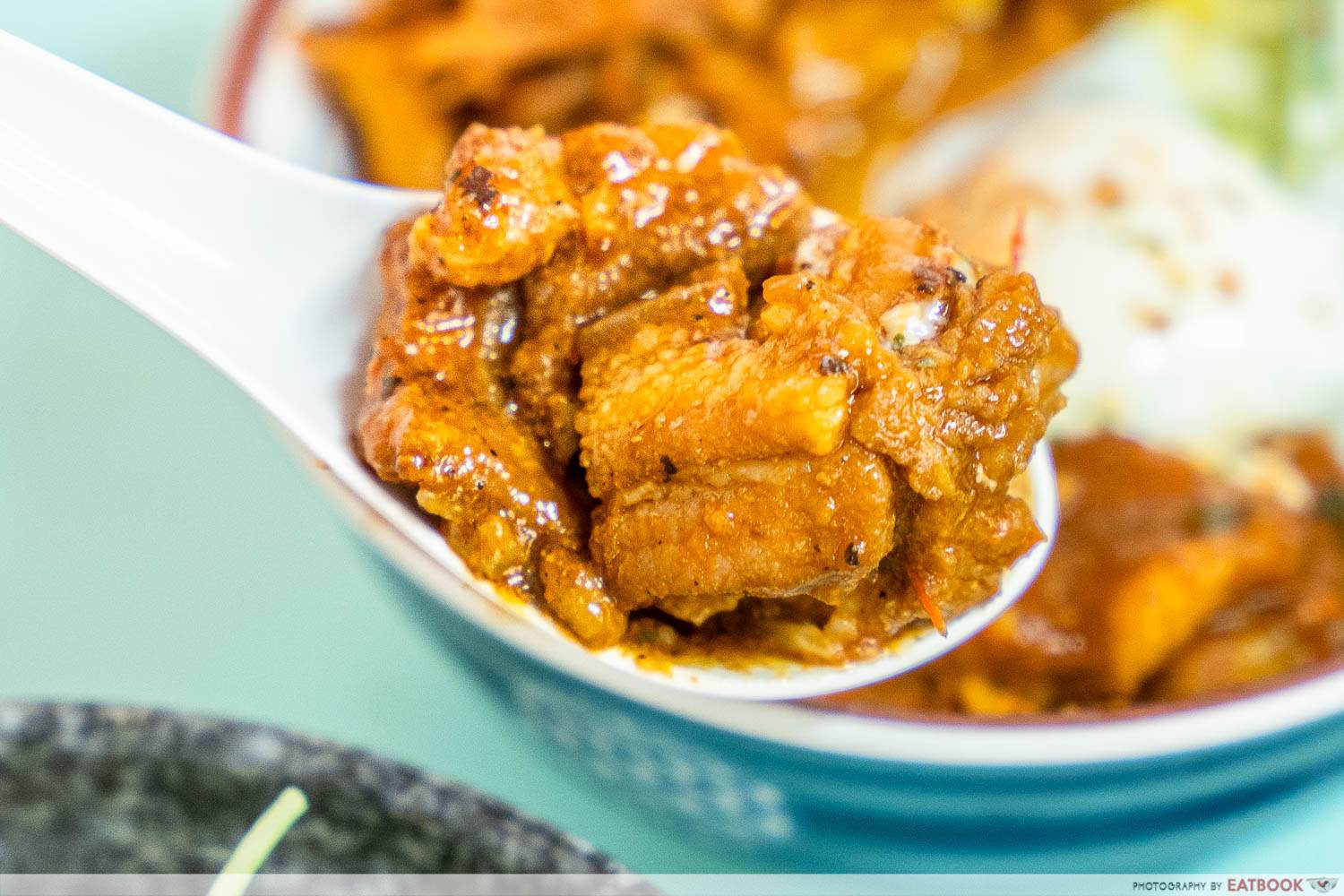 The meat is marinated in a house-made rempah, which leans sweet. I didn't mind the sweetness that much as the rice was dry enough to mop up all the gravy goodness. The pork was also tender, with just the right ratio of fat to meat, so I found myself going back for seconds and thirds without feeling jelak.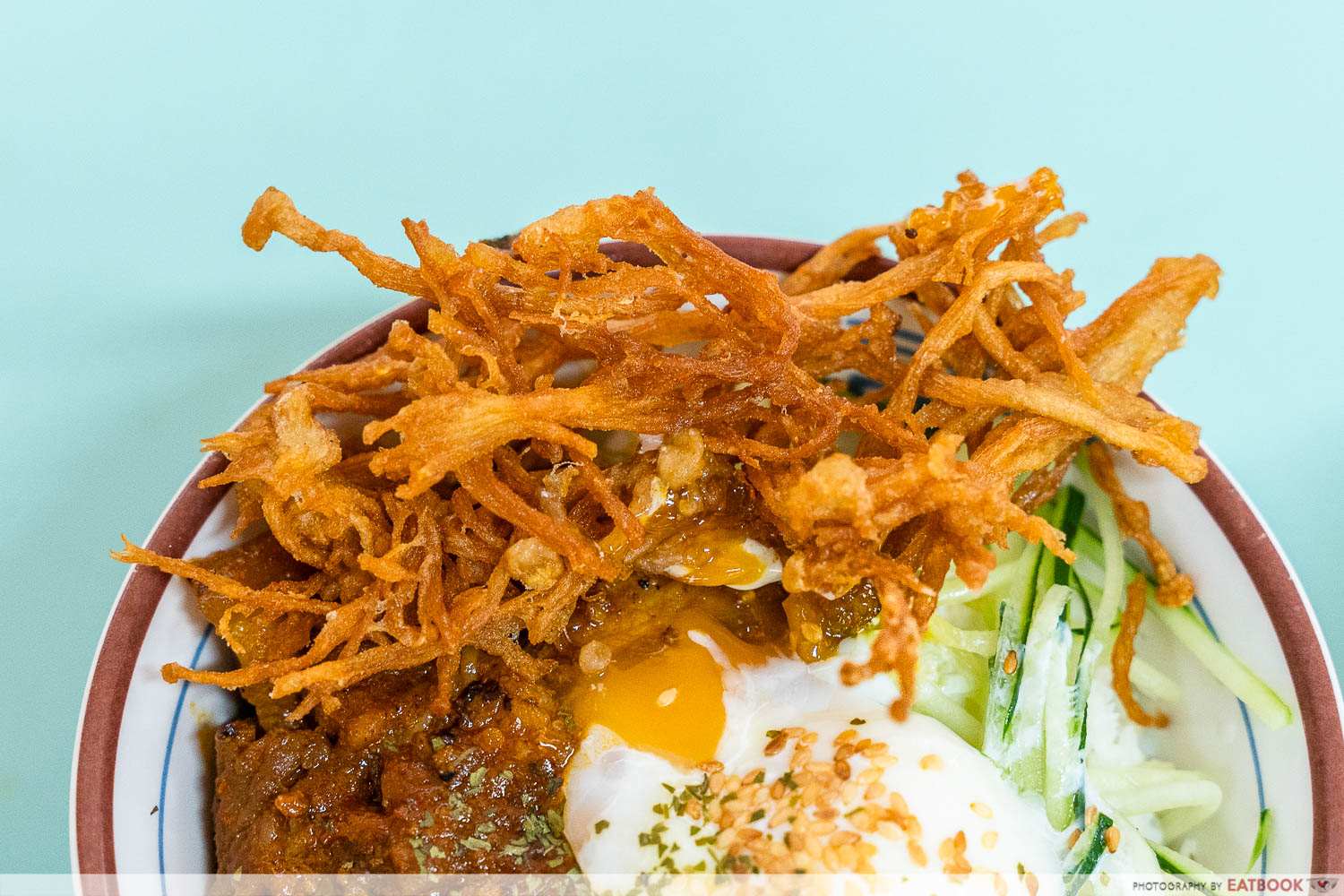 Another highlight for me was the battered enoki, which was sufficiently crisp without being overly greasy. It added a much-needed crunch, which elevated the overall experience. Be warned that the enoki is extremely addictive, but the good news is you can get an extra portion (from $2) on the side if you can't get enough of it.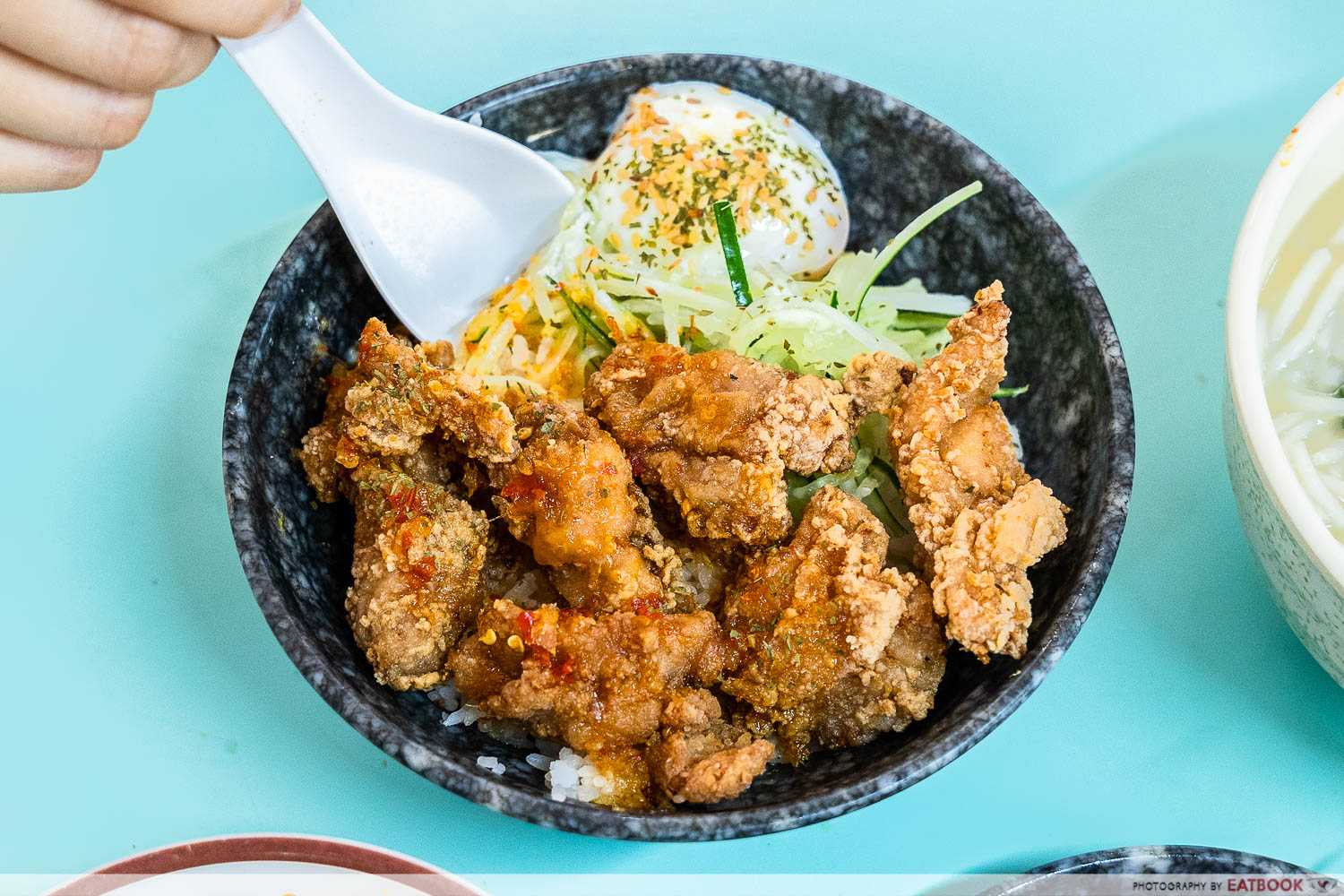 If you enjoy prawn paste chicken as much as I do, you have to order the Har Cheong Gai Rice Bowl ($6). This came with the same components as the previous rice bowl, but here, the braised pork was replaced with deep-fried chicken as the protein.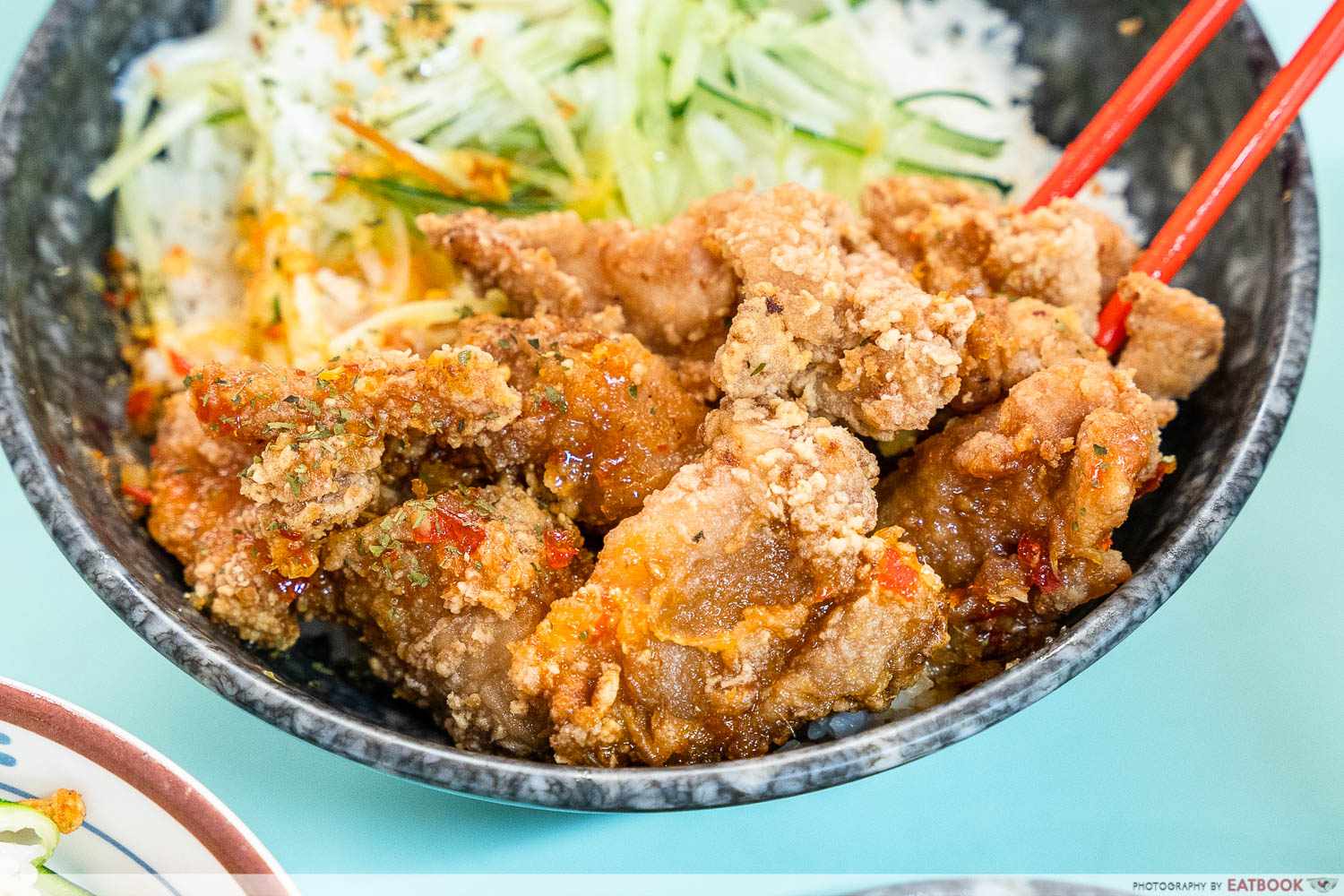 The best part of this dish was the meat; the house-marinated prawn paste chicken chunks were prepared boneless for easy consumption. The lightly battered chicken pieces were glazed with a tangy chilli sauce right before serving, which helped to brighten and balance out the rich and bold flavours of the meat.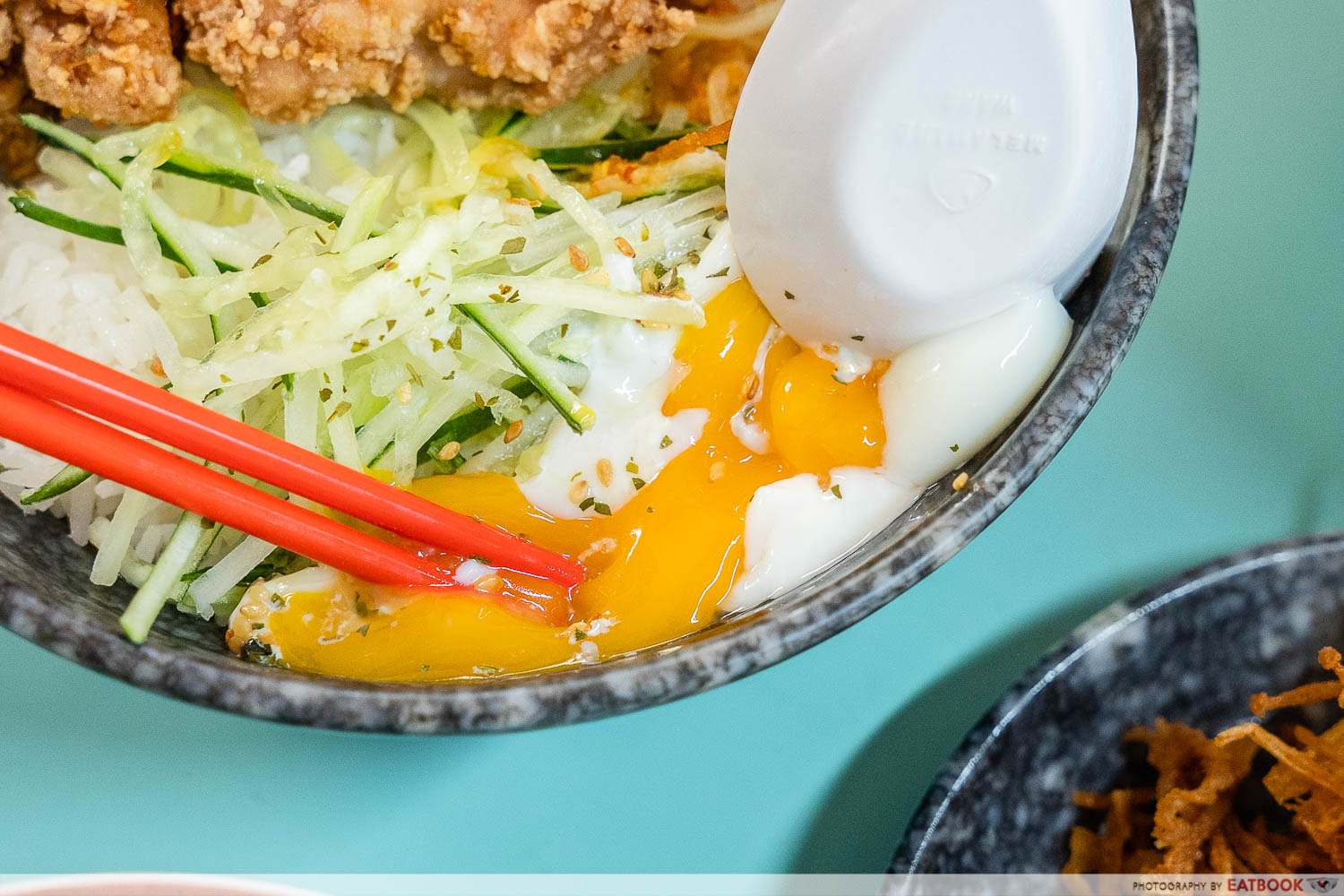 We also noticed that the egg for both bowls was perfectly cooked with a runny yolk, which added bonus points!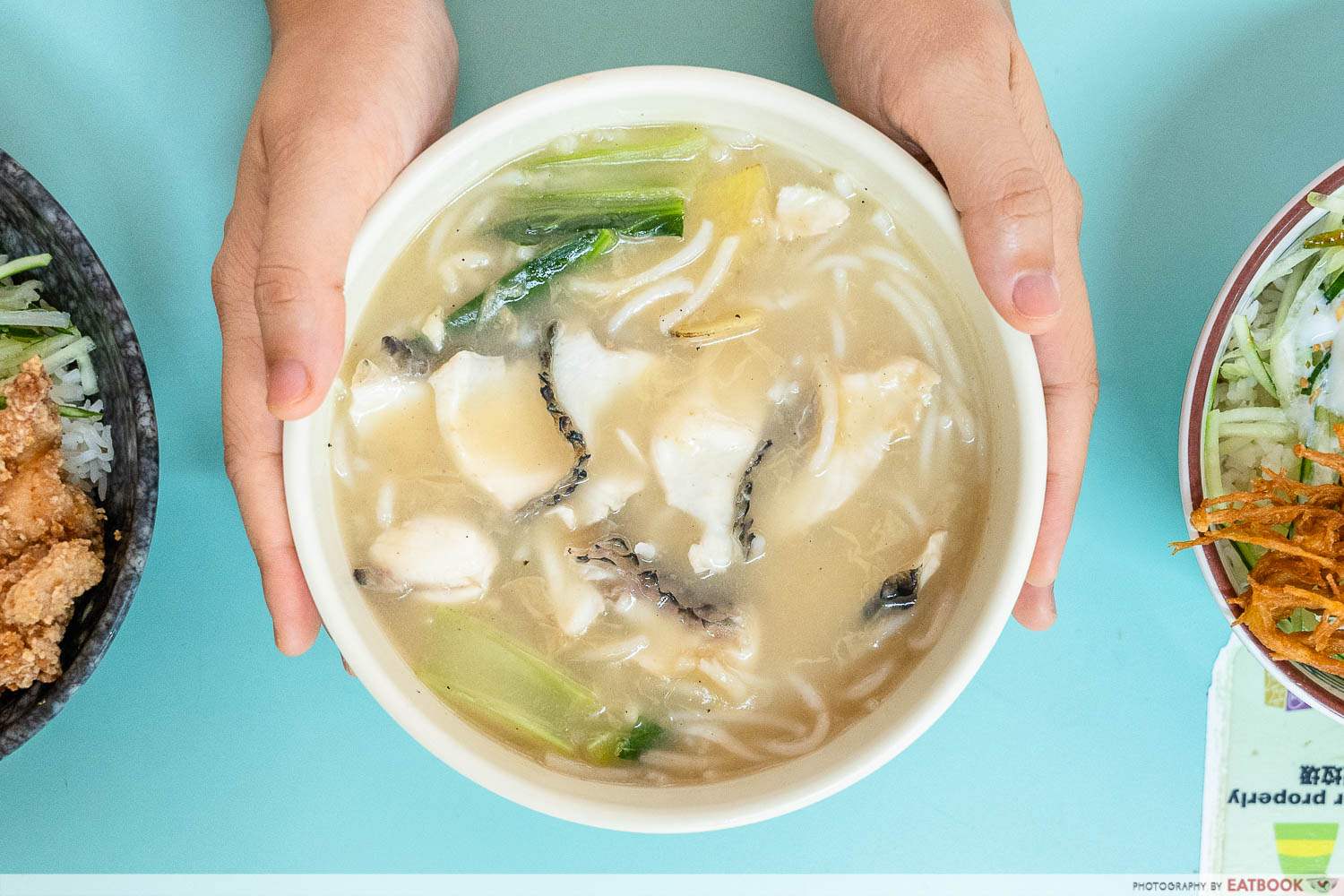 A visit to Tang Kay Kee Fish Head Bee Hoon wouldn't be complete without a taste of their famous fish soup. Here, no milk is used as a shortcut to achieve a creamy consistency. Instead, fish bones are simmered for a long period of time to extract the full flavours, resulting in an incredibly rich and umami soup that places them a league above the rest. Do note that the Fish Slice Bee Hoon ($6) is not listed on the lunch menu.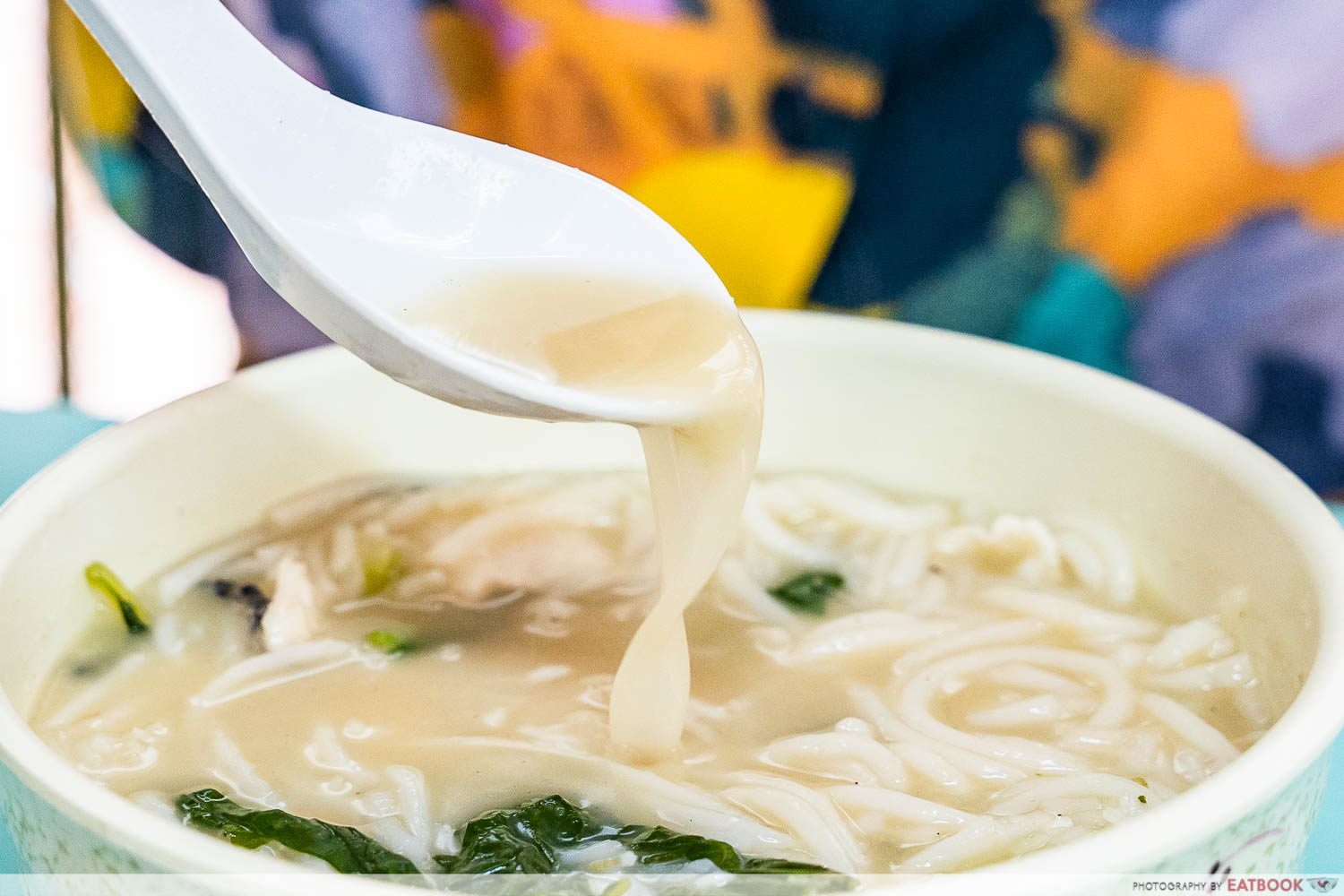 While the broth was no doubt unparalleled—it remains one of the best fish soups I've had—I was slightly let down by the overcooked thick bee hoon, which was mushy and bland. Nonetheless, the fish slices were fresh, and the soup was delicious, so I was happy to look past it as a minor mishap.
Wawa Lala Bee Hoon Review: Fresh Hum, Drunken Clams And More Under $12 In Bugis
The ambience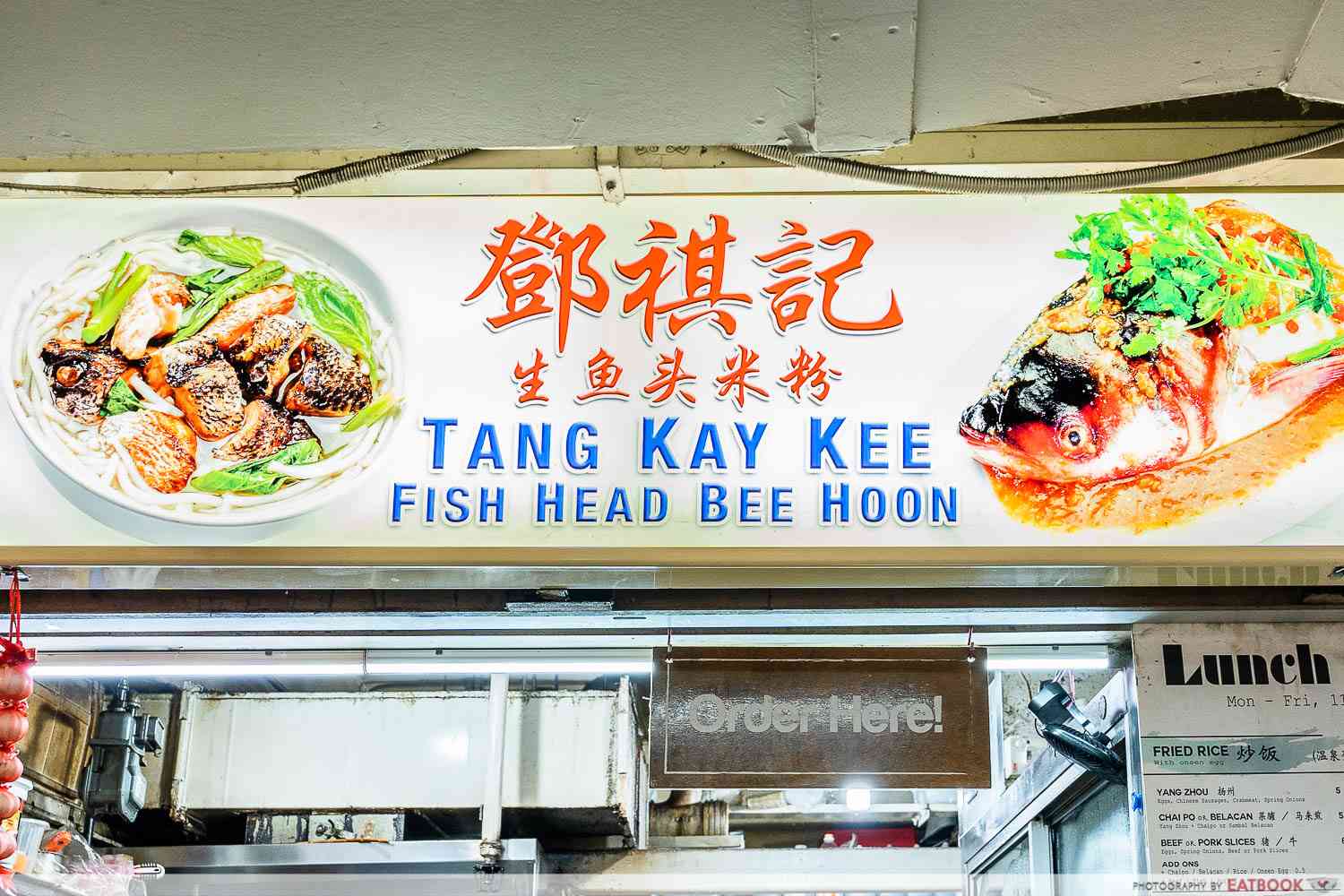 Tang Kay Kee Fish Head Bee Hoon is right next to the main entrance of Hong Lim Food Centre, which is an excellent location in terms of visibility. The hawker centre is a four-minute walk from Chinatown MRT Station.
Footfall is high, and we noticed that there was a queue forming as soon as the stall opened at 11:30am. Avoid coming during the peak lunch hour as that's when we spotted the longest line.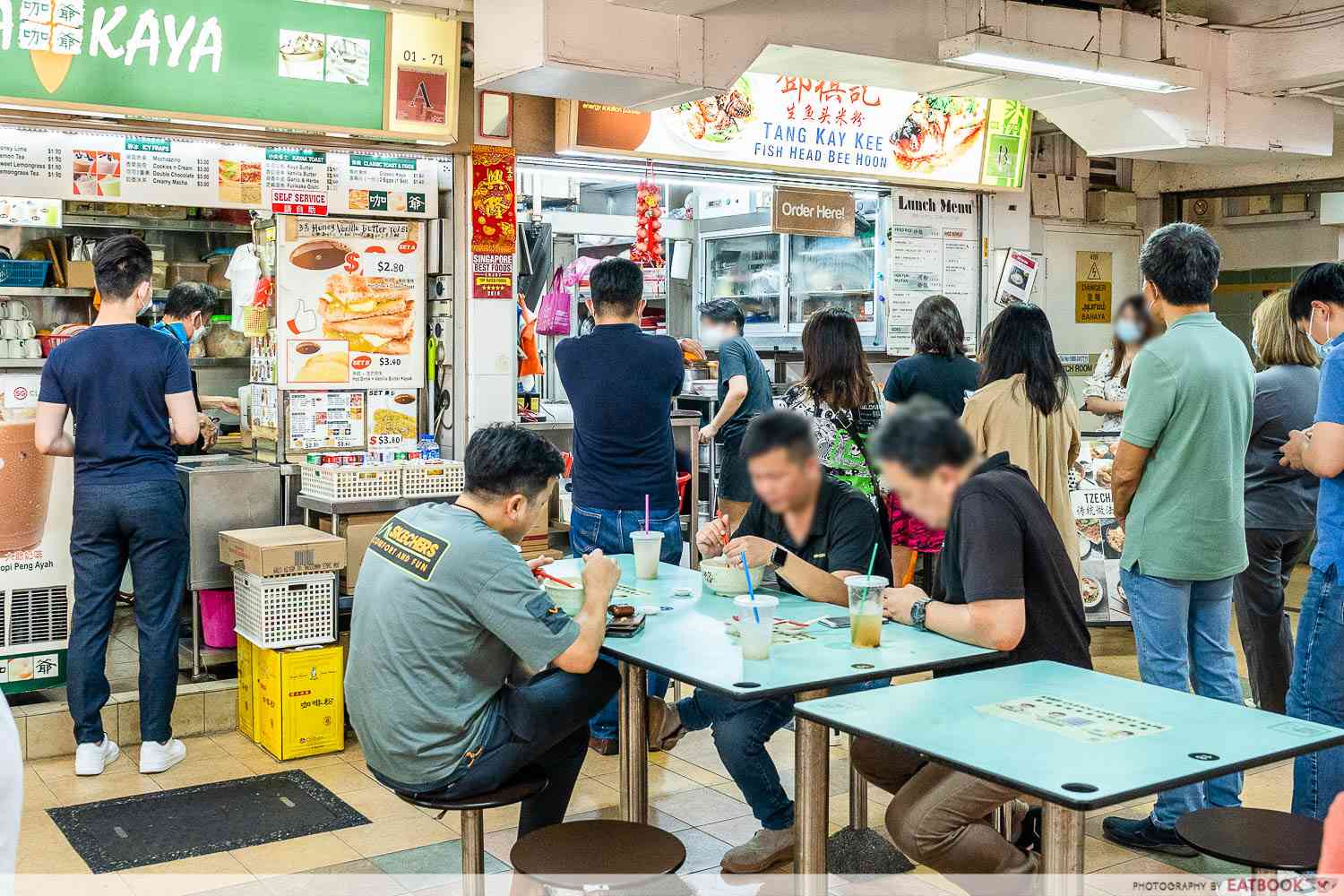 This food centre has plenty of seats to choose from. When it gets crowded during lunch, you can head to the second floor for more seating options. Just make sure you keep an eye out for birds, as we spotted pesky pigeons roaming about and eyeing our food!
The verdict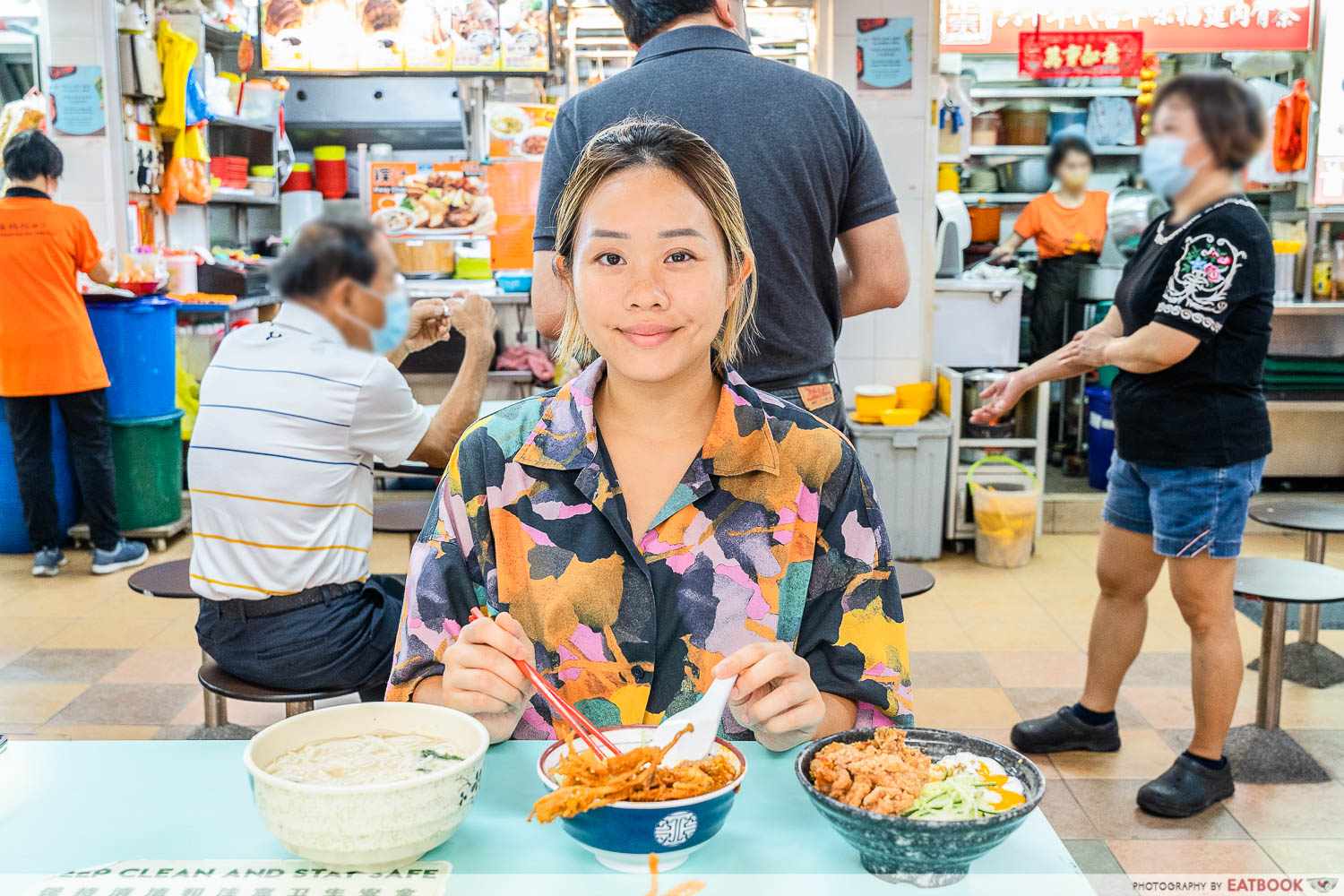 If you're seeking value-for-money rice bowls that will fill you up and make you happier on a dreary workday, look no further. Tang Kay Kee Fish Head Bee Hoon's delicious lunch bowls are worth the calories, and will definitely hit the spot if you're craving comfort food. Their central location also makes it convenient for those working around the area to pop in for a quick bite.
While the fish bee hoon wasn't as well-executed as I'd expected, it's nonetheless a step up from most fish soups I've tried. Perhaps I'd return to try the larger portion during dinner time instead!
For unique baked prata and fusion curry, also in Hong Lim Food Centre, read our Midas review. For more food in the vicinity, check out our guide to Chinatown food!
Address: 531A Upper Cross St, #01-70, Hong Lim Food Centre, Singapore 051531
Opening hours: Mon-Fri 11am to 2:30pm, Tue-Sun 5pm to 10pm
Tel: 8157 2641
Website
Photos taken by Zi Hui Tan.
This is an independent review by Eatbook.sg.
Midas Review: $1.20 Crispy Baked Roti Prata With Thai-Indian Chicken Curry In Chinatown
Tang Kay Kee Fish Head Bee Hoon Review: Zi Char Lunch Bowls From $5 By 4th-Gen Hawker In Chinatown
Tang Kay Kee Fish Head Bee Hoon Review: Zi Char Lunch Bowls From $5 By 4th-Gen Hawker In Chinatown -

8/10
Summary
Pros
– Value-for-money portions
– Convenient and accessible location
– Rice bowls were delicious
Cons
– Lunch bowls are only available on weekdays
– Bee hoon was overcooked
Recommended dishes: Har Cheong Gai Rice Bowl ($6), Slow-cooked Spicy Braised Pork Belly Rice Bowl ($6)
Opening hours: Mon-Fri 11am to 2:30pm, Tue-Sun 5pm to 10pm
Address: 531A Upper Cross St, #01-70, Hong Lim Food Centre, Singapore 051531