Wawa Lala Bee Hoon in Bugis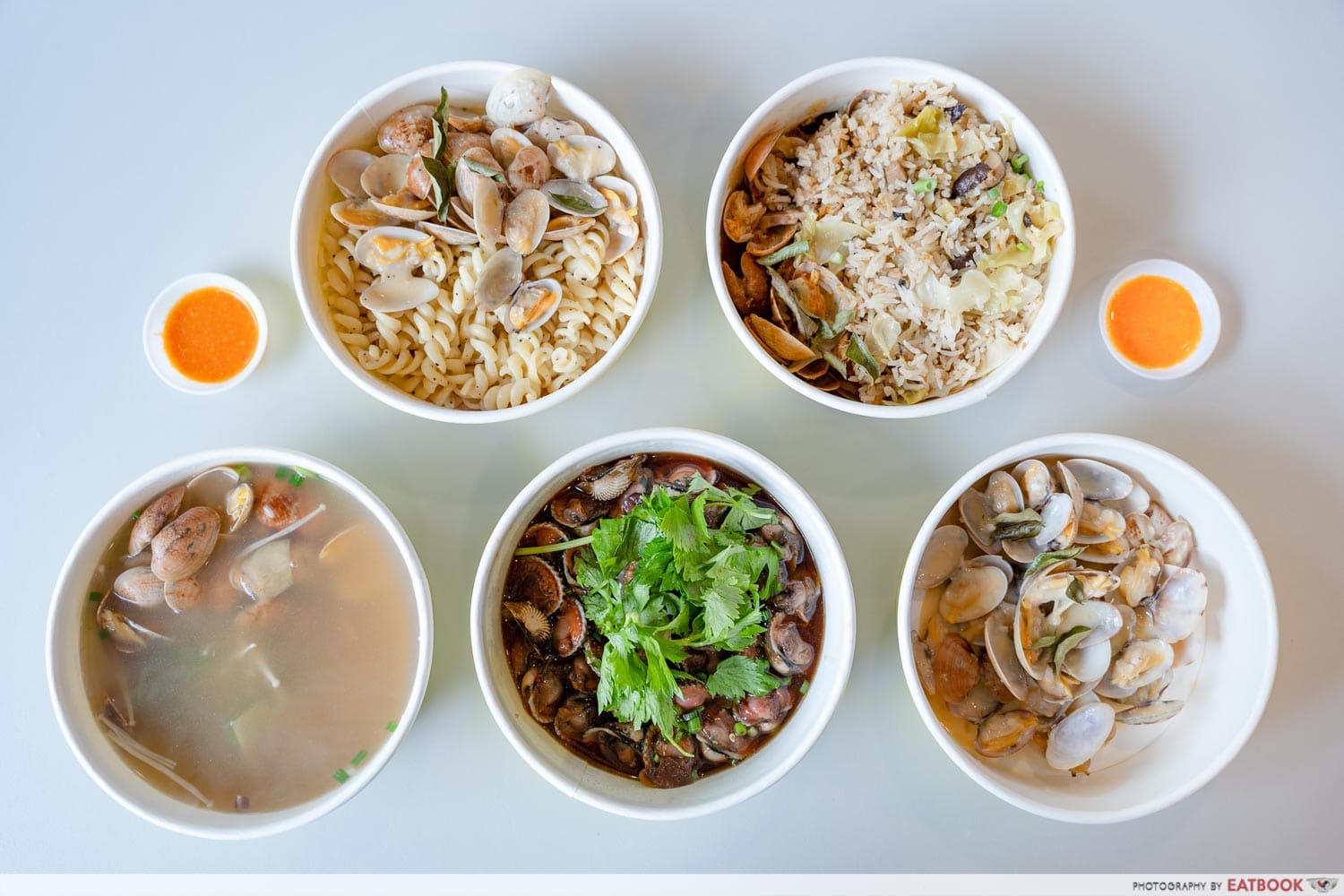 Bugis is usually known for its thriving cafe scene, so when I came across this modern-looking eatery selling la la dishes, I was eager to give it a try. Located at Fortune Centre, this is Wawa Lala Bee Hoon's second outlet, with its first restaurant being in Kovan. 
Food at Wawa Lala Bee Hoon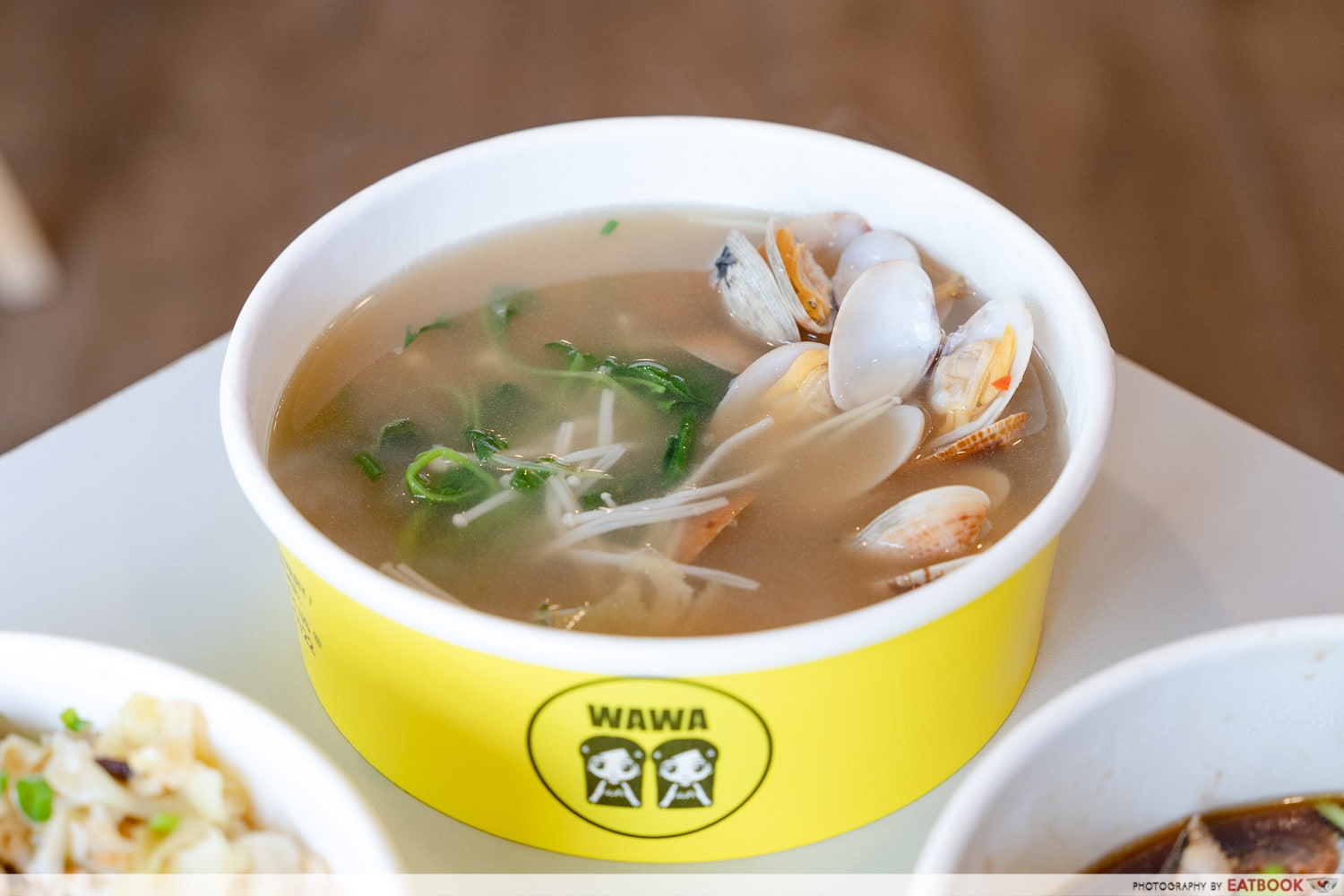 Although Wawa Lala Bee Hoon is known for its bee hoon dish, neither myself nor my colleague are avid fans of the rice vermicelli. Thus, we opted for the Signature Power Drunken Lala Soup ($7.90) instead, as we wanted to taste the natural flavours of the broth.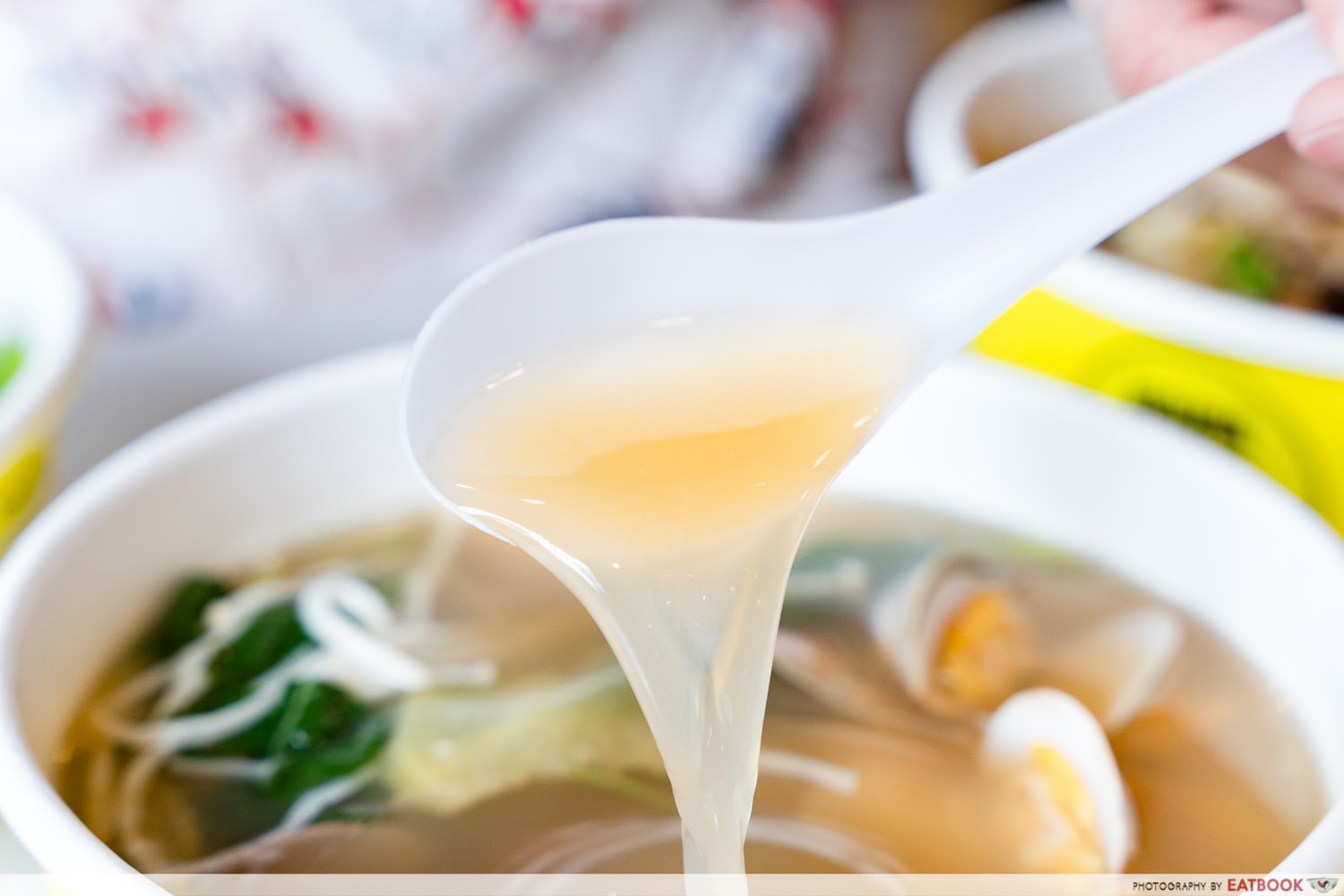 This turned out to be a fantastic decision on our part: the soup was as good as it was touted to be. Enhanced by the intensity of Shaoxing wine, the Signature Power Drunken Lala Soup had a sweetness that kept me returning for more.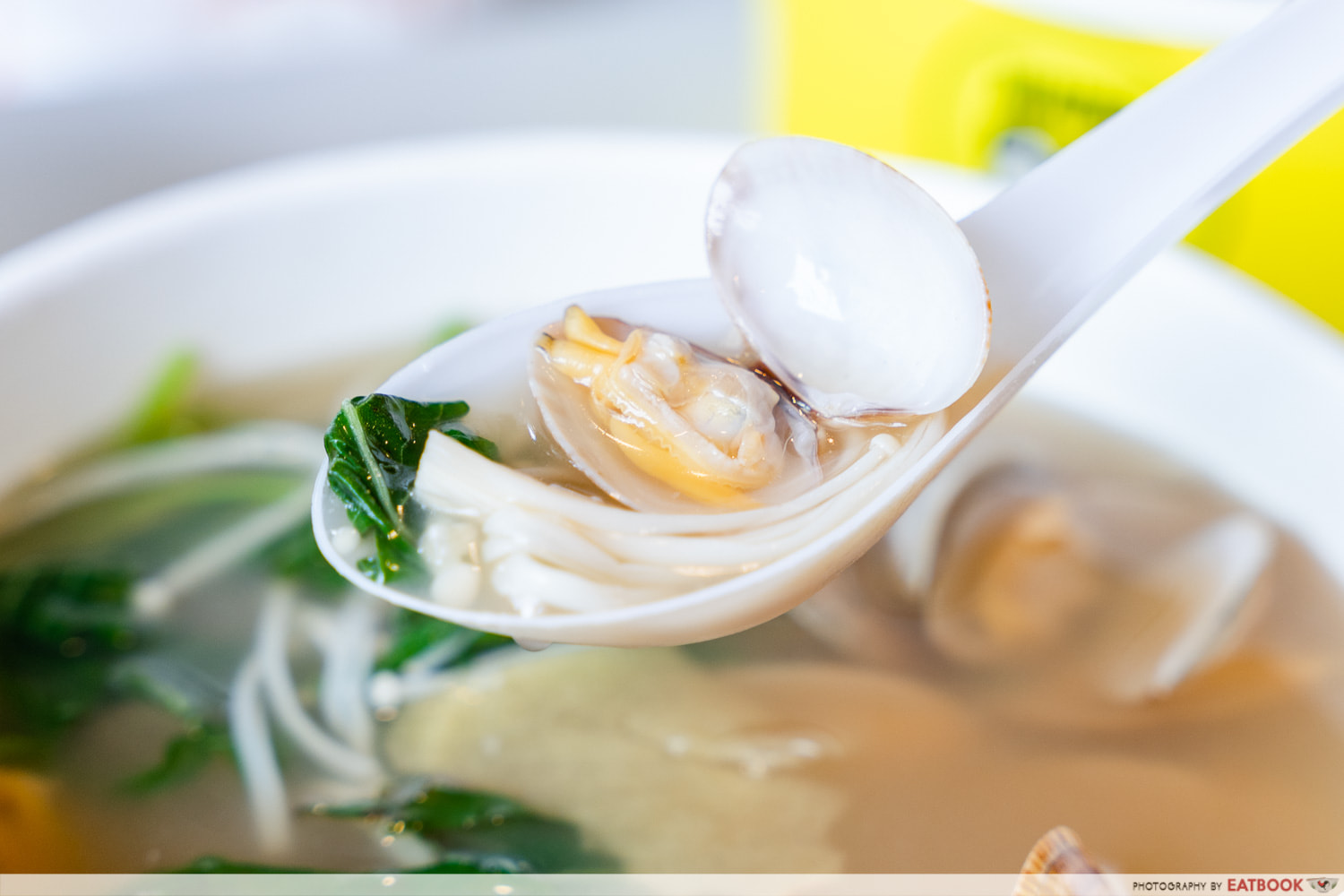 The soup came with enoki mushrooms, red spinach and a handful of Venus clams which were all pretty delicious, but the addition of chilli and ginger was what truly elevated the soup. This gave it a subtle but noticeable fragrance, and spiciness. The best part of the dish though, was that it came with free refills of soup, so you can have as much as you want!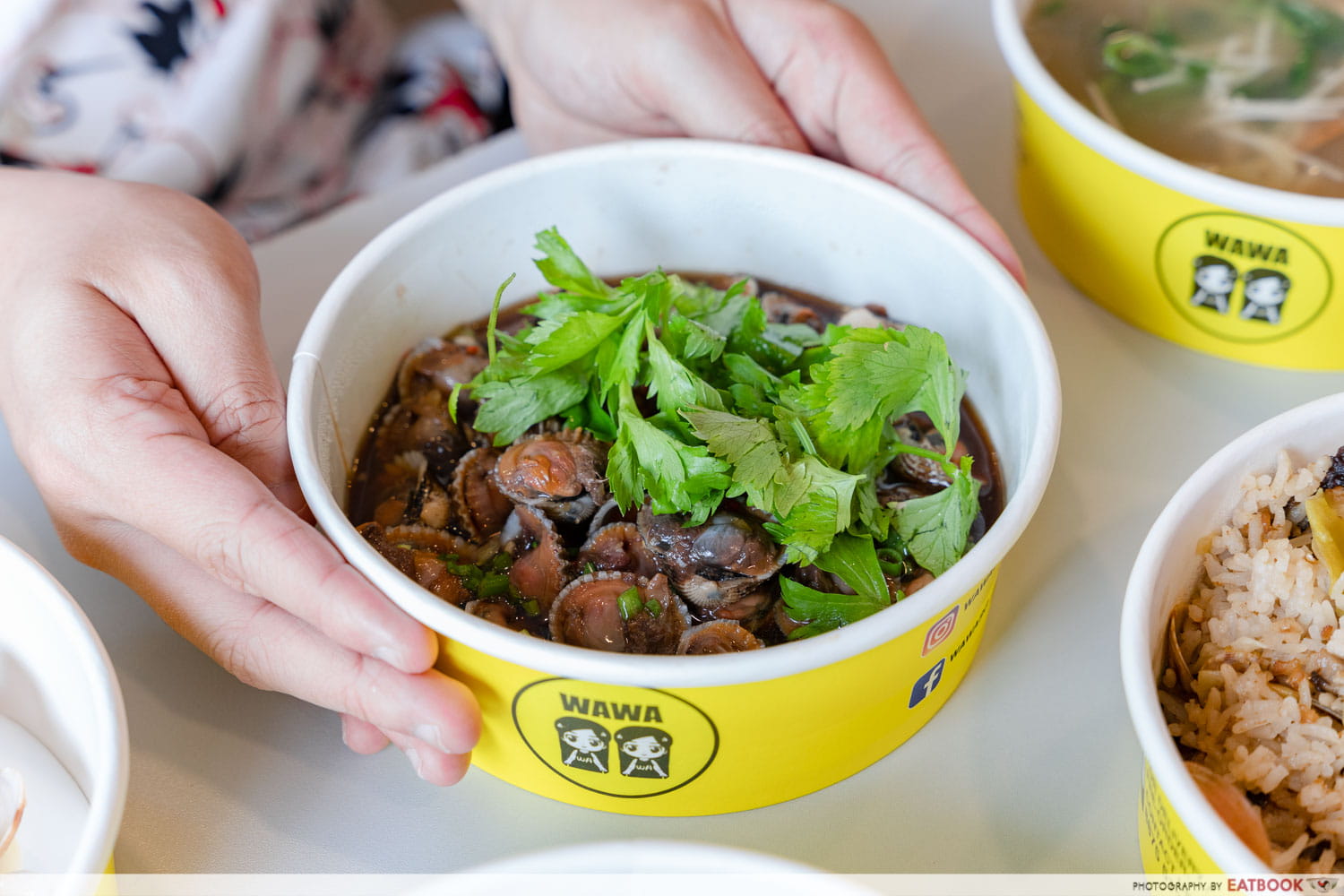 I don't like eating hum, but when I saw that the Fresh Cockles Marinated in Wawa Special Sauce ($11.90) was the other best selling item at Wawa Lala Bee Hoon, I knew I'd be remiss not to give it a shot. 
Served cold, the Fresh Cockles Marinated in Wawa Special Sauce was a sweet-savoury appetiser. Though I still can't quite appreciate cockles, I was told that they had been lightly blanched to reduce their iron-like taste.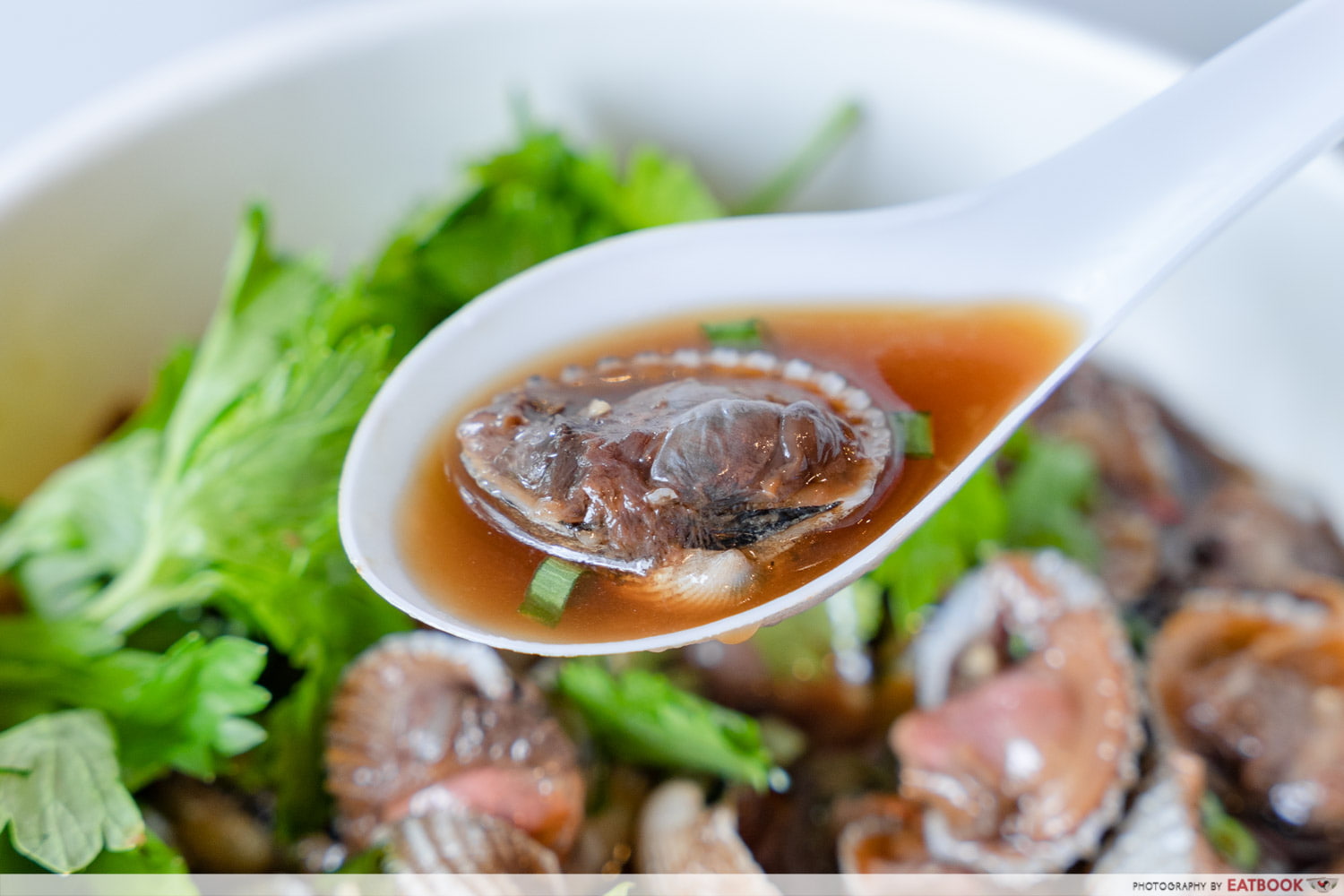 That being said, I actually enjoyed the special sauce for its complexity of flavours—it was tangy, sweet, and savoury altogether. Garnished with Chinese celery and spring onions, the sharpness and fragrance of the herbs helped mask the strong mineral taste. The cockles were also quite meaty, so if you like eating hum, this is a dish you have to order.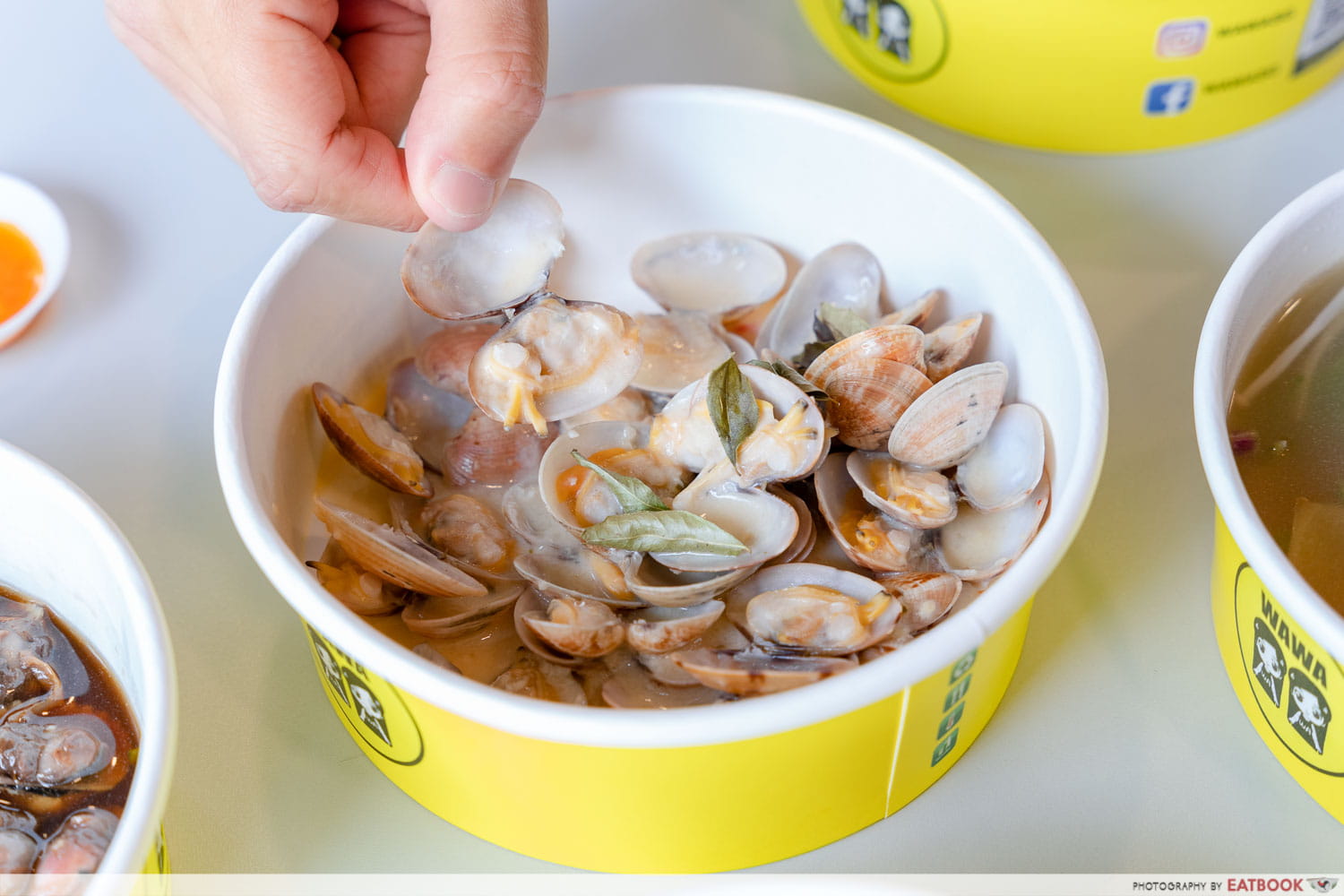 We also tried the Fresh Lala in Signature Homemade Garlic Butter Sauce ($7.90). For its price, I felt that there were a lot of clams, which made it value-for-money. Unfortunately, I did not like this dish as much, because I felt that it lacked the depth of flavour that the previous two had. 
Though the garlic butter sauce was indeed very garlicky, there was quite little of it, which made the dish rather dry. This was coupled with the fact that the sauce was also quite thin and not that creamy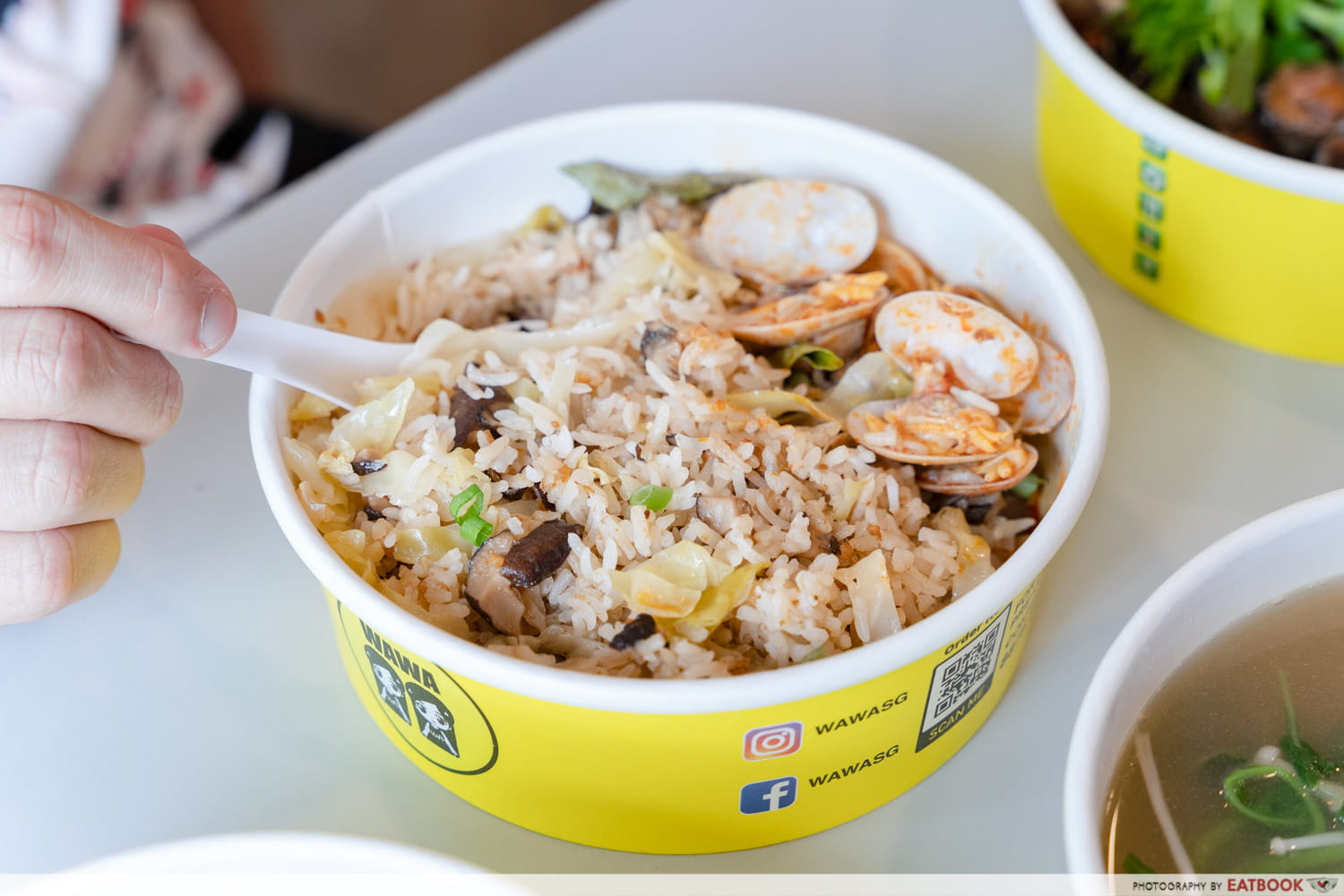 Moving on to the mains, I started with the Power Sambal Lala with Tasty Rice ($9.90). At first glance, I was quite disappointed with how it looked. I had expected the sambal to appear more fiery red, and for there to be more sauce. The chilli fell on the milder side, as it was more sweet than it was spicy, which puts it at an entry-level spiciness suitable for non-chilli eaters.
For those well-accustomed to spice, drizzle some of Wawa Lala Bee Hoon's house-made chilli sauce over your clams. This tangy, garlic-based chilli sauce is definitely spicier, and I found it to be a good alternative to the Power Sambal.
As for the Tasty Rice, I felt that it was a commendable rendition of yam rice, with the addition of umami shiitake mushrooms and cabbage. Though it was savoury, I personally thought that it was a bit too mushy for my liking.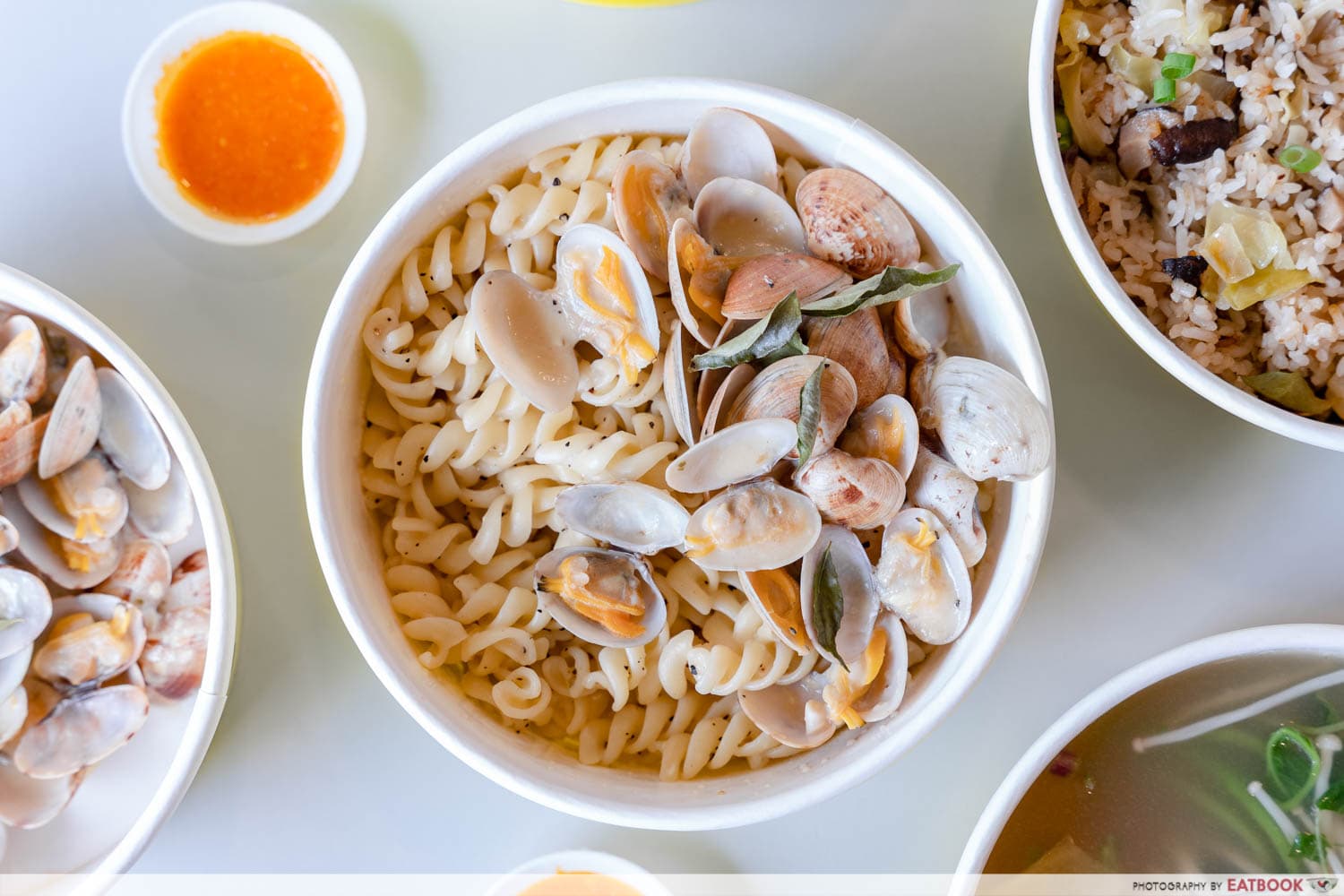 I was quite excited to taste the Fusilli Vongole ($9.90), because fusilli is one of my favourite pastas. The pasta, when well-cooked, is usually quite chewy, and its spiral shape allows it to capture a lot more sauce than other types of flat noodles. Unfortunately, the Fusilli Vongole suffered from the same fate as the garlic butter clams and sambal la la, as there was little sauce too.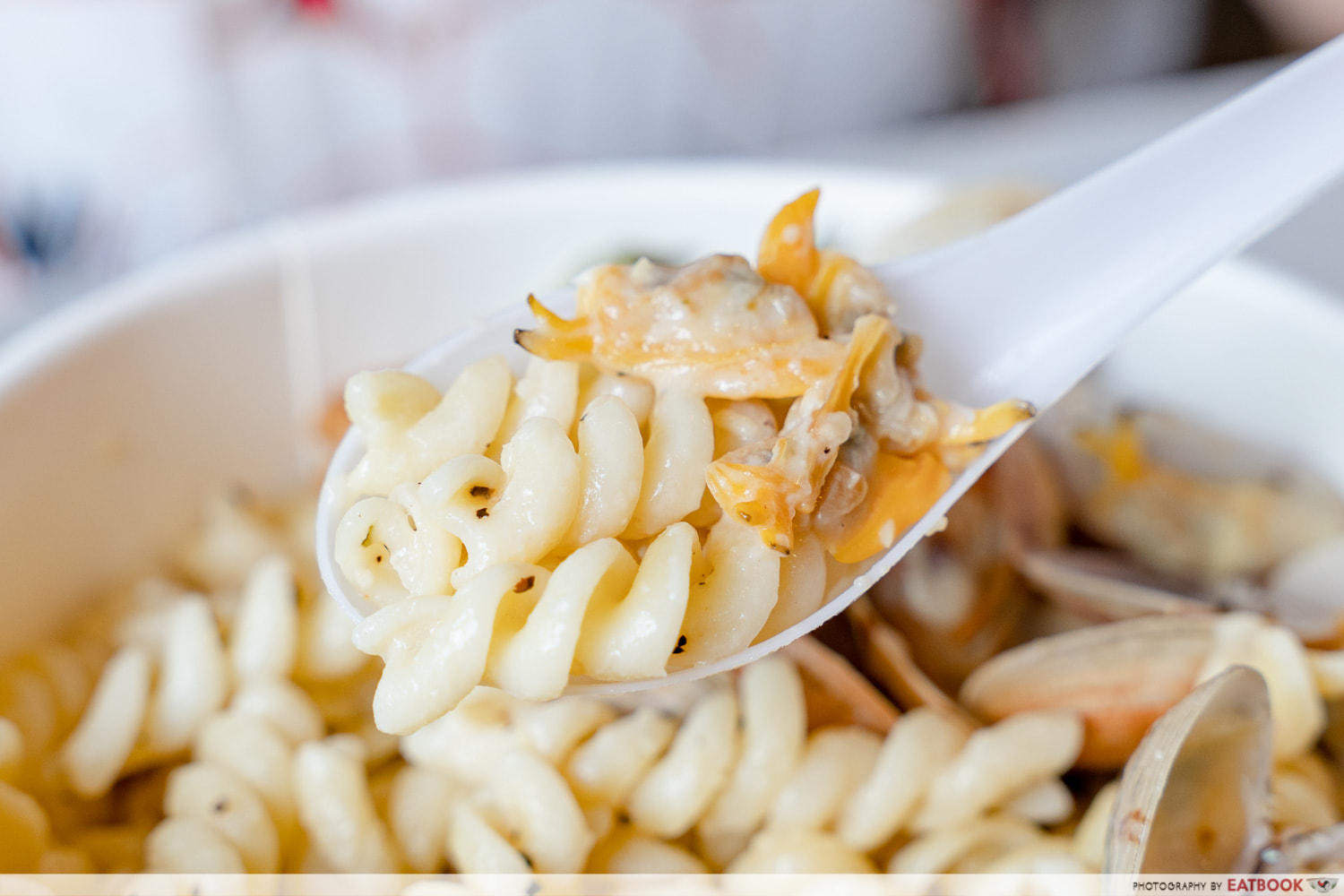 The pasta itself was also slightly overcooked, and this made it softer than I would have preferred it to be. I recommend ordering this dish if you're not having the Fresh Lala in Signature Homemade Garlic Butter Sauce, as the Fusilli Vongole features the same clams—except with pasta.
Ambience at Wawa Lala Bee Hoon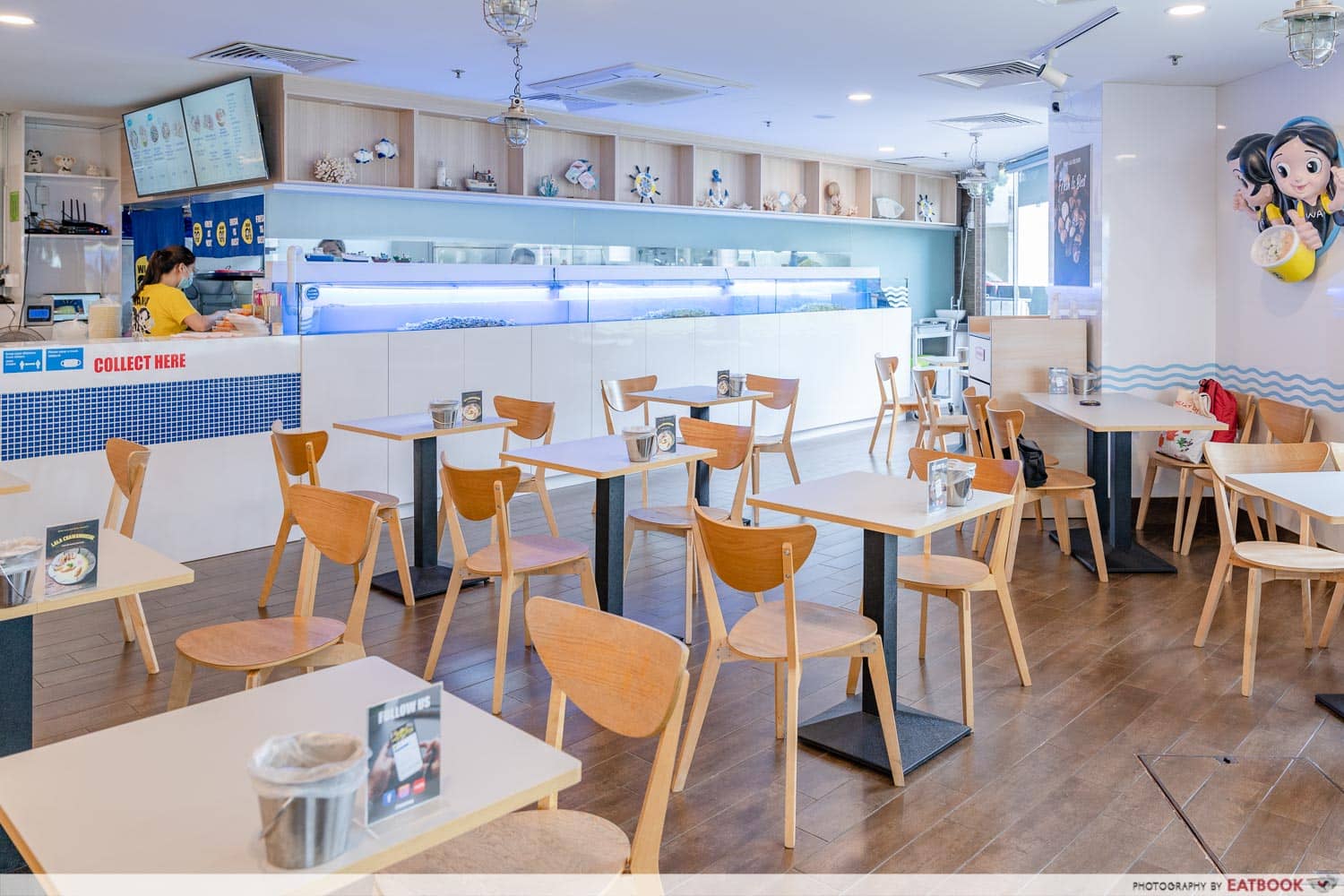 Wawa Lala Bee Hoon stands out from the other restaurants in Fortune Centre with its modern furnishings and nautical theme. The white tones and wooden accents help to brighten the interior, while a faint incense scent makes the eatery more inviting.
It's located a mere 850m away from Bugis MRT Station, and occupies a prime location at the Middle Road entrance of Fortune Centre. As a result, the indoor seating area for about 30 people fills up quite quickly come lunchtime. You might have to brave the heat and dine at Wawa Lala Beehoon's al fresco area, though the quick preparation time helps speed things along. 
The verdict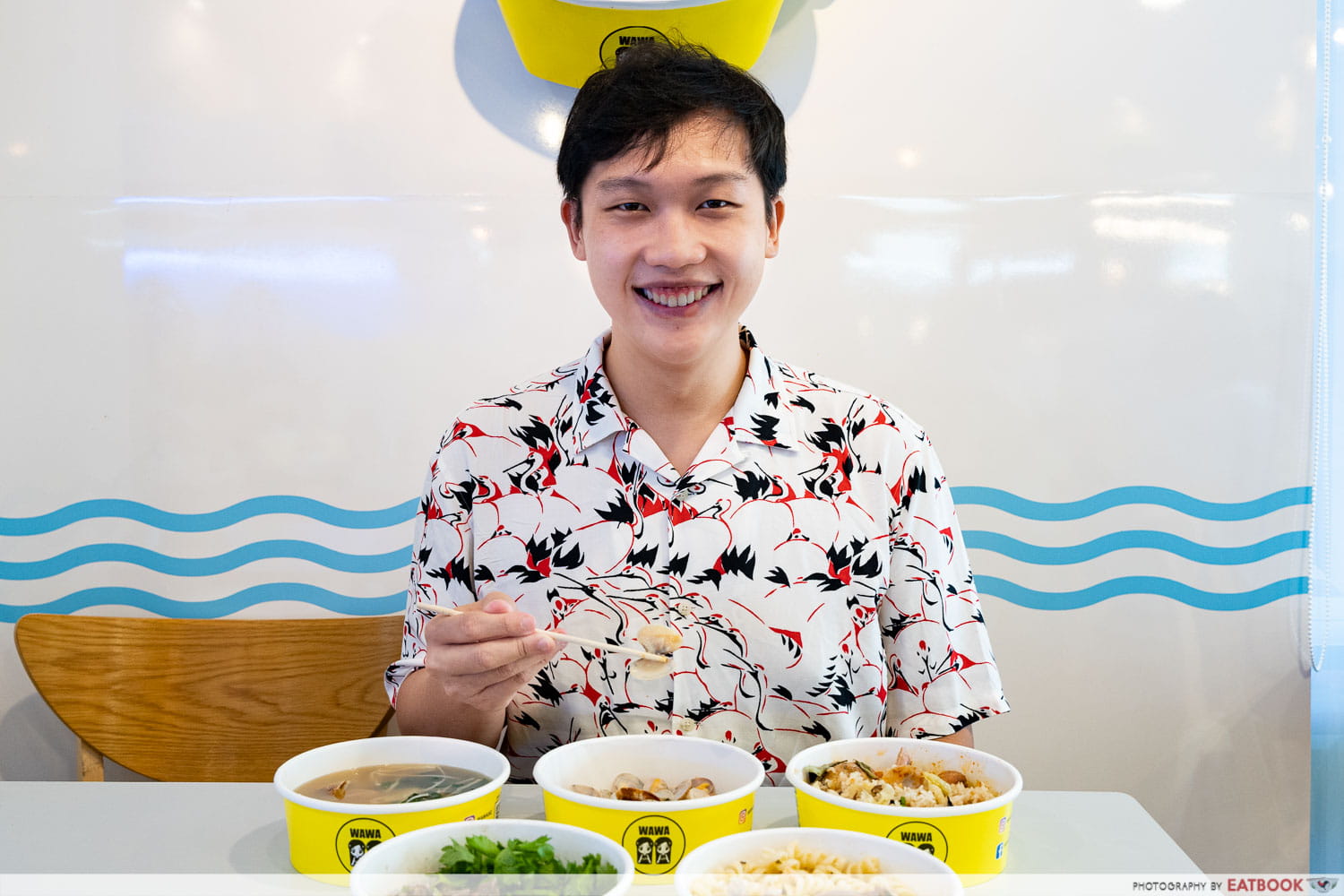 Though we didn't have their Lala Bee Hoon, my colleague and I were both impressed with how fresh the seafood was. Wawa Lala Bee Hoon takes great effort in ensuring that their molluscs are of the highest quality, as we spotted them carefully scrubbing the cockles individually. None of the clams that we had that day were gritty, and their meat was quite firm too.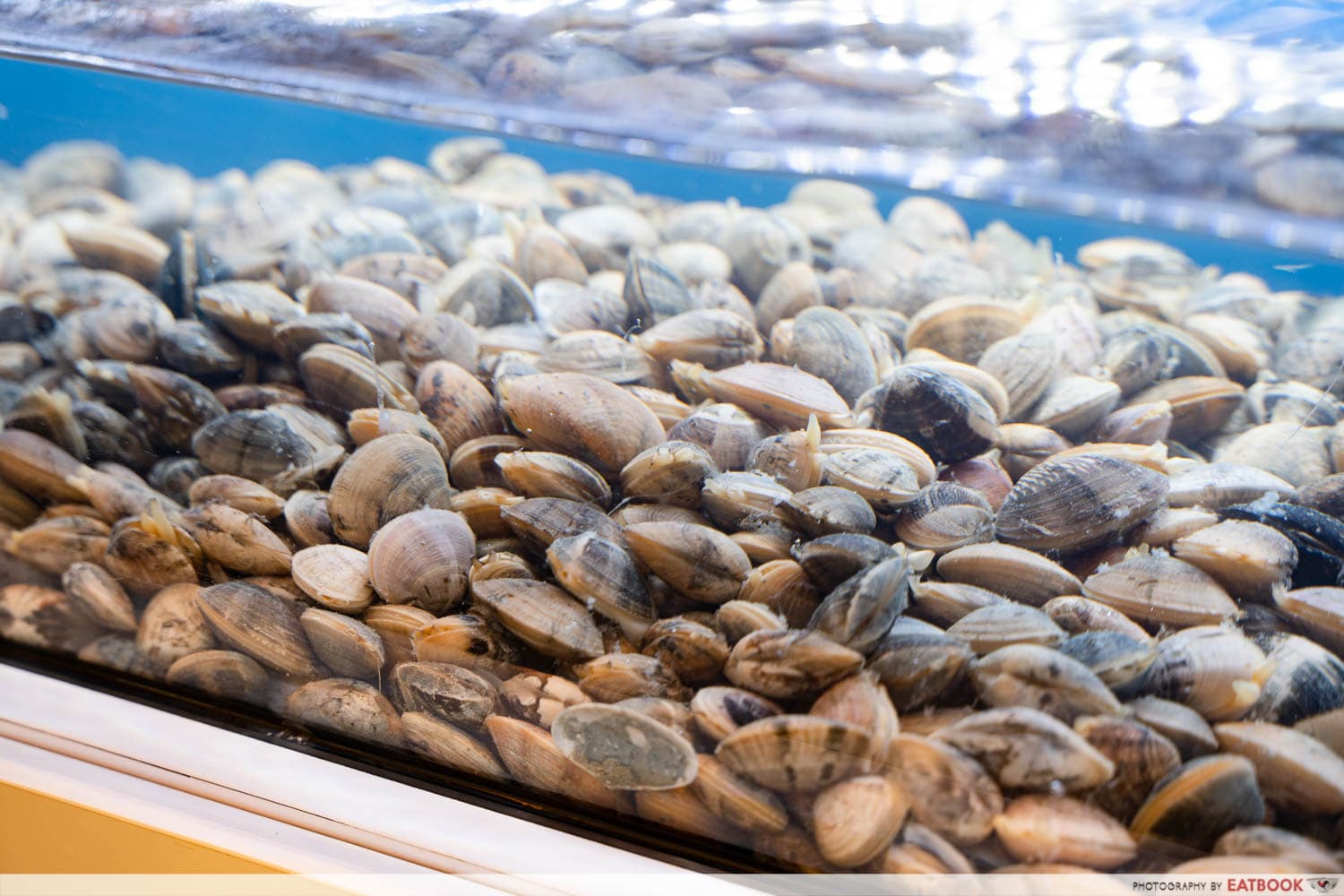 In my opinion, though the carbs that I had were a tad underwhelming, the clams and cockles were sweet and fresh. Wawa Lala Bee Hoon has a tank of live clams, so you know that their la la is going to be as fresh as it gets. I can see myself returning for their Signature Drunken La La Soup, and will certainly utilise the free soup top-ups! 
Also located within Fortune Centre is A9 Noodle Dumplings, which offers 15 Cabbage Pork Dumplings at a steal for only $4! If you're really crazy about clams and other seafood, check out Pao Fan Paradise for their Lala Seafood Hotpot Pao Fan.
Address: 190 Middle Road, #01-11/12, Fortune Centre, Singapore 188979
Opening hours: Tue-Sun 11:30am to 9:30pm
Website
Wawa Lala Bee Hoon is not a halal-certified eatery.
A9 Noodle Dumplings Review: 15 Dumplings for $4 And Mala Noodles At Bugis
Photos taken by Melvin Mak.
This was an independent review by Eatbook.sg
Wawa Lala Bee Hoon Review: Fresh Hum, Drunken Clams, And More Under $12 At This Bugis Restaurant
Wawa Lala Bee Hoon Review: Fresh Hum, Drunken Clams, And More Under $12 At This Bugis Restaurant -

7/10
Summary
Pros
– Clams and cockles were fresh
– Soup was complex and delicious
Cons
– Texture of carbs was not great
– Not a lot of sauce
Recommended dishes: Fresh Cockles Marinated in Wawa Special Sauce ($11.90), Signature Power Drunken La La Soup ($8.90)
Opening hours: Tue-Sun 11:30am to 9:30pm
Address: 190 Middle Road, #01-11 to 12, Fortune Centre, Singapore 188979