The Naughty Corner is not your average ice-cream shop
Update (15 April 2020): The Naughty Corner is now located in Toa Payoh. Check out the full address at the end of the article!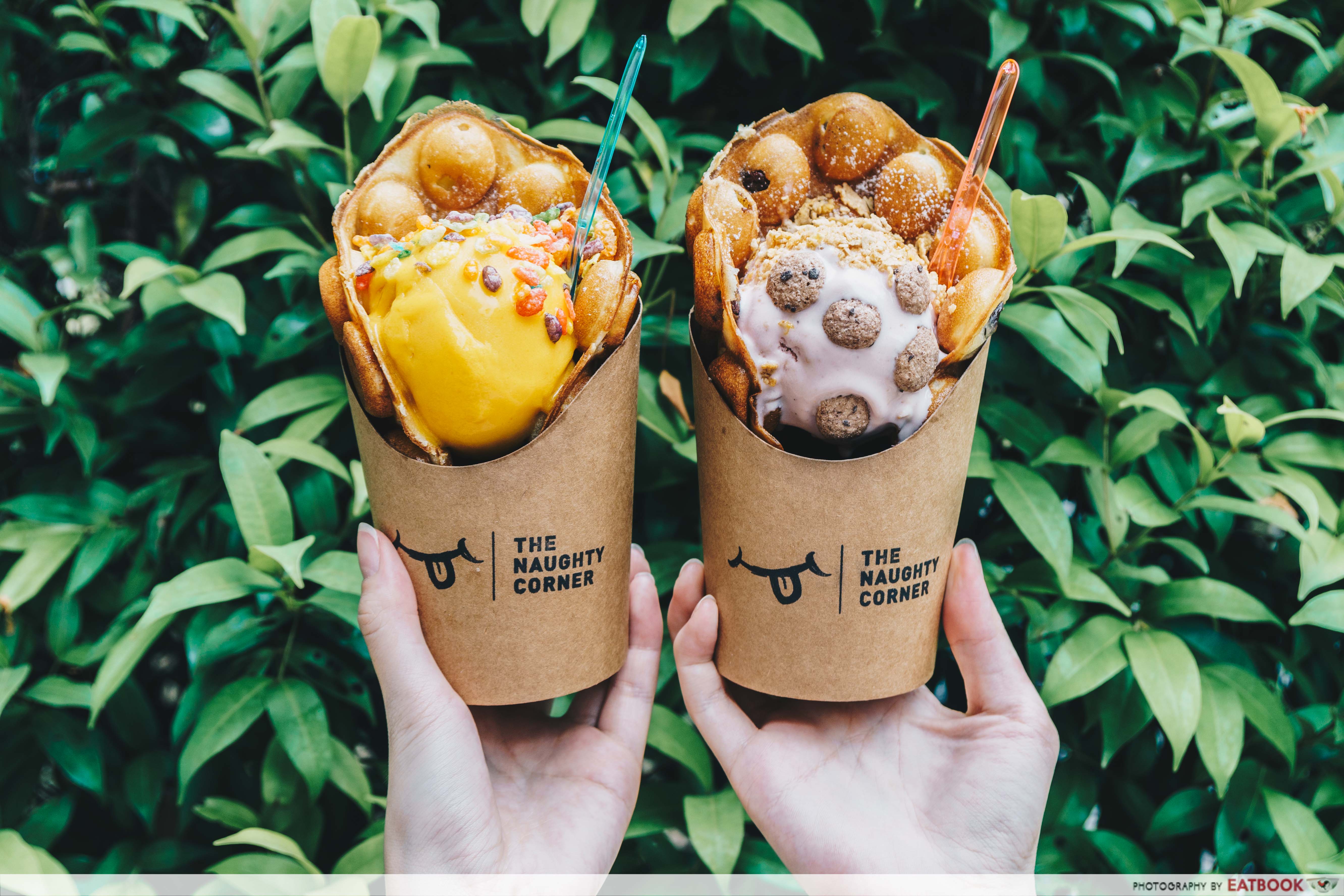 The Naughty Corner is an obscure dessert store tucked away in the sleepy neighbourhood of Hougang. The intention behind the playful store name is to invite young and old alike to relax and unwind at this quaint gelato house, kinda alike to a hyperactive child being sent to the corner for a cooling-off session. Seeing as to how life had gotten a bit hectic lately, I decided The Naughty Corner made the perfect stop for a little downtime.
Food at The Naughty Corner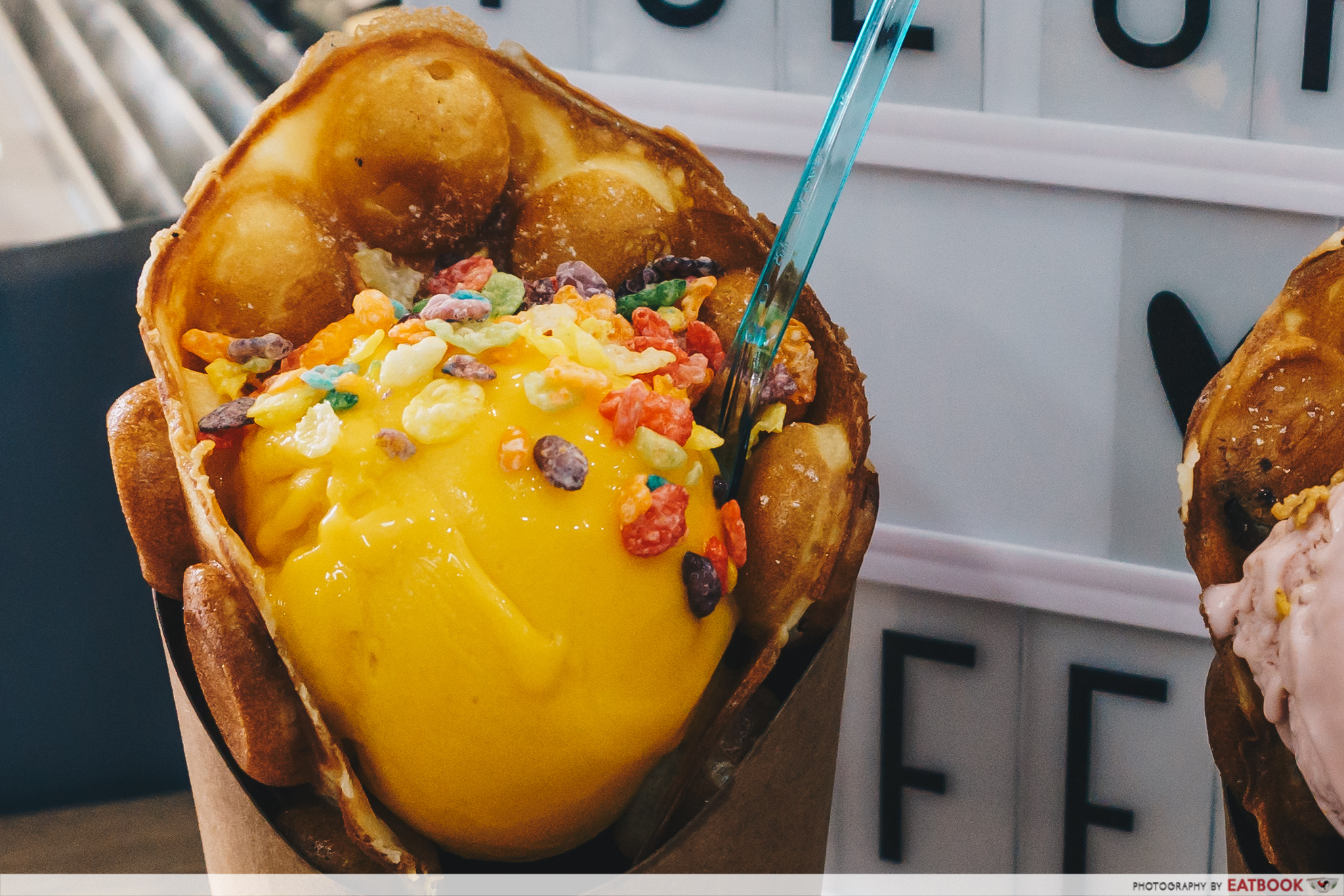 As I browsed through the ice-cream selections, the bright yellow of the Alphonso Mango Sorbet kept jumping out at me, so I thought, why not? I decided to pair it off with the Sea Salt Caramel Bubblewrap, which is their name for egglets. One plain egglet, ice-cream and topping combo costs $7.20, but because the sorbet is a premium flavour, it requires an additional $0.80. The stuffed egglet also required an extra $1, bringing our bill to $9.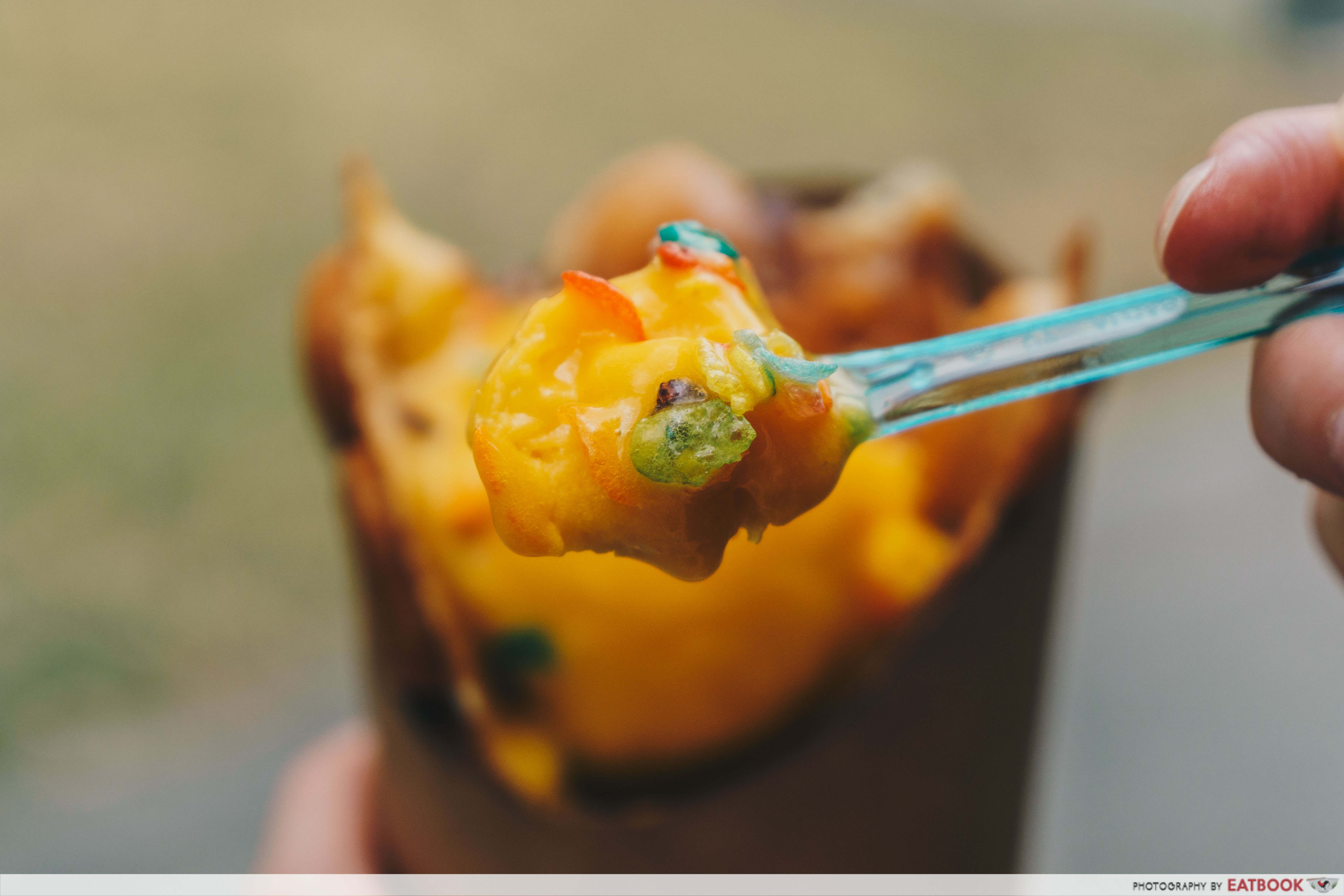 We chose Fruity Pebbles as our topping, largely because it made a colourful decor for the 'gram. The fruity pebbles are so small and light, you can barely make out the crunch as you chew, much less its flavour. That wasn't a problem though, since the mango sorbet did all the talking. The moment the chilly gelato hit my tongue, I tasted a sharp, sourish tinge, one which gradually faded away into a rich sweetness. All this coupled with the smoothness of the ice-cream presented an ideal, refreshing treat on a sunny afternoon.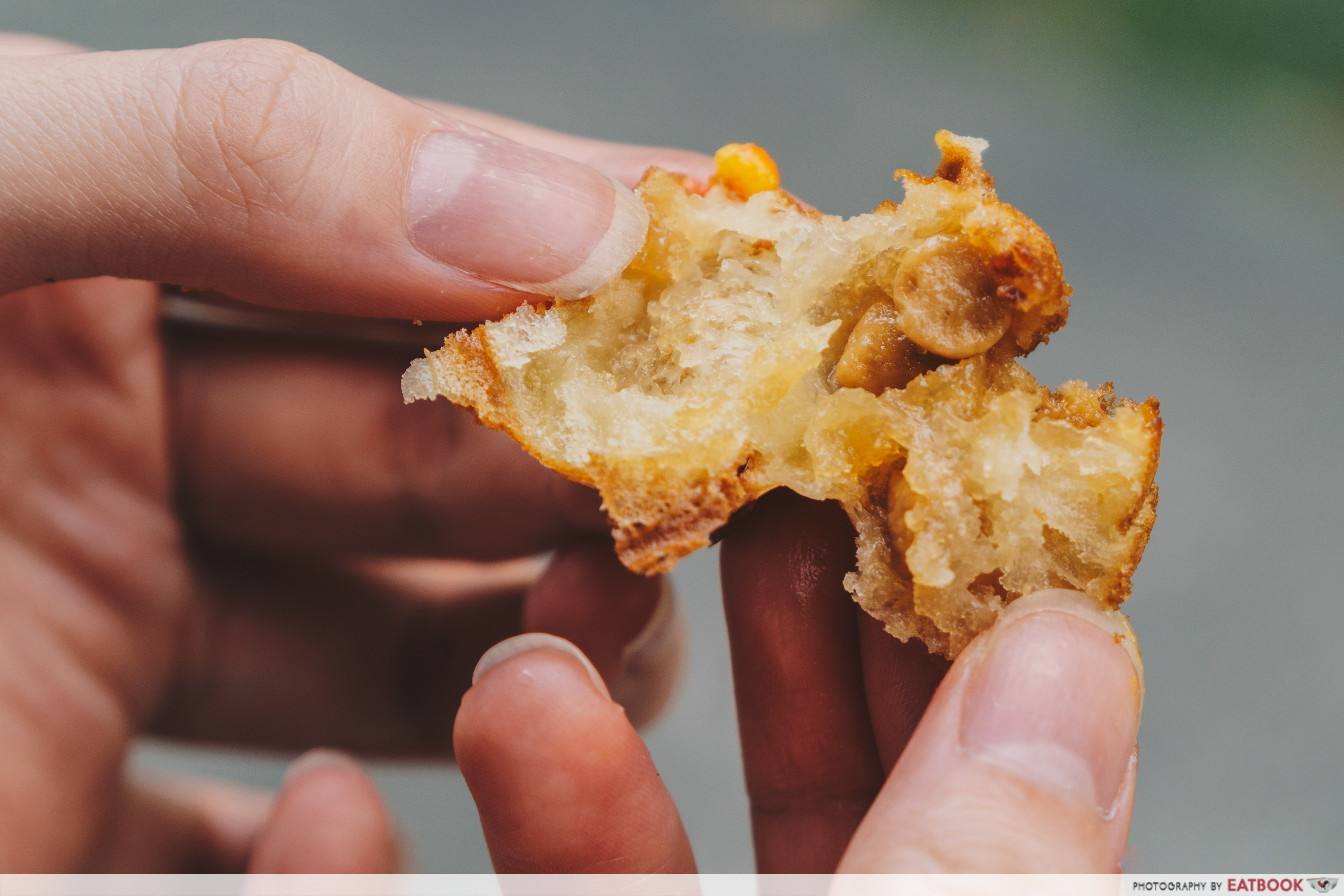 Excited, I broke off a round pocket from the edge of the stuffed egglet and peeled it apart to unravel the filling within. My initial reaction was one of surprise. I'd expected the sea salt caramel to have been a little more liquefied, but was instead greeted by the sight of two little brown tablets stuck to the inner walls of the egglet. On a whole, the egglet tasted salty, sweet and chewy, albeit a tad bit dry. It lacked the moisture which the filling should have provided. Regardless, my colleague and I still ended up enjoying it.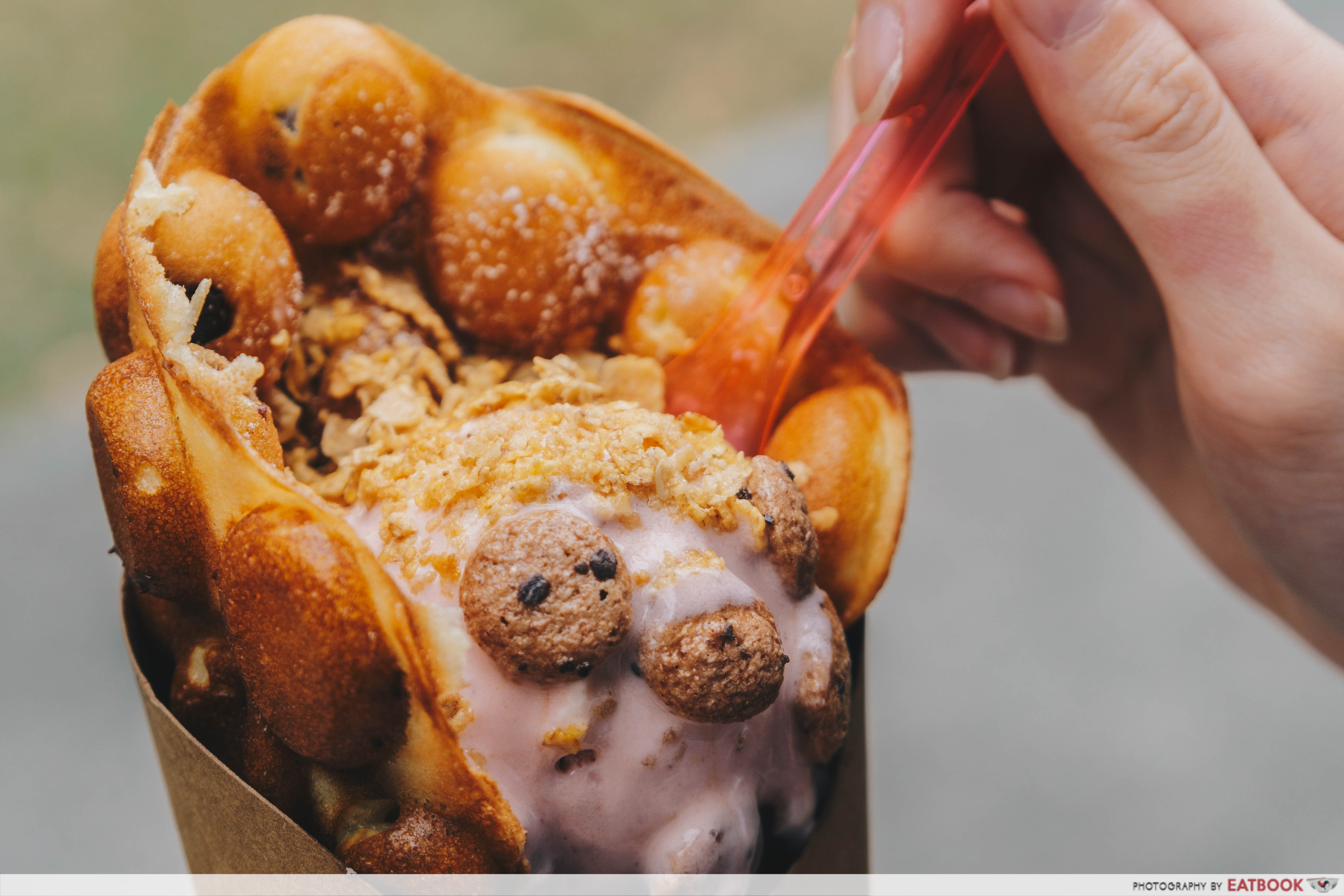 For the next set, we chose Strawberry Cheesecake, another premium flavour, together with a chocolate-stuffed egglet and a topping of banana crunch. The similar combo cost me another $9. I was also given a free topping of Cookie Crisp but I'll explain how I obtained it later!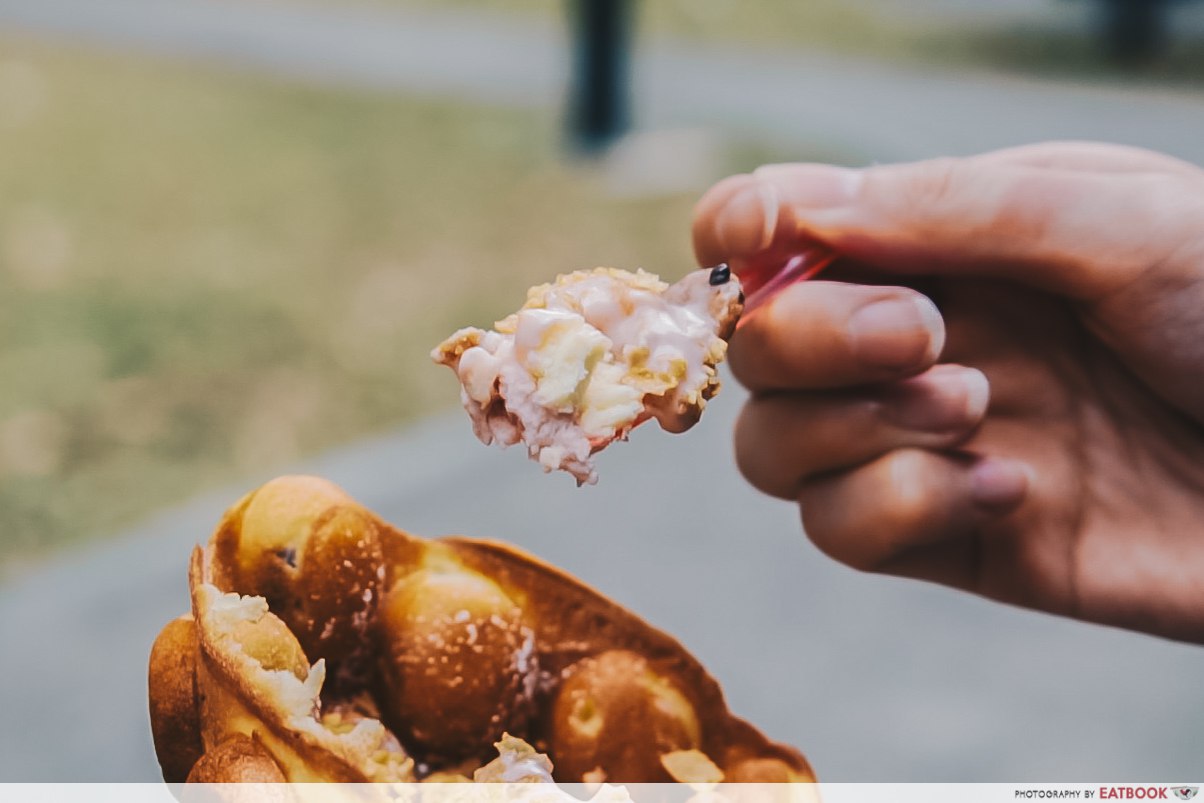 I noticed this ice-cream melted faster than the mango sorbet. The strawberry flavour tasted like the frozen version of strawberry milk, while the lumpy cheesecake gave the gelato more texture and creaminess.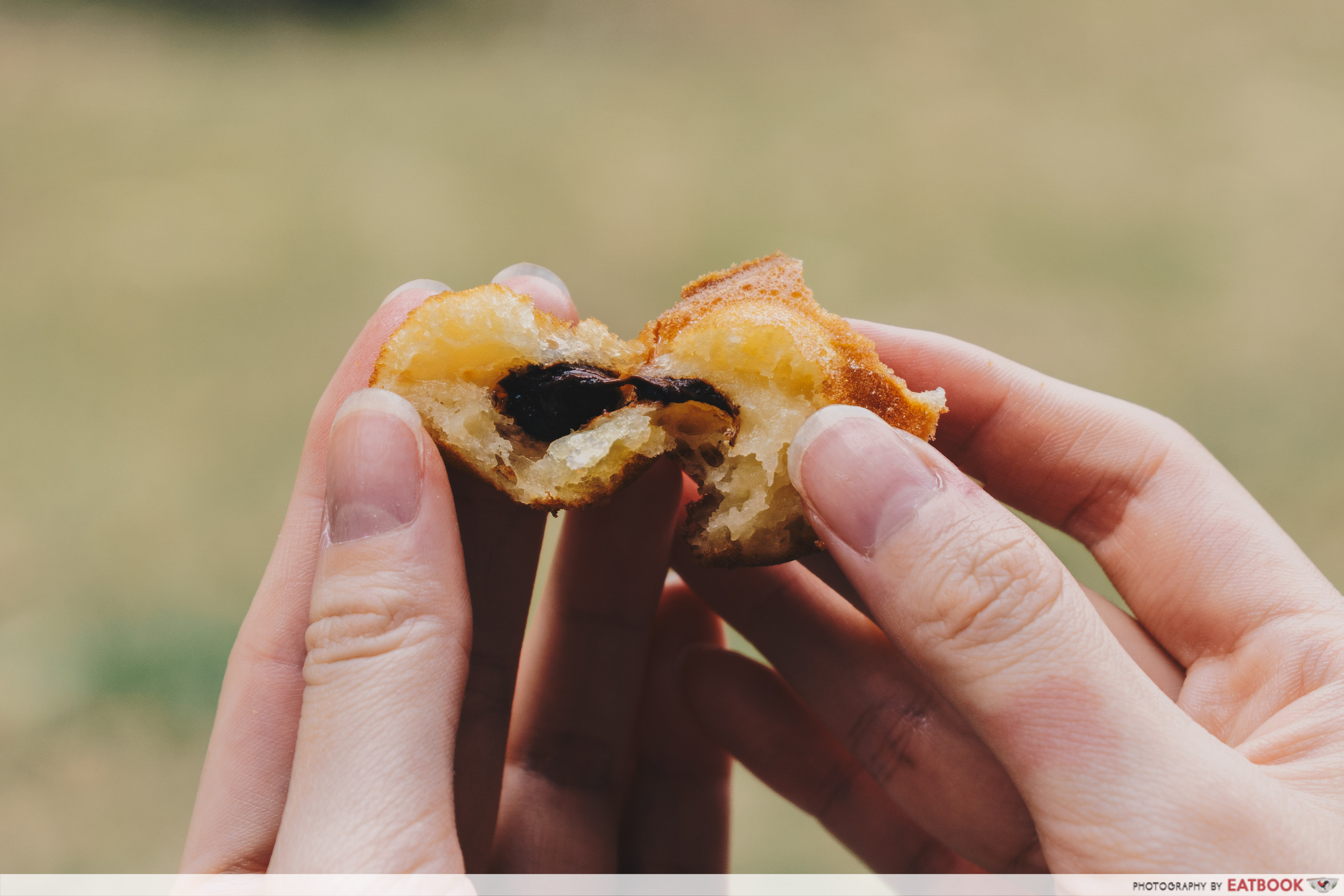 Pulling a piece of the stuffed egglet apart, I was relieved to notice that the chocolate tablet inside had melted a little more than the sea salt caramel had. The chocolate had a bittersweetness that felt a little jelak, but was still pretty tasty nonetheless!
Ambience at The Naughty Corner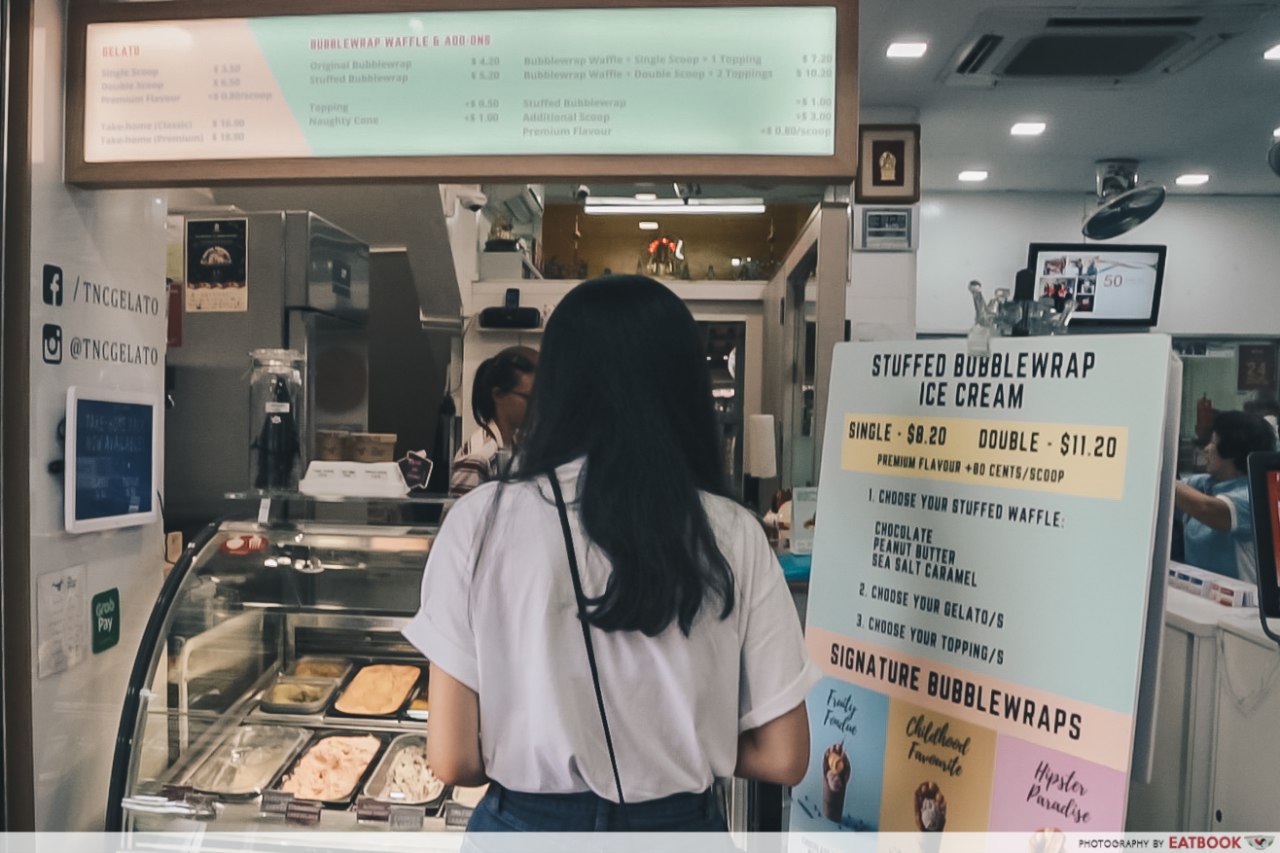 As our cab drove past the store from a distance, The Naughty Corner appeared like any other ordinary dessert kiosk… but come a little closer and you'll pick out the makeshift sign at its entrance, offering an exclusive selection of stuffed egglets. A regret I had was not trying out the peanut butter-stuffed egglet, which – I only found out after placing my order – was made from Reese's Peanut Butter Chips. I love Reese's!
If you're curious about how some flavours taste, you could ask the friendly store assistants to let you sample them. Some flavours that I'll make a return for are R.B.F (root beer float) and Hojicha.
As for the prices, a scoop of ice-cream alone costs $3.50, a double scoop is $6.50, and an original egglet (unstuffed) is sold at $4.20.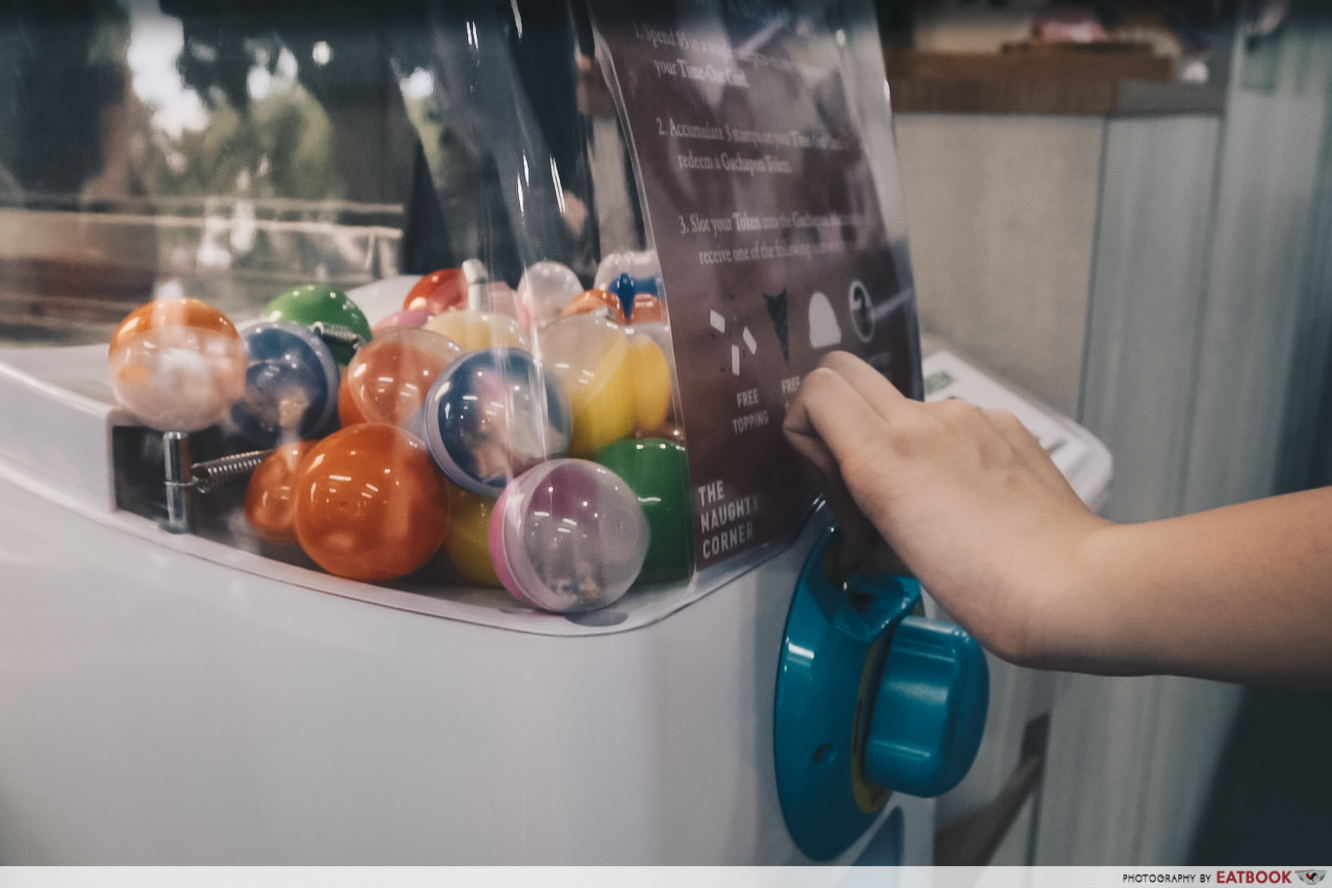 For every $15 spent at The Naughty Corner, you get a free token to insert into a mini toy capsule vending machine located at the side of the store, and redeem a free prize, which was how I got my Cookie Crisp topping!
There are no seats available in the day time, but come evening, the store will open up a few chairs and tables along the walkway for customers to lepak.
The verdict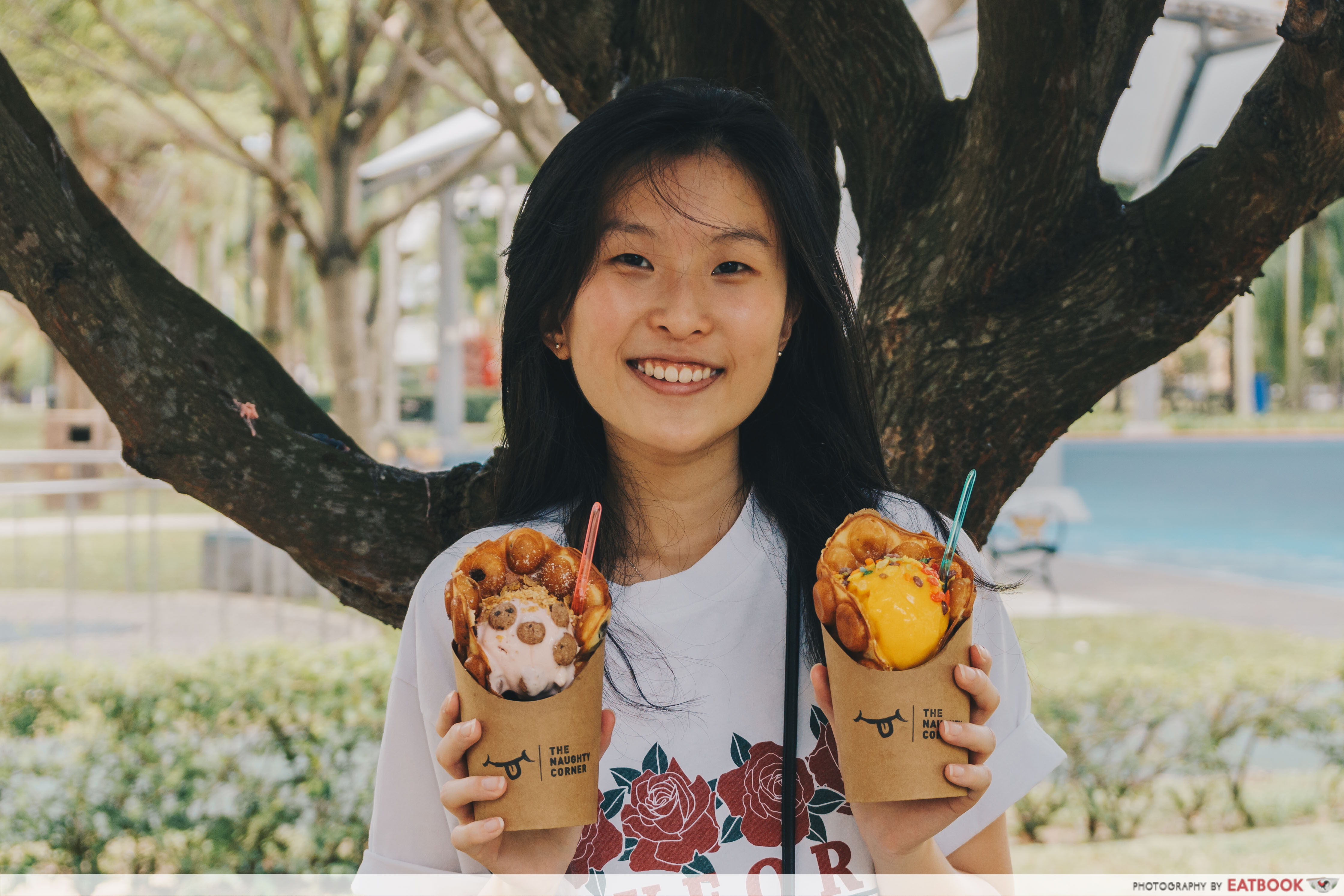 It'd been a while since I last had egglets or gelato. In fact, before this, I don't think I've ever had them both together at the same time. It was a cool experience, one which satisfied my sweet tooth. The pretty packaging sure didn't hurt to look at either!
Address: 234 Toa Payoh Lorong 8, #01-278, Singapore 310234
Opening hours: Mon 12pm-9pm, Wed-Thur 12pm to 9pm, Fri-Sun 12pm to 10pm
Tel: 9862 3635
Website
This is an independent review by Eatbook.sg.
Summary
Pros
-Affordable and tasty
-Unique egglet and ice-cream combo
-Aesthetic
-Good service
Cons
-Egglet's fillings could be more melted
Recommended dishes: Chocolate-stuffed Bubblewrap, Sea Salt Caramel-Stuffed Bubblewrap, Alphonso Mango Sorbet, Strawberry Cheesecake
Opening hours: Mon 12pm-9pm, Wed-Thur 12pm to 9pm, Fri-Sun 12pm to 10pm
Address: 234 Toa Payoh Lorong 8, #01-278, Singapore 310234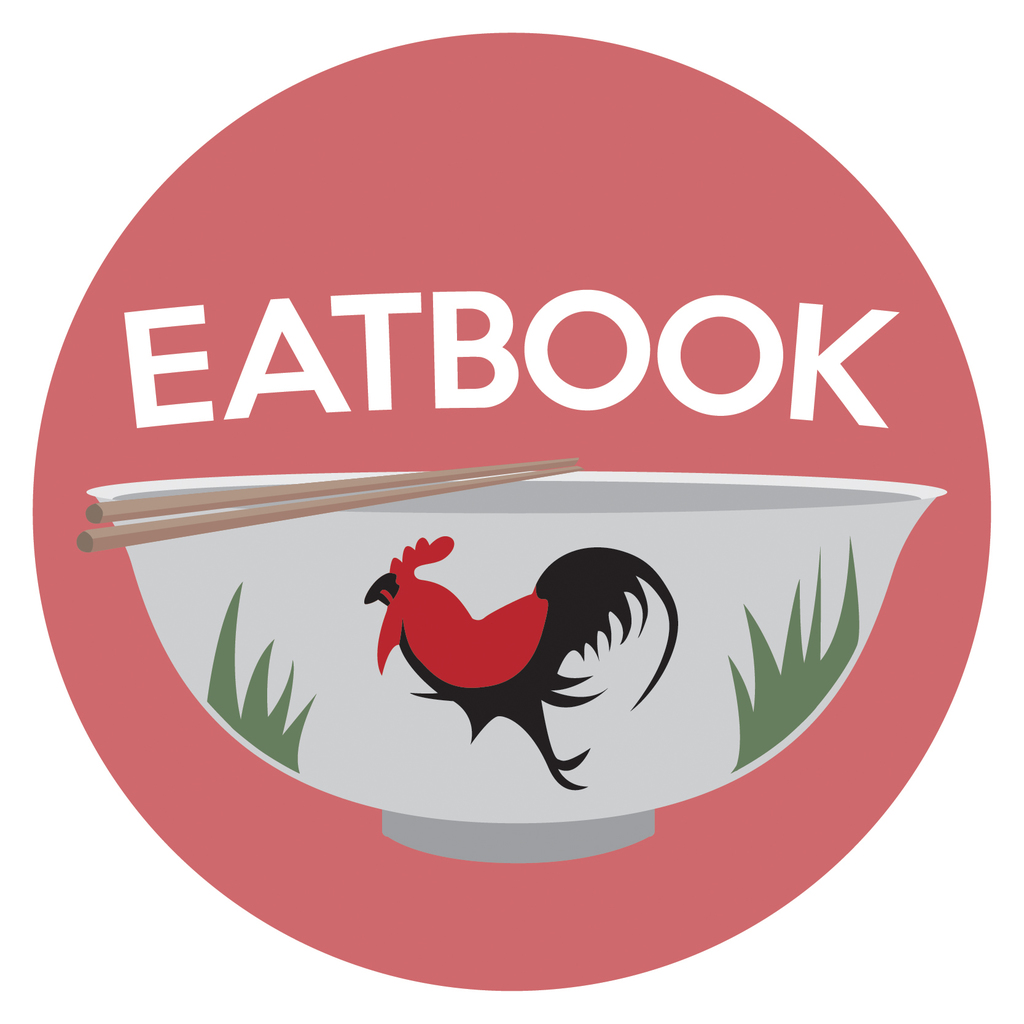 Drop us your email so you won't miss the latest news.