Midas for chicken curry and baked prata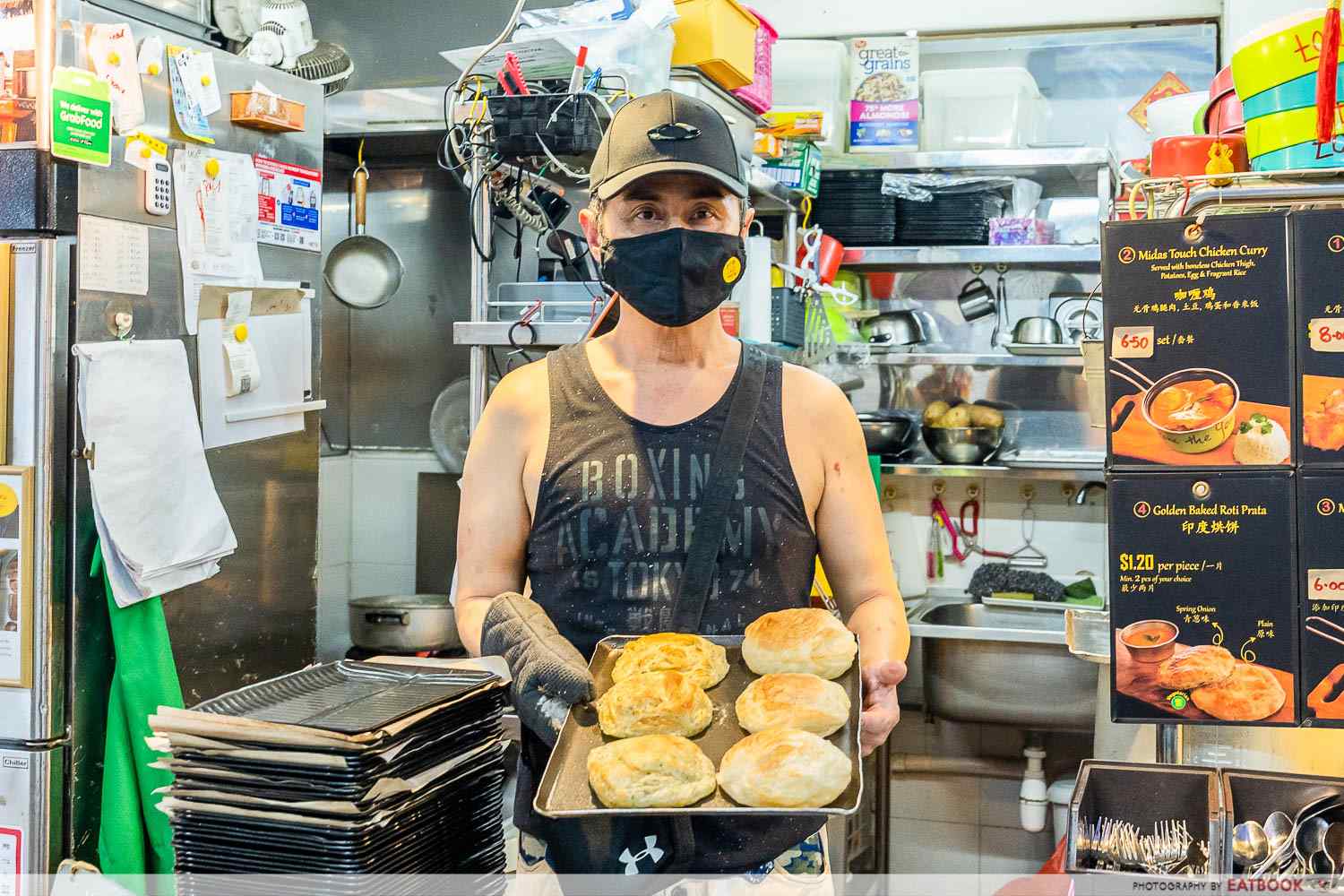 I'm a huge roti prata fan, but it has become a once-in-a-while indulgence for me as most options lean greasy and heavy. So when I heard about the healthier oven-baked prata at Midas, a humble hawker stall in Chinatown, I jumped at the opportunity to check them out.
Geylang (Hamid's) Briyani Stall Review: Three-Generation Briyani Stall With 58-Year-Old Recipe
Food at Midas
The menu is lean with only a couple of items available during our visit: Midas Touch Chicken Curry ($6) and Golden Baked Roti Prata ($1.20) in your choice of Plain or Spring Onion flavour. You can also opt for the set ($6.50), which comes with a side of rice to go along with your curry.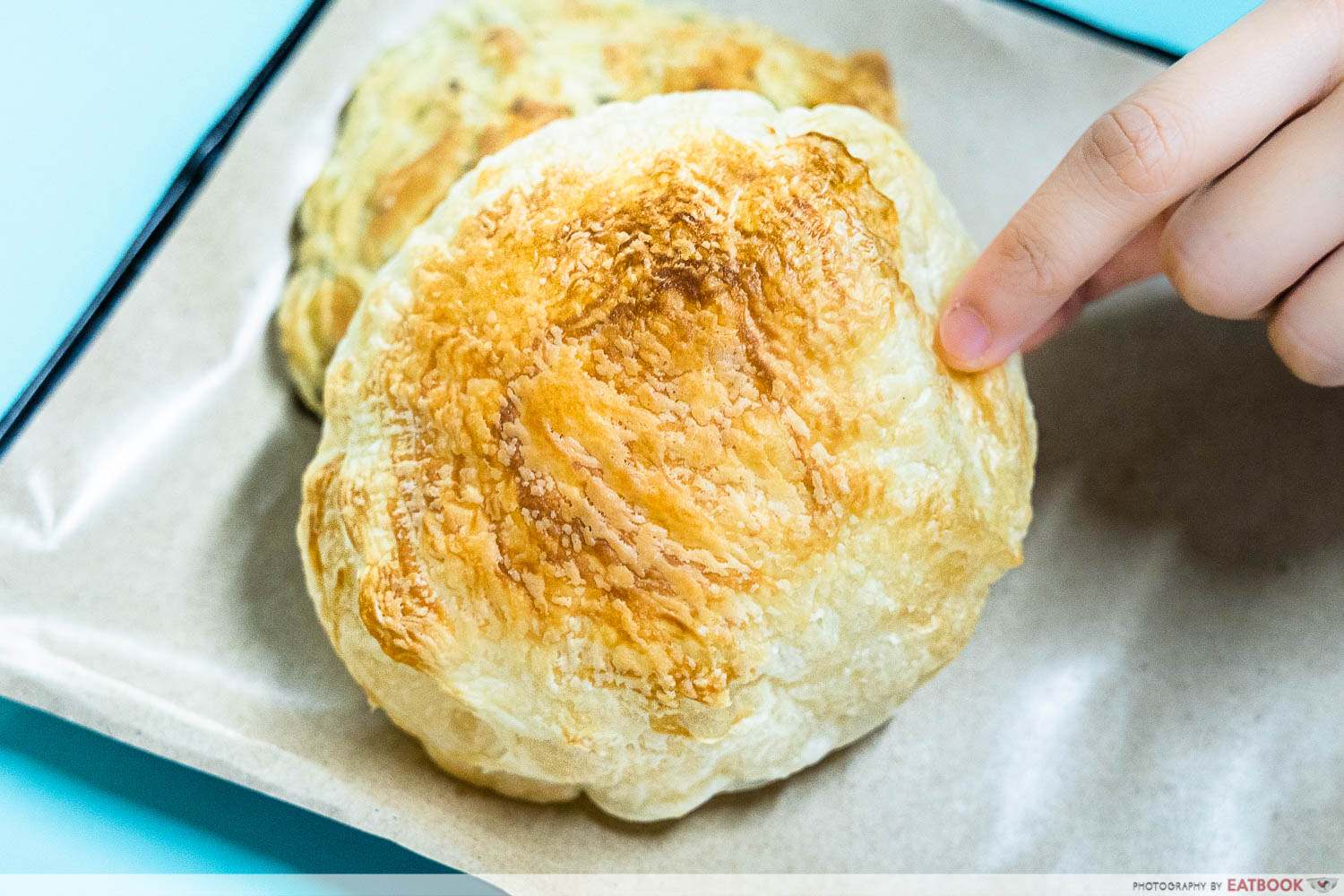 We started with their best-selling baked plain prata. Served hot out of the oven, it was shaped in an almost-perfect round, slightly puffier than your regular ghee-ladened roti. Tearing into the flatbread revealed layers of paper-thin dough that resembled some form of laminated pastry. It was proper flaky, yet undeniably fluffy.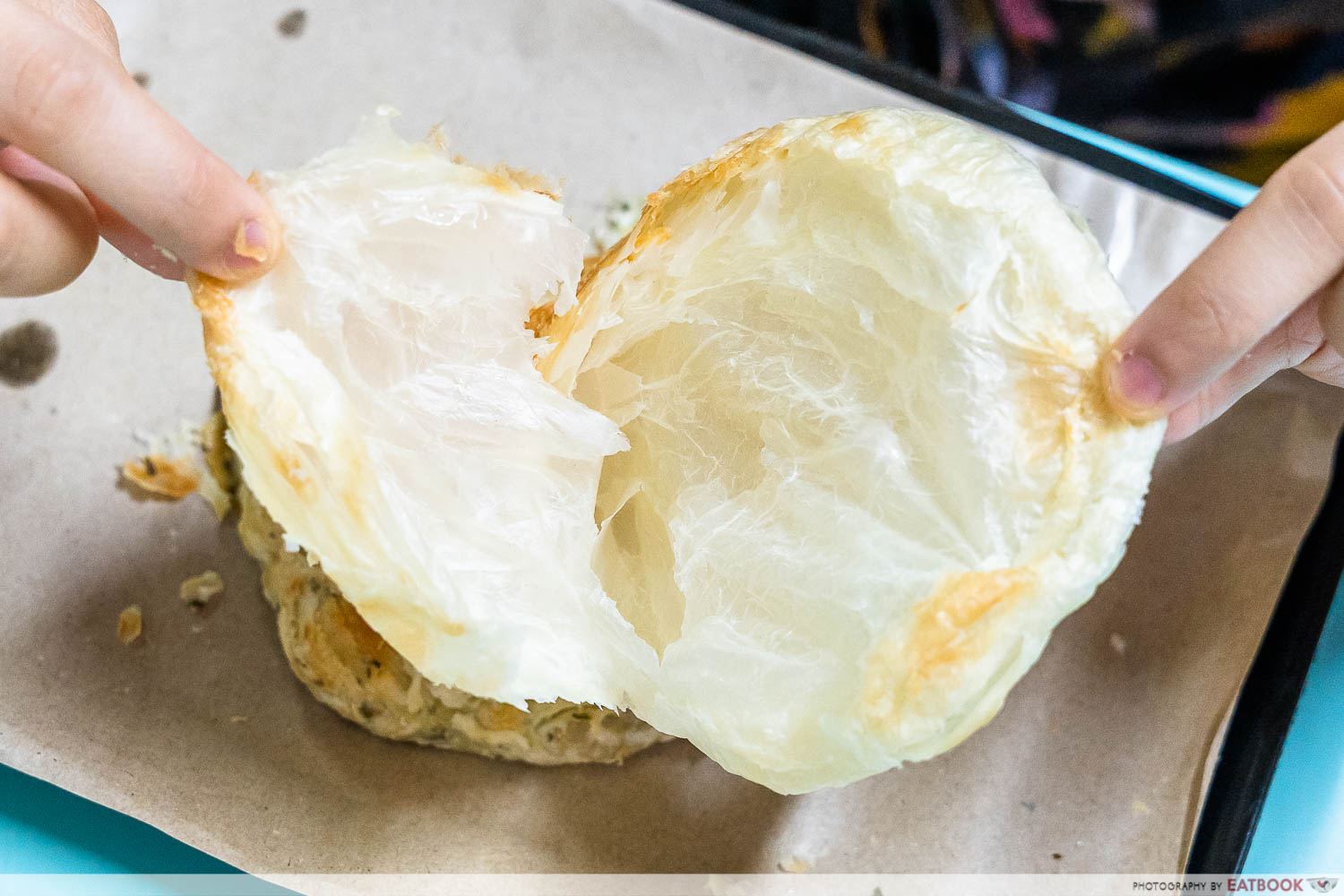 First impressions aside, it tasted even better than I'd imagined it to be. While the prata was puffed up like puff pastry, it had that distinct savoury and buttery prata flavour we all know and love.
Surprisingly, it remained remarkably light and crispy despite the prolonged shoot. In fact, I preferred the texture and taste of the prata after it had settled down on our plate and deflated a little.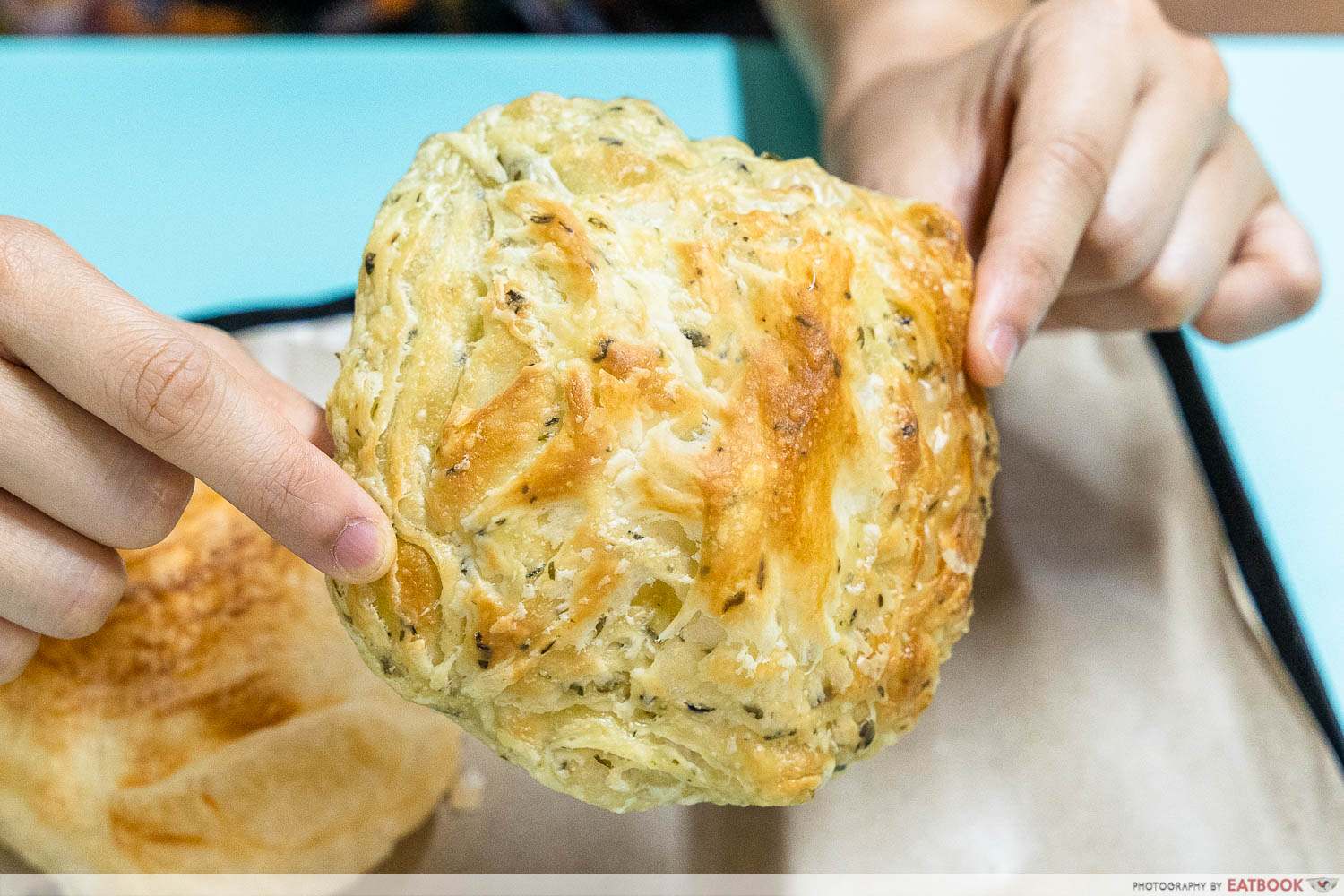 Similarly, the Spring Onion flavour had the same flakiness, but was a little denser than the original prata. The specks of green dotted throughout the dough added not just visual appeal, but also a mild fragrance that reminded me of the Chinese-style cong you bing AKA green onion pancake.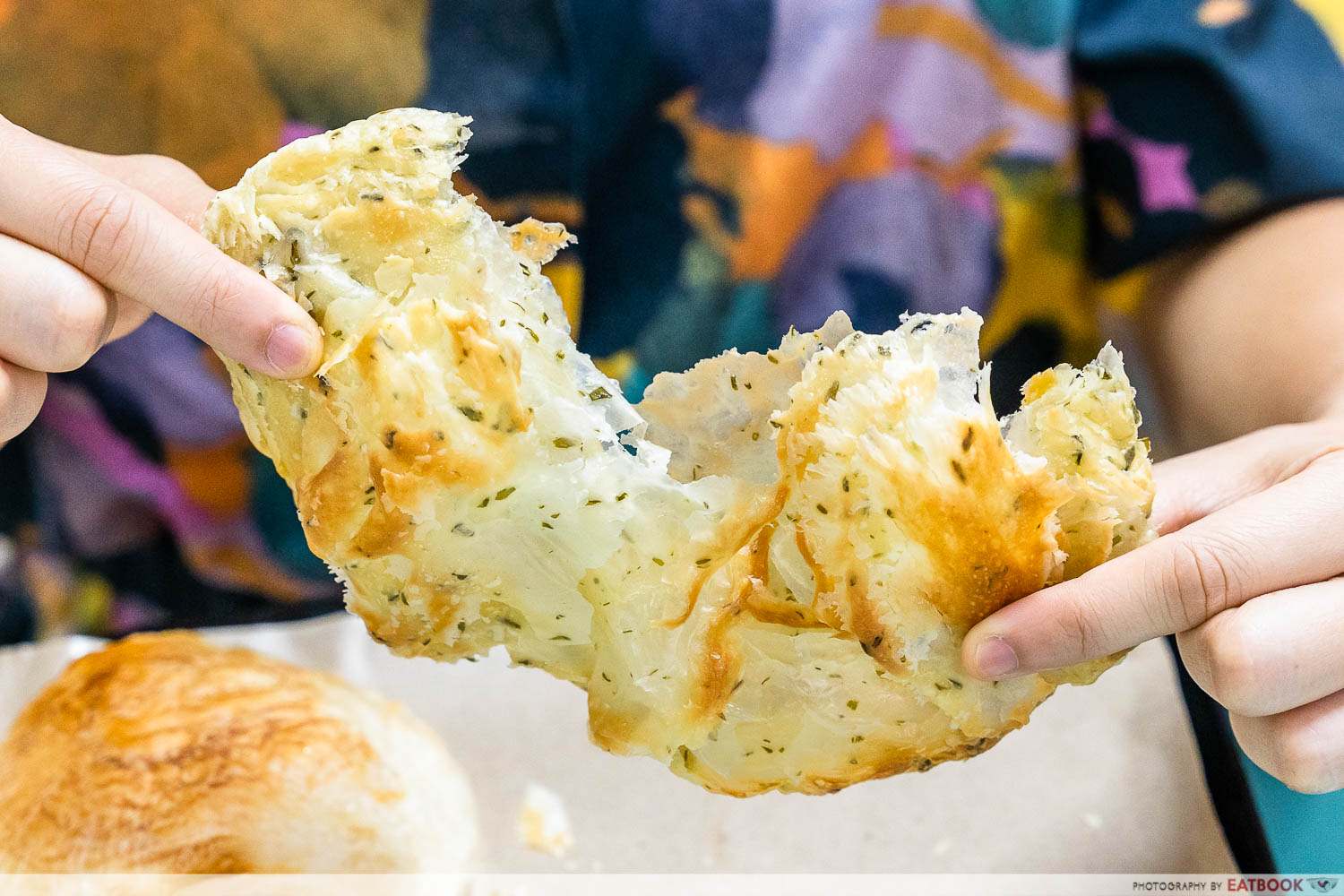 I only had one tiny gripe: I wished the spring onion flavours were brighter and more prominent to stand up against the tasty Midas Touch Chicken Curry.
After some probing, Peter revealed that the prata dough is sourced from an external supplier, and baked on-site in small batches every morning. To be honest, I was slightly disappointed after finding out about that. Nonetheless, that doesn't detract from the fact that it was a solid execution of prata.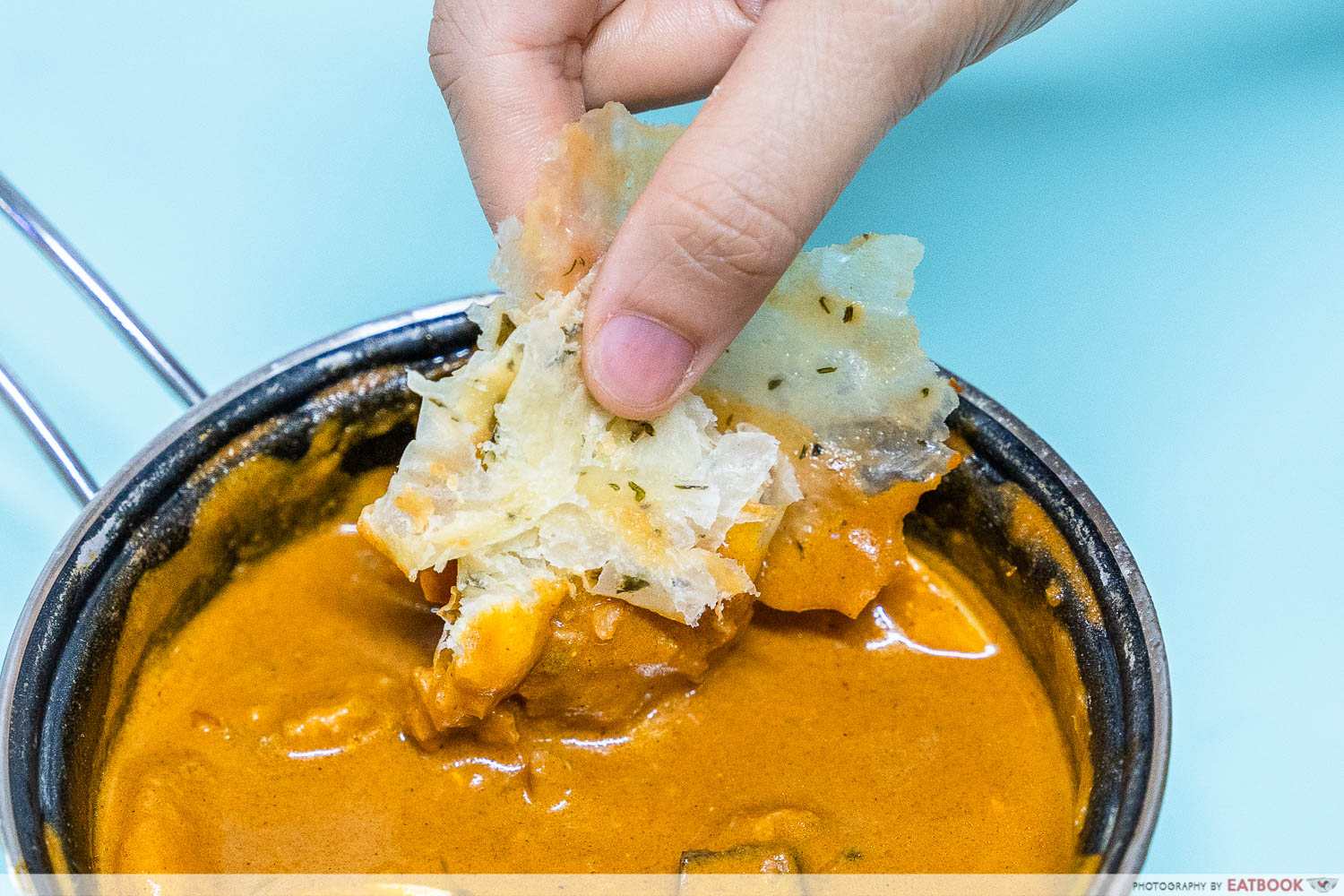 Dunk your prata of choice into the curry, served in a personal pot for easy handling. Personally, I preferred the combination of the plain prata with the curry as I felt that the flavours were more complementary.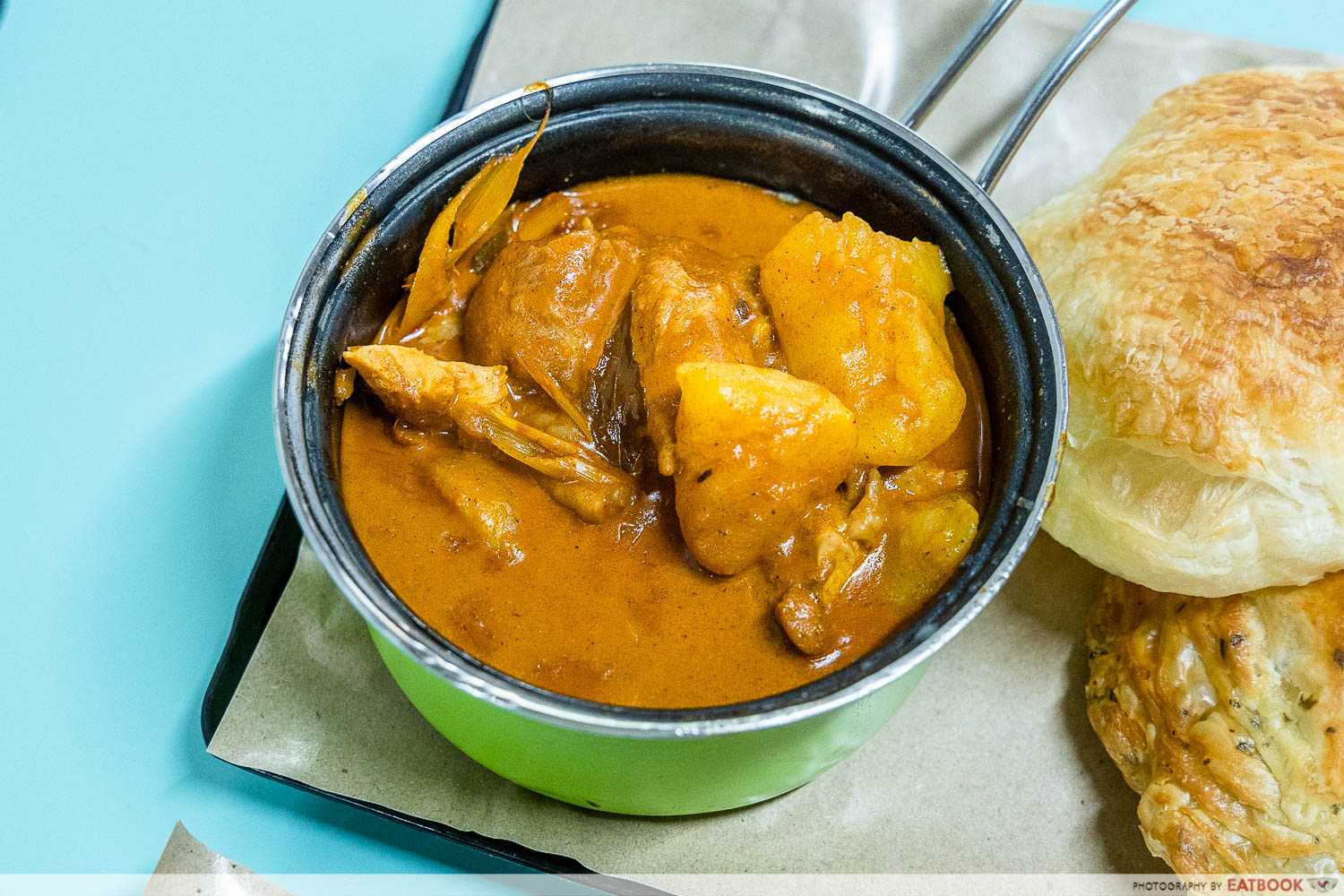 According to chef-owner Peter, the Thai-Indian curry is prepared with 13 ingredients, including pure chicken broth. No MSG or sugar is used in the mix, too. It's a secret recipe that took him five years to tweak and perfect, so it's truly a labour of love.
The curry was packed with flavour with a slight kick of heat at the very end. It's definitely suitable for those who aren't that spice tolerant, though I would have preferred it to be spicier. I also noticed that its consistency was a tad runnier than what I was used to, but it thickened over time.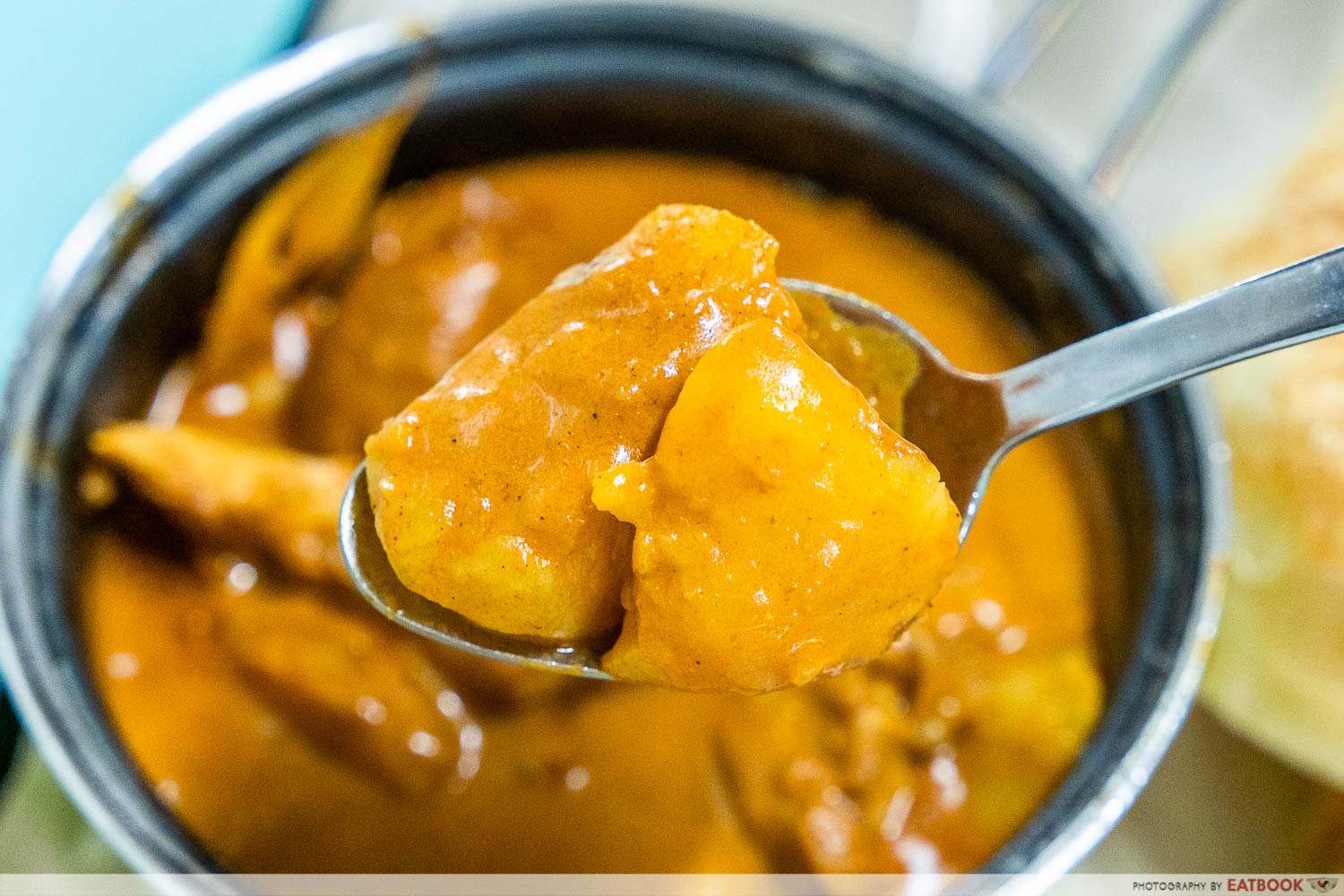 You also get a generous amount of potato chunks, pre-steeped in a special stock for extra flavour, and a whole skin-on, boneless chicken thigh that's marinated for two days. The potatoes were cooked to fork-tender, while the dark meat was uber flavourful thanks to the painstaking marination process. It's not a cheap bowl of curry by any standard, but you're getting bang for your buck as each serving is chock full of ingredients.
Uptown Nasi Lemak Review: Ayam Goreng And Beef Rendang Nasi Lemak In Telok Ayer
The ambience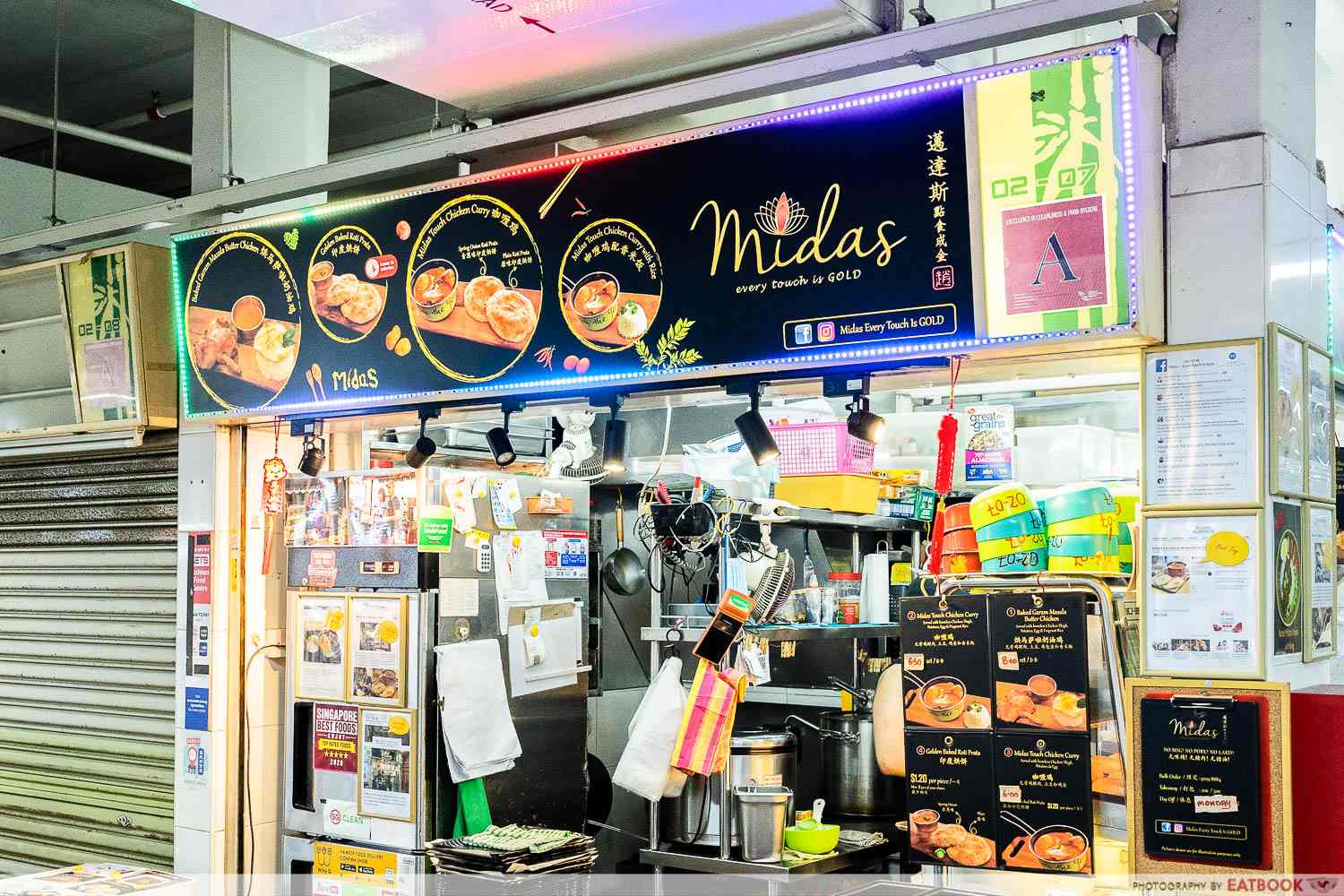 The hawker stall is located on the second floor of Hong Lim Food Centre, which is a four-minute walk from Chinatown MRT Station. Here's another tip: take the sheltered walkway from Chinatown Point after exiting the train station.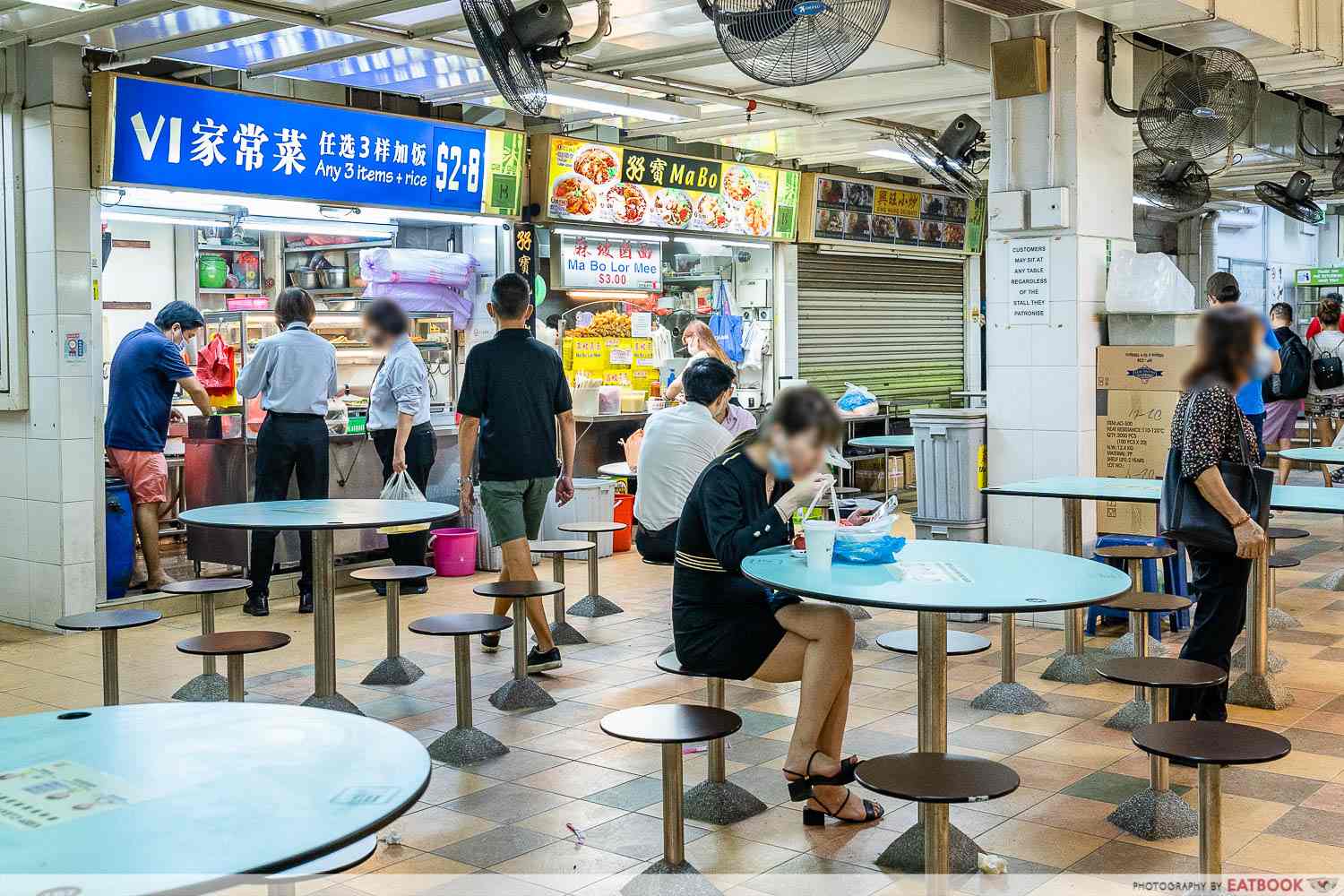 The food centre has plenty of seats for you to choose from, but take note that it gets pretty busy with the office crowd during peak lunchtime. We sat at the table directly in front of the stall, which thankfully had a fan directly above it to help beat the heat.
The verdict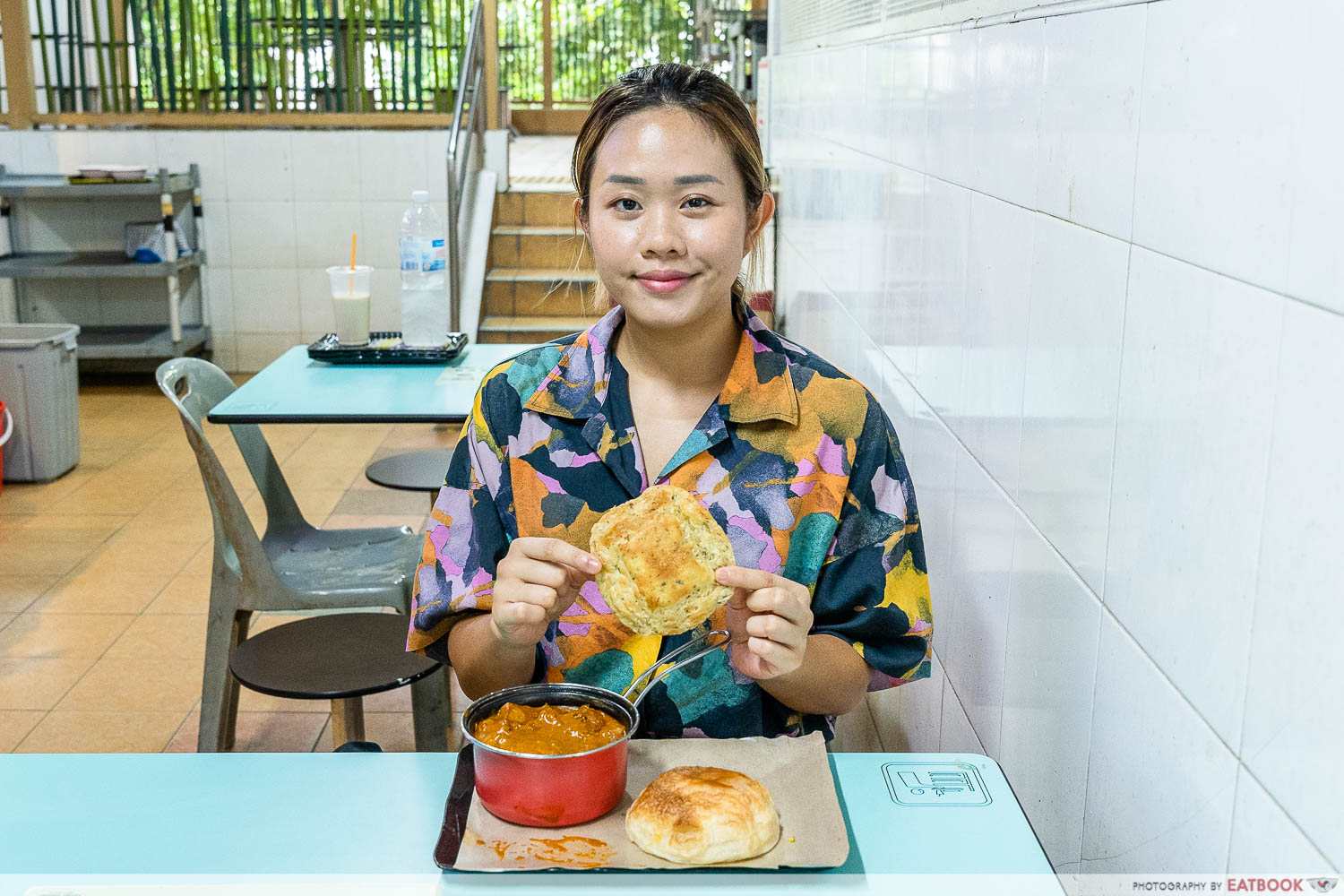 Midas scores big for their novel rendition of roti prata that'll appeal to everyone—even those who aren't health-conscious. Their signature baked prata hits all the right notes, while being less greasy than its counterparts, yet no less flavourful. Although it's not made in-house, it was no doubt deliciously light, flakey, and fluffy.
As for their chicken curry, apart from the less-than-ideal spice level, I couldn't find any fault with it. Prices aren't cheap by hawker standard, though—your order easily racks up to $8.40 for a serving of curry with two prata.
Nonetheless, I'm happy I found a slightly healthier alternative that's comparable, in terms of taste and texture, to the traditional fried roti prata. I've also heard that they'll launch more items on the menu soon, so there's even more reason to return for a second visit!
For more food in the area, read our Omelette Chef review if you're up for Western-Asian dishes by an ex-hotel chef. Otherwise, head to The Noodle Memories for slurp-worthy pan mee by two KL-born young hawkers.
Address: 531A Upper Cross Street, #02-07, Hong Lim Market & Food Centre, Singapore 051531
Opening hours: Tue-Fri 10am to 4pm, Sat-Sun 9am to 3pm
Tel: 9129 8884
Website
Photos taken by Zi Hui Tan.
This is an independent review by Eatbook.sg.
The Noodle Memories Review: Legit KL-Style Chilli Pan Mee By Young Hawkers In Chinatown
Midas Review: $1.20 Crispy Baked Roti Prata With Thai-Indian Chicken Curry In Chinatown
Midas Review: Crispy Golden Baked Prata With Thai-Indian Chicken Curry In Chinatown -

7.5/10
Summary
Pros
– Super flaky and fluffy prata that isn't too greasy
– Generous amount of ingredients in the curry
– Convenient and accessible location
Cons
– Limited items on the menu
– The prata is not made in-house
Recommended dishes: Midas Touch Chicken Curry ($6), Golden Baked Roti Prata ($1.20)
Opening hours: Tue-Fri 10am to 4pm, Sat-Sun 9am to 3pm
Address: 531A Upper Cross Street, #02-07, Hong Lim Market & Food Centre, Singapore 051531