Omelette Chef at Chinatown Complex Food Centre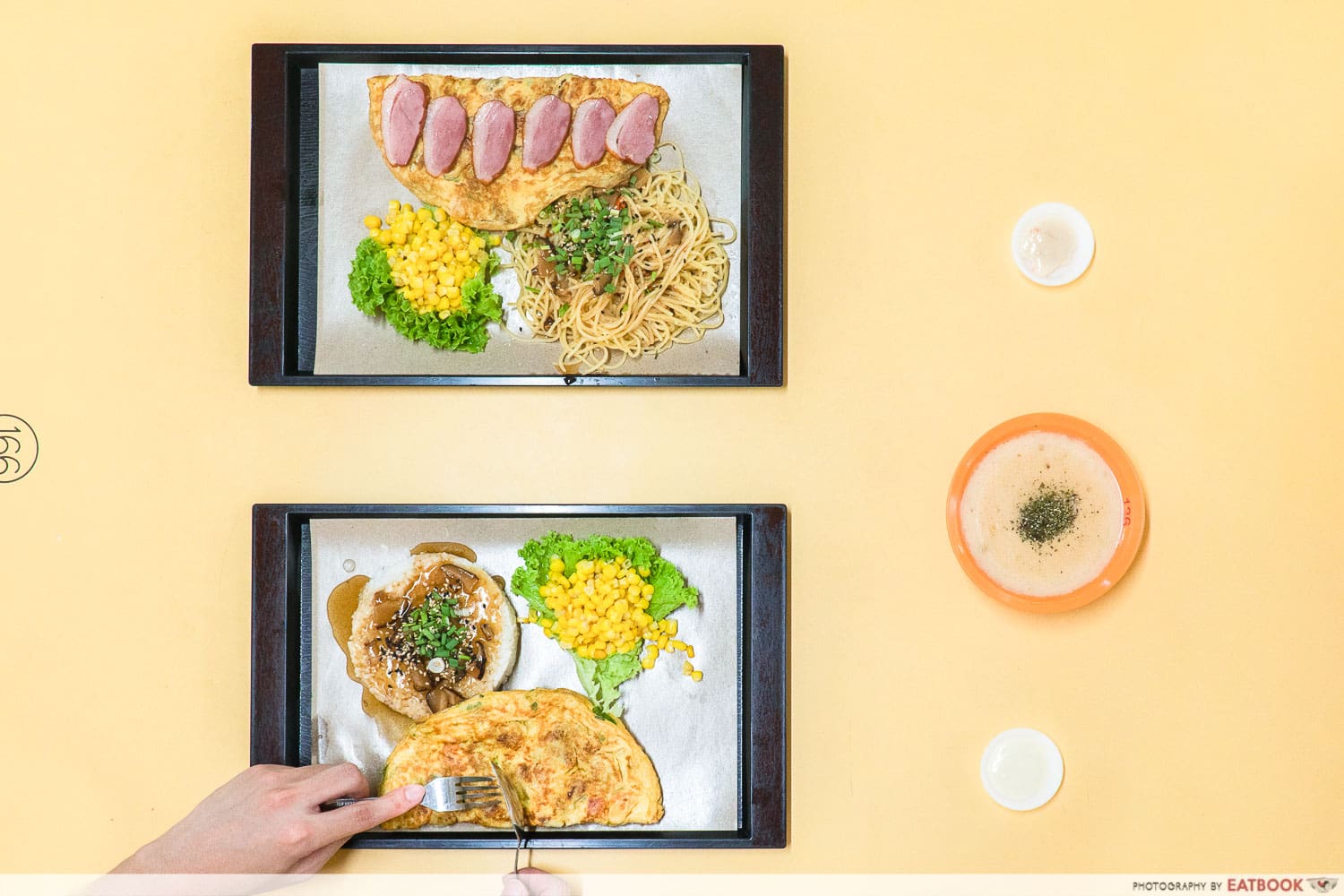 An omelette might seem to be one of the easiest dishes to make, but that doesn't mean a truly good rendition is void of skill. As the great celebrity chef Jacques Pepin once said, "If I had to judge how technically good a chef is, I probably would ask him to do an omelette."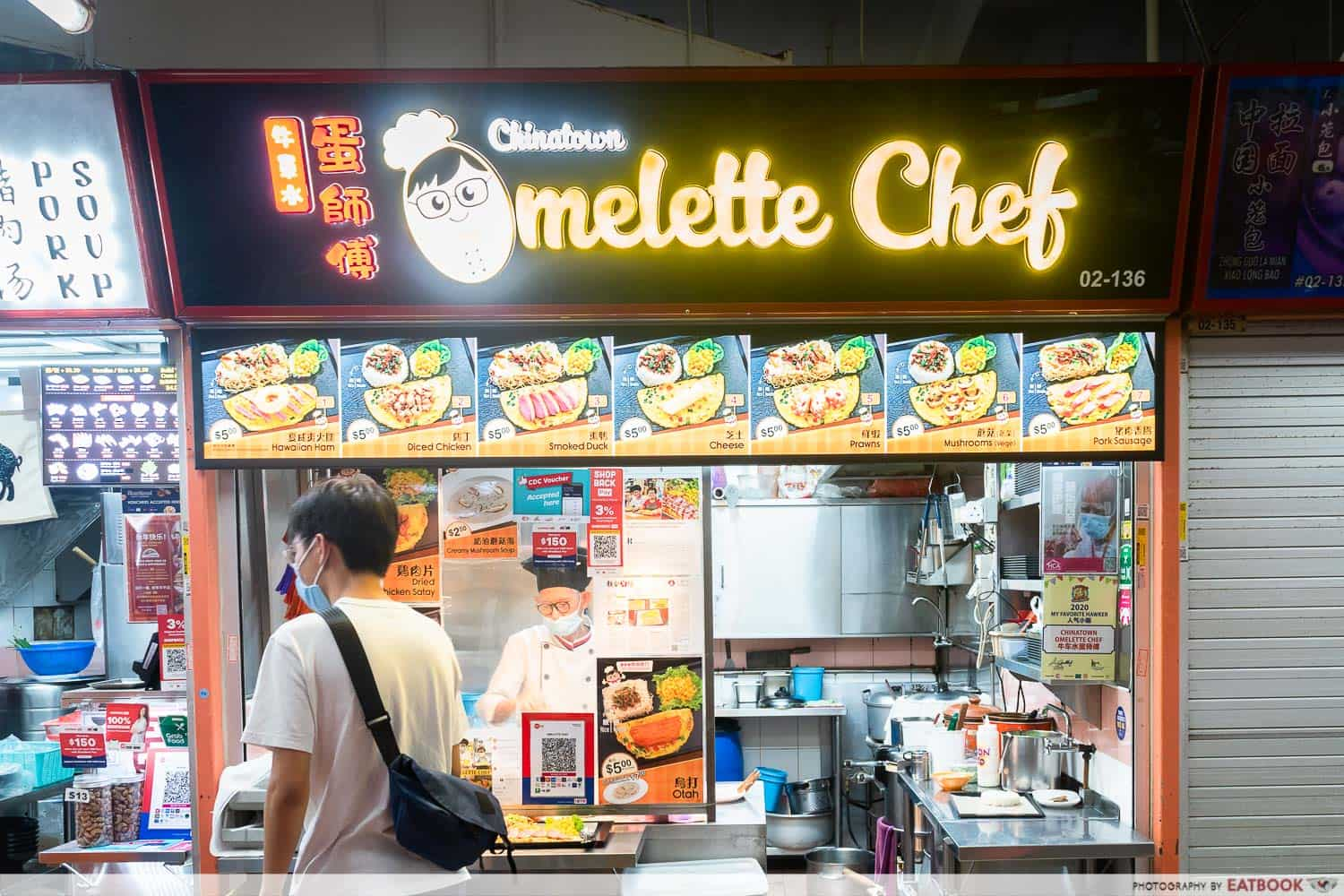 If there's one person who knows how to make impressive omelettes, it's Francis Lai, former head chef of the defunct Hotel Malaysia and owner of hawker stall Omelette Chef. Located in Chinatown Complex Food Centre, the stall is known for its Western-Asian dishes that are centred around—you guessed it—omelettes.
335 Hong Kong Roasted Meat Review: Hong Kong-style Char Siew By Elderly Hawkers In Chinatown
Food at Omelette Chef
You may be wondering why an ex-hotel chef is focusing exclusively on omelettes. According to Francis' wife and assistant, Doreen, Omelette Chef used to be a herbal soup stall, with close to 30 dishes on their menu. The switch to simpler omelette dishes was necessitated by Francis' ageing body—now nearing his 70's, he no longer has the stamina to spend long, gruelling hours preparing complex dishes.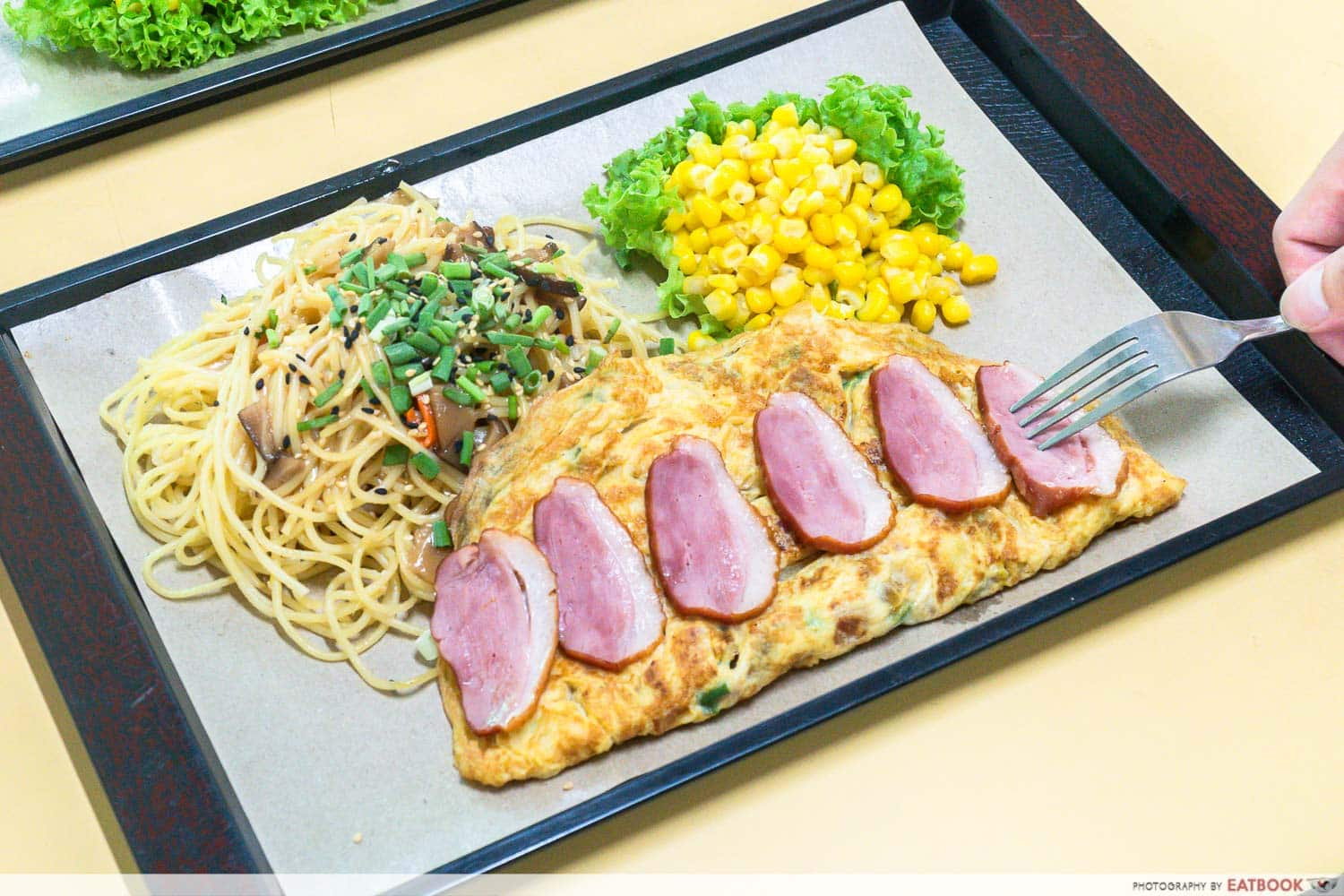 With Doreen's help, Francis deftly prepared our first dish, the Smoked Duck ($5) omelette. Pink smoked duck slices were fanned out across a sizable omelette, which contained finely chopped ingredients such as onions, mushrooms, and tomatoes.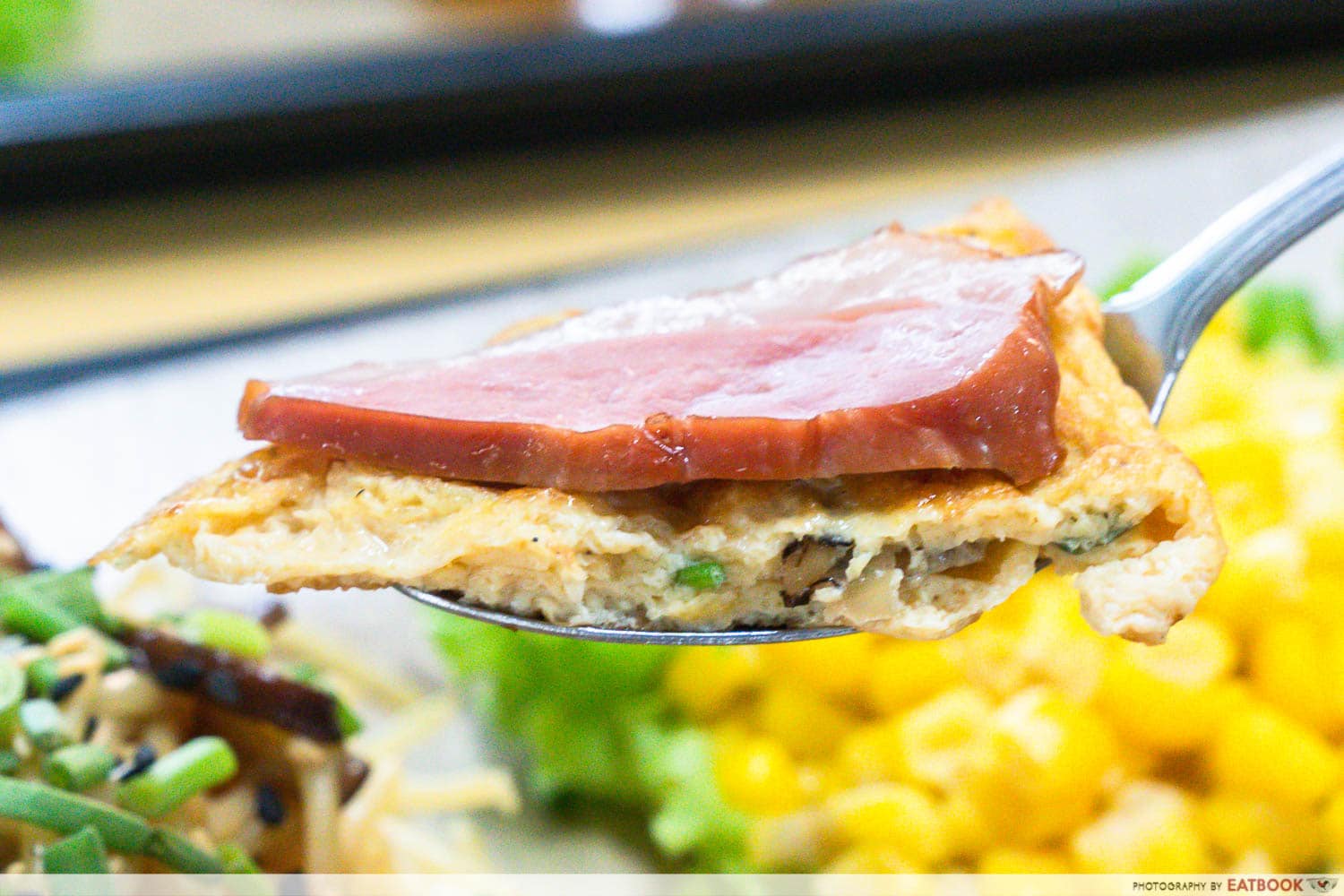 On its own, the fluffy and fragrant egg was quite pleasing. But much of the dish's oomph came from the succulent duck, rife with smoky notes. While the omelette remained central to everything, its subtler taste allowed the duck's bold flavours to stand out. For all its simplicity, I found it a finely balanced combination.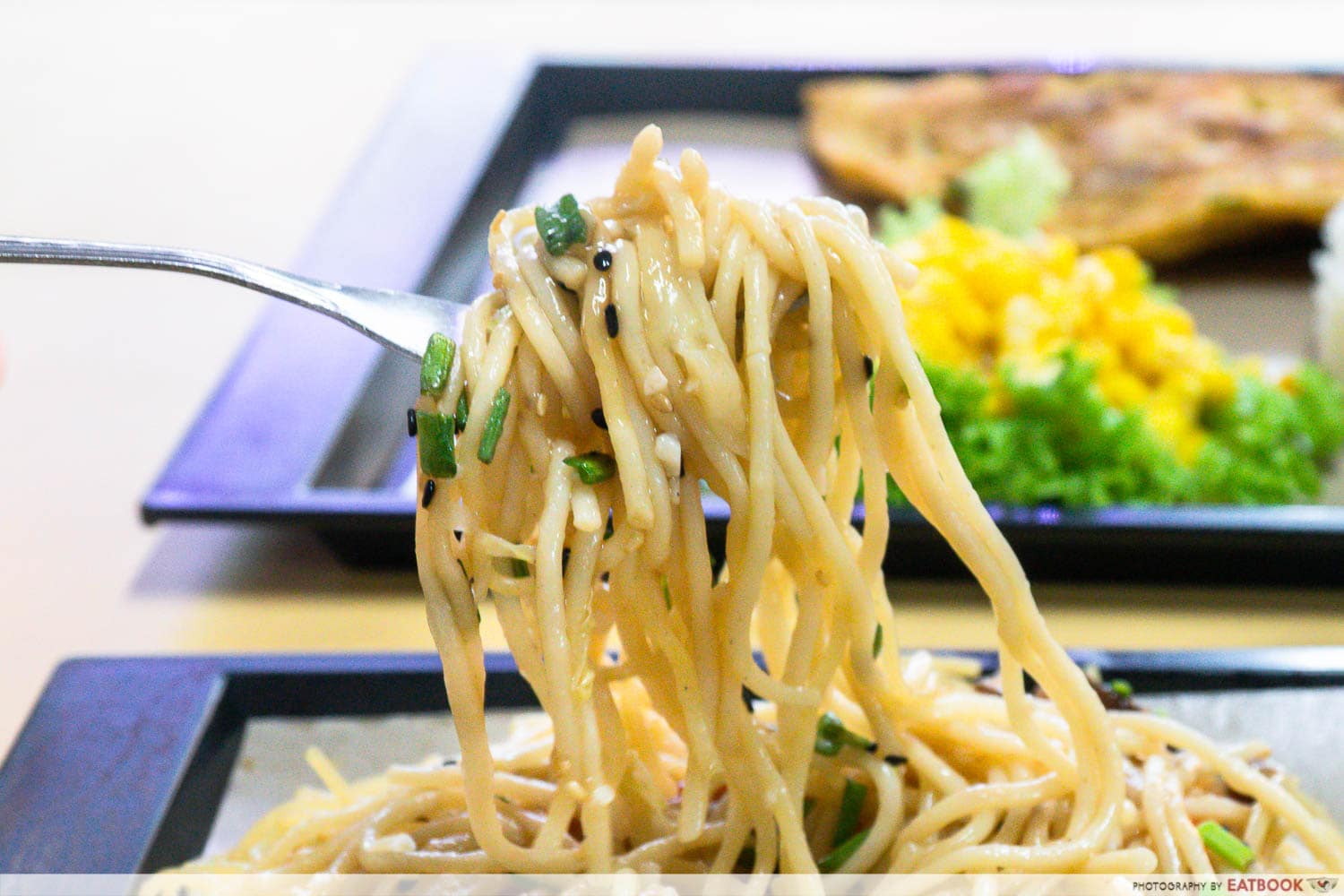 All omelette dishes come with a side of lettuce and sweet corn, and either spaghetti or pearl rice for your carbs. We went with the spaghetti here, which was drenched in mushroom sauce. While it wasn't exactly al dente or particularly tasty, it was, at the very least, filling.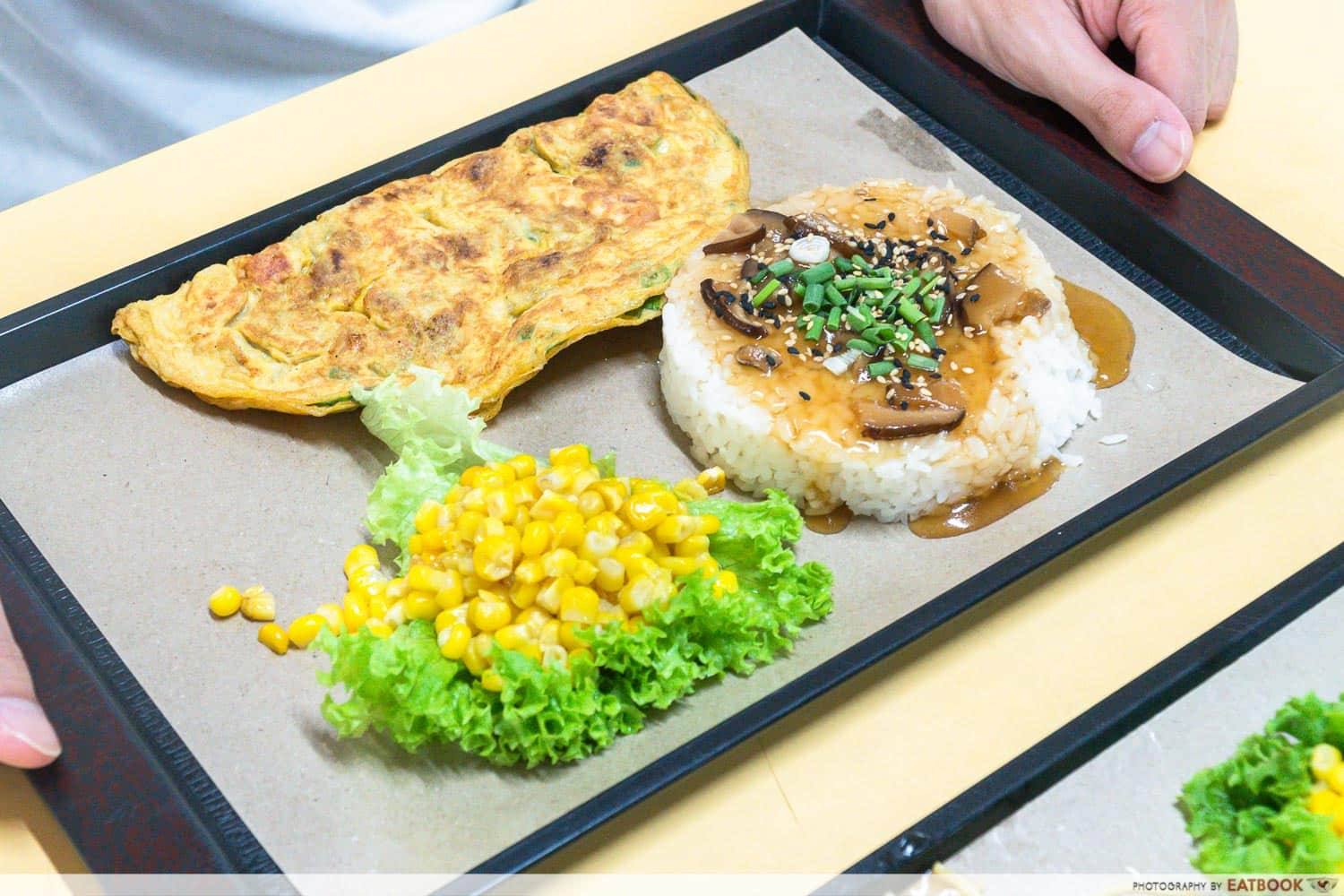 The Diced Chicken ($5) was next, this time with pearl rice instead of spaghetti as our choice of carb. Unlike the smoked duck omelette, the chicken was embedded in the omelette itself, along with the same finely chopped ingredients as before.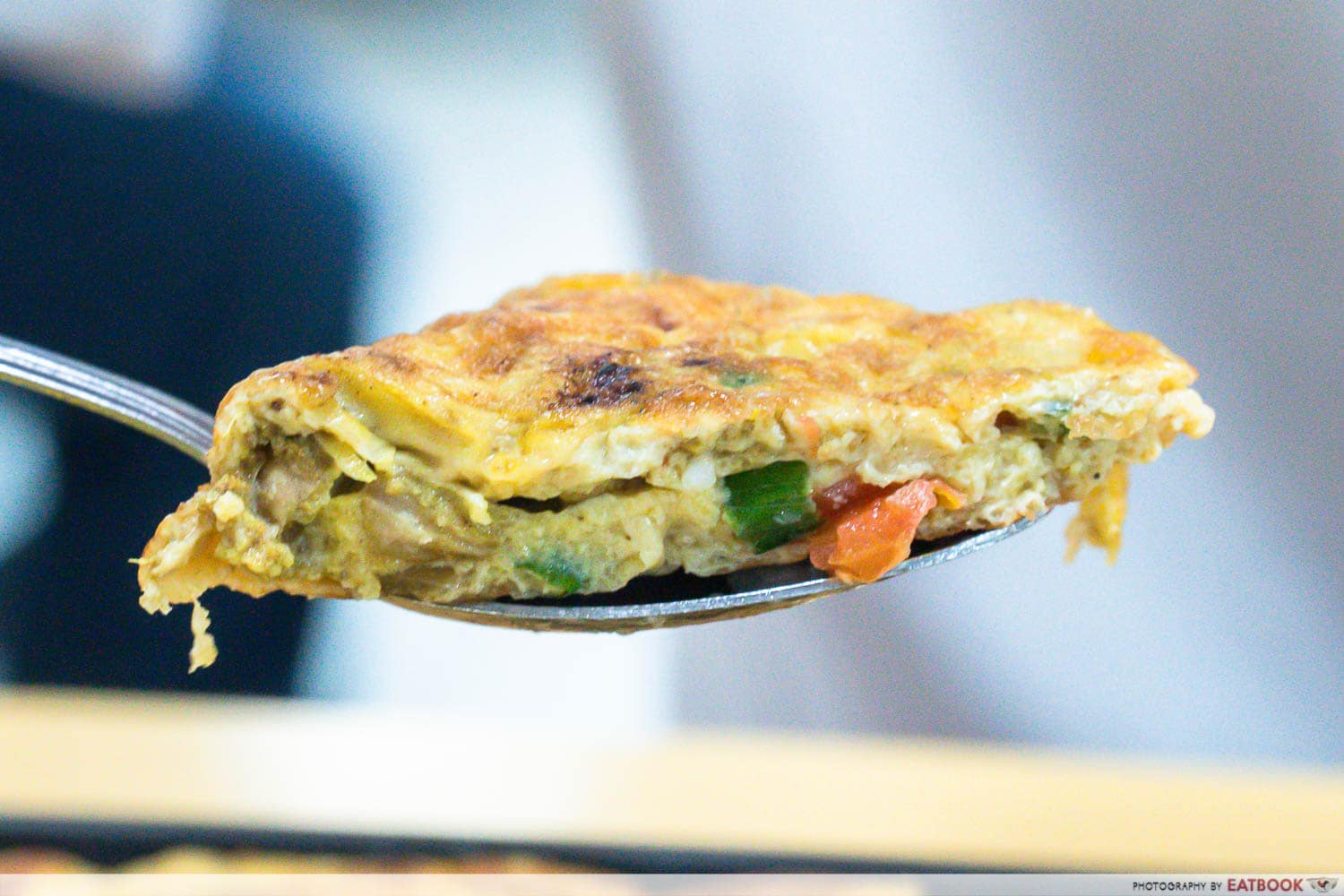 The chicken worked really well here. It was well-marinated and slightly peppery, imbuing each bite of the omelette with plenty of flavour. The egg was, again, silky and fluffy, and the various textures within made for a fun mouthfeel.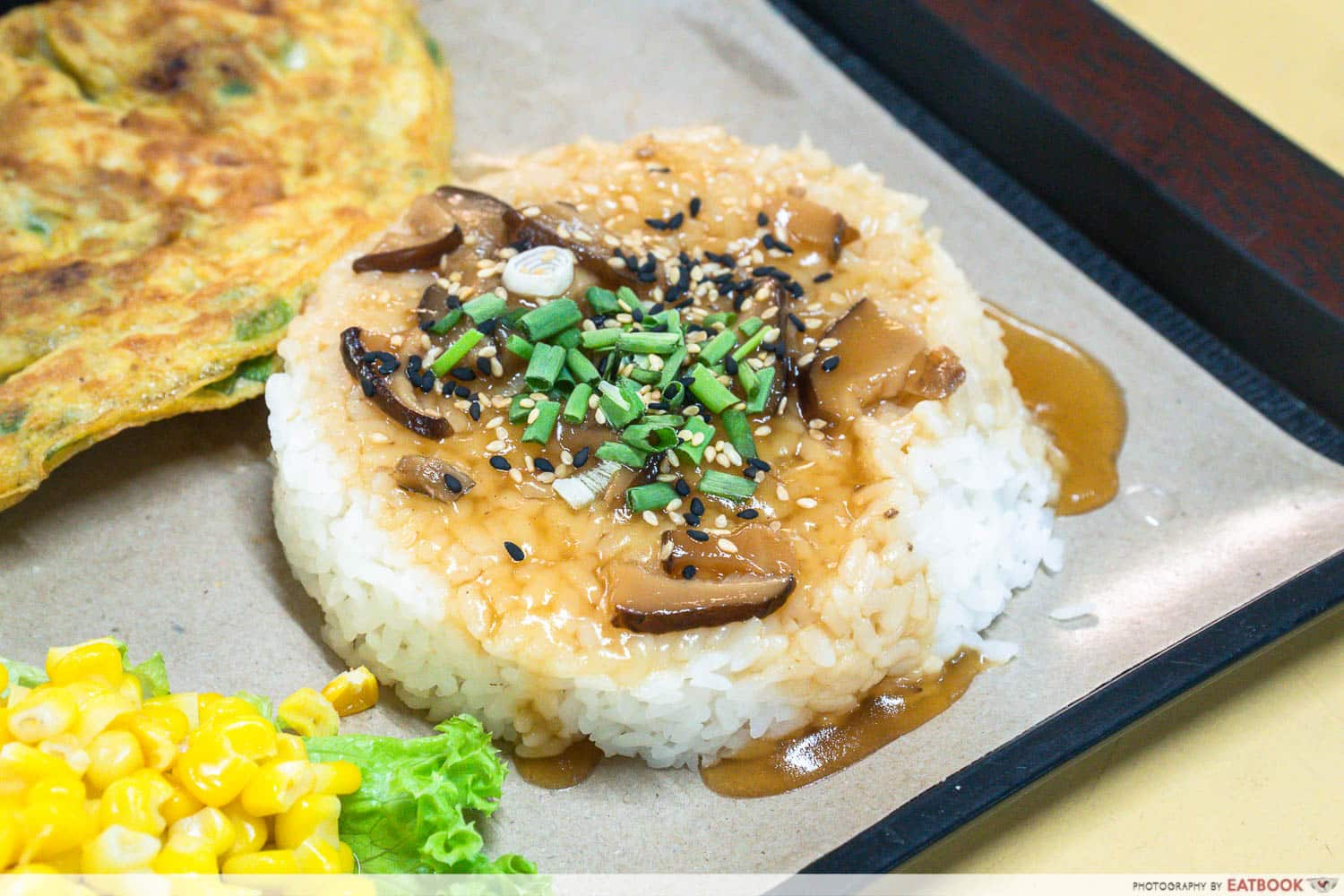 With the same mushroom sauce drizzled on top, the pearl rice did the job just fine, though I thought it was a tad undercooked.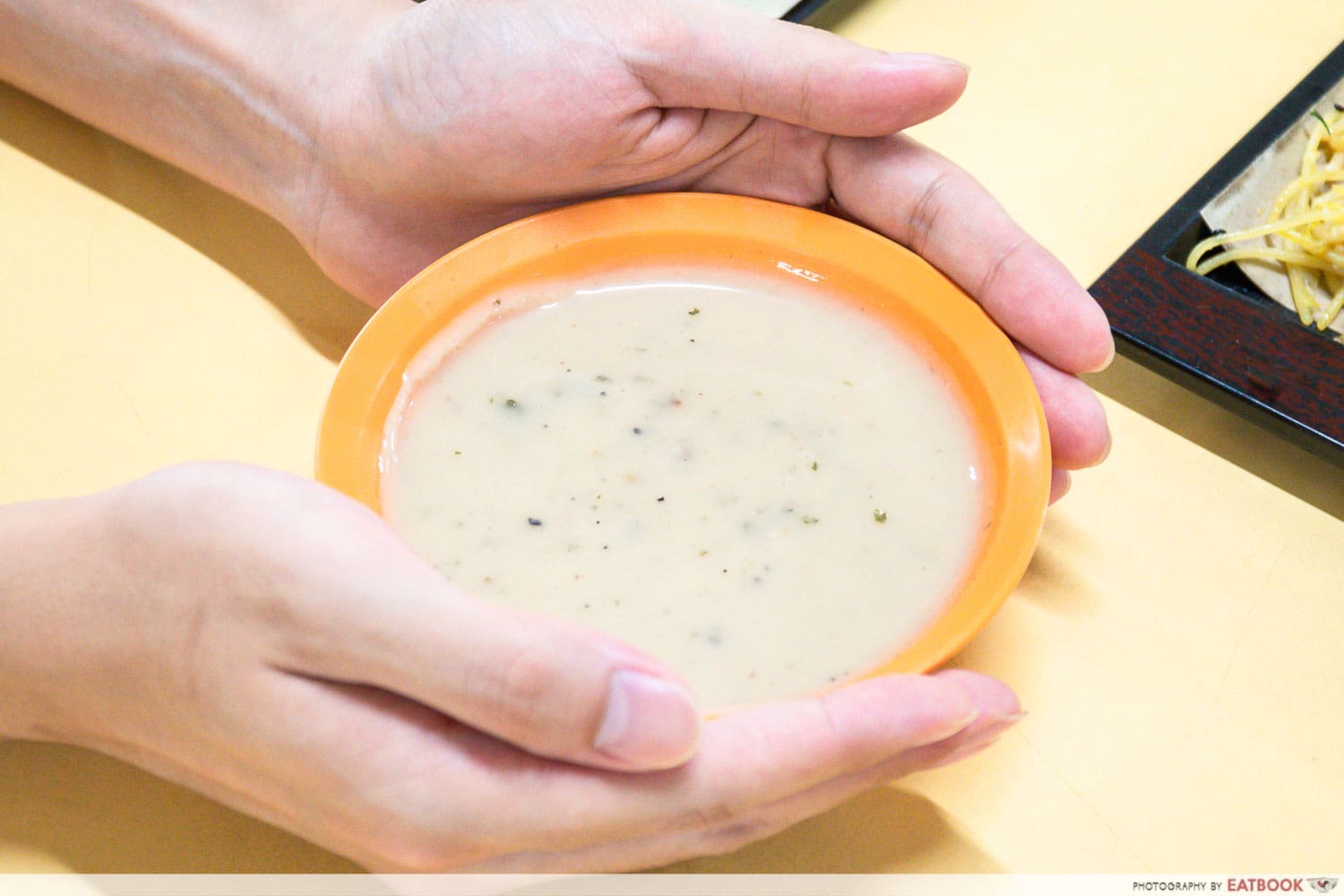 A simple bowl of Creamy Mushroom Soup ($2.50) completed our meal. Unfortunately, it tasted somewhat cheap and diluted. A richer, earthier mushroom taste, along with a thicker consistency, would have certainly made for a better bowl of soup.
Ambience at Omelette Chef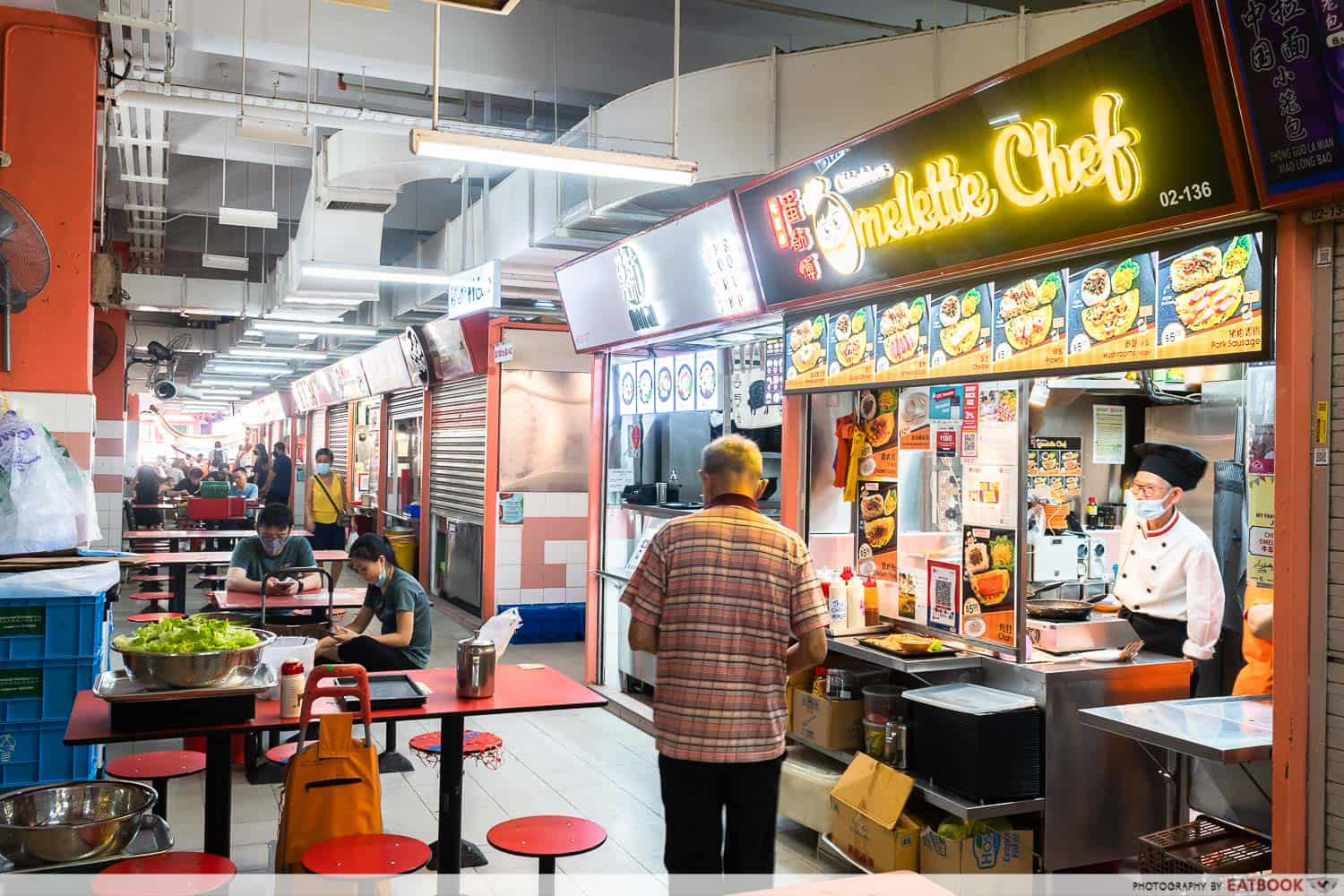 A two-minute walk from Chinatown MRT Station, Chinatown Complex Food Centre is home to many iconic, long-running hawkers stalls. Though it is usually quite hot and humid, the quality of the food there makes it worth braving the heat.
Omelette Chef actually looks like one of the more modern stalls in the hawker centre, courtesy of its sleek signboard that features an adorable humpty dumpty chef. As you order your food, the affable personalities of the husband and wife duo shine through, setting the tone for the meal you are about to have. And of course, the ever suave Francis in his chef's uniform is an attraction in himself.
The verdict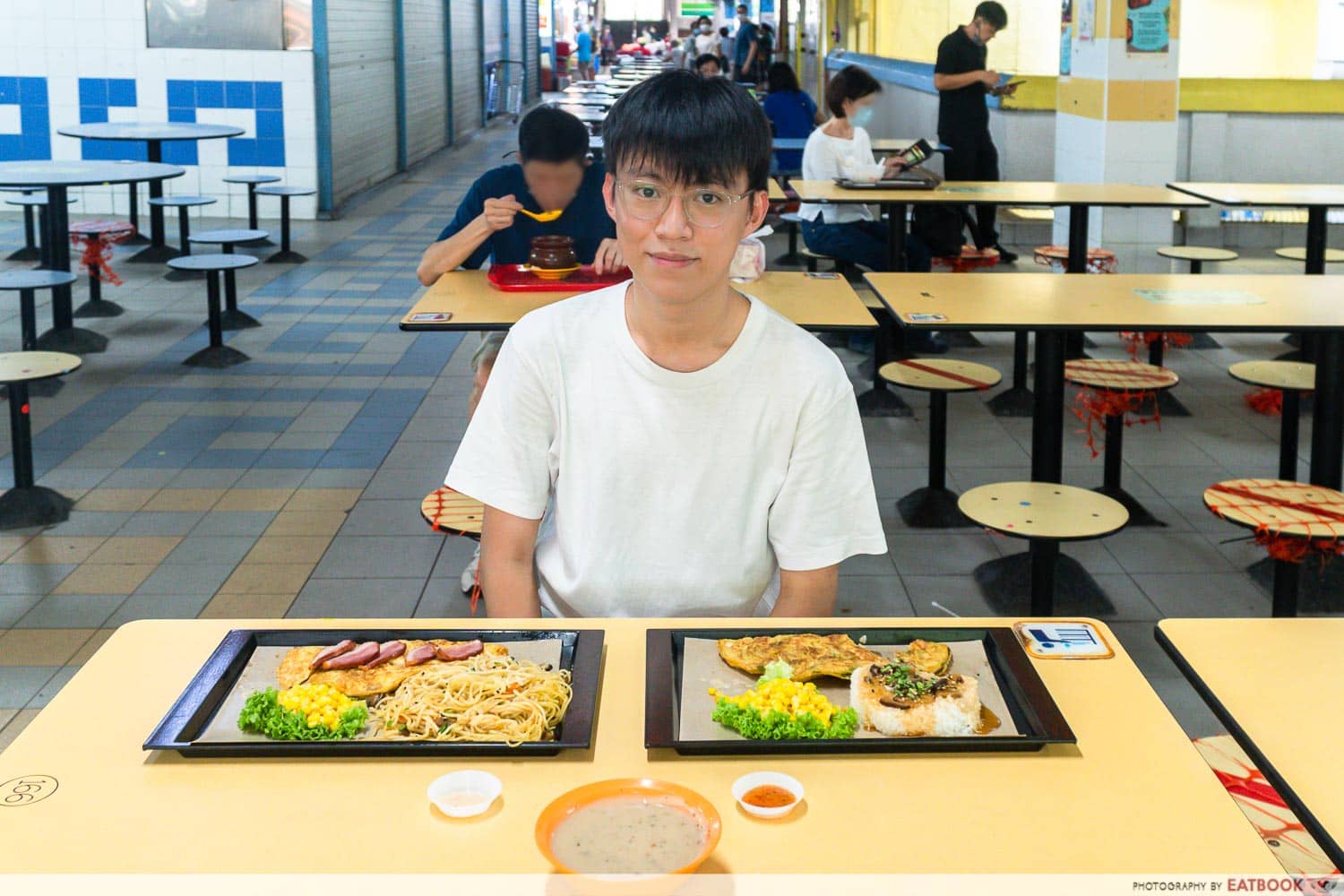 Omelette Chef doesn't serve perfect food, but to expect that would be missing the point. The stall is the product of one man's passion for cooking, which has enabled him to continue doing what he loves, even as time catches up with him. The simple and homely dishes that Francis and Doreen serve are testament to that.
Besides, there's no question that Omelette Chef whips up some truly yummy omelettes.
If you're looking for more good food in the area, check out our Chinatown food gems list. As for other exciting egg dishes, read our Eggciting review.
Address: 335 Smith Street, #02-136, Chinatown Complex Food Centre, Singapore 050335
Opening hours: Mon-Sat 11am to 8pm
Omelette Chef is not a halal-certified eatery.
17 Chinatown Food Gems Including Noodles At $1 And A 100cm Food Platter
Photos taken by Zu Yi Kong.
This was an independent review by Eatbook.sg.
Omelette Chef Review: Ex-Hotel Chef Opens Stall Specialising In Omelettes At Chinatown Complex
Omelette Chef Review: Ex-Hotel Chef Opens Stall Specialising In Omelettes At Chinatown Complex -

7/10
Summary
Pros
– Smoked duck was tasty and went well with the omelette
– Diced chicken omelette was highly savoury
Cons
– Spaghetti and pearl rice were underwhelming
– Mushroom soup was cheap-tasting
Recommended dishes: Smoked Duck ($5), Diced Chicken ($5)
Opening hours: Mon-Sat 11am to 8pm
Address: 335 Smith Street, #02-136, Chinatown Complex Food Centre, Singapore 050335