335 Hong Kong Roasted Meat in Chinatown Complex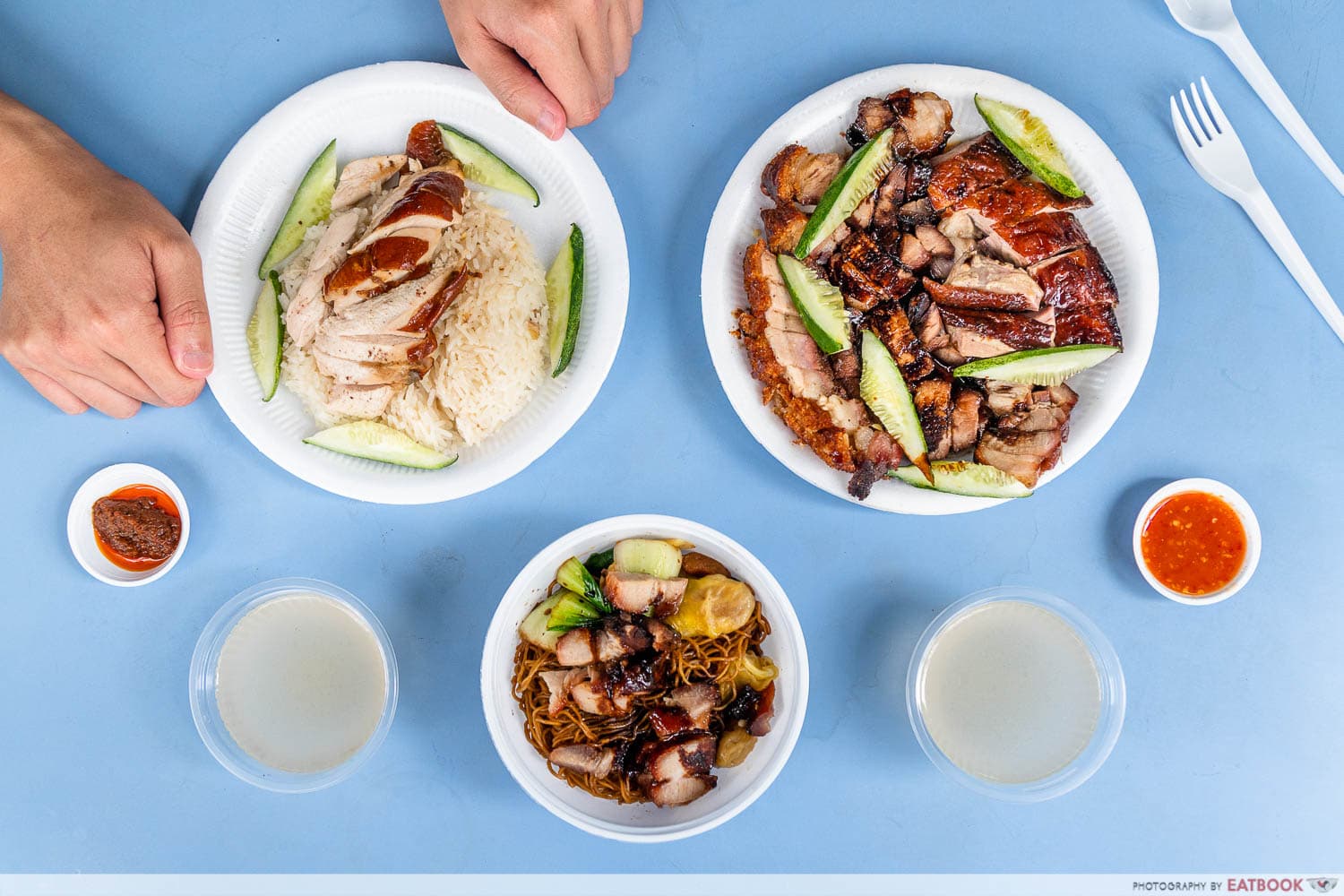 As a student, I would always head over to Chinatown Complex to feast after a day of studying at the National Library. Amidst the numerous stalls in this hawker centre that are well-known and well-reviewed stands the unassuming 335 Hong Kong Roasted Meat. 
Back then, their menu was simpler, with an acute focus on their Hong Kong-style roast meats. These days, 65 year-old Mdm Sun Wee Eng and her husband have expanded their repertoire of dishes in the hopes of catering to a wider demographic of diners.
Fei Fei Roasted Noodle Review: Michelin-Approved Charcoal-Roasted Char Siew Noodles In Jurong East
Food at 335 Hong Kong Roasted Meat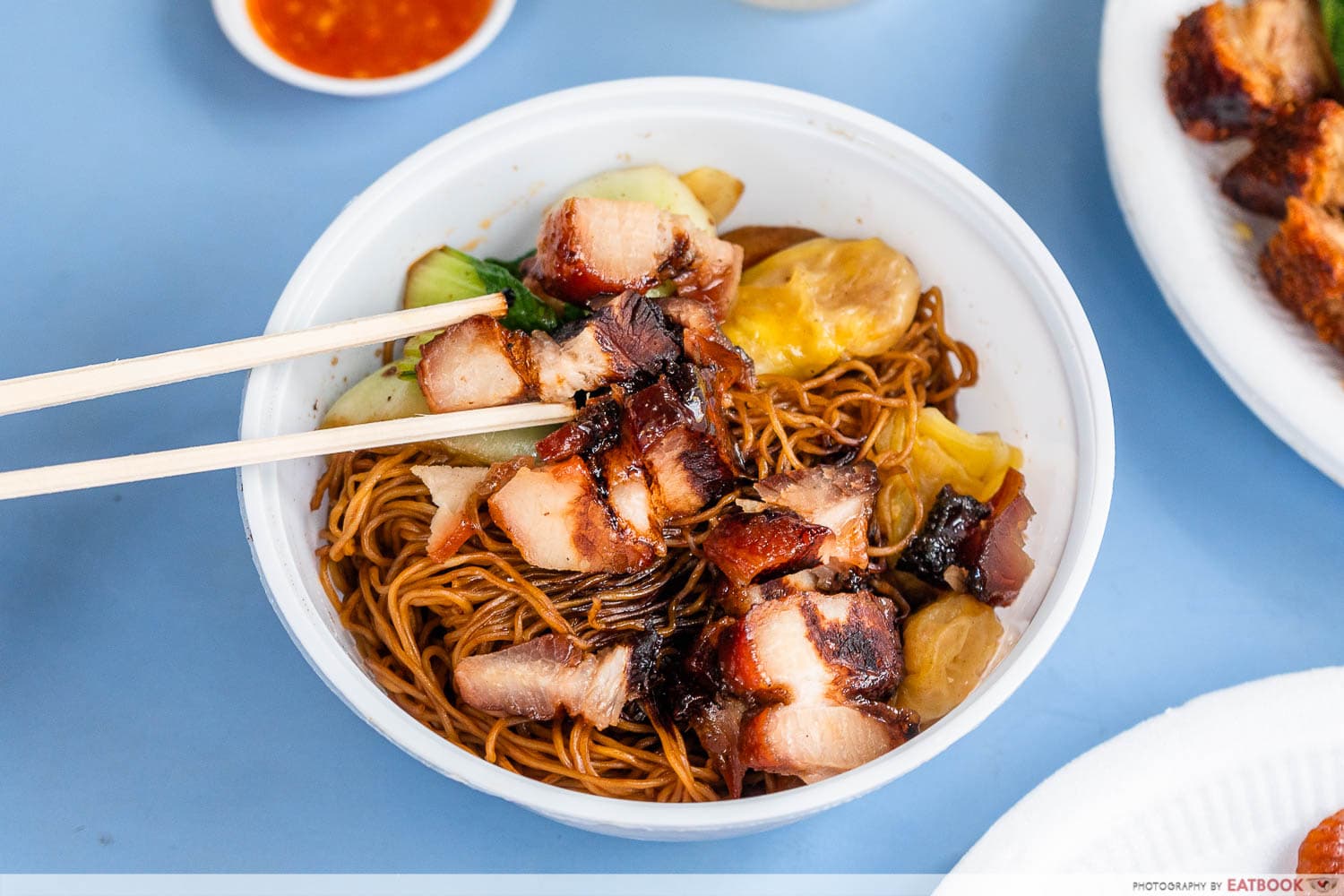 Whenever I'm at a roast meat stall, my go-to is Wonton Mee ($4). I love the sweet savoury glaze of char siew paired with springy noodles so I was very eager to try 335 Hong Kong Roasted Meat's version.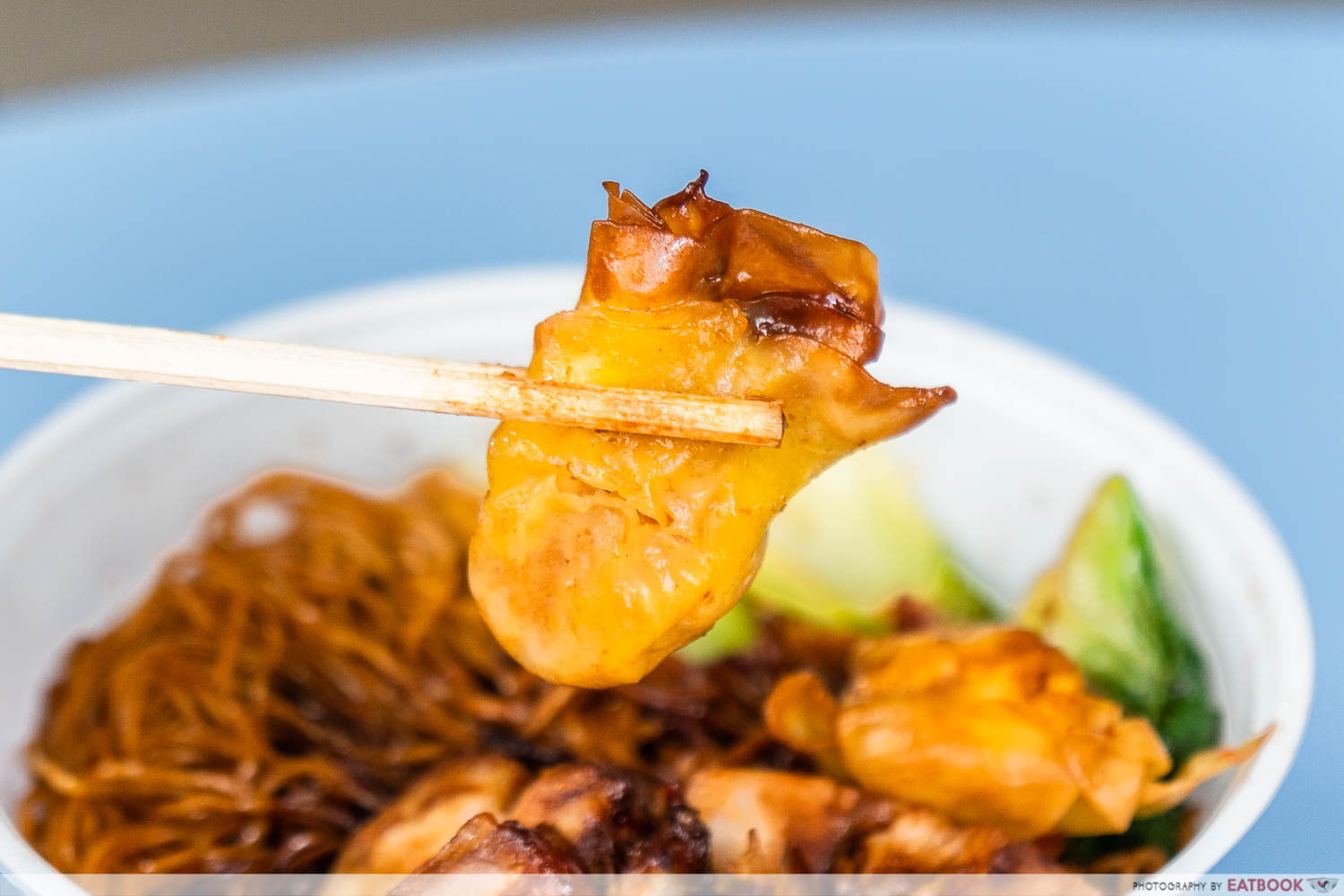 Served in a small plastic bowl, the mee kia came with two small wonton and some slices of thickly-sliced char siew. The noodles were springy and well coated in the savoury soy sauce. Although I found the wonton to be a little small, they were nicely seasoned.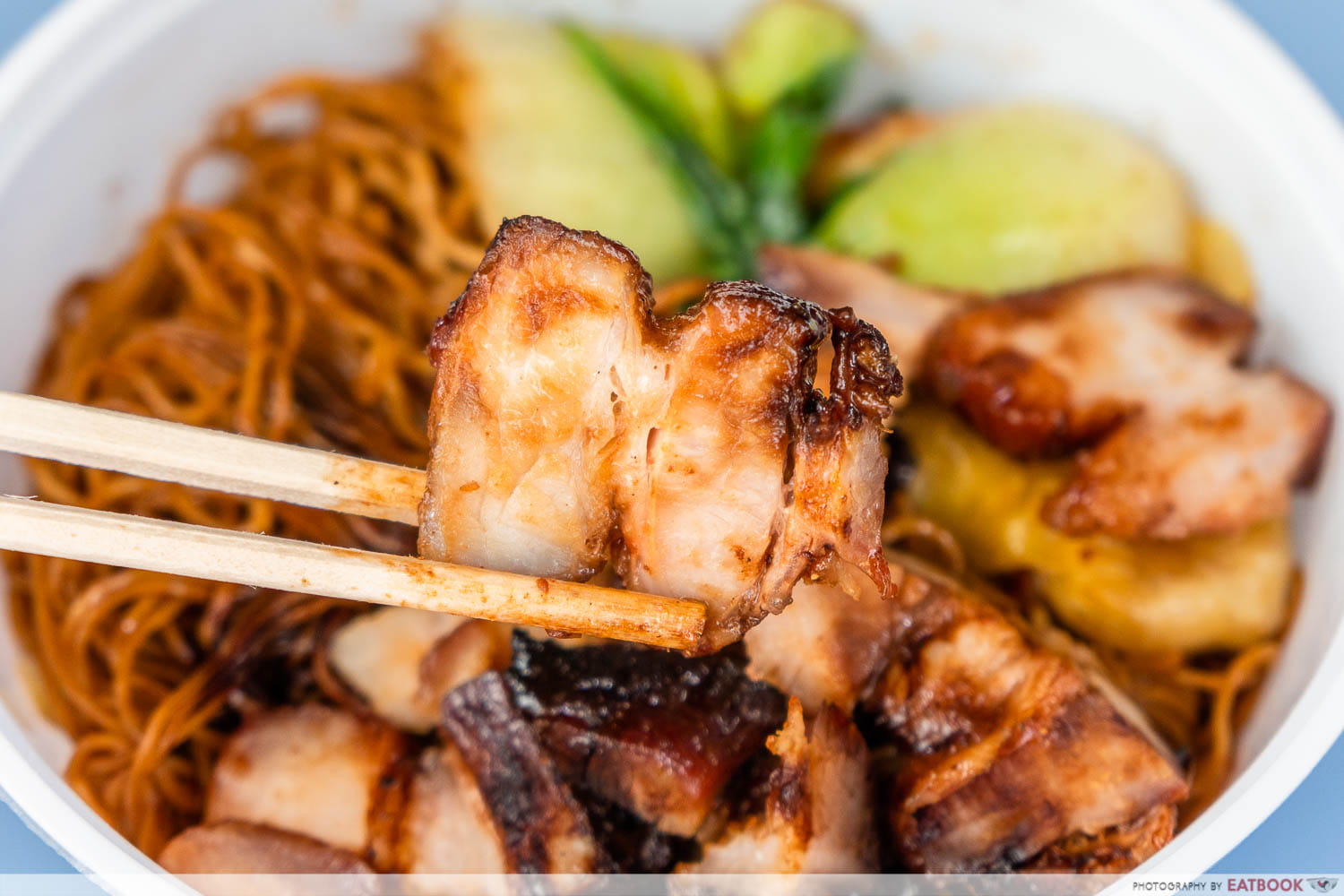 My favourite part of the dish was the char siew. I loved the contrast of the crispy bits to the fatty meat. Some might find the sauce that it's drizzled with to be a little too sweet, but I felt it was just nice, as I prefer having my char siew on the sweeter side.
I was curious about the ingredients that went into the sauce and asked the pair of elderly hawkers about it. Mdm Sun didn't let on much, and was only willing to share that her husband had learnt all their roasted meat recipes from a chef in Hong Kong.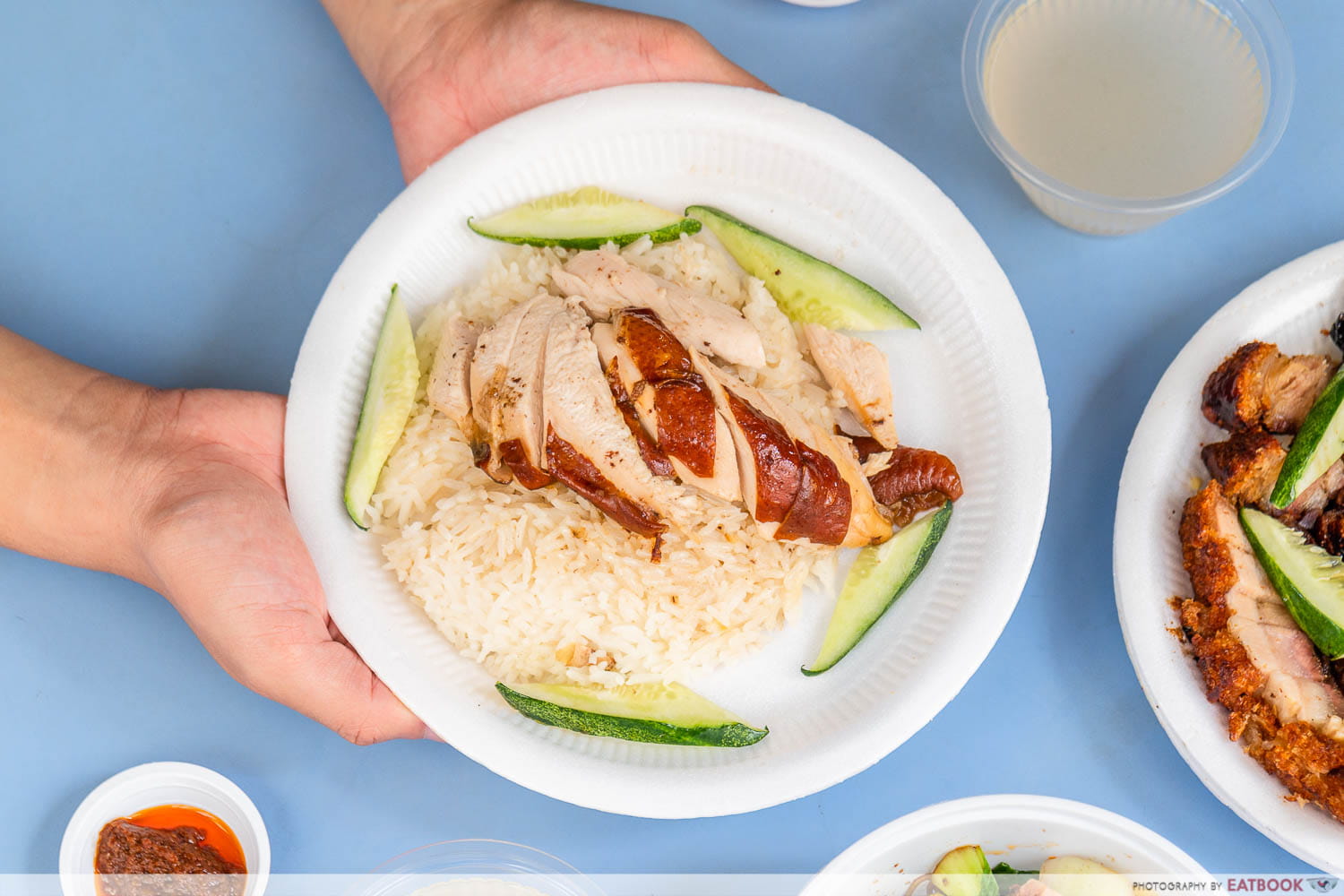 As there are many chicken rice stalls in Chinatown Complex, I also decided to see how 335 Hong Kong Roasted Meat's Soya Sauce Chicken Rice ($3) would measure up to its competitors.
Although we got breast meat with our order, it was juicy and the chicken skin had also retained much of the umami notes of soya sauce. The meat itself was a tad bland, but this was easily rectified by dipping it in the house-made chilli.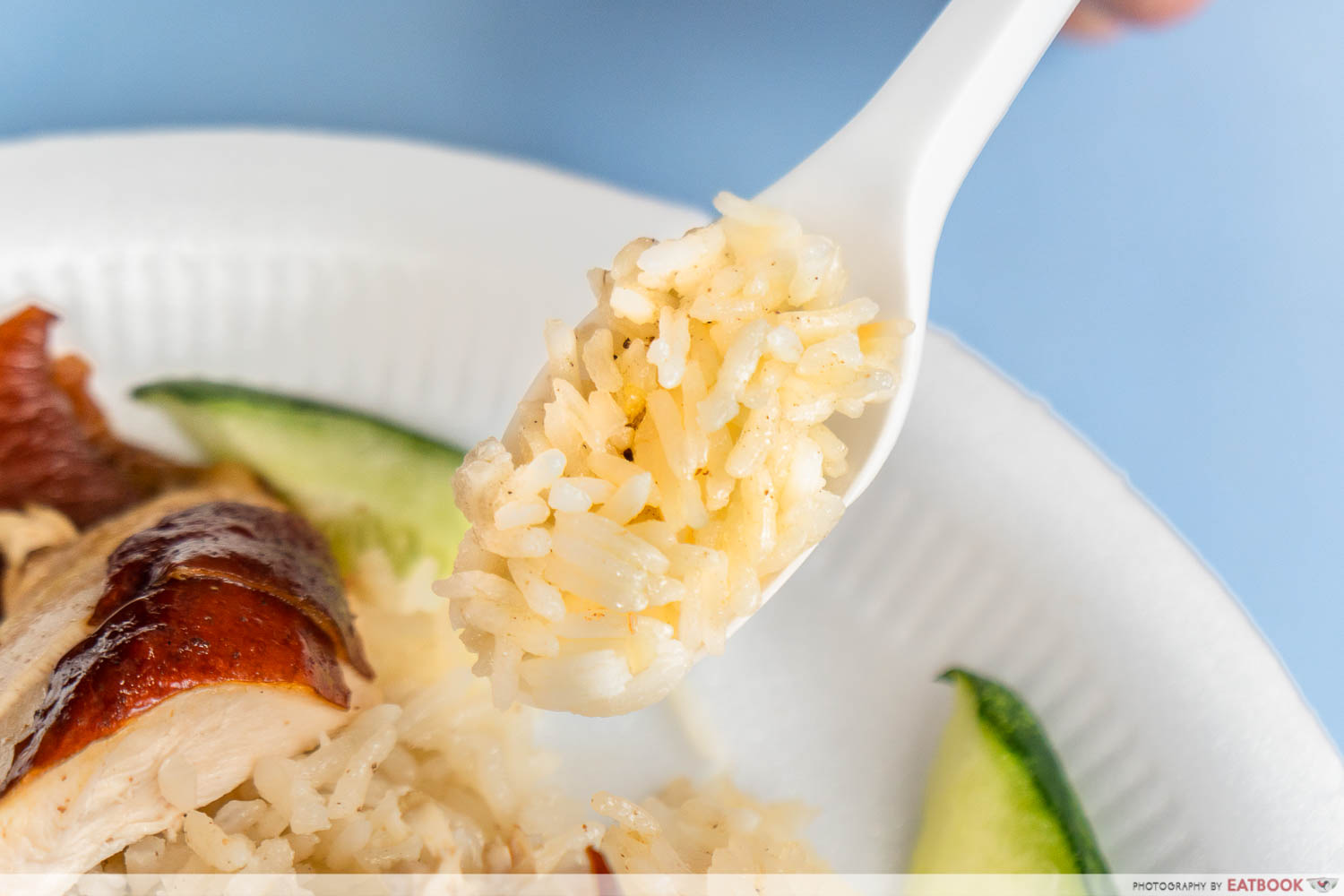 Tucking into the rice, I was delighted to see that it was fluffy, and did not clump together. The rice was also light on the palate and not too greasy.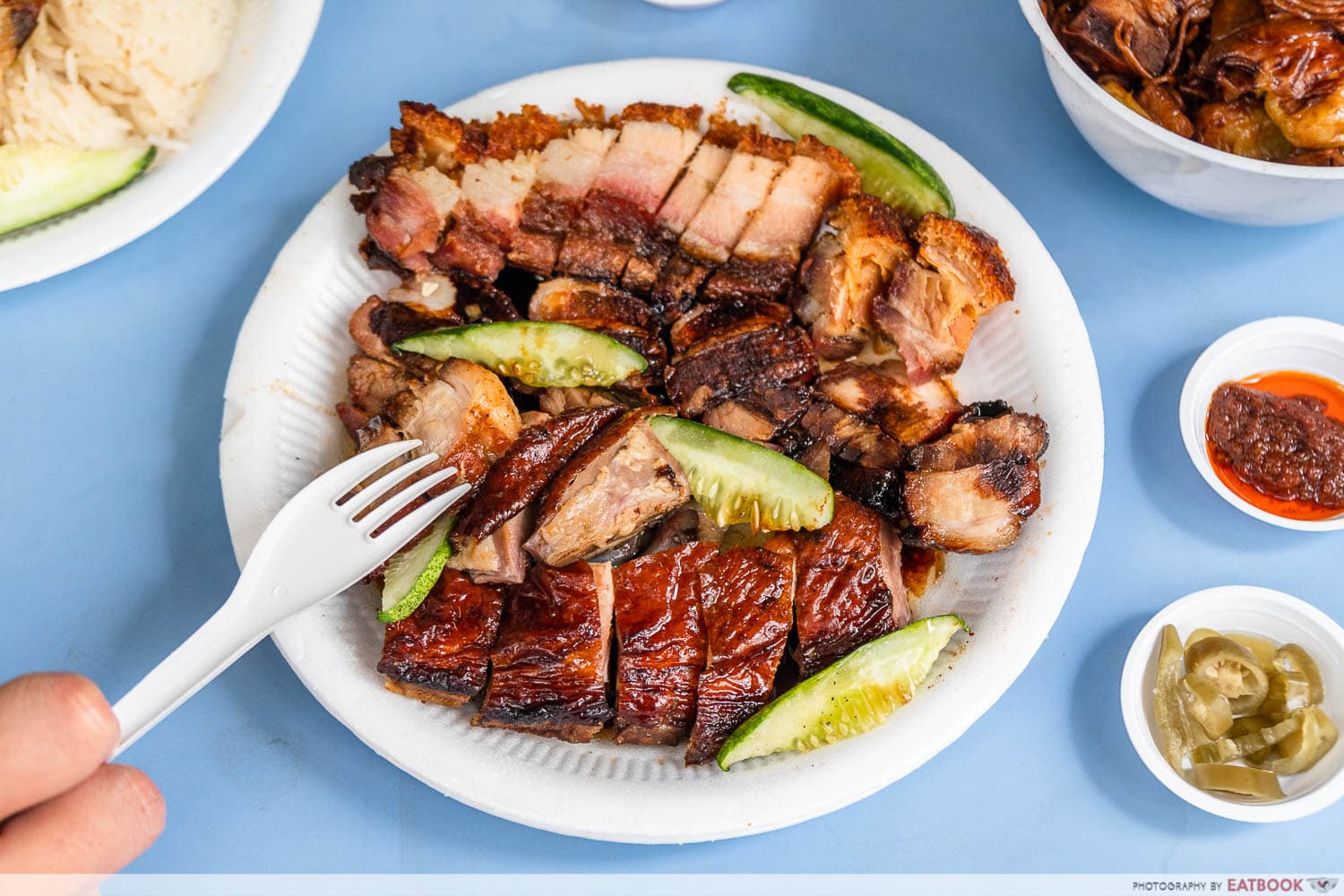 We were determined to try all the different types of roast meat available on the menu, so we also ordered the Combination Meat Platter ($12). Comprising generous portions of Roast Duck, Roast Pork, and Pork Ribs, I was surprised to learn that it cost only $12. Doused in the same thick molasses-like sauce as the char siew, the combination of meats was also finished with some sesame oil for extra fragrance.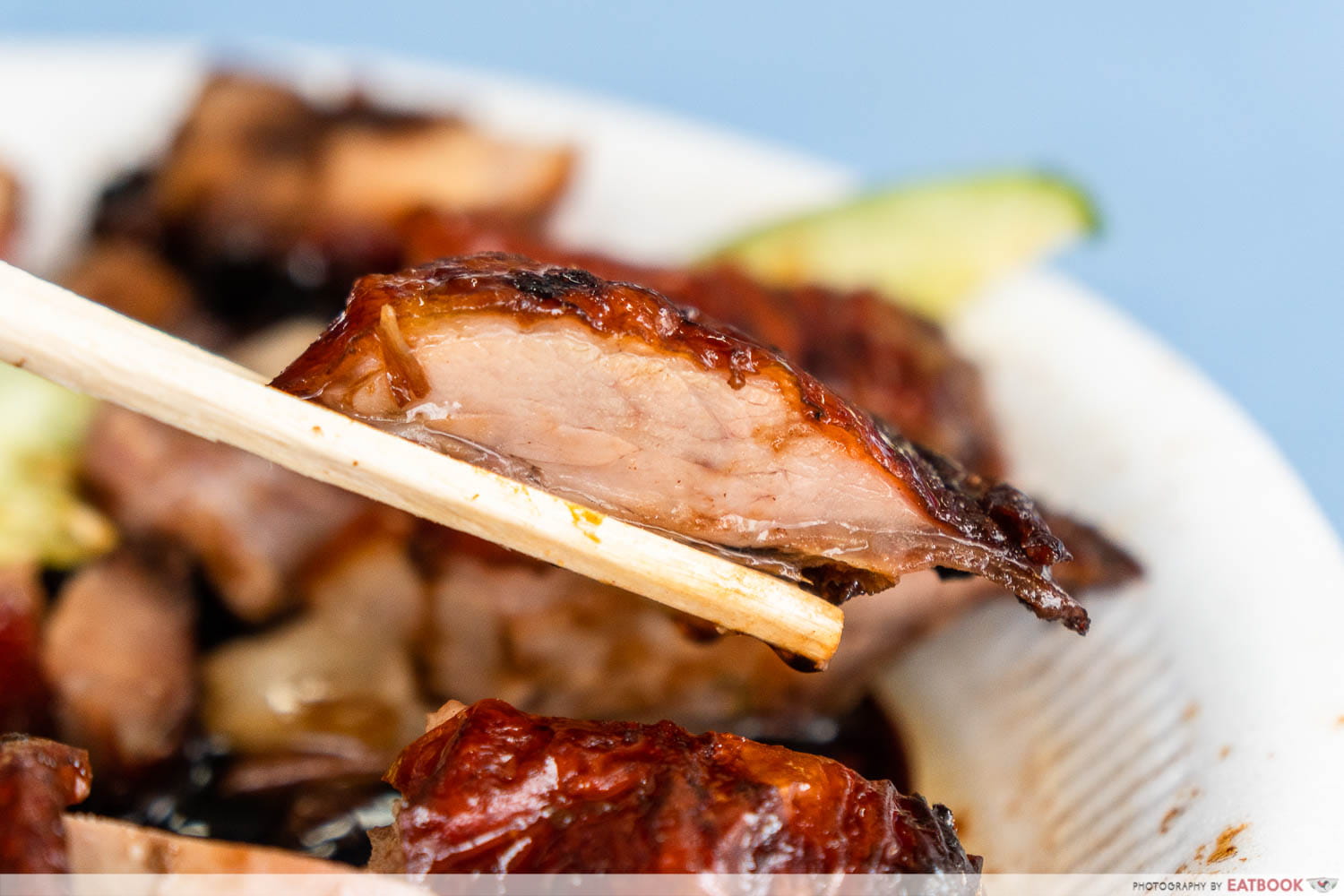 I first tasted the Roast Duck, which had a slight herbal scent that helped to mask some of the gameyness of the meat. Although it was quite savoury, I found the meat was a bit too tough. I enjoyed the intense flavour here, but I can see how it might be too salty for some.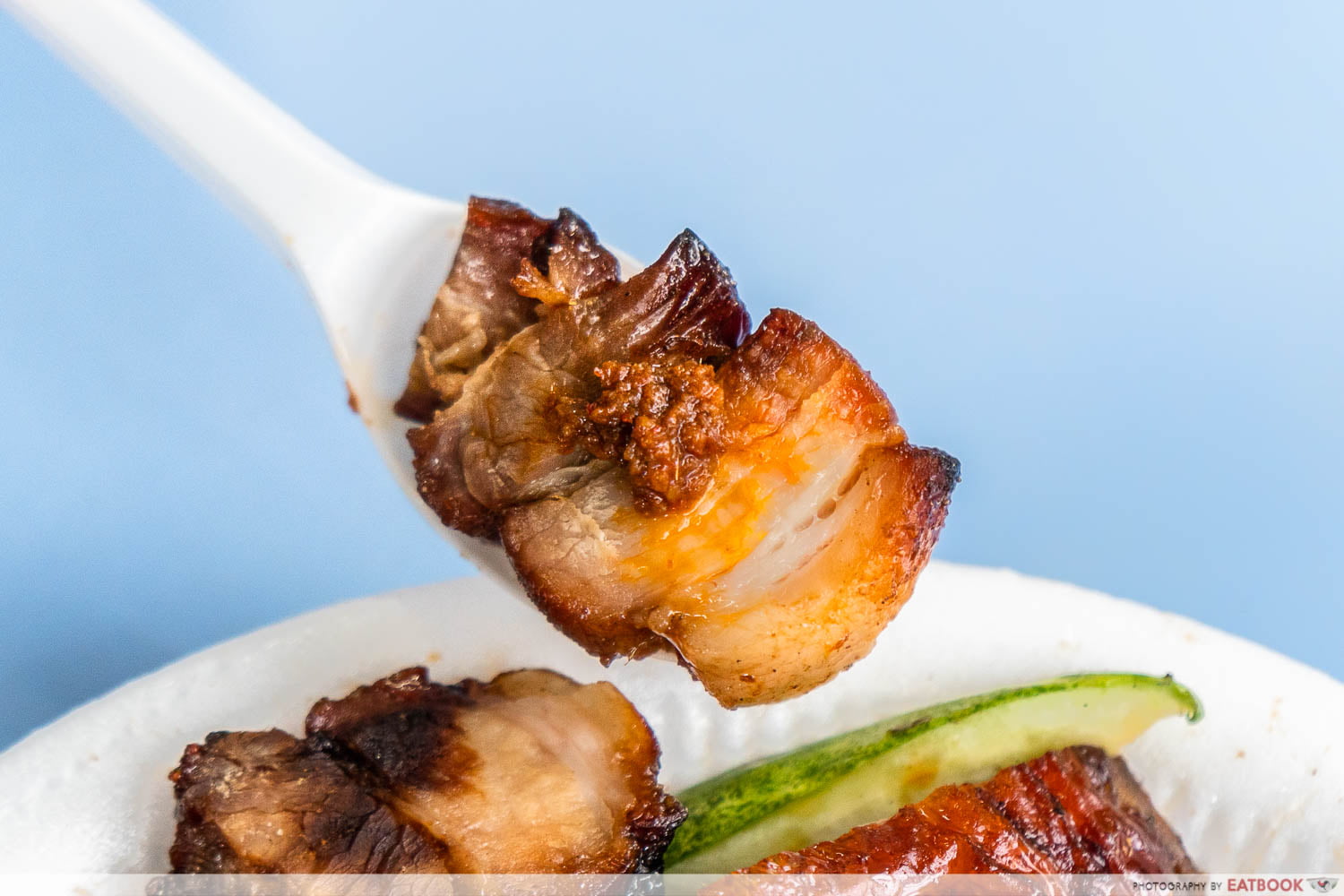 Moving on to the pork ribs, I relished the fact that the chef had given us a fatty cut, which helped compensate for the meat, which I felt was a little dry. Those that are not fans of burnt bits might not enjoy this dish, as there were quite a few charred edges.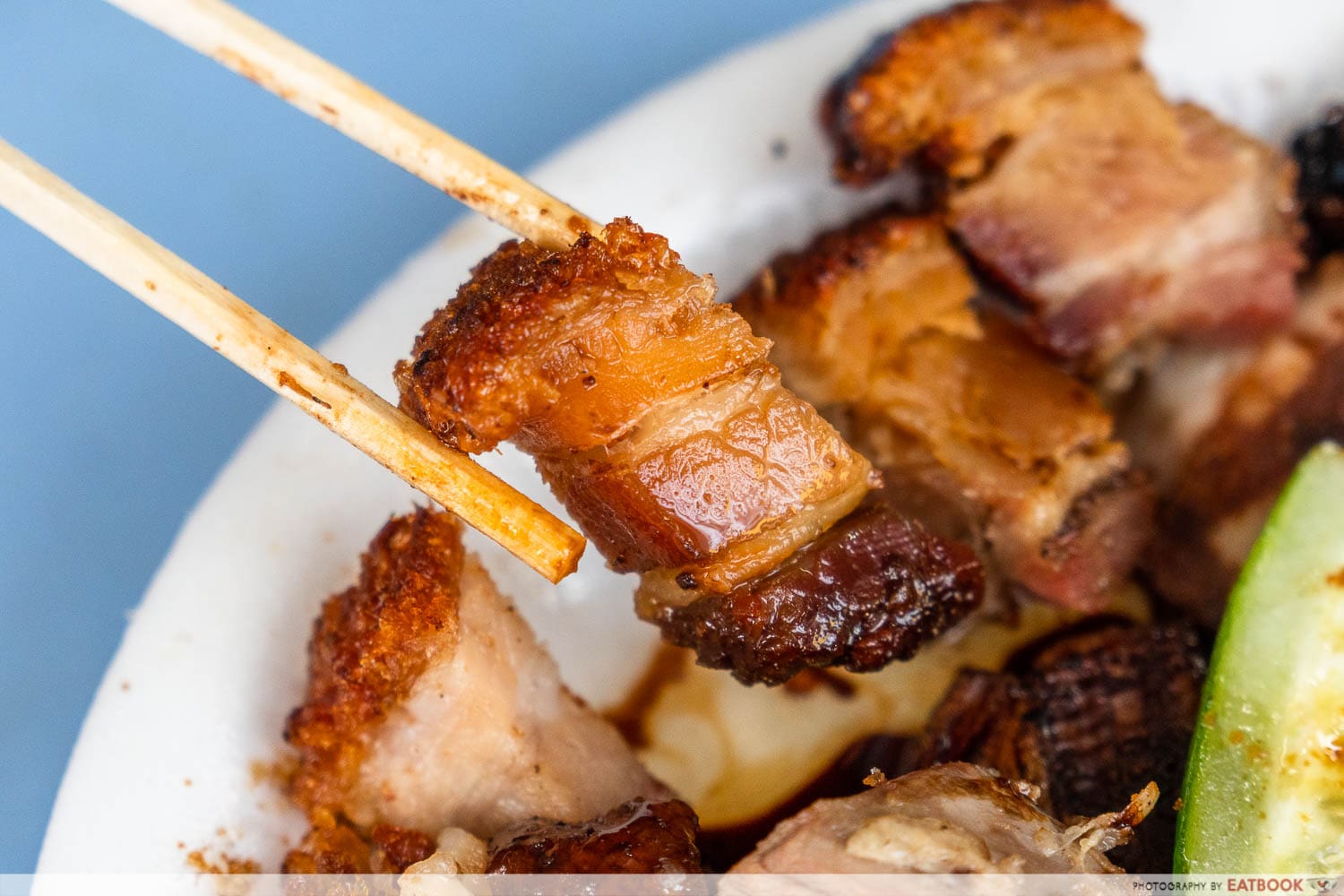 The highlight of the Combination Meat Platter was the Roast Pork. With a superbly crispy, airy crackling, each bite of pork I took produced an audible crunch. Glistening with oil, the meat was also juicy and savoury. As I didn't have any plain rice to go along with the meat, I paired it with the chicken rice, and really enjoyed the combination. 
335 Hong Kong Roasted Meat also sells Whole Roasted Pig ($550), suitable for festive celebrations and as prayer offerings. 
Ambience at 335 Hong Kong Roasted Meat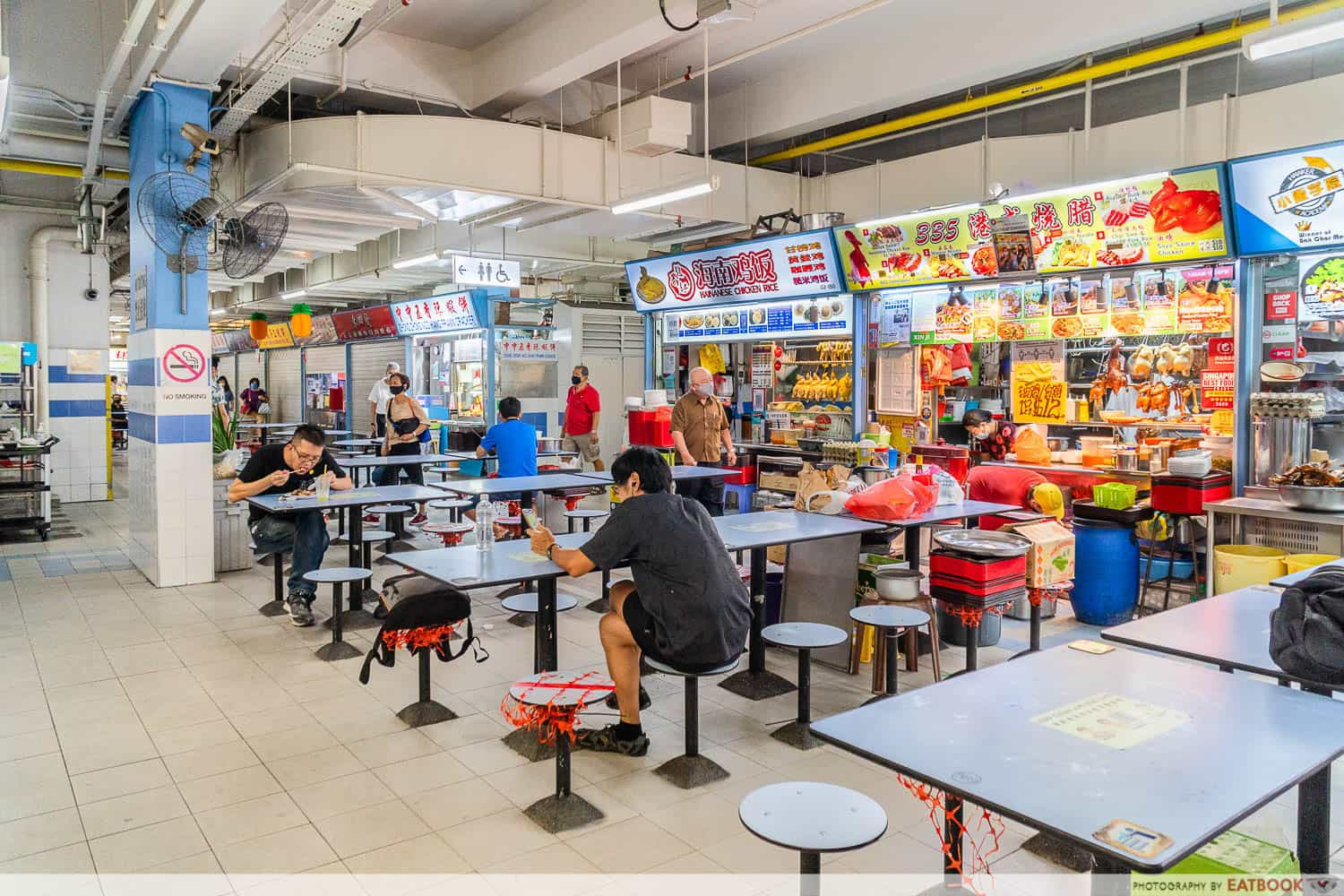 The stall is located in the blue zone of Chinatown Complex Food Centre, which is usually less crowded than the other zones. Although 335 Hong Kong Roasted Meat might not be as famous as other roasted meat stalls in the food centre, it still draws a short but steady queue of its loyal customers as soon as it opens. 
I usually take the five-minute walk from Outram Park MRT Station instead of walking from Chinatown MRT Station, to avoid the bustling Chinatown crowd. However, I foresee myself coming from the closer Maxwell MRT Station when it opens in the latter half of 2022. 
Want Food Taiwanese Delights Review: Cosy Cafe With Lu Rou Fan And Oyster Mee Sua Below $10 In Chinatown
The verdict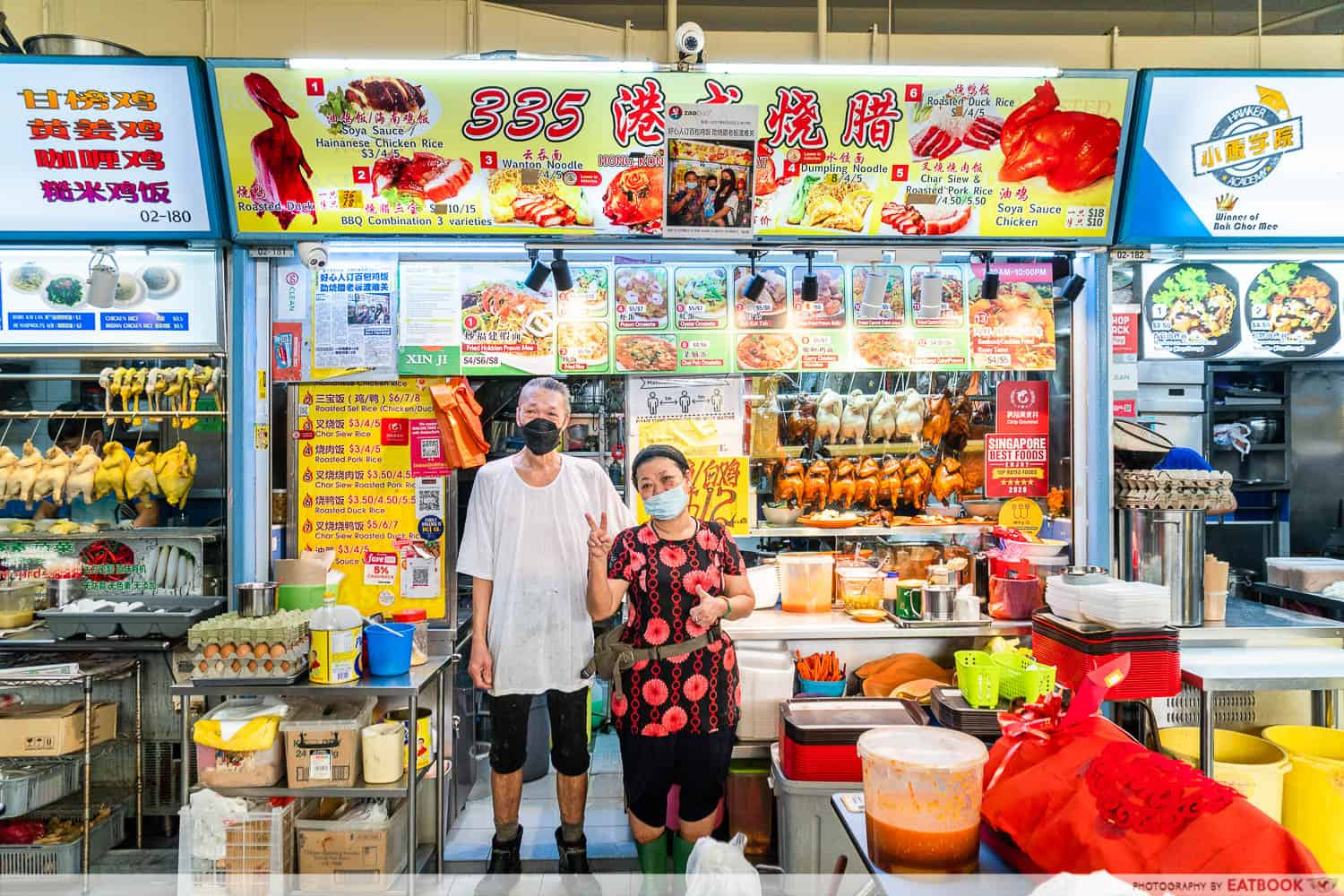 Despite operating their stall for the last 10 years, Mdm Sun and her husband have yet to experience the same fame that other roasted meat stalls in Chinatown Complex have had. Having tried most of the other stalls here, however, I'd make the bold claim that 335 Hong Kong Roasted Meat is a hidden gem unknown to many.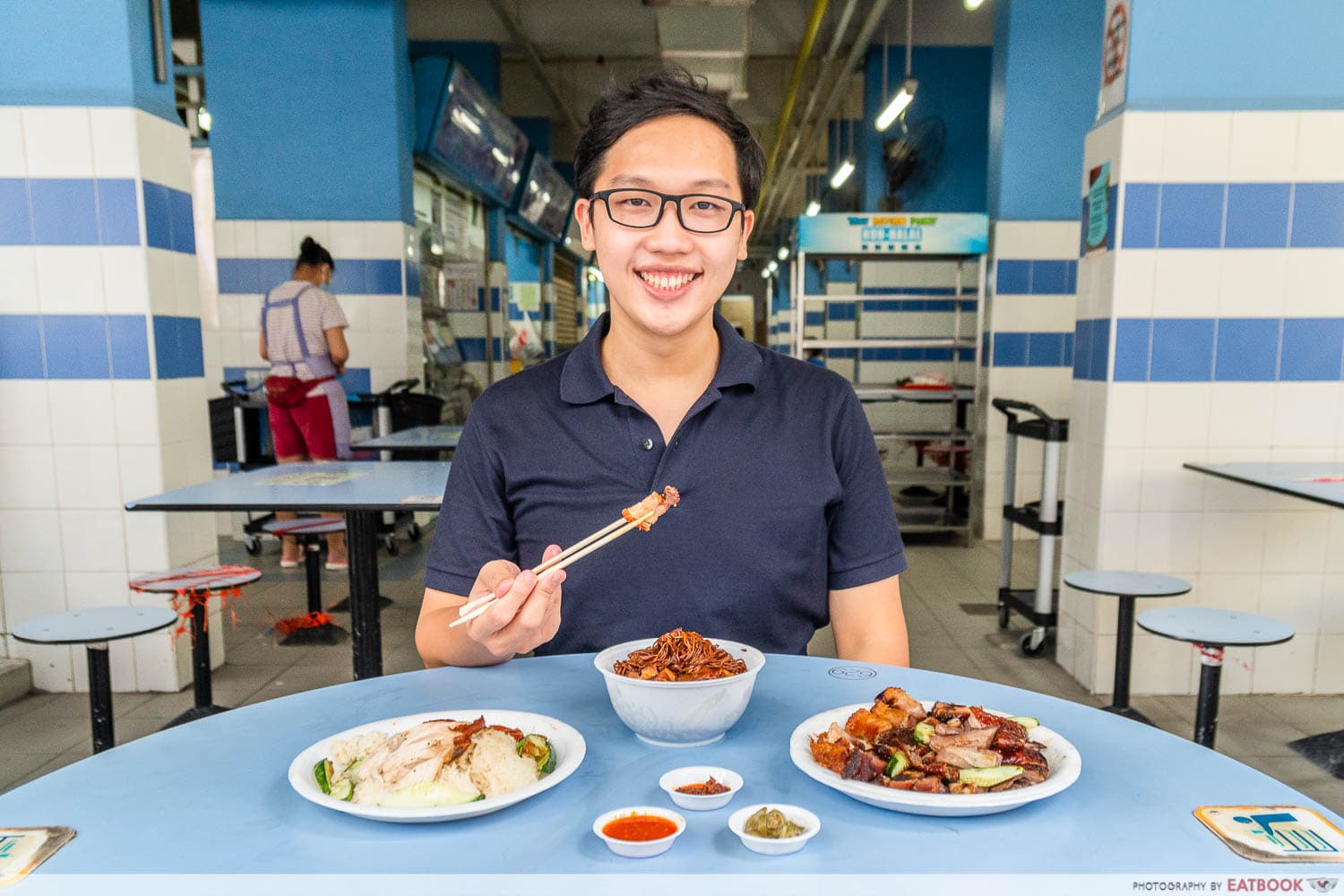 The portions here are quite big, and the sweet-savoury sauce just ticks all the boxes for me━so you'll be sure to find me here whenever I have a craving for char siew.
For a delectable Taiwanese meal that is also located in Chinatown, check out Want Food Taiwanese Delights. If you would like a latte or some pastries instead, visit Butler Koffee at Neil Road. 
Address: 335 Smith Street, #02-181, Chinatown Complex Food Centre, Singapore 050335
Opening hours: Daily 12:30pm to 9pm
335 Hong Kong Roasted Meat is not a halal-certified eatery.
Want Food Taiwanese Delights Review: Cosy Cafe With Lu Rou Fan And Oyster Mee Sua Below $10 In Chinatown
Photos taken by Tan Zi Hui. 
This was an independent review by Eatbook.sg
335 Hong Kong Roasted Meat Review: Hong Kong-style Char Siew By Elderly Hawkers In Chinatown
335 Hong Kong Roasted Meat Review: Hong Kong-style Char Siew By Elderly Hawkers In Chinatown -

7.5/10
Summary
Pros
– Roast pork had very crispy skin
– Fatty char siew was nicely caramelised
Cons
– Pork rib was a little dry
– Roast duck was a bit salty
Recommended dishes: Roasted Pork Rice ($4), Wanton Mee ($4)
Opening hours: Daily 12:30pm to 9pm
Address: 335 Smith Street, #02-181, Chinatown Complex Food Centre, Singapore 050335