Ah Heng Curry Chicken Bee Hoon Mee in Chinatown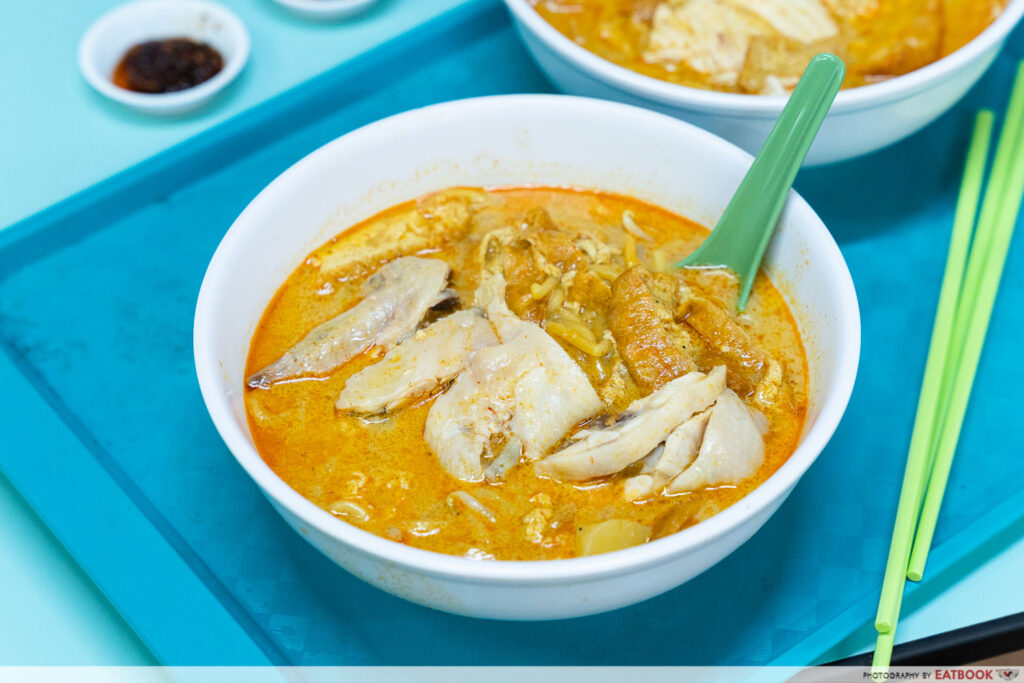 Curry chicken noodles aren't always the first thing to surface in conversations surrounding popular Singapore food, but it's definitely a dish of nostalgia for many of us. For me, I associate a hearty bowl of curry mee with fond childhood memories, as it used to be one of my go-to's for recess fuel during my primary school days.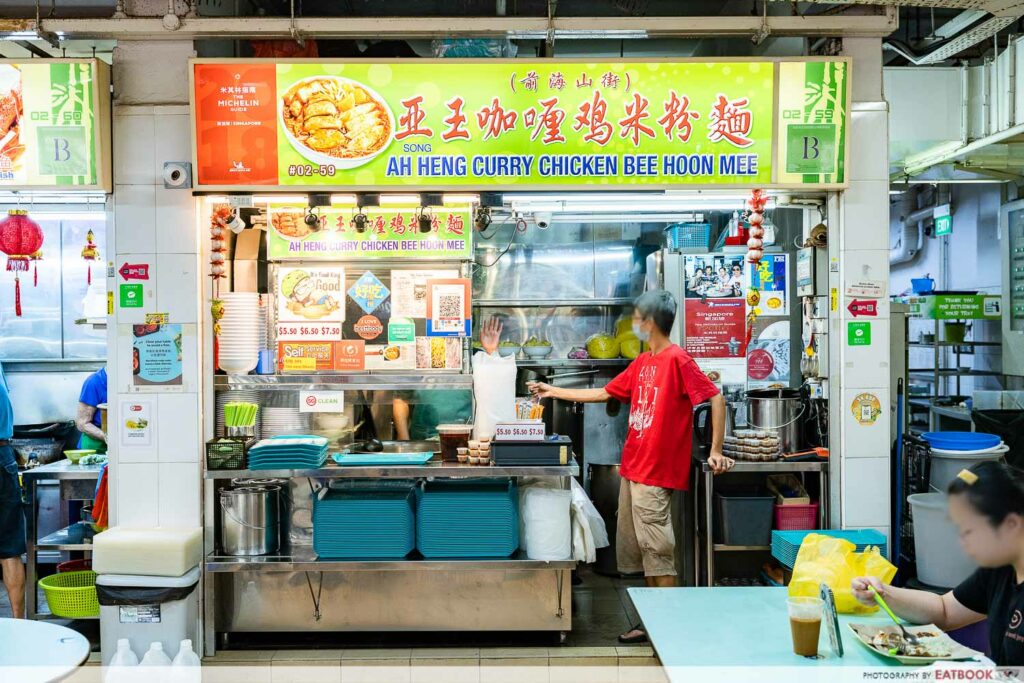 Ah Heng Curry Chicken Bee Hoon Mee has been around for over 50 years, dishing out bowl after bowl of flavourful curry noodles since the 1960s. Today, they occupy two stall units in the Hong Lim Food Centre, as well as a second branch in Bugis along Queen Street.
Food at Ah Heng Curry Chicken Bee Hoon Mee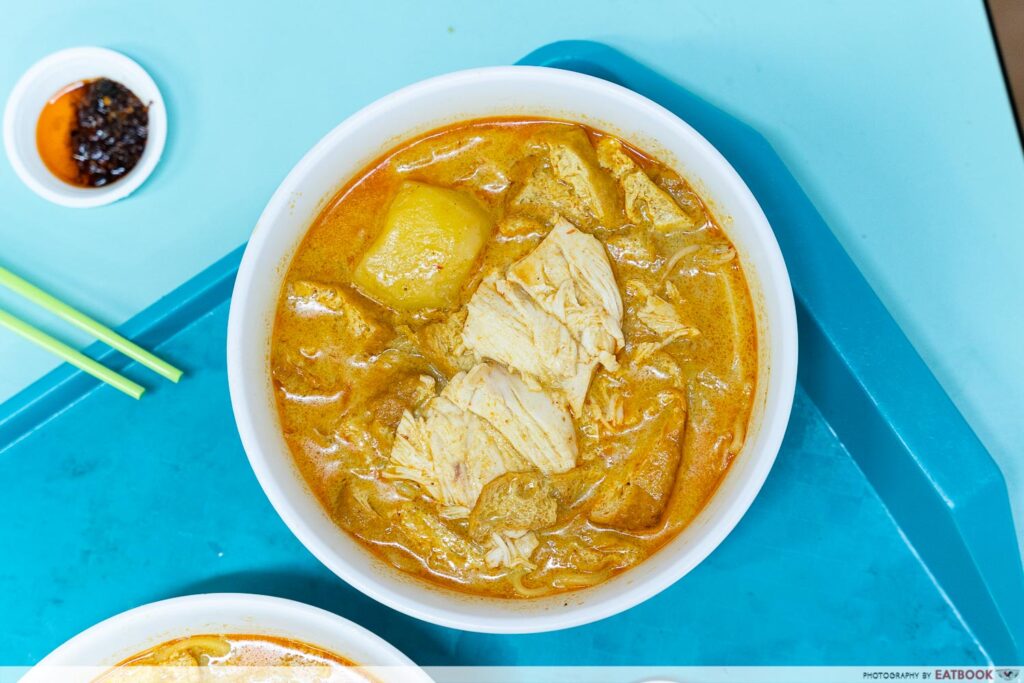 There's only one item, Curry Chicken Mee, on the menu, but Ah Heng seems to do it right—the constant orders streaming in way before the peak lunch hour is a testament to this. You get to pick from three sizes— small ($5.50), medium ($6.50), large ($7.50)—and your choice of noodles: yellow mee, bee hoon, or a mix of both. We opted for the latter.
This proved to be an excellent choice as you get varying flavours in each bite. The thin rice noodles soaked up most of the broth, while the yellow mee added a pleasant textural contrast to the dish. I personally enjoyed having a mix of both, but my photographer felt the dish would be tastier without the yellow noodles, which were slightly alkaline.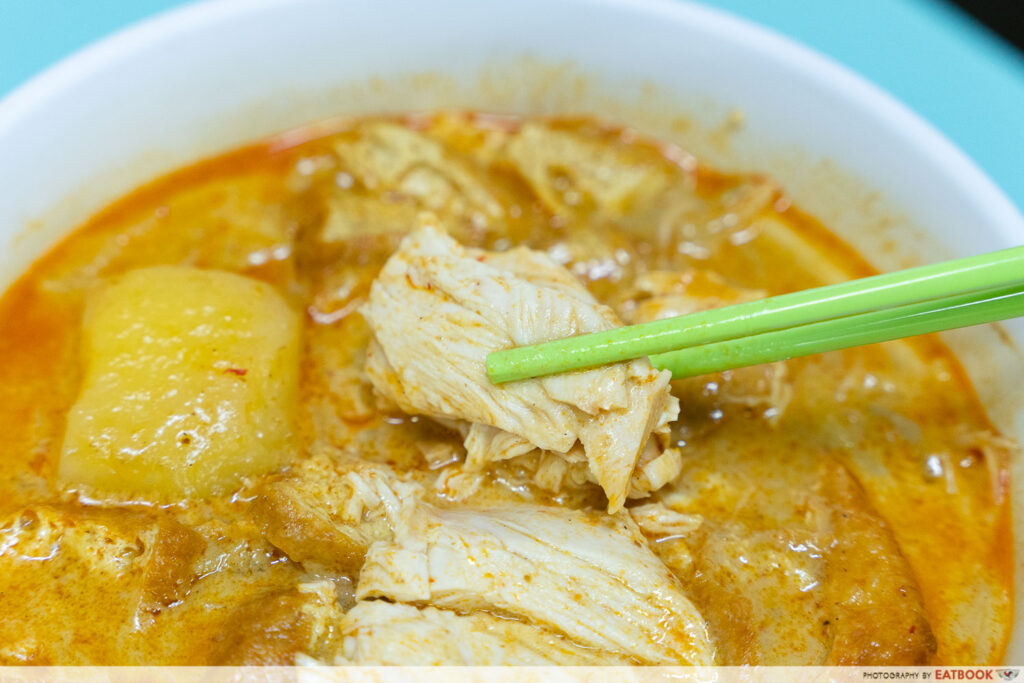 Accompanying our $6.50 bowl was a decent portion of poached Hainanese-style chicken that was oh so smooth and silky, yet with a fair amount of bite. The white meat was clean tasting, allowing for the rich broth to stand out, but some may find it on the bland side. To counter that, dunk each slice into the curry gravy and slurp it up.
Fork-tender potato chunks also joined in the party, adding more carby goodness to the medley of ingredients.
Rounding it up were the quintessential tau pok pieces, which had almost disintegrated into the soup by the time we tucked in. I was impressed by how meltingly soft the tofu puffs were; they were the perfect vehicle for the star of the show: the curry.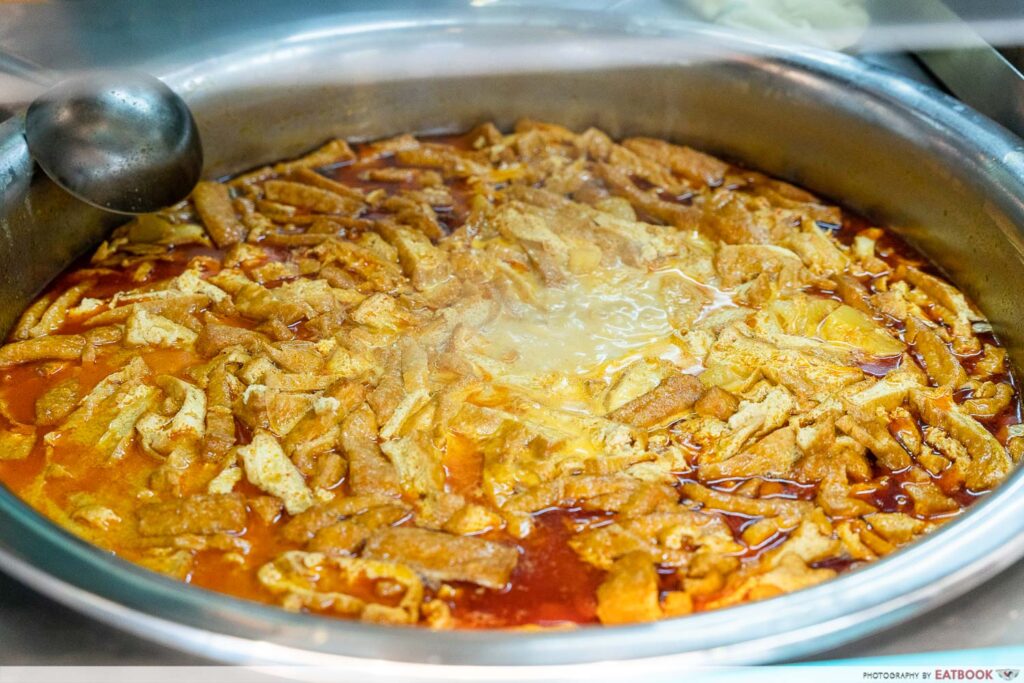 Now onto the curry: after my first sip, I now understand the hype around it. The Michelin-recommended broth completes the masterpiece of a dish, as it was a perfect consistency—not too runny, nor too thick.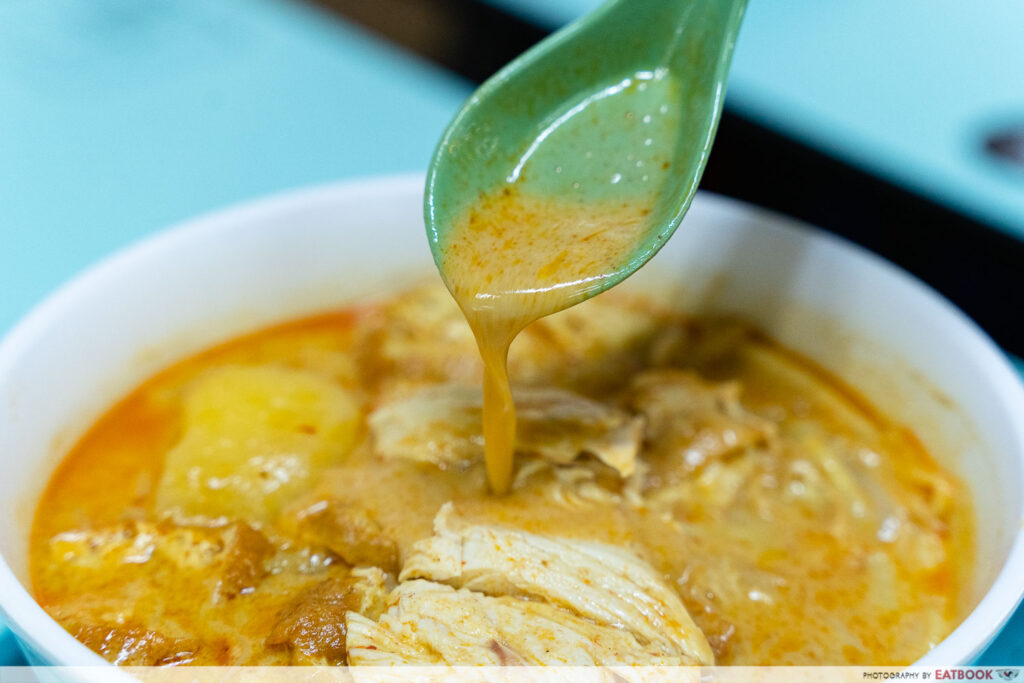 The gravy started off creamy, with just the right amount of lemak so we didn't feel jelak even after consuming multiple spoonfuls of the broth. Then, there was an addictive, spicy kick right at the end that I wholeheartedly embraced. It was a party in the mouth.
If all that doesn't sound enticing enough, maybe the house-made shrimp- and garlic-ladened chilli will convince you otherwise. A smidgen of the Lao Gan Ma dupe added even more oomph to the already flavourful curry; I personally preferred dipping the chicken slices and tau pok into the saucer of chilli instead of mixing it into the broth.
Ambience at Ah Heng Curry Chicken Bee Hoon Mee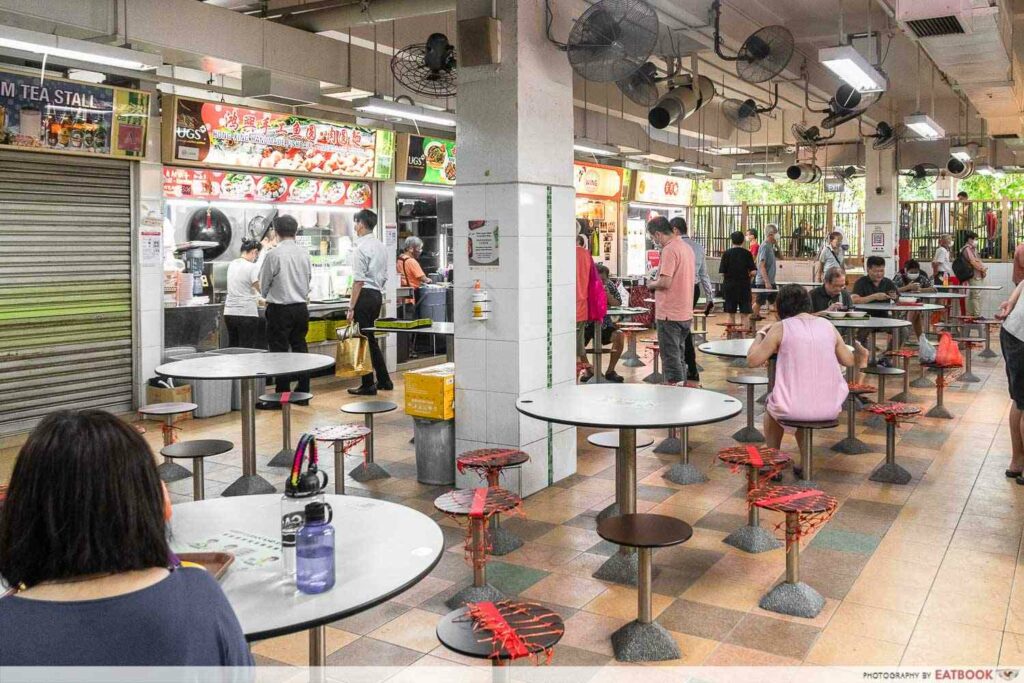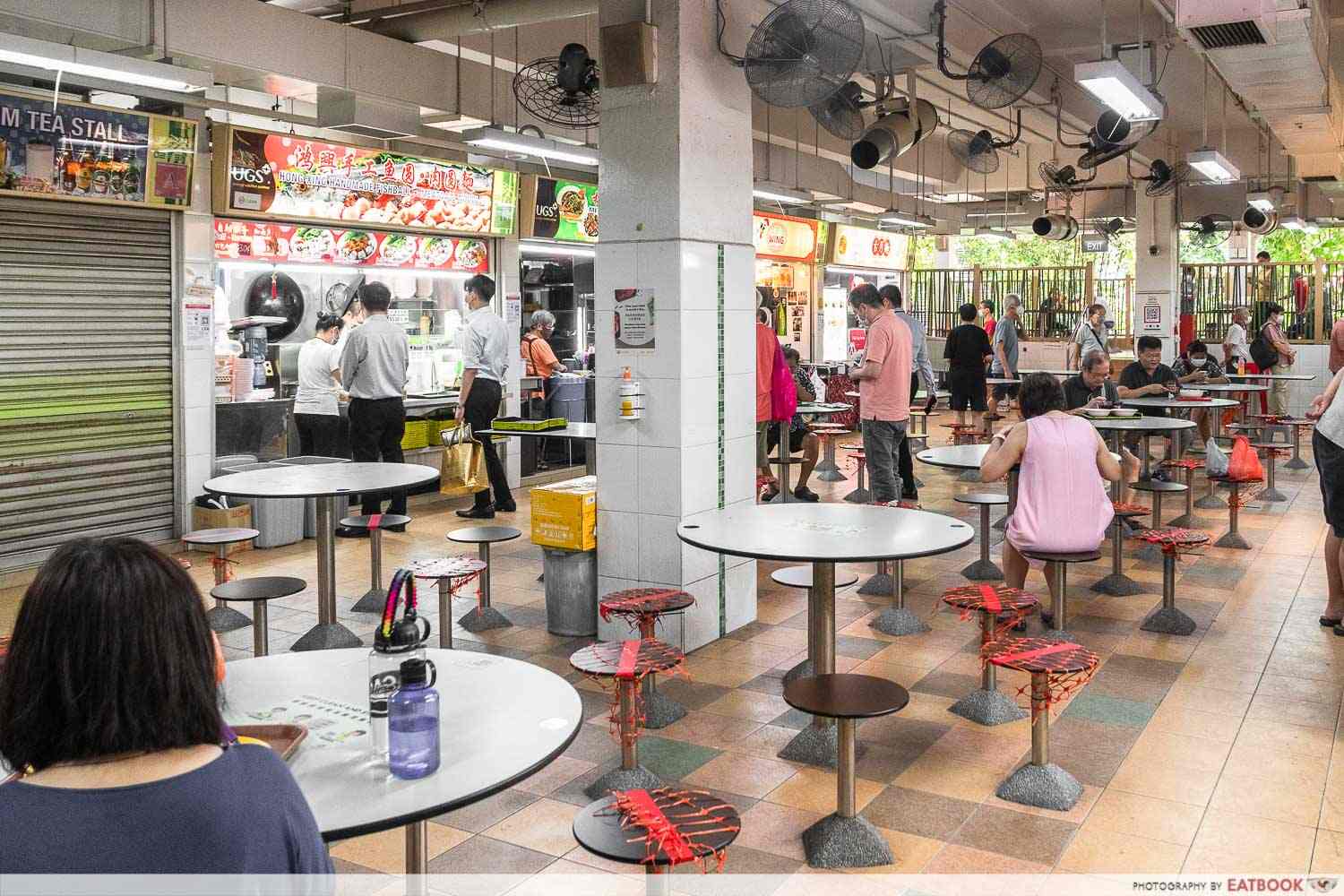 Ah Heng is located on the second floor of Hong Lim Complex, a four-minute walk from Chinatown MRT Station. There's direct, sheltered access via Chinatown Point, which makes the walk easier.
Seats are aplenty and we recommend visiting before or after the lunch hour to avoid the crowd. Make sure you keep an eye out for the birds looming in the area!
The verdict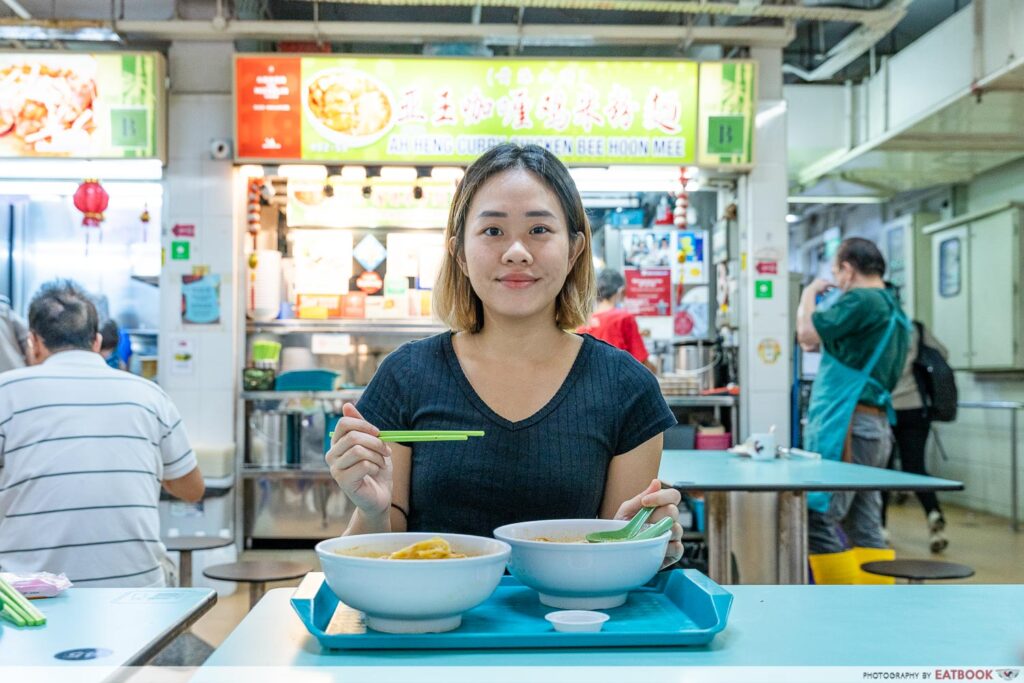 I don't usually eat curry mee as I find most renditions jelak, but Ah Heng Curry Chicken Bee Hoon Mee has made me a convert. They've managed to strike a winning balance with their rich and flavourful, yet not overly lemak broth. For that, I think their popularity and Michelin recommendation are well-deserved.
Another must-try Hong Lim Complex stall is Tang Kay Kee Fish Head Bee Hoon, now run by fourth-generation hawkers. Alternatively, read our guide to the best kopi stalls in Singapore, which includes Hock Hai Coffee, also located within the same food centre! 
Address: 531A Upper Cross Street, #02-58, Hong Lim Complex, Singapore 051531
Opening hours: Fri-Wed 8:45am to 4pm
Ah Heng Curry Chicken Bee Hoon Mee is not a halal-certified eatery.
Tang Kay Kee Fish Head Bee Hoon Review: Famous Fish Soup And Zi Char Lunch Bowls From $5 By 4th-Gen Hawker
Photos taken by John Lery Villanueva
This was an independent review by Eatbook.sg.
Ah Heng Curry Chicken Bee Hoon Mee Review: Michelin-Approved Curry Noodles In Chinatown
Ah Heng Curry Chicken Bee Hoon Mee Review: Michelin-Approved Curry Noodles In Chinatown -

8.5/10
Summary
Pros
– Convenient location with many seats
– Delicious curry mee in generous portions
Cons
– Expect to wait during the lunch hour
– Only one item on the menu
Recommended dishes: Curry Chicken Bee Hoon Mee ($6.50, medium)
Opening hours: Fri-Wed 8:45am to 4pm
Address: 531A Upper Cross Street, #02-58, Hong Lim Complex, Singapore 051531