Fei Fei Roasted Noodle has Michelin-approved char siew noodles in Jurong East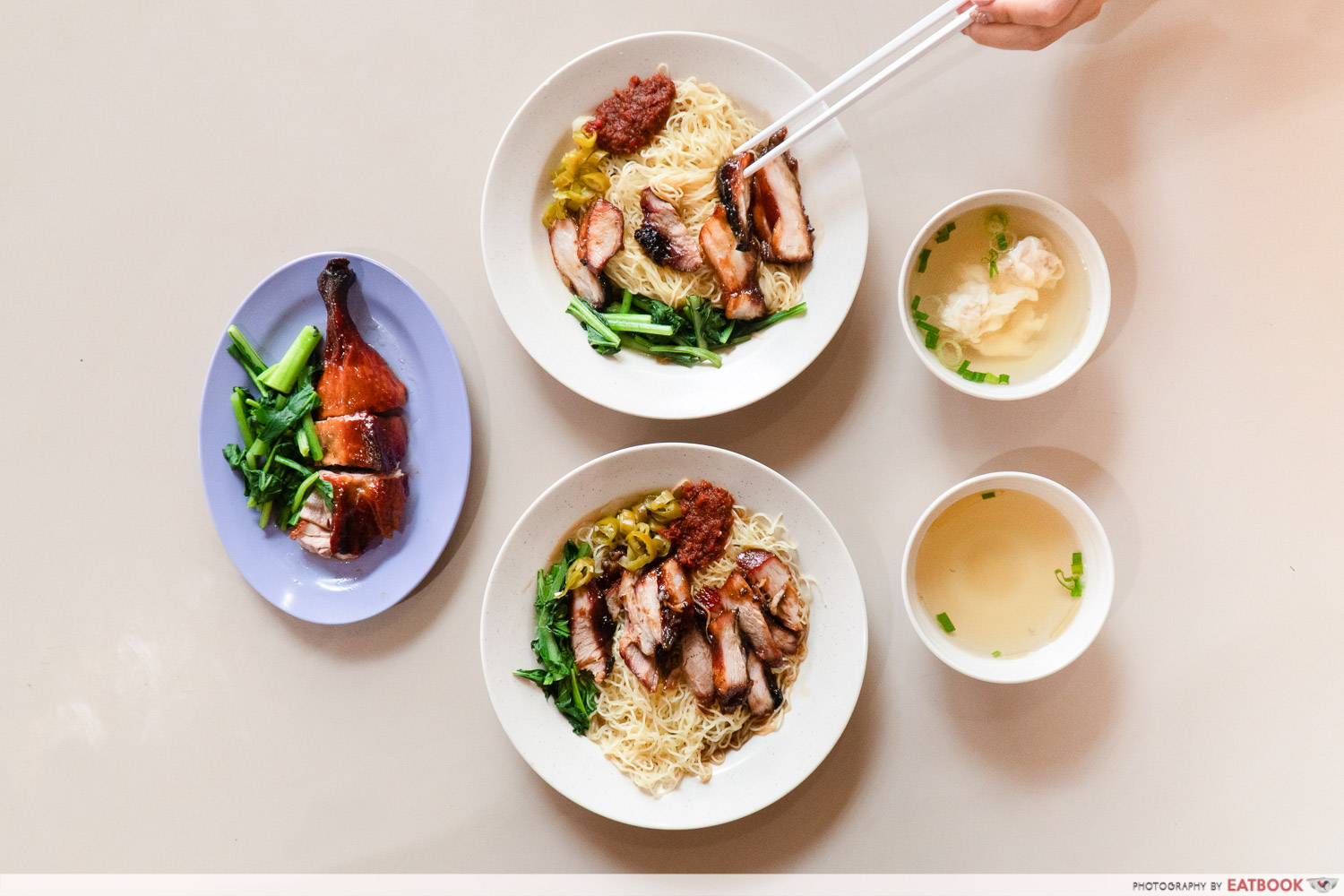 Yuhua Village Market and Food Centre made the news last year, when not one, but three stalls here received Michelin Bib Gourmand recognition for their value-for-money, high-quality fare. One of these stalls was Fei Fei Roasted Noodle, a roast meats specialist that only operates for three and a half hours each day, though they usually sell out much earlier than that.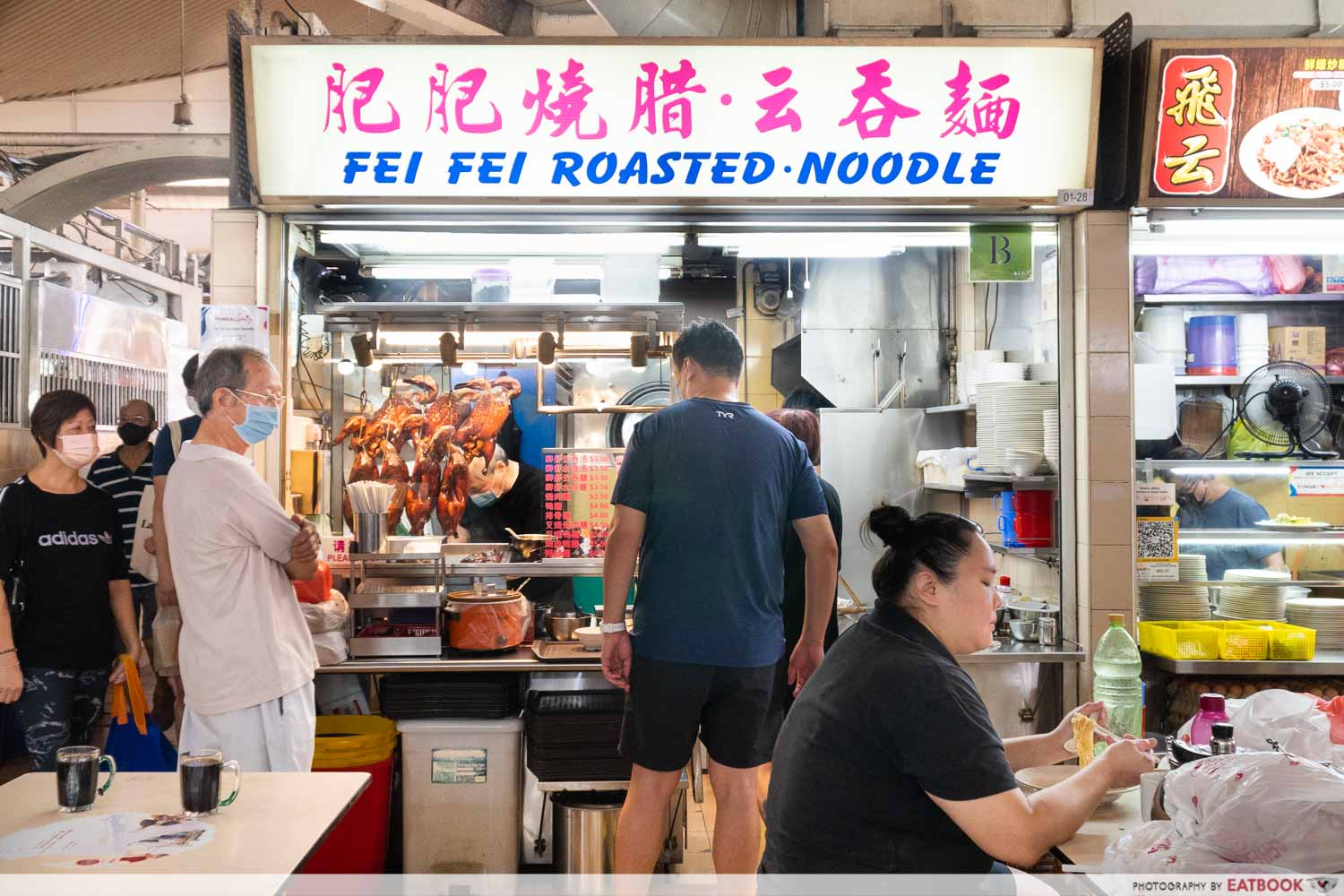 The family-run business has been in operation for more than 40 years since their early days in Redhill and Ghim Moh, and still roasts their meats over a charcoal fire in-stall every day.
Food at Fei Fei Roasted Noodle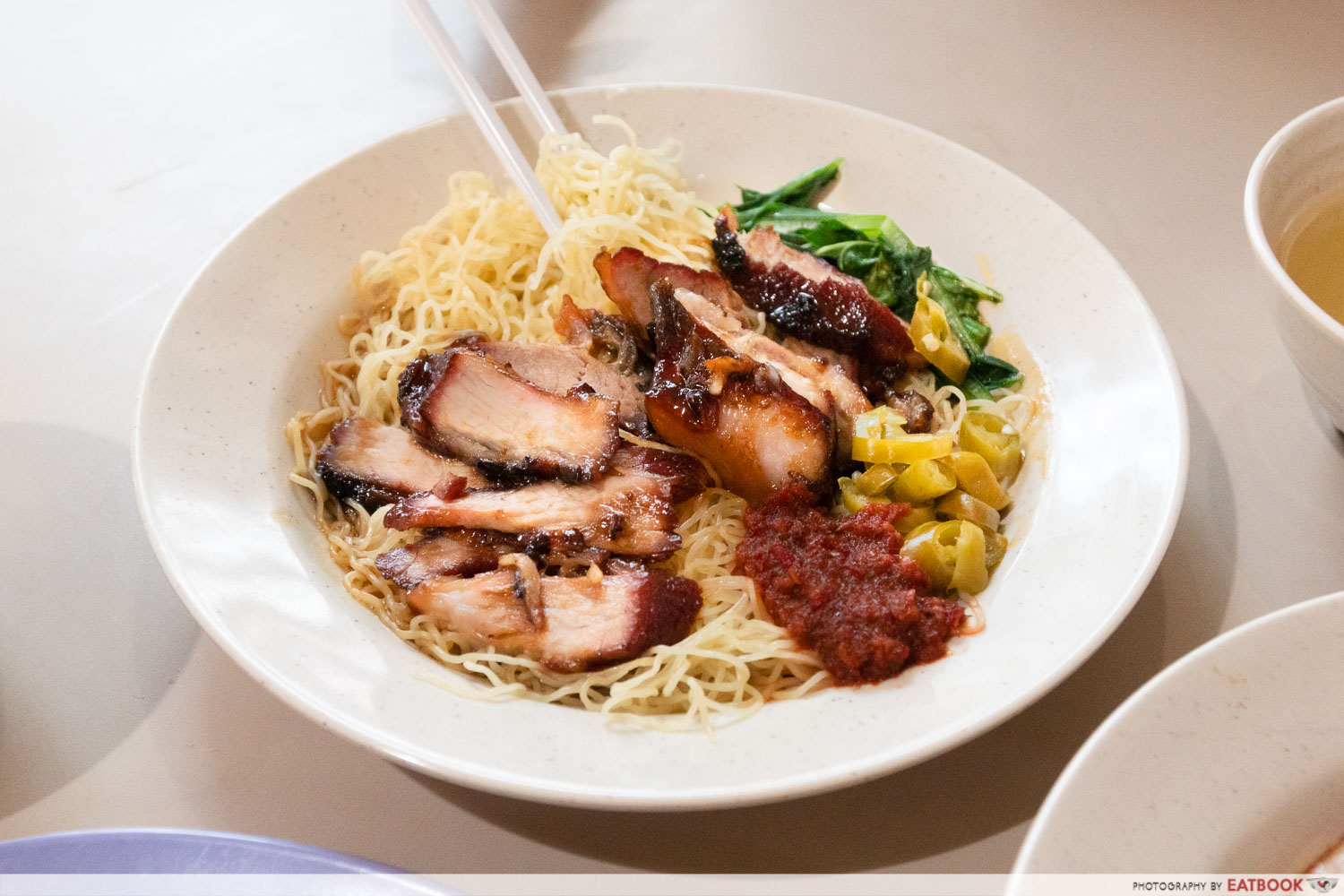 We were disappointed to find out that not all the roast meats were available—we found out that they've been operating with a reduced menu since the pandemic struck. Nonetheless, there were char siew and roast duck aplenty.
To begin, we had a plate of Char Siew Noodles ($5), tossed in a mix of lard oil and a light soya sauce-based gravy that they make themselves. Hae bi chilli, also house-made, and pickled green chillis are added on the side, so you can mix them in as you wish. I was pleasantly taken aback by the heap of char siew here, considering the price. For the same price, you can also get Char Siew Rice ($4) instead.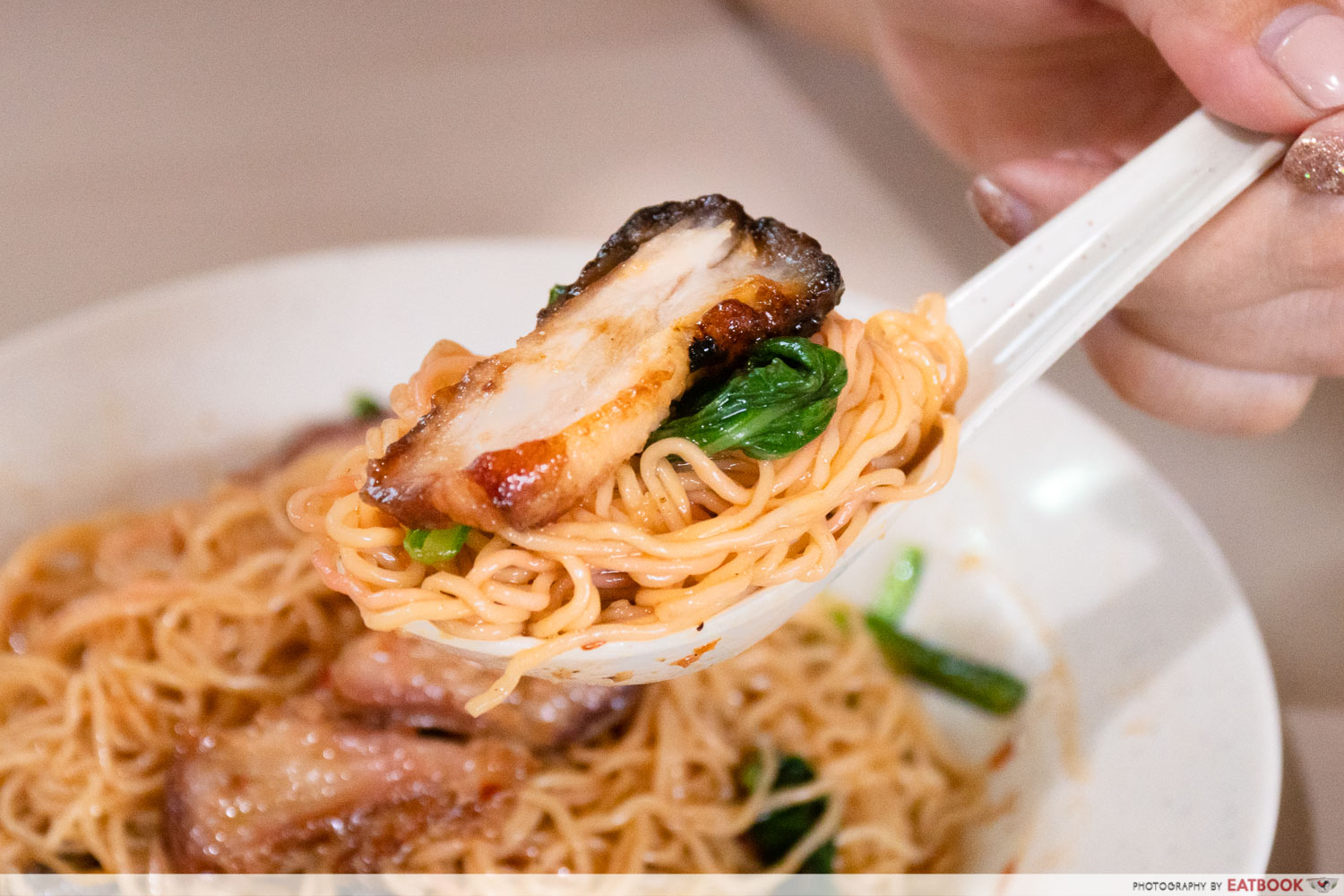 Contrary to the reviews I'd seen online, I personally didn't find the noodles too salty. There was a touch of sweetness in the sauce, while the house-made hae bi chilli brought spice and umami to the dish. Then, there's the pickled chilli for an acidity that cut through the flavours.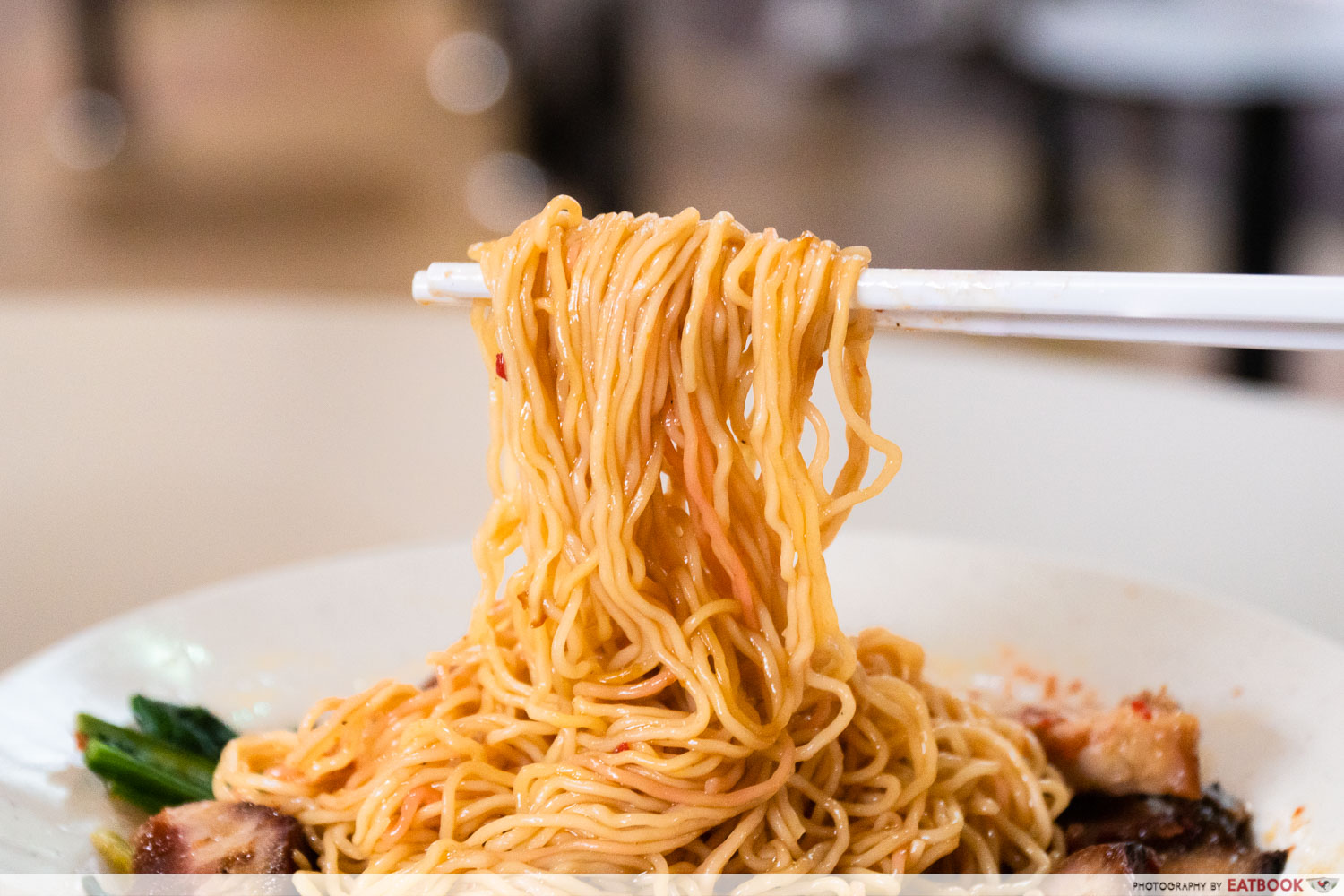 Give it a good mix to ensure the generous portion of noodles is coated in the sauce. I really enjoyed the QQ springiness of the egg noodles, which I found to be thinner and bouncier than your usual mee kia.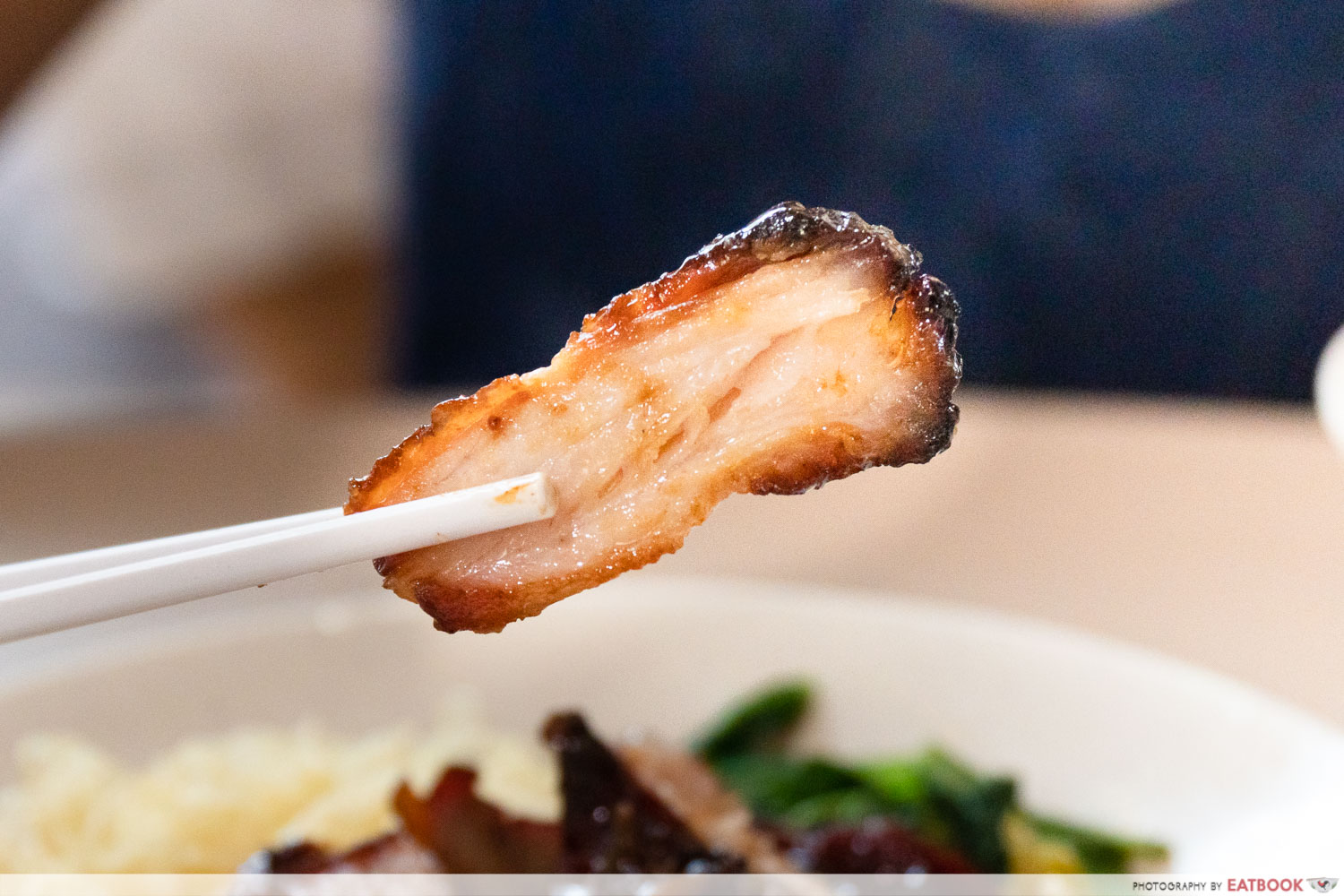 The highlight, of course, was the glistening pieces of char siew. I'd not put in a request for fattier or leaner char siew, yet the meat on my plate was tender and evenly run through with melt-in-your-mouth fat. I liked that it wasn't too sweet or tinted an artificial red, and sported just the right amount of char.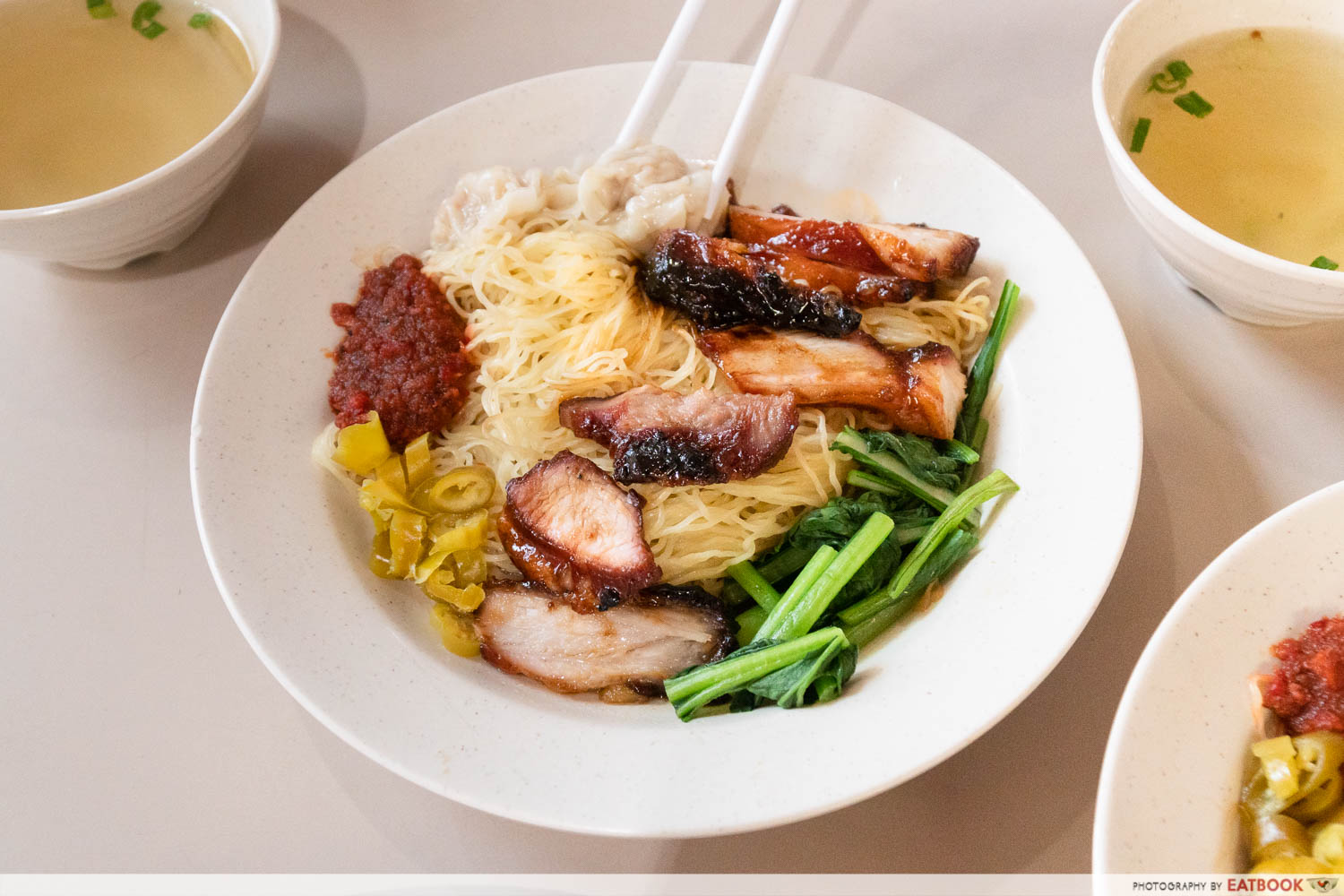 The Wonton Noodles ($4) was pretty much the same, except that some char siew was swapped out for two well-sized wonton, which came in a bowl of light, clear broth. Though reduced, the serving of char siew here was still more than decent.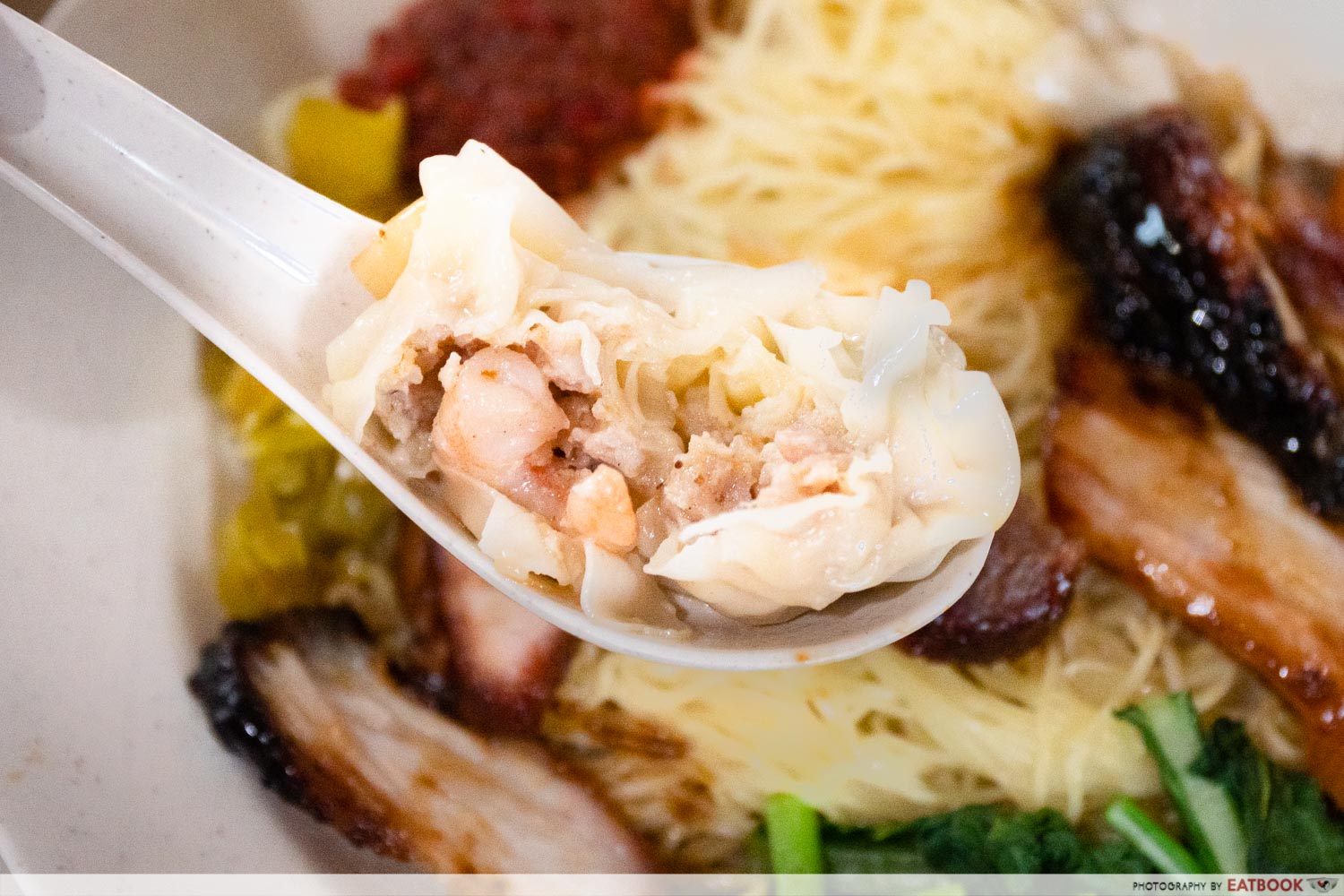 I actually enjoy wonton skins in soup for their silky, delicate finish, and the ones used here didn't disappoint. They also came packed with a mix of pork and whole shrimp, accented with the distinctive taste of ti po, AKA dried sole fish.
You could order Duck Rice ($4.50), or treat yourself and get Duck Leg Rice ($7), but I skipped the rice and went for the Roast Duck Leg ($6), served with a bunch of greens so you feel you're kind of having a balanced meal.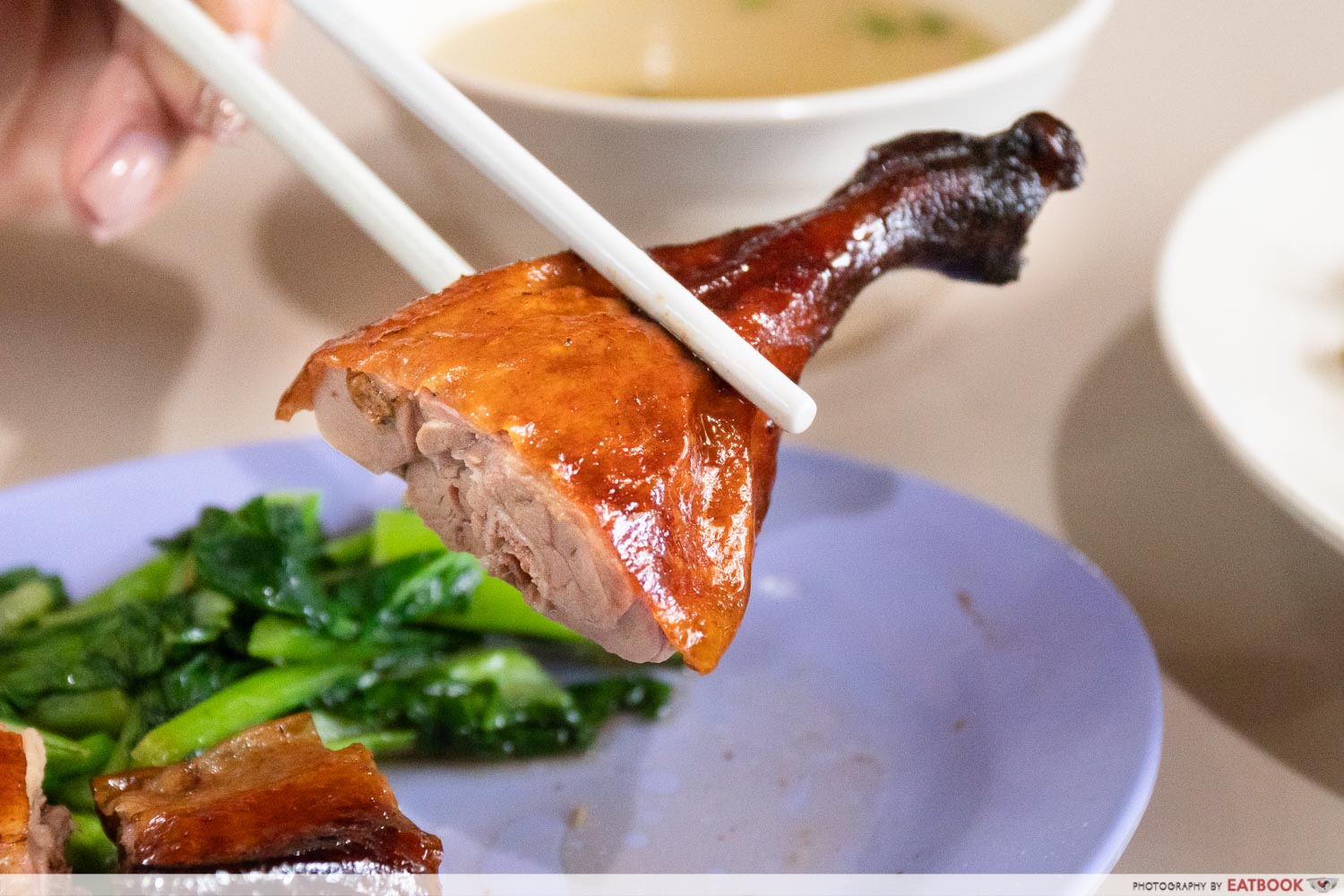 The skin on this was lightly crisp, while the smooth dark meat dripped with juices. I'd ask for them to not chop it up if I were to have this again, so I can get more of that tastiness in each bite. I personally found it very enjoyably flavourful, but I can see how this could be too salty for some.
Char Seal Bar Review: KL-style Char Siew Cafe With Spicy Noodle Challenge In Clarke Quay
Ambience at Fei Fei Roasted Noodle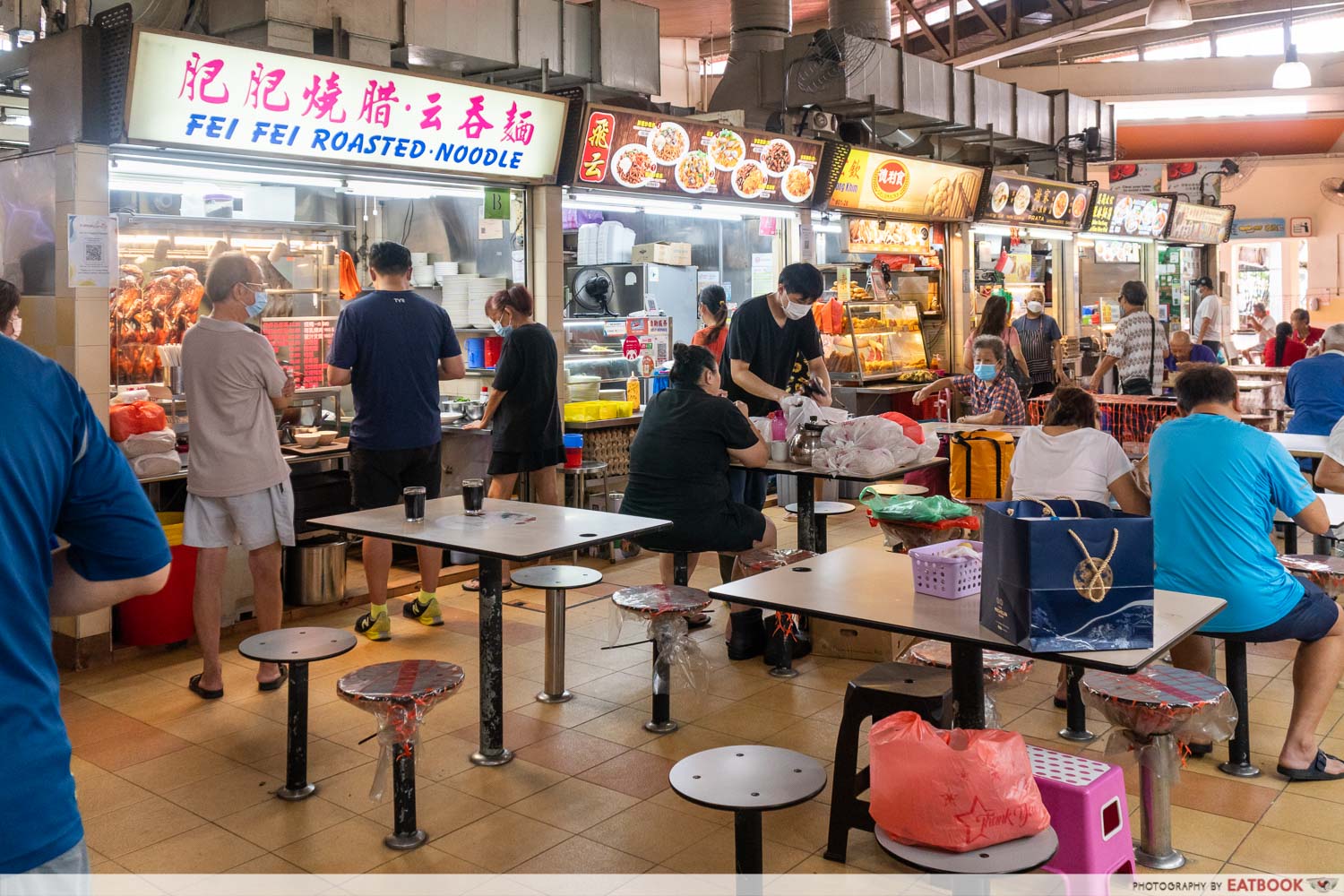 Yuhua Village Market and Food Centre is located 18 minutes away from Jurong East MRT Station by bus, or a 24-minute walk. It's a huge food centre with many famous stalls, and is generously appointed with seats.
10 Yuhua Village Market Food Stalls Including Famous Wanton Mee
I visited Fei Fei Roasted Noodle on two separate occasions, arriving once at 9am sharp, and 15 minutes before on the following visit. My first trip incurred a 45-minute wait, with more than 10 other customers ahead of me, while it took me 25 minutes to get my food on the second try.  Both times there was a queue behind me, so I'd definitely suggest coming early.
The verdict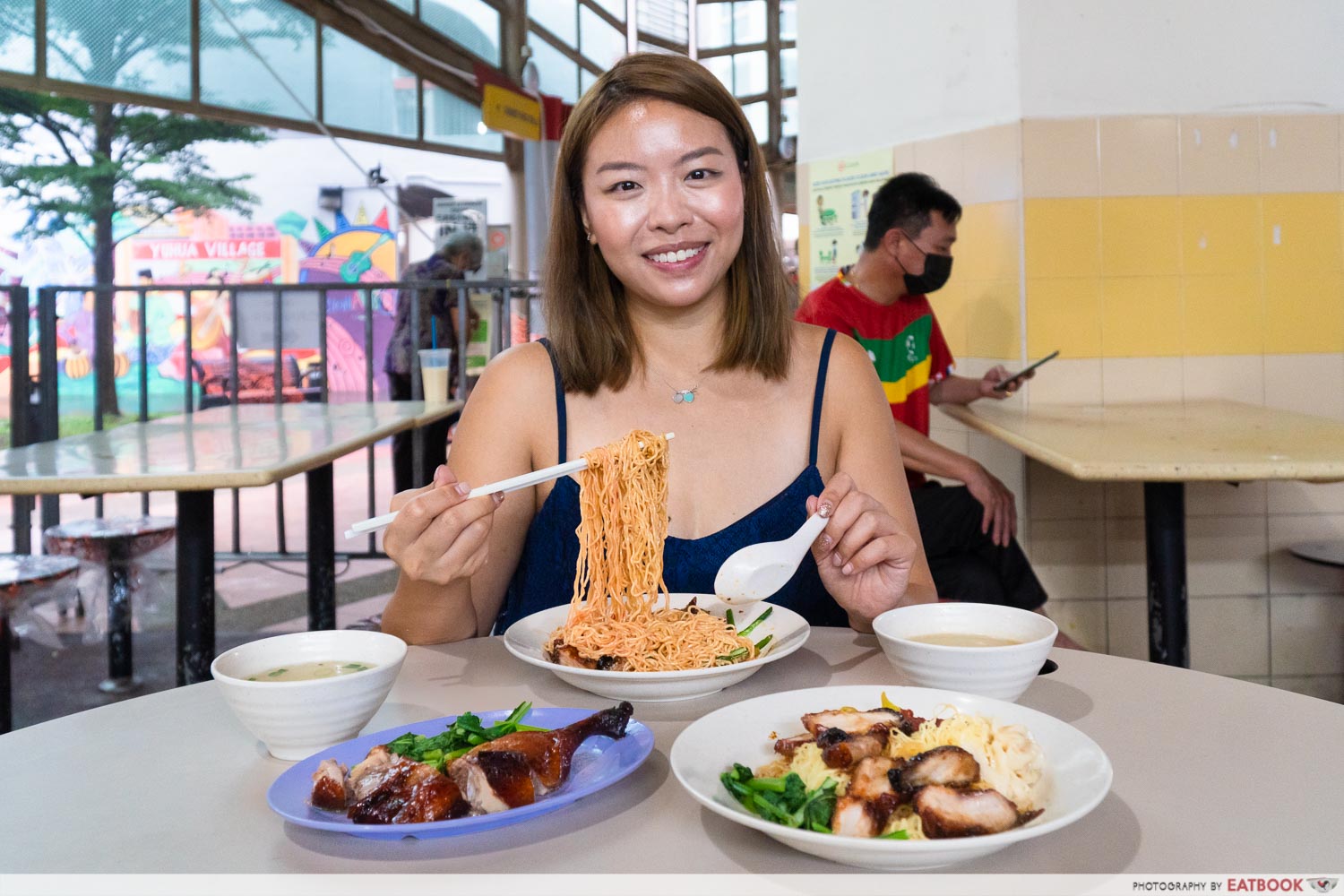 It's a pity that we didn't get to try the other roast meats that Fei Fei is known for, but I quite enjoyed the char siew and roast duck that we had. With the tasty, huge portions and very wallet-friendly prices, it's no wonder that people are so willing to wait in line for this.
If Jurong East is too far for you, consider Fu Shi Traditional Roasted in Marsiling for KL-style roast meats. For somewhere more central, there's Char Seal Bar, a home-based business-turned-cafe that serves Duroc pork char siew with Indomie!
Address: 254 Jurong East Street 24, #01-28, Yuhua Village Market and Food Centre, Singapore 600254
Opening hours: Mon-Sat 8:30am to 11:55am
Fei Fei Roasted Noodle is not a halal-certified eatery.
Fu Shi Traditional Roasted Review: KL-Style Char Siew And Roasted Meats With Long Queues At Marsiling
Photos taken by Melvin Mak.
This was an independent review by Eatbook.SG 
Fei Fei Roasted Noodle Review: Michelin-Approved, Charcoal-roasted Char Siew Wonton Noodles In Jurong East
Fei Fei Roasted Noodle Review: Michelin-Approved, Charcoal-roasted Char Siew Wonton Noodles In Jurong East -

7.5/10
Summary
Pros
– Generous portions
– Affordable prices
– Tasty food
Cons
– Duck can be a little salty
– Not very near an MRT station
Recommended dishes: Wonton Noodles ($3.50), Duck Leg Rice ($6.50)
Opening hours: Mon-Sat 9am to 12:30pm
Address:254 Jurong East Street 24, #01-28, Yuhua Village Market and Food Centre, Singapore 600254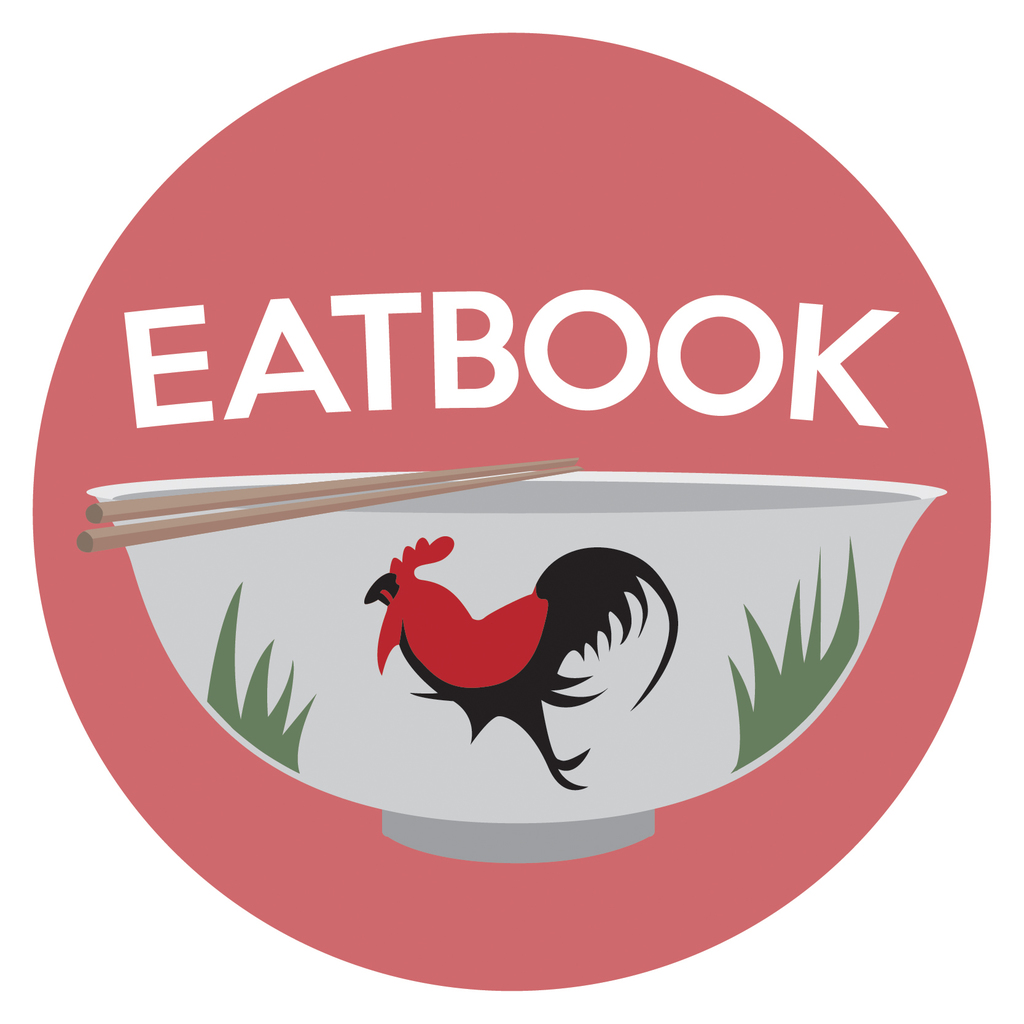 Drop us your email so you won't miss the latest news.