Char Seal Bar at Havelock 2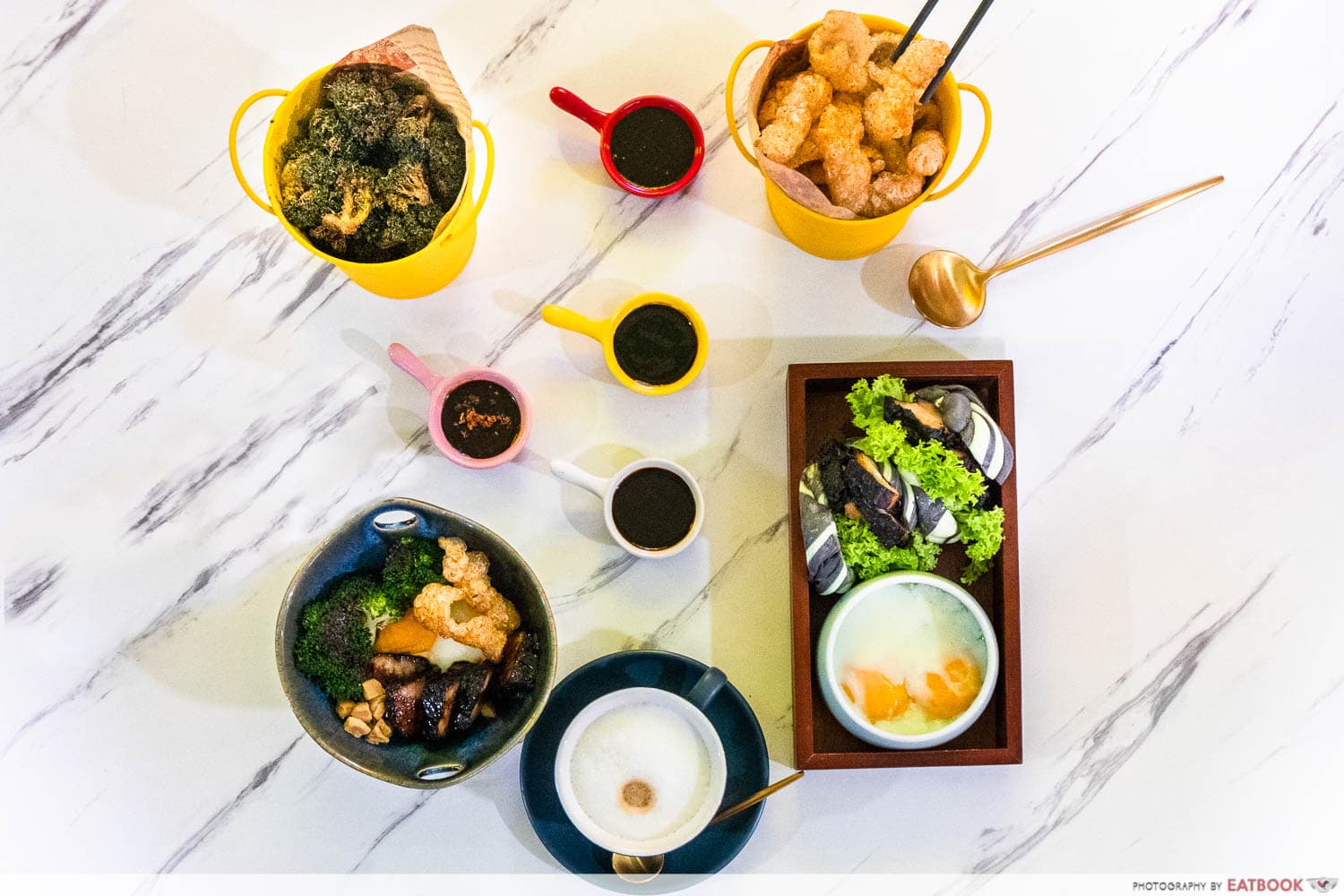 It's been more than two years since the start of Covid-19, and while many businesses have fallen, others have risen to take their place. Among the throngs of home-based business-turned cafes and restaurants—think Guilt, The Whisking Well, Humble Bakery—is Char Seal Bar, a new eatery located in the retail and office building of Havelock 2.
What started as a passion project became reality when Ms Ashley Cheng decided to open Char Seal Bar under her husband's encouragement. The journey has not been without its setbacks—an oven caught on fire once, there was low footfall, and the list goes on. Things, however, appear to be getting better, as Ms Cheng finds her footing in the industry.
Food at Char Seal Bar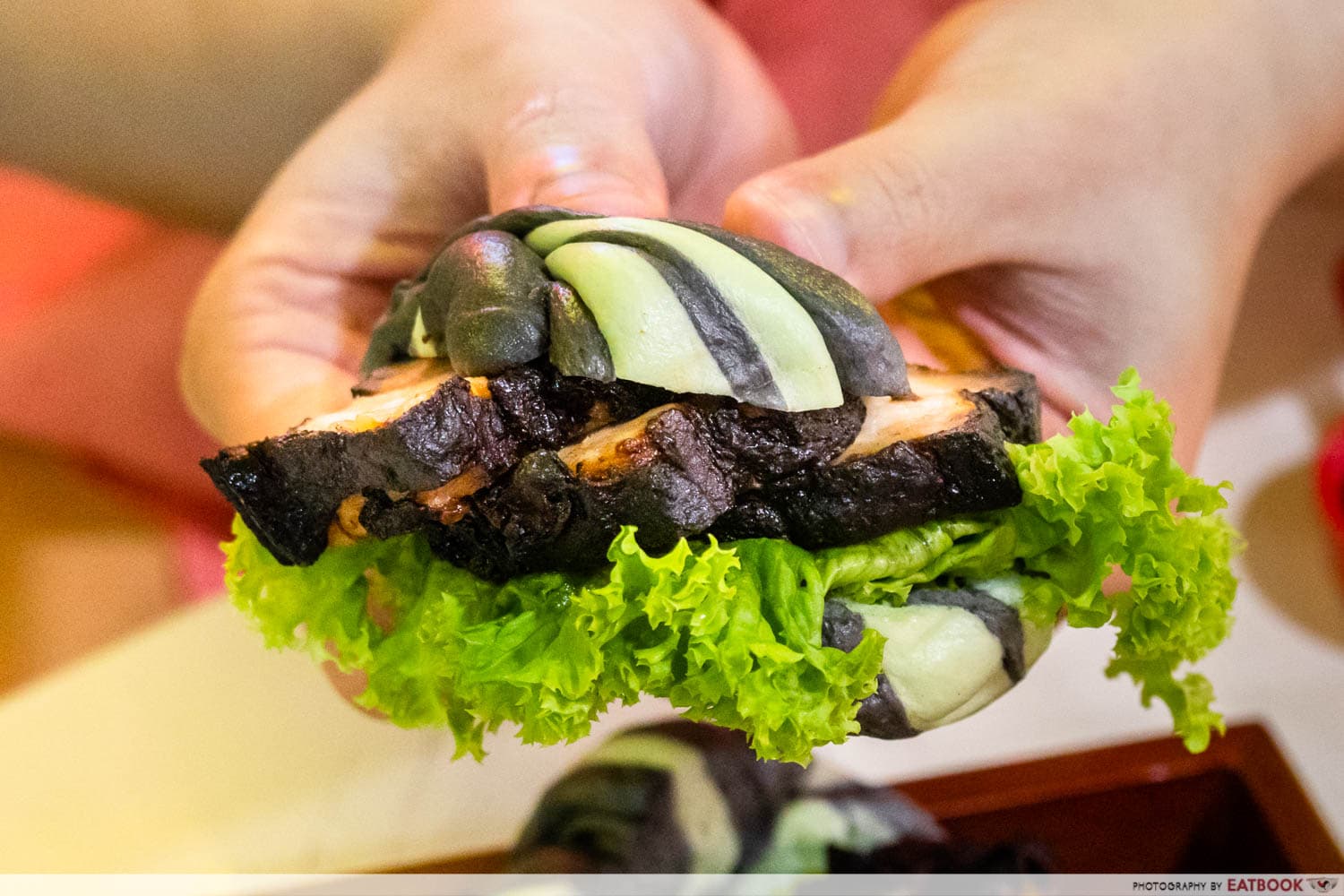 To begin our meal, we ordered the Char Seal Pau ($9.50), which gets you six slices of their signature char siew inside two camo-coloured mantou. The meat is lightly brushed with the original sauce, which is a sweet-savoury glaze. 
I felt that there could have been more sauce on this kong bak bao spinoff, so I drizzled some Garlic Dip Sauce ($2) over the meat. The addition of fried garlic chips made the bao quite fragrant, but I would have preferred if the sauces were less salty.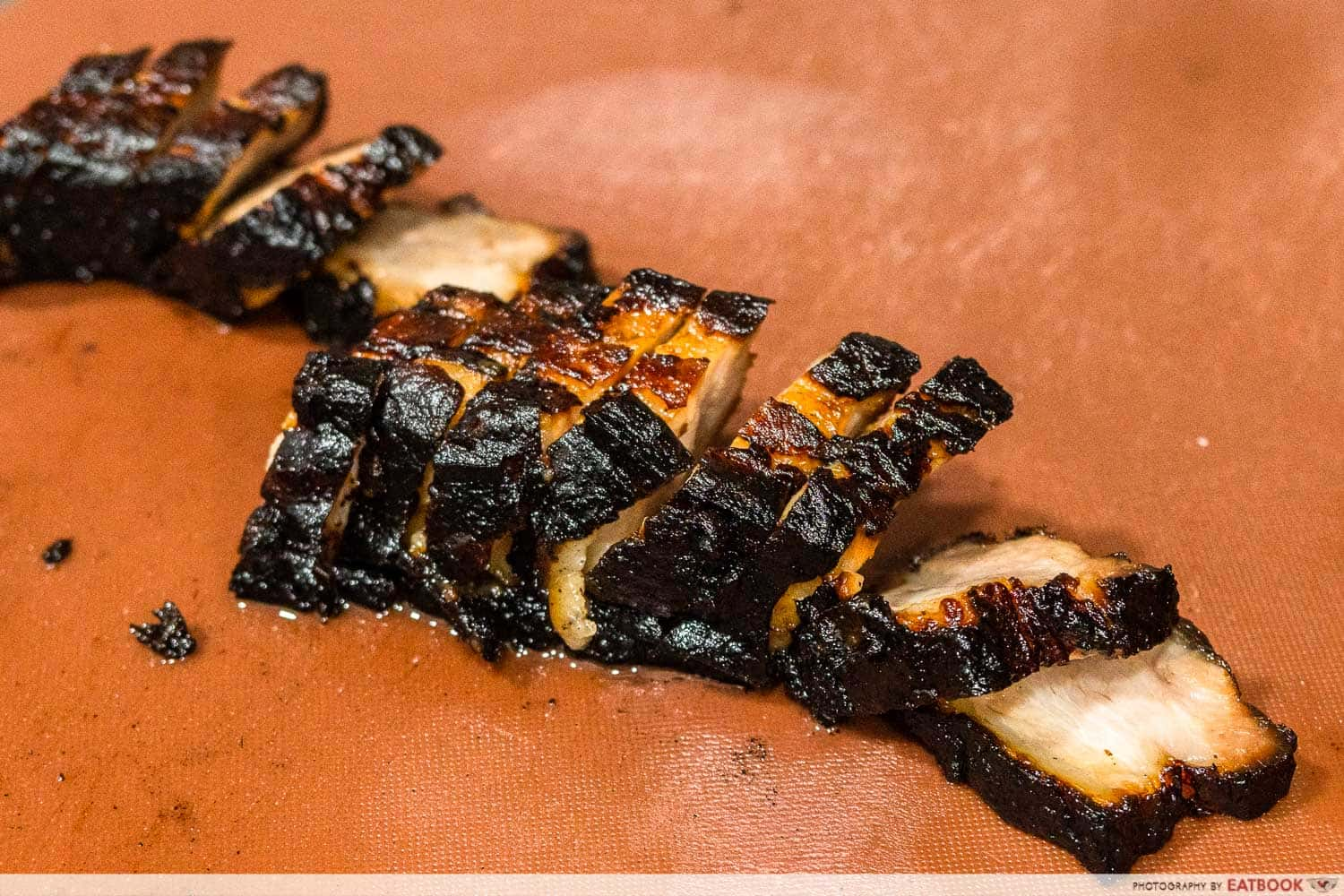 Ms Cheng only uses the belly cut of Duroc pork here, which is typically juicier and has more marbling. The result: slices of layered fatty and meaty goodness, resembling kueh lapis in pork form. I loved the char siew, but my colleague who prefers leaner cuts of meat did not share in my enthusiasm. 
The slabs of meat sit in their marinade for more than a day, before they're roasted in a combi oven for two to three hours, which gives them their charred exterior. While some might find the KL-style char siew to be overly burnt, I appreciated the crispiness of the crust.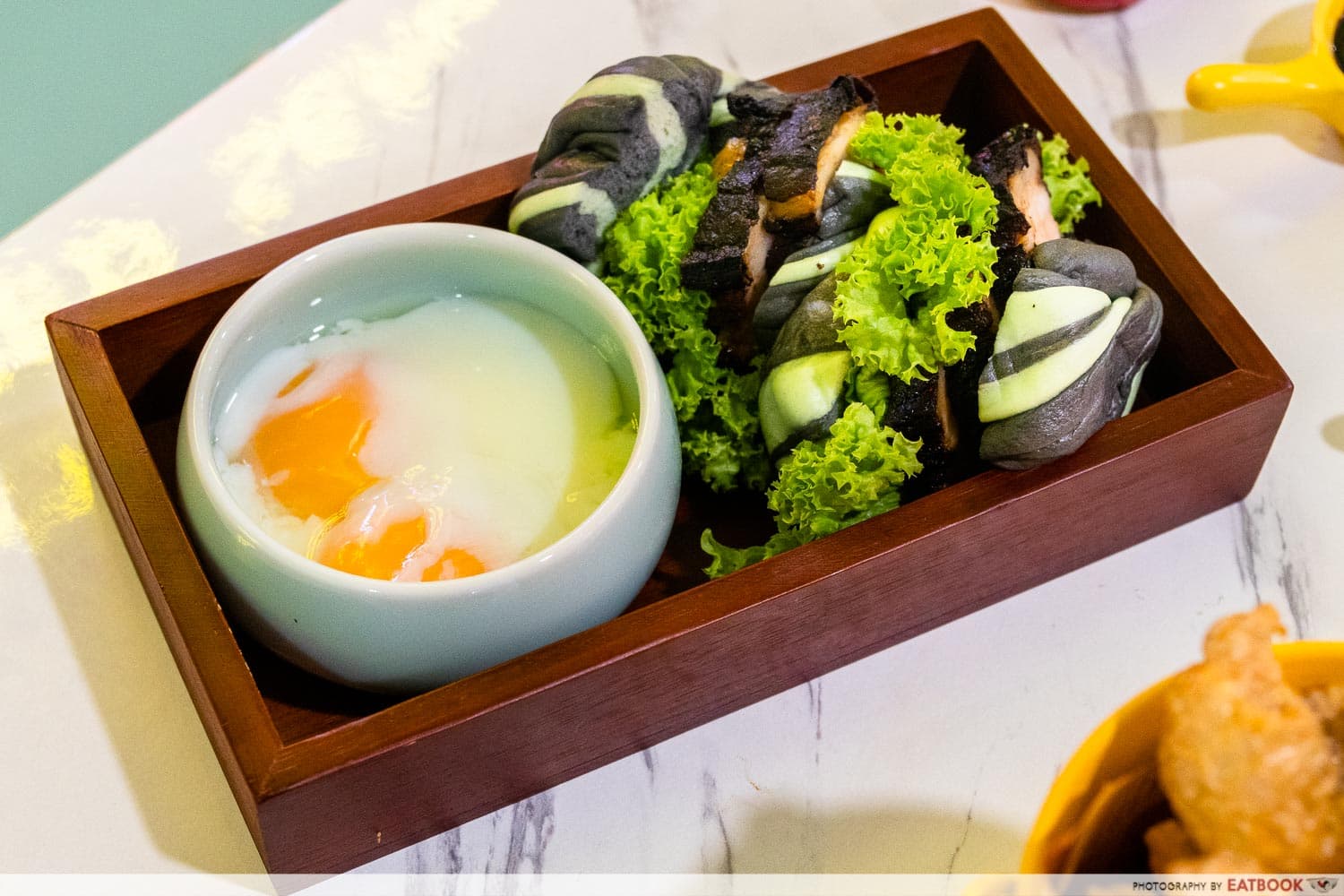 The mantou, on the other hand, were fluffy and carried a slight sweetness. To complete the breakfast set, top up $2.90 for two soft-boiled eggs and a coffee.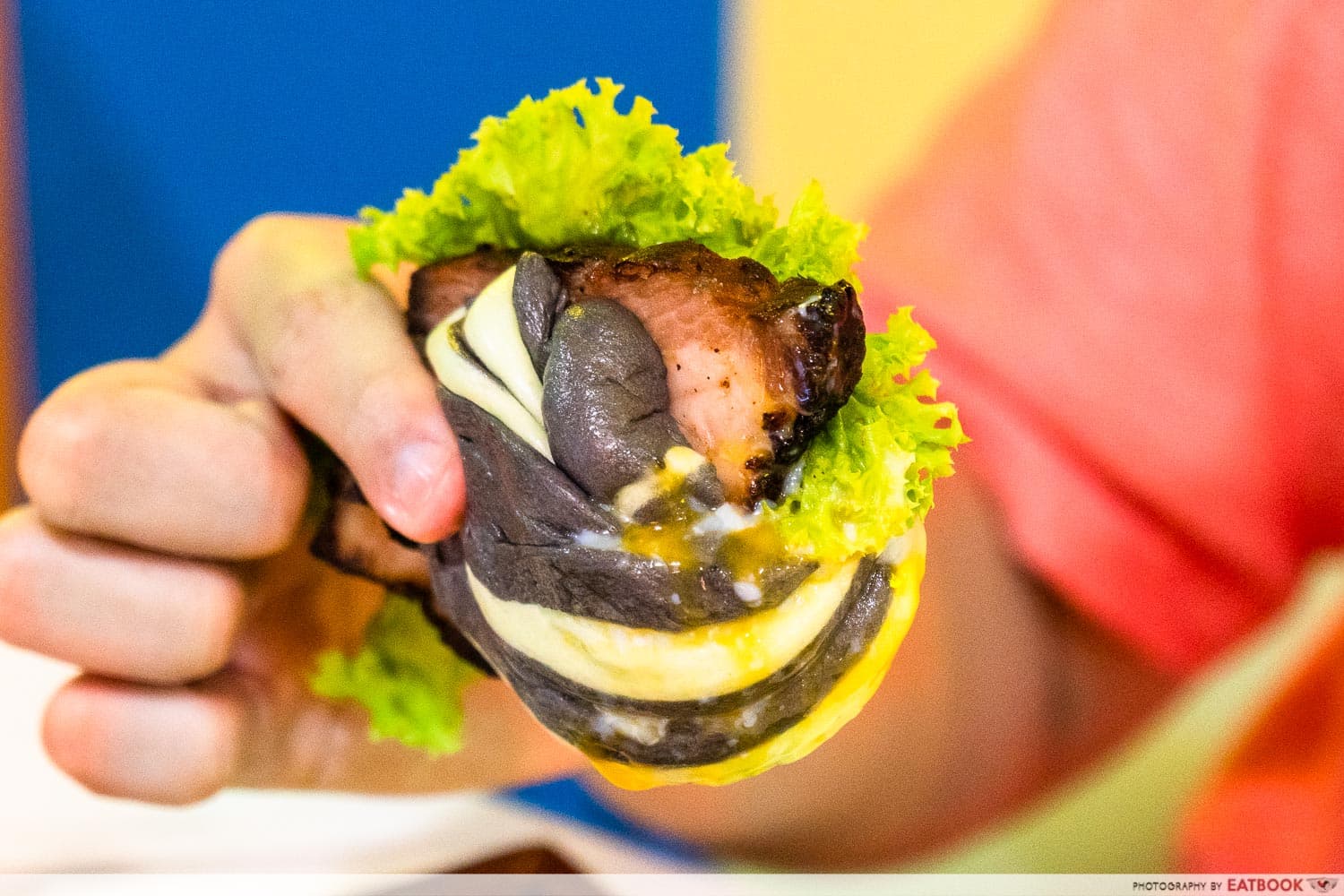 Dip the soft buns into the eggs if you find the sauces too savoury for your liking. This added a creaminess to each bite, and made it a more enjoyable version of your regular kaya toast in eggs.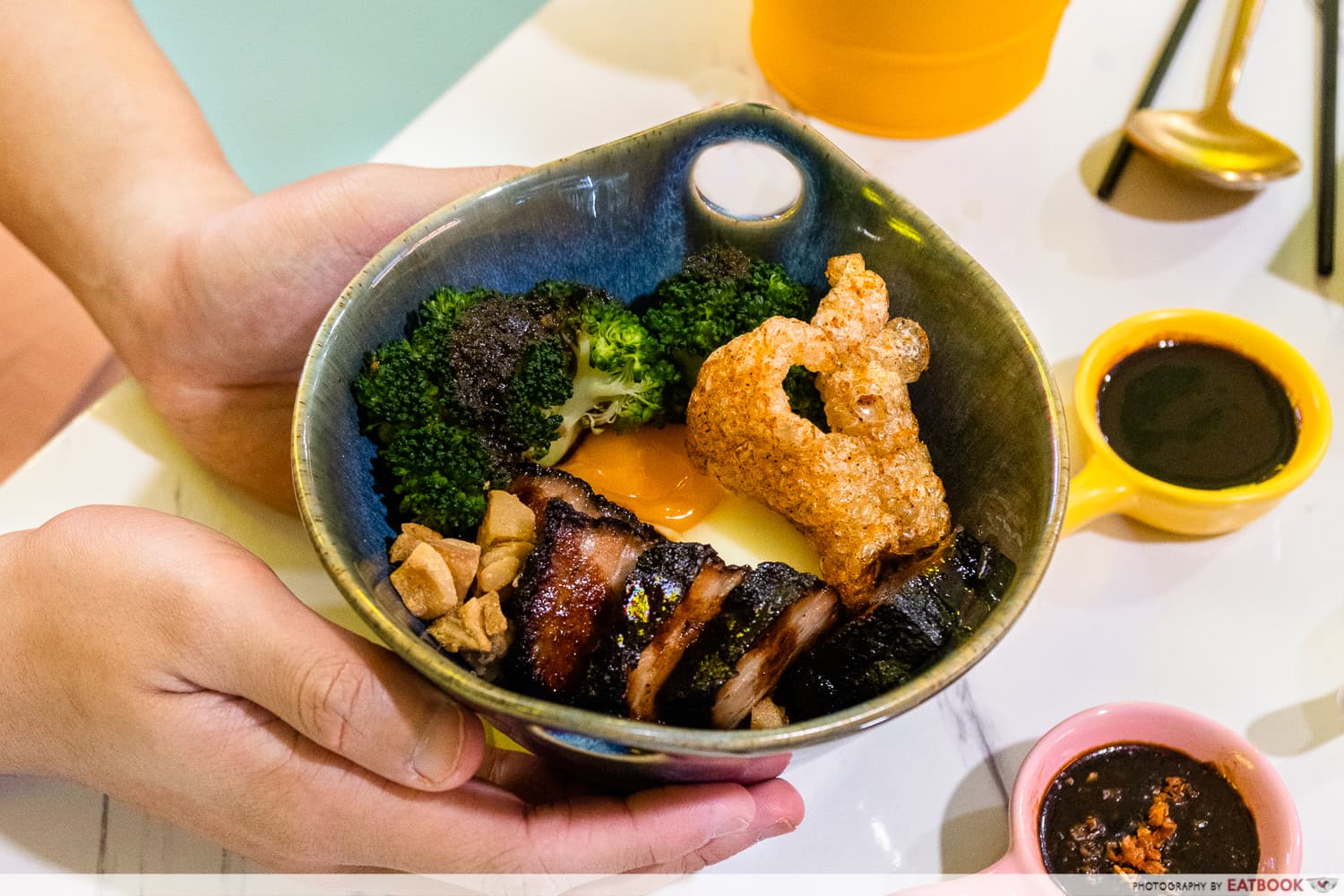 We also had the Weekday Lunch Set ($9.90), that comes with either the Char Seal Don ($12.90) or Char Seal Special Noodles ($13.90), and a canned drink of your choice. We opted for the Char Seal Special Noodles—Indomie with char siew and a sunny side-up, garnished with pieces of fried pork rind, pork lard, and boiled broccoli.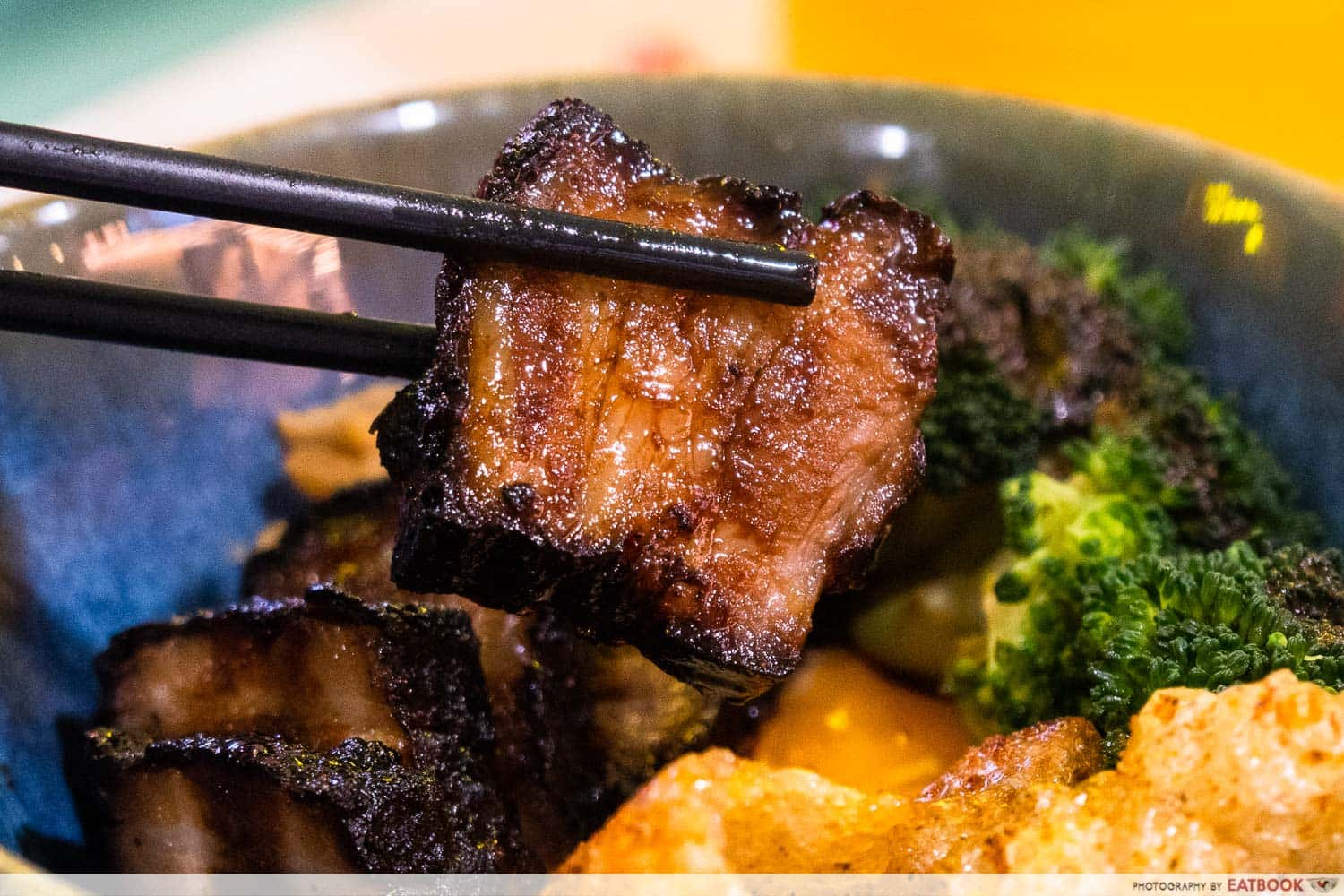 The same char siew features here. Marinated in a special blend of dark and light soya sauce, kiwi juice, and other ingredients, the slices of pork were superbly juicy and tender.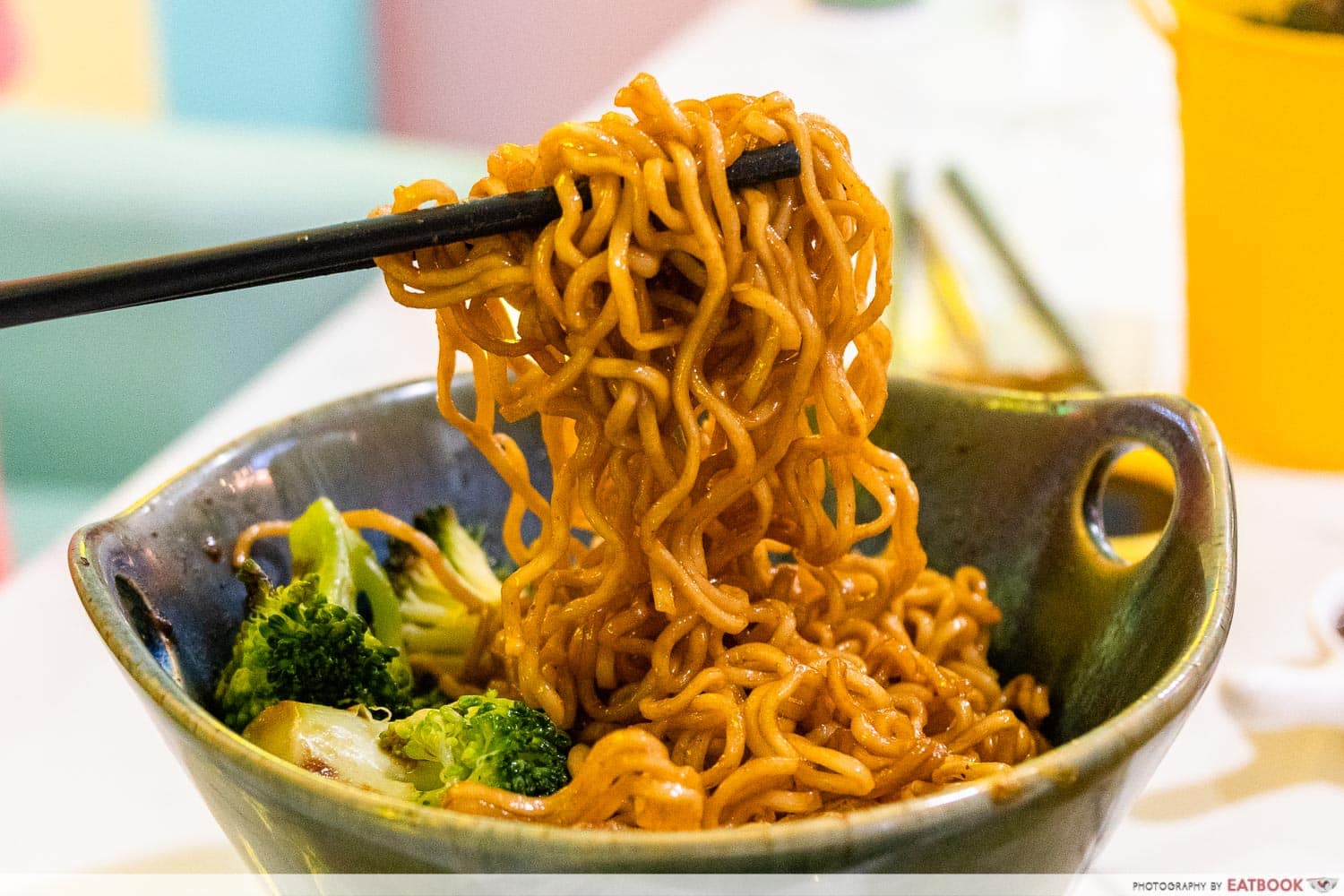 The noodles were mildly spicy, but a tad too salty for my liking. While the choice of Indomie makes for familiar comfort food, I wish that chewier noodles such as mee kia or la mian were used instead.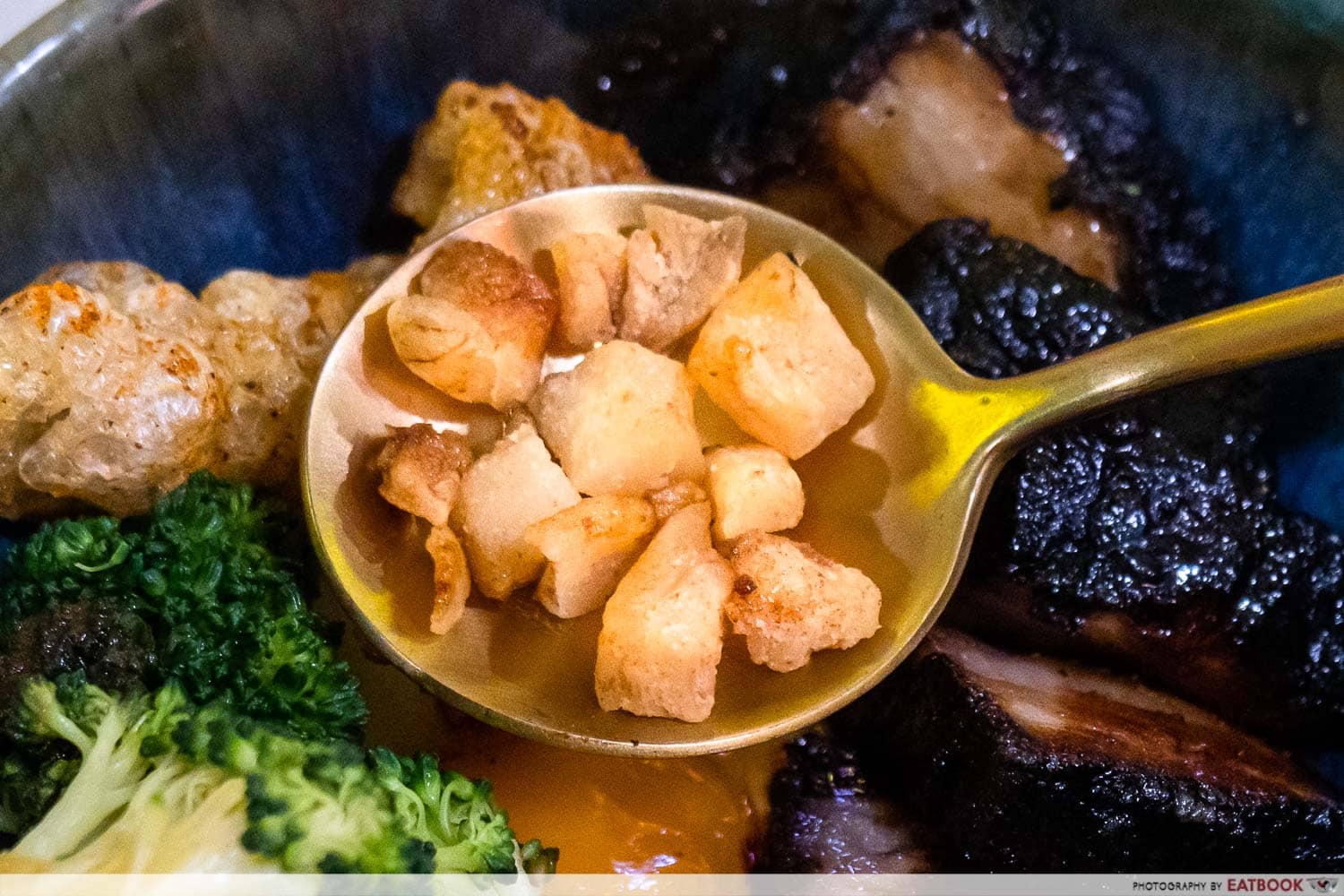 However, the texture of the dish was enhanced by the pork lard and pork rind, AKA chicharron, which introduced an element of crunchiness.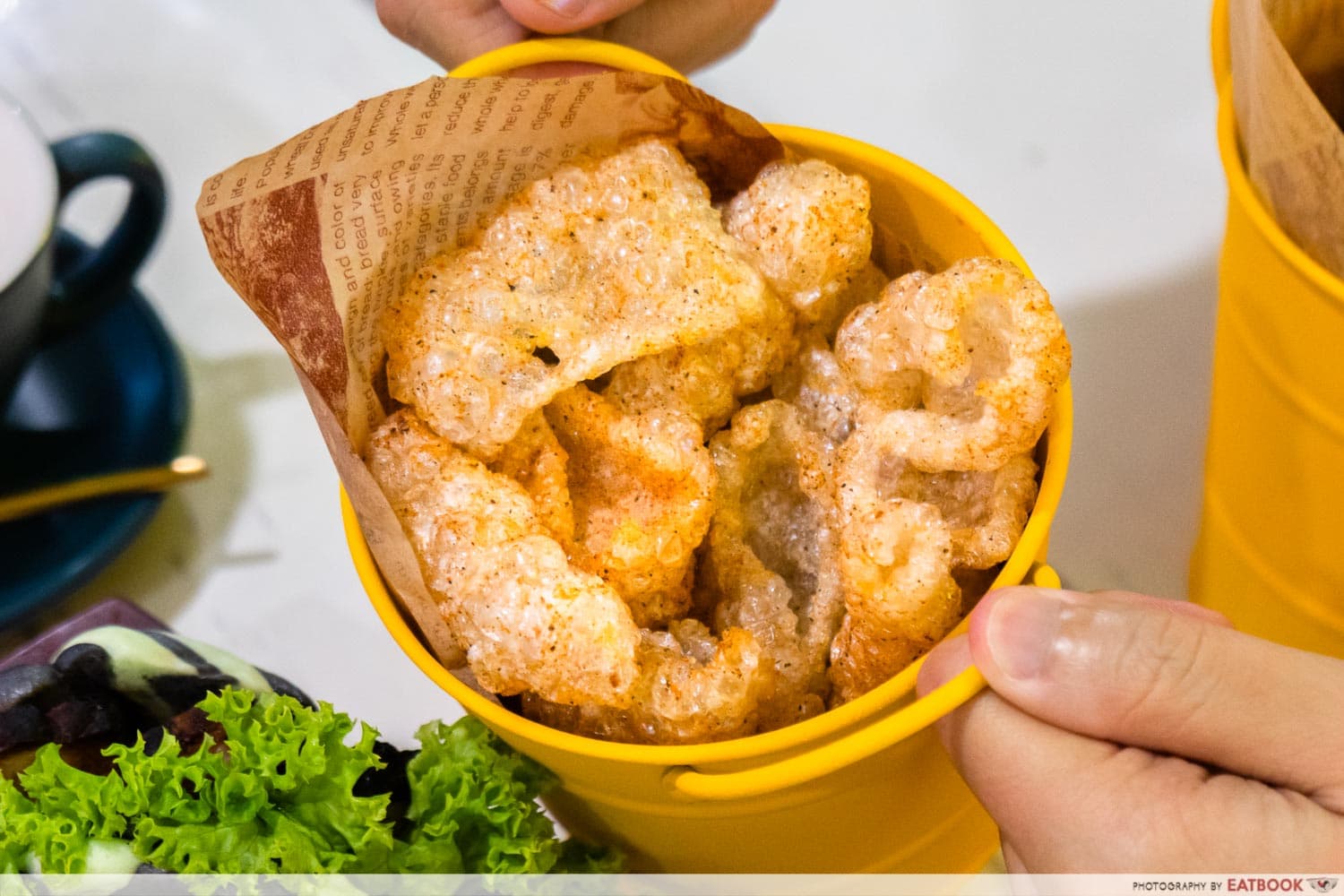 When we saw the Pork Rind ($5.90) on the menu, we knew we had to try it. Deep-fried in-house, the pork rind was touted by Ms Cheng to be highly addictive, and it did not disappoint. Although it did turn a little tough as we had left it out for a while, the garlic and chilli powder seasoning on it kept me going back for more.
Although we didn't plan on eating the Fried Broccoli ($7.90), we were instantly taken by its fragrance. Each floret was deep-fried to a golden brown, and tossed in a spice mix that I suspect is similar to that of the pork rind. Our long photography session had unfortunately left the broccoli soggy, but my colleague and I still enjoyed the appetiser nonetheless.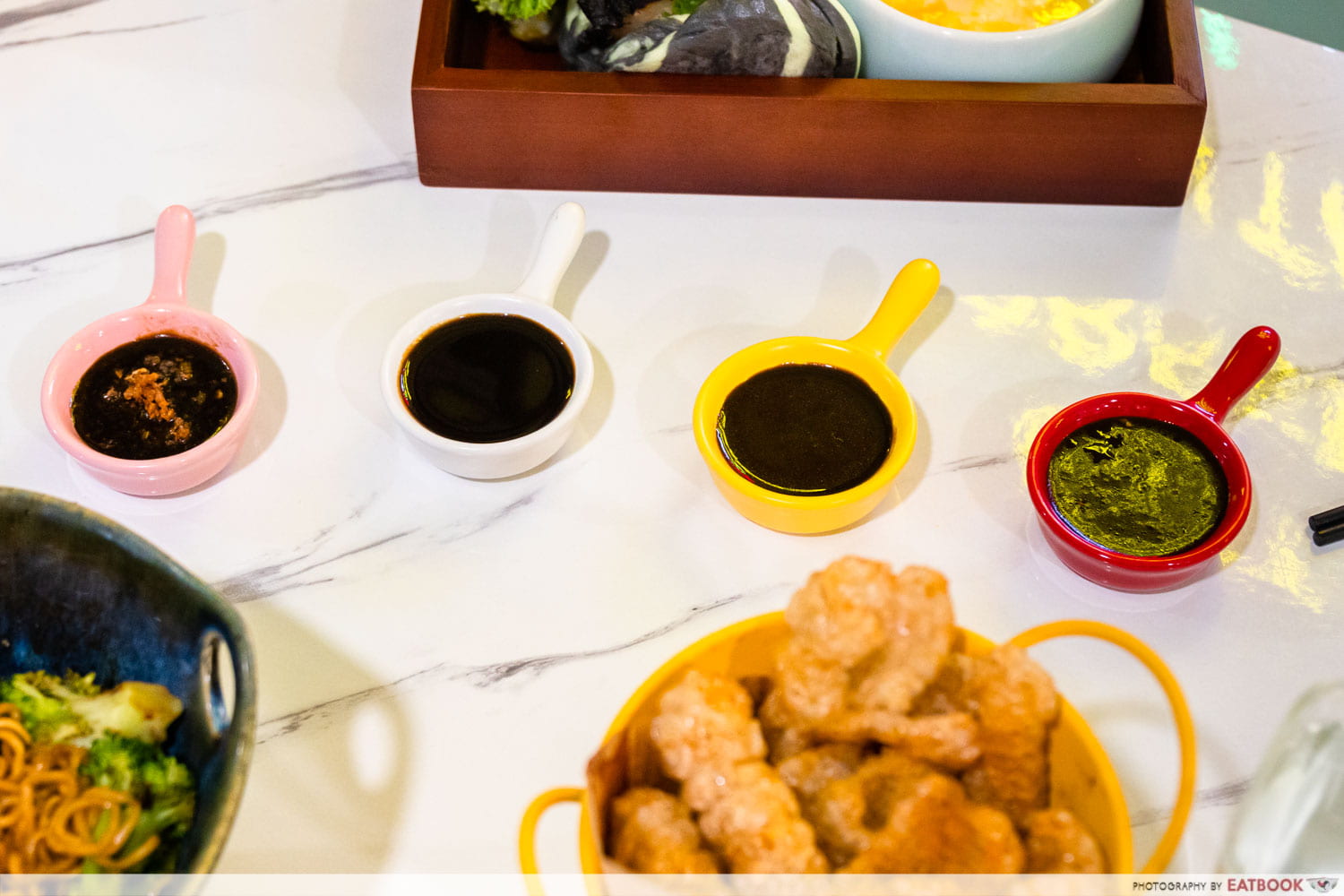 Both the broccoli and pork rinds were served with the original sauce for dipping, but we decided to try them with the Mala Dip Sauce ($2) and Yuzu Dip Sauce ($2). I felt that the Yuzu Dip Sauce didn't quite pair well with any of the menu offerings, despite its zesty fragrance.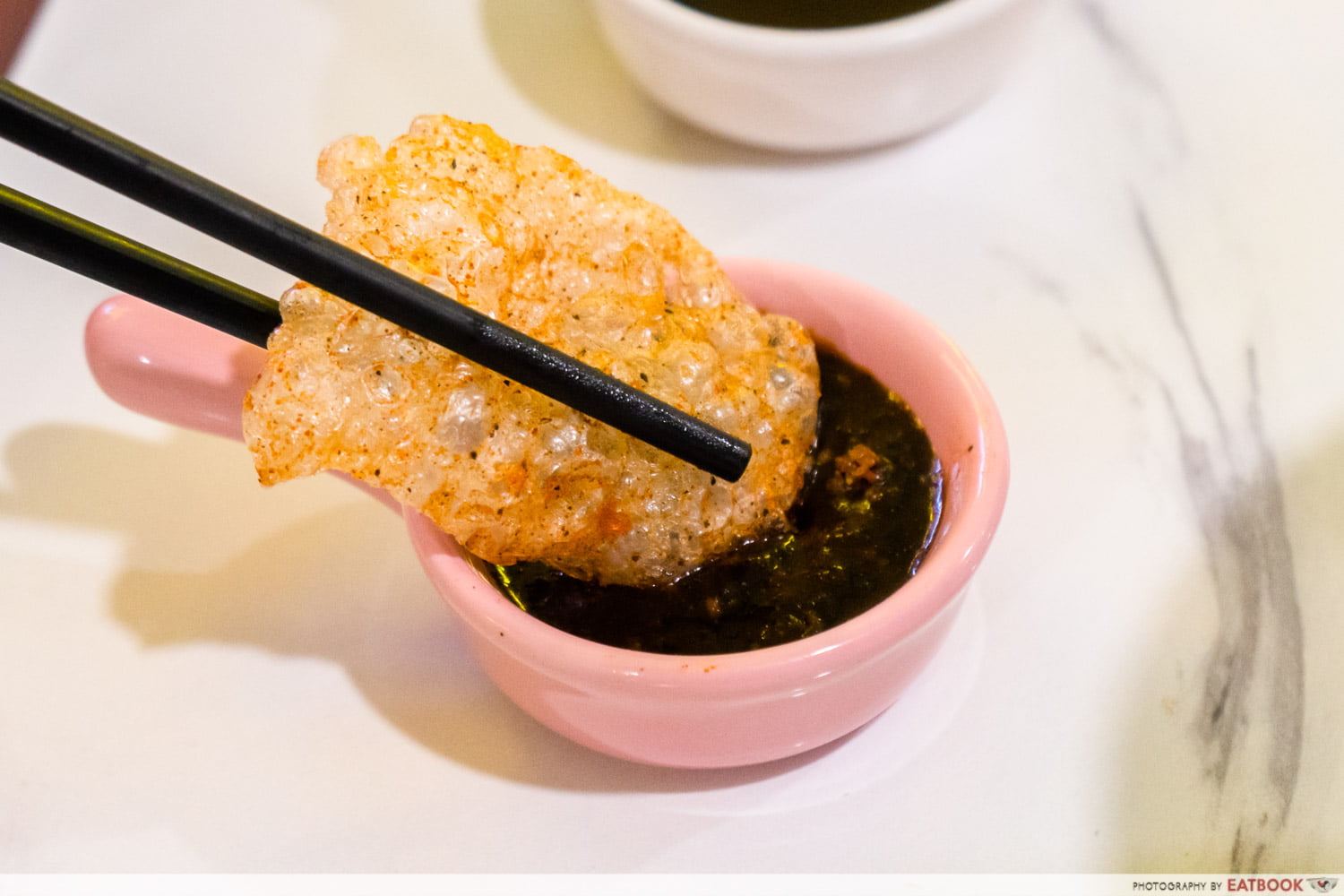 The Mala Dip Sauce, however, blew us away. We were promised salty, numbing, and spicy, and that's what we got. Ms Cheng revealed that she adds Carolina Reaper chilli powder into the sauce, which explains the kick.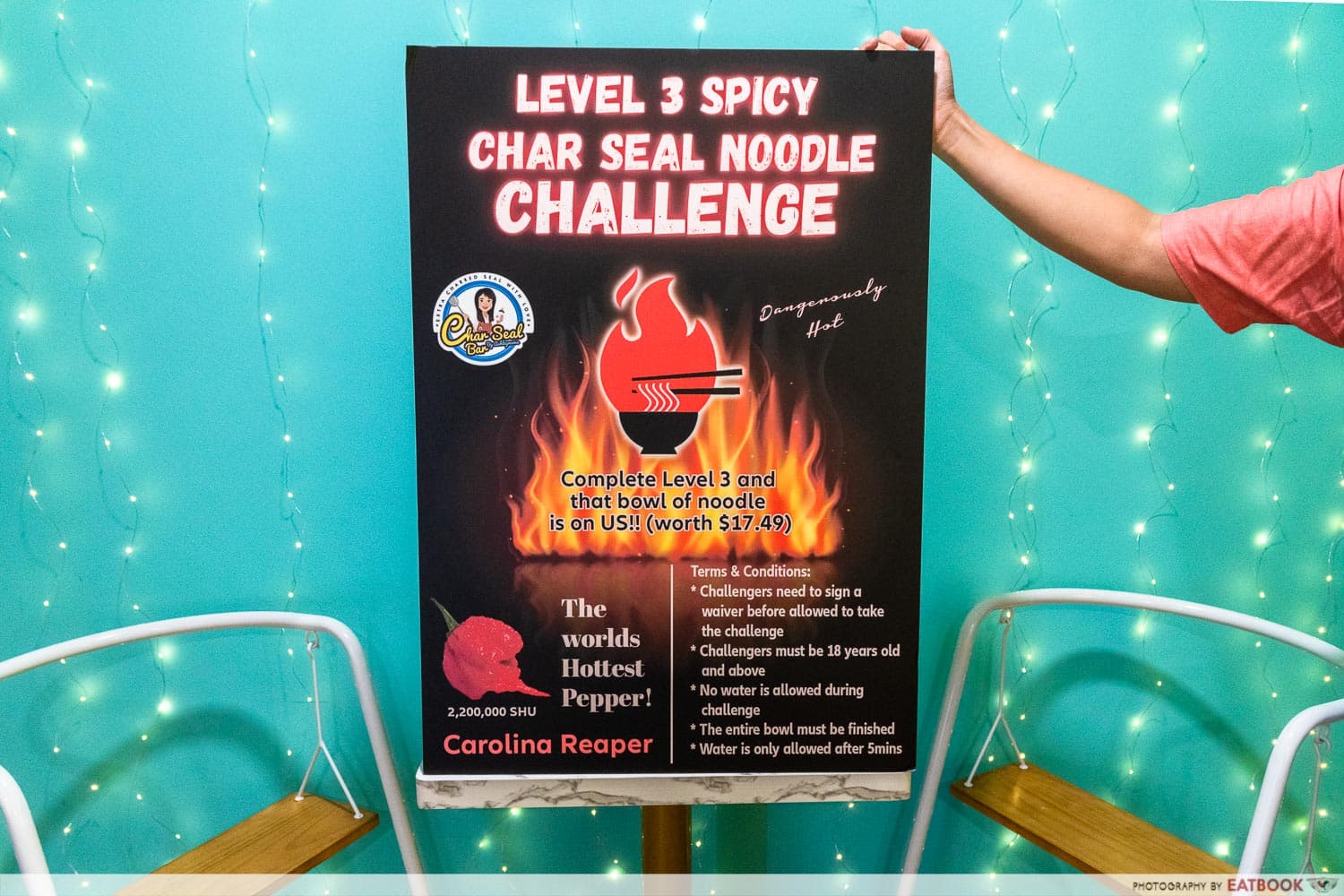 If you fancy yourself as having a high tolerance for spice, take on the Level 3 Spicy Noodles ($17.90), which is tossed with the same Carolina Reaper chilli powder. Finish the noodles, zhnged-up with the chilli that holds a rating of over 1 million Scoville Heat Units, within an hour, and the noodles will be on the house.
Mocchi Review: New Dessert Stall At Chinatown With Seared Cheesecake And More
Ambience at Char Seal Bar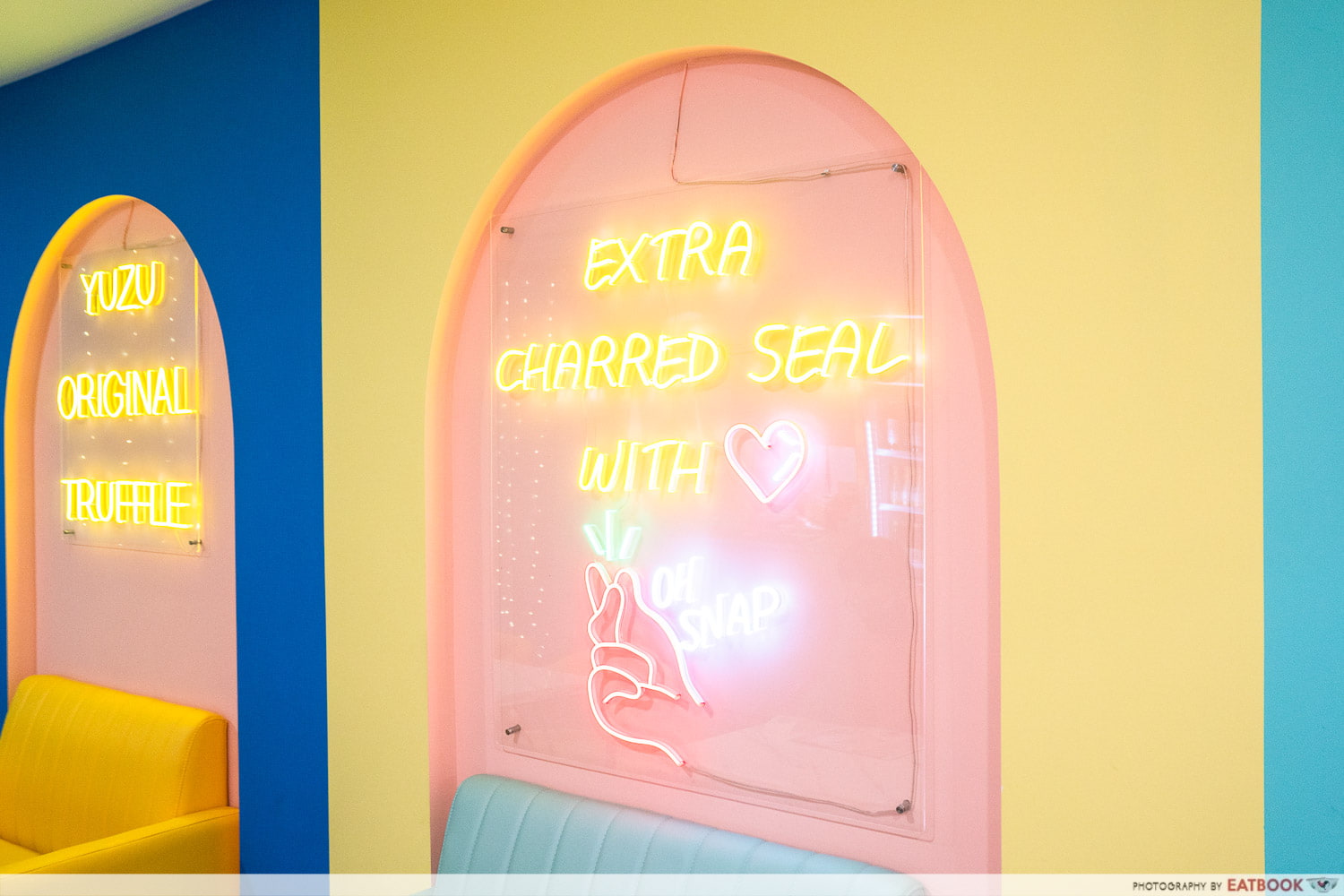 At first glance, Char Seal Bar does not strike one as a restaurant. Decked in pastel pink, turquoise, and yellow, replete with neon signs and fairy lights, the restaurant seems more like an ice cream parlour or Instagram-worthy bar.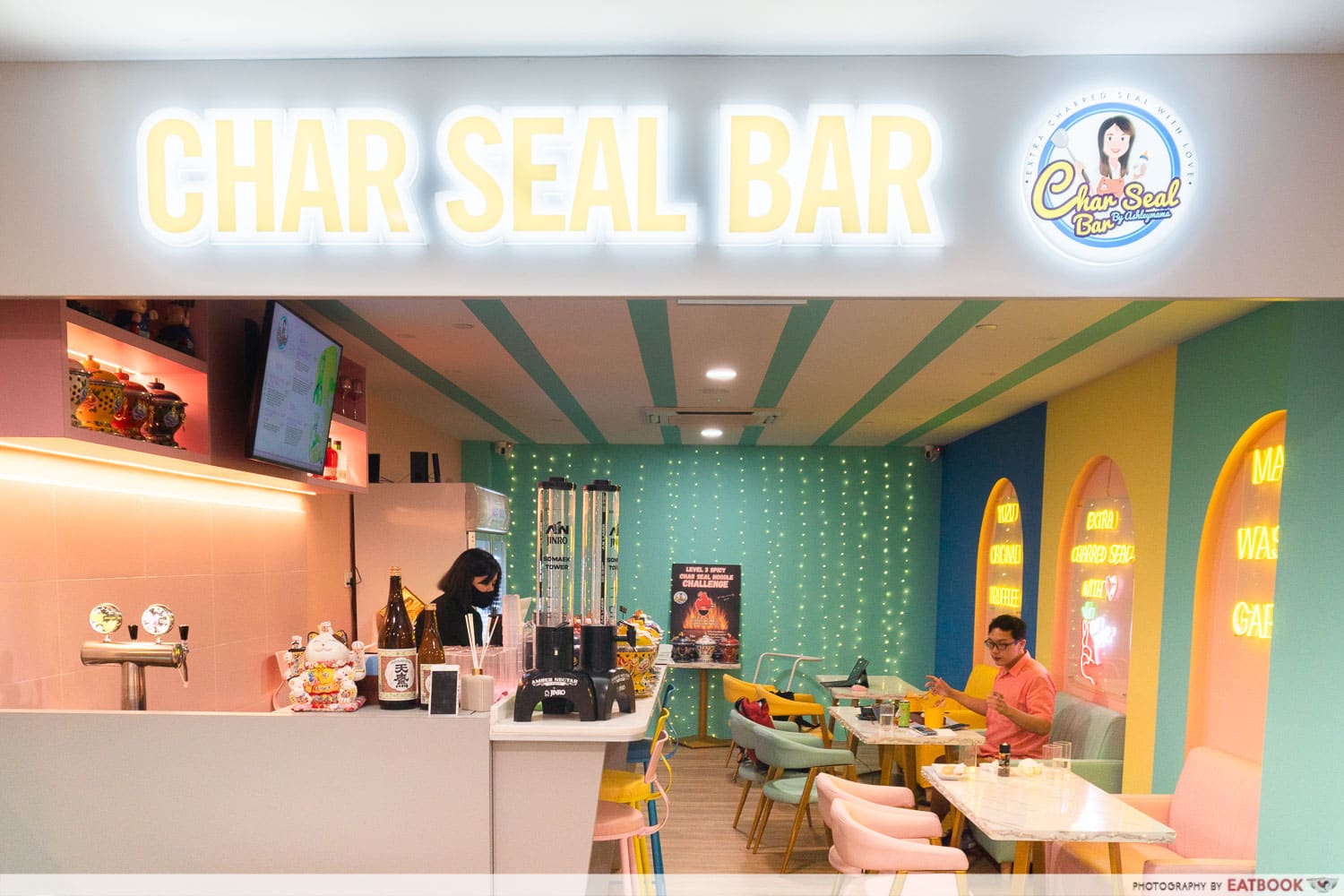 Situated just two minutes away from Clarke Quay MRT Station by foot, Char Seal Bar is extremely convenient to get to. Despite this, the restaurant is usually quite empty, as the mall is flanked by Chinatown Point and The Central, both of which draw the crowds away. 
The verdict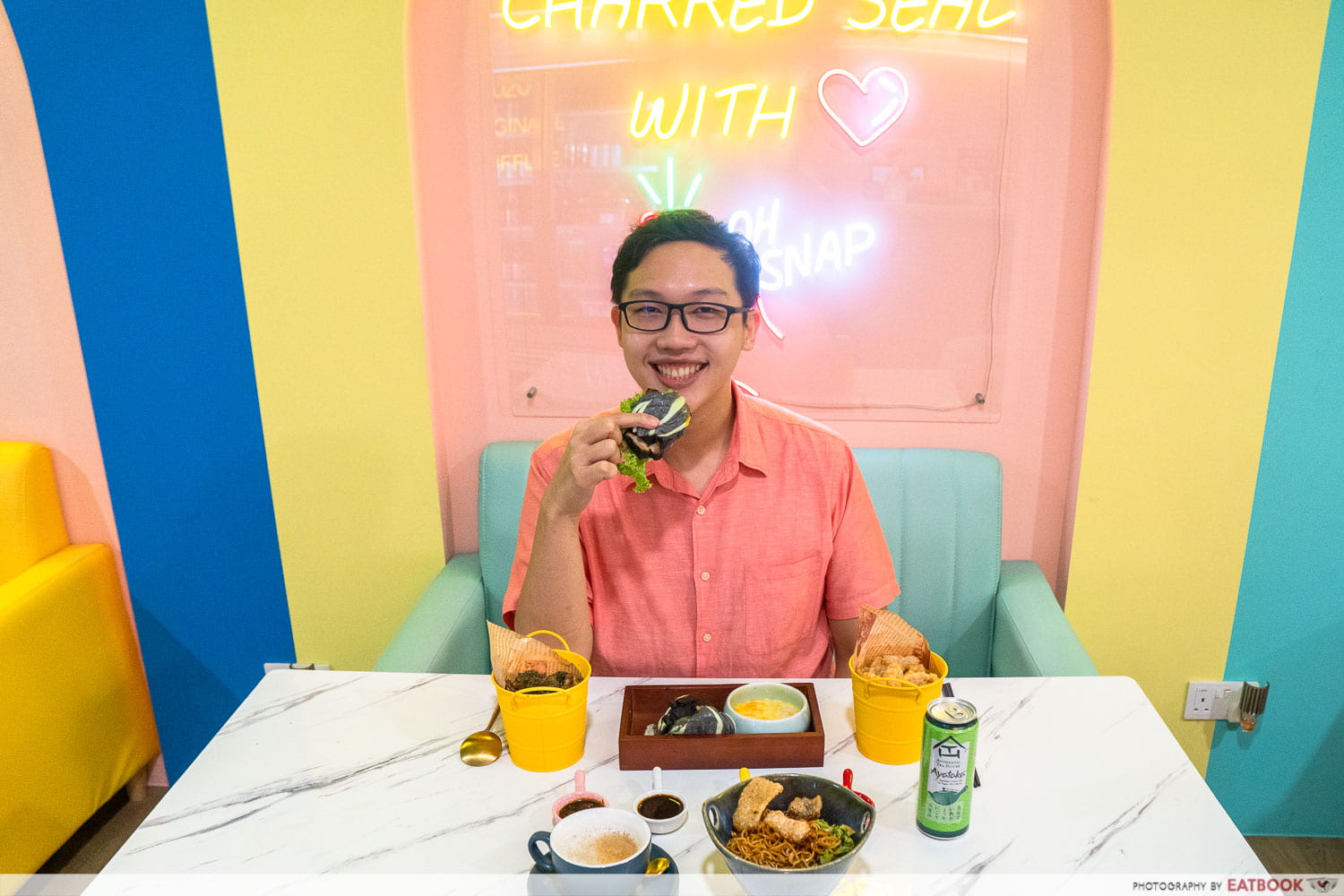 While the prices here are slightly more expensive than a coffeeshop roast meat stall, I feel that the premium is well worth it. You get to enjoy quality meat in the comfort of air-conditioning, without worrying about not being able to find seats.
I would definitely visit Char Seal Bar again for their char siew, and possibly even take on the Level 3 Spice Challenge, I think.
For dessert options nearby, check out 99 Old Trees' new cafe as well as Mocchi, which has seared cheesecake and more!
Address: 2 Havelock Road, #01-02, Havelock 2, Singapore 059763
Opening hours: Daily 11am to 10pm
Tel: 8388 4310
Website
Char Seal Bar is not a halal-certified eatery.
99 Old Trees Durian Cafe Moves To Outram Park, Has $1.80 Durian Choux Puff And Other Desserts
Photos taken by Kong Zu Yi.
This was an independent review by Eatbook.sg
Char Seal Bar Review: KL-style Char Siew Cafe With Spicy Noodle Challenge In Clarke Quay
Char Seal Bar Review: KL-style Char Siew Cafe With Spicy Noodle Challenge In Clarke Quay -

8/10
Summary
Pros
– Char siew is juicy and tender
– Fried broccoli was very flavourful
Cons
– Sauces can get a bit salty
– Prices are not cheap
Recommended dishes: Char Seal Pau ($9.50), Fried Broccoli ($7.90), Mala Sauce ($2) 
Opening hours: Daily 11am to 10pm
Address: 2 Havelock Road, #01-02, Havelock 2, Singapore 059763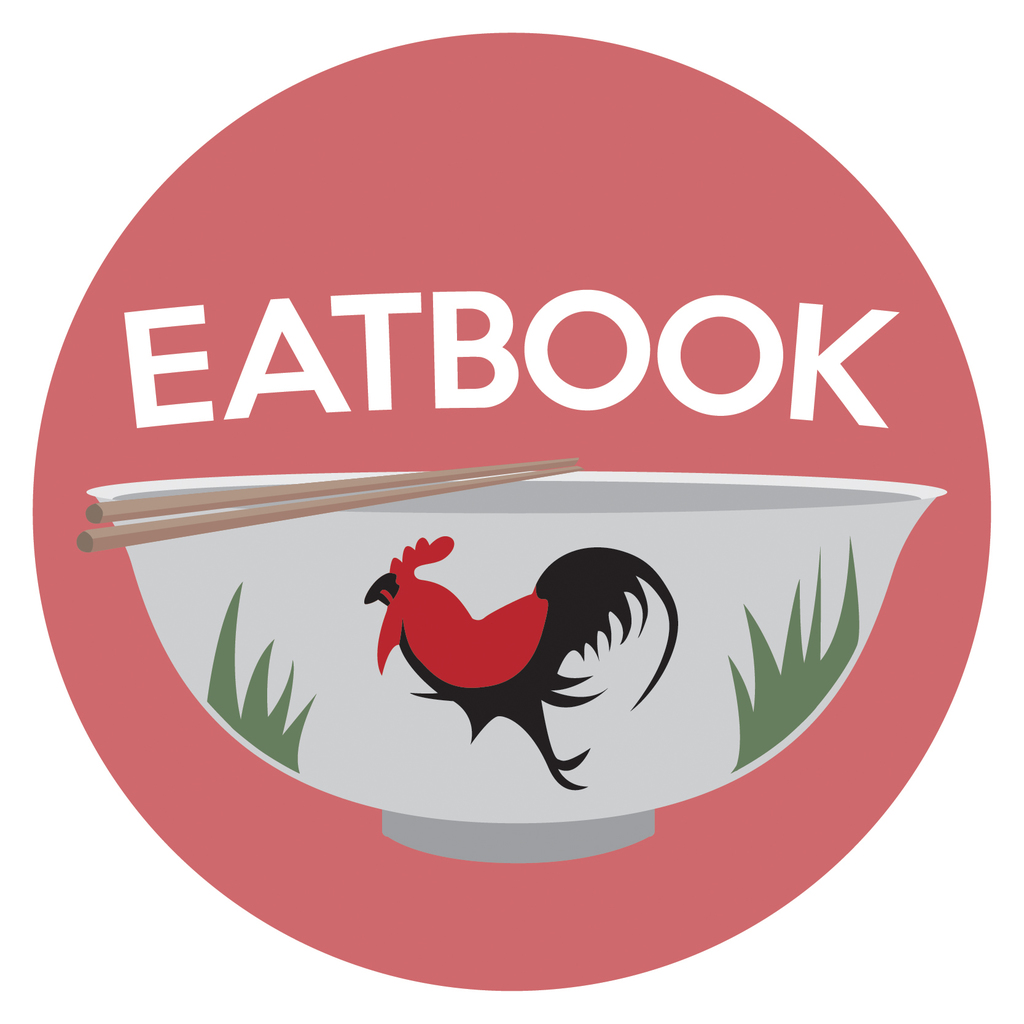 Drop us your email so you won't miss the latest news.