The Whisking Well's weekend bake sales
Burnt cheesecakes, Levain cookies, and dark chocolate brownies are no longer novelties to Singaporeans thanks to the home baker boom. For names to stand out, they need to have both an interesting story, and equally attention-grabbing flavours. Home-bakers-turned-shopowners, The Whisking Well, have got both fronts pretty much down.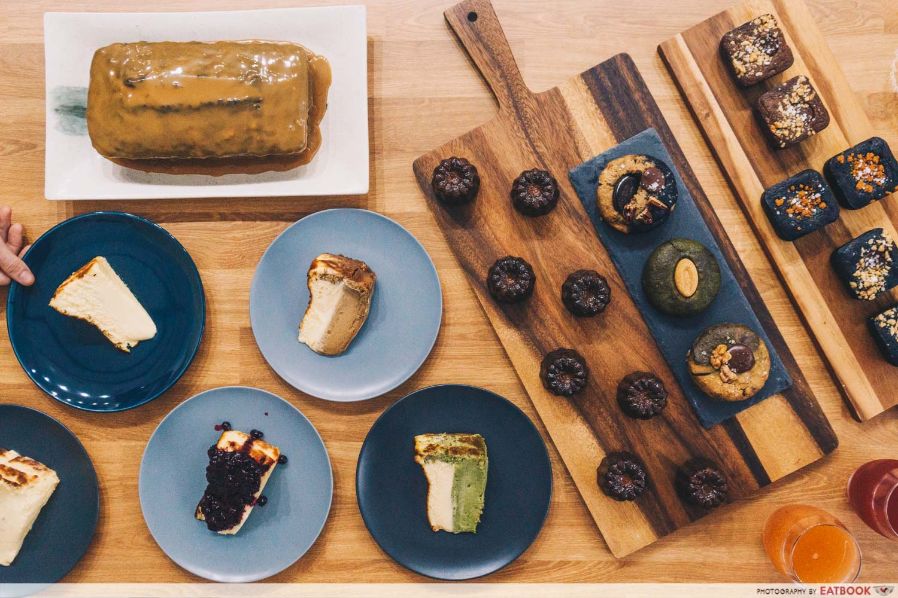 The Whisking Well is run by a young couple, Francesco Lee, 26, and Jaz-ley Tan, 25, who have both left their previous jobs to pursue this venture full-time. Engineering-trained Francesco never wanted to be in the food and beverage industry, but his childhood passion outweighed this, and baking became a career. When he began dating former digital marketer Jaz-ley, she got into baking too, and this paved the way for them to start the business in April 2020.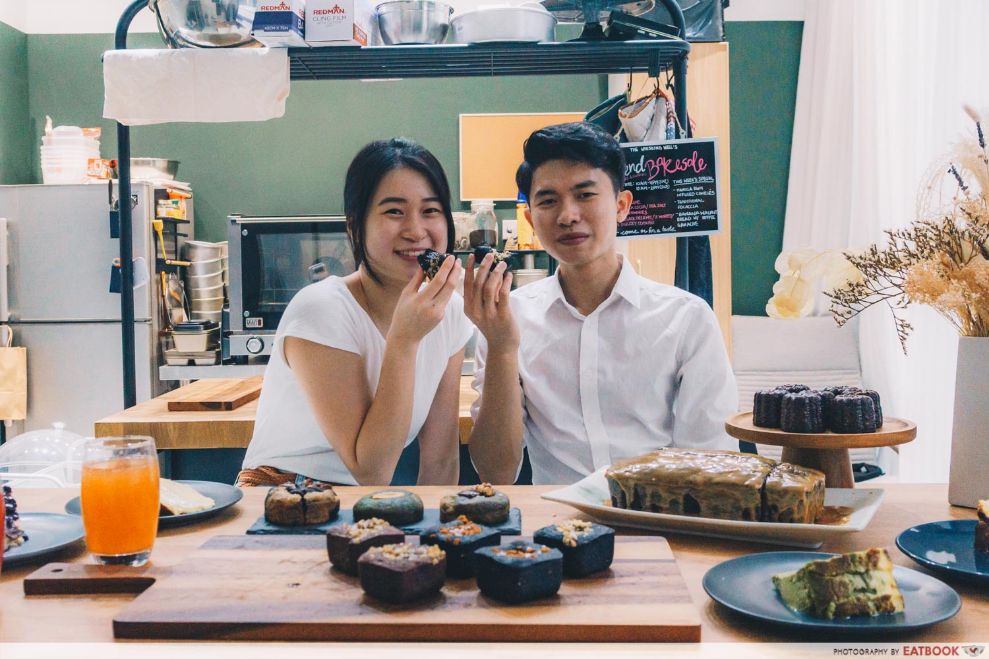 As of two weeks ago, they are now operating their online business out of their very own kitchen in The Promenade@Pelikat. The kitchen opens to the public during the weekends, so customers can shop at their bake sale. They will also be debuting their menu at Paya Lebar Quarter's Komma Social Cafe on 31 October.
Kómma Social Cafe: New Cafe With DIY Craft Kits And Workshops At Paya Lebar Quarter Mall
Food at The Whisking Well
To the couple, what makes The Whisking Well different is their attention to detail, from the recipe, the flavours, right down to the ingredients used. Most of their goods are imported from producers in Japan, Australia, and New Zealand. Chocolates are also sourced from fair-trade suppliers.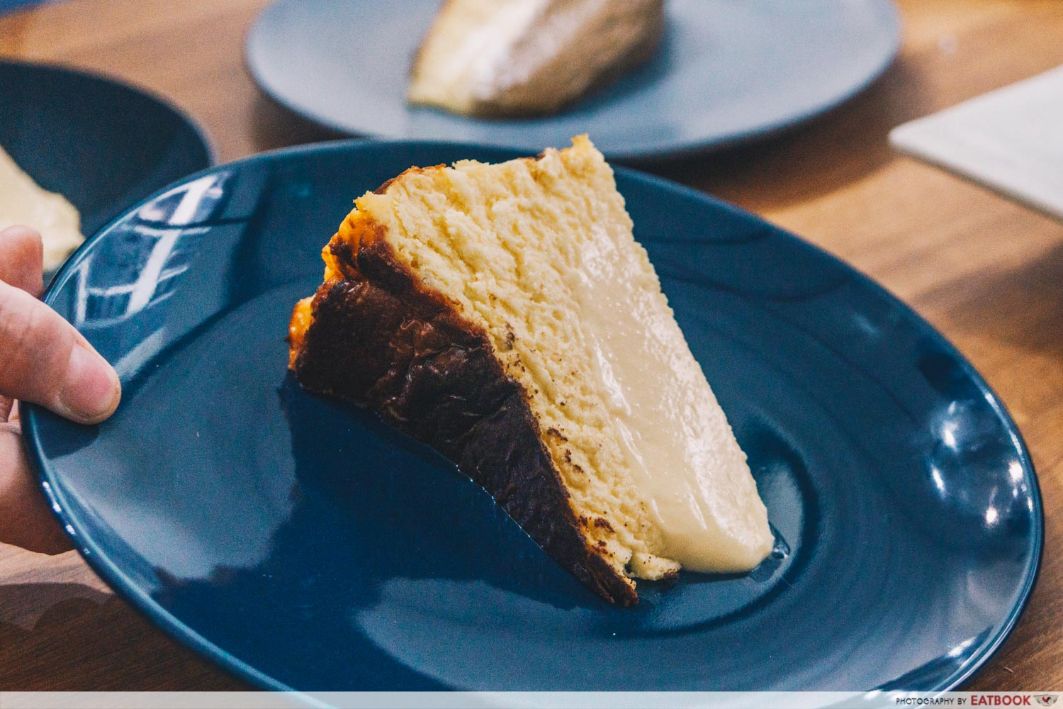 The Whisking Well's longtime bestsellers are their Burnt Cheesecakes. Their Original Burnt Cheesecake ($38 for six inches), is a secret blend of three kinds of cheese. A slice was very lush, near-velvet in texture, and so balanced that I got a nudge of both sweet and savoury in every bite. Priced at $38, it is also a very wallet-friendly option for a whole cake, as they usually go for an upwards of $40, or $8+ per slice.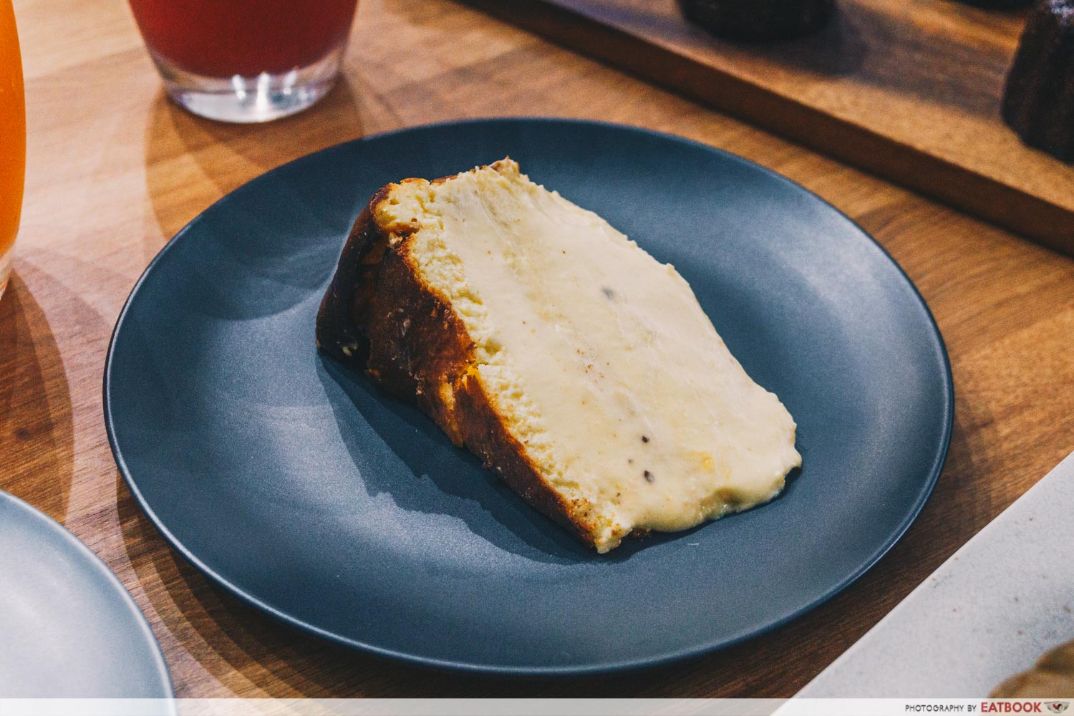 #TeamDurian acolytes will love their Mao Shan Wang Burnt Cheesecake ($48 for six inches), which uses 100% premium MSW pulp. Ultra-creamy and packed with durian's deliciousness, this cheesecake tasted like a slice of silken durian pulp, with just the faintest kiss of cheese.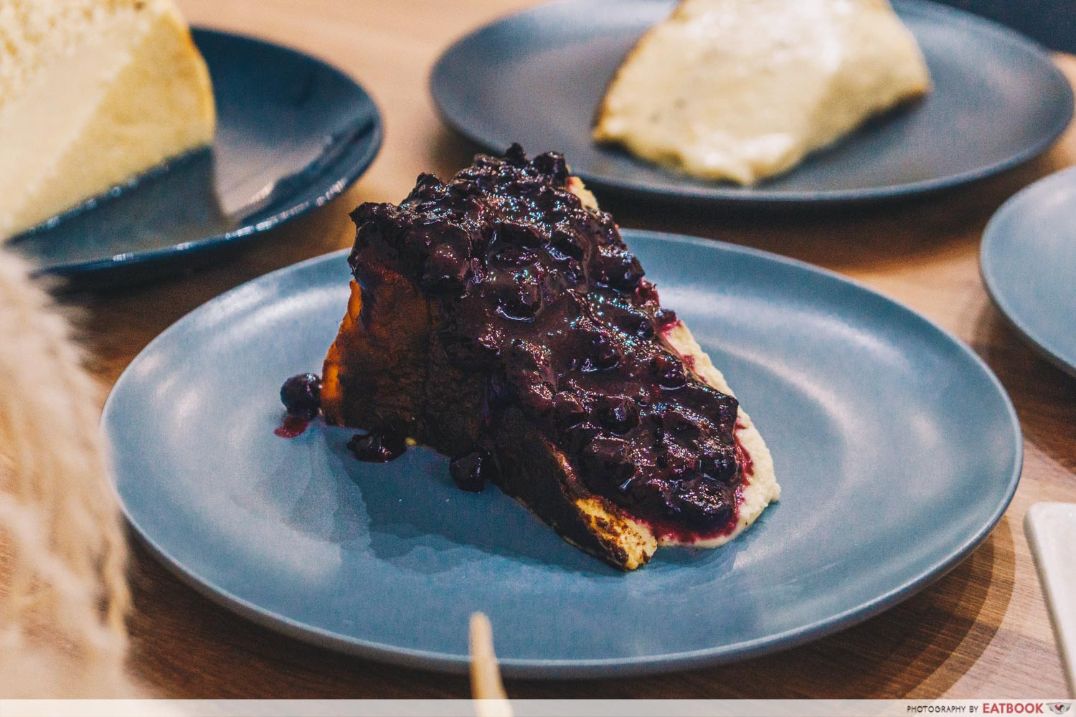 For another fruity option, we had the Mixed Berry Jam Drop Burnt Cheesecake ($48 for six inches), which my companion was a massive fan of.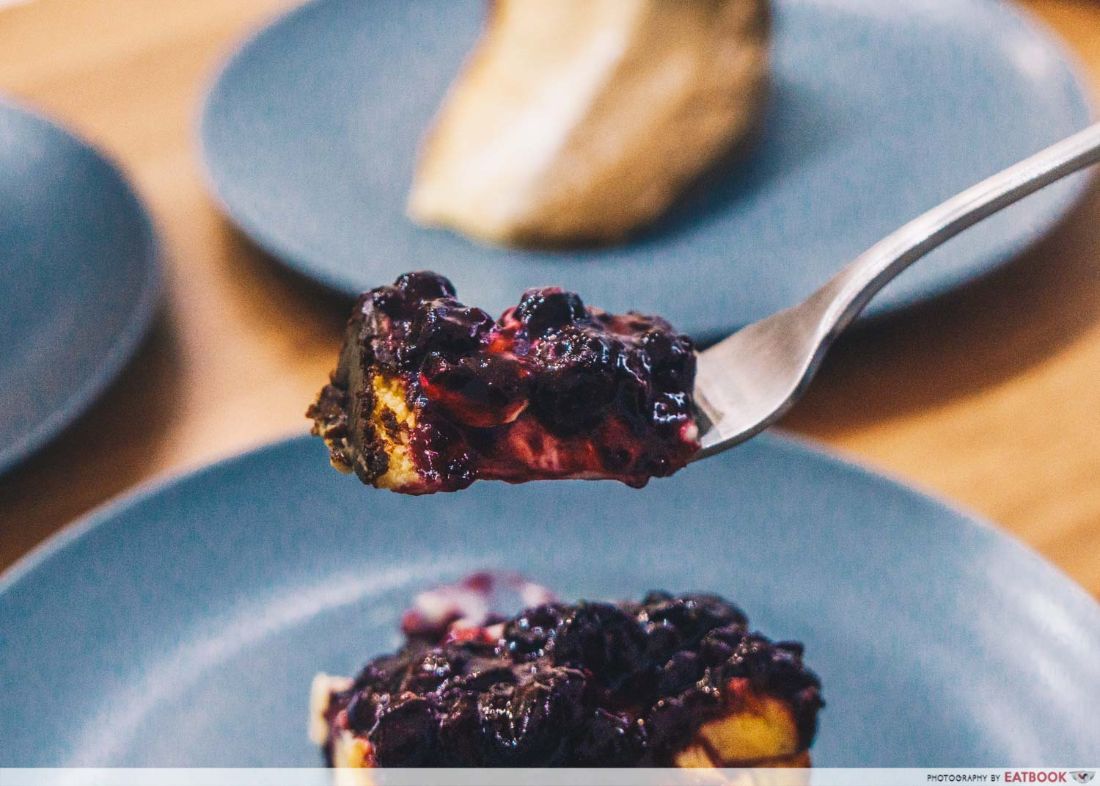 A housemade raspberry and blackberry jam is slathered over the cake's charred top— a bright bolt of berry zing that cut the rich cheese.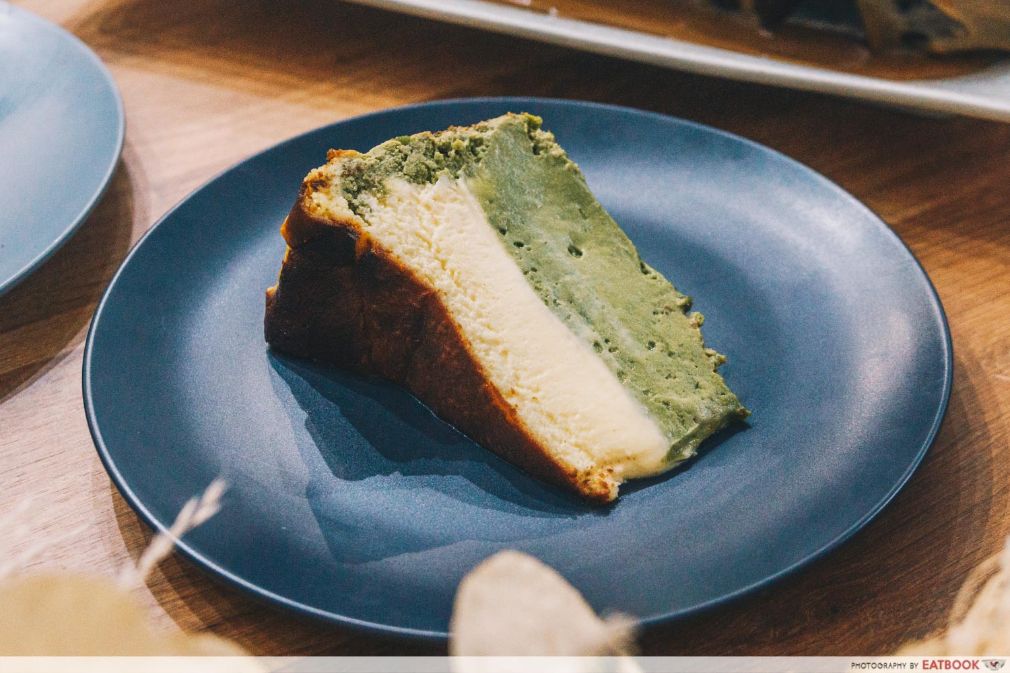 Rounding off the selection were the Matcha and the Latte Burnt Cheesecakes ($45 each). These are layered with the original cheesecake batter, so you get the best of both worlds. The Latte, made with Colombian beans, was a resounding favourite thanks to the pronounced bittersweet coffee. The Matcha, which uses Uji matcha, is a nod to green tea fanatics.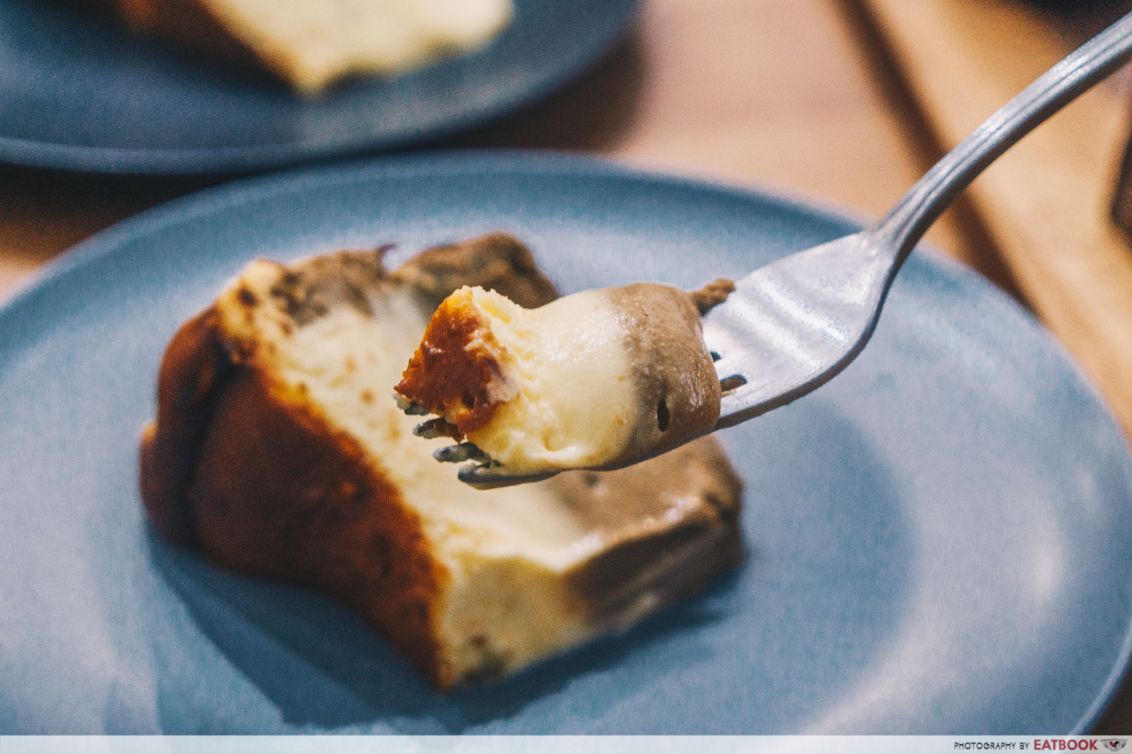 Brownies made with 100% cocoa are all the rage now, and The Whisking Well keeps their Black Brownies ($30 for six) simple.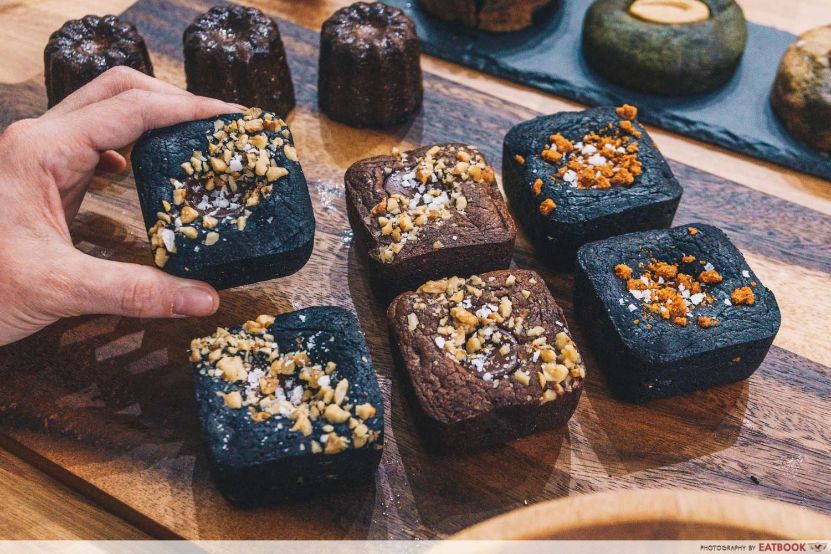 Walnuts offer crunch to the gooey brownie, and Belgian chocolate discs brought on the molten factor when warmed. Dusted with sea salt, each square checks out on flavour, even though they seemed plain on sight.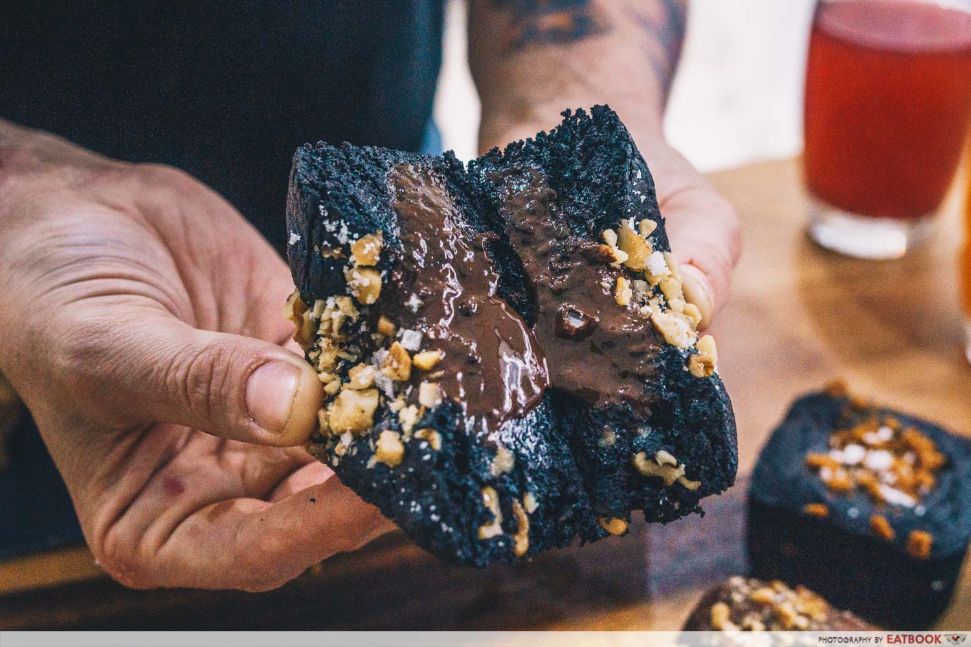 Levain cookies— extra-thick and chunky cookies inspired by a famous New York bakery— are a big thing amongst home bakers now, and I was glad to see that The Whisking Well had some intriguing interpretations. Their Matcha Dulcey ($6.50) cookie was really green, both in colour and the taste.  Expect a strong green tea bitterness melding with the condensed milk profile of golden Dulcey chocolate.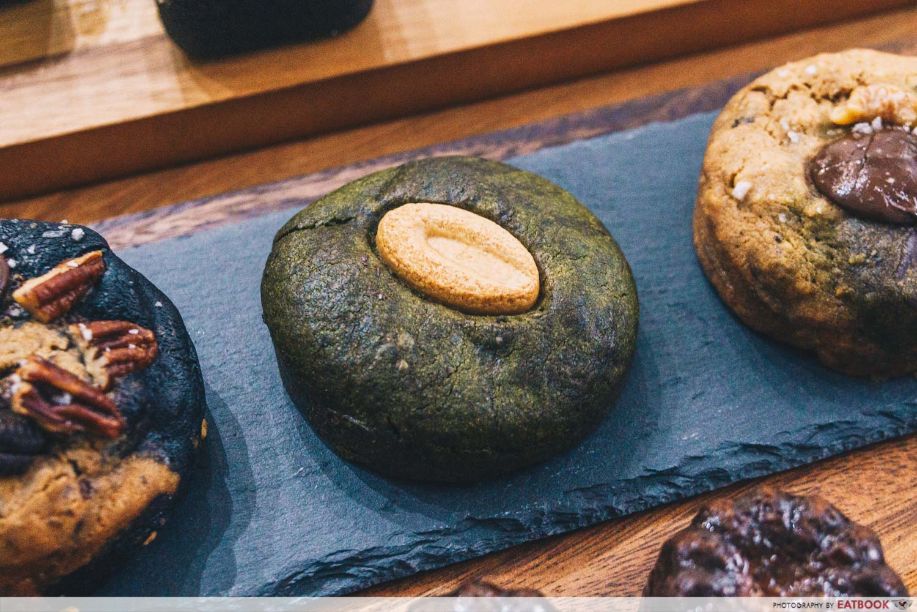 Another one I'd recommend is their Houjicha Black Sesame Levain Cookie ($6.50). The nuttiness of black sesame played off the roasted houjicha tea, creating a cookie dough full of depth. Chocolate buttons added a nice touch, though the overall dessert remained free of the saccharine jelakness that most chunky chocolate chip cookies have.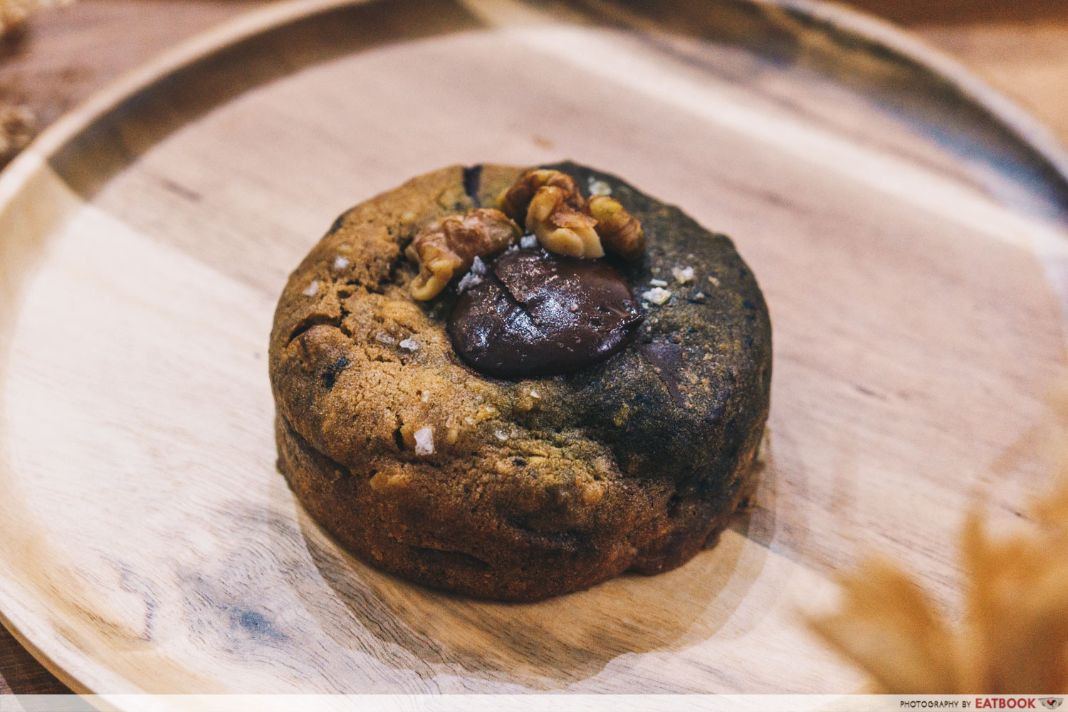 I wished we could say the same for the S'moreos Levain Cookie ($6.50). With a mixture of regular and dark cocoa cookie dough, this chunky disc comes coloured like a yin yang symbol. Marshmallows, Oreos, and pecan nuts decorate each round. These are certainly indulgent but are best reserved for the 100% sugar level crowd.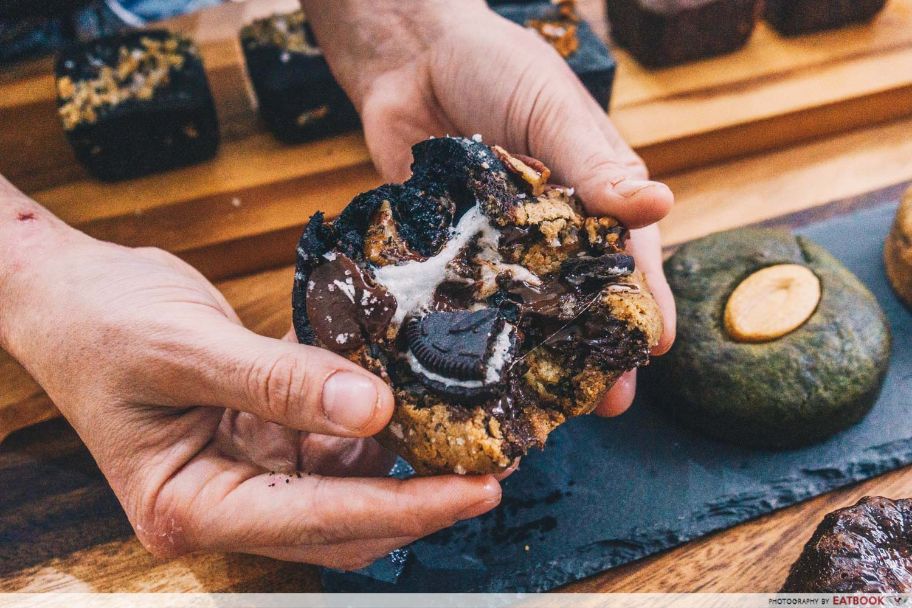 They also sell Canelés (price TBD), a type of French pastry currently gaining traction. Francesco doesn't use beeswax in his version, so these thankfully do not stick to your teeth. The canelés had a soft custard middle, though they were a tad too caramelised at the base, tasting a bit charred that day.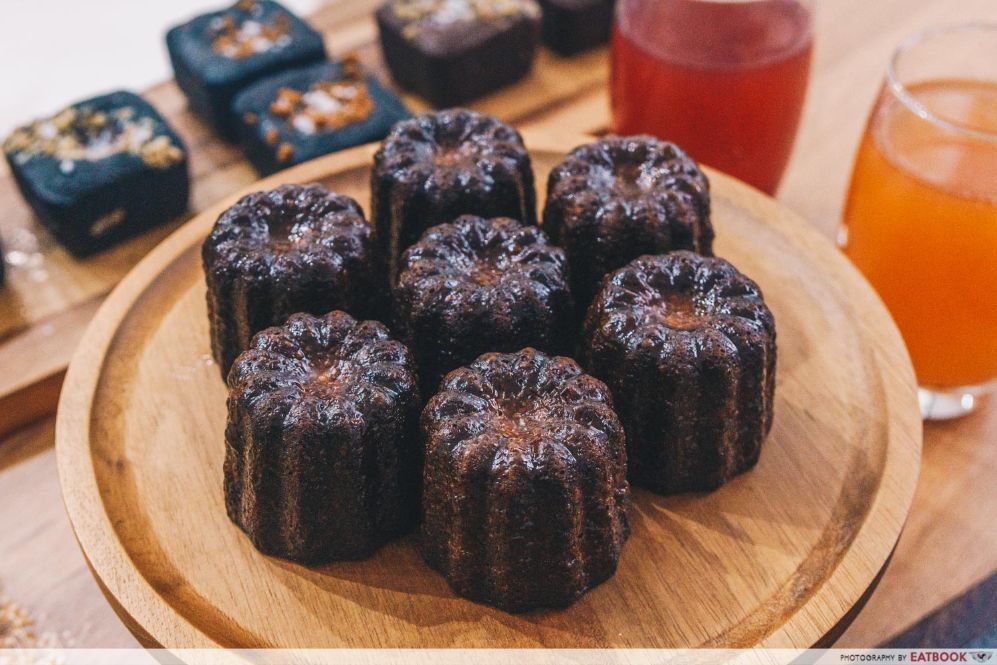 Occasionally, The Whisking Well does loaves, both savoury and sweet. Banana cake lovers can look out for the newly-launched Banana Bread with Toffee Ganache (price TBD), dense, moist, and packed with honeyed bananas, as well as walnuts. They also sell focaccia, and are planning to offer pizzas soon.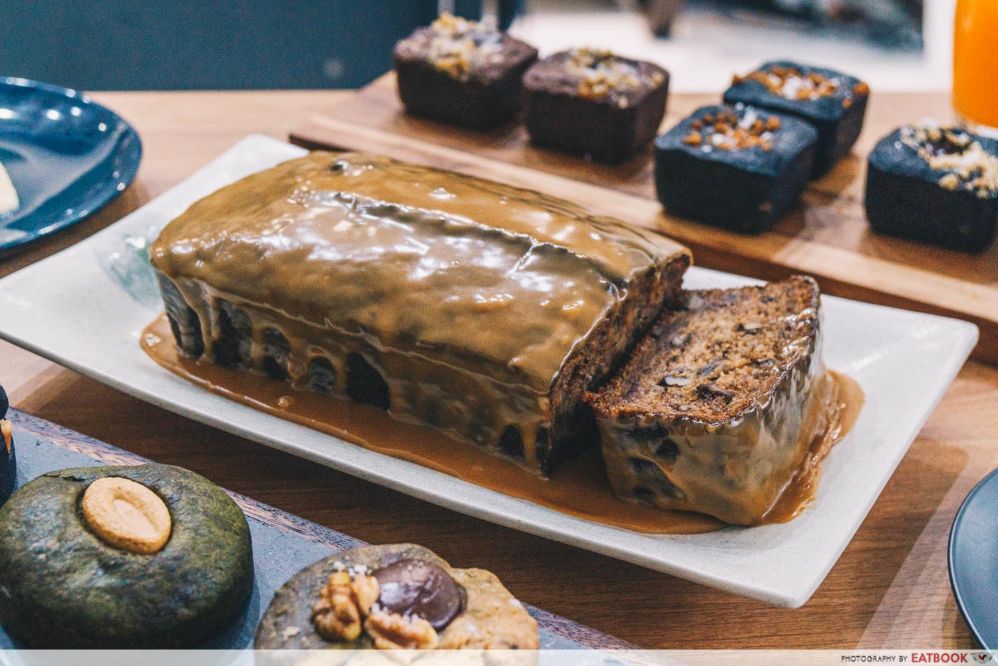 Ambience at The Whisking Well
Though dining-in is not available, the chic, minimalistic kitchen space is cosy enough to walk in and browse what's on sale for the weekend.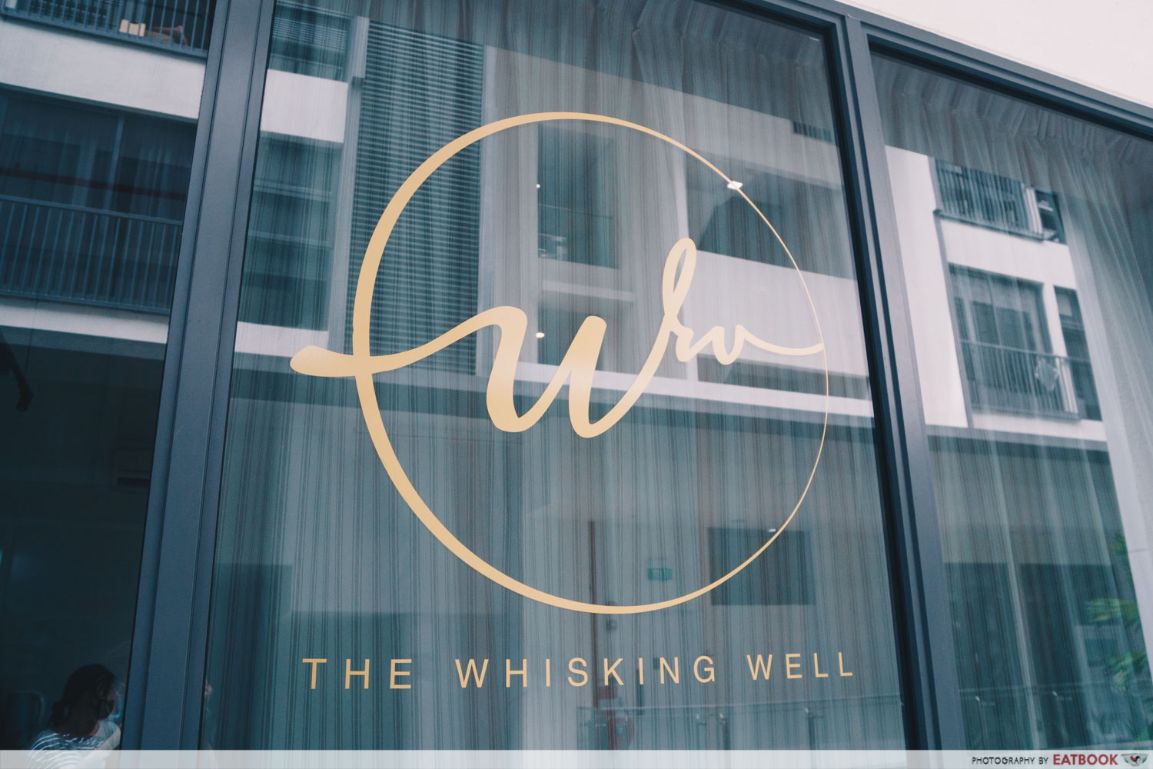 The only trouble is that The Whisking Well is located in the really ulu mall compound that is The Promenade@Pelikat, hidden amidst the quiet Jalan Pelikat residential estate. Though it is a 10-minute walk away from Kovan MRT, it is not a straightforward stroll, so it's hard to justify visiting unless you drive or live nearby.
The verdict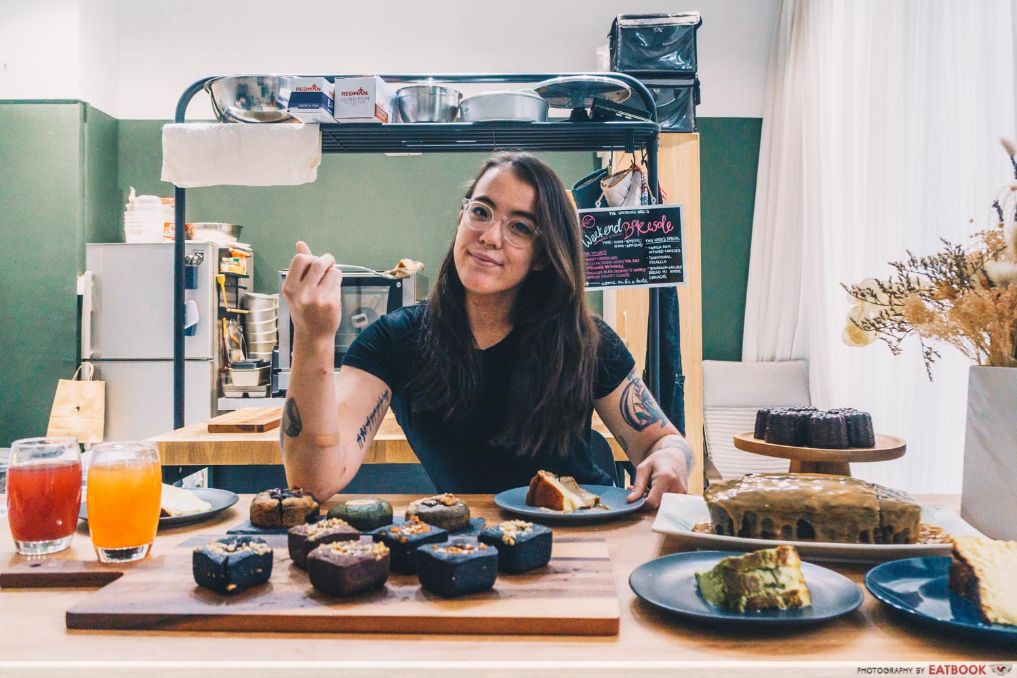 With the current saturation of home bakers in Singapore, it's not the easiest to build a name for yourself. The Whisking Well has the edge of experience, and you can taste the dedication to their craft in their bakes. Their burnt cheesecakes strike parity between creamy dairy, sweetness, and interesting twists on an expected formula, while their generous brownies prove simple is best.
While there are a couple of desserts on their menu that aren't for me, the wins, including the Mao Shan Wang and Latte Burnt Cheesecakes, and their Houjicha Black Sesame Levain Cookie, make The Whisking Well one to keep an eye on. For their bake sale hours, stay tuned to their Instagram page for announcements.
Their current address is a touch too out of the way, but with their online business and collaboration at Komma Social Cafe looming, there are more than enough opportunities to give their goods a well-deserved try.
For more baked goodies, check out our round-up of where to find the best cookies, and the best doughnuts in Singapore.
15 Donut Shops For Milo Dinosaur Doughnuts, Ondeh-Ondeh Bombolinis And More
Address: 183 Jalan Pelikat, #01-73, The Promenade@Pelikat, Singapore 537643
Website
Photos taken by John Lery Villanueva.
This was a media tasting at The Whisking Well.
The Whisking Well Review: Latte Burnt Cheesecake And Black Sesame Levain Cookies Near Kovan
Summary
Pros
– Quality ingredients
– Well-balanced bakes
– Unique Asian-inspired flavours
Cons
– Ulu location
– Physical location sales are weekends-only
Recommended dishes: Matcha Dulcey Cookie ($6.50), Houjicha Black Sesame Levain Cookie ($6.50), Mao Shan Wang Burnt Cheesecake ($48 for six inches)
Opening hours: Subject to bake sale hours
Address: 183 Jalan Pelikat, #01-73, The Promenade@Pelikat, Singapore 537643