---
Burnt cheesecake for days
---
I love indulging in a dense and rich cheesecake; one that is moist and packed with rich cheesy goodness. However, recently, burnt cheesecakes have been changing the game for this classic dessert. Not only are they intentionally burnt, but there's usually no crust as well.
Surprisingly, this charred cake is not a brand new fad. In fact, it was founded in Spain's snazzy San Sebastián neighbourhood three decades ago. Though it's made from a few ingredients, the Basque cheesecake is not easy to master.
We've curated a list of places selling burnt cheesecakes for you to decide which you prefer.
---
1. Olivia Restaurant & Co
---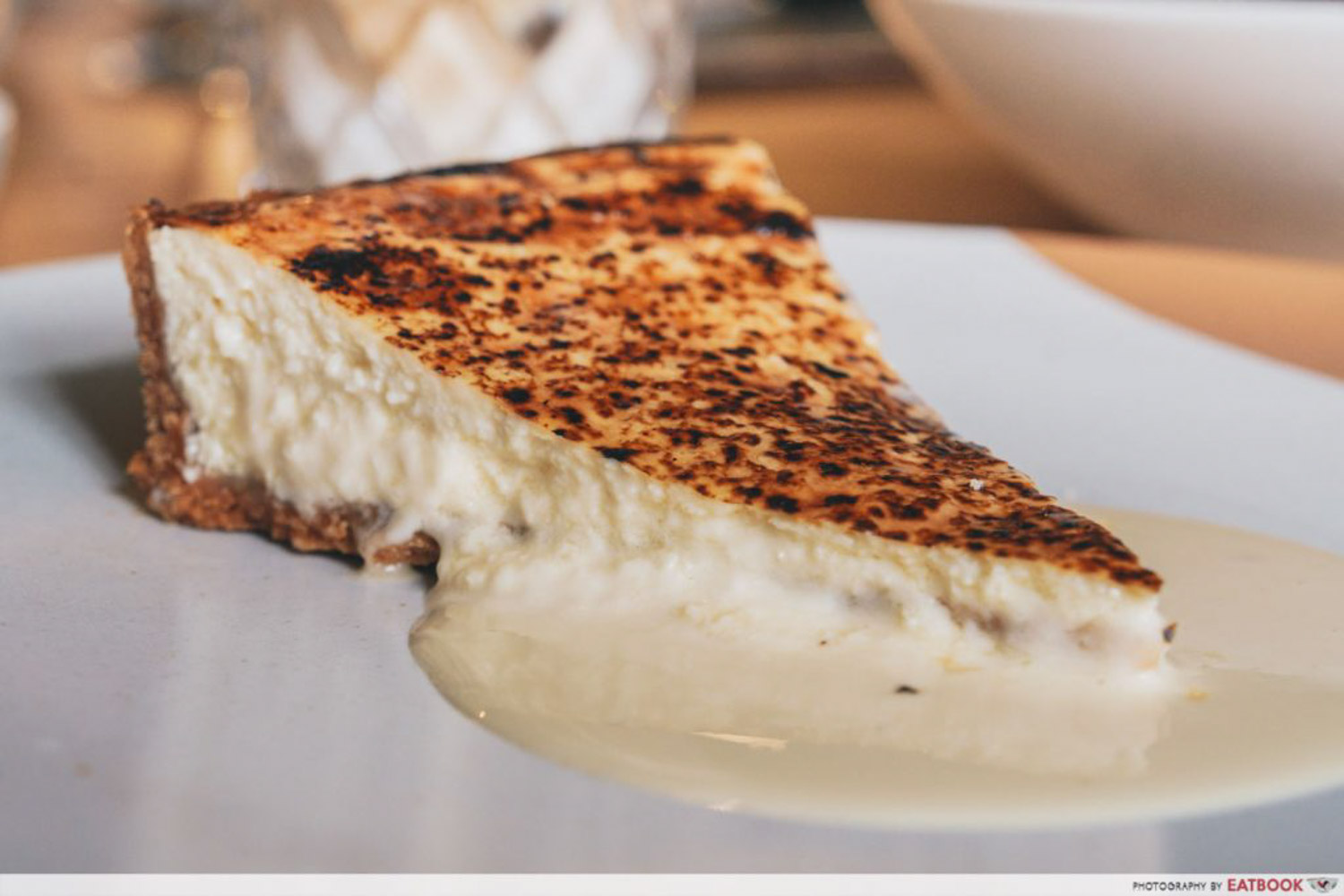 In Singapore, we have Olivia Restaurant & Lounge to thank for making burnt cheesecake popular. Run by head chef Alain Devahive, this Spanish restaurant at Keong Saik delivers their signature Olivia's Creamy Homemade Cheesecake ($14+) with a twist. They add on blue cheese to the standard eggs, flour, sugar, and cream cheese recipe, giving this sweet dessert some sharp savoury notes and a more complex flavour. 
Check out our full review of Olivia Restaurant & Lounge!
Address: 55 Keong Saik Road, Singapore 089158
Opening hours: Tue-Thur 11:30am to 2pm, 6pm to 10pm, Fri-Sat 11:30am to 2pm, 6pm to late
Website
---
2. The Kins' Specialty Coffee
---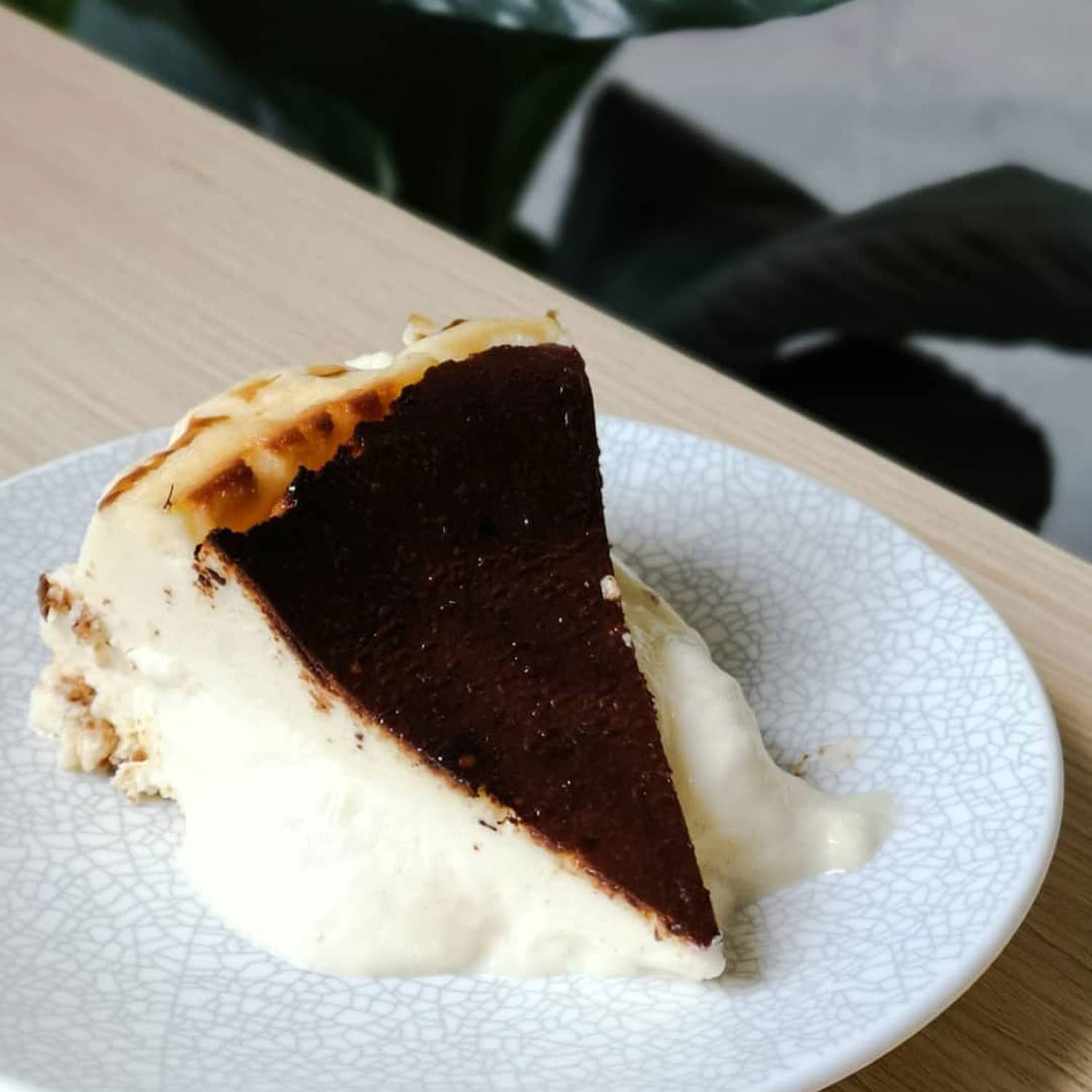 Image credit: @thekinscafe
Don't worry when Google directs you to the BIJOU condo when searching for The Kins' Speciality Coffee, as it is situated right outside this private estate in Pasir Panjang. The quaint minimalistic cafe only opened their doors earlier this year, but is getting popular thanks to their Kins' Burnt Cheesecake ($7.50). The charred flavour hits you on first bite, followed by a sweet and oozy cheesecake centre.
Address: 2 Jalan Mat Jambol, #01-08/09, BIJOU, Singapore 119554
Opening hours: Mon-Tue 11am to 9pm, Thur-Fri 11am to 9pm, Sat-Sun 10am to 9pm
Website
---
3. Cat & The Fiddle
---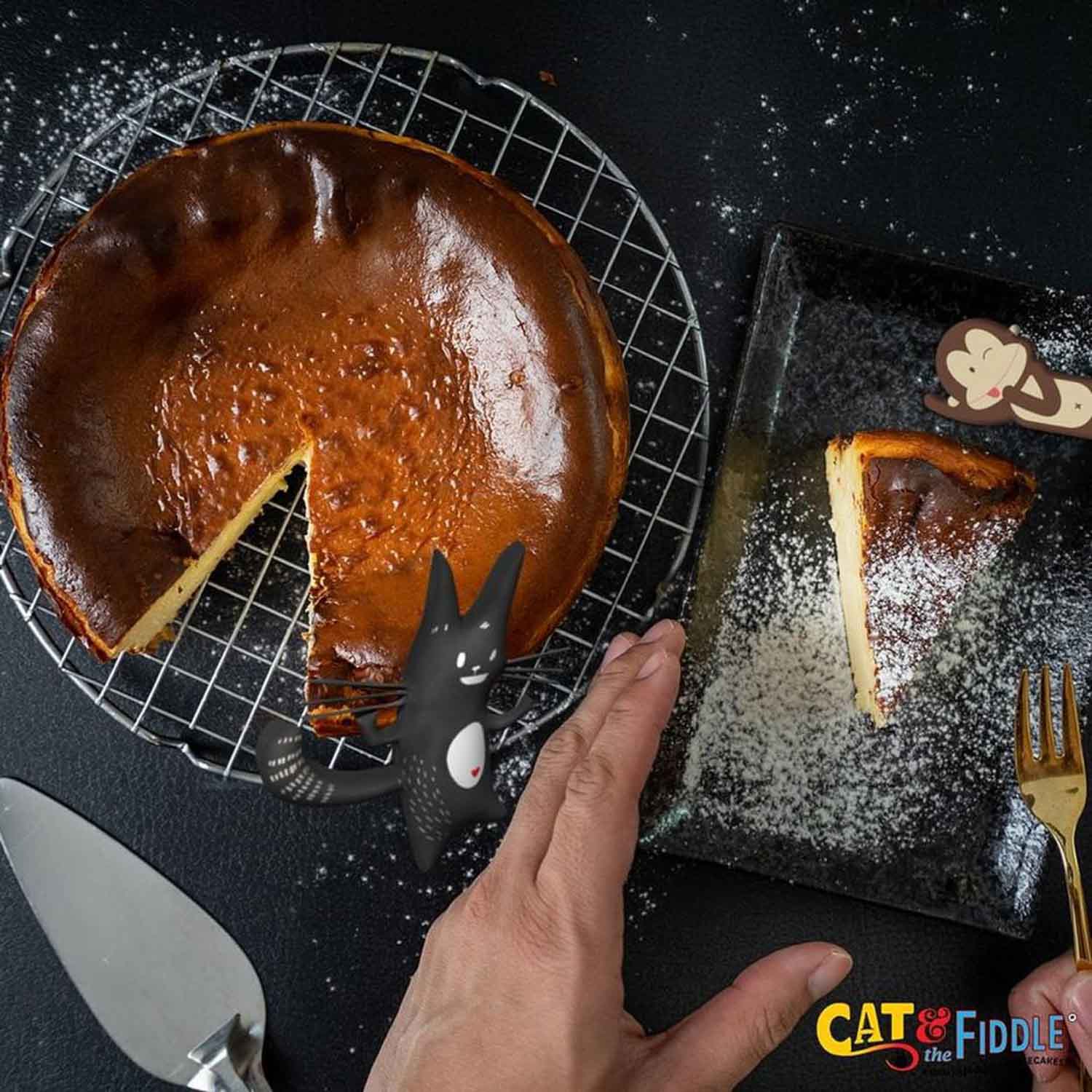 Image credit: @catandthefiddlecakes
Cat & The Fiddle is well-known for their Fickle Feline 2.0 ($42.90), where you get to try slices of various cheesecake flavours. Their latest Charred Eclipse ($48.90) flavour is an apt name for a burnt cheesecake, with its black face. The cake is half baked, and features a blend of cream cheese and Martabak cheese. The latter is a special type of Indonesian cheddar cheese that's found in martabak manis, and has a rich yet salty tang. The smoky hints from the burnt crust also complement the creamy and soft centre.
Address: 6 Eu Tong Sen Street, #01-41, The Central@Clarke Quay, Singapore 059817
Opening hours: Daily 11am to 10pm
Tel: 6287 0077
Website
---
4. Fluff Bakery
---
Image credit: Fluff Bakery's Facebook page
Ask around for any recommendations on halal bakeries, and Fluff Bakery pops up. Besides their scrumptious unique cupcake flavours, they also have a range of signature cakes such as Basque Burnt Cheesecake ($72). Baked to golden brown perfection, this jiggly dessert is toasty on the outside with a soft and velvety centre.
Address: 4 Jalan Pisang, Singapore 199071
Opening hours: Tue-Sat 12pm to 7:30pm
Tel: 96603541
Website
---
5. Baker's Lab
---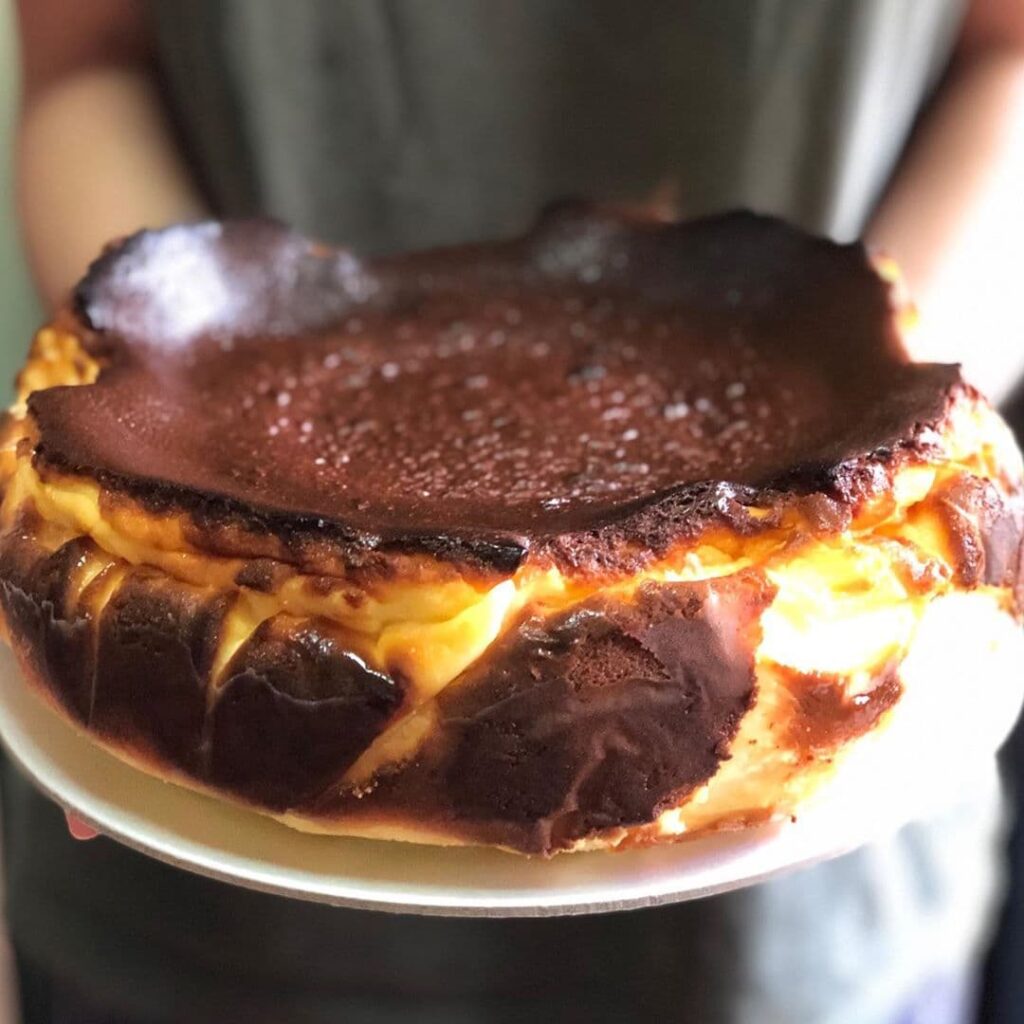 Image credit: @bakers_lab
Despite not having a physical stall, home-baker Baker's Lab manages to churn out bespoke halal desserts. You can either order through their social media platforms or catch them at bake sale pop-ups for a slice of The Basque Burnt Cheesecake ($6). Lusciously rich, the cake, which is not the best looker, is soft and airy, with a flowy cheesy centre and a caramelised burnt top,
Address: Tampines Street 33, Singapore 520318
Tel: 9234 4709
Website
---
6. The Tipsy Penguin
---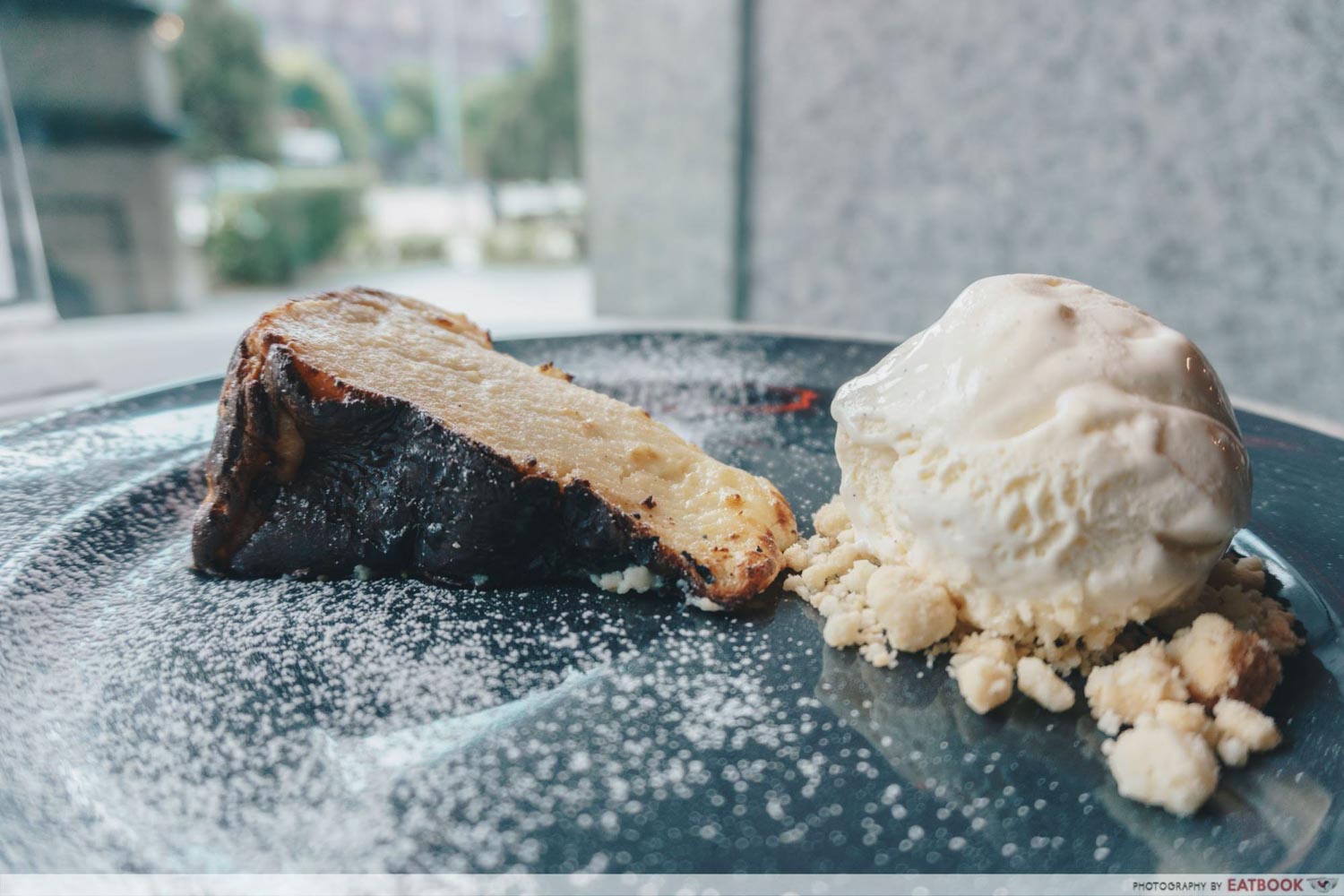 The Tipsy Penguin did not make a boo-boo with their Accidental Cheesecake ($10++), as this burnt cake makes you go "woohoo!". Akin to Hokkaido cheese tarts, but with the absence of a crust, this dessert has a richer, more velvety consistency than its counterparts. Have it along with the accompanying scoop of vanilla ice-cream to turn up the sugar rush. 
Check out our full review of Tipsy Penguin!
Address: 300 Tampines Avenue 5, #01-02A, NTUC Income Building, Singapore 529653
Opening hours: Fri-Sat 12pm to 2am, Sun-Thur 12pm to 1am
Tel: 8223 2983
Website
---
7. Fat Belly
---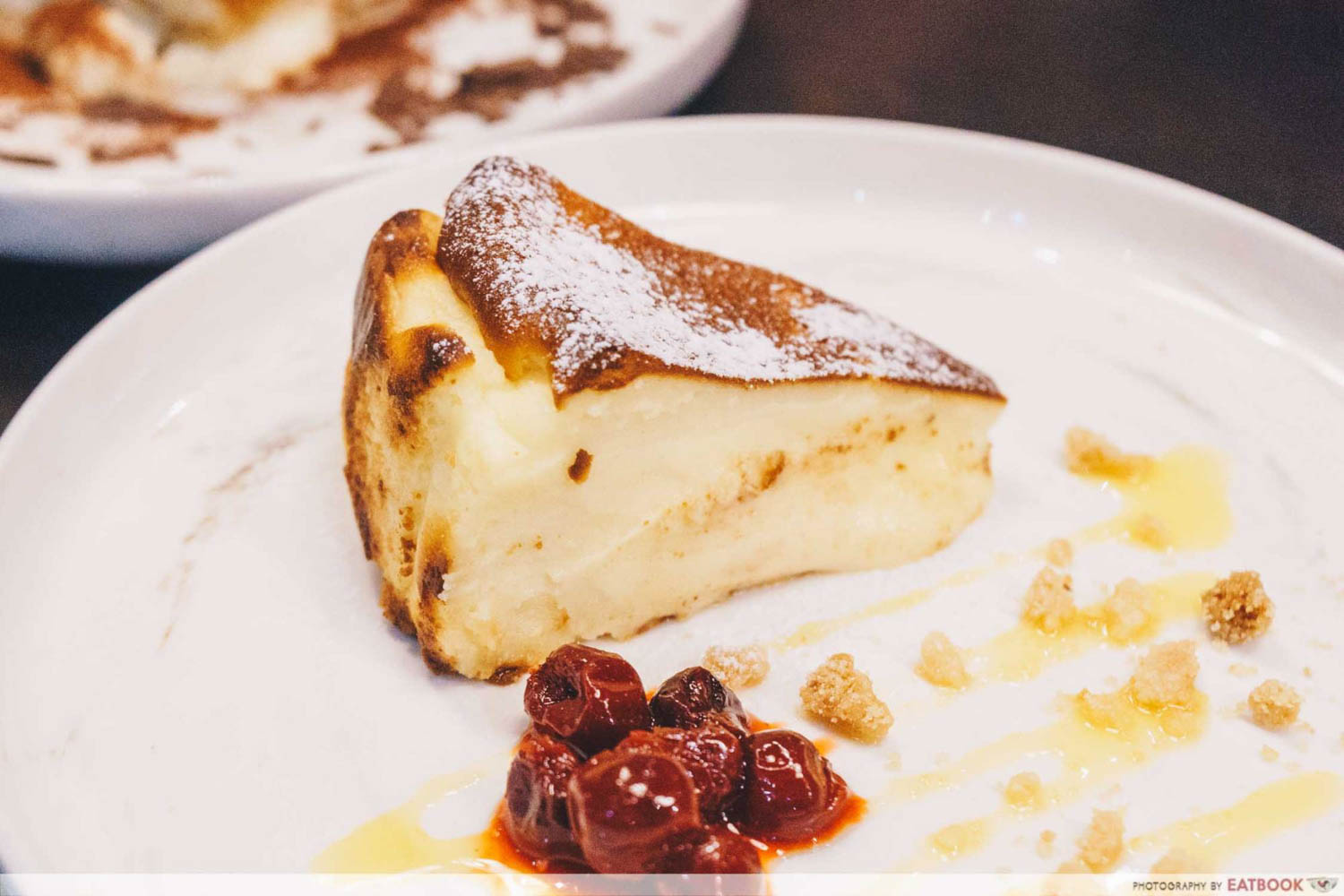 Serene Centre is home to Fat Belly, a steakhouse by night and cafe by day. Buzzing with meat lovers at night, this restaurant also serves legit desserts. Take a bite into their house-made Basque Burnt Cheesecake ($12++) which comes with a drizzle of passionfruit sauce and tart cherries that add a touch of tanginess to the otherwise buttery dessert. While it may look dense, it is anything but; its consistency is similar to the lightness of Japanese cheesecakes with a runny centre. 
Address: 10 Jalan Serene, #01-04, Serene Centre, Singapore 258748
Opening hours: Thur 6pm to 10pm, Fri-Sat 6pm to 11pm, Sun-Tue 6pm to 10pm
Tel: 6314 2247
Website
---
Grab burnt cheesecakes for dessert
---
These burnt cheesecakes are a testament to finding beauty in imperfections. Though these cakes go against traditional cheesecakes, it still packs a cheesy punch with its oozy and flowy centre. 
If you have a sweet tooth and love green tea, check out our list of matcha desserts which includes popular matcha cafe Hvala and their delicious treats.