OG cheesecake from Beverly Hills Cheesecake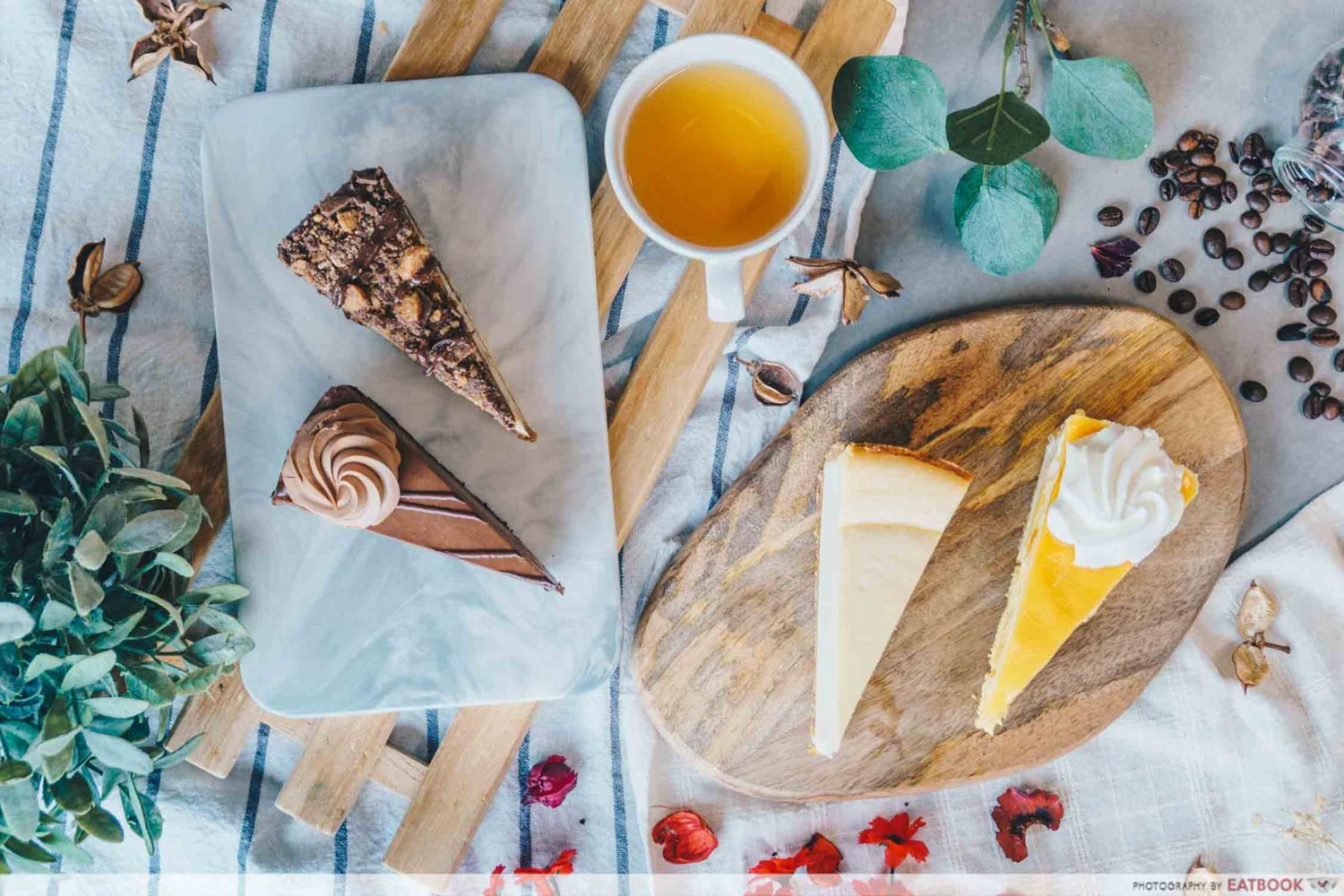 If you've friends working or studying in the US, you probably have heard rave review about The Cheesecake Factory Bakery. Started in 1972 by Oscar and Evelyn Overton, this popular American brand takes pride in their extensive line of delicious cheesecakes. 
Thanks to Beverly Hills Cheesecake, their famous confectioneries have arrived on our little red dot. Eager to give them a try, we speedily made a beeline for the cheesecakes at their spanking new store at Raffles City Shopping Centre.
Food at Beverly Hills Cheesecake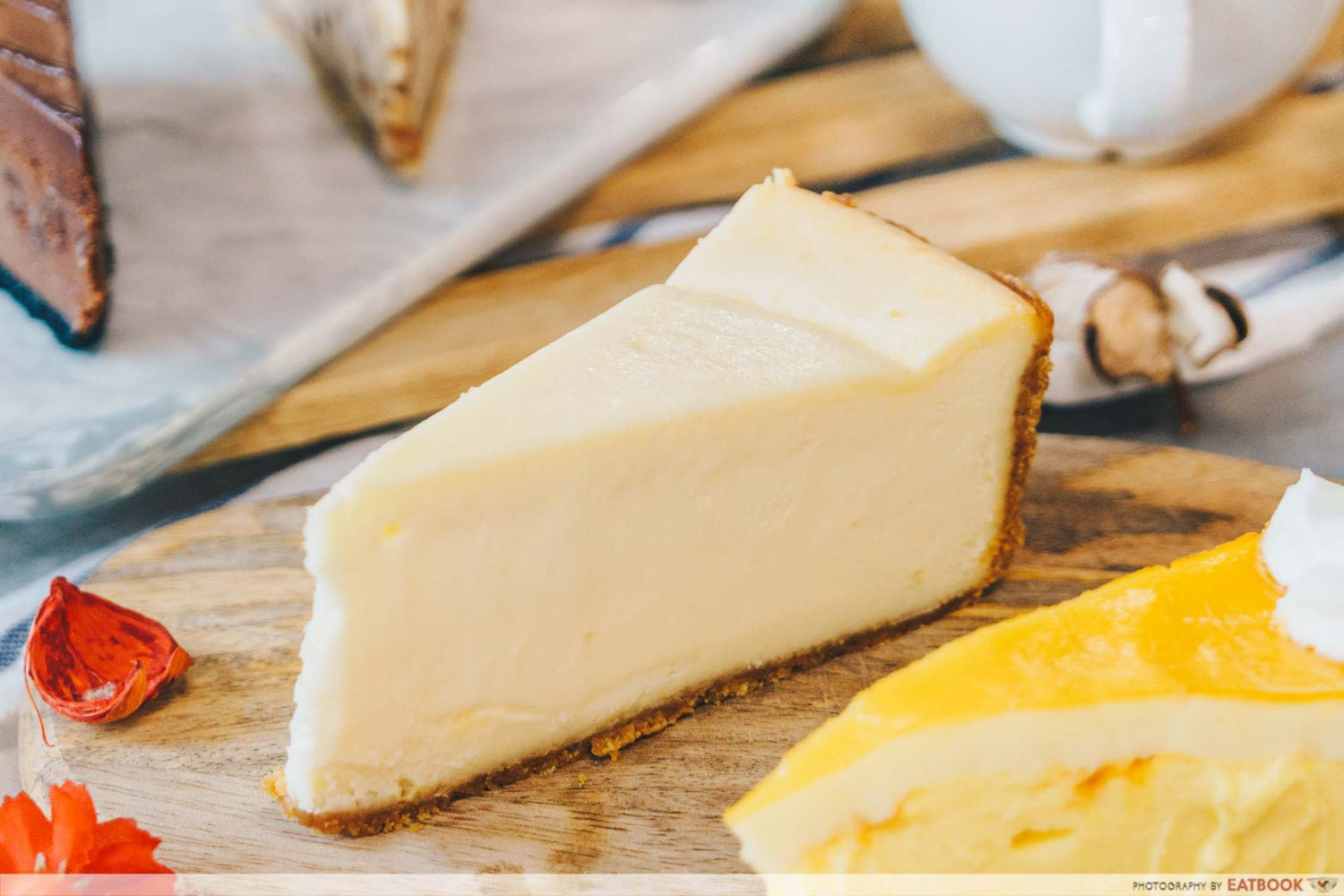 The Classic Cheesecake ($7.90 per slice) catapulted The Cheesecake Factory Bakery to fame, so I was keen to put this legendary dessert to the test.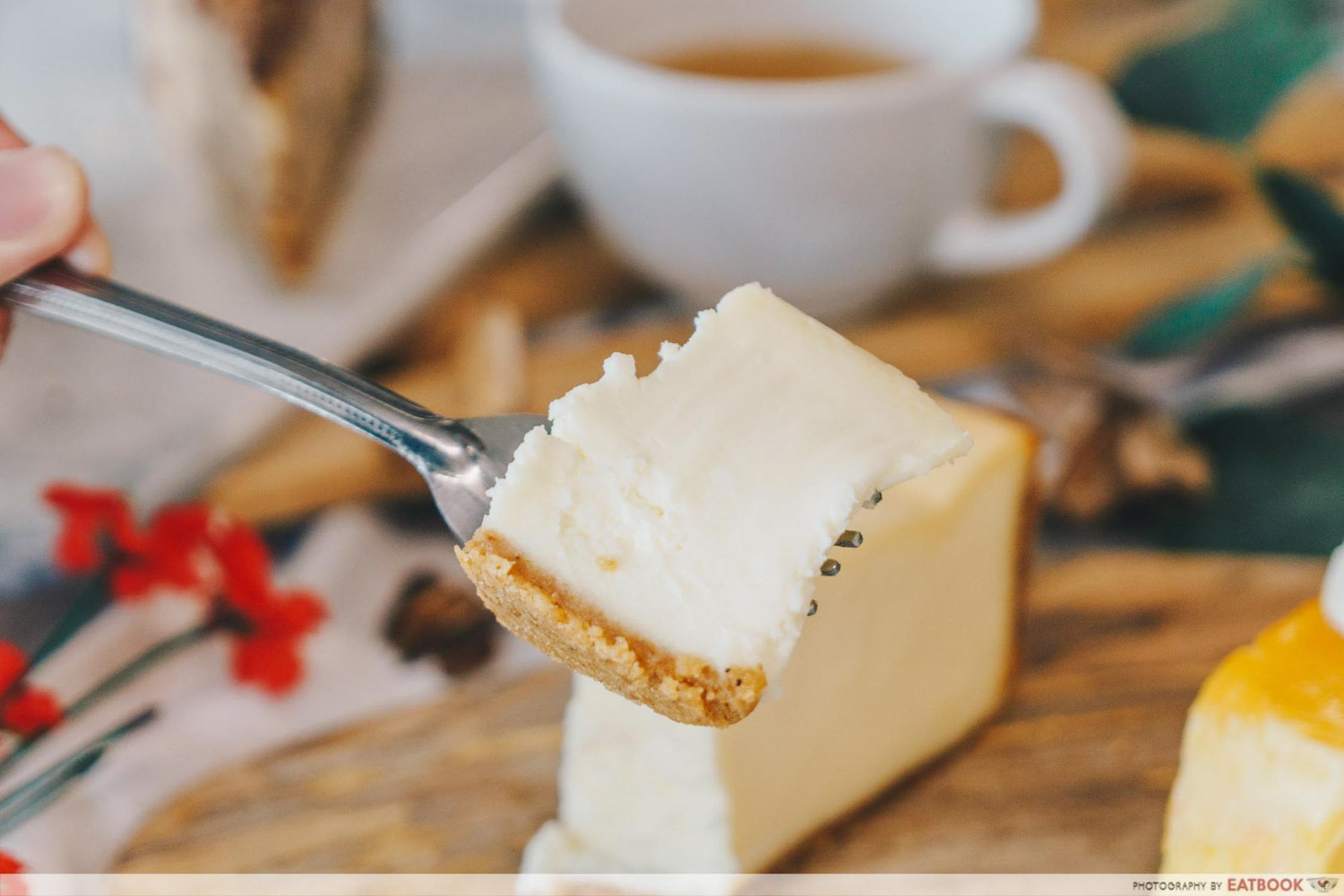 A slice in and I was already impressed, with my fork cleanly carving through the ultra-smooth filling like the finest mousse. Every bite of this velvety cheesecake was just as I imagined, as it skated over my tongue and unfurled in a wave of creamy savouriness. A subtle and sweet aftertaste lingered at the end of these rich notes, bringing a light conclusion to this palatable treat.
Cushioning this silky cheesecake was a crumbly Graham Cracker crust, which added heft to the cake with its cinnamon accent and aroma.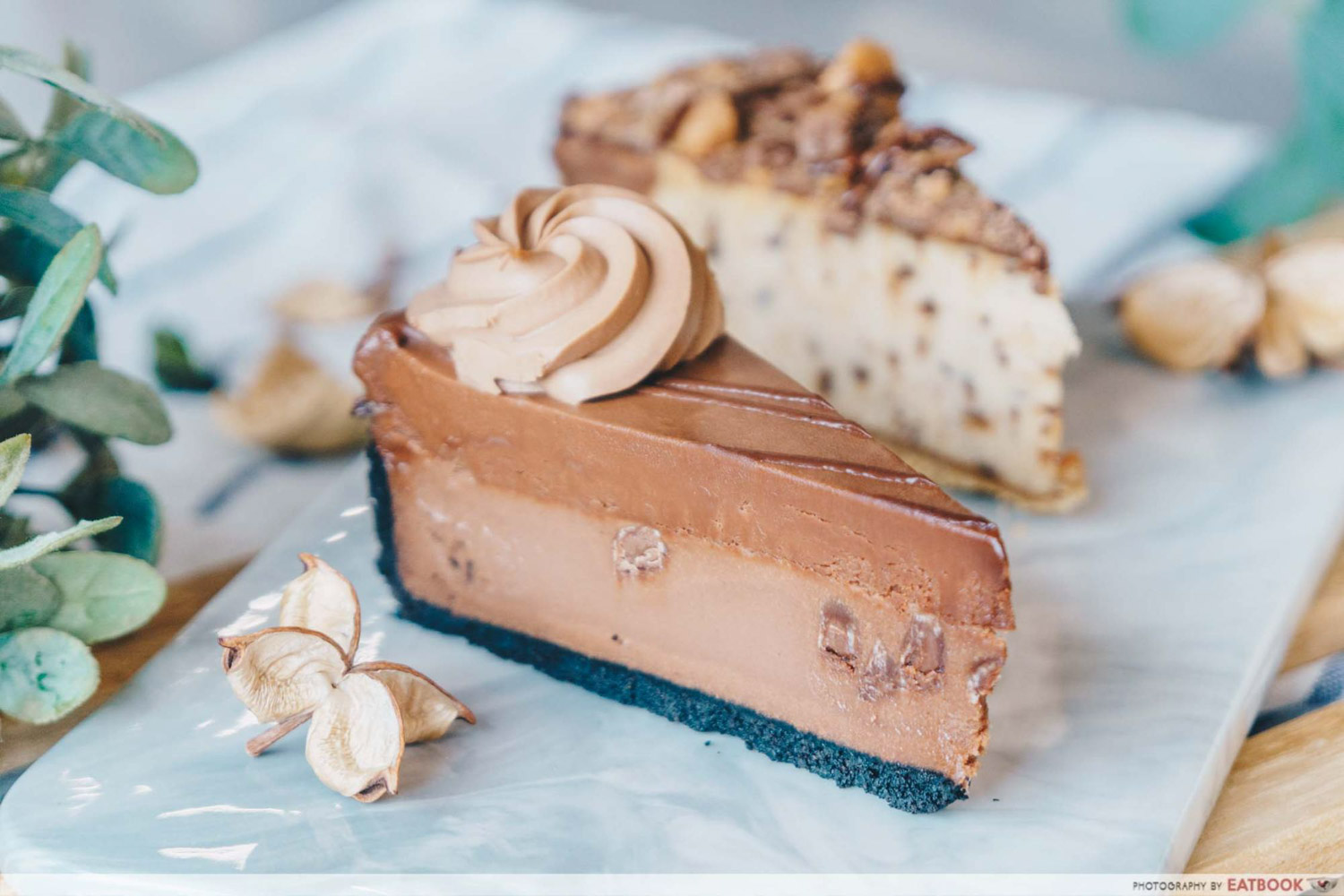 We instinctively associate Godiva with luxury and their Godiva Double Chocolate Cheesecake ($10.90 per slice) promised to be a decadent treat. Smooth chocolate ganache and soft chocolate mousse adorned the cake, before a swirl of chocolate whipped cream provided the crowning touch. 
Baked with chunks of white chocolate, their chocolate cheesecake played a supporting role here, enhancing the chocolate ganache with its milky undertones.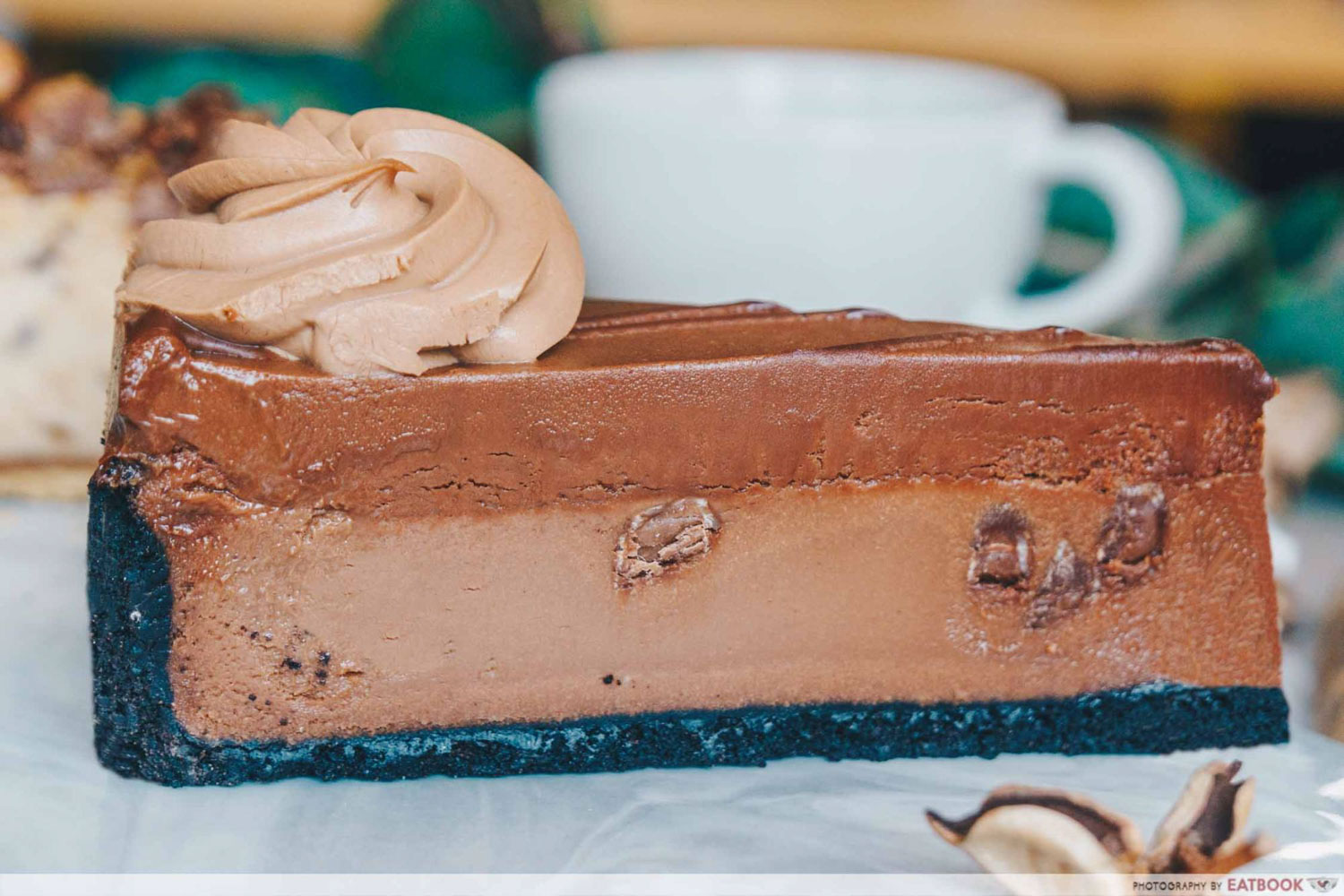 The ganache shone in this dessert, dominating my palate with a rich bitterness that was worthy of the finest cocoa. Just when I found it all too overwhelming, the creamy mousse eased in to relieve my palate with its candied touch.
Alas, delicious as it was, their Godiva Double Chocolate Cheesecake succumbed to the unfortunate fate of all chocolate-based treats. Luxurious at the first bite; sumptuous at the second; cloying after the third.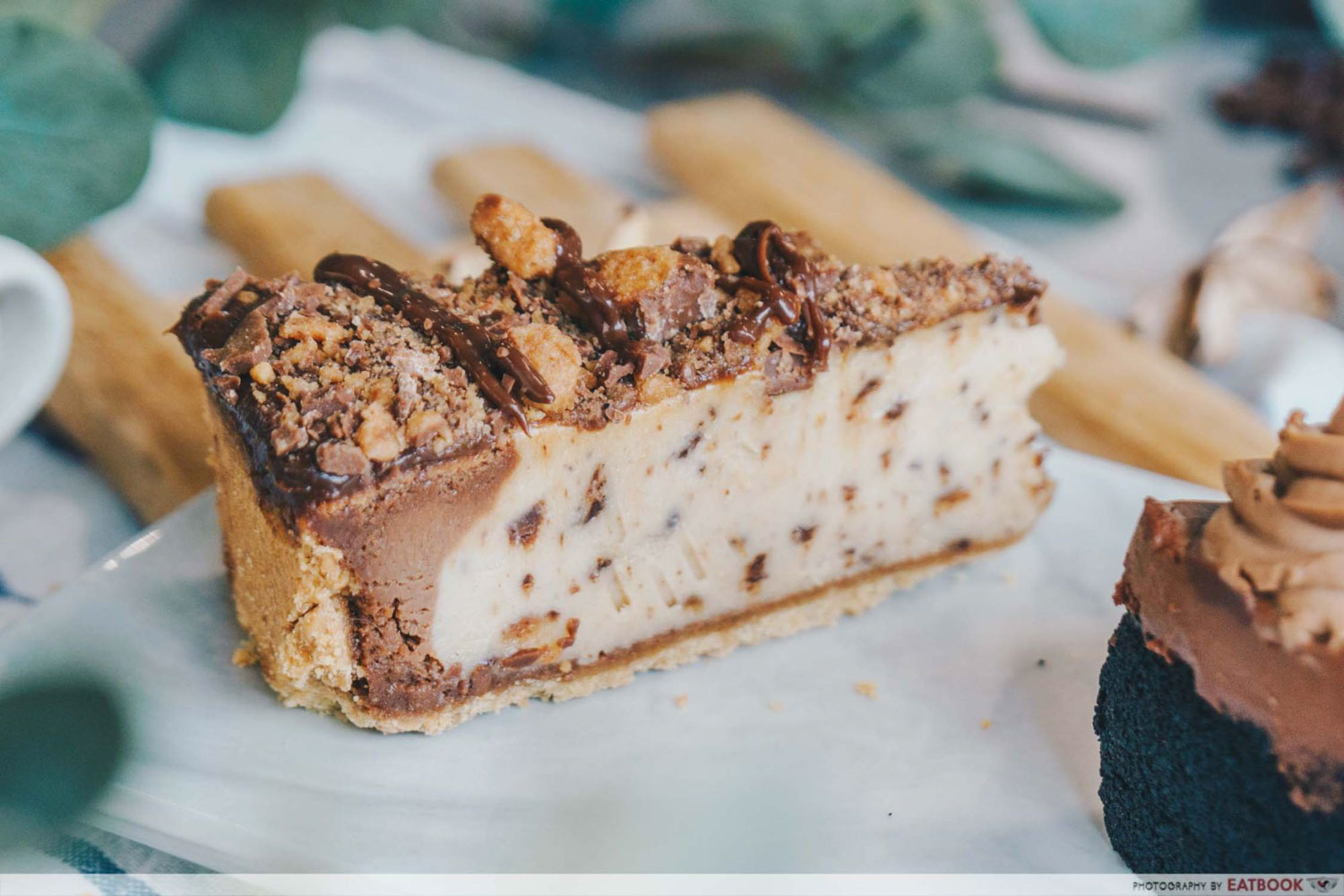 Now, onto my undisputed favourite—their Reese's Peanut Butter Cheesecake ($10.90 per slice). Offering a killer combination of sweet, nutty, and savoury flavours, this addictive confectionery was reminiscent of all the childhood snacks I guiltily binged upon.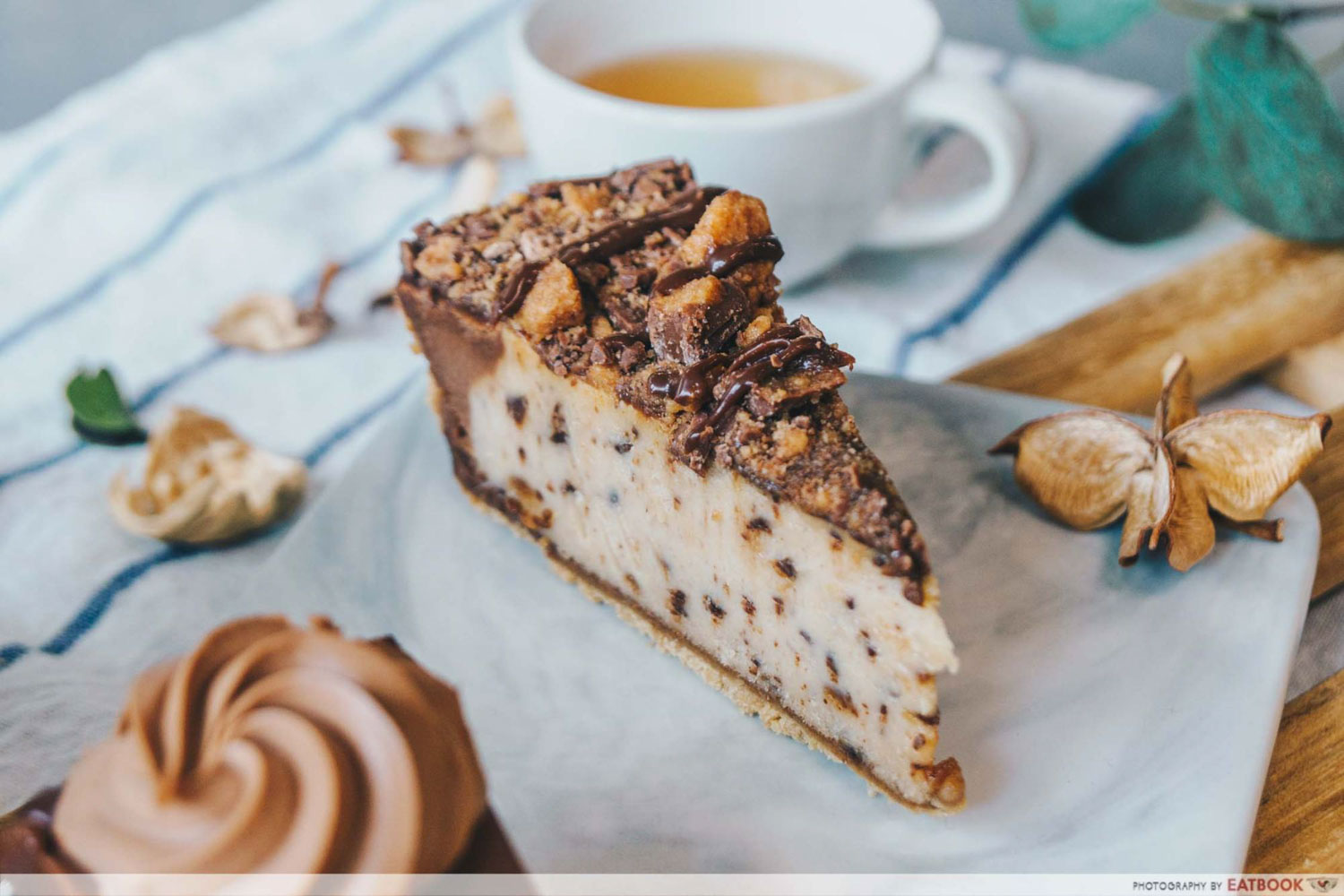 Crunchy chunks of peanut butter generously studded the cake, such that every mouthful of cake offered a satisfying contrast of textures.
However, the overpowering peanutty taste of Reese's provided little room for the other ingredients to shine, as I could barely discern a hint of cheesy savouriness. Disappointing if you're cheese-a-holic; excitingly irresistible otherwise.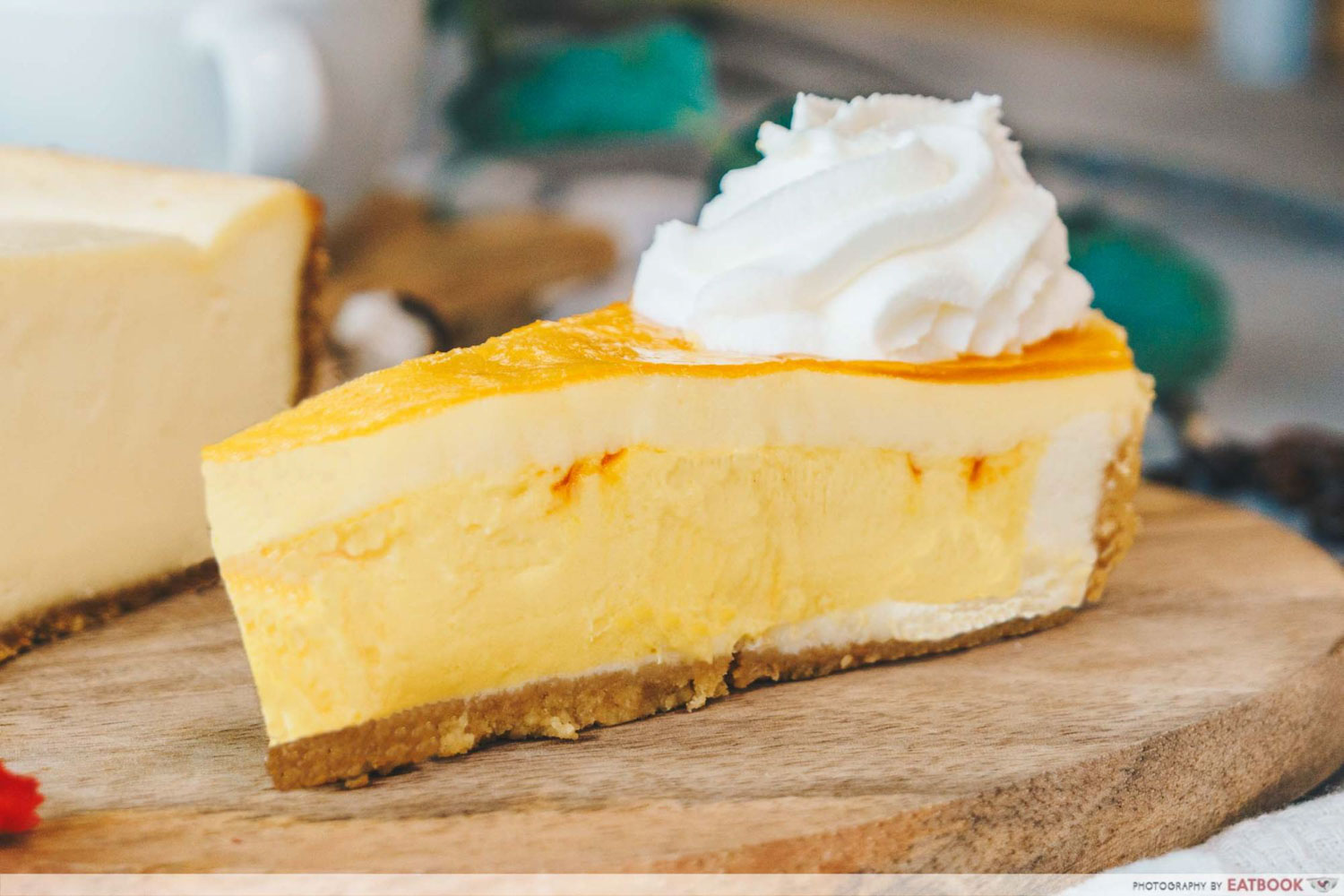 After three cheesecakes, and with a riot of heavy flavours battering on my taste buds, I desperately craved a palate cleanser. 
Enter the Mango Key Lime Cheesecake ($8.90 per slice). A seasonal guest on their menu, it offered a refreshing end to my cheesecake fiesta. 
Unlike Reese's peanut butter, the mango mousse paired nicely with their cheesecake. Sweet and fruity tones tempered the savoury cheesecake, marrying into a cohesive burst of flavours. Thanks to the key lime, citrusy notes rounded off this palatable medley, giving this cake an overall refreshing flavour.
Ambience at Beverly Hills Cheesecake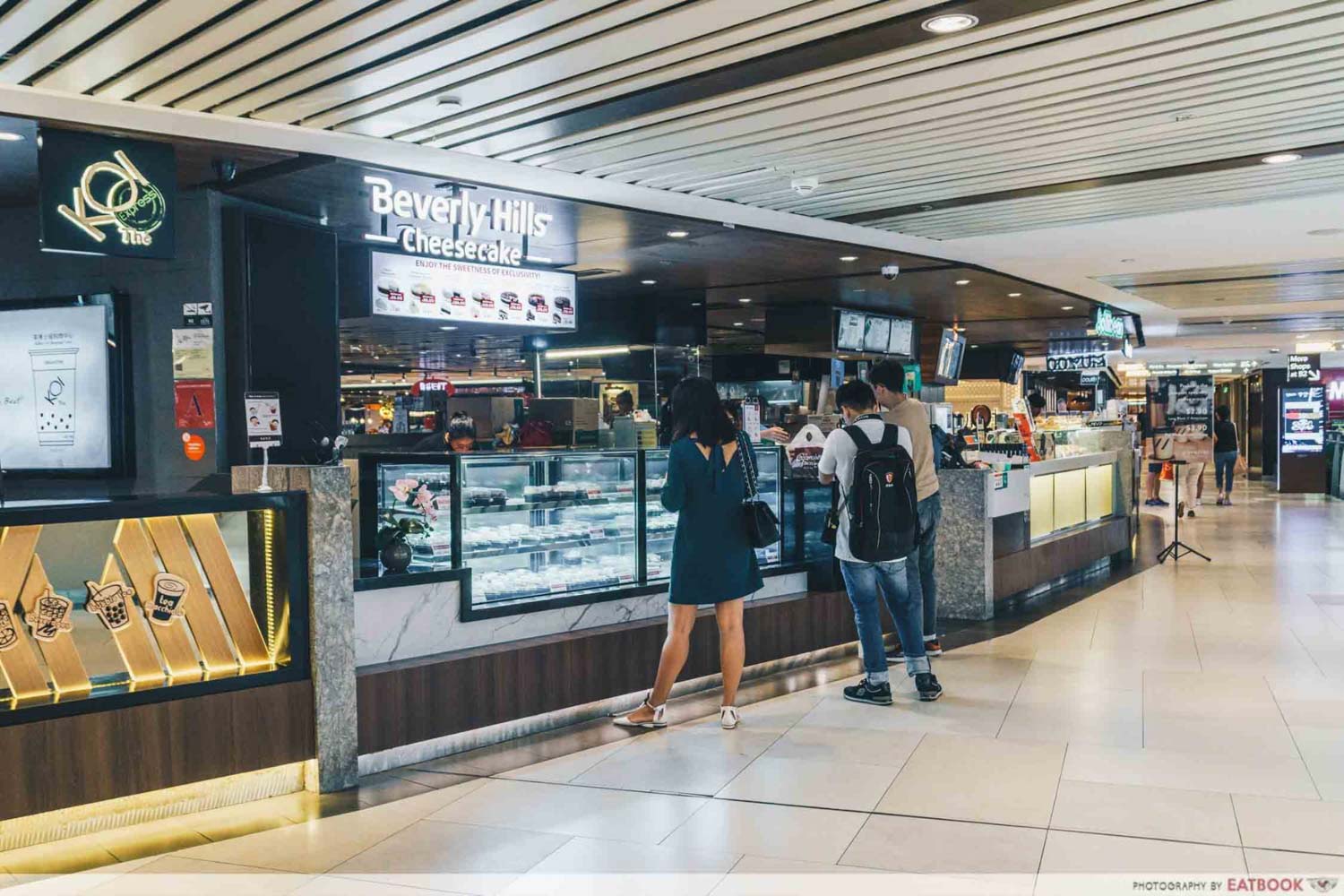 A sleek kiosk tucked within the maze of shops at Raffles City Shopping Centre, Beverly Hills Cheesecake stands out with their neat rows of cheesecake slices. 
Take note that dining space is unavailable here; you'll have to da bao your favourite treats home. Thankfully, these dainty desserts are carefully packaged in triangular containers, so you don't have to worry about accidentally damaging them.
The verdict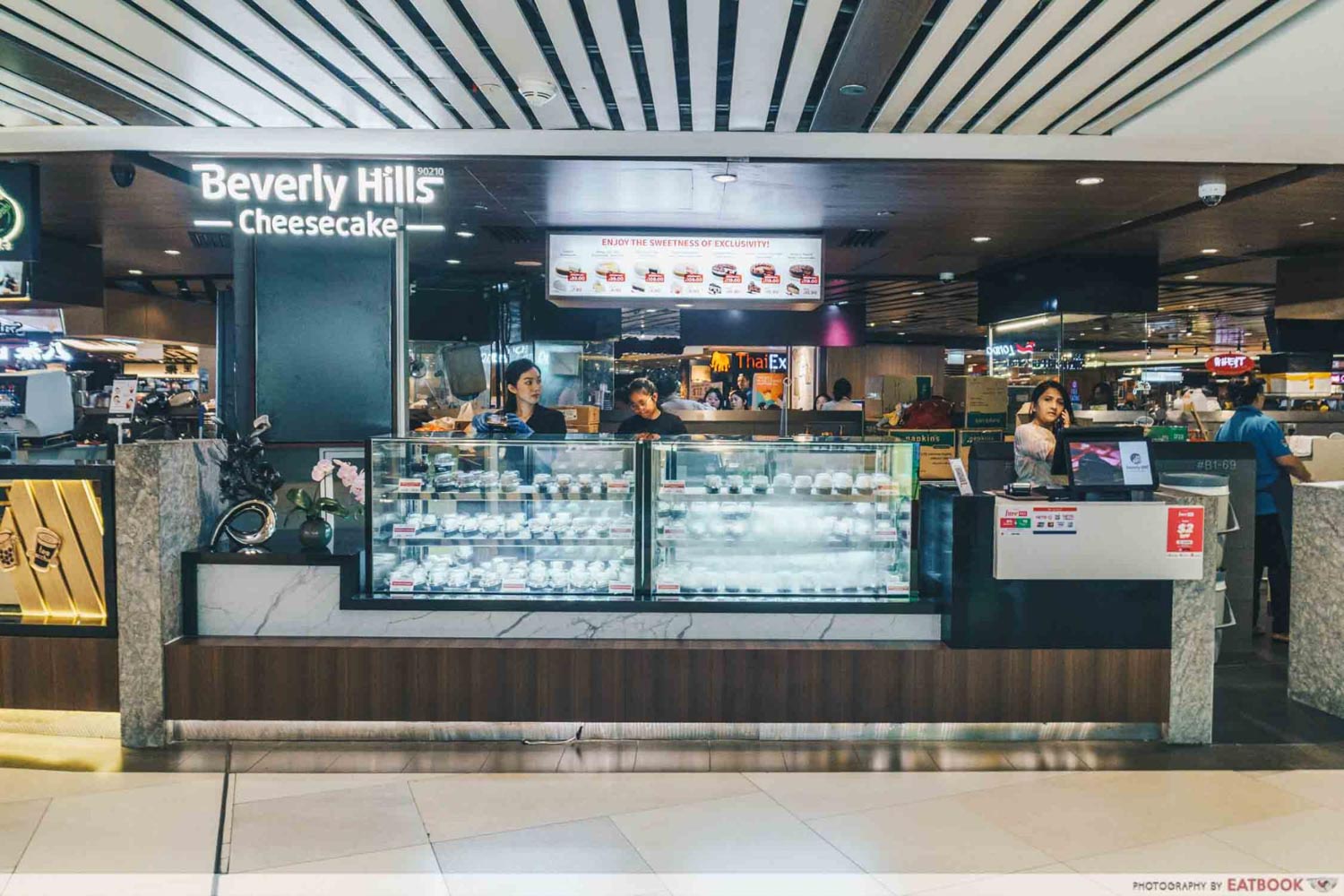 Beverly Hills Cheesecake burst onto the local food scene with great fanfare, with many Singaporeans thronging the stall on its opening day. While the queues have died down, the hype certainly hasn't.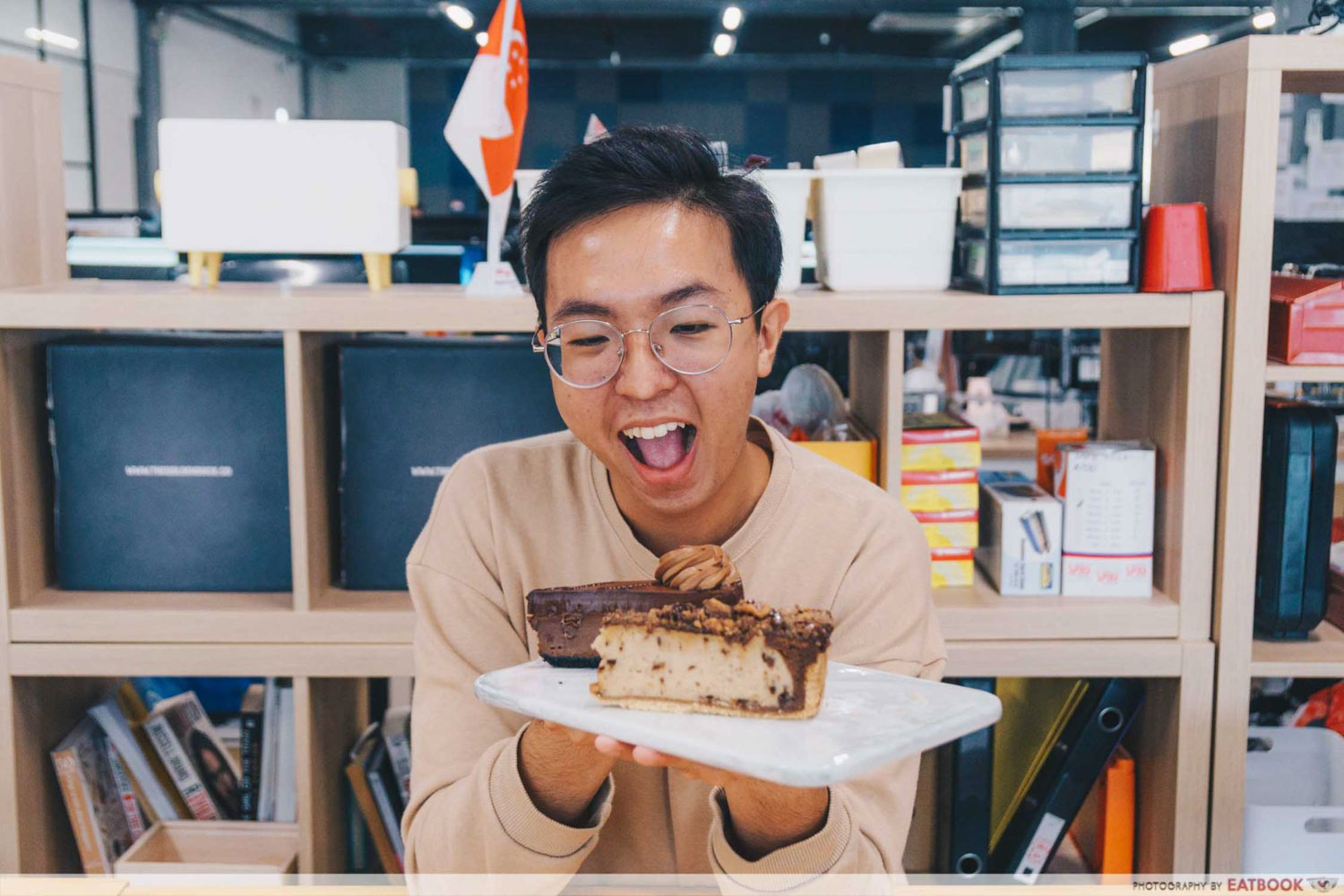 Their cakes usually sell out early in the evening and it's easy to understand why. 'Cake' seems to be a misplaced noun for these delicious creations; their soft and velvety mouthfeel defy all expectations of a typical cheesecake. Admittedly, they're rather expensive, but they're def' worth splurging on.
4 Quick and Easy No-bake Christmas Cheesecakes Using Cream Cheese
Address: 252 North Bridge Road, #B1-70, Raffles City Shopping Centre, Singapore 179103
Opening hours: Daily 10am to 10pm
Tel: 9723 2405
Website
Beverly Hills Cheesecake is a halal-certified eatery.
Photos taken by Lim An.
This is an independent review by Eatbook.sg.
Summary
Pros
— Must-try cheesecakes
— Deliciously soft Classic Cheesecake
— Addictive Reese Peanut Butter Cheesecake
Cons
— Takeaway kiosk
— Expensive
Recommended Dishes: Classic Cheesecake ($7.90), Mango Key Lime Cheesecake ($8.90), Godiva Double Chocolate Cheesecake ($10.90), Reese's Peanut Butter Cheesecake ($10.90)
Opening hours: Daily 10am to 10pm
Address: 252 North Bridge Road, #B1-70, Raffles City, Singapore 179103