Olivia Restaurant & Lounge for legit Catalan grub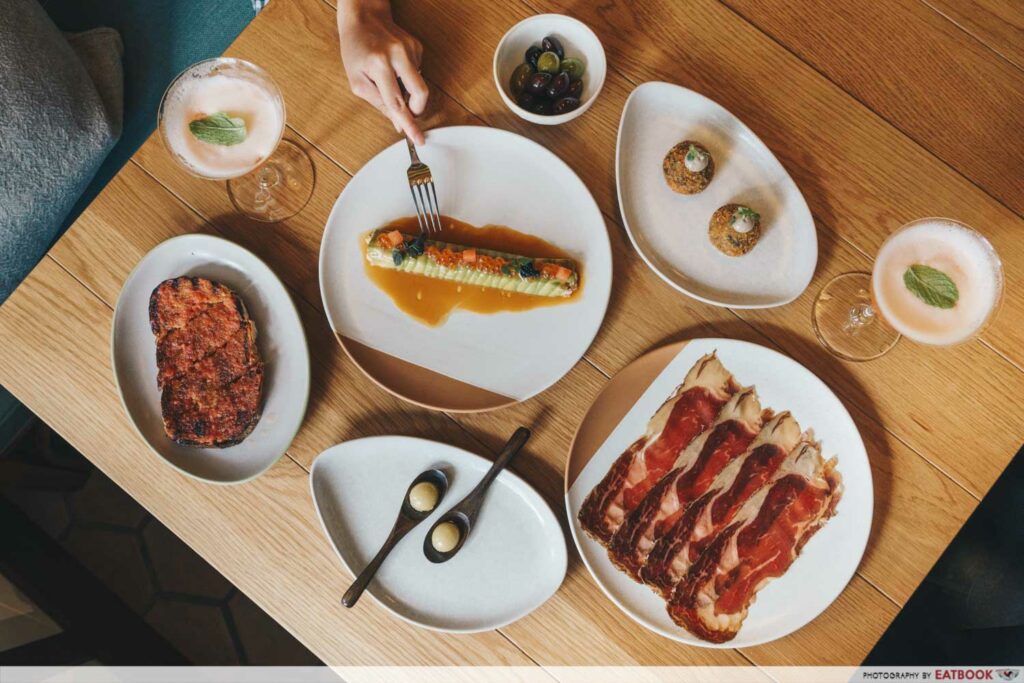 Famed three Michelin-starred restaurant elBulli may have closed their doors in 2011, after 54 years of operations in Spain, but that's no reason to cry, as their chefs are still around to this day. And one such chef is Alain Devahive, who runs the kitchen at Olivia Restaurant & Lounge in Singapore. With a decade of experience working at elBulli's food research laboratory, ellBullitaller, Alain is armed with the know-how of creating a gastronomic meal that you will want to go broke for. 
Food at Olivia Restaurant & Lounge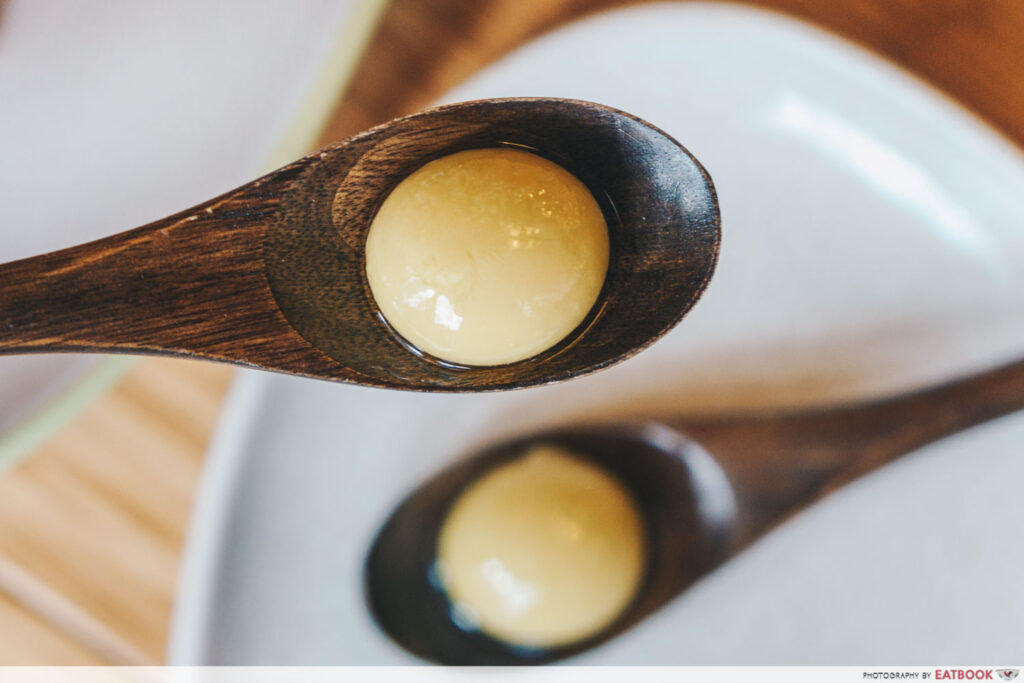 While a complimentary serving of olives are presented to you the moment you place your order, I recommend you still order the Spherical Olives ($1.50+ each). 
A spin-off of three-Michelin-starred restaurant elBulli's molecular gastronomy creation, these tiny spheres gently burst on your tongue, releasing an intense olive essence. It will definitely help cleanse your palate for the feast that lies ahead.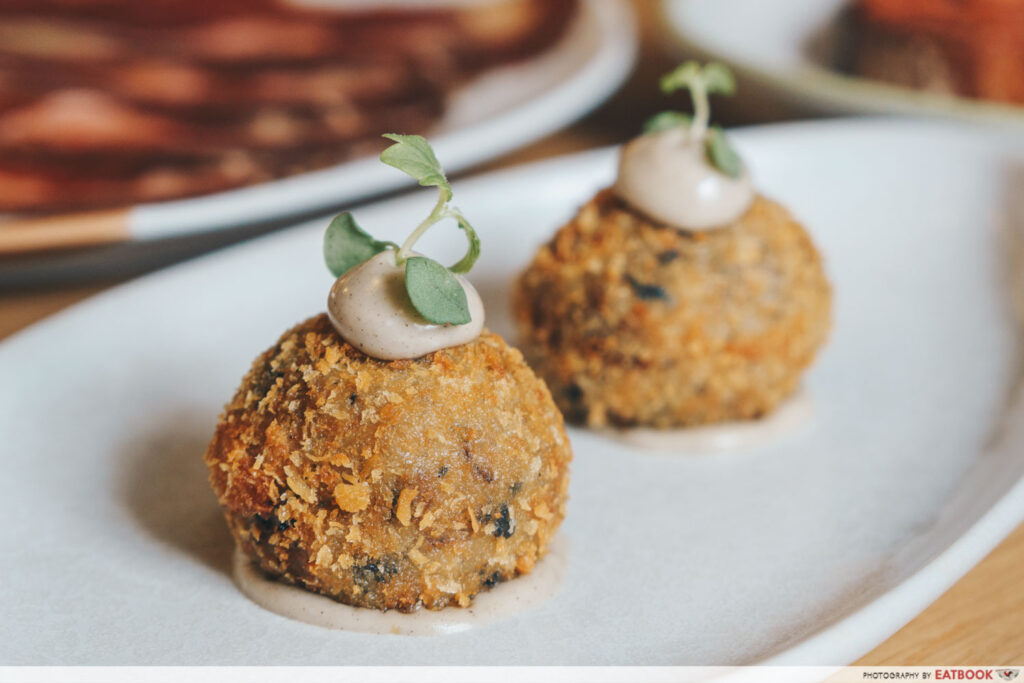 Oozing out as we cut into the Mushrooms and Truffle Croquettes ($10+) was a velvety flow of bechamel filling dotted with mushrooms and bits of truffle. It was redolent of earthy, mushroom flavour, and brought us immense comfort, just like how a good bowl of mushroom soup would at the start of a meal.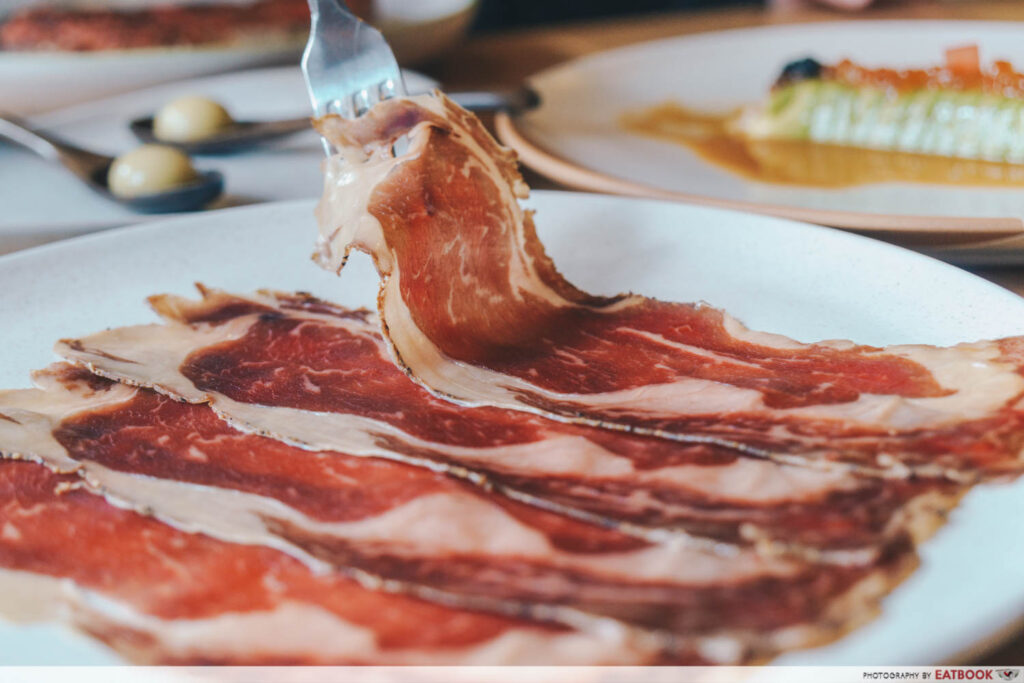 With a twinkle in his eyes, our host and COO of Olivia, Miquel, whispered that the Dry-Aged Galacian Beef ($36+) is the reason police will surround the restaurant. Specially hand-carried on a plane from Spain, this prized possession is marinated and cured for 45 days. The beefy flavour was strong and funky. It would definitely work well as a bar snack, together with a tipple or two.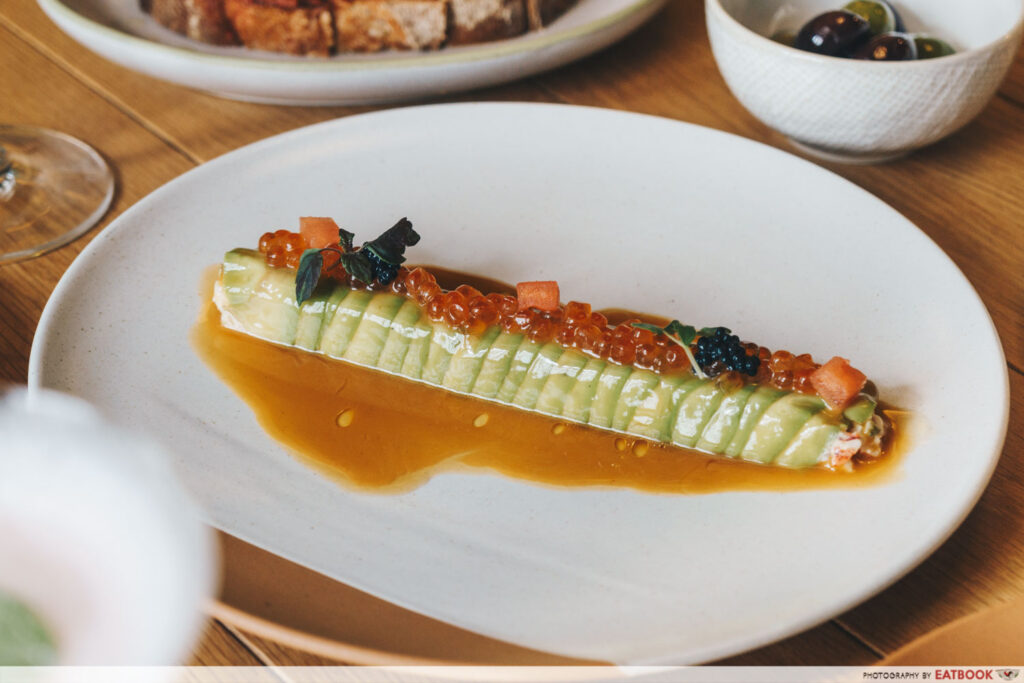 My dining companion didn't really fancy the Homemade "Catalunya" Lobster-Avocado Roll ($29+), citing the combination of shredded lobster meat and roe was too fishy for her taste—despite the sharp tang from the accompanying ponzu sauce. 
However, I am a huge fan of ebiko and its oceanic tang, so I did quite enjoy this refreshing dish.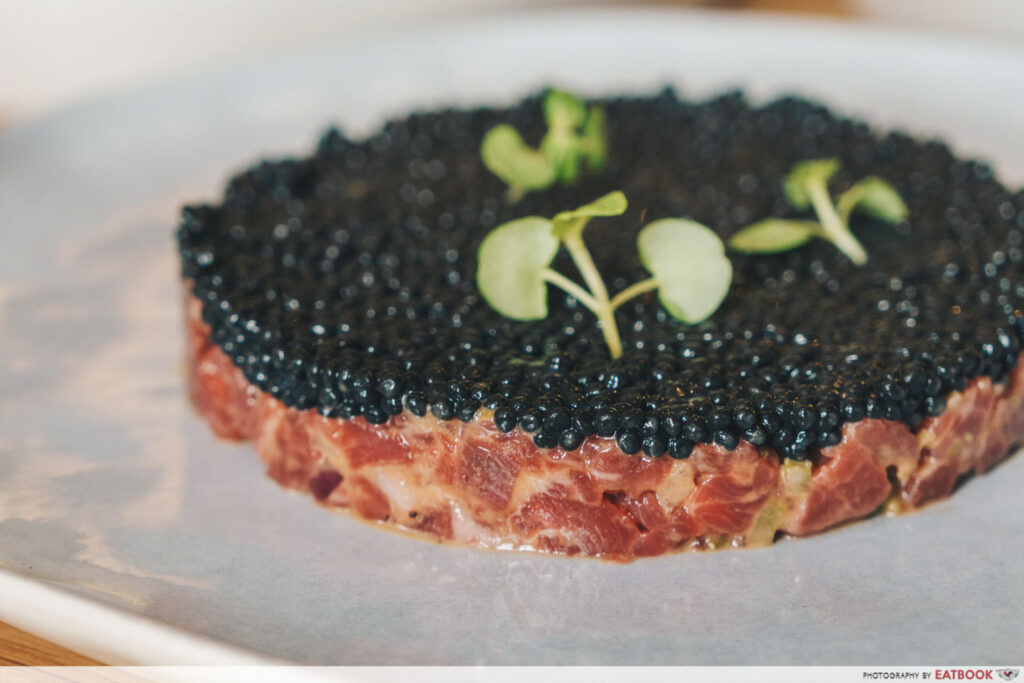 To most Europeans, the Classic Tenderloin Steak Tartare with Avruga Caviar & Fries ($46+) is usually enjoyed as a main. But I personally feel it is best for sharing since it's super decadent. Just look at the generous amount of caviar covering the fatty steak! Plus, if you generally don't eat raw beef, you might feel jelak eating it all on your own. 
As someone who ate steak tartare almost every other day in Prague, I can safely say that the steak tartare here is worth every penny. The chopped beef was fresh, with bright zesty flavours uplifted by a tinge of saltiness from the caviar. It was light on the palate, although I did feel that the fries cheapened the dish. Instead, I'd recommend requesting for some thin crostini to scoop it all up.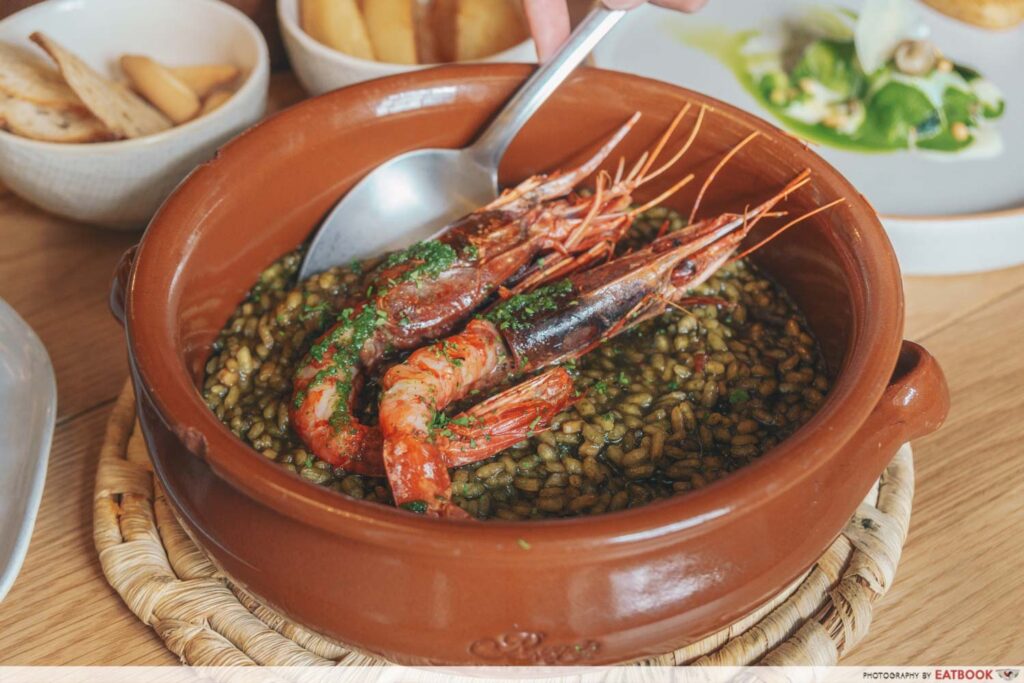 Don't mistake the Black Rice with Grilled Mediterranean Red Prawn ($32+) for paella. While it does bear a resemblance, this rice dish is actually called Arròs negre. The blackness of the rice comes from the addition of squid ink, which gives it a deep marine tang.
The Guild Review: Pulau Ubin-Farmed Oysters And Buah Keluak Ice-cream At Keong Saik Road
Have your taste buds go on overdrive when you pair the umami-laden rice with the sweet, tender prawns.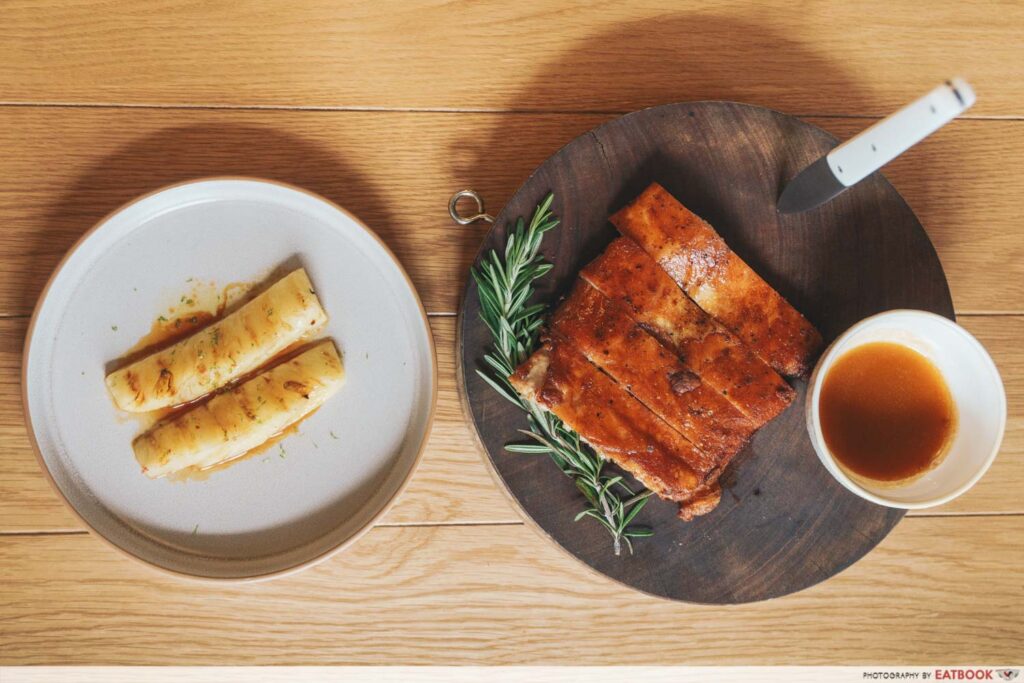 Aside from these dishes, Olivia has a roster of around 400 other dishes, with many of them being off-menu. So step out of your introverted comfort zone and ask for their secret menu items such as the Suckling Pig Belly ($78++). Note that we were only served a tasting portion, so you can rest assured your portion will be bigger.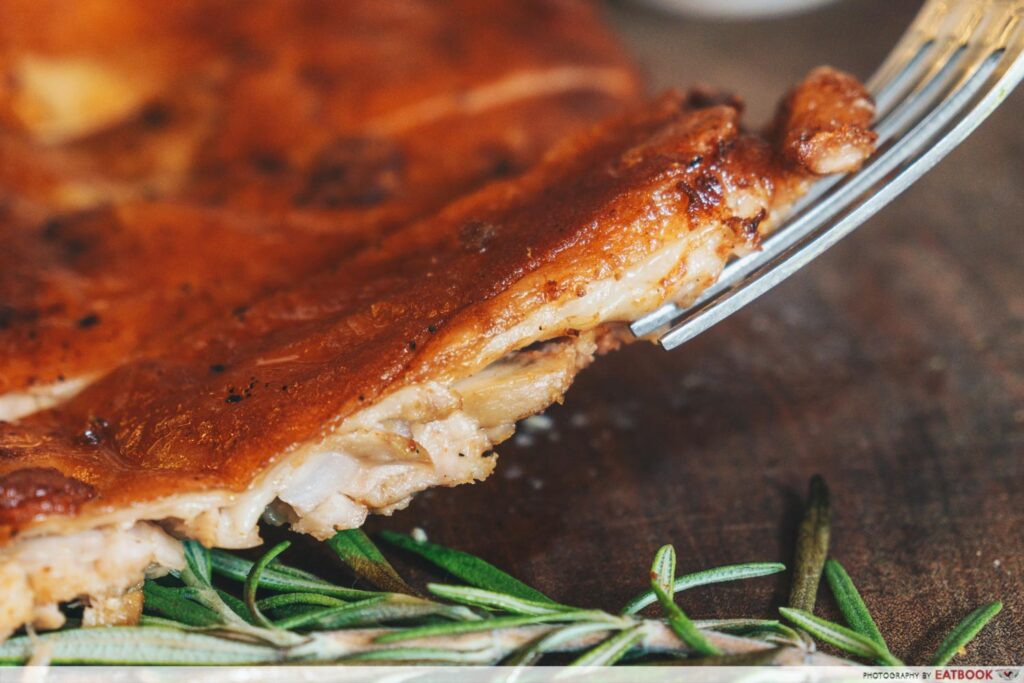 A shattering sound punctuated our conversation as we bit into the pork belly, which had a good ratio of crispy skin to fat and meat. To alleviate the heaviness of the dish, you'll also be served with a side of caramelised pineapple that's doused in lime zest and olive oil.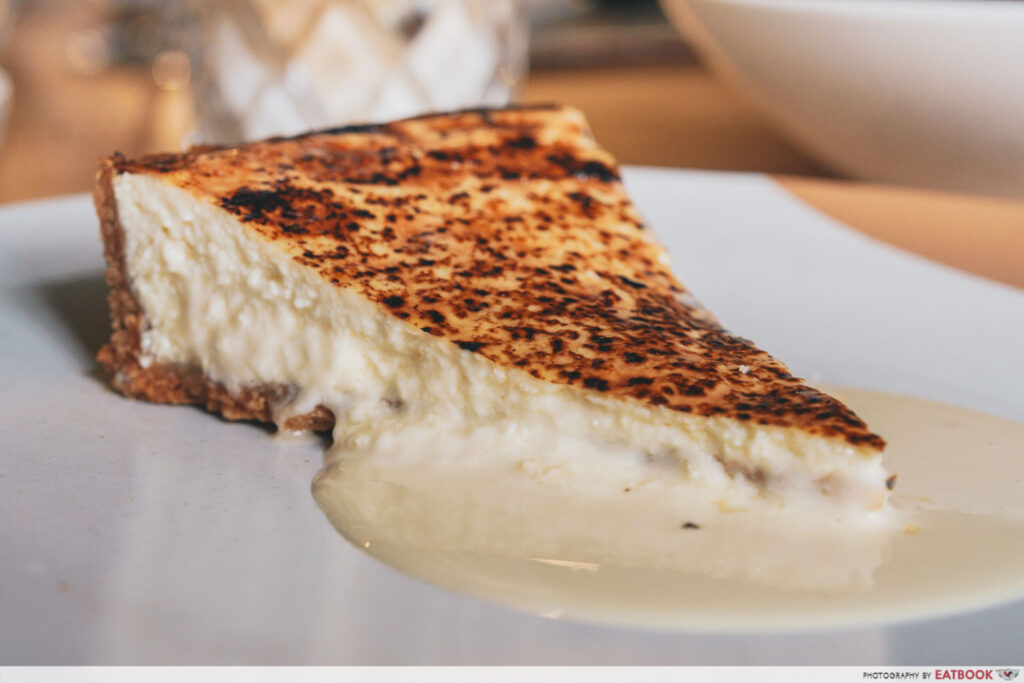 Imitation is the best form of flattery. And it's safe to say that Olivia's Creamy Homemade Cheesecake ($14+) was the kickstarter of the burnt cheesecake trend in Singapore. It's so good, a regular literally ran it at 10pm to beg for a slice to take away, before proceeding to eat it in his car. That's how spectacular this cake is. 
Clan Cafe Review: Hidden Cafe At Keong Saik Road With One Of The Best Kueh Salat In SG
Made with a combination of eggs, flour, sugar, blue cheese and cream cheese, this famous Basque delicacy is cooked in a low-temperature oven, resulting in a creamy burnt cheesecake that melts onto the plate—and your heart. It's complex in taste, more savoury than sweet, with a delicate pungency from the blue cheese.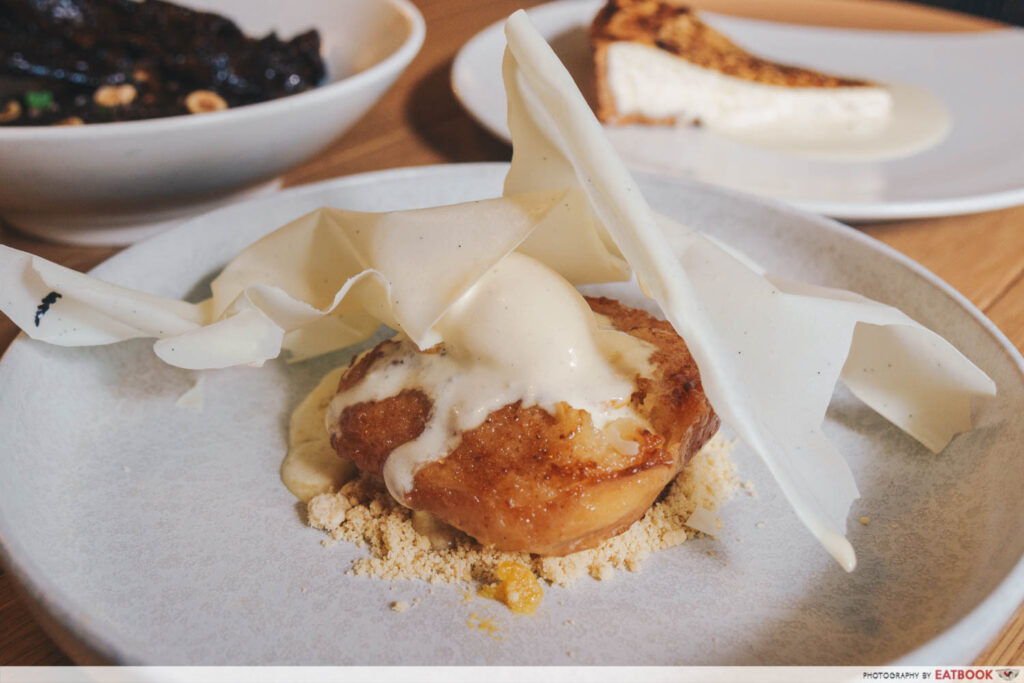 They've recently expanded the menu to showcase more sweet treats, and all the ones we tried were just as noteworthy. The Spanish "Torrija" with Ice Cream ($14+) was light, with a soft house-made vanilla brioche soaked in kumquat confit. The sweet, citrusy tang made it easy to wipe the plate clean, without feeling stuffed.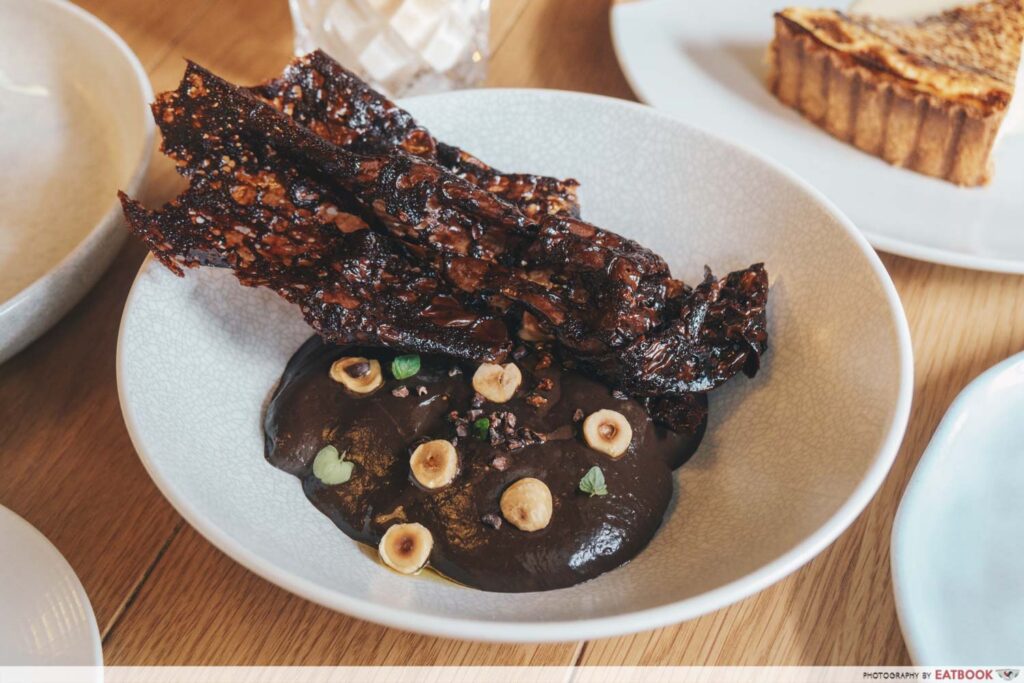 If you have space for a denser treat, order the Warm Chocolate Foam Temptation ($14+). Chocolate lovers will give it two thumbs up, as it is made with 100% cocoa foam and cocoa nibs. It's not too sweet, with  a good balance of bitter chocolate.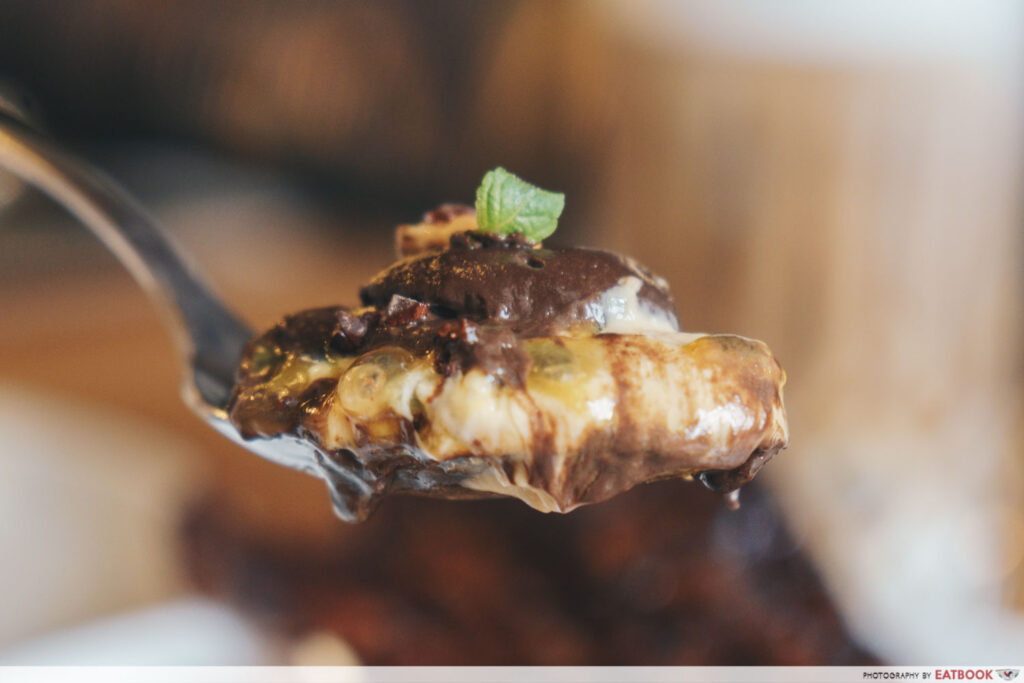 Just when you think it's a little too chocolatey, you will find a base of fresh passionfruit hidden underneath the brown mess to cut away the richness. 
Ambience at Olivia Restaurant & Lounge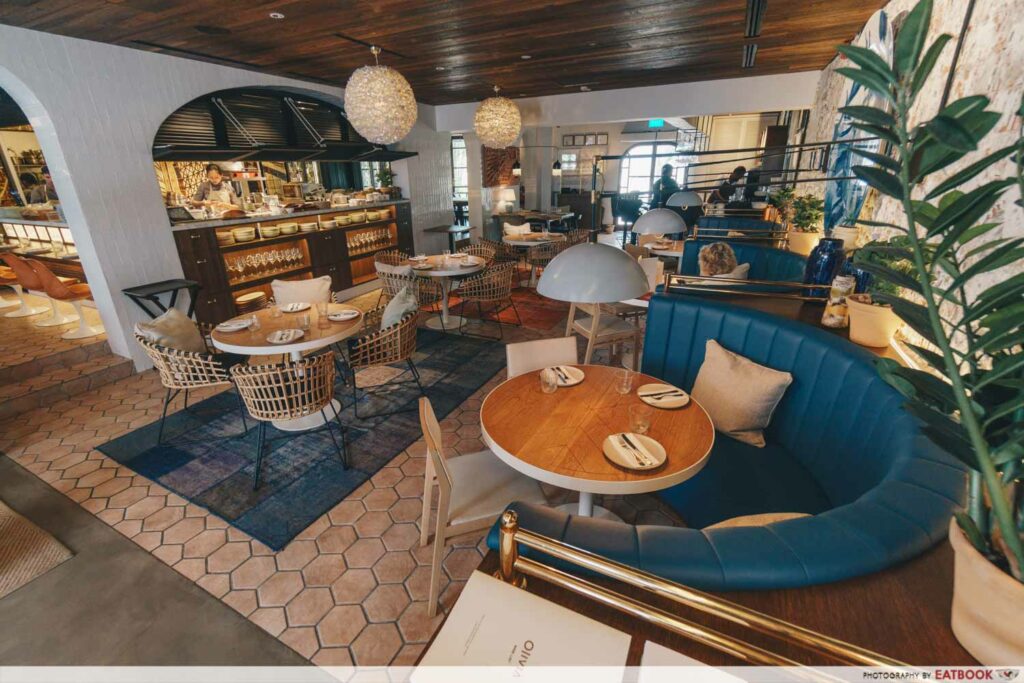 While its Mediterranean design is no doubt alluring, with deep turquoise booths alongside wicker chairs, it is the stellar service that makes the ambience at Olivia Restaurant & Lounge. Everyone serves you with a smile, and you will feel like a regular even if it's your first time there. Plus, if you're really lucky, they might even hand you some free bites to try— although, you shouldn't expect it.
The verdict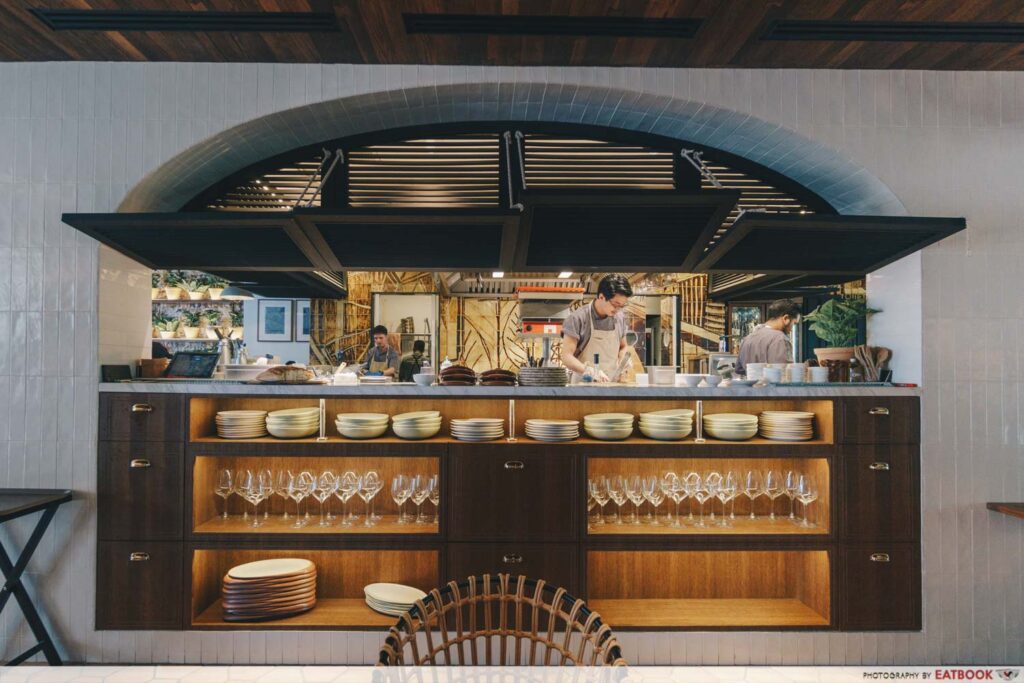 If there's one restaurant you have to go in 2019, it has got to be Olivia Restaurant & Lounge. The prices aren't cheap, but the service staff, tranquil ambience and delicious food will make it all worth your while. The restaurant's only SOP is that everyone leaves with a hug. But judging from both my lunches there, you will leave with more than just a hug—you will leave with a satisfied belly and a huge smile.
Address: 55 Keong Saik Road, Singapore 089158
Opening hours: Tue-Thur 11:30am to 2pm, 6pm to 10pm, Fri-Sat 11:30am to 2pm, 6pm to late
Website
Photos taken by Koh Hui Qing.
This was a media tasting at Olivia Restaurant & Lounge.
Summary
Pros
– Great service
– Delicious dishes and desserts
Cons
– Expensive
Recommended dishes: Olivia's Creamy Homemade Cheesecake ($14+), Suckling Pig Belly ($78++), Black Rice with Grilled Mediterranean Red Prawn ($32+)
Opening hours: Tue-Thur 11:30am to 2pm, 6pm to 10pm, Fri-Sat 11:30am to 2pm, 6pm to late
Address: 55 Keong Saik Road, Singapore 089158