Dumpling Darlings at Amoy Street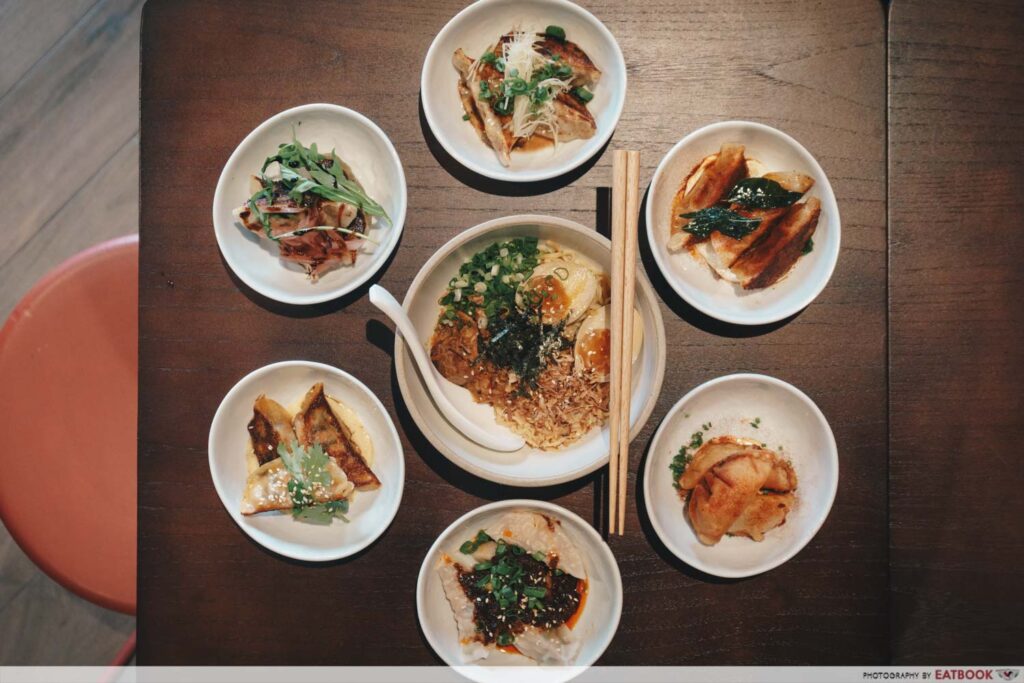 Just like the Youngs in Crazy Rich Asians, my family used to hold dumpling-making sessions once in a while. My grandma would lead everyone in the preparation process, while my dad would be in the kitchen boiling, steaming, and pan-frying the morsels. With my family now working in various countries, this is no longer a thing at home, but dumplings still hold a special place in my heart.
When I heard about the opening of Dumpling Darlings, I immediately wanted to see if their dumplings are as good as my grandma's, especially when I realised it's opened by the folks behind Lola's Cafe – coincidentally one of my favourite cafes.
Food at Dumpling Darlings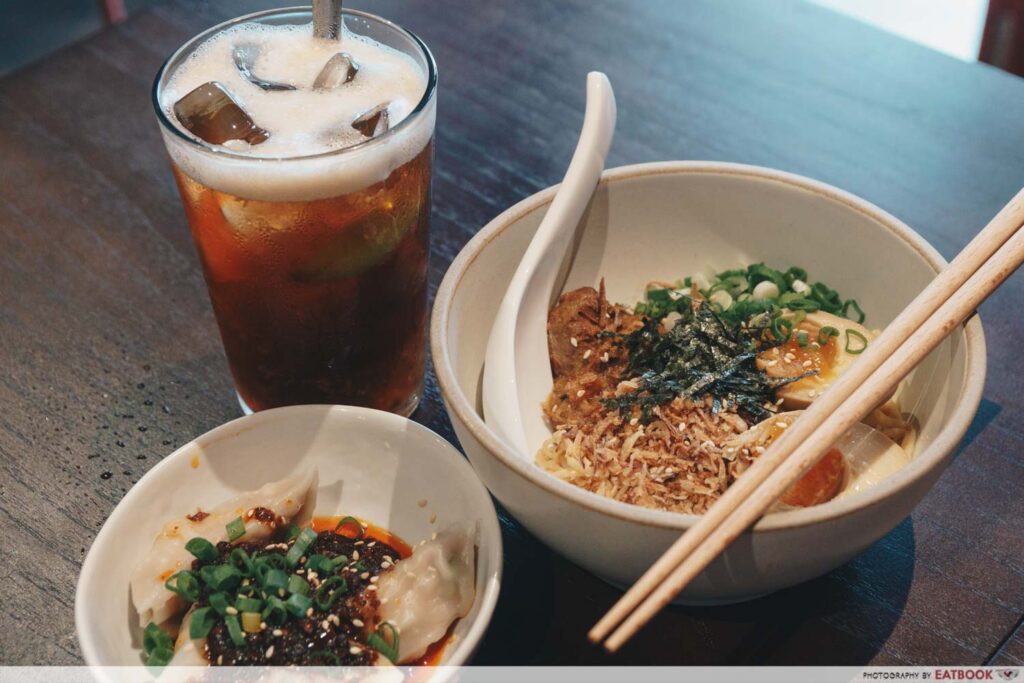 On the menu are six savoury dumplings, one dessert dumpling, and three noodles. They dish out lunch sets too. At $16++, you'll get a bowl of noodles, a dumpling dish, and a drink.
We got one lunch set comprising Braised Pork Noodles, Spicy Sichuan Dumplings and a glass of iced Longan Osmanthus Pu-erh ($6++ for a la carte).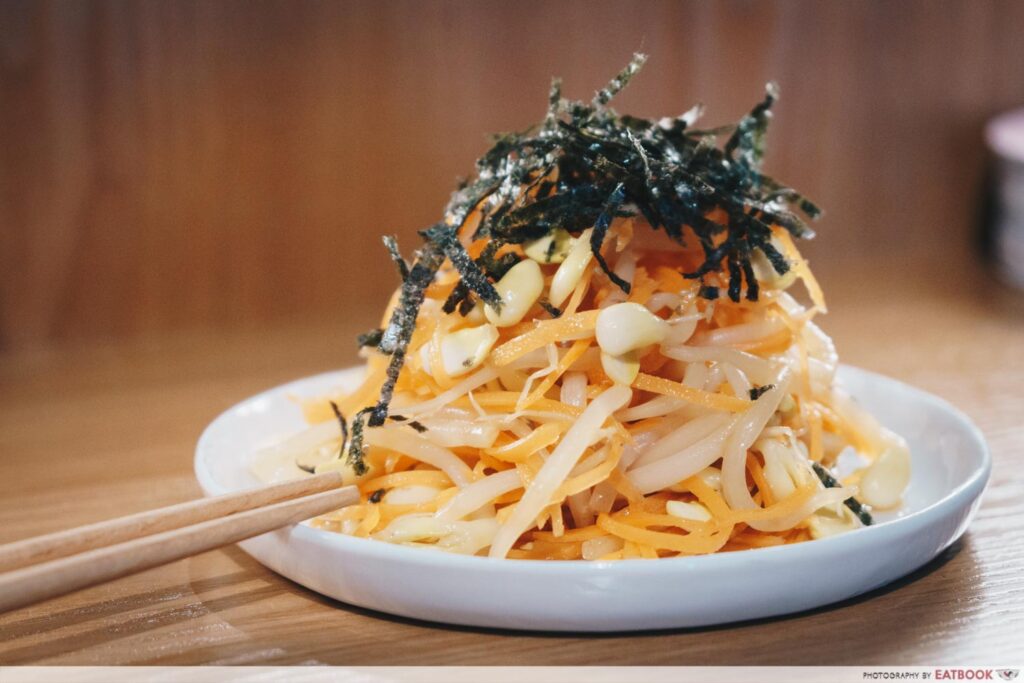 The first thing that arrived was this complimentary side of cold bean sprouts. Much like the Korean banchan kongnamul-muchim, this refreshing dish kick-started our appetite with its umami flavour.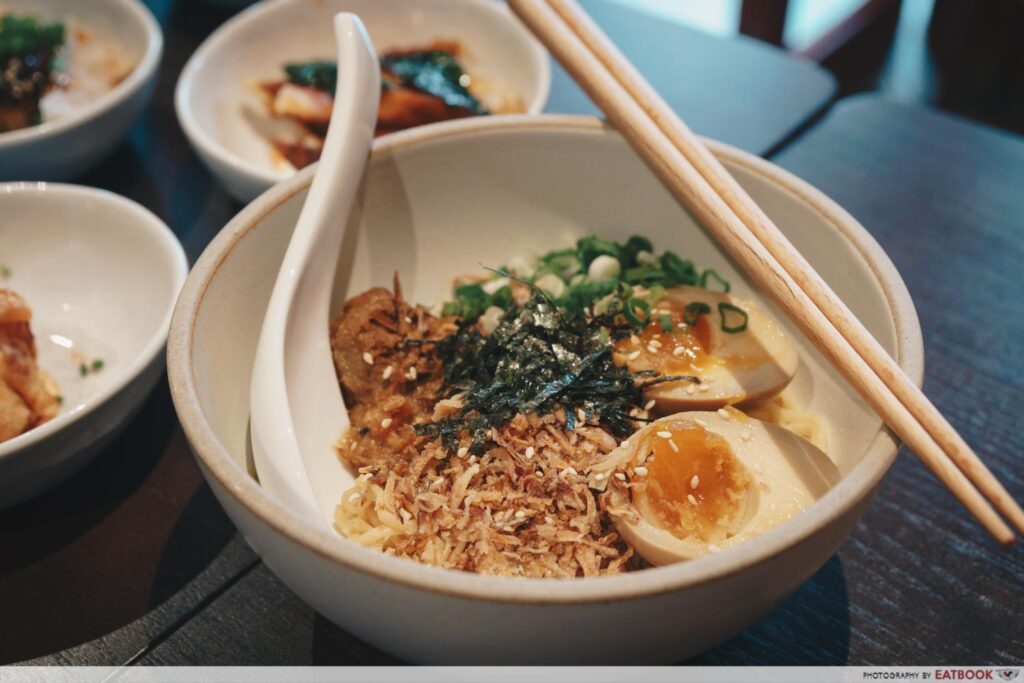 Shortly after, the Braised Pork Noodles ($6++ for a la carte) was served. While I was expecting the Taiwanese lu rou fan type of pork, this is more of a pork ragu with a bacon and soy sauce seasoning. It also comes with a complimentary egg as part of the lunch set.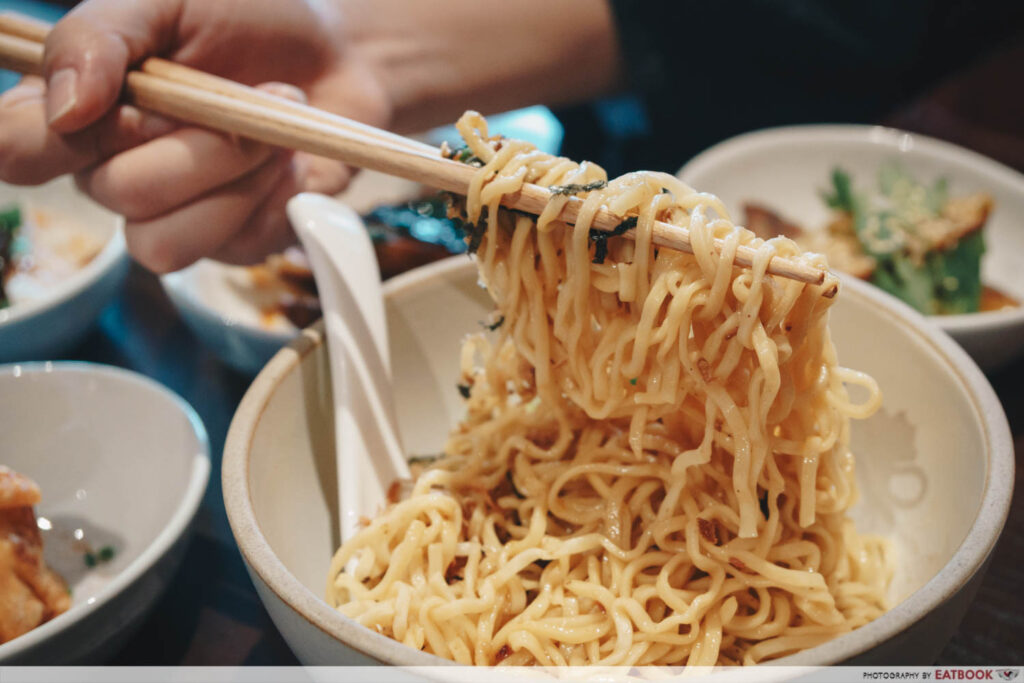 The bouncy egg noodles may look like Maggi mee, but they tasted way better. They carried the savoury sauce well, giving each mouthful a balanced mix of flavours and textures.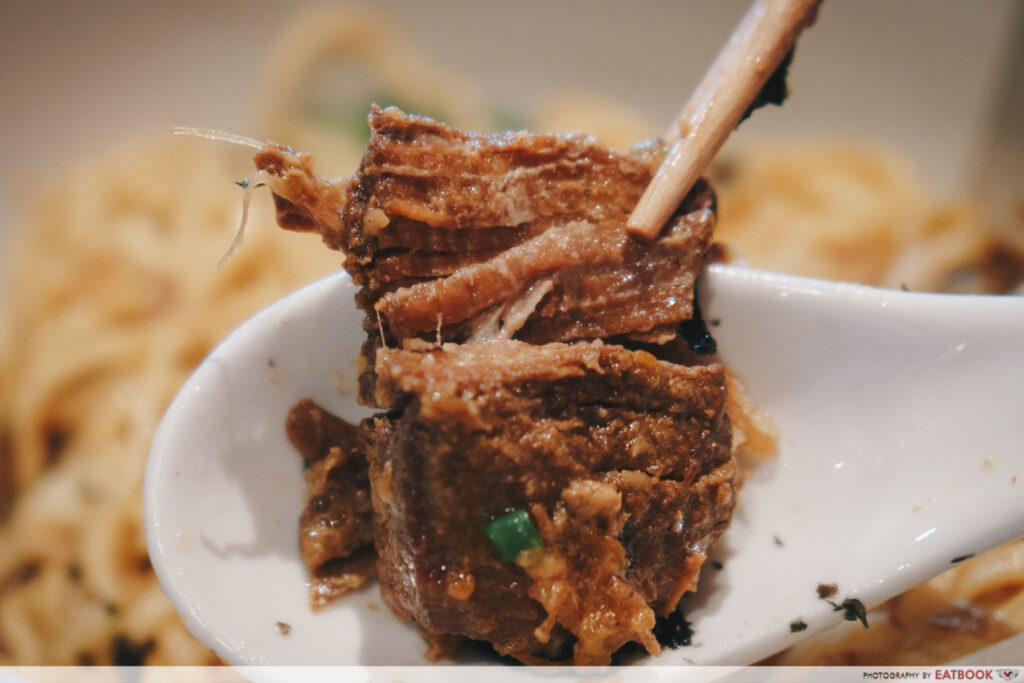 The braised pork itself was sadly tough, and wasn't as flavourful as I'd have liked it to be. I'd try the other two noodle options – Miso Mushroom Noodles ($5++) and Sichuan Pork Noodles ($6++) – the next time I'm here.
Jin Ji Braised Duck Review: Dry Duck Ramen With A Singaporean Twist By Famous Kway Chap Hawker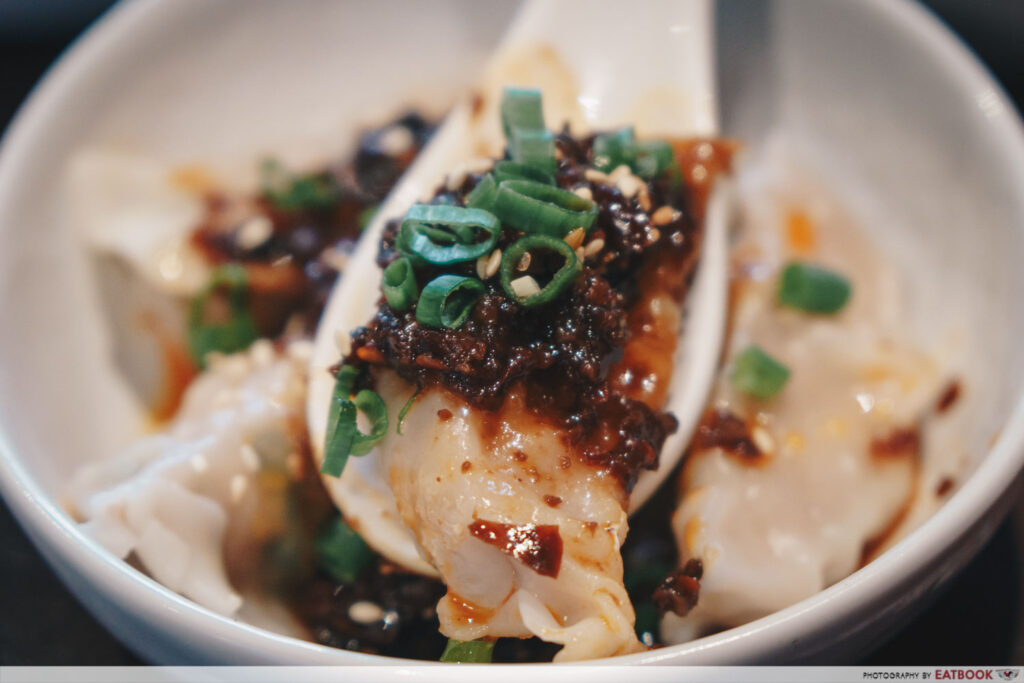 Along with the noodles came our Spicy Sichuan ($7++ for a la carte) dumplings. These boiled pockets of minced pork collar, Chinese cabbage and ginger soy sauce were swimming in Spicy Sichuan Vinaigrette.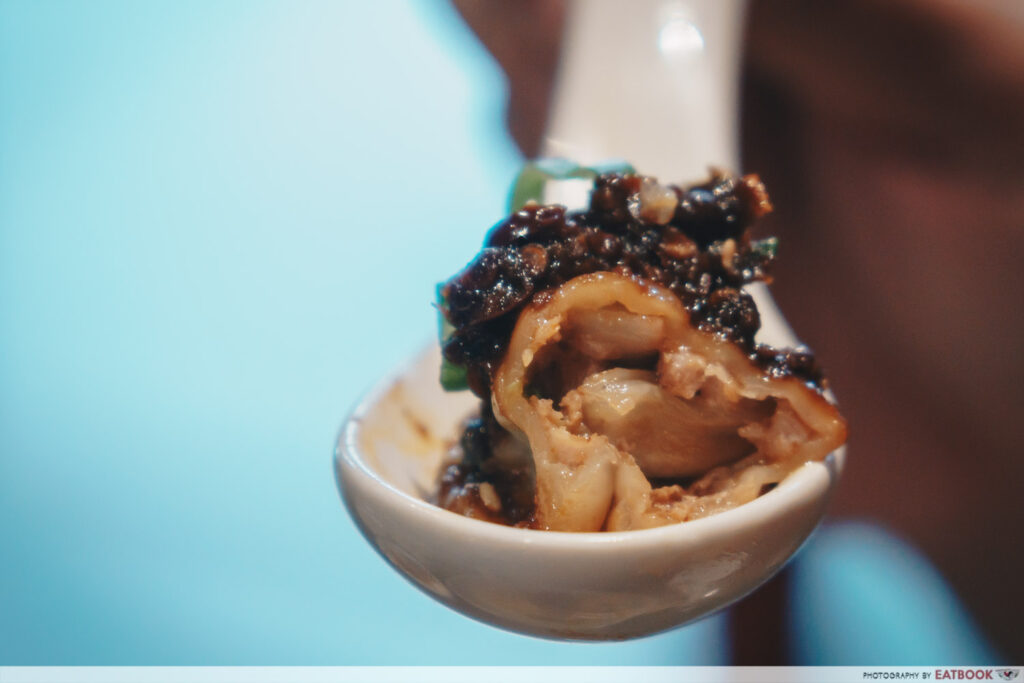 The dumplings themselves were juicy, and the skin wasn't too doughy like Shanghainese jiao zi. The cabbage added a crunch to the meaty parcel, making these quite delectable to pop one after another into my mouth.
With a name like "Spicy Sichuan", I was expecting my taste buds to go numb, but there really wasn't much of a heat. The taste was similar to hong you chao shou – chilli oil wontons that you'd get at xiao long bao stalls.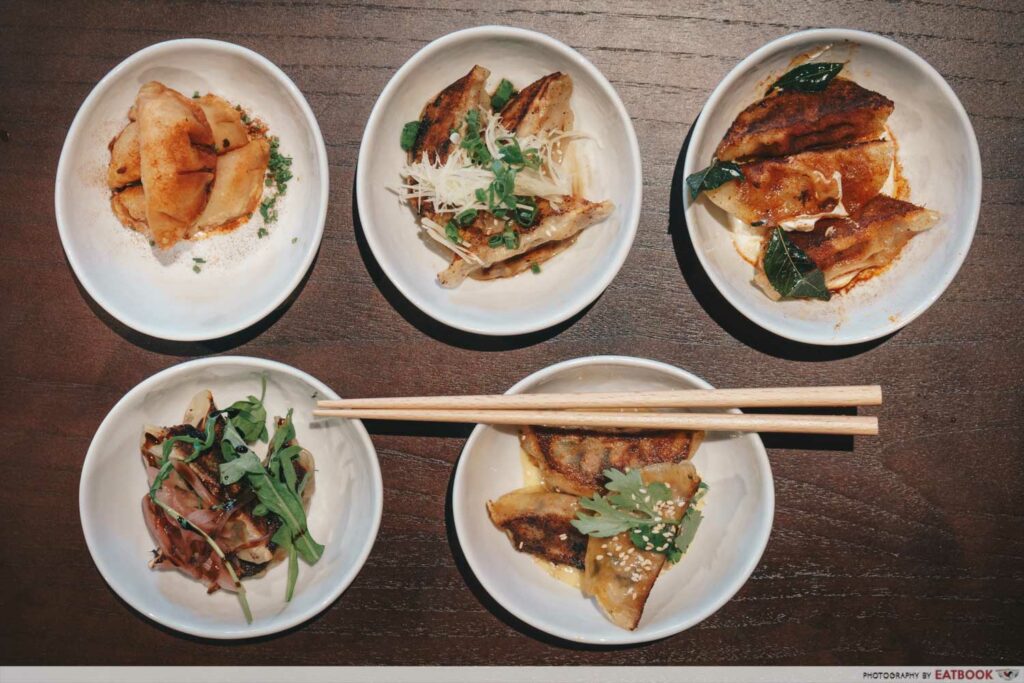 We also ordered a Dumpling Platter of 15 ($20++), which includes three of each of these flavours: The Original, Veggie Mandu, Momo Curry, Fried Pierogi, Smoked Duck. The prices of the dumplings range from $7++ to $8++ for five pieces if you get them a la carte.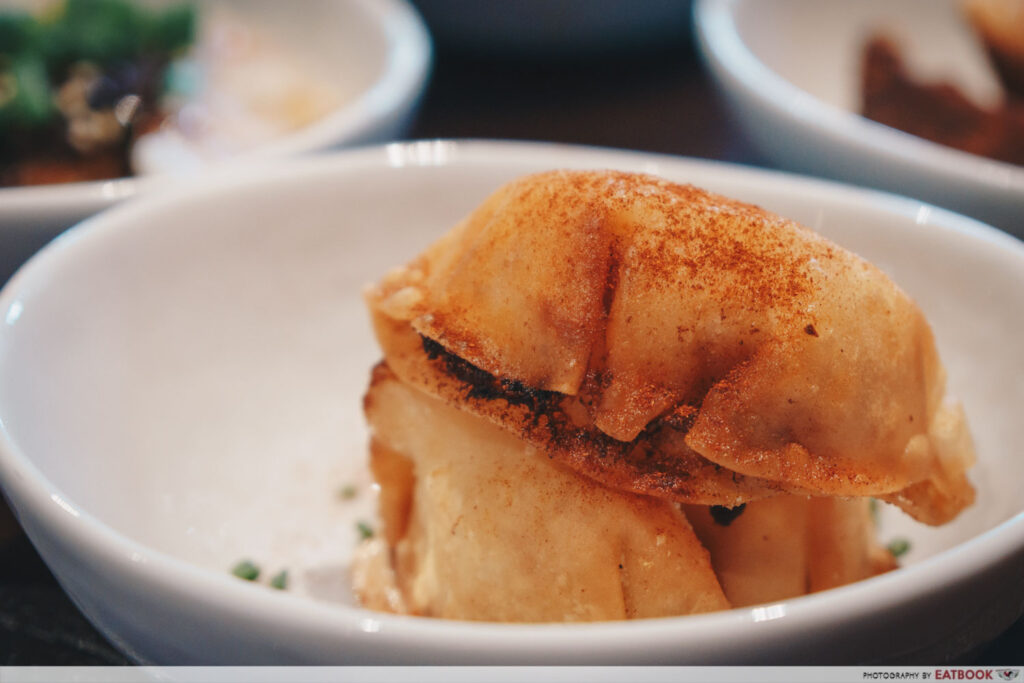 My favourite was no doubt the Fried Pierogi. Though I never took a liking to deep-fried dumplings, these impressed me with their filling. The filling is made of smoked bacon, truffle potato, caramelised onion, and Cheddar, and the fragrance of truffle oil wafted out the moment I bit into the tiny parcel.
Each bite carried a smooth and creamy texture, and a salty, smoky flavour from the bacon. I couldn't taste much of the caramelised onion, but I didn't care about it 'cause the fried dumpling was already delicious. The dish comes with Sriracha crema, which surprisingly burned my taste buds – lightweight spice champs should definitely avoid it.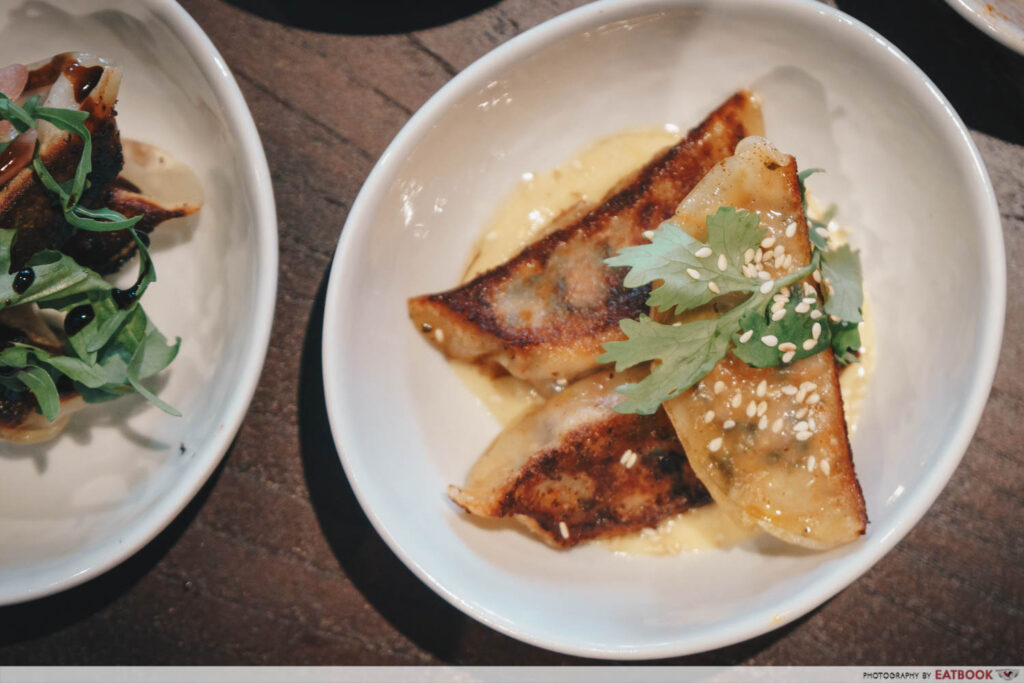 Another dumpling that I liked was the Veggie Mandu. With a filling of spinach, tofu, and shiitake, these were the most similar to the dumplings my grandma used to make. The addition of gochujang and Korean pickles, along with garlic aioli sauce at the bottom of the dish, gives a tangy kick to the medley of contrasting textures. Out of all the dumplings we tried, these and the Fried Pierogi are the ones I would gladly order again.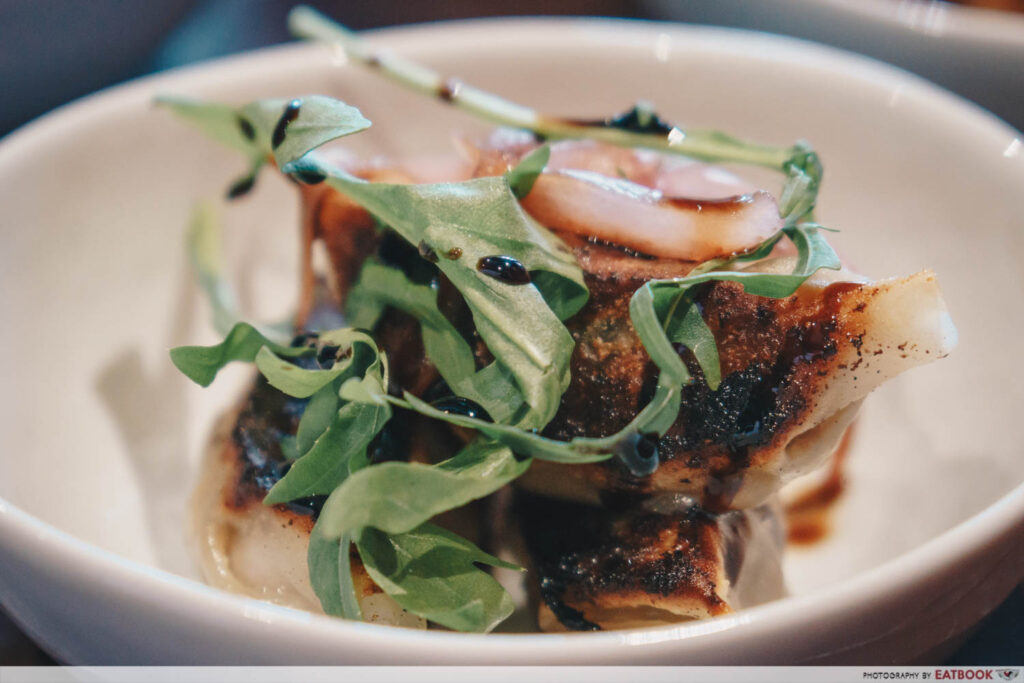 Worth a mention are the Smoked Duck dumplings. In each thin wrapper lies smoked duck, shiitake, caramelised leek and hoisin mustard sauce. The chunky pieces of duck offered a good mouthfeel, and the taste of hoisin sauce provided most of the flavour. Think of these as the popular Timbre duck pizza in gyoza form – minus the addictive fried popiah skin topping.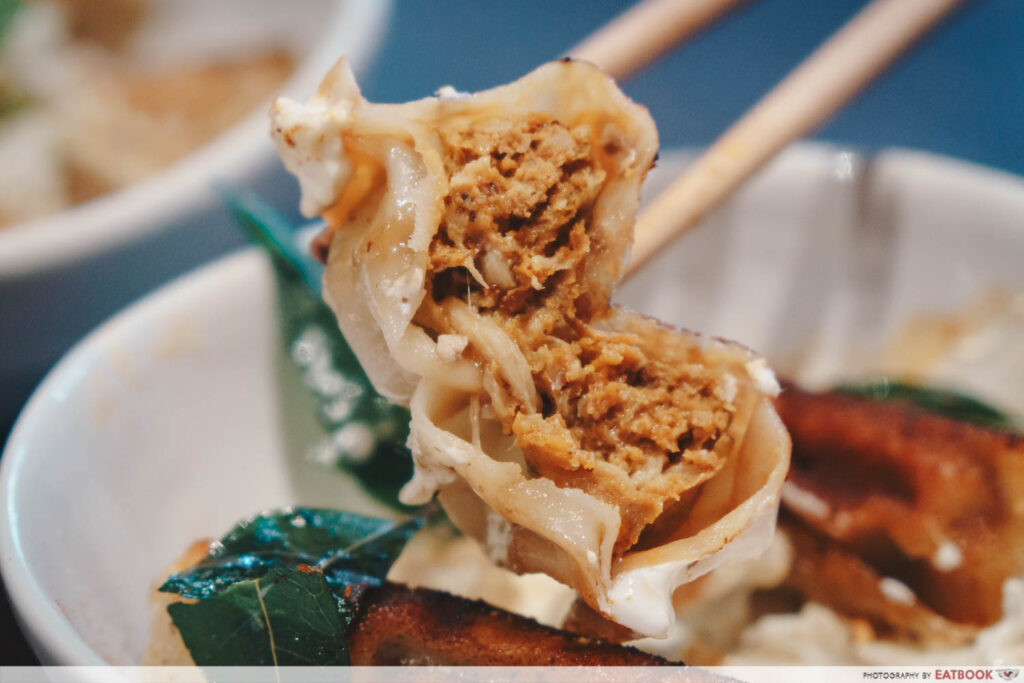 The rest of the dumplings we tried were good, but not so memorable. The Original was the pan-fried and non-spicy version of the Spicy Sichuan. Momo Curry comprises minced pork collar and charred cauliflower, with a rather overwhelming taste of curry powder.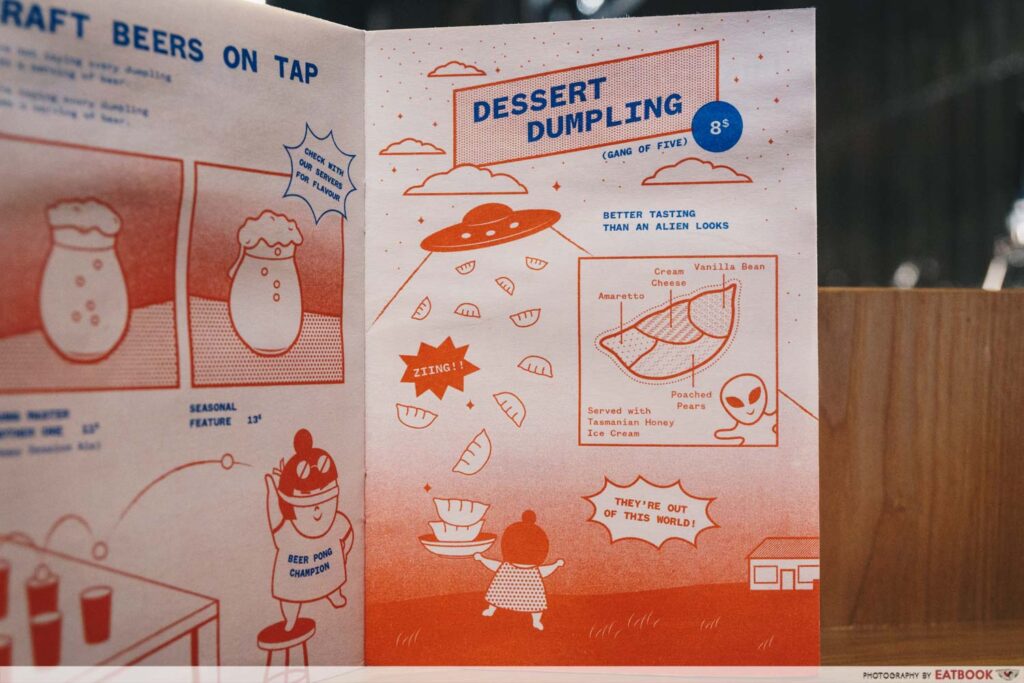 I really wanted to try their Dessert Dumpling ($8++), but they were unfortunately out of it. According to the menu, it's made with cream cheese, amaretto (a liqueur), poached pears and vanilla bean, and served with Tasmanian honey ice-cream on the side.
Ambience at Dumpling Darlings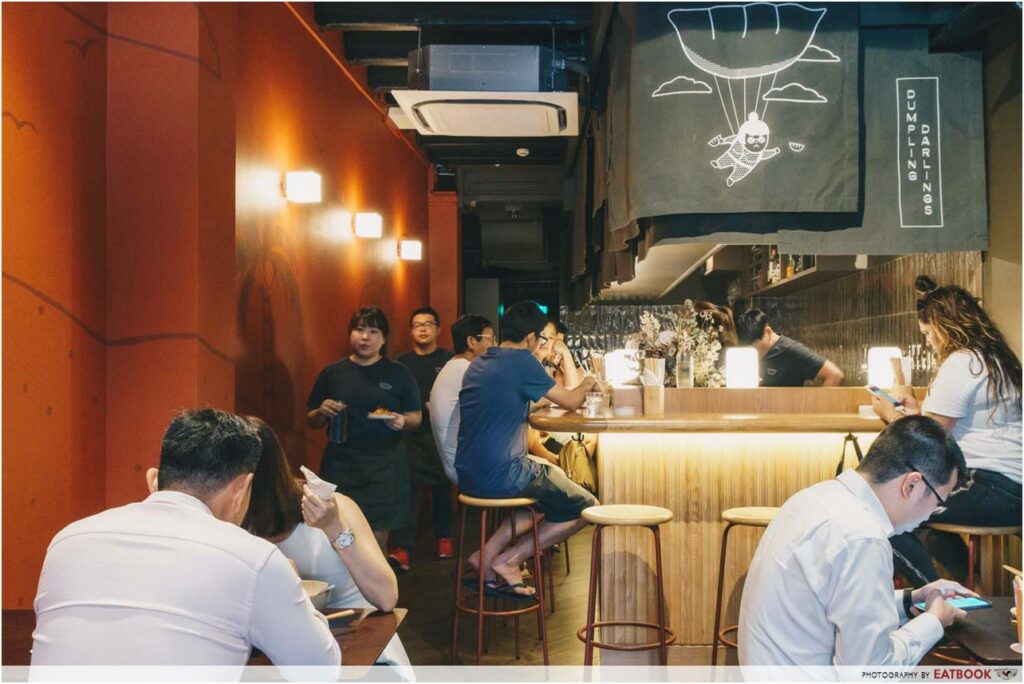 A small space that can fit about 30, Dumpling Darlings is not where I'd bring the whole gang to. Instead, it's good for just two to four dumpling lovers to share some of the best dishes on the menu.
Service was stellar, with the staff members being extra attentive to everyone and not just us camera-wielding folks. Iced water was promptly topped up, and the polite servers carried smiles on their faces.
The crowd got really crazy during lunch hour, along with a queue at the door, so it might be a better idea to come during dinnertime instead.
The verdict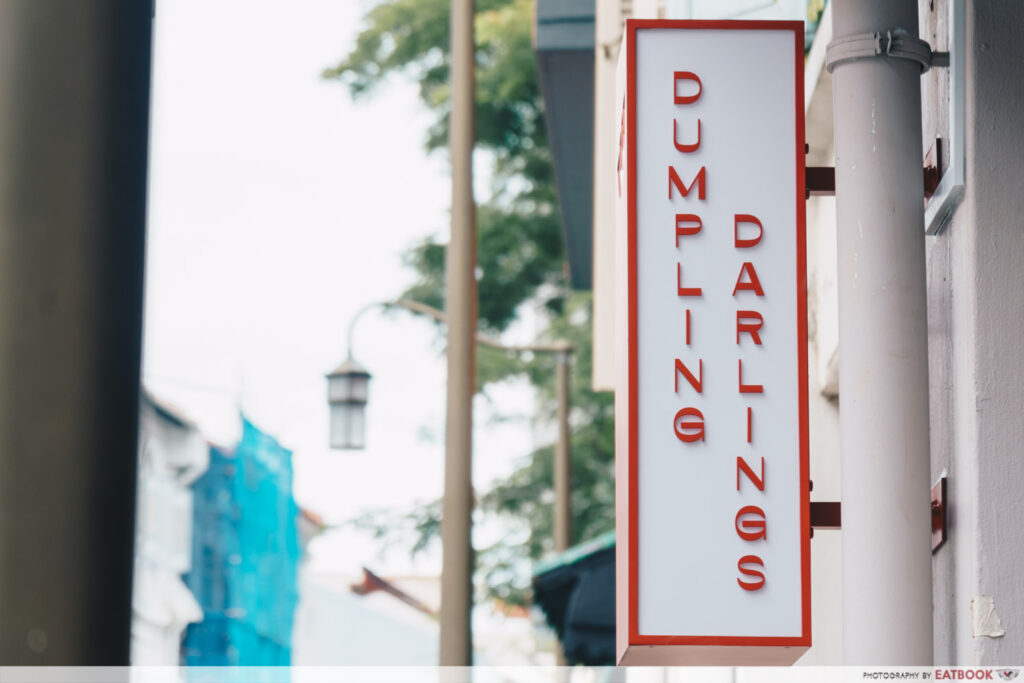 These are not my grandma's dumplings, but they're not bad dumplings either. I must confess, however, that I am not high-SES enough to pop by on a frequent basis – each dumpling costs about $1.60 to $1.80. If I were in the area, I'd be happy to pop by for their delicious noodles and Fried Pierogi, but I wouldn't make a trip down to the CBD just for this place.
For more delicious dumplings that won't break the bank, check out Supreme Ramen Xiao Long Bao and Zhong Guo La Mian Xiao Long Bao!
Address: 44 Amoy Street, Singapore 069870
Opening hours: Mon-Thur 11:30am to 3pm, 6pm to 10:30pm, Fri 11:30am to 3pm, 6pm to 2am, Sat 6pm to 2am
Tel: 8223 9249
Website
Menu
Dumpling Darlings is not a halal restaurant.
Photos taken by Maverick Chua.
This is an independent review by Eatbook.
10 Beautiful Cafes In Singapore For That Instagrammable #Aesthetic In 2019
Summary
Pros
– Unique dishes
– Convenient location
Cons
– Expensive
– Small space
Recommended dishes:  Braised Pork Noodles ($6++ for a la carte), Fried Pierogi ($8++ for five pieces), Veggie Mandu ($7++ for five pieces)
Opening hours:  Mon-Thur 11:30am to 3pm, 6pm to 10:30pm, Fri 11:30am to 3pm, 6pm to 2am, Sat 6pm to 2am
Tel: 8223 9249
Address: 44 Amoy Street, Singapore 069870