Perch at Jewel Changi Airport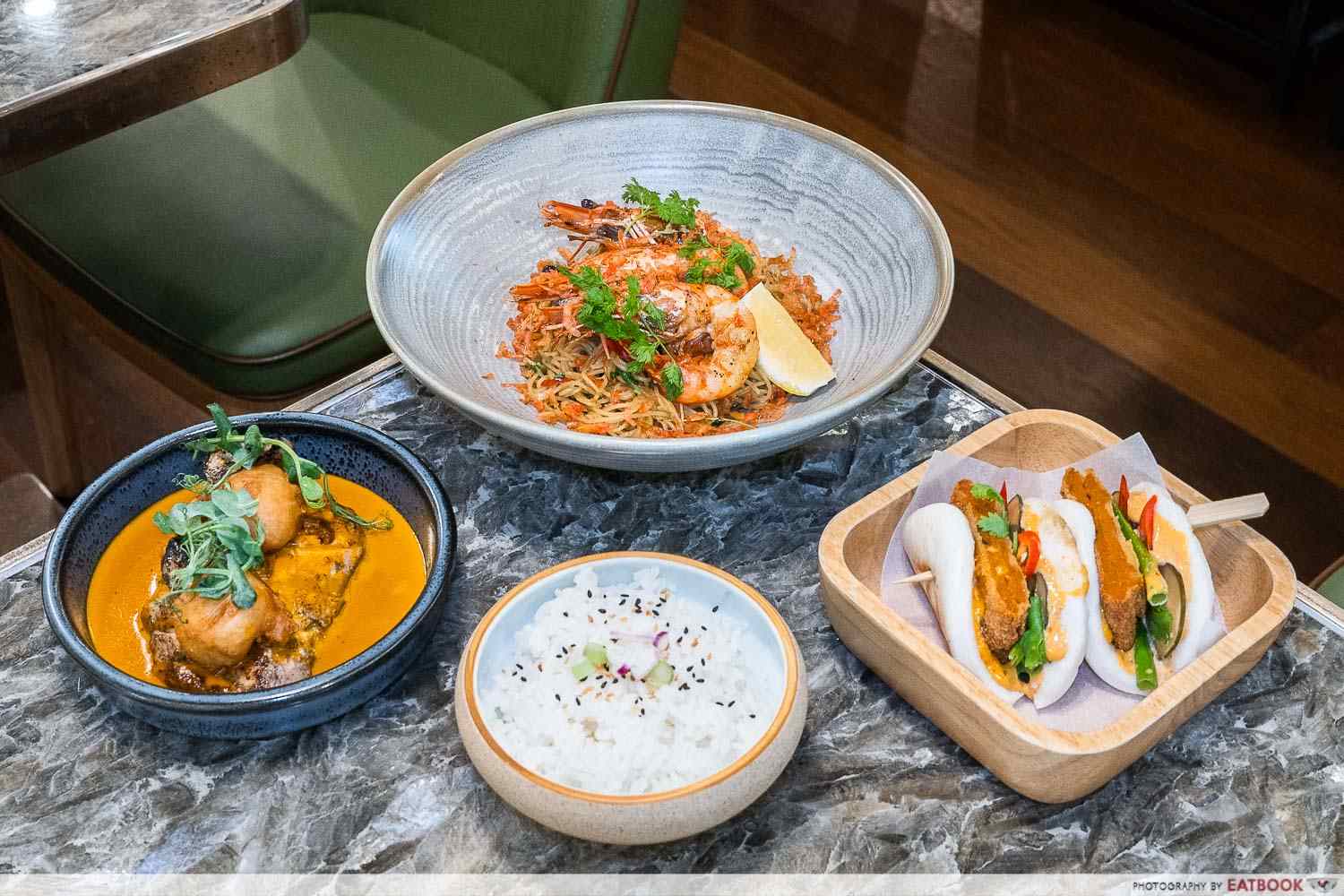 If you've read your fair share of Eatbook reviews, you'll know that we usually have one or two paragraphs near the end of each article dedicated to the "ambience" of a place. Perch, an Asian-fusion restaurant situated beside the colossal waterfall at the heart of Jewel Changi Airport, has the kind of ambience that demands we wax lyrical for several paragraphs.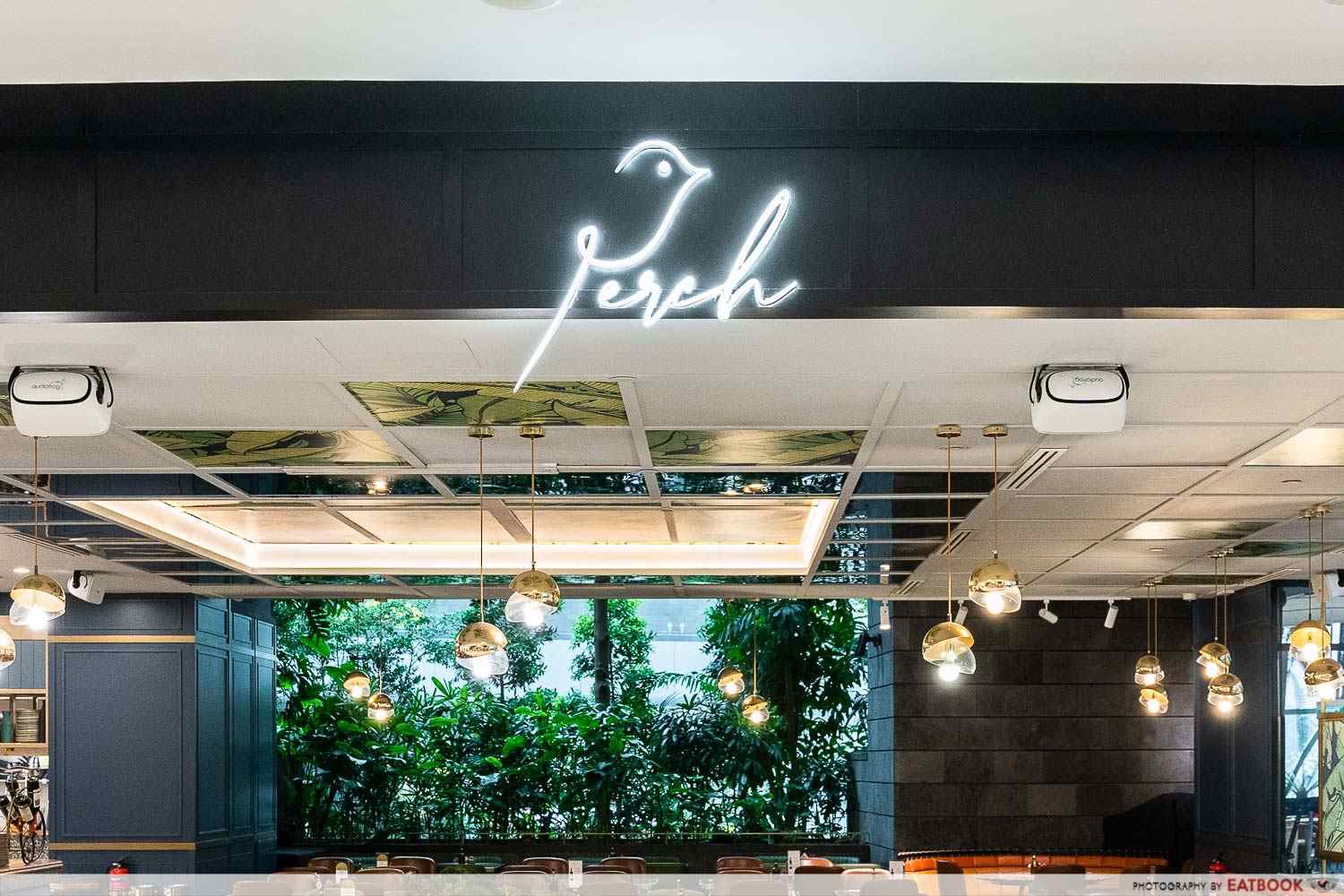 But since we're more of a food site than an interior design one, we headed down to the restaurant to see whether the fare matches up to its stunning interior.
Ohayo Mama San Review: $19++ Per Person Japanese Fusion High Tea Set And More In Somerset
Food at Perch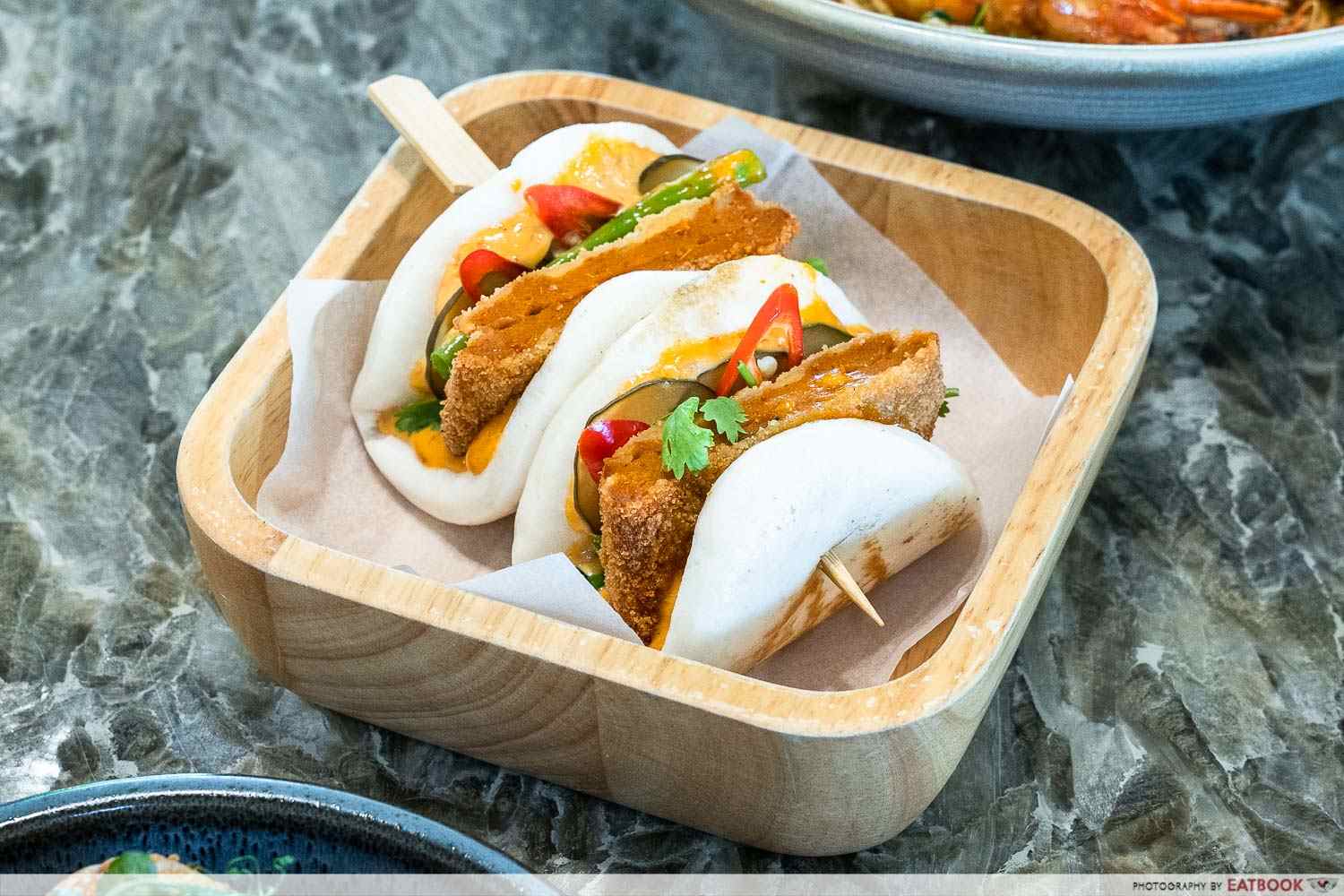 We decided to start with one of Perch's tapas, all of which display some sort of Asian-inspired flourish. The most overt of these was the Otah-Otah Slider "Bao" ($10++), a charming local take on sliders with fluffy mantou as the buns and a chunky piece of otah as the patty.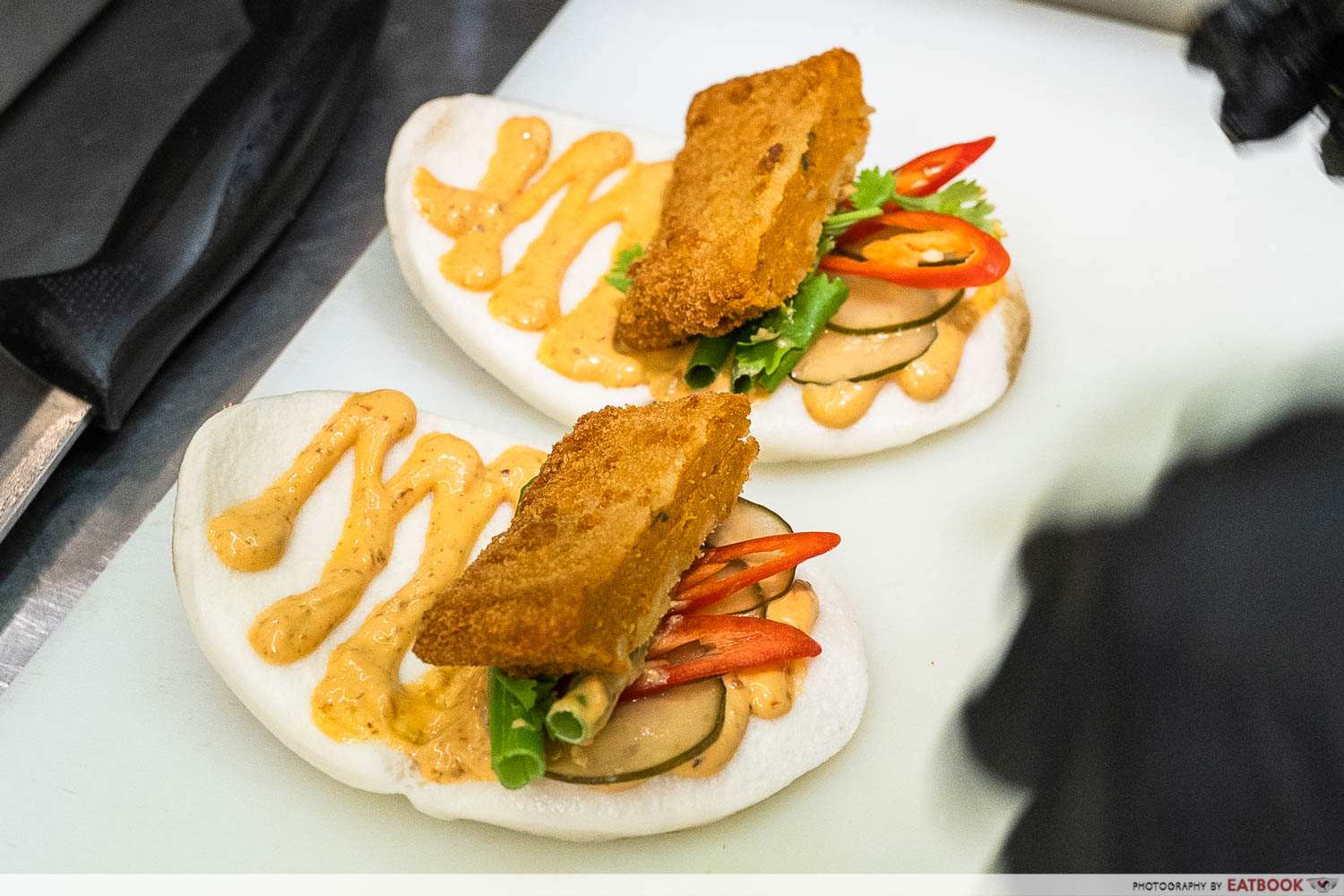 While the otah impressed with its slightly crunchy crust and soft, aromatic insides, it was the bright orange relish slathered in the bao that really brought this slider to life. Sambal mayo is the sauce's name, and it possessed an irresistible tangy flavour.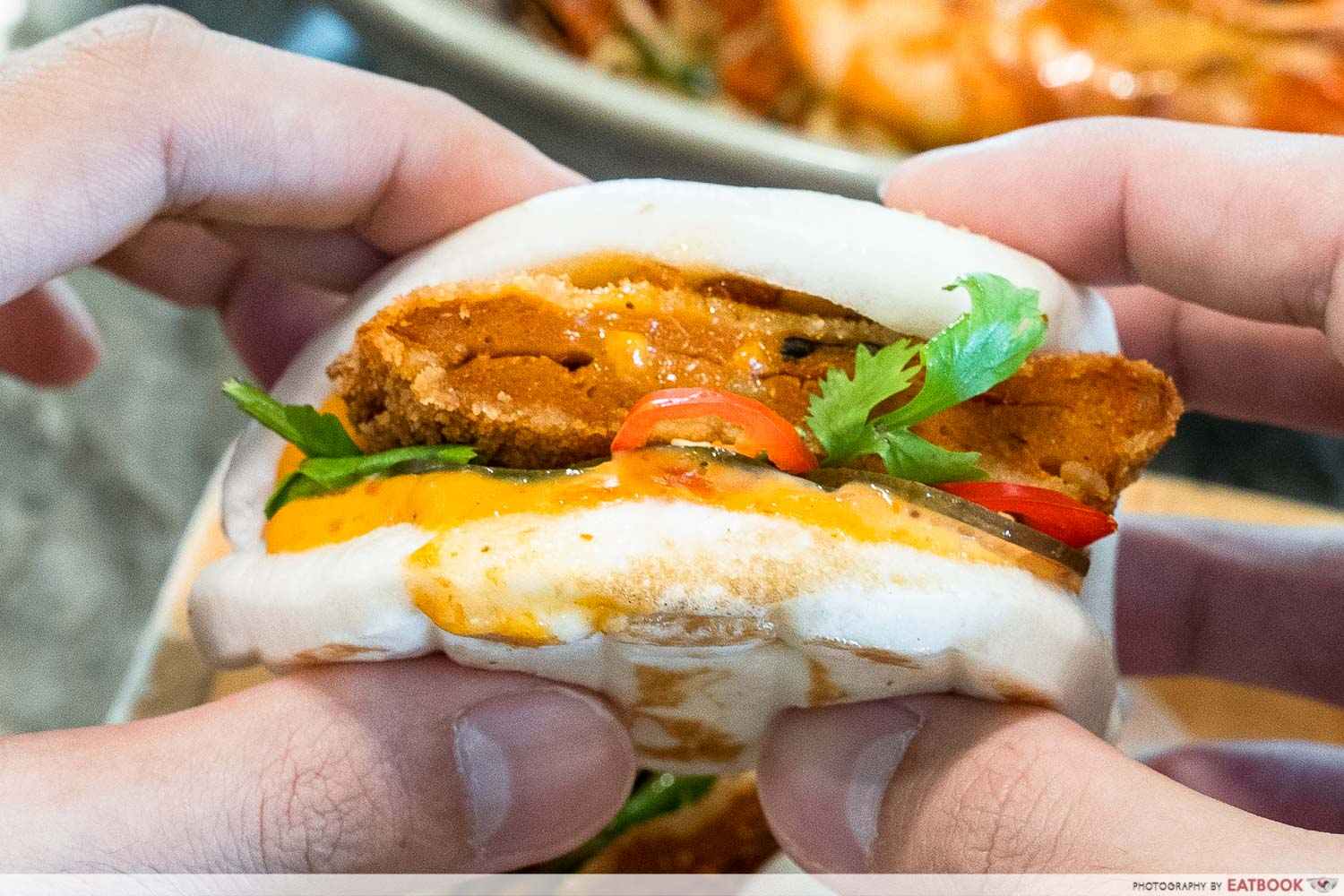 The slider also consisted of various vegetables, including Kyuri cucumber and chilli slices, which added balance to the dish. Surprisingly, even with the chilli, the otah, and the sambal mayo, the dish had a very mild level of spiciness.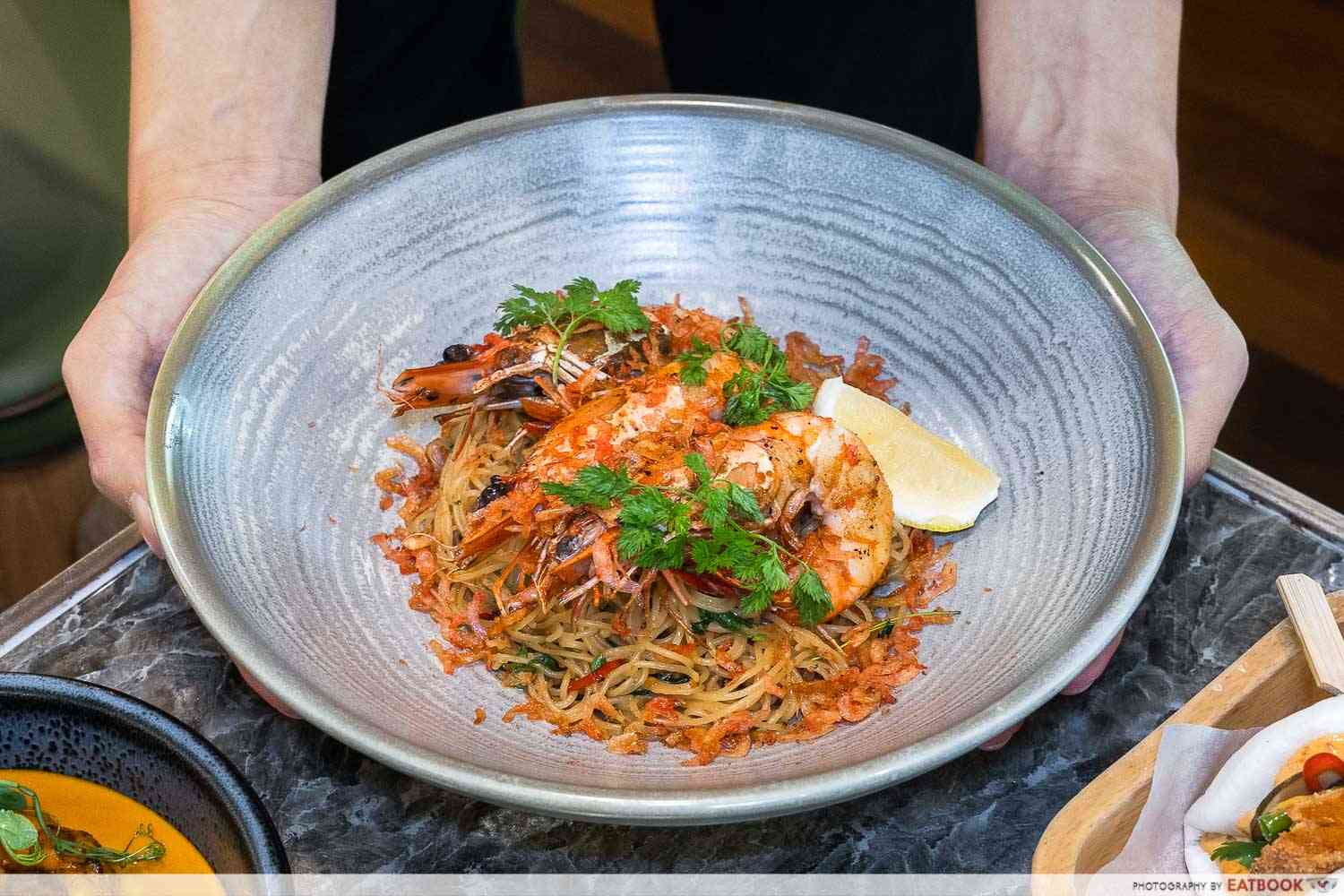 Pasta dishes with an Asian twist are fairly common, but we were nevertheless curious to try the Tiger Prawn & Sakura Ebi Capellini ($24++). It arrived with a trio of tiger prawns perched atop a mound of fine capellini pasta, along with a scattering of sakura shrimp, bird's eye chilli, and some thyme for good measure.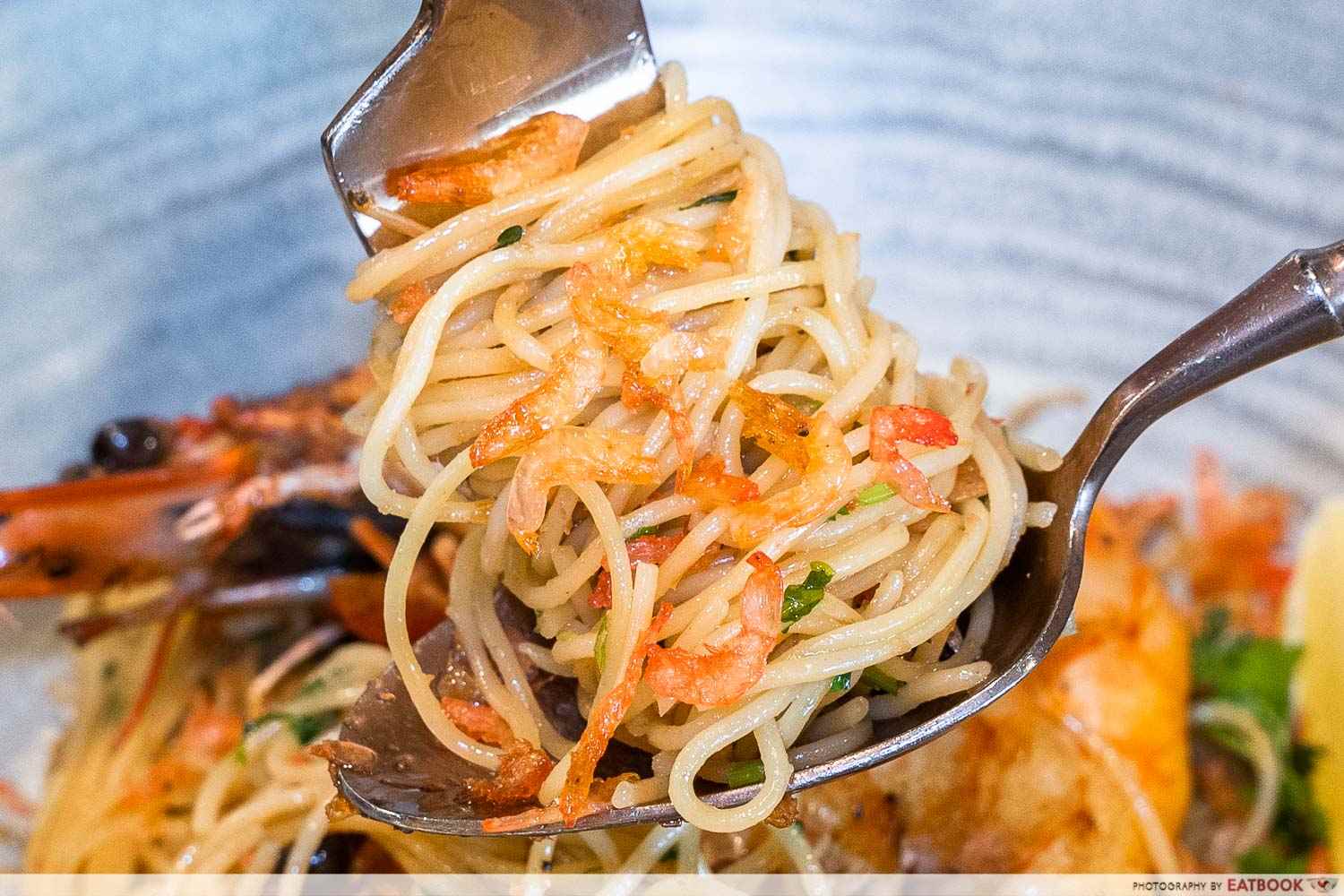 The thin capellini was definitely al dente—it was firm with a slight bite, and boasted a more delicate texture than thicker pasta types.
Garlic and olive oil, a simple yet timeless combination, coated every strand with a pungent, aromatic flavour—but perhaps the oiliness could've been scaled back a little. Squeezing the lemon wedge onto the pasta added a refreshing hint of sourness too.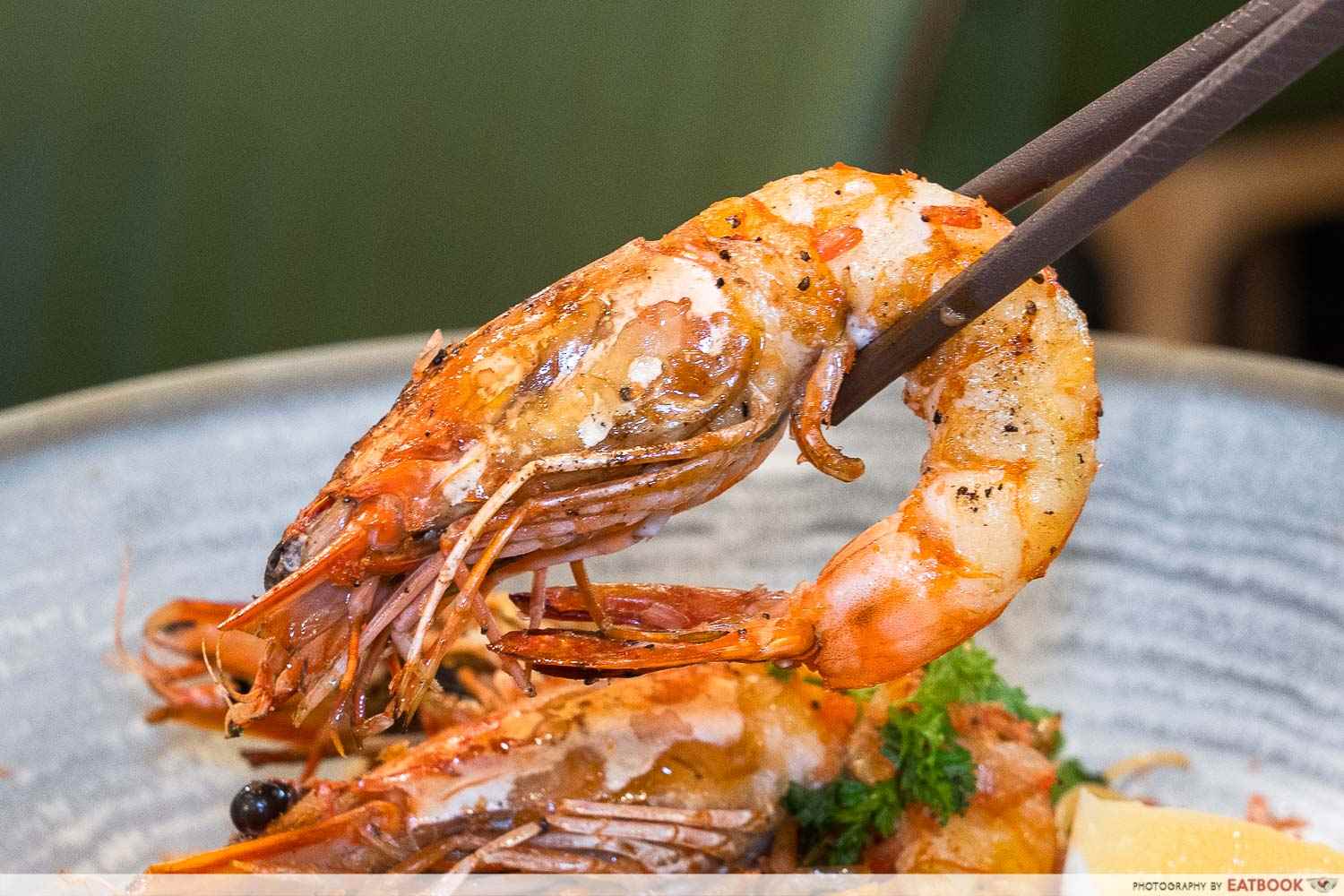 But of course, the magic was in the sakura shrimps, which gave the dish a rich umami that was underscored by the chilli's spiciness. The three tiger prawns, meanwhile, were juicy and carried a charred taste.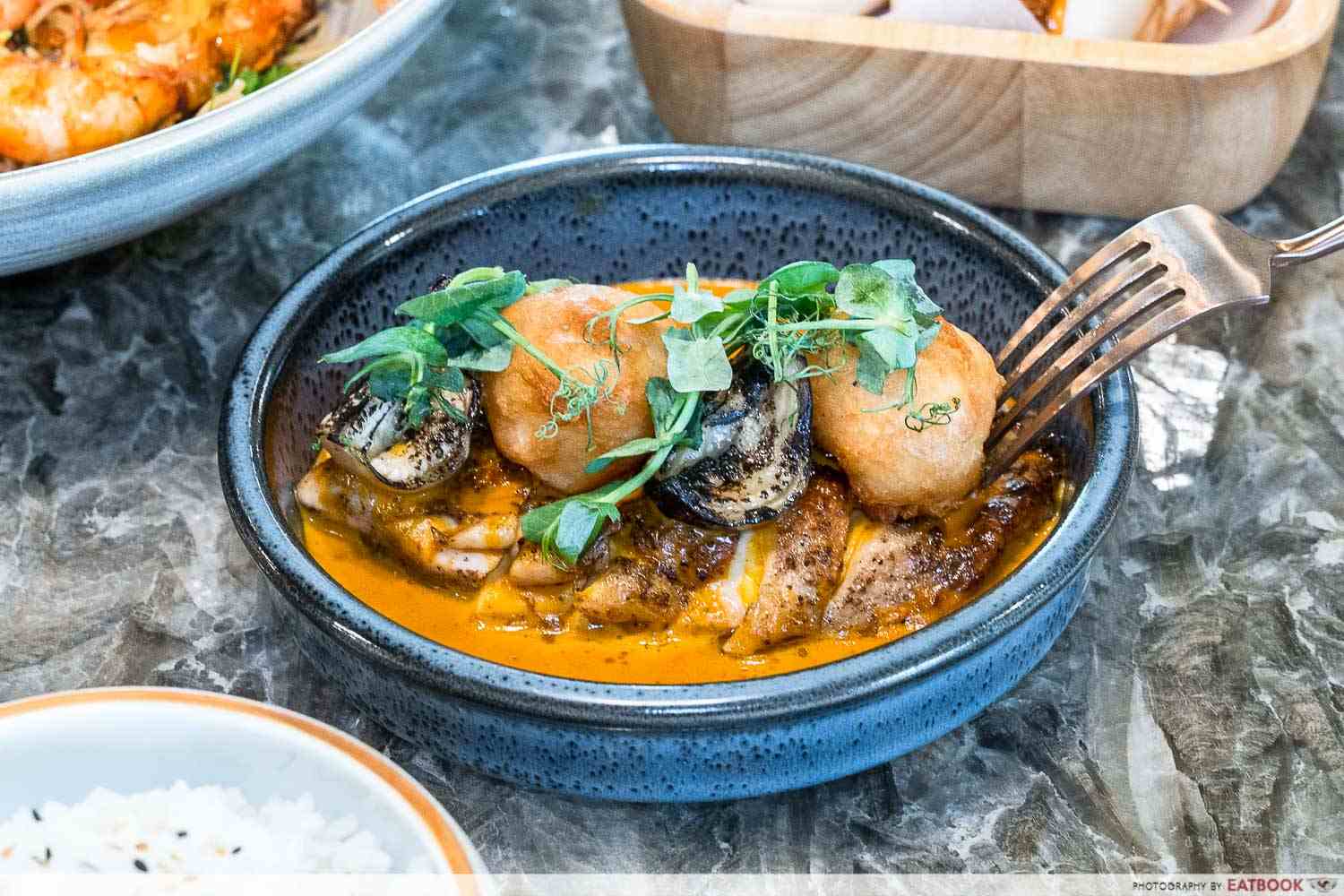 Perch has two categories for mains,  European and Asian, both of which are pretty self-explanatory. We thought the latter was more on theme with our dishes thus far, so we went with the Roasted Spiced Chicken Breast With Thai Red Curry ($18++). It also came with a bowl of Japanese pearl rice for extra heartiness.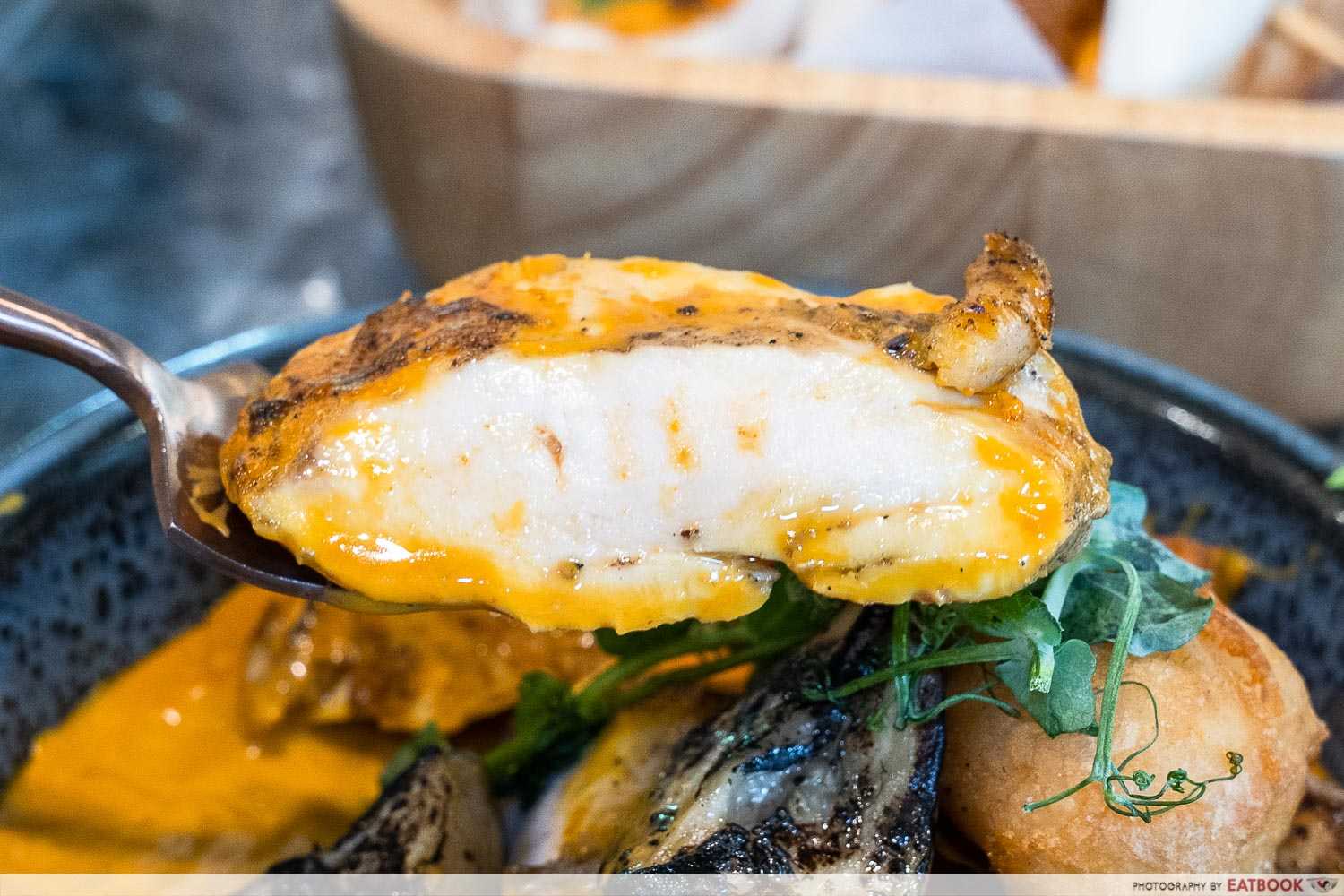 The reddish-orange Thai curry was as good as it looks in the picture—terrifically rich, fragrant, and spicy. It enhanced the chicken which, while not exactly succulent, was tender enough to make this a well-rounded dish.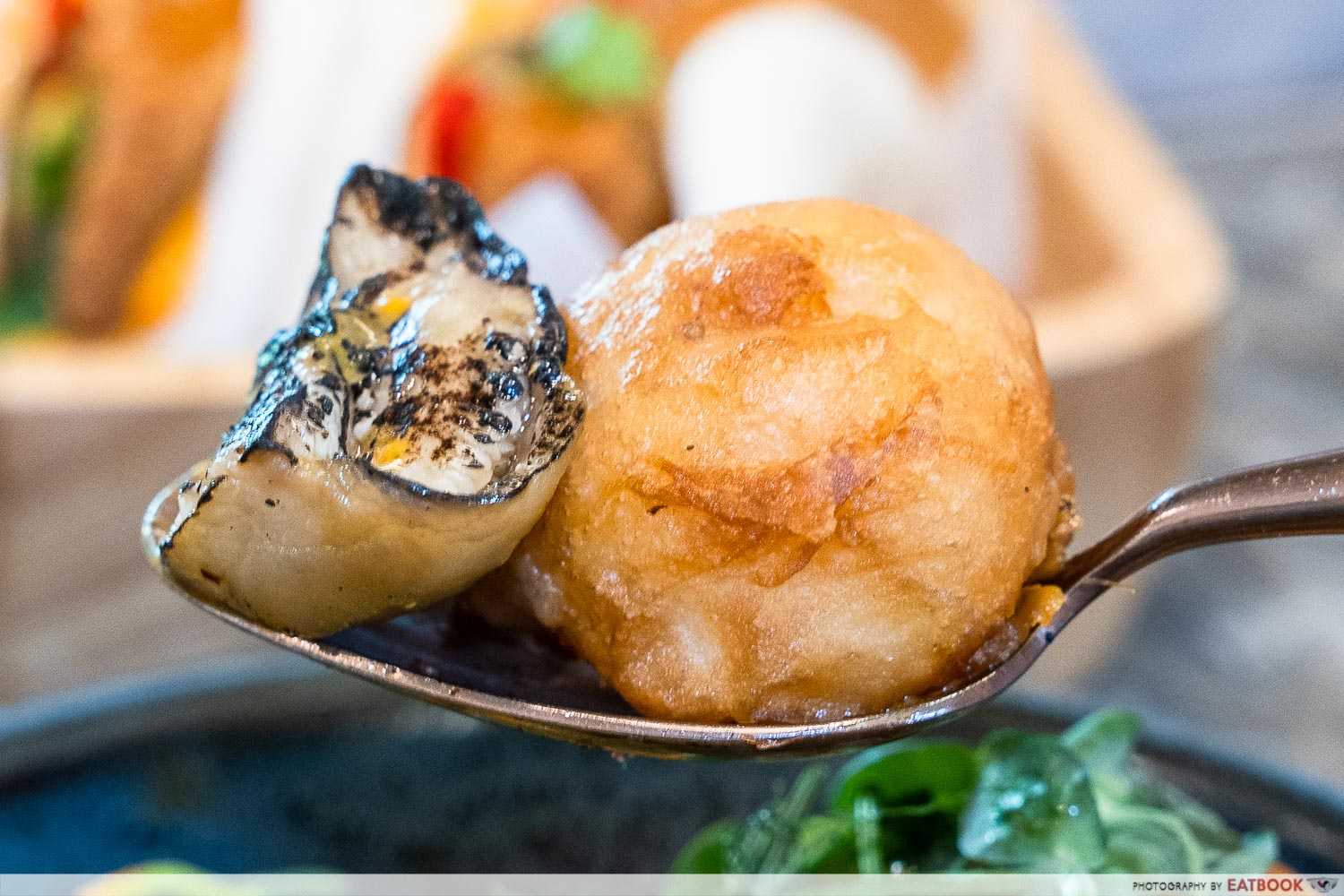 The most fascinating thing about this dish, however, is the presence of eggplant confit and tempura-fried lychee. While the former lent a smooth, creamy texture to each mouthful, the latter added a subtle crunch and a burst of sweetness.
Ambience at Perch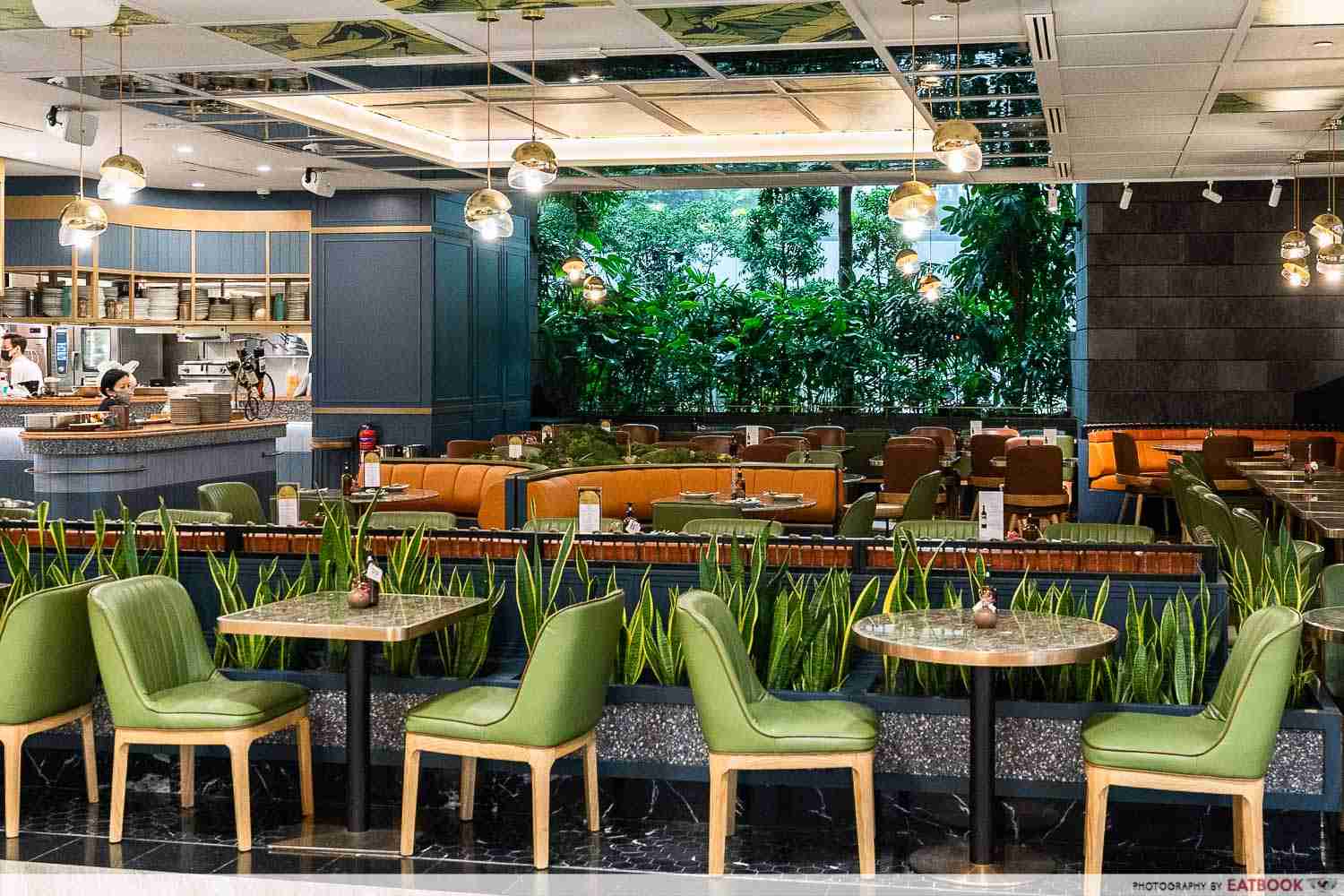 A picture (like the one above) speaks a thousand words, so I'll spare you from the long-winded prose about Perch's interiors that I was going to write. I will say, however, that the ambience is gorgeous. The furnishings effortlessly blend different shades of green, orange, and blue together, and you can gaze at the majestic Jewel waterfall through a tangle of vegetation.
Perch is an eight-minute walk from Changi Airport MRT Station.
The verdict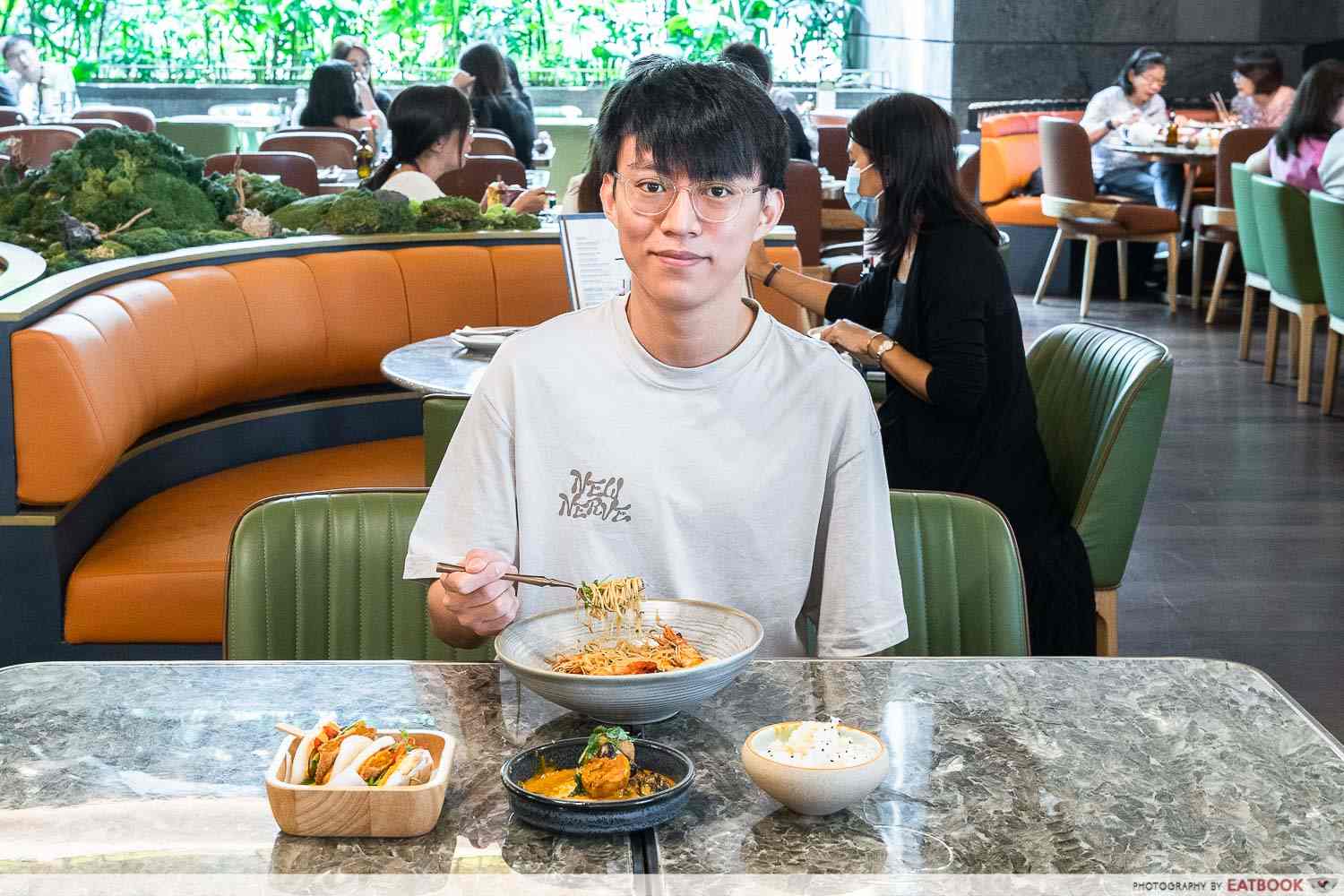 More than just a pretty space to dine at, Perch delivered some good eats to go along with its lush atmosphere. Its Asian-fusion theme also added a novel edge. We weren't able to enjoy the drinks there, but we reckon that wining-and-dining at Perch would be perfect for dates or special occasions.
For another excellent restaurant to check out, have a look at our Forma review. If you're looking for halal food in Jewel, read our Halal Food Places At Jewel Changi Airport guide.
Address: 78 Airport Boulevard, #02-244/245, Jewel Changi Airport, Singapore 819666
Opening hours: Daily 11:30am to 10:30pm
Website
Perch is not a halal-certified eatery.
Forma Review: Popular Private Diner Ben Fatto 95 And Cicheti Group Open Joo Chiat Restaurant
Photos taken by Zu Yi Kong.
This was an independent review by Eatbook.sg.
Perch Review: Asian-Fusion Restaurant With Sakura Ebi Pasta And Thai Curry Roasted Chicken In Jewel
Perch Review: Asian-Fusion Bistro With Sakura Ebi Pasta And Thai Curry Roasted Chicken In Jewel -

8/10
Summary
Pros
– The Asian influences in Otah-Otah Slider "Bao" were interesting
– Tiger Prawn & Sakura Ebi Capellini was really flavourful
– Roasted Spiced Chicken Breast With Thai Red Curry was aromatic and hearty
– Ambience was superb
Cons
– Otah-Otah Slider "Bao" could have been spicier
– Tiger Prawn & Sakura Ebi Capellini could have been perfect if it was slightly less oily
Recommended dishes: Otah-Otah Slider "Bao" ($10++), Tiger Prawn & Sakura Ebi Capellini ($24++), Roasted Spiced Chicken Breast With Thai Red Curry ($18++)
Opening hours: Daily 11:30am to 10:30pm
Address: 78 Airport Boulevard, #02-244/245, Jewel Changi Airport, Singapore 819666