Forma in Joo Chiat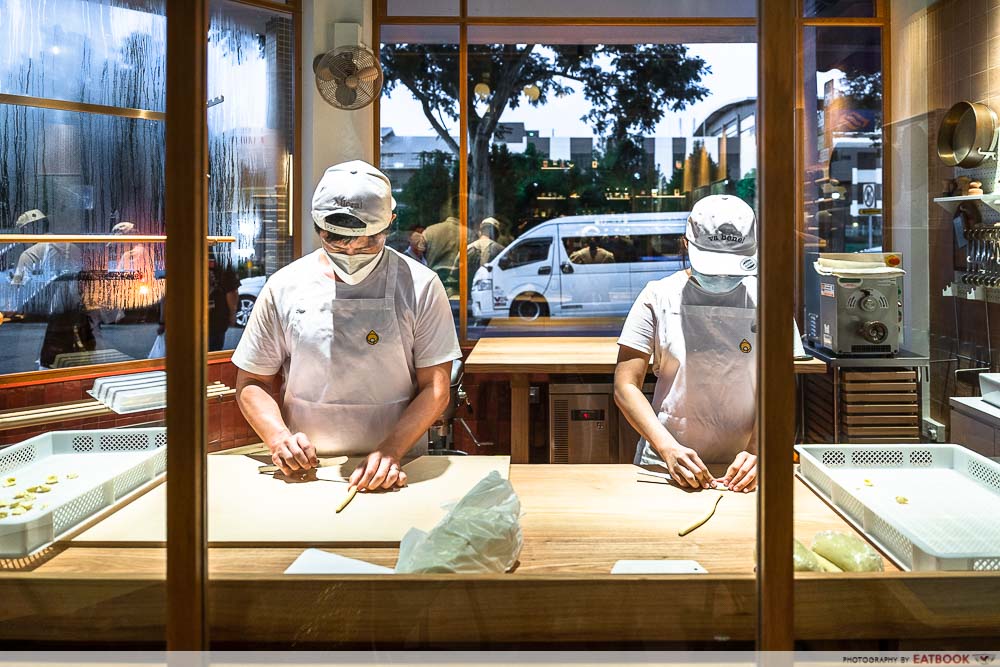 When I got wind that The Cicheti Group was opening a restaurant with none other than pasta maestro-slash-private diner Ben Fatto 95, it was almost the most excited I'd been this year—I've always wanted to get a seat at Ben Fatto 95, but have never gotten the chance to. The child of this union is Forma, the newest kid on the block on Tembeling Road in Joo Chiat.
I was stoked to score a preview ahead of Forma's opening next week on 3 May, and it's evident I'm not alone in my anticipation—their booking website crashed when it launched yesterday, and they're already fully booked for the entire month of May. With upwards of 1,500 reservations across the dinner services six days a week, they won't even be able to take walk-ins at all.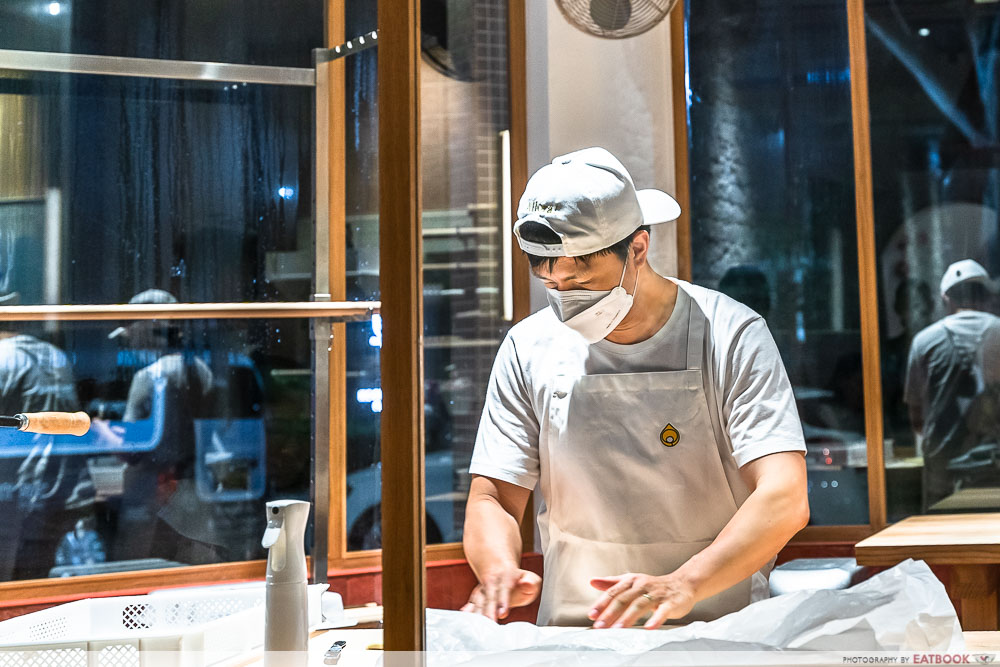 Some backstory on the man behind the pasta: Lee Yum Hwa is a self-taught pasta chef, obsessed with making the perfect pasta. Previously, you would have to secure a seat at his highly sought-after pasta omakase table to try his creations; you wouldn't need to eat an entire five-course pasta meal at Forma, but it looks like a table here is equally hard to get.
Food at Forma
The menu here isn't extensive: in classic Italian trattoria fashion there's the Antipasti, Pasta, Secondi, AKA mains, and Dolci, or dessert—it's best to come in a group, and dine your way across Italy through the dishes here.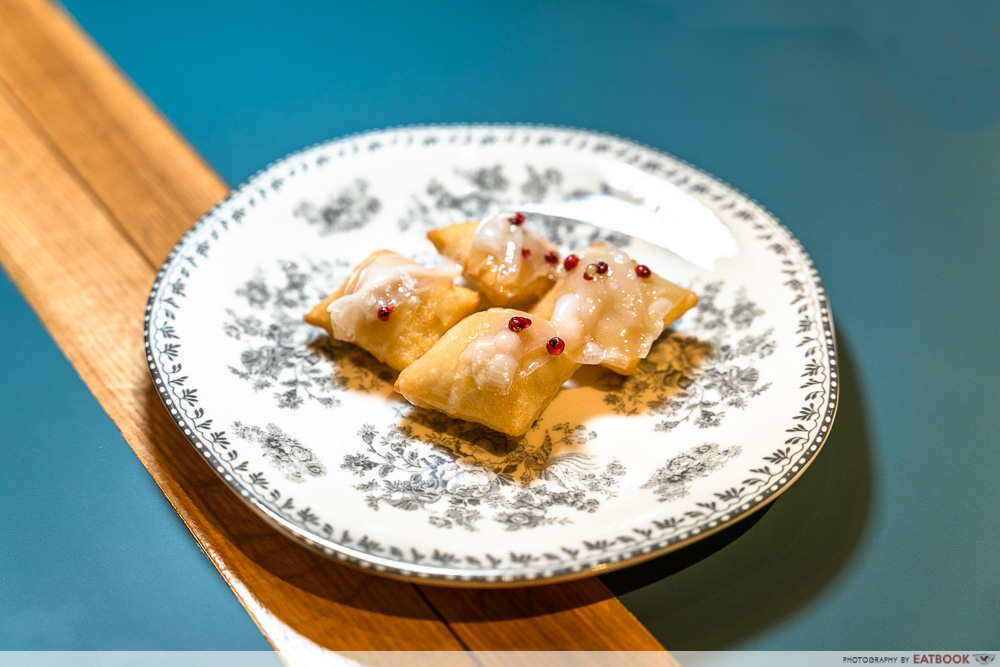 The Gnocco Fritto ($14++), for example, is inspired by street snacks in Modena and Reggio Emilia, where hollow parcels of fried, lard-enriched dough are topped with buttery lardo slices and pink peppercorn that cuts through the richness.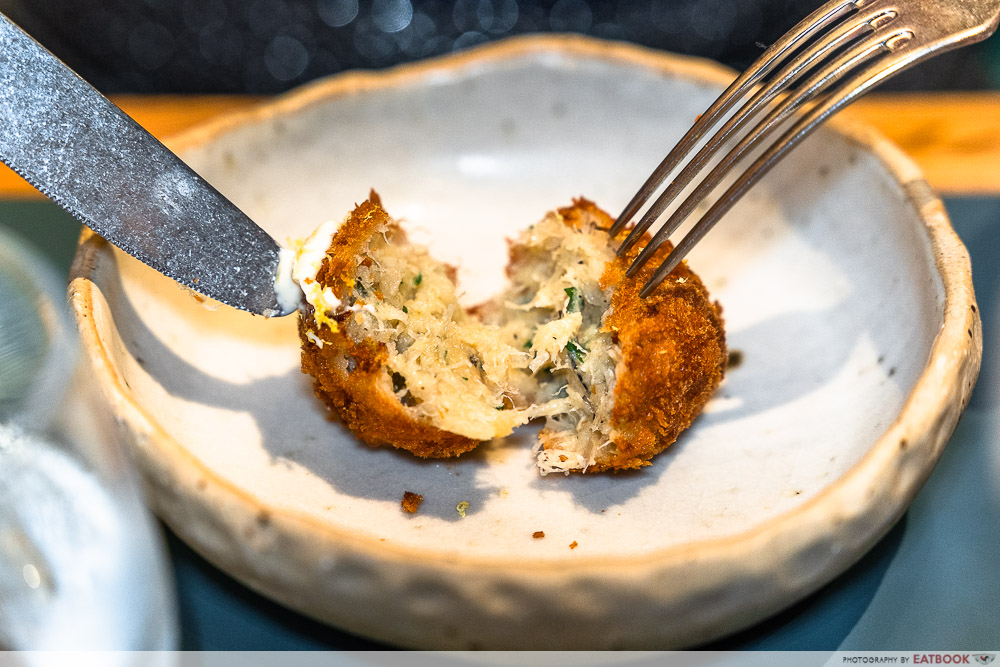 Then there's Polpette di Baccala ($21++), a briny, savoury ball made with flaked salted cod and mashed potato, balanced with a small dollop of lemon aioli.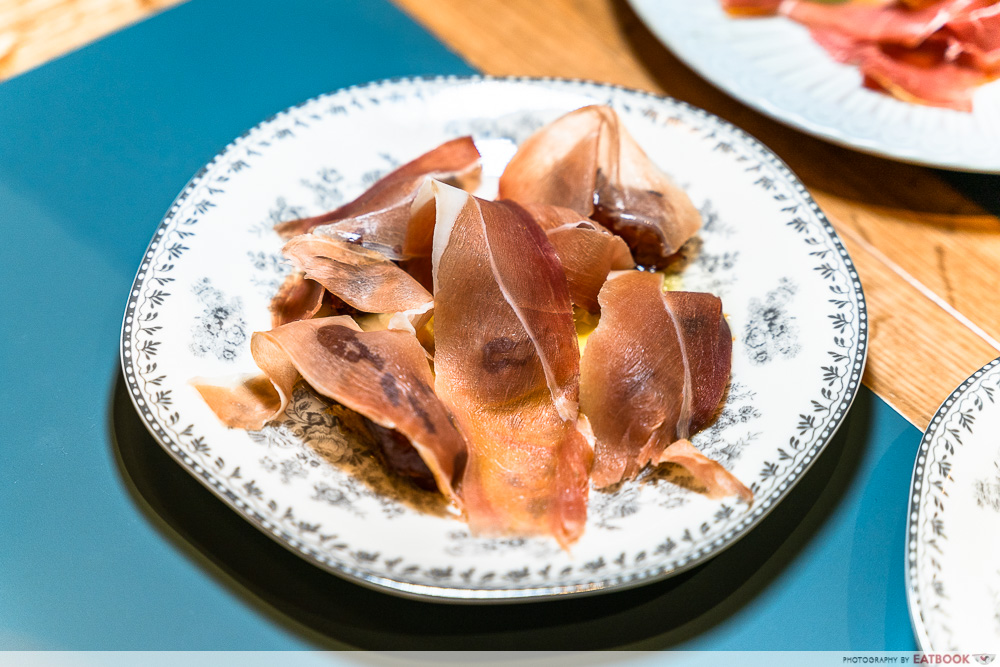 You couldn't possibly start an Italian meal without cold cuts, and the Smoked Speck Ham ($18++) is a good one to go with. Medjool dates are pan-roasted, giving them an extra note of caramel, before they're dressed with extra virgin olive oil, and draped with Speck Alto Adige IGP, a cold-smoked ham from Alto Adige.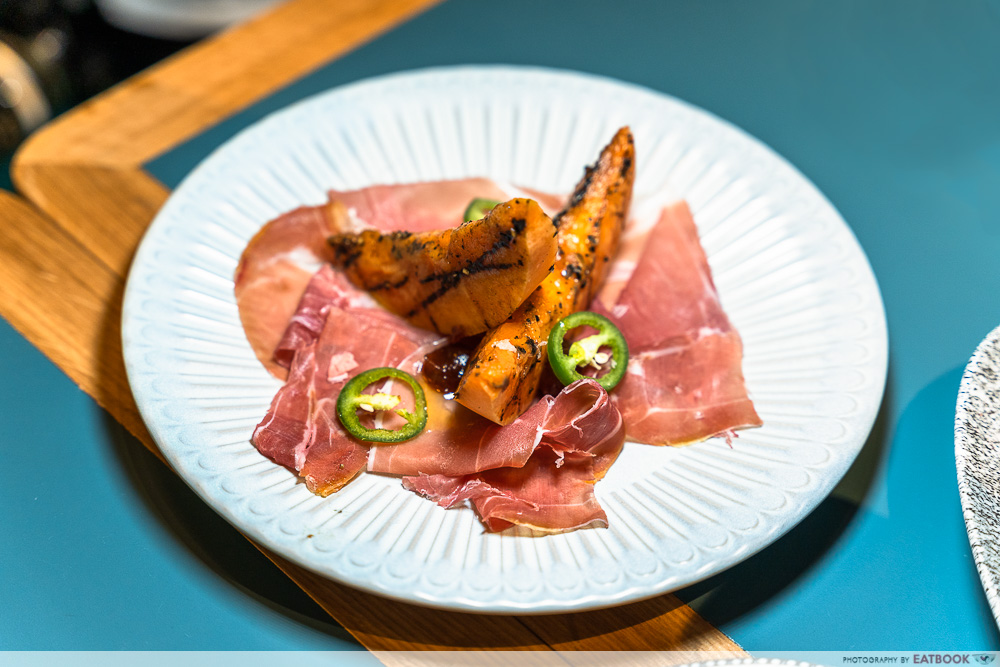 Then, the classic Prosciutto di San Daniel e Melone ($24++)—where ultra-thin slices of ham from San Daniele are paired with grilled sweet philibon melon, jalapeno jam for some sharpness, and syrupy balsamic vinegar.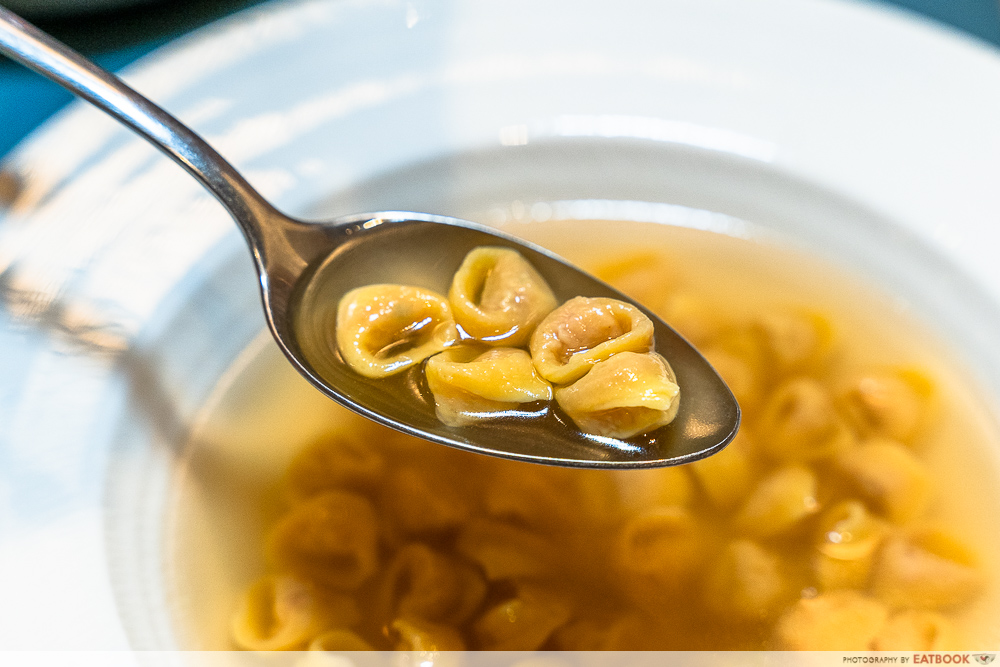 There's an art to the simplicity of the Tortellini in Brodo ($34++)—it's the thing to eat in the Emilia-Romagna region of Italy, and is, simply put, miniature meat dumplings in a clear, slow-simmered chicken broth.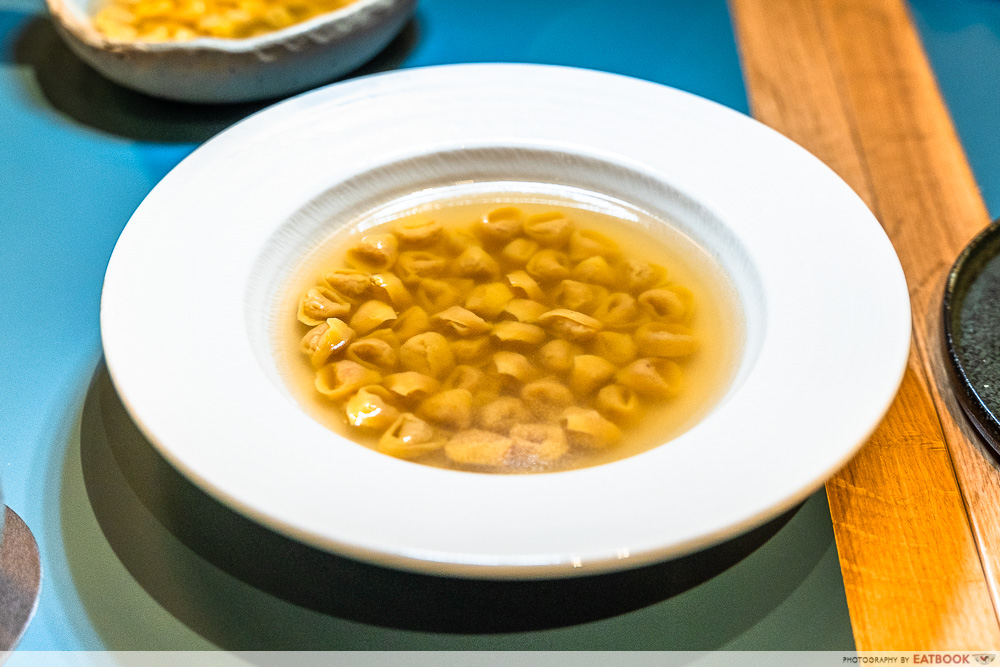 Each little, identical, handmade tortellini here is prepared according to a registered recipe, and is filled with exact ratios of Mortadella di Bologna, Prosciutto Crudo, and Parmigiano Reggiano DOP.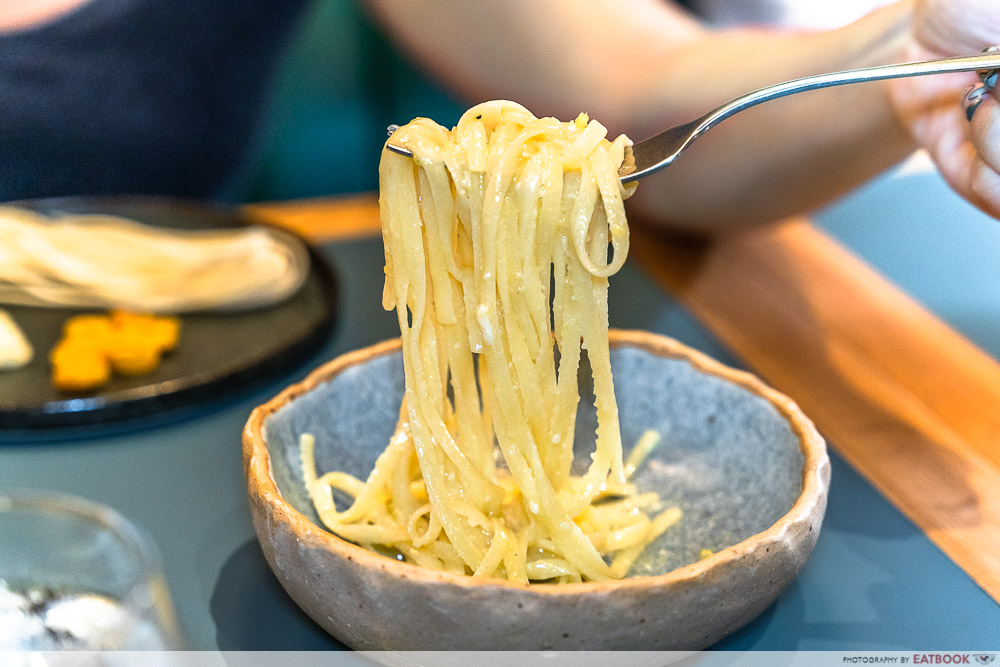 We also had a tasting portion of the Linguine al Limone, which is usually priced at $29++ a serve. The ragged edges of this linguine, Yum Hwa explains, are evidence that they are bronze-cut—this traditional method makes them slightly coarser and more porous, allowing them to catch the salts and sauces they're cooked in.
Prepared with just Amalfi lemons, Provolone del Monaco DOP, and little else, we were pleasantly surprised to find it didn't lack flavour at all.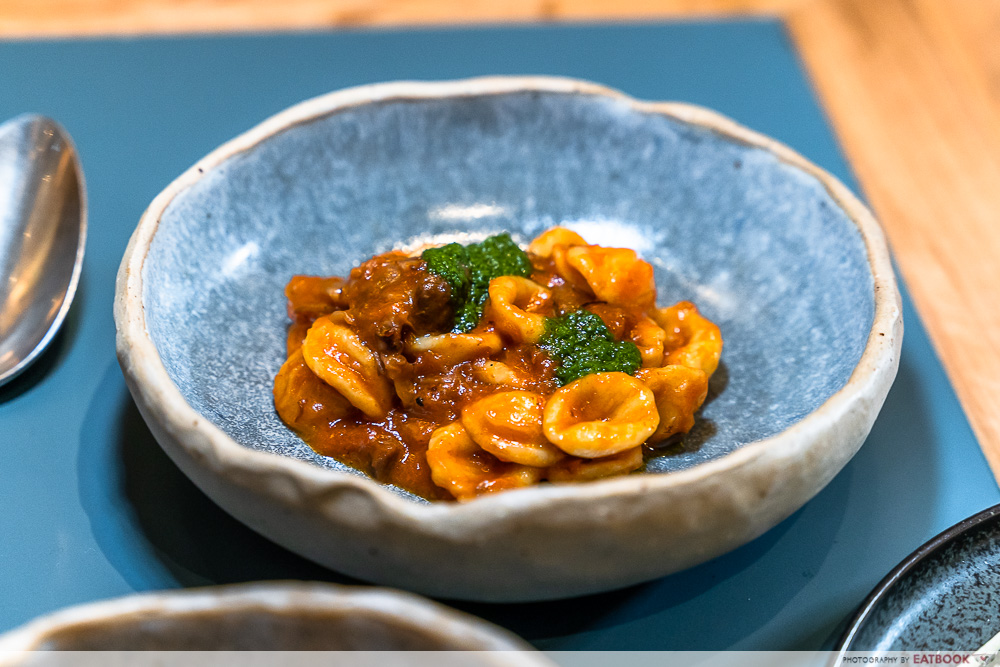 If you're thinking about the order in which to have the pastas, go as we did, and round it off with the umami, robust flavours of the Orecchiette al Sugo d'Agnello ($36++): this was our favourite pasta of the night, mostly for the addictive sugo it came with.
"It's a sugo, not a ragu," Yum Hwa specifically pointed out to us—the latter is a meat sauce, while the meat is typically removed from the sugo, although at Forma, they've peeled the lamb shank and added it back to serve with the ear-shaped pasta.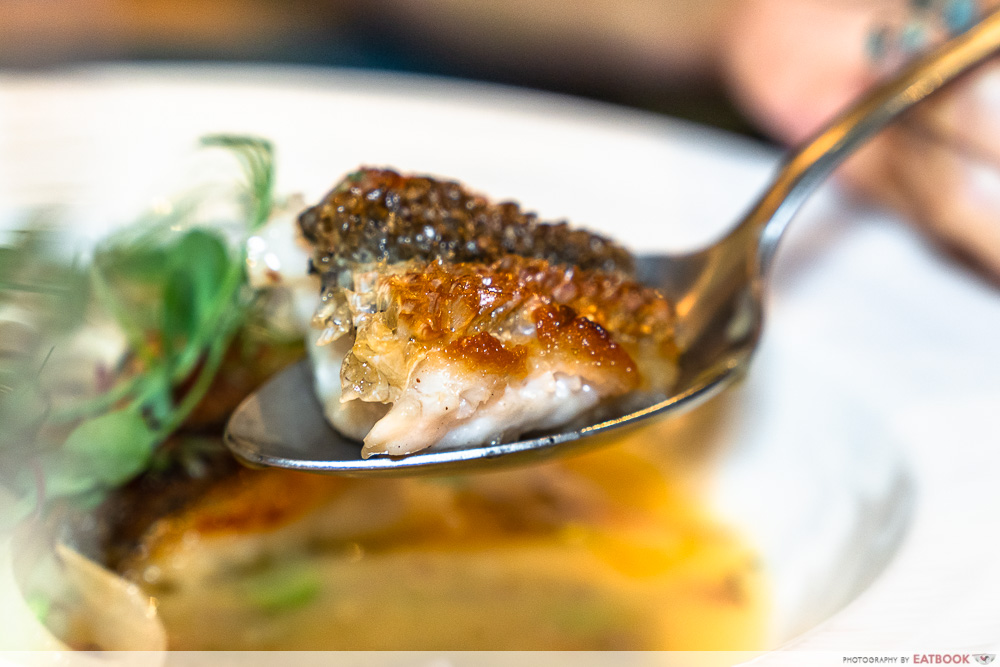 The Merluzzo alla Scafata ($38++) caught me off-guard with how delicately crisp the layer of skin was. Just so you know, I almost never eat fish skin.
Needless to say, the flesh of the blue cod was extra-smooth and buttery, and went swimmingly well with the vermouth-butter sauce and freshness from fava beans, English peas and micro greens.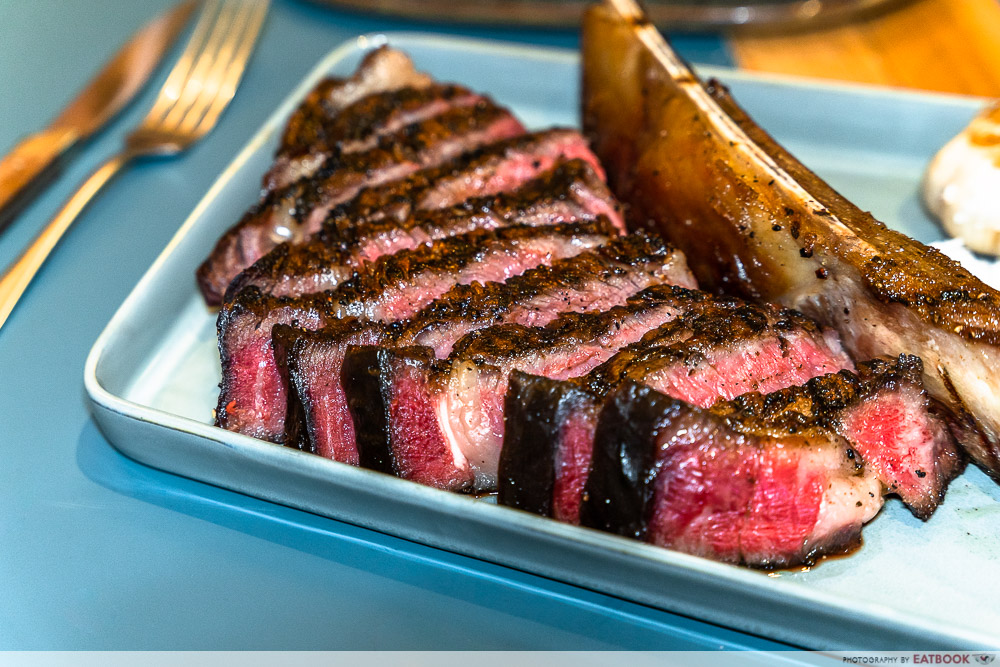 If you're here with a group, go for the Bistecca al Tomahawk ($248++), or check with the staff for the various cuts on offer when you visit. Dry-aged for 55 days, with a marbling score of MB4+, we had no complaints here.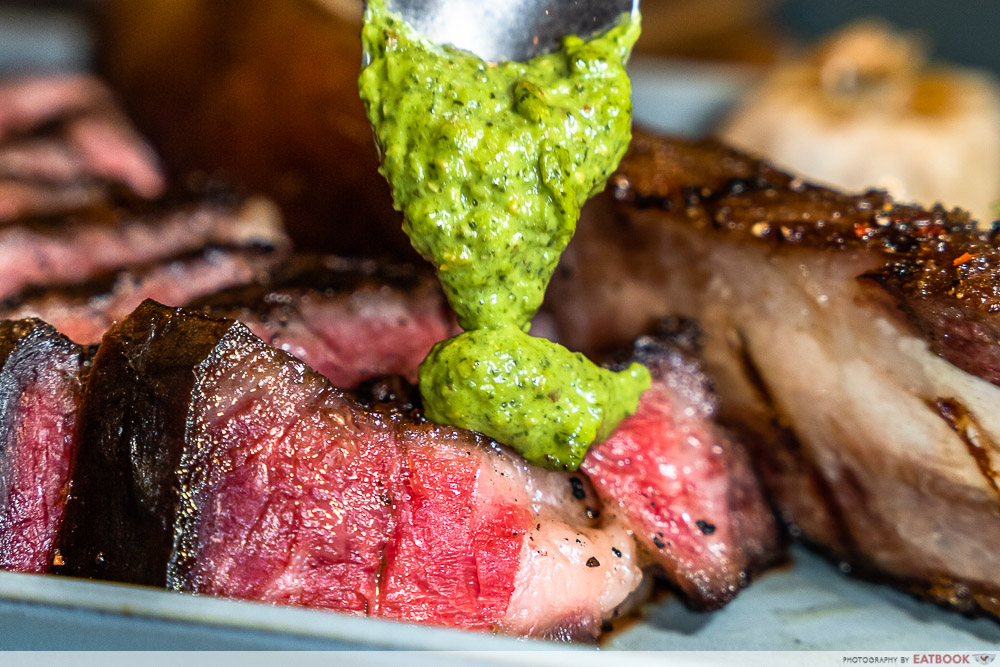 You can choose from three house-made sauces, available individually at $5++ each: Homemade Steak Sauce, which is a tomato-and-anchovy dip, Mustard Salse Verde, or a Porcini Gremolata. Personally, I felt the beef was best enjoyed as is, with a touch of salt flakes.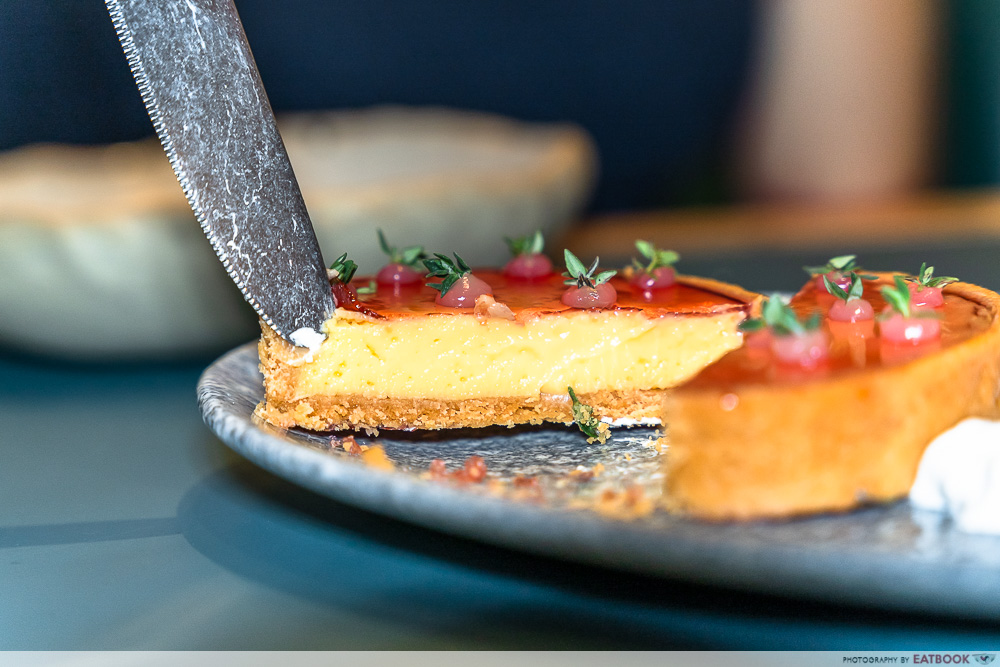 I would have happily ended my meal with the beef, but the Crostata al Limone ($16++) changed my mind. Beneath a fruit tea jelly top dotted with Amalfi lemon gel is Amalfi lemon curd, with toasted meringue on the plate providing a mellow contrast.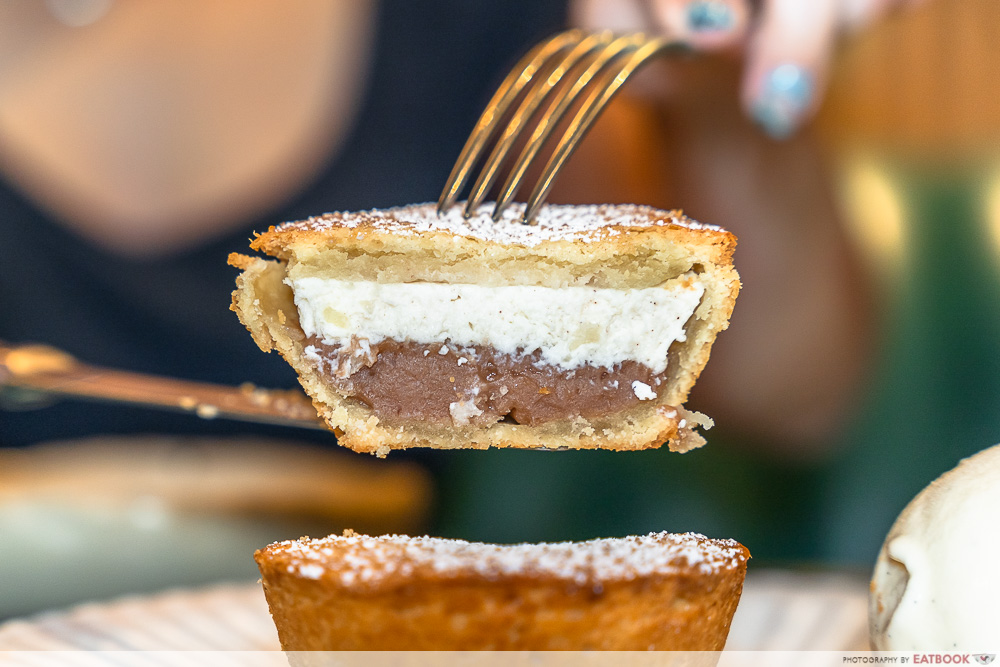 I then bit into the Torta della Nonna ($18++), still steaming warm when I cut into it, and fell further down the dessert slope here. It's served with vanilla bean ice cream, but I'd gladly eat it without.
Where I thought it would be a firm, solid tart, my knife slid in with barely any pressure, and the shortcrust tart cut open to reveal a ricotta layer above chestnut paste whose earthiness was accentuated by the pine nuts on the plate.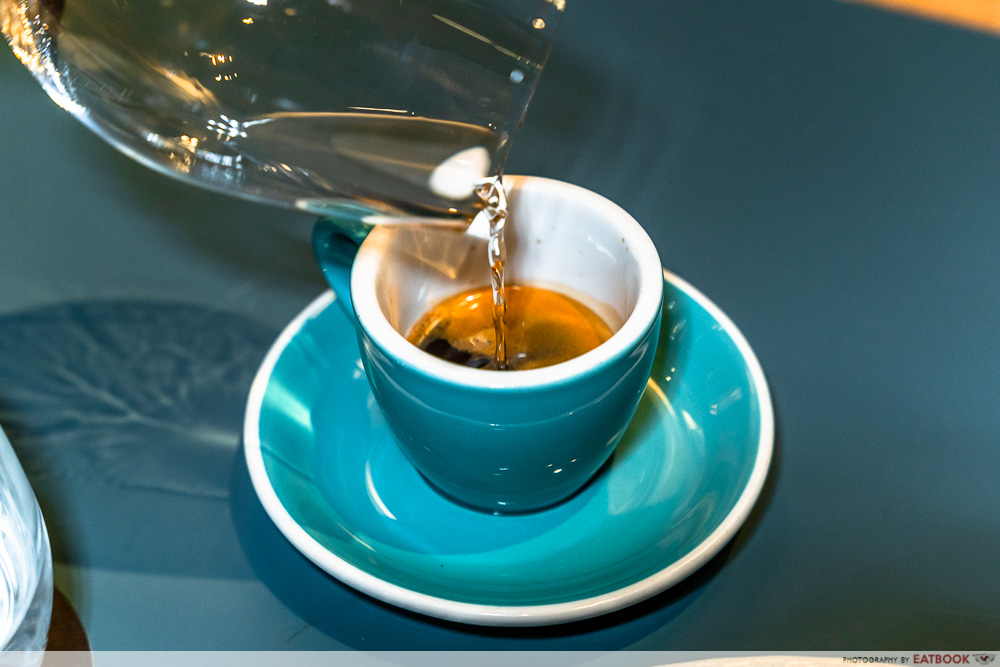 If you must do as the Italians do, or in this case the Venetians, wash the meal down with an espresso shot that's rinsed with Grappa di Brunello ($22++). It's strong in every sense of the word: bitter, alcoholic, and caffeinated.
Ambience at Forma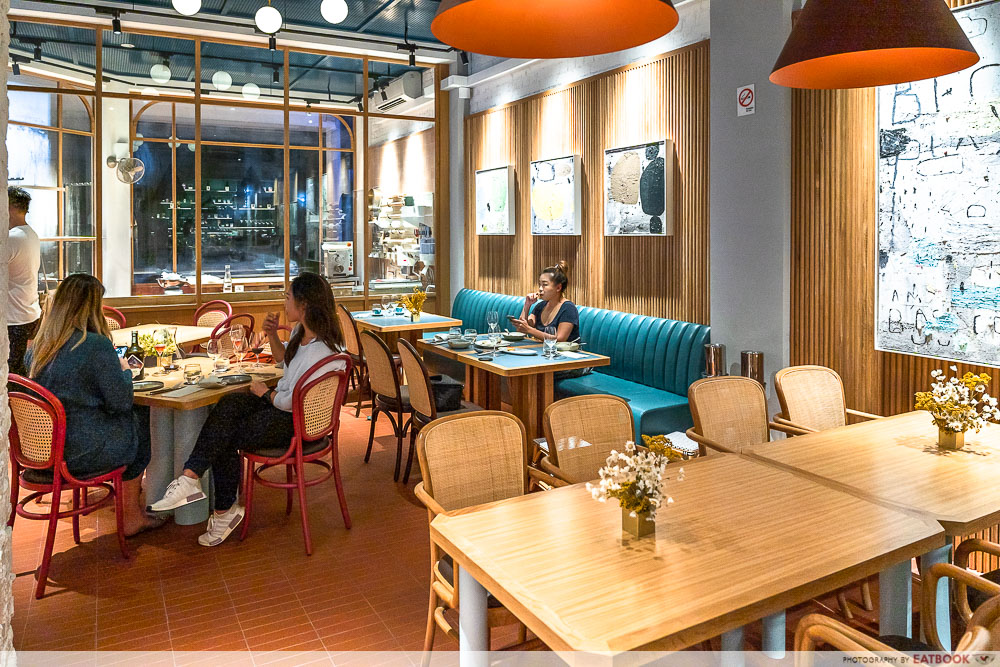 Indoors and out, Forma seats something like 70 covers at a time. Since they're only open for dinner for now, the outdoor seats promise to be rather charming as dusk falls. The entire length of the restaurant is lined with full-length glass windows, and it's brightly lit and inviting even from the outside.
The nearest station, however, is Eunos MRT Station, which is a 16-minute walk or 17-minute bus ride away.
The verdict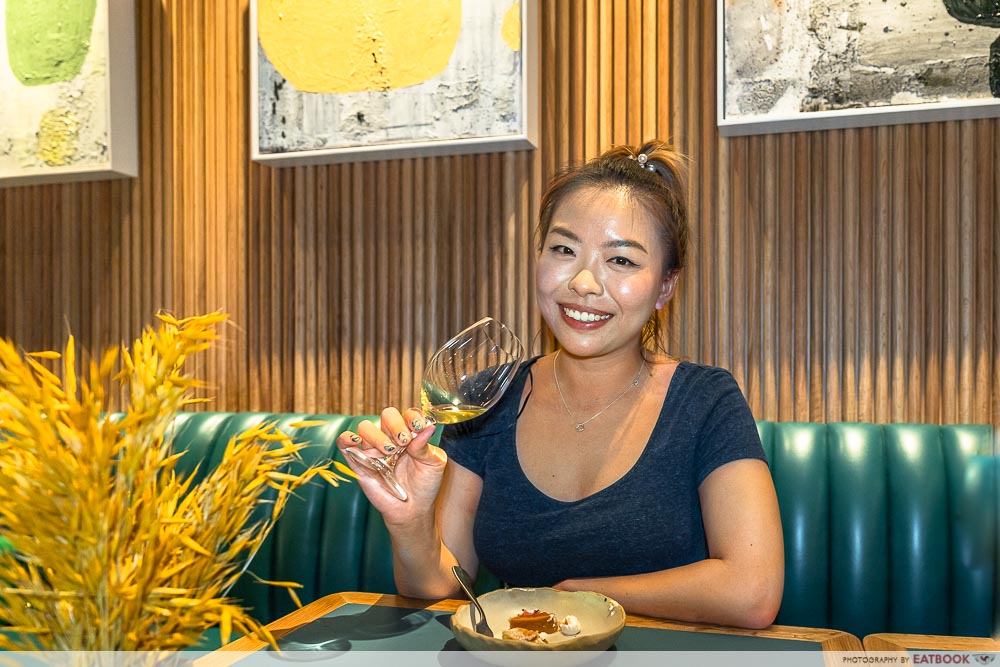 I love pasta, and Sfoglino Lee Yum Hwa does it so well. I'm already dying to return to Forma, for the pastas and desserts more than anything else. I envy my friends who live in the vicinity, because this neighbouhood trattoria is one I'd love to have within easy reach.
For the craftsmanship and toil—and you can see the team making them all by hand—that goes into each pasta we so easily masticate and swallow, I'd say that the prices are fair. More than that, the ingredients that go into the food are certified IGP, DOC, and DOP, so it's all justifiable.
The only problem, IMO, is booking a table.
While you wait for a seat here, check out our guide to other Italian restaurants in Singapore! Alternatively, look up where to eat in Joo Chiat while you're around the area.
Address: 128 Tembeling Road, Singapore 423638
Opening hours: Tue-Sat, 6pm to late (10pm last order for food)
Tel: 6513 2286
Website
Forma is not a halal-certified eatery
Photos taken by Chew Yi En.
This was a media tasting at Forma. 
Forma Review: Popular Private Diner Ben Fatto And Cicheti Group's New Joo Chiat Restaurant
Forma Review: Popular Private Diner Ben Fatto And Cicheti Group's New Joo Chiat Restaurant -

8/10
Summary
Pros
– Excellent pasta
– Well-balanced flavours
Cons
– A distance from the nearest MRT station
– Hard to book a table
Recommended dishes: Polpette di Baccala ($21++), Orecchiette al Sugo d'Agnello ($36++), Torta della Nonna ($18++)
Opening hours: Tue-Sat, 6pm to late (10pm last order for food)
Address: 128 Tembeling Road, Singapore 423638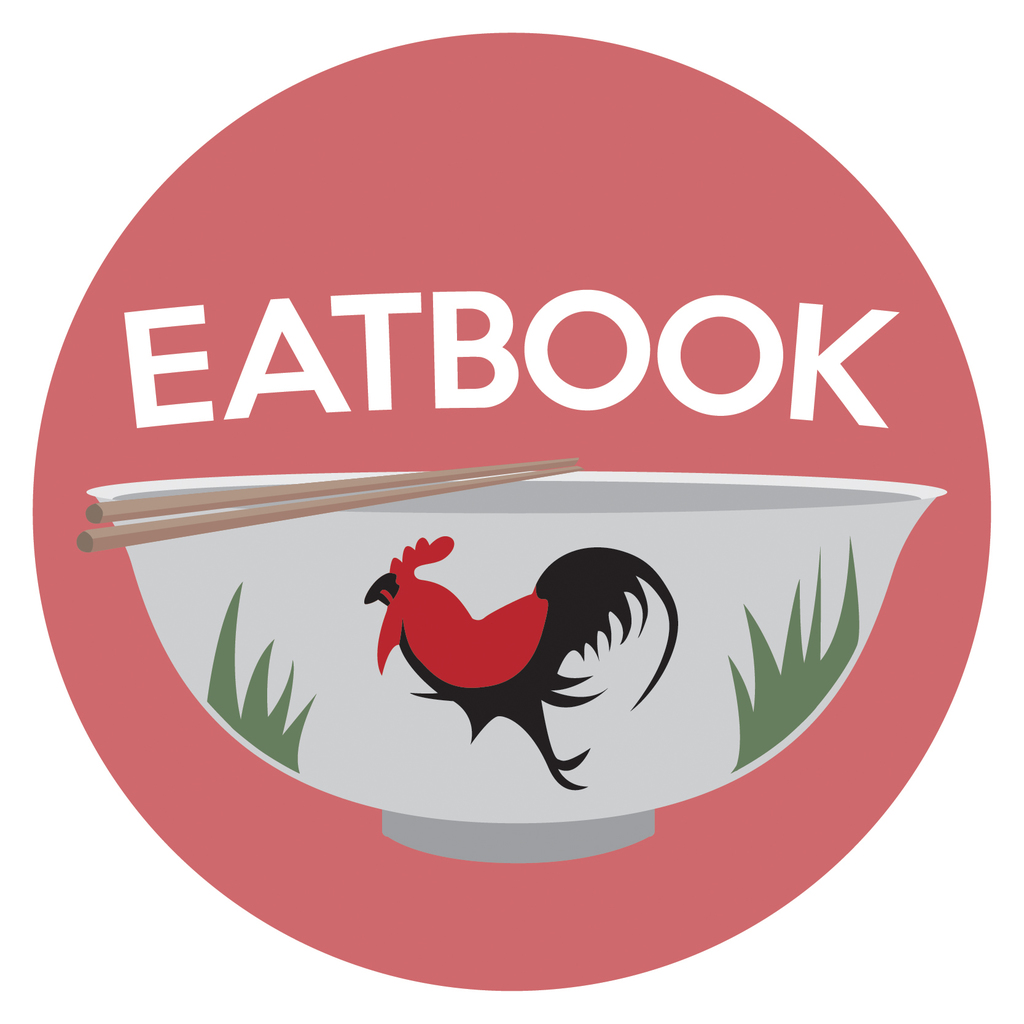 Drop us your email so you won't miss the latest news.